Newspapers today widely covered the short meeting between Iranian Foreign Minister Mohammad Javad Zarif and his Saudi counterpart Adel al-Jubeir in the Turkish city of Istanbul. During the short encounter, the two sides shook hands and had a brief conversation.
A decision made by the Iranian committee tasked with monitoring the implementation of a nuclear deal between Tehran and world powers to counter the US violation of JCPOA also received great coverage. The 16-article decision was made by the committee chaired by President Hassan Rouhani.
The speculations about President Rouhani's next cabinet line-up also remained a top story today. Rouhani will swear in on Saturday in the Parliament, and he will then have two weeks to propose his ministers who need to receive a vote of confidence by the lawmakers.
The above issues, as well as many more, are highlighted in the following headlines and top stories:
Abrar:
1- Parliament Speaker: Iran Files Complaint against US for Violation of JCPOA
2- Gov't Spokesman: Rouhani to Propose His Cabinet Members Next Week
3- British Deputy FM to Attend Rouhani's Inauguration Ceremony
4- Board Tasked with Monitoring Oil Deals Approves Total Contract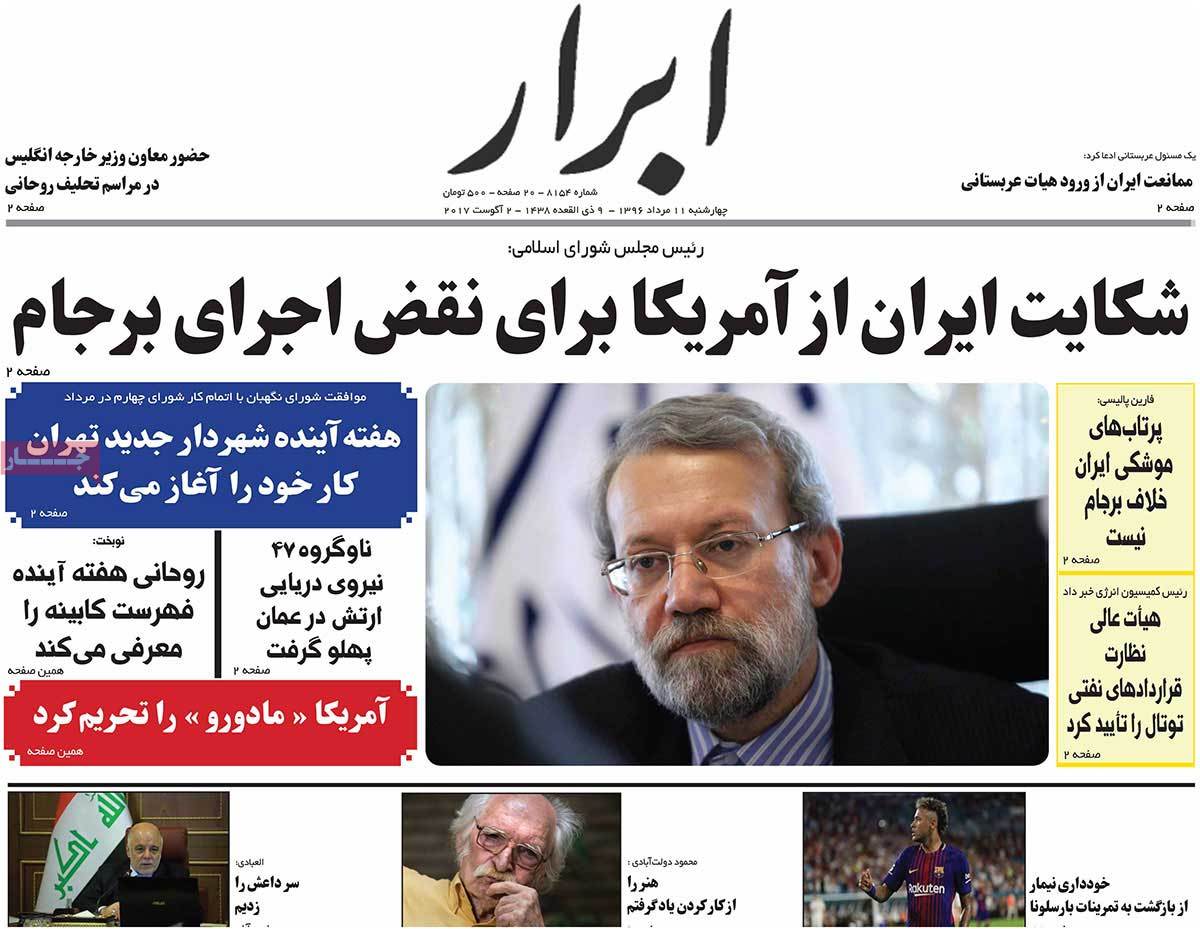 ---
Aftab-e Yazd:
1- Gov't Spokesman: Rouhani Will Listen to Opinions, but Won't Be Influenced
2- Municipality Should Become Transparent: Reformist Figure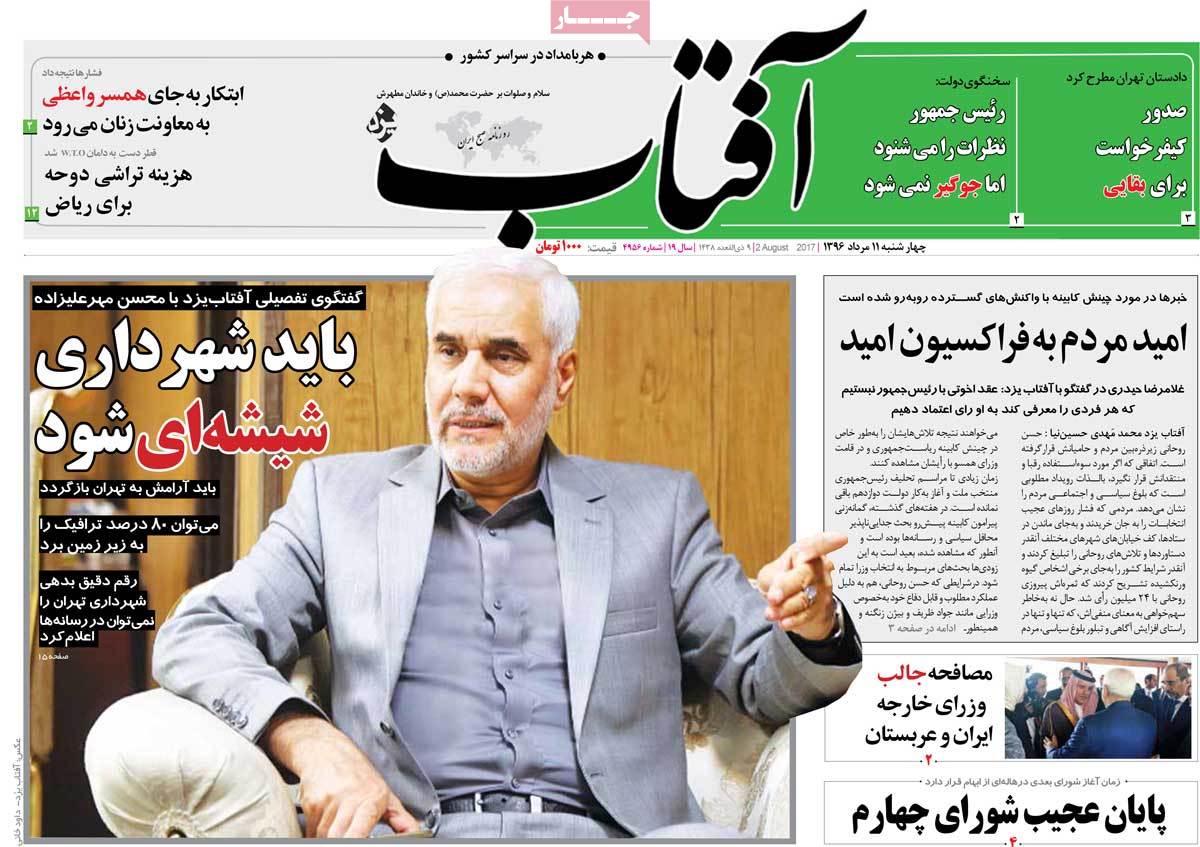 ---
Arman-e Emrooz:
1- Time to Verify Rouhani: Reactions to Cabinet Line-up
2- Senior Cleric: 24 Million Reformists Form Rouhani's Base
3- Tehran Prosecutor: 30-Page Petition against Ahmadinejad's Aide Baqaei
4- 20,154,626 Singles in Iran: Men Get Married Less than Women
---
Asrar:
1- Oil Minister: Deal with Total to Reinforce Islam
2- Zarif: Muslim States Should Not Be Deceived by Zionists' Hollow Gestures
3- Siemens Appoint New CEO in Iran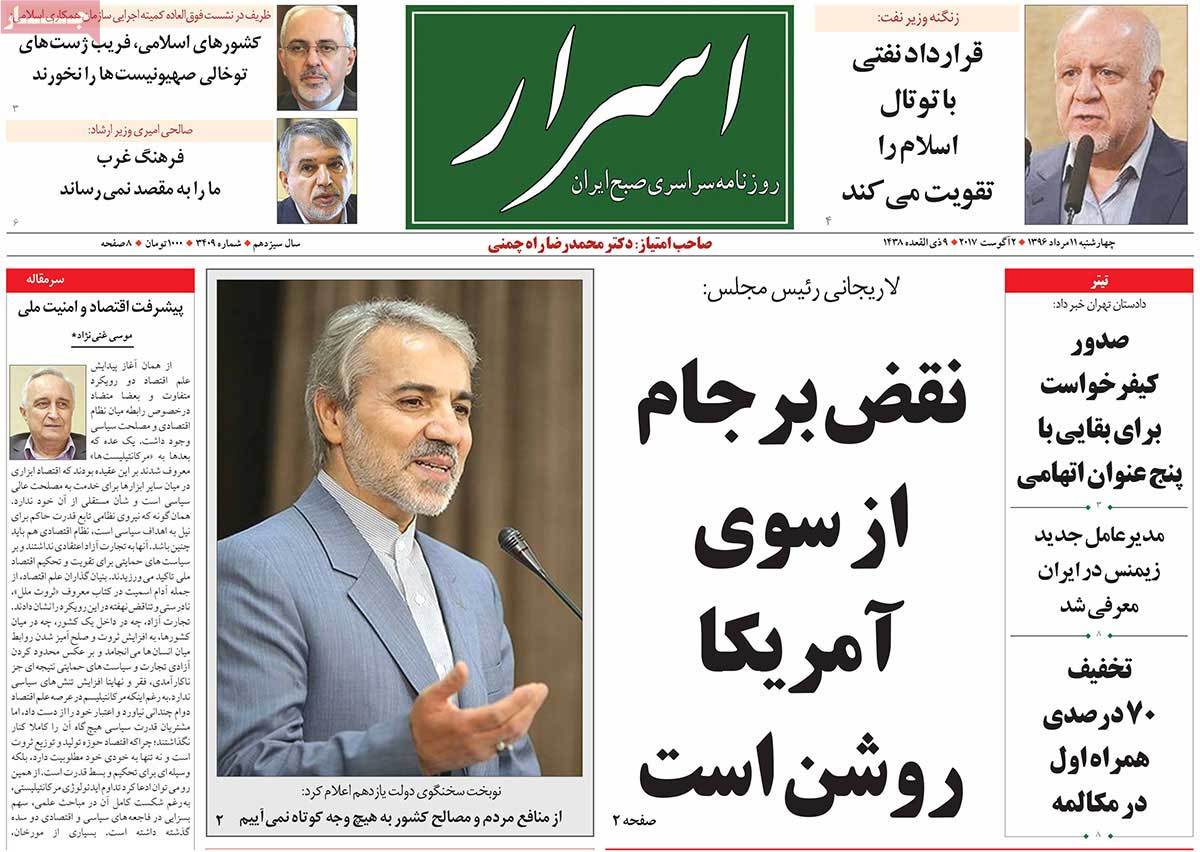 ---
Ettela'at:
1- 16 Decisions Made by Iranian Committee to Counter US Provocative Moves
2- US-Led Coalition's Fighter Jets Massacre 60 Civilians in Syria's Deir ez-Zor
---
Haft-e Sobh:
1- Unexpected Meeting in Istanbul: Controversies Surrounding Zarif-Jubeir Meeting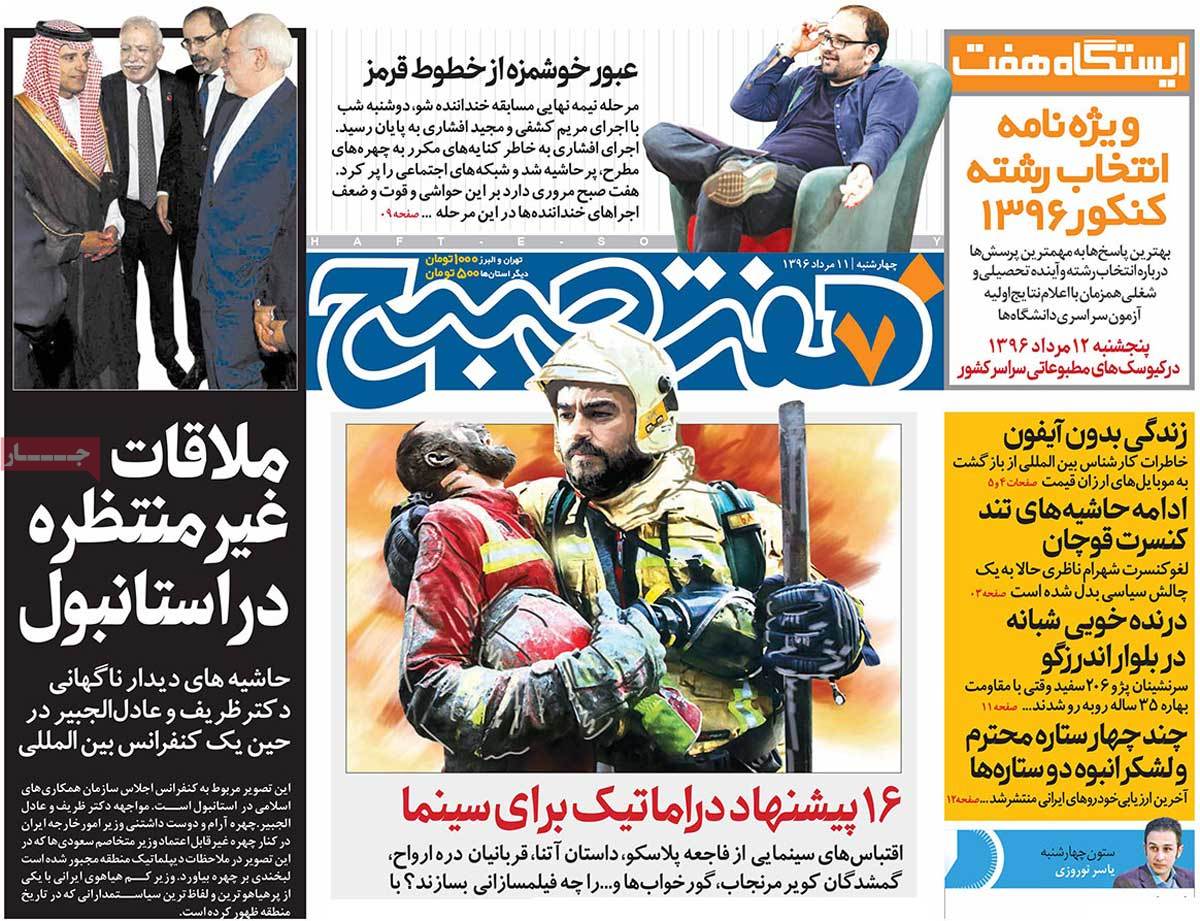 ---
Iran:
1- First VP: I'll Pursue National Dialogue to the End
2- Armenian President Hails Tehran-Yerevan Good Ties
---
Javan:
1- CNN: North Korea Can Target 48 US States
2- 16 Decisions to Counter US Violation of Iran Nuclear Deal
3- Most Indebted Government in History: Rouhani's Gov't Has $60bn Debts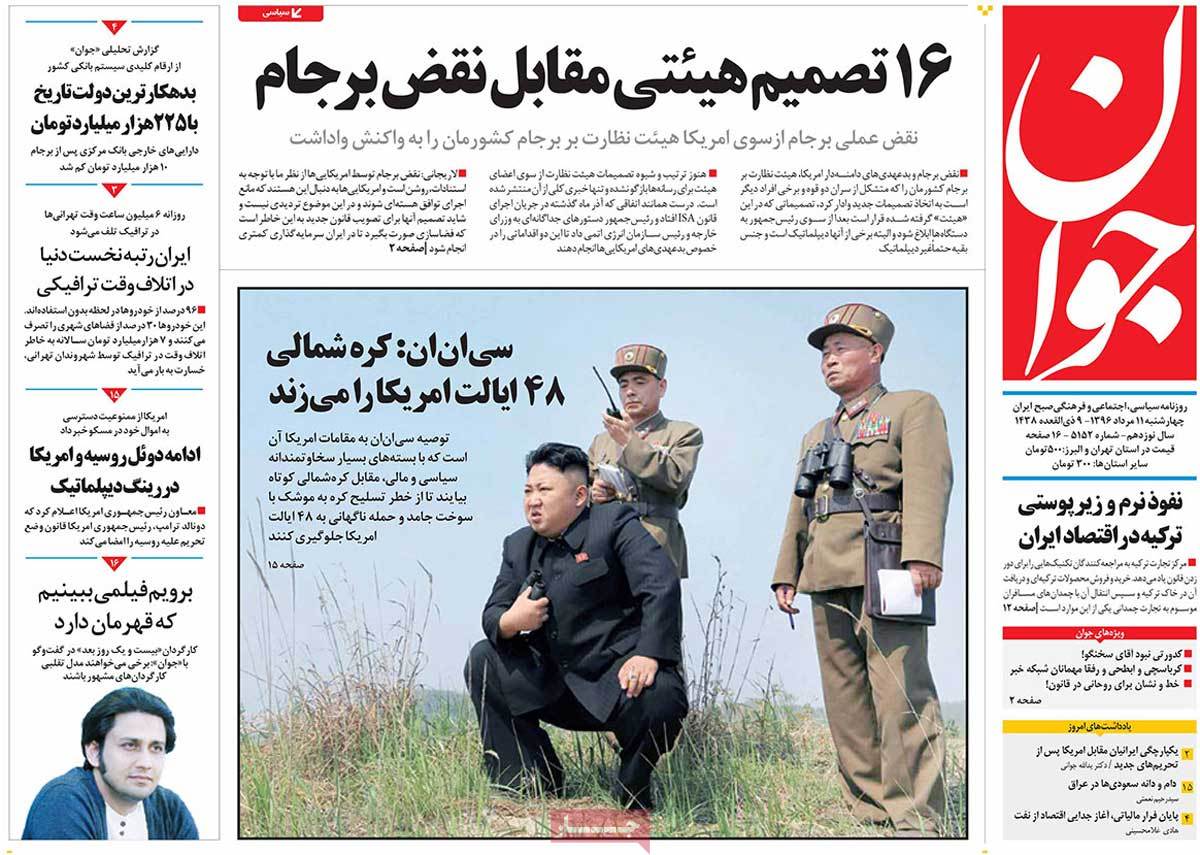 ---
Jomhouri Eslami:
1- Iran No Longer Needs to Import Gas from Turkmenistan
Oil Minister Opens New Gas Pipeline in Northern Iran
2- Iran's Reciprocal Decisions to Counter US Hostile Moves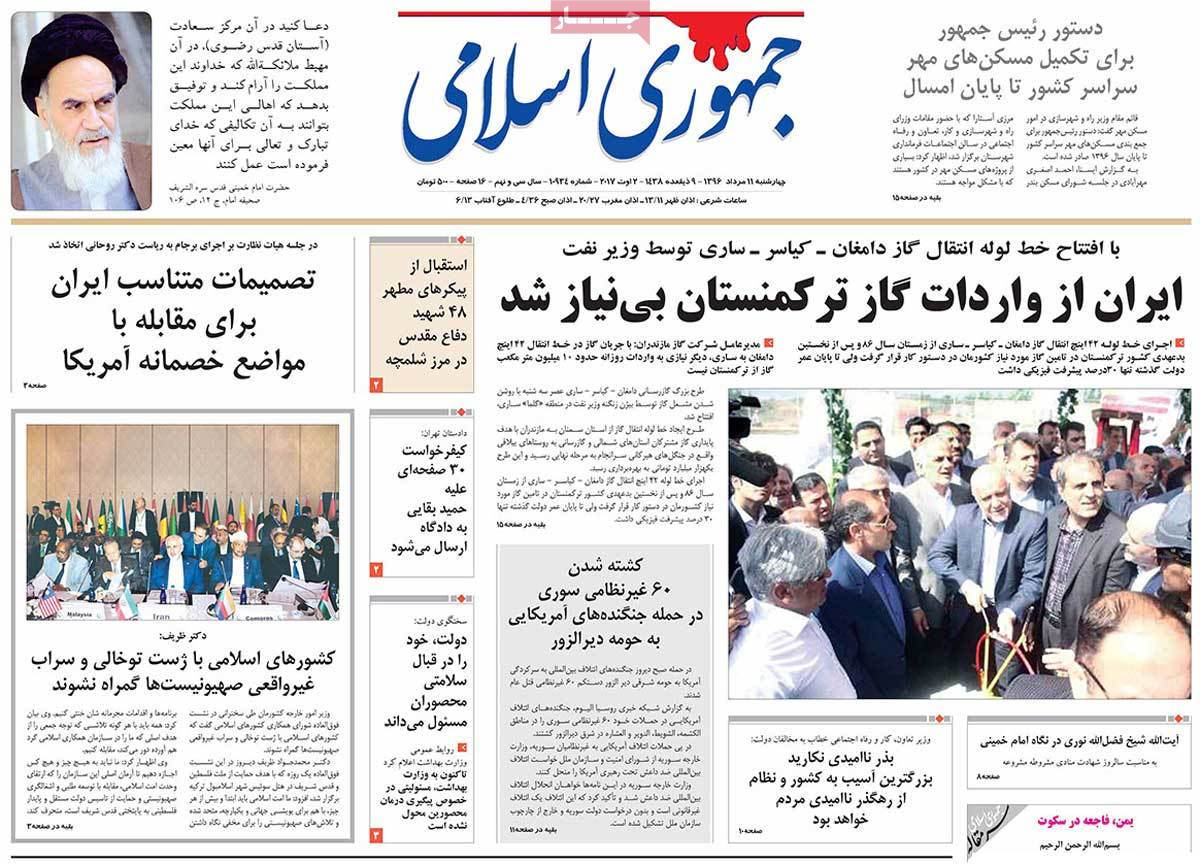 ---
Kayhan:
1- People Waiting for Response by Committee Tasked with Monitoring JCPOA
If 16-Article Decision Is to Be Implemented, Why Is It Secret?
2- Zionist Media Admit: Prominent Role of Iran, Ayatollah Khamenei in Reopening of Aqsa Mosque
3- Putin's Decisive Reaction to US Congress' Sanctions
US Embassy's Properties Confiscated
755 US Diplomats Deported in 3 Days
4- Mr Nobakht! 2009 American-Israeli Sedition Was Coup, Not a Tiff!
---
Resalat:
1- Iraqi Clerics' Fatwa Key to Victory over ISIS: Senior Cleric
2- Senior Conservative: Those Involved in 2009 Sedition Shouldn't Be Part of Cabinet
3- Iraq Ex-PM Hails Iran's Role in Liberation of Iraq from ISIS
4- Zarif: Coordinated Int'l Measure Needed to End Israeli Crimes
---
Shahrvand:
1- Agriculture Minister Urges First VP: Civil Servants Drink Iranian-Made Tea
2- Sports Minister: I Have Good News for Women
---
Shargh:
1- Gov't Spokesman: We Hope Squabble with Those under House Arrest Would End
2- Close Encounter in Istanbul: Zarif, Jubeir Shake Hands