IFP has taken a look at the front pages of Iranian newspapers on Tuesday, March 6, and picked headlines from 20 of them. IFP has simply translated the headlines and does not vouch for their accuracy.
The top story in all papers today was the visit of French Foreign Minister Jean-Yves Le Drian to Tehran and his meetings with Iranian President Hassan Rouhani, Foreign Minister Mohammad Javad Zarif, and the Secretary of Iran's Supreme National Security Council Ali Shamkhani.
The majority of headlines praised the decisive response given by the government to the French top diplomat. The harsh criticisms raised by Shamkhani, and the comments made by Rouhani about the dire consequences of the breakup of the Iran nuclear deal received particular attention.
Also a top story was an exhibition of Louve Museum's items in Tehran, which was opened by Le Drian on Monday afternoon.
The above issues, as well as many more, are highlighted in the following headlines and top stories:
19 Dey:
Amano: Failure of JCPOA Great Loss for Verification, Multilateralism
Mohsen Hashemi Rafsanjani: Domestic Production Only Way to Resolve Iran Problems
Rouhani: Breakup of Iran Nuclear Deal to Be Matter of Regret for All Sides
---
Abrar:
Macron Calls for Iran's Pressure on Syrian Government
White House Raising Accusations against Iran, Russia on Syria Crisis
AEOI Spokesman: We Can Return to 20% Enrichment within 48 Hours
ISIS News Agency's Chief Arrested in Iraq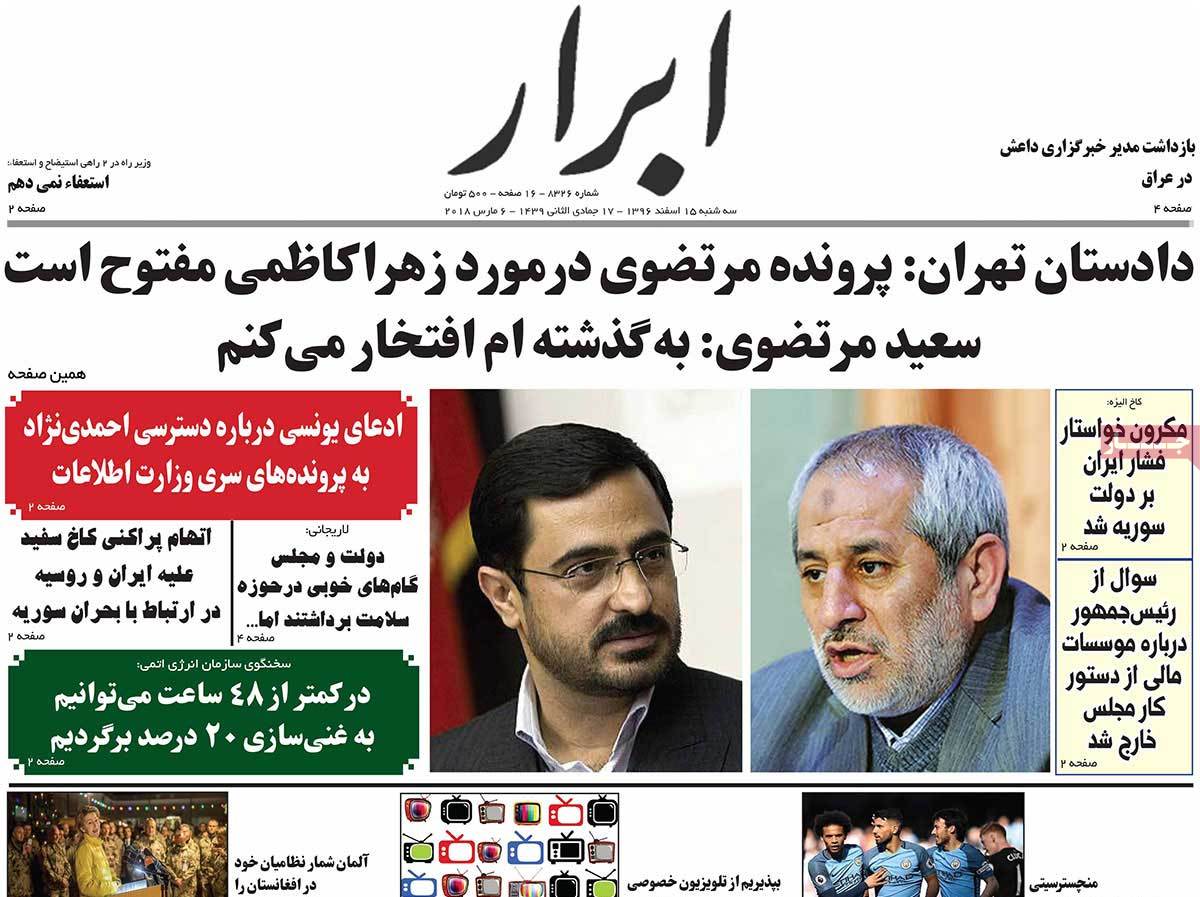 ---
Afkar:
Iran's Top Security Official: EU's Policy of Giving Concessions to US Wrong
Egypt to Give Away Part of Sinai Lands to Saudi Arabia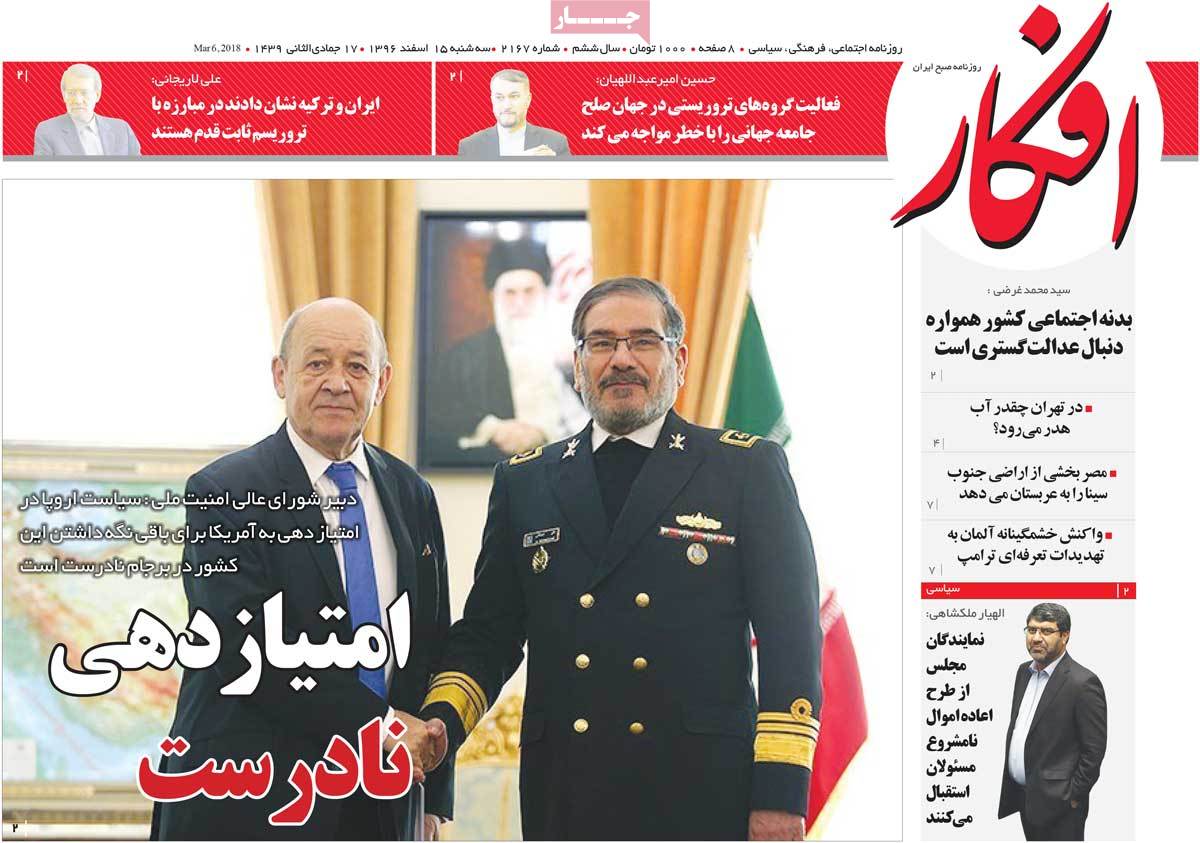 ---
Aftab-e Yazd:
Aref: Government's Ties with Its Supporters Not Strong
Need for Diplomatic Vigilance
Impacts of French FM's Visit to Tehran to Become Clear Soon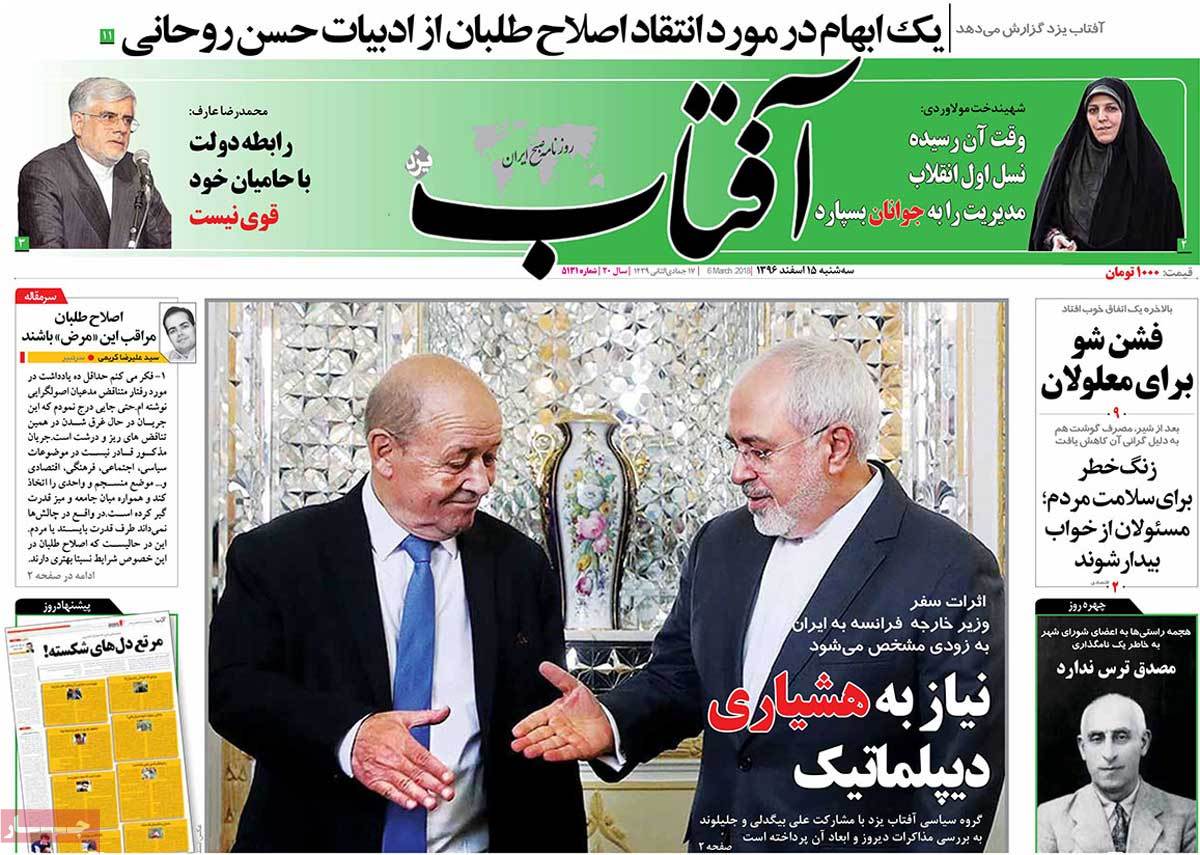 ---
Arman-e Emrooz:
Iranian VP Mounesan Hosts Louvre in Tehran
56 Relics from World Civilisations Transferred from Paris to Tehran
Waiting for a Change in Cabinet's Economic Team
---
Asrar
Culture Minister: No Development, Progress Sustains without Culture
Oil Minister Vows to Try to End Gender Discrimination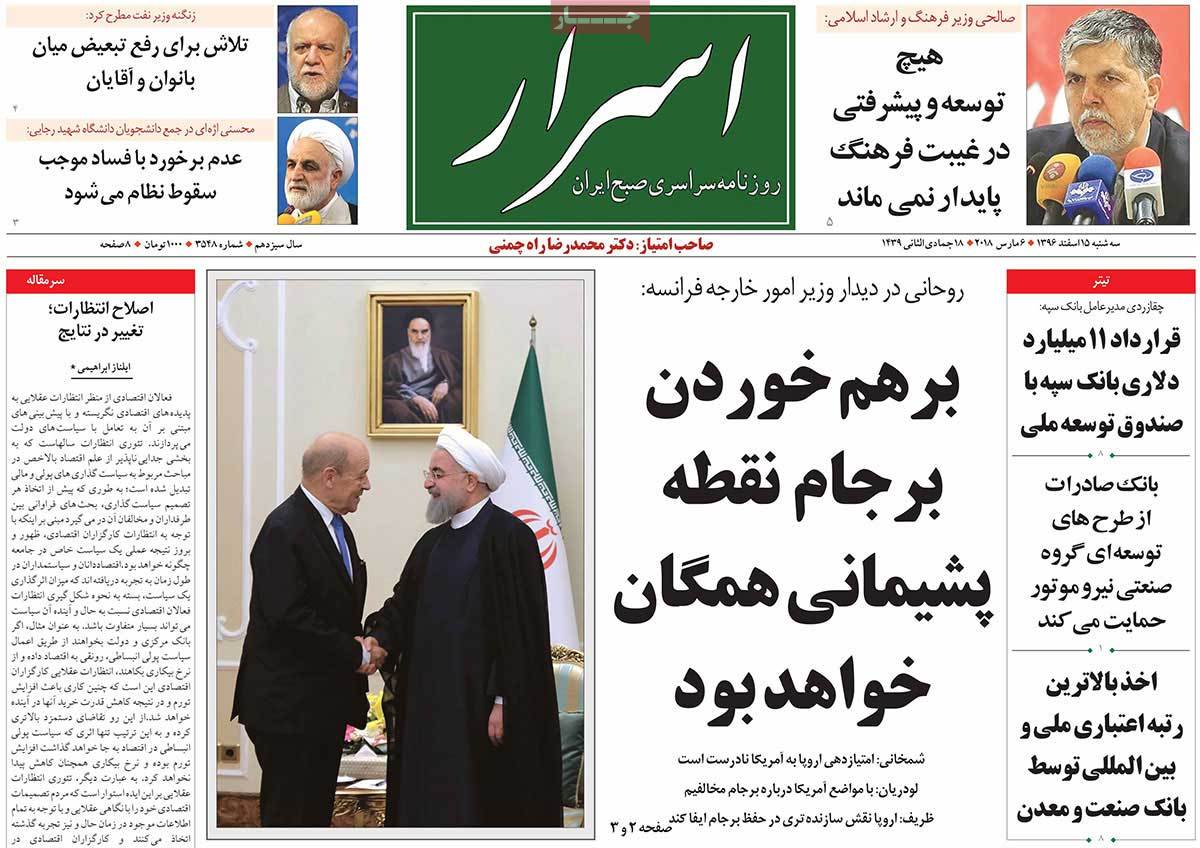 ---
Ebtekar:
Threat in Paris, Negotiation in Tehran
French FM Finally Visits Iran after Months of Delay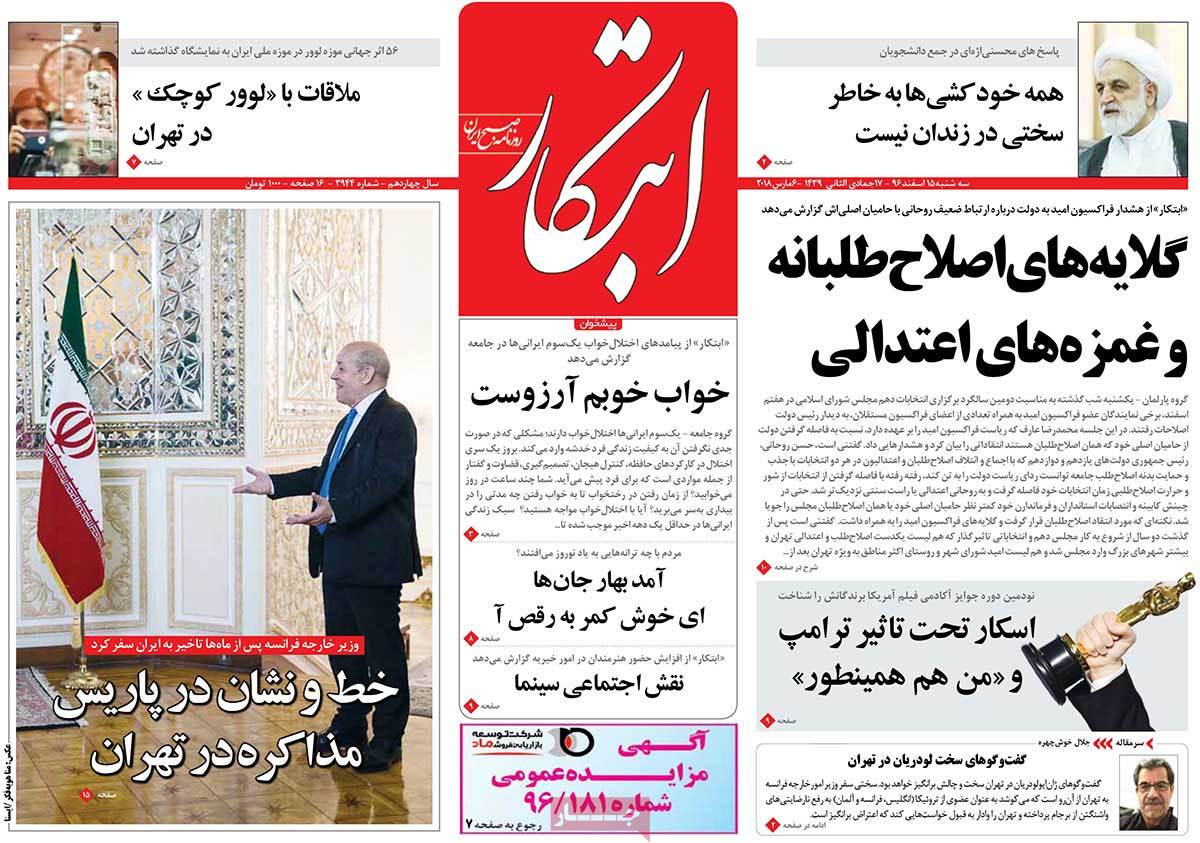 ---
Etemad:
Meeting Former President: 70 MPs Hold Talks with Khatami in 3-Hour Meeting
Zarif, Rouhani, Shamkhani Warn France: Test of Paris' Independence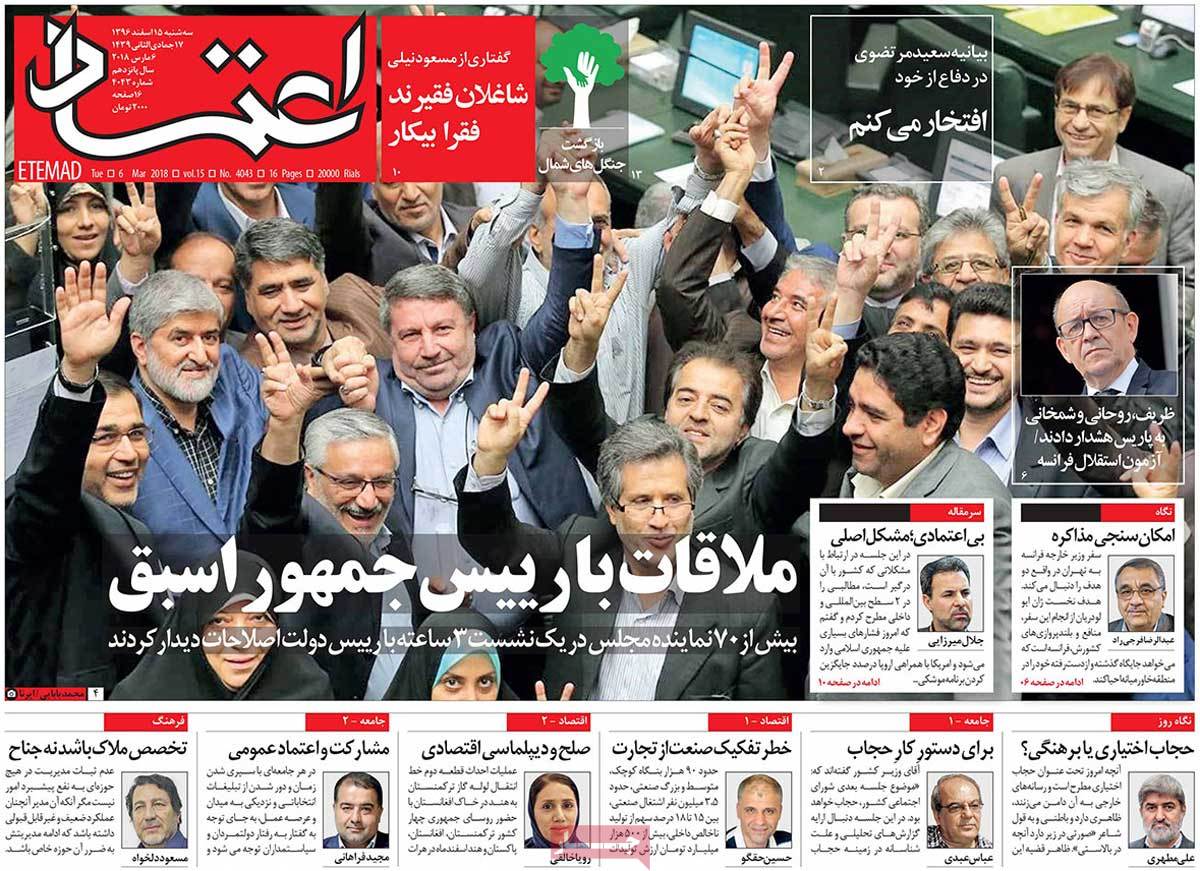 ---
Ettela'at:
Russia Unveils Nuclear Engines for Unlimited Missiles
IAEA DG: We Have Access to All Iranian Sites
---
Iran:
President's Chief of Staff: Rouhani's Remarks Targeted Political Opponents, Not Fair Critics
MP Close to Parliament Speaker: Larijani Still Has No Plan for Presidency
Cairo, First Leg of Bin Salman's Trump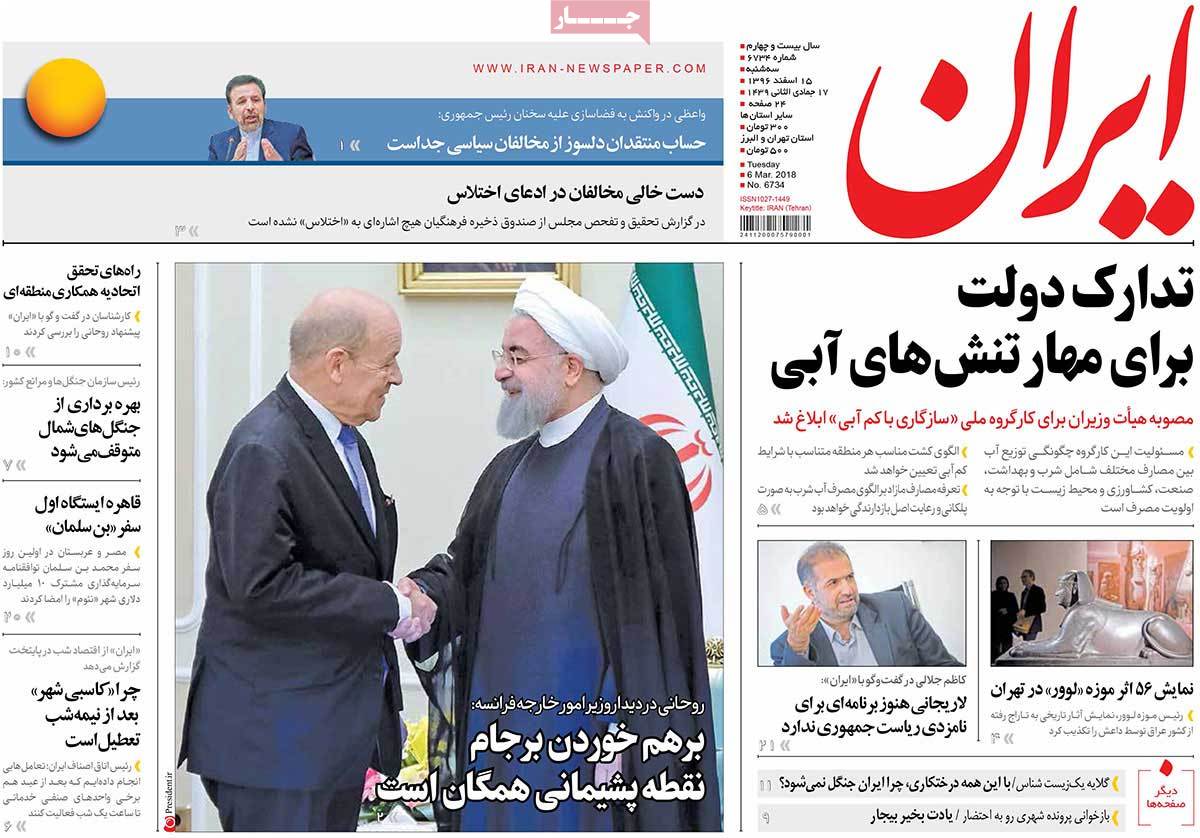 ---
Javan:
Tehran's Response to Paris' Trump-Style Illusion
French FM Faces Zarif's Decisive Remarks, Shamkhani's Military Uniform
Health Minister's Late Confession
I Wish Social Welfare Would be Next Government's Main Concern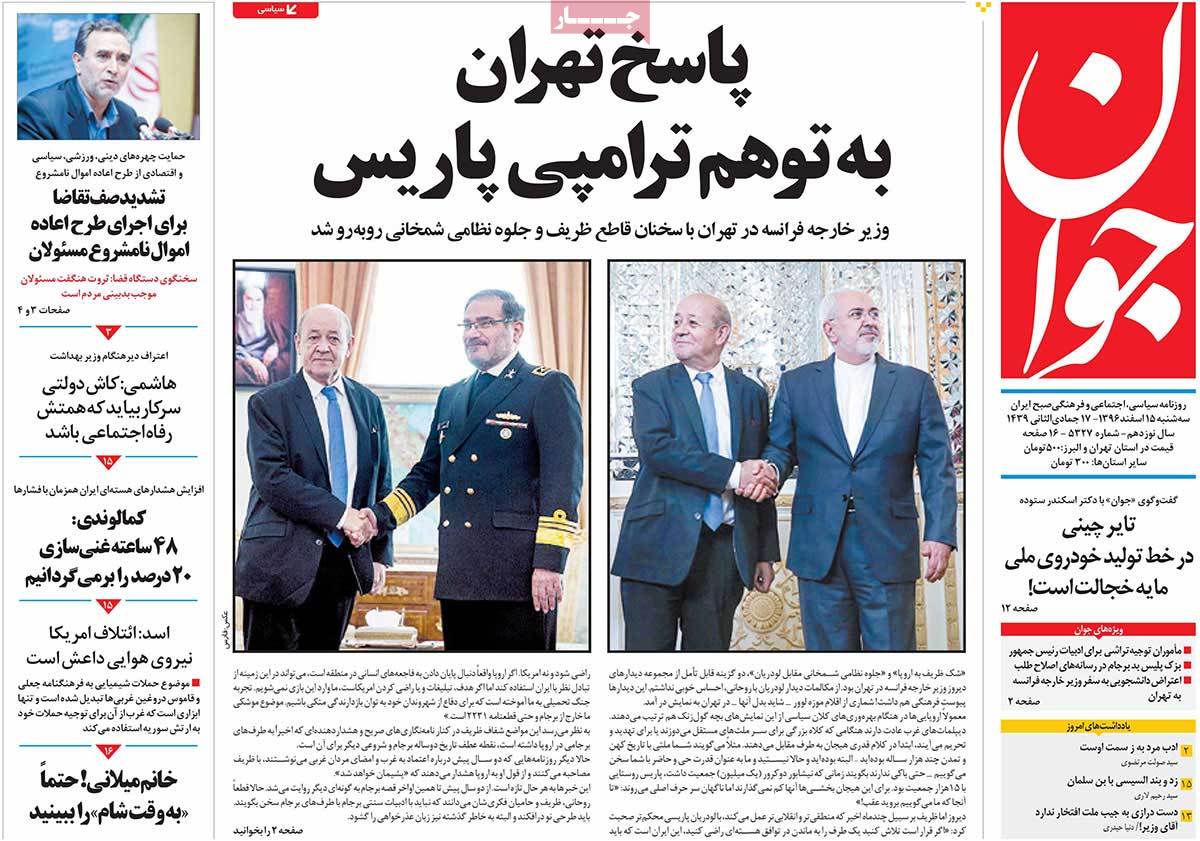 ---
Jomhouri Eslami:
Health Ministry: $100m Withdrawn from National Development Fund for Two New Vaccines
French FM: Paris Opposed to US Stanecs on Iran Nuclear Deal
Foregin Policy: Riyadh after Producing Nuclear Weapons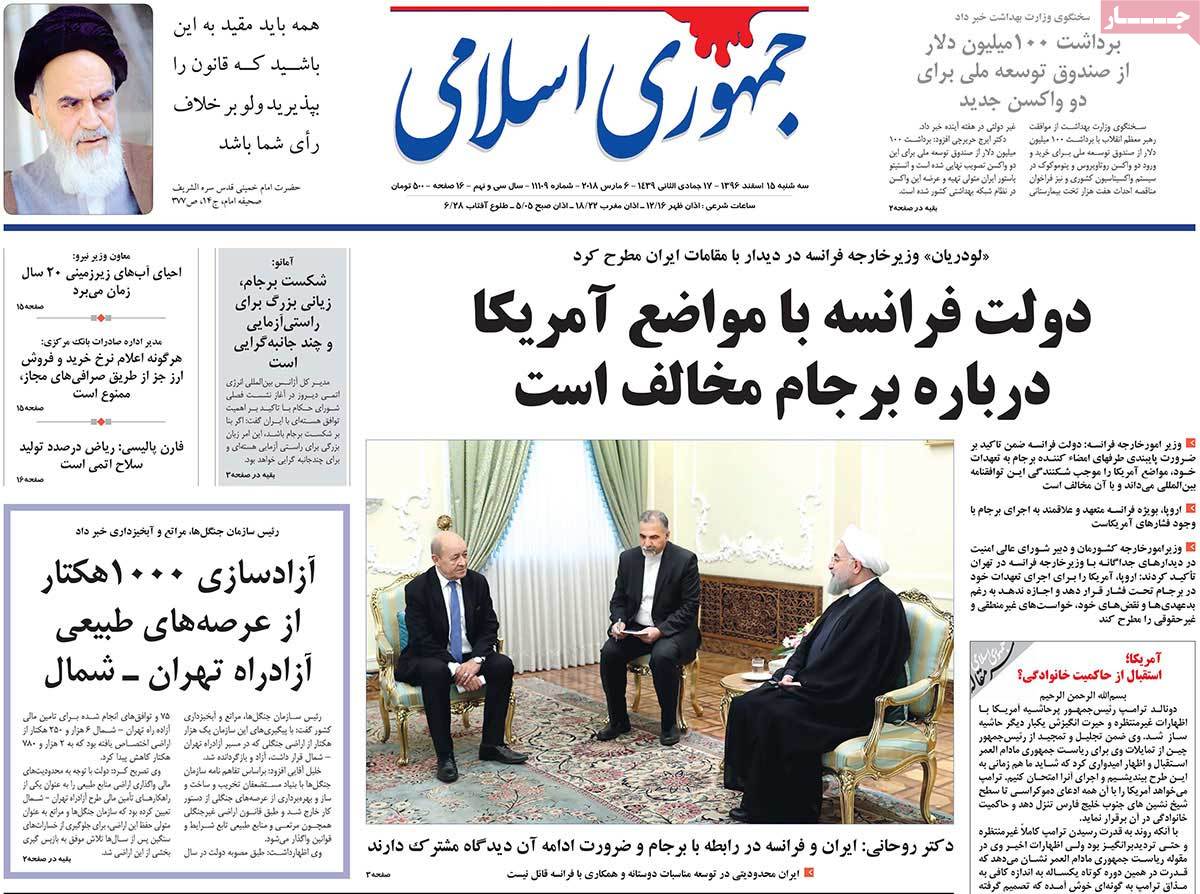 ---
Kayhan:
A Report on Mission of Trump's Dealbreaker in Tehran
Holding Talks with Violaters of Iran Nuclear Deal: Prudence or Passivity?
Rouhani's Representatives Fail to Convince MPs Not to Summon Him
Assad: US-led Coalition Serves as ISIS Air Force
Labour Minister: Workers' Purchasing Power Decreased
2,100 Saplings Planted in Memory of Defenders of Holy Shrines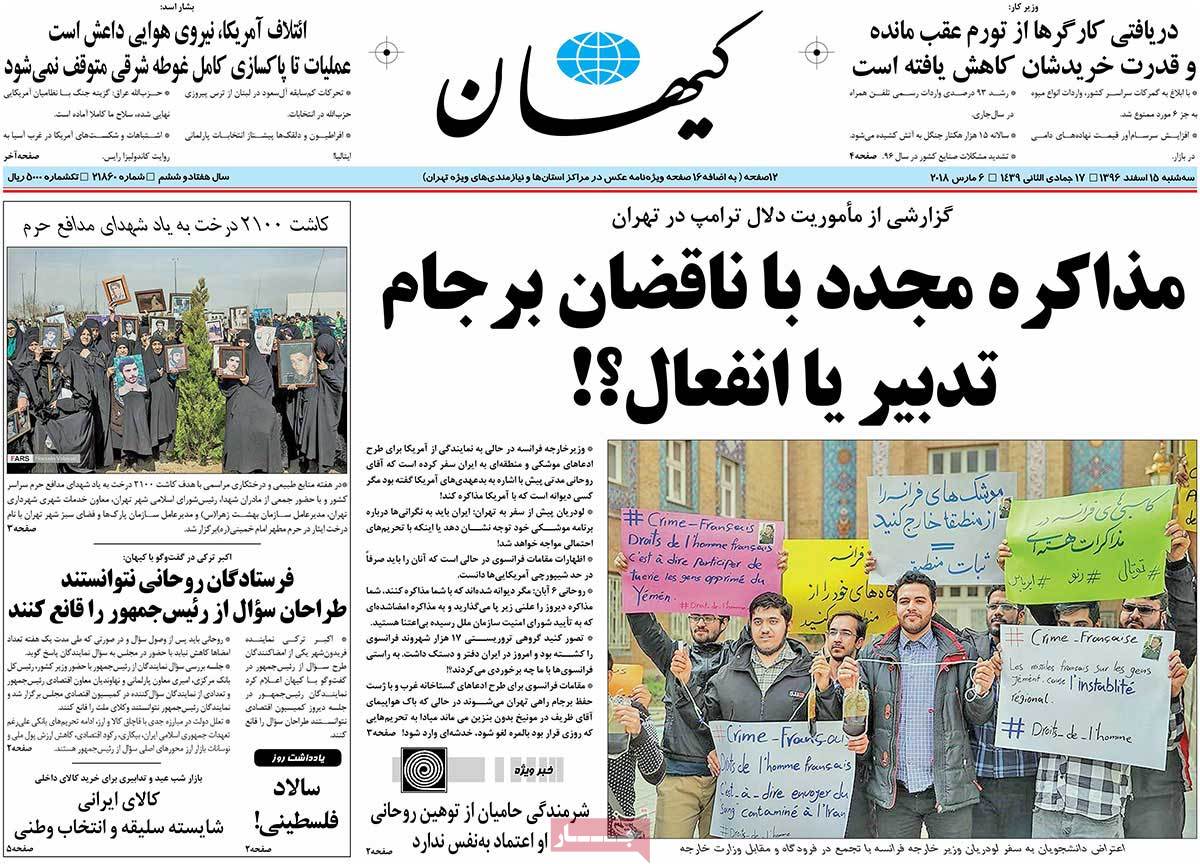 ---
Khorasan:
Zarif Threatens to Stop Dialogue with Europe
Two Sides of Coin of Cloud Seeding
Cloud Seeding to Increase Percipitation by 15%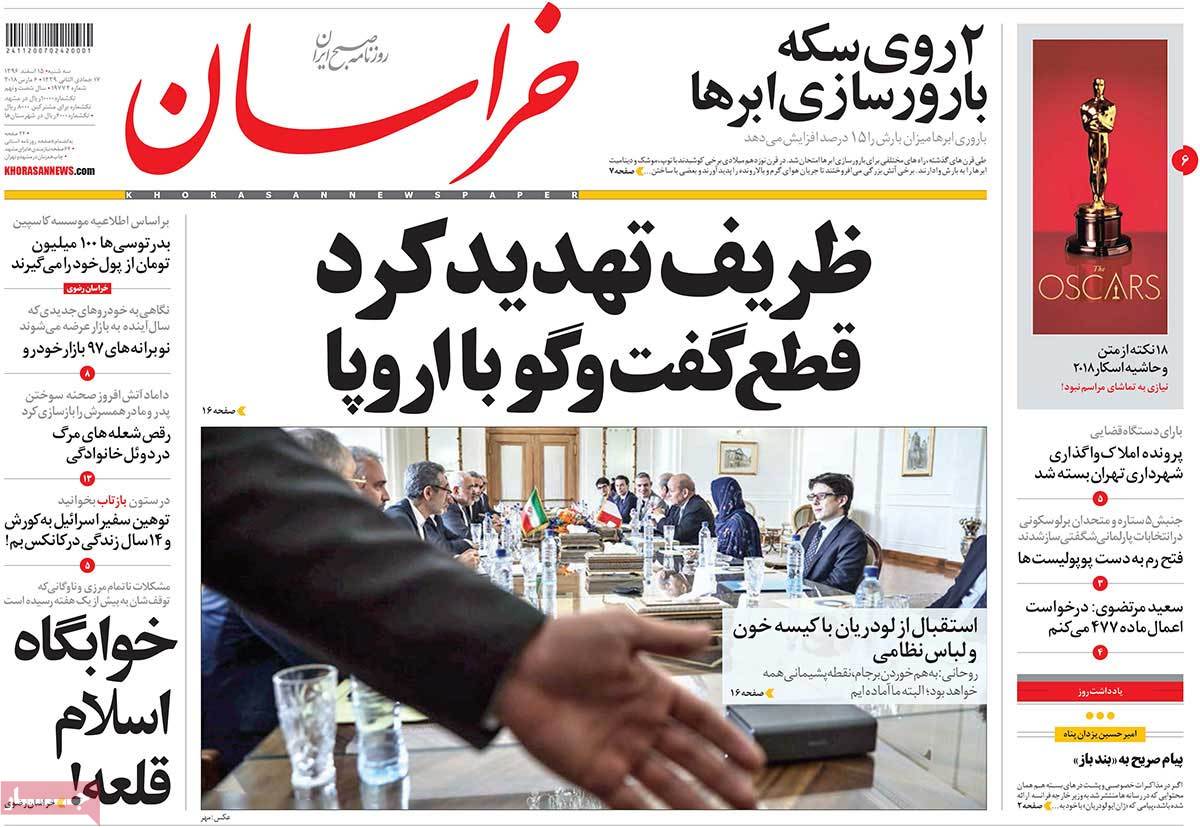 ---
Rah-e Mardom:
MP: Airlines Not Allowed to Sell Tickets in High Prices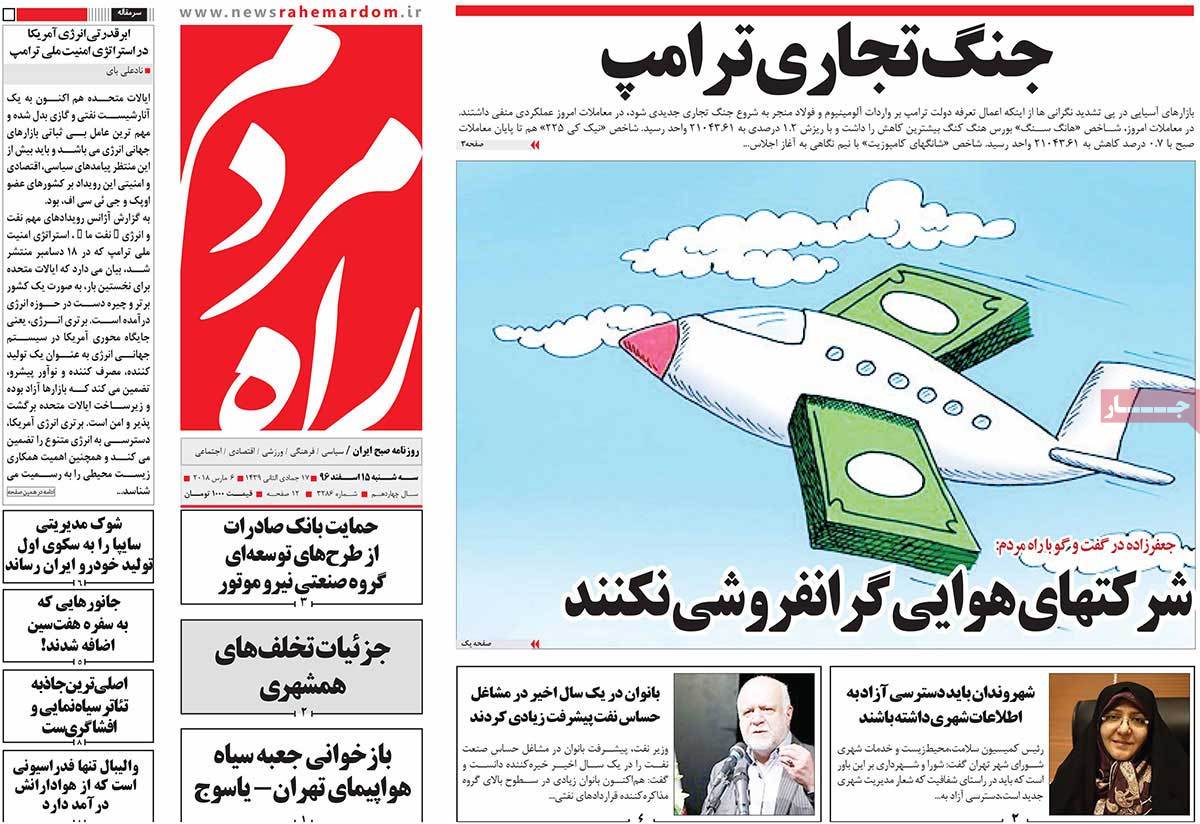 ---
Resalat:
Shamkhani: Europe Passive towards US
Ayatollah Nouri Hamadani: Negotiation over Defence, Missile Issues Meaningless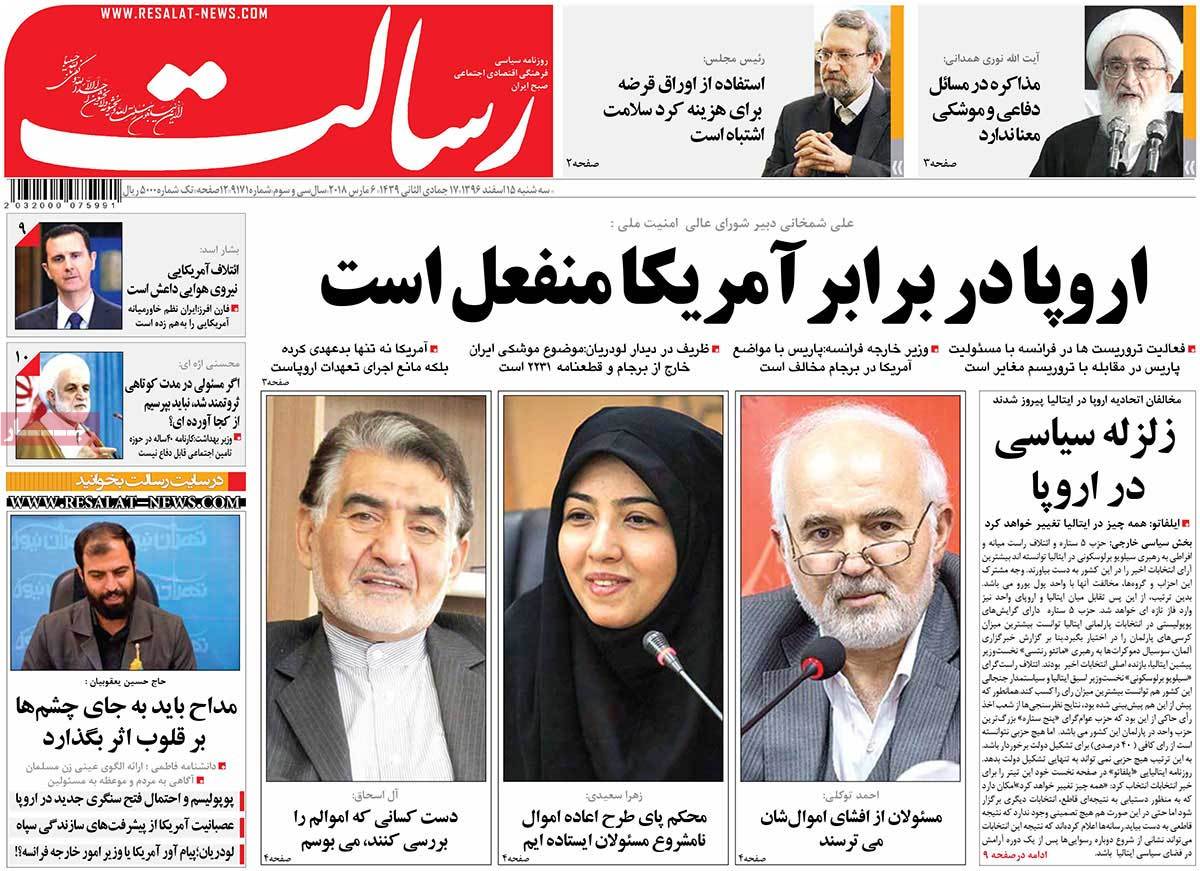 ---
Rooyesh-e Mellat:
Iran: Israel's Policy Based on Damaging Relations among Muslim States
Interior Minister: 11-12 Million Dollars Worth of Contraband Goods Imported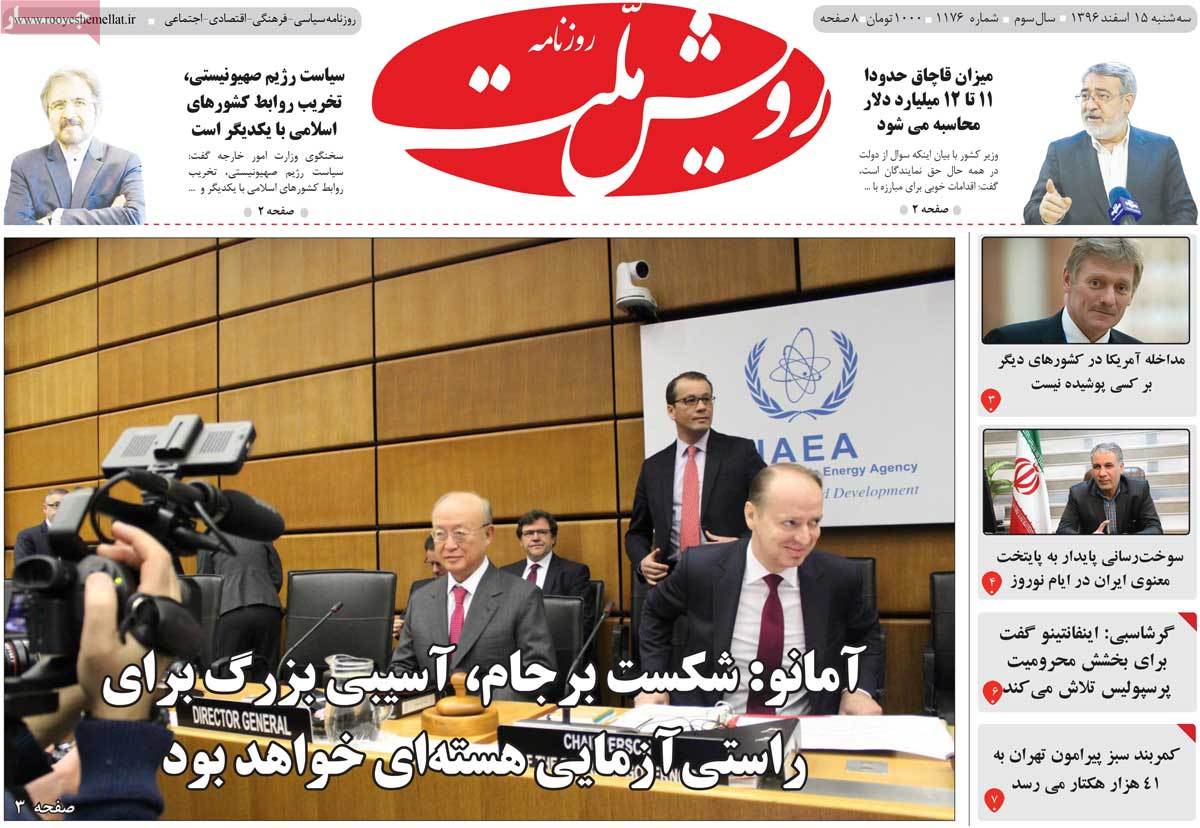 ---
Sayeh:
Zarif to Le Drian: Europe Must Play More Constructive Role in Maintaining Iran Deal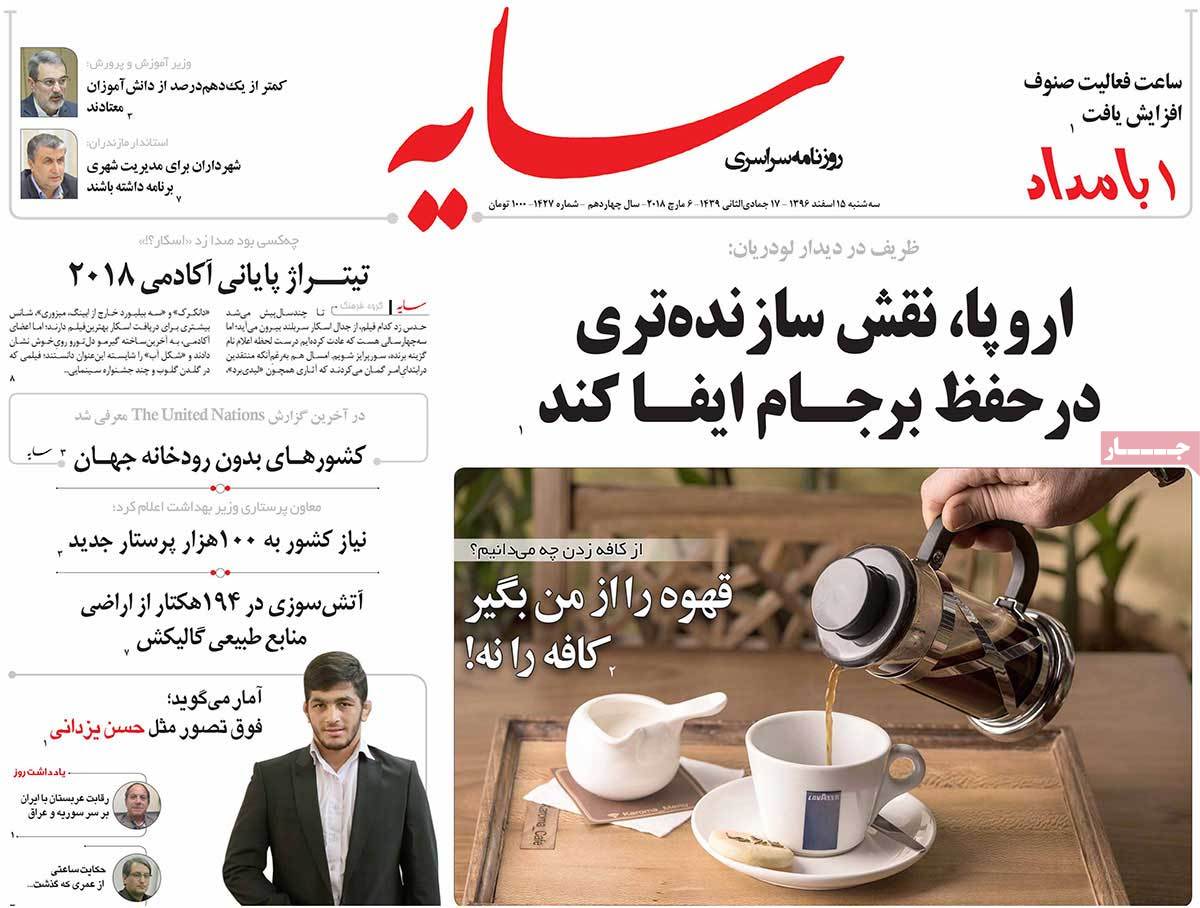 ---
Shargh:
Iranian Responses to French Concerns
Le Drian Meets with Rouhani, Zarif, Shamkhani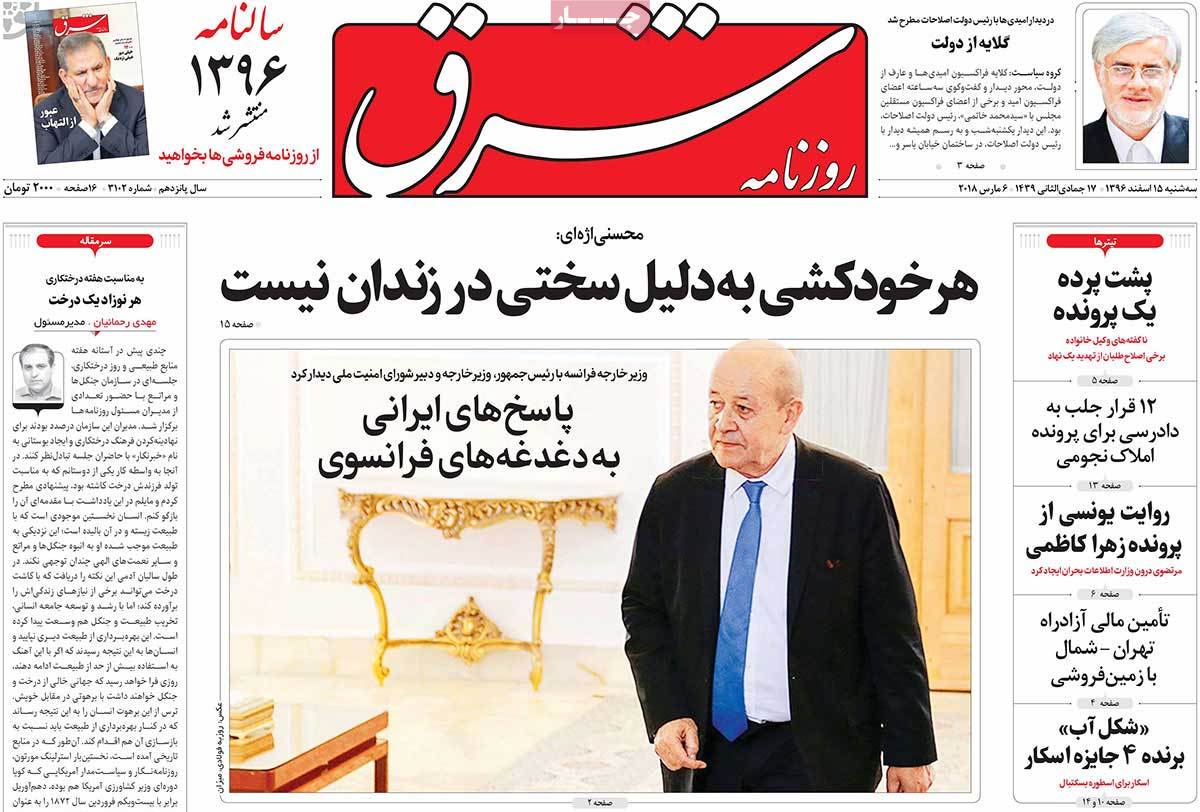 ---
Vatan-e Emrooz:
Iranian Admiral Blames Le Drian
Shamkhani Explicitly Criticizes French FM over Paris Policies on Iran
Europeans Respectfully Say No to EU: Rightists in Italy Win Parliamentary Votes
Belusconi to Rise to Power Once Again