Death of Ayatollah Akbar Hashemi Rafsanjani, the Chairman of Iran's Expediency Council, a former president and parliament speaker, and the country's second-in-command during the eight-year war with Iraq in the 1980s, shocked Iran and the world on Sunday evening.
A pillar of Islamic Revolution and a key figure in establishment of Islamic Republic, Ayatollah Rafsanjani was widely known as a moderate figure and a companion of Imam Khomeini and Ayatollah Seyyed Ali Khamenei.
Newspapers on Monday widely covered his demise, with many of them focusing on Ayatollah Khamenei's message of condolence.
Some of them also pointed to the fact that Ayatollah Hashemi Rafsanjani's death took place on the eve of Amirkabir's death anniversary. Hashemi was known as the modern day's Amirkabir, the prominent Prime Minister in history of Iran who was widely known for his brilliant efforts to develop Iran. Hashemi had even written a book about Amirkabir.
Here are the selected papers that highlighted the Ayatollah's death:
19 Dey:
1- People's Voice Is Silenced: Great Warrior, Ayatollah Hashemi Rafsanjani, Passes Away
2- Iran Leader's Description of Ayatollah Rafsanjani's Demise: Overwhelming Death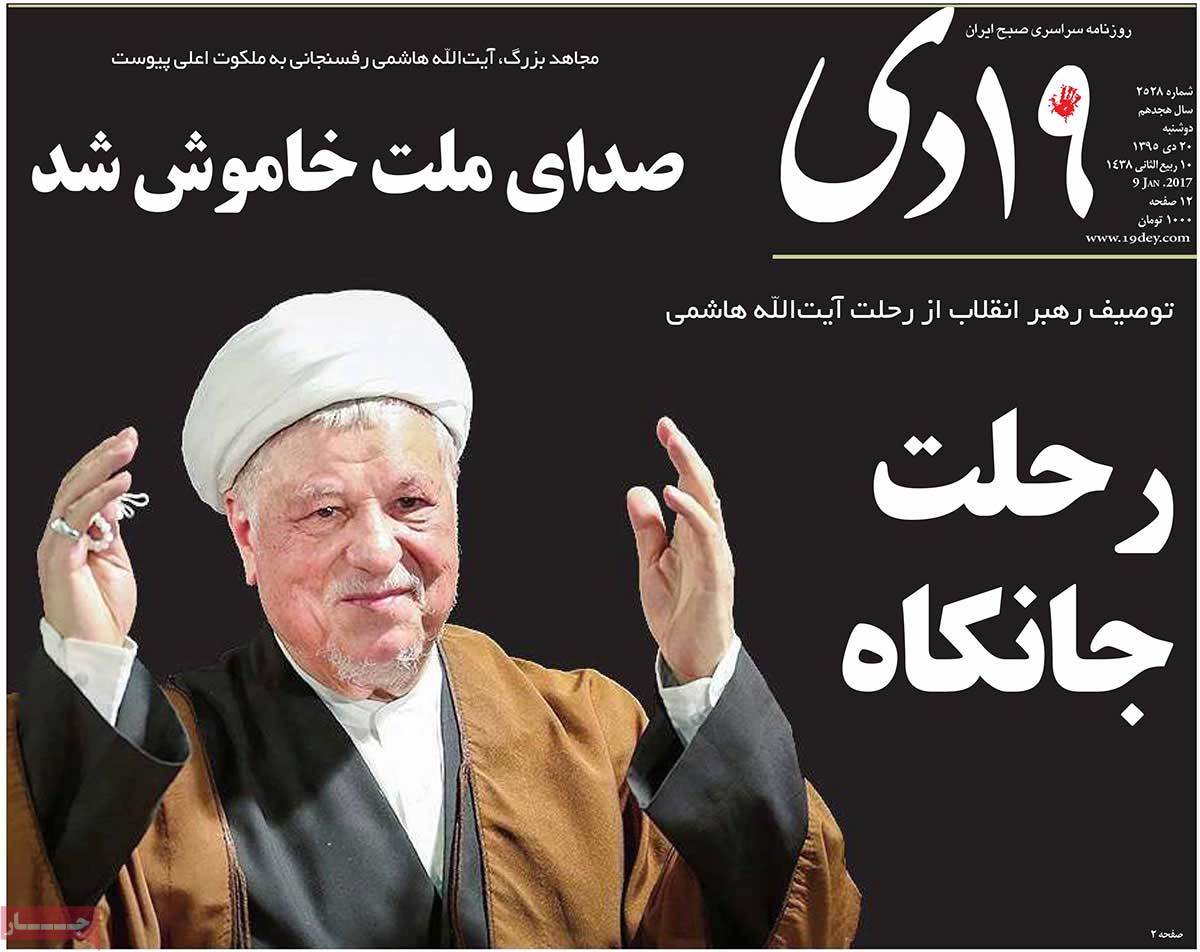 ---
Abrar: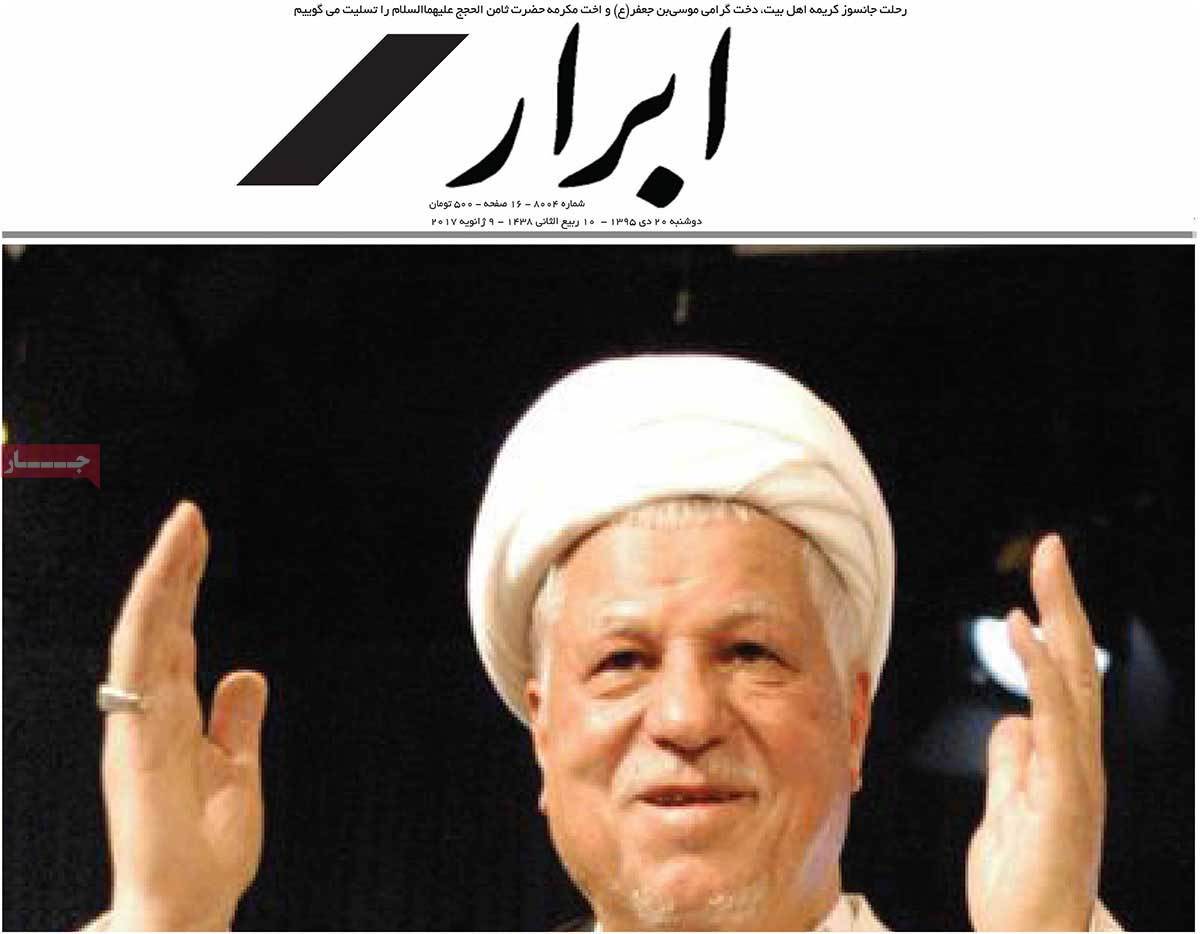 ---
Abrar-e Eqtesadi: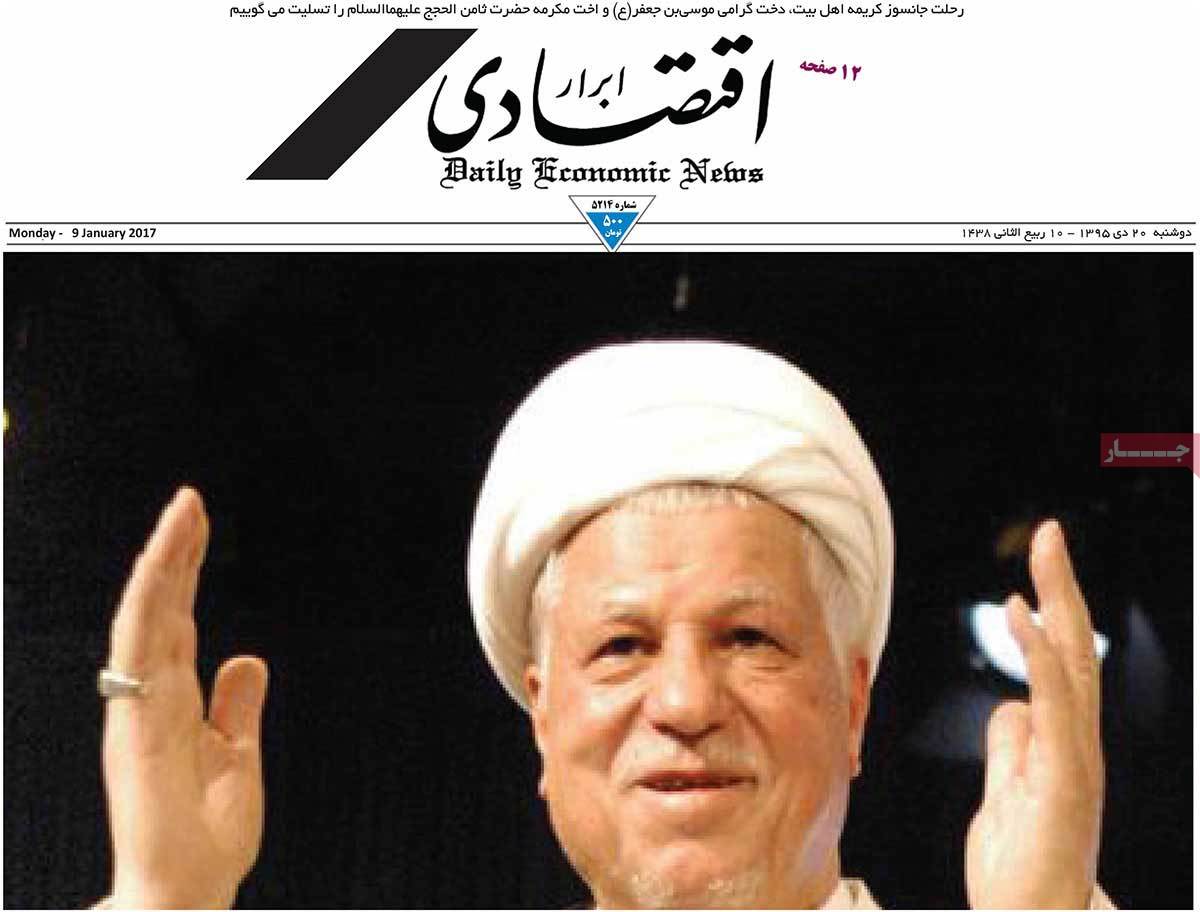 ---
Aftab-e Yazd:
1- Iran in Grief: Companion of Imam Khomeini and Ayatollah Khamenei Passes Away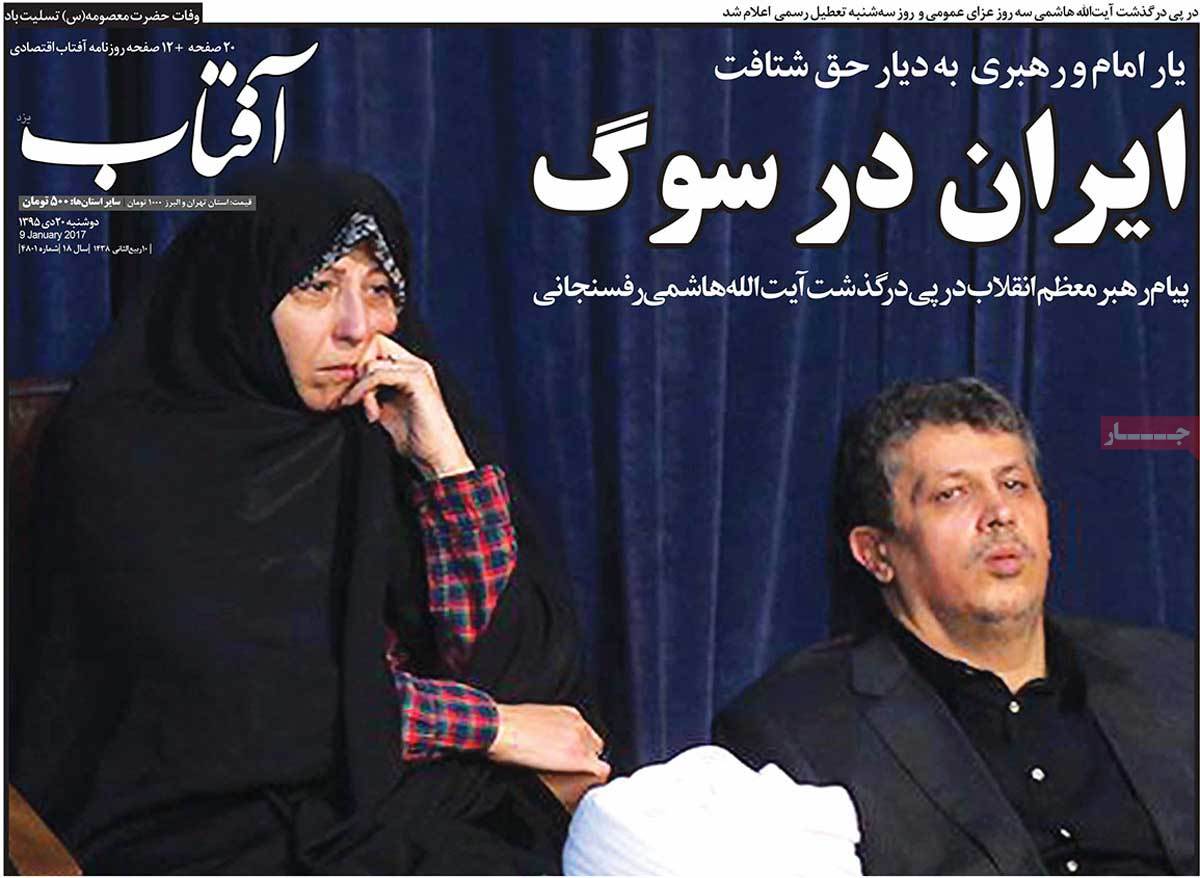 ---
Arman-e Emrooz:
1- Iran in Grief of Modern Day's Amirkabir: News that Shocked the World; Ayatollah Hashemi Passes Away
2- Leader's Message of Condolences on Ayatollah Hashemi's Death: Loss of My Comrade Is Hard to Bear and Overwhelming
3- 3 Days of National Mourning Declared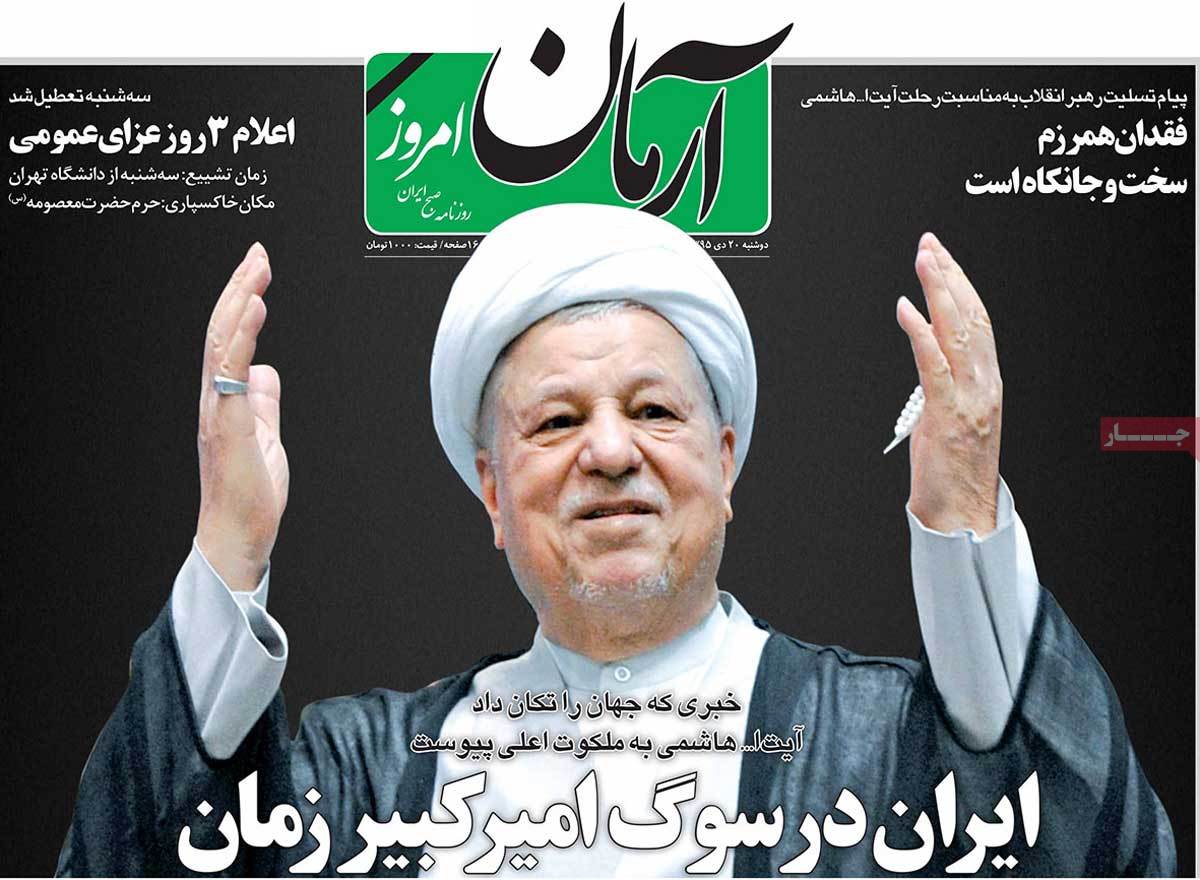 ---
Asrar:
1- Ayatollah Hashemi Passes Away: Leader in a Message Offered His Condolences over the Painful Development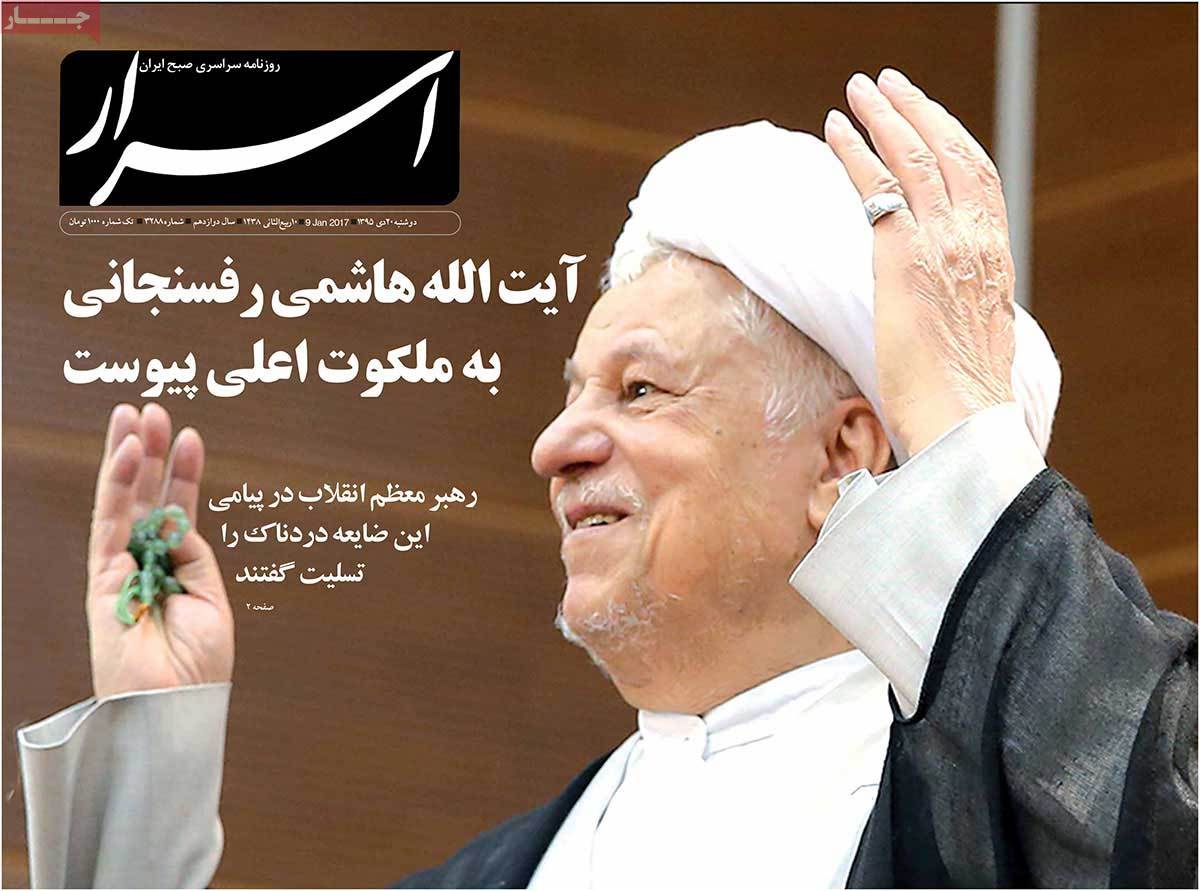 ---
Bahar:
1- I Can Now Die Comfortably [this is Ayatollah Rafsanjani's own words]; Man of All Seasons, Rest in Peace
---
Besharat-e Now:
1- Death of Modern Day's Amirkabir on Anniversary of Amirkabir's Martyrdom: Man of Hard Days and Crises Dies
2- Leader's Letter of Condolences: Hashemi Rafsanjani Was a Reliable Support for Me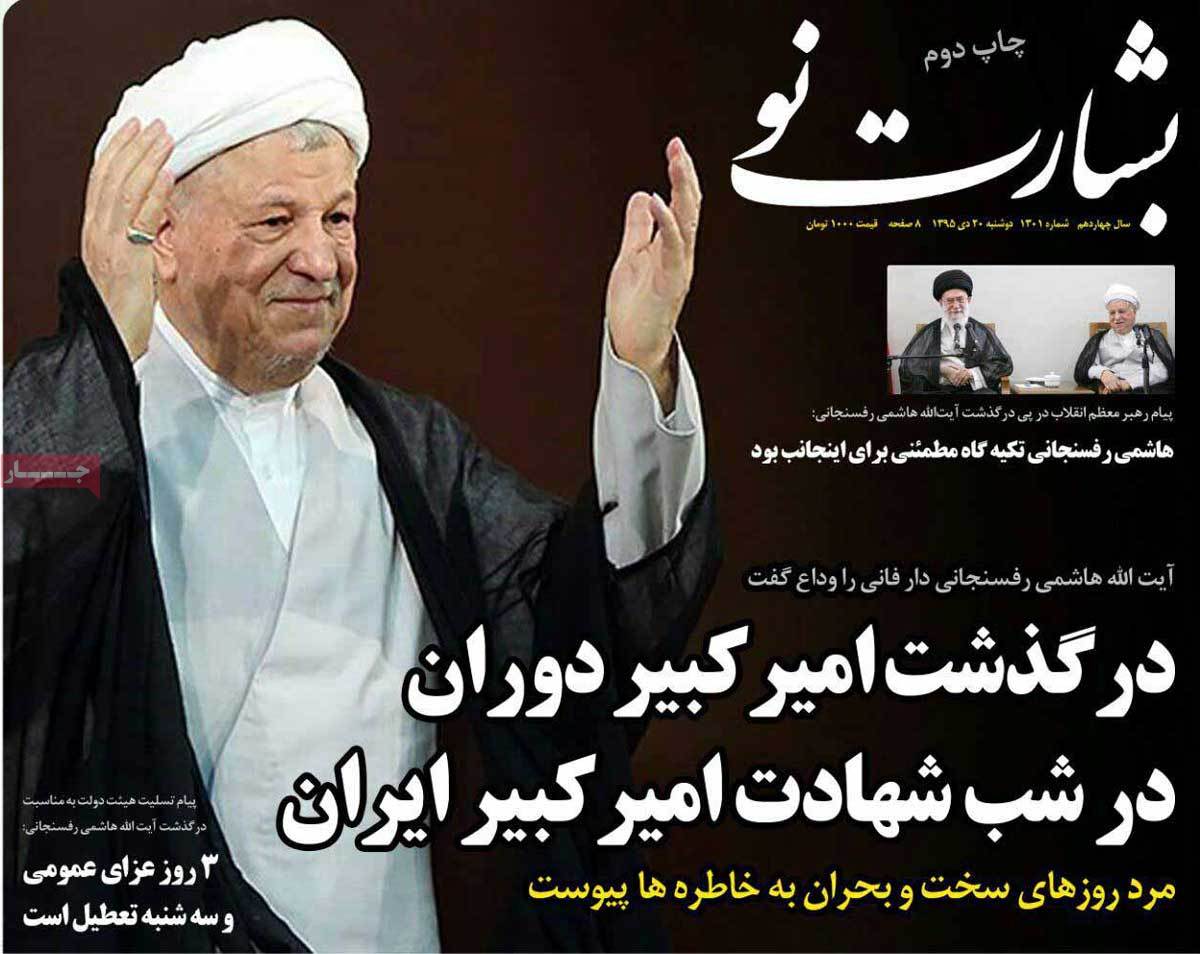 ---
Ebtekar:
1- Adios Amirkabir
2- Death of Modern Day's Amirkabir on Eve of Amirkabir's Death Anniversary [Editorial]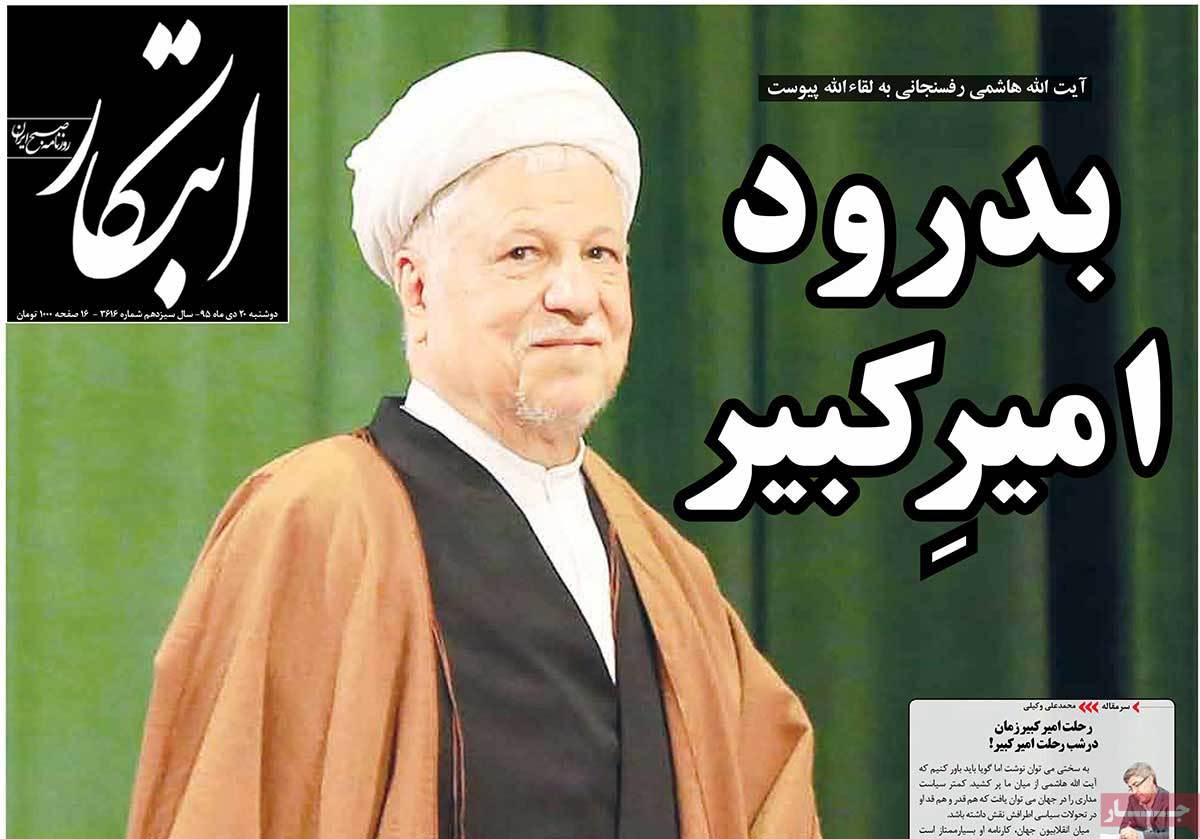 ---
Emtiaz:
1- Ayatollah Hashemi, the Great Man of Iran's Revolution, Passes Away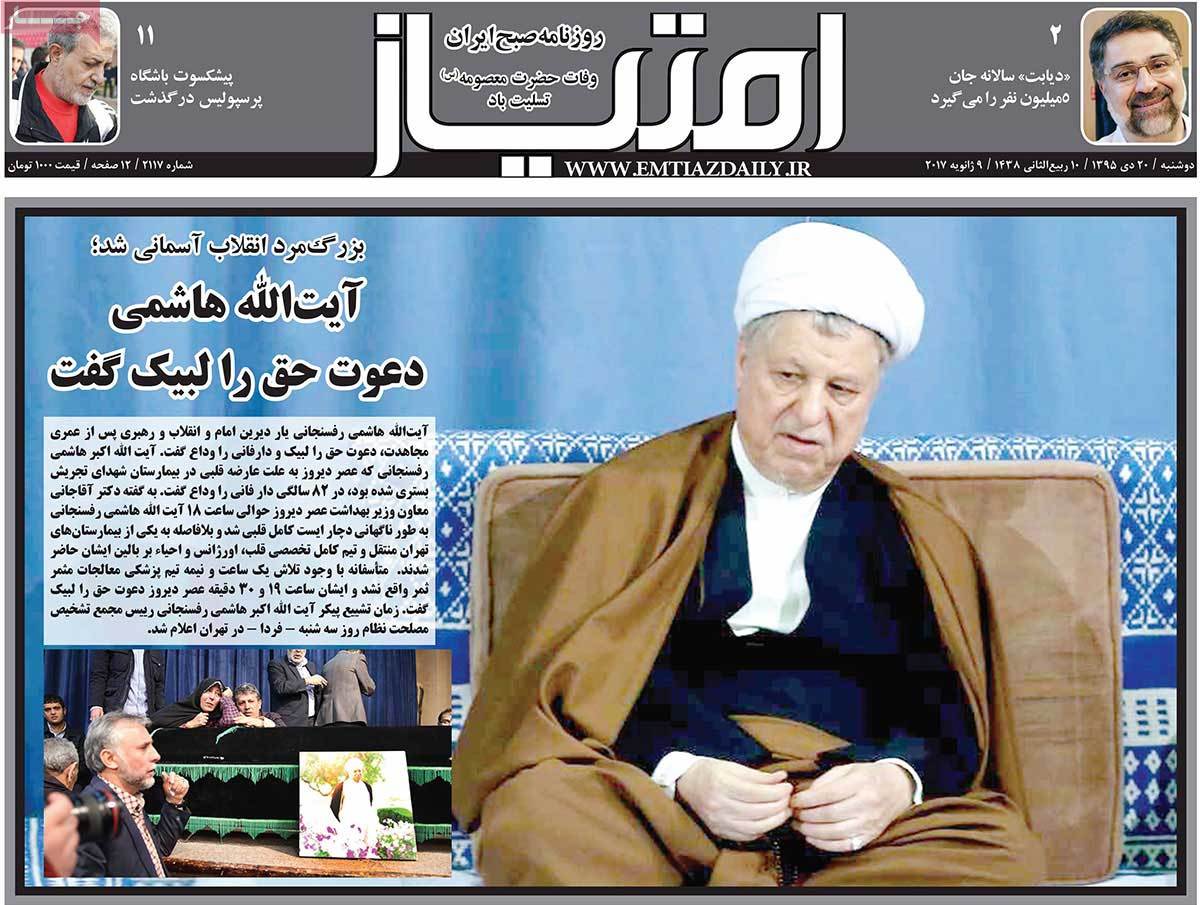 ---
Esfahan-e Emrooz:
1- Farewell to Ayatollah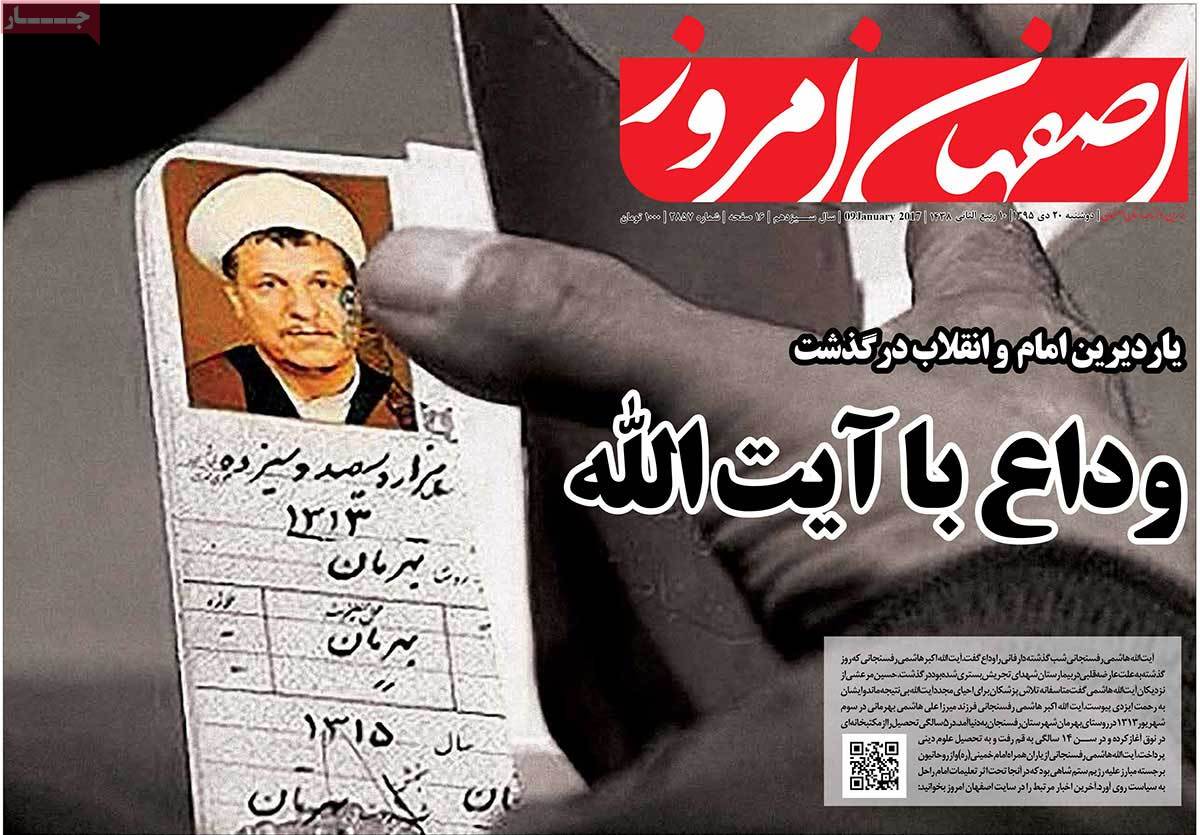 ---
Etemad:
1- Companion of Imam Khomeini Dies
2- Leader's Message: Loss of a Comrade with Whom You Have Had 59 Years of Cooperation Is Overwhelming and Hard to Bear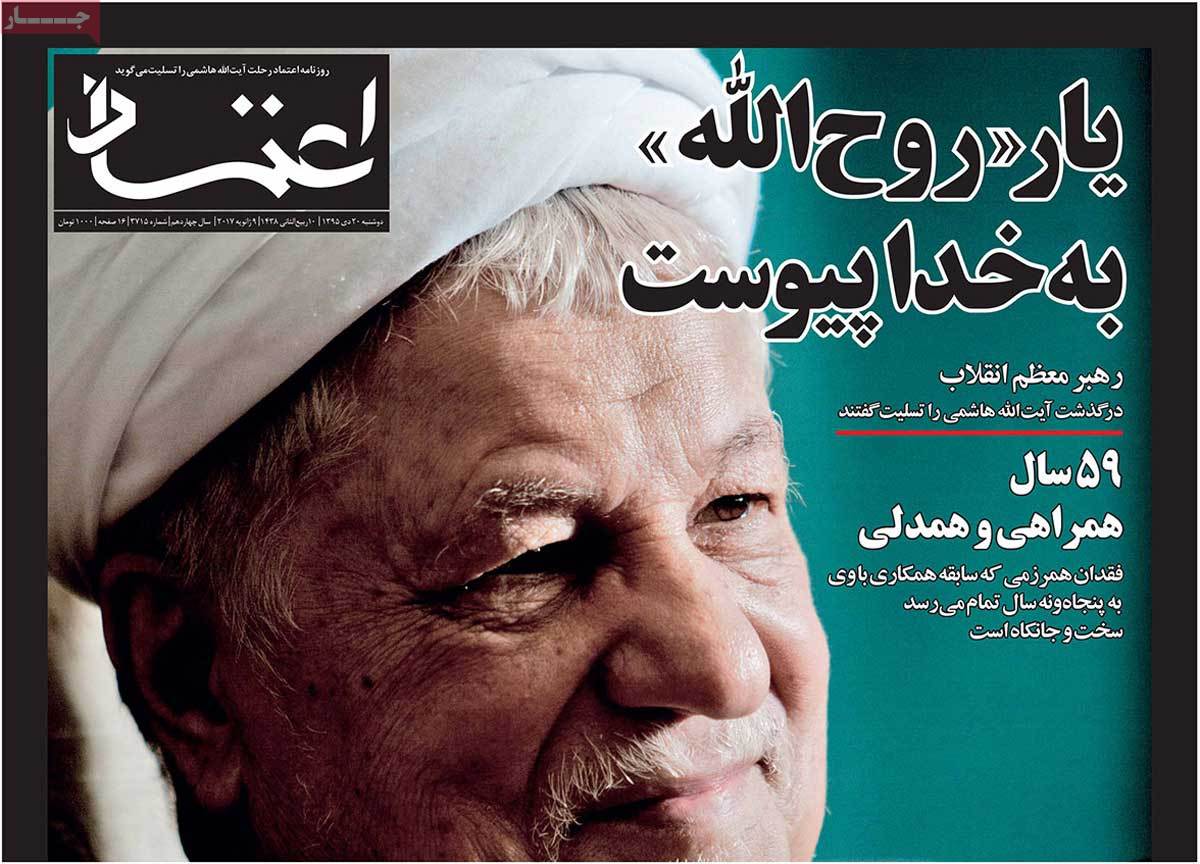 ---
Ettela'at:
1- Pillar of Islamic Revolution Passes Away
2- Leader Releases Message of Condolence on Ayatollah Hashemi Rafsanjani's Demise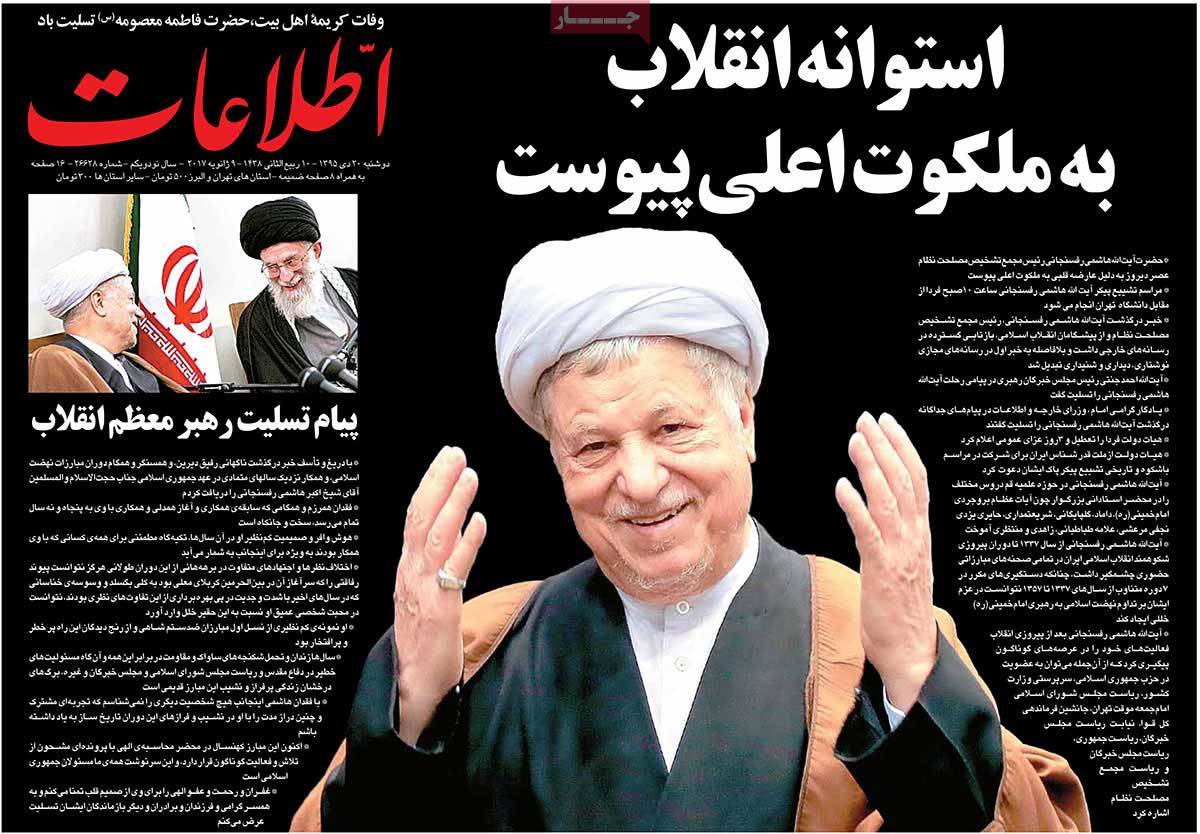 ---
Farhikhtegan:
1- Death of the Great [Kabir] on the Day of Emir [referring to death of Amirkabir]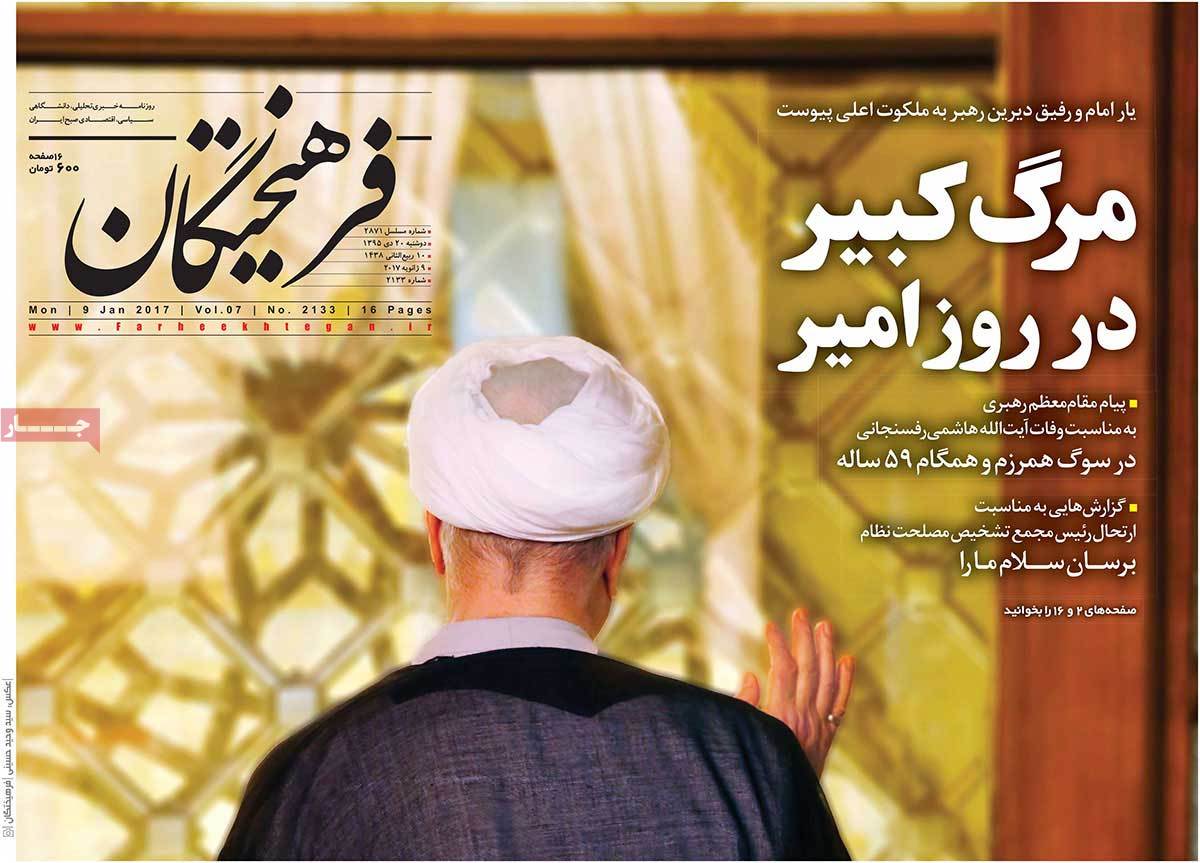 ---
Forsat-e Emrooz:
1- Man of Overcoming Crises Passes Away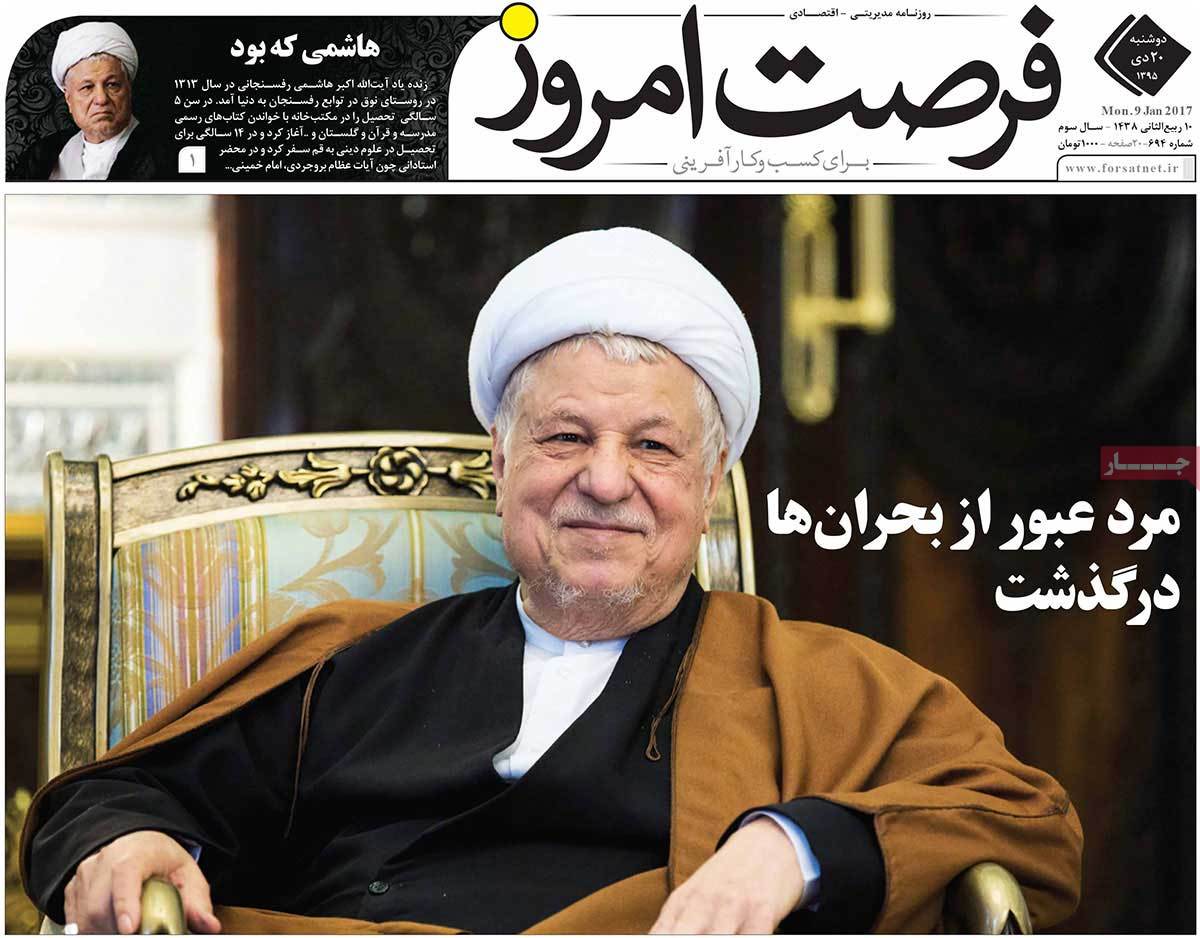 ---
Ghanoon:
1- Hashemi Is Alive, Because the Movement Is Alive
2- Leader's Message to Old Comrade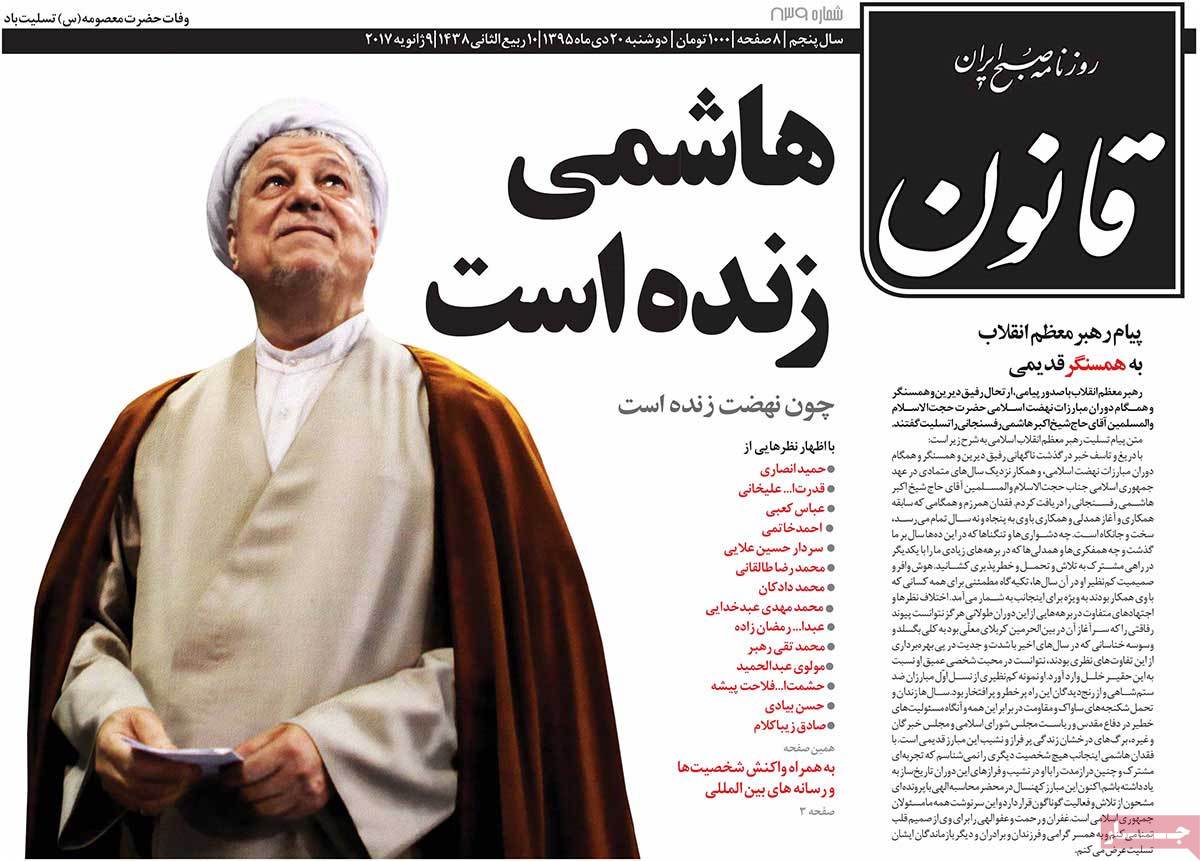 ---
Haft-e Sobh:
1- Goodbye General: 82 Years of Life, 60 Years of Struggle
---
Hamdeli:
1- Last Flight of Phoenix: Man of Losses and Victories in Iran's Contemporary History Dies
2- Leader His Brilliant Intelligence and Outstanding Kindness Was a Reliable Support for Me
3- Rouhani: He Was the Great Man of Revolution and Politics, a Symbol of Patience and Perseverance
4- World Media Show Reactions to Ayatollah Rafsanjani's Death
5- People in Tehran's Jamaran District Mourn in Middle of the Night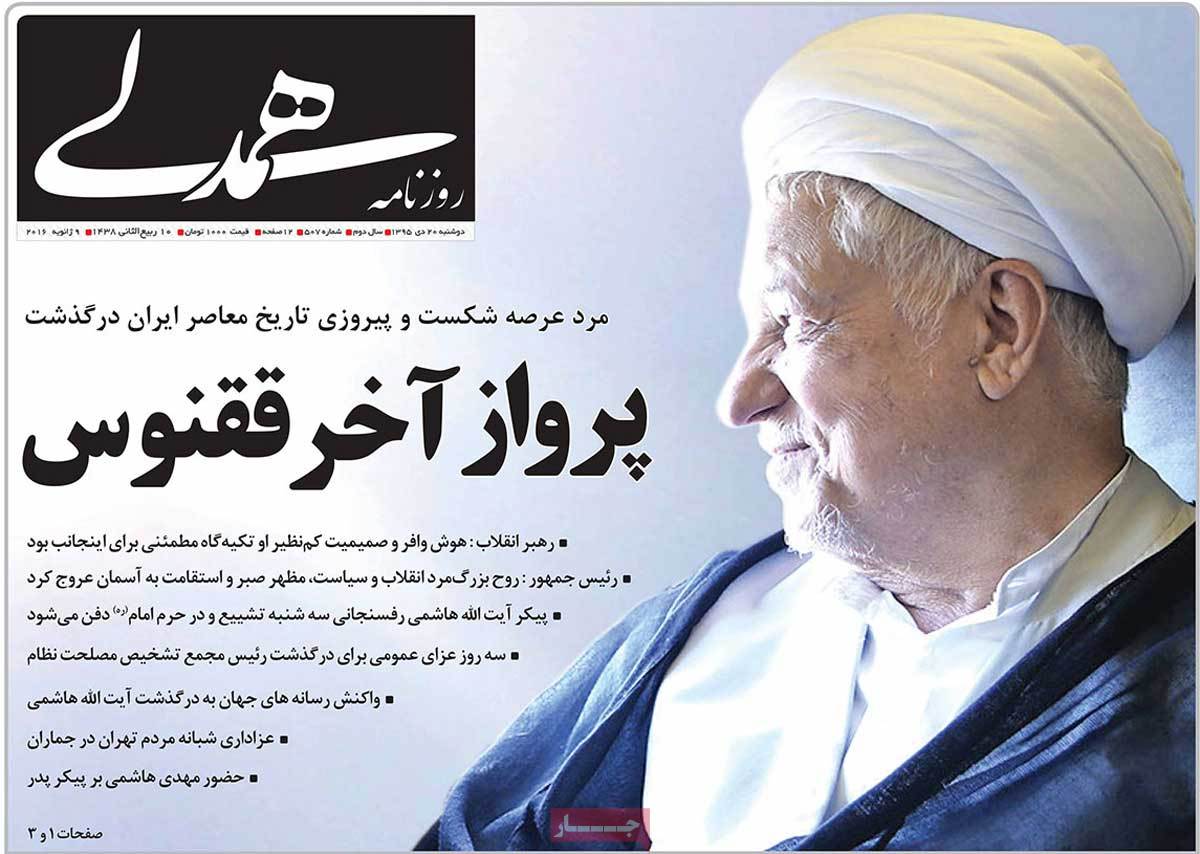 ---
Hamshahri:
1- Death of Iran Leader's Old Friend
---
Hemayat:
1- Ayatollah Hashemi Rafsanjani Passes Away
---
Iran:
1- Iran is Grief
2- Leader: After Loss of Hashemi, I Know No One Else with Whom I Have Had Such a Long History of Common Experiences in All Ups and Downs of This Historic Period
3- Hashemi Was Favoured by Imam Khomeini and Always Served Iranian People in Any Position He Had. He Was a Source of Calm for Imam and Leader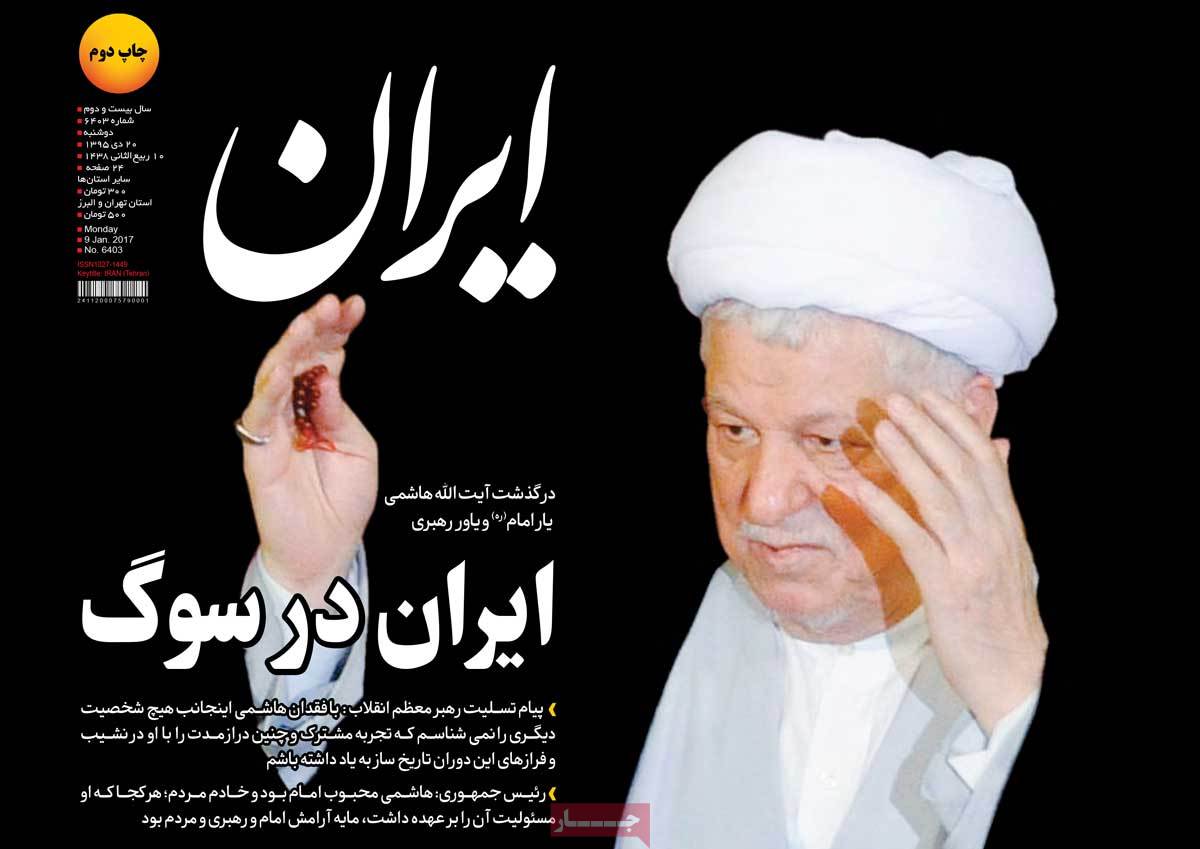 ---
Jahan-e Eqtesad:
1- Suddenly and Abruptly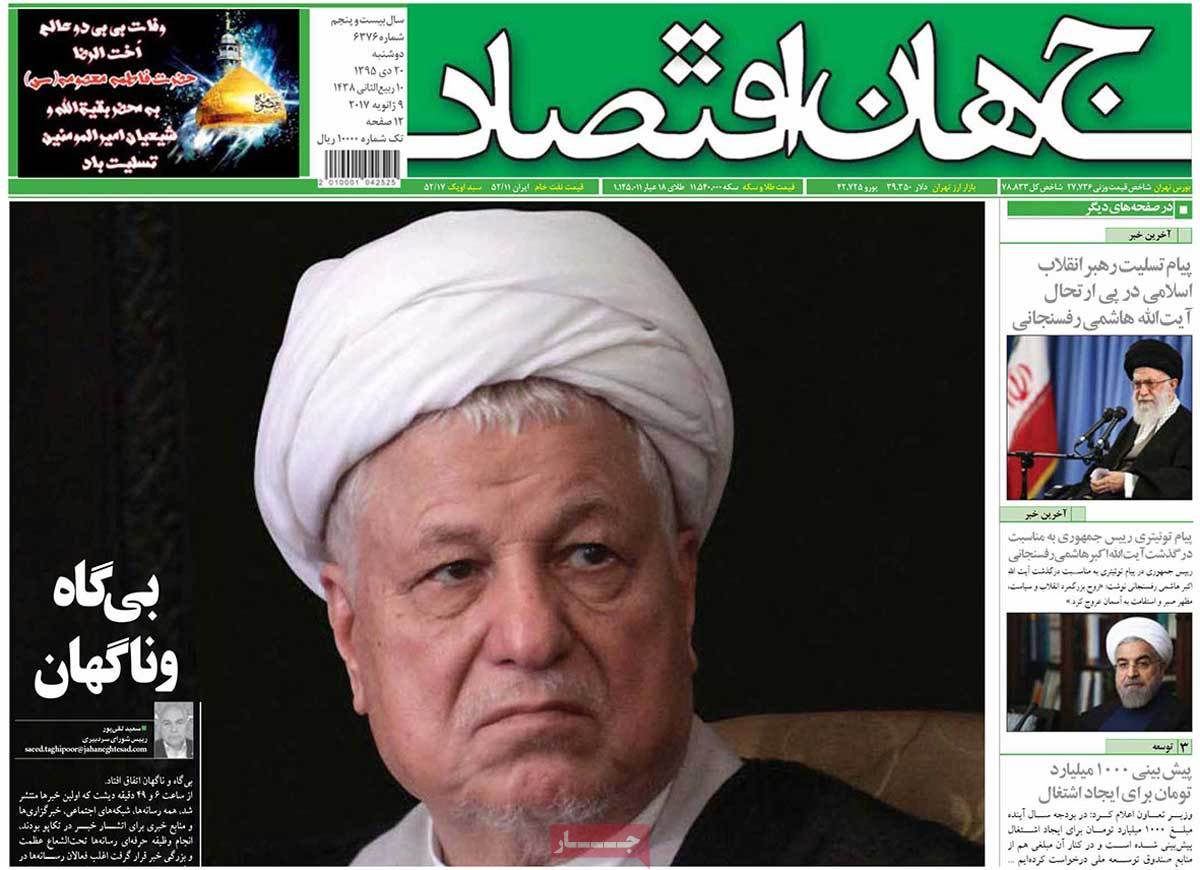 ---
Jame Jam:
1- Old Friend of Imam Khomeini and Ayatollah Khamenei Leaves This World
2- Leader in Message of Condolence: 59 Years of Cooperation and Sympathy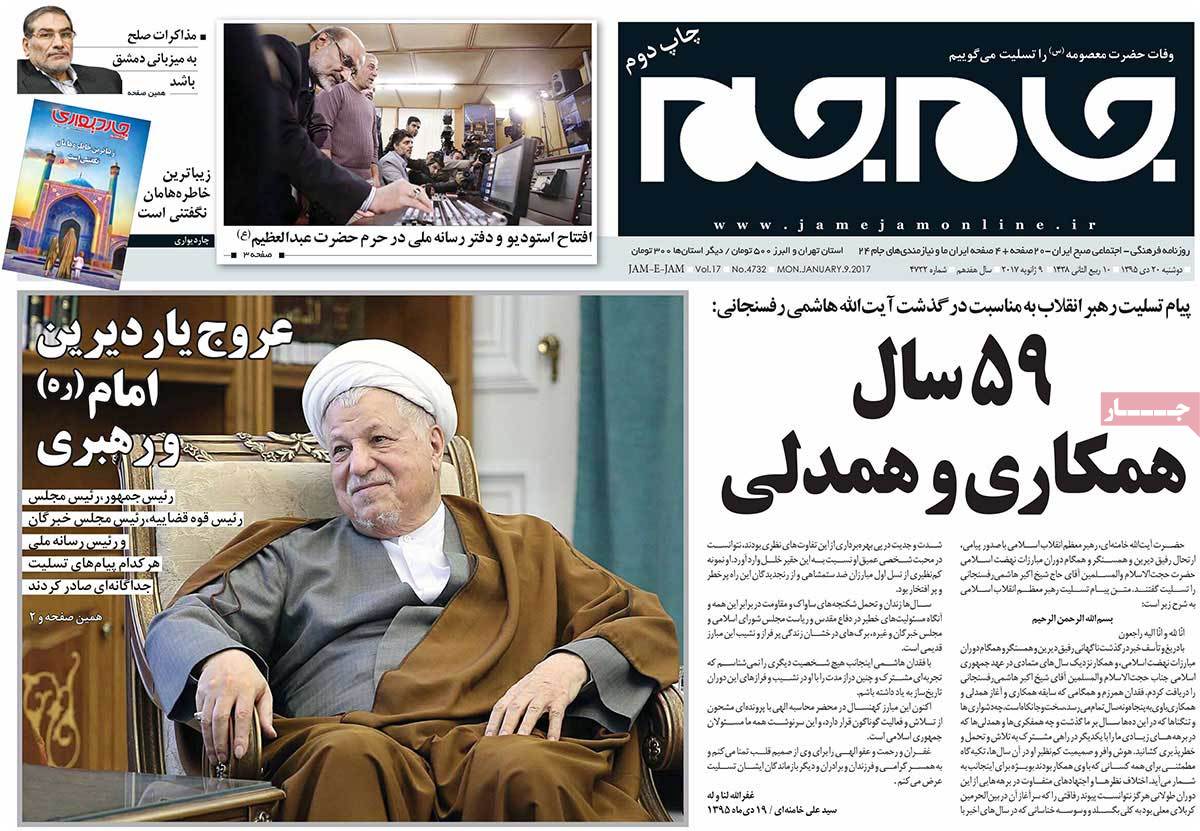 ---
Javan:
1- Man of Hard Days of Struggle and Companion of Imam and Leader Passes Away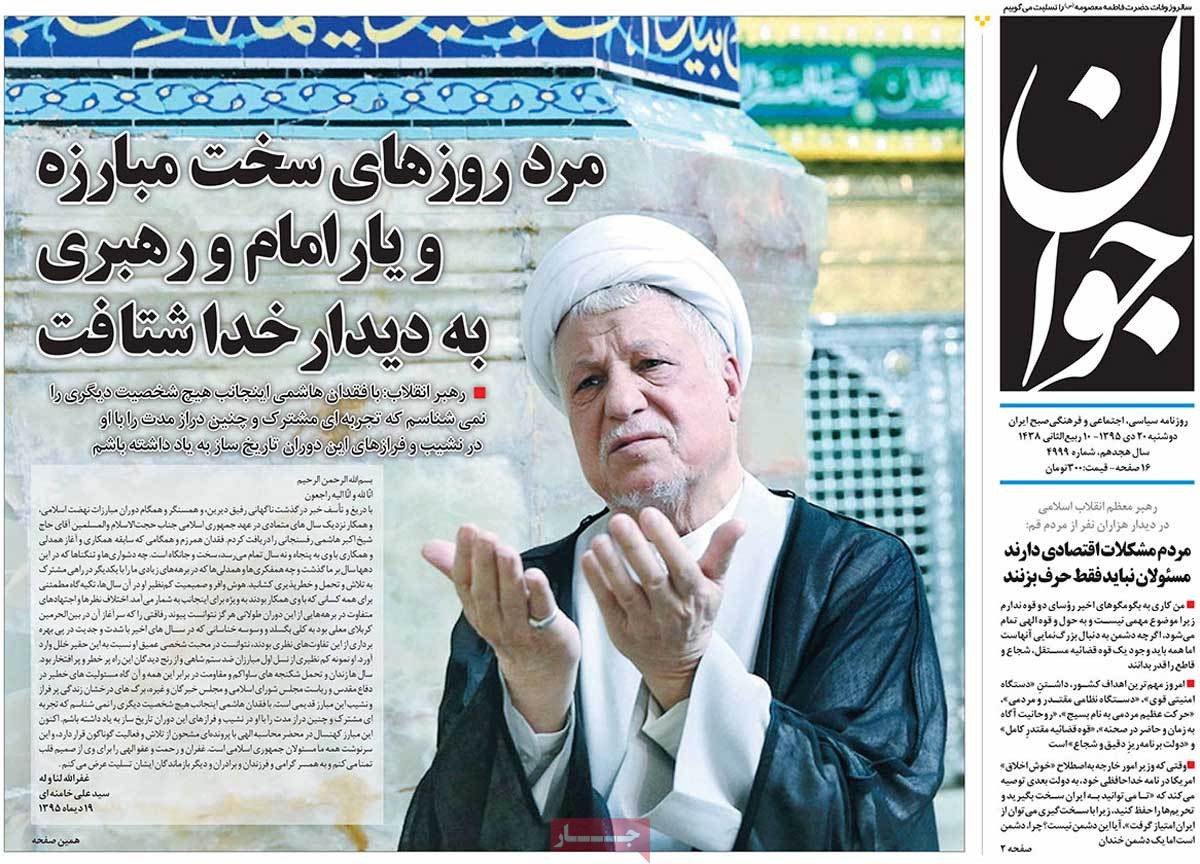 ---
Jomhouri Eslami:
1- Ayatollah Hashemi Rafsanjani, the Oppressed Companion of Islamic Revolution, Passes Away after Years of Struggle: Imam Khomeini's Honest Friend Joins Him
2- Leader: Sudden Death of My Old Comrade and Friend Is Overwhelming and Hard to Bear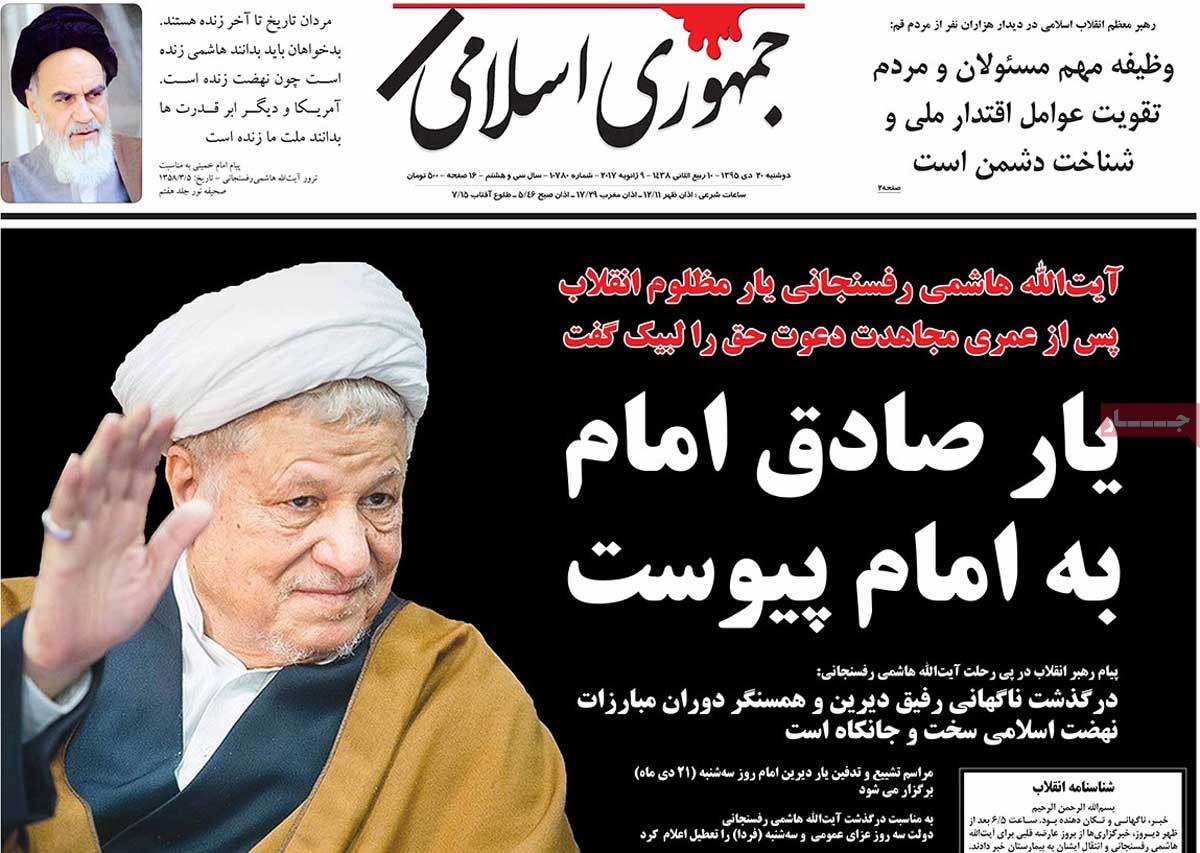 ---
Ka'enat:
1- Ayatollah Hashemi Rafsanjani Passes Away
2- Leader: Differences of Opinion Never Could Tear Apart Our Friendship Bonds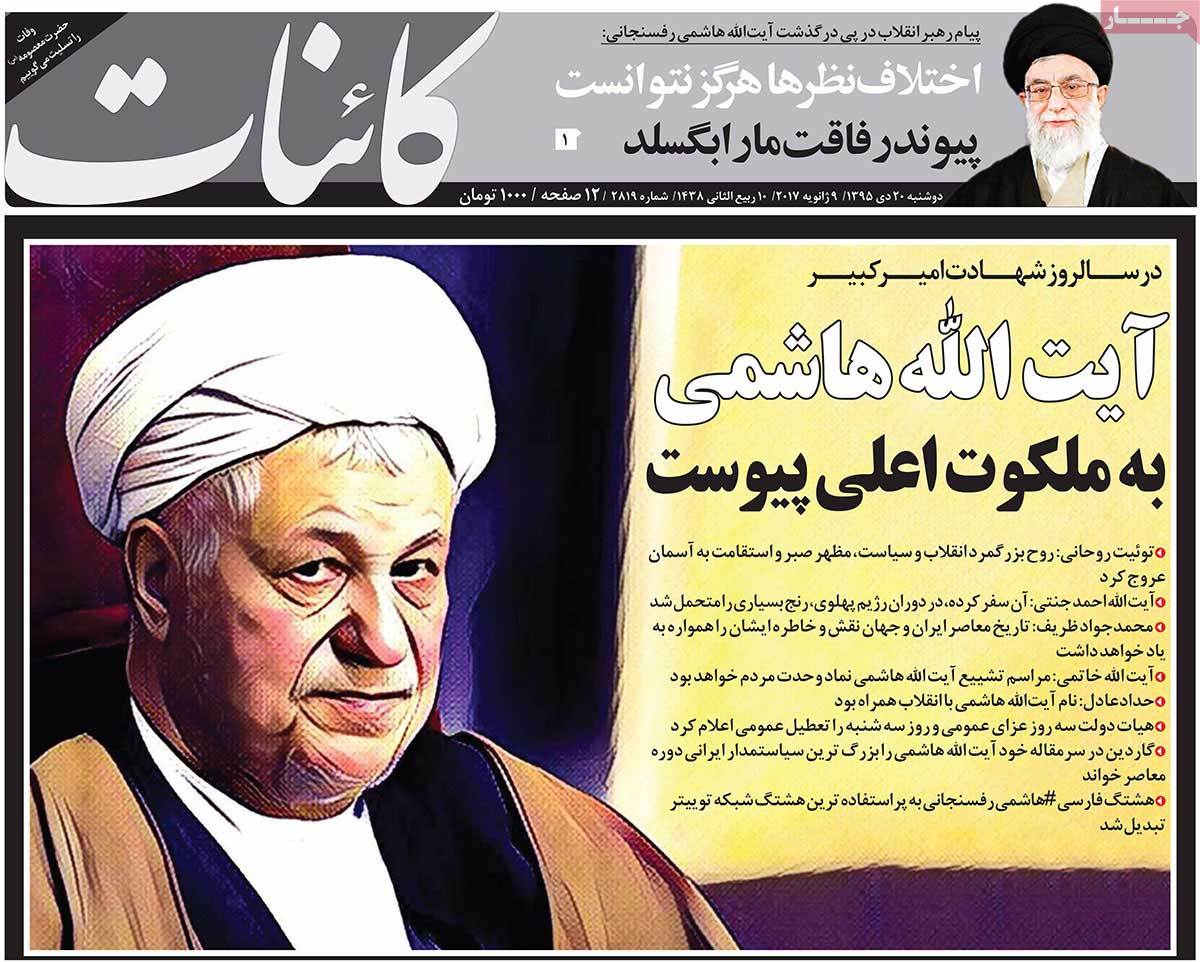 ---
Kar-o Kargar:
1- Leader's Message: Loss of One's Comrade Is Hard and Overwhelming
2- In His Memory [Editorial]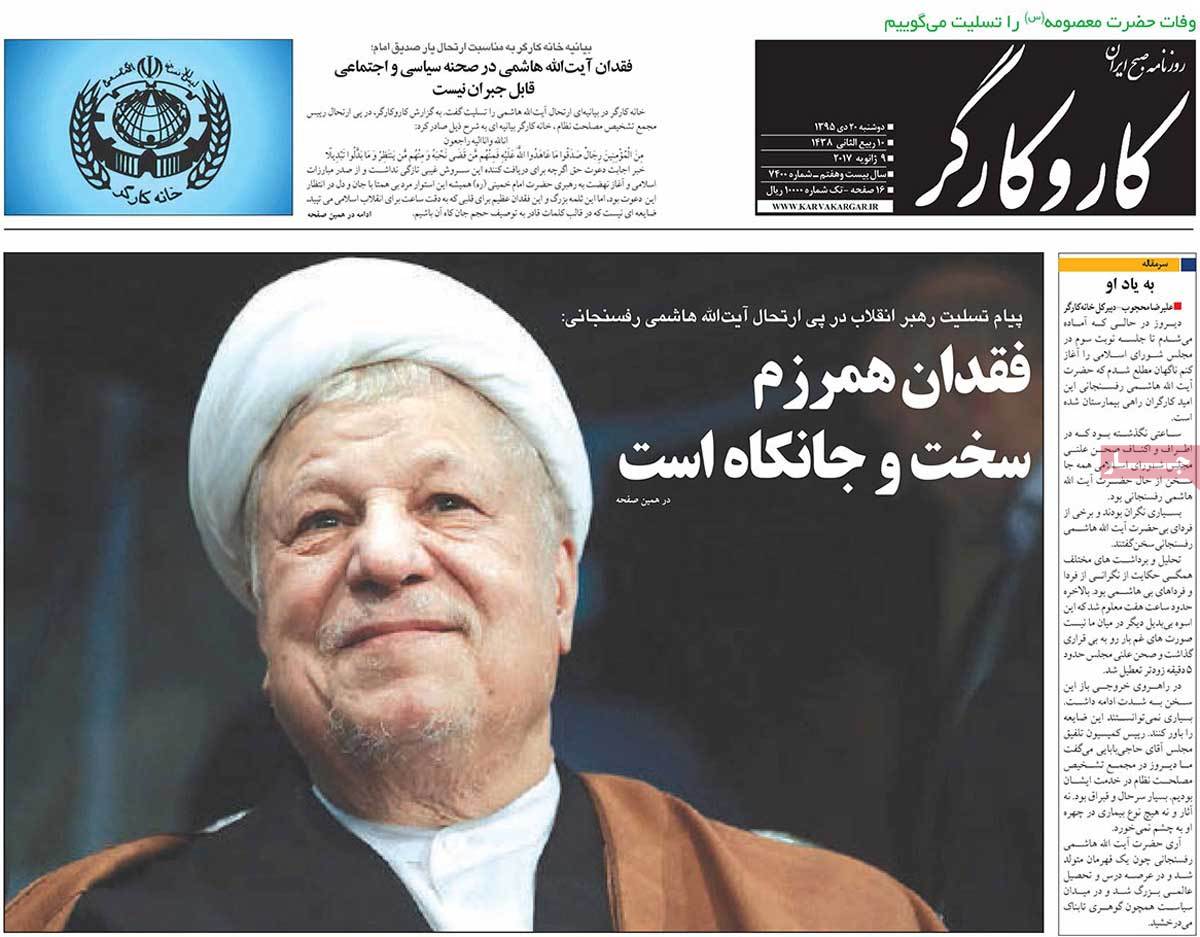 ---
Kayhan:
1- Ayatollah Hashemi Rafsanjani Passed Away Last Night after Heart Attack
2- Leader's Message: His Brilliant Intelligence and Friendship Was a Reliable Support for Everyone, Including Me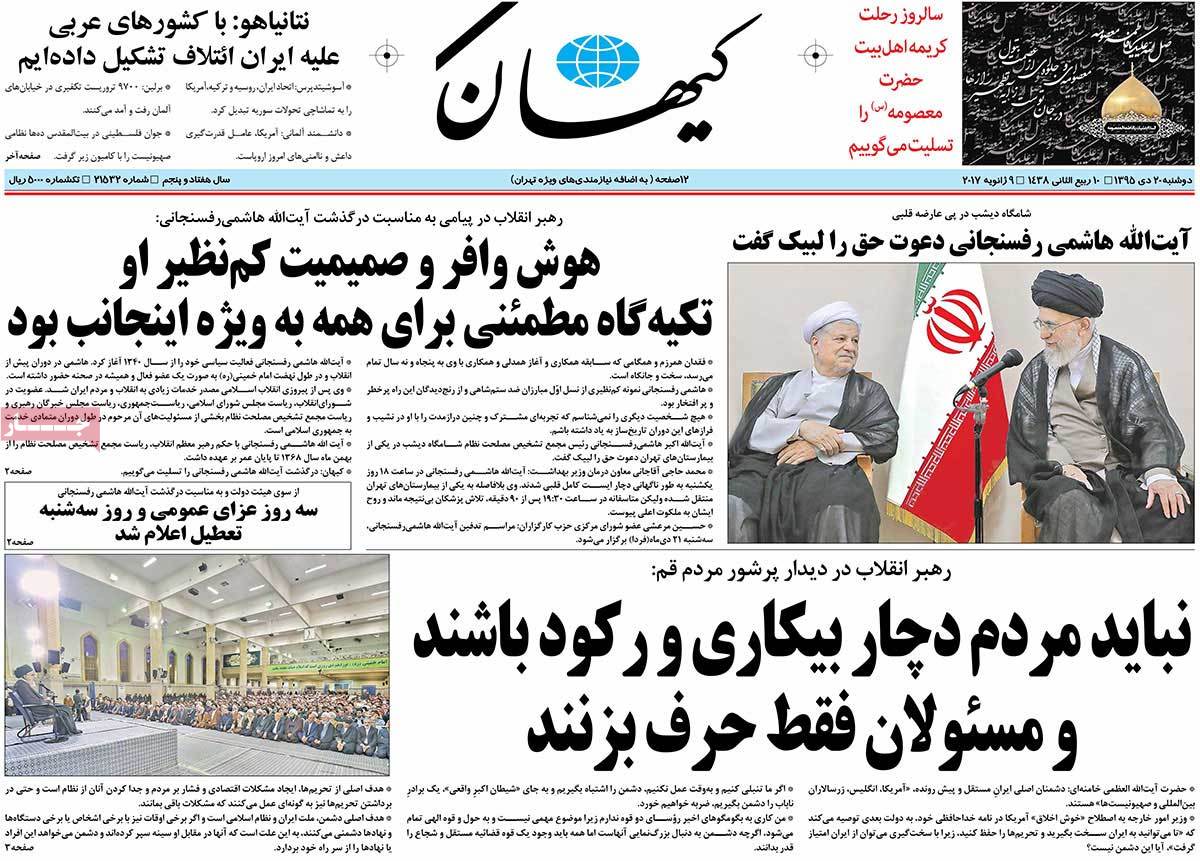 ---
Mardom Salari:
1- Senior Backer of Islamic Establishment, Resistant Warrior, and Chairman of Expediency Council Passes Away
2- Widespread Reactions to Ayatollah Hashemi Rafsanjani's Demise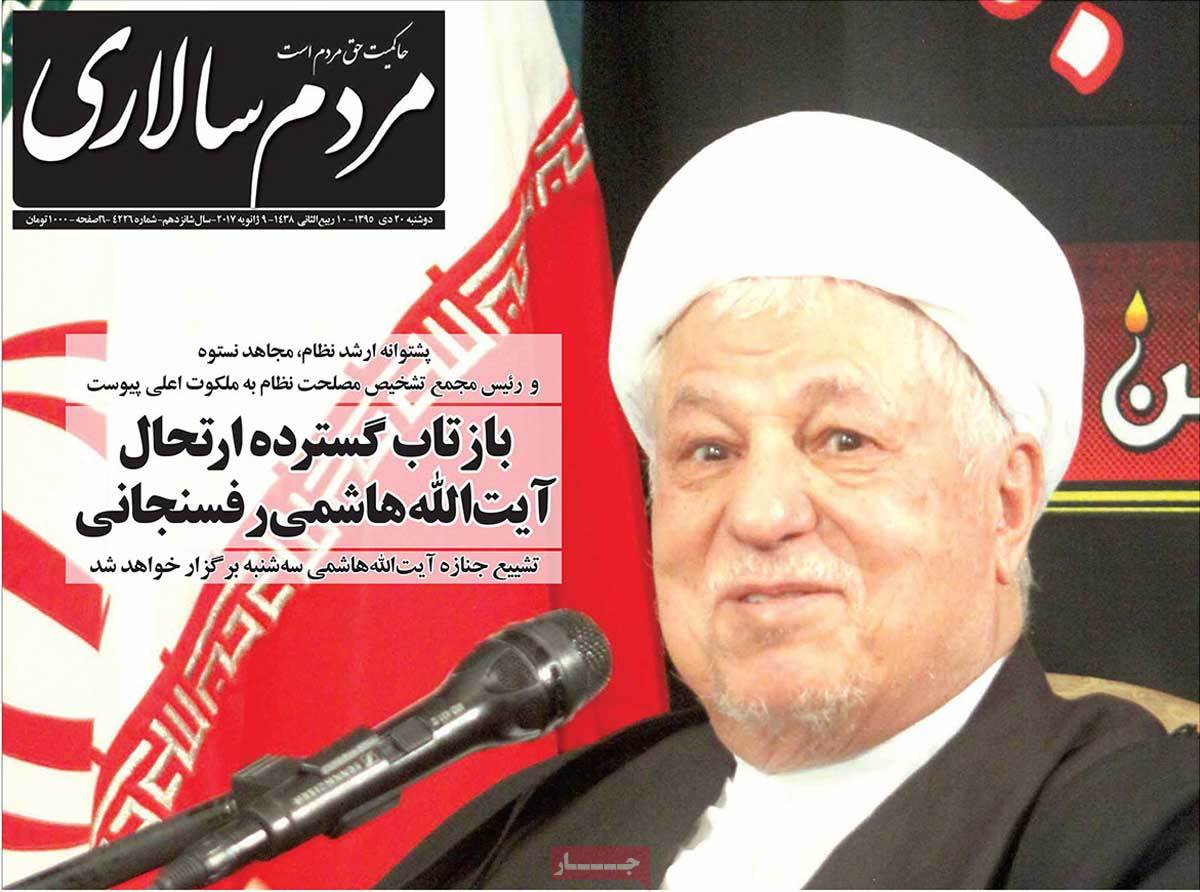 ---
Nasl-e Farda:
1- A Grief in Winter: Ayatollah Hashemi Joins His Old Friend Imam Khomeini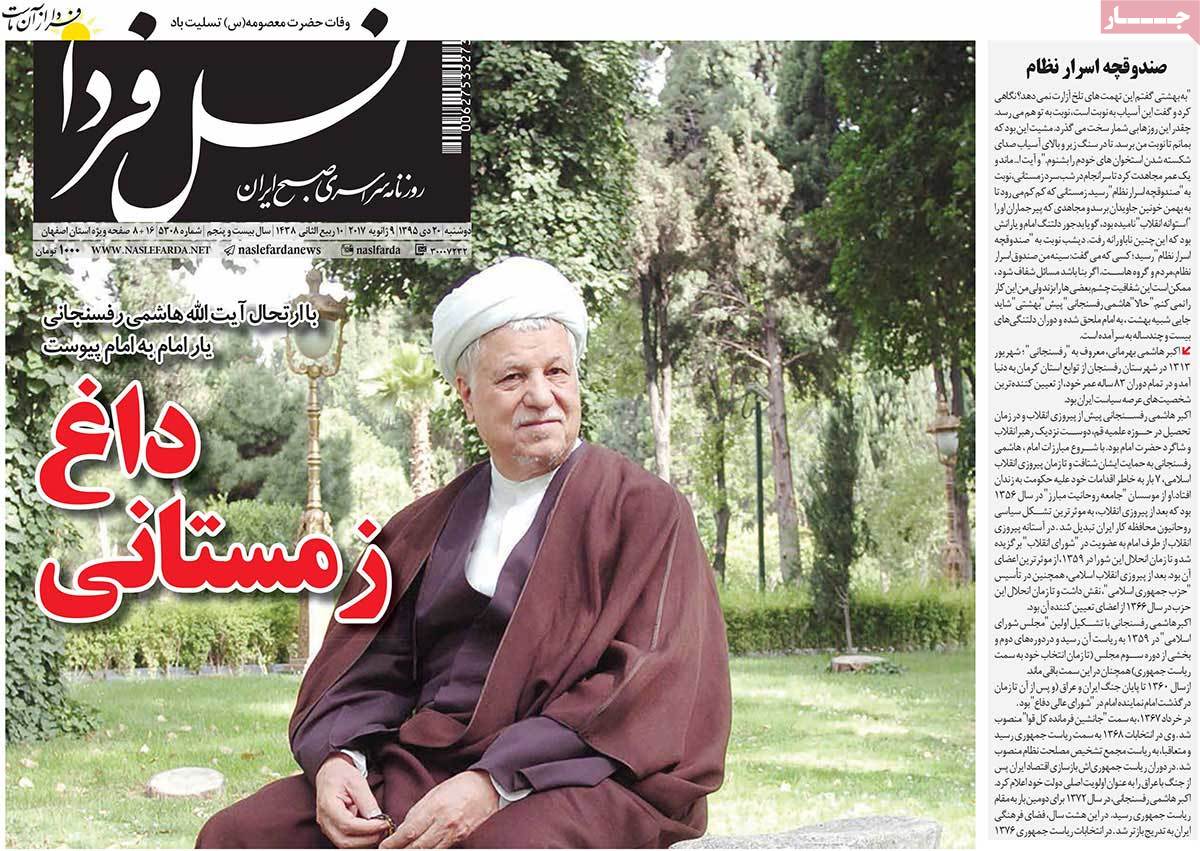 ---
Noavaran:
1- Iran in Grief of Hashemi Rafsanjani
2- Iran without Ayatollah's Presence [Editorial]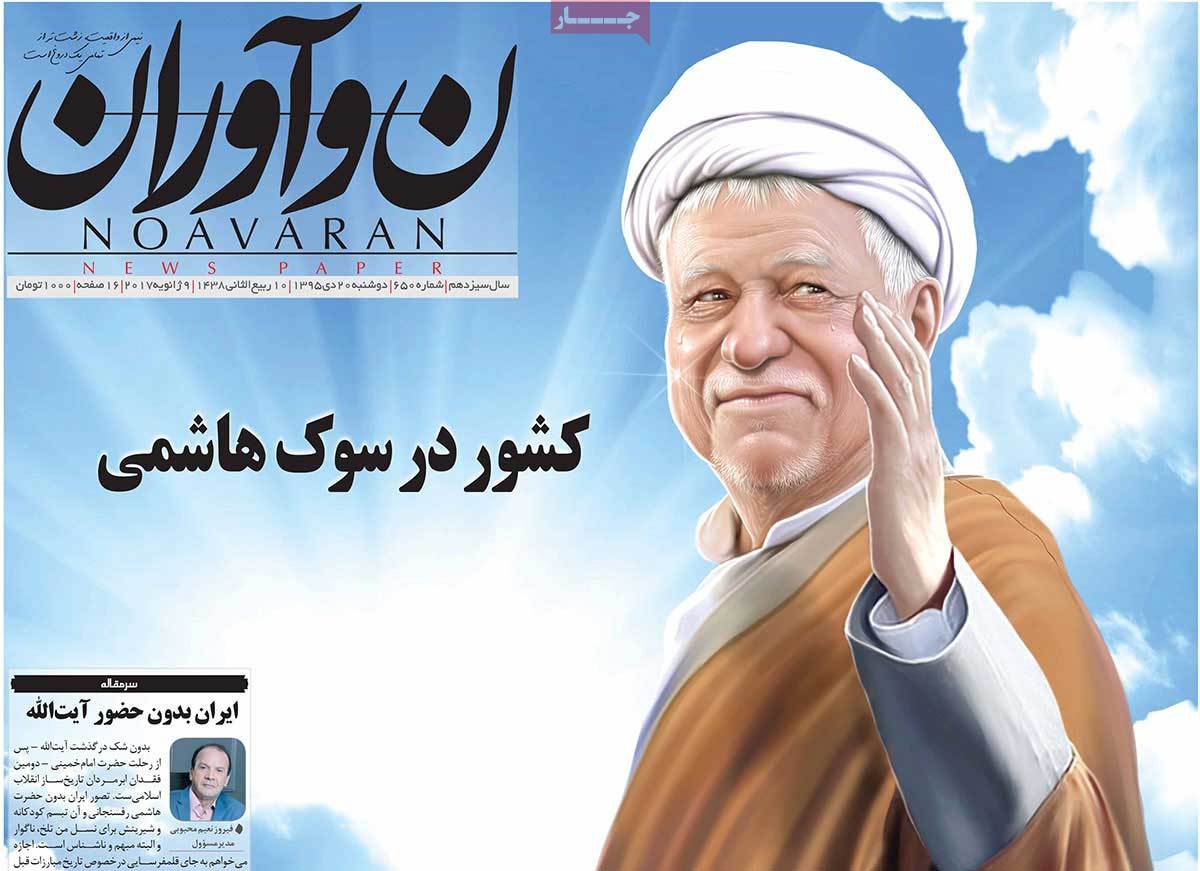 ---
Payam-e Zaman:
1- Hashemi Passes Away: Farewell Ceremony to Be Held on Tuesday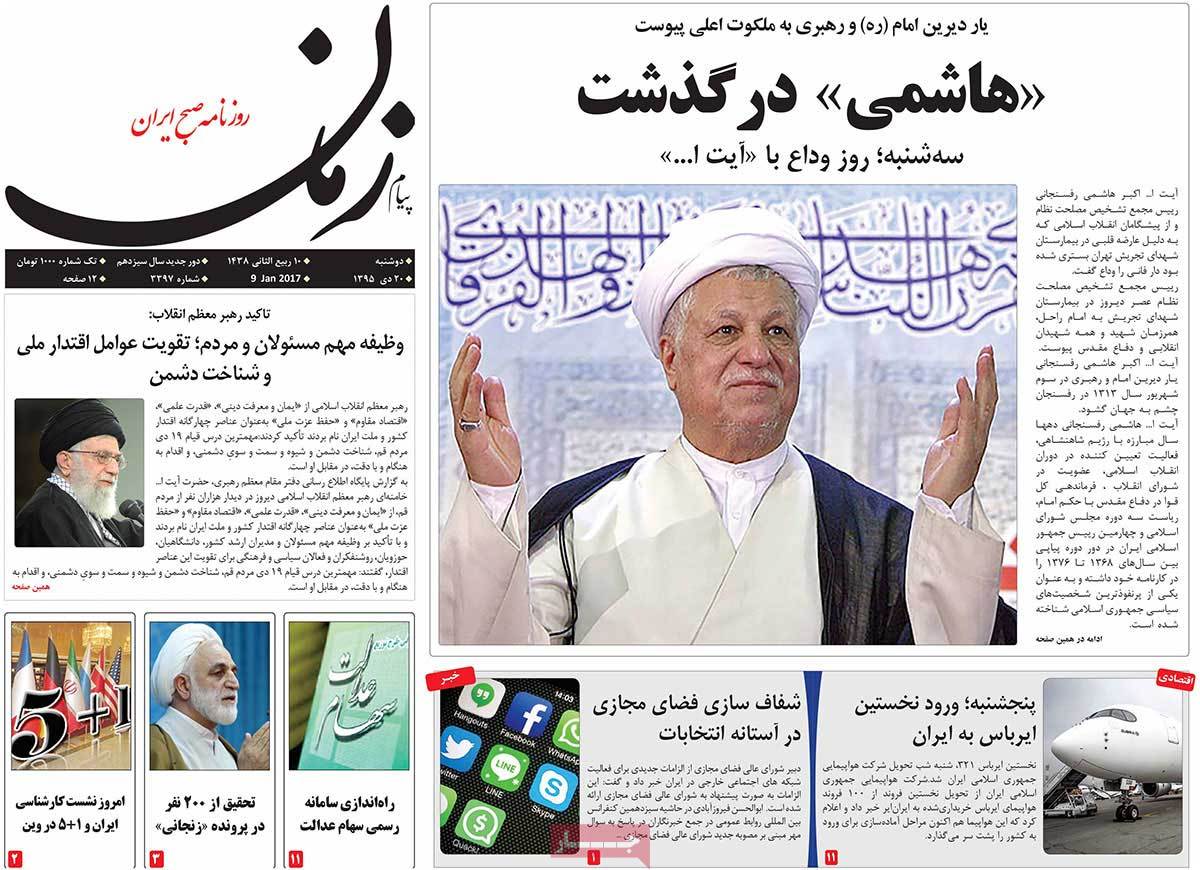 ---
Seda-ye Eslahat:
1- Patience of Hashemi, the Symbol of Patience, Is Finally Over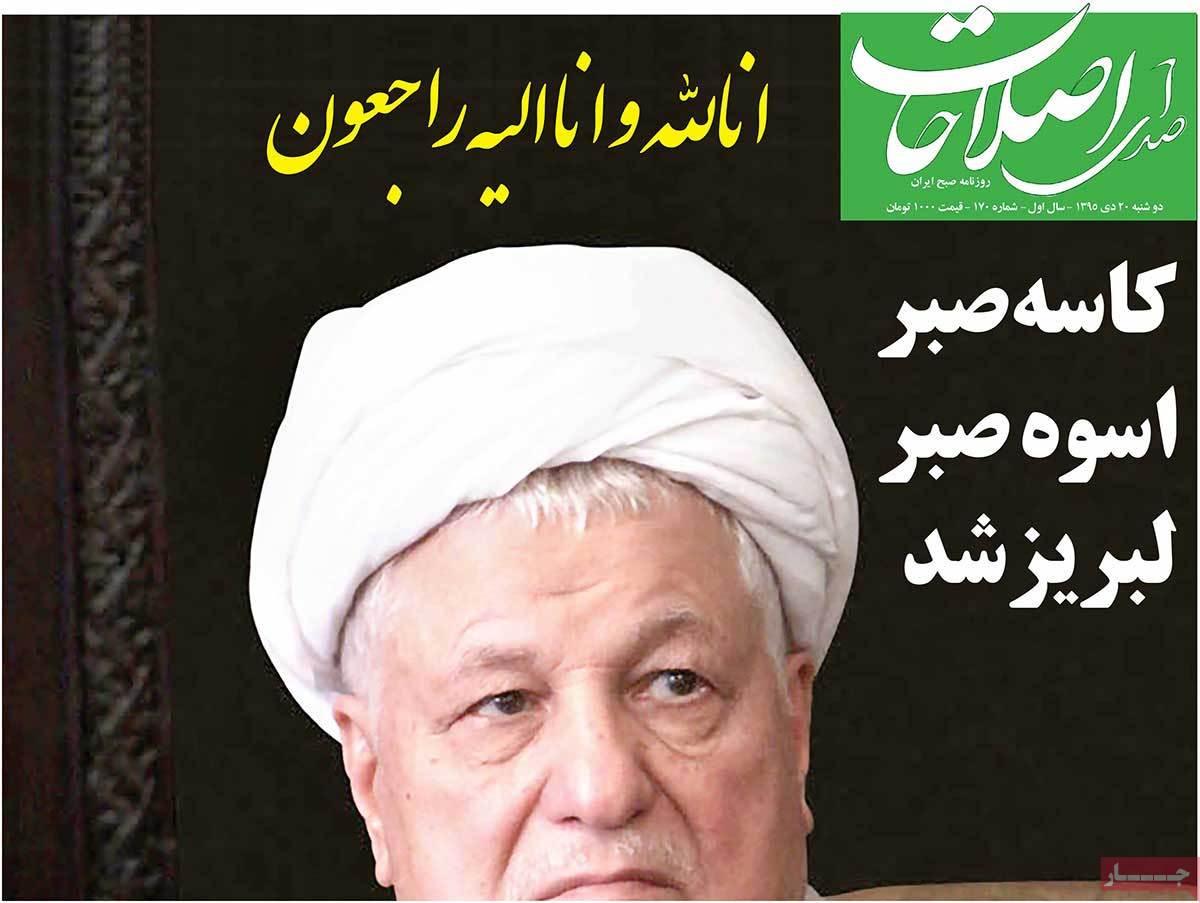 ---
Setareh Sobh:
1- Saying Goodbye to the Key Man of Iran's Revolution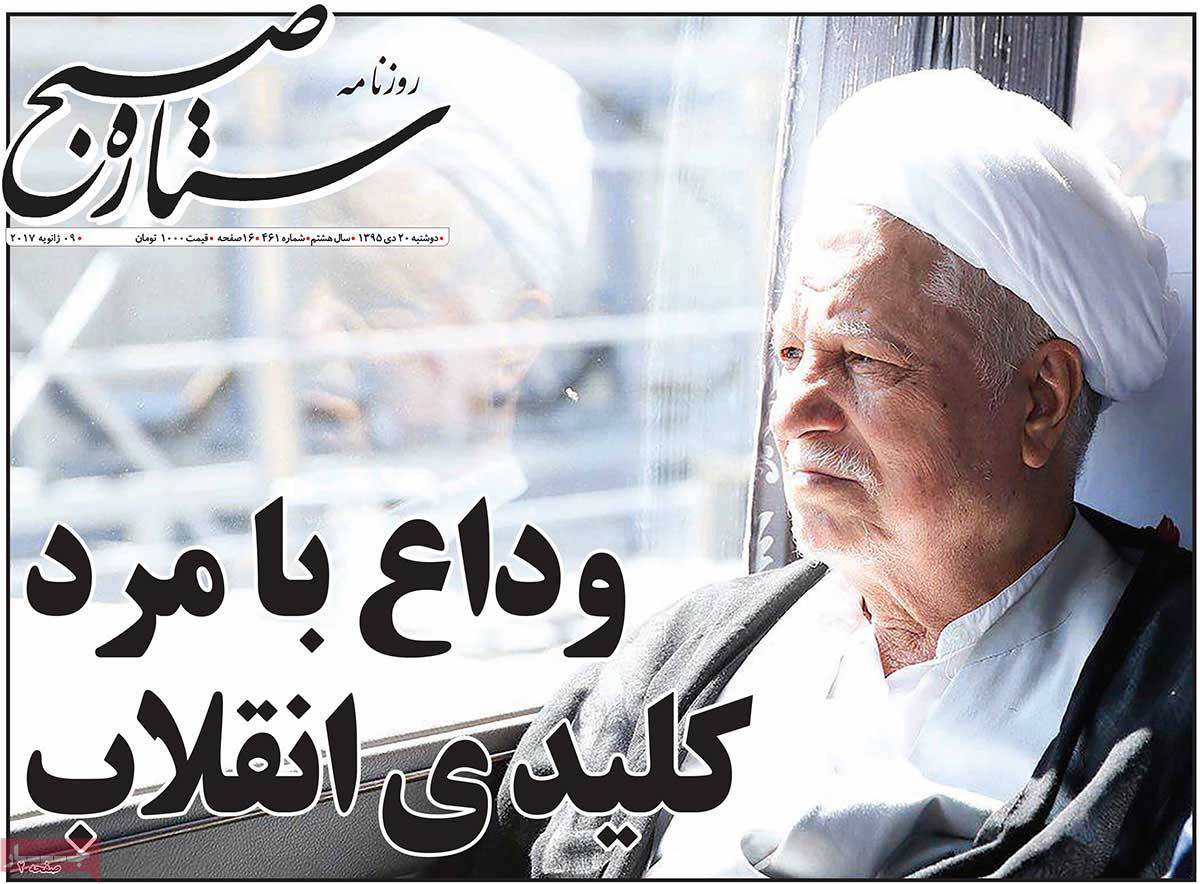 ---
Shahrvand:
1- Moderate Revolutionary Dies at 82 after Years of Struggle and Efforts to Realize Revolution's Causes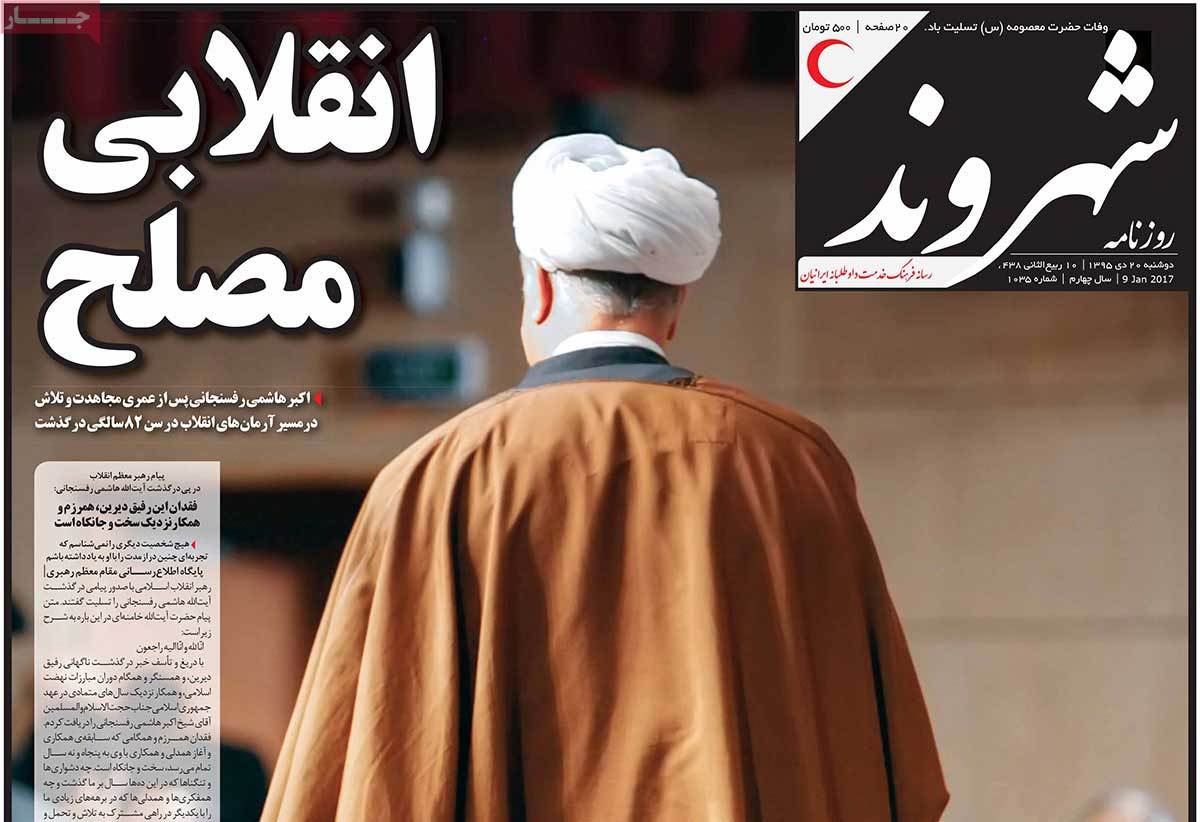 ---
Shakhe-ye Sabz:
1- Ayatollah Hashemi Passes Away
2- Leader: Hashemi Was a Reliable Support for Me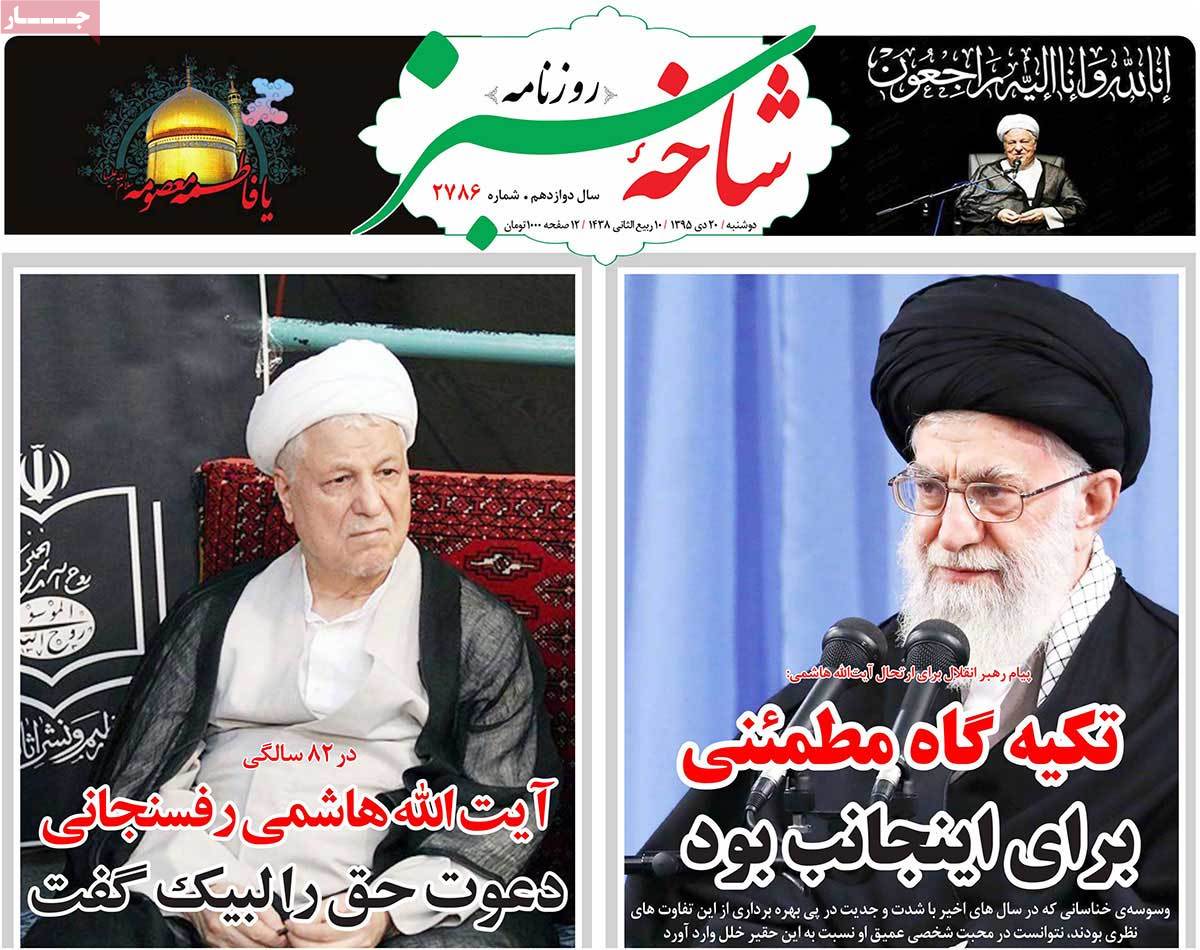 ---
Shargh:
1- Goodbye Man of Expediency
2- Leader's Letter of Condolence
3- On Comfortable Death of a Great Man [Editorial]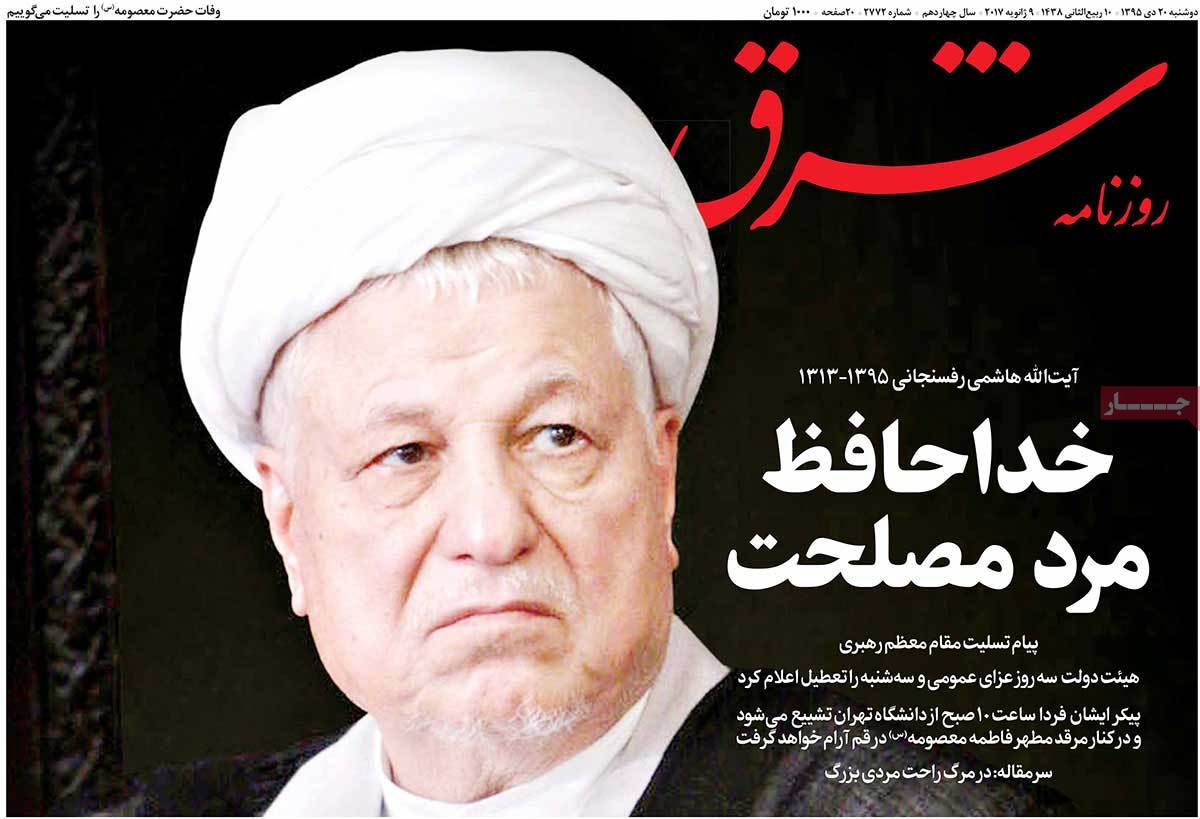 ---
Siasat-e Rooz:
1- Heart of the Companion of Imam Khomeini and Ayatollah Khamenei Stops Working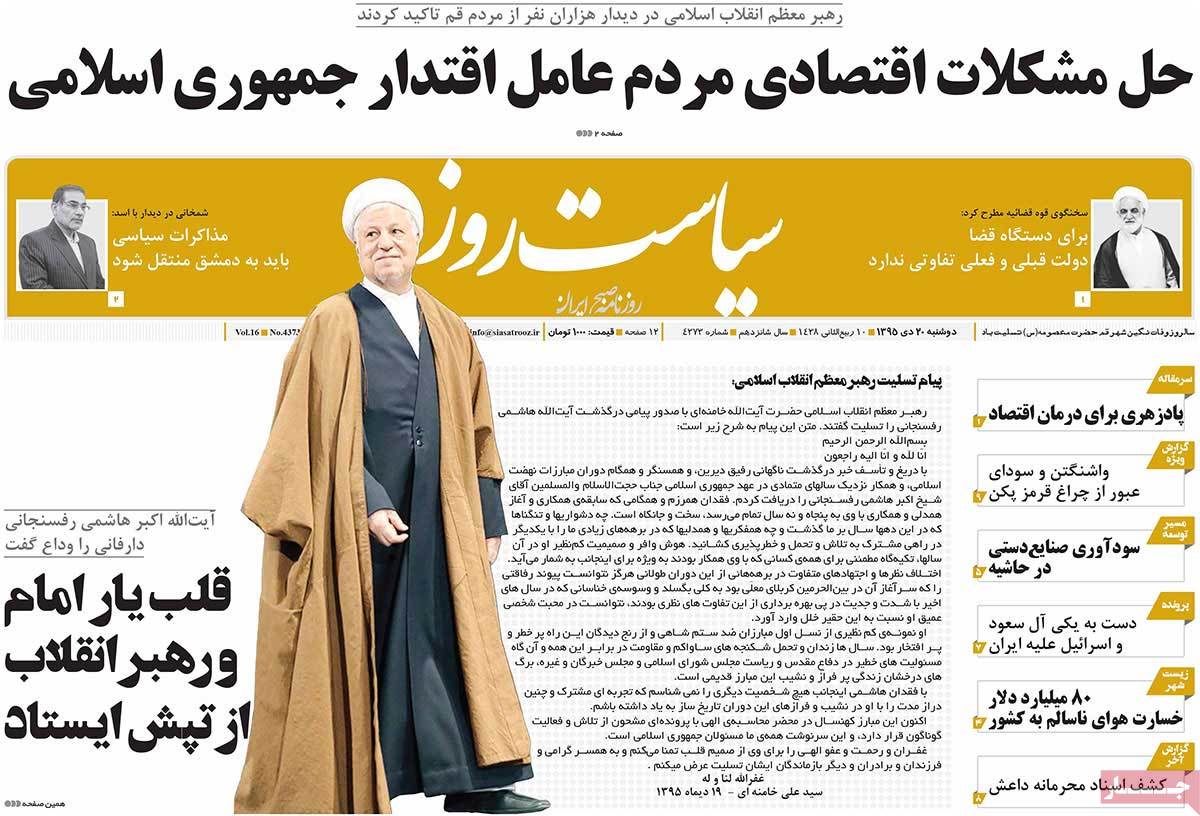 ---
SMT:
1- Goodbye Hashemi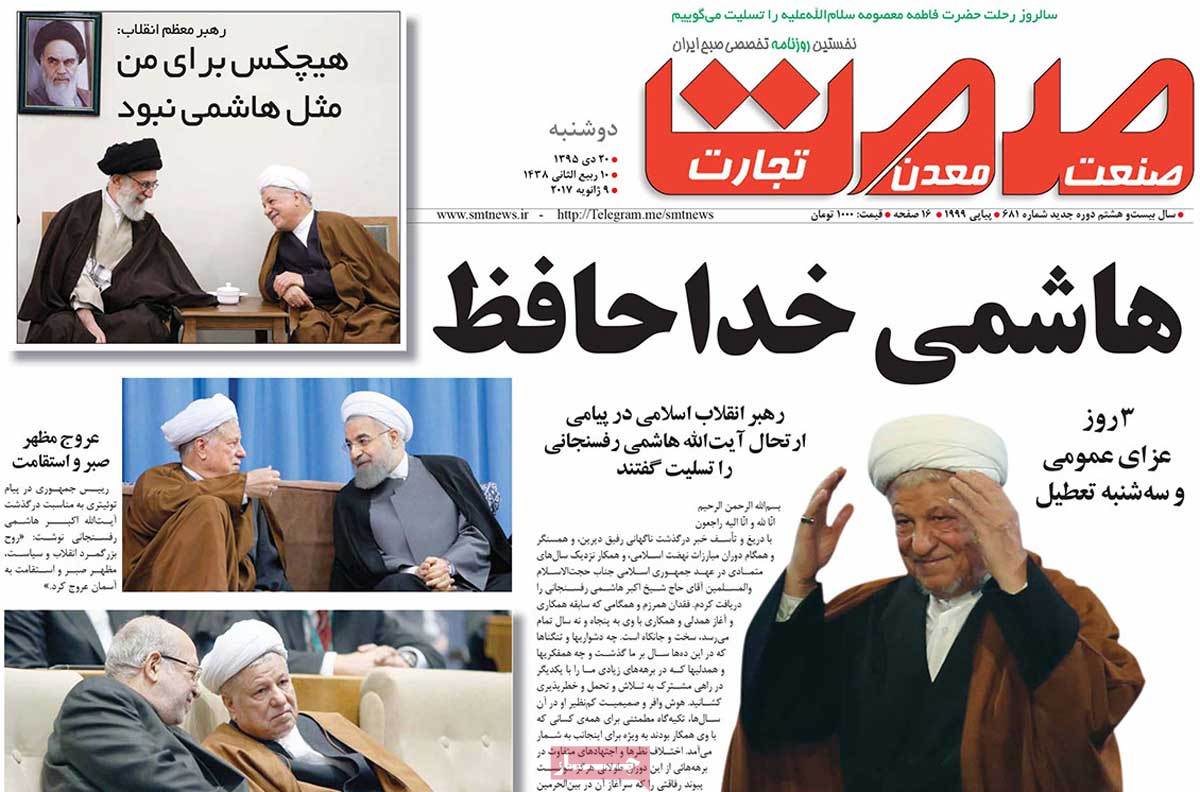 ---
Sobh-e Now:
1- In a Historic and Special Message, Leader Talked about His Old Friend and Comrade and Partner in Years of Islamic Republic
2- Hashemi Is Alive …
3- … Because the Movement in Alive [Editorial]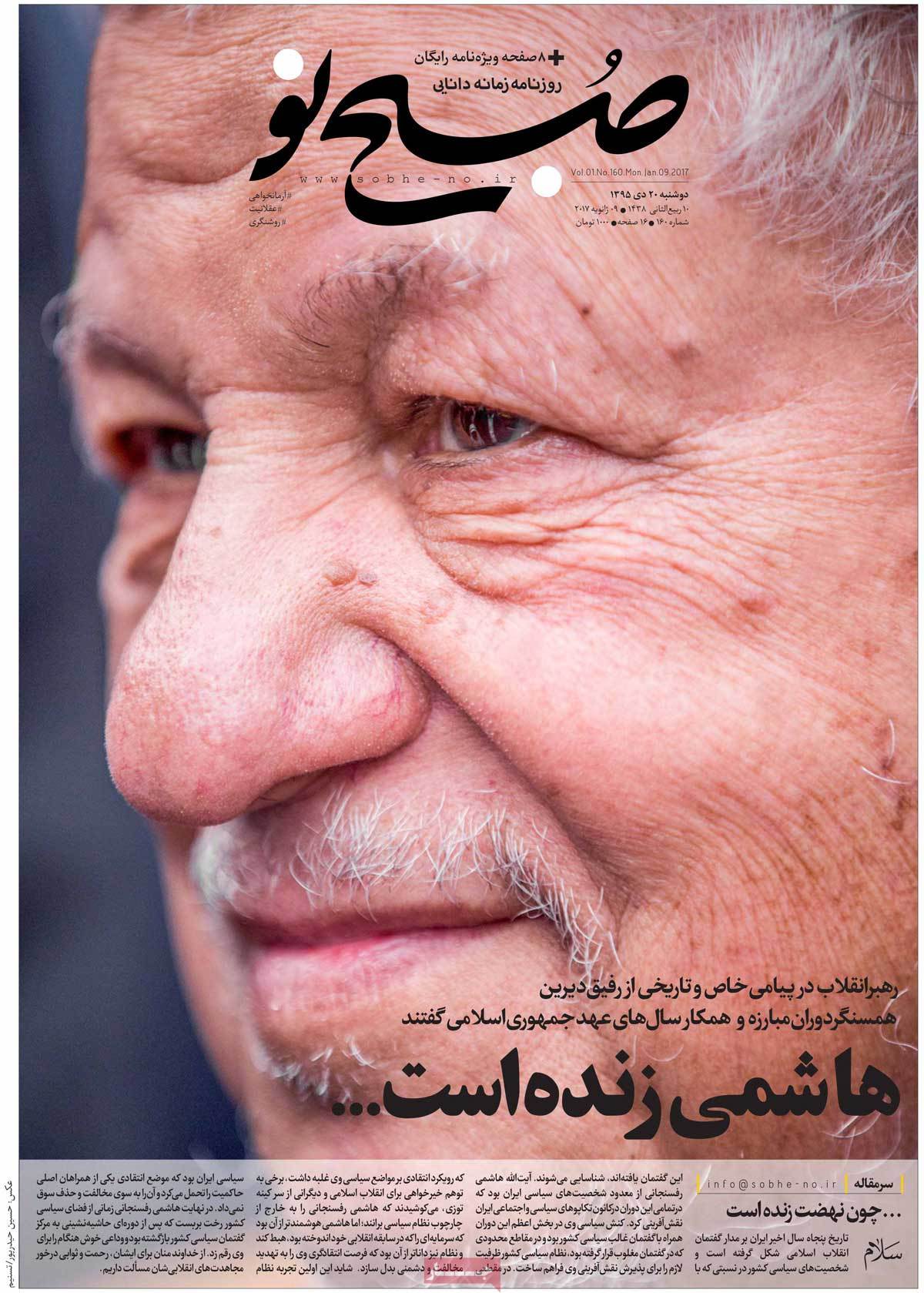 ---
Ta'adol:
1- Death of Construction General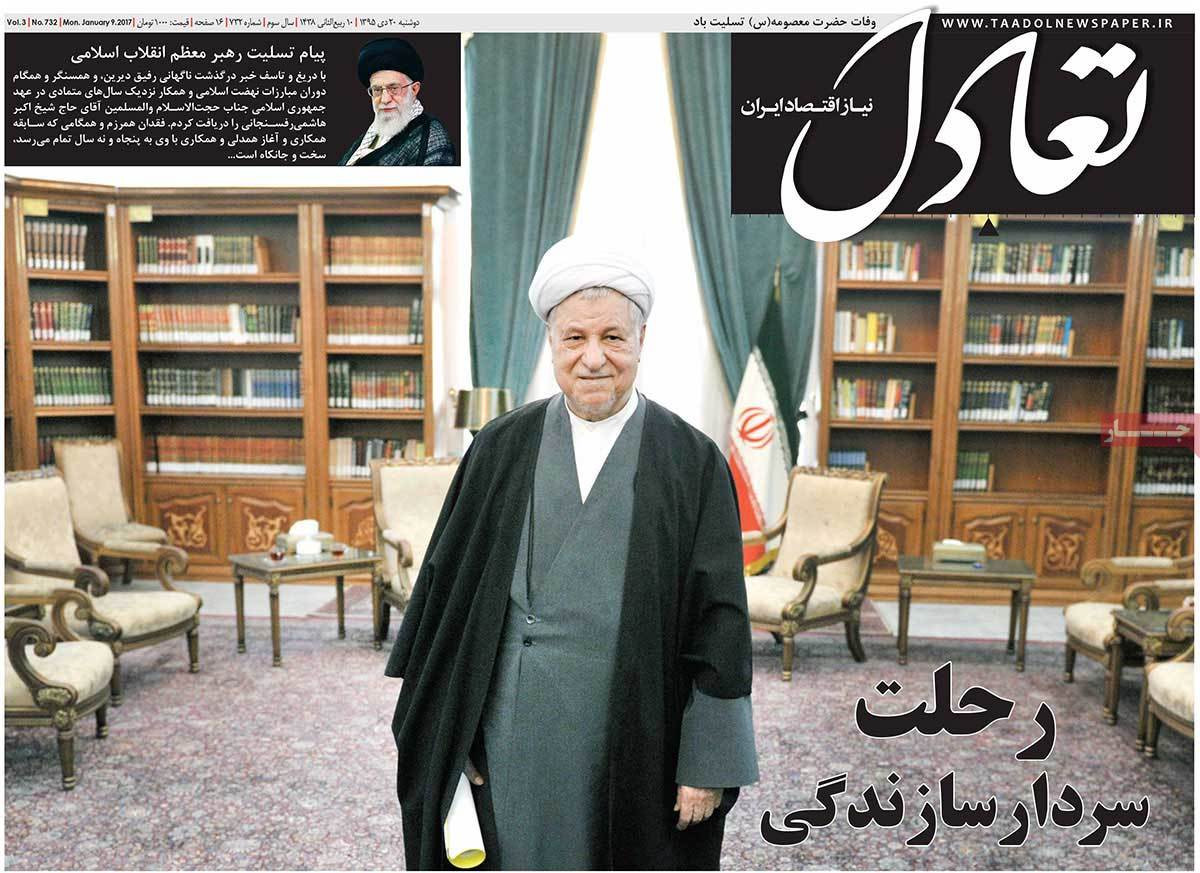 ---
Tamashagaran:
1- Heart of Revolution Breaks: Ayatollah Hashemi Passes Away at 82
---
Vaghaye Ettefaghieh:
1- Death of General on Eve of Amir: 165 Years Ago, Amirkabir Died in a Similar Day, and Now Rafsanjani Makes Iran Mournful through His Death
2- His Loss Is Overwhelming: Leader
---
Vatan-e Emrooz:
1- Sudden Death of Ayatollah
2- Loss of Old Comrade Is Hard to Bear and Overwhelming: Leader