Publication of a report by a special committee set up in parliament to review the nuclear deal Iran struck with P5+1 in July; the trial of Babak Zanjani on corruption charges and ceremonies to honor the memory of Iranian pilgrims killed in a stampede in Saudi Arabia dominated the front pages of Iranian newspapers on Monday.
Ettela'at: Iranians have bid an emotional final farewell to the victims of the Mina tragedy.
Funeral processions were held in 14 provinces for 104 of the Iranian pilgrims killed in a stampede near Mecca, Saudi Arabia on September 24.
---
Aftab-e Yazd: A former minister of roads and transportation has urged officials with the Civil Aviation Organization "not to allow old aircraft to take off, please."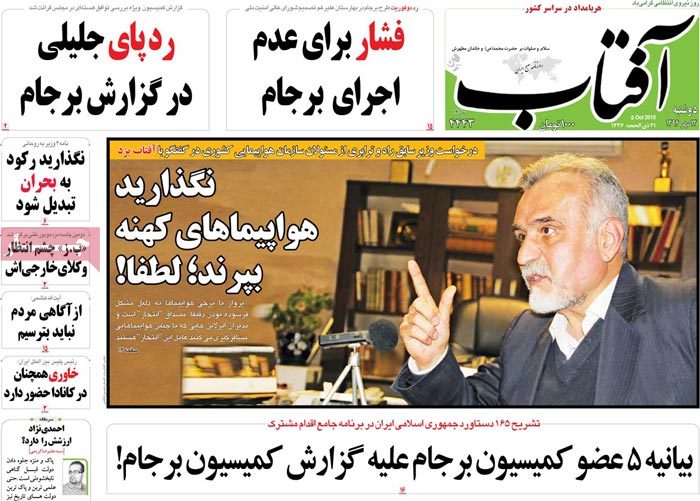 ---
Arman-e Emrooz: The Joint Comprehensive Plan of Action suffers myocardial infarction in parliament.
Five members of the JCPOA Review Committee have said in a statement the report the committee produced was lopsided, politically motivated and drafted outside parliament.
Arman-e Emrooz: Four Cabinet ministers have sent a letter to President Rouhani, warning that failure to make an urgent decision to redress inconsistency in economic policies will see recession degenerate into crisis.
Arman-e Emrooz: Babak Zanjani has been lobbying with oil officials of the Ahmadinejad administration.
A second hearing in the trial of the young billionaire who stands accused of "corruption on earth" has implicated three ministers and two senior executives [in office when Ahmadinejad was president] in the graft case.
---
Asr-e Azadi: UNESCO supports environmental projects in Iran.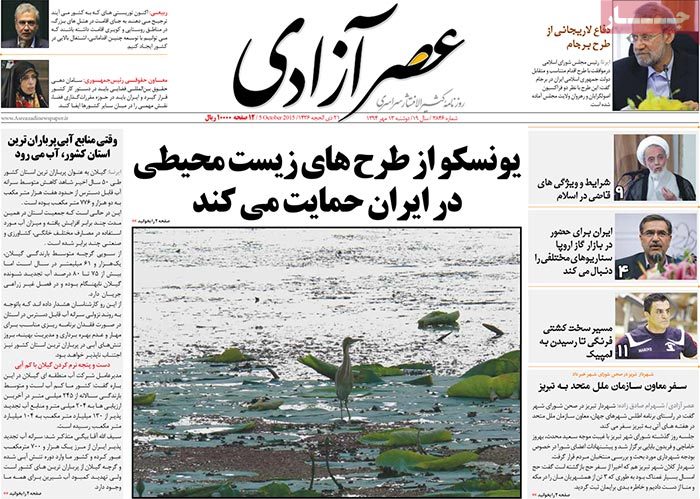 ---
Asr-e Rasaneh: Talks are underway to increase the volume of Iran's natural gas exports to Armenia.
Asr-e Rasaneh: The head of the Iranian Investment Organization has said that Iranian law covers risks foreign investment is exposed to.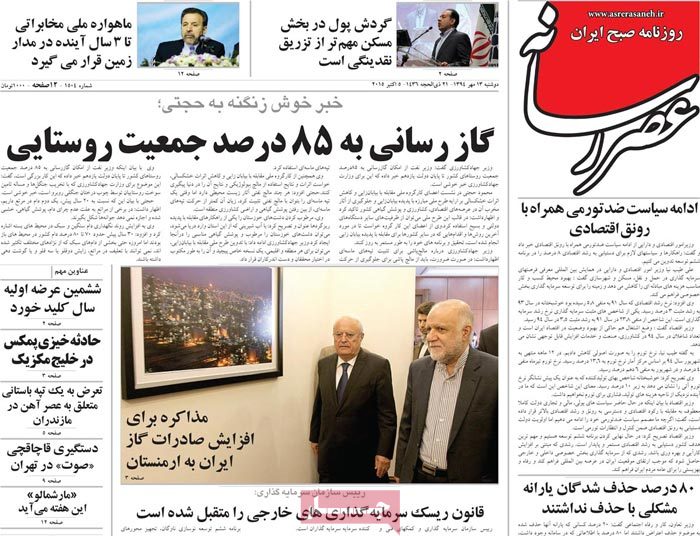 ---
Asrar: Two senior Qom Seminary teachers have said that the way Zarif treated President Obama was in line with Islamic teachings.
Asrar: Police intervene to end a sit-in strike at Qom's Grand Mosque.
Law enforcement brought the sit-in by students and seminarians to an end on Sunday.
Asrar: "The report released by the JCPOA Review Committee reflected the discourse [former top nuclear negotiator Saeed] Jalili's team promoted," said Gholamreza Tajgardoon, MP.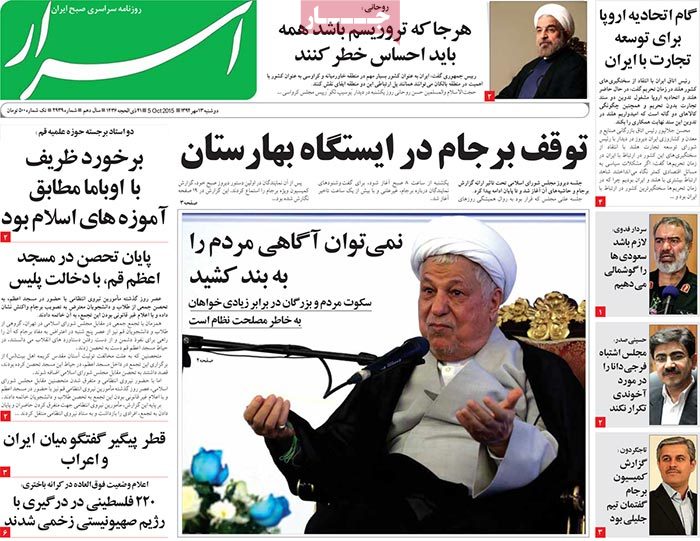 ---
Ebtekar: In the run-up to the impeachment of the minister of roads and urban development, the atmosphere that dominates the Islamic Consultative Assembly shows that supporters of impeachment won't garner sufficient support to vote the minister out of office.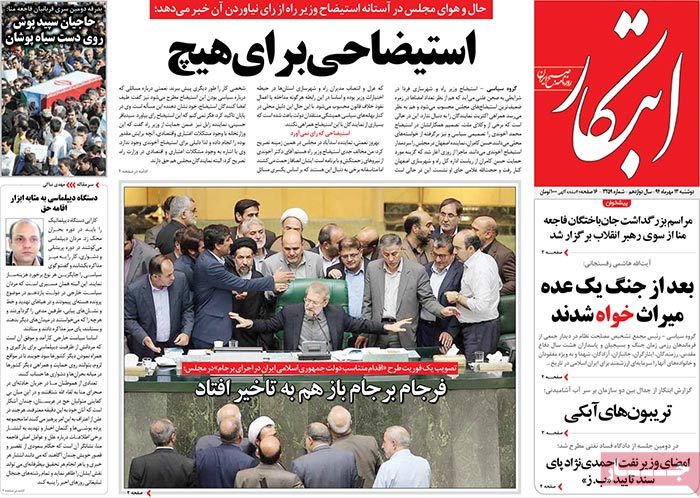 ---
Emtiaz: Every second, 350 square meters of forest and pastureland is destroyed across the country.
---
Etemad: Behind the scenes of the JCPOA report
By rejecting a motion that carried a double-urgency status, parliament was unable to reach an agreement on JCPOA.
Tehran principlist MP Ahmad Tavakoli has warned about the harms that failure to implement JCPOA will bring about.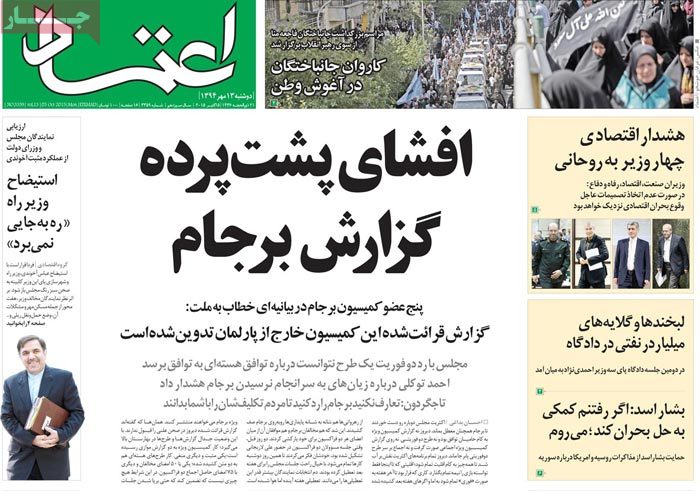 ---
Hemayat: "Iran will not agree to any restrictions in its missile activities," said the commander of IRGC's Aerospace Division.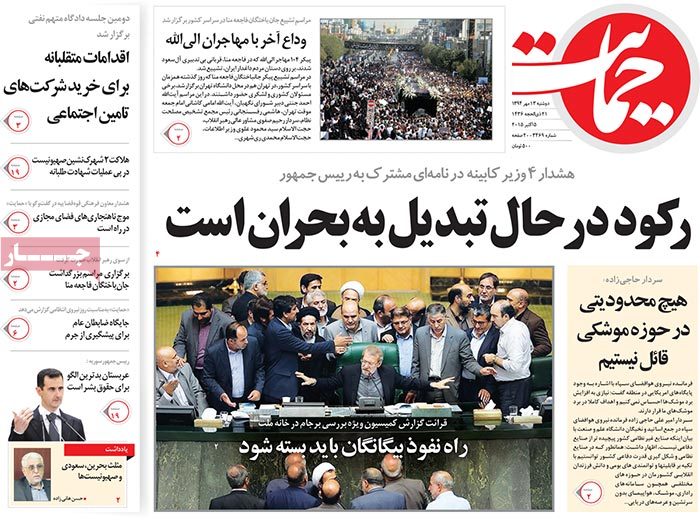 ---
Javan: Parliament has said that termination of sanctions is not envisioned in the Joint Comprehensive Plan of Action.
---
Jomhouri Islami: Switzerland is preparing to activate Iran's old accounts.
---
Kaenat: President Rouhani has ordered a review of the country's economic policies [after a warning by four of his ministers about inconsistencies in the country's economy].
---
Kayhan: A report by the JCPOA Review Committee has said that the Joint Comprehensive Plan of Action is disastrous.
---
Mardomsalari: During a second hearing in his trial Babak Zanjani has pleaded not guilty to charges leveled against him.
---
Payam-e Zaman: Parliament Speaker Ali Larijani has said that holding up the implementation of the Joint Comprehensive Plan of Action "won't serve our interests".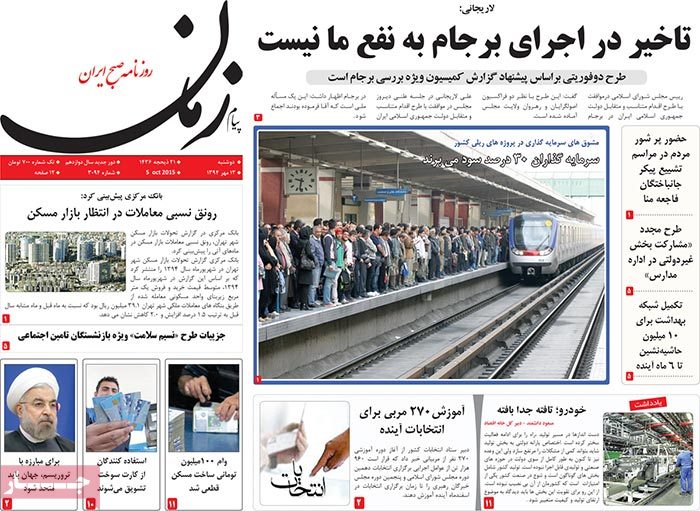 ---
Resalat: "We need a revolution in cyberspace," said senior cleric Ayatollah Nasser Makarem Shirazi.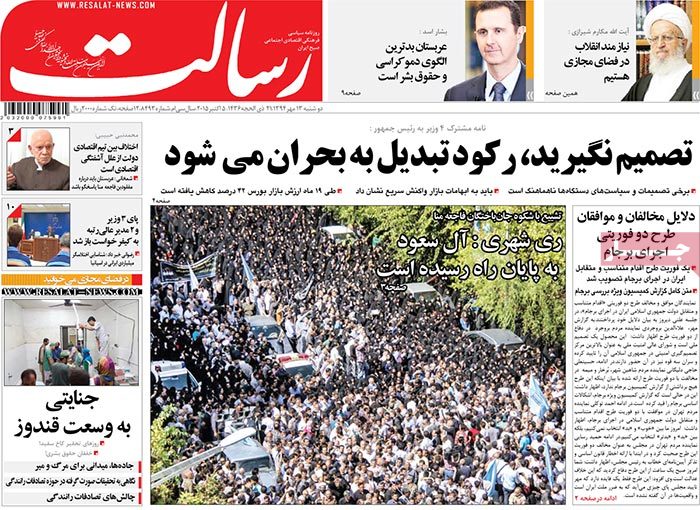 ---
Sharq: President Rouhani has said that his government expects parliament to keep the minister of roads in office by not voting for his dismissal.