The top story in all papers today was the Iranian Parliament's vote of confidence to the four ministerial picks introduced by President Hassan Rouhani for the ministries of labour, roads, trade, and economy.
Several papers also covered the remarks made by Central Bank of Iran (CBI) Governor Abdolnaser Hemmati about the establishment of Iran-Europe payment channel, which will help Tehran bypass the US sanctions.
Israeli Prime Minister Benjamin Netanyahu's visit to Oman was also a hot topic of debate among Iranian papers today.
The above issues, as well as many more, are highlighted in the following headlines and top stories:
Abrar:
1- Underground ISIS Band Busted in Moscow
2- Pompeo: Iran Fighting against Saudi, UAE through Proxies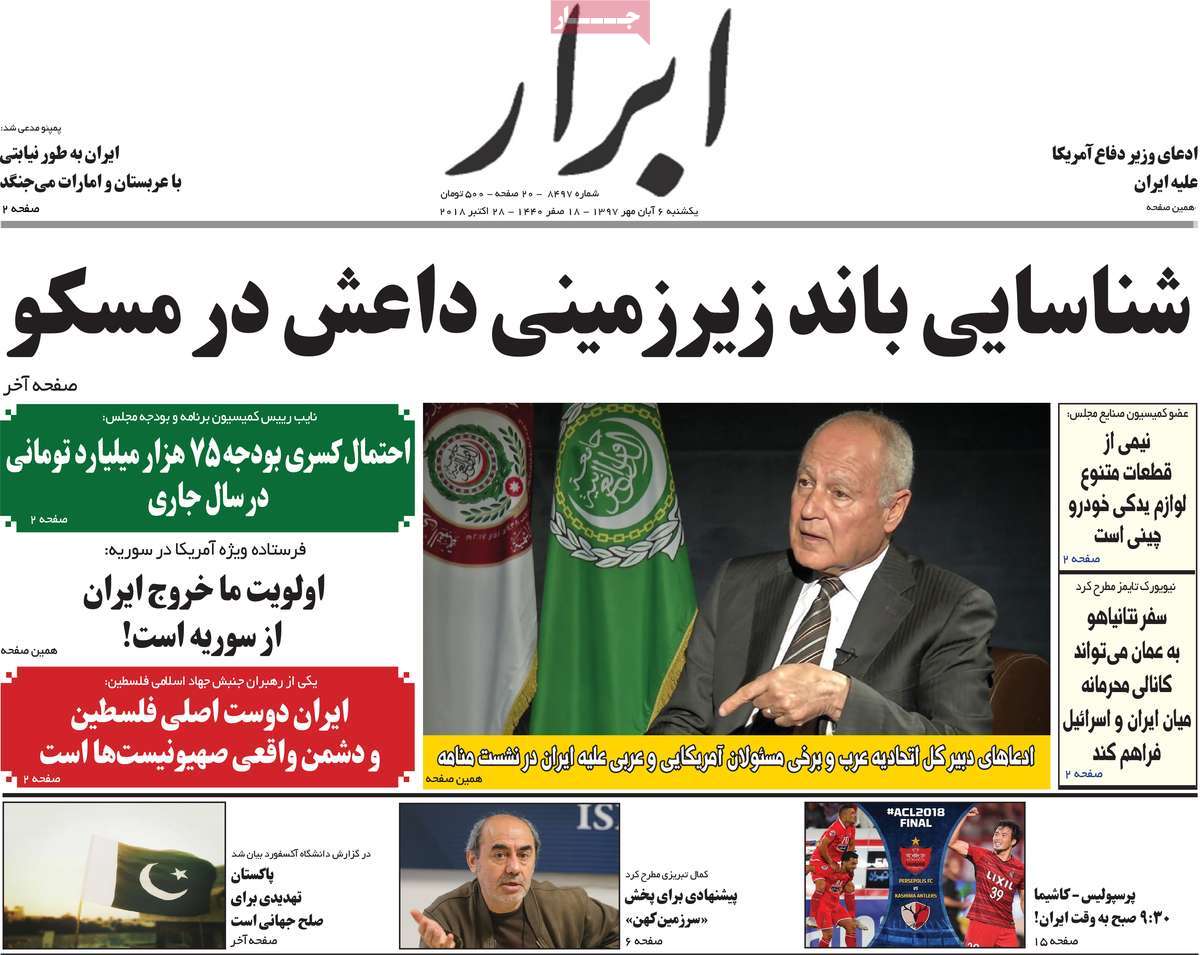 ---
Aftab-e Yazd:
1- Tractor Sazi Fans Chant Slogans Calling for Women's Presence in Stadiums
Stadiums Waiting for You Shining Stars
2- All Four Ministerial Picks Receive Vote of Confidence from Lawmakers
---
Arman-e Emrooz:
1- Iran Strongly Criticizes Sultan Qaboos
Oman Shouldn't Be Deceived by Tel Aviv's Political Game
2- Return of Iran-EU Payment Channel
3- Parliament Endorses Rouhani's Ministerial Picks Even despite People's Opposition
---
Ebtekar:
1- Rouhani's Cabinet Completed by Parliament's Saturday Night's Votes
2- Sultan Breaks His Habit: A Review of Israeli PM#'s Important Visit to Muscat
---
Etemad:
1- Impossible Ceasefire: Gaza Getting Used to Bloody Weekends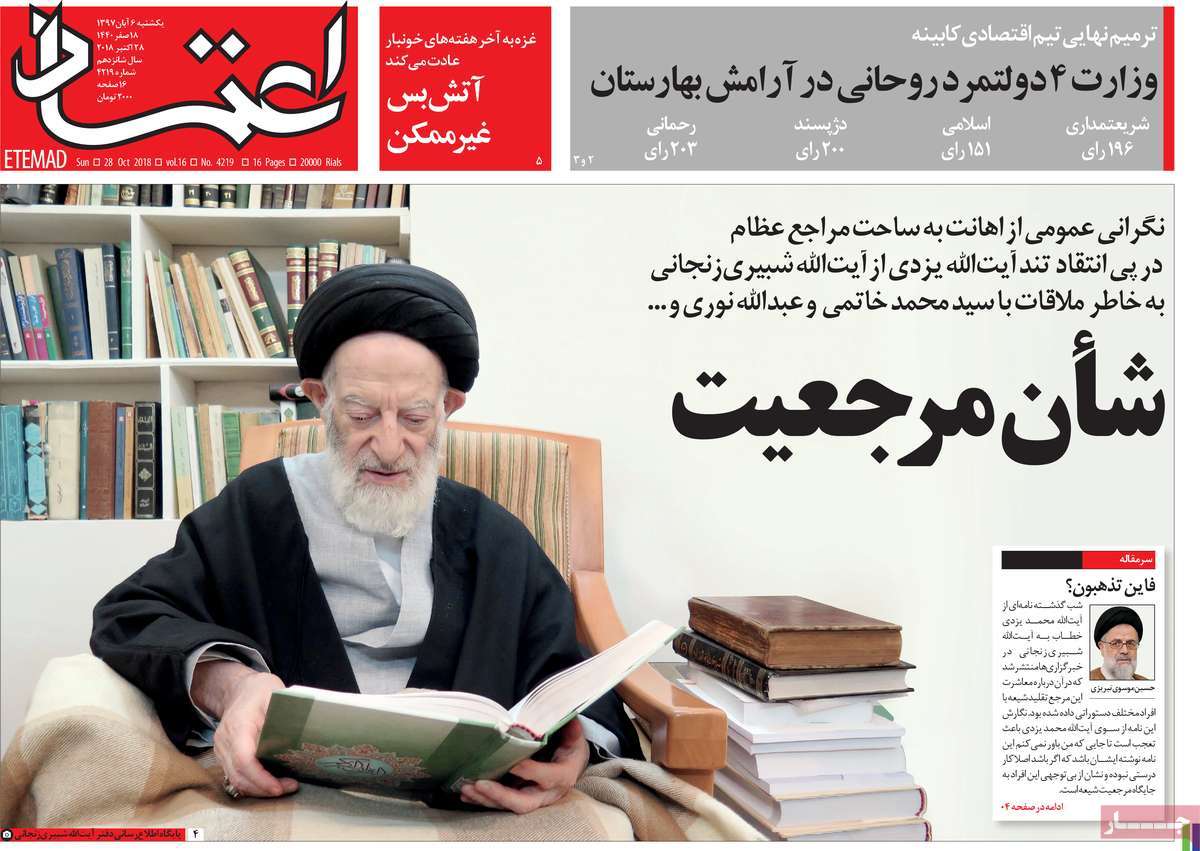 ---
Ettela'at:
1- Human Rights Bodies Widely Condemn US Airstrikes on 2 Mosques in Syria
2- Central Bank Governor: Iran-Europe Payment Channel to Be Established in Brussels
---
Hamshahri:
1- Former Envoy to Damascus: Syria Reconstruction Economic Chance for Iran
2- Tunnel to Bypass US Sanctions to Be Unveiled Next Week
Iran Chief Banker: Details of Iran-EU Payment Channel to Be Finalized in Brussels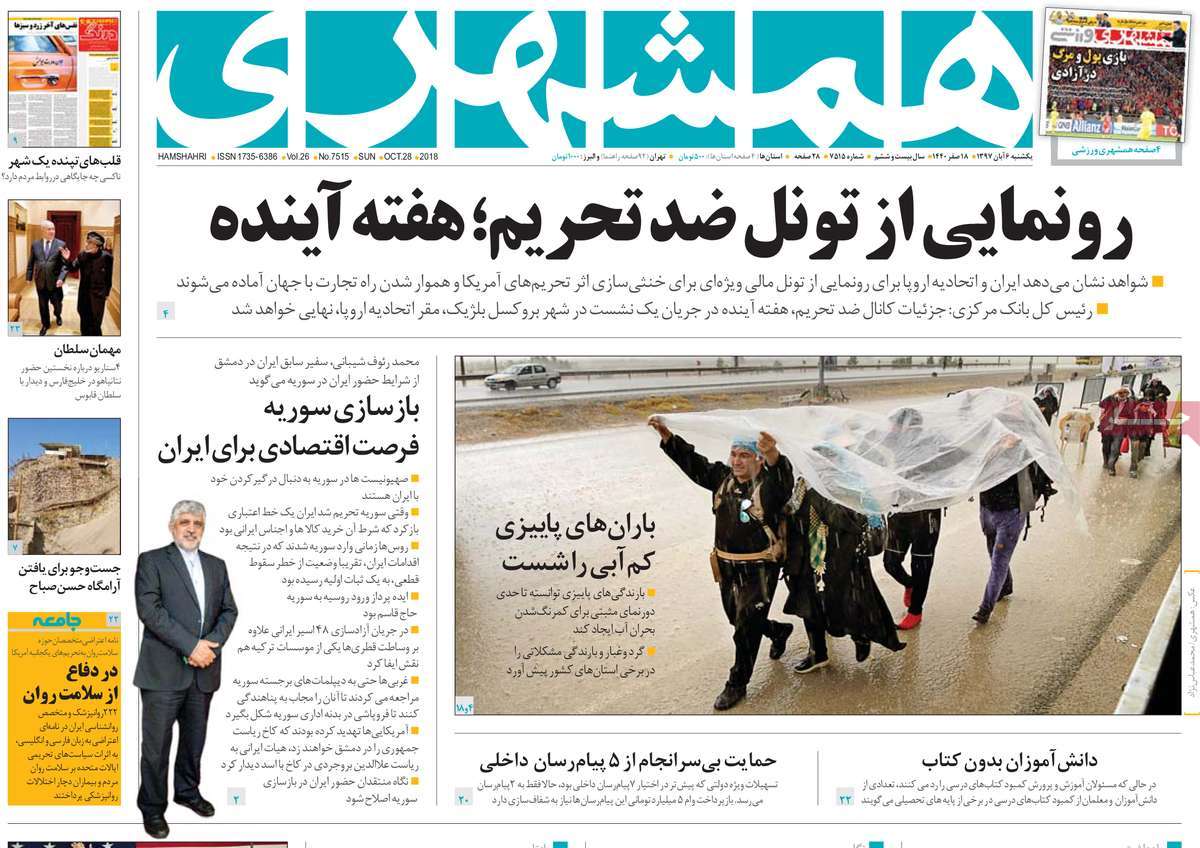 ---
Jame Jam:
1- Parliament Gives Green Light to Government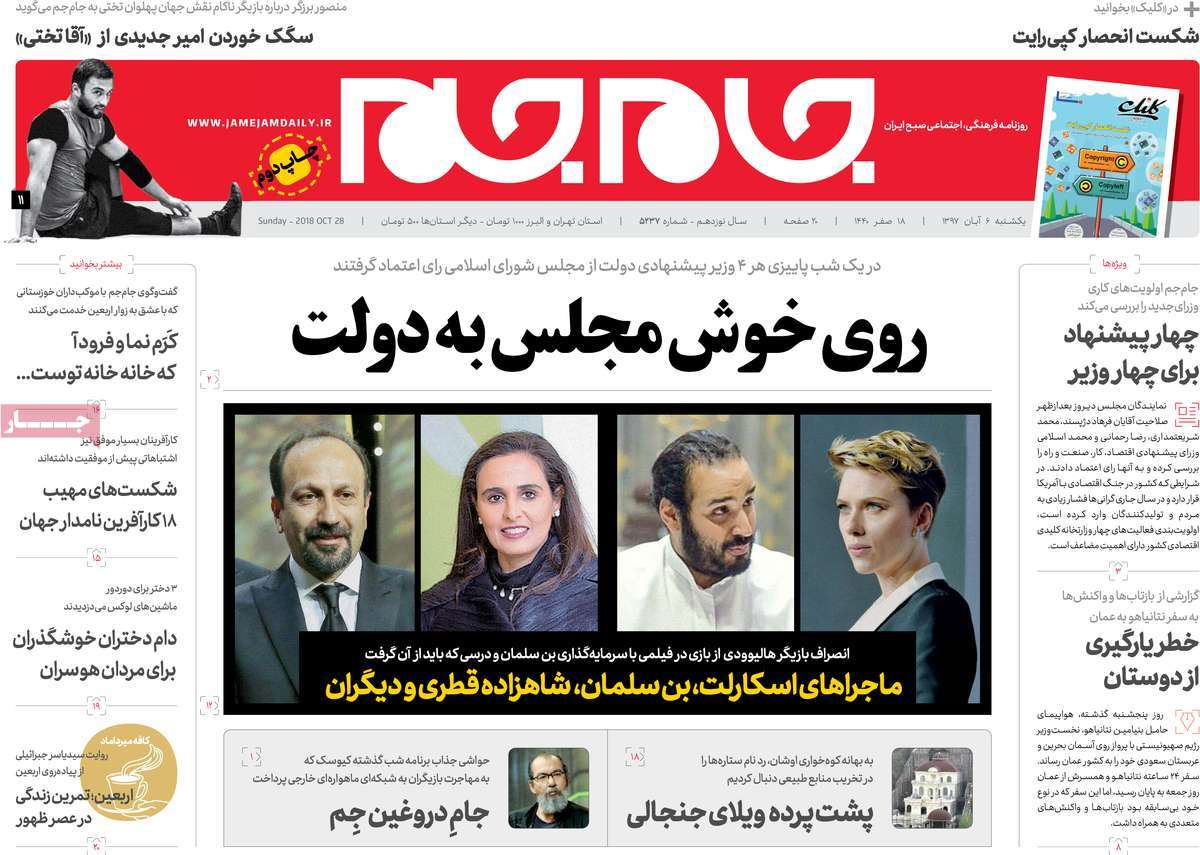 ---
Javan:
1- Rouhani: People Can't Accept that We Use Sanctions as Excuse for Our Incapability
2- Iranian Women More Leading than What We See in Iranian Films: French Female Politician
3- US Backs Off from Cutting Iran's Access to SWIFT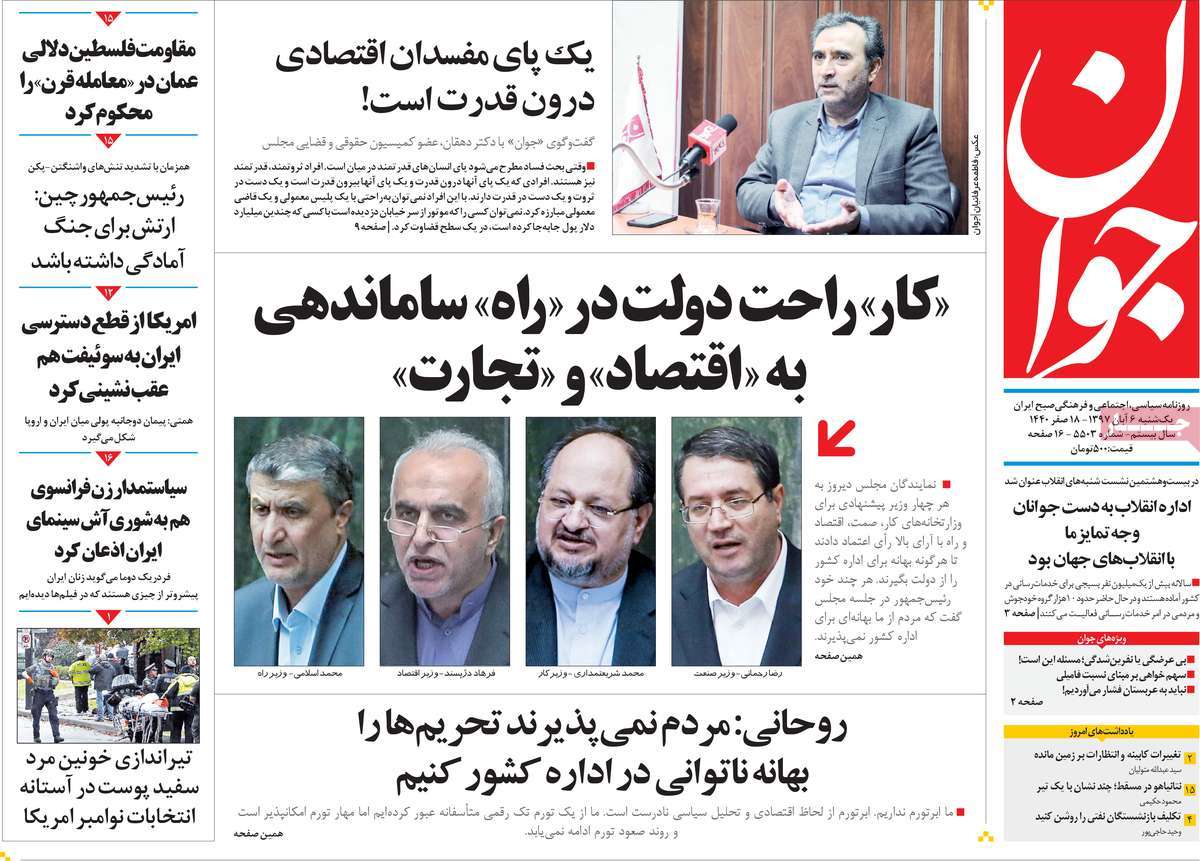 ---
Ka'enat:
1- Iran Shines at South Korea Invention Festival
---
Kayhan:
1- Highlights of Bibi's Visit to Muscat: Will Oman Betray Palestinian Cause?
2- Human Rights in European, American Style
West: Khashoggi's Murder Terrible, but No Reason for Stopping Arms Sales to Saudis!
3- Iran Foreign Ministry Denies Holding Talks with US in Oman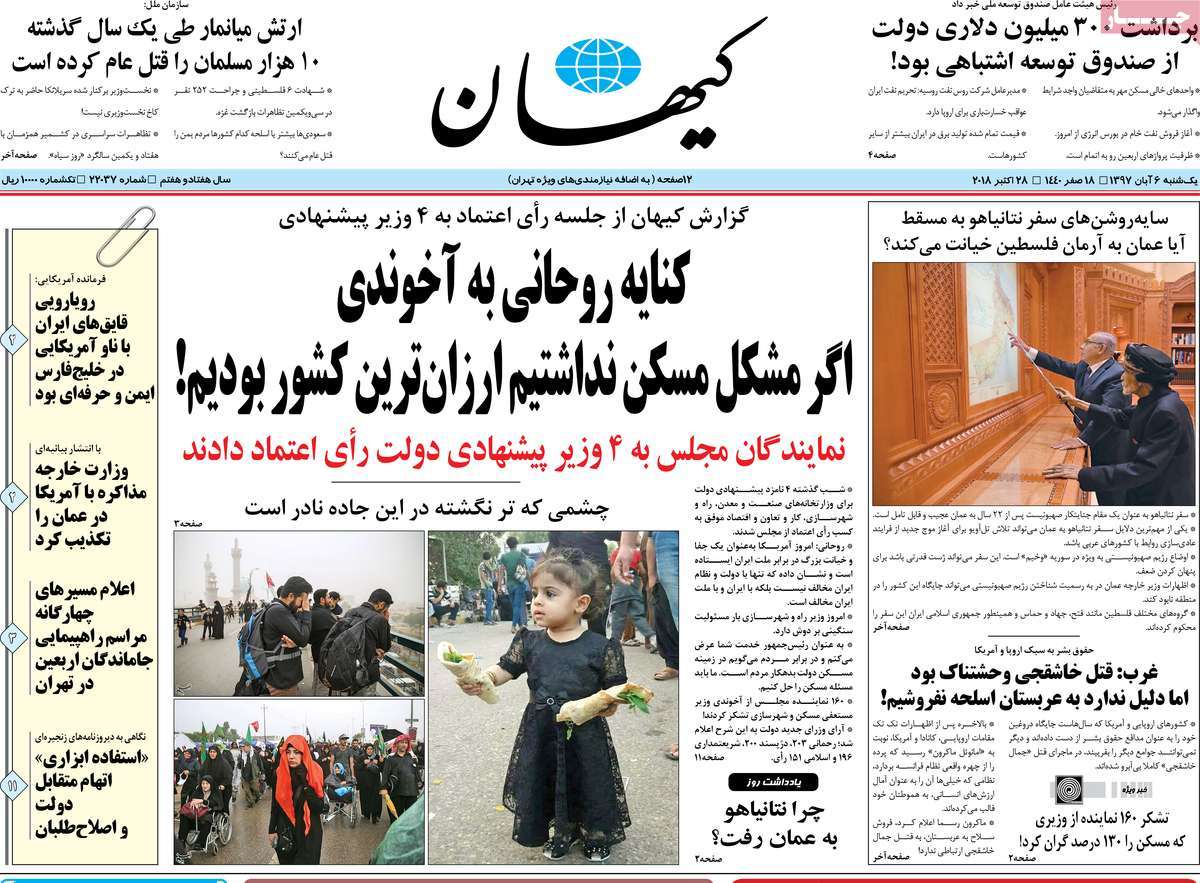 ---
Resalat:
1- Rouhani: We Should Stand Together to Bring US to Its Knees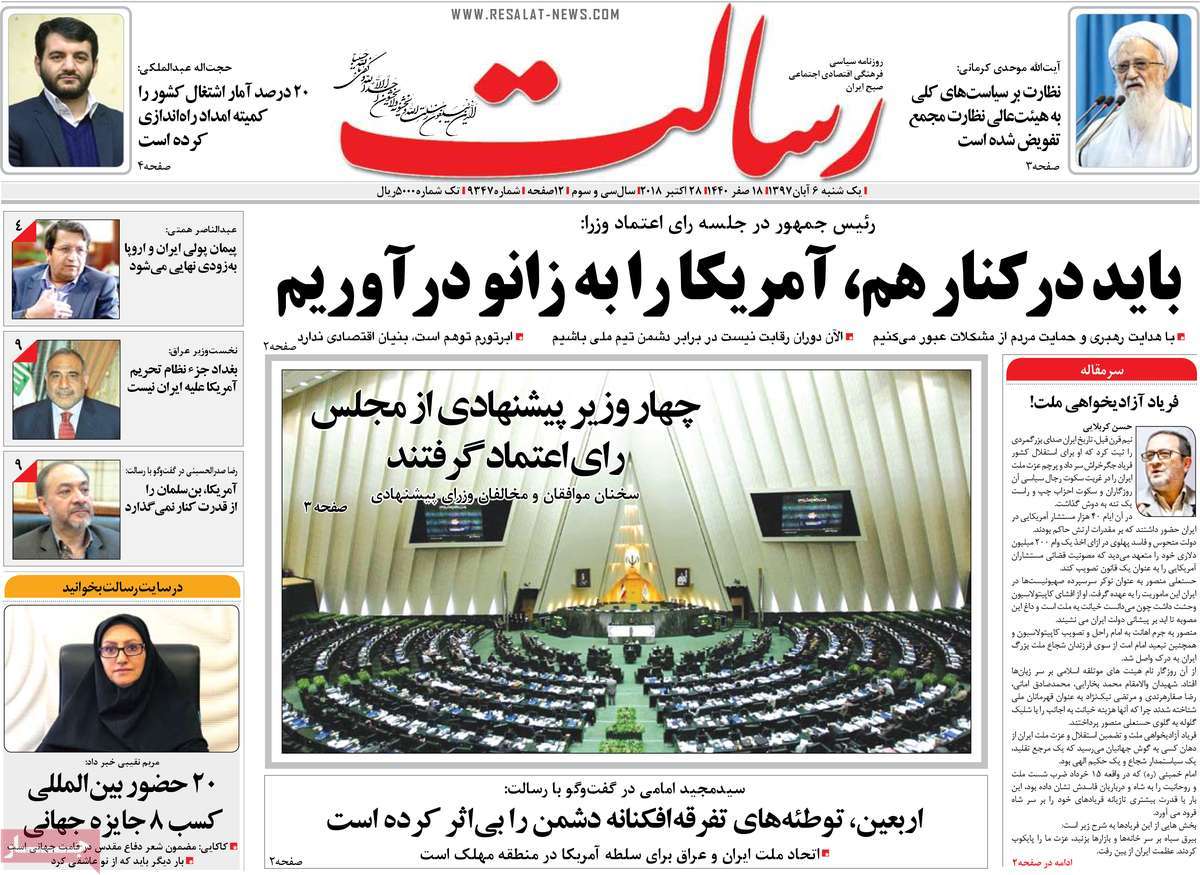 ---
Sazandegi:
1- Secret Visit Disclosed
Purpose of Netanyahu's Muscat Visit beyond Normalization of Ties with Arabs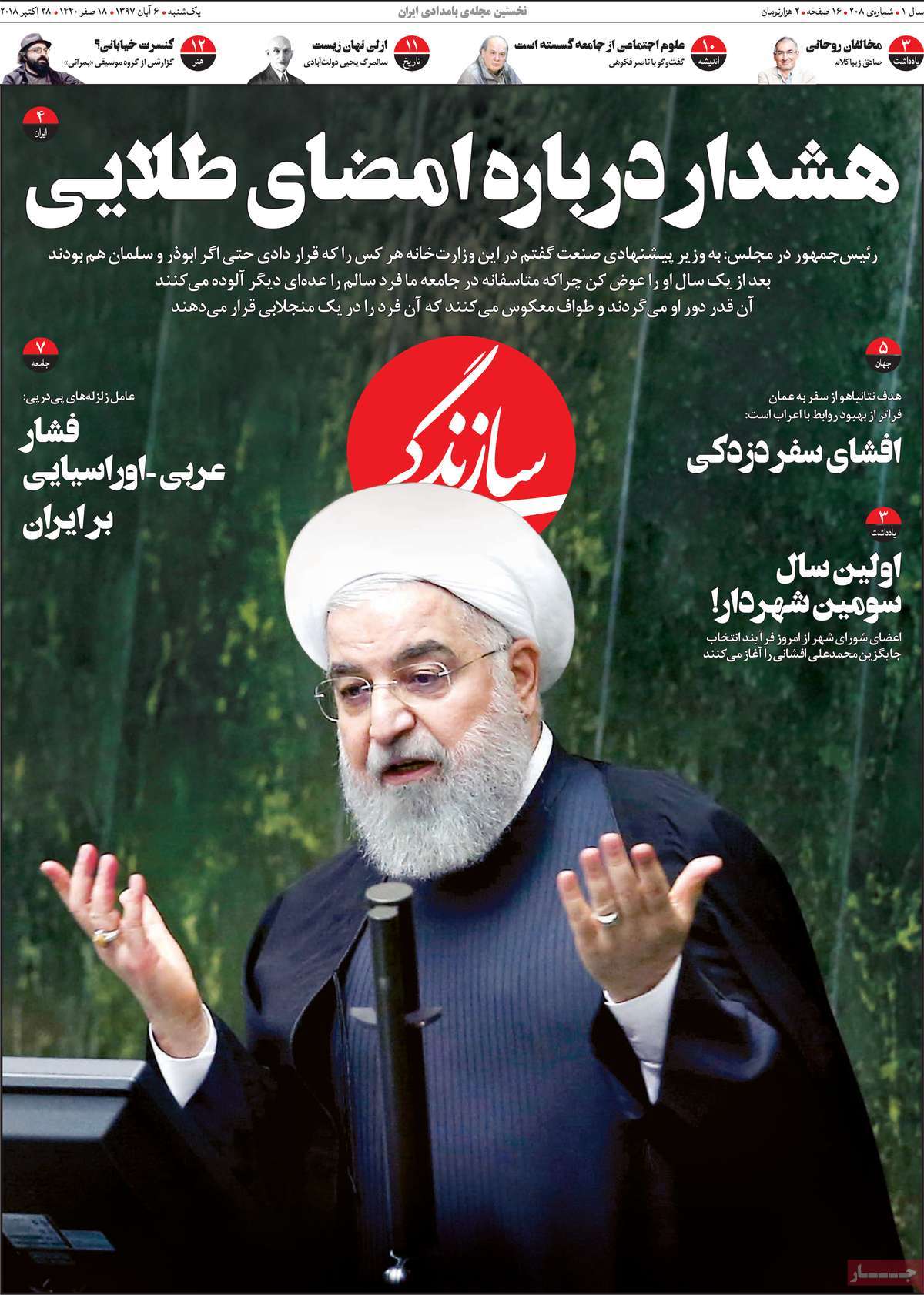 ---
Sepid:
1- Health Minister: 92,000 Working in 18,700 Health Centres in Iran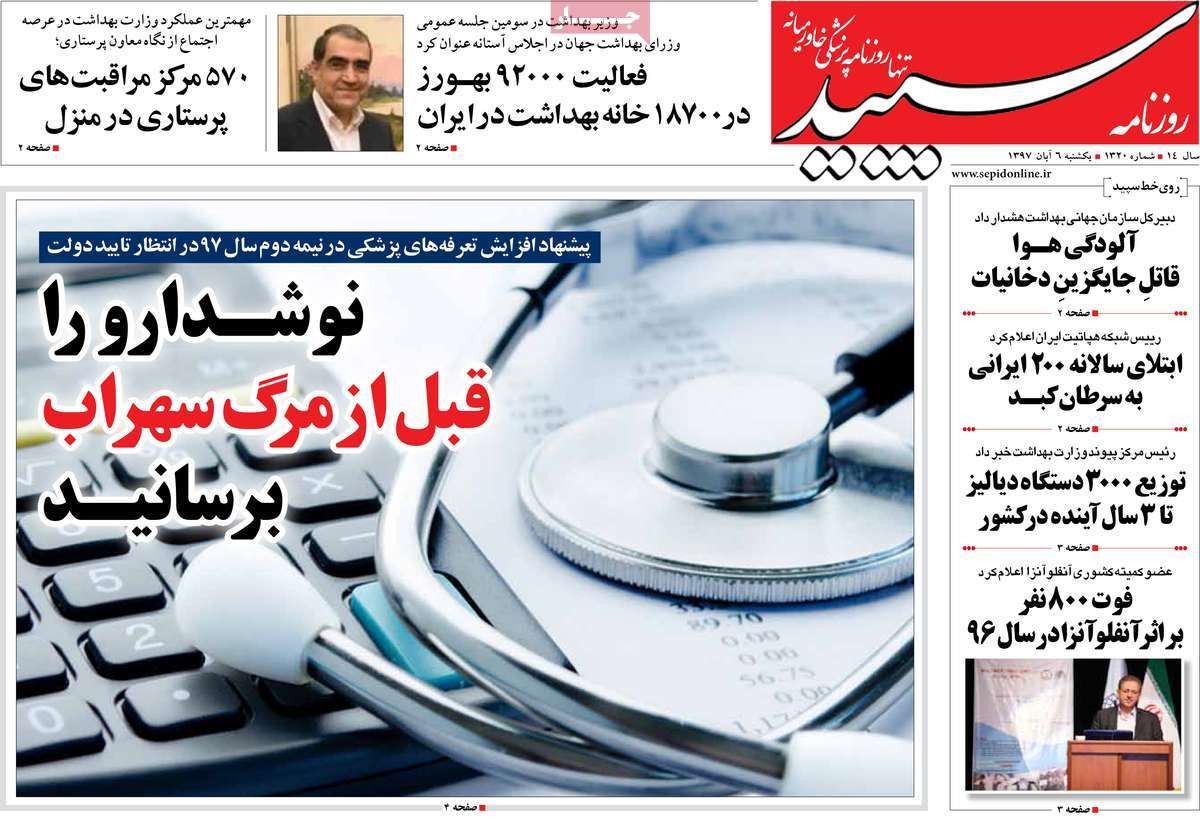 ---
Shahrvand:
1- Three 18-Year-Old Girls Steal Luxury Cars for Fun!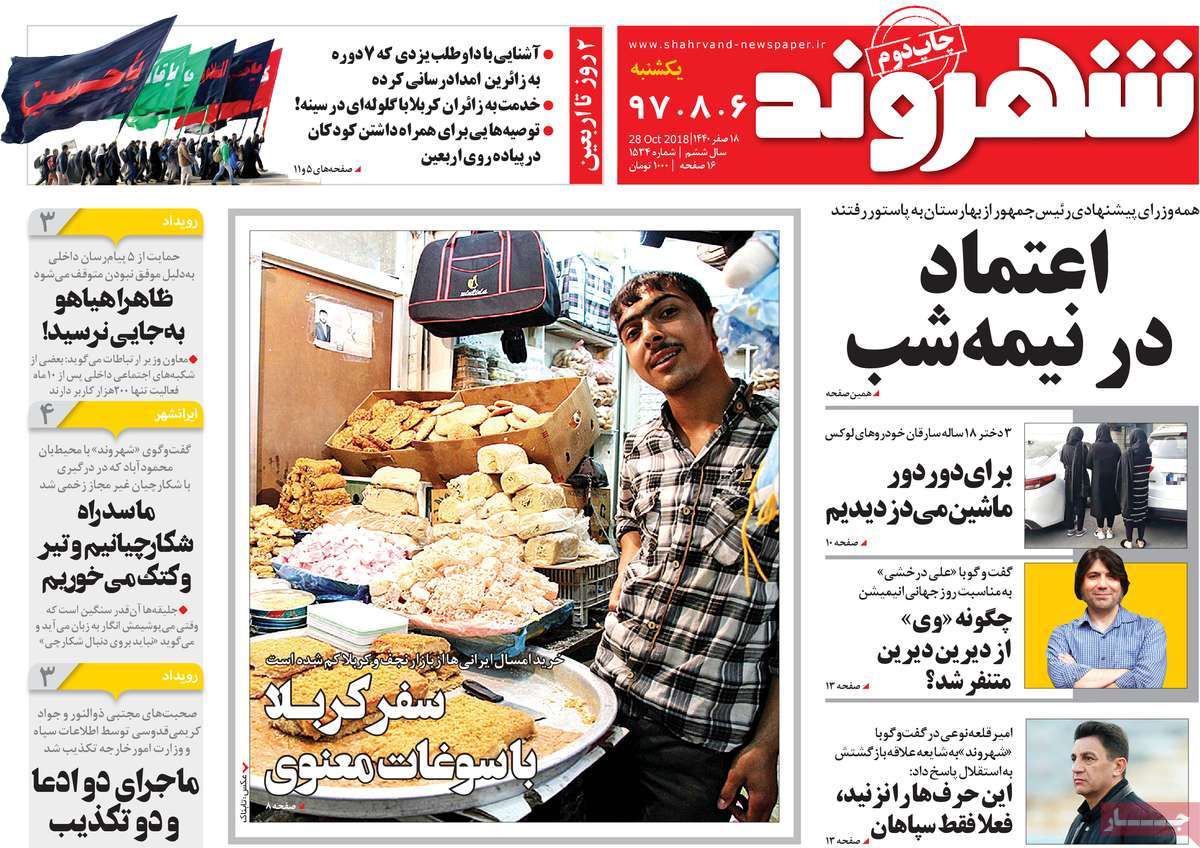 ---
Shargh:
1- Rouhani's Cabinet Finally Completed!
2- Oman in Dilemma of Choosing between Iran, Israel
Bin Alawi: It's Time to Interact with Israel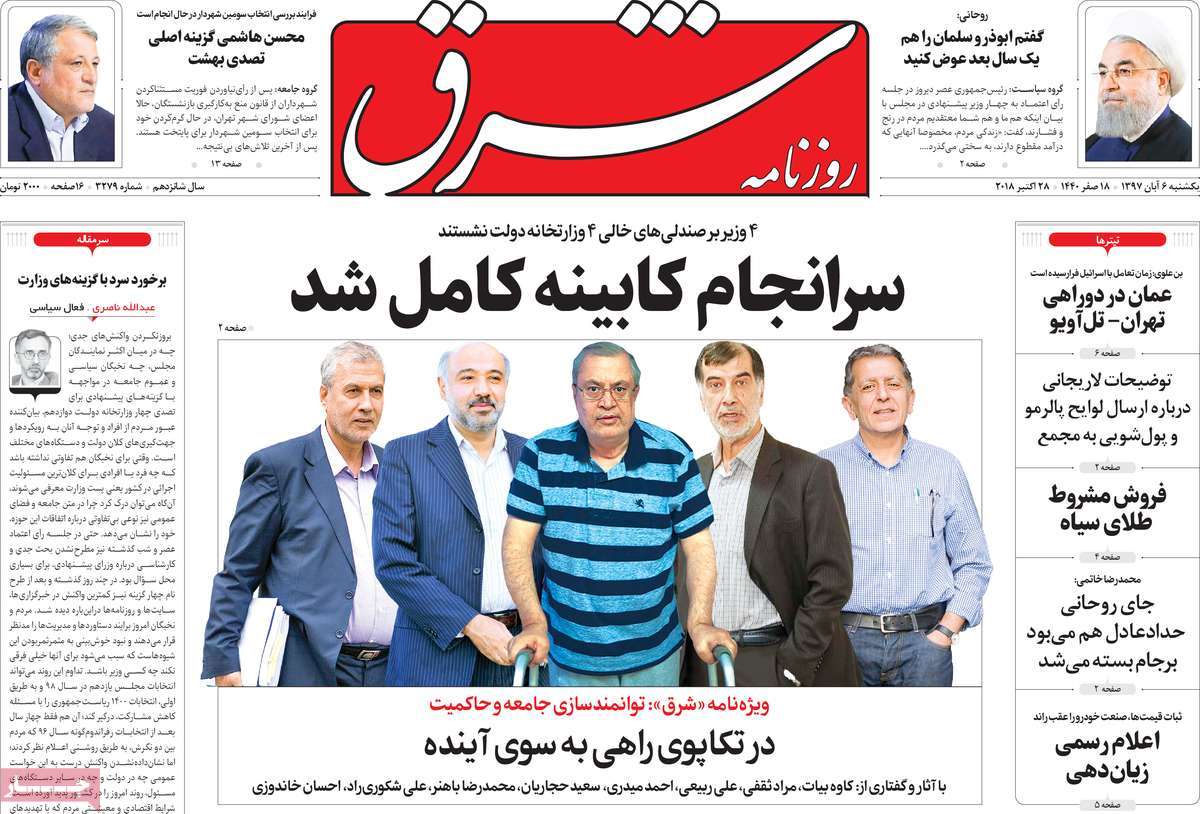 ---
Sobh-e Now:
1- Always a Loser
A Report on Influence of Persian-Language Foreign Media on Iranian Society