All papers today covered the remarks made by Iranian President Hassan Rouhani about the new round of US sanctions, which was officially started with remarks by US Secretary of State Mike Pompeo and Treasury Secretary Steve Mnuchin on Monday, November 5.
A major topic of debate was Europe's measures to help Iran bypass the US bans, particularly its special payment mechanism known as Special Purpose Vehicle (SPV) and the time it is going to be implemented.
The process of ratifying a bill on Iran's accession to the Combating the Financing of Terrorism (CFT) convention also remained a top story today.
The above issues, as well as many more, are highlighted in the following headlines and top stories:
Abrar:
1- We Have Negative View of US Sanctions against Iran: Russia
2- Israeli Shelters to Turn into Mass Graves: Iranian General
3- US Sanctions Unlikely to Affect Kurdistan Regional Government: Official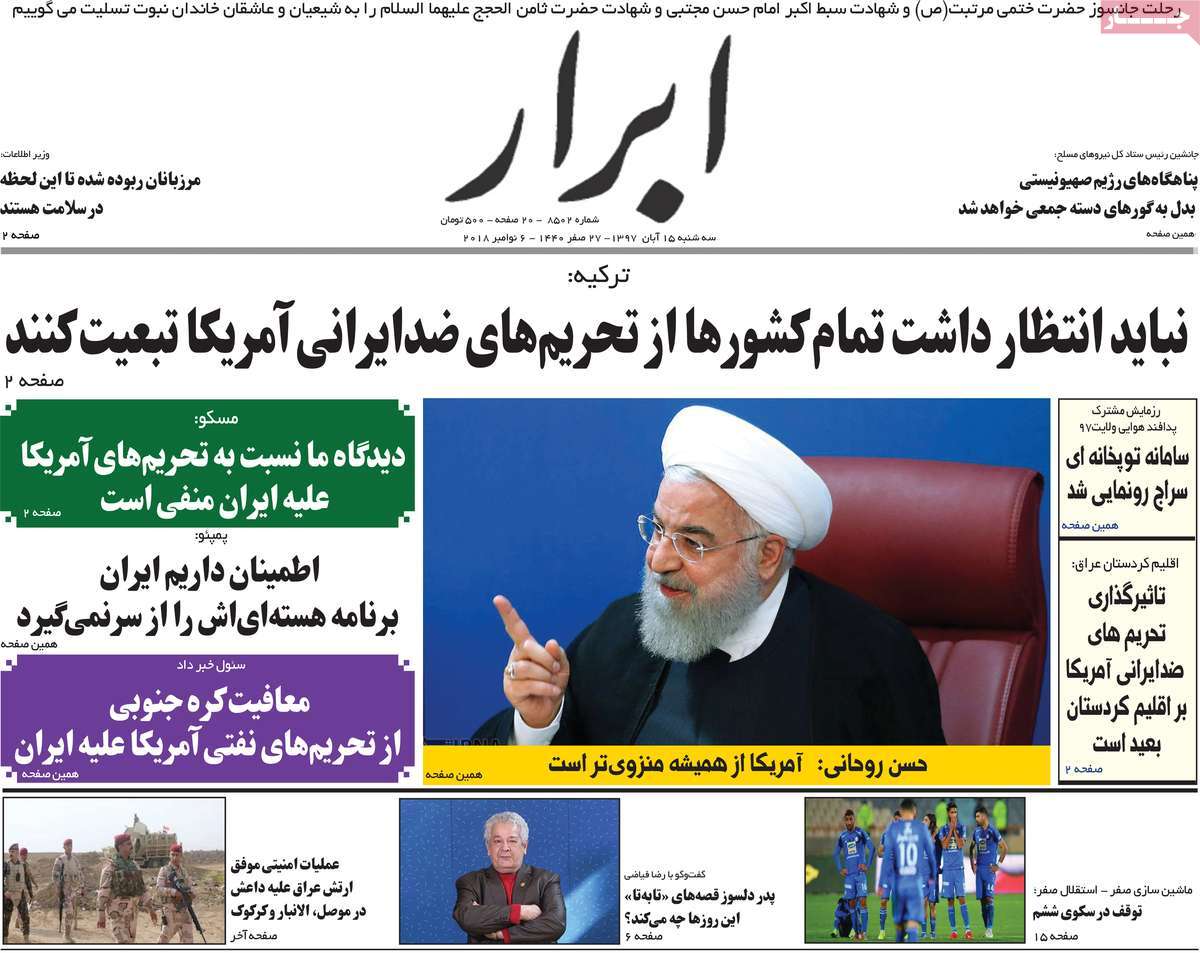 ---
Aftab-e Yazd:
1- Four World Leaders Asked Rouhani to Meet Trump
2- Why Did Ahmadinejad Congratulate American Baseball Team on Its Championship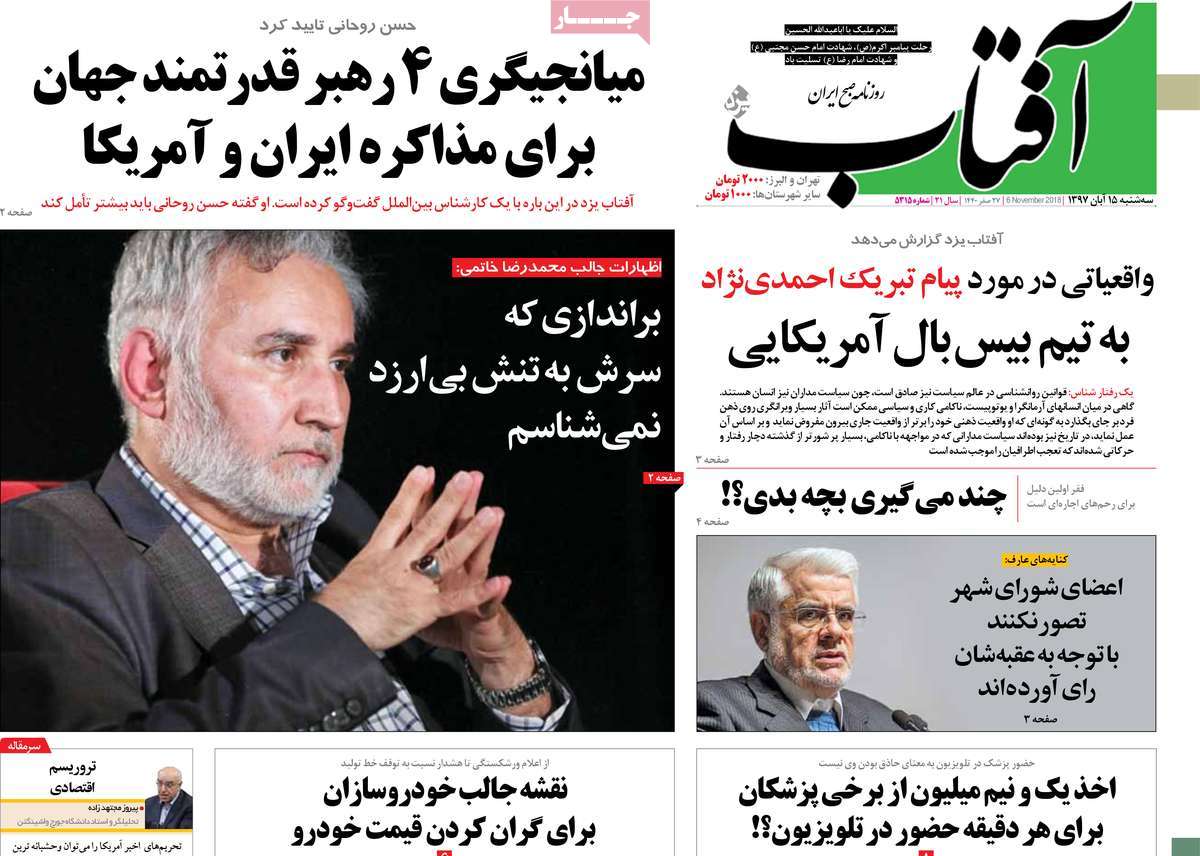 ---
Ebtekar:
1- US in Trump's Limbo: Developments ahead of Midterm Elections
2- Iran Respecting Human Rights Much More than Its Enemies Do: Minister
---
Etemad:
1- Parliament Speaker to Guardian Council: We Won't Revise CFT Bill
* Expediency Council's Response on CFT Submitted after 20-Day Deadline
2- US Midterm Elections: Decision for Choosing New Path?
3- Abducted Border Guards Safe and Sound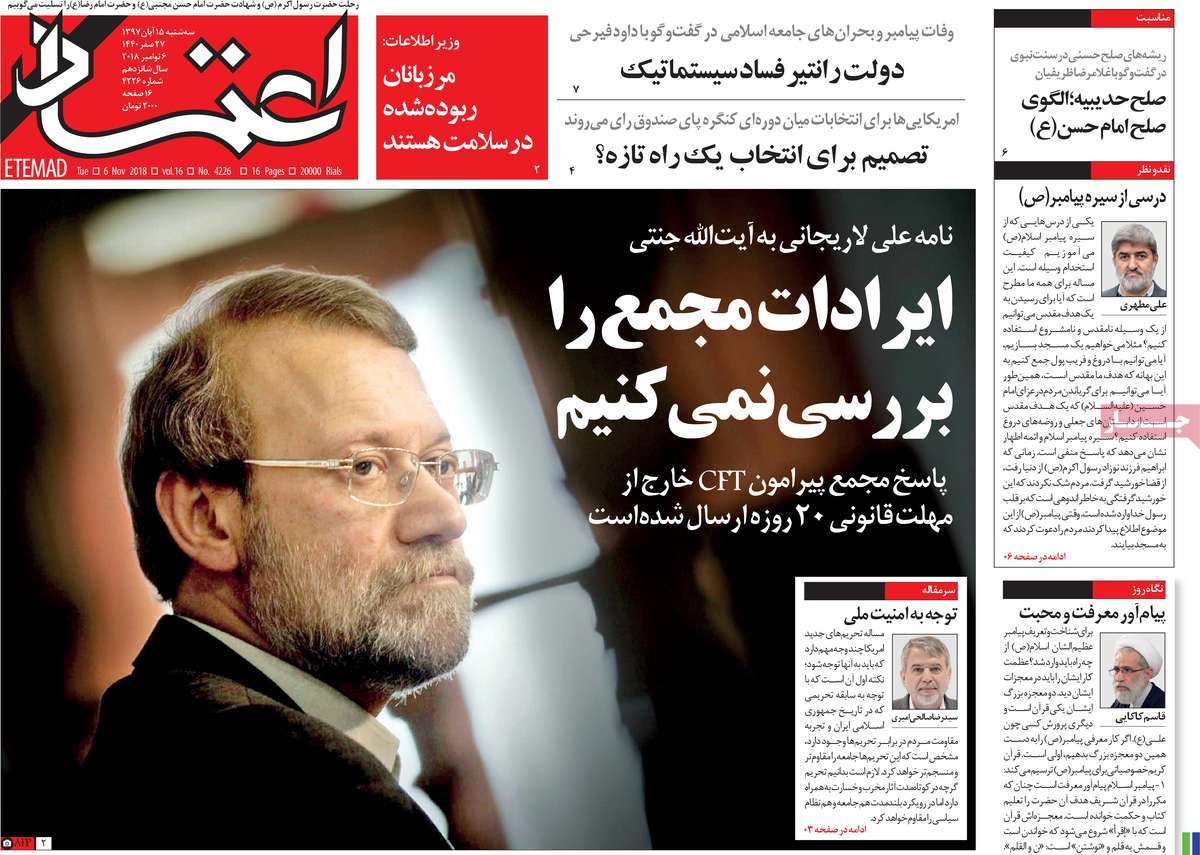 ---
Ettela'at:
1- Rouhani: I Proudly Declare We'll Bypass US Sanctions
2- Turkey: No Reason for Other Countries to Obey US Sanctions on Iran
3- Second Round of US' Illegal Sanctions on Iran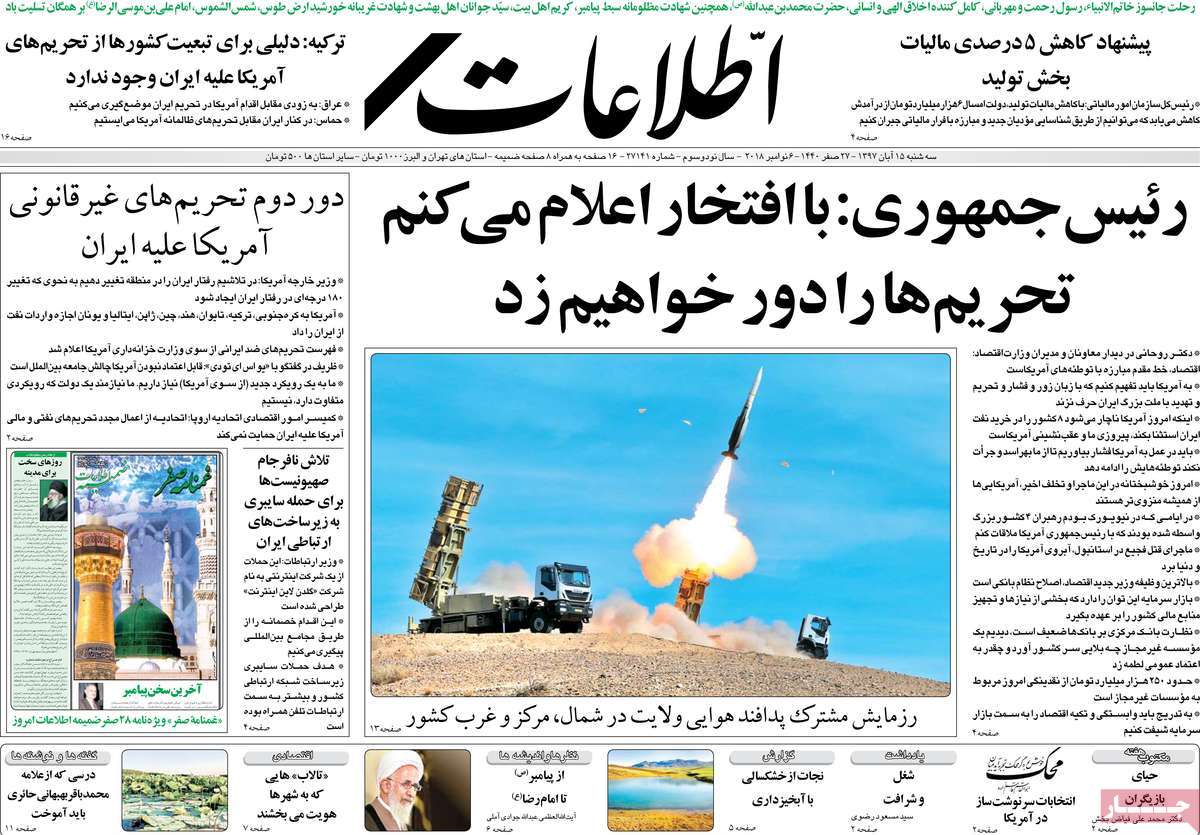 ---
Ghanoon:
1- American Sanctions, European Assistance
2- Bodies Donated to Science: A Report on Post-Mortem Body Donation
---
Haft-e Sobh:
1- Controlling Dollar Rates in Hardest Days of Our Lives
2- Araqchi's Amazing Account of Trump's Efforts to Meet Rouhani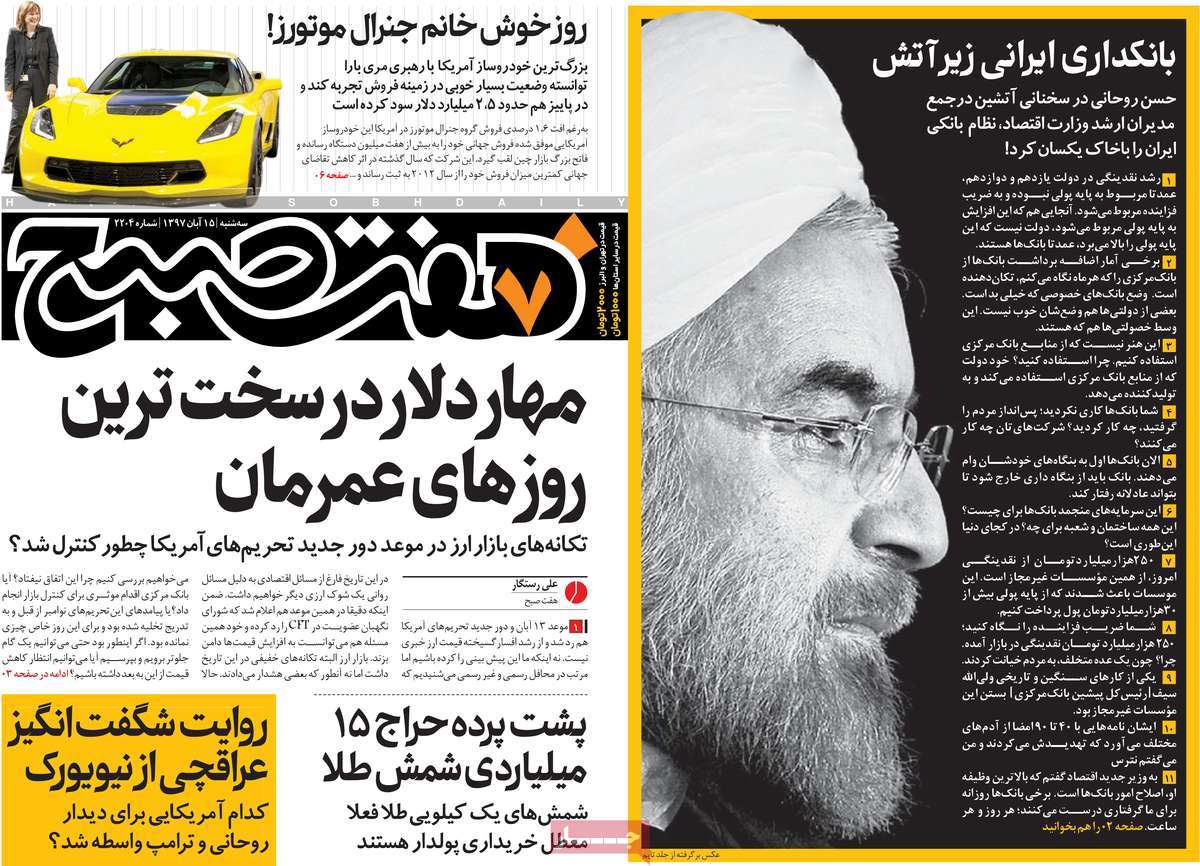 ---
Iran:
1- We'll Break US Sanctions
2- US' Economic Pressure against Iranian People
3- Cyber-Attack against Iran Thwarted
---
Jame Jam:
1- Good News to Come about 12 Abducted Border Guards
2- Can Iran's Cautious Diplomacy towards Europe Be Effective?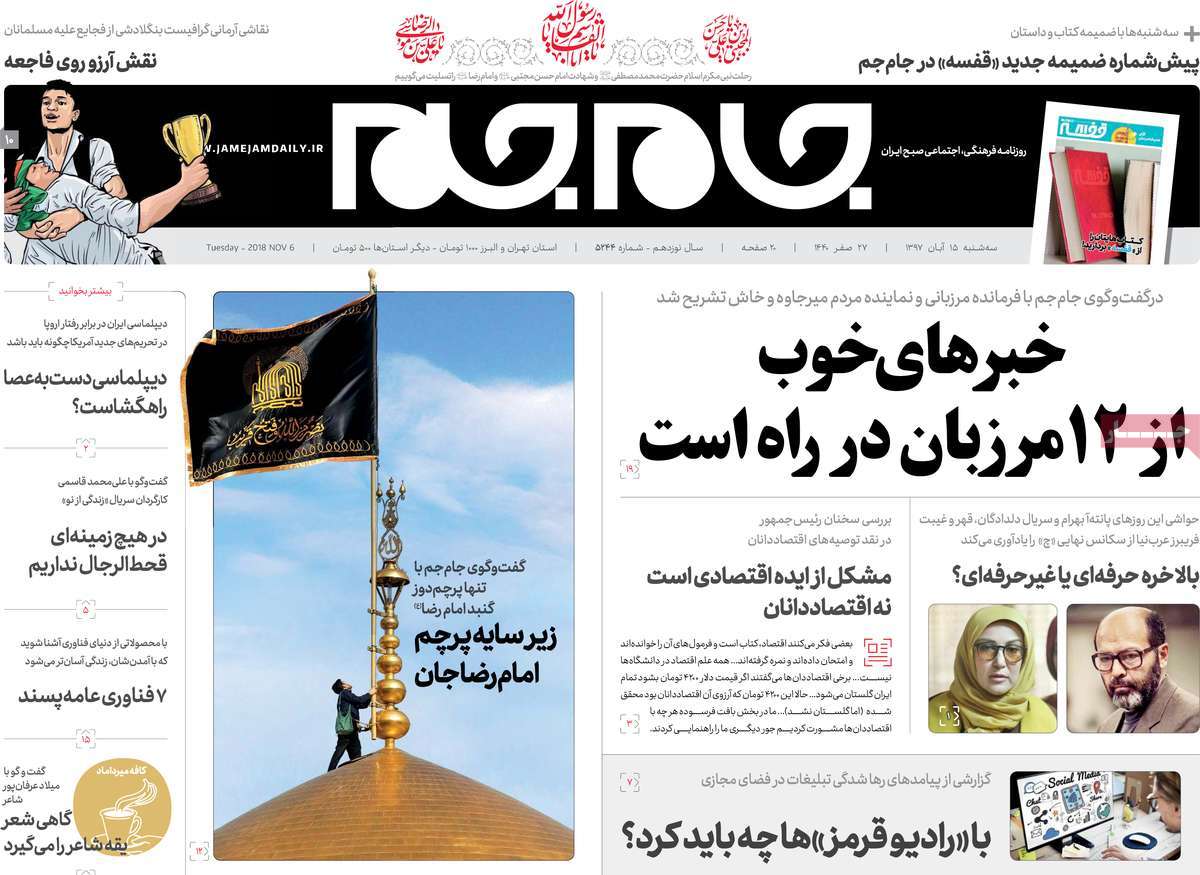 ---
Javan:
1- We'll Proudly Break US Sanctions
2- Zarif: We've Pinned No Hope on US Elections
3- A Shallow Hero Named Mike Pompeo
4- Iran's Cyber Army Foils Attack
---
Jomhouri Eslami:
1- Iran to Defeat Trump as It Defeated Saddam: Rouhani
2- EU Statement: We'll Protect European Firms Doing Business with Iran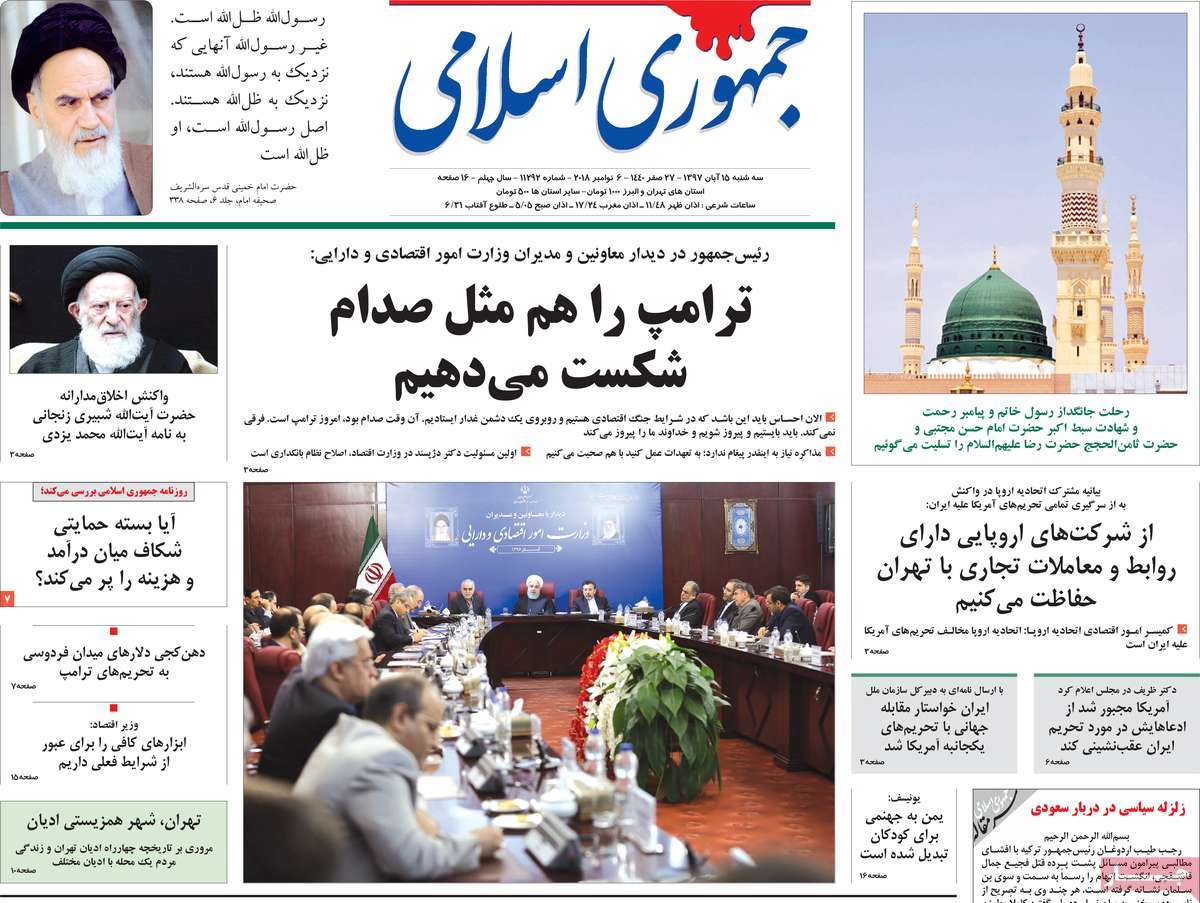 ---
Kayhan:
1- Europe's Reaction to US' Violations: Expressing Regret, and Nothing More!
2- Claim that Russia, China Will Stop Cooperation with Iran without FATF Not True
3- Jerusalem Post: Iran Can Stand against US Sanctions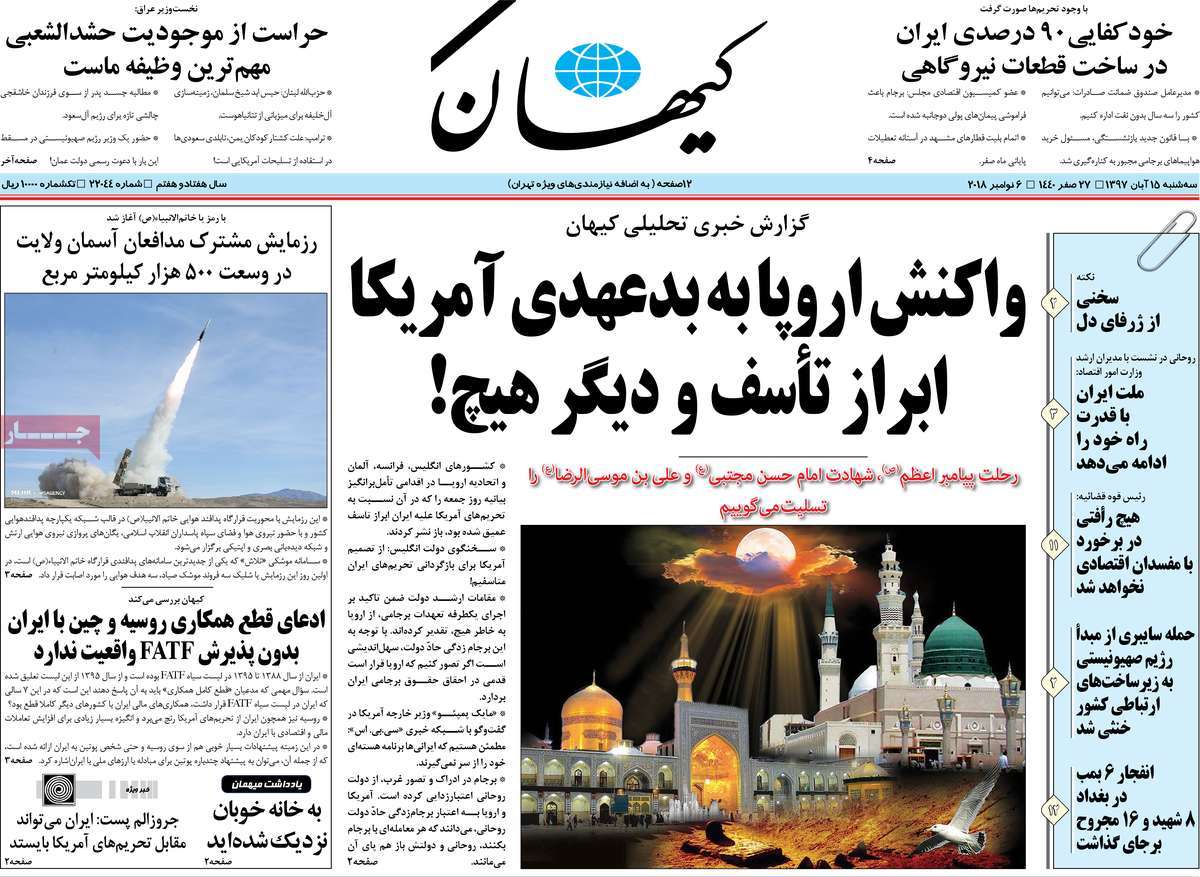 ---
Khorasan:
1- Stock Exchange, Forex Markets Calm after World's Opposition to US Bans
2- One Million Babies with Iranian Mother, Non-Iranian Father to Receive National ID Cards
---
Resalat:
1- We Should Realize 'Death to America' Slogan: Rouhani
2- Hands of American Conspirators Cut by US Embassy Takeover
---
Sazandegi:
1- Bypassing US Sanctions Proudly
* Pompeo Declares Details of New US Sanctions
2- Hollywood against Iran: Americans to Make another Film about Iran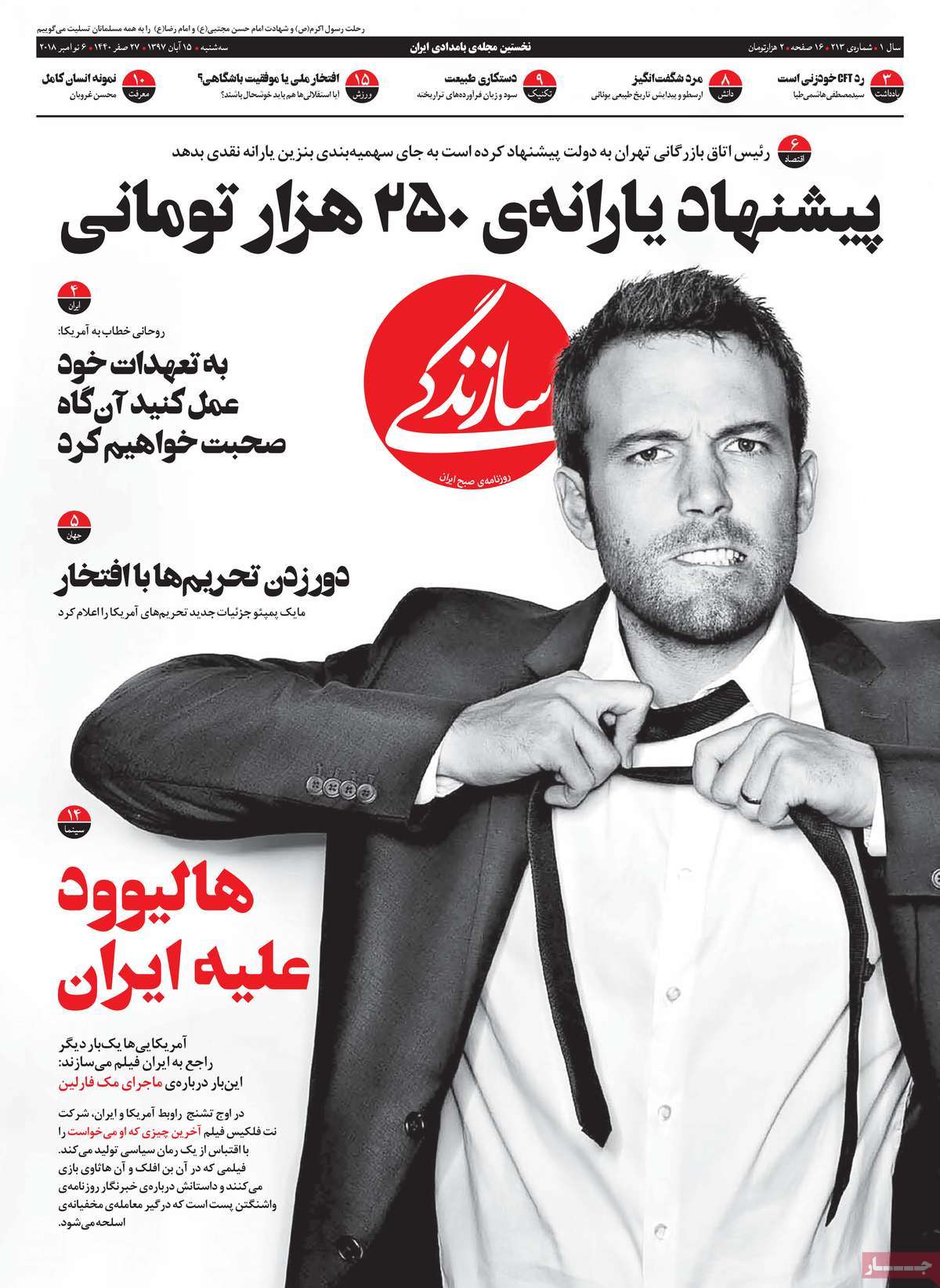 ---
Shahrvand:
1- US More Isolated than Ever: Rouhani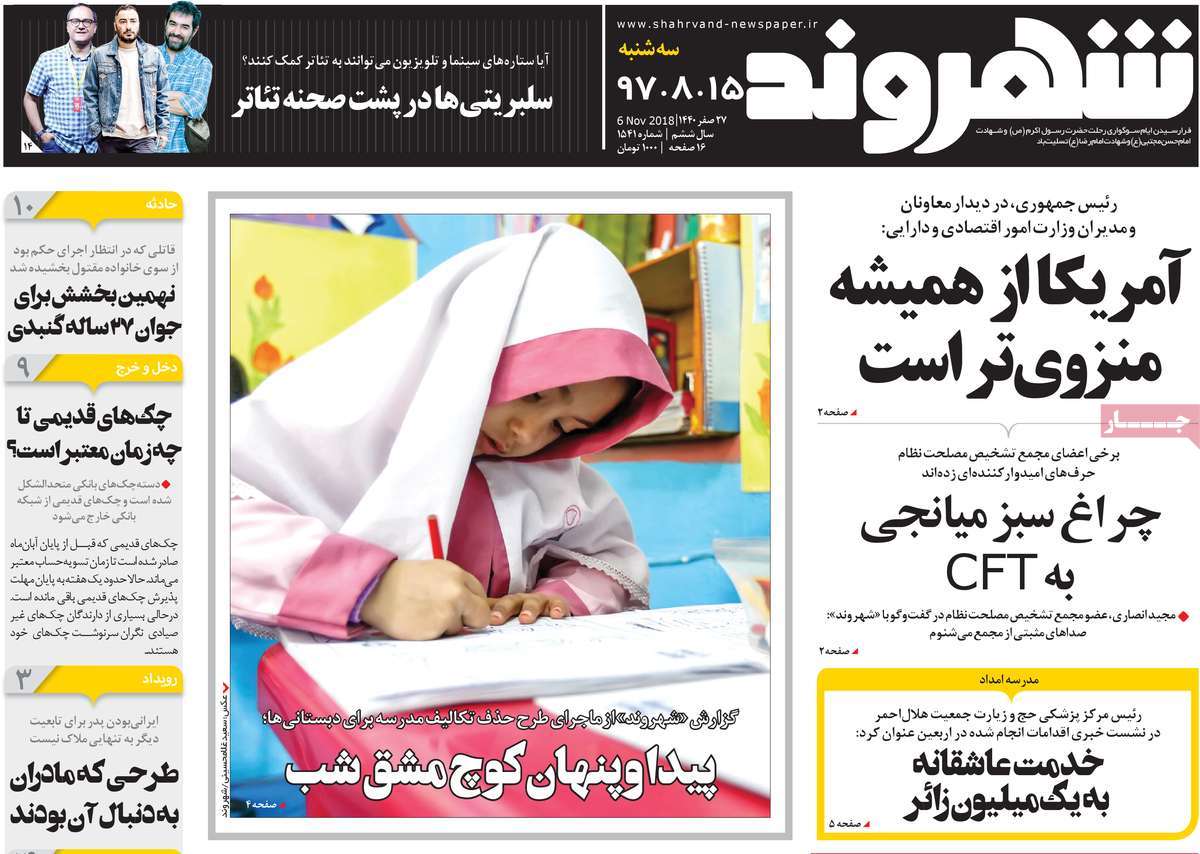 ---
Shargh:
1- Iran, US Recruiting Global Allies
2- Cyber-Attack from Tel Aviv, Strong Response in Tehran
3- Who'll Be Elected as Third Mayor of Tehran?