The top story in all papers today was the re-imposition of US sanctions on Iran, which will take effect on Monday, November 5.
Several papers covered a joint statement by the European Union, France, the UK, and Germany, in which they condemned the new US sanctions and vowed to protect European companies doing business with Tehran.
Donald Trump's decision to grant waivers to eight customers of Iran's crude oil also received great coverage, as they account for a lion's share of Iran's crude exports, and that will make the oil sanctions irrelevant.
The above issues, as well as many more, are highlighted in the following headlines and top stories:
Aftab-e Yazd:
1- When Yalda Night Is Forgotten, Replaced by Halloween!
A Review of Young People's Inclination towards Western Parties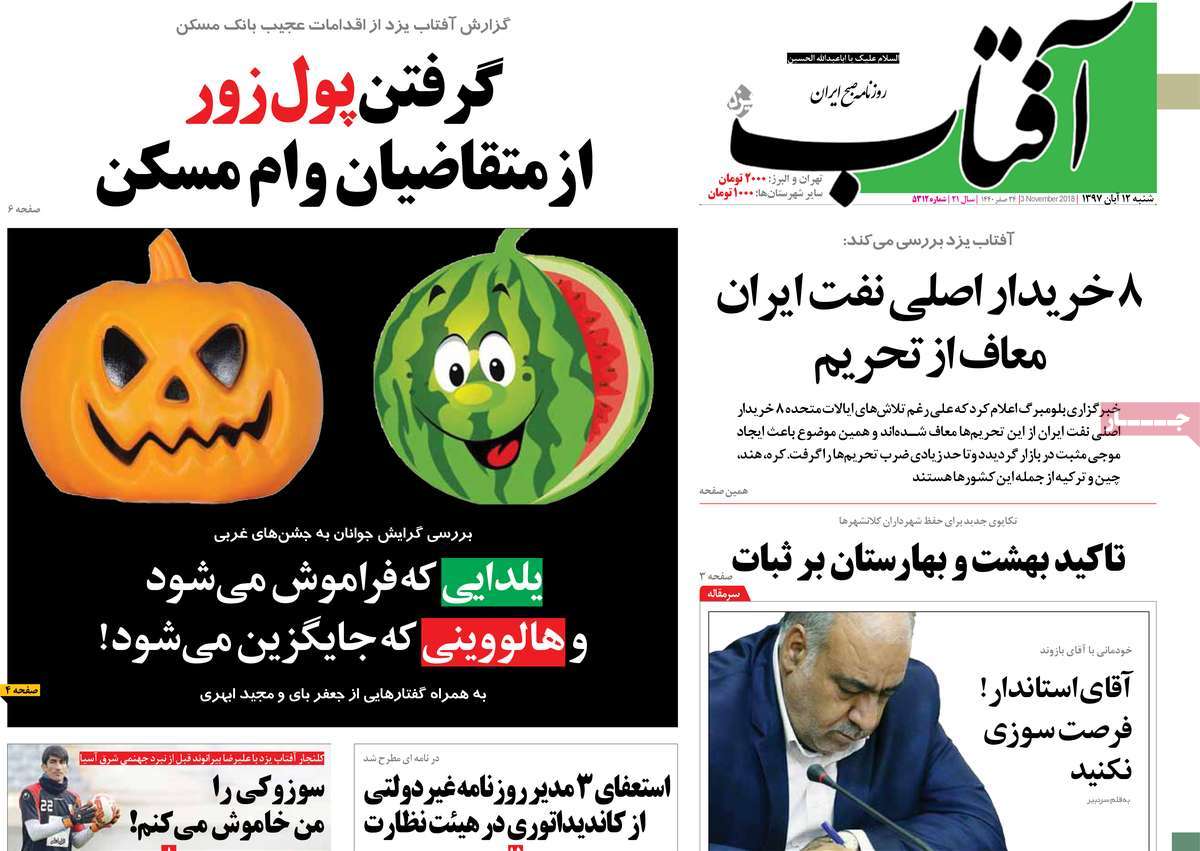 ---
Arman-e Emrooz:
1- Washington's Double-Standard Policies
Illegal Re-imposition of Sanctions While Giving Waivers for Iran Oil
2- Rouhani Once Again Threatened to Death
Hardliner Says He Won't See Persian New Year!
---
Donya-ye Eqtesad:
1- Foreign Affairs: Root Causes of Turkey's Inclination towards Iran, Syria
2- Trump Backs Off from Maximum Sanctions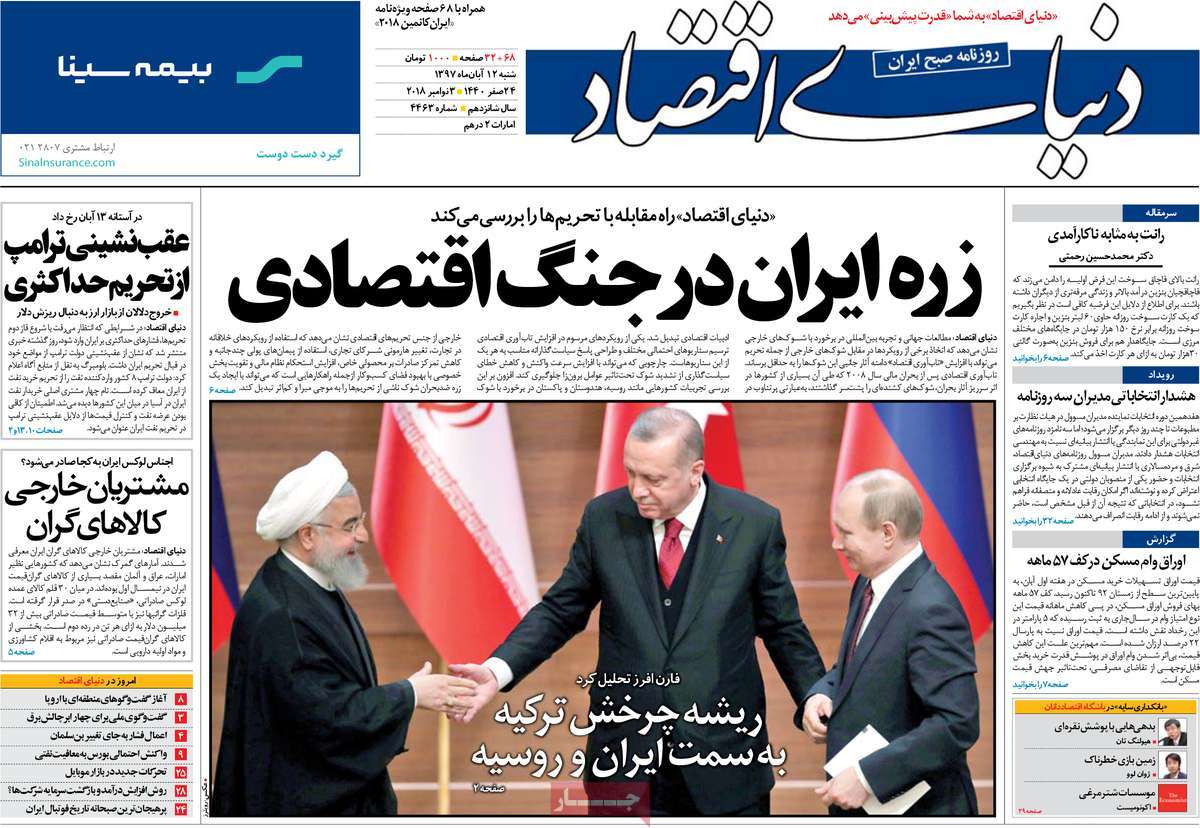 ---
Ebtekar:
1- Rouhani: JCPOA Great Victory of Diplomacy in Modern Era
---
Etemad:
1- Big Test for East and West amid Beginning of Iran Oil Sanctions
2- E3 Release Statement, Say Determined to Remove Iran Sanctions
3- China, US May Reach Trade Deal: Xi, Trump Hold Phone Conversation
4- JCPOA Signed with Ayatollah Khamenei's Consent: Iran Vice-Speaker
---
Ettela'at:
1- Zarif: Mossad Had Scheduled Plan to Kill JCPOA
2- Washington Post to Westerners: Would You Take Same Action against Saudis with Standards of Dealing with Iran?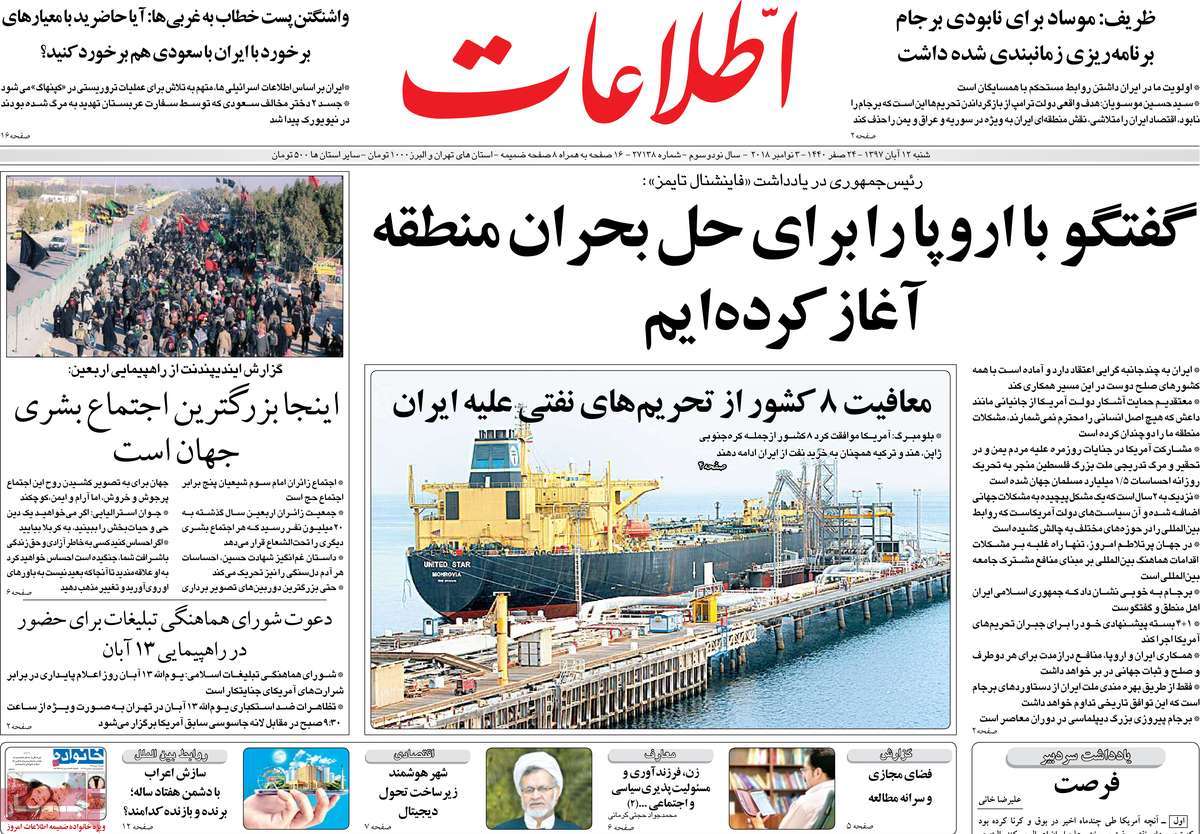 ---
Haft-e Sobh:
1- Rise of the Deer in Iran's Talesh: Deer Attack in Northern Iran Kills 26-Year-Old Ranger
2- Mr Businessman Backs Off, Gives Two-Month Waivers to Eight Importers of Iran Oil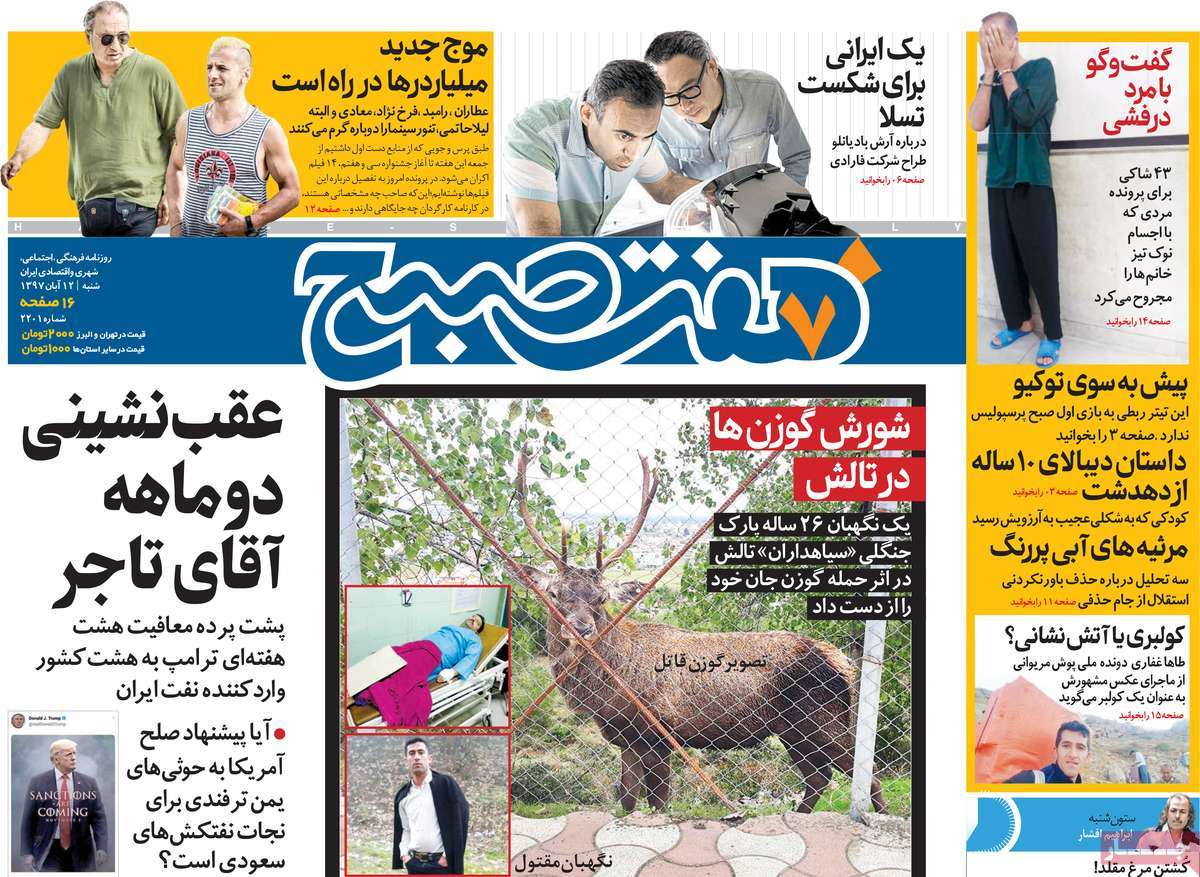 ---
Iran:
1- Trump's Dream Difficult to Come True
2- Three Emergency Measures by New Economic Team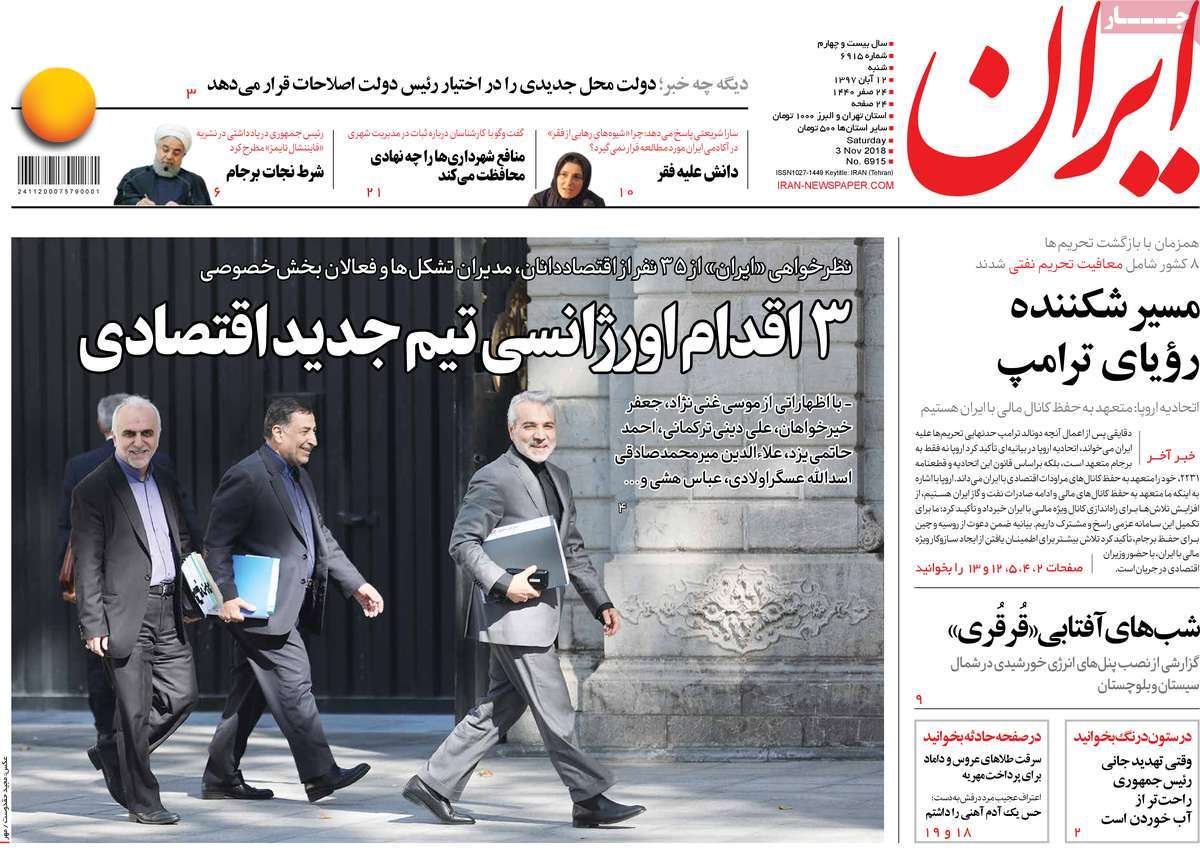 ---
Jame Jam:
1- Victory of Nov. 4 over US
10 Analysts Discuss Trump's Failure to Destroy Identity of Anti-Arrogance Day
2- Trump's Oil Defeat: Trump Finally Forced to Give Waivers to Eight Imp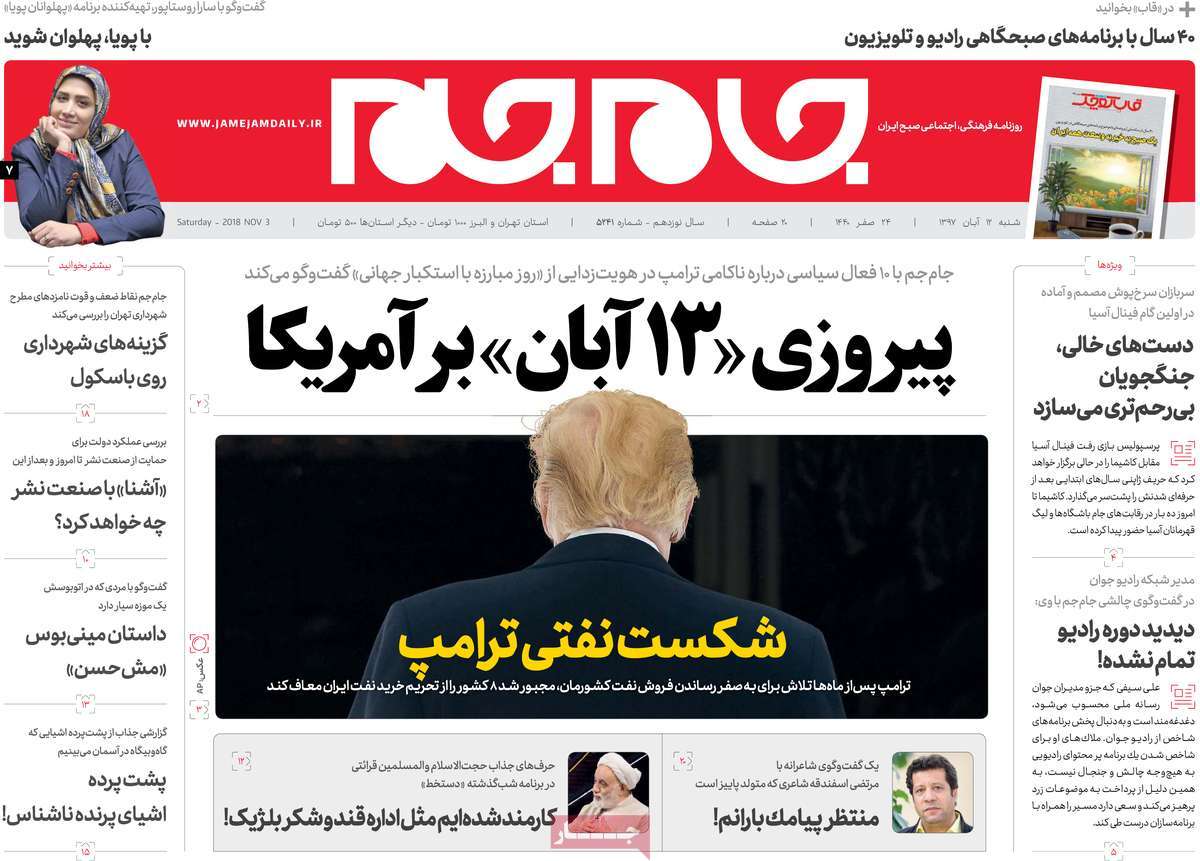 ---
Javan:
1- We Don't Accept Hegemony; We're Invincible
2- Jewish MP: We'll Show to Trump We're a United Nation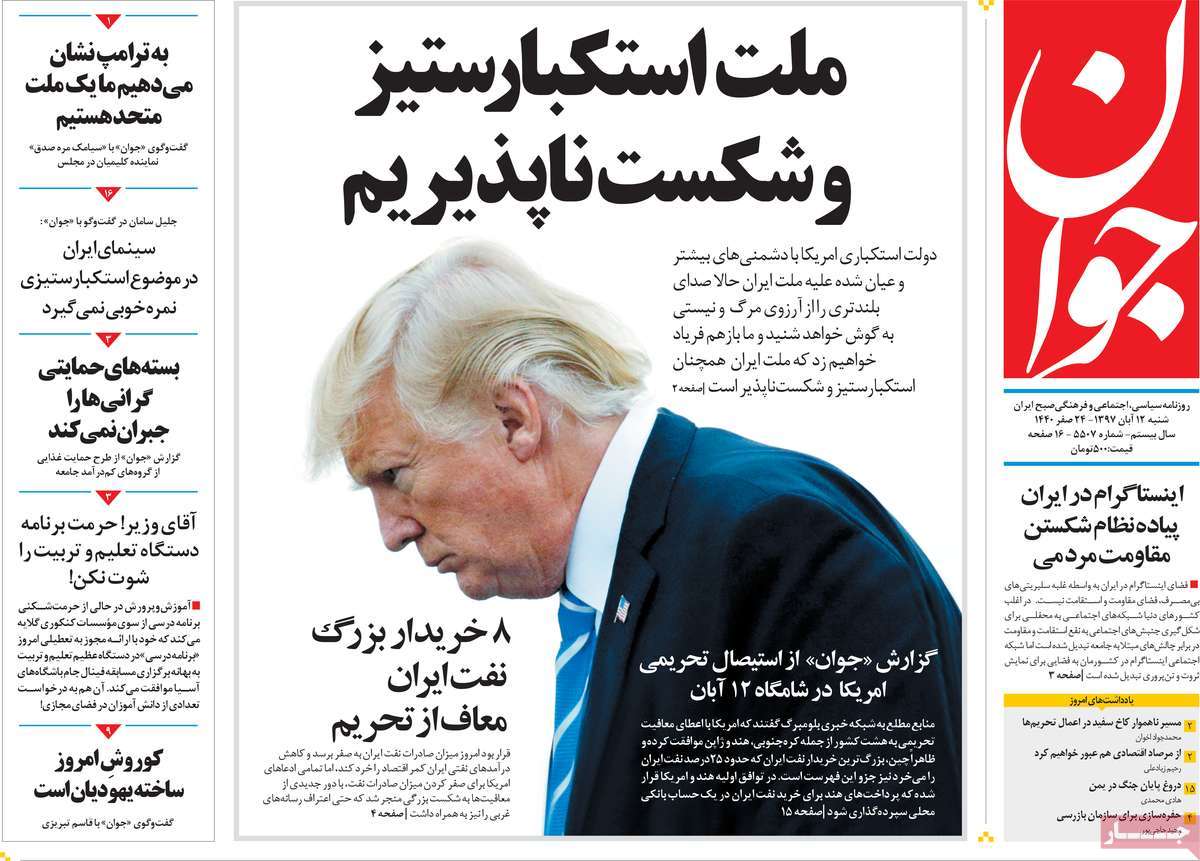 ---
Jomhouri Eslami:
1- Failure of US' Policy of Exerting Maximum Pressure on Iran
2- Iran Int'l Electricity Exhibition Opened with 70 Foreign Firms in Attendance
3- Sisi, Netanyahu Urge that Bin Salman Is Forgiven after Killing Khashoggi
---
Kayhan:
1- US' Oil Sanctions Fail: You Saw US Can't Do a Damn Thing!
2- Countdown Begins for Coup in Saudi Arabia: Bin Salman Ask for Trump's Help
3- Trump Reinstates Sanctions that Had Not Been Removed in First Place!
---
Shargh:
1- Trump Afraid of Oil Price of $100
2- Iran President in FT Op-ed: We've Started Talks with Europe over Mideast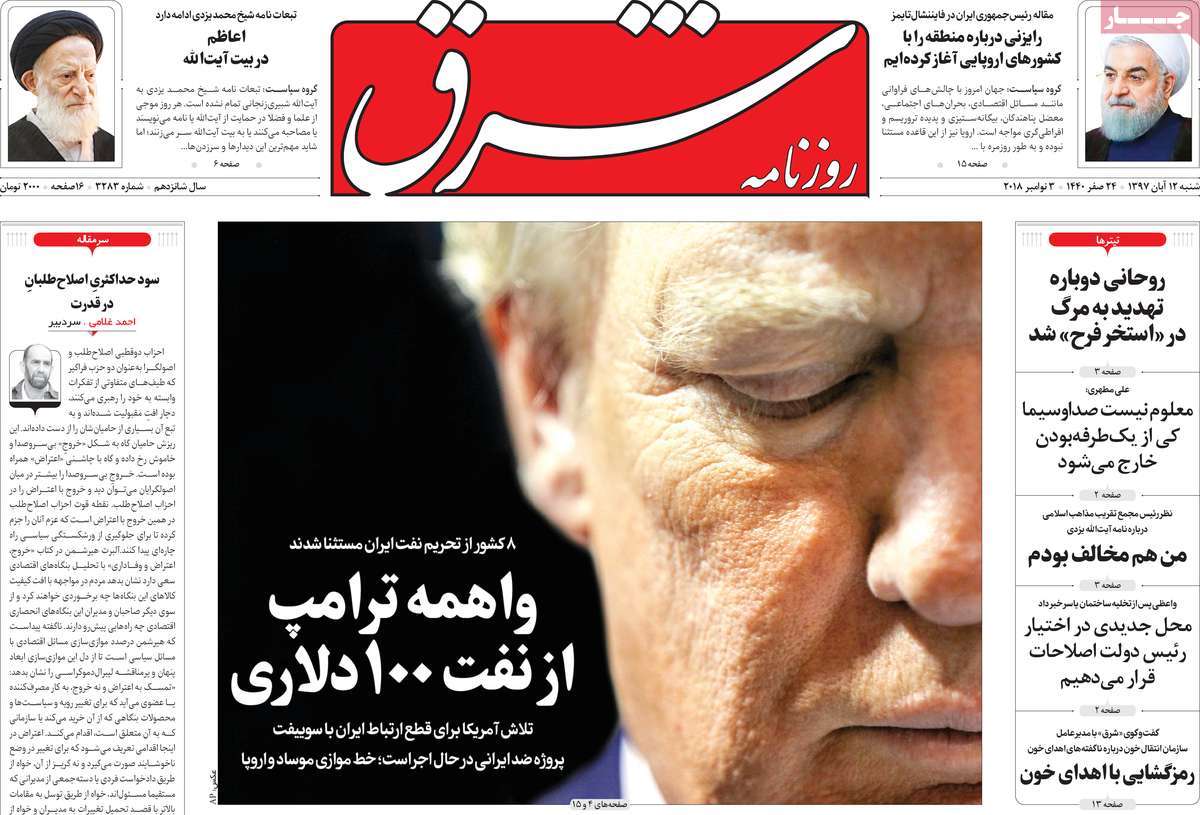 ---
Sobh-e Now:
1- US' Huge Withdrawal
2- Negotiation or Military Conflict
Waco TV Series Shows How US Tries to Make Others Realize Negotiation Is Tactic to Deceive Others