Most newspapers on Tuesday covered the remarks made by the Leader of the Islamic Revolution in a meeting with Navy commanders. Ayatollah Seyyed Ali Khamenei talked about the US extension of anti-Iran sanctions and described it as a violation of the nuclear deal with Tehran.
The lifting of visa requirements between Iran and Russia was also a top story. Aftab-e Yazd in an article discussed whether the move will be to the benefit of Iran or Russia.
The recounting of votes in some US states also received great coverage.
The above issues, as well as many more, are highlighted in the following headlines:
Aftab-e Yazd:
1- Leader: Extension of Expired Sanctions Is Violation of Commitments
2- Lifting of Visa Requirement between Iran and Russia: Favourable to Which Side?
---
Arman-e Emrooz:
1- Fear of JCPOA Abolition in JCPOA: US National Security Advisor Says Scrapping Nuclear Deal Will Isolate US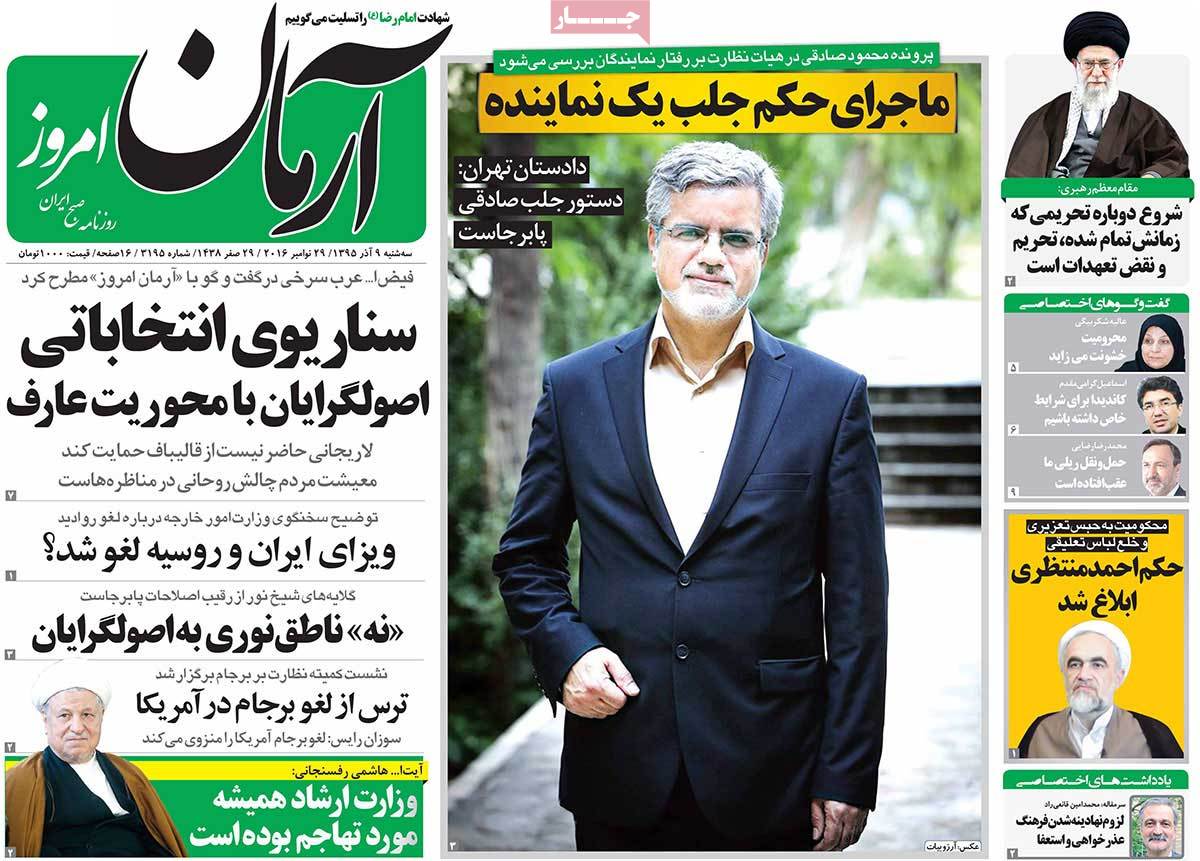 ---
Asrar:
1- Government Tries to End Unethical Behaviours: VP for Legal Affairs
2- Controversies Surrounding Arrest Warrant of an MP
3- British Official: London Seeks to Remove Barriers to Banking Ties with Iran
4- Trump: Millions of Americans Voted Illegally
---
Donya-ye Eqtesad:
1- Obama's National Security Advisor Warns Trump: US Should Pay a Price for Violating JCPOA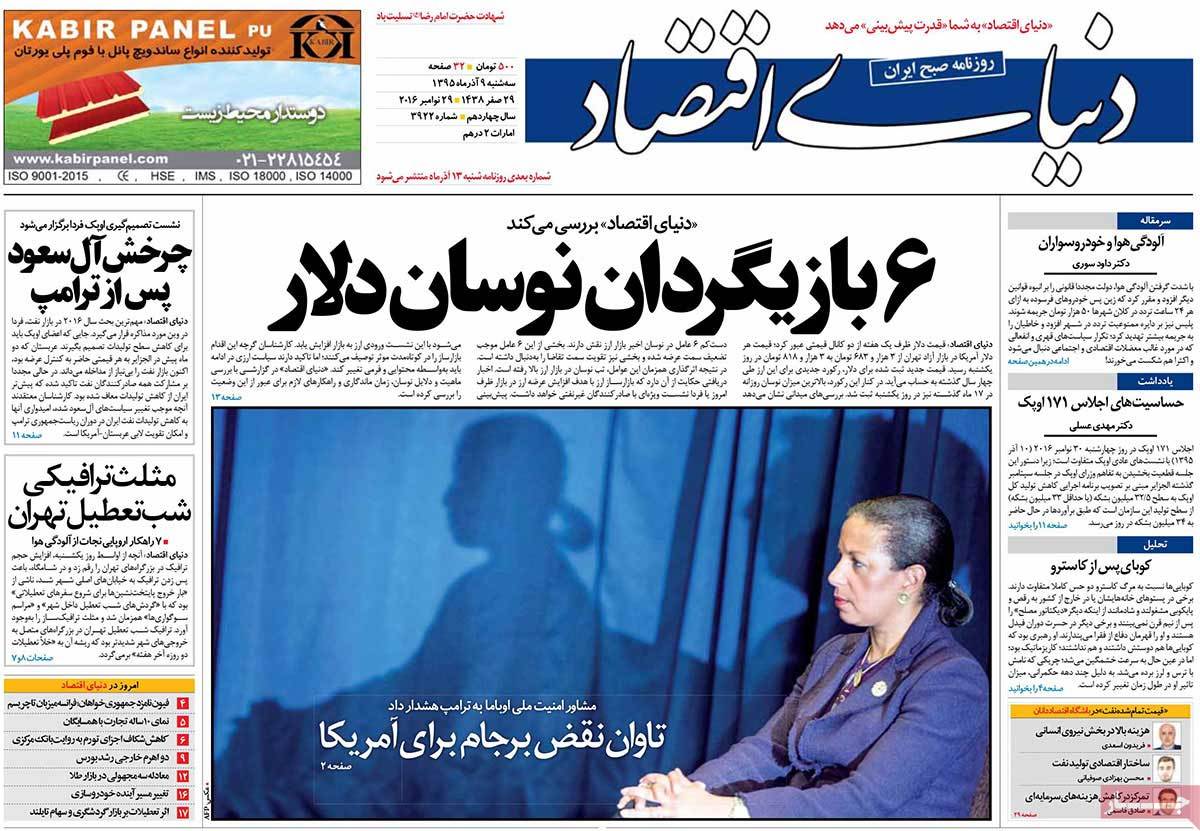 ---
Ebtekar:
1- Trump and Opponents Continue Conflicts over US Elections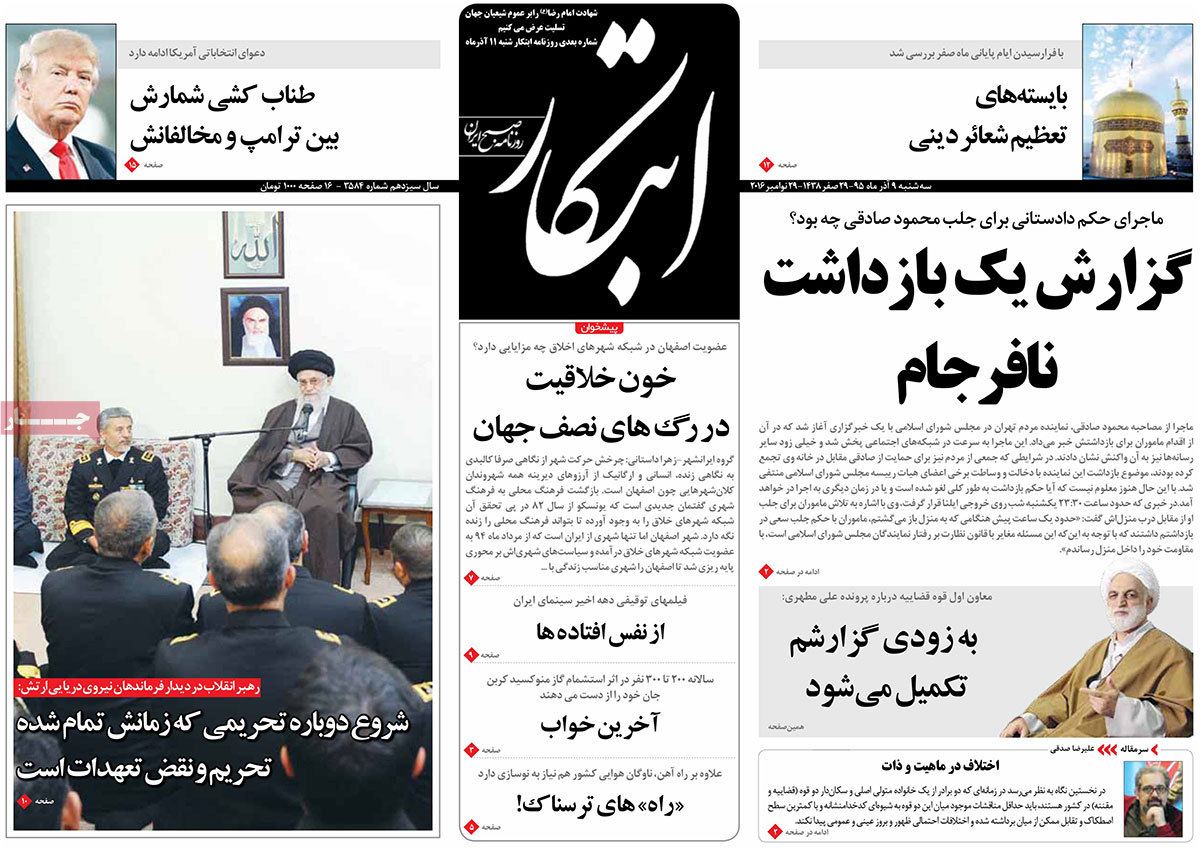 ---
Etemad:
1- Int'l Restrictions Will Limit Trump: Academic
2- Iranian Chess Player's Fair Play in Match against Ukrainian Opponent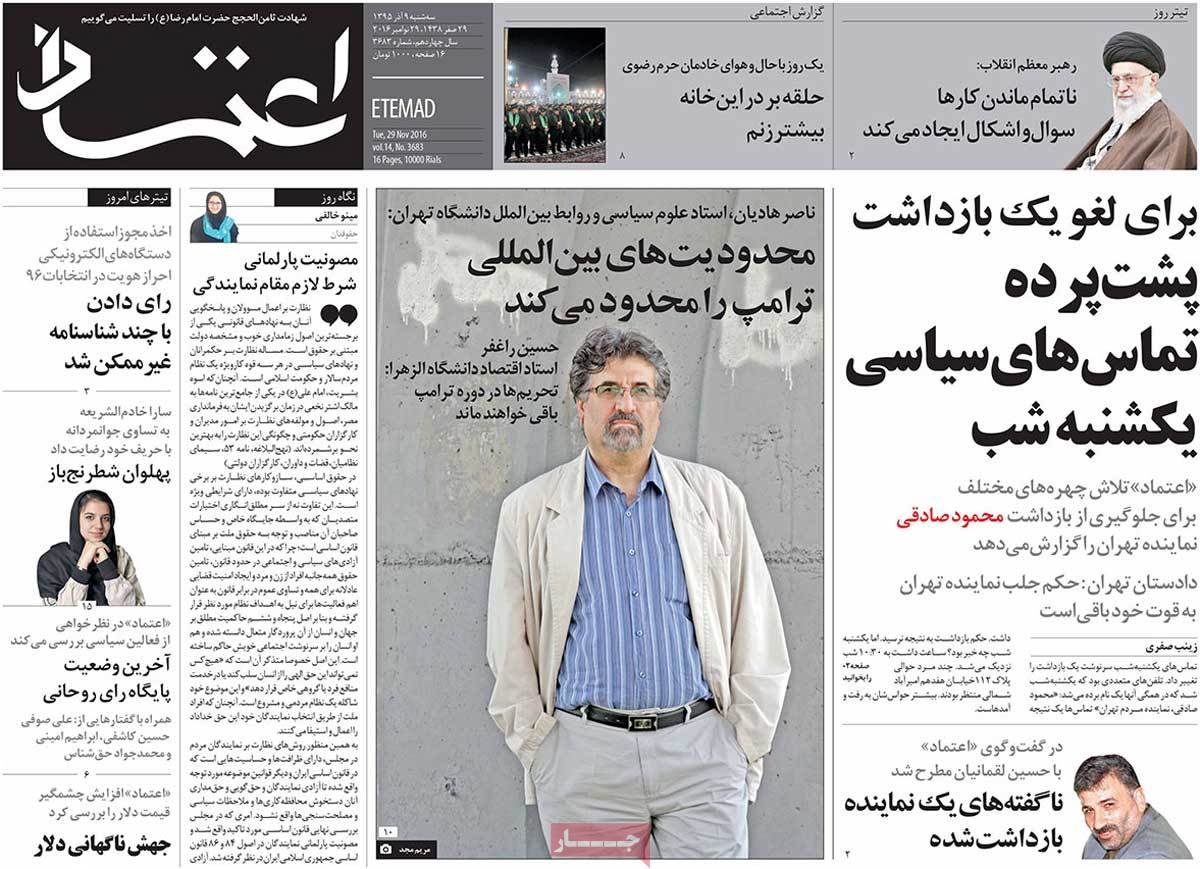 ---
Ettela'at:
1- Leader: Capabilities of Iran's Navy Should Be as Much as Islamic Establishment Deserves
2- 16 Yemeni Children and Women Killed in Saudi Arabia's Brutal Attack on Hodeida
3- Iran's Nuclear Chief: Other Side Will Be the Loser of JCPOA Violation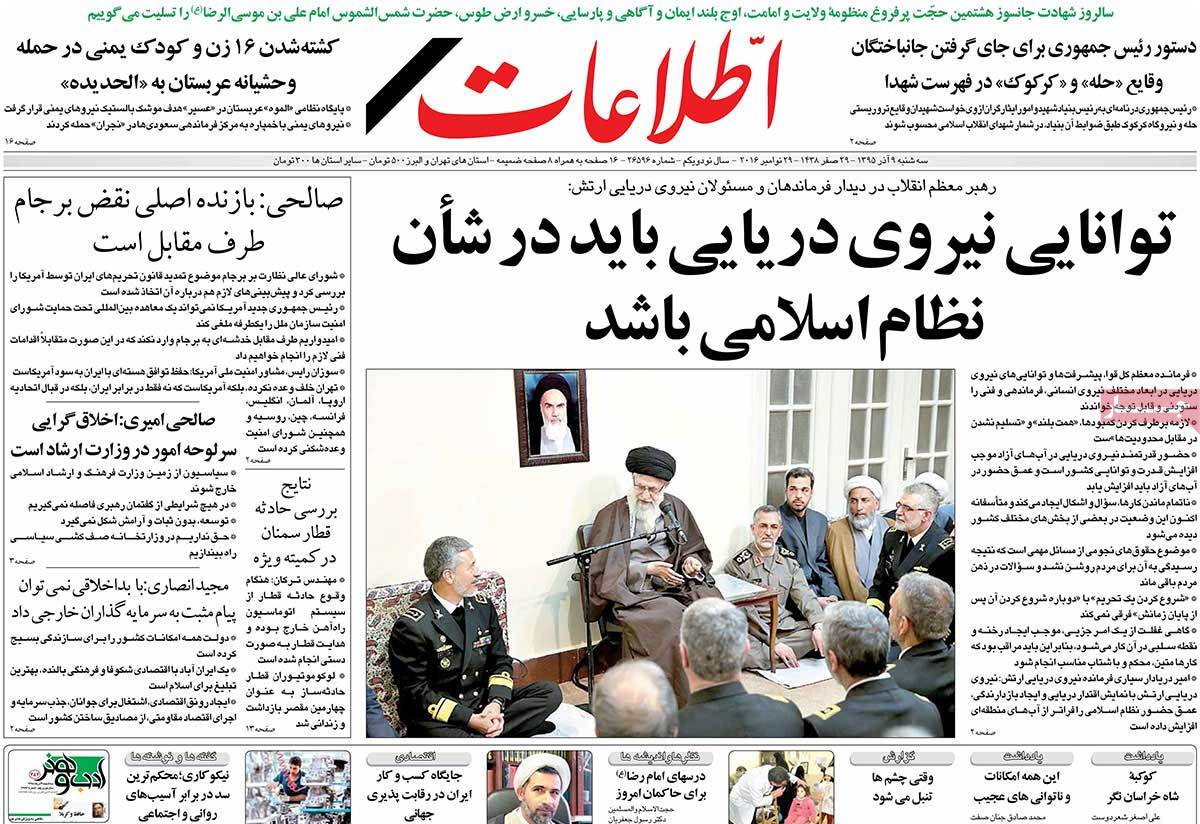 ---
Haft-e Sobh:
1- Iranian-Turkish Businessman Zarrab Has Blackmailed Dutch Bank and US Bank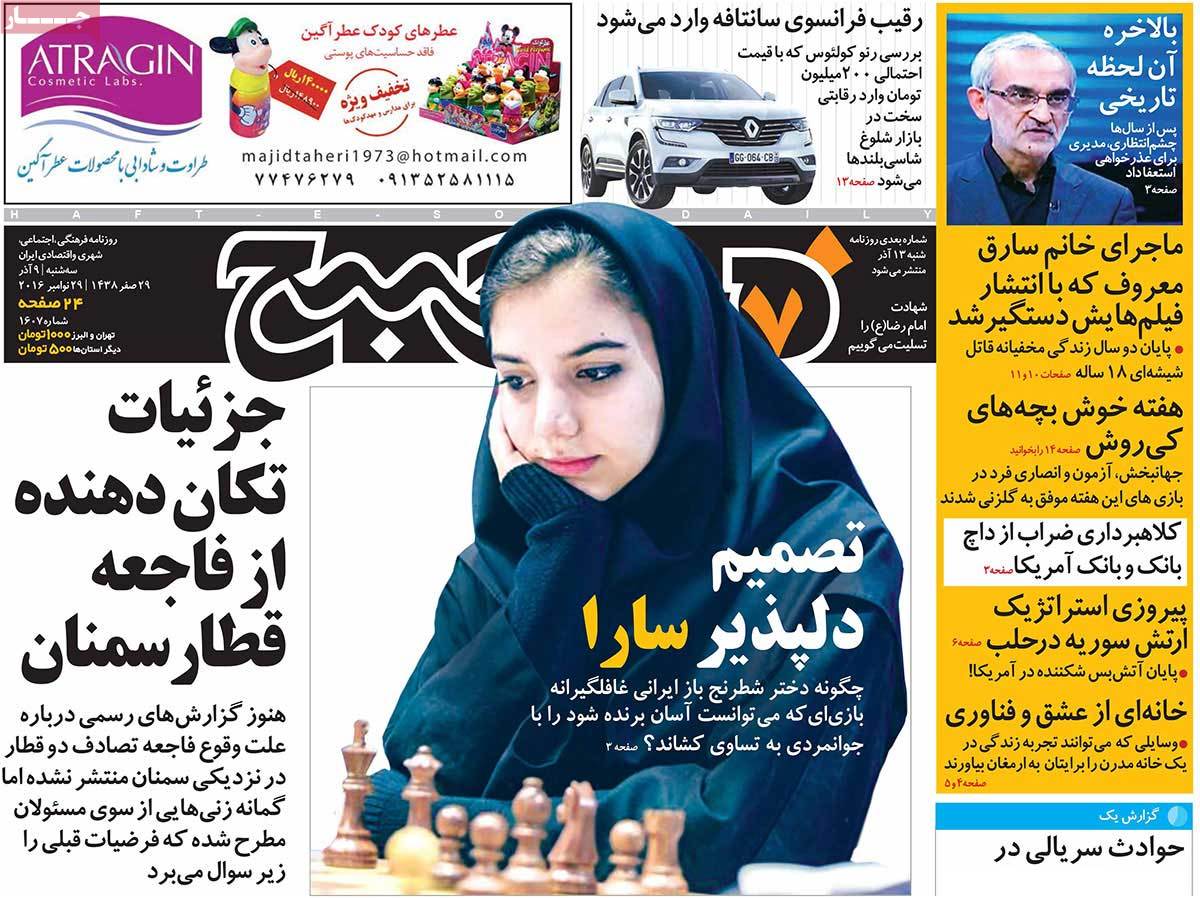 ---
Hemayat:
1- Leader: Problems of Nuclear Deal Were Caused by the Rush in Finalizing the Deal
2- Terrorists Escape Eastern Aleppo
3- Nuclear Chief: We've Made Required Arrangements for Responding to JCPOA Violation
---
Iran:
1- People in Tabriz Light Candles to Commemorate Victims of Train Crash
2- Trump's Anger over Upcoming Recount of Votes in Wisconsin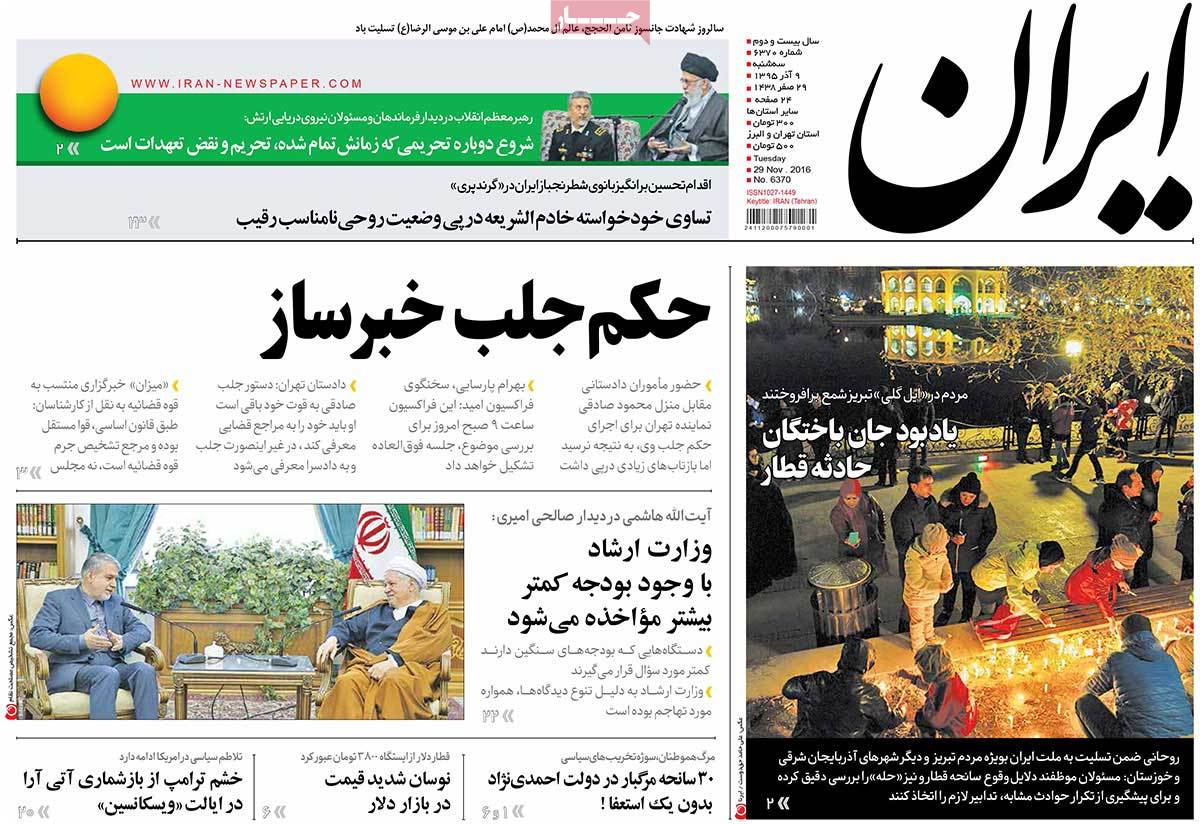 ---
Jame Jam:
1- Leader: We Should Increase Depth of Our Presence in High Seas
2- Aleppo on Verge of Liberation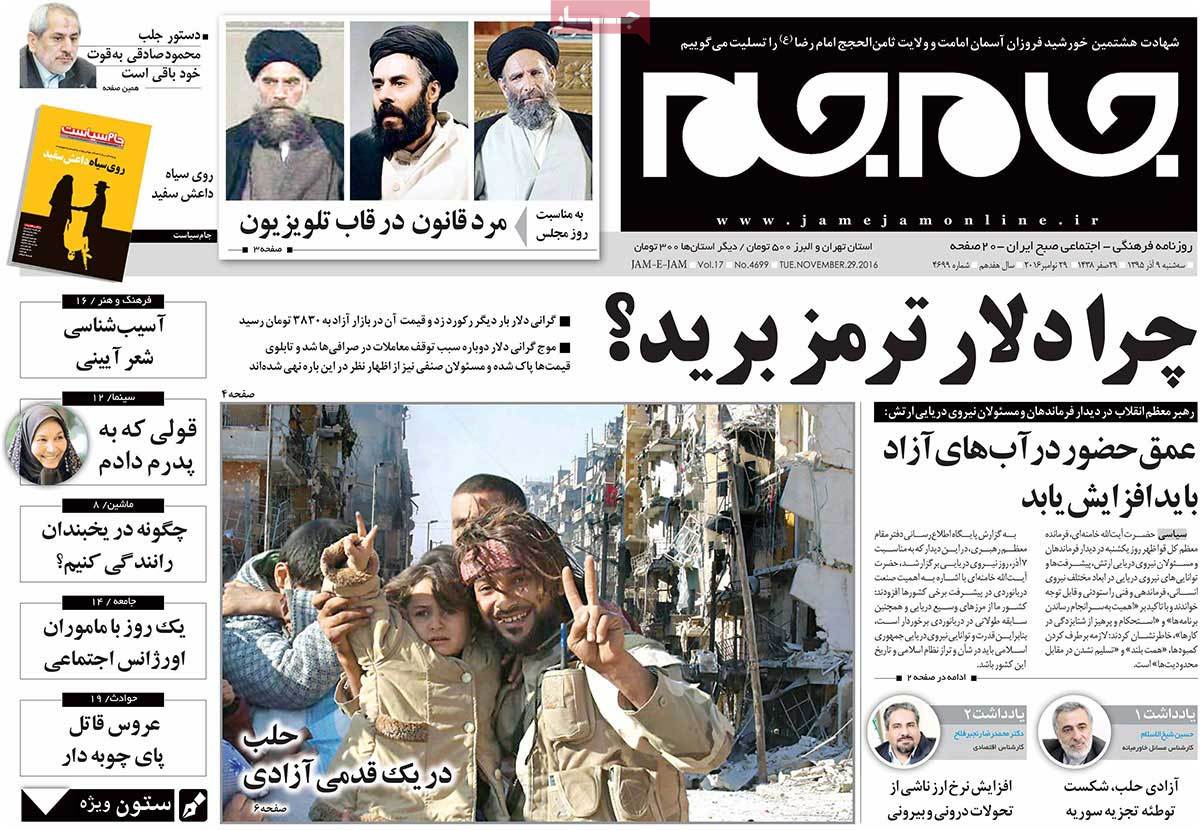 ---
Jomhouri Eslami:
1- 1,200 Sunni Pilgrims Walk towards Shrine of Imam Reza, Eighth Shiite Imam
2- Parliament Speaker's Mediation Leads to Cancellation of Reformist MP's Arrest
3- Iraqi FM: Law of Recognition of Iraqi Popular Forces Was a Great Victory for Iraqi Nation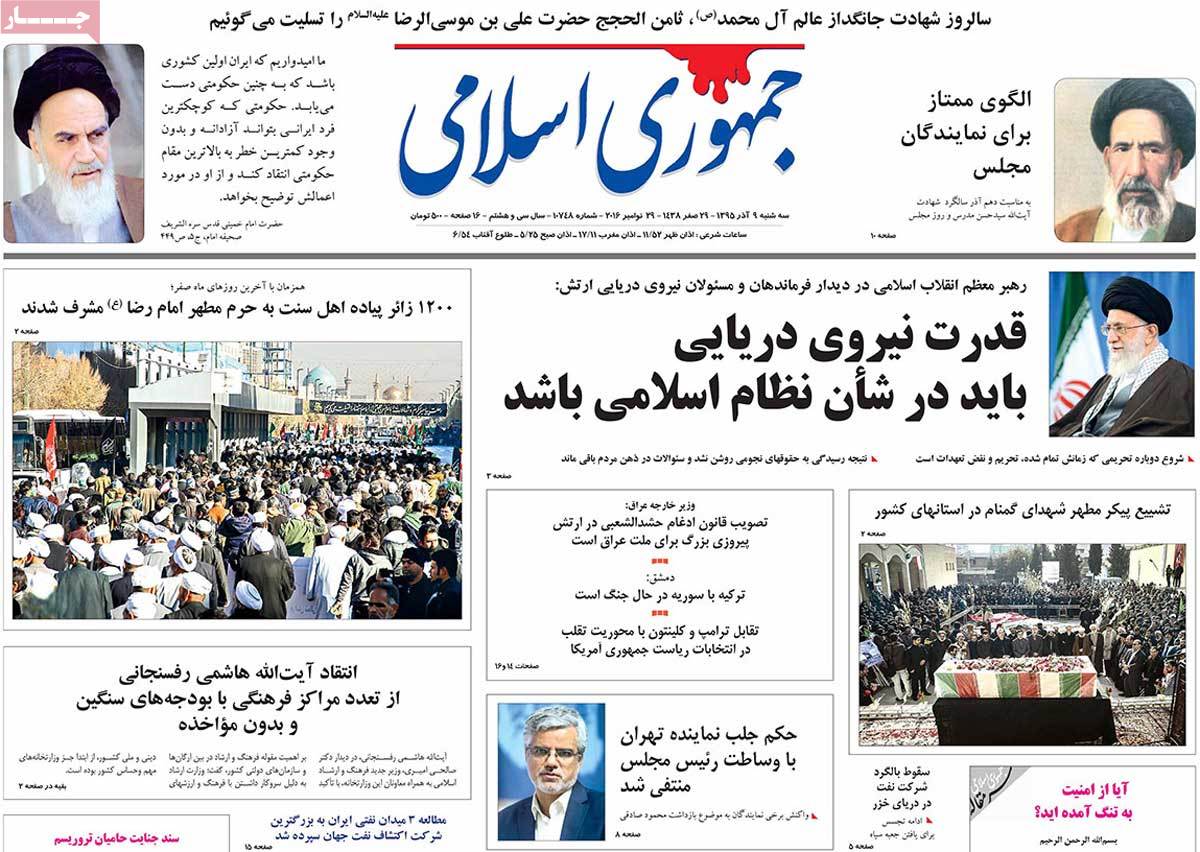 ---
Kayhan:
1- Zionist Rabbi: Nasrallah Was Right, Israel Is Weaker than Spider's Nest
2- Poverty in Germany Has Doubled in Past Decade
---
Khorasan:
1- Vienna Waiting for OPEC's Decisive Summit for Oil Output Cut
2- Terrorists' Escape Routes Cut Off in Aleppo: 12 Regions Liberated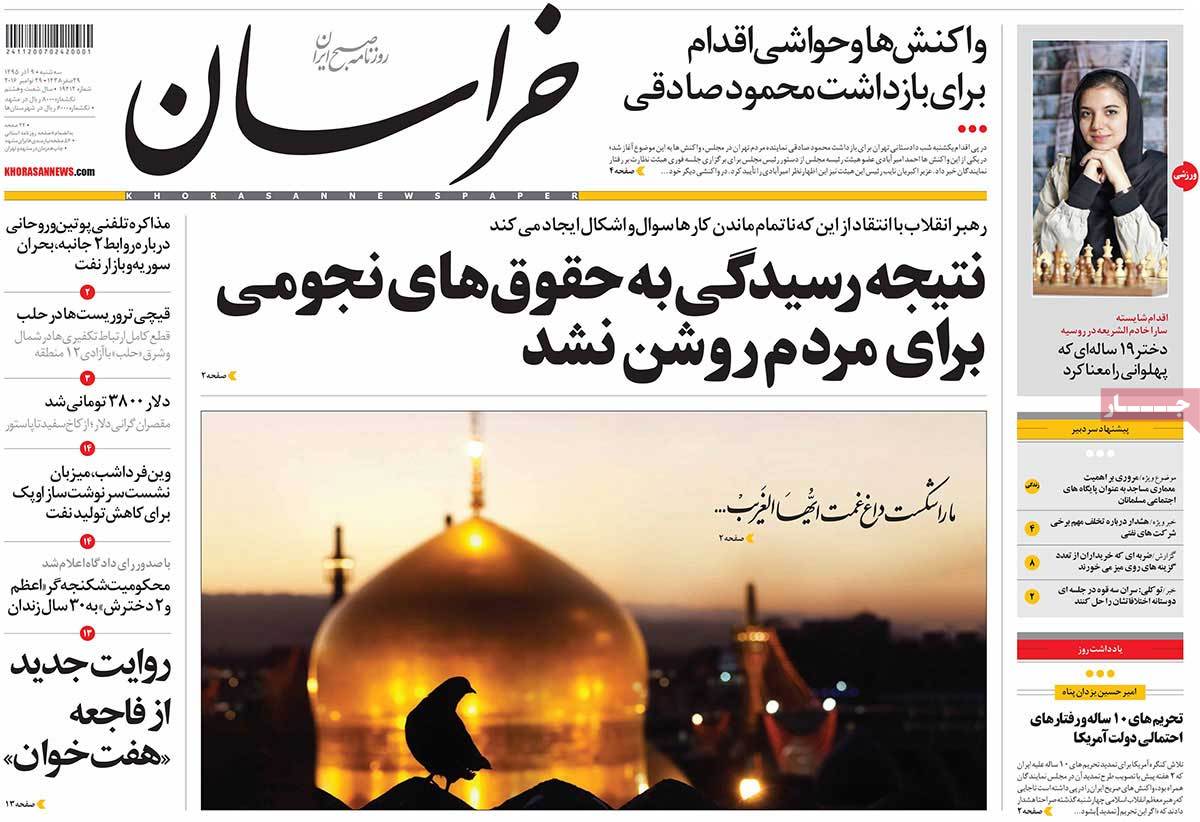 ---
Noavaran:
1- Zarif: Castro's Death Was a Disaster for Freedom-Seeking Movements
2- Iran-Russia Deal for Lifting Visa Requirements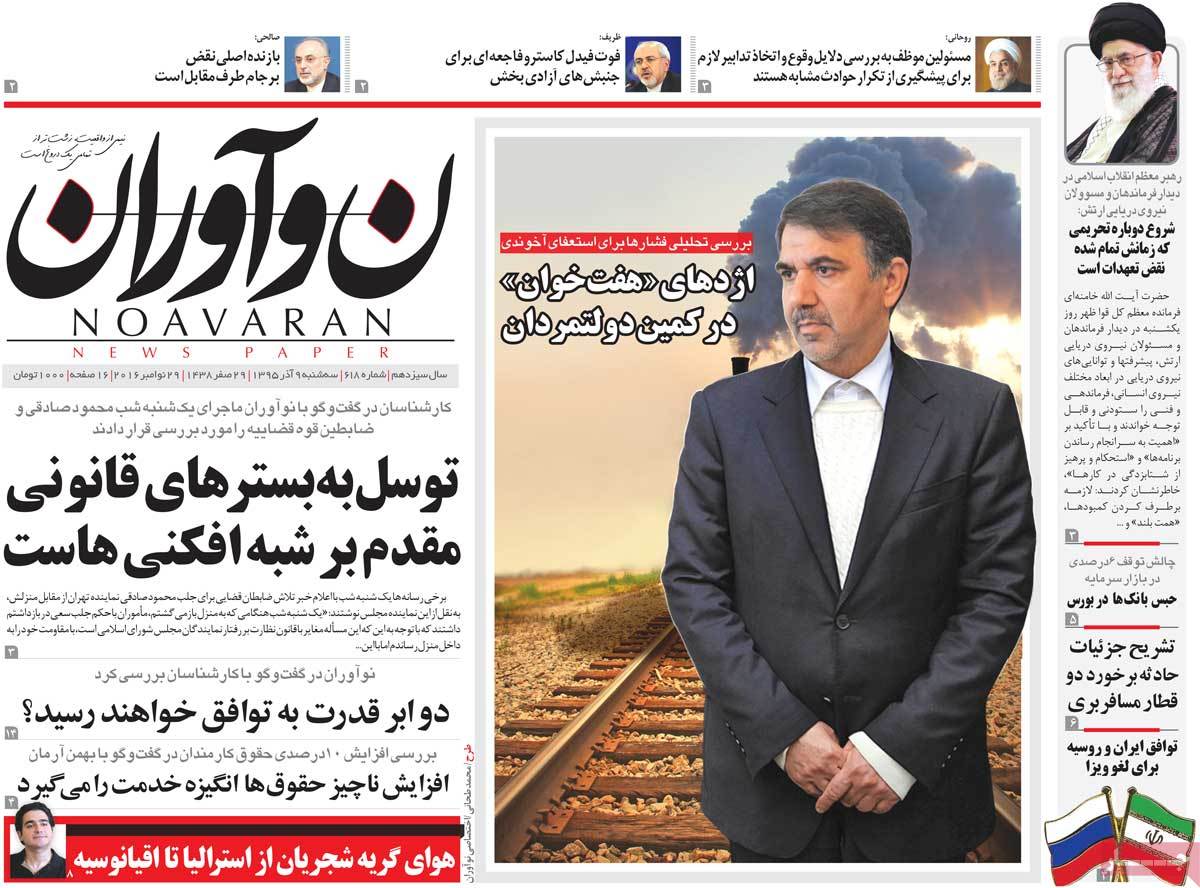 ---
Shargh:
1- Shamkhani: Trump's Oil Policy Will Disrupt Market
2- Foreign Policy Expert Mousavian:: Saudi Arabia's Billion-Dollar Package to Trump for Action against Iran
3- Berlinale Representative's Visit to Iran Sparks Controversy
4- We Wish US Would Take Logical Stances: Iran's Nuclear Chief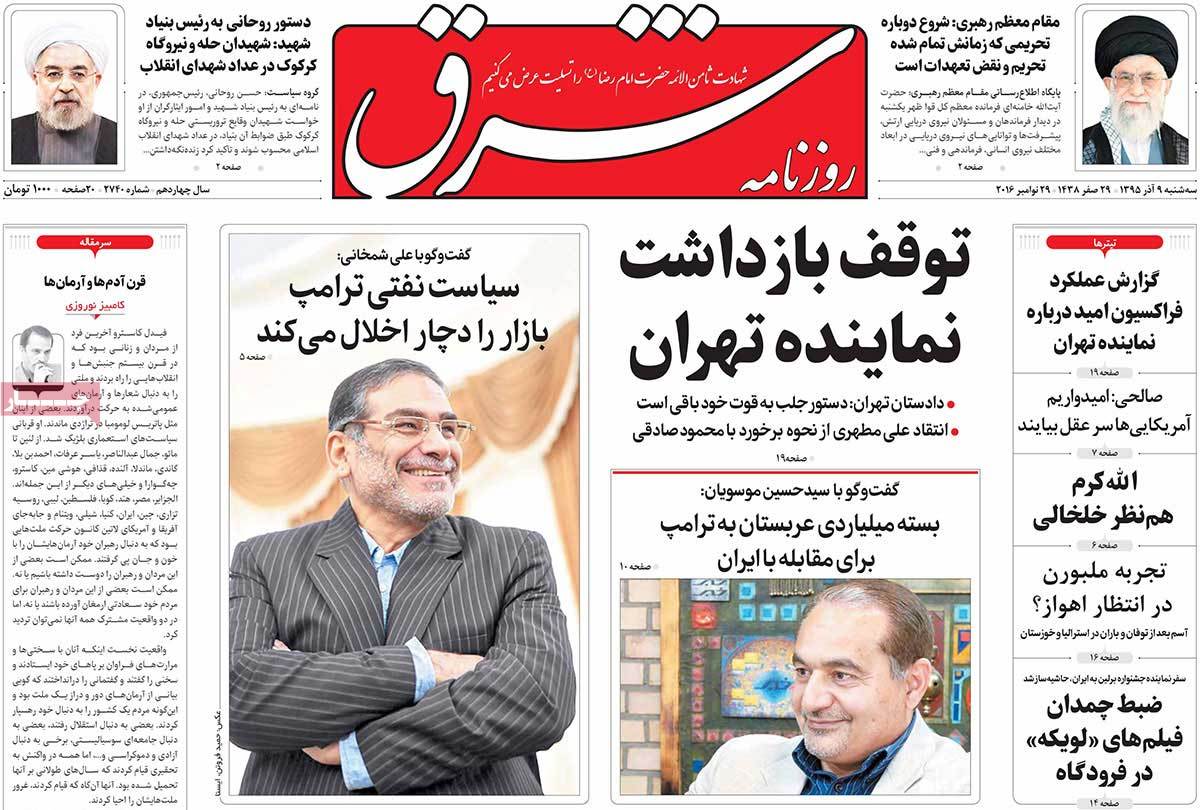 ---
Ta'adol:
1- War of Bank Notes in New Delhi: Indian PM Gambling with the Country's Monetary System
2- Saudi Arabia's Oil Bluff: Latest Stances by Saudi Officials on Verge of Vienna Summit
---
Vaghaye Ettefaghieh:
1- Iraqis Are Less Pessimistic about Trump: New US Administration's Need for Iran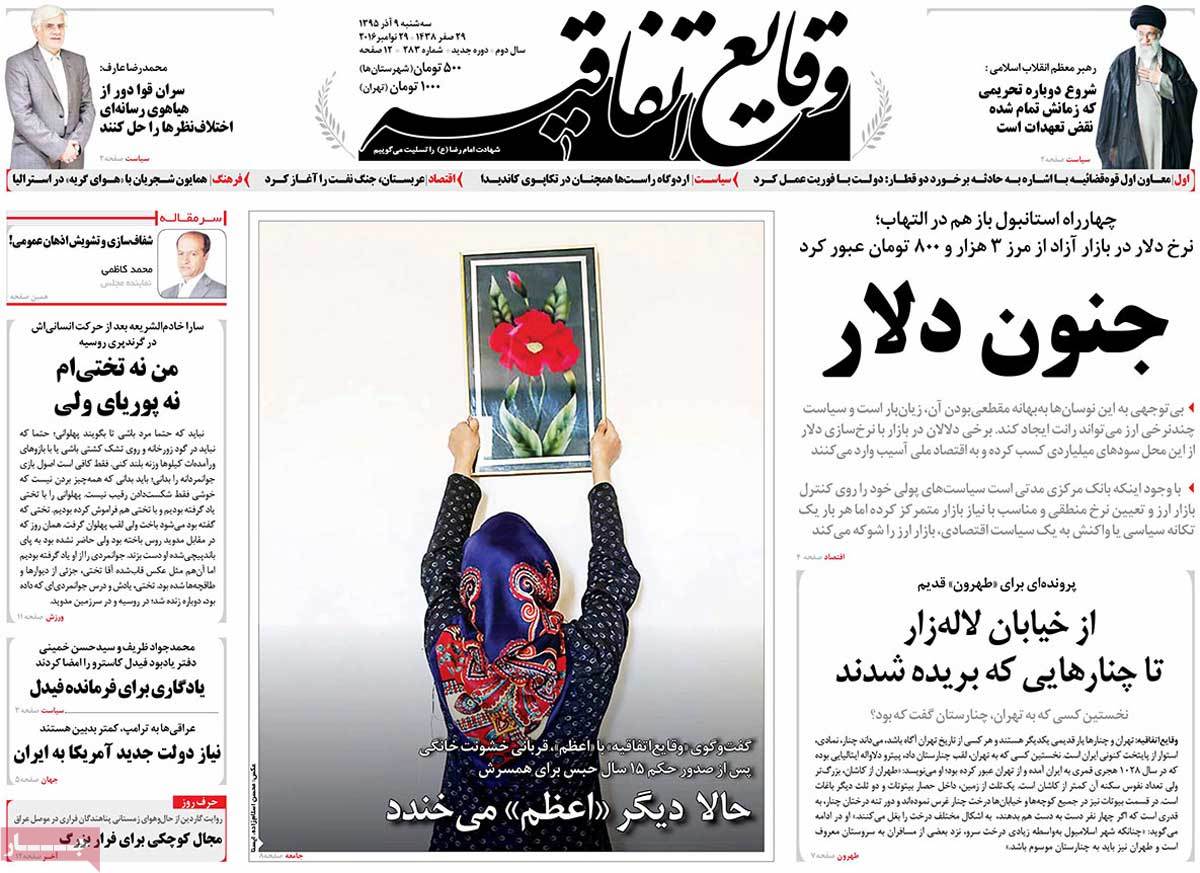 ---
Vatan-e Emrooz:
1- Iran's Nuclear Chief: Extension of Anti-Iran Sanctions Is Violation of JCPOA
2- Air Pollution Once Again Says Hello to People of Tehran