Iranian newspapers on Tuesday focused on the formation of the Iranian Parliament's governing board, whose final elections were held today.
Foreign Minister Mohammad Javad Zarif's European tour was another top story in Iranian papers.
Many newspapers also covered Ayatollah Akbar Hashemi Rafsanjani's remarks on the possibility of a meeting between Iran's President Hassan Rouhani and his US counterpart Barack Obama.
Abrar:
1- Iran Welcomes Presence of Polish Companies and Tourists in Iran: FM
2- Iran to Firmly Continue Its Middle East Advisory Assistance: Deputy FM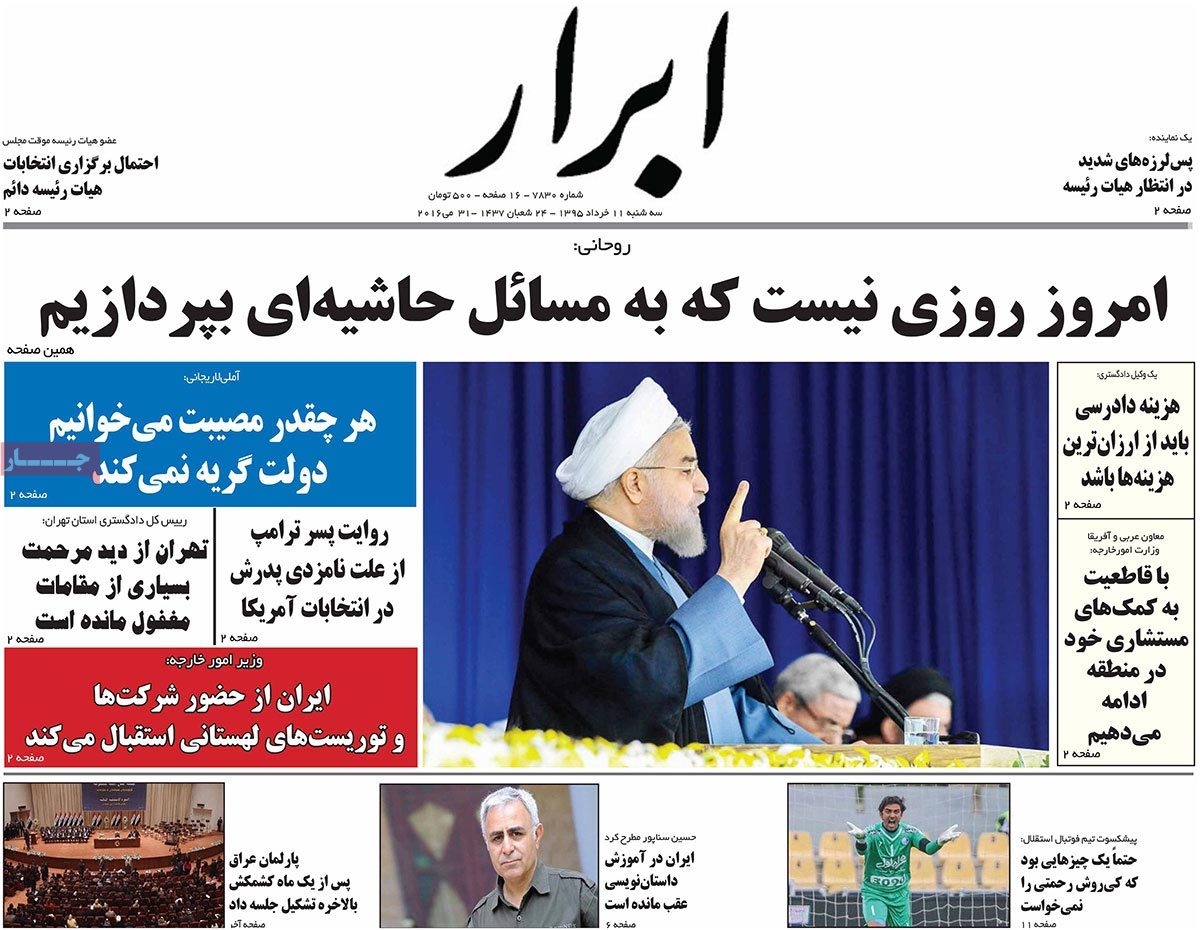 ---
Abrar-e Eqtesadi:
1- People's Economic Problems Rooted in Ahmadinejad's Plans
---
Arman-e Emroz:
1- Obama and Rouhani Will Not Meet: Rafsanjani
2- Complaints and Smiles for [Asghar Farhadi's] The Salesman
3- BA Holders Sell Balloons!
4- Larijani, a Great Advantage for Rouhani's Administration
5- Shajarian's Rabbana Once Again: IRIB Changes to Become Effective [Mohammad Reza Shajarian, a traditional Iranian music master, has been banned by the IRIB since the aftermath of the 2009 presidential elections]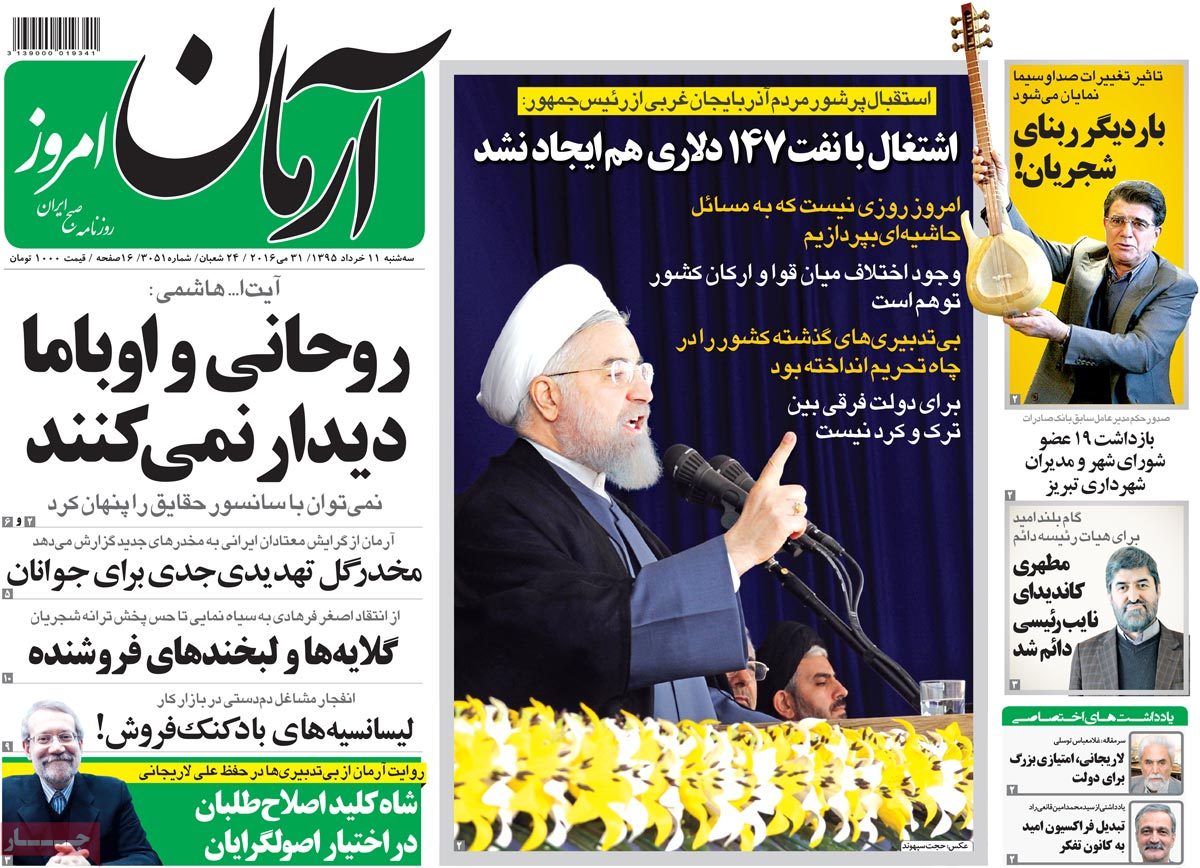 ---
Asia:
1- Iran's Trade and Industry Centre in Berlin
2- Iranian and Polish Private Sectors Sign Several MoUs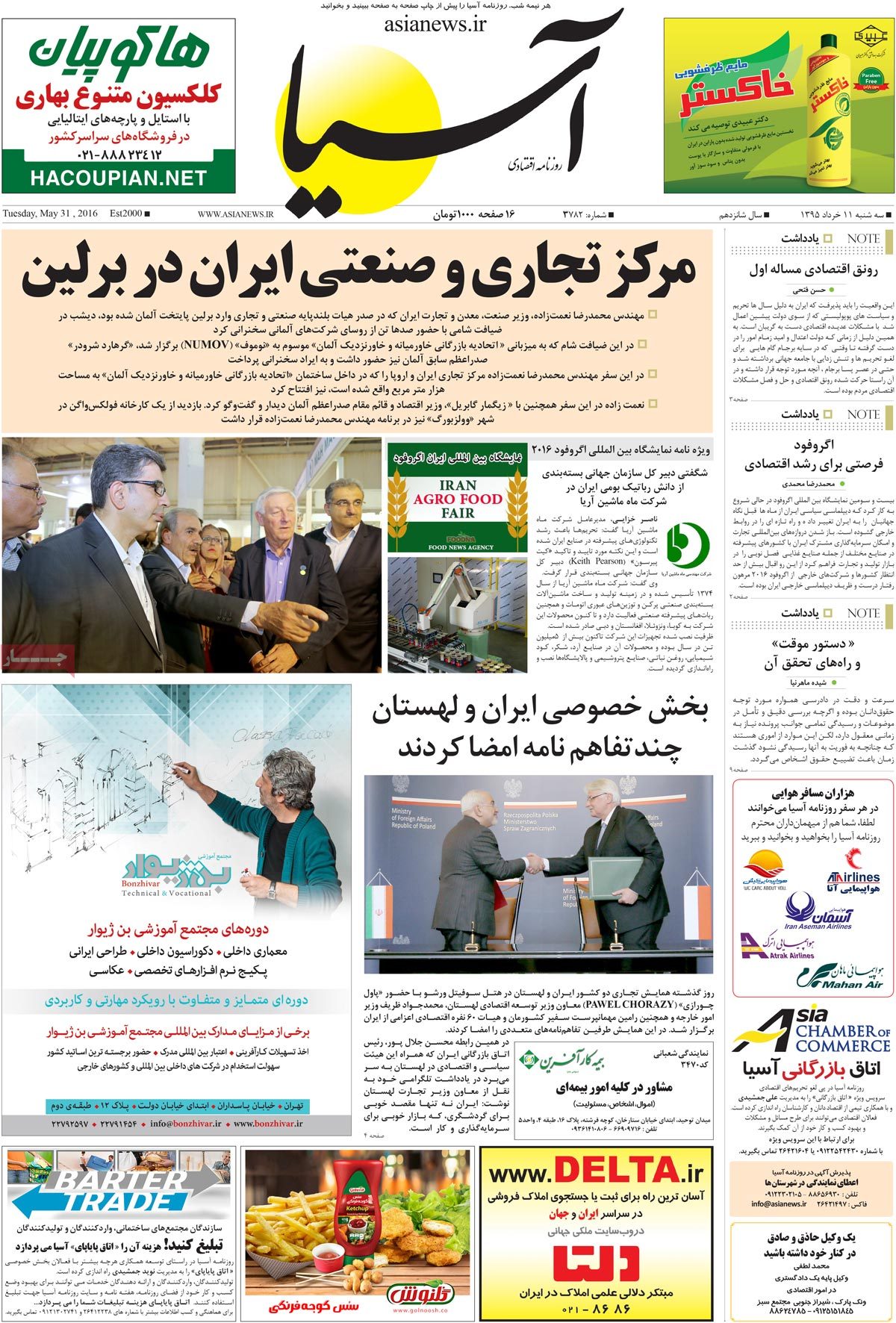 ---
Ebtekar:
1- Return of "Hope" to Permanent Governing Board of Parliament
2- If Leader Is Opposed [to it], Rouhani Will Not Meet Obama: Rafsanjani
3- Rouhani's Brother, Hossein Fereydoun, Ended Rumours by Coming on President's Provincial Visit
4- Zarif's Diplomatic Visit Aimed at Boosting Economic and Trade Ties: Poland Is the 1st Leg
---
Emtiaz:
1- "Trade of Death" in Cigarette and Hookah Market: Deputy Health Minister Says Smoking Hookah Has Become Prestigious!
2- Tobacco Flavoured with Narcotics: Official Warns
3- Iran Ready to Develop Energy Trade with Indonesia: Oil Minister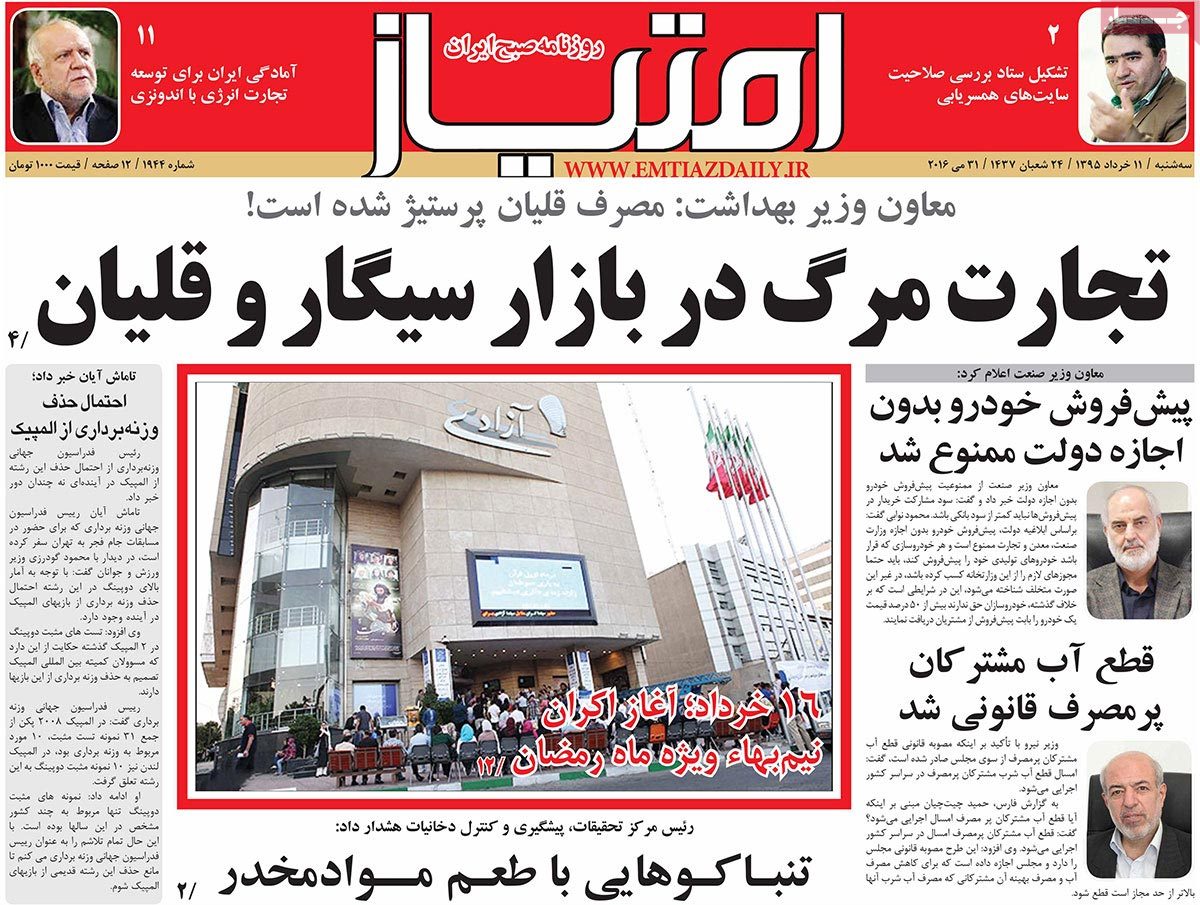 ---
Etemad:
1- No One Buys Populist Slogans Anymore, at Least for Now: Politician
2- No Faction Has Absolute Majority in 10th Parliament: Conservative Politician
3- Riyadh's Political Game with Hajj Pilgrimage: Saudis Find New Pretext to Raise Tensions with Iran
---
Ettela'at:
1- We Should Not Unite Enemies against Us: Rouhani
2- Iraqi Forces Enter Fallujah: ISIS on Verge of Collapse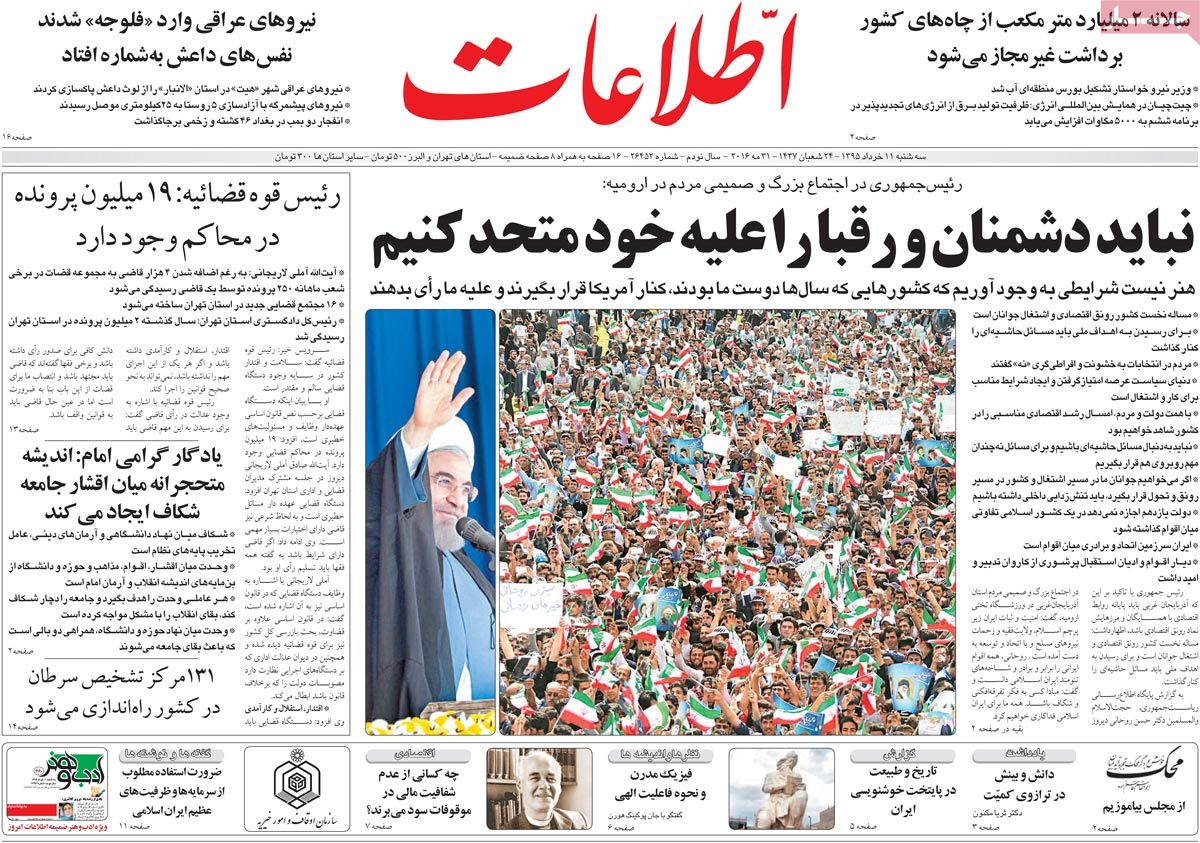 ---
Haft-e Sobh:
1- Not a Good Time for Ahmadinejad's Return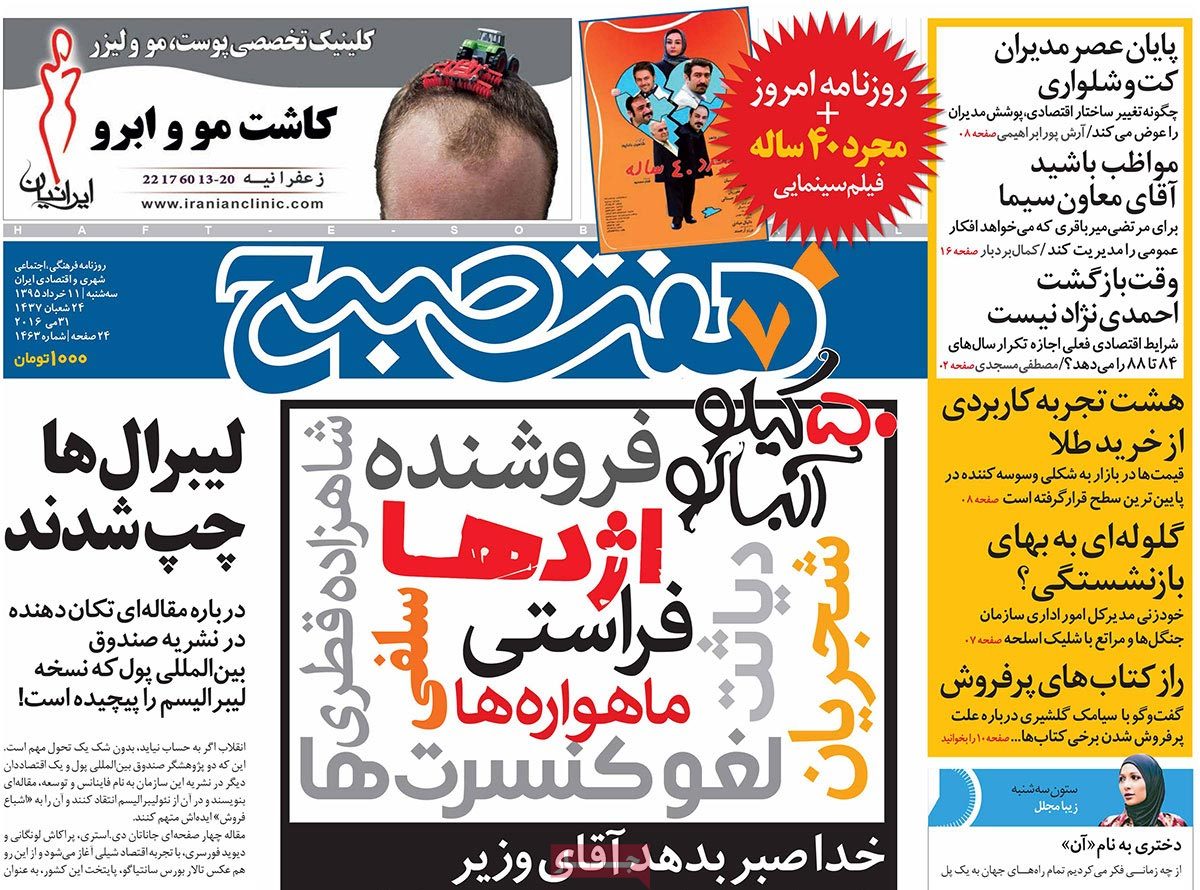 ---
Hemayat:
1- Shamkhani: We'll Definitely Sue US [over seizure of Iran's assets]
2- Arabs Flagrantly Claim: Iran Looking for Sectarianism in Hajj Pilgrimage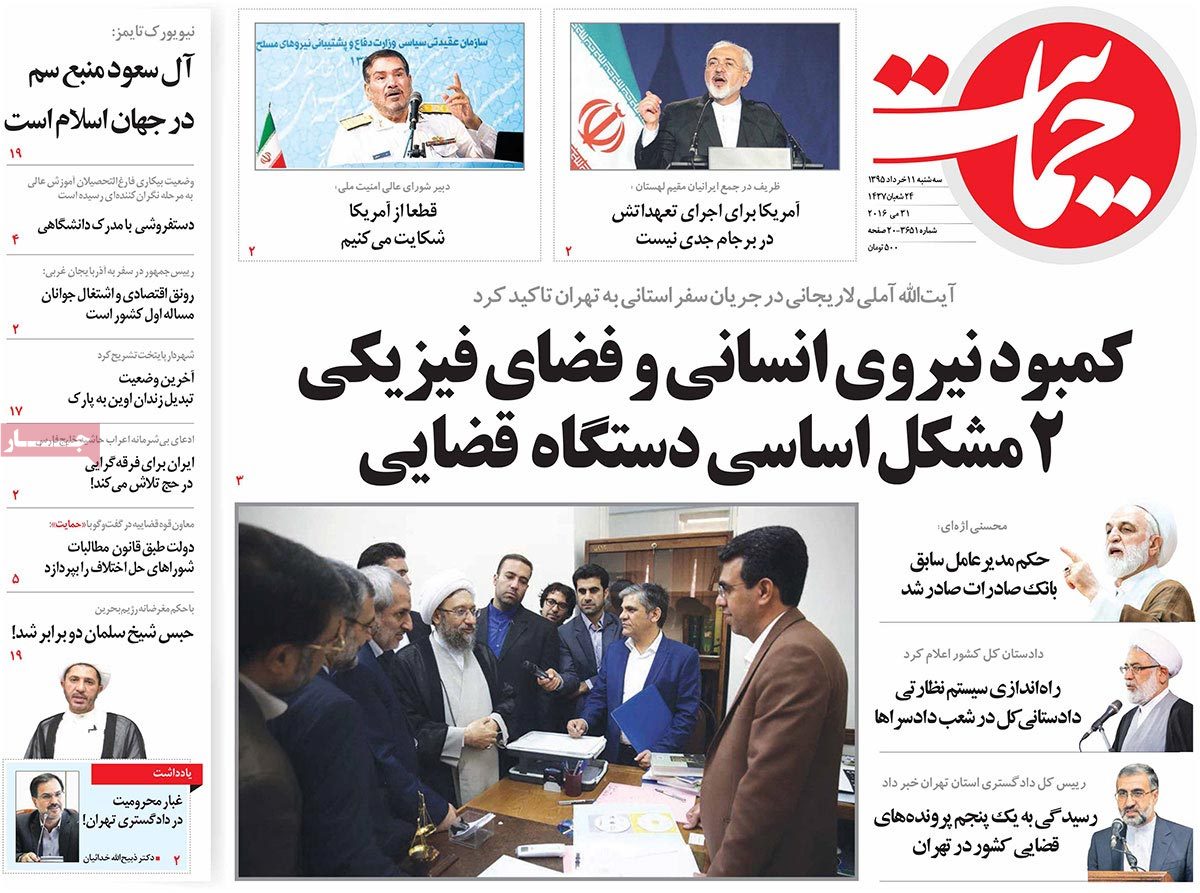 ---
Iran:
1- 11 Negative Conditions Set by Saudis for Iranian Pilgrims
2- It's an Illusion to Imagine Any Conflict between Iran's Top Authorities: Rouhani
3- Fallujah to Be Liberated in Next 2 Days: Iraqi PM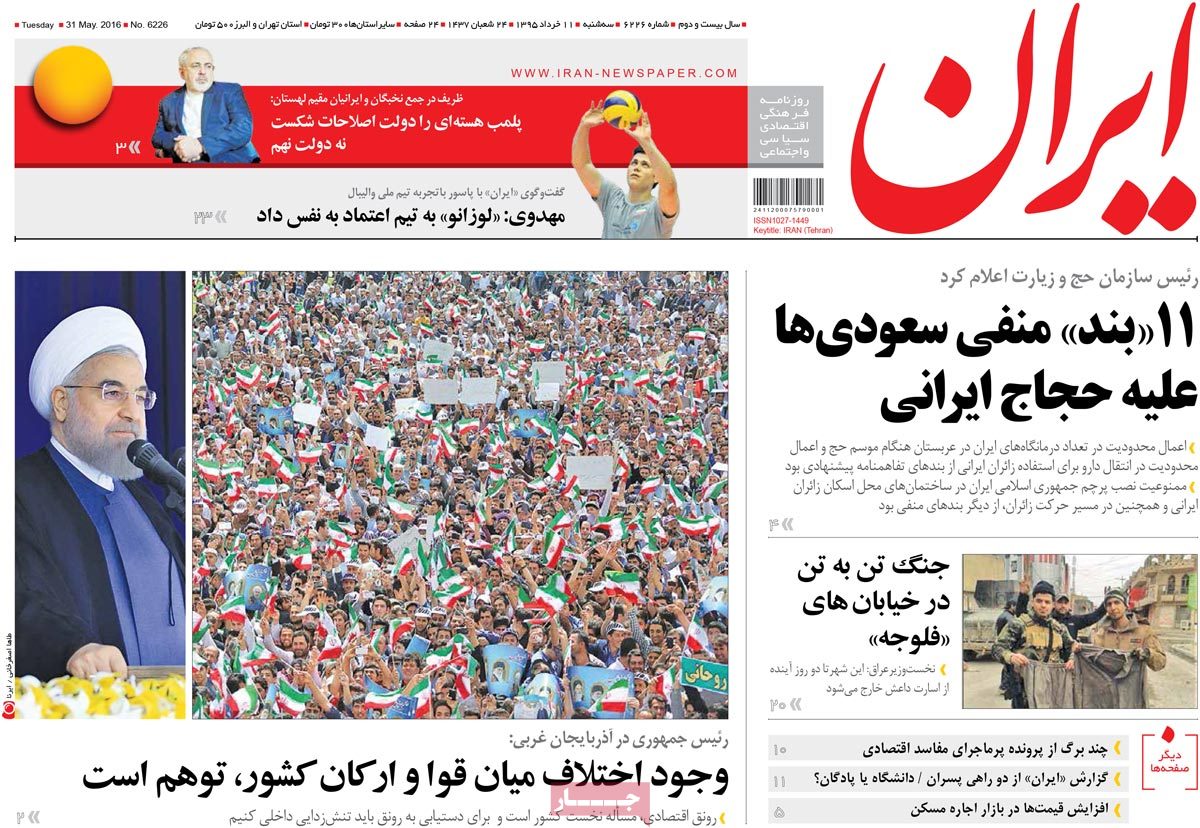 ---
Jame Jam:
1- Murder in Afghanistan, Revenge in Tehran
2- Unrest in France
---
Javan:
1- Mossad Has Plans to Destroy Iran's Agriculture and Villages
2- Lashes from Both Employer and Judge on the Backs of Justice-Seeking Workers
3- US Not Serious in JCPOA Implementation: Zarif
4- Palestine Surrounded by Compromisers
---
Jomhouri Eslami:
1- Al Saud Source of Poison in Muslim World: New York Times
2- Israeli Minister: We're Happy That Sisi Is Egypt's President
3- Fresh Round of Strikes and Protests Begins in France
---
Kayhan:
1- Reformists Lose both in Competition and Ethics
2- Riots, Strikes, and Protests Rage in 4 Major European States
3- Final Operation to Liberate Fallujah Begins: End of ISIS in al-Anbar
4- The Bubble Bursts: Reformists' Real Weight Revealed
---
Khorasan:
1- We Should Make Iran's Economy So Resistant that World Can't Consider Sanctions: Zarif
2- Cigarette Smoking Kills 52,000 Iranians per Year
3- We Have Full Cultural and Religious Freedom in Iran: Armenian Community Chief
---
Roozan:
1- Shiite Empire, from Tehran to Aden: Le Point and L'Express
2- Even Pro-Gov't MPs Favoured Larijani as Parliament Speaker: Politician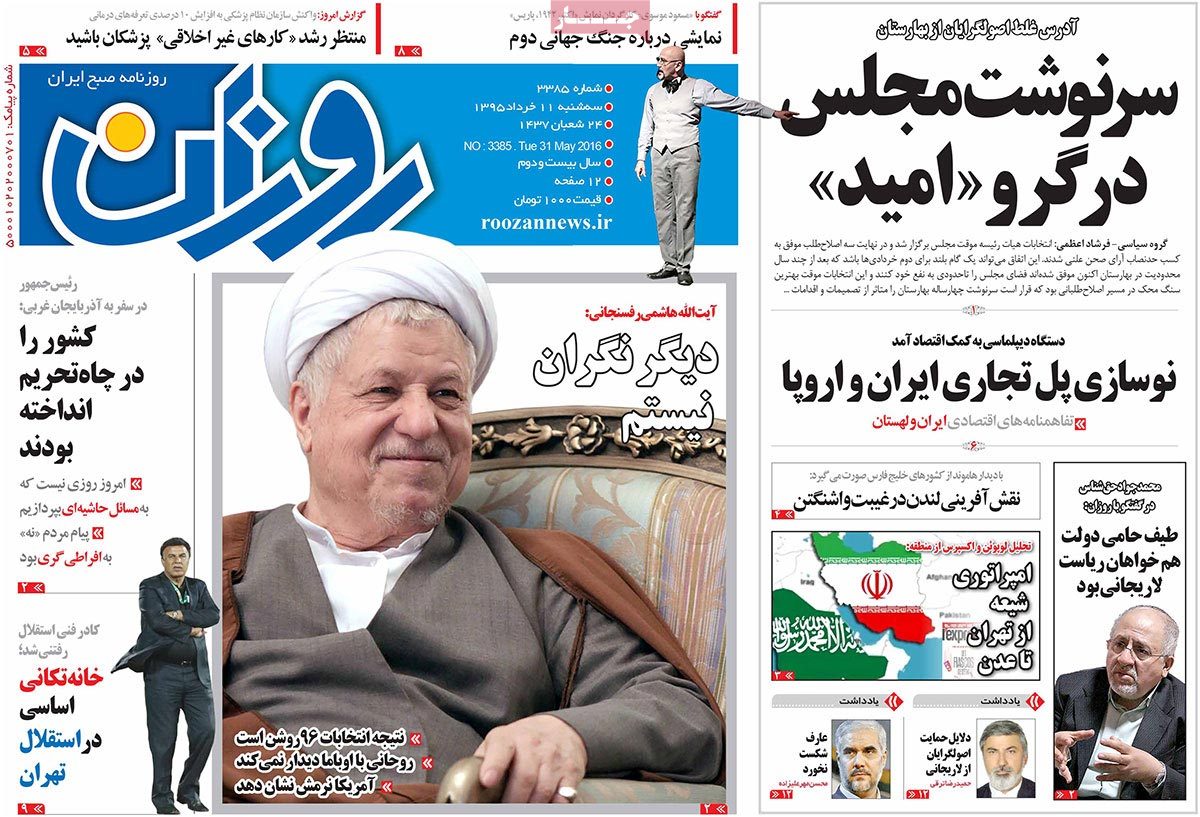 ---
Sepid:
1- Tehran Auction beneath Dignity of Islamic Establishment: Member of Assembly of Experts
2- Suicide Tourism: Euthanasia Is Perfect Ethics or Death of Ethical Principles?
3- Fallujah on Verge of Liberation
---
Shahrvand:
1- World Flocks to Iran's Tourist Spots: Europeans and Asians to Build Tens of Hotels in Iran
2- For People's Sake, Let's Be Beside, Not against, Each Other: Rouhani
3- They Wanted to Remove Iranian Flag: Hajj Official Reveals Excessive Saudi Demands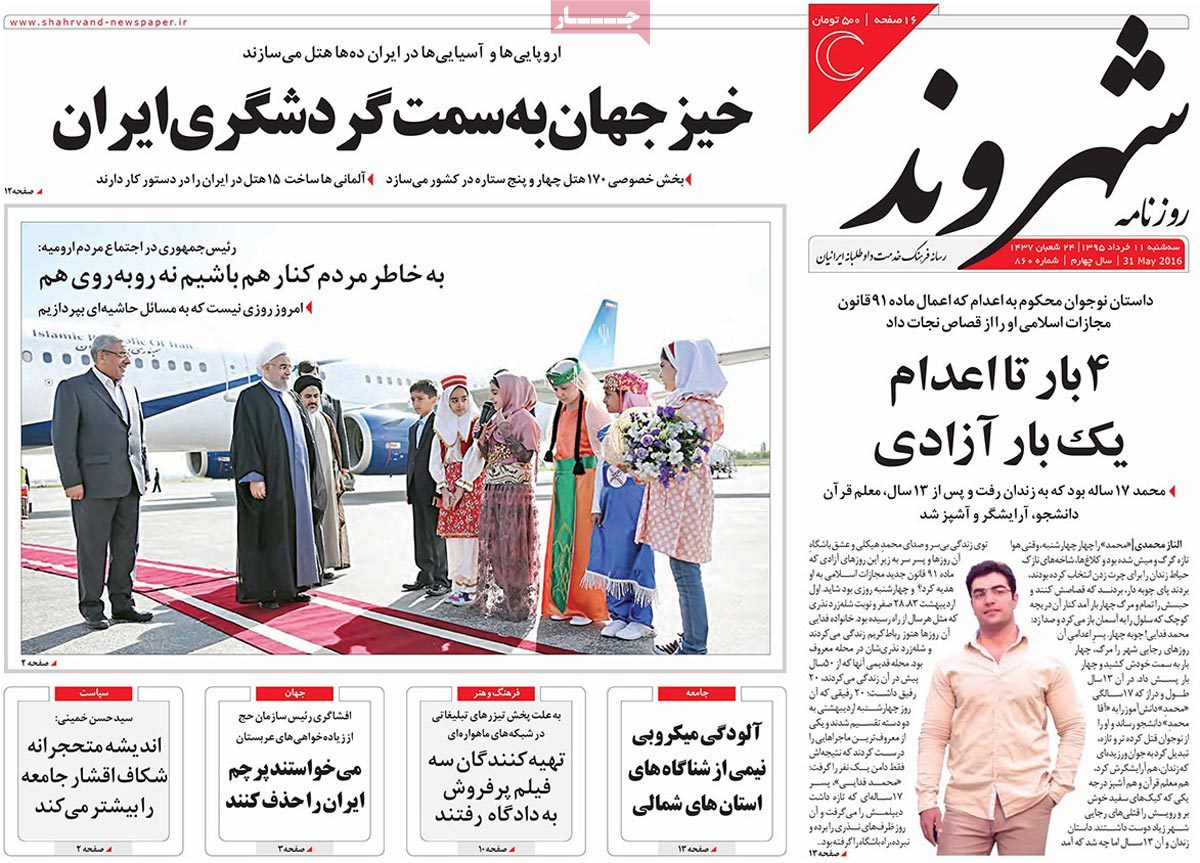 ---
Shargh:
1- People Said No to Radicalism: Rouhani
2- Minoo Khaleghi's Fate to Be Decided Today
3- On Issue of House Arrest [of opposition leaders Mir Hossein Mousavi and Mahdi Karroubi], No One Should Have Any Expectation of Gov't: Rafsanjani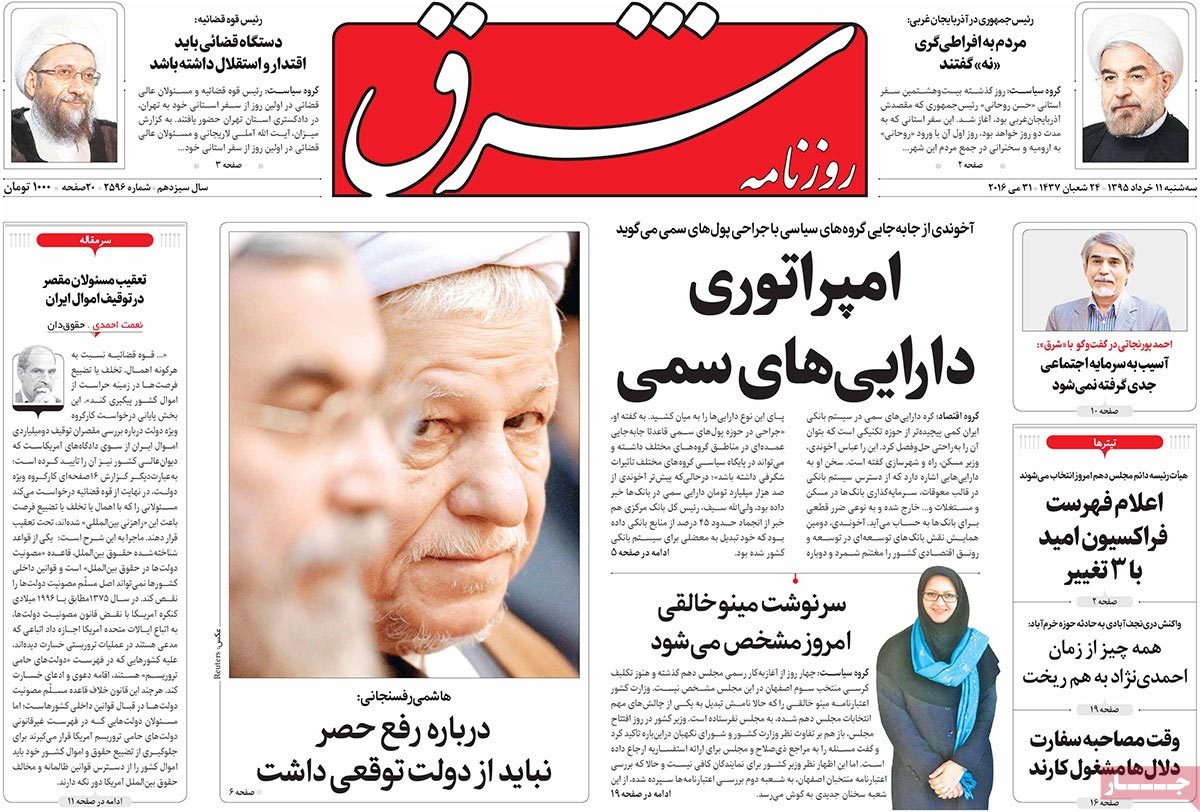 ---
Shorou:
1- Fatal Tobacco: Hashish and Weed in Tobacco Sold in Iran
2- Imprudence Put Iran in Deep Pit of Sanctions: Rouhani
---
Sobh-e Now:
1- Telegram Should Come to Iran [Iran has urged Telegram to transfer the data of its Iranian users to the country]
2- Old Mechanisms in Iran's Music: Alireza Ghorbani [Traditional Singer] to Hold Online Concert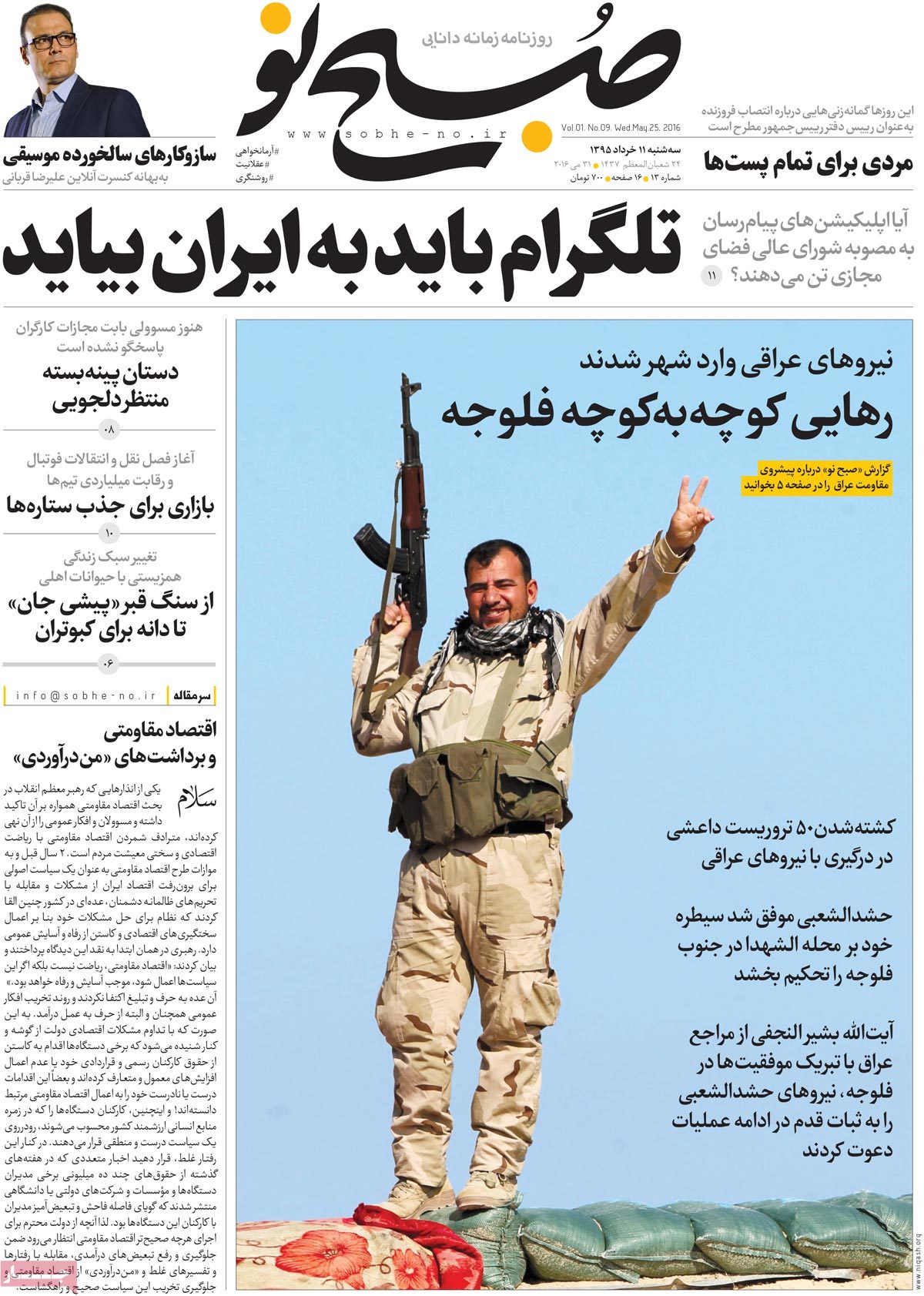 ---
Vaghaye Ettefaghieh:
1- Rafsanjani Urges Americans to Act Wisely
2- Ghorbani to Hold 1st Online Concert as a Solution to Cancellation of Live Performances
3- Hard-Liners' Early Threats against Larijani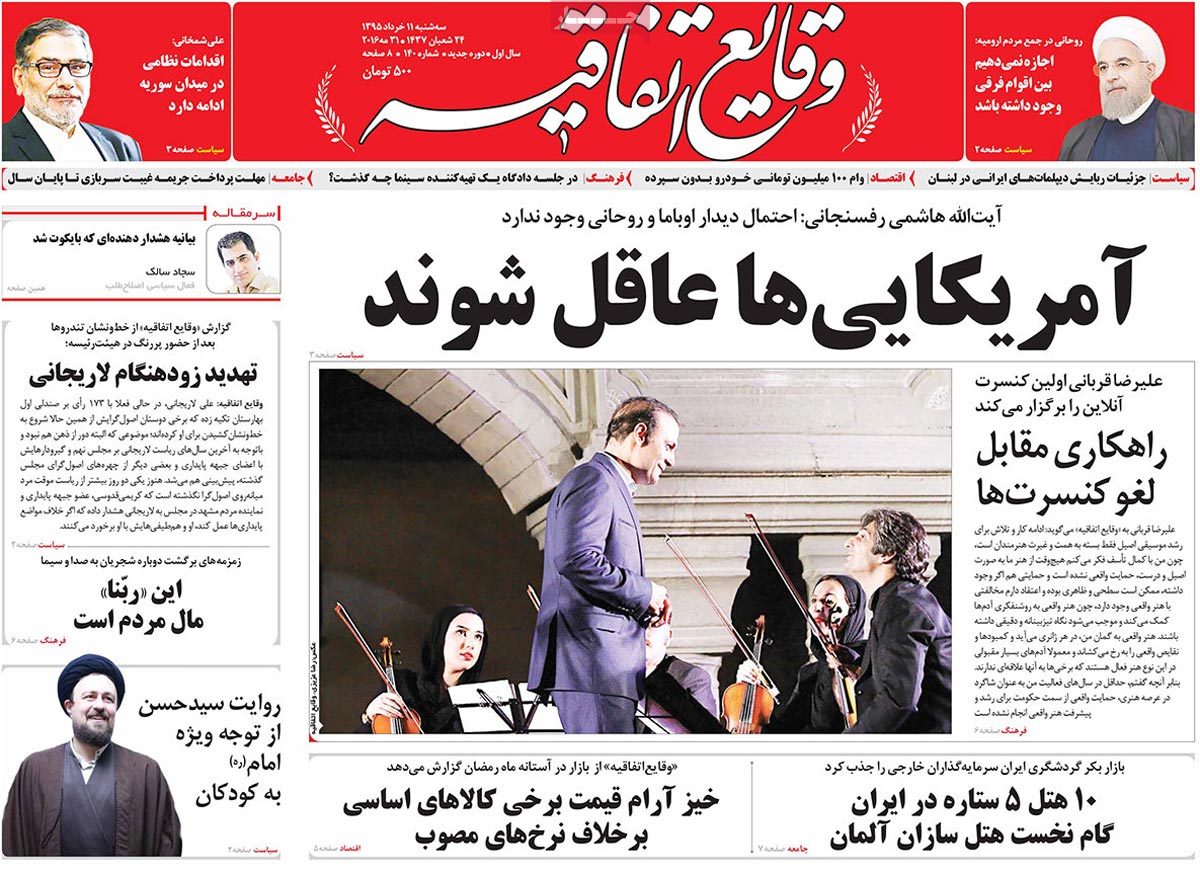 ---
Vatan-e Emrooz:
1- Hypocrite Traitors! Reformists' Unprecedented Insults to MPs after Losing Elections
2- Secrets behind Hacking of Government Websites
3- Government's Lose-Lose Game in Elections