The news conference of the judiciary spokesman in which Mohseni Ejei talked about a number of issues, including the corruption case involving Babak Zanjani and rumors surrounding the arrest of a former police chief, dominated the front pages of Iranian newspapers on Tuesday. Coverage of the heated exchange in parliament between Foreign Minister Zarif and a hardline deputy was also front-page news.
Afarinesh: The value of goods smuggled in the country is estimated to be around $25 billion.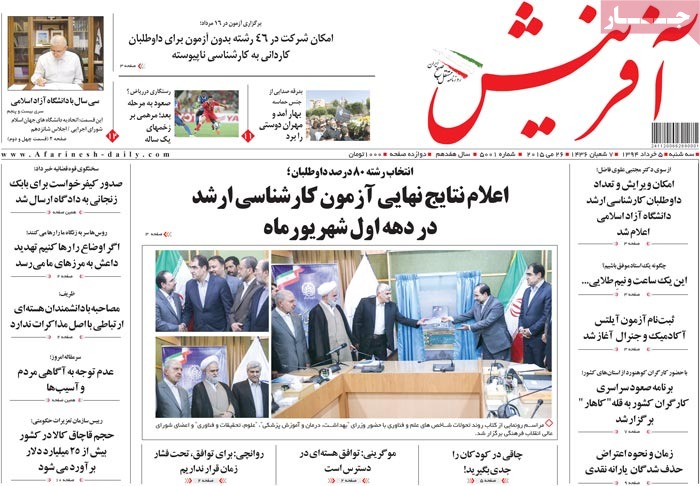 ---
Aftab-e Yazd: Iran will take action against IS if the terrorist group [which is positioned on Iraqi soil 40 km away from the Iranian border] advances another 10 km on the frontier.
Interior Minister Abdolreza Rahmani Fazli issued the warning on Monday.
---
Amin: "No one is above reproach in our Islamic establishment," said Tehran MP Ali Motahari.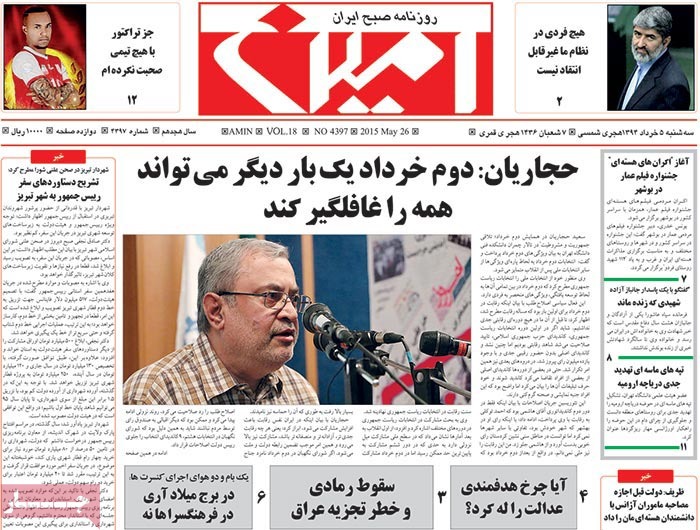 ---
Arman-e Emrooz: An indictment has been issued against Babak Zanjani [a young billionaire who stands accused of massive corruption]
In a press conference, the Judiciary spokesman also said one suspect has been arrested in connection with a spate of acid attacks in Isfahan late last year.
Arman-e Emrooz: "The previous government allowed Iranian nuclear scientists to be interviewed," said the Iranian foreign minister.
[Mohammad Javad Zarif made the comment in reaction to finger-pointing by hardliners opposed to President Rouhani's nuclear policy.]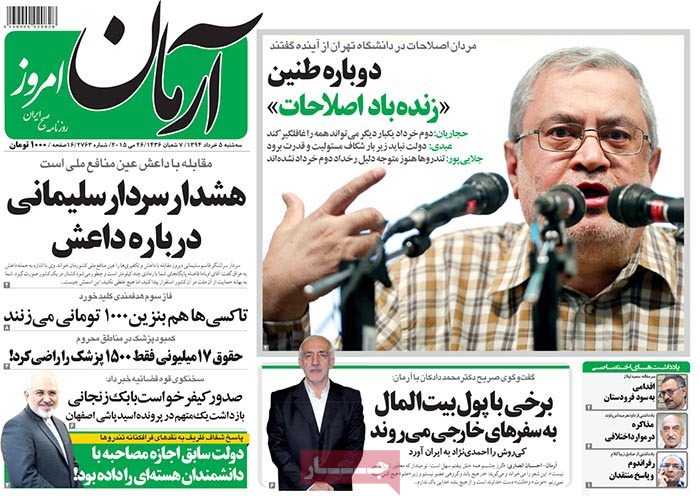 ---
Asrar: Players of Persepolis Football Club [who are in Saudi Arabia for an Asian Championships match against Al-Hilal] have been mistreated by authorities in Riyadh.
---
Ebtekar: The judiciary spokesman has denied reports that the former police chief [who was recently replaced] has been taken to custody or interrogated.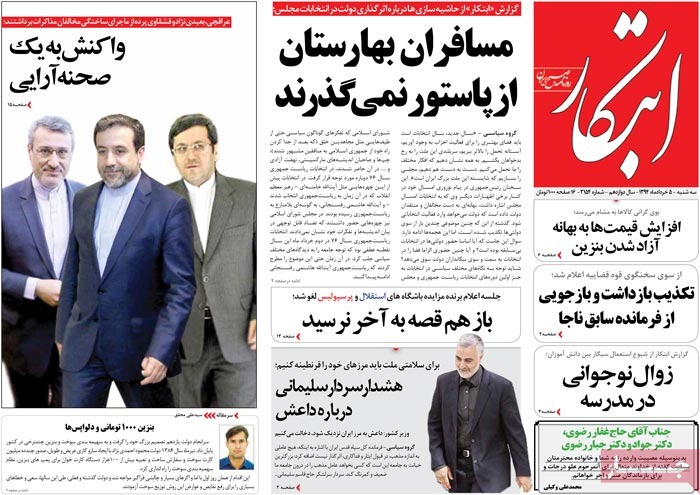 ---
Etemad: Another Khordad 2 [May 23 on which Mohammad Khatami secured an overwhelming victory in presidential elections in 1997] may be around the corner.
[The prediction was made by Saeed Hajarian, a reformist strategist, in a speech in Tehran University.]
Etemad: Some MPs have dismissed as illegal the public disclosure by a fellow deputy of the comments of a deputy foreign minister in a closed-door session of the chamber.
[In the session Sunday, Araghchi and his boss Foreign Minister Mohammad Javad Zarif presented a report on nuclear talks to members of the Islamic Consultative Assembly.]
---
Ettela'at: "Ten individuals tried in connection with a major corruption case have been sentenced to between one and seven years in jail," the judiciary spokesman said.
Ettela'at: "All officials of the establishment comply with the orders of the Supreme Leader," said Foreign Minister Mohammad Javad Zarif.
---
Jomhouri Islami: Iran's trade balance improved 65 percent in 2014.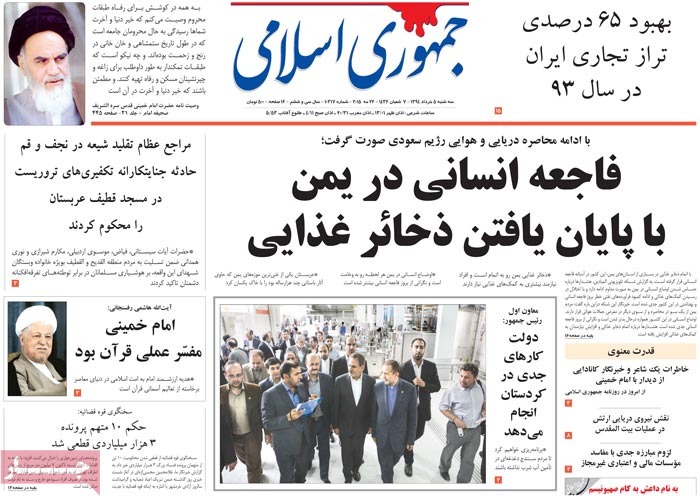 ---
Kayhan: "The US has not done a damn thing in the fight against IS," said commander of IRGC's Quds Force Major General Ghasem Soleimani.
---
Khorasan: A final stage of war games by the ground troops of the Iranian Army has been successfully completed.
Khorasan: "Those who were part of armed robberies targeting gold shops in Mashhad will be executed on Wednesday," said an assistant prosecutor.
---
Mardomsalari: "Under Ahmadinejad, the printing house of the Central Bank was the most productive unit in the country," said Tahmasb Mazaheri, a former governor of the Central Bank.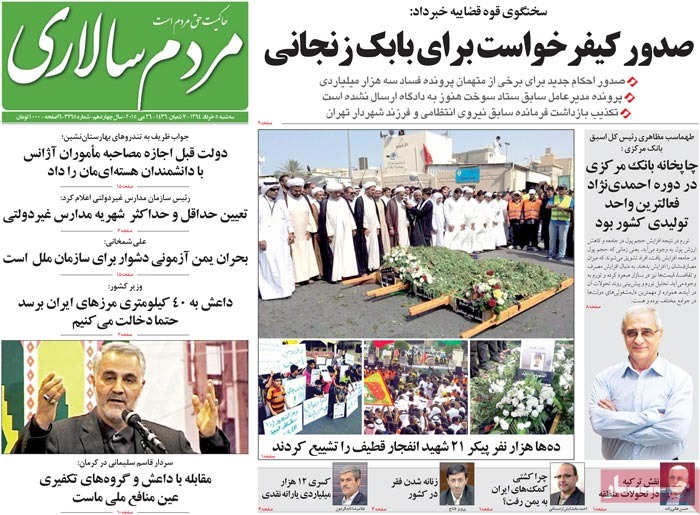 ---
Payam-e Zaman: The Health Ministry has warned hookah smokers that some of the tobacco used in water pipe is tinged with illegal drugs.
---
Roozan: A fourth tender of Tehran football giants Esteghlal and Persepolis has produced no winners.