President Rouhani's pledge not to sign a deal that would give away Iran's military and scientific secrets dominated the front pages of Iranian newspapers on Saturday. A terrorist attack targeting a Shiite mosque in Saudi Arabia also appeared on the covers of dailies.
Afarinesh: "We won't sign a deal that would allow [foreigner] access to Iran's scientific and military secrets," said President Rouhani.
The president made the comment before wrapping up his visit to East Azerbaijan Province.
Afarinesh: A ceremony has been held to mark the 33rd anniversary of Islamic Azad University.
Chairman of the Expediency Council Ayatollah Akbar Hashemi Rafsanjani was on hand for the ceremony.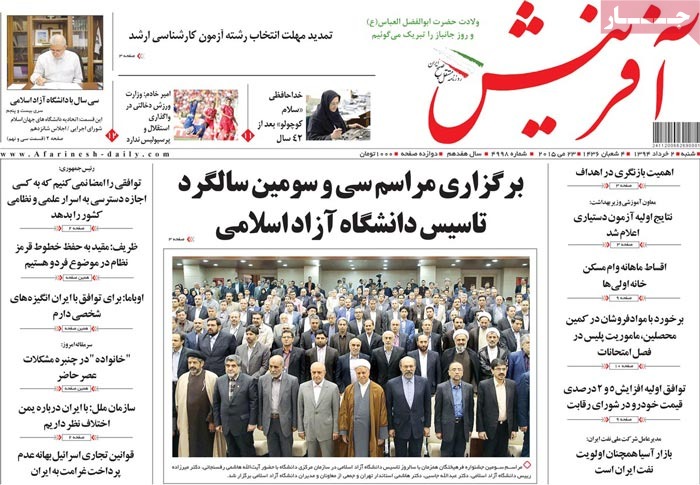 ---
Aftab-e Yazd: Massive embezzlement at Tehran-Pardis Highway Company
Two staff members of the company are in custody for fraud and misappropriation of company funds.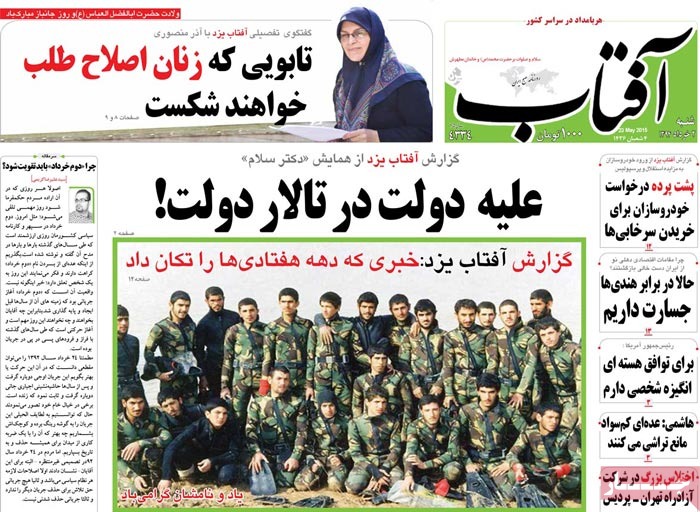 ---
Arman-e Emrooz: Dealers of death are loitering around schools.
Police are determined to crack down on dealers selling drugs to students.
---
Asr-e Rasaneh: "We are determined to transform Internet access," said the minister of communications.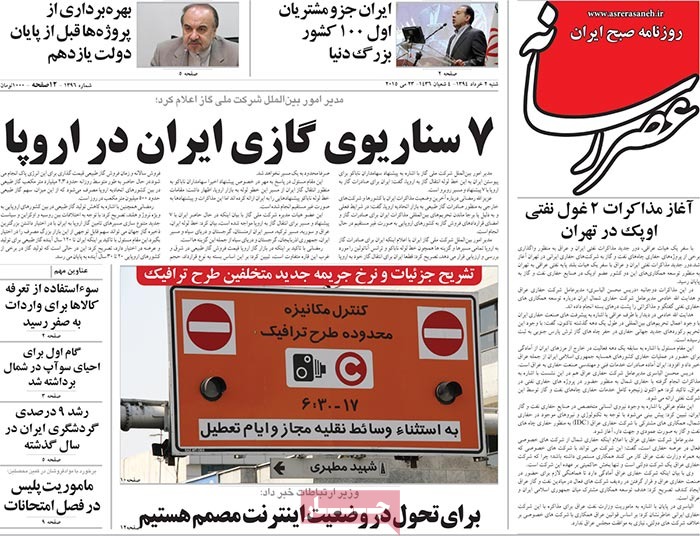 ---
Asrar: "Some barely literate individuals are interfering with administration of affairs," complained Chairman of the Expediency Council Ayatollah Akbar Hashemi Rafsanjani.
Asrar: "We won't allow the flames of violence and insecurity to spread to Iran's borders," said President Rouhani, in a speech in East Azerbaijan Province.
---
Ebtekar: "Progress at nuclear talks to draft a final deal is very slow," said Iranian nuclear negotiator Abbas Araghchi.
Negotiators are to pick up the drafting of the deal in Vienna next week.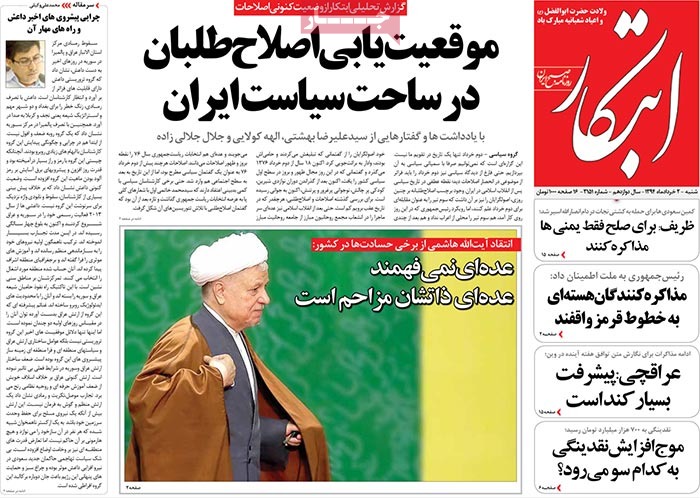 ---
Emtiaz: Some 82 percent of female breadwinners in the country are unemployed.
Emtiaz: Some 2,000 antique objects have been seized in the first two months of the year.
---
Esfahan Emrooz: A mass wedding involving 100 couple suffering from hearing impairment has been held in Isfahan.
---
Ettela'at: "We are committed to our red lines in nuclear talks," said Foreign Minister Mohammad Javad Zarif.
He also said that the Iranian negotiators won't allow the West to push excessive demands in nuclear talks.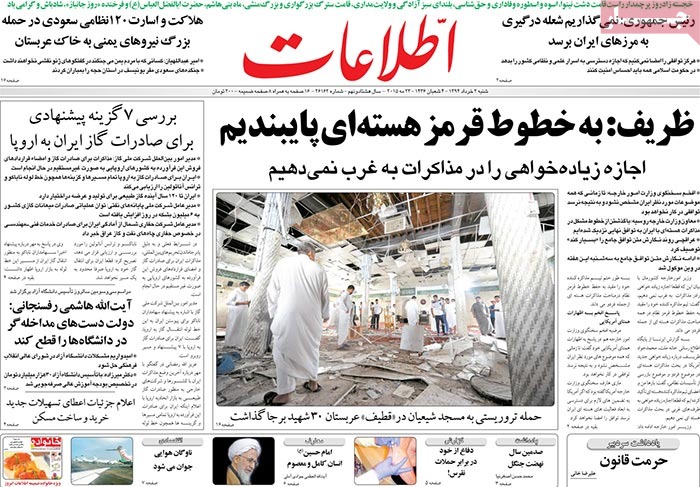 ---
Hamshahri: Threats to confiscate as talks remain underway
The US has threatened to impose sanctions on two foreign firms for selling passenger planes to Iran. It has also threatened to confiscate the now Iranian aircraft.
Hamshahri: President Rouhani has ordered the Central Bank to crack down on illegal financial institutions.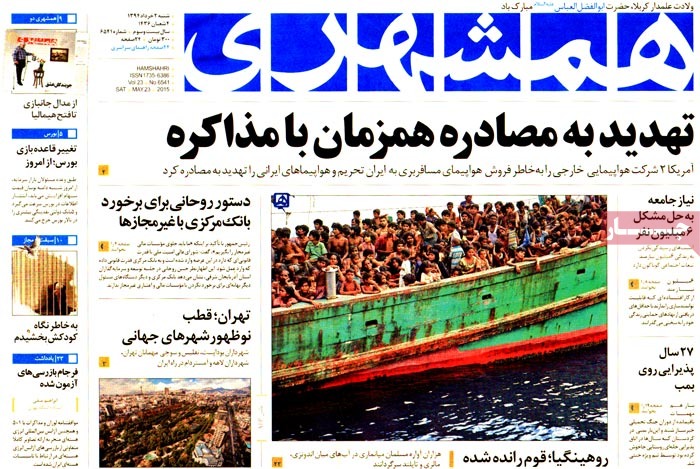 ---
Hemayat: Iranian officials react to demands by the US to access Iran's military sites:
The comments of the Supreme Leader are final; we won't allow [the other side to push] excessive demands.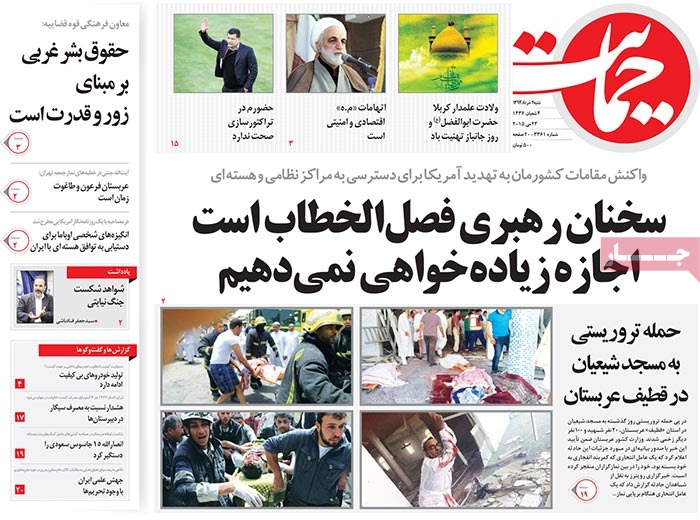 ---
Iran:  Construction of a highway partly financed by foreign investors has gotten underway in the northwest.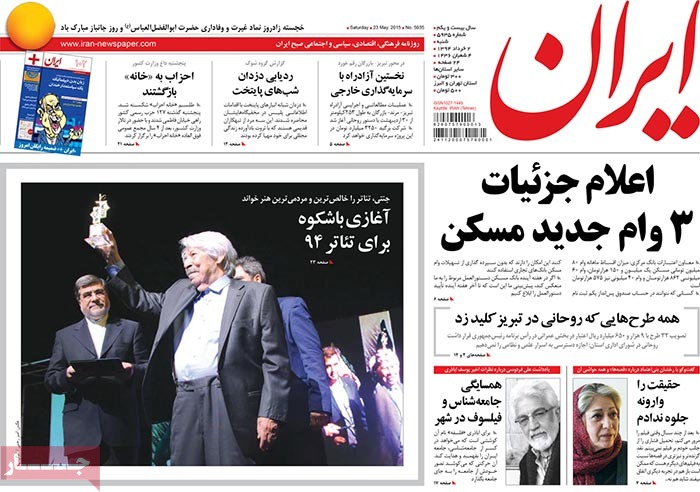 ---
Kaenat: "The report on corruption in soccer is final," said the chairman of parliament's Article 90 Committee.
Players who have forged documents have been referred to judicial authorities.
Kaenat: A deadly suicide bombing has targeted Shiite worshippers in a mosque in Saudi Arabia.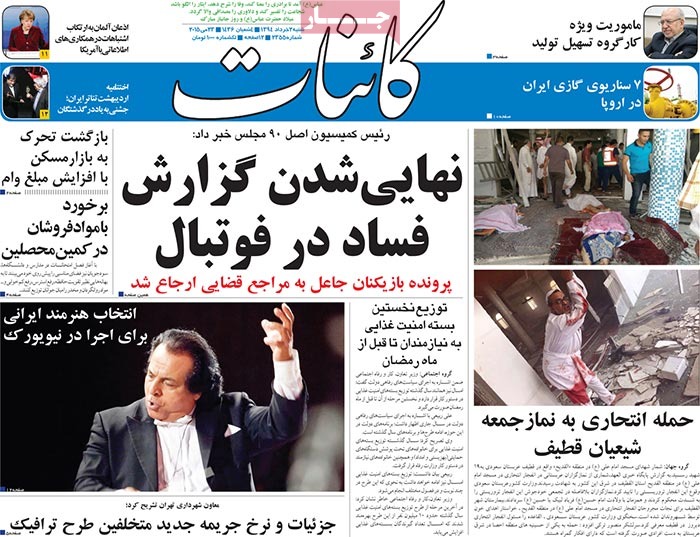 ---
Kayhan: "Some 53 percent of Iranian soil is fit for cultivation, but only 17 percent is actually cultivated," said an advisor to members of parliament's Agriculture Committee.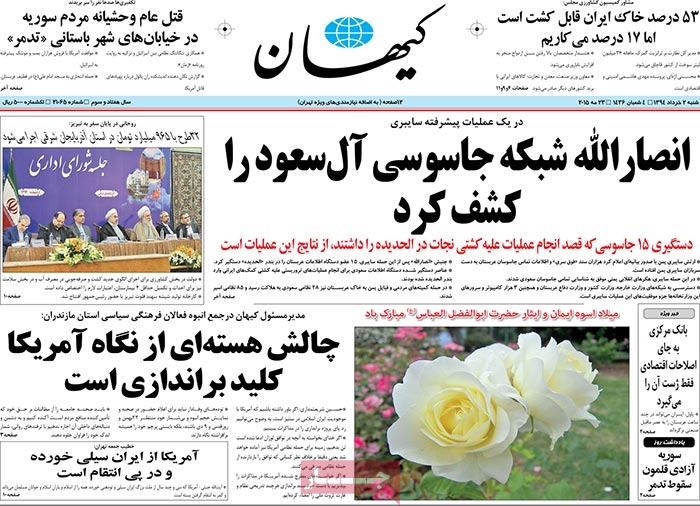 ---
Mardomsalari: The House of Parties has been reinstated.
At the ceremony, the interior minister vowed to try his best to bolster the House.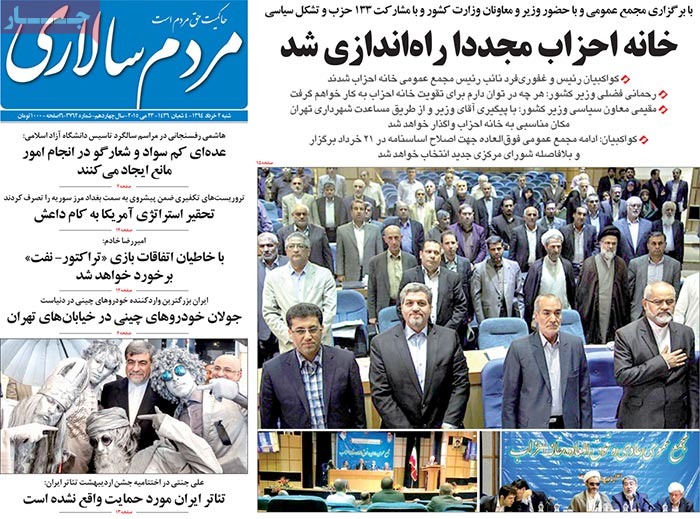 ---
Resalat: "In nuclear talks, some have pinned hope on the Great Satan," said Tehran Friday prayer leader Ayatollah Ahmad Jannati.