Comments by the Supreme Leader that the enemies of Islam resort to issues such as religion and ethnicity to divide Muslims and those of Foreign Minister Zarif that Iran won't allow unrestricted inspection of its sites dominated the front pages of Iranian newspapers on Tuesday.
Abrar: "We won't accept excessive demands in nuclear talks," said Foreign Minister Mohammad Javad Zarif.
Abrar: "The result of Tractor Sazi-Naft match won't change," vowed the director of the Football Federation.
It came after controversy surrounding the result of another match allegedly stripped Tabriz-based Tractor Sazi Football Club of the championship title.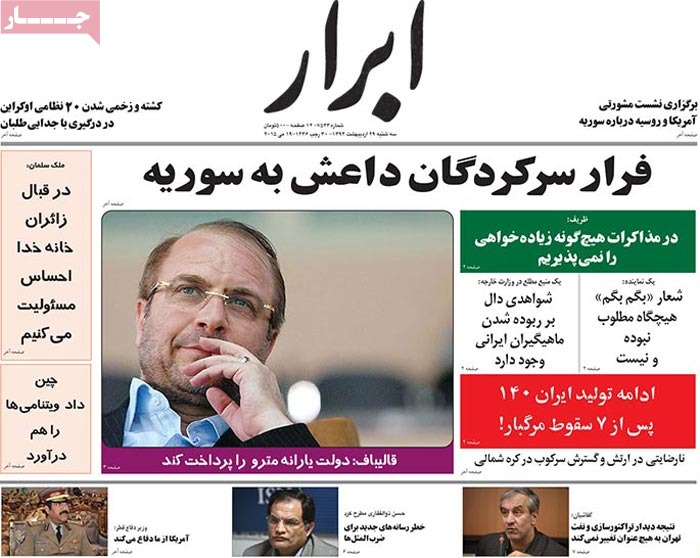 ---
Aftab-e Yazd: "The enemy is resorting to issues such as religion and ethnicity to sow the seeds of discord among Muslims," said the Supreme Leader.
Aftab-e Yazd: "Government has more than 2,000 unfinished development projects to deal with," said the government spokesman.
Aftab-e Yazd: Mr. Minister! EB does exist in Iran.
[Epidermolysis Bullosa (EB) is an illness that causes the skin to be fragile.]
---
Asr-e Iranian: Iran's oil exports to rise to 2.5 million barrels a day.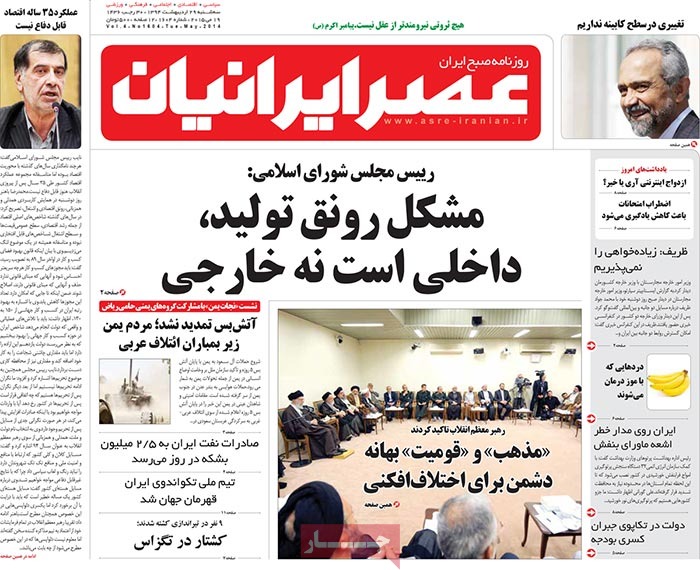 ---
Asr-e Rasaneh: Iran to build eight new refineries in a bid to offset the effects of cheap oil.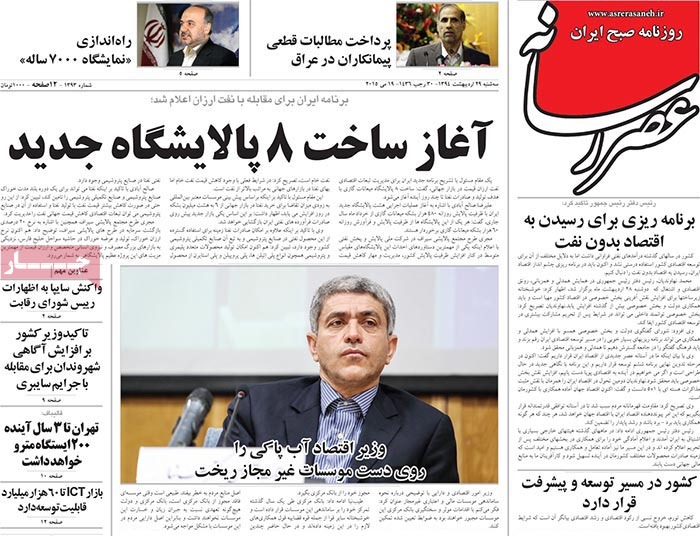 ---
Asrar: "Failure in previous years to abide by law has plunged the country into deep trouble," said First Vice-President Eshagh Jahangiri.
Asrar: Pressure and sanctions are unacceptable," said President Rouhani.
Asrar: "We won't accept unlimited inspections," said Foreign Minister Zarif.
He added Iran's plan to solve the Yemeni crisis is the most logical plan there is.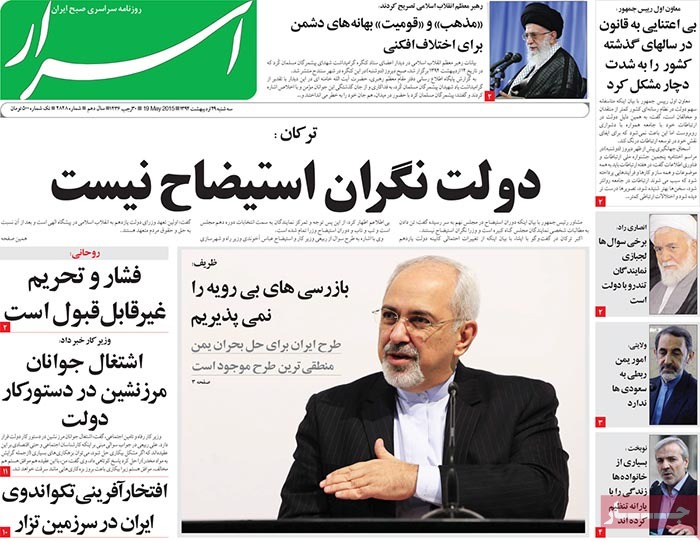 ---
Ebtekar: "Iran will return to the pre-sanctions conditions in a year's time," said an economic advisor to the president.
Ebtekar: A suspect in the case of acid attacks in Isfahan has been apprehended.
Ebtekar: A day to answer questions for the minister!
Labor Minister Ali Rabiei will first appear in court following charges pressed against him by [Saeed] Mortazavi [a Tehran prosecutor who has been disbarred and is on trial again for massive corruption] and then will go to parliament to answer questions posed by MPs.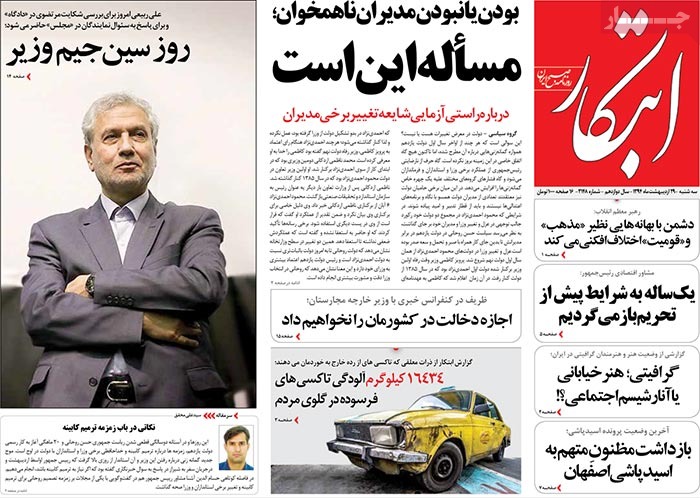 ---
Emtiaz: Tehran's governor has said that birth rate in the capital is down 6 percent.
Emtiaz: "There will be 200 subway stations in the capital within three years," said Tehran Mayor Mohammad Bagher Ghalibaf as he inaugurated a new station downtown.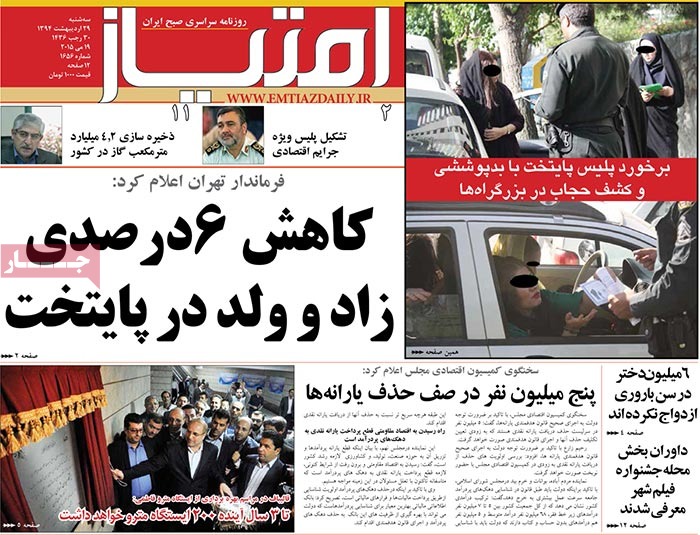 ---
Etemad: Three new steps to resuscitate the economy
That the handout of cash subsidies of some individuals will stop has been officially confirmed; interest rates are likely to be further slashed; privatization at Telecommunications Company will be redressed.
---
Ettela'at: "A police unit is to be formed to take on economic crimes," said Police Chief Hossein Ashtari.
Ettela'at: The Supreme Leader and President Rouhani have congratulated the Iranian national taekwondo team following its victory in the World Taekwondo Championships in Russia.
---
Hemayat: Iran's commitments are clear but conditions surrounding the termination of sanctions are vague; that is how the spokesman of parliament's National Security and Foreign Policy Committee has described the wording of a possible final deal [between Iran and P5+1].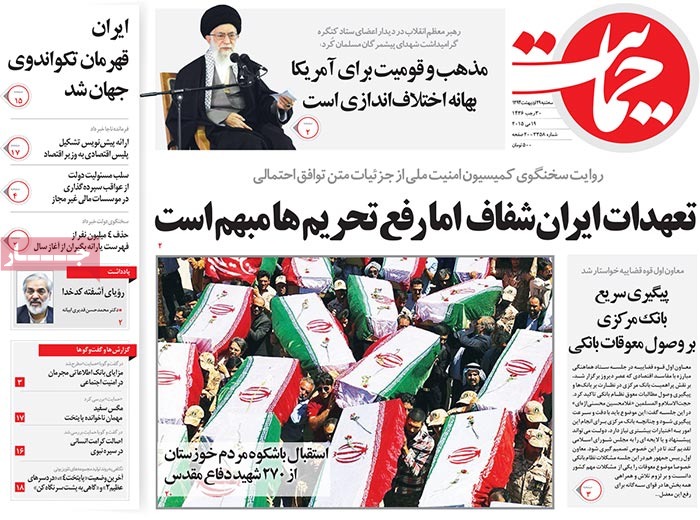 ---
Iran: The volume of Iran-Germany trade is on the verge of 12 billion euros.
Iran: "No decision has been made to introduce a Cabinet shakeup," said the president's chief of staff.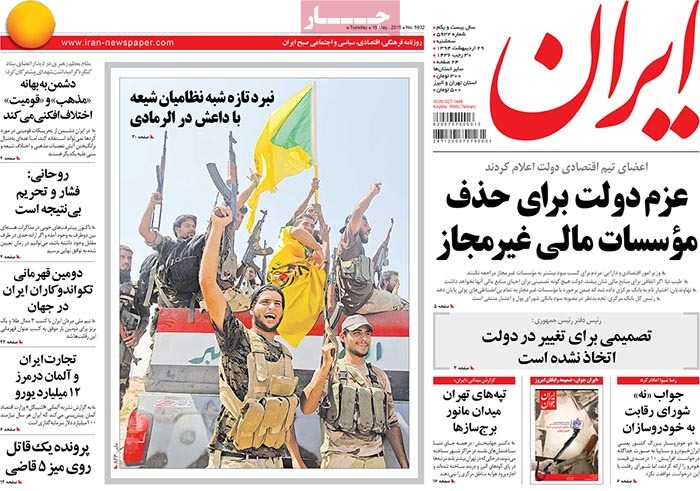 ---
Kaenat: "Creating jobs for youth who live in towns near borders is on the agenda of the government," said the minister of labor.
---
Kayhan: The remains of 270 Iranian war martyrs have returned home.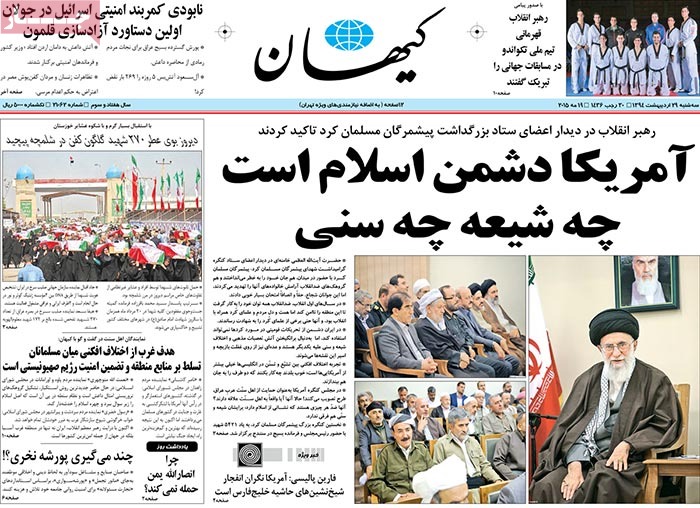 ---
Resalat: "Reliance on the West to ensure security interferes with the independence of nations," said Iranian Parliament Speaker Ali Larijani.