The Supreme Leader's comments at a meeting with senior state officials on a range of issues including Persian Gulf security dominated the front pages of Iranian newspapers. Also in the news was the death sentence issued in Egypt against former President Mohamed Morsi.
Abrar: Yemen has withdrawn its ambassador from Tehran.
Abrar: "[Director of the Atomic Energy Organization Ali Akbar] Salehi underwent surgery only once and that operation went off without a hitch," said the head of the Iranian Association of Surgeons.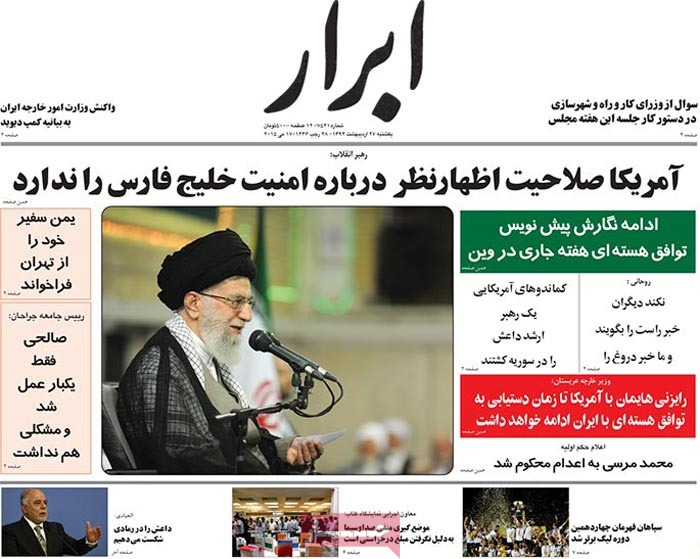 ---
Aftab-e Yazd: "An insecure Persian Gulf will be insecure for everyone," said Supreme Leader Ayatollah Khamenei at a meeting with senior state officials.
"The US is not in a position to make comments about Persian Gulf security," the Leader further said.
Aftab-e Yazd: All the harms caused by Ahmadinejad's New Year gifts
The daily examines the debts the former government owed to the National Development Fund.
Aftab-e Yazd: The head of the Hajj and Pilgrimage Organization has denied reports that a verdict has been issued in the case involving two Saudi officers molesting two Iranian teenagers.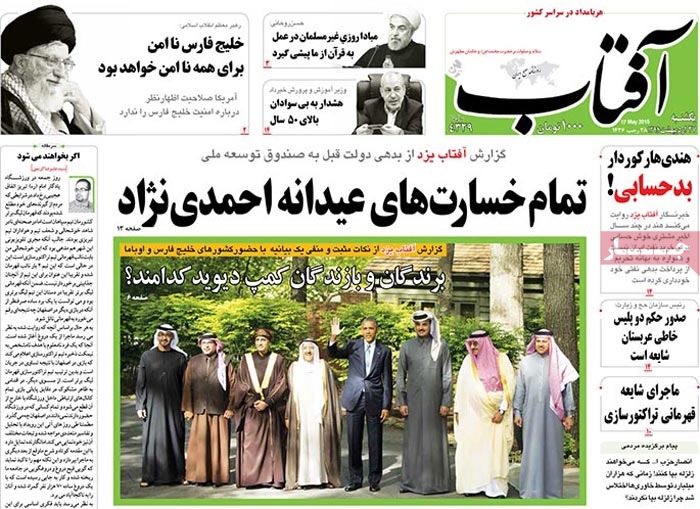 ---
Arman-e Emrooz: Change in Pasteur [a reference to the office of the President of the Islamic Republic] is certain to come.
The spokesman of President Rouhani has confirmed an Arman-e Emrooz report [earlier in May] that a government shakeup is around the corner.
---
Asrar: "We should not allow hardliners to interfere with the progress of the nation," said Ali Younesi, an advisor to President Rouhani.
Asrar: Government Spokesman Mohammad Bagher Nobakht has said that India has frozen $8.8 billion in Iranian credit.
Asrar: "The country's tourism revenues will equal those of oil exports by 2025."
The comment was made by the director of the Cultural Heritage and Tourism Organization.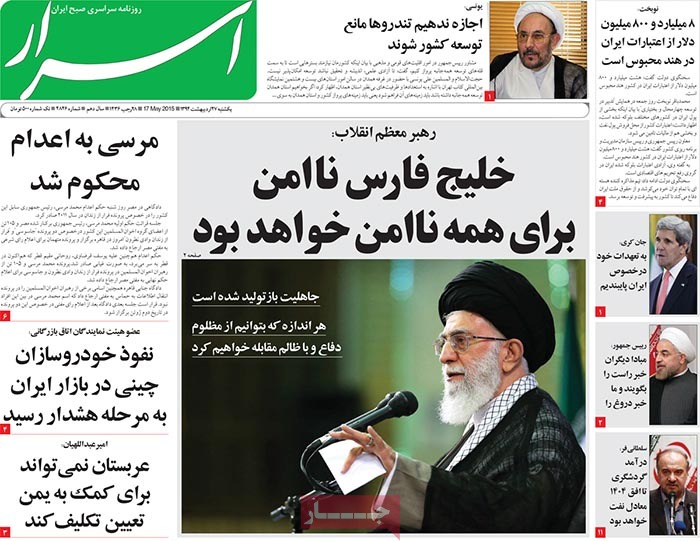 ---
Emtiaz: "Websites that allow illegal downloading of movies are on police radar," said Tehran police chief.
---
Hambastegi: "The fight against ossification stopped with the demise of Imam Khomeini," said Seyyed Hassan Khomeini, the grandson of the architect of the Islamic Republic, in a meeting with Khuzestan political activists.
---
Kaenat: The government does not have enough money to sustain cash subsidies.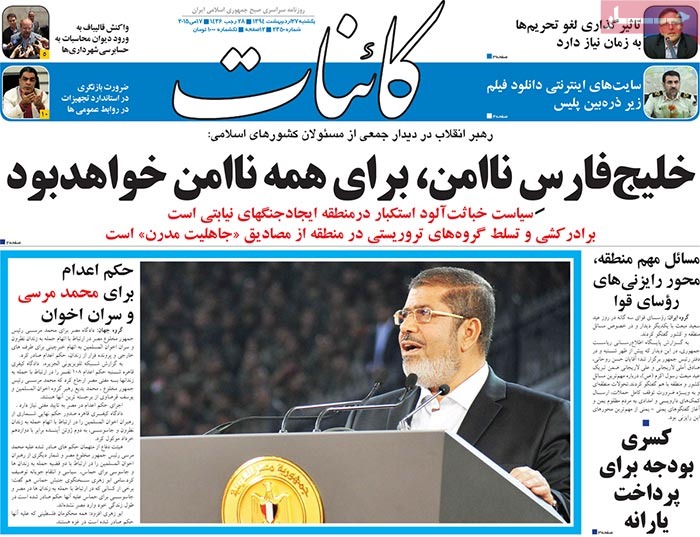 ---
Payam-e Zaman: Some 18.9 percent of university graduates are unemployed.
Payam-e Zaman: Talks have been held with the Europeans for investment in the country's gas industry.
Payam-e Zaman: Tehran International Book Fair has set a new record.
Sales amounted to around $20 million dollars during the fair that ran for 10 days.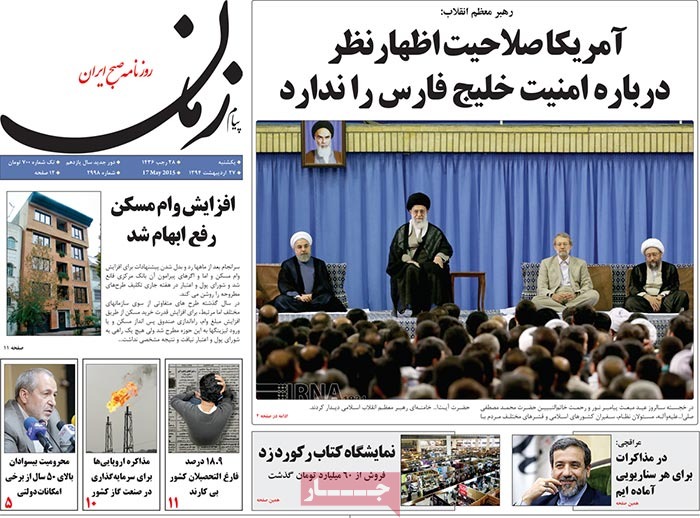 ---
Resalat: "The US will take its dream of inspecting Iran's military sites to the grave," said Tehran Friday prayer leader Ayatollah Movahedi Kermani.
---
Rooyesh-e Mellat: [Former Egyptian President Mohammed] Morsi has been sentenced to death.
---
Sharq: An indictment has been issued against those who attacked Tehran MP Ali Motahari, when he was in Shiraz in early March to deliver a speech at the city's main university.