The Supreme Leader of the Islamic Revolution has appointed Hujatoleslam Alamolhoda as his representative in the northeastern province of Khorasan Razavi; this grabbed many headlines on Thursday, March 10, 2016.
Moreover, next year's minimum salaries, the government spokesman's address in the year's last session of the Assembly of Experts and successfully test of two IRGC missiles was top on papers on the day.
Here are the top headlines:
Abrar:
Syrian kids line up for death
"Some MPs' actions have harmed Iranian territories": deputy prosecutor general
Iran missile test no violation of JCPOA: US
The United States says Iran's recent missile launch does not violate its nuclear agreement with the P5+1 group. US State Department Spokesman John Kirby said on Tuesday night the missile launch would not constitute a breach of the deal.
Iran successfully test-fires Shihab, Ghadr missiles
IRGC fires two missiles in Power of Velayat Drill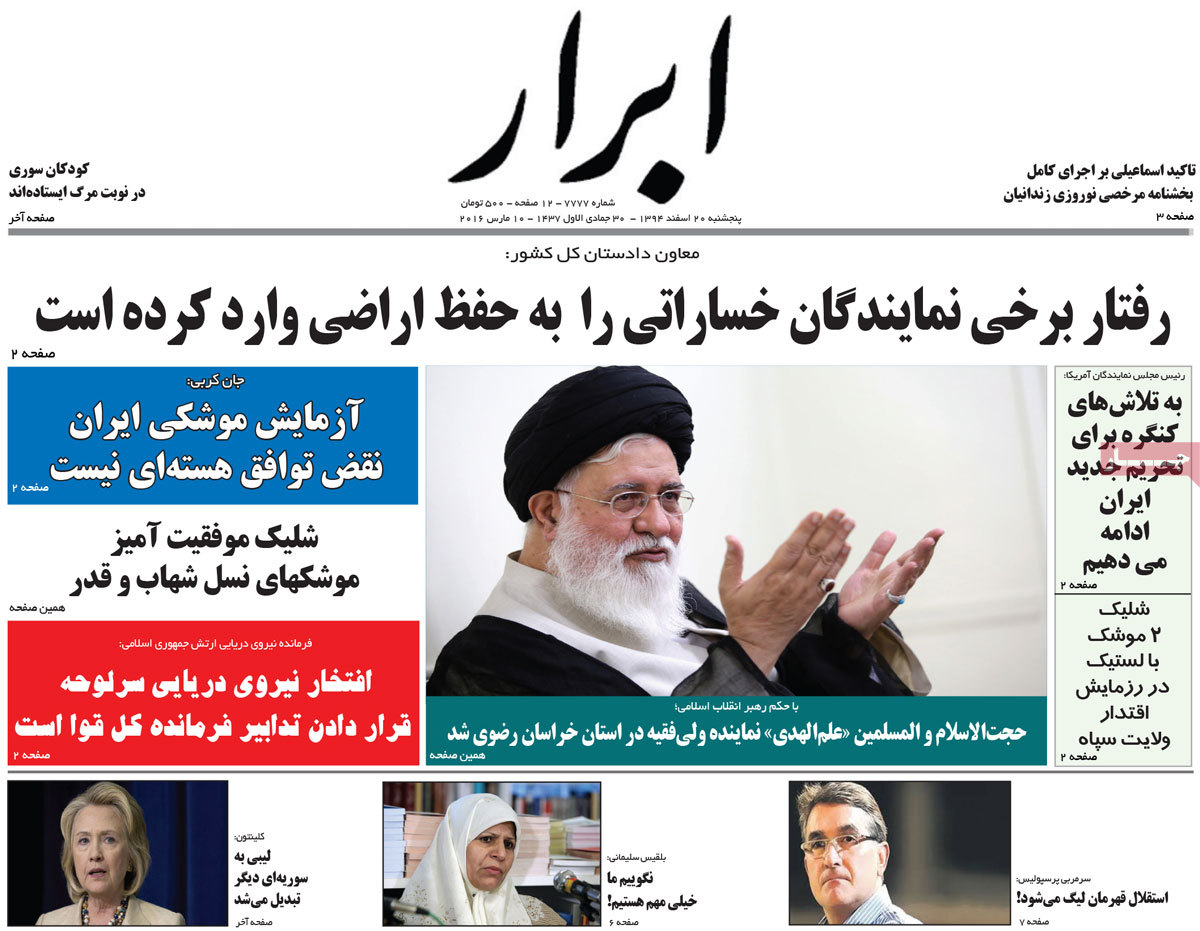 ---
Abrar-Eqtesadi:
Import of Chinese goods rises in February
Iran, UK sign air transit deal
Economic risks lower in Iran since 2013
S. Korea to boost Iran oil imports to 0.2mbd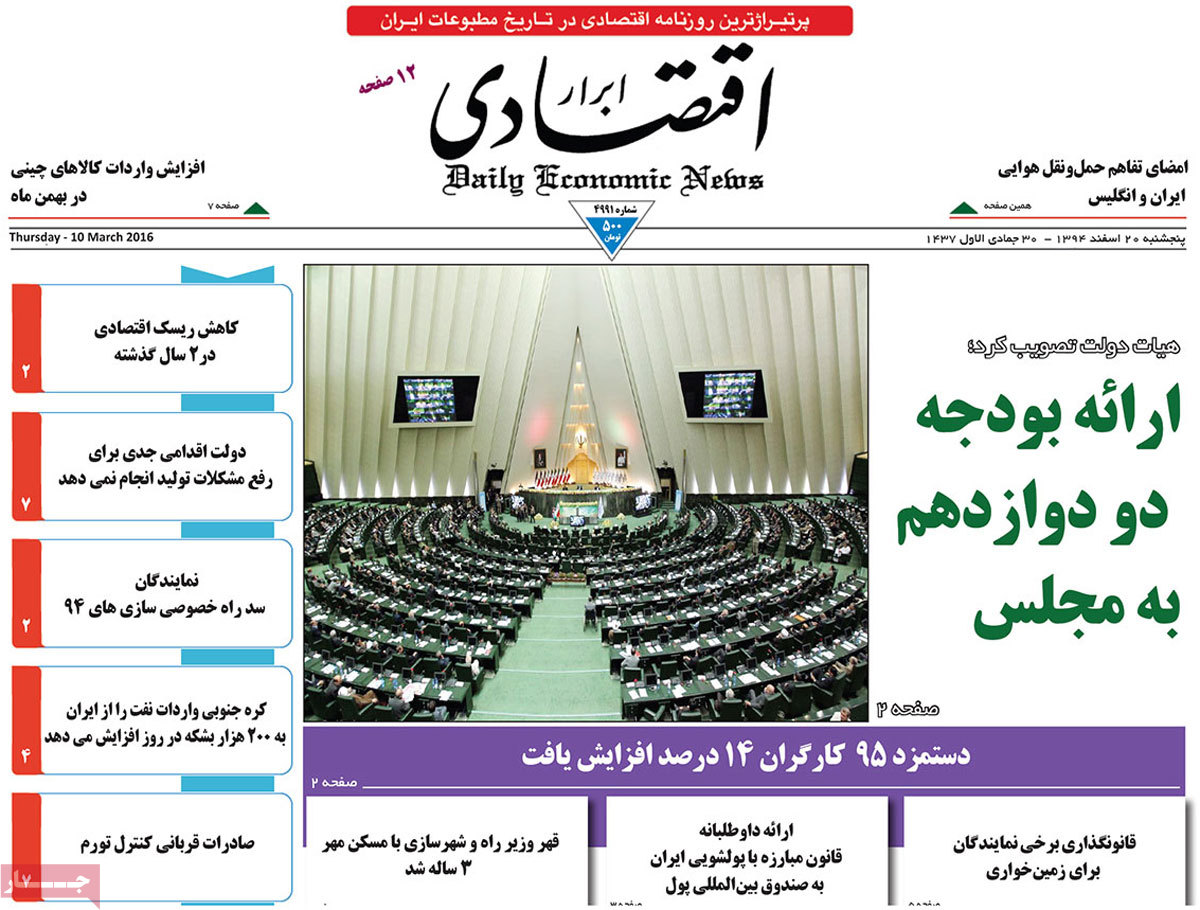 ---
Arman-e Emrouz:
I knew the election outcome from day one: Hassan Khomeini
Leader appoints Hujatoleslam Alamolhoda as representative in Khorasan Razavi
Deputy Judiciary chief reveals: Role of certain MPs in illegal land ownership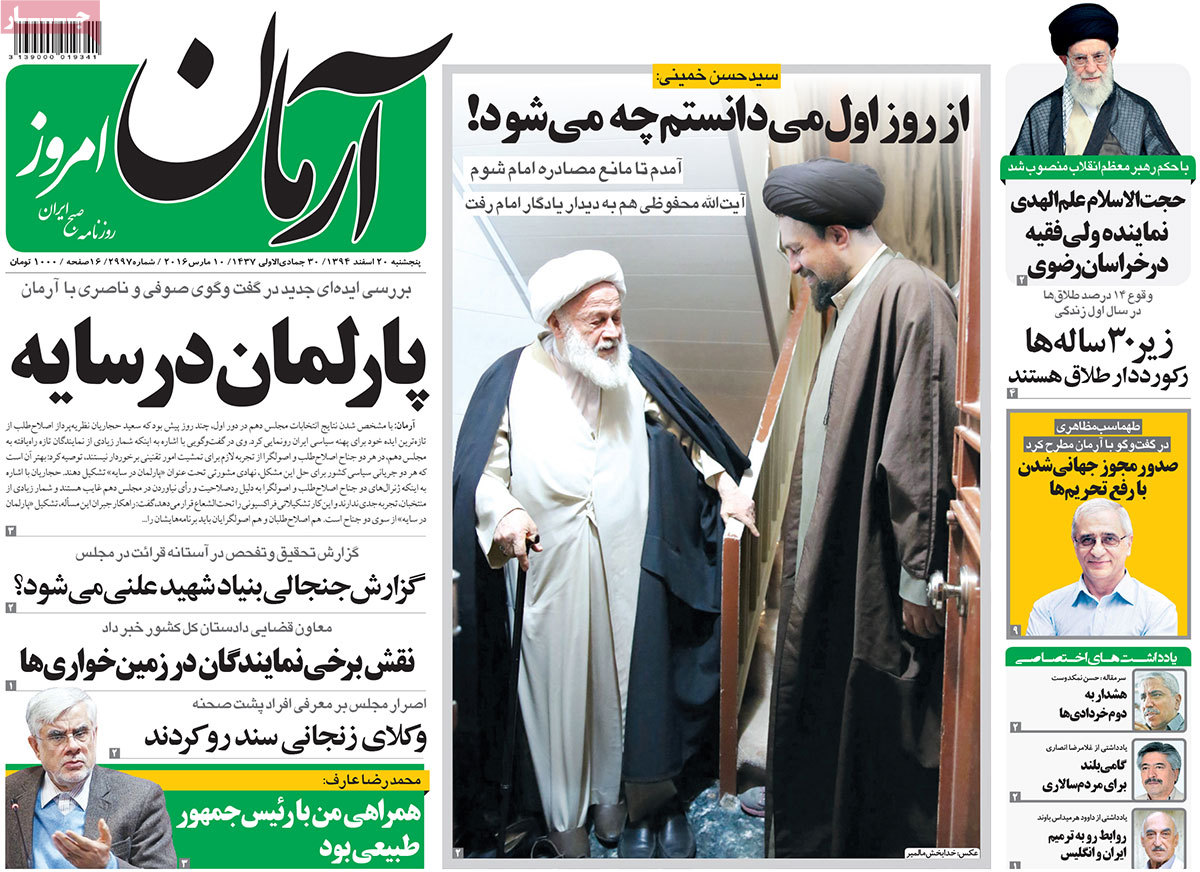 ---
Afkar:
UK to send major business delegation to Tehran
Armenia seeks joint film projects with Iran
Pyongyang in possession of miniature nuclear warheads
ISIS strikes swathes of Turkish territories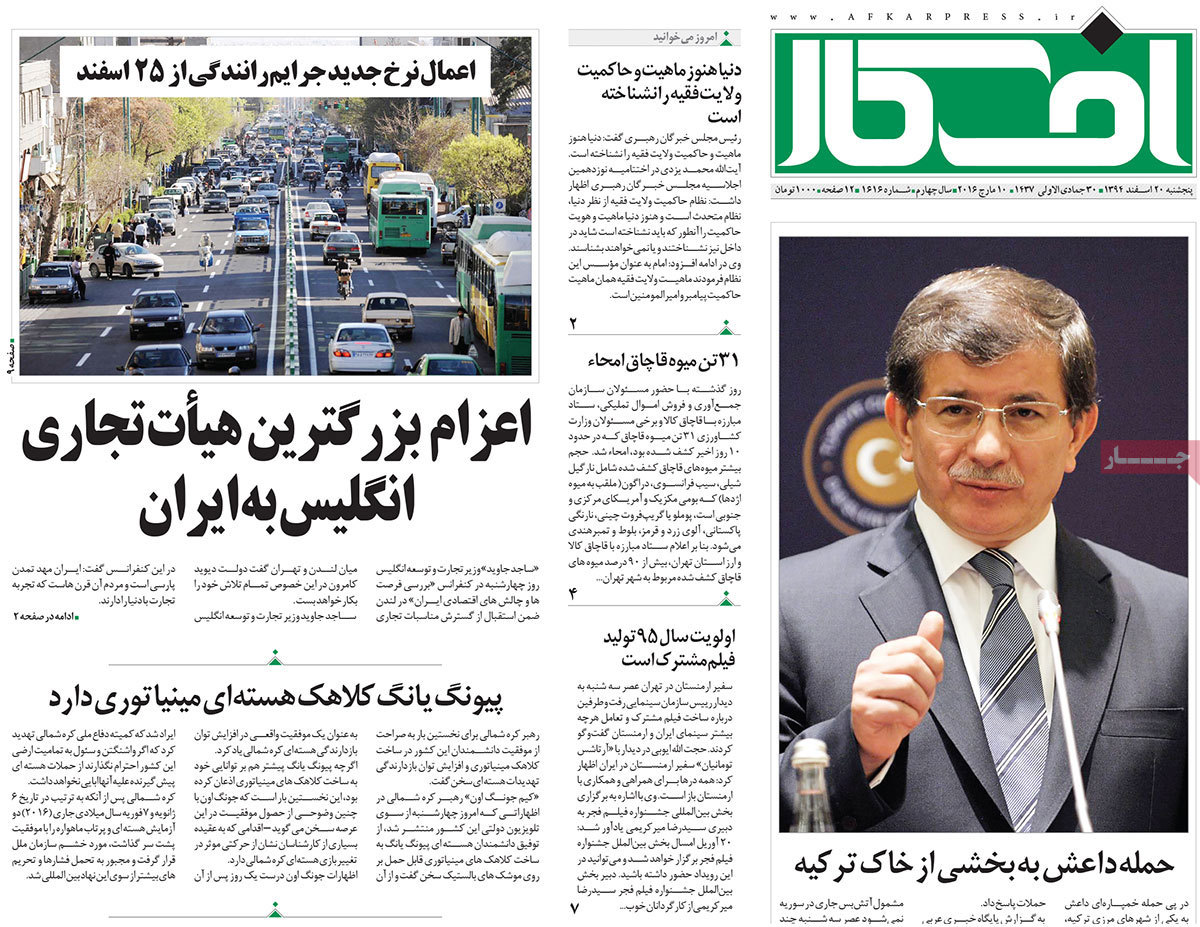 ---
Asrar:
Future of Iran economy, chance for everyone: Official
Saudi Arabia, Ansarullah reach agreement to cease border fire
OPEC oil at $35/b
Gov't spokesman: Admin's economic decisions bearing tangible outcome
Iran suffering from economic, administrative graft: justice minister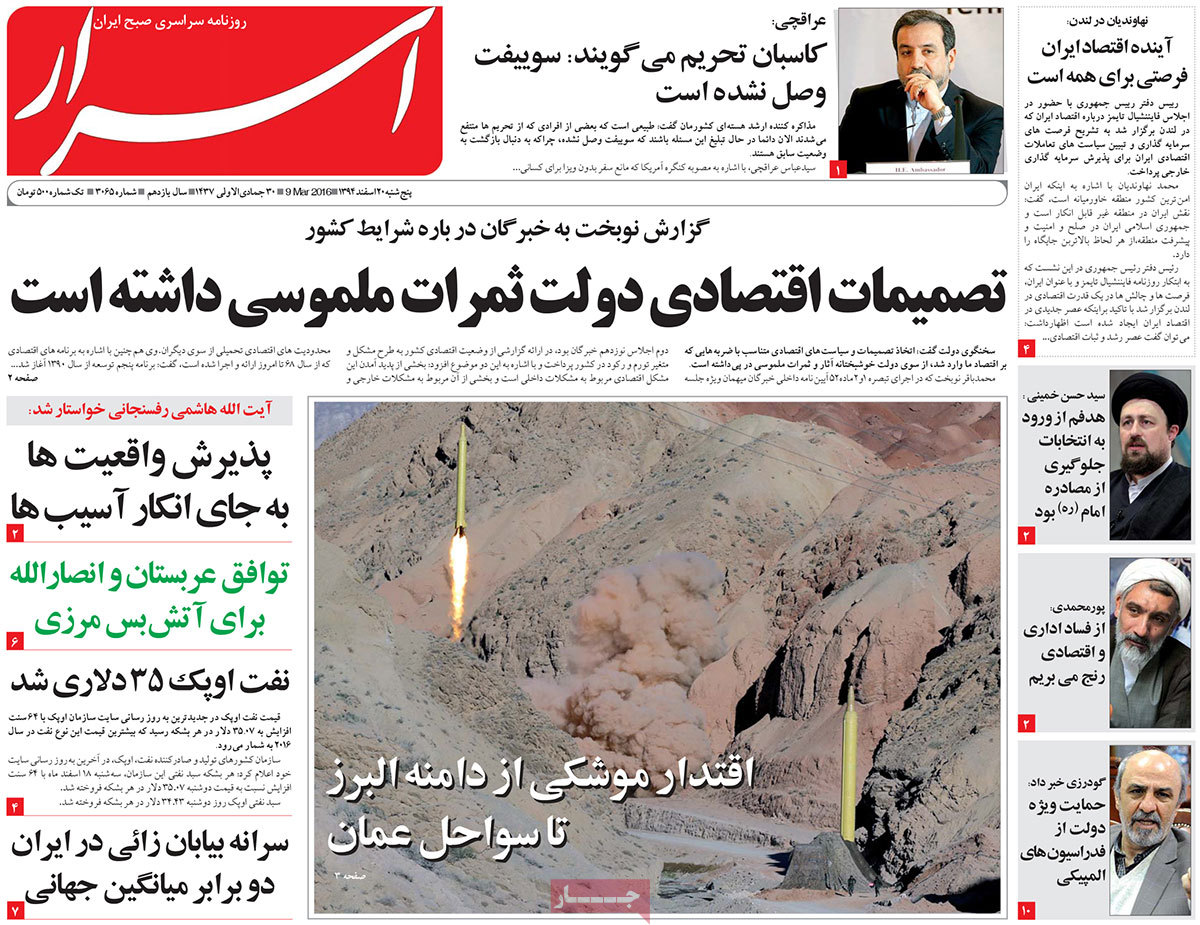 ---
Ebtekar:
Report: Admin's efforts for truthful realization of resistive economy
Ballistic missile tests no violation of JCPOA
Iranian villas more expensive than Turkish tours: report
Araghchi: Sanctions' vested interests say Iran banks not linked to SWIFT yet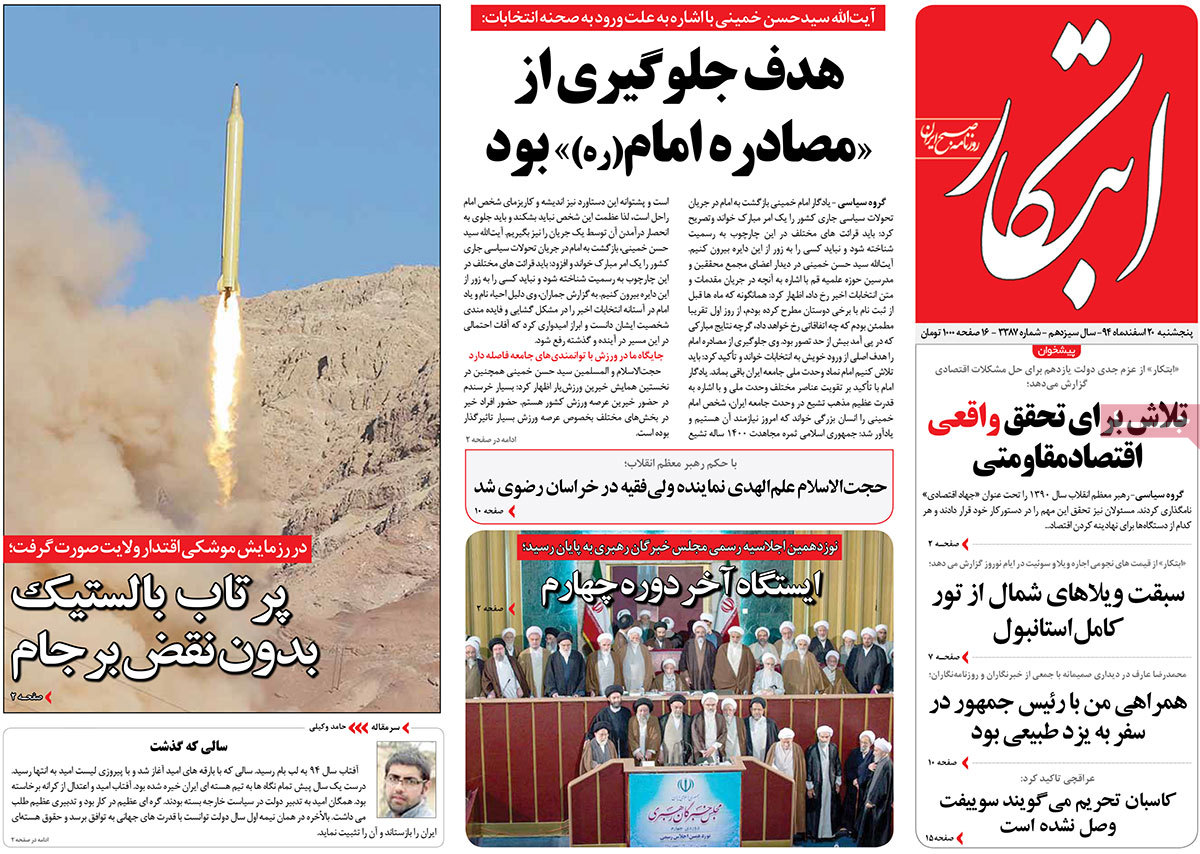 ---
Ettela'at:
Hezbollah: Saudi regime to become like Israel for us
Iran launches major dam project in western regions
IRGC successfully test-fires long-range missiles
Next year wages rise 14%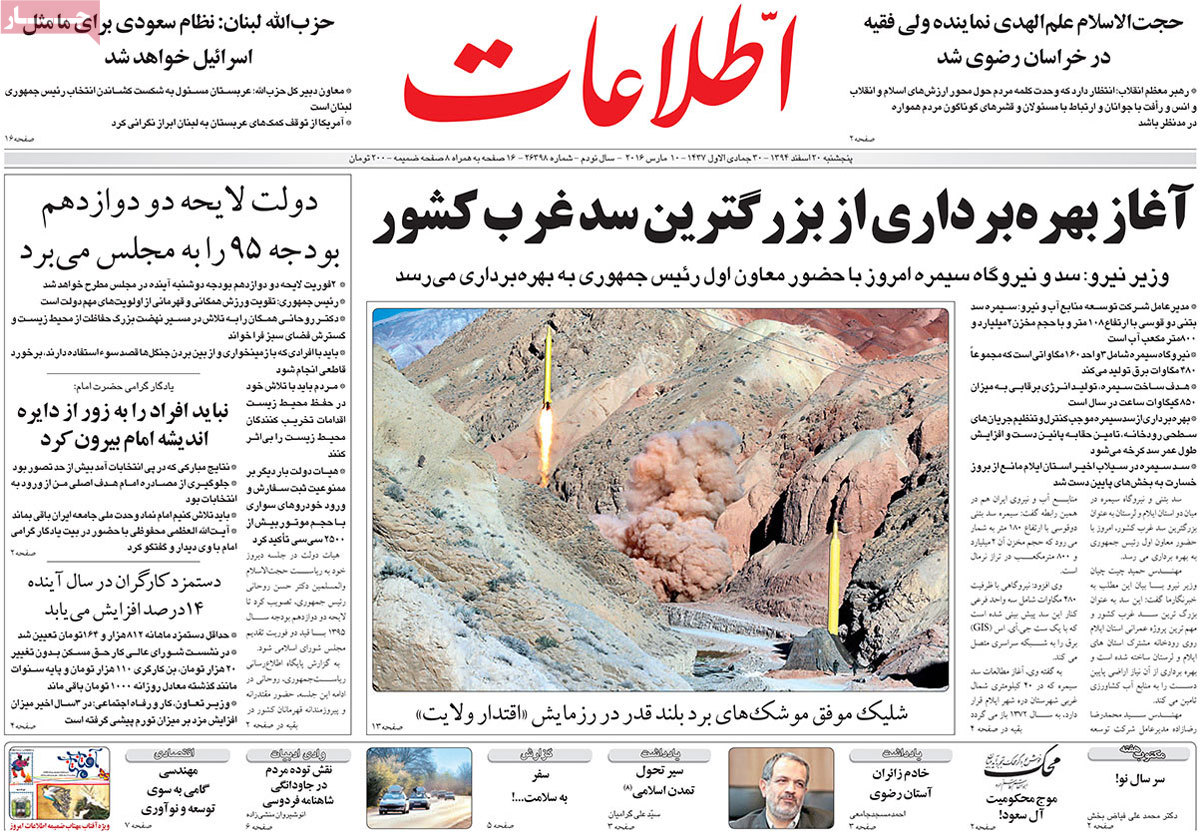 ---
---
Etemad:
Ghadr, Shihab missiles fly
IRGC test-fired the two missiles in a drill.
Iran raises minimum wage
The minimum wage in Iran has been set at 8,120 thousand Iranian rials. The decision was made after 8 hours of nonstop discussions about the wage rate in Iran for the New Year. New Iranian calendar year begins on March 21, 2016.
Election outcome more than expected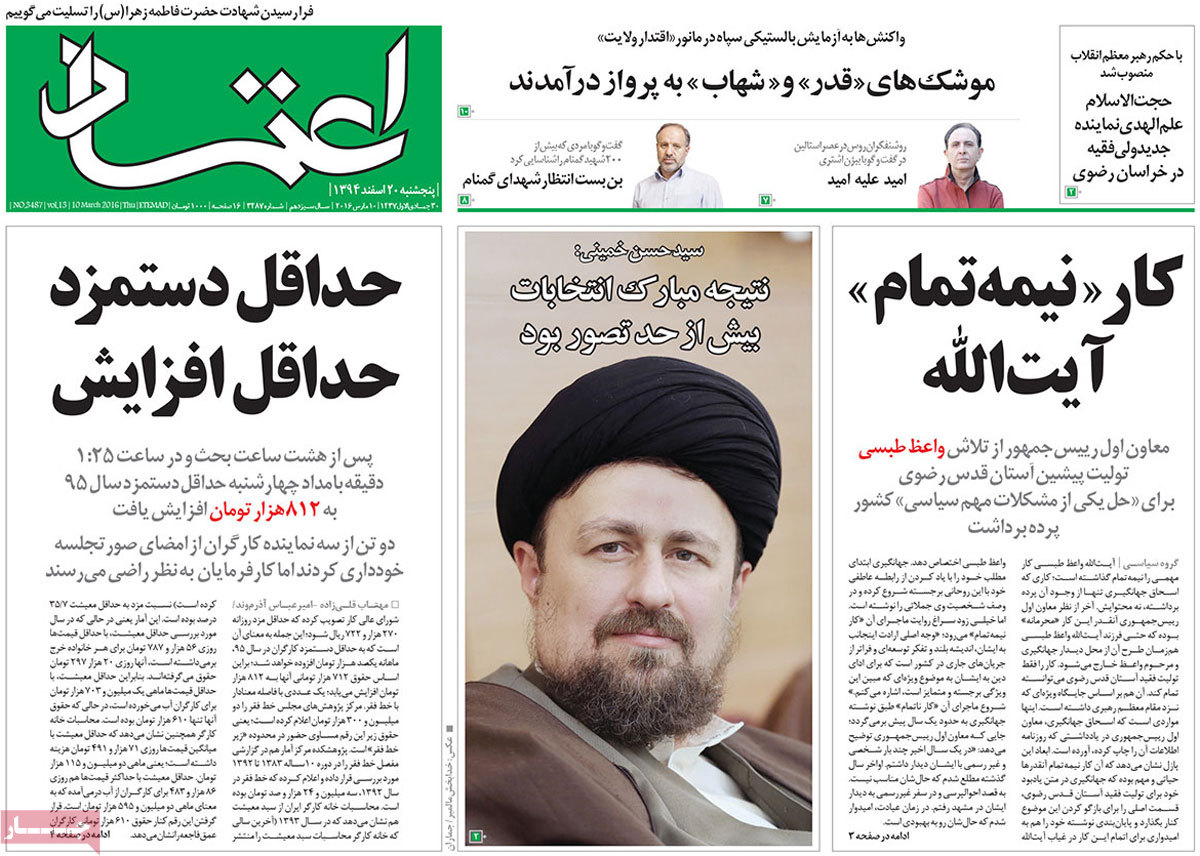 ---
Emtiaz:
Culture minister calls for ban on imports of Turkish clothes
Size of Iran deserts grows from 30mha to 80mha
Plans under way to plant a million saplings in Tehran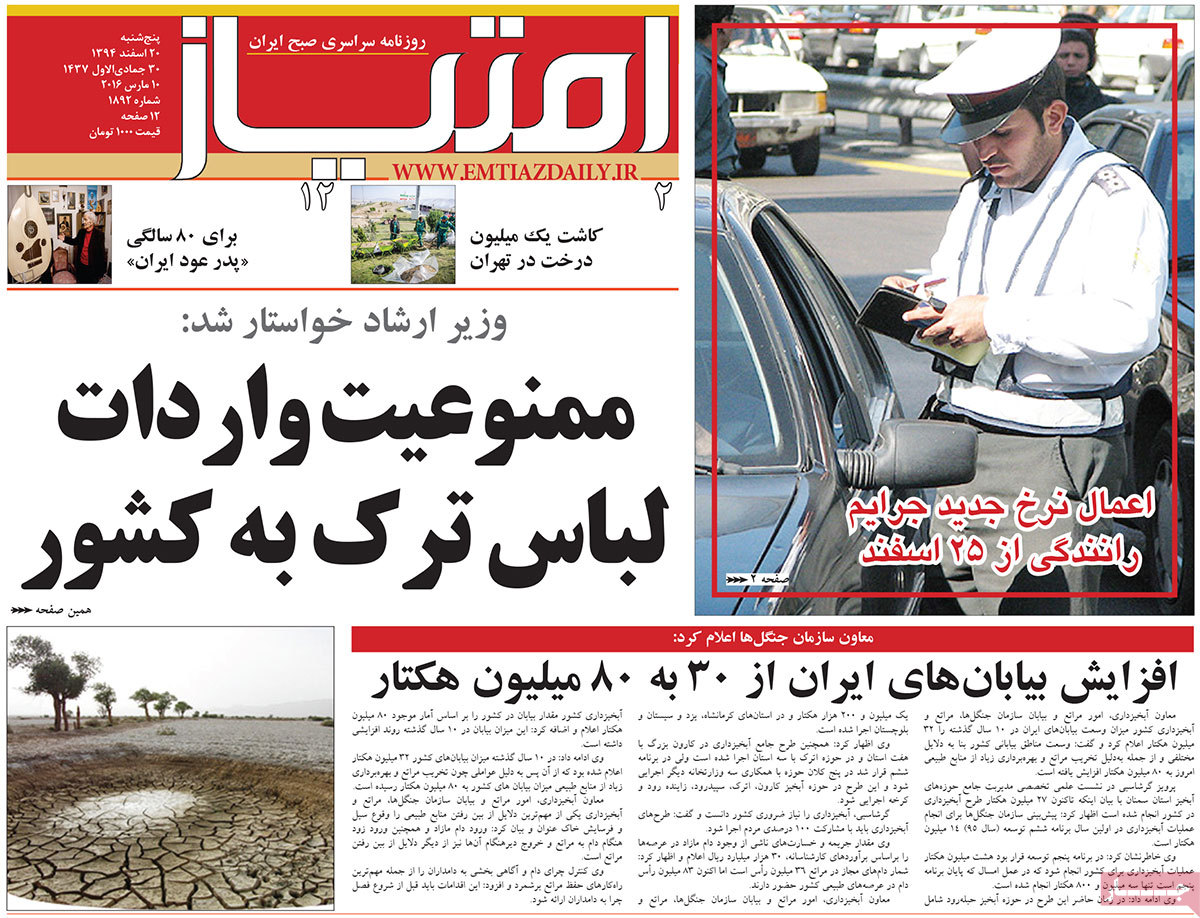 ---
Hemayat:
Traditional methods dysfunctional to combat crimes: Judiciary figure
Whispers about fresh Iran sanctions for missile drills
People still buy Sacred Defense books, memories: Veteran writer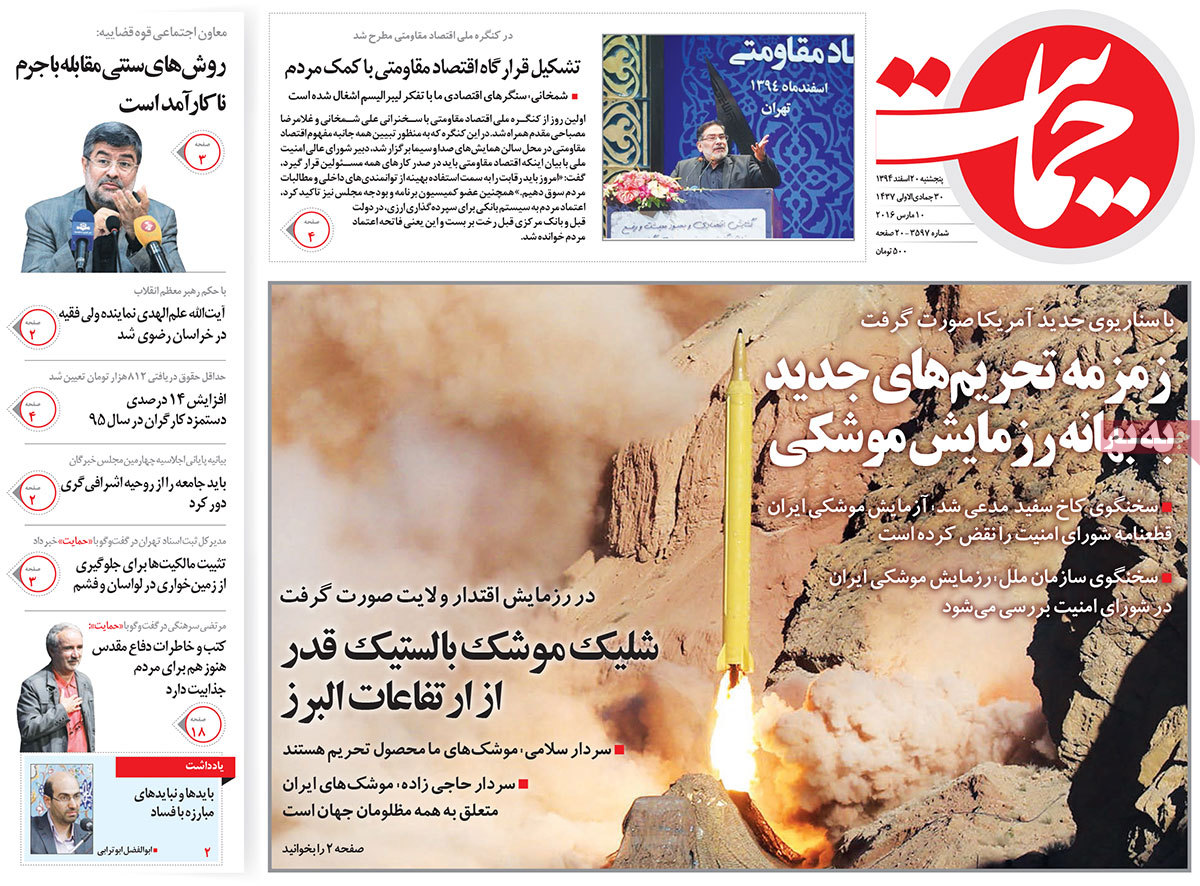 ---
Iran:
Economy of resistance only way to tackle economic problems: Shamkhani
Shy Iranian actor hailed
Rouhani orders promotion of public, champion sports
Iranian market bullish as year ends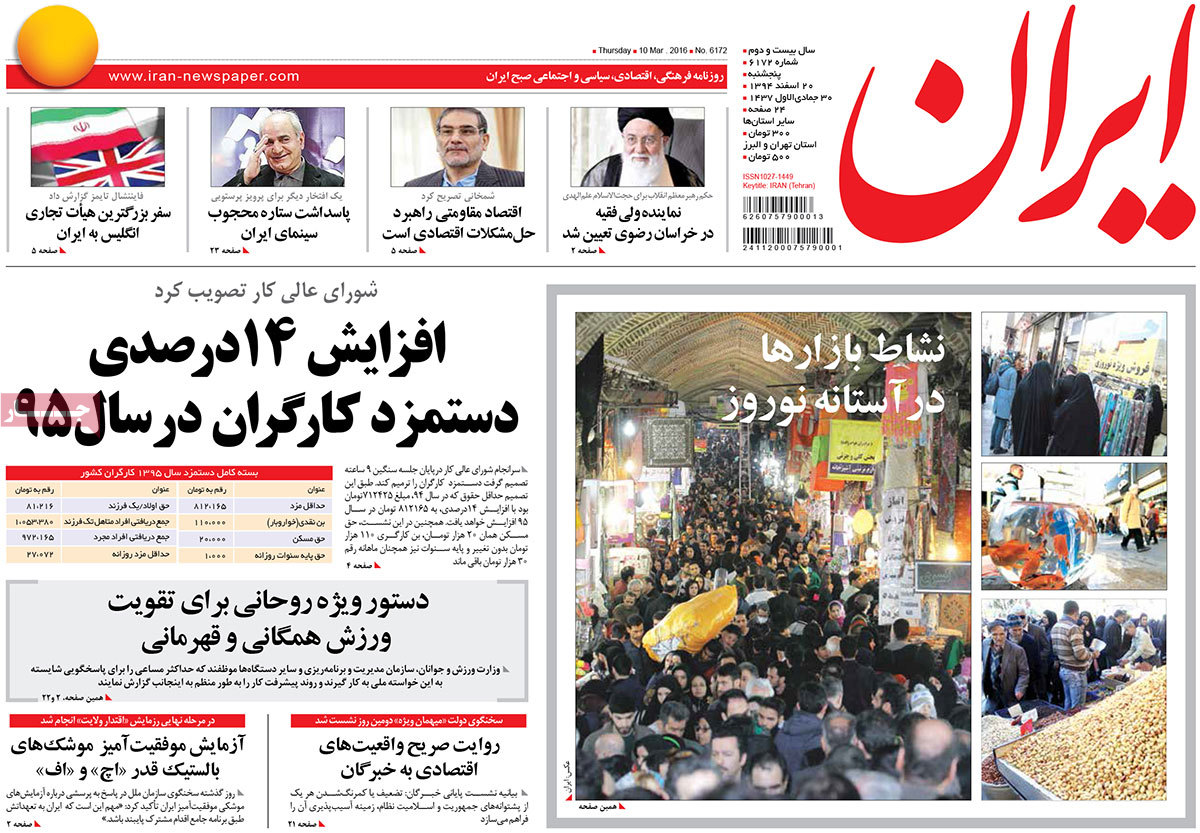 ---
Javan:
Iran message roams in Tel Aviv ear
Western media: Iran tests "Israel annihilation" agenda by long-range missiles
Assembly of Experts calls on admin to carefully mind JCPOA implementation
Shamkhani: Liberals have grasped economic strongholds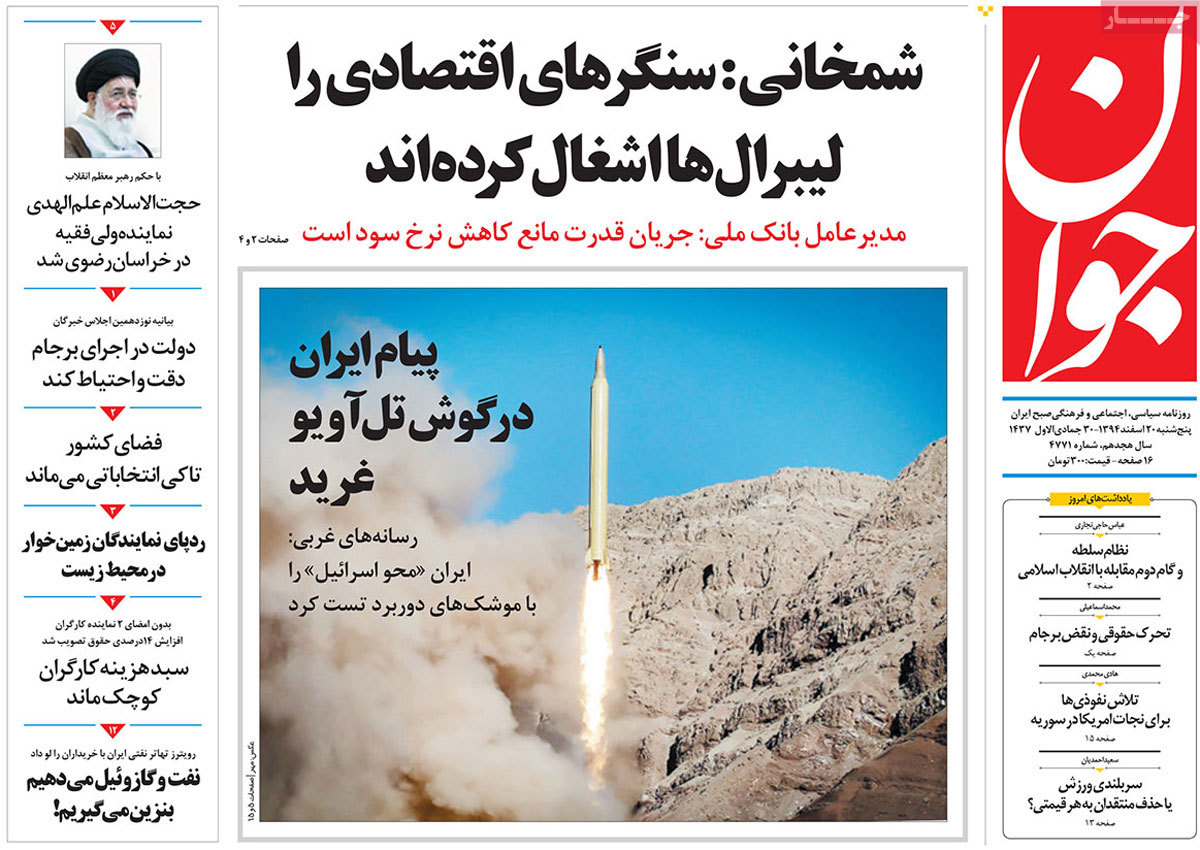 ---
Jomhouri Islami:
FAO, Japan sign notes on Lake Urmia
President warns damagers of jungles, nature
Bank Melli chief: Swift fully functional
Siemens, MAPNA group sign $3.5b deal
Kerry to Riyadh: Anti-Lebanon pressure suits Iran interests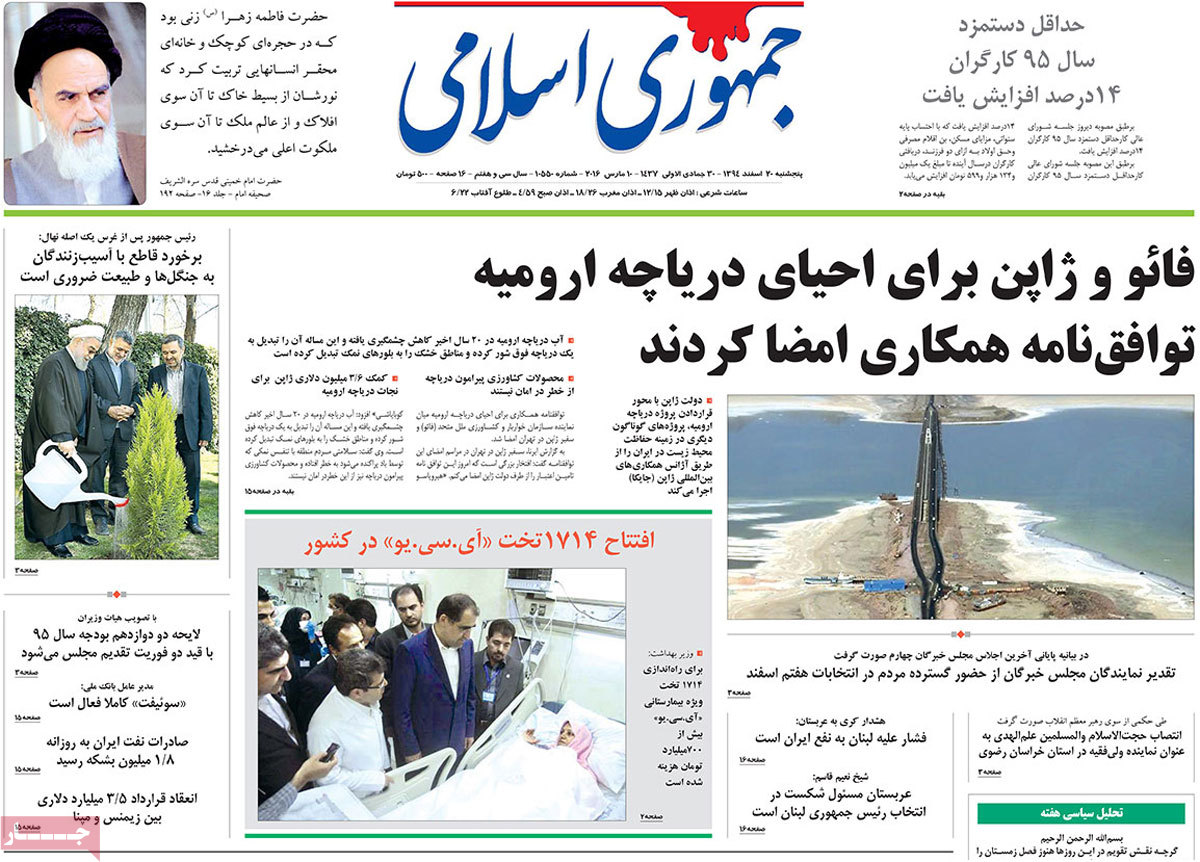 ---
Kayhan:
Bank Melli: Dollar LCs still under sanctions
Western democracy more of a circus: Canadian scholar
No resistive economy possible by liberalistic thinking: Shamkhani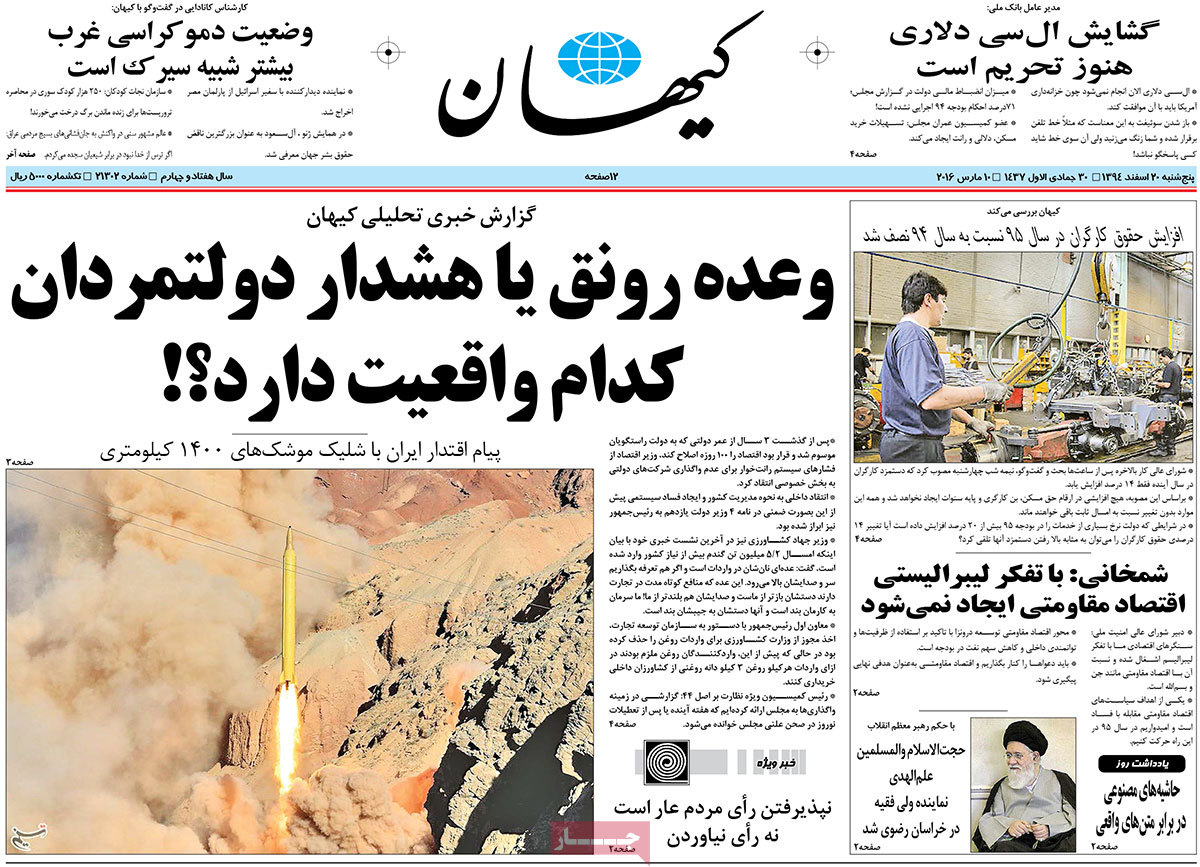 ---
Khorasan:
Iran crude oil exports hit 1.8mbd
Talks under way for lifting US visa waiver program for tourists: Araghchi
Health minister inaugurates 1,714 ICU beds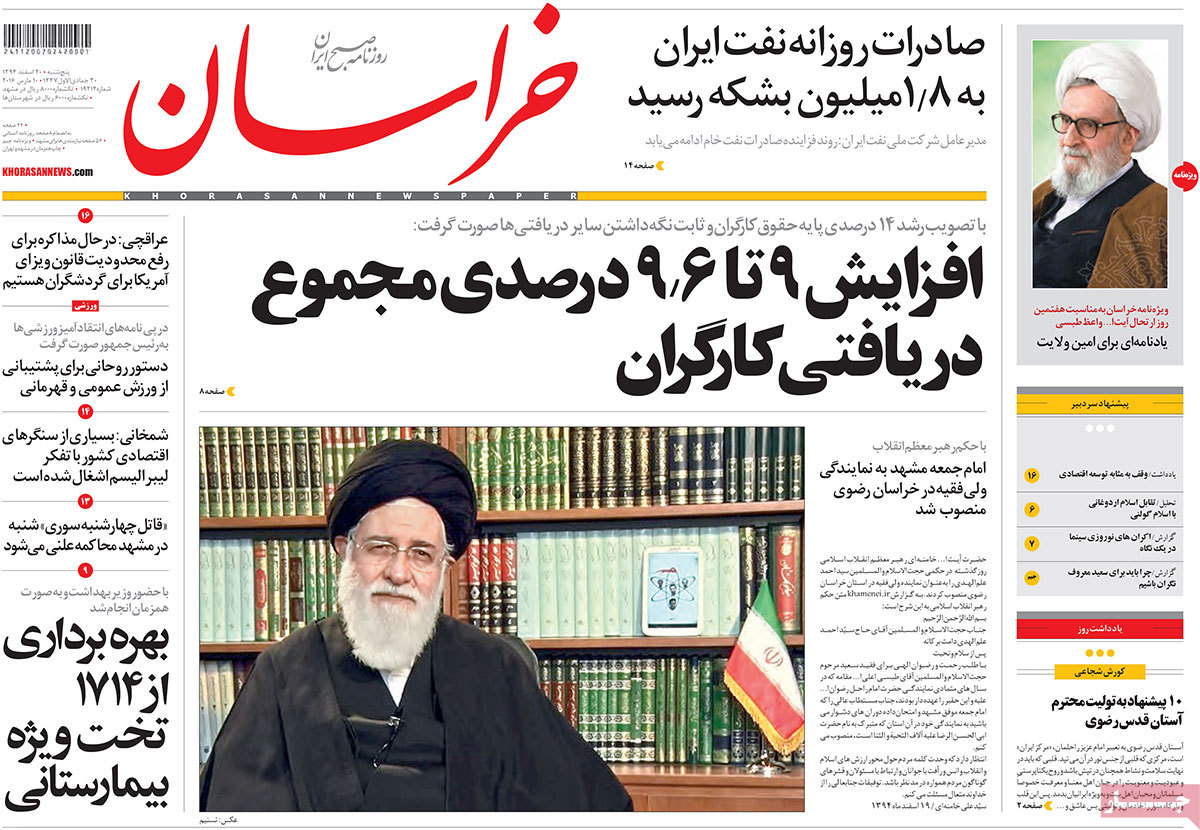 ---
Rah-e Mardom:
Report: Will cash subsidy handouts stop next year
Iran, world's most interesting country for investment: Expert
15% fall in bank arrears since 2011
The conference changed Europeans' views about Iran: Expert
Referring to the 12th Iran-Europe business conference, the event's secretary said through the conference, Europeans began to realize that the data supplied to them by their media was erroneous.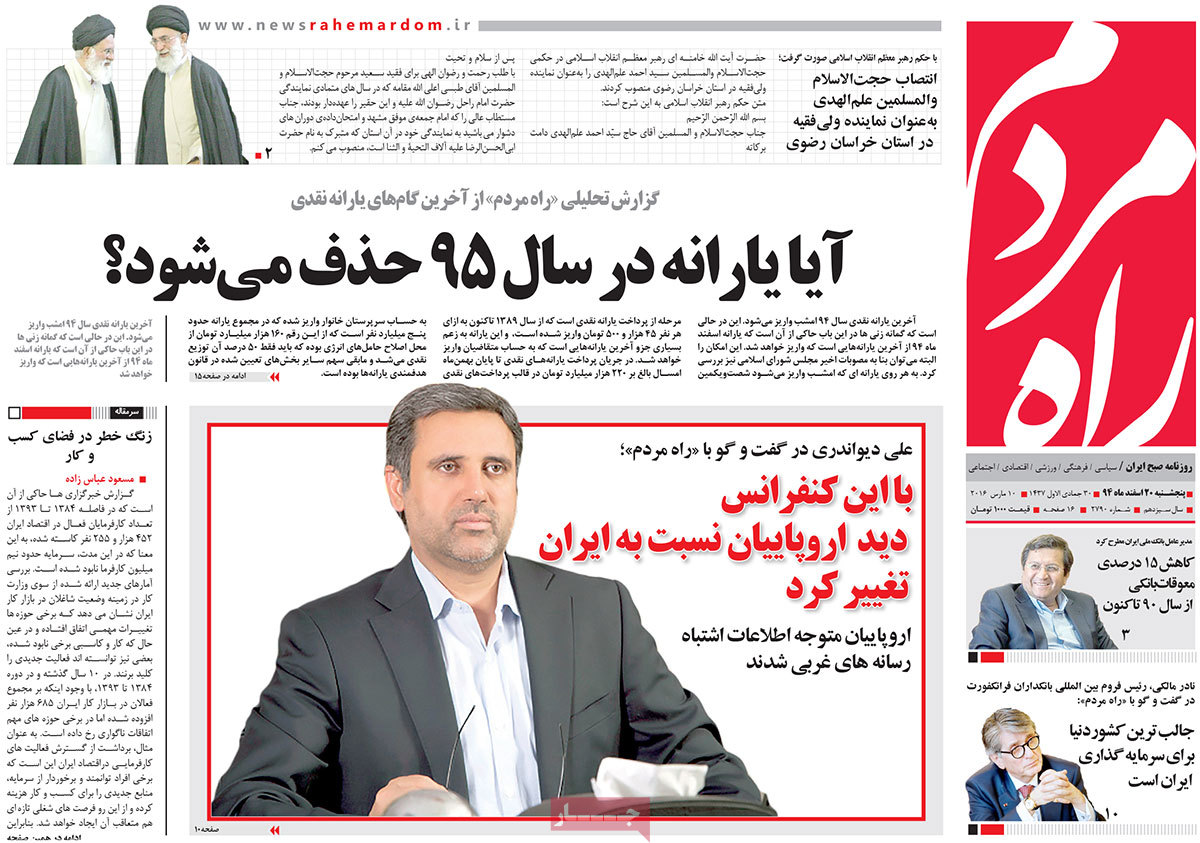 ---
Resalat:
Gov't spokesman: Part of inflation problem stems from inside
Cmdr.: Zionists will get heavy blow if they mess with us
Sistan-Baluchestan province among safest regions in Iran: Cmdr.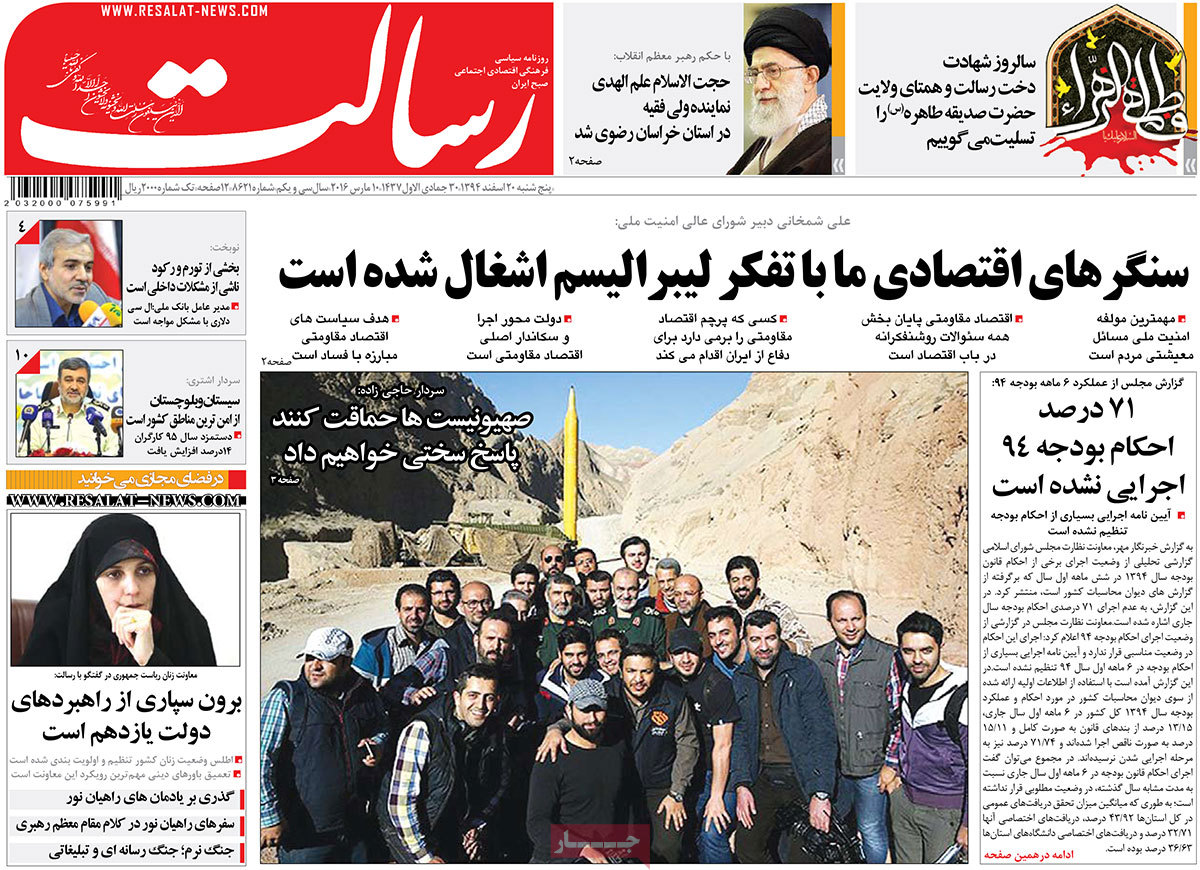 ---
Roozan:
Billionaire strives to commute death sentence
Billionaire Babak Zanjani has received a death sentence by the court for corruption on earth charges.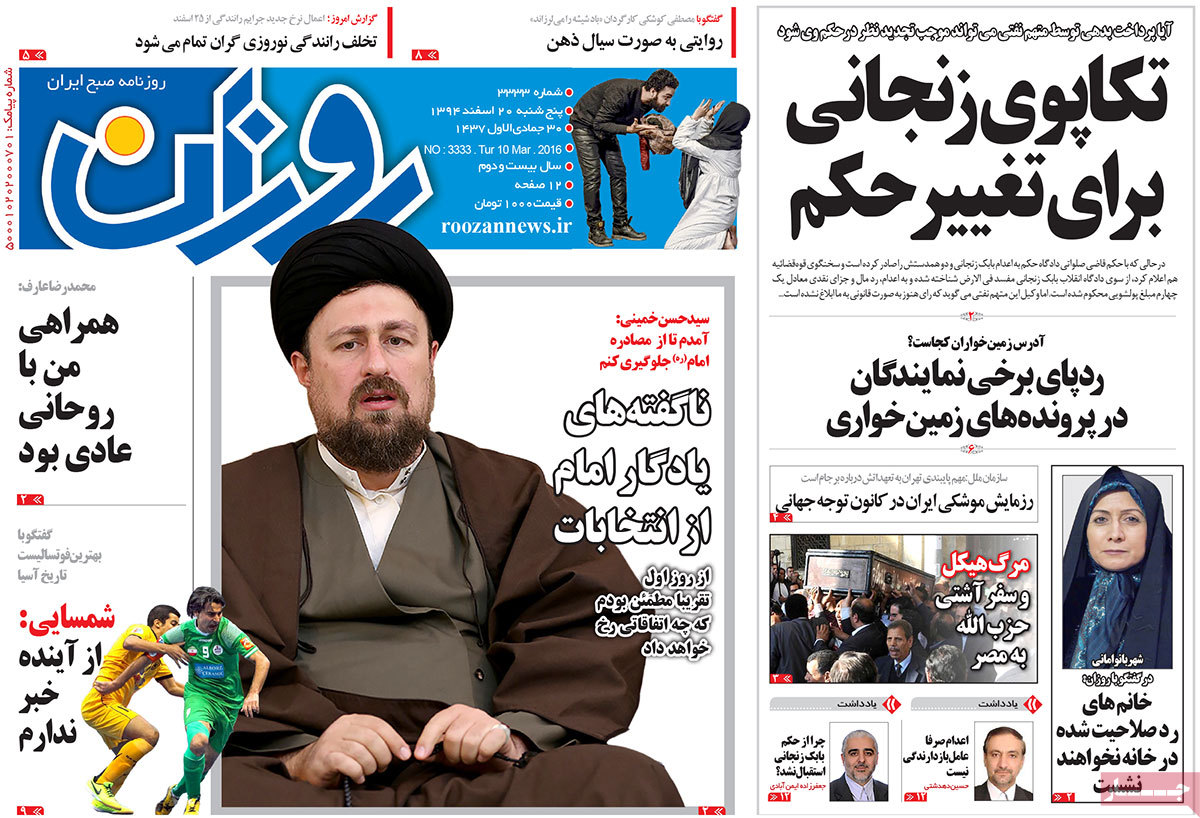 ---
Rooyesh Mellat:
Japan offers million-dollar grant for saving Lake Urmia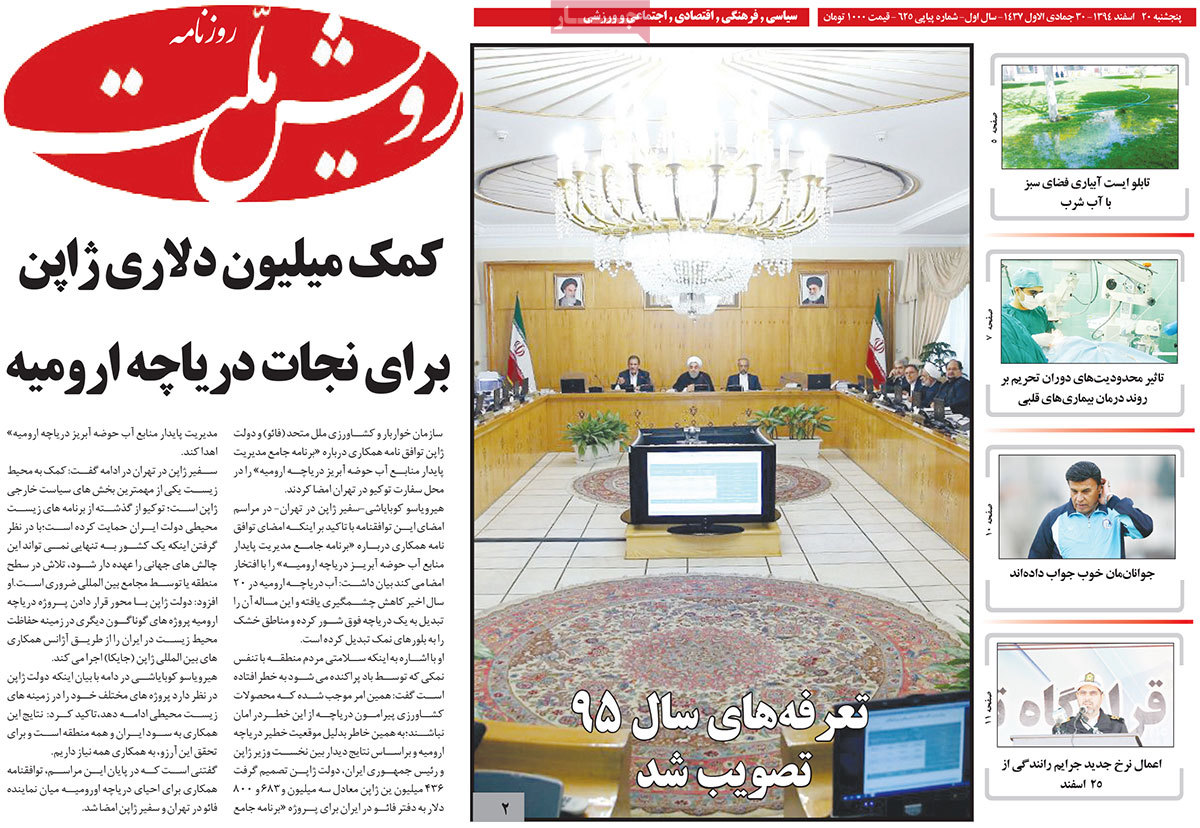 ---
Shahrvand:
Oil price slump, environmental crises, Iran's main challenges: Gov't spokesman to Assembly of Experts
No lack of ICU beds in Iran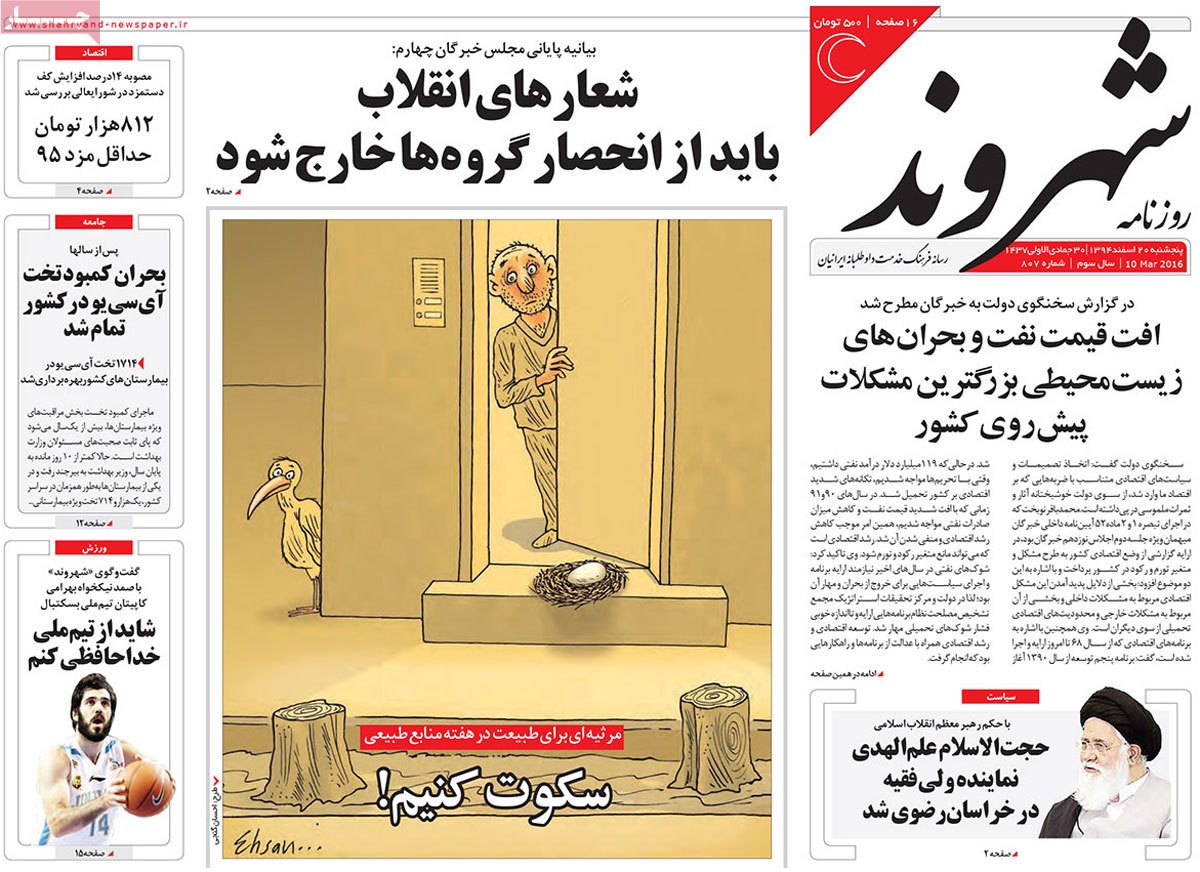 ---
Saheb Ghalam:
Nematzadeh: Iran ready to open new chapter in industrial, business ties with Bulgaria
Leader advisor: No barriers to import of Russian defense systems to Iran
Iran considers 6 new scenarios to tackle water shortage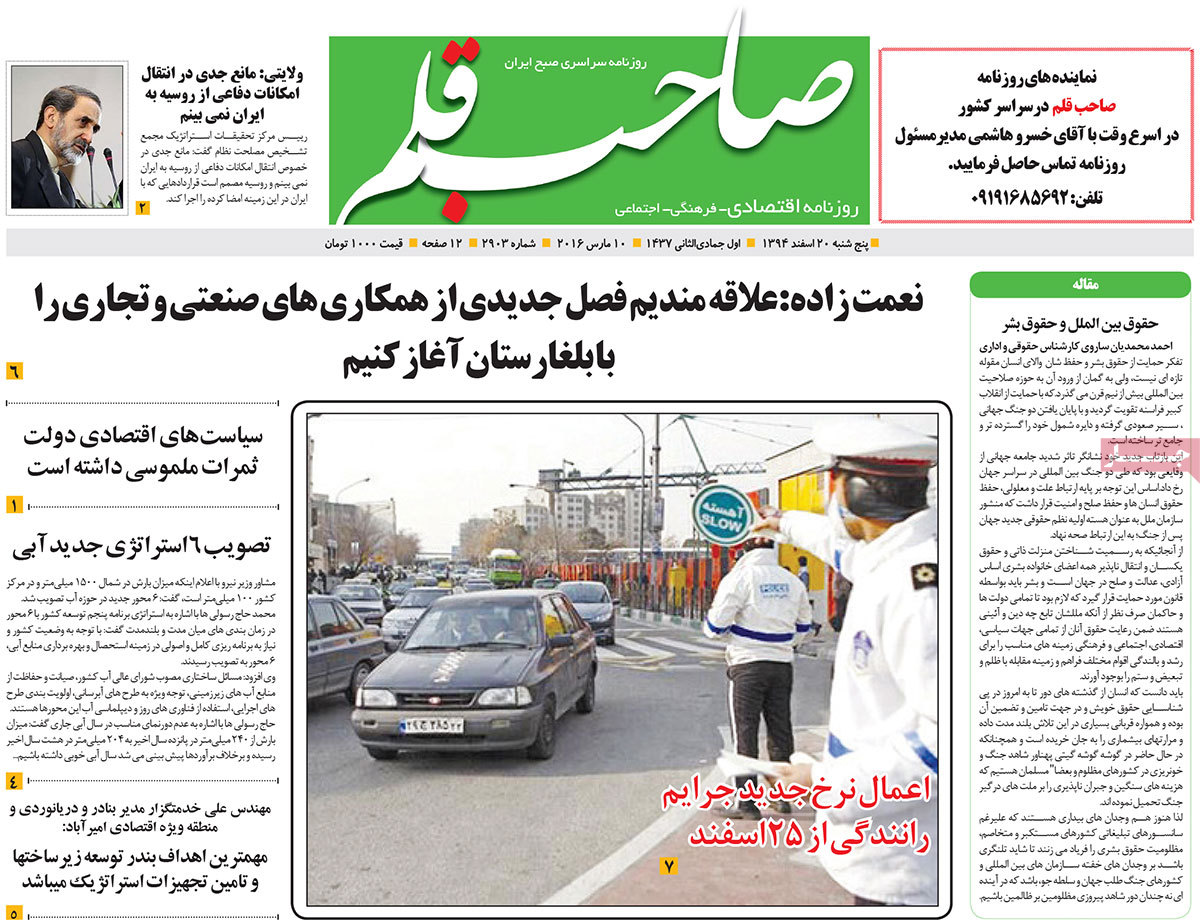 ---
Ghanoon:
Analysis: Impact of anti-inflation economy on business
Speculations about next Parliament speaker candidates: Aref or Larijani
IRIB to join TV channels to curtail costs