Several papers today covered the remarks by President Hassan Rouhani during his trips to Austria and Switzerland, particularly those regarding the EU's efforts to save the Iran nuclear deal, which are expected to culminate on Friday when the bloc's package to save the JCPOA is offered to Tehran.
Also a top story was a letter by IRGC Quds Force Commander Major General Qassem Soleimani to President Rouhani, in which the former praised the latter's "timely and wise" stances against the US and Israel.
Efforts to end the water crisis in south-western Iran, particularly the city of Khorramshahr, also received great coverage.
The above issues, as well as many more, are highlighted in the following headlines and top stories:
Abrar:
1- Rouhani: US' Decision against Its Own, Others' National Interests
2- MP Urges Gov't to Expel French Ambassador over MKO Gathering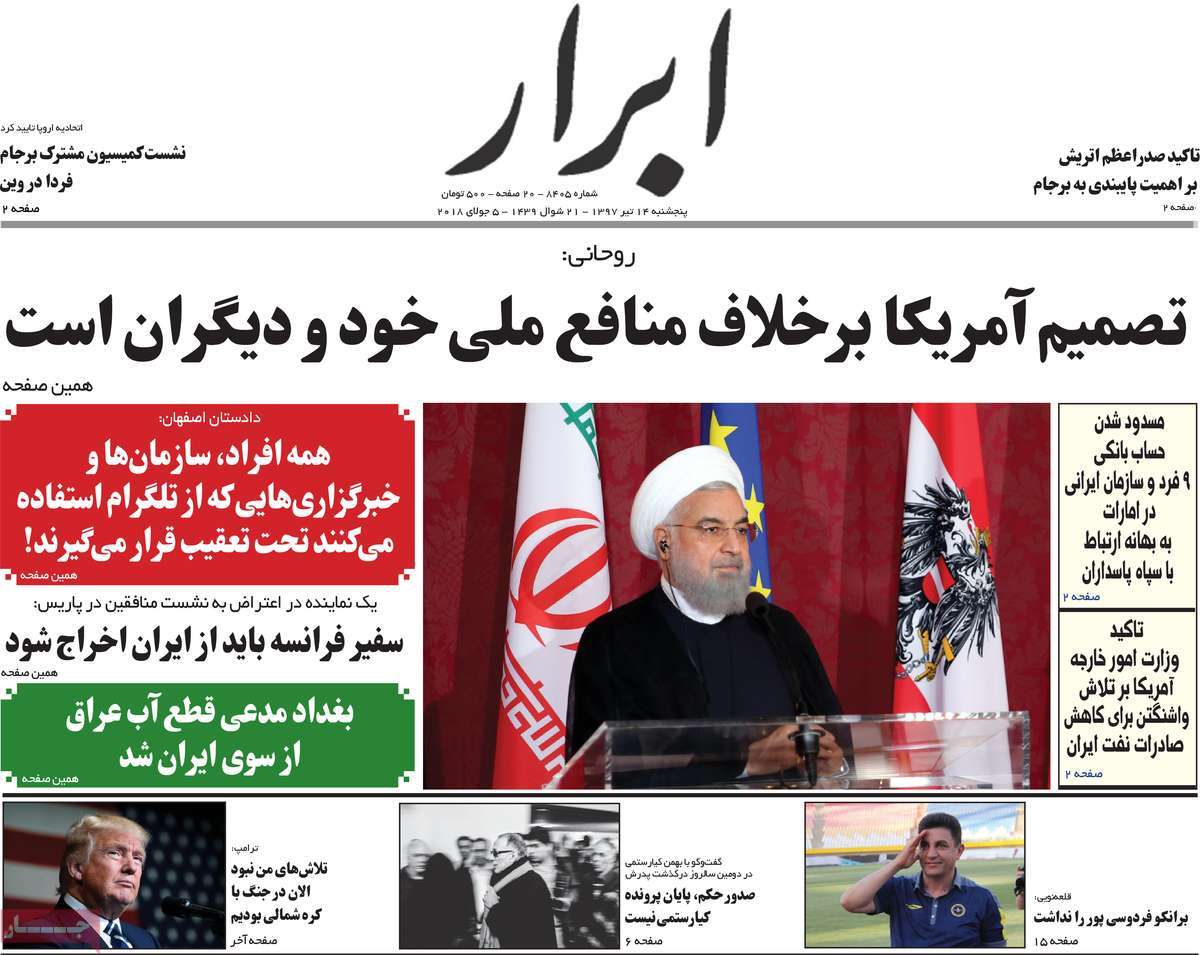 ---
Afkar:
1- Economy Minister: We Openly Accept All Criticisms
2- Zarif: We've Proved Diplomacy Works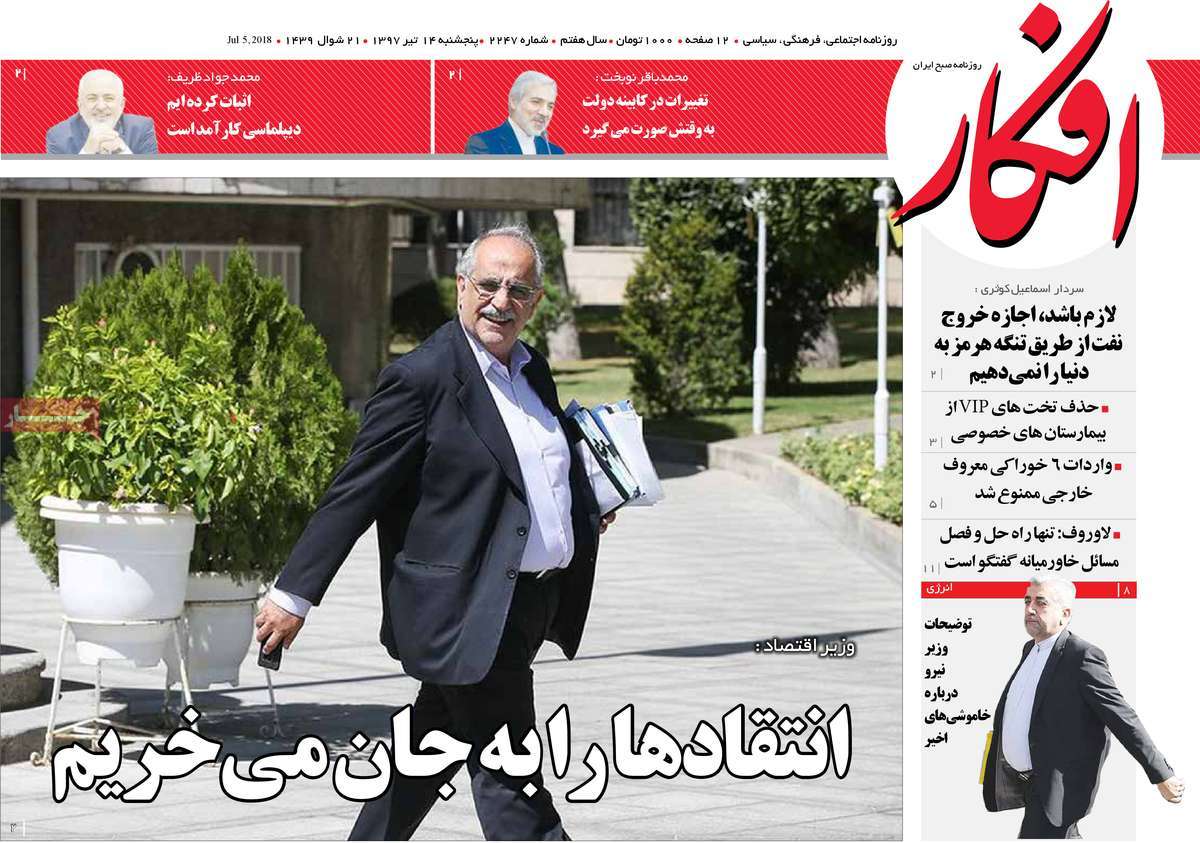 ---
Aftab-e Yazd:
1- Iran's Economy Affected by Temporary Decisions!
Consequences of Establishing Secondary Forex Market
---
Arman-e Emrooz:
1- Rouhani: We'll Remain in JCPOA without US If Europeans Live Up to Their Commitments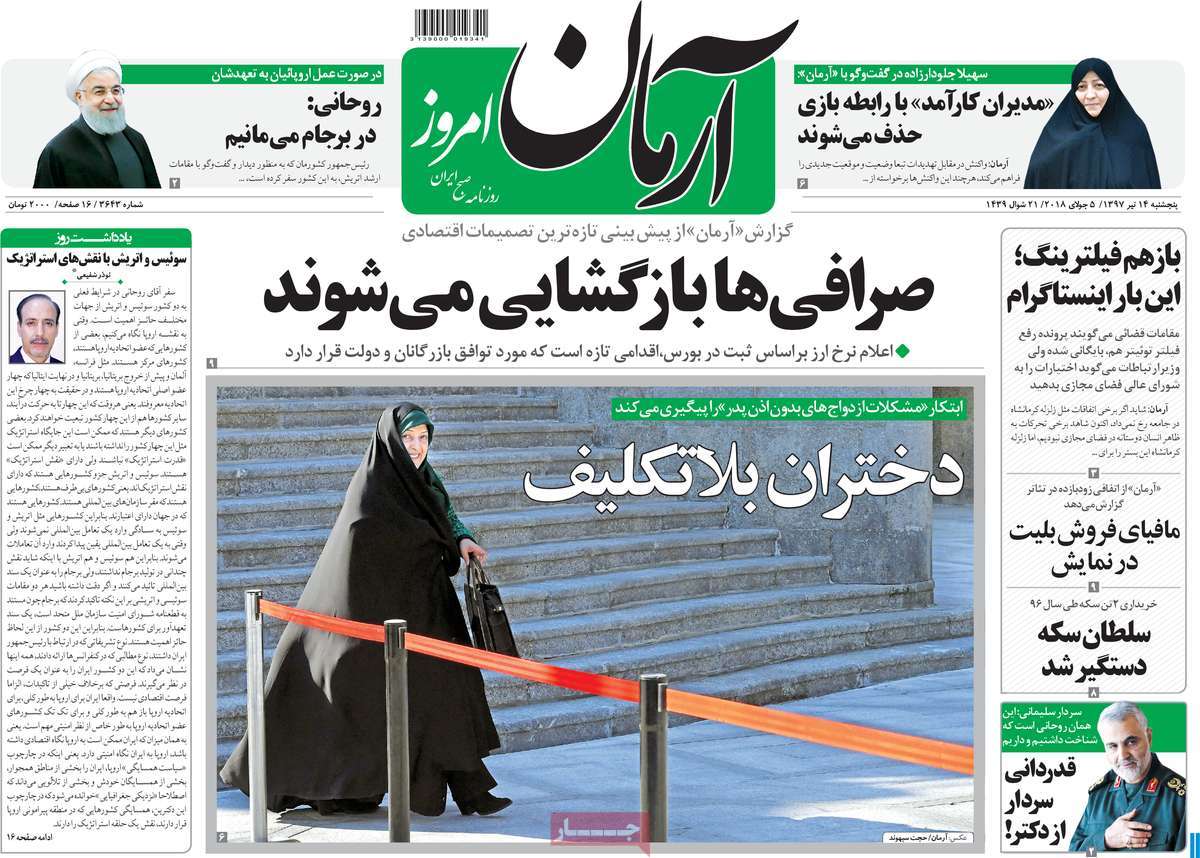 ---
Bahar:
1- Tehran Police Chief Explains How 'Sultan of Gold Coin' Arrested
---
Ebtekar:
1- Big Test for Europeans to Save JCPOA: EU to Offer Its JCPOA Package to Iran Friday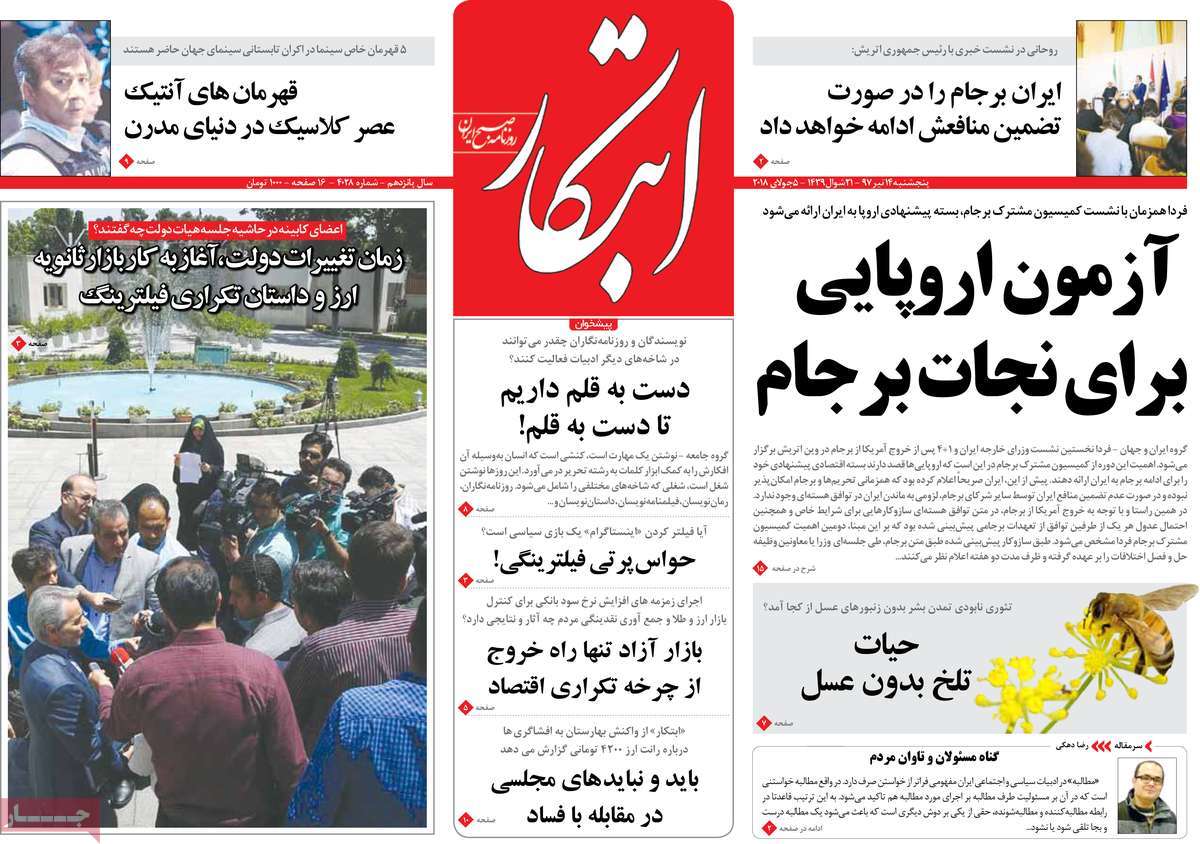 ---
Etemad:
1- Austria Vows to Keep Its Trade, Political Ties with Iran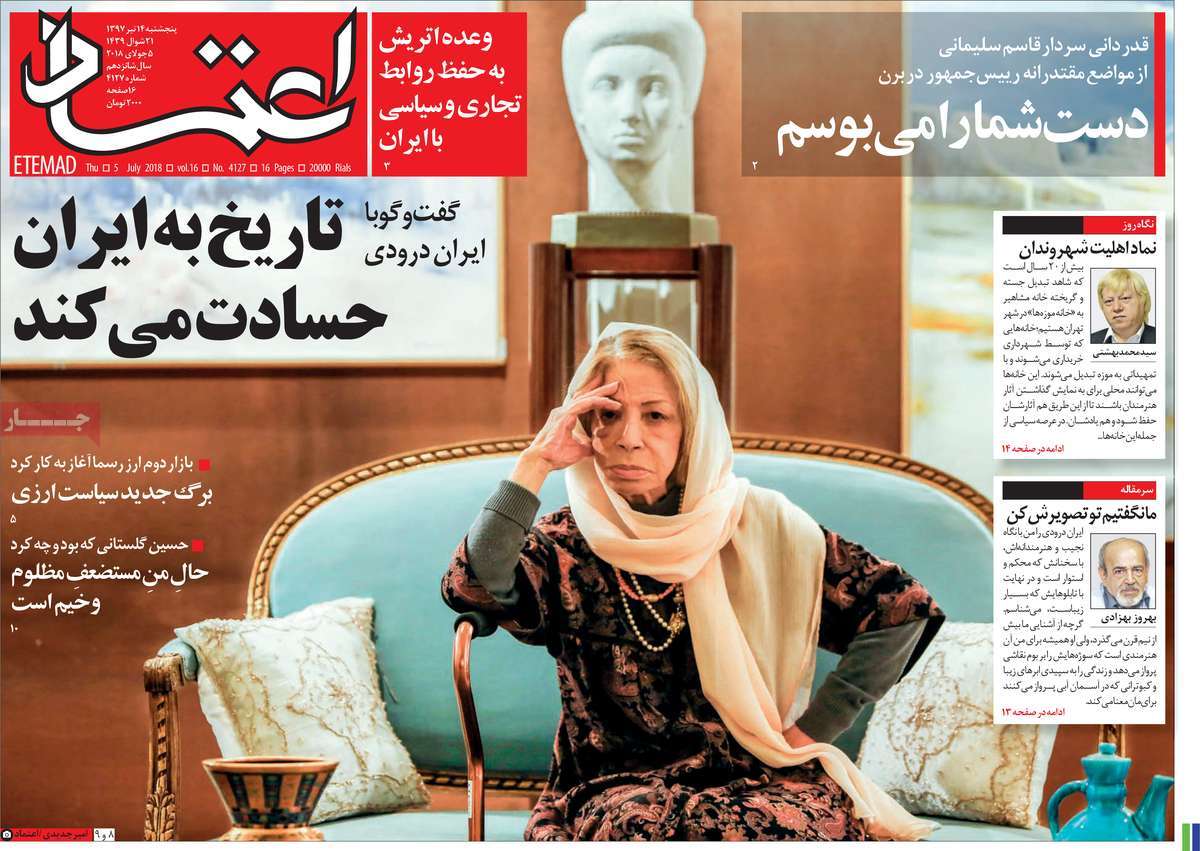 ---
Ettela'at:
1- General Soleimani Praises Rouhani's Stance against US, Israel
2- Yemeni Forces Unveil Underground Platforms for Launching Missile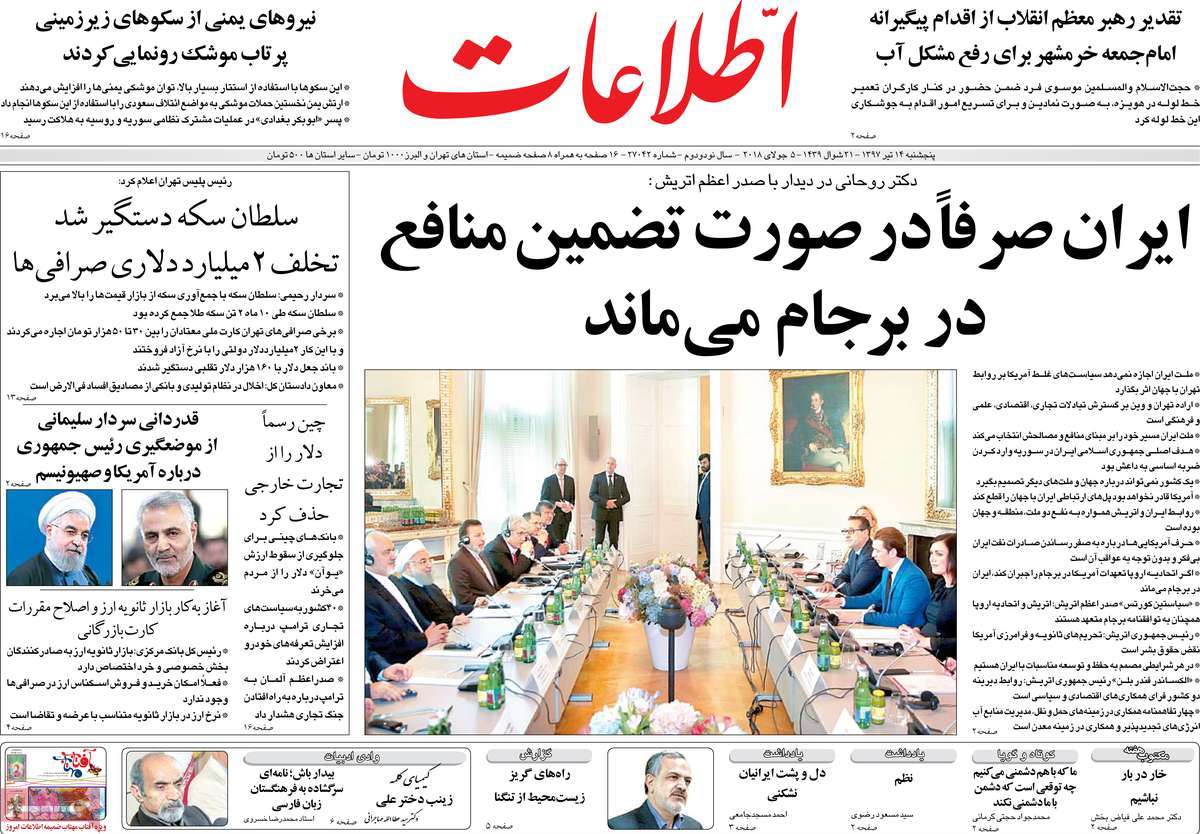 ---
Ghanoon:
1- Symphony of Diplomacy: A Report on President Rouhani's Visit to Austria
---
Iran:
1- Host of Nuclear Talks Defends Saving JCPOA
Young Austrian Chancellor Hopeful about Result of Friday Talks
---
Jame Jam:
1- Iran Leader Thanks Friday Prayers Imam of Khorramshahr for Pursuing Resolution of Water Crisis
---
Javan:
1- Rendezvous in Strait of Hormuz
General Soleimani: This Is How Rouhani Should [Always] Be
---
Jomhouri Eslami:
1- Rouhani: We Won't Let US Policies Impact Our Relations with the World
---
Kayhan:
1- Israeli Army: Palestinians' 1-euro Balloons Caused Millions of Euros in Damages on Us
2- China to Keep Friendly Ties with Iran, Rejects US Call for Cutting Oil Imports
---
Resalat:
1- Mirsalim: They Put the Country's Entire Focus on JCPOA for Five Years but to No Avail
---
Rooyesh-e Mellat:
1- Labour Minister: Gov't Still Resolved to Create 1 Million Job despite Economic Woes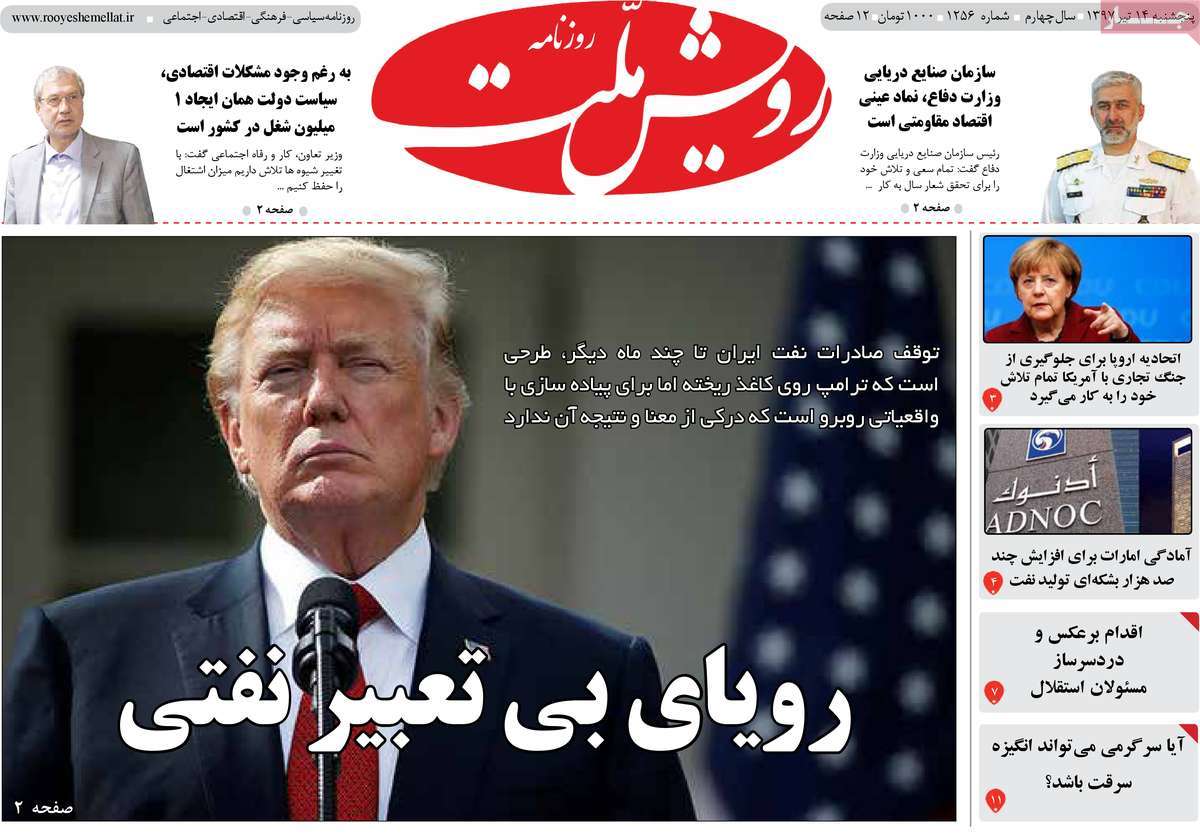 ---
Sayeh:
1- ICT Minister: Instagram Won't Be Blocked!
---
Sepid:
1- Health Minister: Special Plans for Countering Pharmaceuticals Sanctions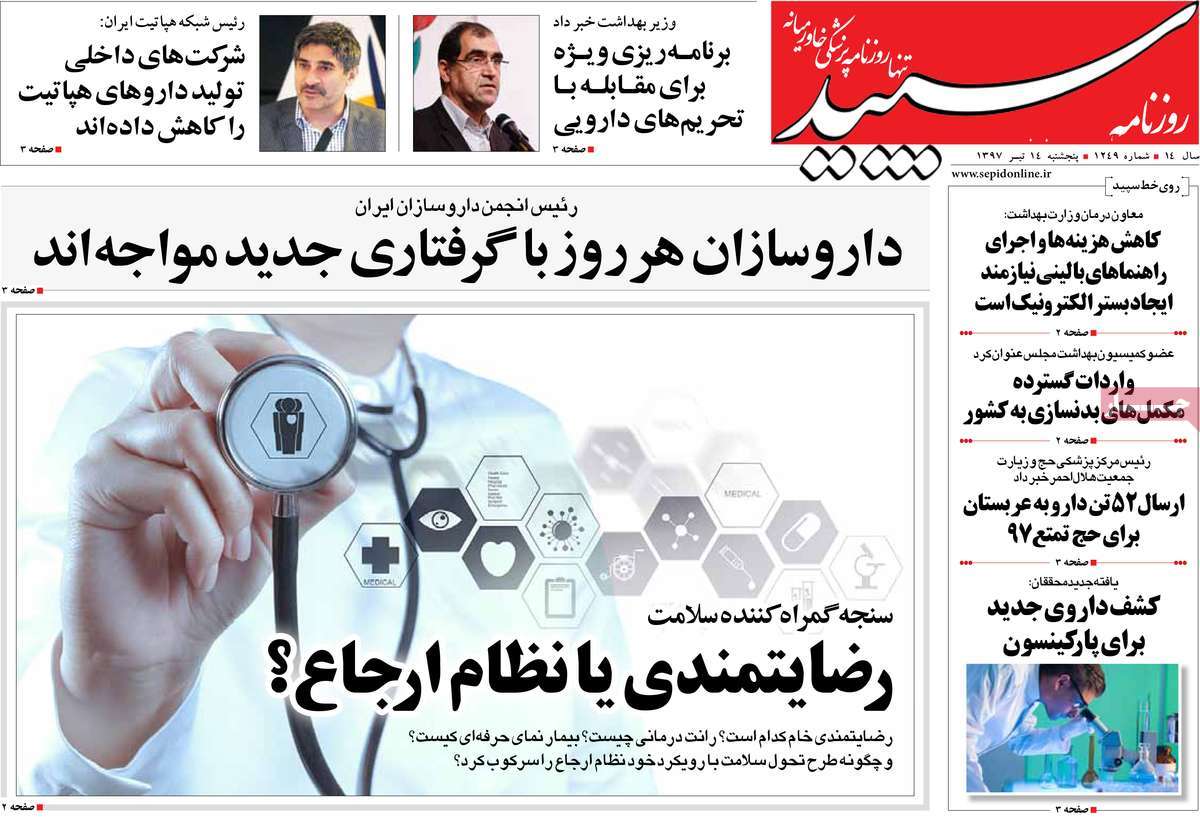 ---
Shakhe-ye Sabz:
1- Bahonar: Constitution Must Be Revised, Senate Must Be Formed besides Parliament
---
Shargh:
1- Rouhani's Condition for Remaining in JCPOA: EU Must Fill US' Gap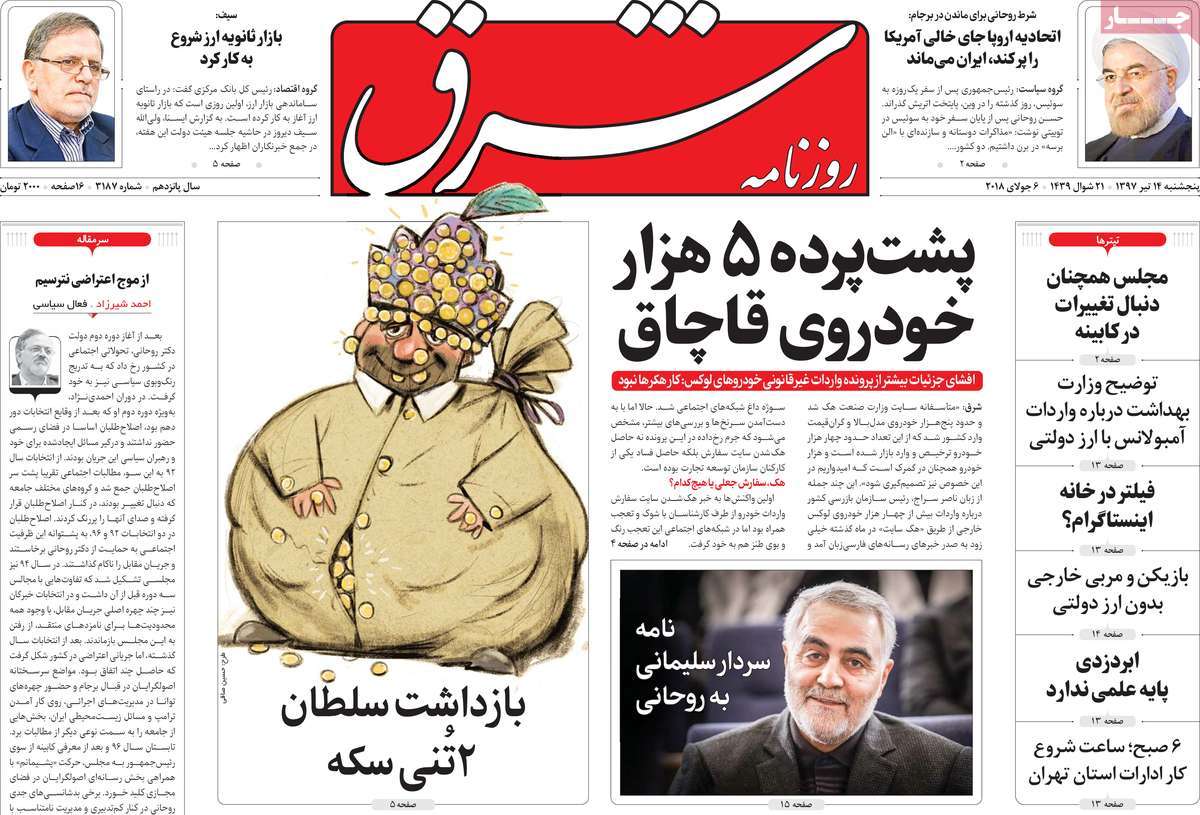 ---
Ta'adol:
1- Beijing's Pressure on Brussels to Counter Washington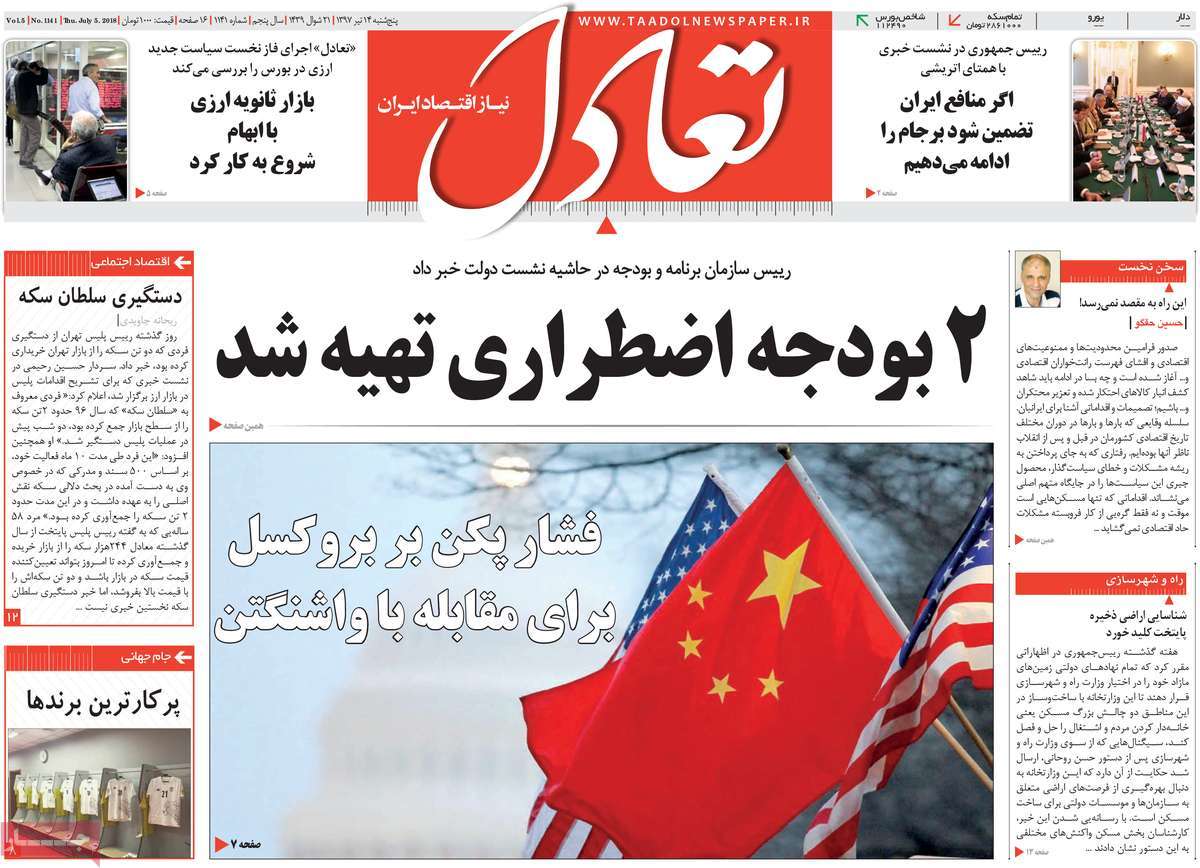 ---
Vatan-e Emrooz:
1- Erdogan Thinking of Leaving NATO
Purchase of S-400, US' Failure to Deliver F-35 Affecting Ties with NATO