Newspapers on Saturday covered the remarks made by the Leader of the Islamic Revolution Ayatollah Seyyed Ali Khamenei in a meeting with the families of Iranian martyrs killed in the fight against terrorism in Syria and Iraq.
Donald Trump's move to dismiss all US ambassadors appointed by Barack Obama also received great coverage today.
US Secretary of State John Kerry's remarks in his goodbye letter, particularly those calling Trump to maintain pressure on Iran and its missile capabilities, were also widely covered.
The above issues, as well as many more, are highlighted in the following headlines:
Abrar:
1- Iran's Leader: Those Who Were Martyred to Protect Holy Shrines [in Iraq and Syria] Are Sources of Honour for Entire Nation
2- Kerry: Pressure on Iran Should Be Maintained
3- US Secretary of Defence Underlines Maintaining Nuclear Deal with Iran
4- 85 mcm of Iran's Gas Output Has Gone Missing!
5- Turkish Army Enters Al-Bab and Kills 38 ISIS Militants
6- Russia's Intervention in US Election Is beyond Hacking: James Clapper
---
Abrar-e Eqtesadi:
1- Biggest Oil Deal Signed between Iran and South Korea
2- IMF Explains Trump's Impact on Global Economy
3- Iran-EU €10-Billion Trade in 10 Months
4- Iran-Russia Industrial-Trade Cooperation Started in 140 Projects
---
Afkar:
1- Cutting Damascus' Water Supply Is a War Crime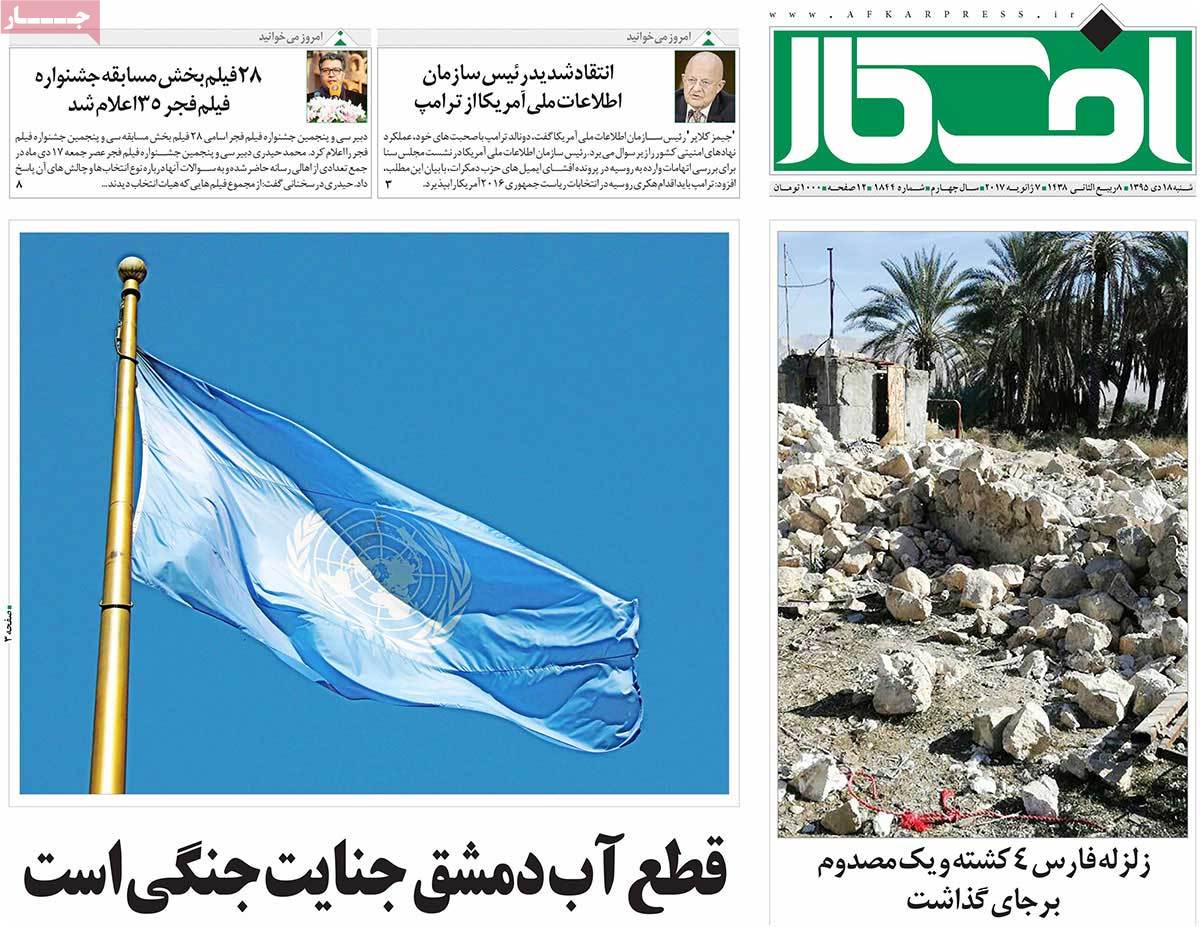 ---
Aftab-e Yazd:
1- 782% Growth in Incoming Foreign Capitals in Iran Stock Exchange Market in Post-JCPOA Era
2- Analyst: In 2001 Presidential Election, Atmosphere Was against Incumbent Government, but Khatami Received Higher Number of Votes
3- Donald Trump's New Show [Editorial]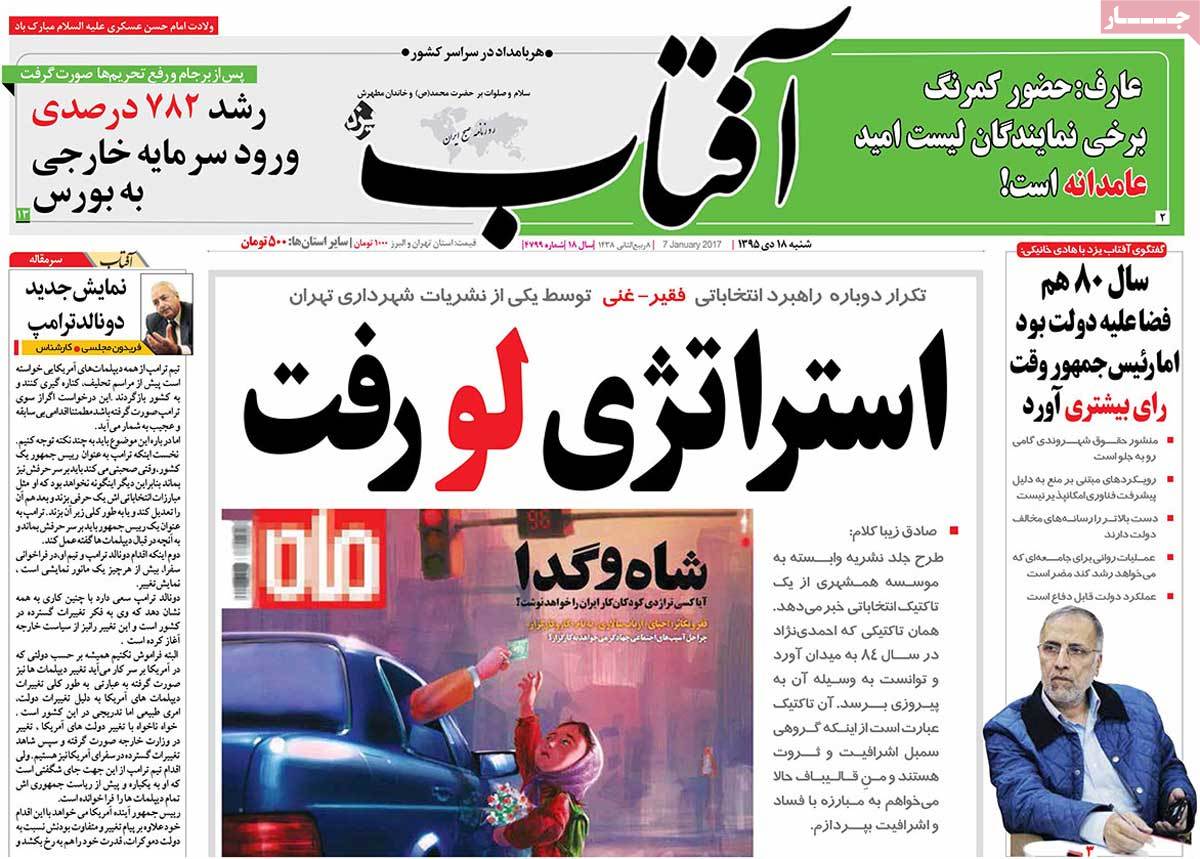 ---
Amin:
1- 4 Afghan Nationals Lose Their Lives in 5.1-Magniture Quake in Southern Iran
2- World's Oldest Mosaic in Iran's National Museum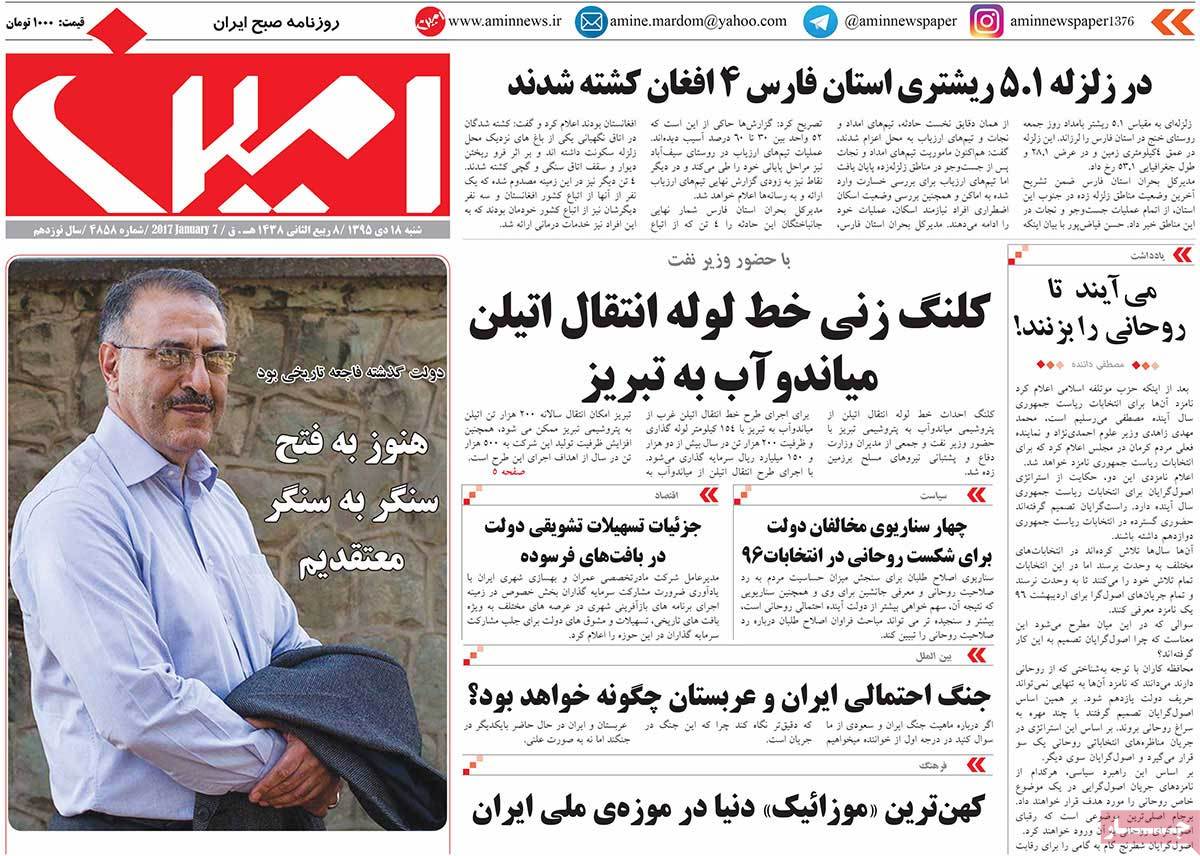 ---
Arman-e Emrooz:
1- Reformist Figure: People's Pockets Will Become Empty without JCPOA
2- Conservatives Want to Remove Rouhani: Politician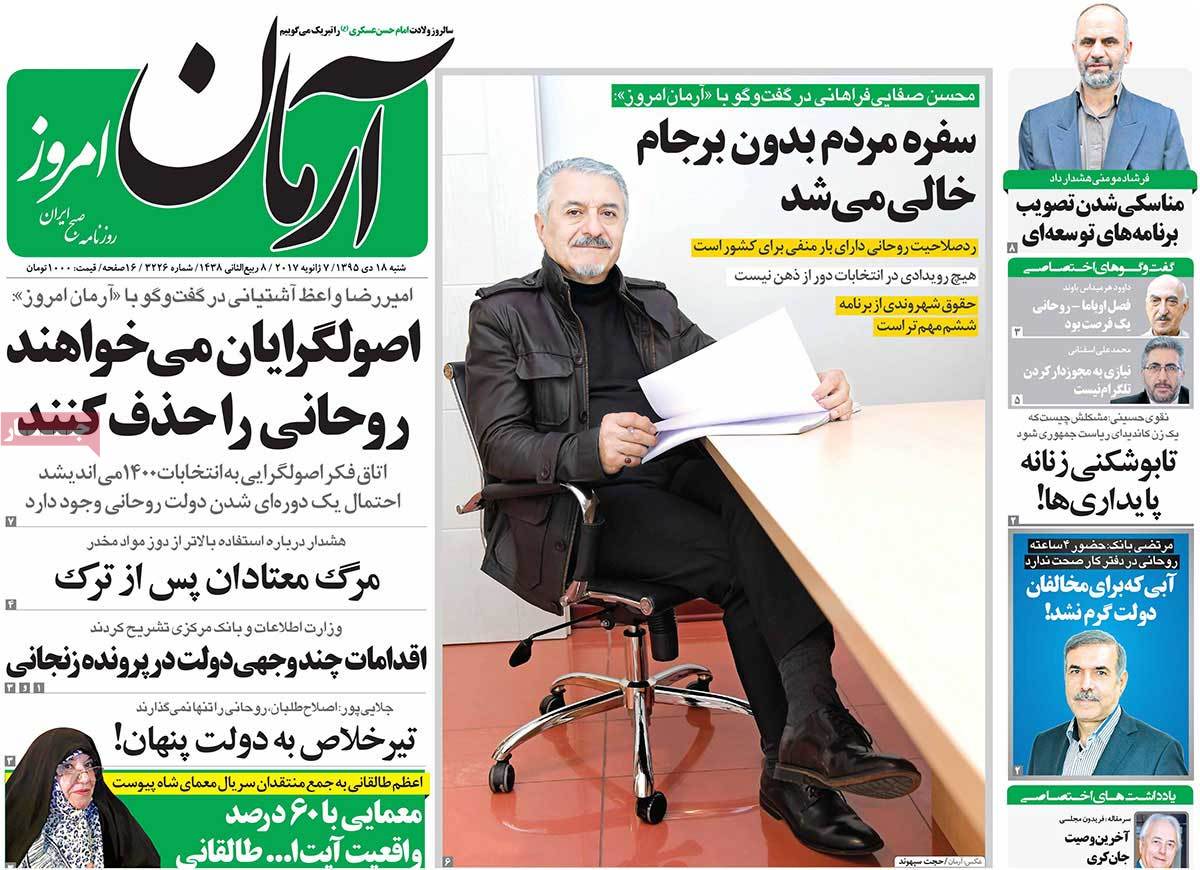 ---
Asrar:
1- Foreign Ministry Spokesman: Turkish Officials Would Better Be Careful about Their Unconstructive Remarks
2- Farhadi's 'The Salesman' Wins Best Foreign Language Film Award at National Board of Review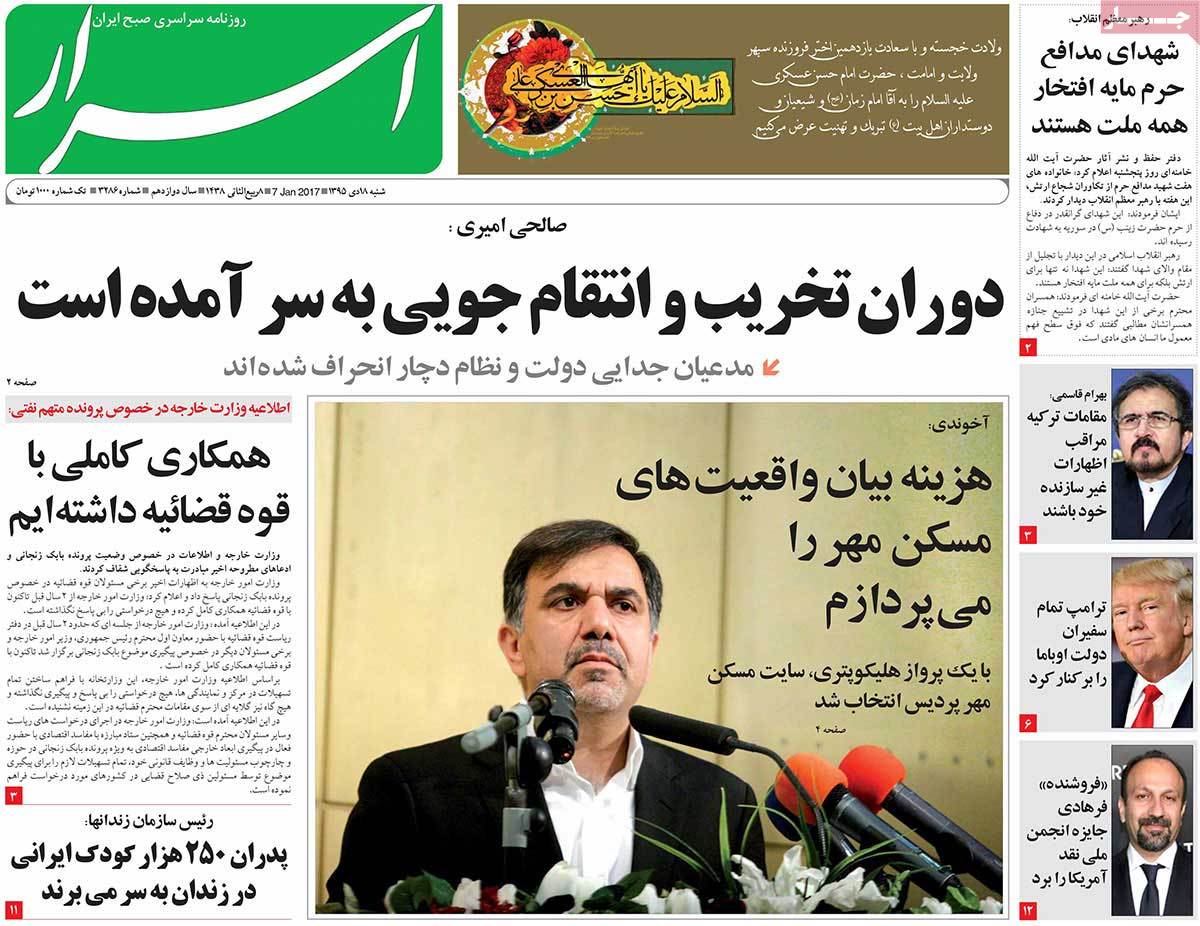 ---
Ebtekar:
1- Iran's Leader: Protectors of Holy Shrines [in Syria and Iraq] Have Paralysed the Enemy
2- Women en Route to Presidential Palace: Women's Candidacy in Presidential Votes
3- Women Not Allowed! Official Says It Is Below Women's Dignity to Ride Subway Trains!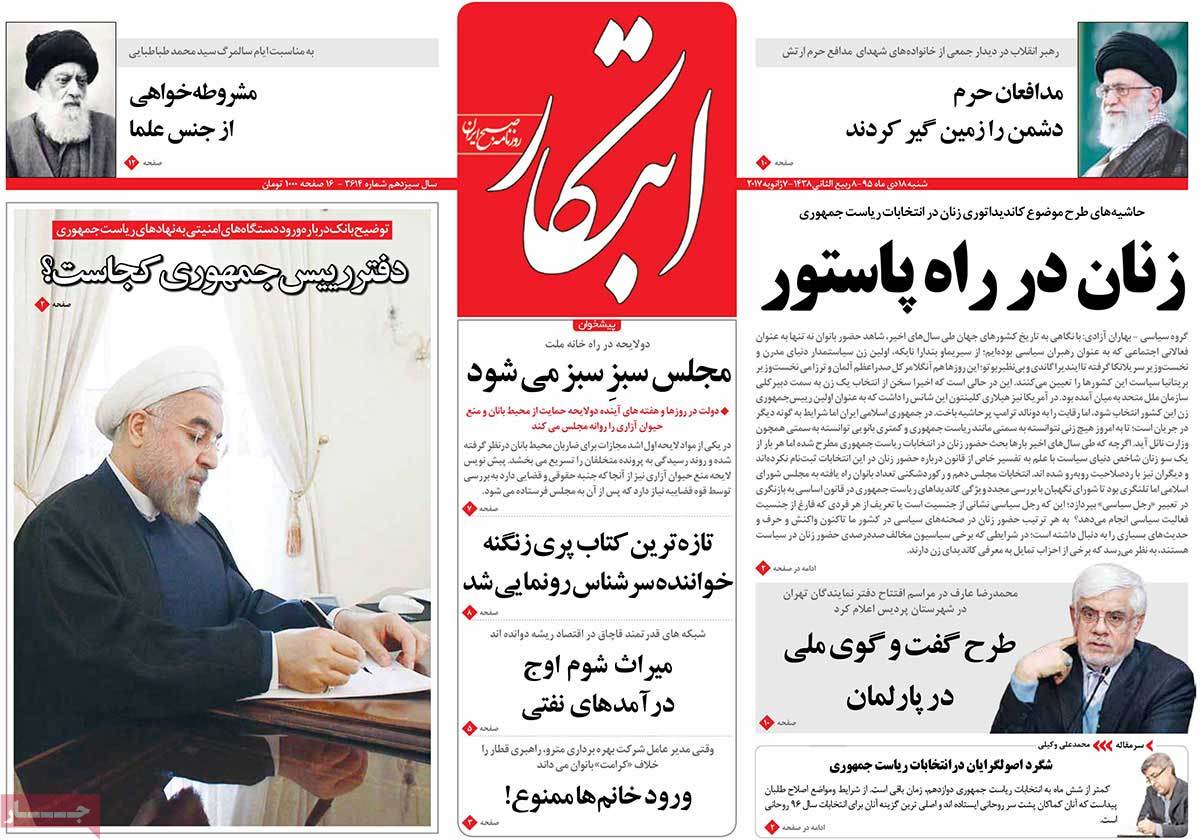 ---
Etemad:
1- Doctors Who Have Contract with Government Are Now Allowed to Run Personal Office: Physicians in a Dilemma of Choosing between State-Run Hospitals and Private Offices
2- Rouhani Has Had a Reformist Performance: Politician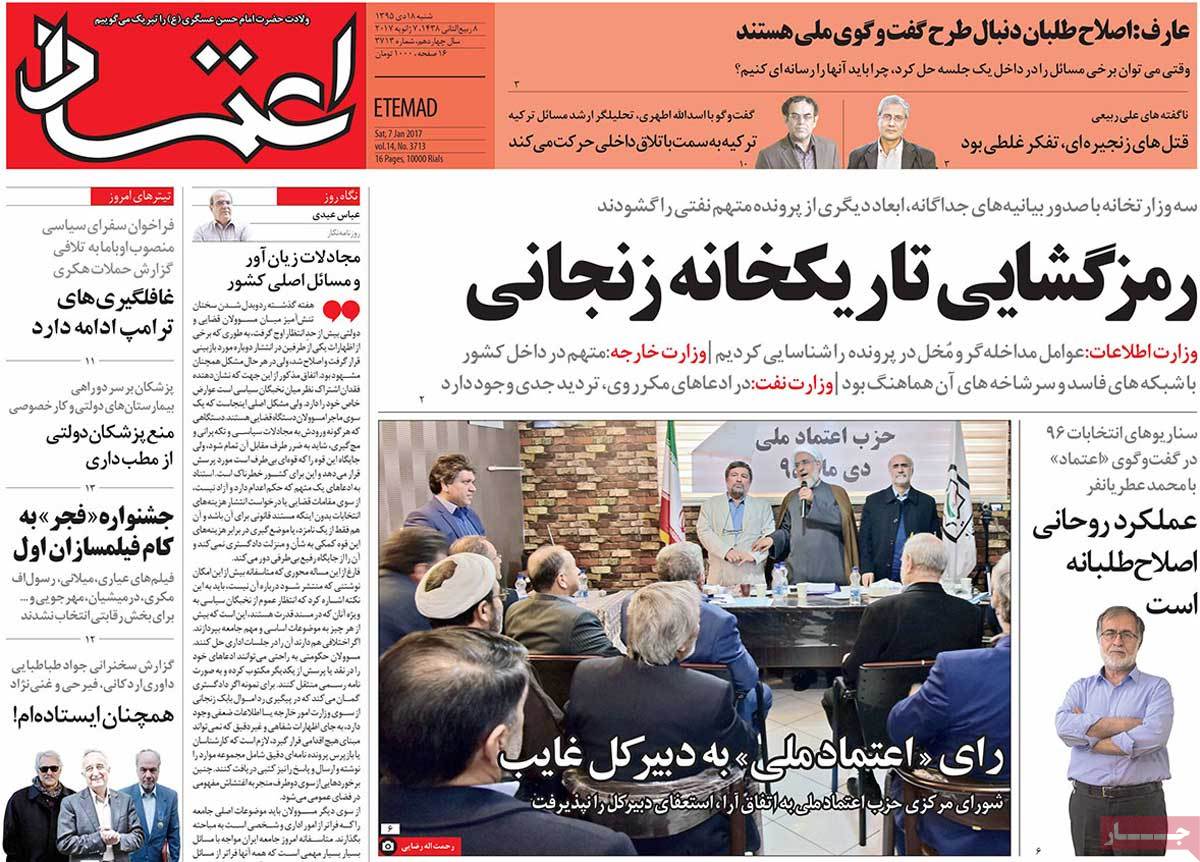 ---
Ettela'at:
1- Trump Orders Dismissal of All American Diplomats before His Inauguration
2- Oil Minister: We Have No Problem for Increasing Our Gas Output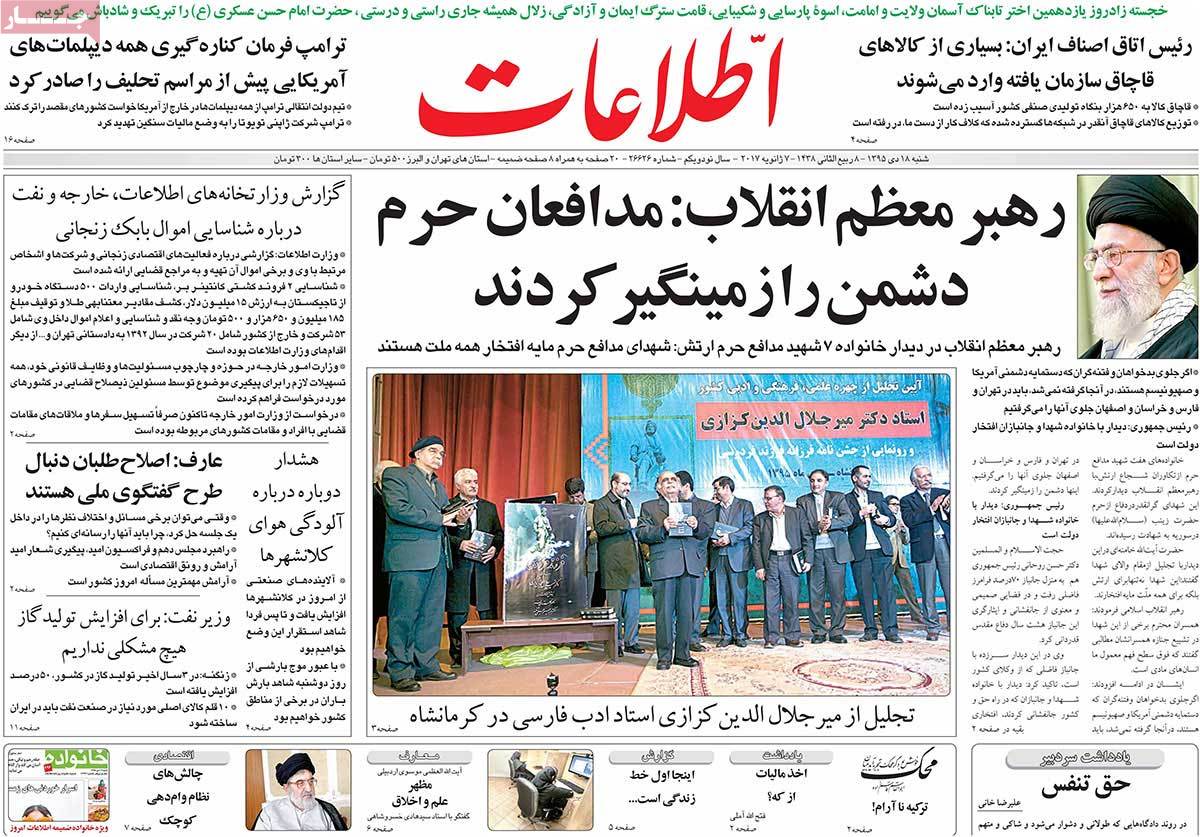 ---
Haft-e Sobh:
1- Iranian Earthquake in Empires of KIA and Hyundai: Several Famous Korean, Japanese, and German Brands Removed from List of Permitted Car Imports
---
Hemayat:
1- IRGC Aerospace Commander: We Are Able to Produce Any Type of Missile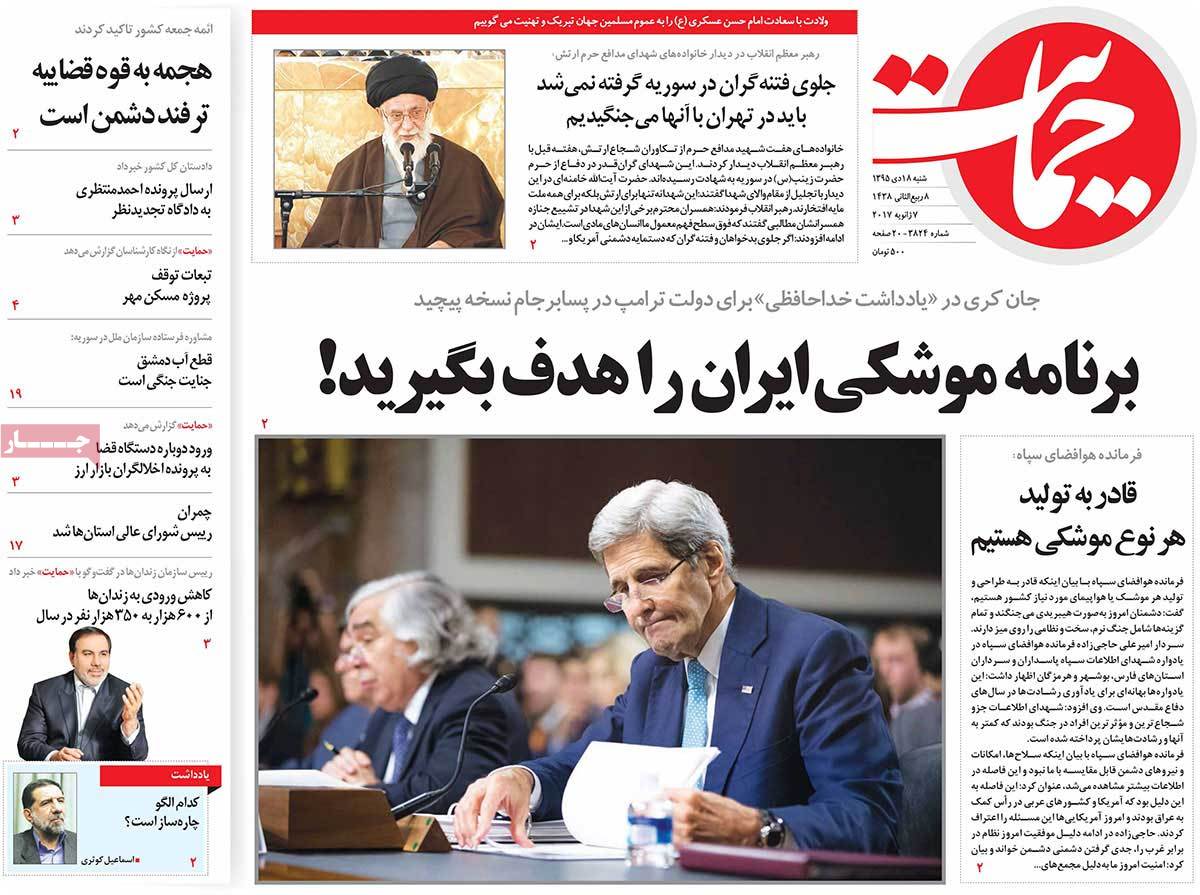 ---
Iran:
1- Spokesman: Iran's Oil Income in Post-JCPOA Era Has Increased $3.3 Billion Each Month
2- Ministries of Foreign Affairs, Petroleum, and Intelligence as Well as Central Bank Announce What They Have Done in Babak Zanjani's Case
3- Trump: All Obama's Ambassadors Should Resign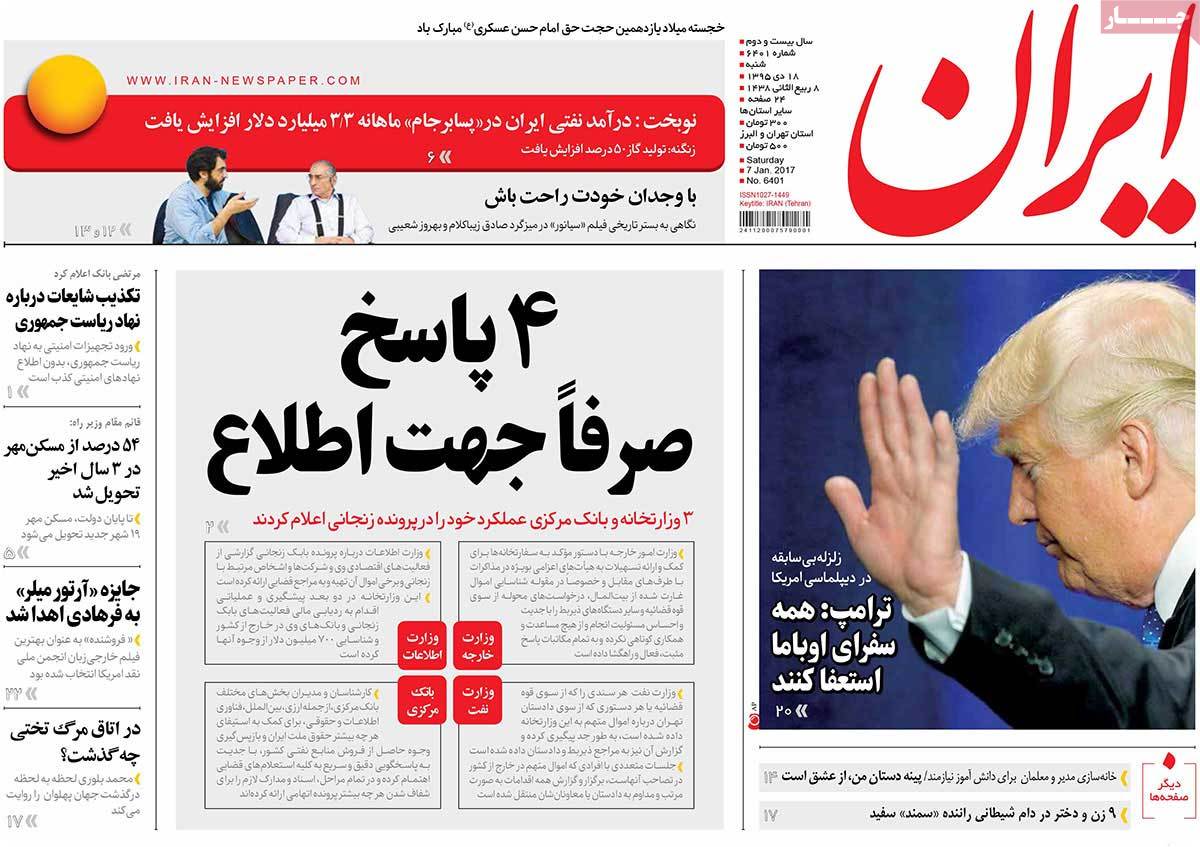 ---
Javan:
1- Iran's Leader: We Should Fight Enemies in Tehran If We're Not in Syria
2- Kerry: Now Is the Time for Trump's Pressure on Iran's Missile Program
---
Jomhouri Eslami:
1- 30,000 Barrels Added to Iran's Daily Oil Production
2- Biden to Trump: Act like Adults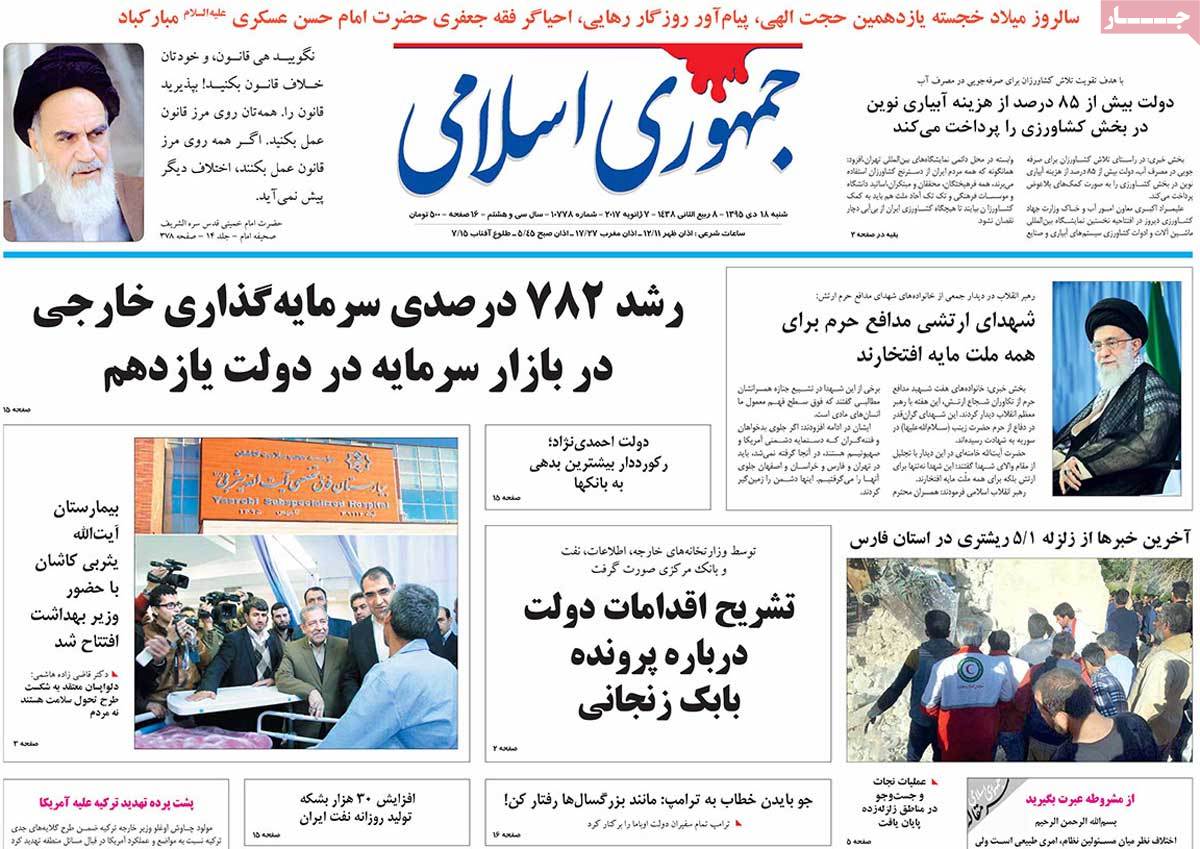 ---
Ka'enat:
1- Kerry's Farewell: Ties with Iran Will Remain in Dispute; No One Can Predict New Government's Foreign Policy; Scrapping Nuclear Deal Is a Dangerous Move
---
Kayhan:
1- Kerry Clarifies Win-Win Solution: We First Dismantled Their Nuclear Industry, Now It's Time for Their Missile Program
2- Prince Bin Talal's Unprecedented Confession: ISIS Was Created by Al Saud in Riyadh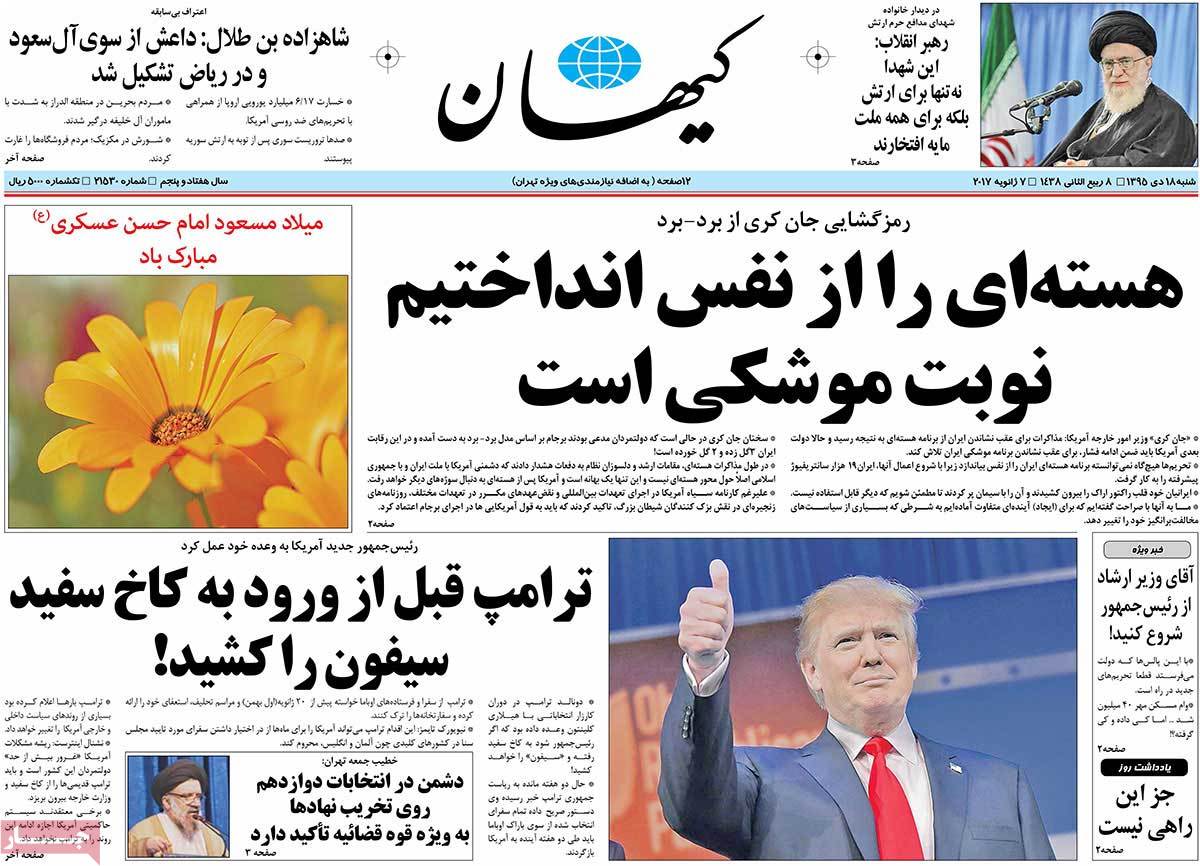 ---
Khorasan:
1- Kerry's Historic Confession: We Let ISIS Gain Power
---
Mardom Salari:
1- Trump Destroying Roots of American Diplomacy: All US Ambassadors Dismissed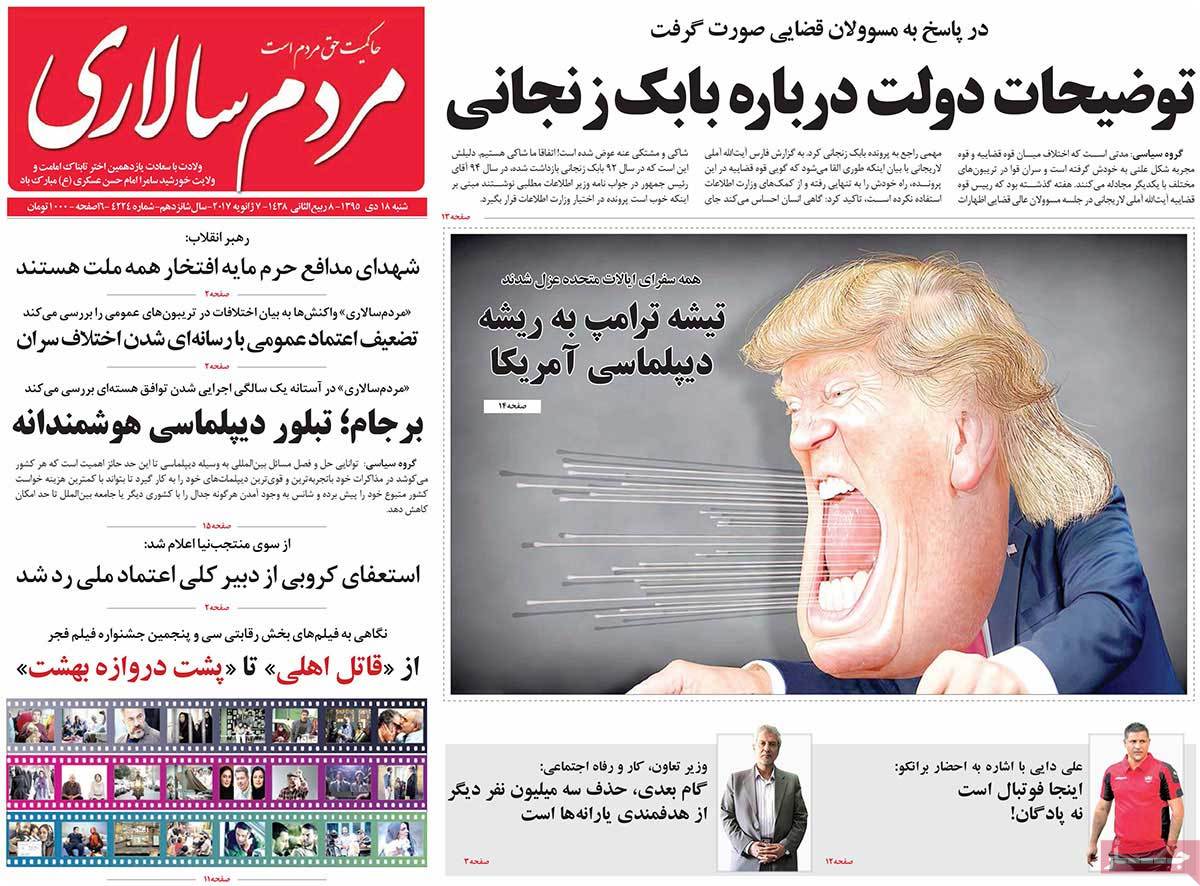 ---
Rah-e Mardom:
1- Takfiris [extremists] Have Repeatedly Tried to Explode Tehran's Mosalla [Grand Mosque]: IRGC General
2- Kerry: Nuclear Deal Proved Power of Diplomacy
3- Young People's Hot Fever for Living with Strange and Odd Animals in Capital City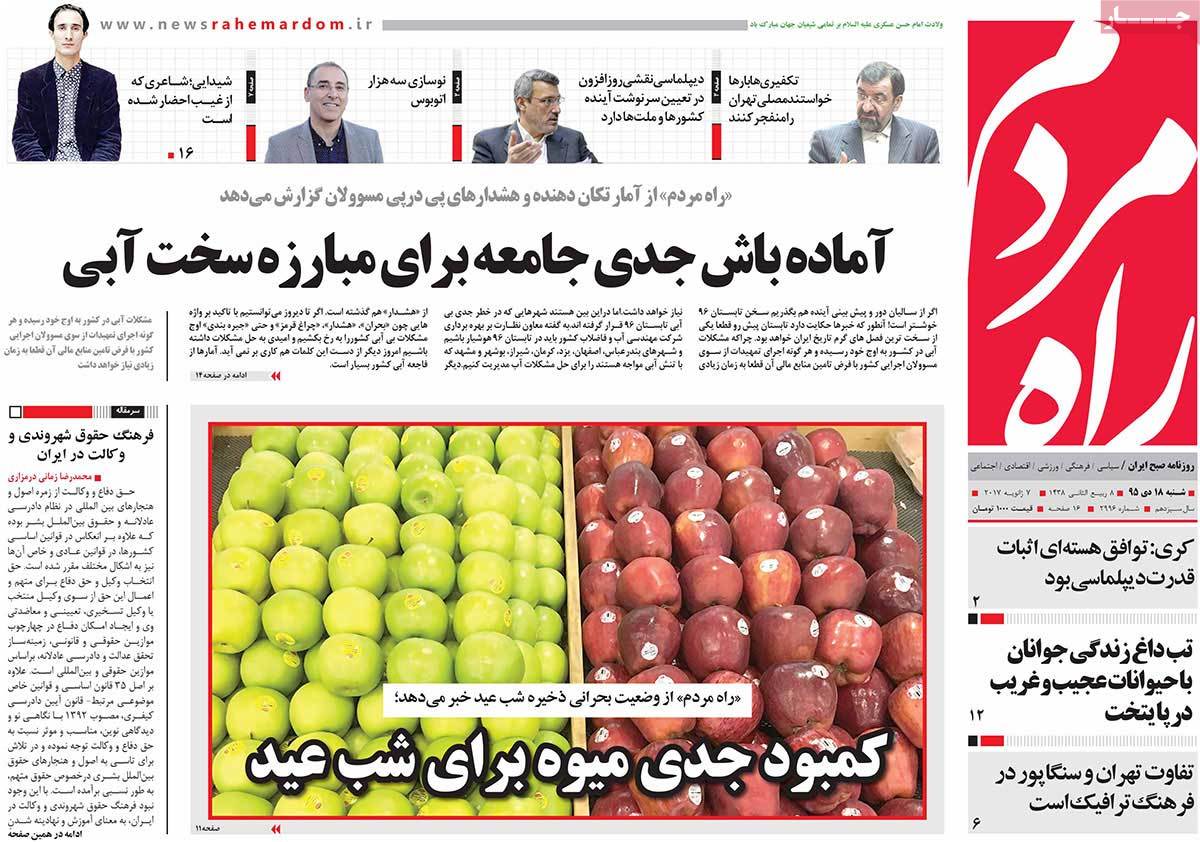 ---
Sayeh:
1- Iran's Oil Exports to China in 2017 Will Break Records
---
Shahrvand:
1- Holes of Death under Tehran's Feet: Danger of Land Subsidence in Various Parts of Southern Tehran Including Mehrabad Airport, Railway Station, and Gas Stations
2- Smugglers Sending Iran's Fertile Soil to Arab Countries: Plundering Thousand-Year-Old Heritage
---
Shargh:
1- JCPOA Proponents Are Going: Kerry Writes Goodbye Letter
2- Oil Businessman's $1-Billion Gift to Iran: First Post-JCPOA Contract Signed