Newspapers today covered the end of 9-day operation to remove the debris remained after the tragic collapse of Plasco Building in central Tehran.
The executive order signed by US President Donald Trump to ban citizens of 7 countries including Iran from entering the US also received great coverage, with several newspapers focusing on the move by Taraneh Alidousti, the Iranian actress, to boycott the upcoming Academy Awards ceremony in protest at Trump's ban.
The flood in Sistan and Baluchestan province in southeastern Iran and the dust pollution in Khuzestan province in southwestern Iran were among other top stories today.
The above issues, as well as many more, are highlighted in the following headlines:
19 Dey:
1- American Interest Refers to Iran as World's 7th Big Power
2- Increased Exports after Removal of Sanctions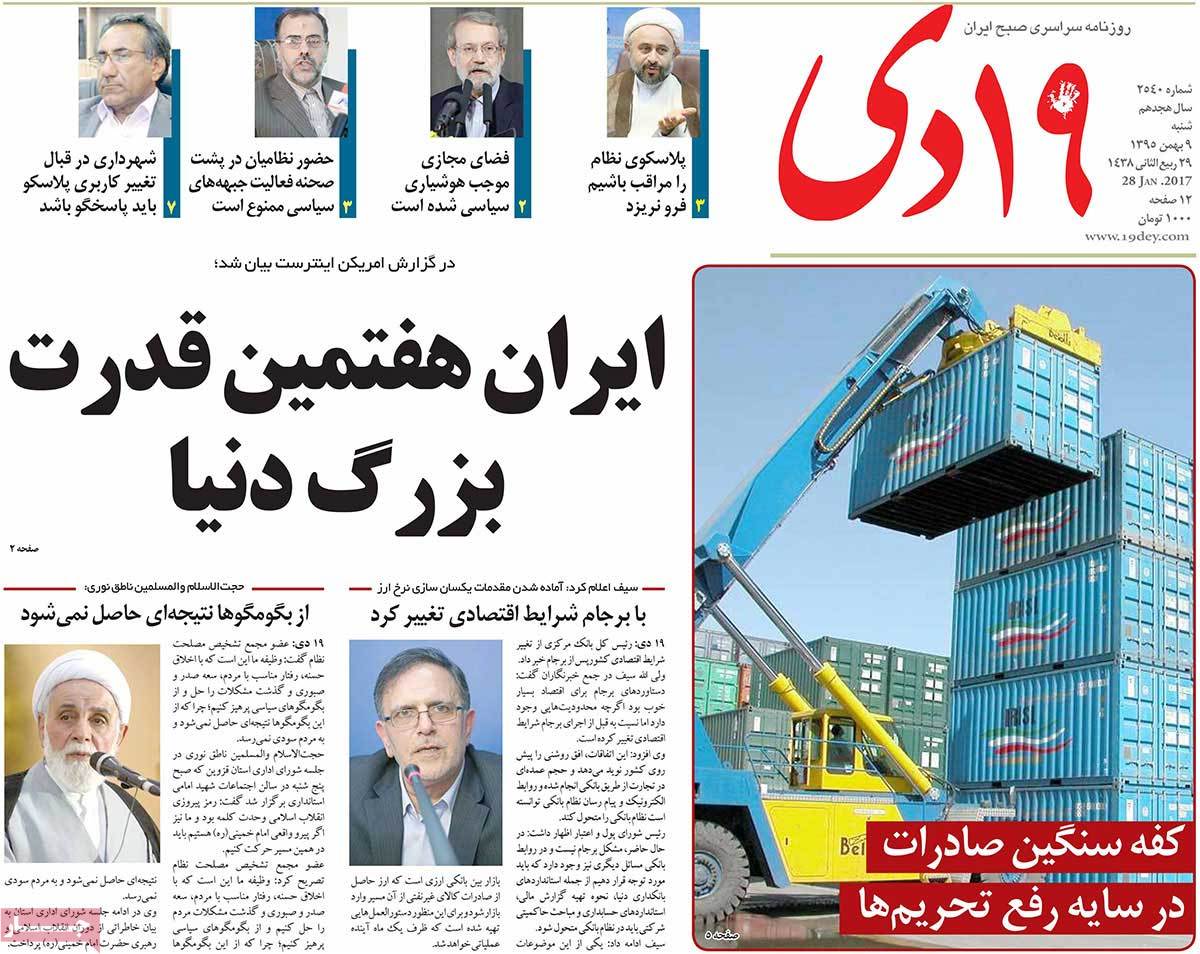 ---
Abrar:
1- Netanyahu: Trump Understands Danger of Iran Nuclear Deal
2- British PM to US Republicans: Britain's Priority Is to Prevent Iran's Influence in Middle East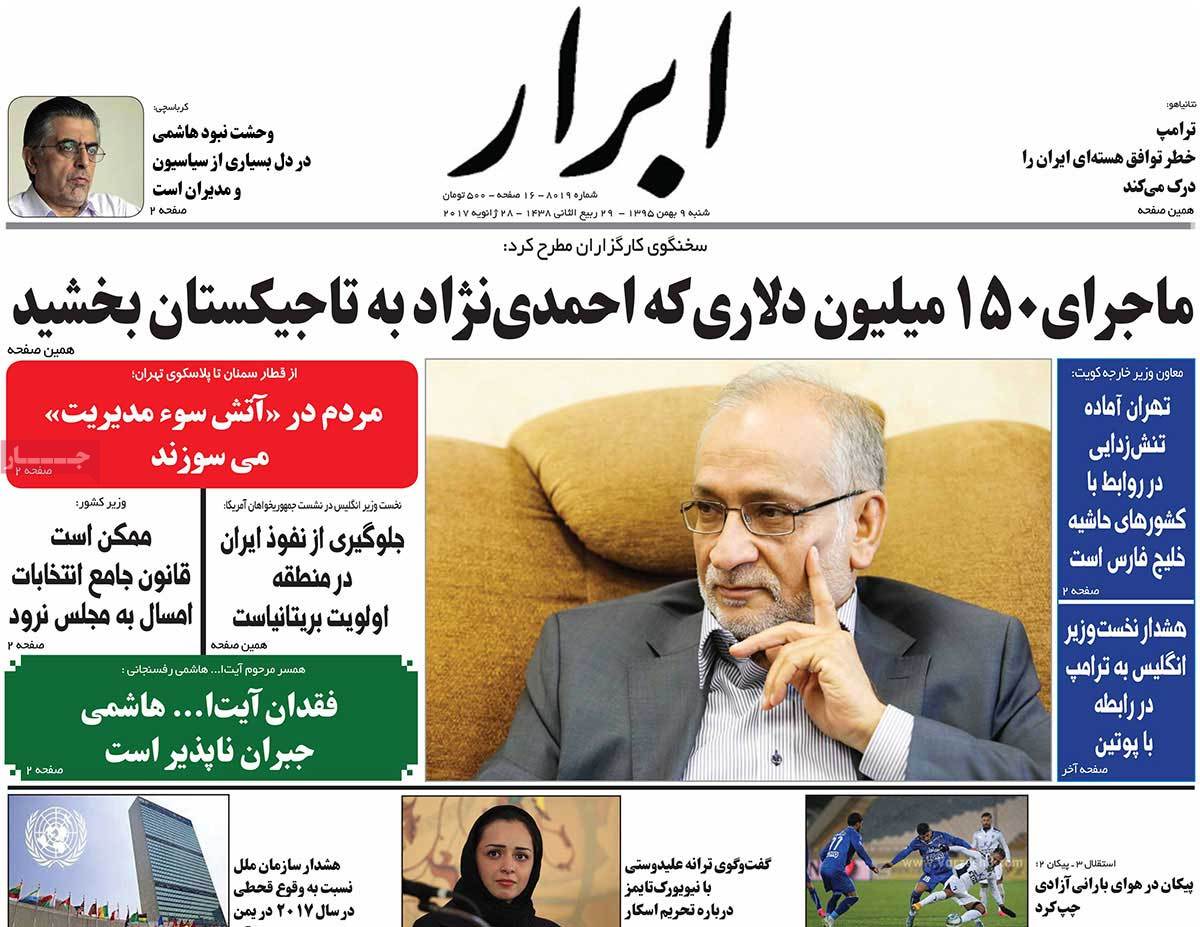 ---
Abrar-e Eqtesadi:
1- Indonesia Joins Customers of Iran's Oil
2- The $150 Million Ahmadinejad Gifted to Tajikistan
3- Turkmenistan Ready for Gas Talks with Iran
---
Afkar:
1- Nuclear Official: Iran to Become World's Fourth Producer of Stable Isotopes
2- Amano Urges All Sides' Commitment to JCPOA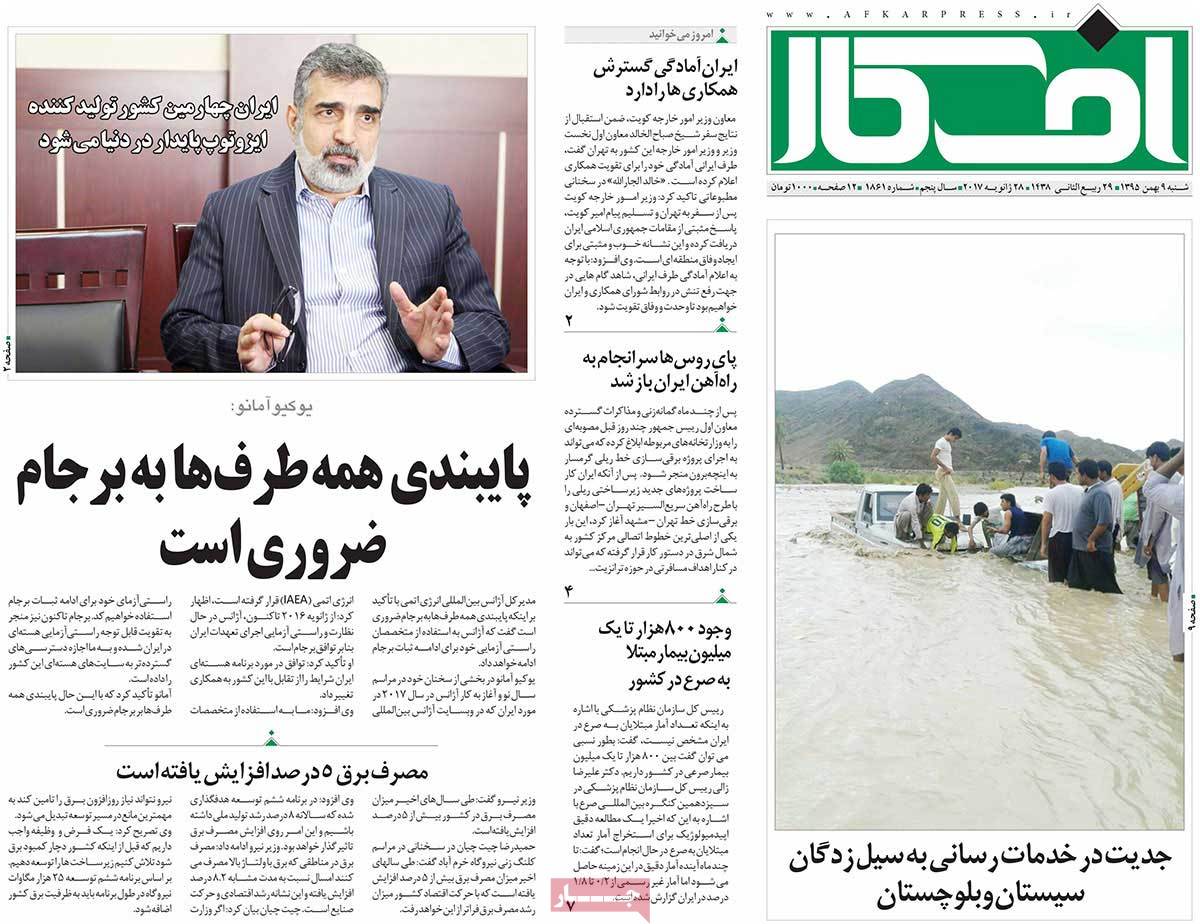 ---
Aftab-e Yazd:
1- Former Culture Minister Jannati: Opponents of Hashemi Rafsanjani Are Now Embarrassed; His Opponents' Repentance Cannot Be Accepted
2- Brutal Punishment of 6 Students in Iran's Qaen
3- 20-Day Smile of Isfahan: Return of Water to Zayandehroud River
---
Arman-e Emrooz:
1- 200-Hour Debris Removal Ends in Plasco Hell
2- Entry Denied in Trump's America
3- Details of Ayatollah Rafsanjani's Death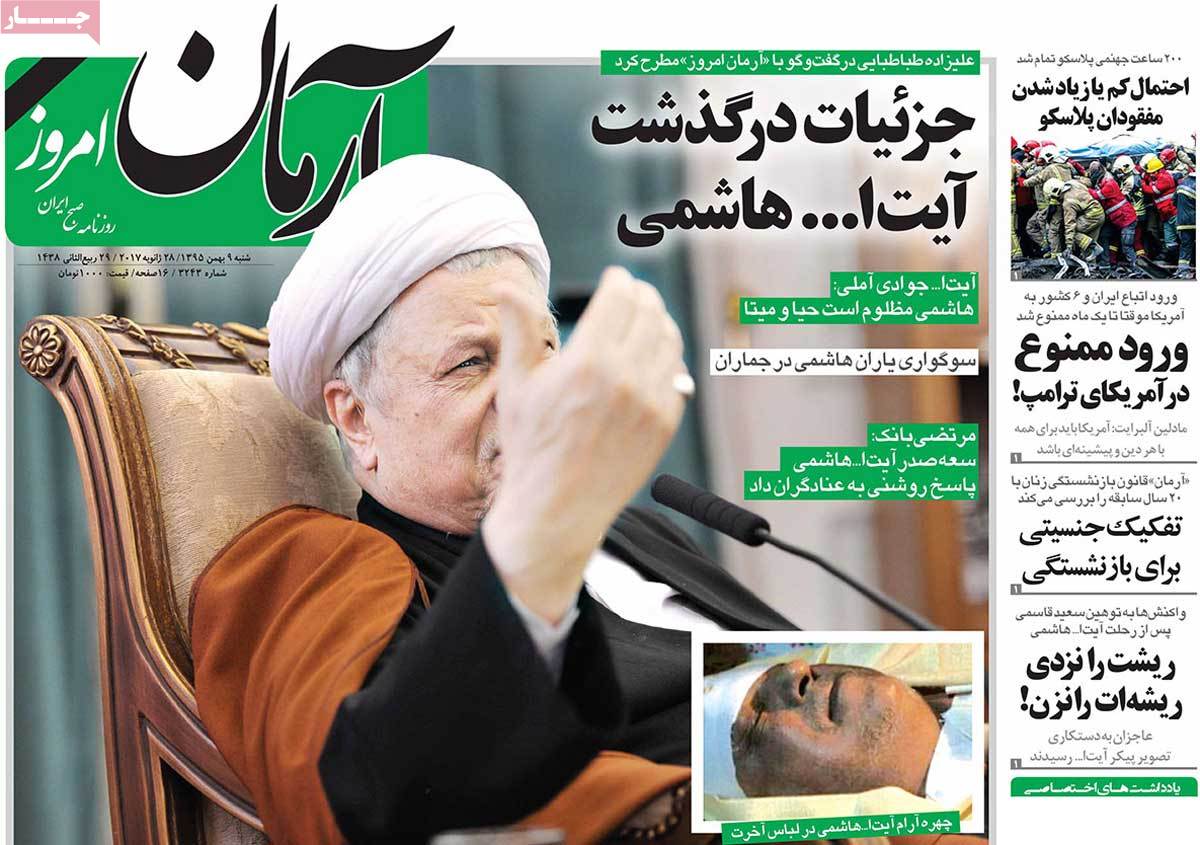 ---
Asrar:
1- JCPOA: The Point Where Iran's Destiny Become Different from Venezuela's
---
Bahar:
1- Flood of Disaster: River Flooding in East, Dust Pollution in South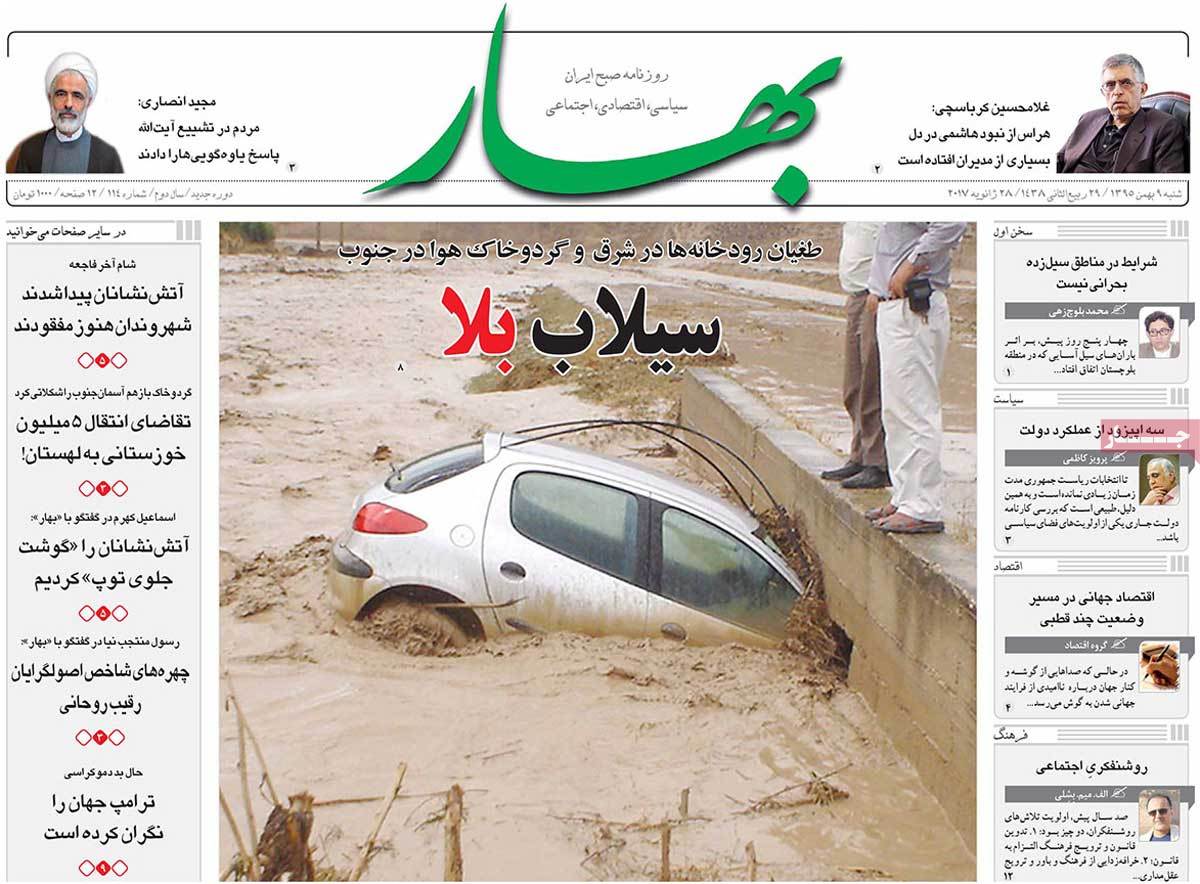 ---
Ebtekar:
1- This Homme Fatale: Reactions to Trump's New Order
2- Iranian Actress Taraneh Alidousti Will Boycott Academy Awards Ceremony in Reaction to Trump's Visa Ban
2- Iran Gripped by Water [flood in southeast], Wind [in central and south-centre], and Soil [dust pollution in southwest]: While Sistan and Baluchestan Is Suffering from Flood, Khuzestan Province Grapples with Dust Storm
---
Emtiaz:
1- Dust Pollution in Khuzestan, Snow and Rain in Iran
---
Etemad:
1- Trump's Brouhaha: Plan to Ban Entry of 7 Countries' Citizens to US; Mexico's Reaction to Wall Construction in US Borders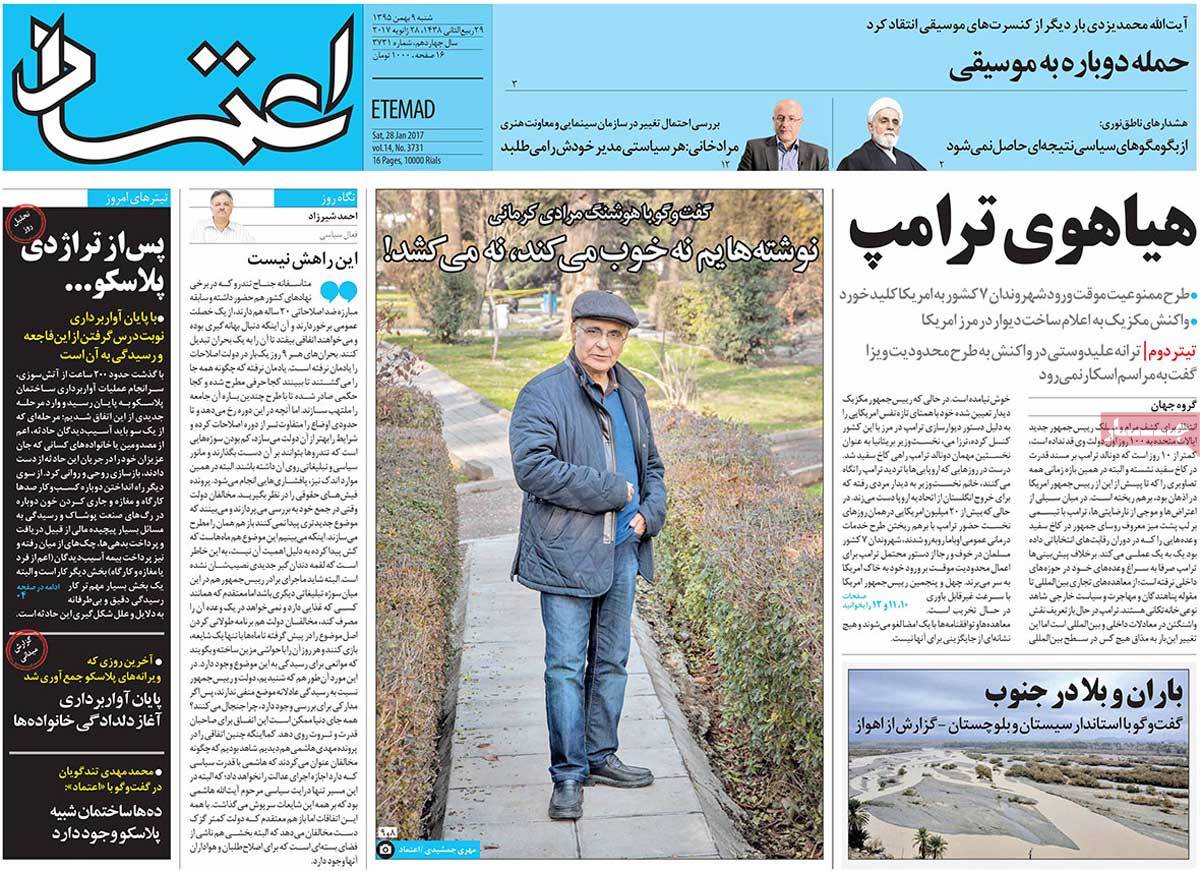 ---
Ettela'at:
1- Larijani: We Should Remove Barriers to Cultural Productions
2- Last Debris Removed from Plasco Tragedy
3- Temporary Settlements for 5,500 Flood-Hit People in Sistan and Baluchestan Province
4- Wave of Resignations and Protests by American Officials and People in Trump's First Week
---
Haft-e Sobh:
1- It's Over: Plasco Tragedy, End of Debris Removal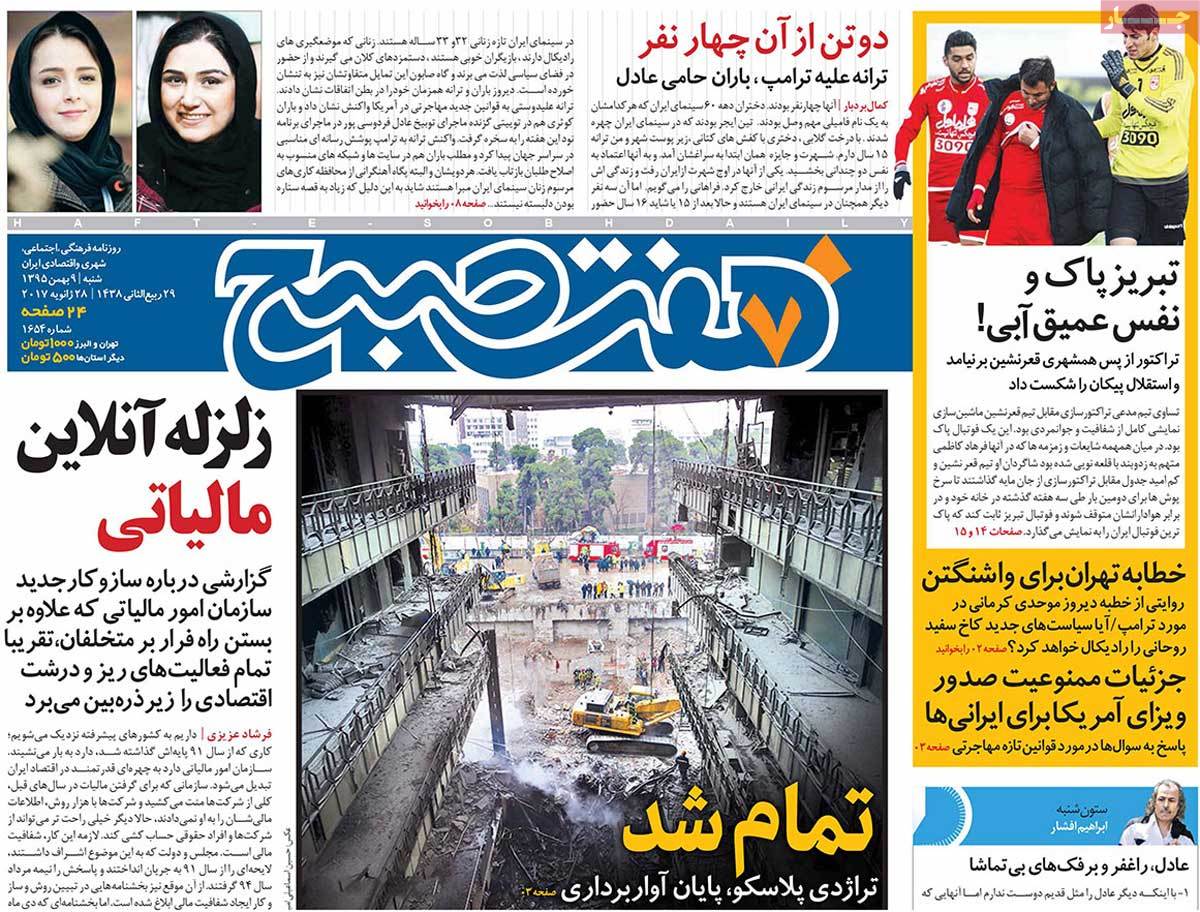 ---
Iran:
1- Debris Gone, Sorrow Remains: 16 Firefighters and 4 Citizens Killed, 235 Wounded in Plasco Incident
2- Iran Breaks Records in Exporting Crude Oil to Europe
3- Berlin and London Warn Trump about JCPOA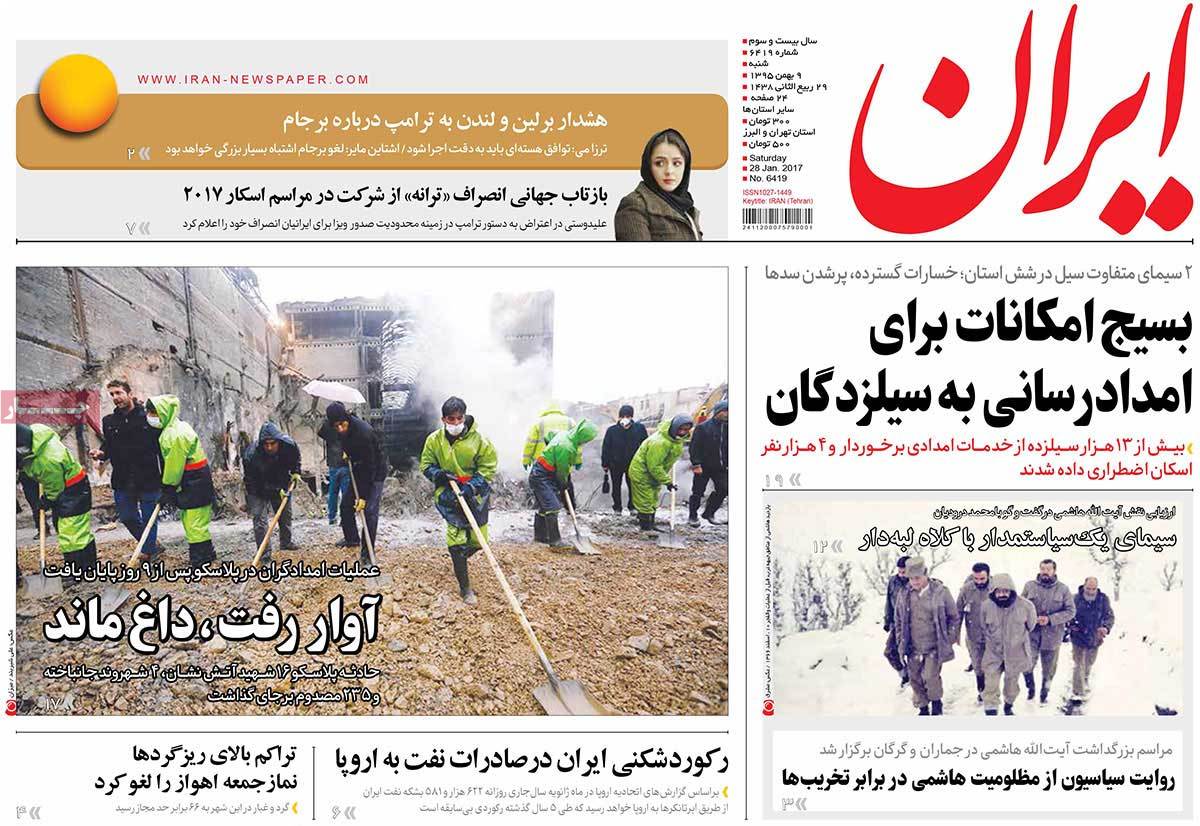 ---
Jame Jam:
1- The Old Fox Howling: British PM Pursues Iranophobia Project This Time in US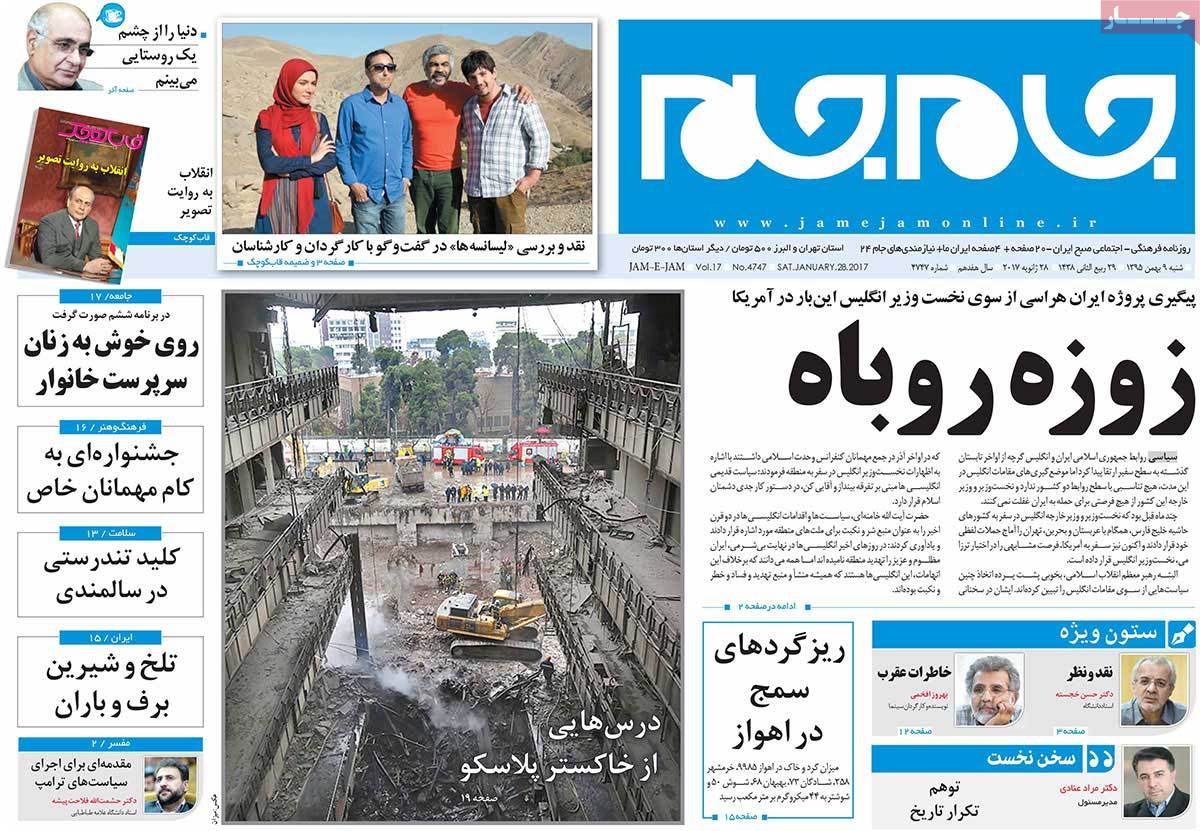 ---
Javan:
1- British Bridge between Eastern Europe and Western Asia: May Says We'll Interact with Russia in Eastern Europe to Control 'Crescent of Iran's Influence' in Eastern Mediterranean Region
2- Trump on Line of Countering Iran
3- UN: Nationwide Drought to Damage 14 Millions of Yemenis
---
Jomhouri Eslami:
1- Crisis of Governmental Disobedience against Trump
2- US Declines to the Category of World's Faulty Democracies
---
Ka'enat:
1- Good Trump and Bad Trump: A Look at Remarks Made by Senior Cleric Movahedi Kermani and Deputy Culture Minister Salehi in Foreign Policy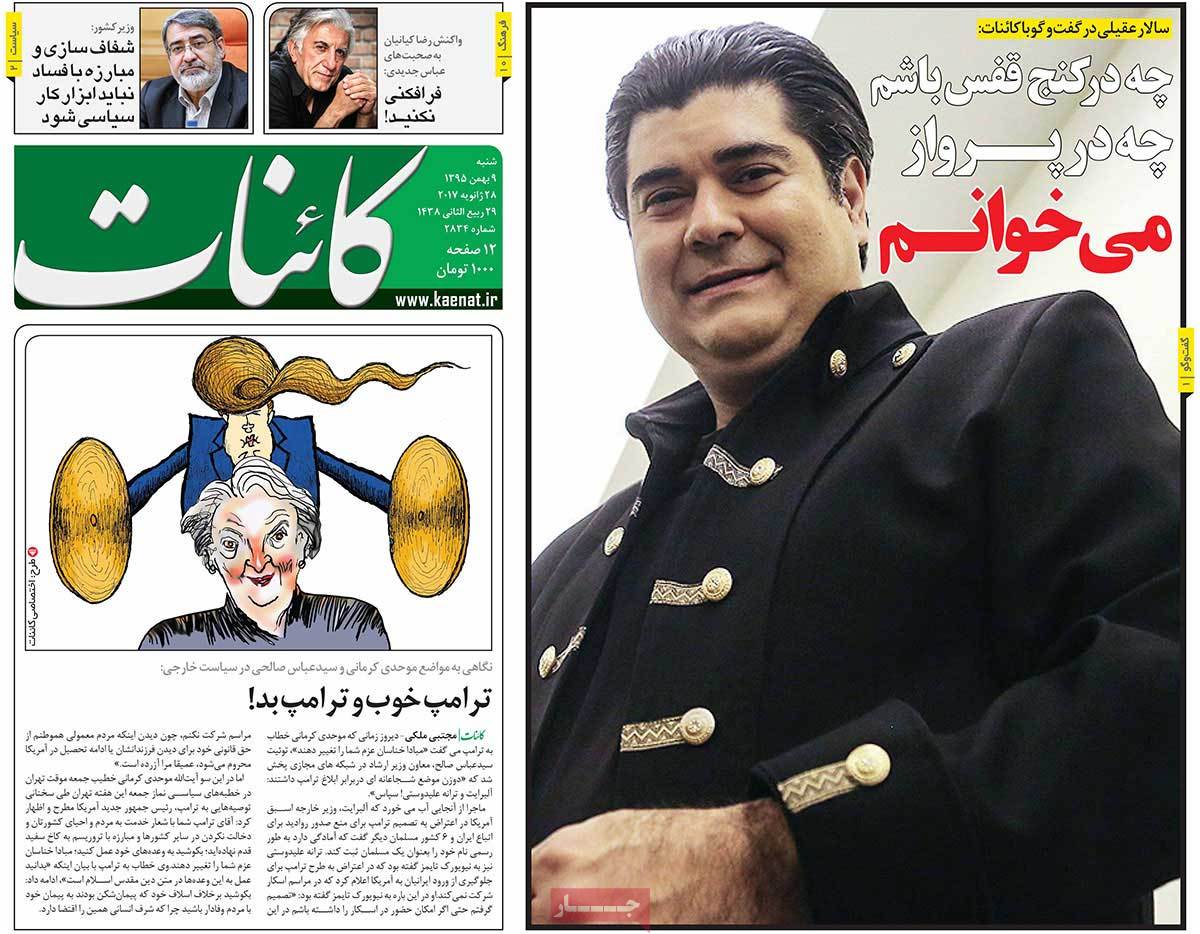 ---
Kayhan:
1- UN: One Child Dies Every 10 Minutes in Yemen
2- Obama Is Gone, but His Achievements Have Remained: Syrian Kid Freezes to Death near Turkish Border beside Fences
3- Senior Officials at US Department of State Resign in Protest at Trump
4- JCPOA New Means of Putting Iran under Pressure: British PM Says We Should Maintain Nuclear Deal While Pushing Iran Back in Middle East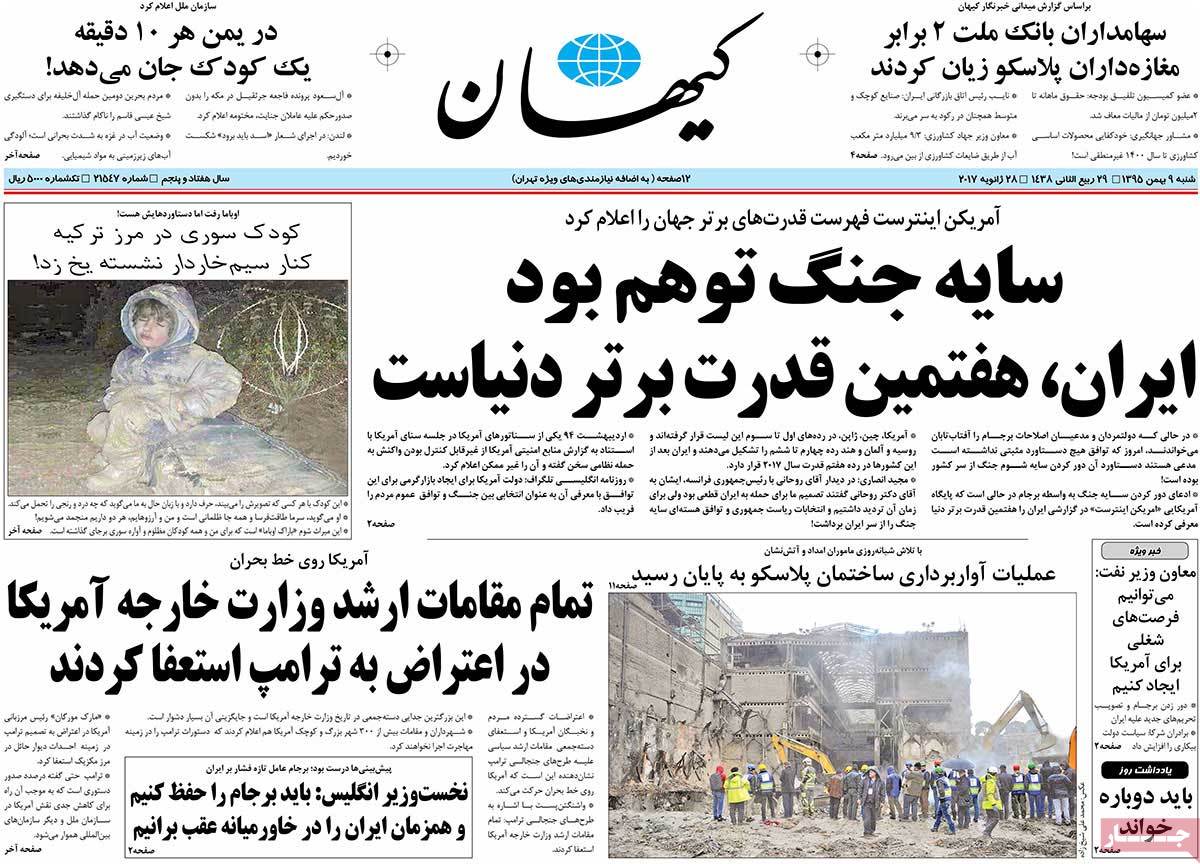 ---
Payam-e Zaman:
1- End of Debris Removal Operation after 9 Days of Firefighters' Efforts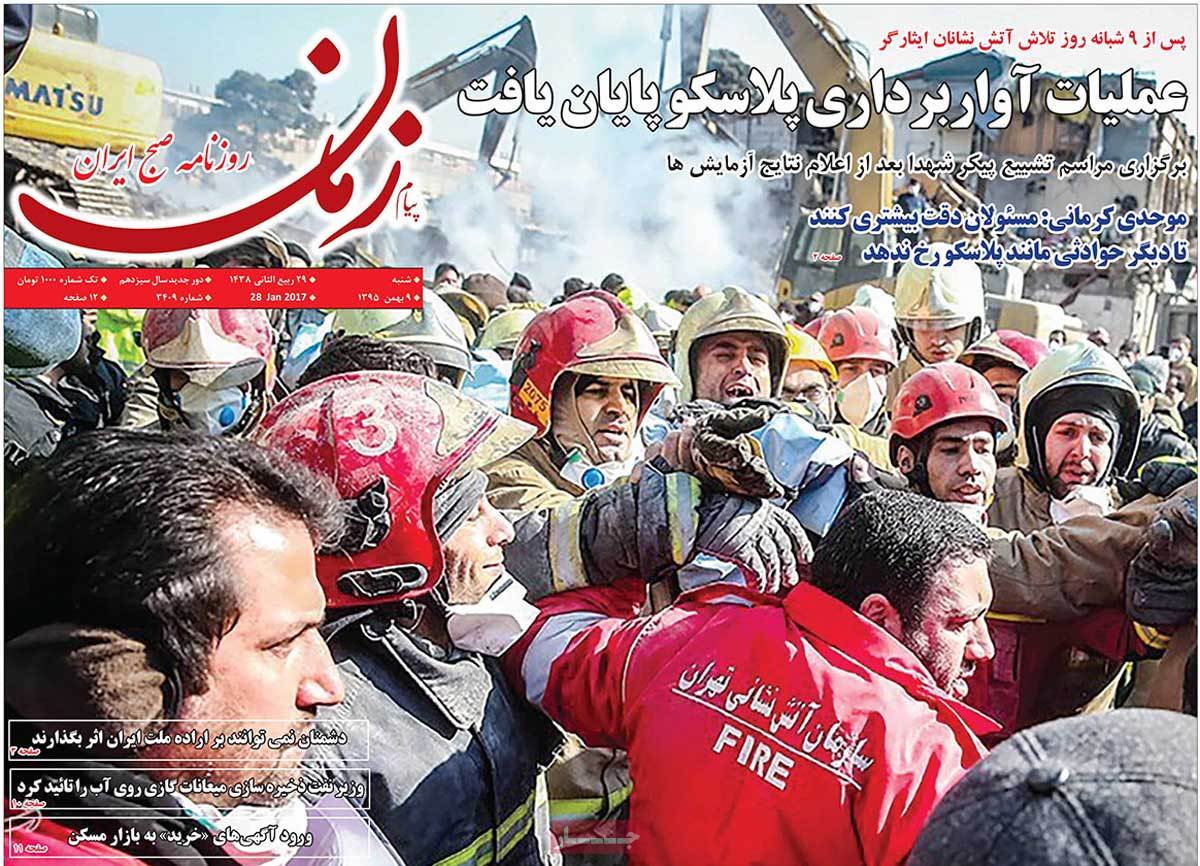 ---
Rooyesh-e Mellat:
1- Tehran Friday Prayers Leader: Al Saud's Foundation Shaking with Yemenis' Cries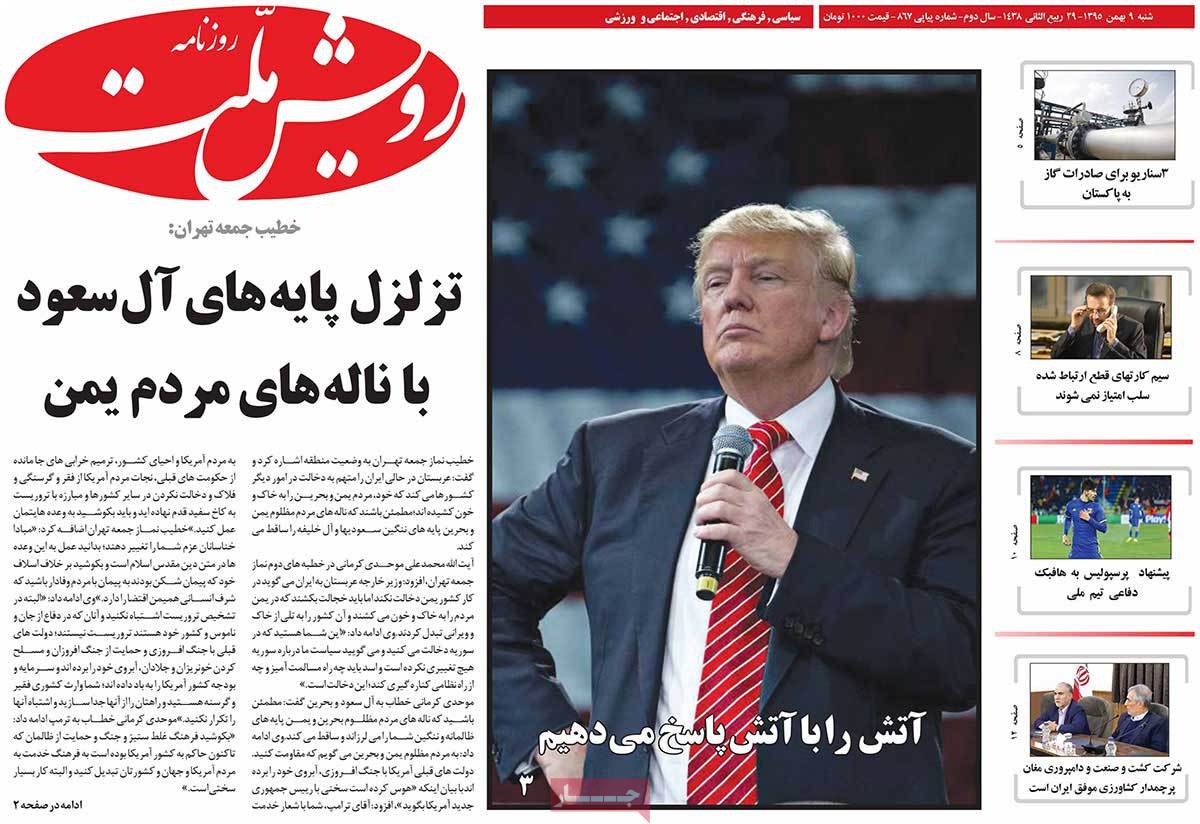 ---
Saheb Qalam:
1- 35 Iranian Oil Tankers Depart for Europe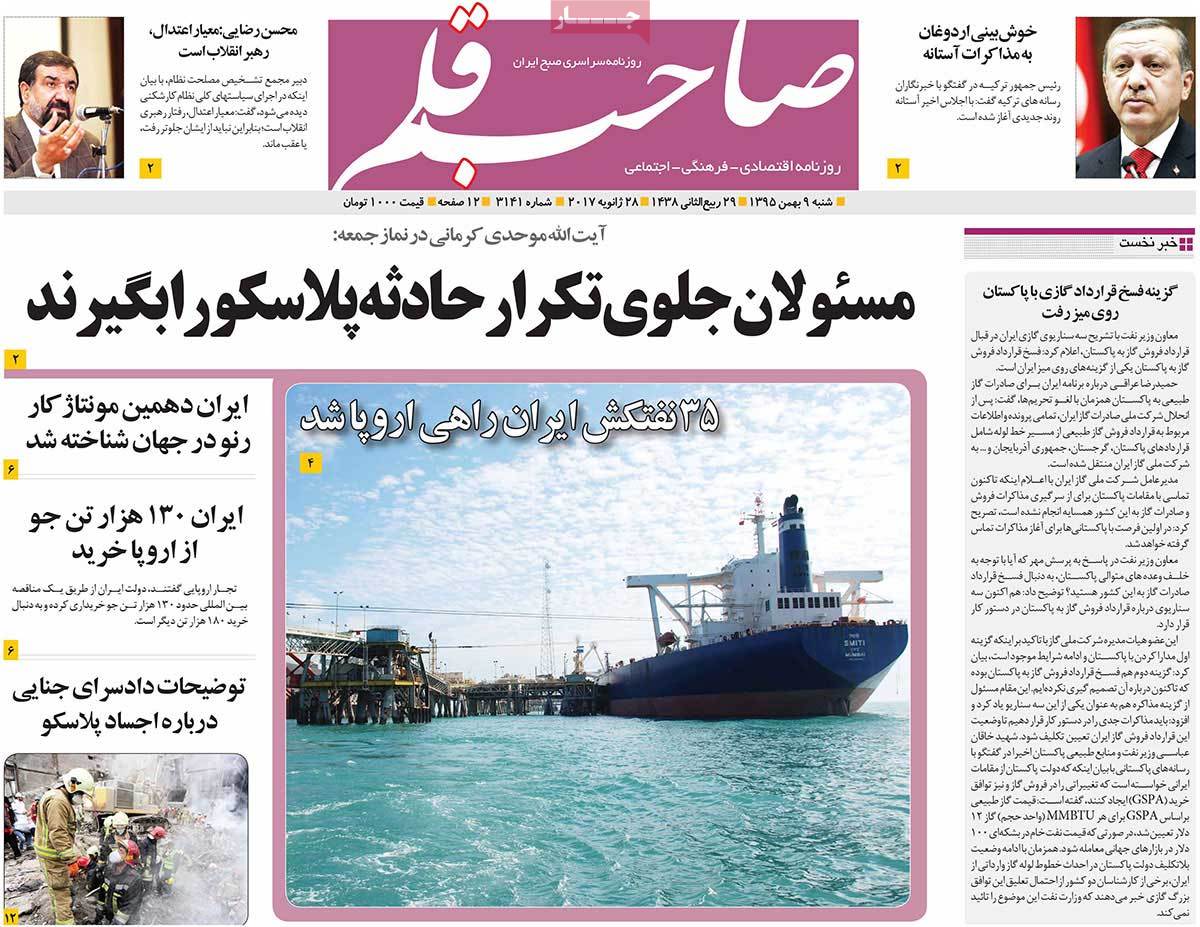 ---
Sepid:
1- Fear of Political Lobbies in Appointing New Head: Challenge of Choosing Next WHO Chief with Trump!
2- Yesterday, Air Pollution in Southwestern Iranian City of Ahvaz Was 66 Times Higher than Standard
---
Setareh Sobh:
1- World Order in Danger: Trump Introduces His Policies
2- Iran's Nuclear Chief Relates Untold Stories about Nuclear Case and Attack on British Embassy; Int'l Community and Public Opinion Opposed to War and Military Invasion
---
Shahrvand:
1- Khuzestan Surrounded by Dust: Official Says Level of Dust Pollution Was Increased from Below 100 Micrograms to over 10,000 Micrograms in 2 Hours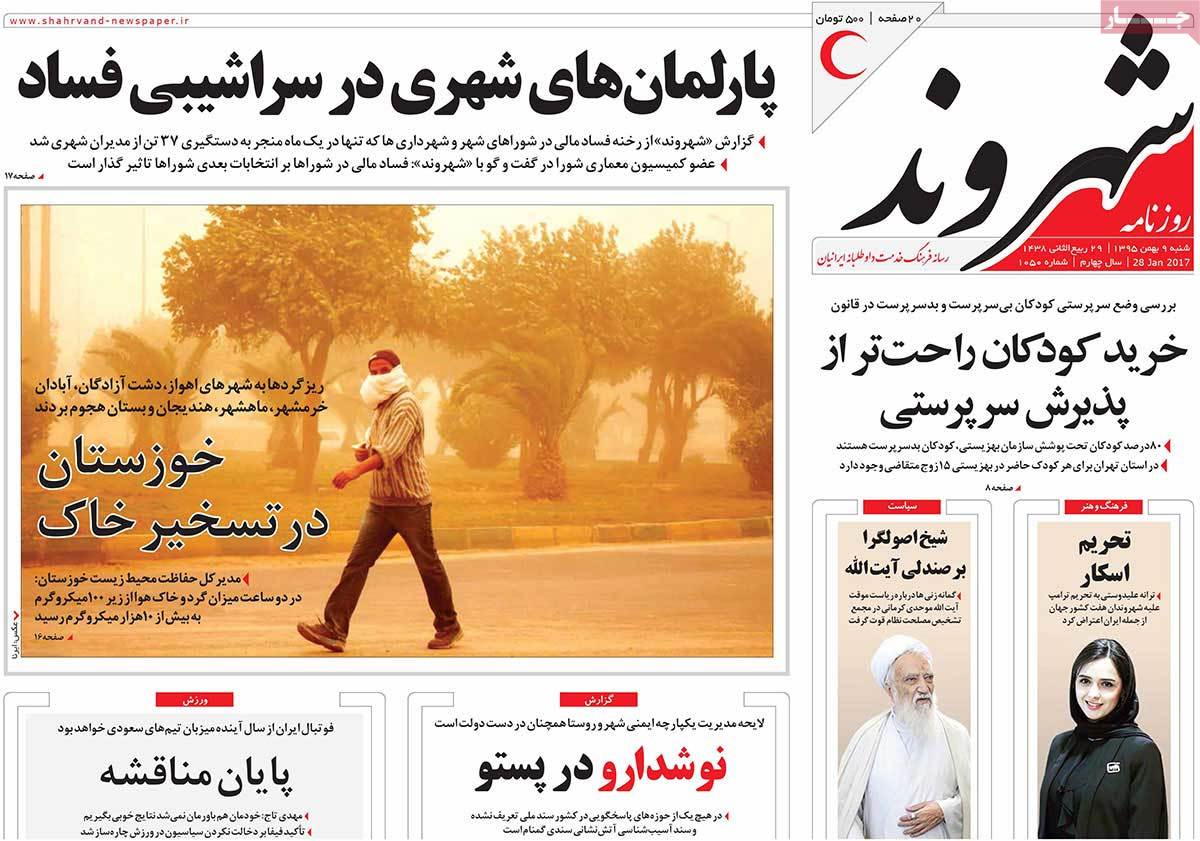 ---
Shargh:
1- Pieces of Advice for Trump in Tehran's Friday Prayers
2- Iranian Actress Taraneh Alidousti's Move to Boycott Academy Awards Widely Covered by World Media
3- Eyes that Didn't Sleep in Grave [Editorial about Ayatollah Rafsanjani's Death, Its Impact on May presidental votes, and the dismissed claim raised by an IRGC general about an empty coffin on day of funeral]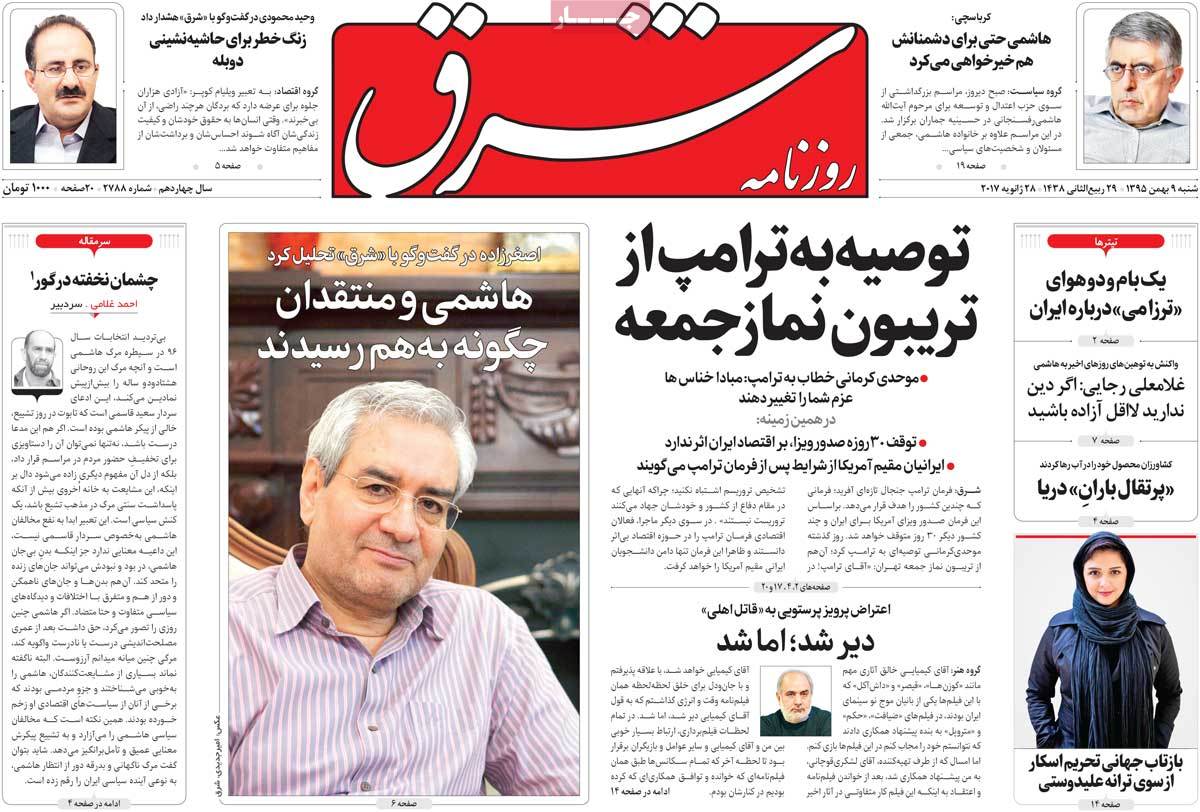 ---
Vaghaye Ettefaghieh:
1- Taraneh Alidousti Shines More than Ever in a Historic Frame: Iranian Actress's Protest at Trump's Visa Ban Leads to World Media Support for Her