Newspapers today covered the Kuwaiti Foreign Minister's meetings with Iranian President Hassan Rouhani and Foreign Minister Mohammad Javad Zarif. The Kuwaiti official delivered the message of his country's Emir to President Rouhani during his one-day trip to Tehran.
The ongoing operation to recover the bodies of firefighters and other citizens from the rubble of collapsed Plasco Building also remained a top story today.
US President Donald Trump's move to restrict issuance of US visa for Iranian citizens also received great coverage.
The above issues, as well as many more, are highlighted in the following headlines:
Abrar:
1- Municipality of Tehran and Fire Department Managers Should Answer: Where Are the Up-to-Date Firefighting Equipment You Were Taking about?
2- Iran's Parliament to Probe into Previous Government's Oil Faults
3- Iraqi PM Declares Full Liberation of East Mosul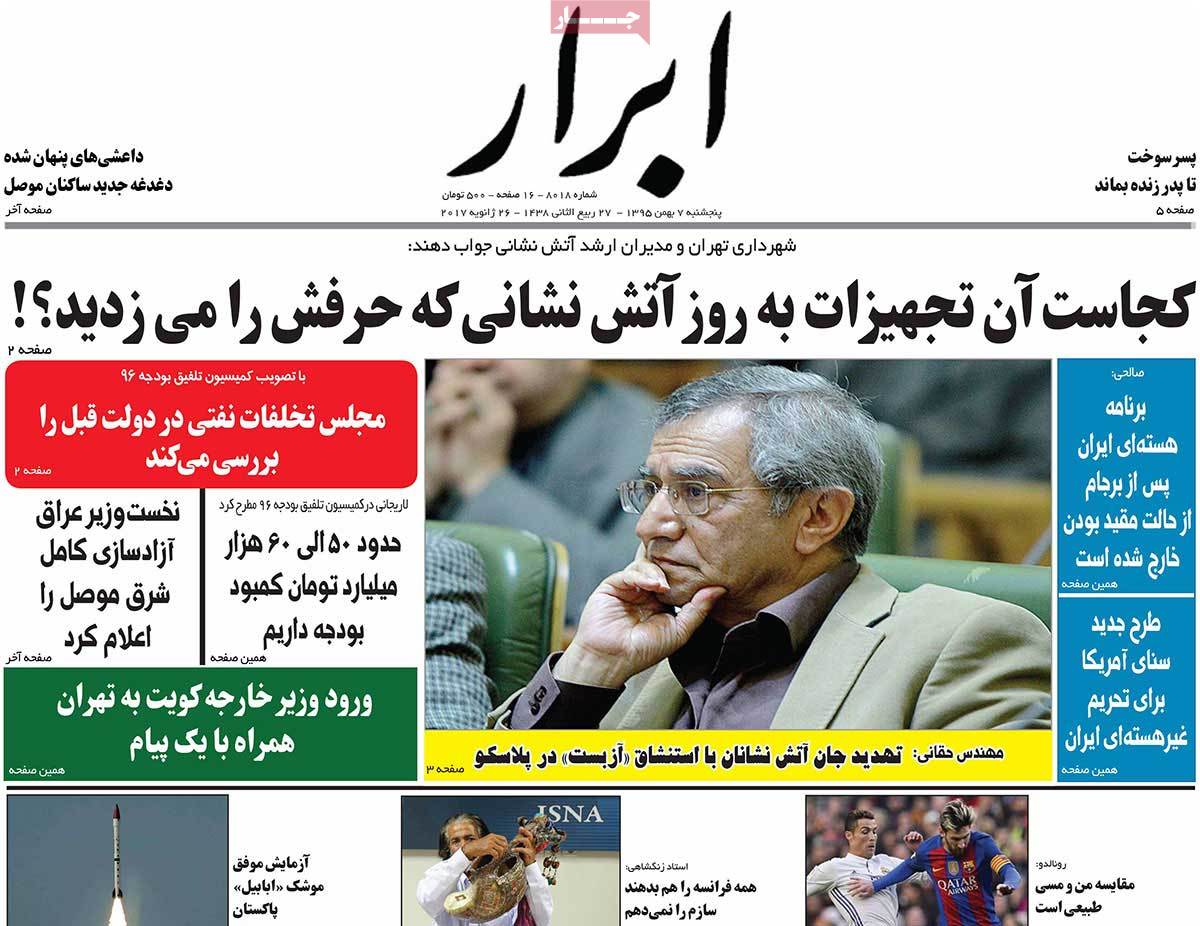 ---
Abrar-e Eqtesadi:
1- Parliament to Investigate Ahmadinejad's Oil Faults
2- Iranian Super Tankers to Dock at Rotterdam: 4 Million Barrels of Oil Sold to Shell per Day
3- Iran Breaks Record of Oil Sale to Europe: 10% Increase in Iran's Oil Exports to Europe
---
Aftab-e Yazd:
1- Plasco's Endless Tragedy: Bodies of 8 Firefighters Recovered on Wednesday; Rescue Team Extremely Impressed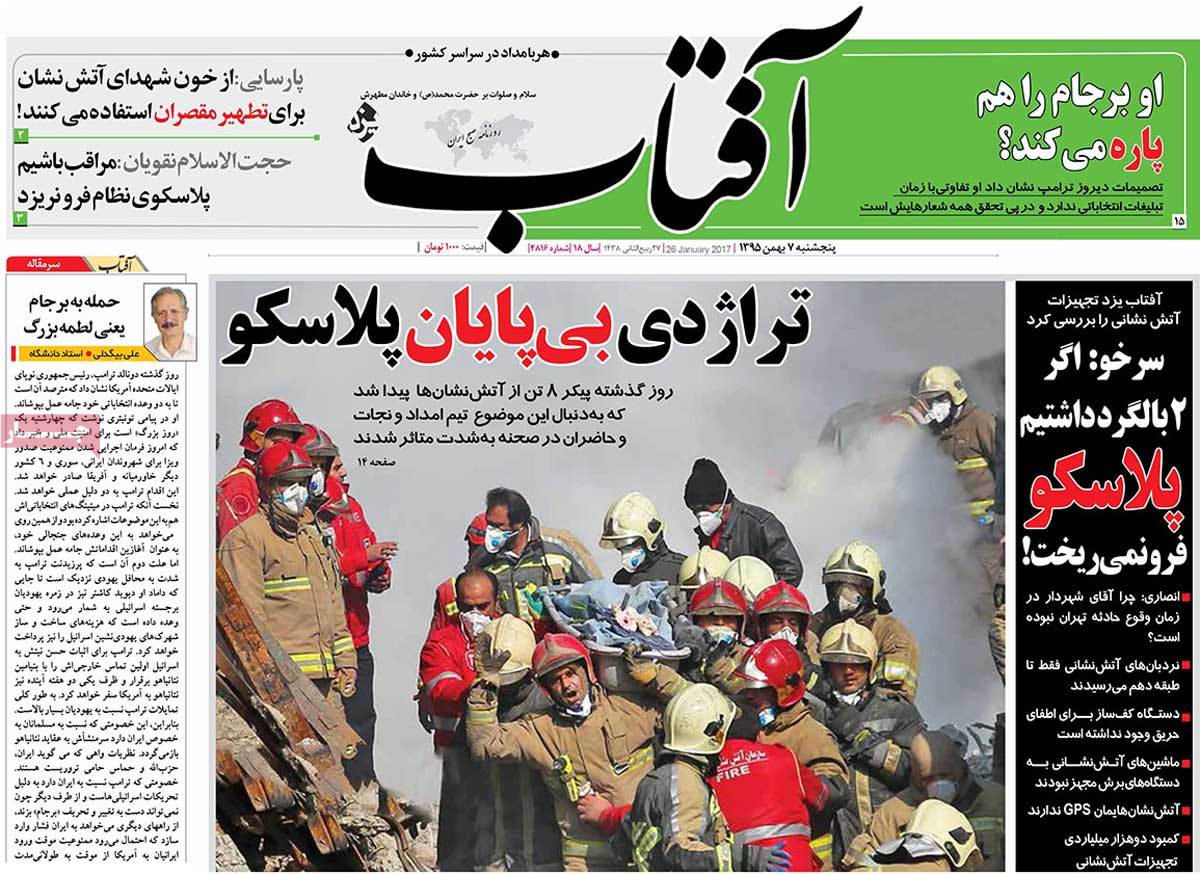 ---
Arman-e Emrooz:
1- Kuwaiti Emir's Letter Delivered to Iran's President: Saudi Arabia's Mediator in Tehran
2- Rouhani: Dialogue Is Main Solution for Middle East
3- Kuwaiti FM: Misunderstandings Can Be Settled in a Calm Atmosphere
4- Zarif: Kuwait's Role Is Admirable
5- A Few Days after Inauguration, Trump Restricts Issuance of Visa for Iranian Citizens Temporarily; US Senate's New Motion to Impose Nuclear Sanctions on Iran
6- Politician: We Should Beware of Iran Establishment's Plasco; Revolution's Sapling Planted by Wounded Hands of Ayatollah Hashemi Rafsanjani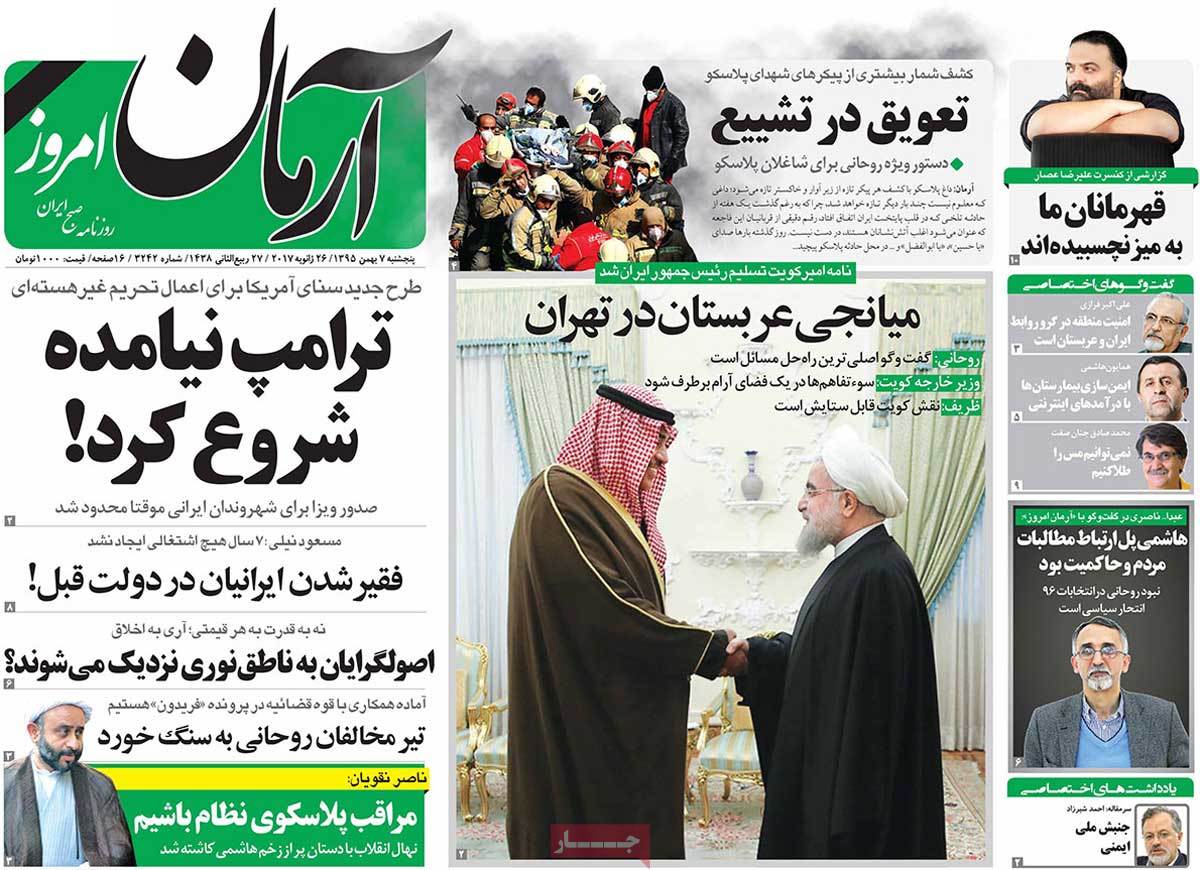 ---
Besharat-e Now:
1- A Report on Considerable Increase in Iran's Nuclear Activities after JCPOA: Global Interest in Nuclear Cooperation with Iran; Sharp Growth in Iran's Nuclear Activities One Year after Nuclear Deal and Increased Number of Documents of Nuclear Cooperation Signed with Different Countries
2- Iran and US Don't Have Political Interaction, but after JCPOA, US Was First Purchaser of Iran's Heavy Water
3- Deputy FM: JCPOA Revolutionized Iran's International Standing
4- 7-Year-Old Syrian Girl Writes Letter to Trump
5- Prosecutor General's Opposition to Stopping Death Penalty: Entire Law of Fight against Narcotics Should Be Revised
---
Etemad:
1- Pains and Regrets: Lump in Iran's Throat after Finding Bodies of a Number of Firefighters
2- Reformists Have Been the First to Call for National Reconciliation: Politicians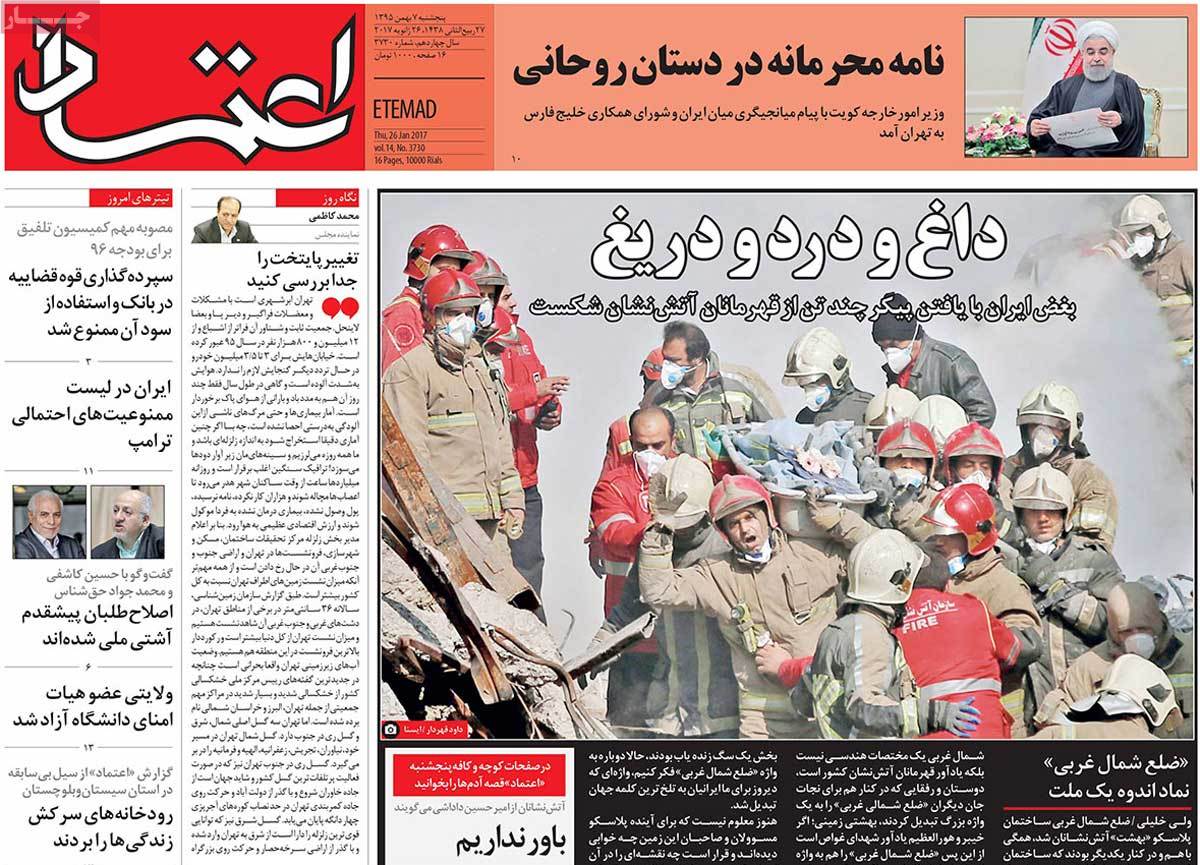 ---
Ettela'at:
1- President: Iran's Power Safeguards Regional Security and Stability; Iran Has Proved Its Role as Most Important Barrier to Any Aggression and Terrorism in Middle East
2- Iran's Cabinet Agrees to Form Working Group Tasked with Investigating Reasons for Plasco Building Collapse
3- EU Slams Israel for 'Systematic Unlawful Killings' in Gaza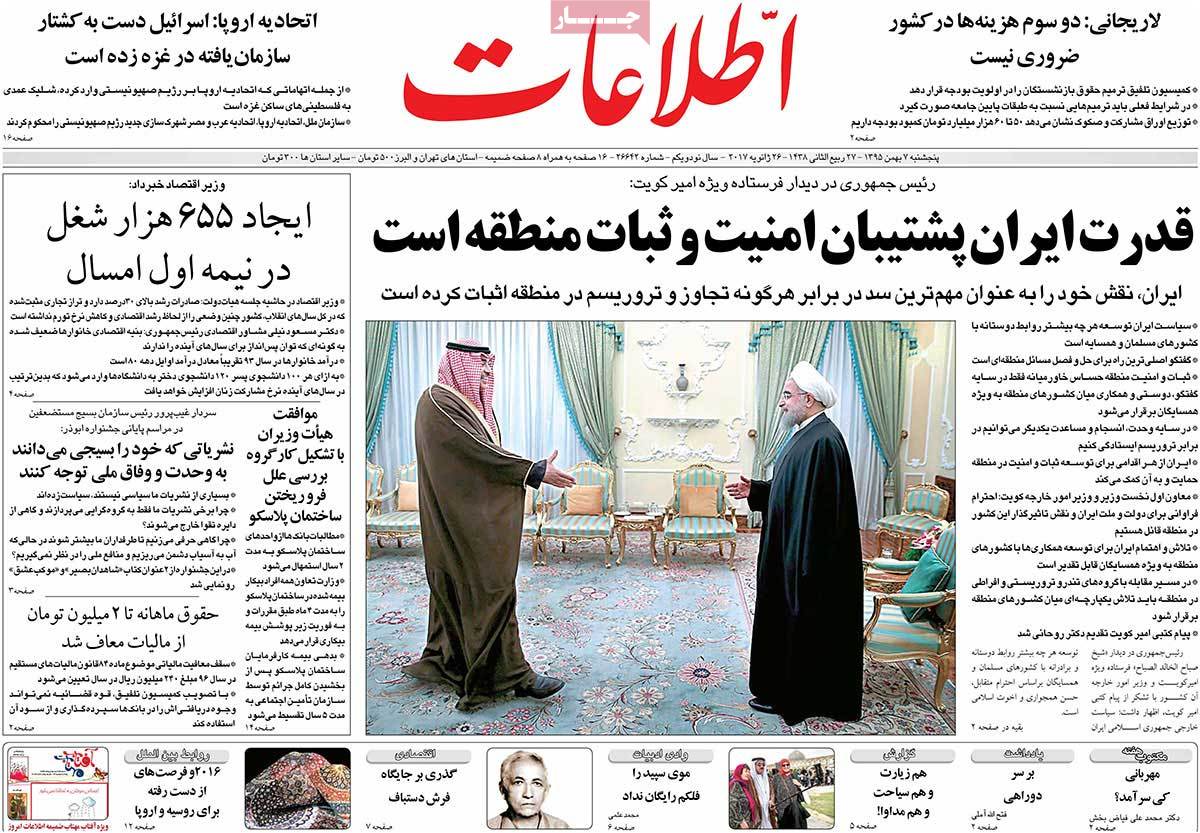 ---
Iran:
1- Interior Minister: Perpetrators of Plasco Incident to Be Identified and Punished
2- Six Decisions by Rouhani's Government to Help Plasco Shop Owners: Cabinet Approves Solutions to Compensate for Damages and Support Damaged Businesses and Workers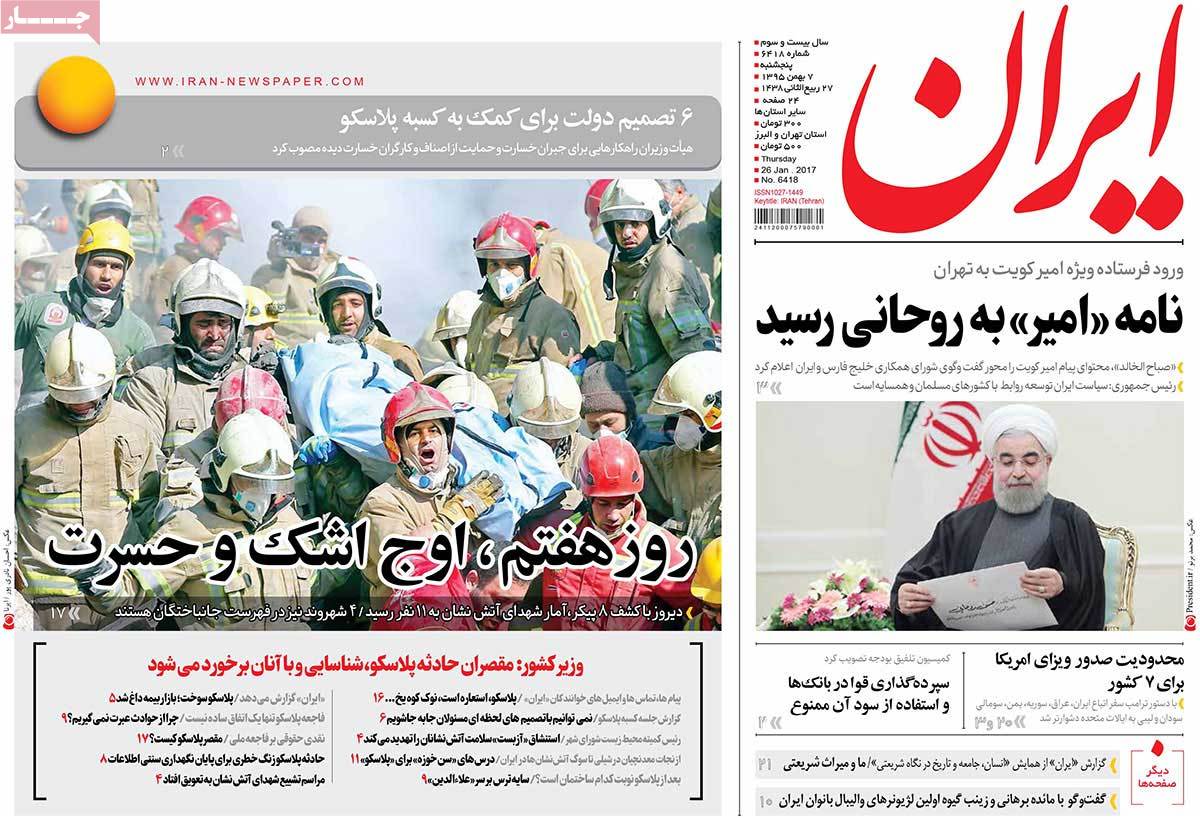 ---
Javan:
1- Economic Growth Minus Oil Is 'Almost Nothing'; Central Bank's Statistics Show Iran's Economic Growth Has Been 0.9% from March to September Excluding Oil Income
2- Three-Fourth of Iranians: JCPOA Didn't Make Our Lives Better; Maryland University's Poll Shows Increase in Iranian People's Doubts about Nuclear Deal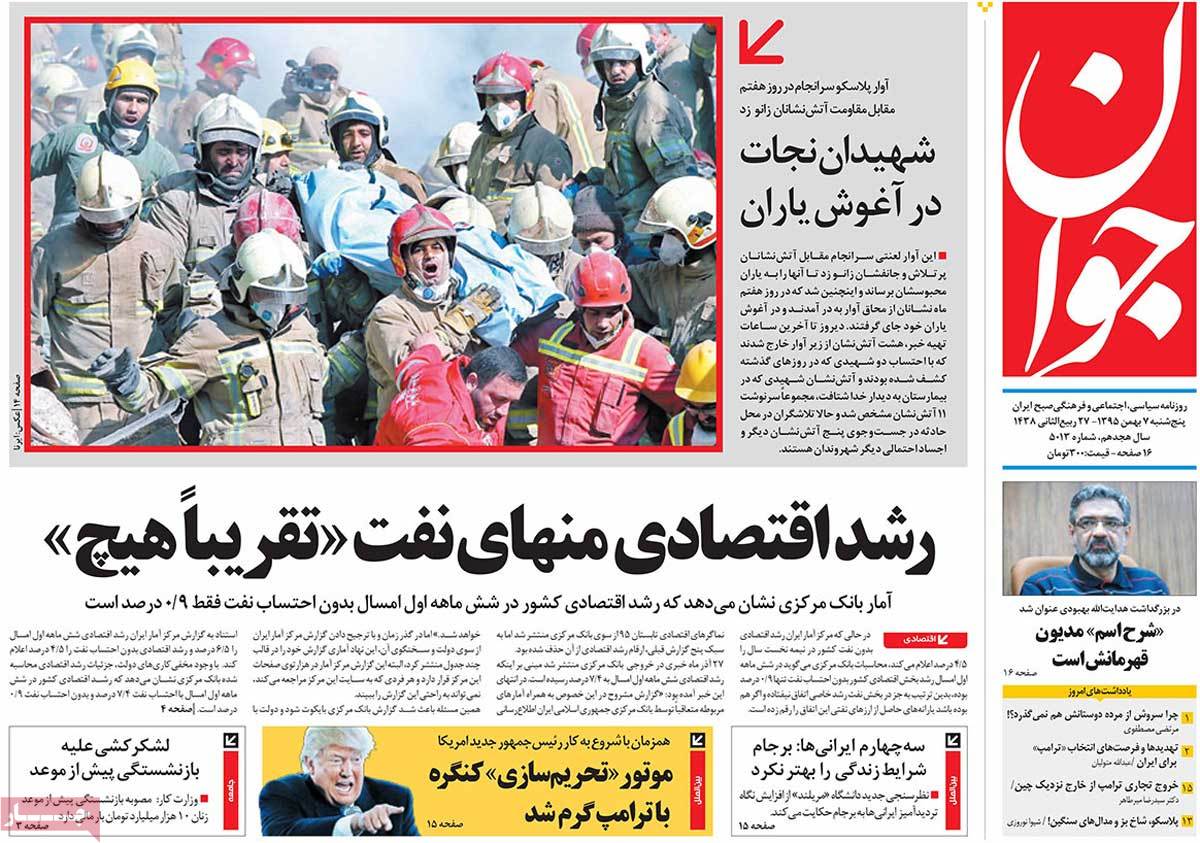 ---
Jomhouri Eslami:
1- President: Iran's Policy Is to Enhance Friendly Relations with Muslim and Neighbouring States
2- New UN Secretary General: Israel's Settlement Constructions a Barrier to Peace
3- Oil Minister: Iran's Oil Output Exceeds 3.8 bpd
4- People Chant in Bahrain Demonstrations: "Executions Will Never Stop the Revolution"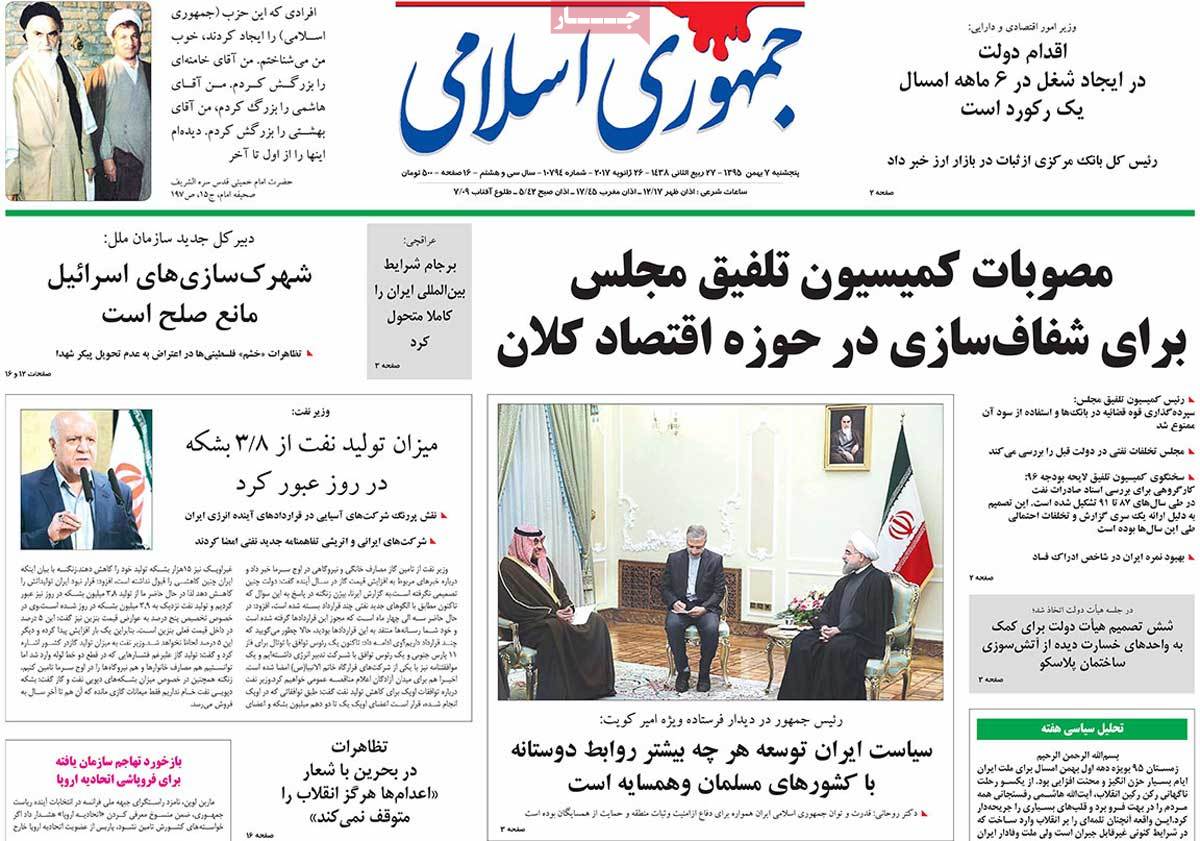 ---
Kayhan:
1- Continued Hostility towards Iran, the Only Common Point between Trump and Obama
2- Unemployment in France at Disastrous Level: Le Point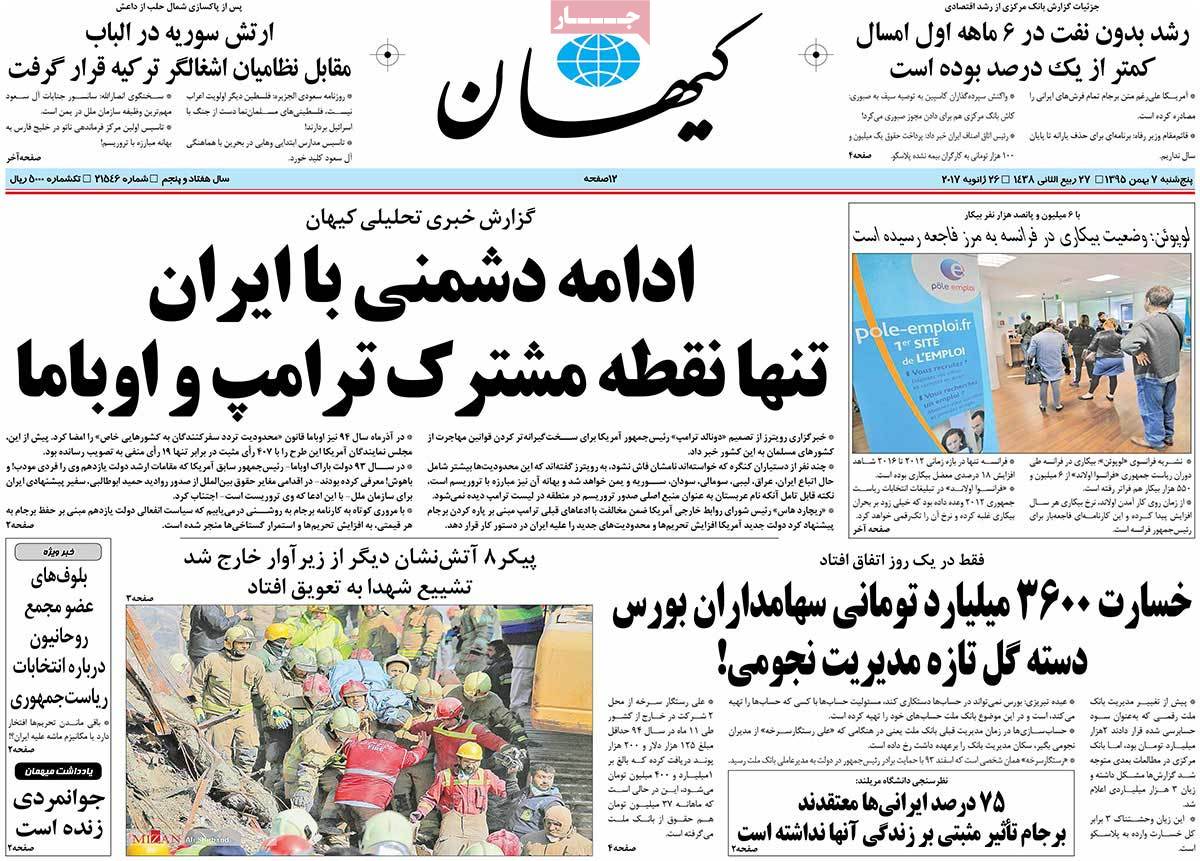 ---
Resalat:
1- Foreign Ministry Spokesman: Britain Has a Dark Record in Observing Human Rights
2- Ayatollah Noori Hamedani: Being Hopeful about Reconciliation with Aliens Is a Treason against Iran's Establishment; US Is Collapsed from Inside
3- Female MP: No Age Limit for Women's Retirement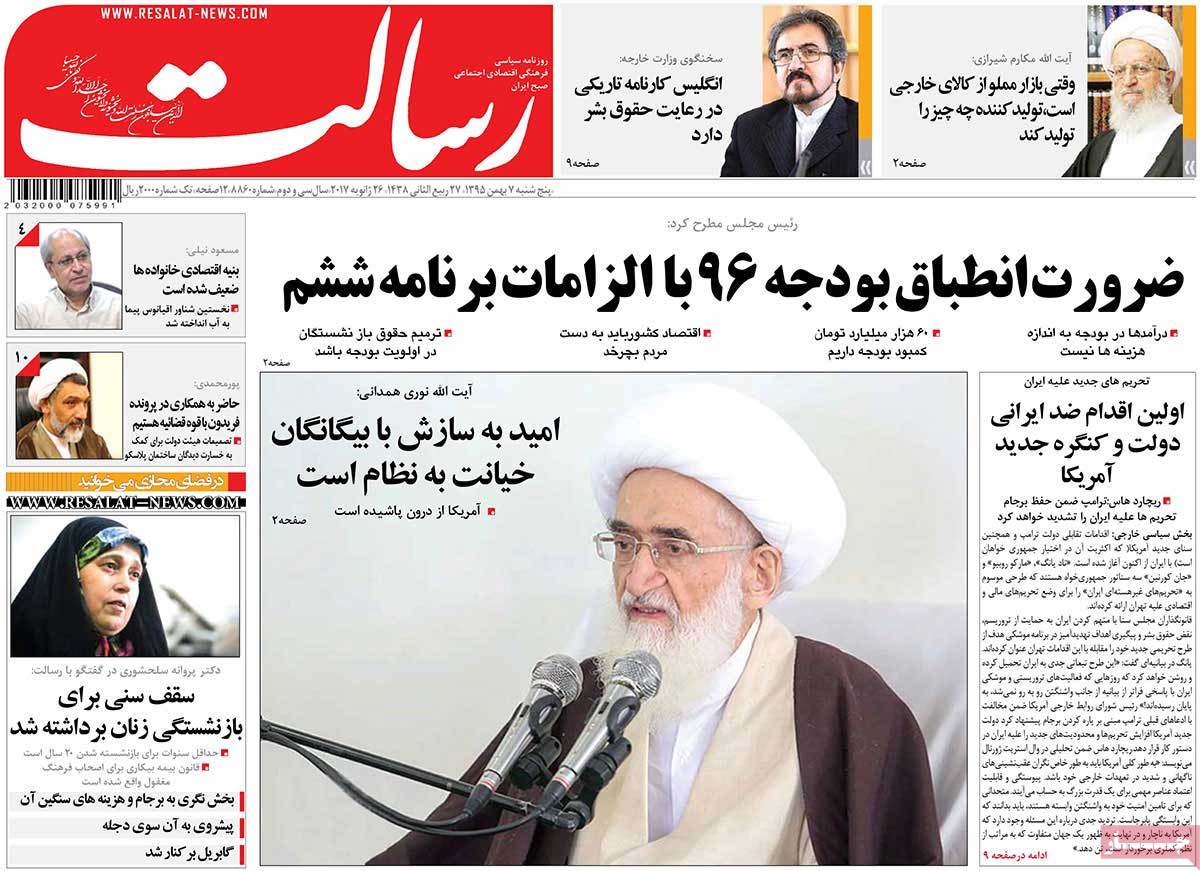 ---
Saheb Qalam:
1- Tour Guides from 45 Countries Visiting Iran
2- Iran Ready to Export Gas to Iraq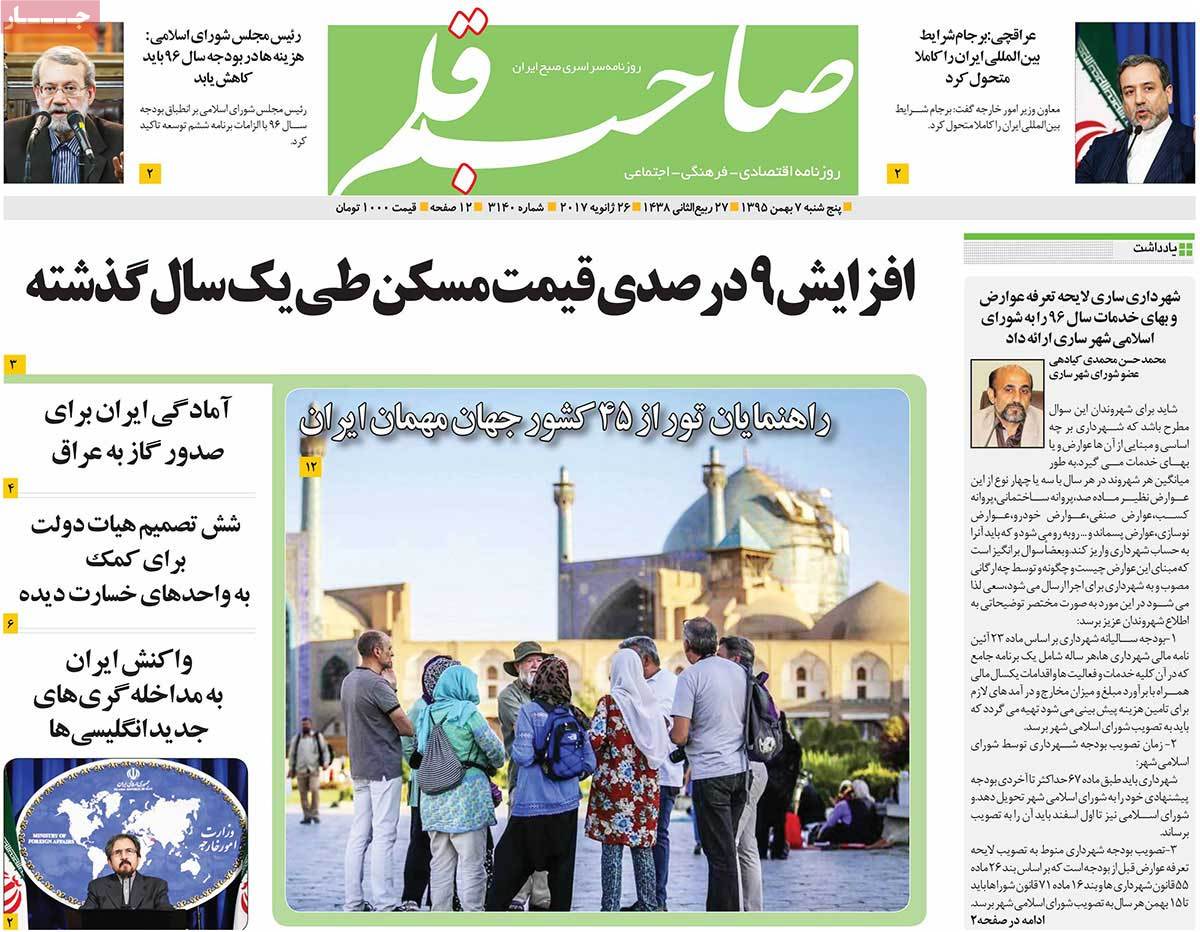 ---
Shargh:
1- Labour Minister Criticizes Ahmadinejad's Government: Donation Was Not the Right Way to Fight Poverty
2- Somalian Pirates' Go-Between: Problem of Iranian Captives Can Be Resolved with Money