Newspapers on Sunday covered the remarks made by the Leader of the Islamic Revolution Ayatollah Seyyed Ali Khamenei in a meeting with Iranian officials and guests of Muslim Unity Conference.
They also highlighted President Hassan Rouhani's criticism of certain Arab countries for being worried about terrorists in Syria.
Iranian Foreign Minister Mohammad Javad Zarif's letter to EU Foreign Policy Chief Federica Mogherini over the US violation of nuclear deal (JCPOA) was also a top story.
Iranian Health and Transport ministers' harsh criticism of Islamic Republic of Iran Broadcasting (IRIB) Organization also received great coverage.
The above issues, as well as many more, are highlighted in the following headlines:
19 Dey:
1- Parliament Speaker: Those Who Are Worried Have Not Read the Text of Nuclear Deal
2- Imam Khomeini's Grandson: We Should Shed Tears of Blood for Lack of Unity among Muslims
3- Social Ills in Iran Are Very Worrying: Head of Parliament's Research Centre in Qom
4- Transport Minister: It Is against National Interests to Spoil People's Trust in Gov't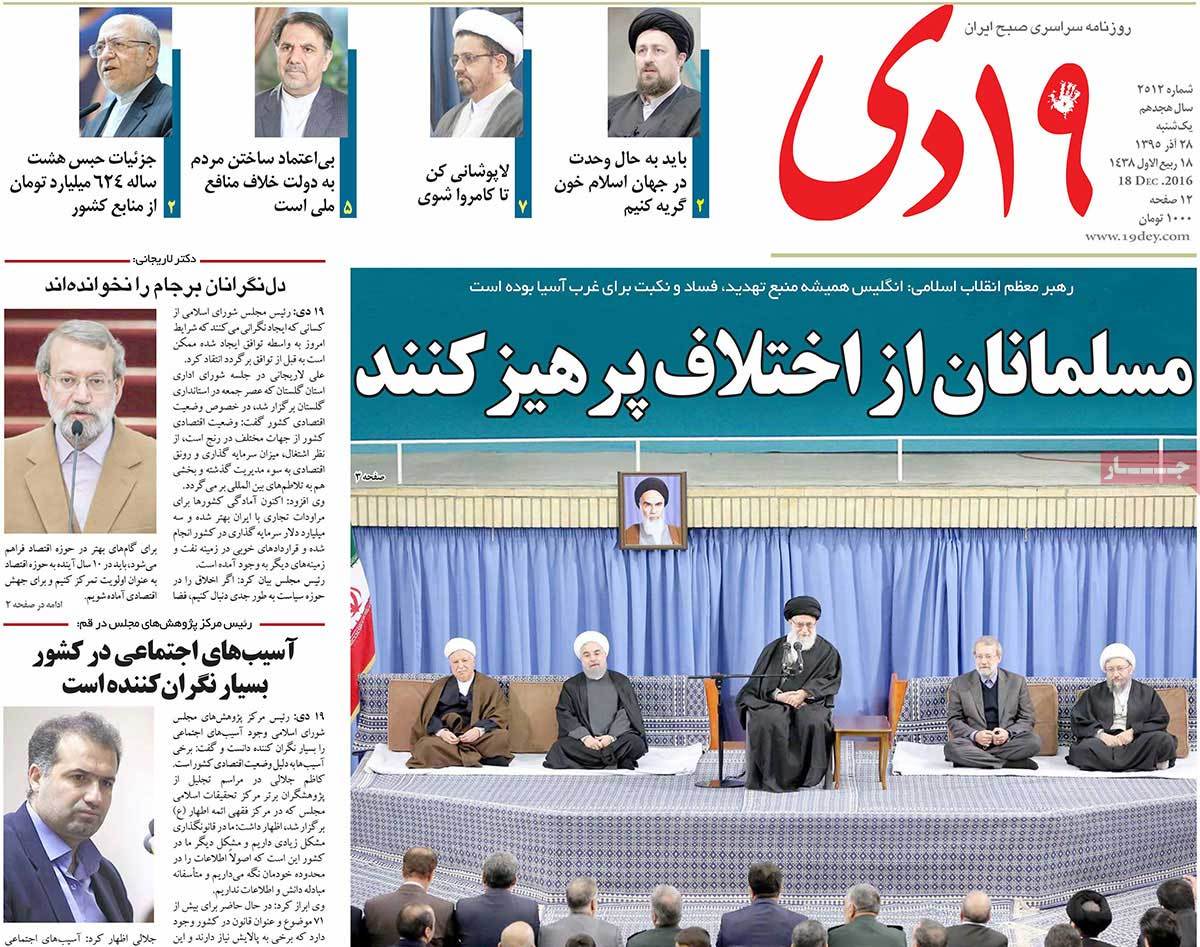 ---
Abrar:
1- Iranian Officials and Guests of Muslim Unity Conference Meet with Iran's Leader
2- Nuclear Chief: We Should Have Taken the Writing of JCPOA Text More Seriously
3- IAEA Chief Amano to Visit Iran
4- Environment Chief: 12 Out of 14 Wetlands in Iran's Fars Province Have Dried Up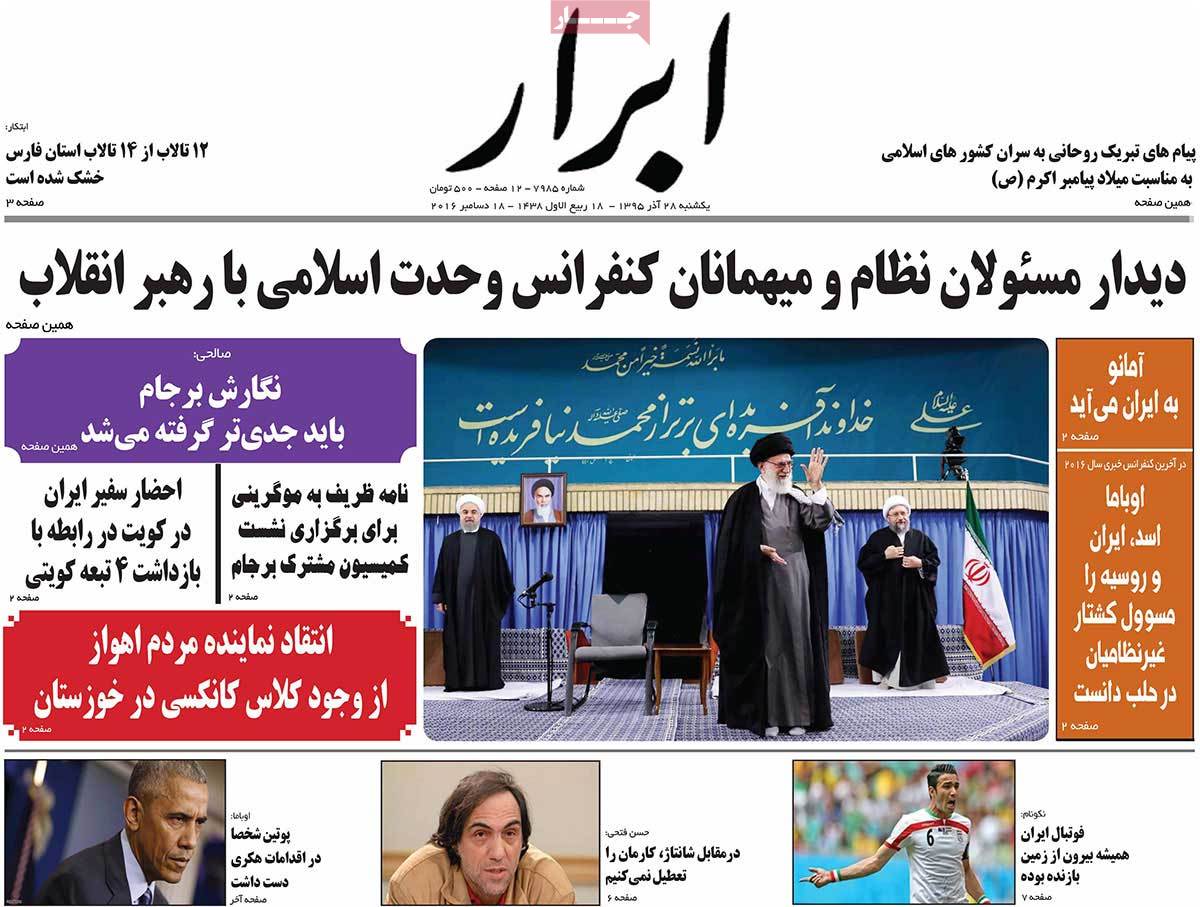 ---
Abrar-e Eqtesadi:
1- US Treasury Gives 180-Day Deadline for Settlement of Transactions with Iran in Case of JCPOA Annulment
2- Japan Joins Countries Investing in Iran's Mines
3- Iranian Businessmen Invited to Participate in Nigerian Market
---
Aftab-e Yazd:
1- Iran's Leader: Britain Has Always Been a Source of Threat, Corruption, and Misery for Western Asia
2- Vice-President for Parliamentary Affairs: Rouhani's Victory Is Certain; Rouhani Won't Give in to Political Pressures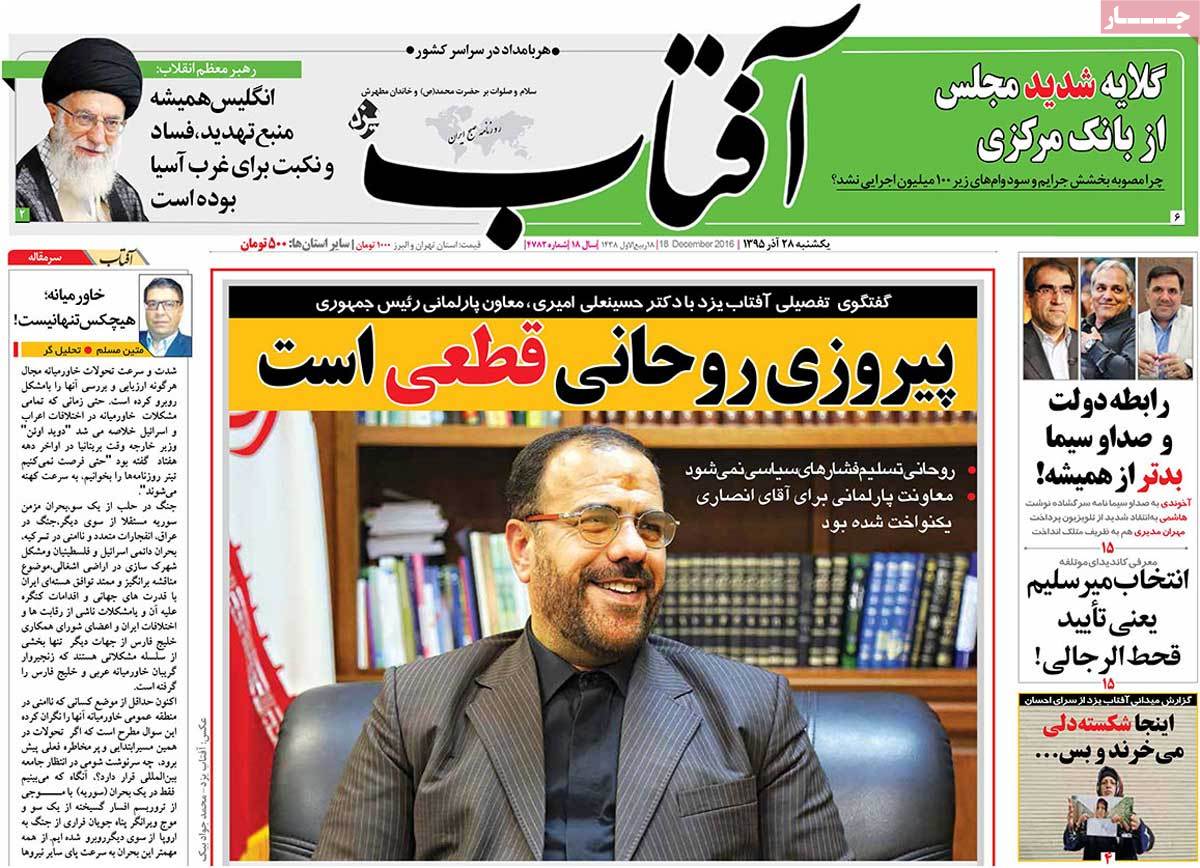 ---
Amin:
1- $77m Allocated to Reviving Lake Urmia in Northwest Iran
2- Iran's First Airbus Arrives in the Country
---
Arman-e Emrooz:
1- Iran's Leader: Enemy Pursues Policy of 'Divide and Rule'
2- Kerry: Extension of ISA Has No Impact on JCPOA
3- In a Letter to Mogherini, Zarif Urges P5+1 to Hold Session on JCPOA
4- President: Iran's 6-Month Economic Growth from March to September Was 7.4%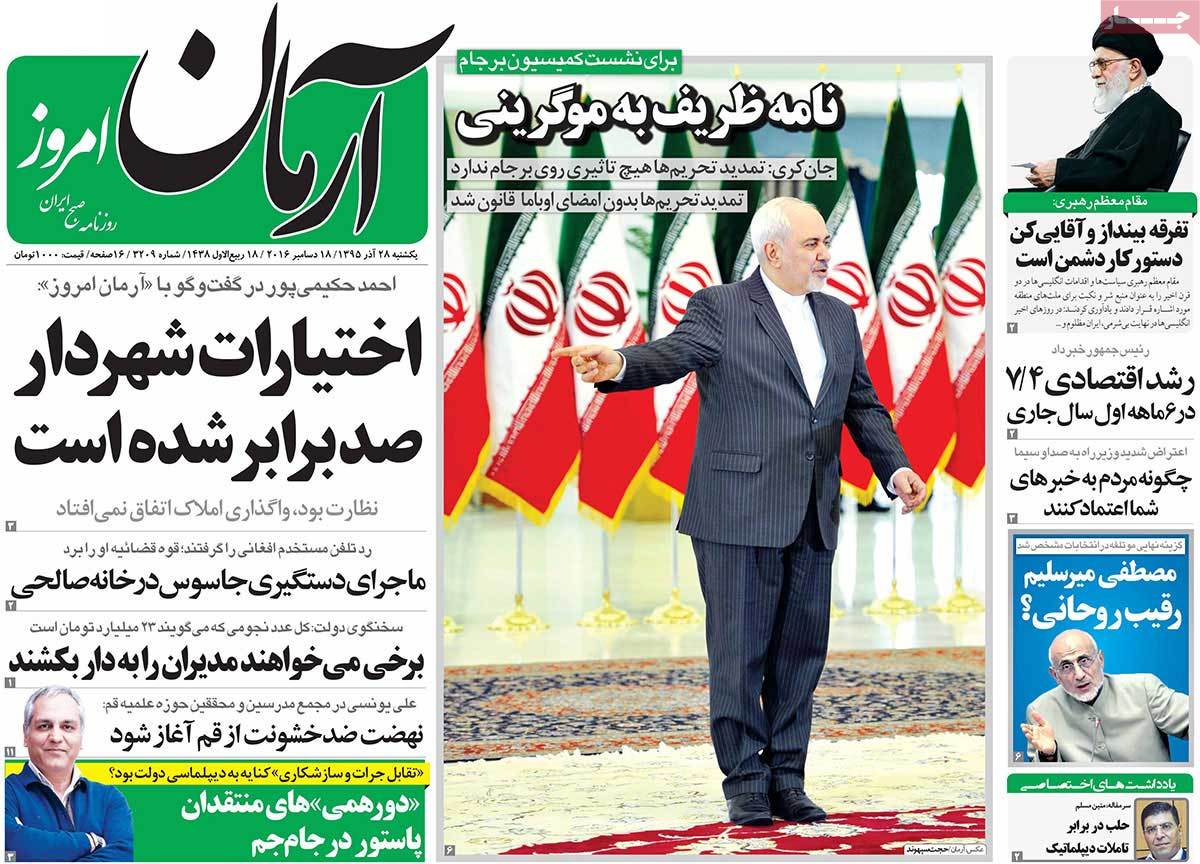 ---
Asr-e Rasaneh:
1- Iran to Take Part in International Tourism Fair in Spain (Fitur) in 2017
2- 2 Iranian Oil Cargos in Britain Released
3- Trade Minister: Russia's Lukoil in Talks with Iran for Swap of Crude Oil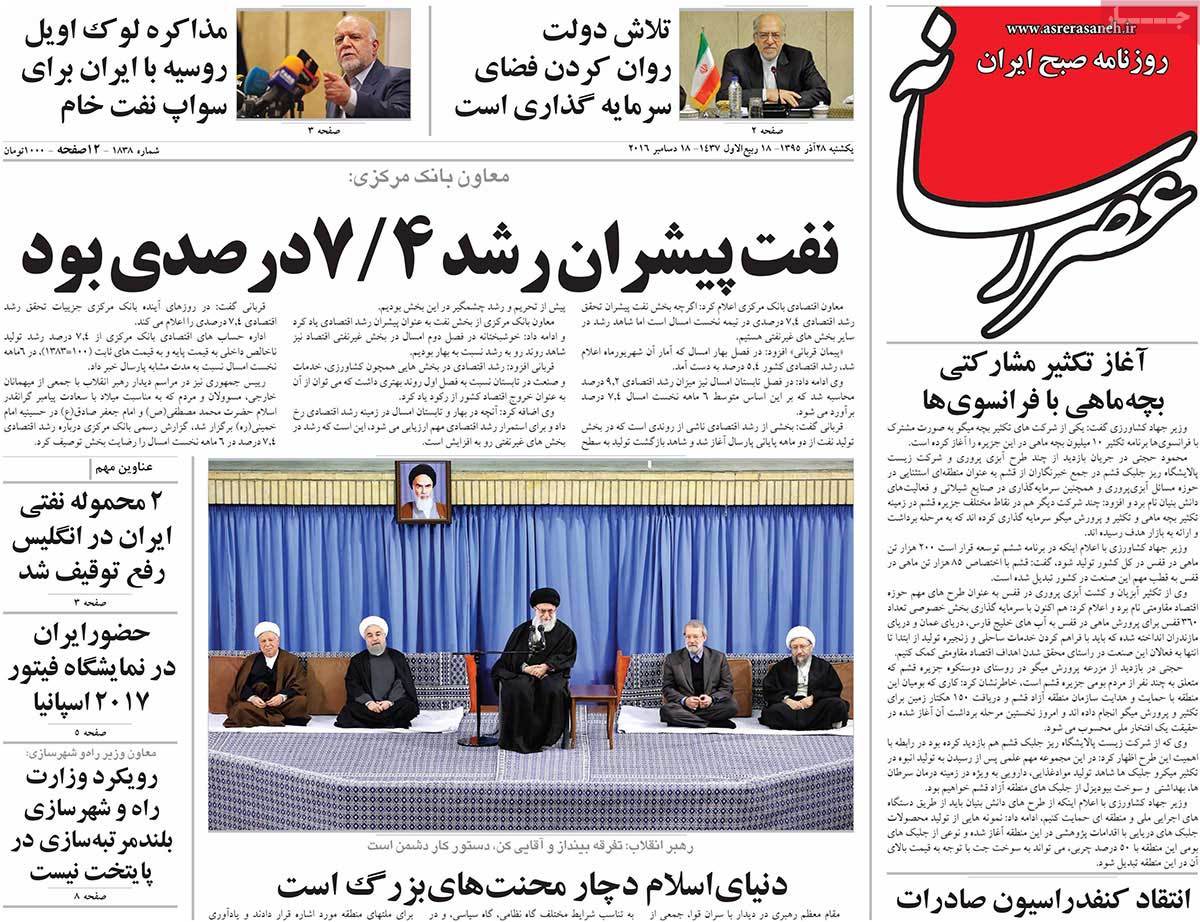 ---
Asrar:
1- President: Some Islamic Governments Are Worried about Fate of Terrorists
2- Kuwait Chosen as Representative of Arabs for Talks with Iran Given the change of Balance in Region
3- Iran, Russia, and Turkey to Hold a Meeting on Syria in Moscow
4- 8 British and German Teams Want to Hire Iranian Striker Sardar Azmoun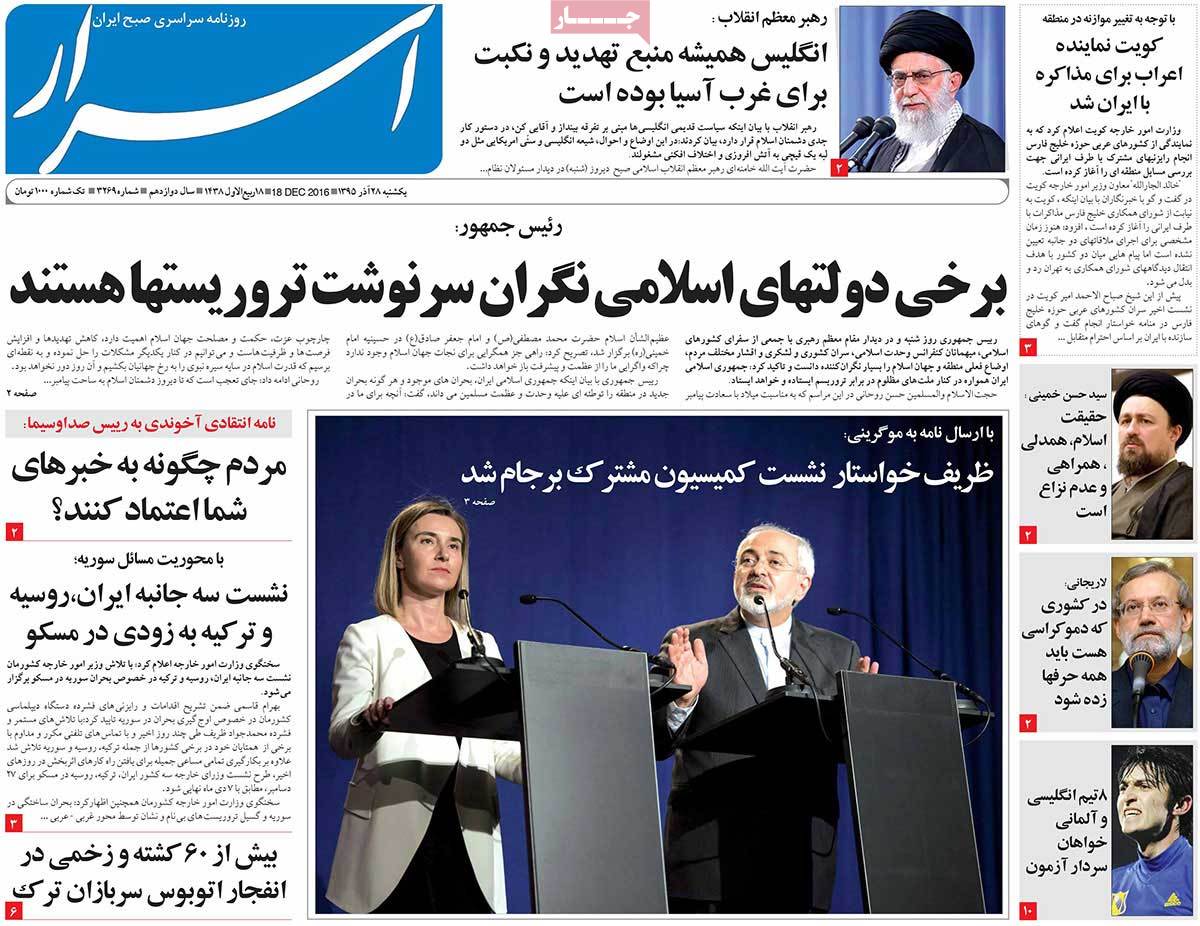 ---
Besharat-e Now:
1- President: Prophet Muhammad (PBUH) Ruled with Prudence, Not with Sword
2- Nuclear Chief: We Have Good Days in Int'l Arena
3- Vice-Speaker of Iran's Parliament Motahari: There Are Equal Rights for Men and Women in Islam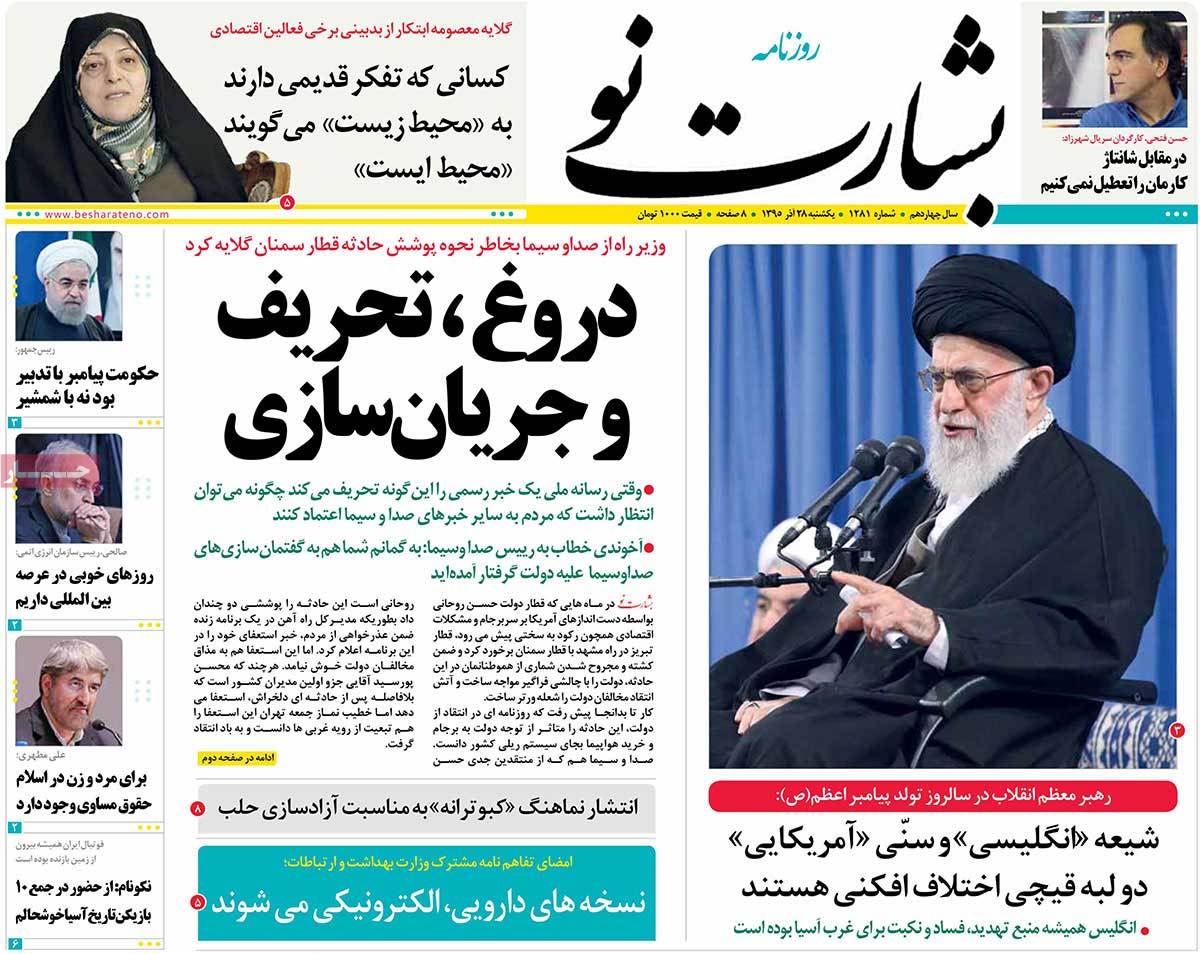 ---
Emtiaz:
1- Power Minister Declares Plan to Import Electric Cars to Iran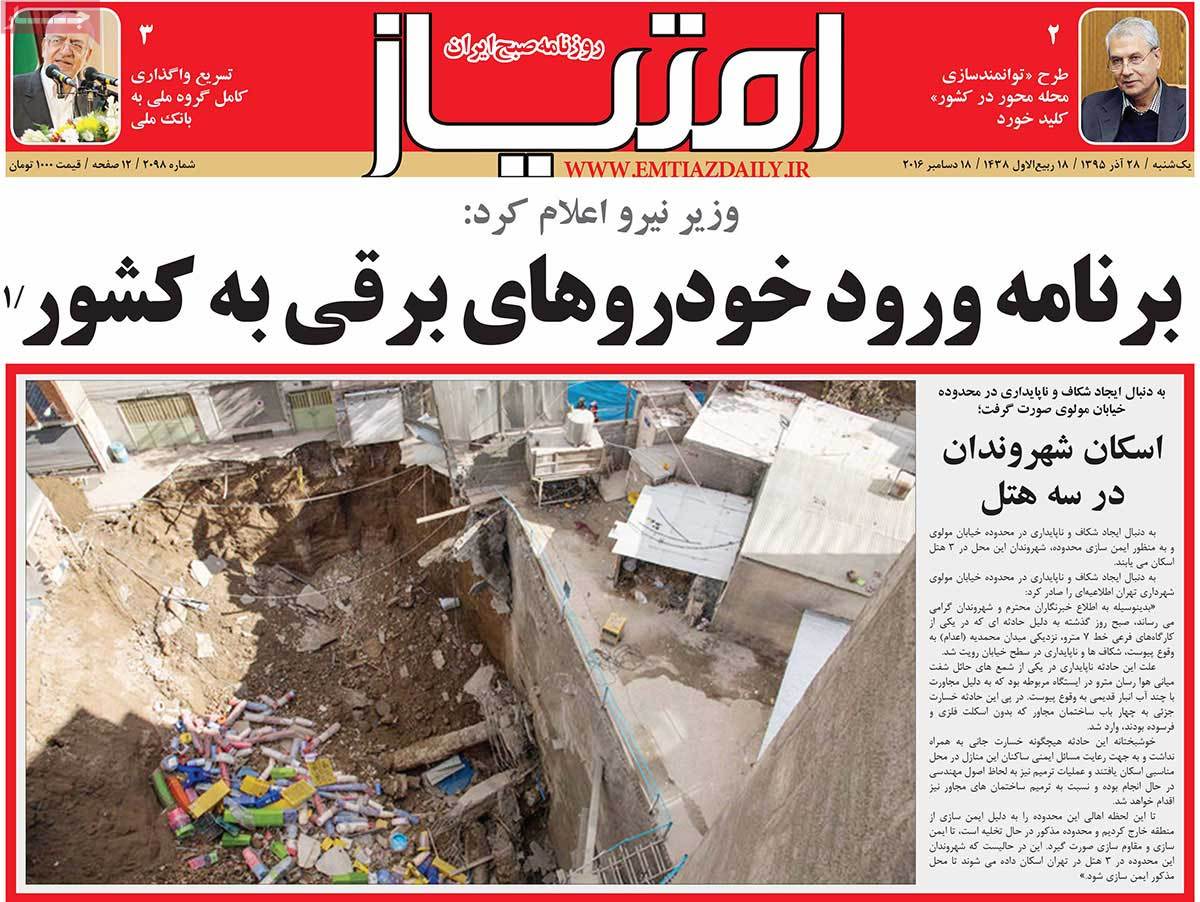 ---
Etemad:
1- Iran's Leader: British Version of Shiism and American Version of Sunnism Are Two Blades of One Pair of Scissors
2- Letter of Complaint against IRIB: Transport Minister Wrote Explicit Letter and Health Minister Made Critical Remarks to Accuse IRIB of Targeted Attacks against Government
---
Ettela'at:
1- Leader: Cooperation and Moving over Differences Are the Solution to Problems of Muslim World
2- President Rouhani: Enemies Seek to Destroy Opportunities in Muslim Societies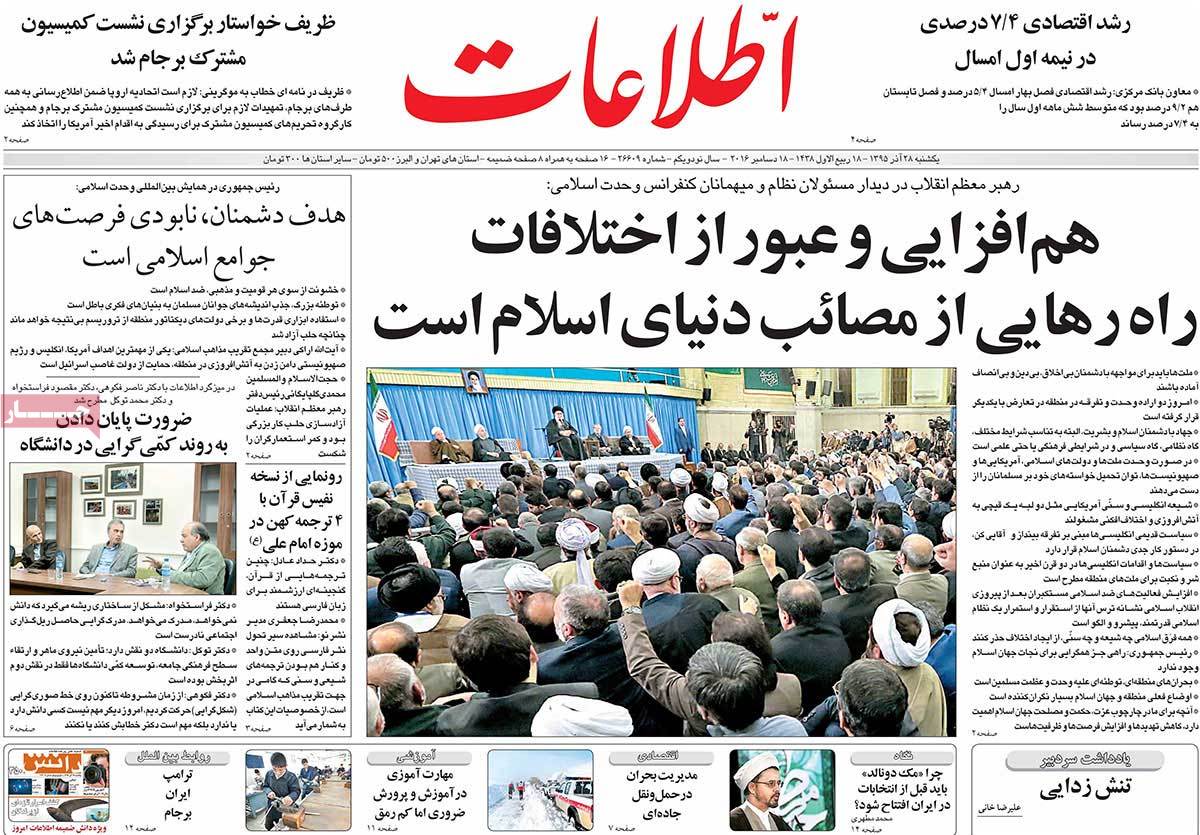 ---
Farhikhtegan:
1- Leader Warns All Islamic Sects against Rift and Division
2- Rouhani: Violence by Any Ethnic Group or Religion Is against Islam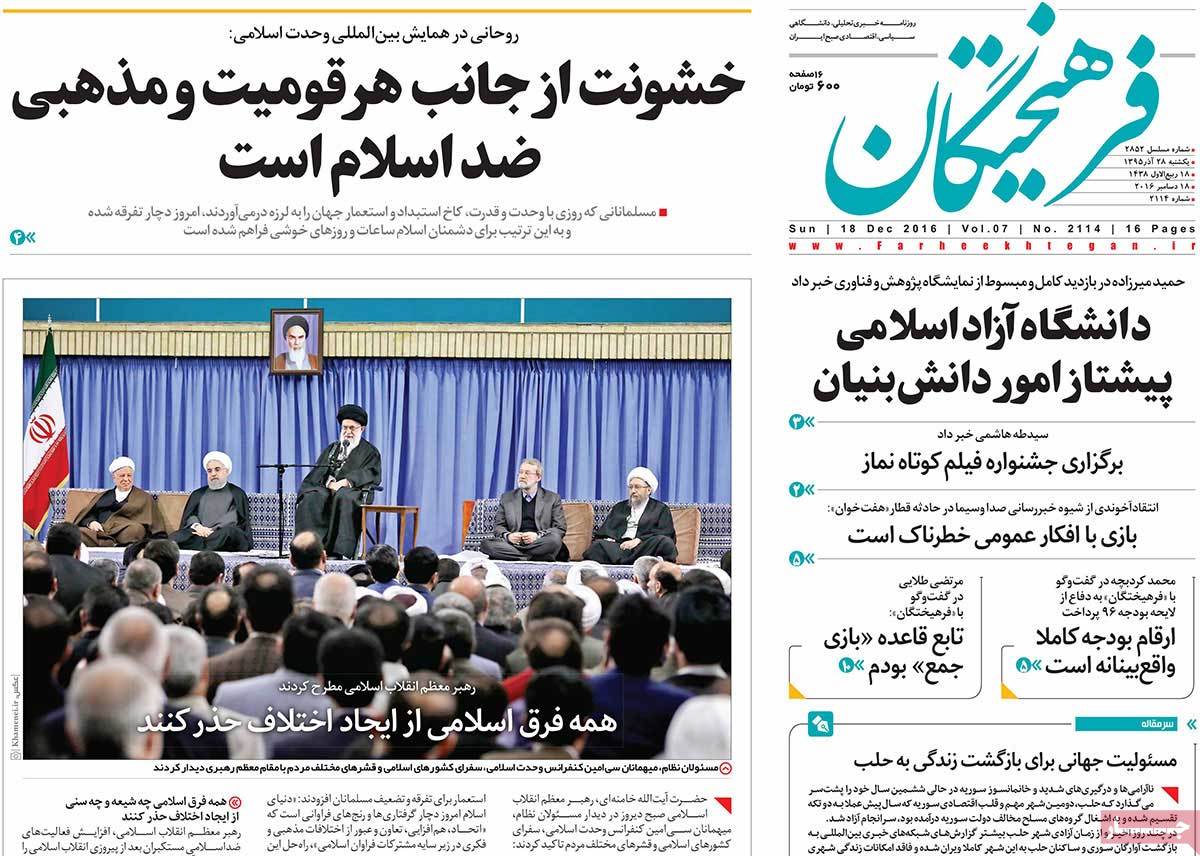 ---
Iran:
1- Ayatollah Khamenei: Unity among Muslim Society [Ummah] Will Foil the Plot to Consign Issue of Palestine to Oblivion
2- Asghar Farhadi's 'The Salesman' Gets Closer to Oscar: Iran's Submission and Eight Other Films Shortlisted for Best Foreign Language Film in Academy Awards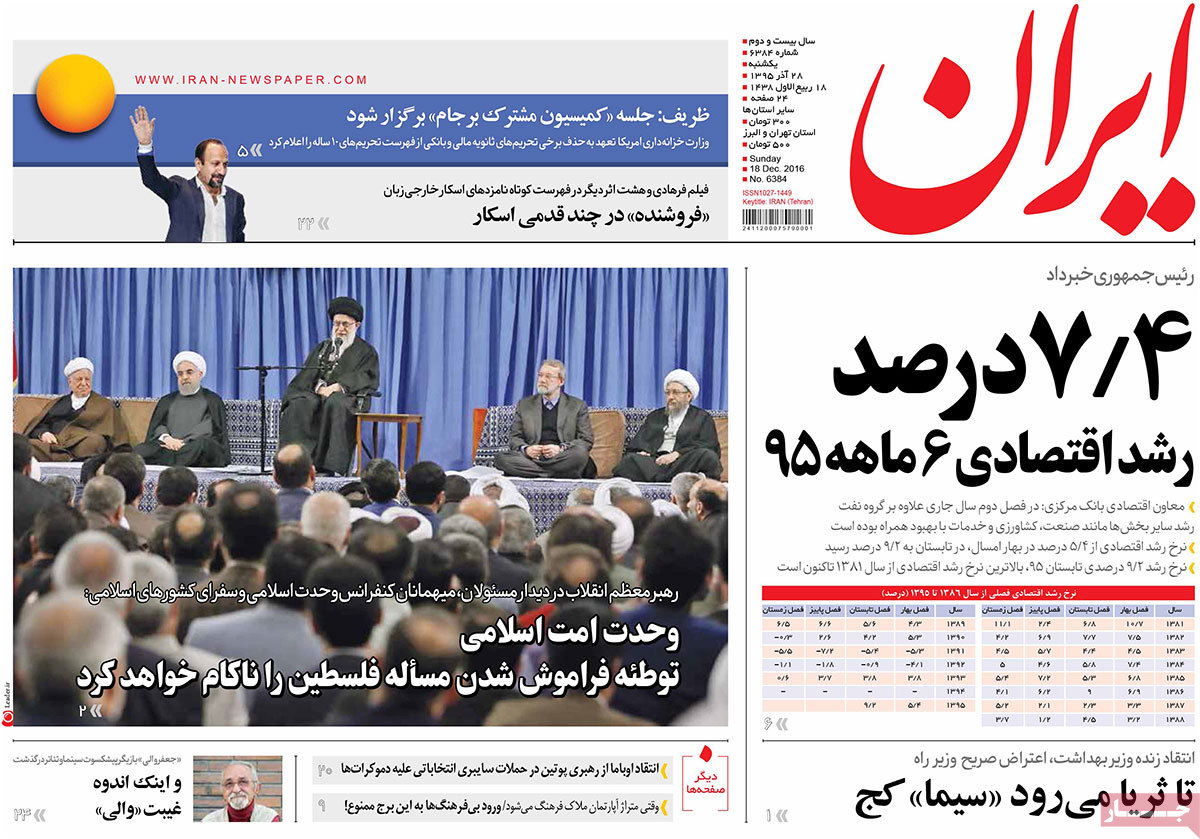 ---
Javan:
1- Atomic Energy Organization of Iran Chief: Americans Have Breached Many of Their Commitments in JCPOA
2- Arab and Western Media Kill Themselves for Aleppo Terrorists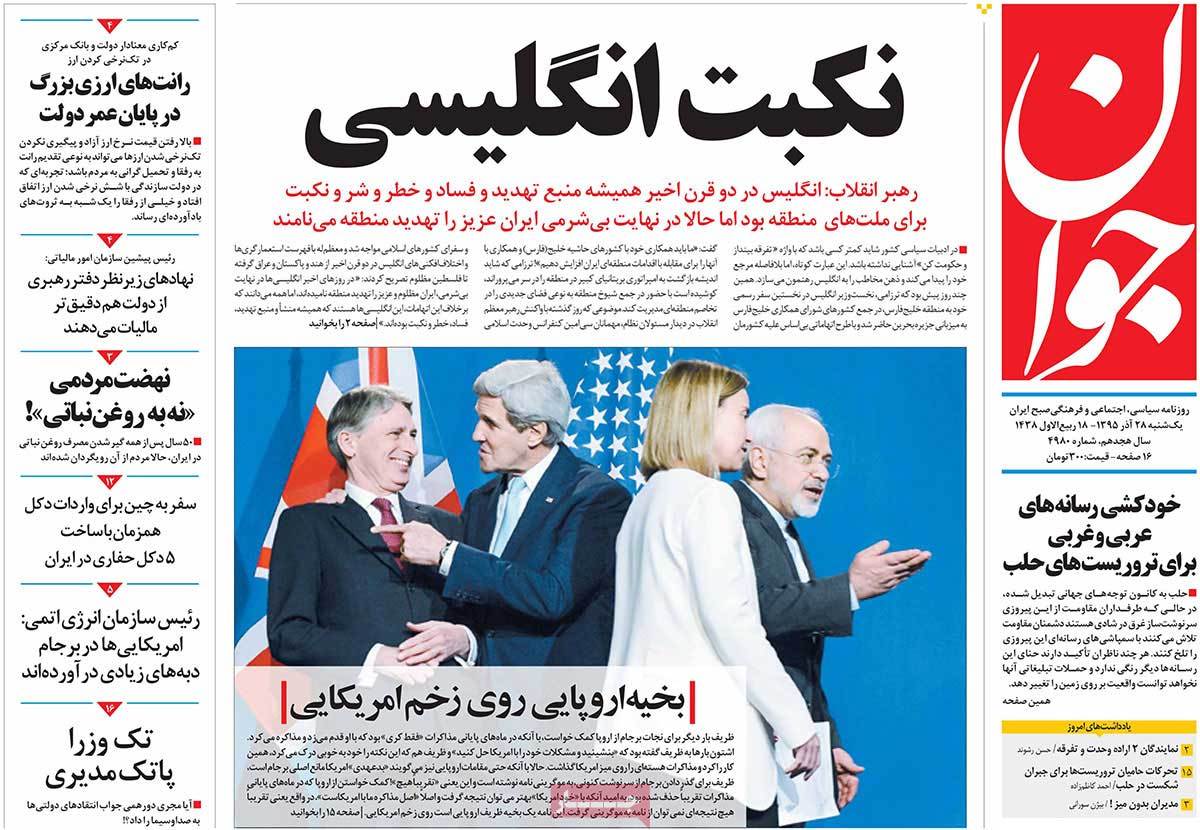 ---
Jomhouri Eslami:
1- President: Regional Crises Are Plots against Unity and Greatness of Muslims
2- US Committed to Remove Items from ISA
---
Kayhan:
1- New Achievement of JCPOA Unveiled: US Government Fines Italian Bank for Bypassing Iran Sanctions
2- Yemen's Ansarullah to Saudis: You Won't Defeat Resistance Front Even If You Spend All Your Dollars
3- Trump Threatened to Scrap Nuclear Deal, But Obama Really Did It!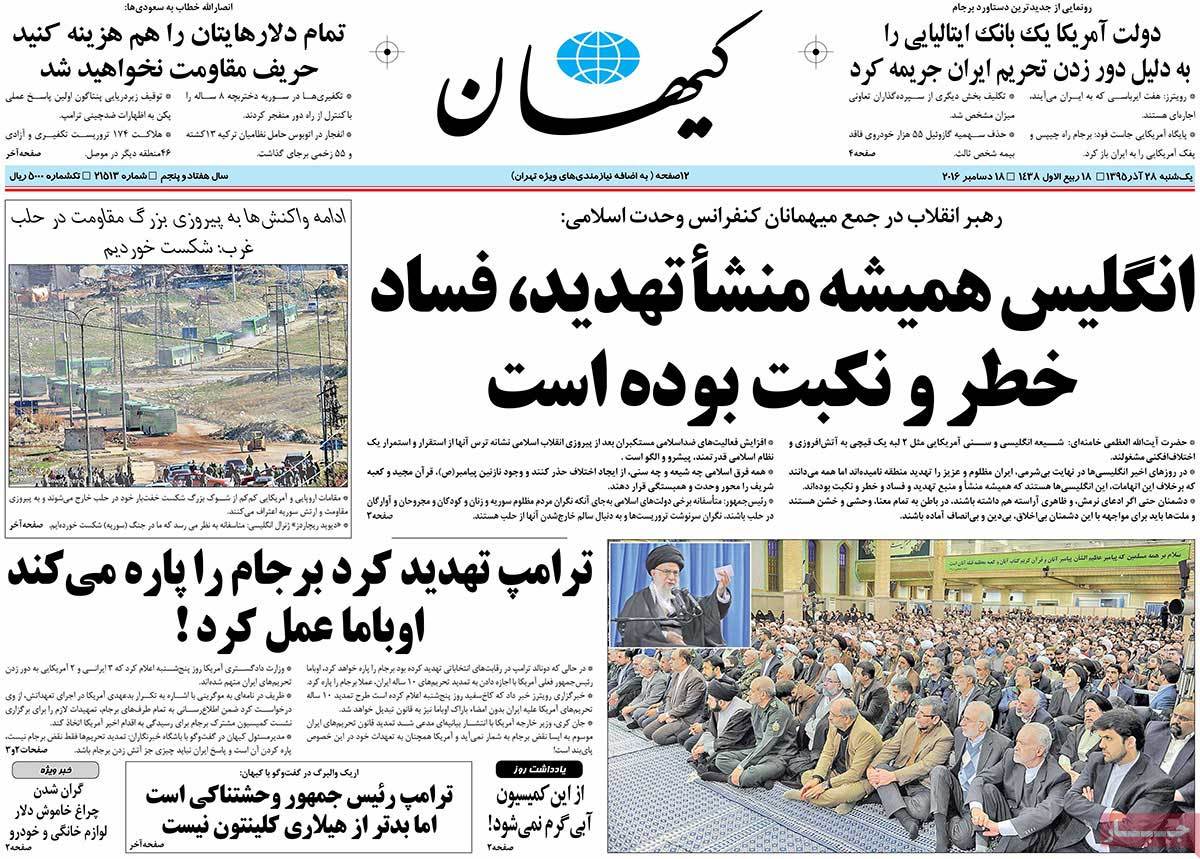 ---
Khorasan:
1- After Zarif's Letter to Mogherini, EU's Foreign Policy Chief Explicitly Warns Trump against Revising JCPOA
2- Evacuation of Terrorists from Aleppo Resumes Once Again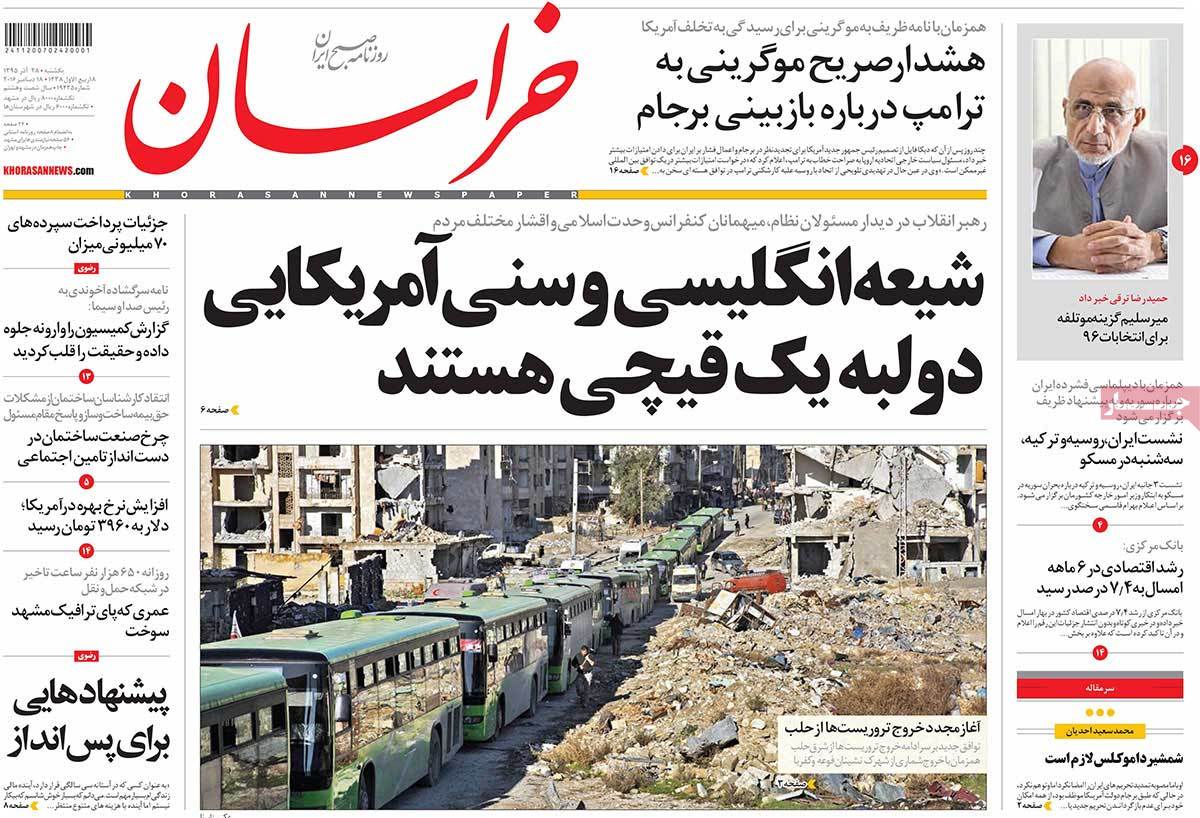 ---
Payam-e Zaman:
1- Rouhani: We Have No Plan to Save Muslim World but to Converge
2- Minute-by-Minute Increase in Iran's Unemployment
3- Larijani: Economic Growth Is Iran's Top Priority
4- Iran Will Become Petrol Exporter Next Year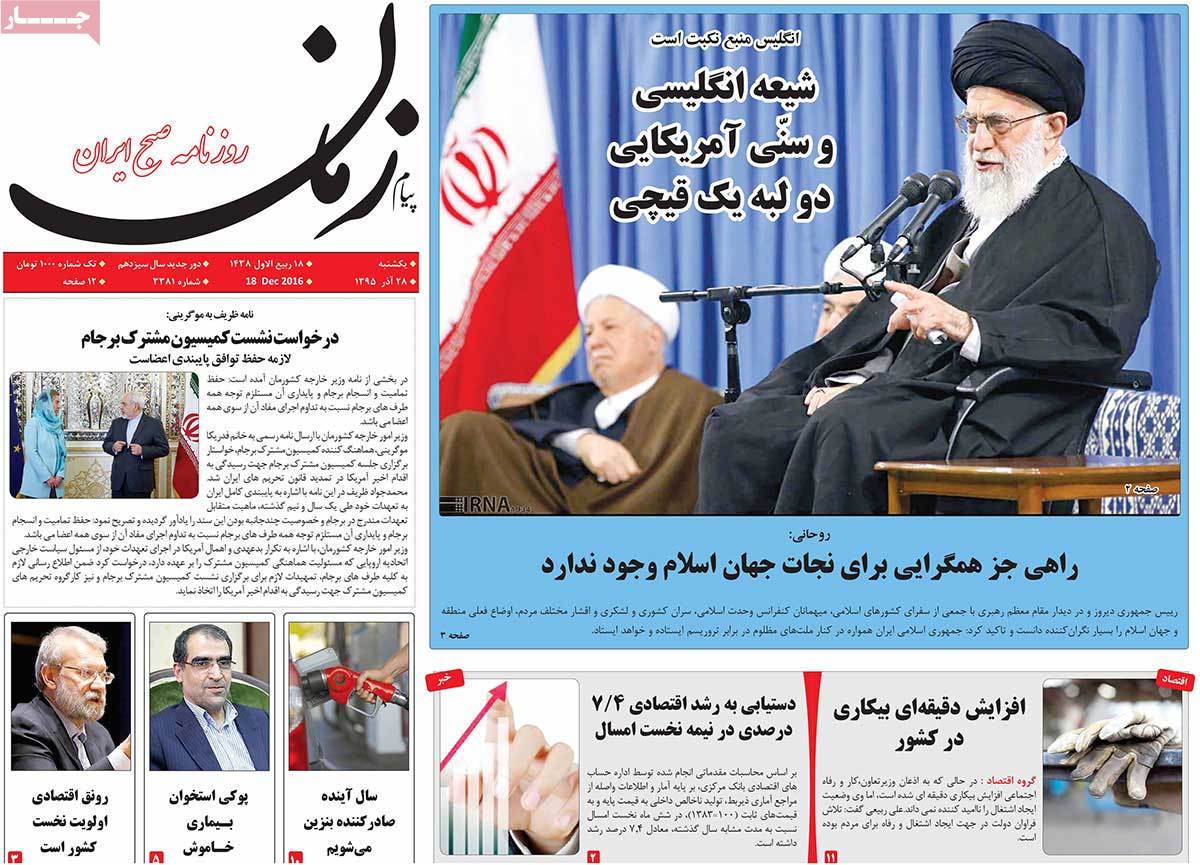 ---
Resalat:
1- Ayatollah Emami Kashani: Aleppo Victory Showed that Resistance Is the Solution to Palestine Issue
2- Al-Aqsa Mosque Preacher: Transfer of US Embassy to Quds Means Declaration of War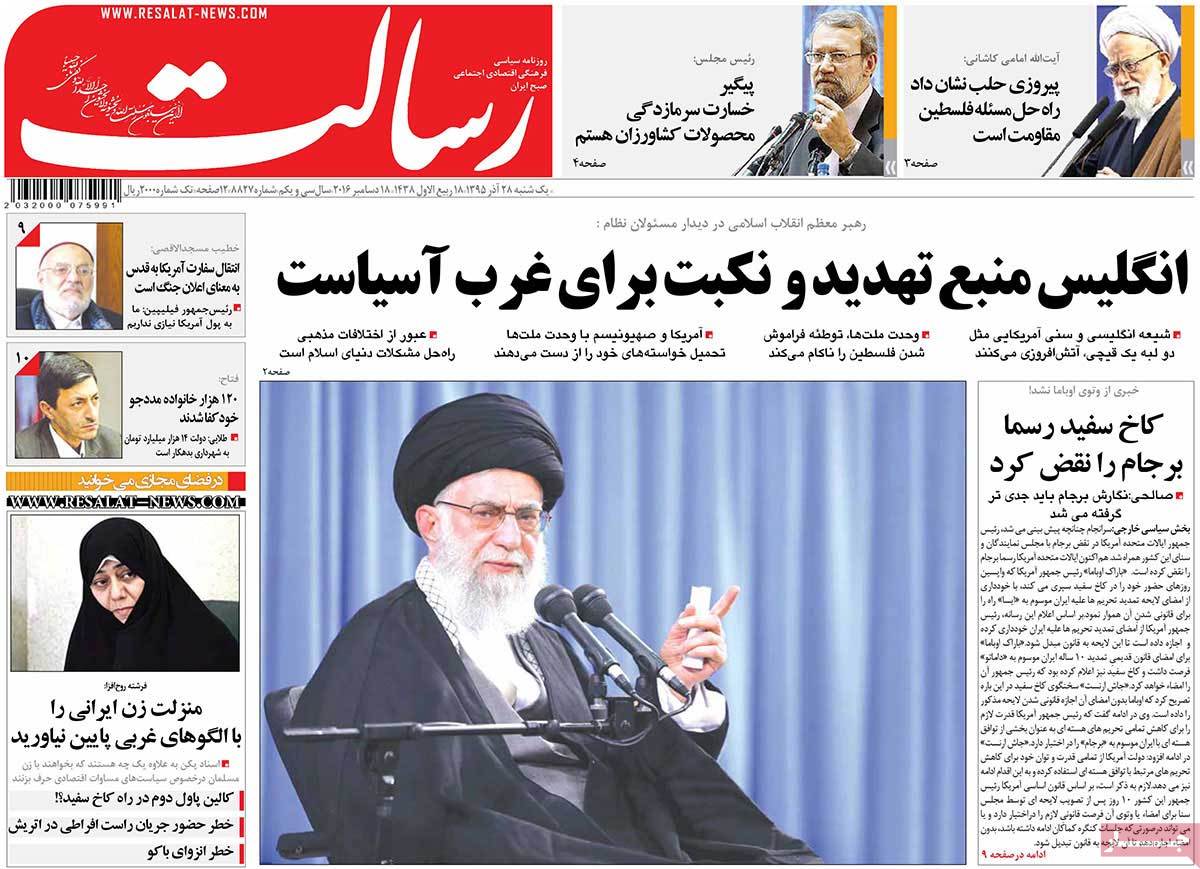 ---
Rooyesh-e Mellat:
1- Based on Official Statistics, Average Age of Starting Drug Use Is 21, and It Is Decreasing
2- Russia to Veto West's Anti-Syria Draft Resolution
---
Saheb Qalam:
1- Rouhani: Some Islamic Governments Seem to Be Worried about Iraq and Syria's Victories over Murderer Terrorists!
2- Iranian Weightlifter's Bronze Medal in Olympic Officially Turns Silver [after Russian athlete's doping]
3- Germany Signs Power MoU with Iran
---
Vatan-e Emrooz:
1- Rouhani: Some Are Worried about Health Conditions of Terrorists!
2- We Have Lost Syria War: Britain's Former Security Official