The top story in all papers today was the remarks made by the Leader of Iran's Islamic Revolution Ayatollah Seyyed Ali Khamenei about the failure of the US plot to create chaos in Iran.
Also a top story was comments made by President Hassan Rouhani about the Paris Climate Agreement, which were interpreted by Iranian media as a sign of his government's bid to withdraw from the deal.
Newspapers also covered the declining rates of US dollar in the unofficial market, and the UK parliament's session to give vote of confidence to Prime Minister Theresa May.
The above issues, as well as many more, are highlighted in the following headlines and top stories:
Abrar:
1- US Claimed Iran Won't Last to Celebrate Its 40th Birthday: Leader
2- Europe Says Will Launch SPV in Two Weeks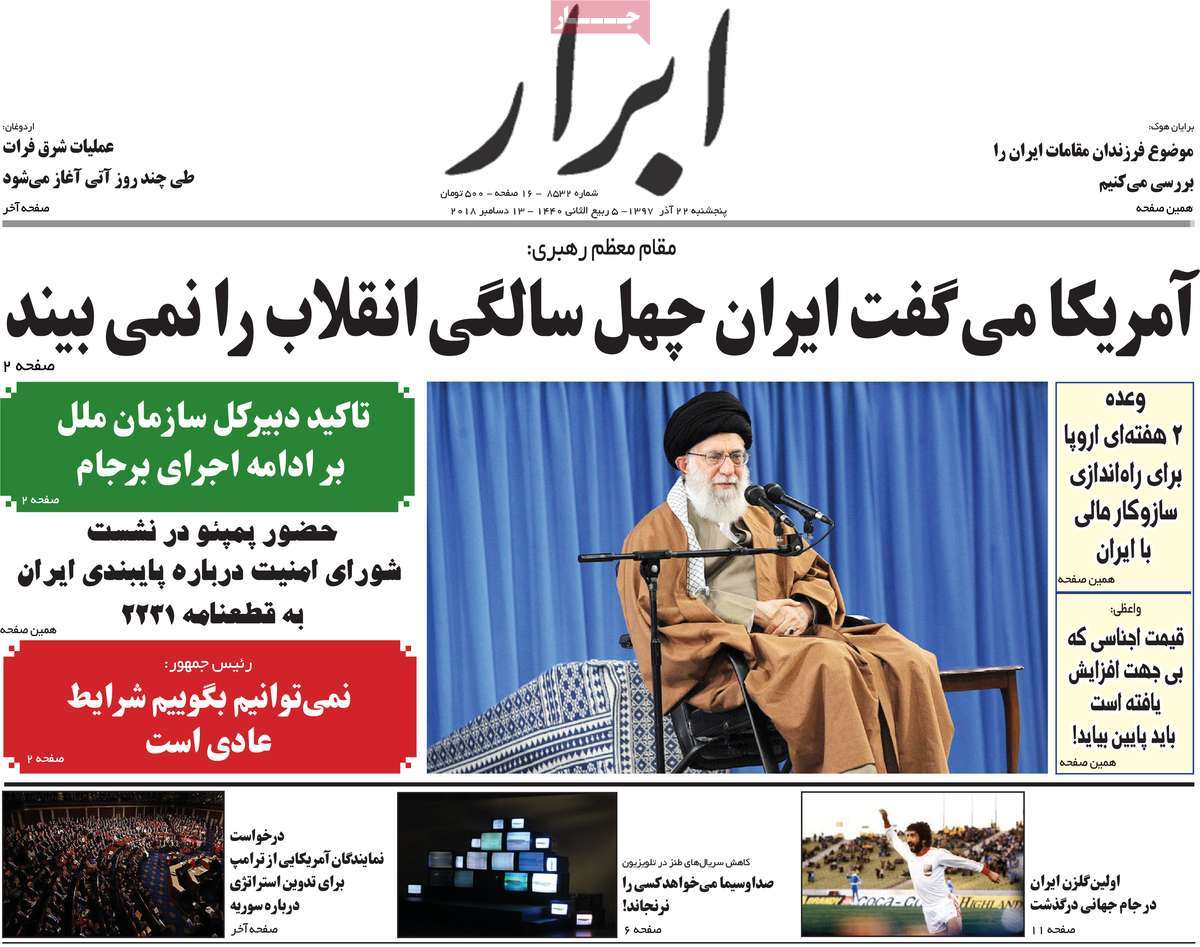 ---
Aftab-e Yazd:
1- What's Happened to Iran's Forex, Gold Coin Markets?
* Experts Say Chinese Bank's Resumption of Ties with Iran, SPV News Effective
2- Trump Administration Trying to Deport Children of Iranian Officials Living in US
3- Trump Wants to Say UN No Longer Has Its Past Position: Analyst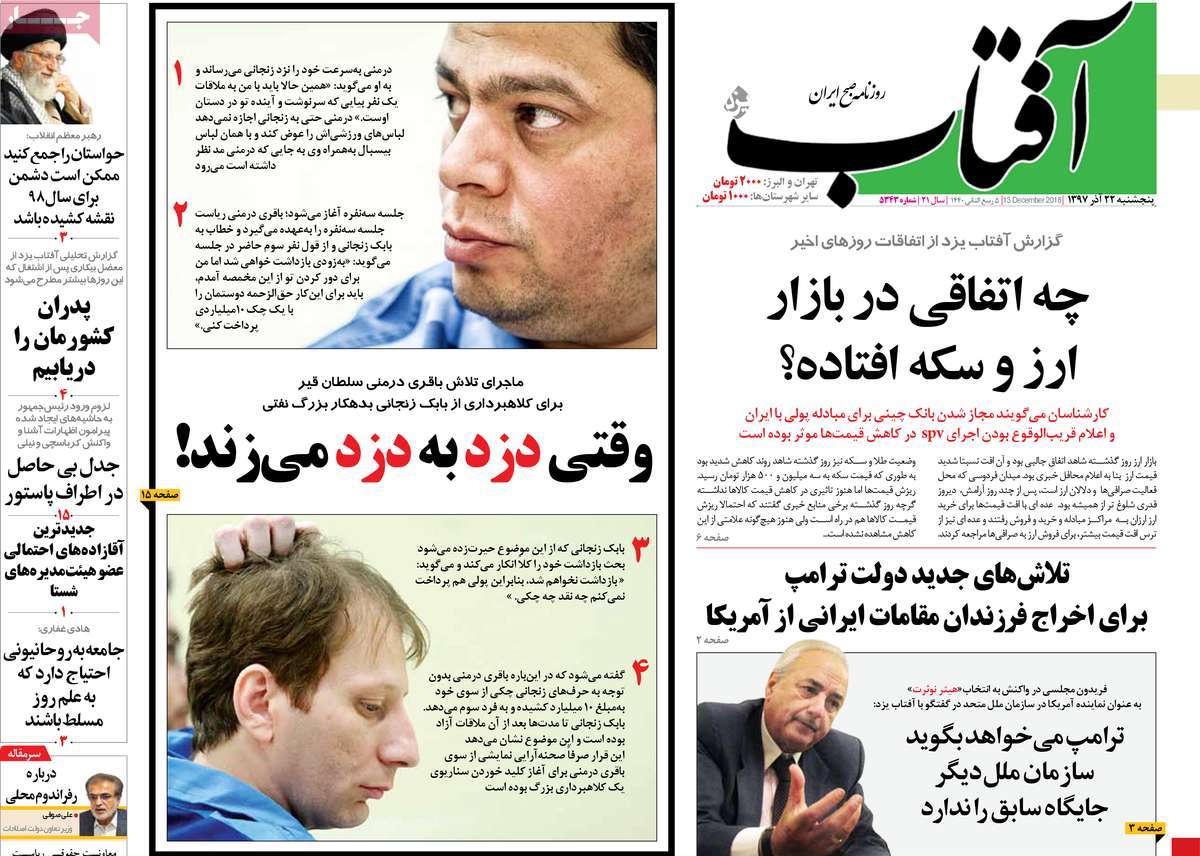 ---
Arman-e Emrooz:
1- Iran Leader: Most Important Duty of Officials Is to Strengthen Domestic Production
2- Conservatives to Remove Hardliners in Order to Avoid Further Division
3- Why Don't We Withdraw from United Nations? [Editorial]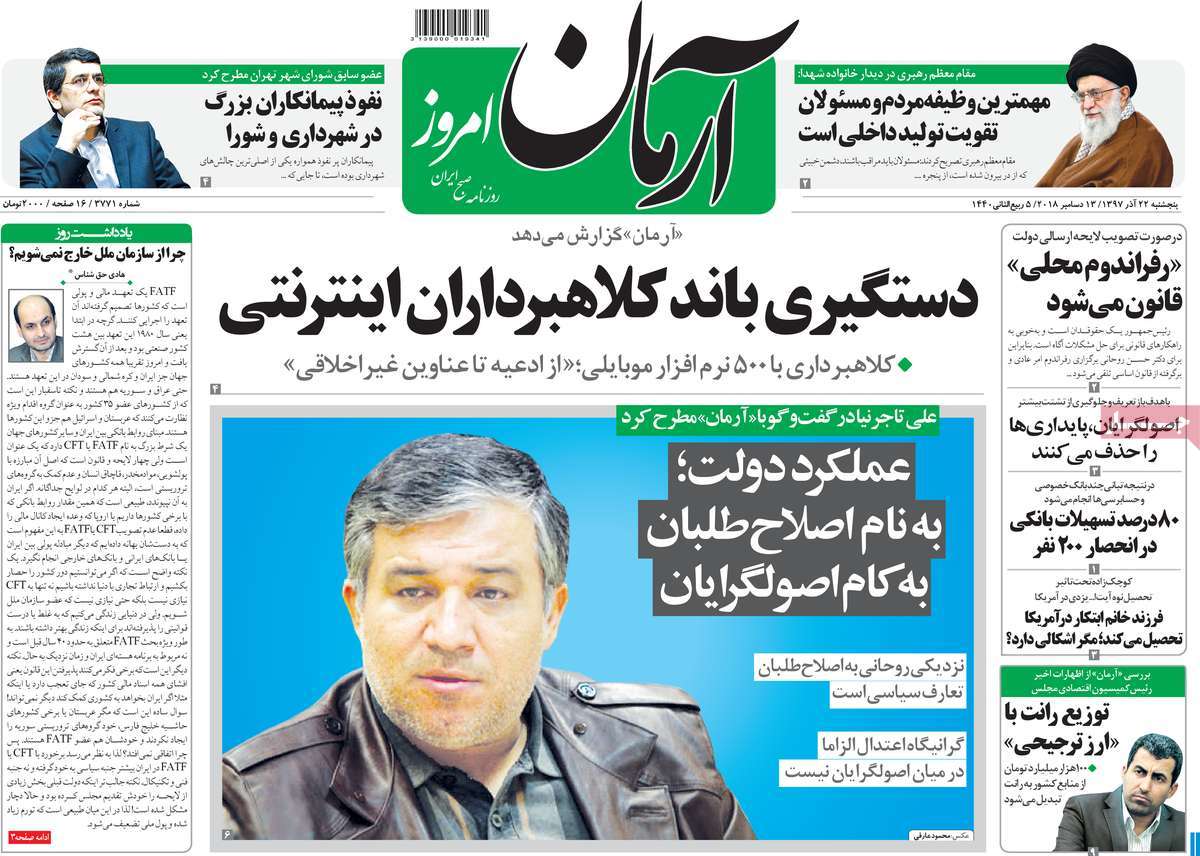 ---
Ebtekar:
1- Theresa May in Limbo of Downfall
2- Iran Has No Water Problem: Rouhani
3- How Saudis Moved from Conservative Approach to Aggressive Foreign Policy [Editorial]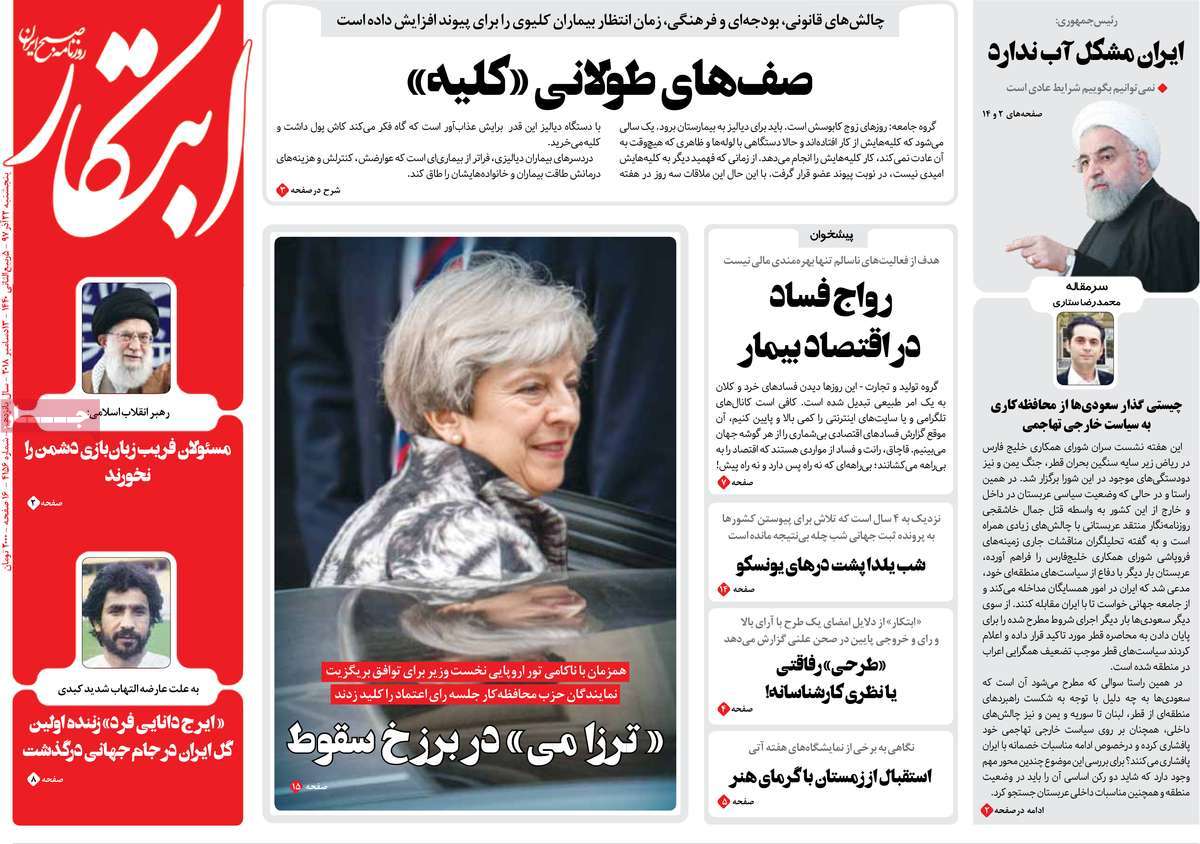 ---
Etemad:
1- Top Shiite Clerics Slam "Unreligious" Move to Stop Giving Homework to Students
2- US' Plot for "Hot Summer" in Iran Failed: Leader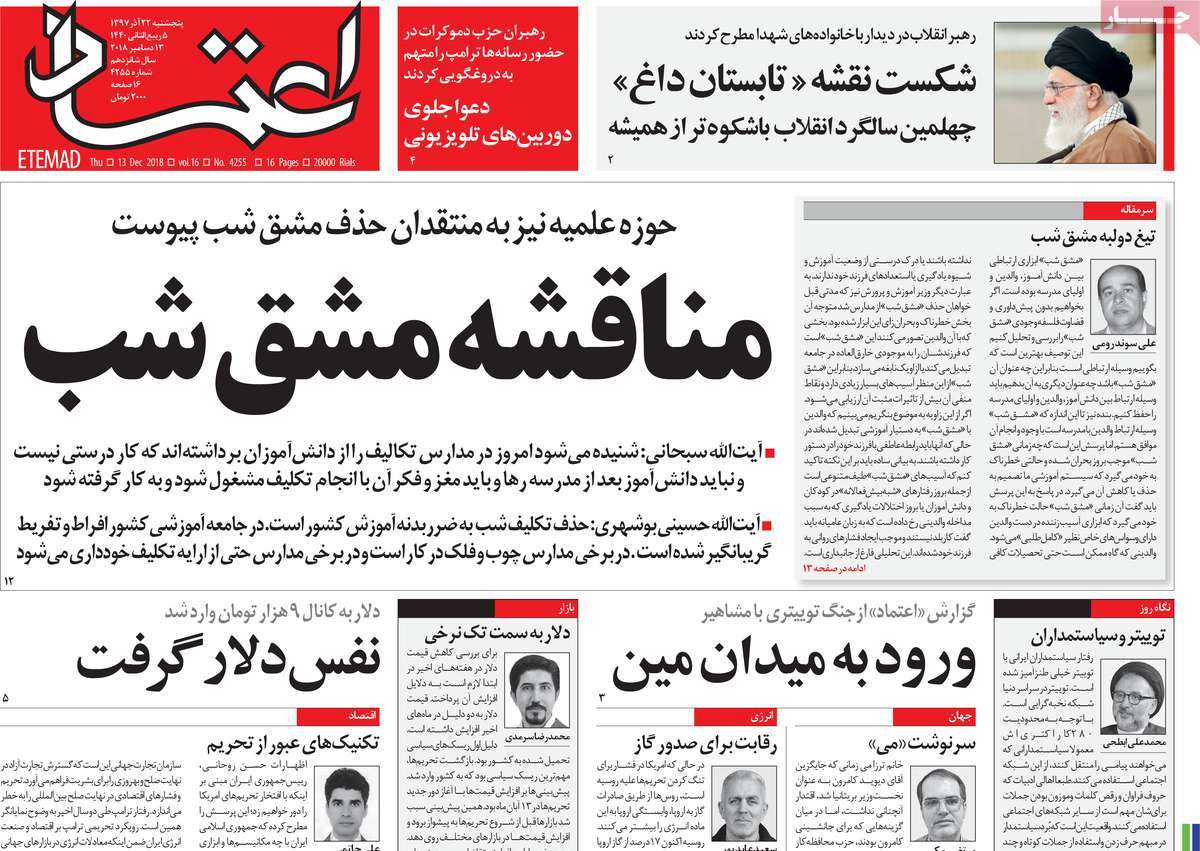 ---
Ettela'at:
1- UN Chief: Countries Must Guarantee Implementation of JCPOA
2- Erdogan: West Has No Benefit for Turkey
3- Iraq PM: Our Country Won't Be Part of Anti-Iran Sanctions
---
Farhikhtegan:
1- Will Rouhani's Government Leave Paris Climate Agreement?
2- Radical Reformists Trying to Put Rouhani's Gov't in Political Quagmire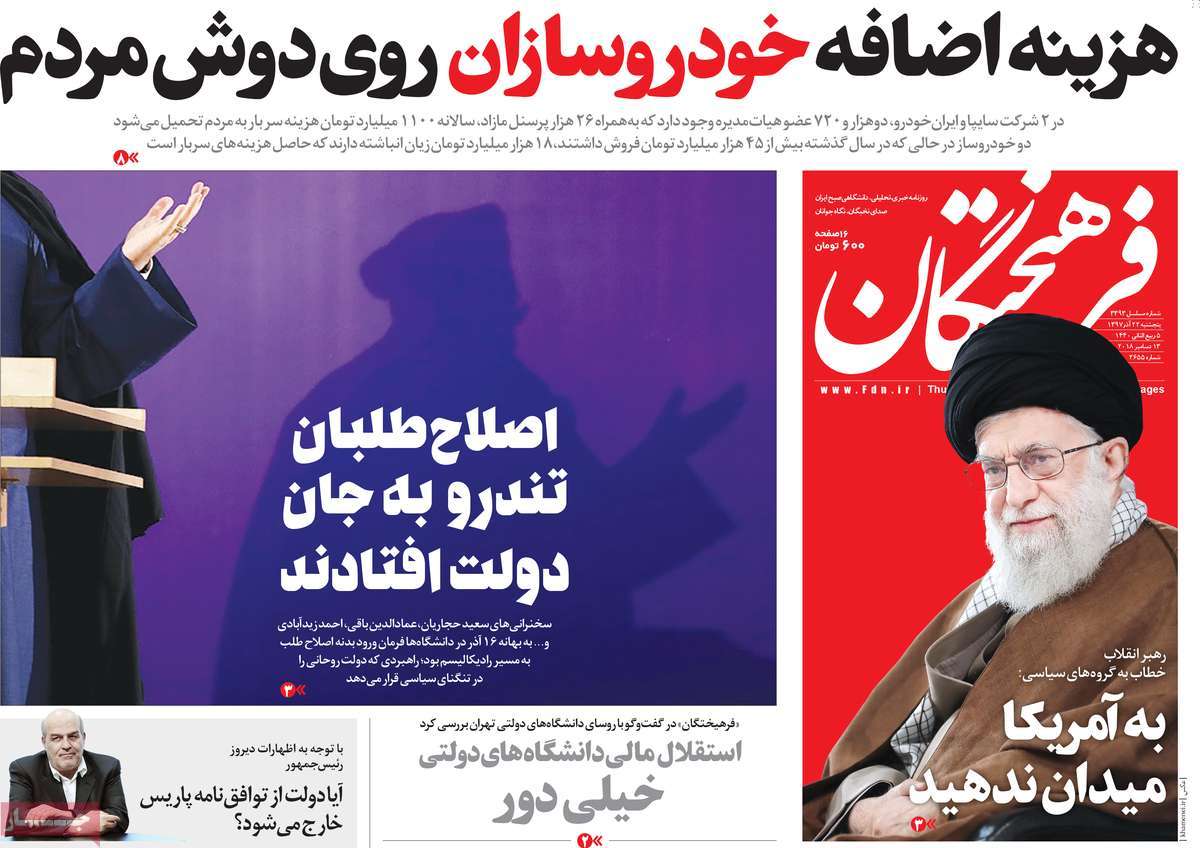 ---
Iran:
1- Gov't Working on Plan to Allow Local Referendum
2- Europeans on UN Security Council Support Iran Nuclear Deal
3- Test of Confidence in UK PM May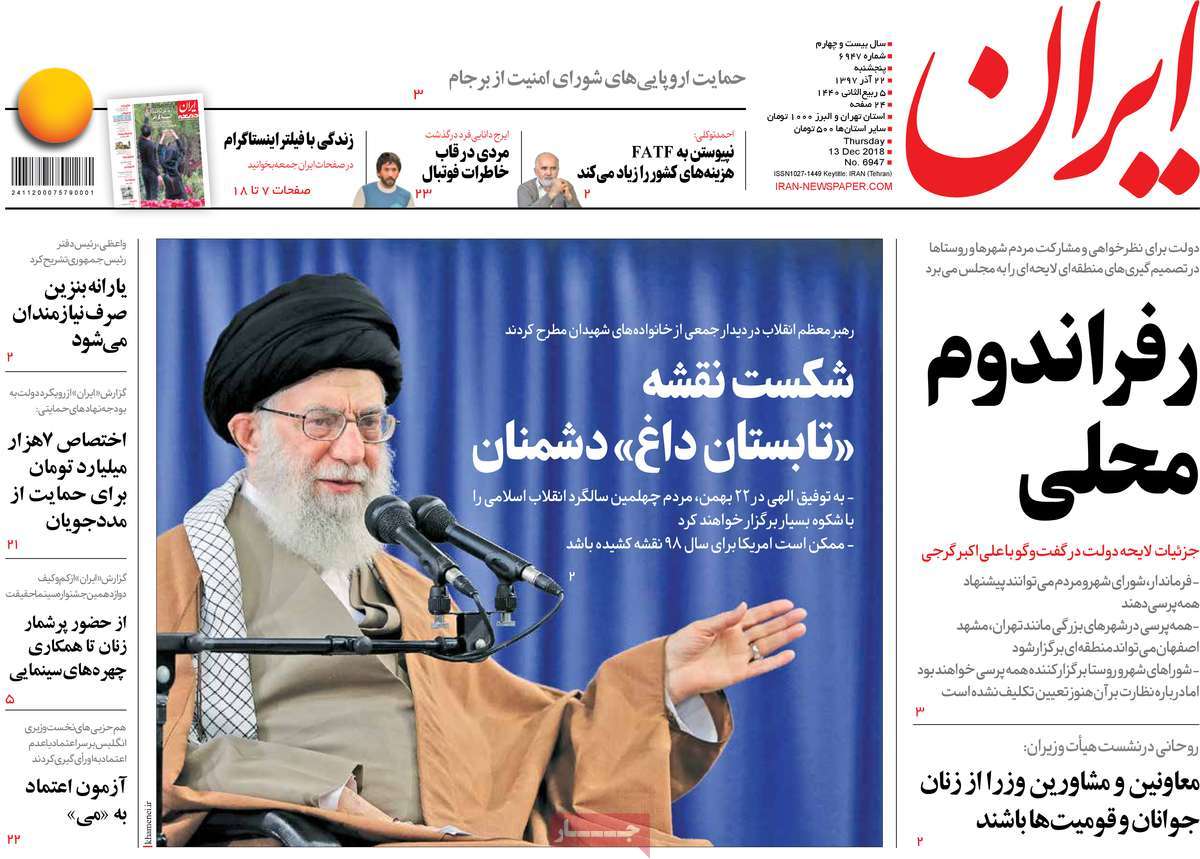 ---
Javan:
1- US Plot for People Has Been Uncovered: Iran Leader
2- Rouhani: They Seek to Stop Our Development on Pretext of Greenhouse Gases
3- There'll Be Riot If I'm Impeached: Trump
4- People Queue Up to Sell Their Foreign Currencies as Dollar Rate Declines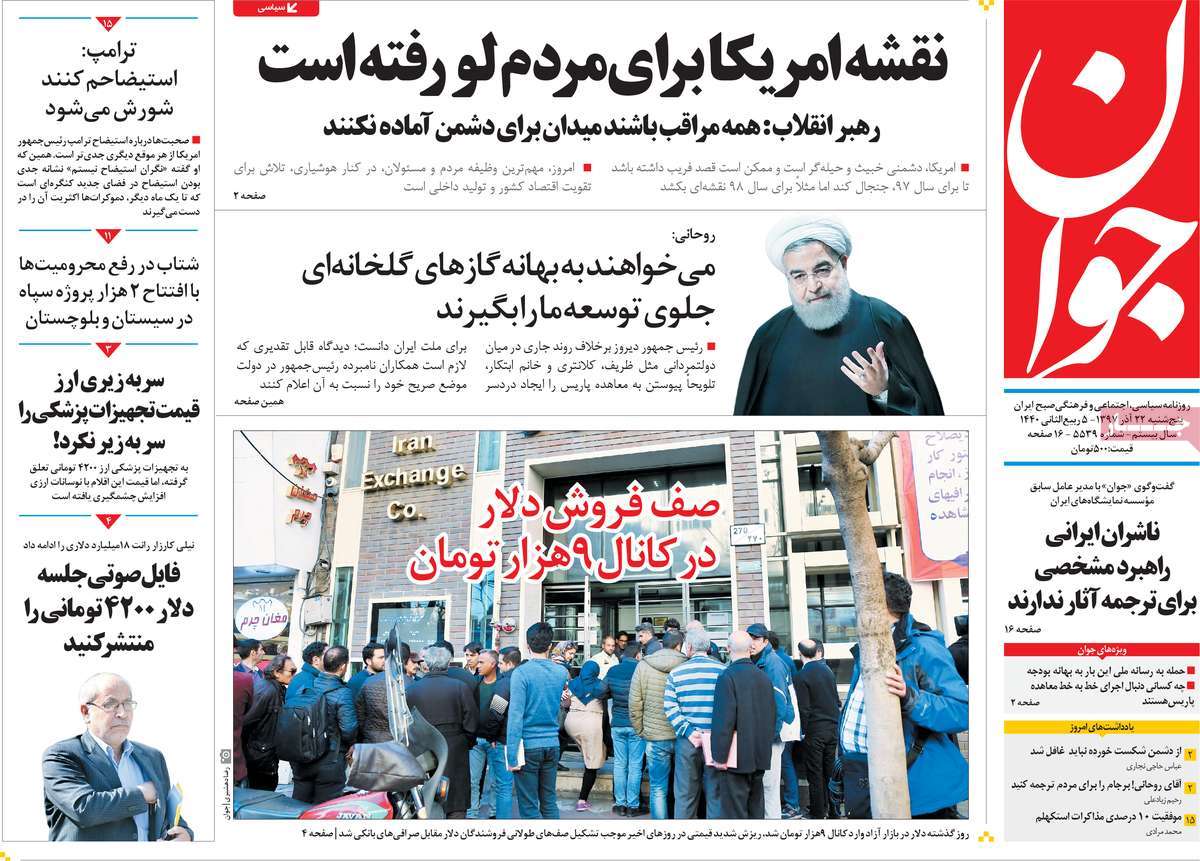 ---
Jomhouri Eslami:
1- US Dollar Rate Down to Below IRR 100,000 in Unofficial Market
2- Iran Leader Calls for Double Efforts to Strengthen National Economy, Production
3- Germany's Exports to Iran Considerably Increased: Reuters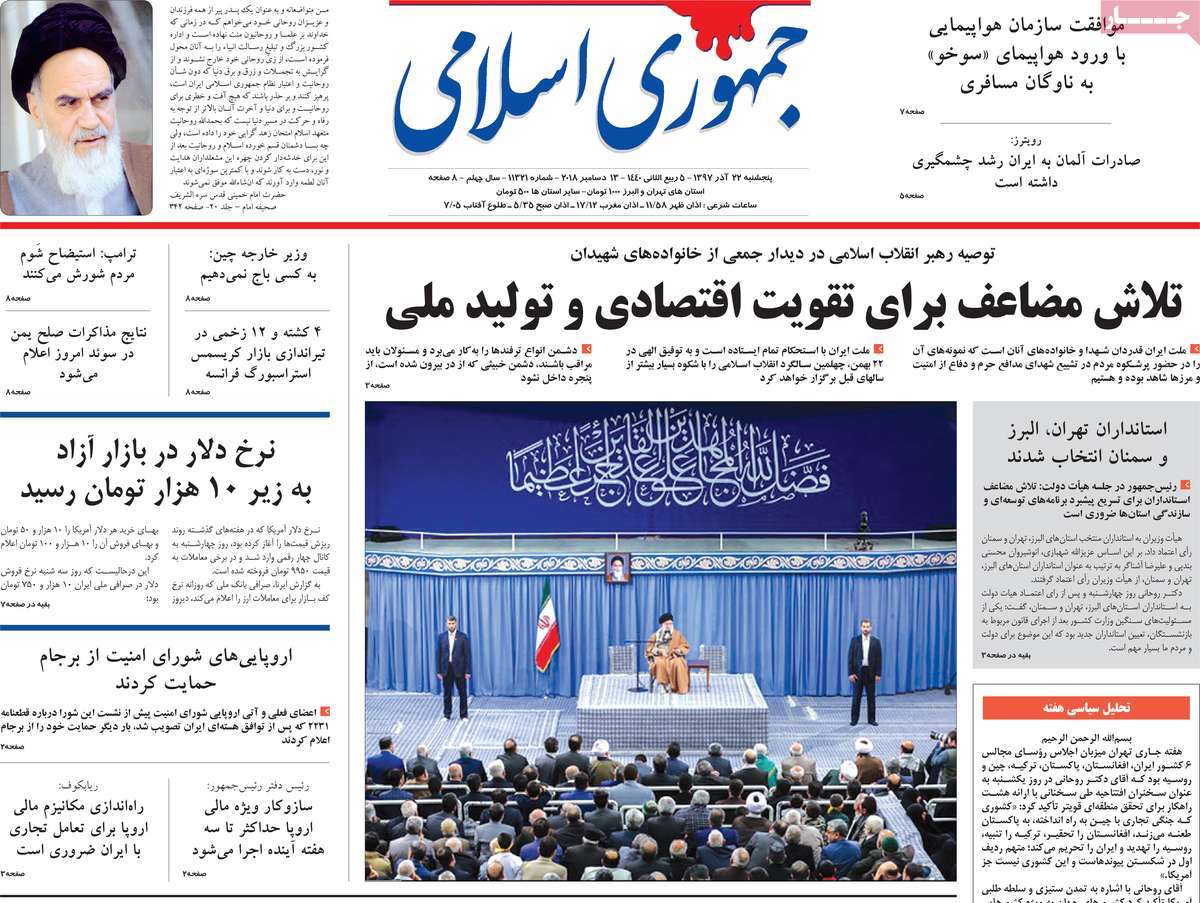 ---
Kayhan:
1- Enemy's Plot Uncovered; Officials Must Be Careful Not to Be Deceived by Enemy's Words: Leader
2- Rouhani Criticizes Paris Climate Agreement
3- From Cool Summer of Iran to Hot Winter of France!
---
Shahrvand:
1- Great Step to Increase People's Participation
* Government Drafts Law on Local Referendums
2- Decline of US Dollar Rate Continues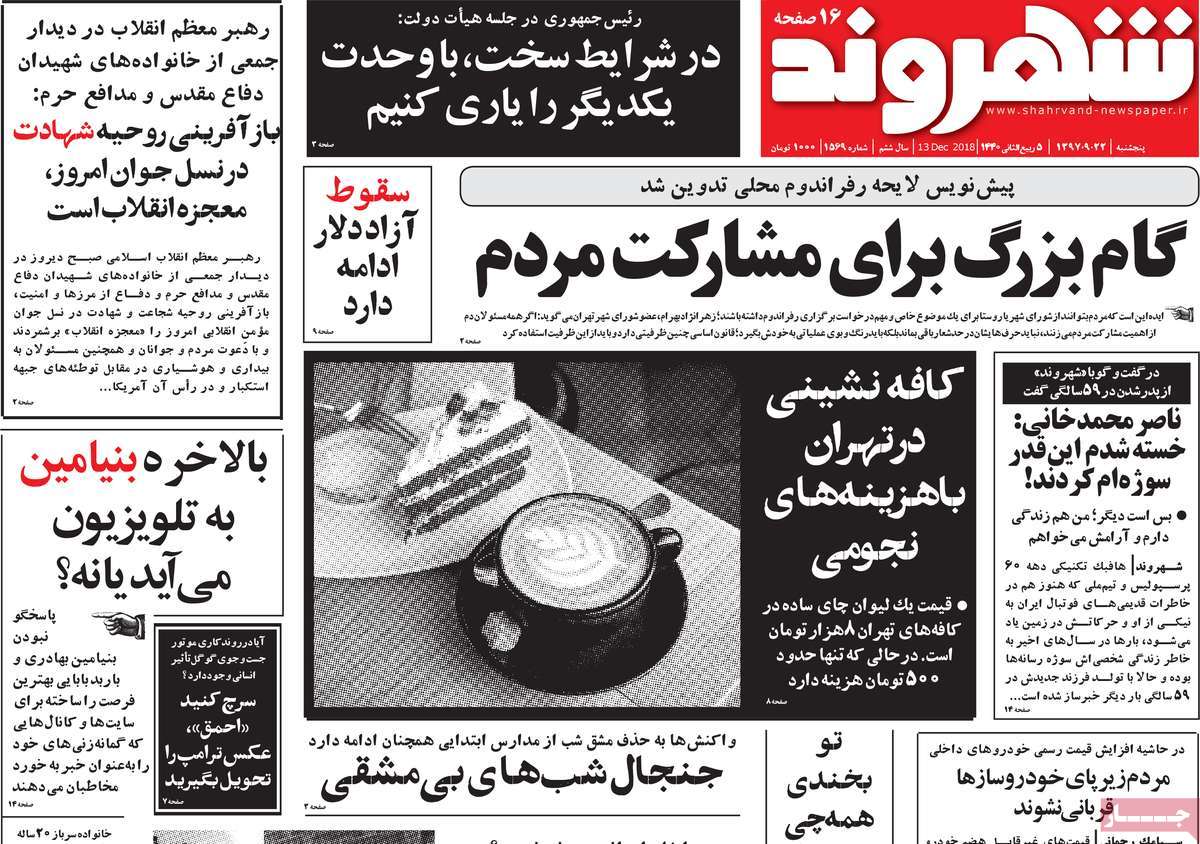 ---
Shargh:
1- Washington Threatens to Deport Iranian Officials' Children Living in US
2- Enemies Might Be Hatching Plots for 2019, Iran Leader Warns
3- We Can't Say Everything's Normal: Rouhani
---
Vatan-e Emrooz:
1- Rouhani Criticizes Ebtekar's Legacy [Paris Climate Agreement]
2- Canadian Government Gives in to China's Power
3- French Regime Resorting to ISIS for Help: No Group Claims Responsibility for Strasburg Attack