Abrar:
1- Joint statement by foreign ministers of Iran, Russia and Republic of Azerbaijan in Baku
2- Salehi speaking on the occasion of National Day of Nuclear Technology: Our Uranium enrichment activities will continue
3- Republicans are trying to deny Iran access to US Dollar
4- Pakistan Foreign Ministry:  Iran will not allow its soil to be used against Pakistan
5- Rouhani speaking on National Day of Nuclear Technology: Neither trust others, nor mistrust them
6- 11 jailed Iranian sailors in India are to be released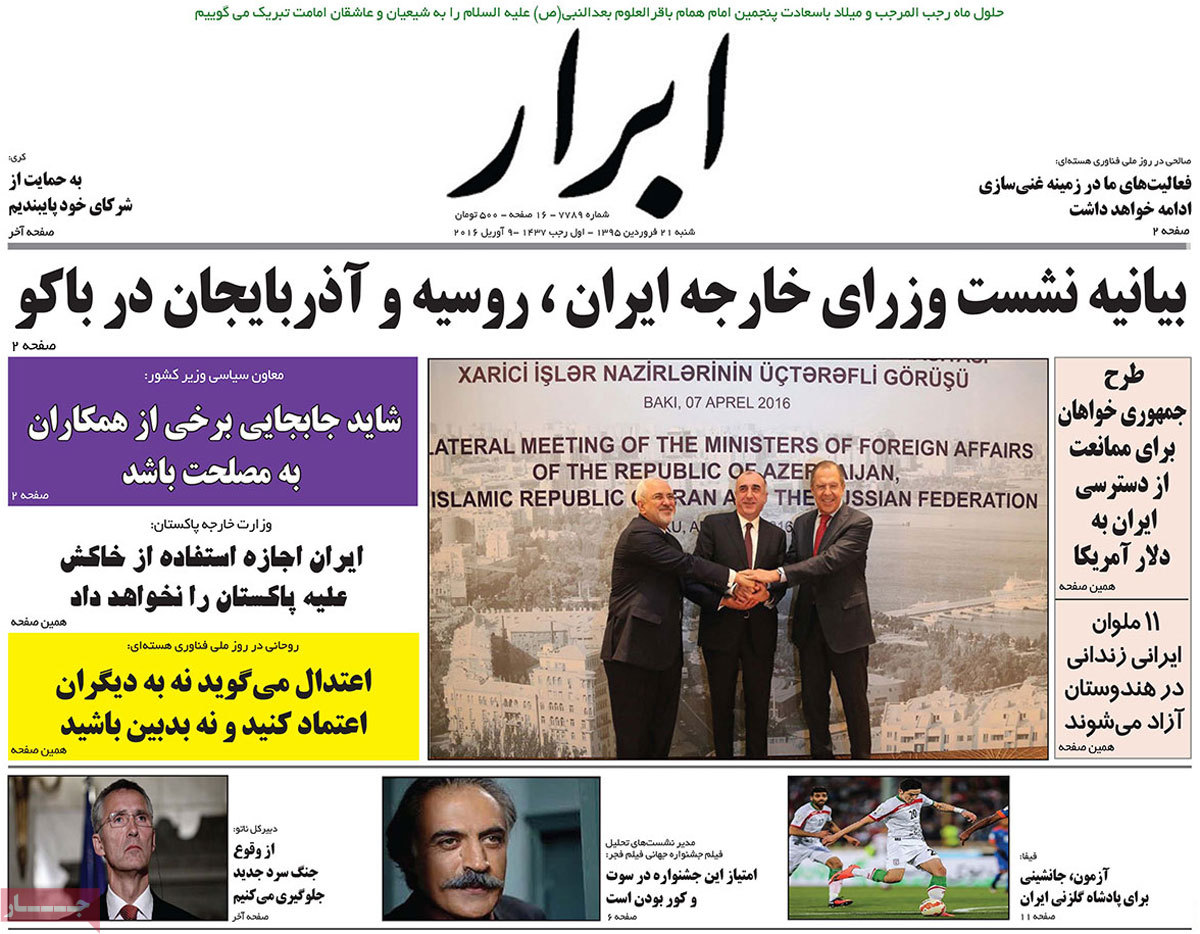 ---
Asrar:
1- President Rouhani: Opportunity for agreement will not always be available
2- Iran and Russia to disregard Suez Canal
– Tehran- Moscow are talking about constructing a canal between Caspian sea and Persian Gulf
3- Ashraf Brujerdi: Freedom of speech is one of the fundamental characteristics of Islamic society
4- General Jazayeri: We will cut off any intruding hand against our defensive capabilities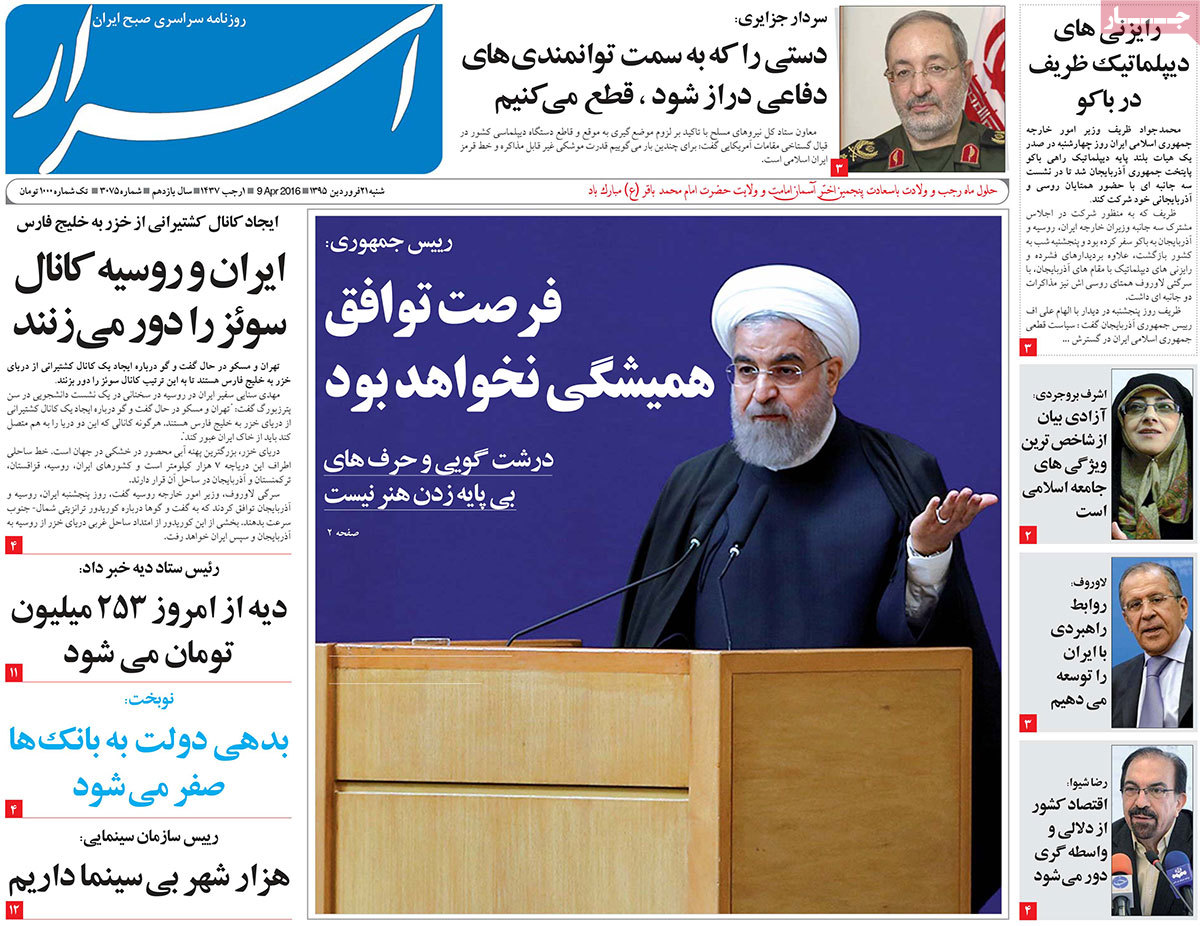 ---
Armane Emrooz:
1- President Rouhani: Opportunity for agreement is available at all times
2- Ahmadinejad: we will do what we want!
---
Ebtekar:
1- Trustees of Babak are not refunding his money (Lawyer of oil debtor talking to Ebtekar)
– Selling of Zanjani's foreign assets will cover all his debts. Babak Zanjani has issued irrevocable power of attorney to recover his foreign assets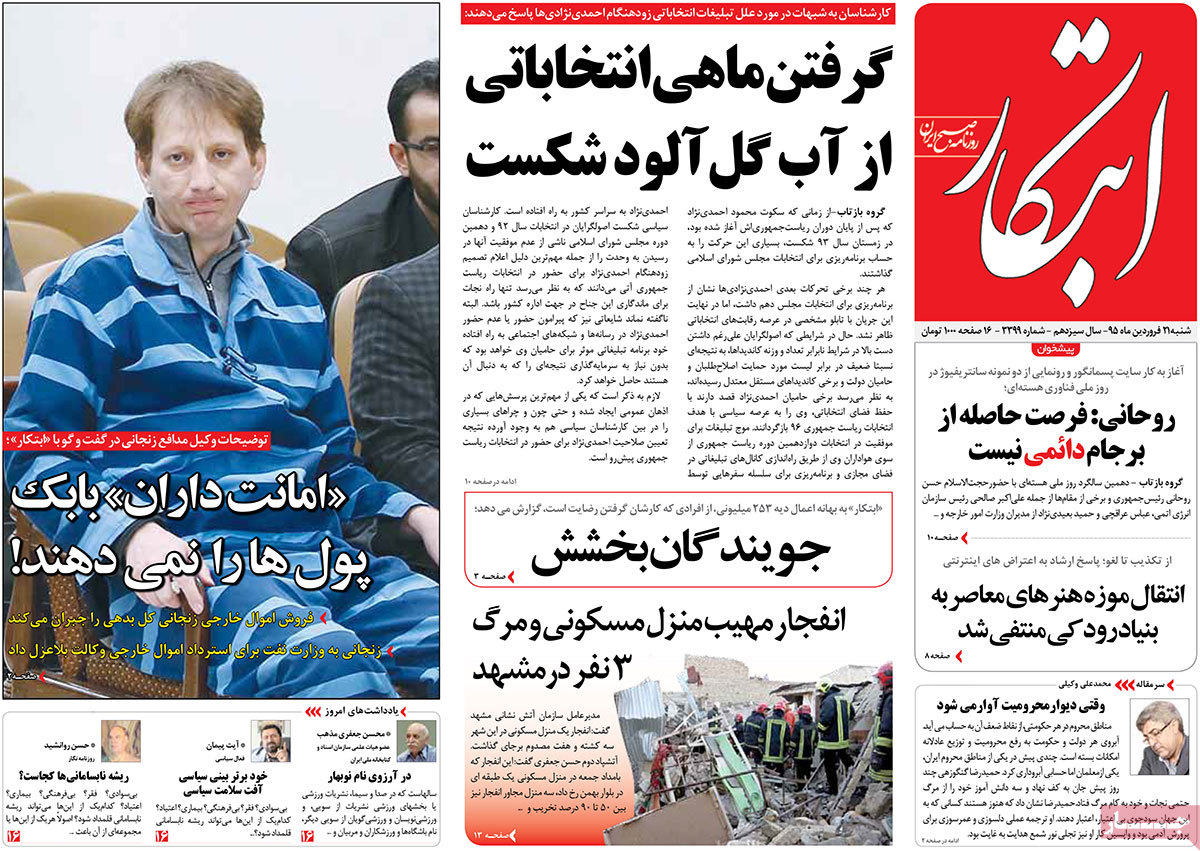 ---
Etelaat:
1- President Rouhani: Extremism is the most dangerous threat against our country
2- Allocation of Rls.10thousands billions low interest rate banking facilities to inactive production firms
3- Russia:  We support Hezbollah's nominee for Lebanese president
4- Iran, Russia and Republic of Azerbaijan Summit due to take place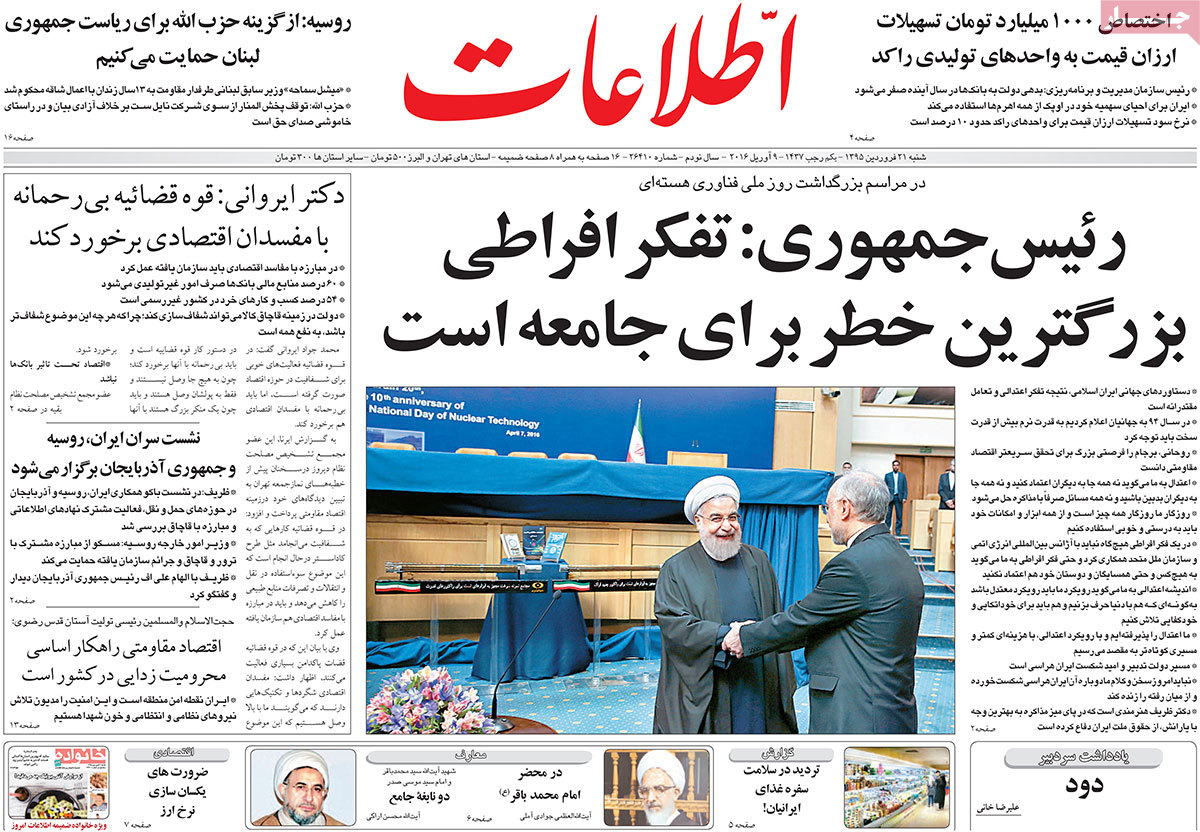 ---
Afkar:
1- Ayatollah Vahid Khorasani: People's wellbeing must be a priority for officials
2- Tehran Friday Prayer Leader: Everybody should help government to implement "Resistance Economy"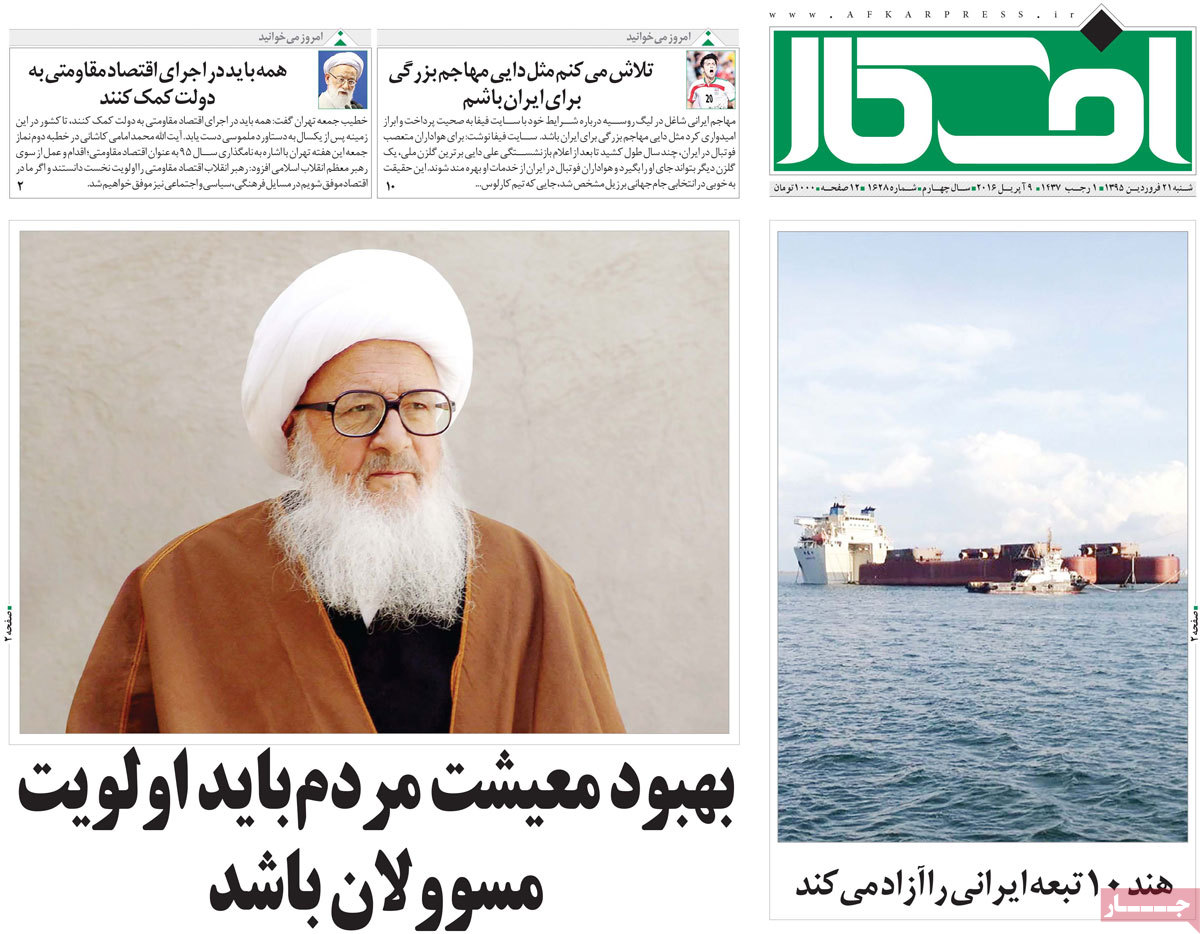 ---
Emtiaz:
1- 10 Important Measures by Ministry of Health to tackle AIDS
2-   More traffic restriction in Tehran similar to London and Stockholm
3- Sport Minister's unprecedented backing for Carlos Queiroz, head coach of Iranian national succor team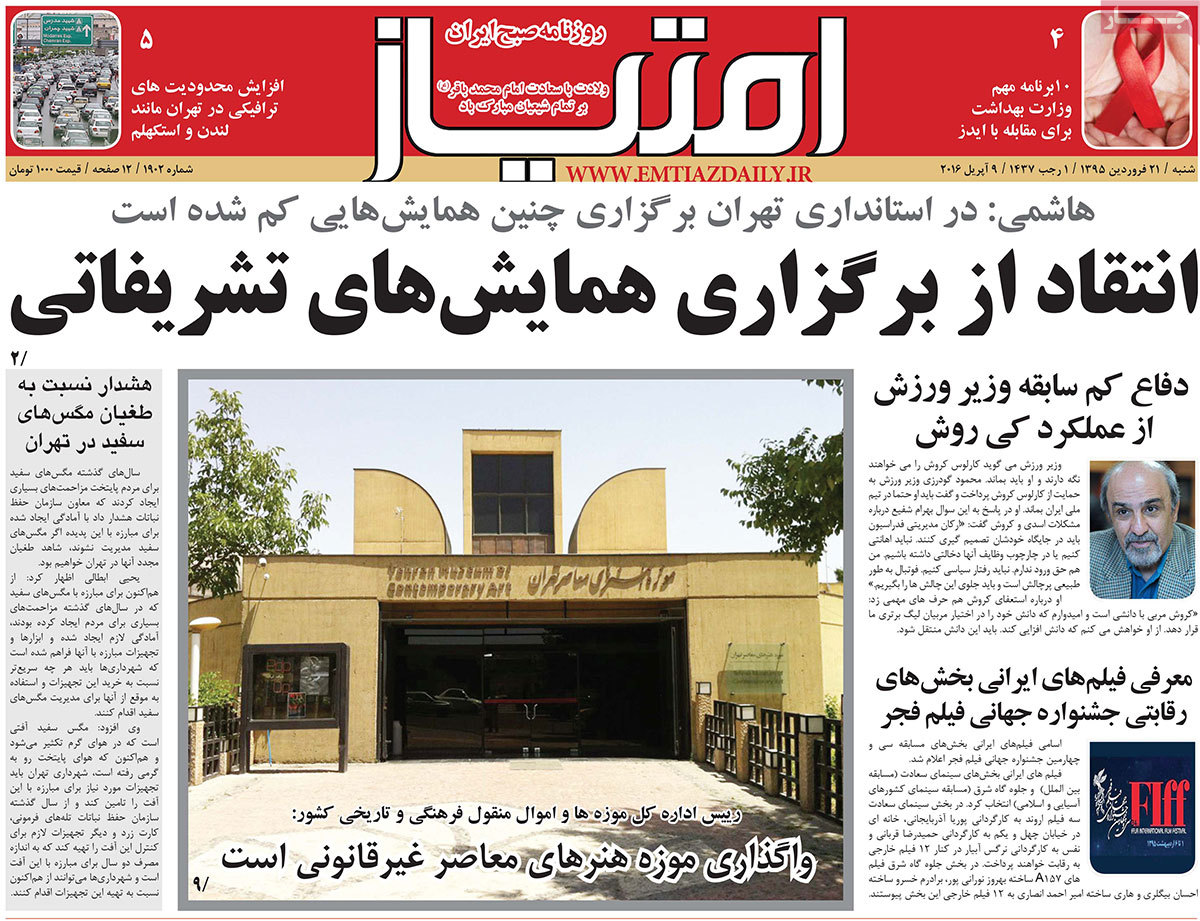 ---
Amin:
1- Rouhani: we have not been and will not be a threat to any country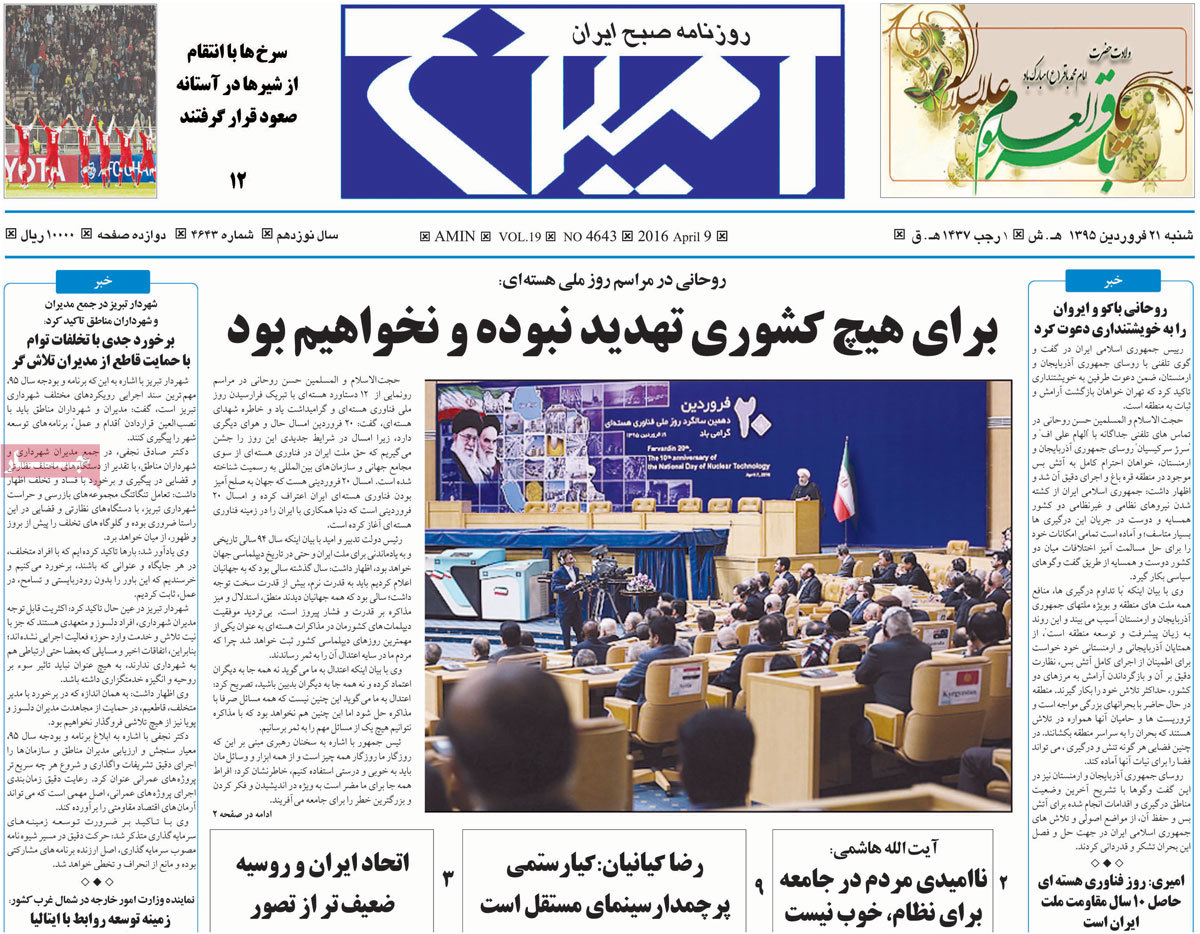 ---
Iran:
1- Rouhani: Joint Comprehensive Plan of Action(JCPA) a great opportunity for speeding up implementation of "Resistance Economy"
2- Deputy Chief of staff of Iranian Armed Forces: Iranian Missiles are not negotiable with any foreigners
3- Disregarding unforeseen fortune:  Interview with a municipality worker who proved his honesty by returning two cases huge lost money to their owners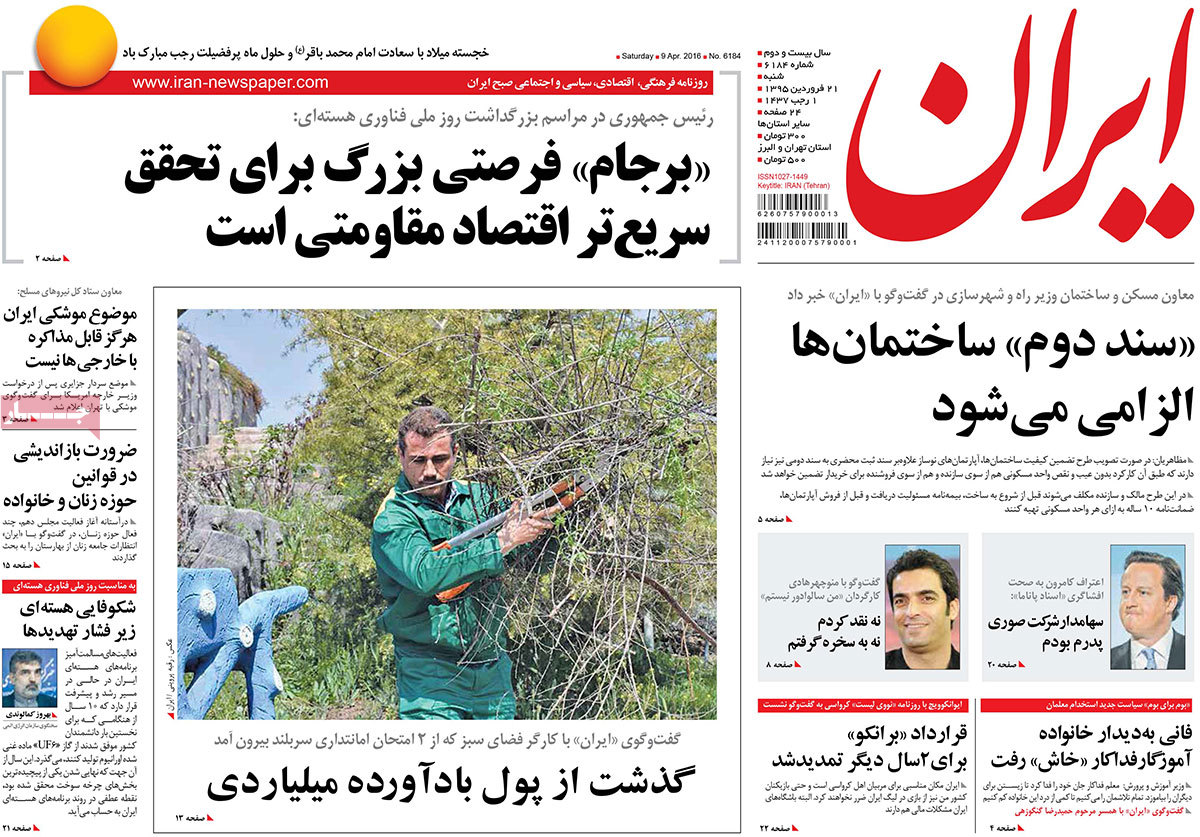 ---
Jomhori Eslami:
1- UN drafts a 20 articles Resolution for ceasefire in Yemen
2- Unveiling new achievements of nuclear industry with President Rouhani in attendance
3- Turkey and Israel to resume their diplomatic ties soon
---
Javan:
1- Babak Zanjani provided a list of his foreign assets
2- Big American names are missing in Panama Documents
– Only little known Americans are named in list released by Mosak Fonseka
3- Erdogan openly return to Israeli lap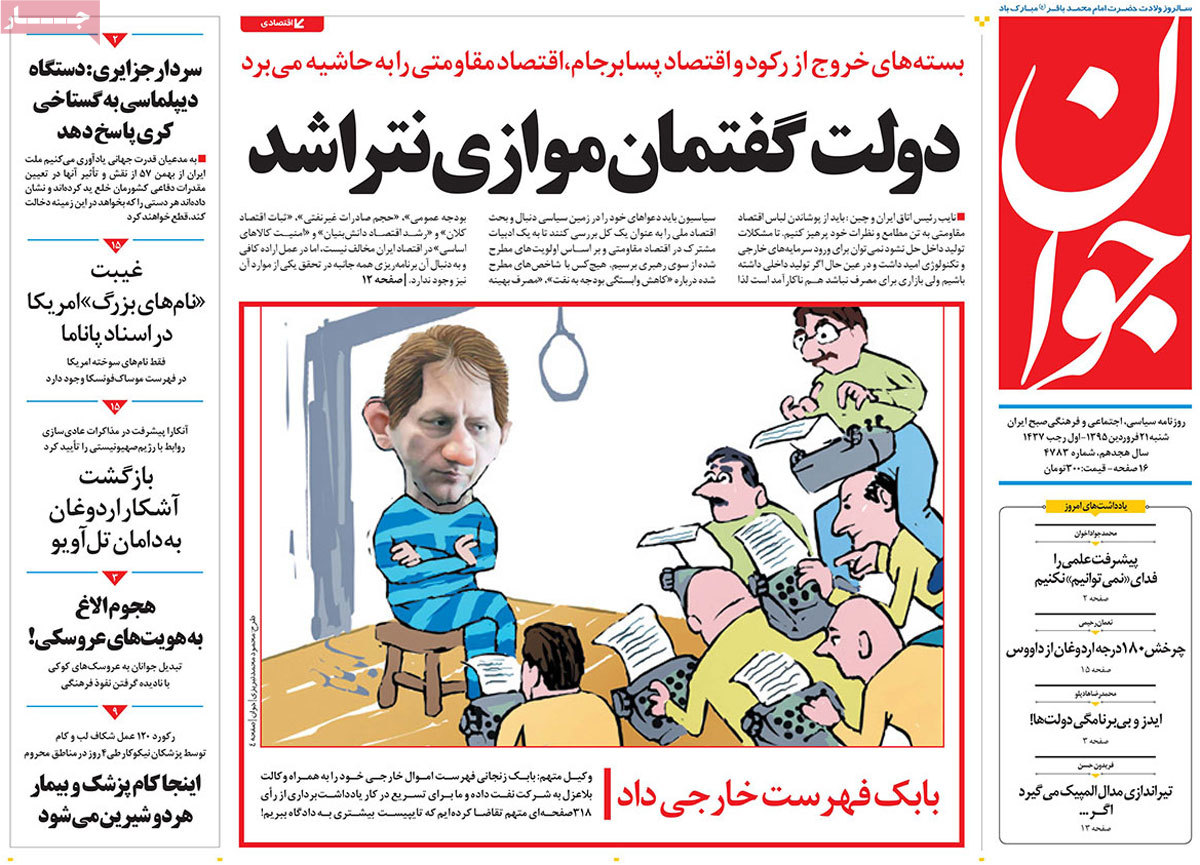 ---
Hemayat:
1- US new unprincipled behavior in post – nuclear agreement era
– John Kerri describes Iran's activities in the region as concerning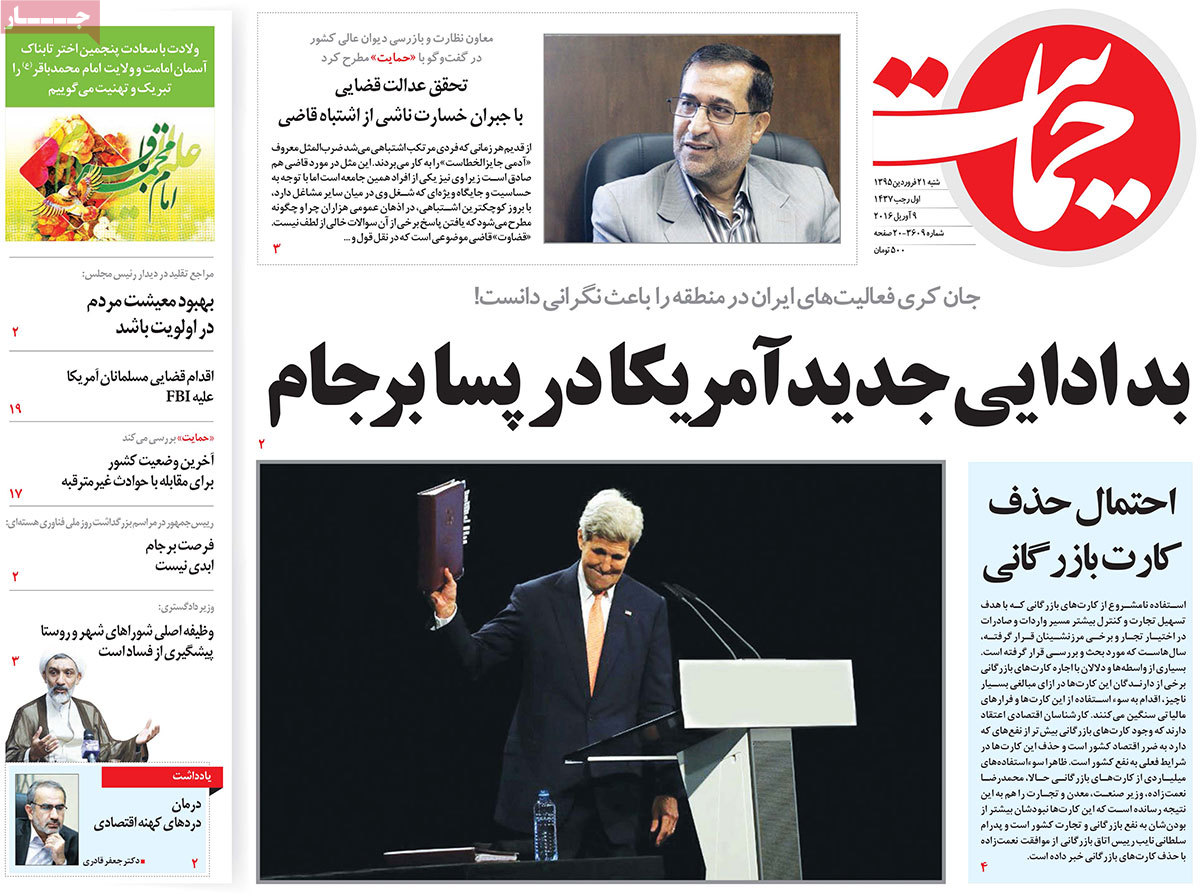 ---
Khorasan:
1- Unveiling to new advanced Centrifuges and test of fuels of Arak Reactor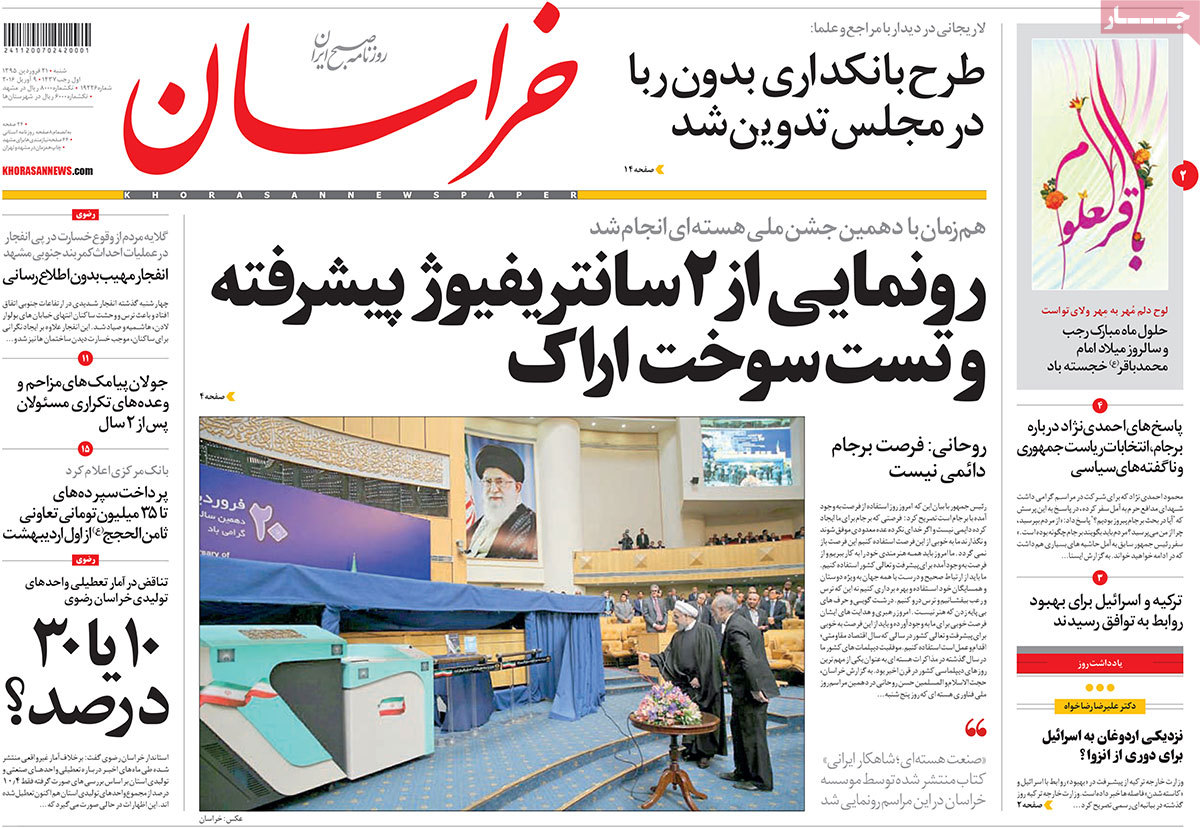 ---
Resalat:
1- President Rouhani: we can not 100 percent trust others
-In nuclear agreement with 5+1 we did not intend to 100 percent trust others
---
Royesh Mellat:
1- Kerri asks Iran to help to resolve Syrian crisis
2- Daesh executes 172 workers at a cement plant in Syria
---
Sepeed:
1- Permanent eradication of AIDS by genetic rearrangement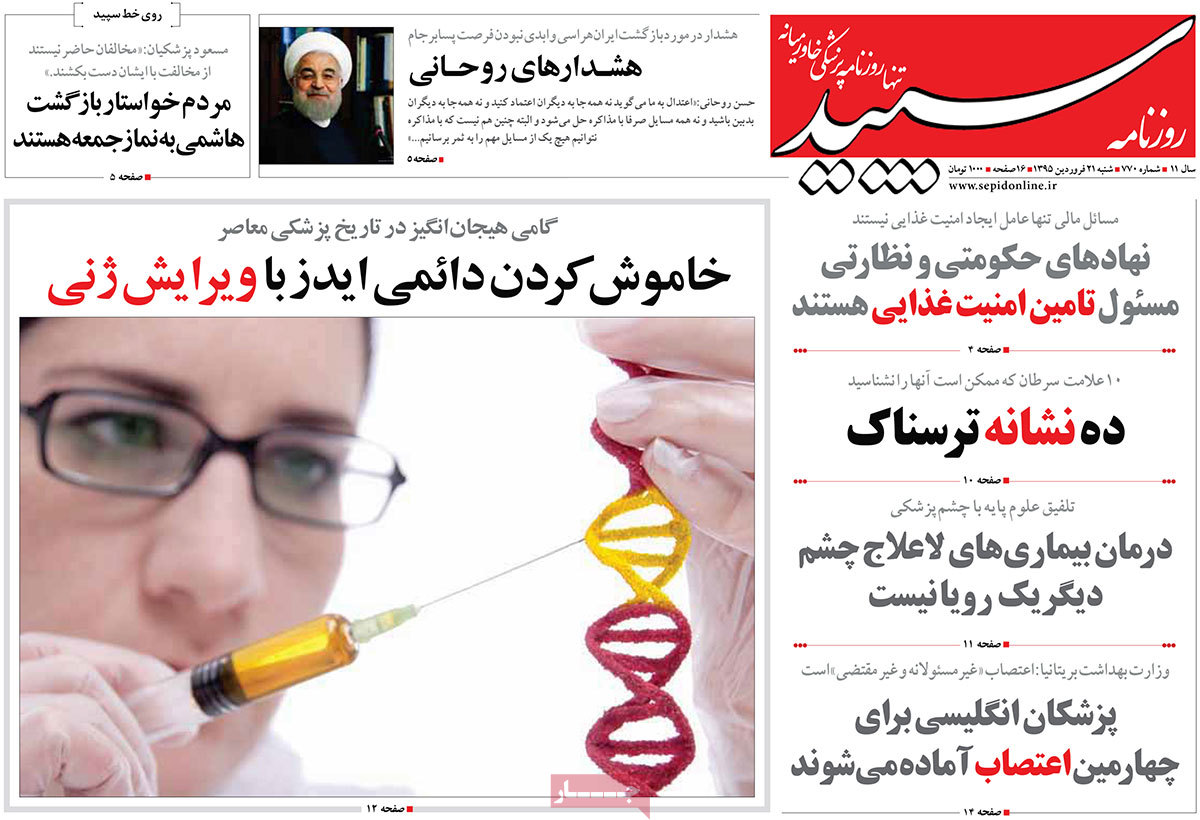 ---
Keyhan:
1- US unveils JCPA 2: Containing Iranian regional Influence, John Kerri explains in Bahrein
2- Saudi rulers pay $4 billion as bribe to Egyptians to remove Hezbollah's Alalam TV network from Nilesat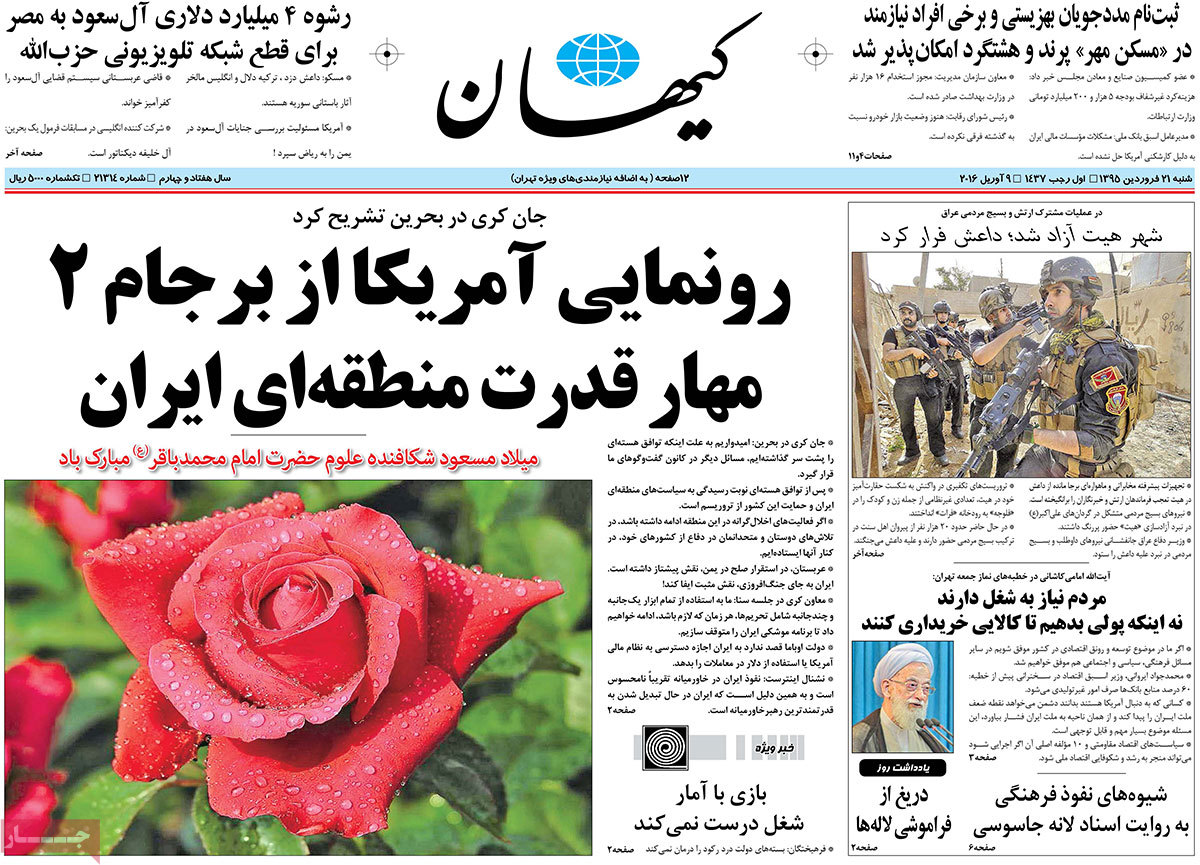 ---
Mardomsalari:
1- Creating a rival for Suez Canal
2- Riyadh looking for partnership with Cairo
– Sweet pledges by Saudi King to Egyptians
3- Forecast of increased OPEC oil output on the eve of Doha oil meeting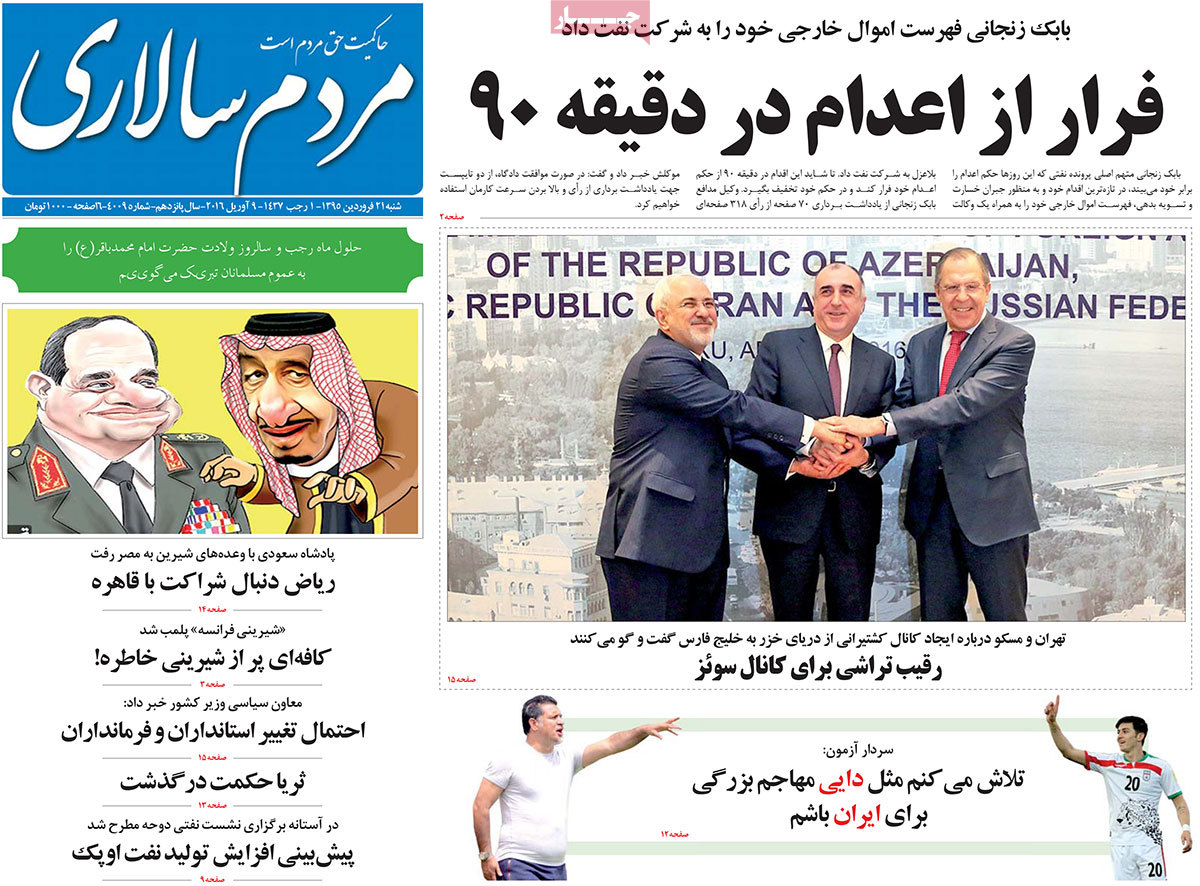 ---
Vaghayeh Etefaghiyeh:
1- Bold pledge by Mr. Spokesman
– Government is determined to settle all its debts by the end of next  Iranian year
2- Special Presidential Gene
– Fatemeh Rakei: Has Parliament Spokesman a special gene that Mr. Aref lacks it?
3- Ali Rabiee: The comprehensive charter to provide social support for women is being compiled
4- Zarif: other countries should learn from Iran and Russia
---
Asia:
1- US and European Tourists in Iranian cities
2- Good intention by giving irrevocable power of Attorney by Babak Zanjani to reduce his term
---
Abrar Eghtesadi:
1- Iran sells 35 percent of its oil to Europeans
2- Malaysian government calls on banks to become active in supporting trade with Iran
3- Italian banks are ready to finance joint projects in Iran