Abrar:
Iran Exceeds Commitments in Implementing Nuclear Deal – IAEA Chief
Parliament Speaker: West's adventurism on Iran missile program lacks legal basis
Obama says U.S. and allies helping Iran benefit from nuclear deal
ISIS plans to use drones armed with dirty bombs to attack the West: Cameron warns
Court to issue billionaire Babak Zanjani's 230-page ruling on Monday
Efforts underway to prevent terrorists accessing nuclear arms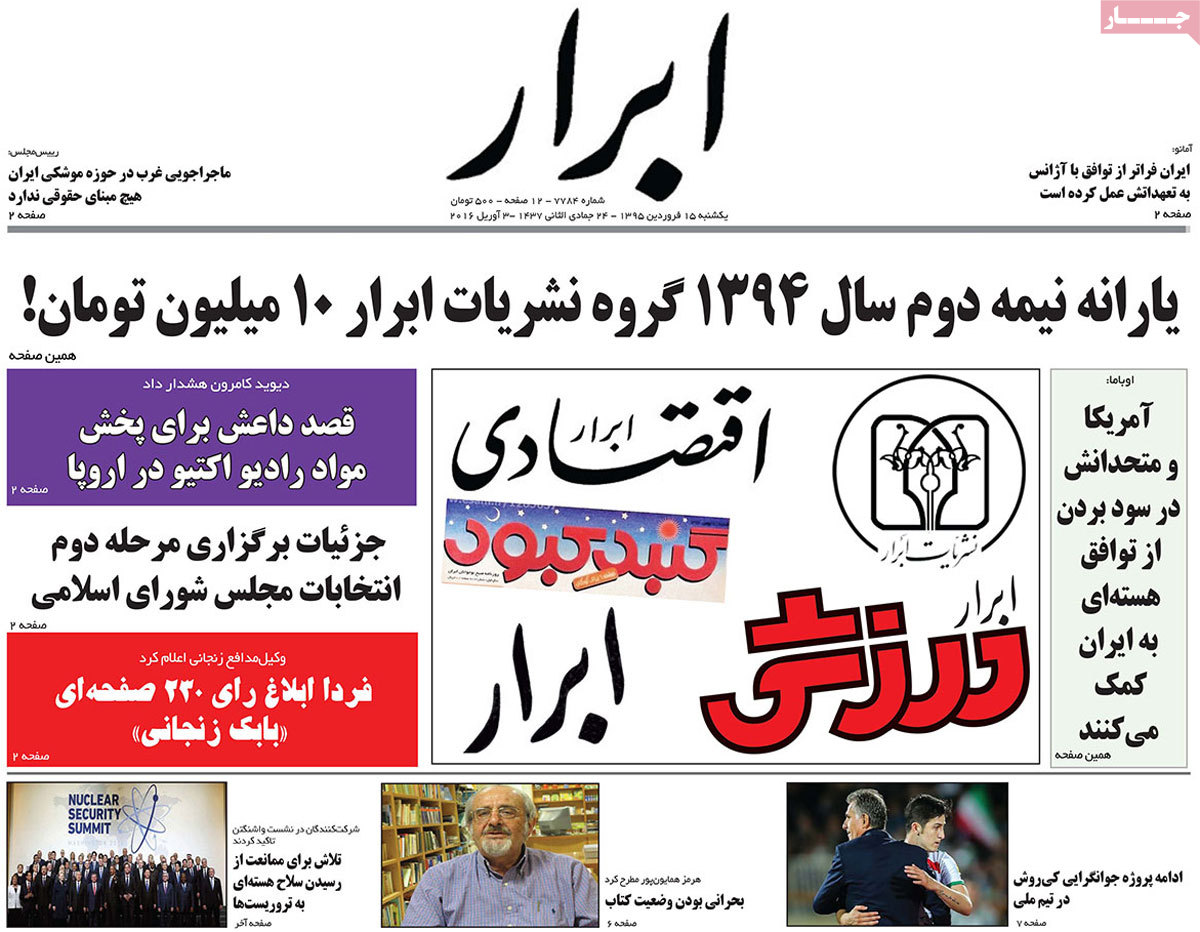 ---
Asrar:
Iran to stop cash subsidy handouts to 24m in new calendar year
Parliament speaker endorses Rouhani's decision to cancel Austria visit
Mousavian: Iran committed to nuclear deal; US dishonours the deal
Fighting erupts in Nagorno-Karabakh, dozens of casualties reported
Health minister: Only 20% of people's health depends on Health Ministry
Obama says he will facilitate trade, banking access for Iran
---
Arman-e Emrouz:
Unprecedented developments in Iran-US relations
Hossein Mousavian speaks about the impacts of the nuclear deal on Tehran-Washington relations.
Gov't considers halting cash subsidies to 24m
Little Bahrain puts Iran down
The diatribe comes as US Secretary of State pays a visit to the Persian Gulf country.
Staunch Ahmadinejad aide creates media hype
Ahmadinejad's minister: I voted for Rouhani
Iran Exceeds Commitments in Implementing Nuclear Deal – IAEA Chief
ISIS guerillas will attack Europe: Expert
Will Zarrab reveal mysteries in Zanjani's file?
Reza Zarrab, a mogul who is alleged to have been close to arrested billionaire Babak Zanajani, has now been arrested by US police for bypassing Iran's sanctions.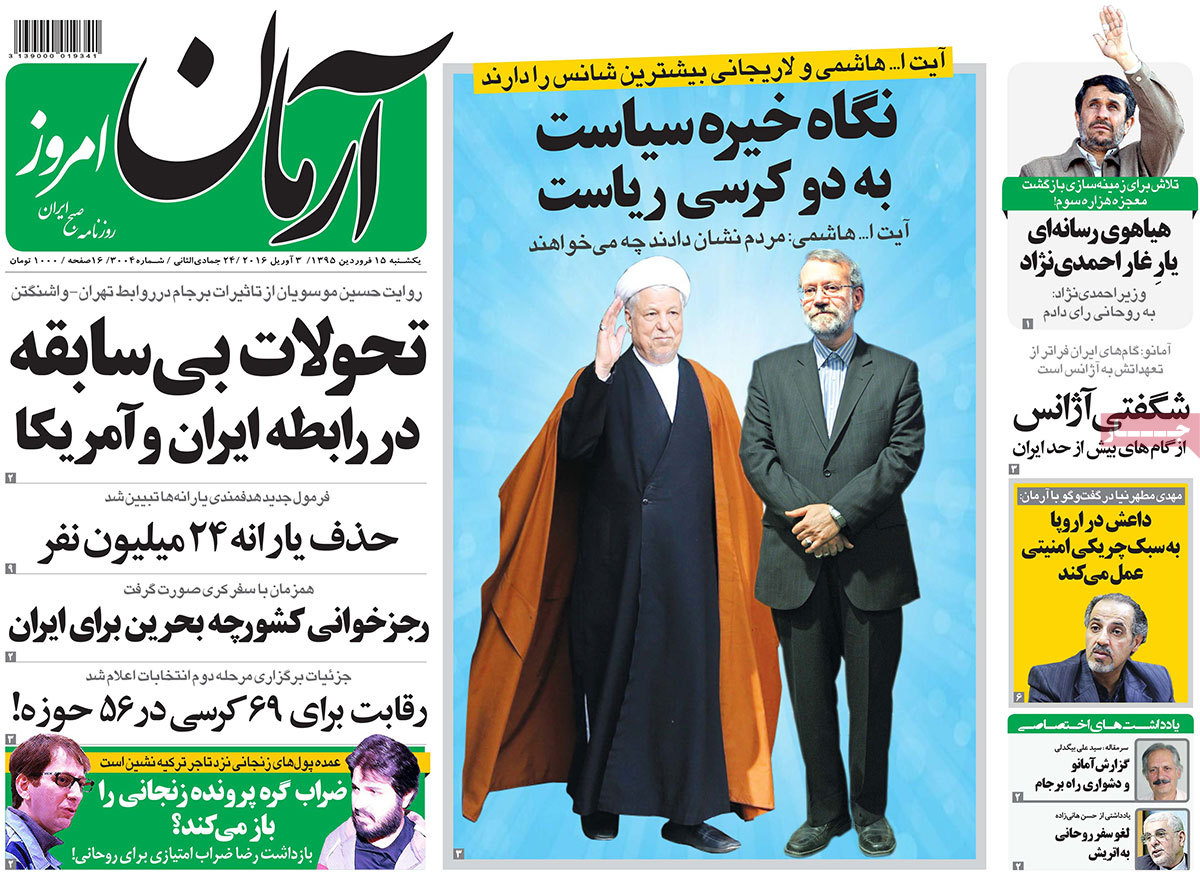 ---
Ebtekar:
Details of a cancellation
A report about the details that led to the cancellation of the Iranian President Hassan Rouhani's visit to Austria
Fighting erupts between Armenia and Azerbaijan after 22-year truce
Iranian foreign trade balance positive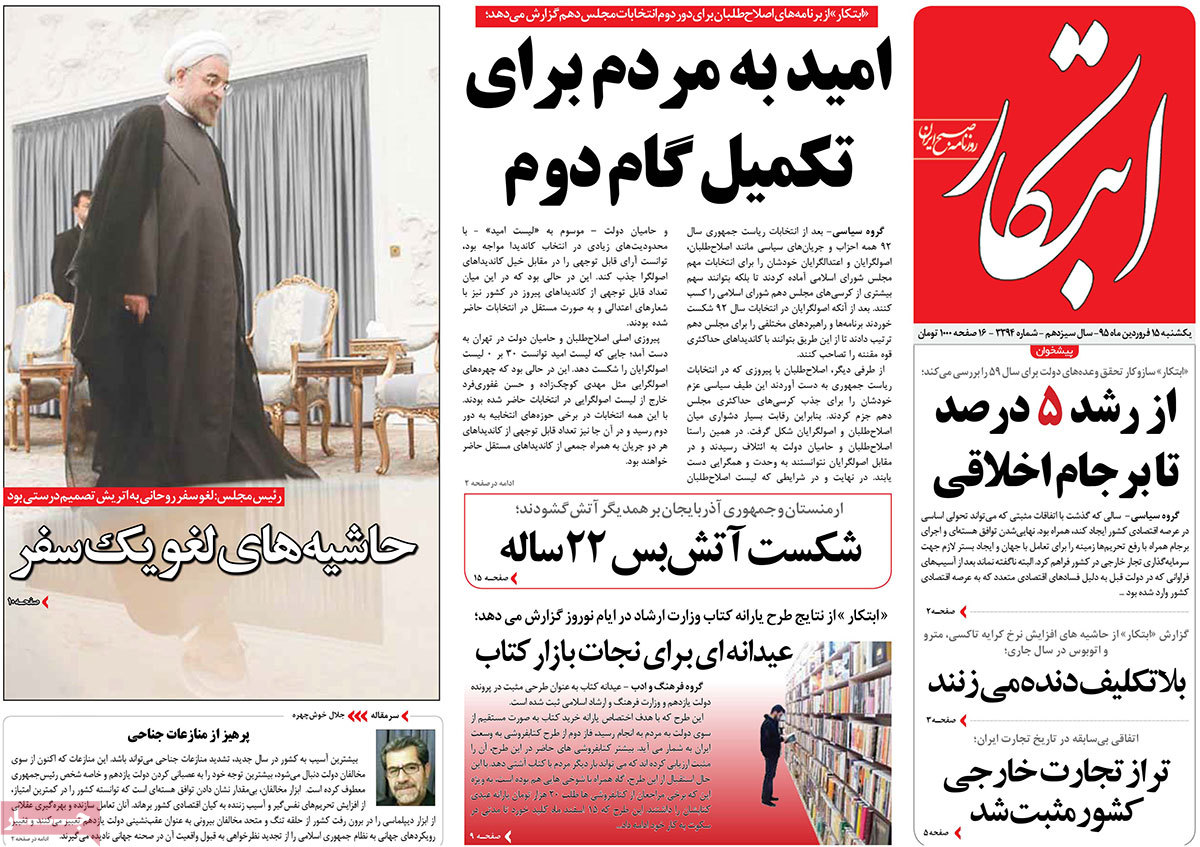 ---
Ettela'at
Iran to drop the rich from receiving subsidies
Iran needs to realize a productive domestic economy: Speaker
Armenia, Azerbaijan open fire in border regions over Karabakh
Health minister visits veteran producer Kiarostami in hospital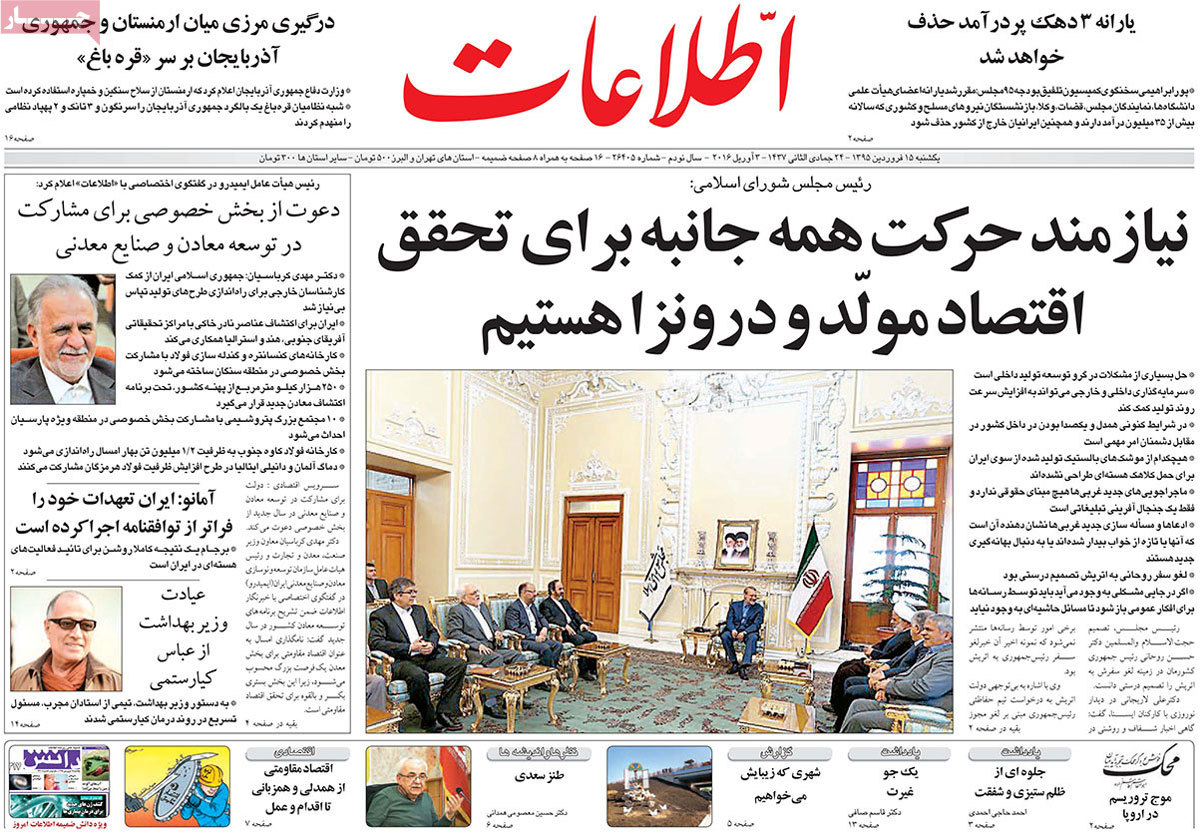 ---
Etemad:
Behind curtains of unmade visit
A report about the various reasons why Iranian President Hassan Rouhani decided to cancel his visit to Austria
Old Karabakh wound reopens
At least 30 soldiers have been killed in fighting between Armenian and Azerbaijani forces in the disputed Nagorno-Karabakh region, officials of both countries said, each blaming the other for violence, reported Al-jazeera.
Reformist figure: Administration enjoys 70% of next Parliament's support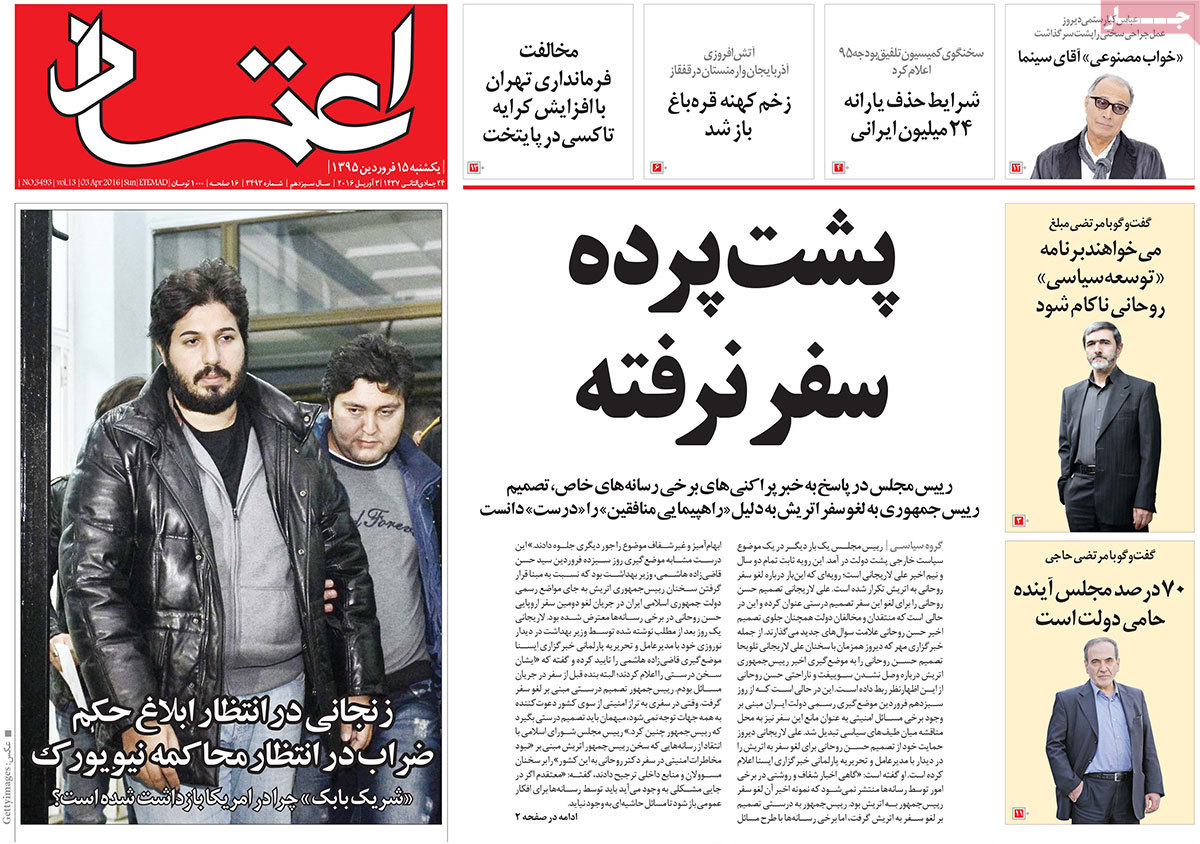 ---
Afkar:
Iran to hold 22nd Farabi Annual Seminar
Unprecedented rise in Iranian trade
Bahraini FM says Persian Gulf States ready to confront Iran
Bahrain's foreign minister said on Friday that Persian Gulf states were prepared to confront Iran over its foreign policy, and that Tehran should drop its support for Middle East factions.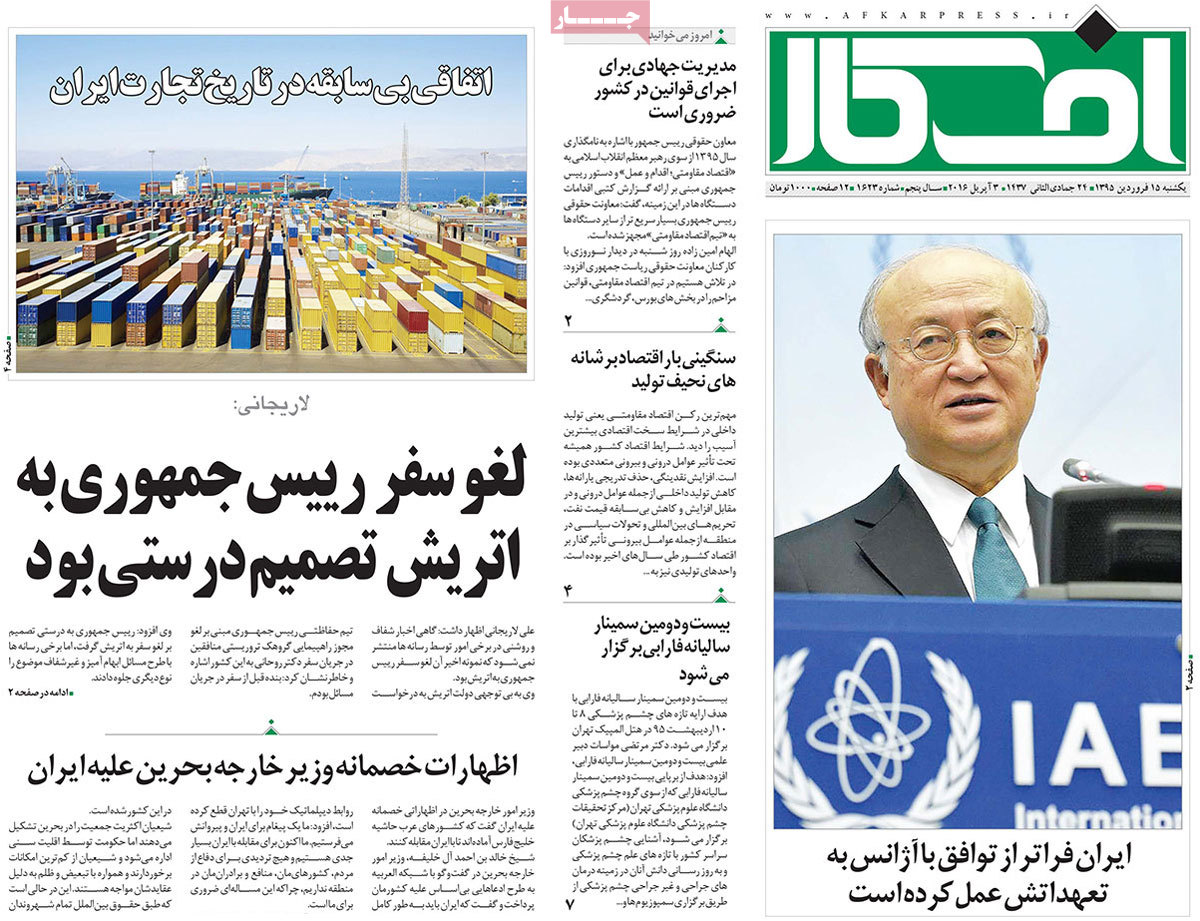 ---
Emtiaz:
Alarming growth of obesity in Iran
1.5bn litres of petrol turned to smoke in Nowruz
Iran submits proposal to register polo in UNESCO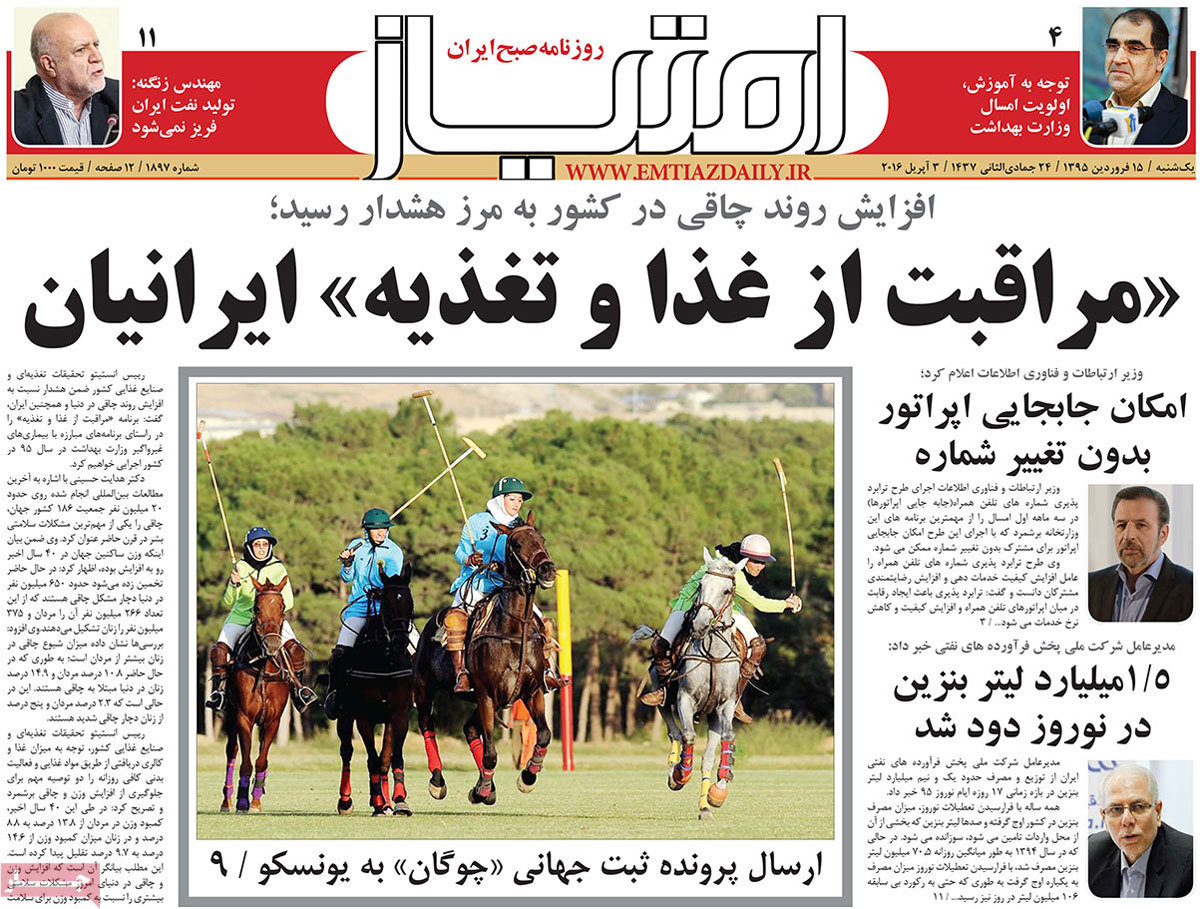 ---
Iran:
Iran trade balance positive for first time in 37 years
Rouhani calls for special focus on cyberspace
War bell tolls in Karabakh
Iran eyes oil exports at 2mbd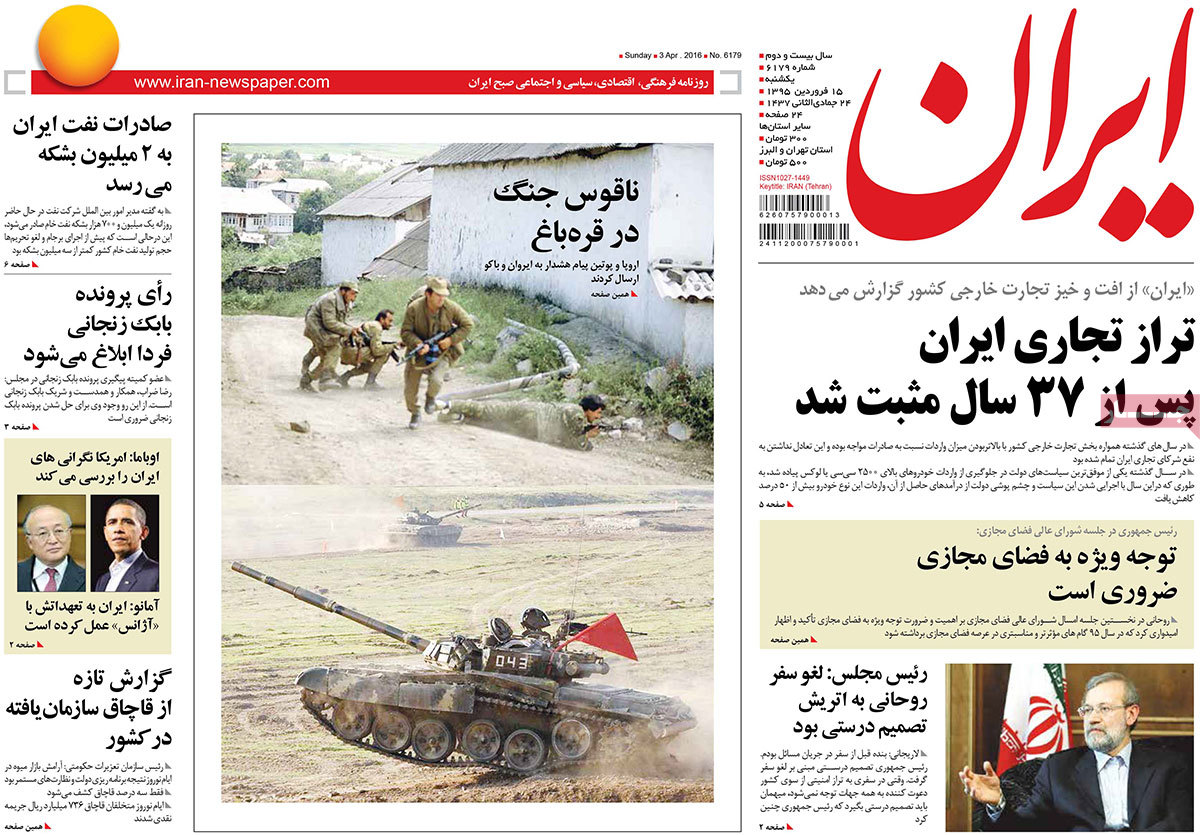 ---
Kayhan:
No wheat imports needed this year: Minister
Obama: Deal's spirit requires Iran to change its attitude
ISIS plans to attack big cities with dirty bombs
Mystery behind the significance of Namazi for US intelligence services
Azerbaijan, Armenia conflict kills 100 soldiers
VOA: Iranian nation deeply trust Islamic Republic
---
Payam Zaman:
Taxes to be levied on vacant houses
Housing sector readies for exit from recession
Russia accuses Turkey of smuggling weapons to ISIS
Russia's UN Ambassador Vitaly Churkin said in a letter to the UN Security Council circulated on Friday that Turkey is the main supplier of weapons and ammunition to ISIS fighters. He said that the transfers are overseen by the country's National Intelligence Organization and are delivered mainly by vehicles, "including as part of humanitarian convoys."
Iran not to freeze oil output: Zangeneh
Plans under way to develop Phase 11 of South Pars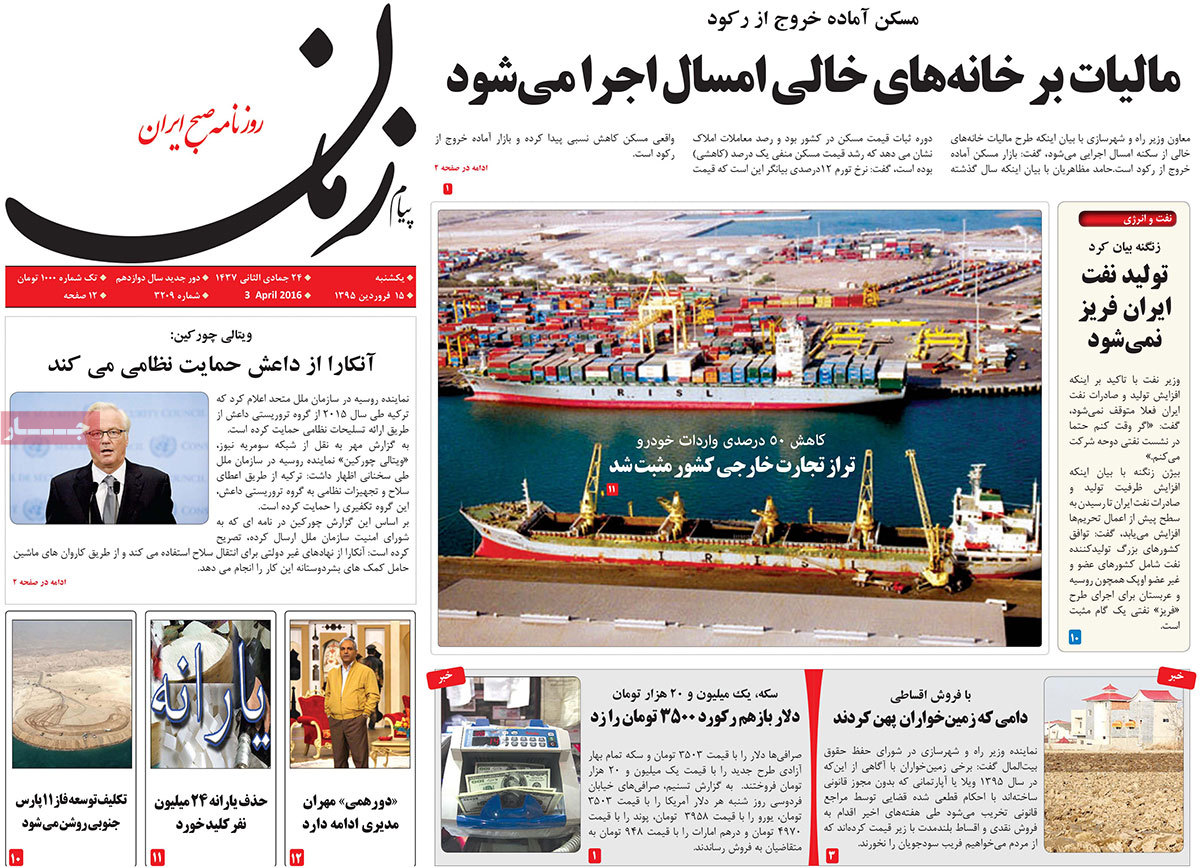 ---
Jamejam:
American failure to keep vows
Foreign trade in reverse gear
---
Jomhouri Islami:
Iran inks 15 oil deals with foreign firms
US Treasury Warns Sanctions 'Overreach' Will Lower Dollar's Status
Raialyoum: Riyadh loses oil war to Iran
UK premier warns of potential ISIS use of dirty arms
Turkish fighters shell Northern Iraq
Ansarallah calls on Yemeni factions to join national unity government
Over 300 killed in Nowruz trips
Hamas captures 4 Israeli militants
---
Javan:
US moving from letters to spirit
"Iran so far has followed the letter of the agreement, but the spirit of the agreement involves Iran also sending signals to the world community and businesses that it is not going to be engaging in a range of provocative actions that are going to scare businesses off," Obama said at a press conference.
Silent death in suburban restaurants
Not promoting missile defense might contradict Constitution: Political activists
Theatres open round-the-clock during Nowruz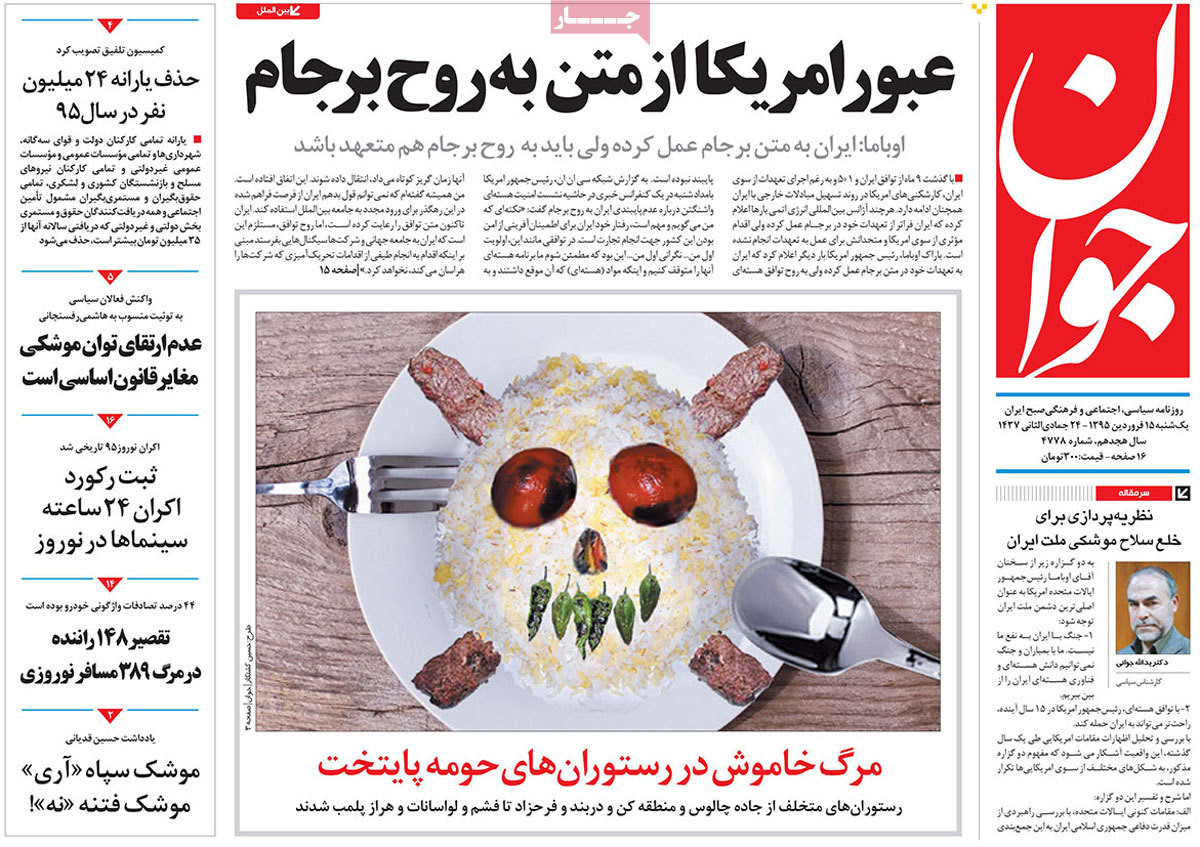 ---
Hemayat:
Obama: Iran must change its attitude
Supervision not enough on banking, monetary systems
Organs must bolster legal divisions: Justice official
Head of General Inspection: Car company required to hand over 6,000 registered cars [to customers]
Administration to exclude 24m from cash handout receivers
Lavrov calls on UNSC to block terrorist access to Turkey
The fat consume 13% of GDP
---
Khorasan:
The Obama tit-for-tat
US president displays a new interpretation of Iran-US relations regarding the nuclear deal
Reza Zarrab transferred to New York for proceedings
Iran in talks with Turkmenistan for importing 50ml of water to Mashhad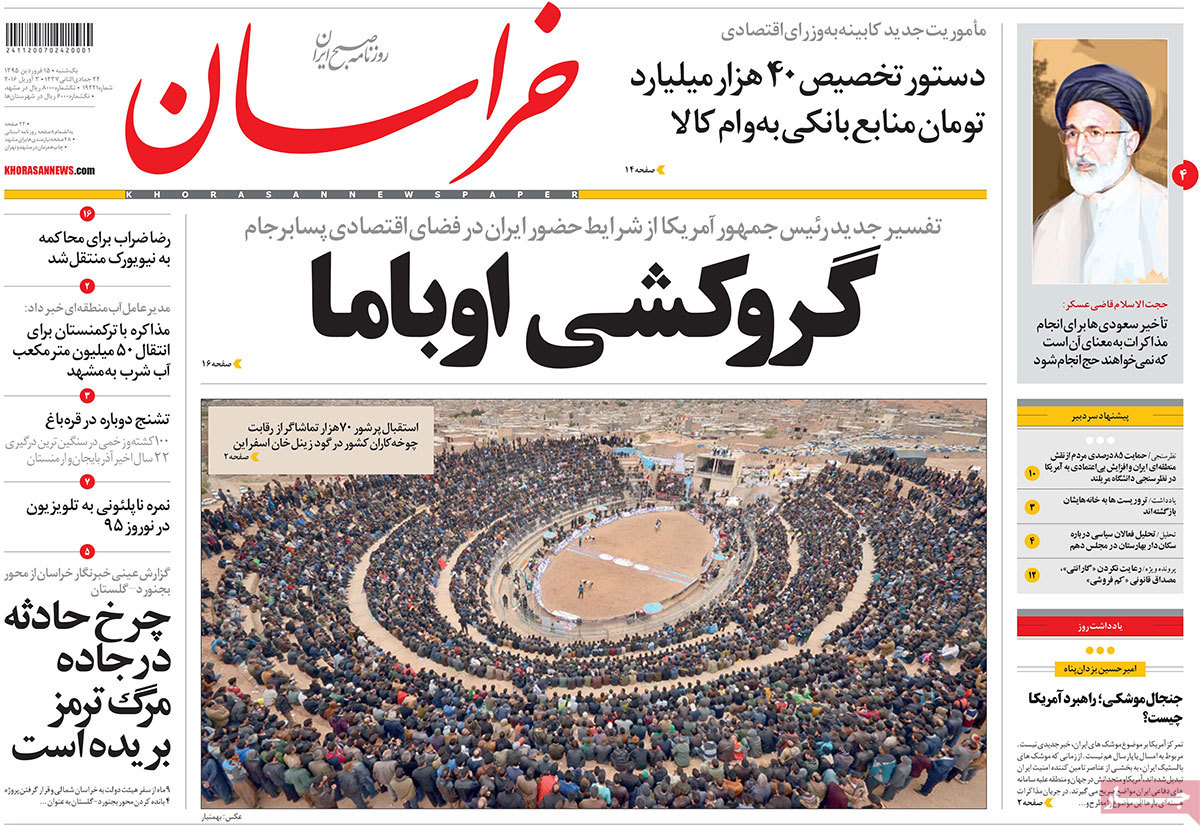 ---
Rah-e Mardom:
Report: Resistive Economy, as highlighted by Leader
---
Resalat:
Americans use rear window to enter Iran [instead of the door]
Tension mounts in Karabakh
History of censorship in US cinema
US not to allow dollar trade with Iran: Obama
Cleric warns of enemy's all-out war on Islamic system, religion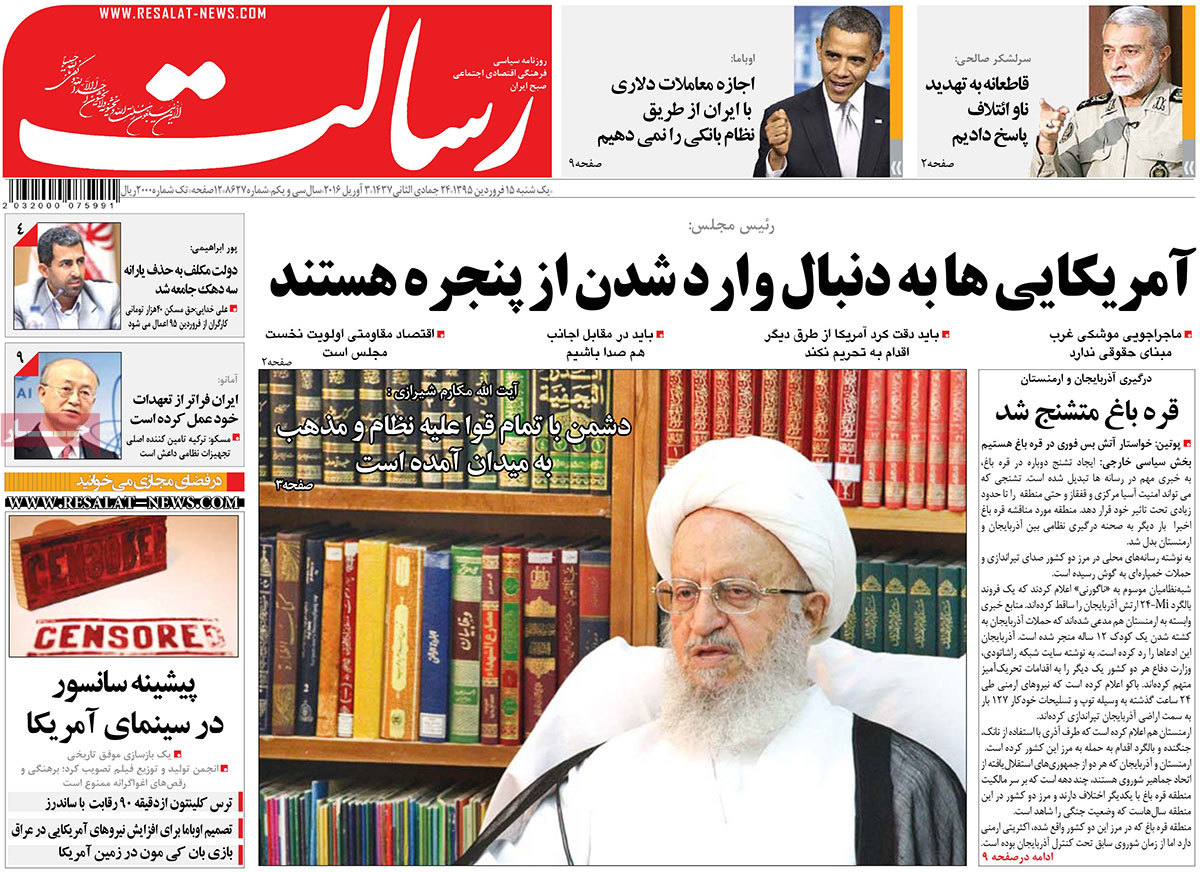 ---
Roozan:
US, China endorse nuclear deal
JCPOA achievements: Viewpoint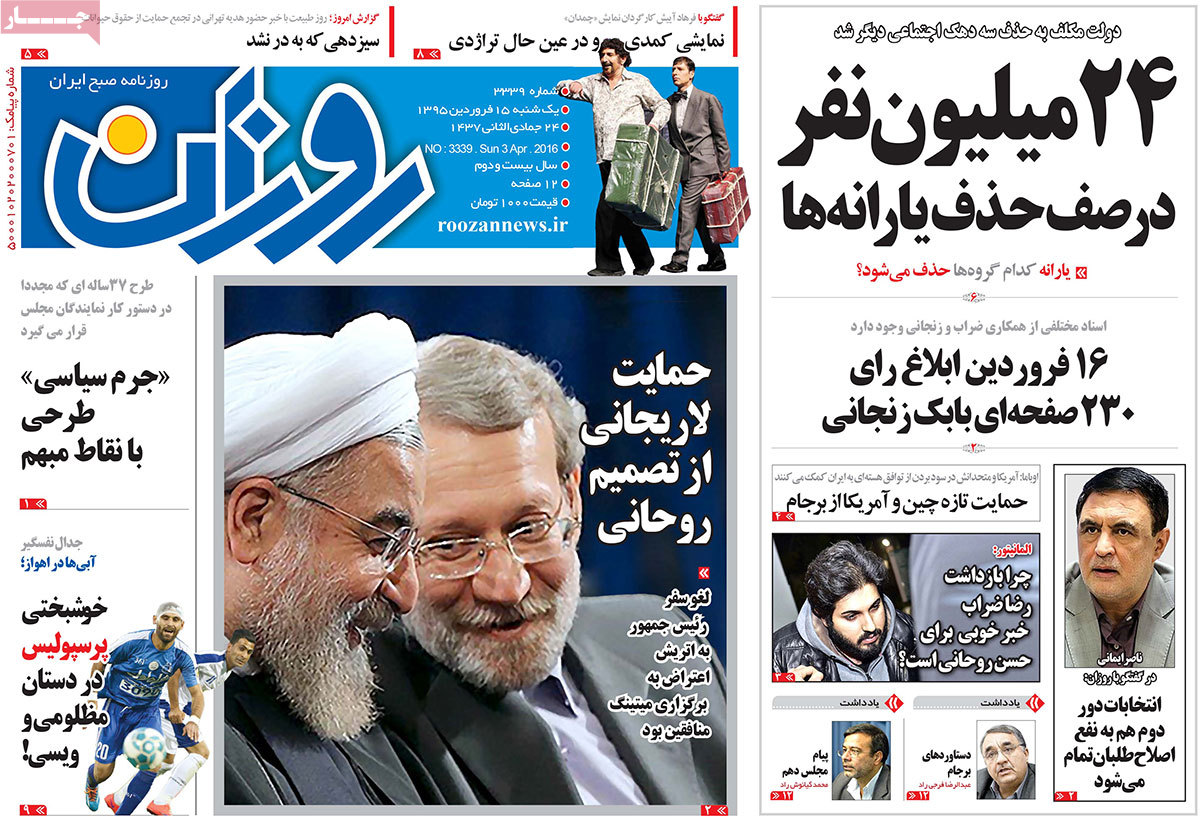 ---
Rooyesh Mellat:
Traders get state currency in 72 hours: CBI
Administration fulfilled last year's tasks: spokesman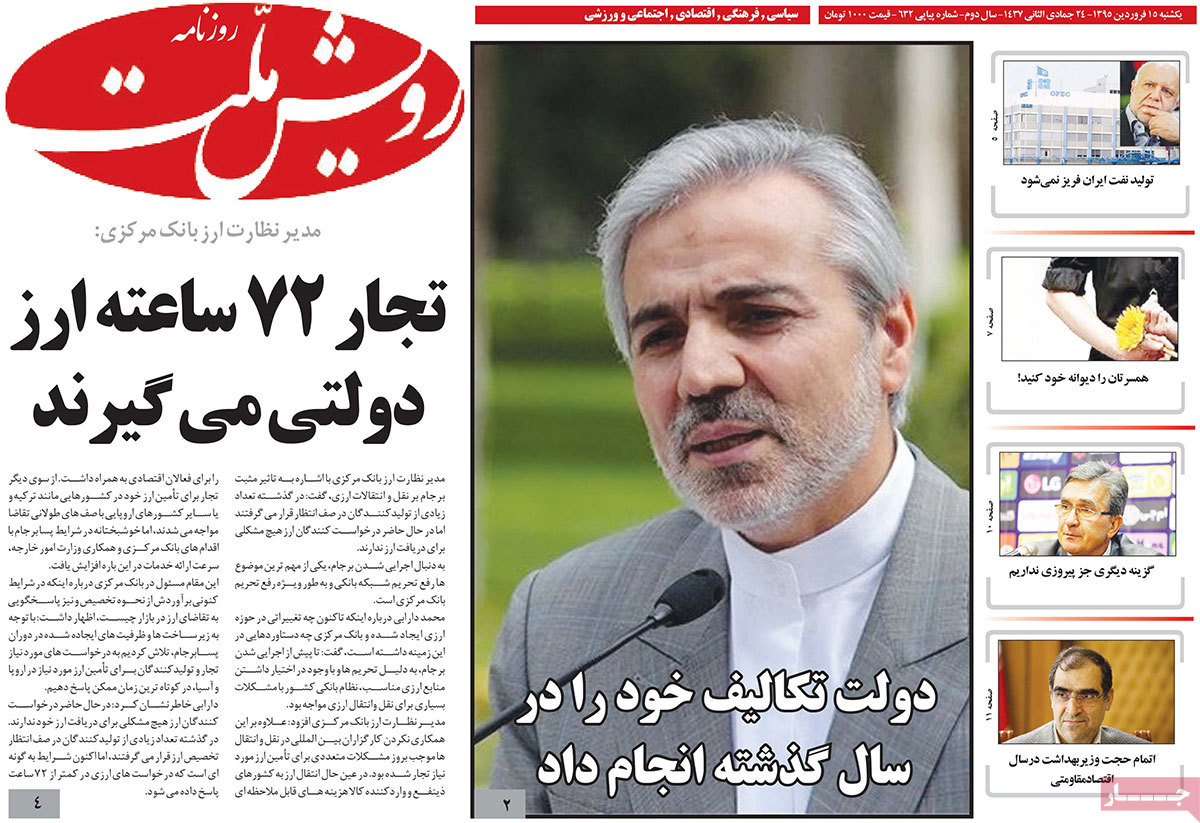 ---
Shargh:
Reformists' 2nd leap
End of Ahmadinejad's creation
---
Shahrvand:
Zanjani money with Zarrab: official
Performance of Red Crescent forces shines in Nowruz
---
Saheb Ghalam:
No more queues for buying foreign currency
Mines are untapped ground for realizing resistive economy policies
Representatives of 500 oil and petrochemical firms heading to Tehran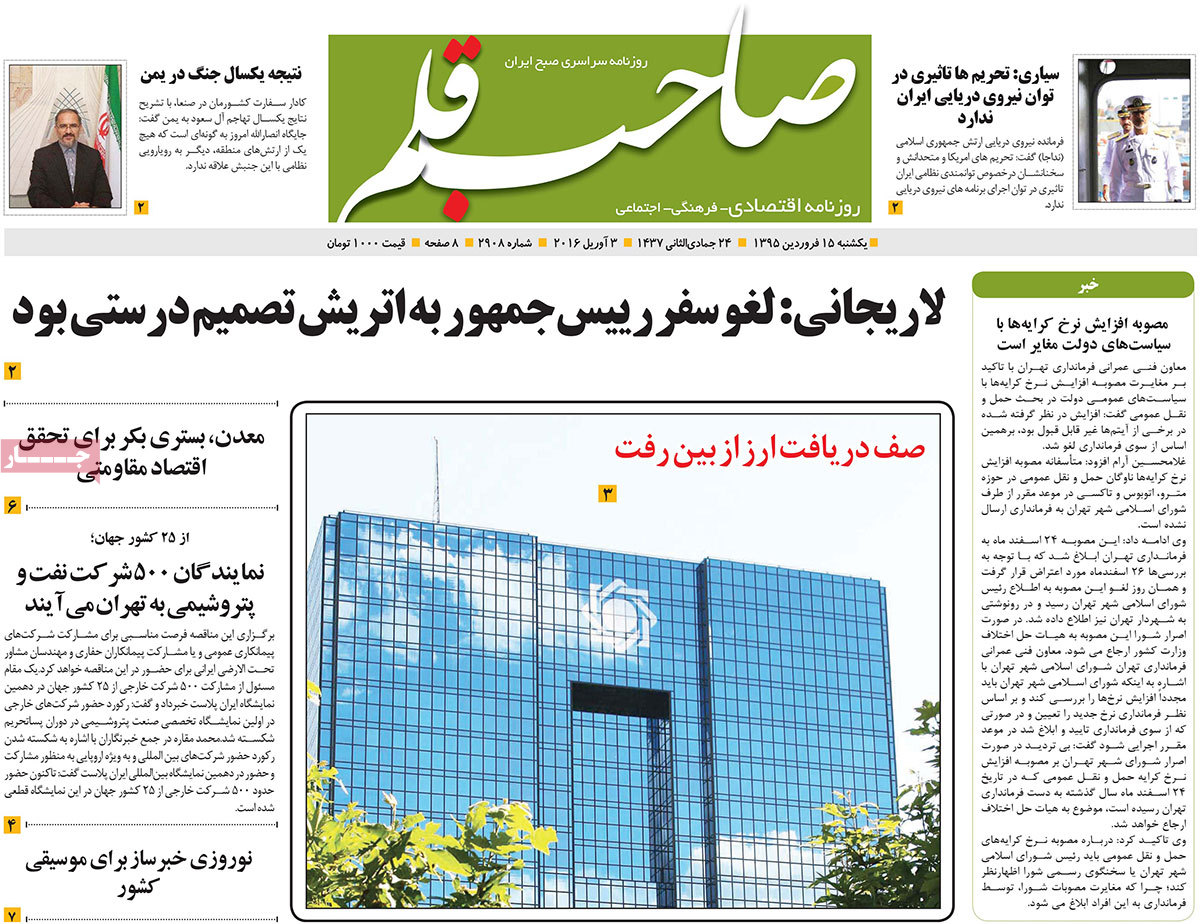 ---
Vaghayeh Ettefaghiyeh:
Secret US-Russia deal
Yemen left for Saudi Arabia, Syria for Russia, Lebanon for Iran, Iraq for US, Turkey remains empty-handed
China is good example for US ties with Iran
Expert: Current admin set record in curbing inflation
---
Asia:
Obama to American firms: No risks in dealing with Iran
---
Abrar Eqtesadi:
Iran initiates agenda to stop recession in housing sector
Iran to hold first tender to develop oilfields in April
Austria offers insurance coverage for Austrian investors in Iran
No risks in Iran dealings: Obama