IFP has taken a look at the front pages of Iranian newspapers on Sunday and picked headlines from 18 of them. IFP has simply translated the headlines and does not vouch for their accuracy.
The majority of newspapers covered the remarks made by Iranian Foreign Minister Mohammad Javad Zarif in the US Council on Foreign Relations (CFR).
They also covered President Hassan Rouhani's remarks, both during his US visit and the ceremony to open the new Iranian school year.
Ex-president Mahmoud Ahmadinejad and the controversies over his candidacy in next year's presidential elections also remained a top story in many papers.
The above issues, as well as many more, are highlighted in the following headlines:
Abrar:
1- Mosul Operation to Begin in a Few Weeks
2- Kerry: Finalization of JCPOA Was Considered by Everyone to Be Unlikely
3- UNICEF: 2m Syrians in Aleppo Deprived of Drinking Water
4- AP: Shaky Foundation of JCPOA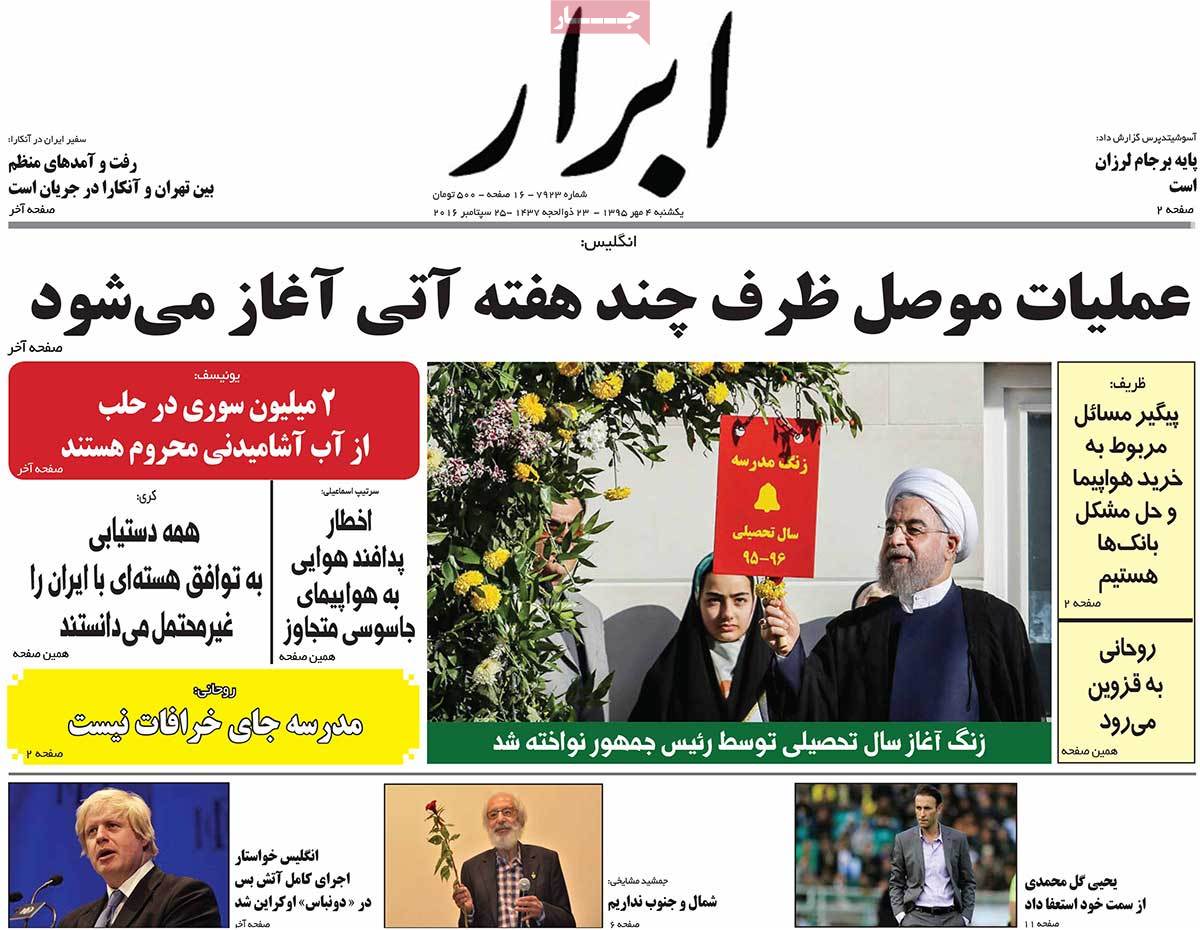 ---
Abrar-e Eqtesadi:
1- New Plan for Increase of Iran's Oil Output in Persian Gulf
2- Pakistan Approves Plan to Increase Power Imports from Iran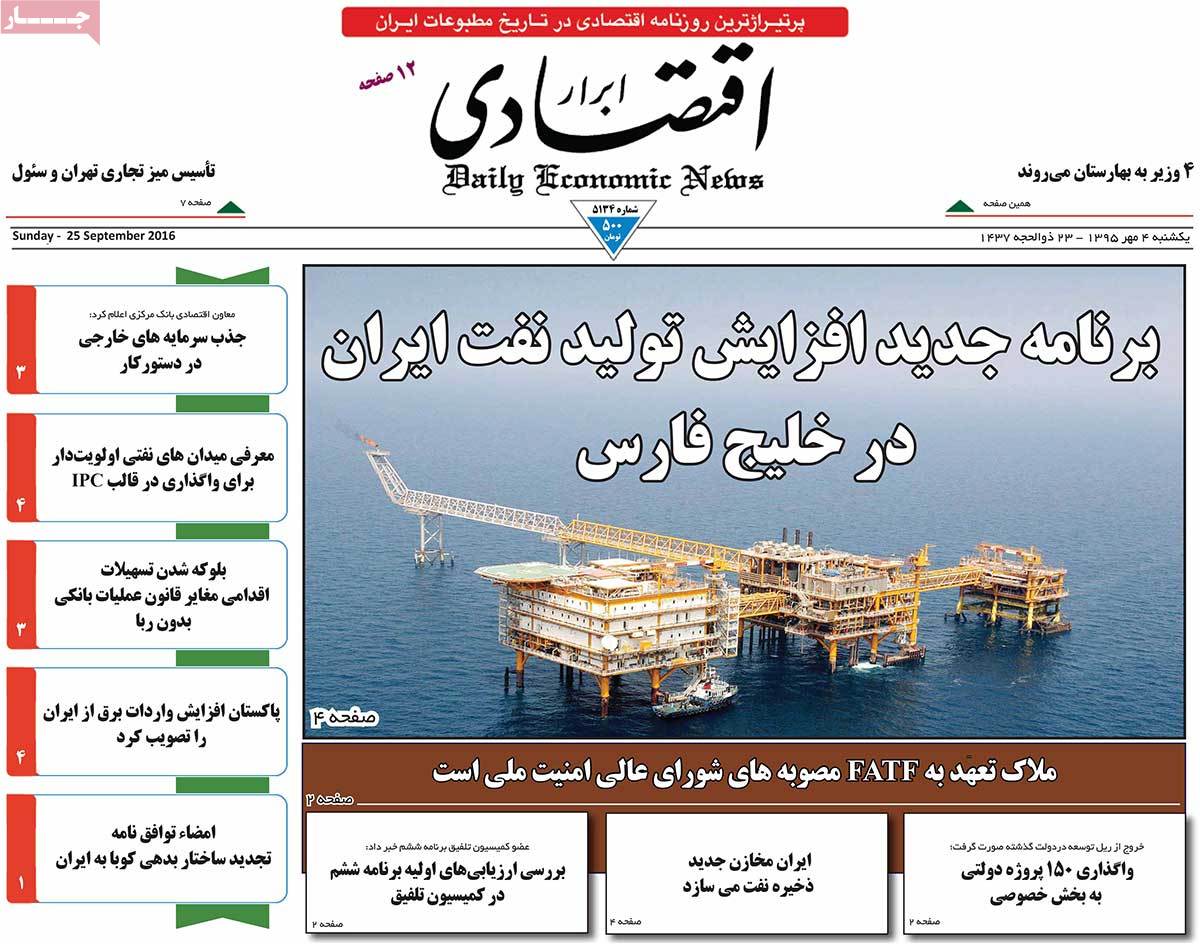 ---
Afarinesh:
1- 125mcm of Treated Wastewater Transferred Each Year from Tabriz to Lake Urmia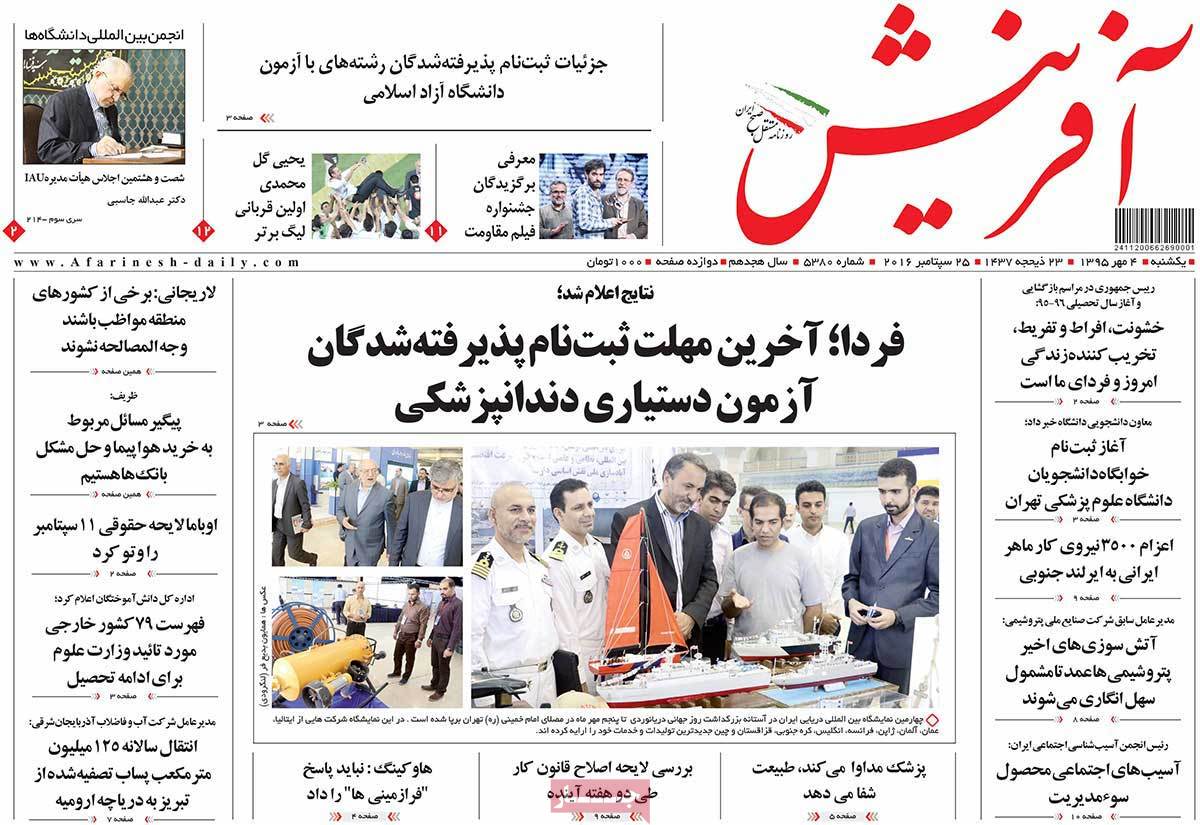 ---
Aftab-e Yazd:
1- President: School Should Not Be a Place for Superstitions and Violence
2- VP: 3.2m Kids in Iran Are Deprived of Education
3- End of Ahmadinejad, Beginning of Jalili: After the Former Was Discouraged from Running for Presidential Elections, the Latter Has Increased His Activities for Next Year's Votes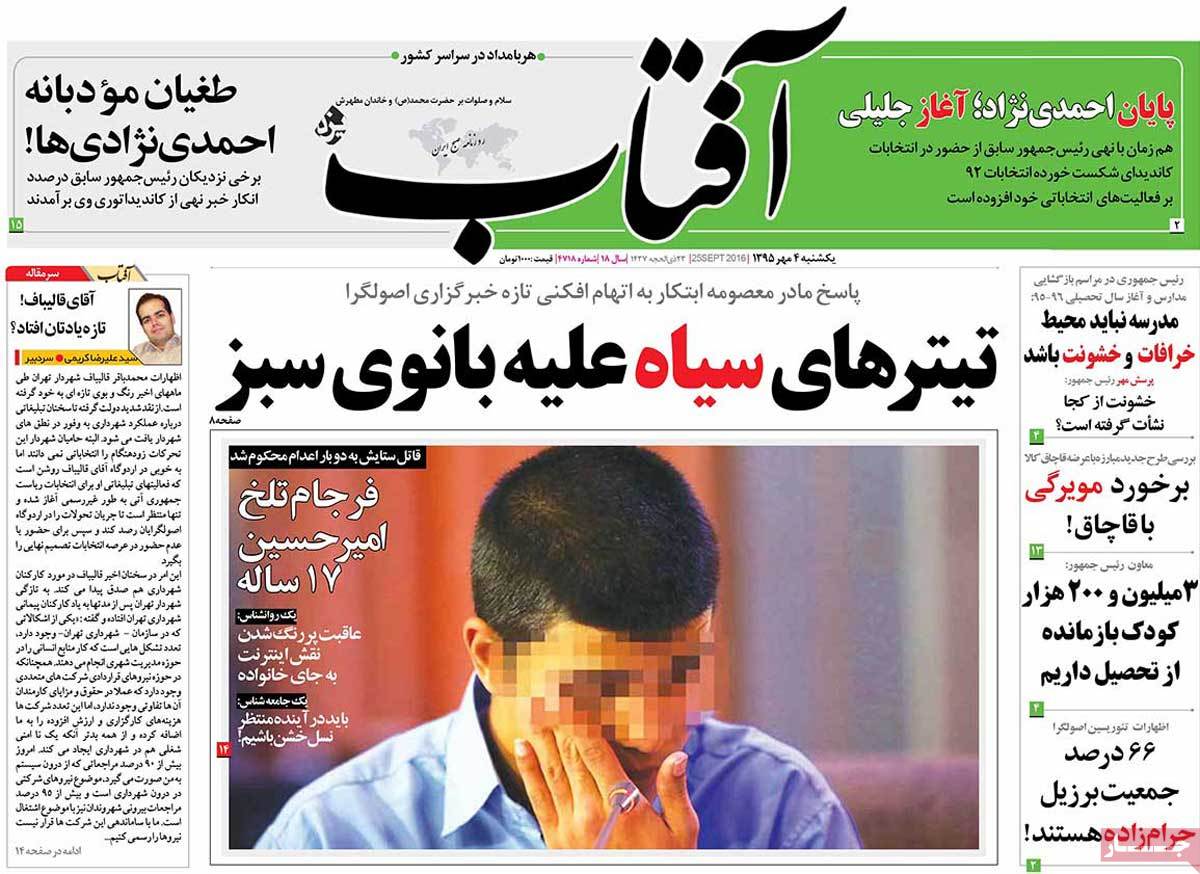 ---
Arman-e Emrooz:
1- Zarif's Untold Stories in the US Council on Foreign Relations: Angels Don't Give Money and Arms to ISIS and Nusra Front; We Have No Romantic Relationship with US
2- US State Dept. Spokesperson: We Hope for Normalization of Ties with Iran
3- Army Air Defence Base Warns: US Spy Once again Trapped in Iran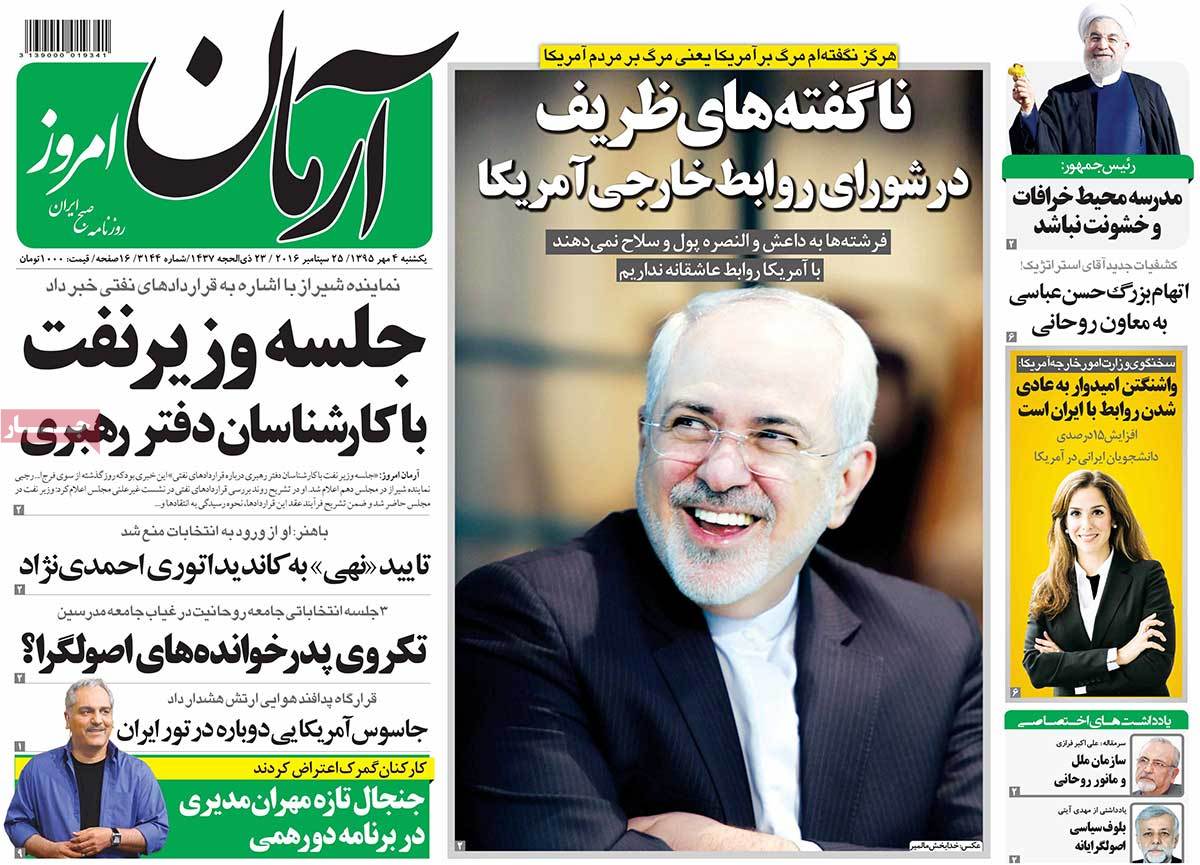 ---
Asrar:
1- Iran on Verge of Economic Prosperity: Parliament's Research Centre Predicts
2- Zarif in US Council on Foreign Relations: We Don't Like Seditious Moves with US
3- Iran Rejects Saudis' Oil Offer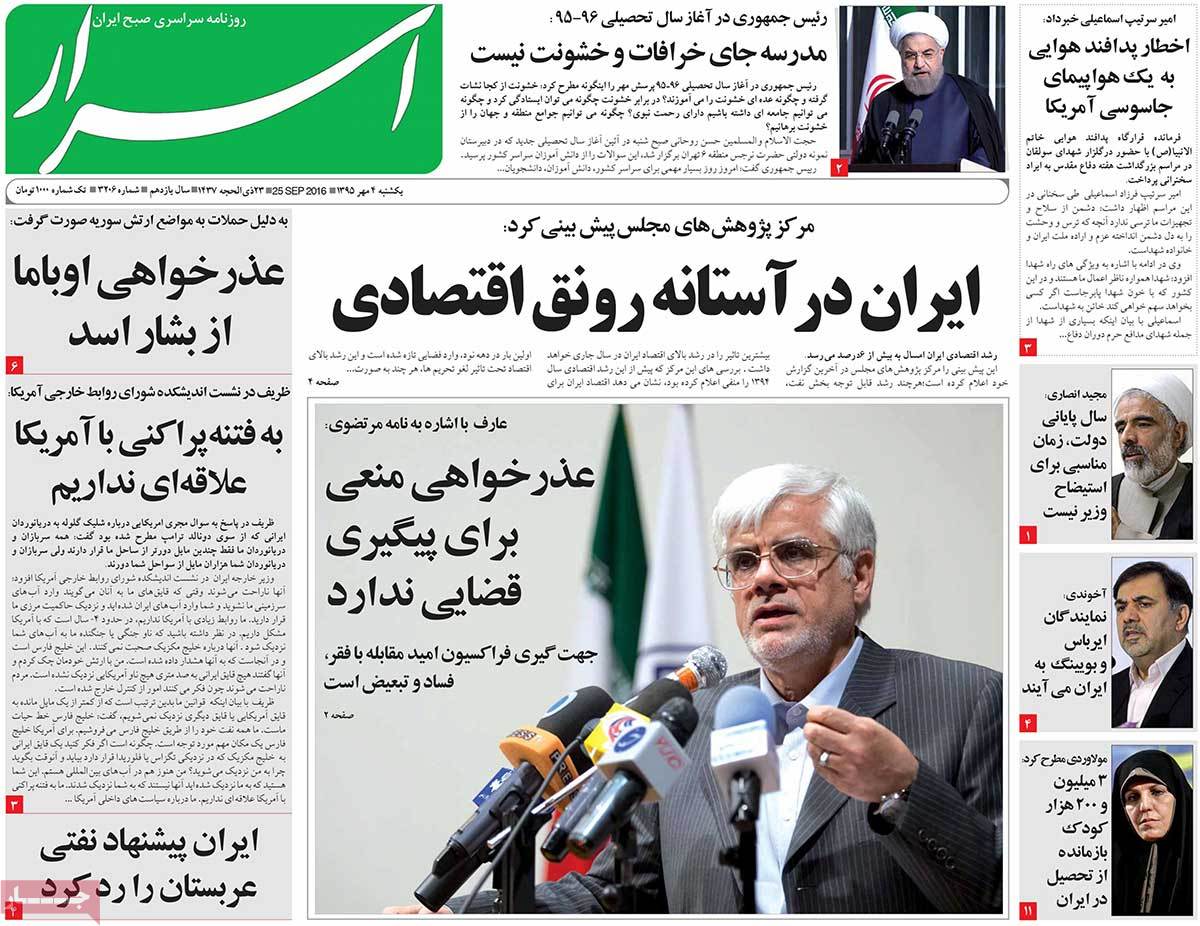 ---
Ebtekar:
1- Shamkhani: We Won't Accept Any Nuclear Restriction Except for [those mentioned in] Leader's Fatwa
2- Zarif: I Had a Role in Release of Dual Nationals from Iran Prisons
3- New York Times: US Citizens to Visit Iran with Boeing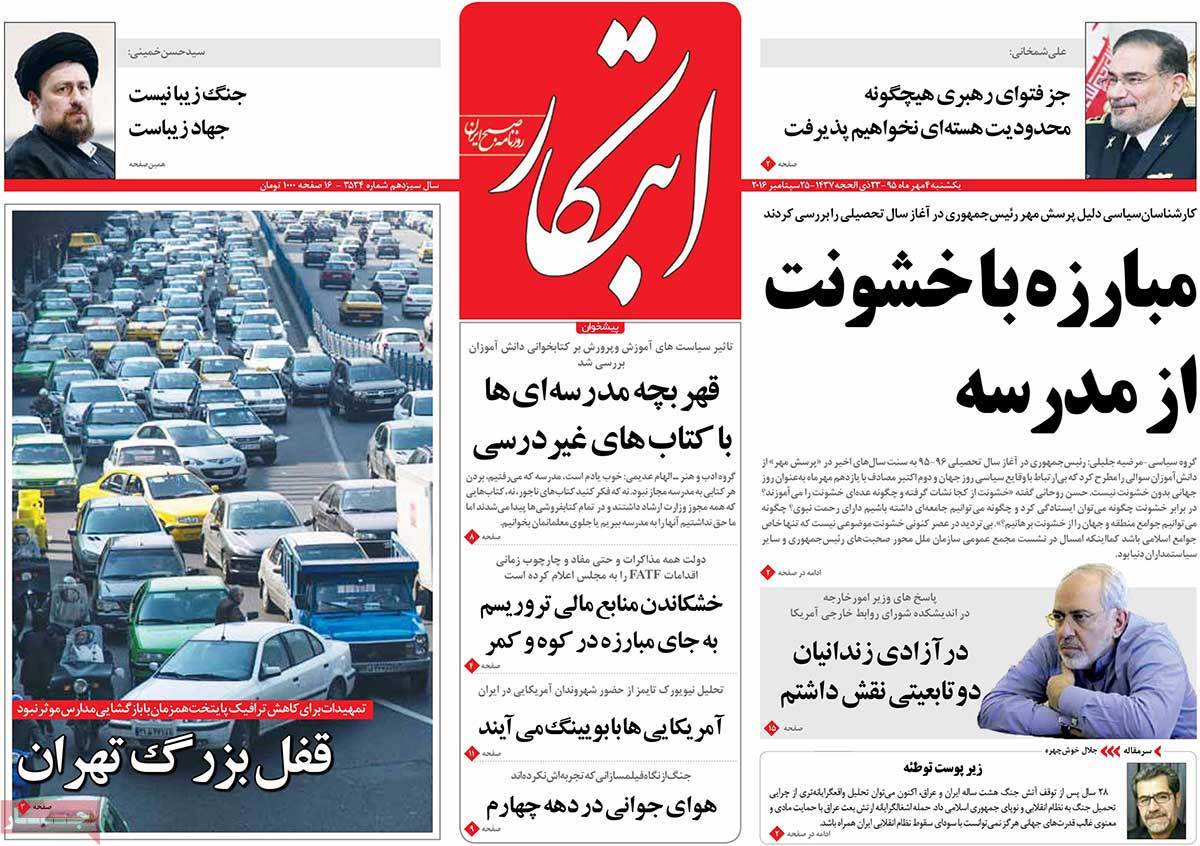 ---
Etemad:
1- Zarif: We've Not Promised People to Bring Them Sun and Moon after JCPOA
2- Obama's Veto in Favour of Saudi Arabia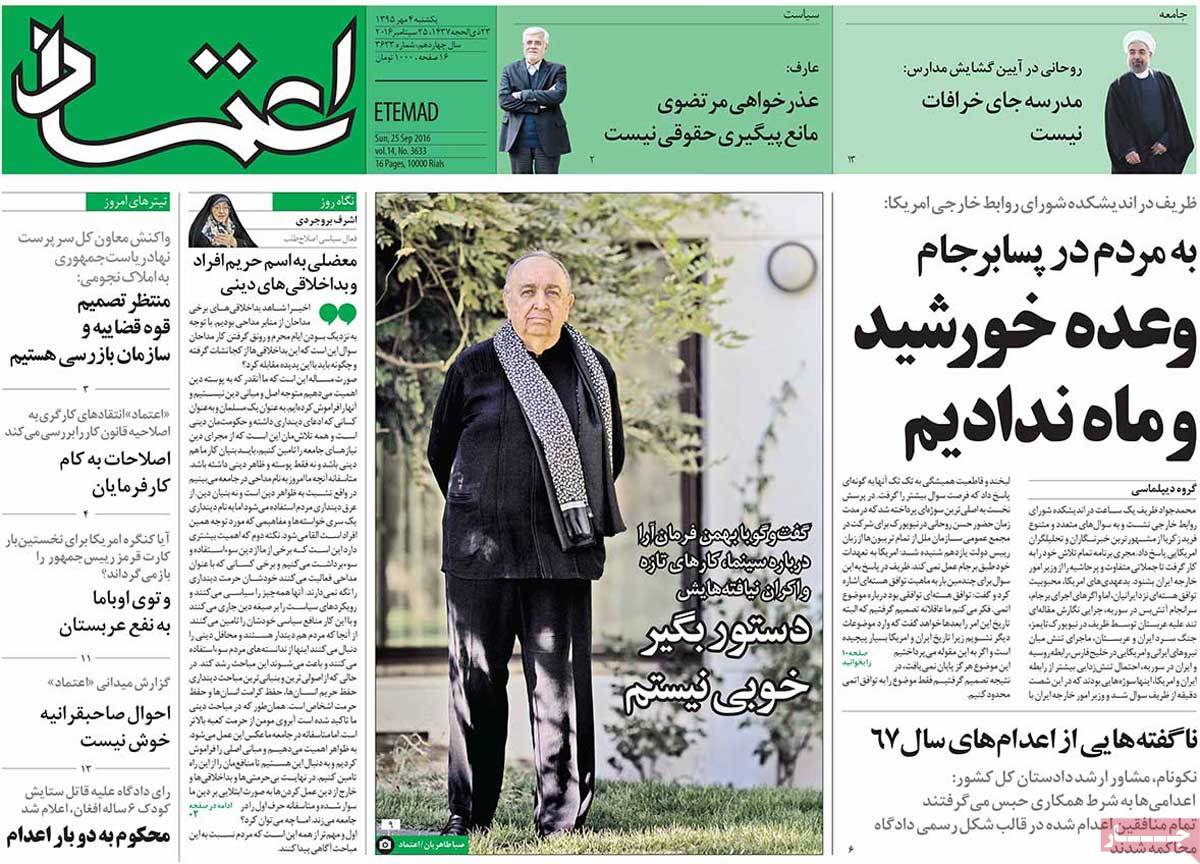 ---
Ettela'at:
1- Obama Apologizes to Assad Because of US Airstrike on Syrian Troops
2- Zarif: US Is Discouraging Europeans from Doing Business with Iran
---
Hamshahri:
1- Cars, the Main Culprits behind Air Pollution: 85% of Air Pollution Caused by Car Traffic
2- Zarif: Distrust of US Increased after JCPOA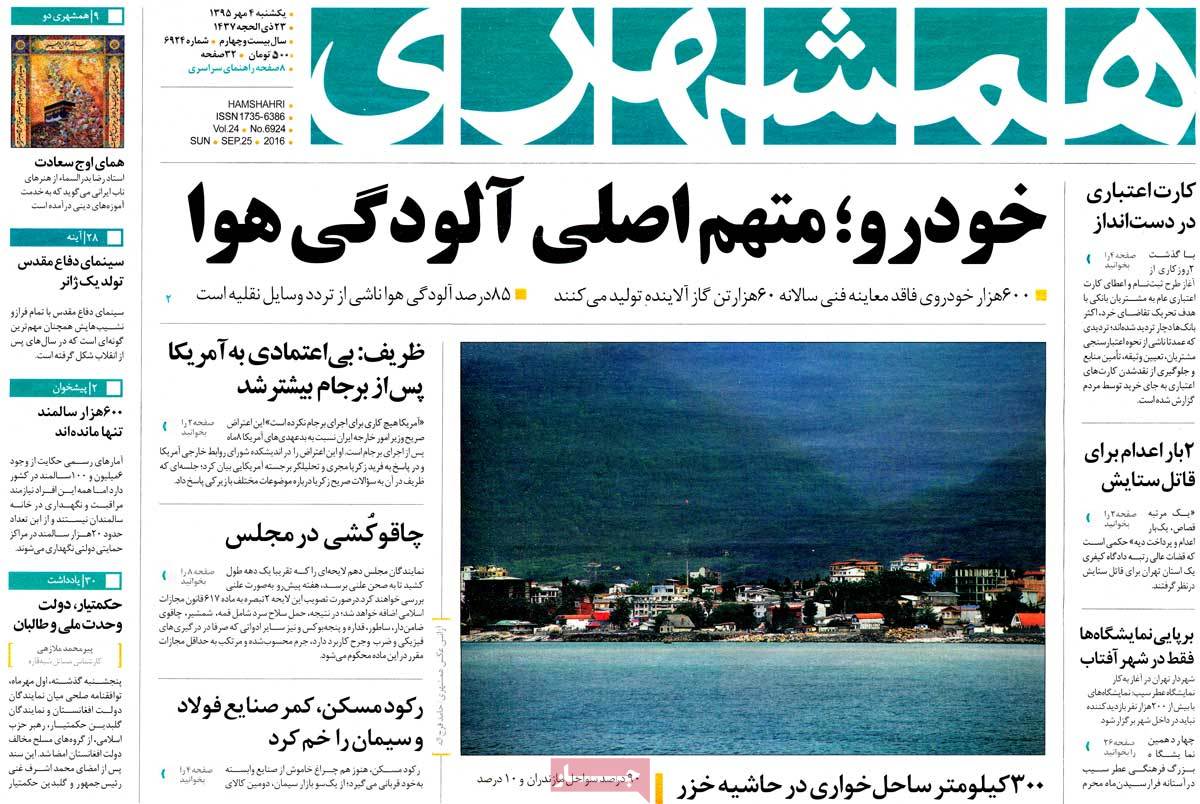 ---
Iran:
1- Senior Conservative Bahonar: Ahmadinejad Was Banned from Running for Presidency for Some Reasons
2- Zarif's Warnings to US: No Deal in Our Region Can Be Made Based on Removal of Other Side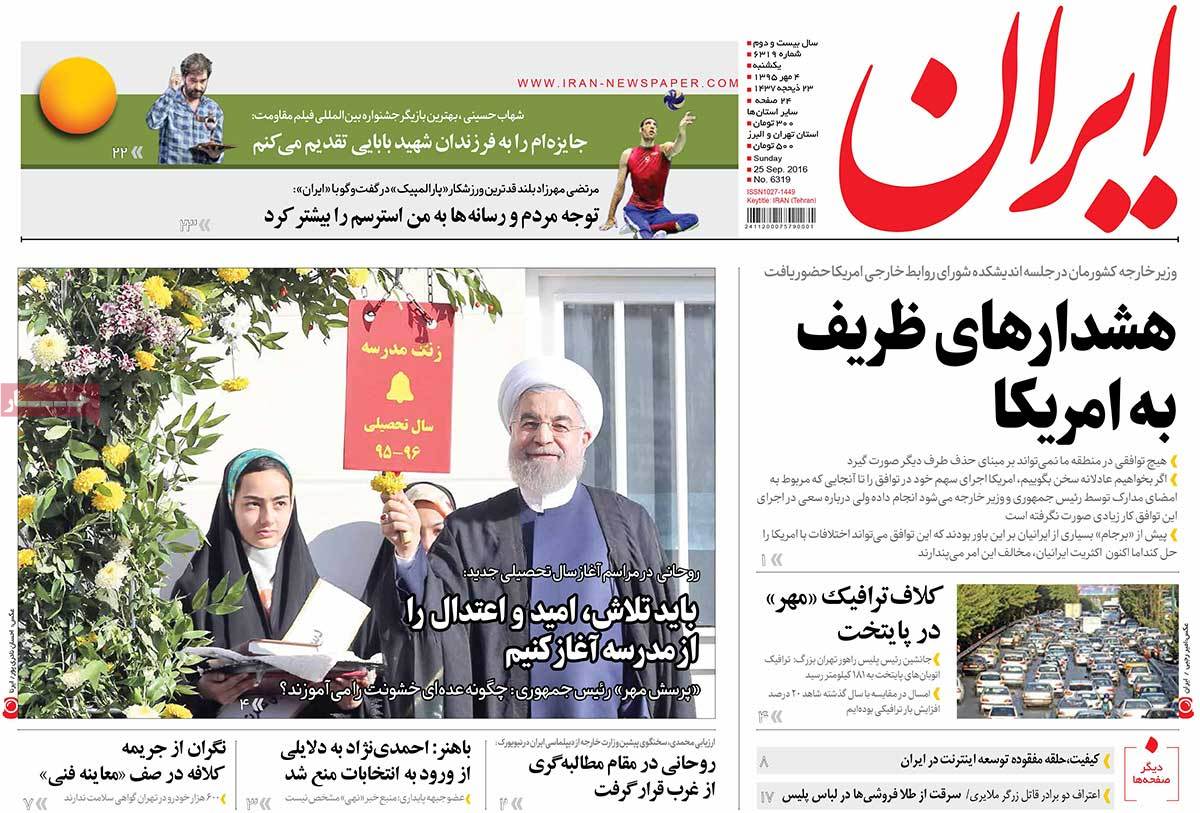 ---
Javan:
1-Zarif: US Has Practically Done Nothing beyond Signing the JCPOA Paper
2- North of Aleppo Seized by Resistance Fighters
---
Jomhouri Eslami:
1- A Number of MPs in Reference to Rouhani's UNGA Address: President Strongly Conveyed the Message of Peace and Interaction to World Nations
2- Saudi Base Hit by Yemeni Missiles
---
Kayhan:
1- Industry Minister: National Development Fund Belongs to Iran, But Gives Facilities to Foreingers
2- Yemen's Ansarullah: UN Is the Murderer of Int'l Laws and Accomplice of Saudi Arabia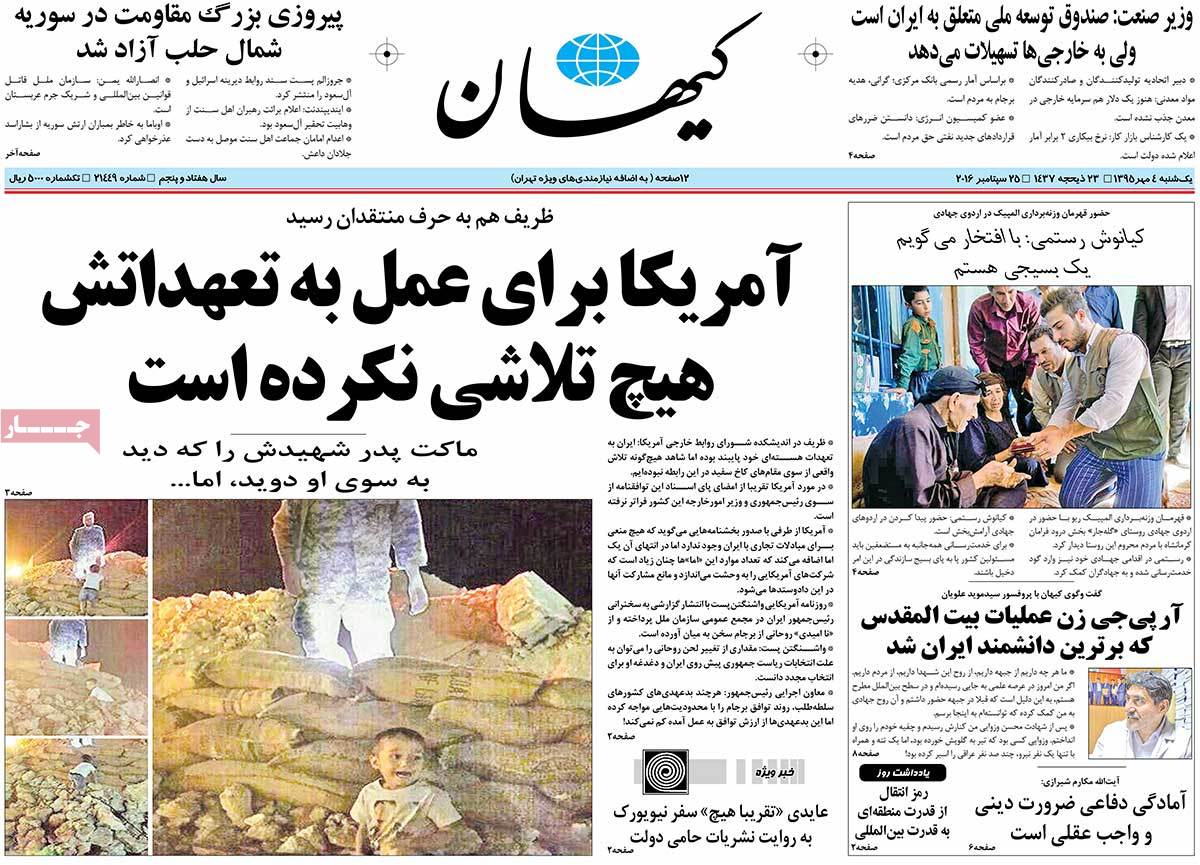 ---
Resalat:
1- Leader's Representative in IRGC: Iran's Influence in the World Is Not Tolerable for US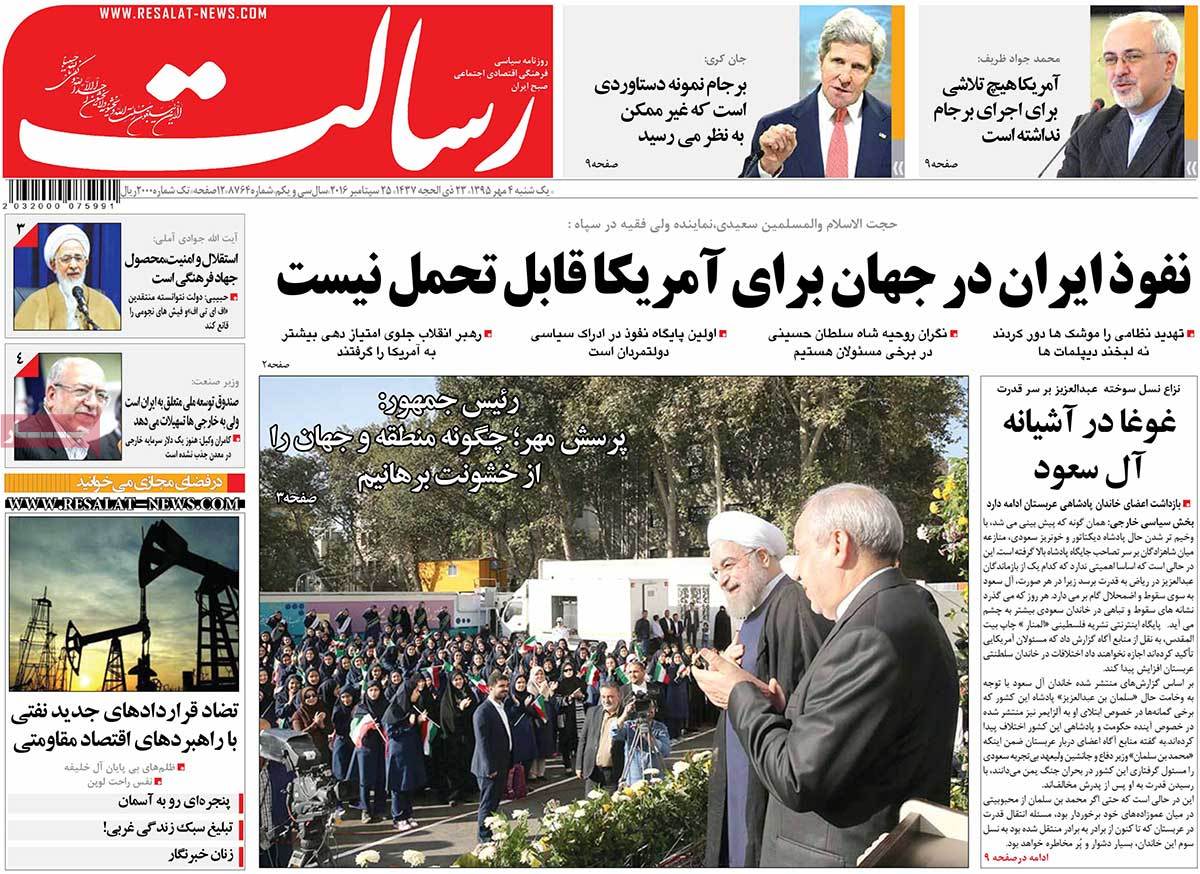 ---
Shargh:
1- Rouhani in Interview with NBC: Weakening the JCPOA Means Political Failure
2- Leader's Representative in IRGC: Next Year's Presidential Elections Will Be Sensitive and Complicated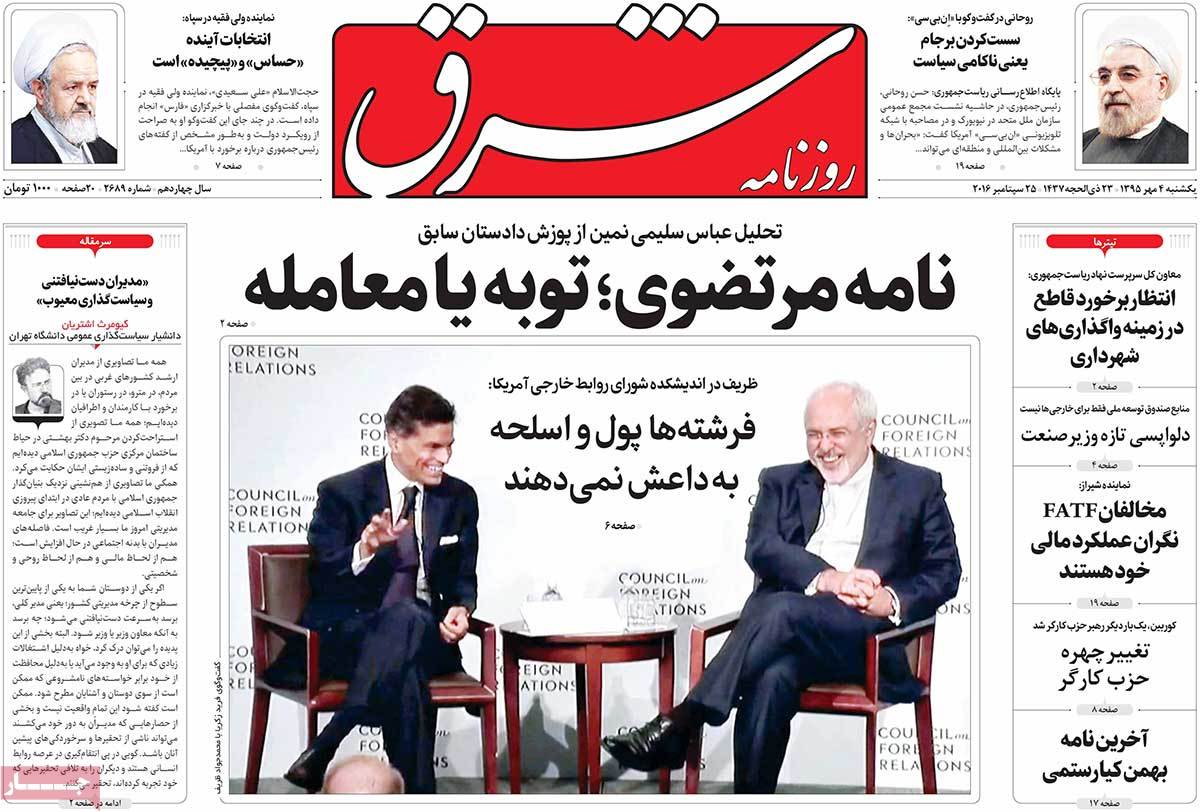 ---
Vaghaye Ettefaghieh:
1- Zarif: US Should Check Its Weapons Inventory
2- New KGB, a Giant that Would Even Swallow Putin: Russian President Looking for a Super Security Service
---
Vatan-e Emrooz:
1- FATF Chief's Official Letter to Iran's Economy Minister: We Appreciate Iran's Commitment to Regulations