Newspapers on Wednesday covered the meeting between the Leader of the Islamic Revolution Ayatollah Seyyed Ali Khamenei and the commanders of Iran's Police, where the Leader underlined the need for expansion of the Law Enforcement's capabilities.
The German Economy Minister Sigmar Gabriel's visit to Iran also remained a top story as his requests for meetings with Iranian Foreign Minister Mohammad Javad Zarif and Parliament Speaker Ali Larijani were reportedly rejected due to his call for Iran's recognition of Israel.
The recent diplomatic row between Washington and Moscow also received good coverage in today's newspaper front pages.
The above issues, as well as many more, are highlighted in the following headlines:
Abrar:
1- Leader: Security Is the Main Pillar of Progress
2- US Prosecutor-General: Trump's Charitable Organization Suspended for Refusing to Present National Documents
3- US Major Role in Resolving Conflicts between KRG and Iraqi Central Government
4- Messi, World's Best Player in 2016 Based on FIFA Website's Statistics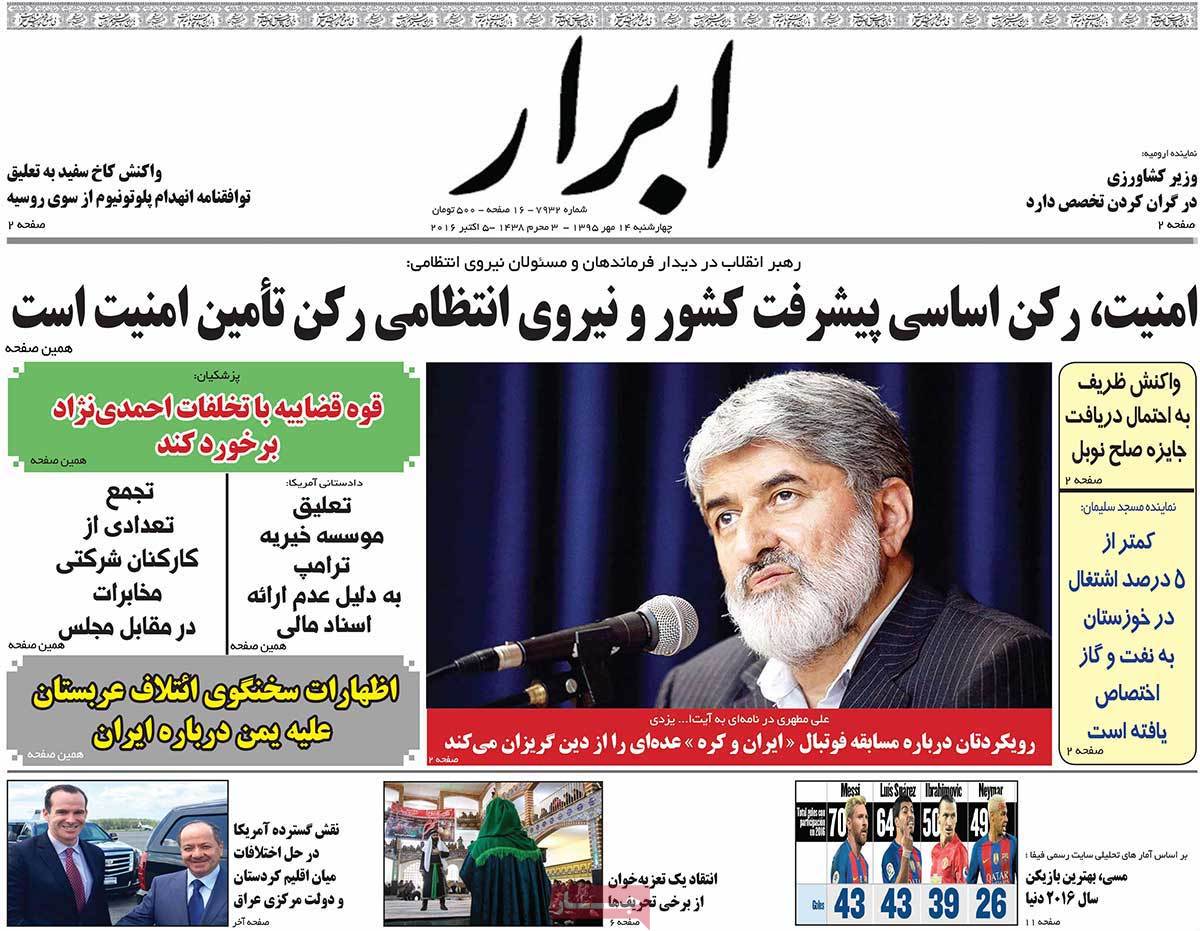 ---
Abrar-e Eqtesadi:
1- Economic Growth in Ahmadinejad's Era Was Less than Average in Past 40 Years
2- Deal with Renault Falls within Iran's Constitution: IDRO
3- Economic Advisor to President Rouhani: Clear Evidence Shows End of Economic Downturn
4- Foreigners Start to Participate in Iran's Oil Field Tenders as of Next Week
---
Afarinesh:
1- Larijani: Iran's Policy Is Reinforcement of Sympathy among Iraqi Groups Including Sunnis, Shiites, and Kurds
2- Government Spokesman: German Minister's Remarks Were Misreported
3- Kerry: We Are Working with Moscow to Revive Syria Ceasefire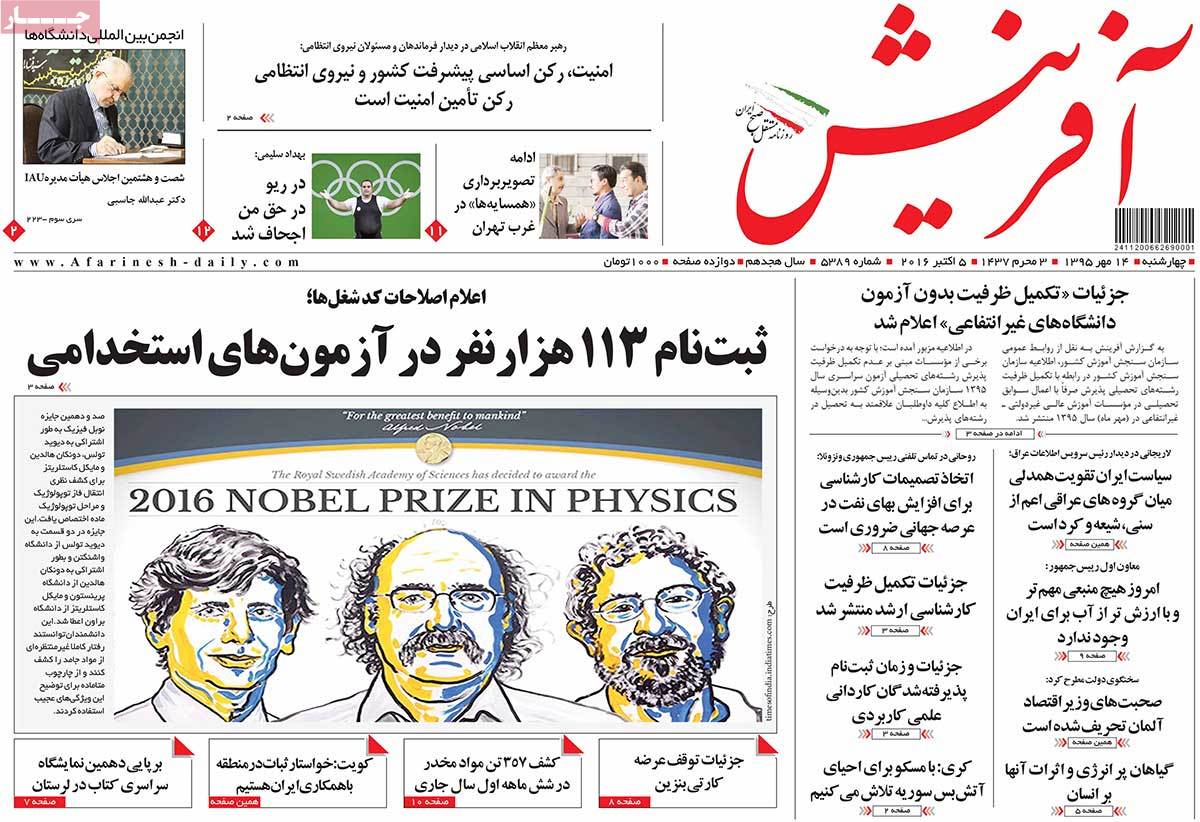 ---
Afkar:
1- Environment Chief: 70% of Livestock Have Become Extinct in Past 50 Years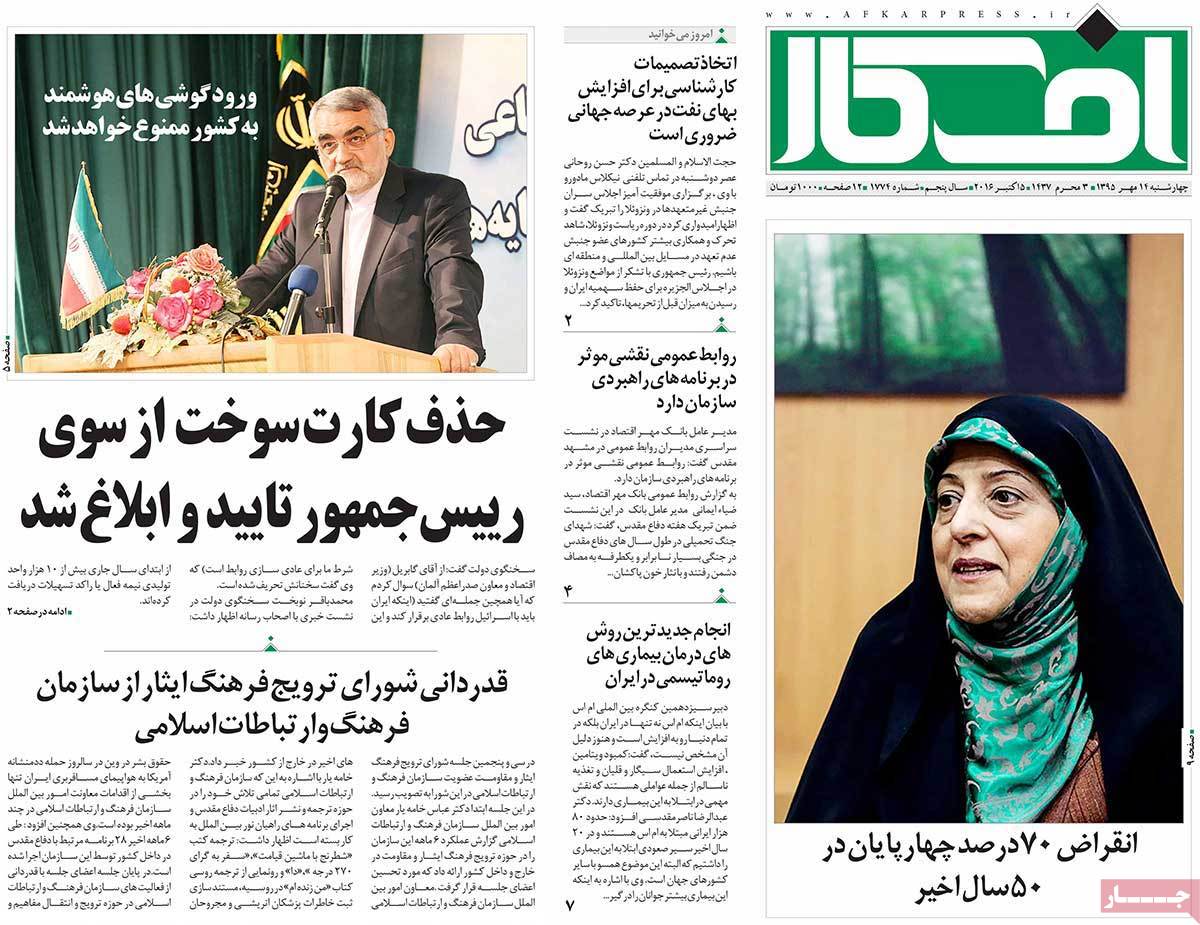 ---
Aftab-e Yazd:
1- United Voice of Reformists: Reform-Minded Figures Underline Support for Rouhani
2- Senior Cleric Mesbah Yazdi: They Want to Remove 'Death to America' Slogan
3- FM Zarif, Leader's Advisor Velayati, and Parliament Speaker Larijani Cancel Meetings with German Minister: Coldness of Politics, Warmth of Economy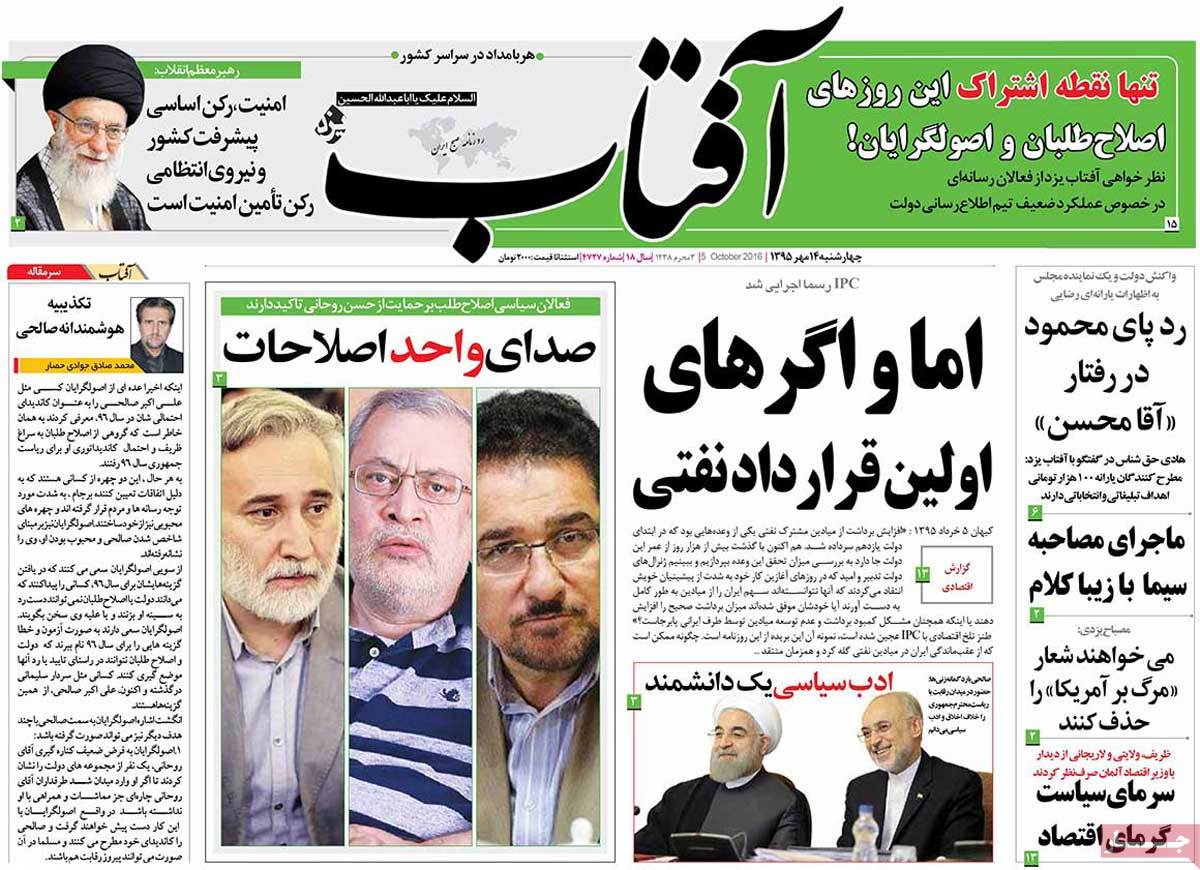 ---
Arman-e Emrooz:
1- Diplomatic Snub: German Economy Minister Denies His Remarks
2- Ayatollah Rafsanjani: If Iran and Iraq Stay Together, They'll Have a Say in Middle East
---
Asrar:
1- 12 Terrorists Killed in Iran's Western Borders
2- Zarif: We'll Counter US Violation of Its Commitments; US Congress' Laws, If Not Approved by Senate, Don't Violate JCPOA
3- Moscow: US Ready to Unite with 'Satan' for Removal of Assad
---
Donya-ye Eqtesad:
1- Judicial Decree against Trump: GOP Candidate's Charitable Organization Suspended in New York
2- World Gold Prices Sharply Decrease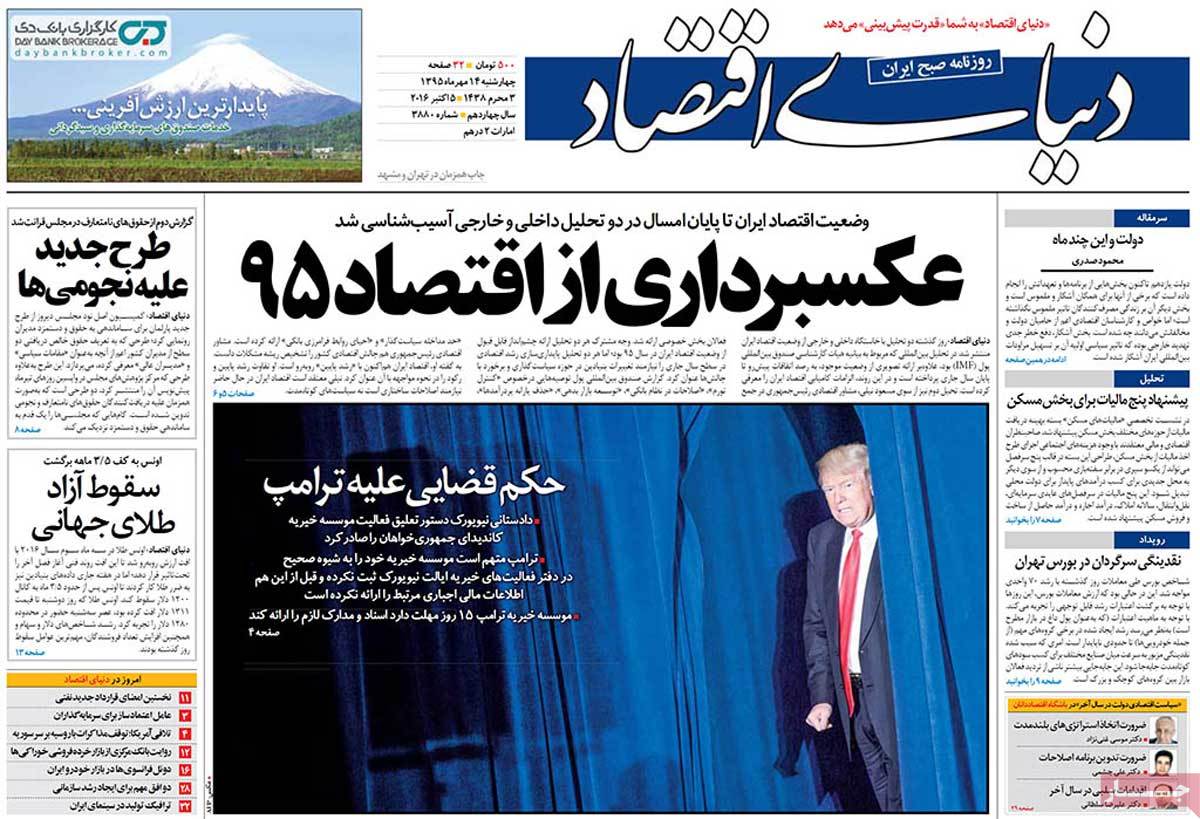 ---
Ebtekar:
1- Intelligence Minister: Officials Should Choose between Their Position, Their Dual Nationality and Green Card
2- Rafsanjani: Ethnic and Racial Differences Will Disintegrate Iraq into 3 Small Countries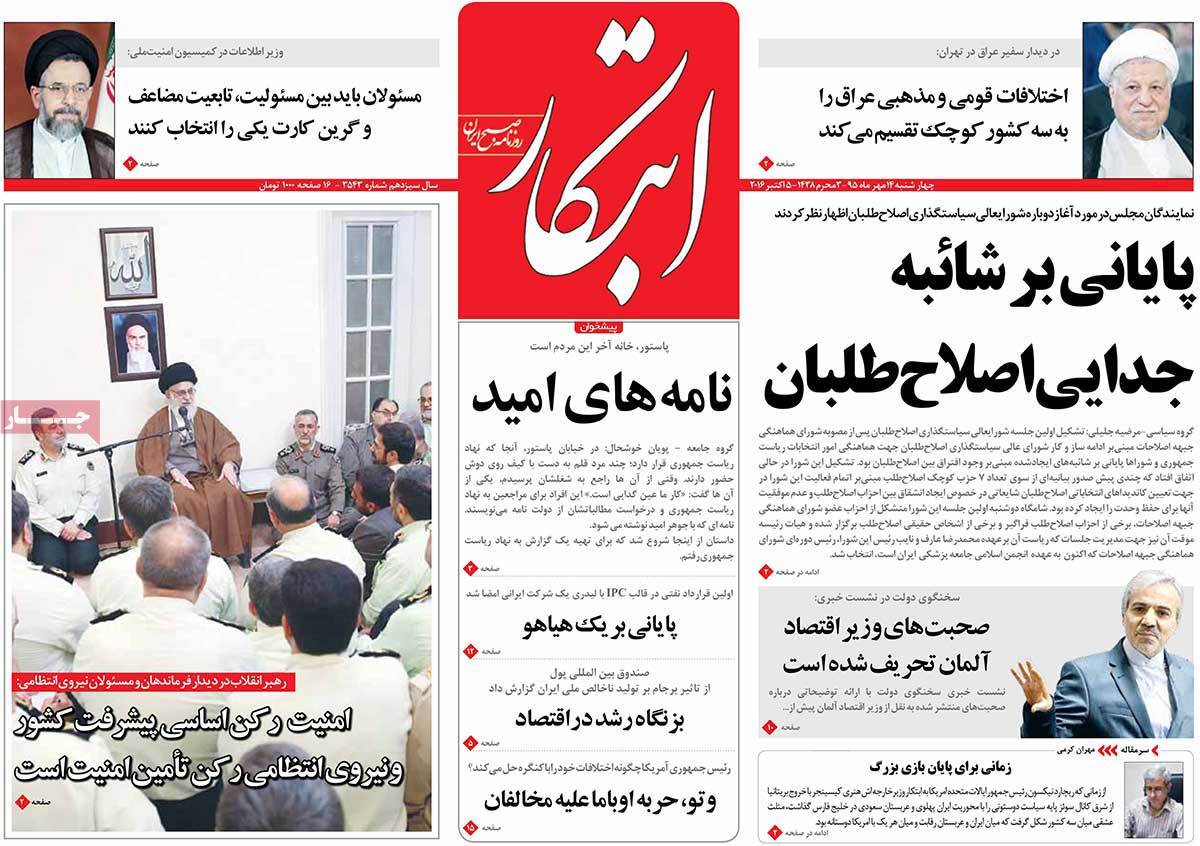 ---
Etemad:
1- Salehi's Statement in Reaction to the Fuss about His Candidacy in Presidential Votes: I Know My League, I'm No Rival to Rouhani
2- Britain's Deceitful Diplomacy in the 1980s Revealed: Iran in 1984 and 1985
3- Foreign Ministry Spokesman: Democracy and Freedom of Speech Achieved at a Price
4- Sugar Production Becomes More than Its Imports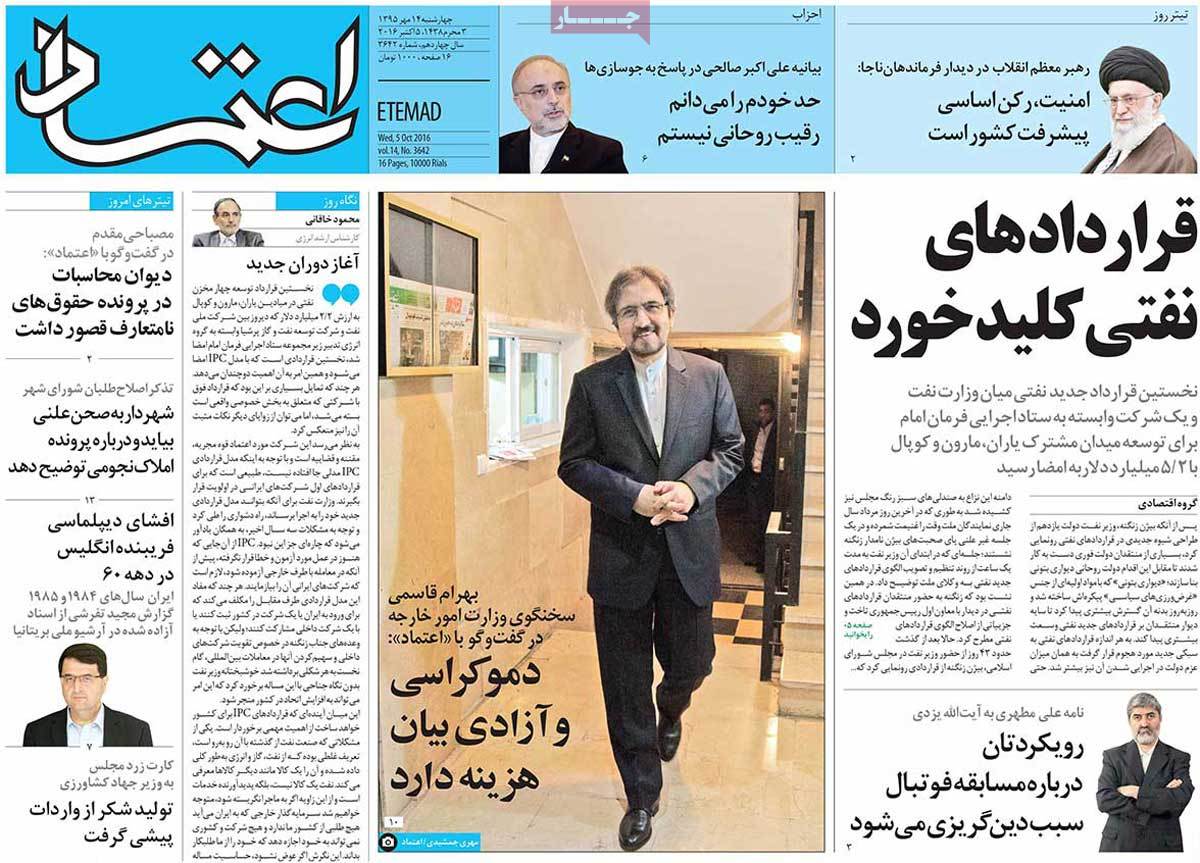 ---
Ettela'at:
1- Leader: All Useful Activities Will Be Void If There's No Security
2- First VP: Shortage of Water in Iran Is Worrying
3- Russia Deploys S-300 Missile Defence System to Syria
4- Iran to Send 3 Orbits to Space by Next Year
5- ISIS' Terrorist Attack on Kurds' Wedding Ceremony Leaves 27 Dead and 97 Wounded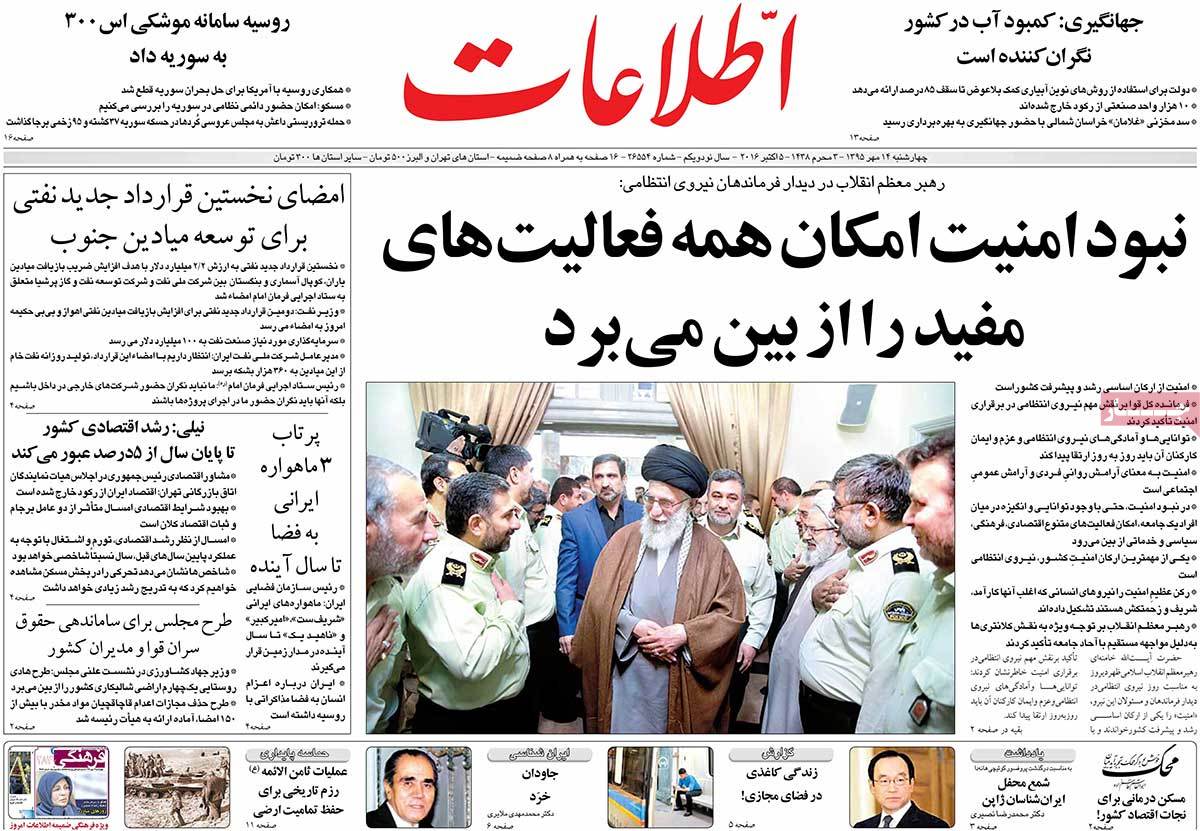 ---
Hamshahri:
1- Fever of Nuclear War in US-Russia Ties
2- 40% of Criminals Return to Prison after Release
3- C-Section Procedures in Iran, 3 Times More than World Average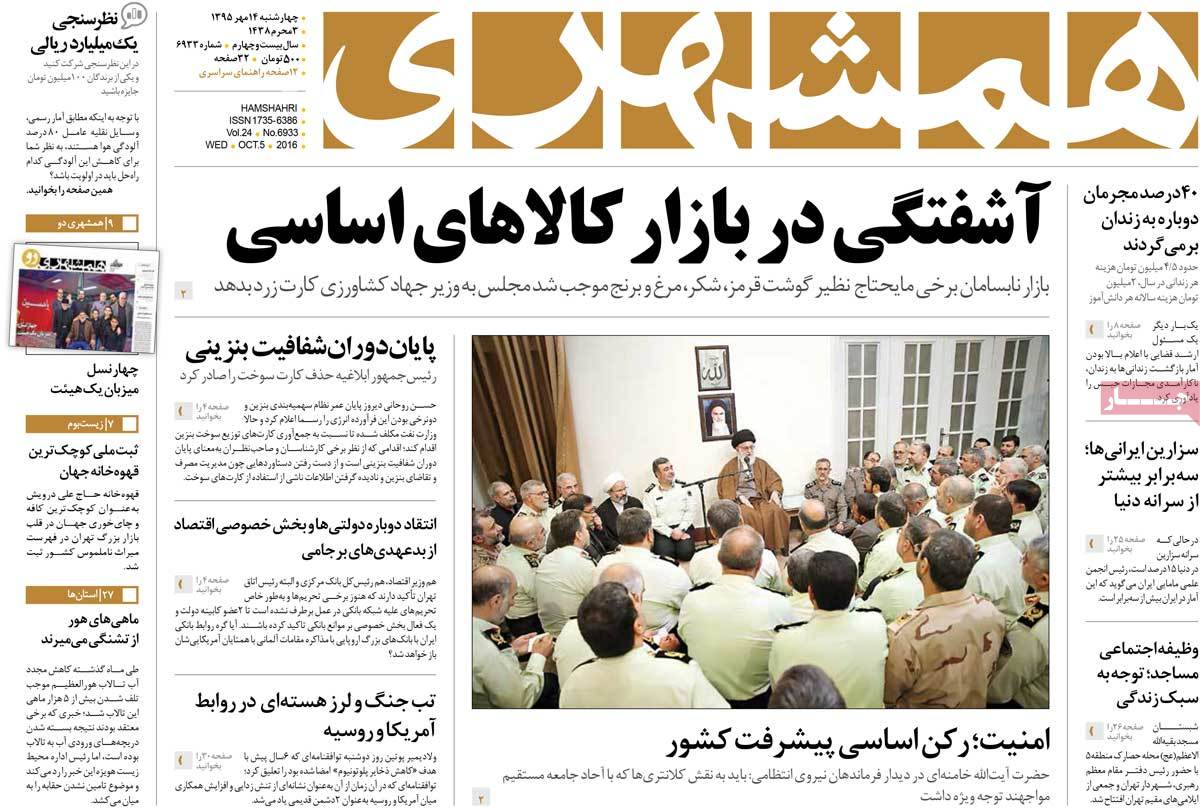 ---
Hemayat:
1- US Afraid of Iran Revolution's Impact on the World
2- American Enterprise: Iran Has Extended Its Strategic Borders as Far as Eastern Mediterranean
3- Iran's Human Rights Chief Slams Imposition of Western Lifestyle on Other Nations on Pretext of Human Rights
---
Iran:
1- Deputy FM: Rouhani's Trip to Southeast Asia Aimed at Diversifying Foreign Policies
2- First Oil Contract Signed in Post-JCPOA Era in New Format: $2.2bn Oil Deal with Iranian Company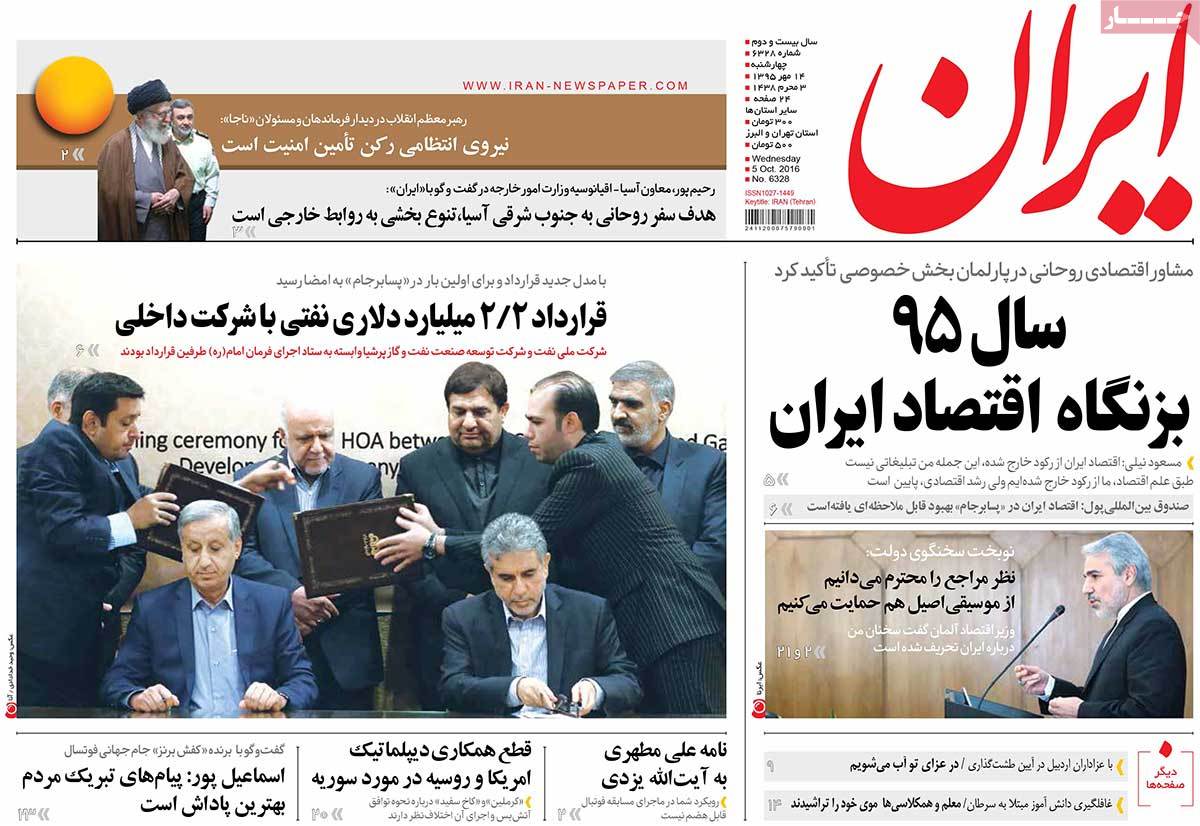 ---
Javan:
1- Parliament Speaker and FM Zarif Didn't Let Sigmar Gabriel in
2- Decline of US-Russia Relations to Red Telephone: Washington Suspends Ties with Moscow over Syrian Crisis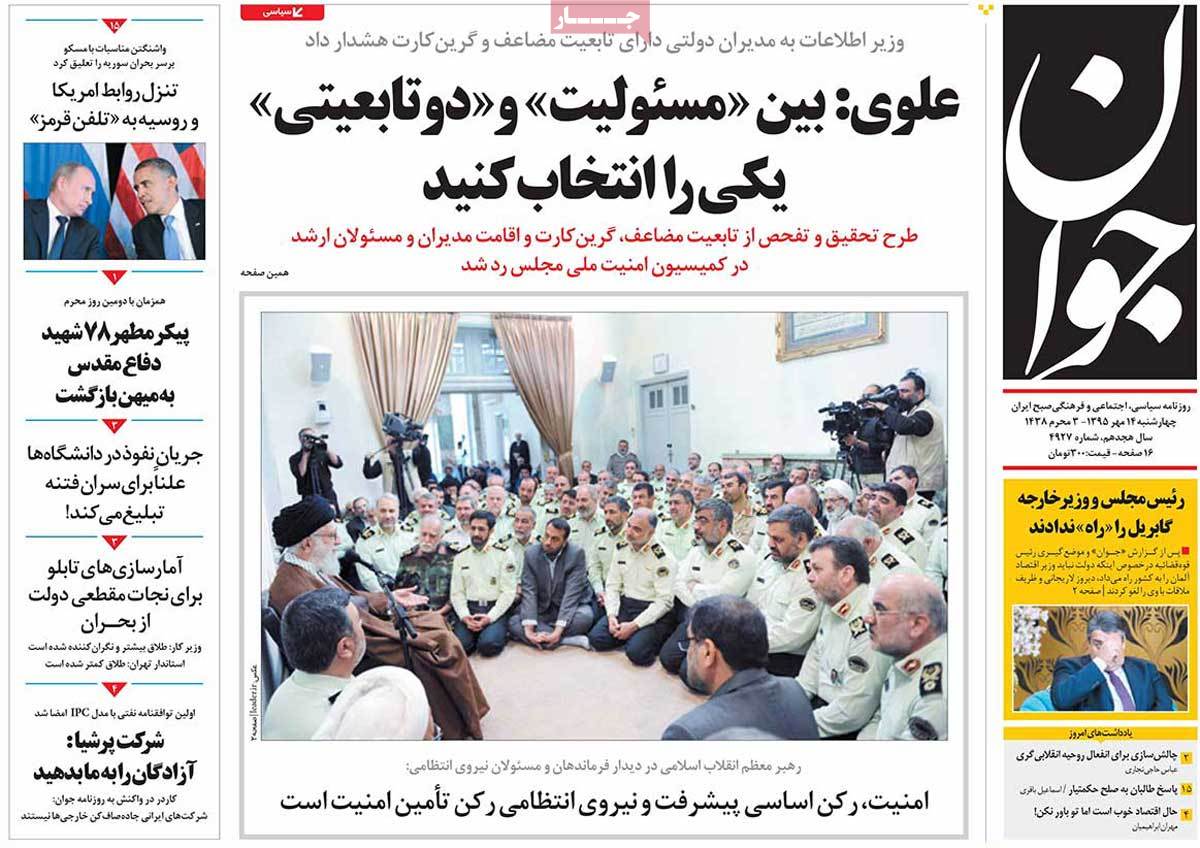 ---
Jomhouri Eslami:
1- Vice-Speaker of Parliament: Judiciary Should Prosecute Ahmadinejad for Breaking the Law
2- Riyadh Once Again Backs Off in Regional Policies: Saudi Crown Prince Says Riyadh Is OK with Assad's Remaining in Power
3- Deputy Secretary General of Hezbollah: Enemies of Resistance Movement Have Become Confused
---
Kayhan:
1- Government Spokesman Denies Gabriel's Anti-Iran Remarks: Mr. Nobakht, Who Is Giving False Information to the Government?
2- How Neo-Liberalism Turned to Washington's Achilles' Heel? McMaster University Professor's Article for Kayhan
3- Nusra Front Commander Appreciates Israel's Aid and Support
4- French History Professor: Al Saud Spending $8bn a Year for Promotion of Wahhabism
---
Khorasan:
1- Zarif: US Congress to Pass 50 Bills against Iran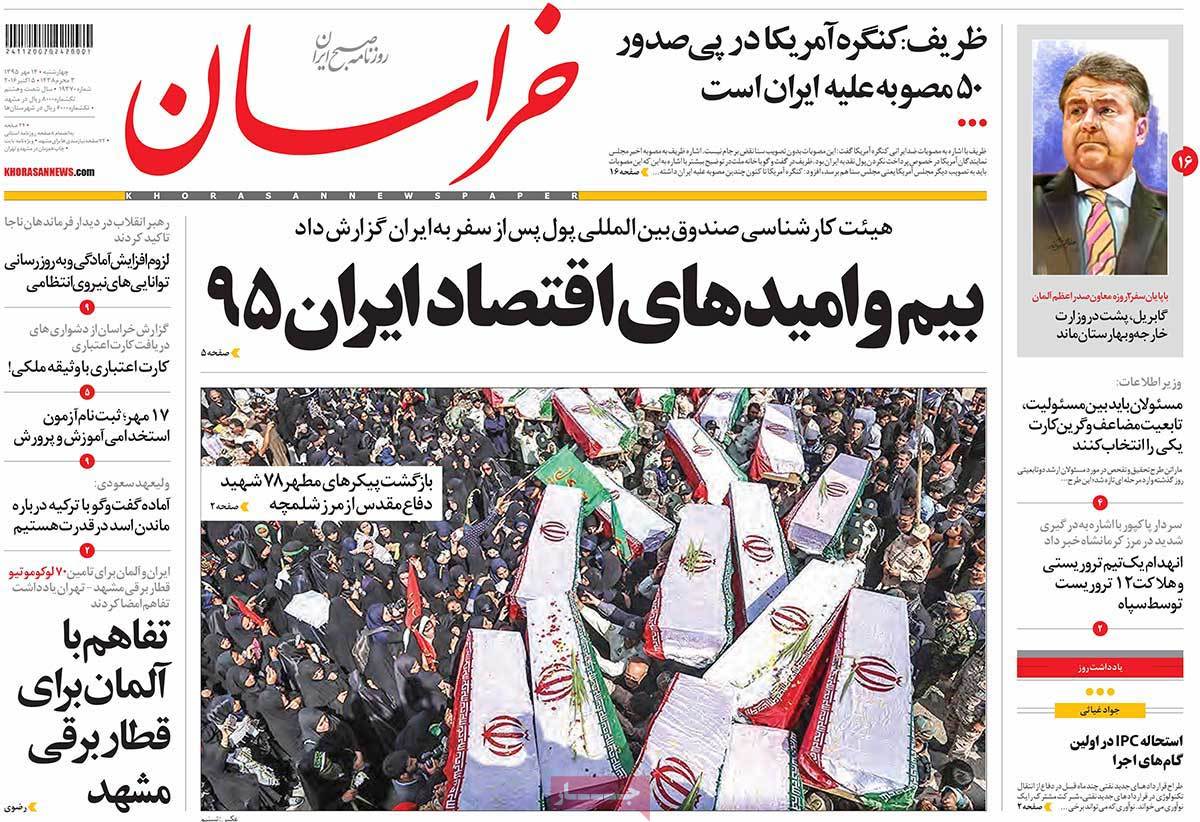 ---
Sepid:
1- Kiarostami's Doctor Breaks His Silence: I Didn't Make Any Mistake in Treating Kiarostami; We Don't Know Anything about What Happened to Him in France, But We've Heard that He Has Banged His Head against Something and Died of the Concussion; We Had Treated All Side-Effects of Kiarostami's Surgery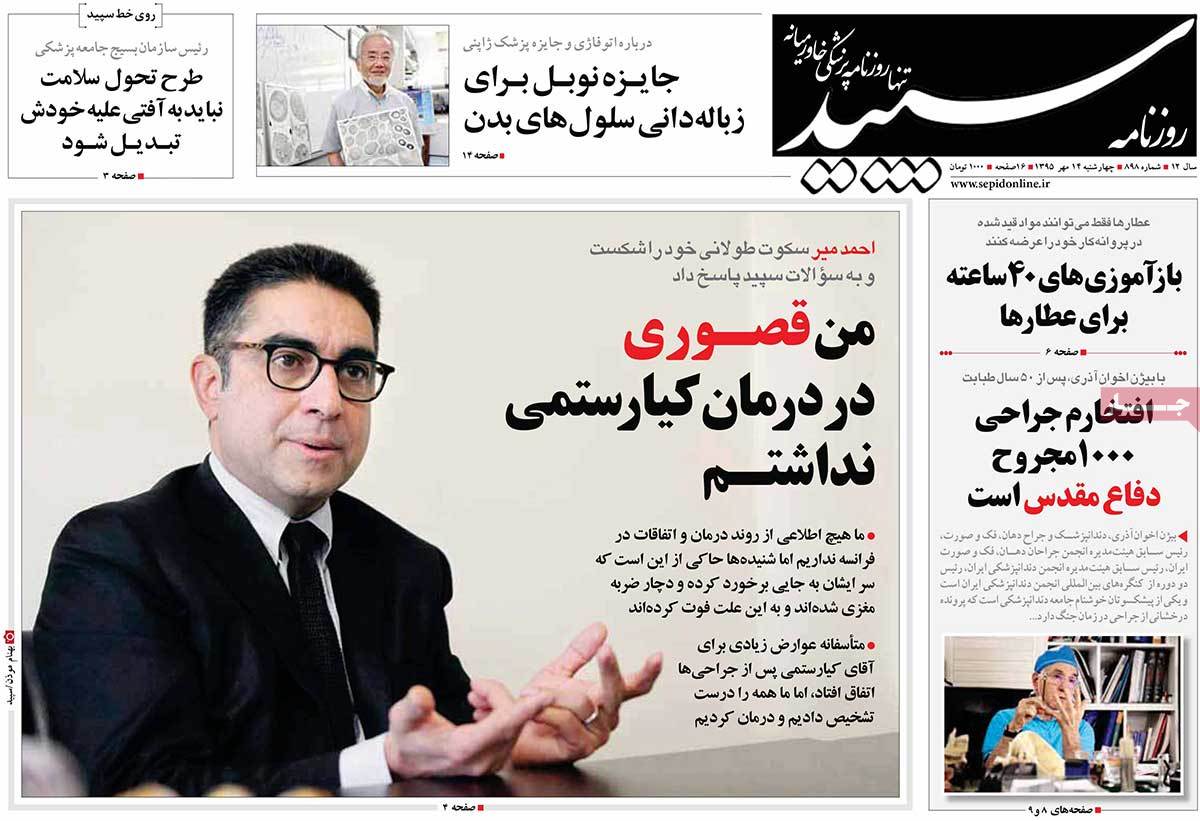 ---
Shargh:
1- Bahonar's Plan for 2017 Presidential Elections: Those Who Weren't Elected in Previous Polls Should Not Run This Time
2- Analyst: Ahmadinejad Should Be Archived in History's Museums
3- Shargh's Interview with Jim Jarmusch: I Don't Release Statements for the World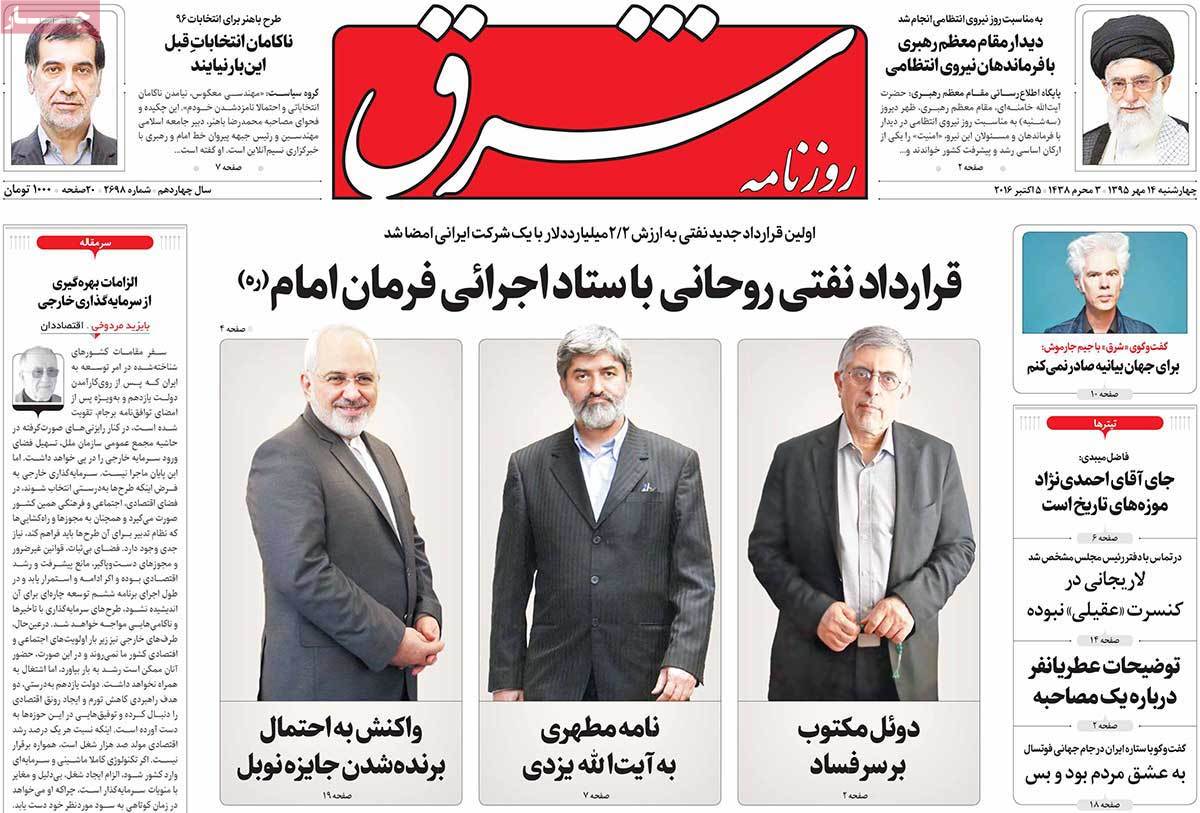 ---
Vatan-e Emrooz:
1- CBI Governor: US Is Stonewalling; They Can Take Back Their Planes!