Almost all papers today highlighted President Hassan Rouhani's support for Foreign Minister Mohammad Javad Zarif over his controversial remarks about 'rampant' money laundering in Iran, which were going to lead to his impeachment.
Also a top story was the pressures on Interior Minister Abdolreza Rahmani Fazli to reject the qualification of Pirouz Hanachi, the reformist figure elected as new mayor of Tehran. Hanachi must be approved by Rahmani Fazli in order to be able to start his work. Vice-Speaker of Parliament Ali Motahari warned on Wednesday that the interior minister could be impeached if he gives in to pressures.
The above issues, as well as many more, are highlighted in the following headlines and top stories:
Abrar:
1- Iran Has Remained in JCPOA upon Europe's Insistence: Foreign Ministry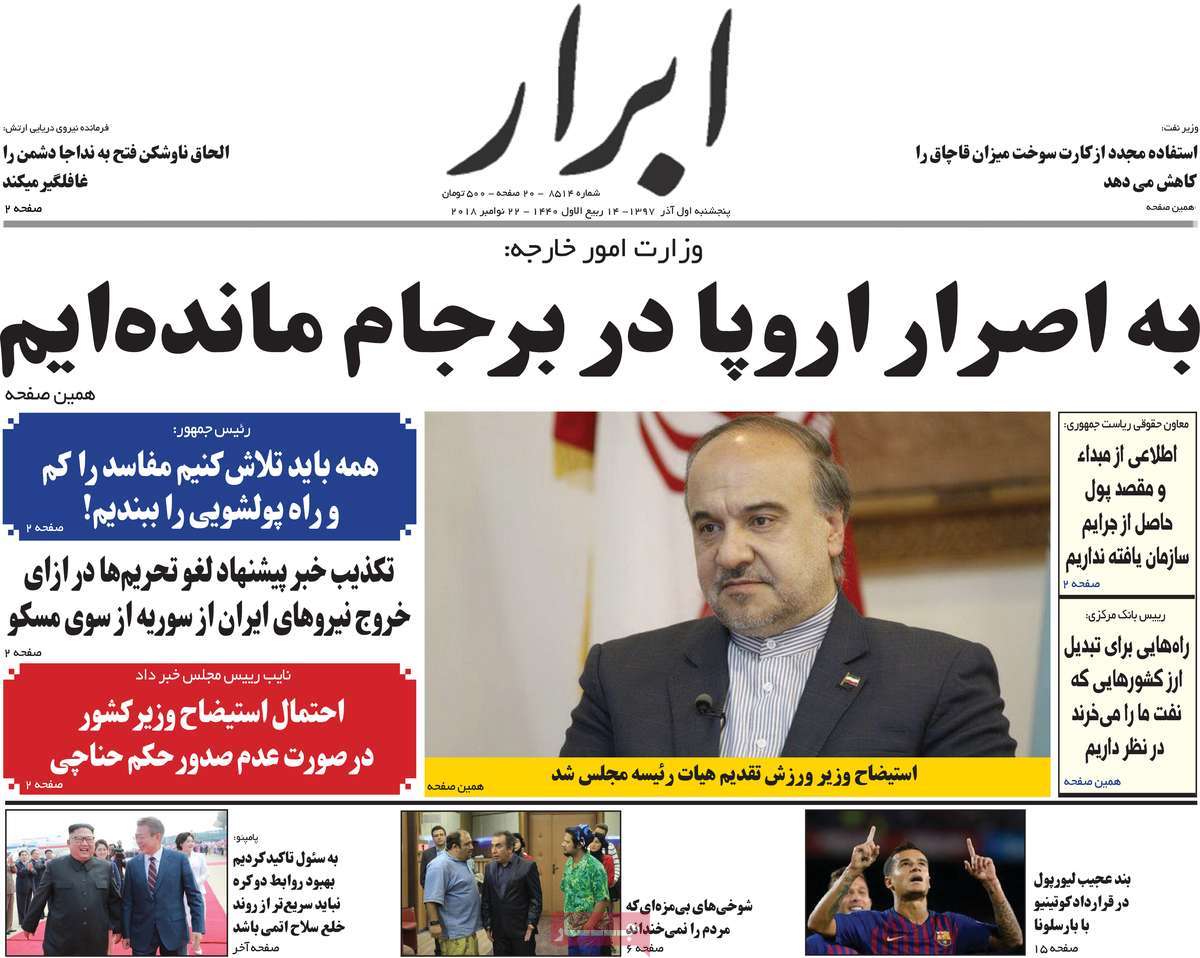 ---
Aftab-e Yazd:
1- An Entire Iran behind Zarif
* Rouhani, Many Officials, Reformists Throw Their Weight behind FM Zarif
2- If a Journalist in Saudi Arabia Writes about Khashoggi, He'd Be Killed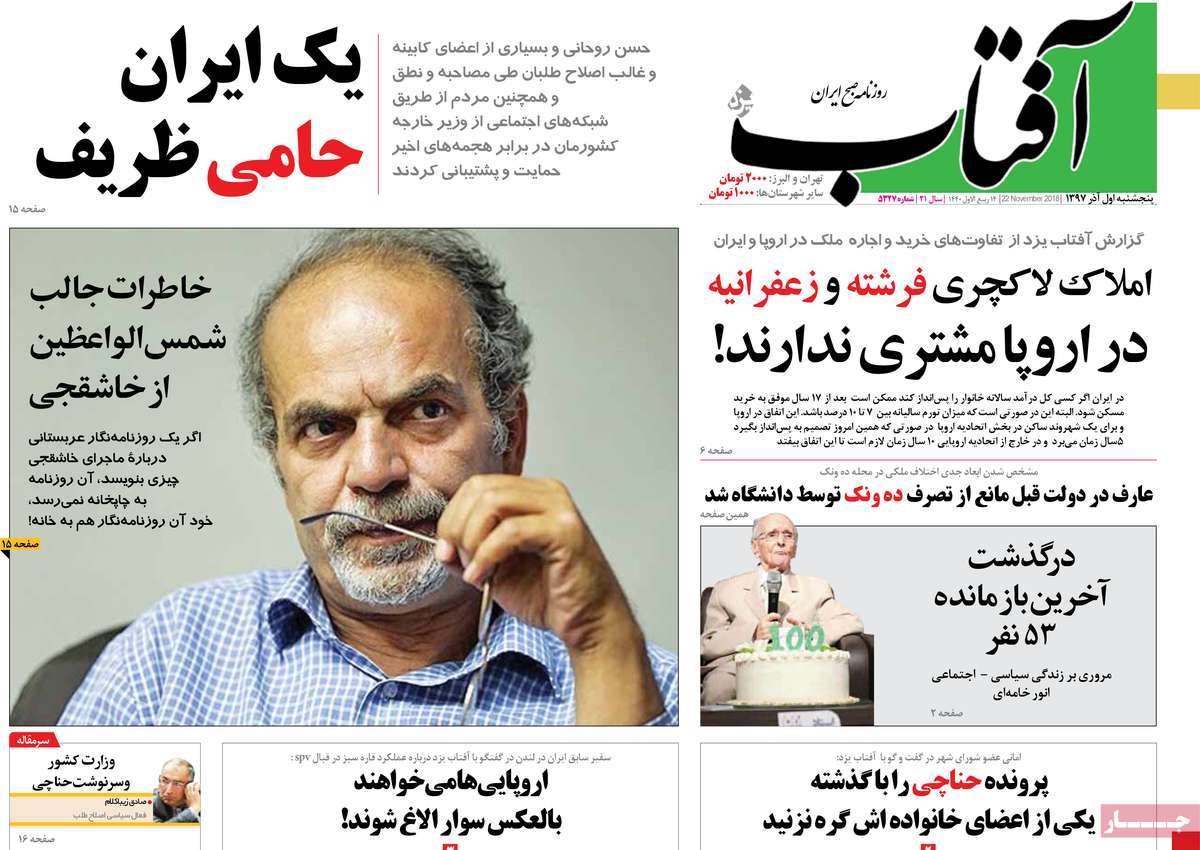 ---
Arman-e Emrooz:
1- Will Profiteers Return with Re-Imposition of Sanctions?
2- Rouhani's All-Out Support for Zarif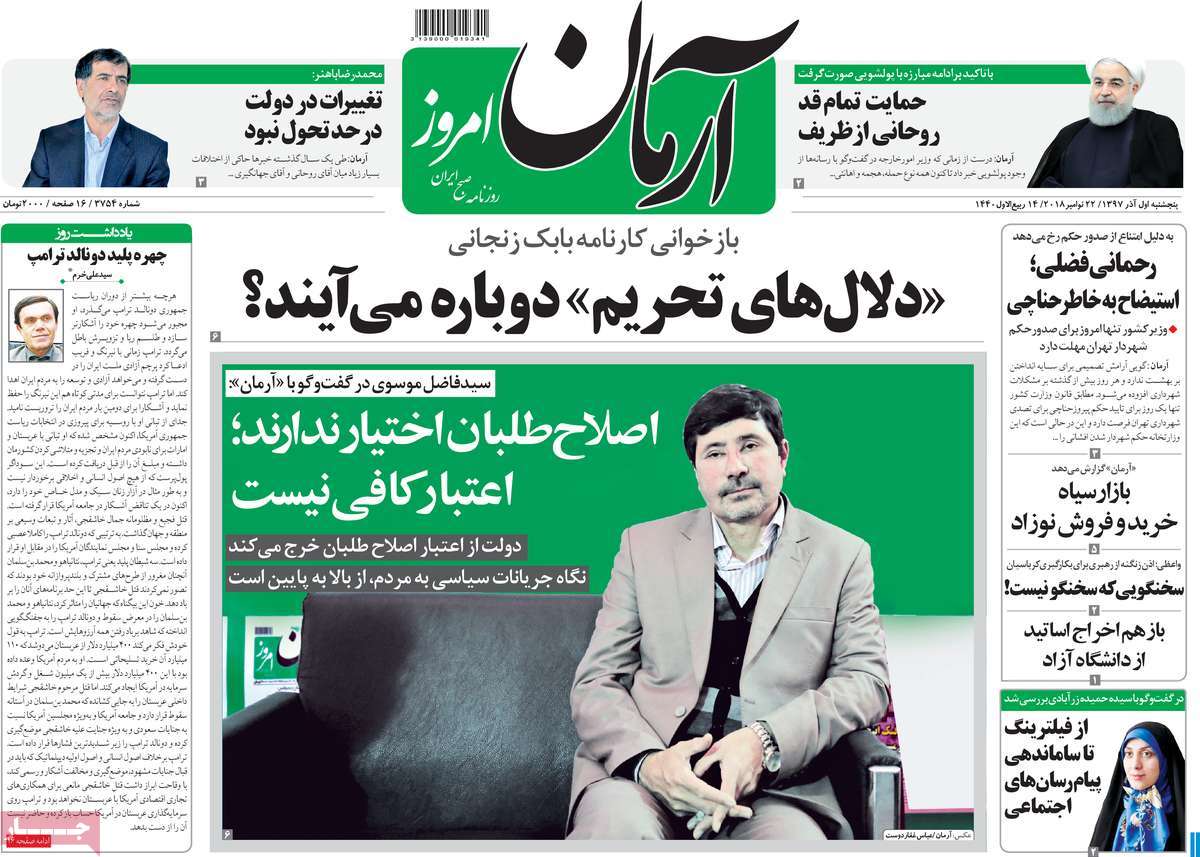 ---
Ebtekar:
1- World's Cold Look at Yemeni Children
---
Etemad:
1- New Mayor of Tehran under Pressure to Resign
* Vice-Speaker to Interior Minister: Don't Give in to Pressures; Approve Hanachi
2- Rouhani: Entire World Gripped with Money Laundering
3- White House Turned into Public Relations Firm for Saudi Arabia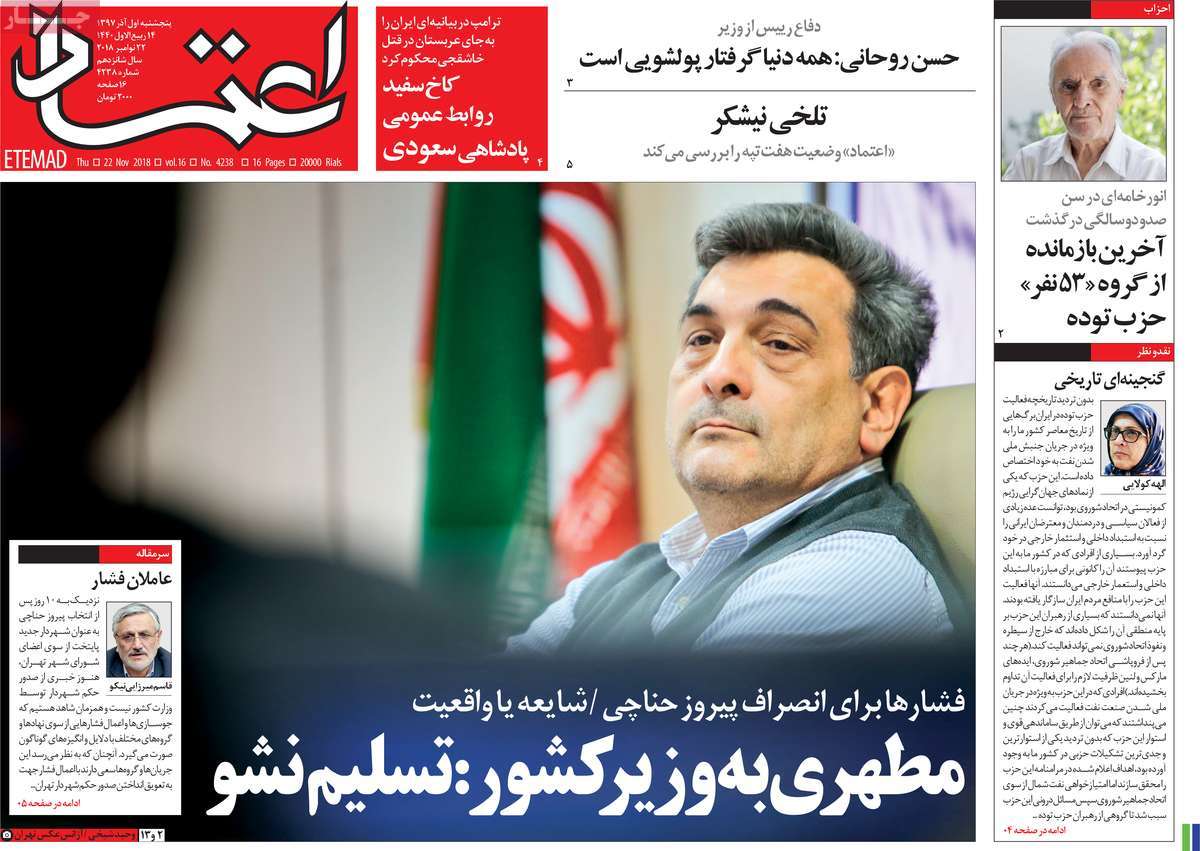 ---
Ettela'at:
1- Rouhani: We Should Close Doors to Money Laundering, Corruption
2- Senior Commander of Yemeni Mercenaries Killed in Ansarullah Attack
3- Iranian Sunnis in Kurdistan Celebrate Prophet Muhammad's Birthday Anniversary
---
Farhikhtegan:
1- Consensus in Criticizing Zarif's Goof on Money Laundering
* Even Rouhani Advised Zarif Not to Politicize Fight against Money Laundering
2- Government Lacks Transparency
3- Iranian Universities' Dependence on Government 2.5 Times Higher than Global Average
---
Iran:
1- Taboo of Sex Education for Children to Be Broken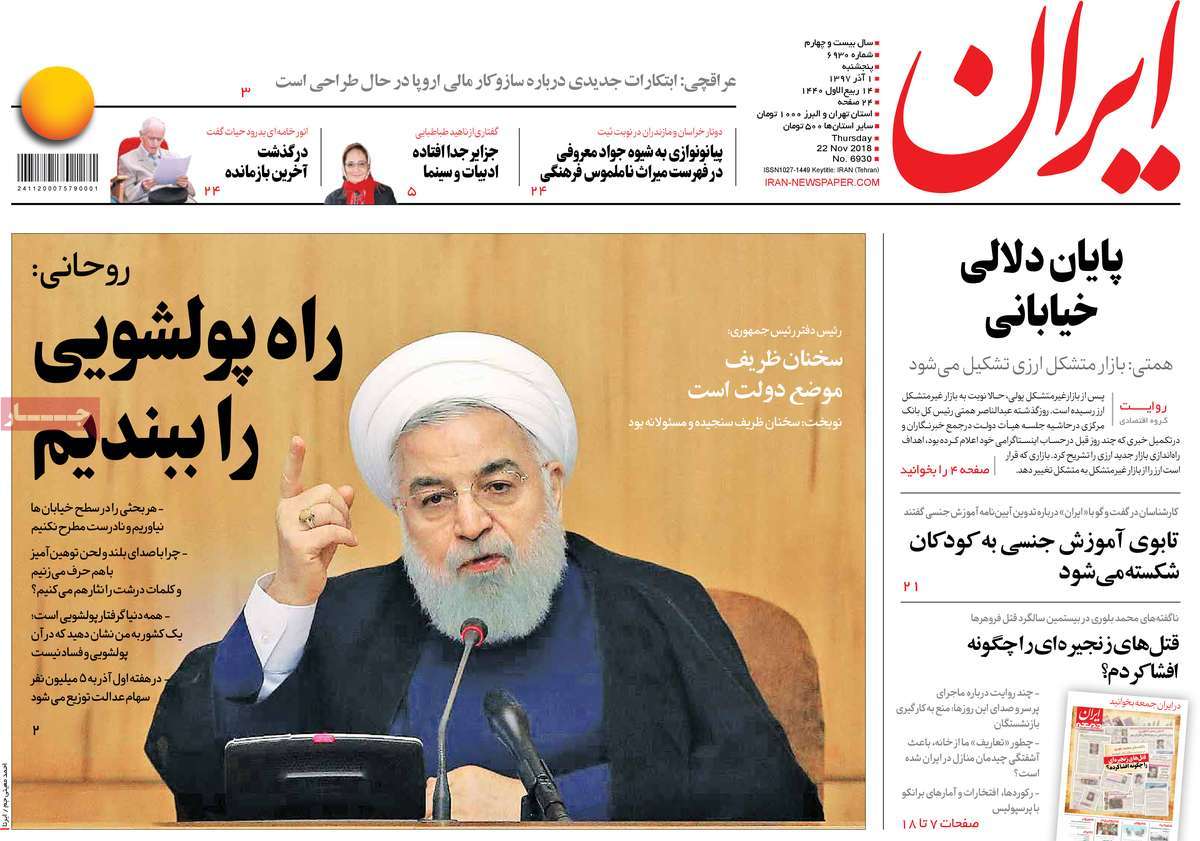 ---
Javan:
1- Zarif's Goof Whitewashed by Rouhani
2- Trump on Bin Salman's Murder of Khashoggi: It Is What It Is!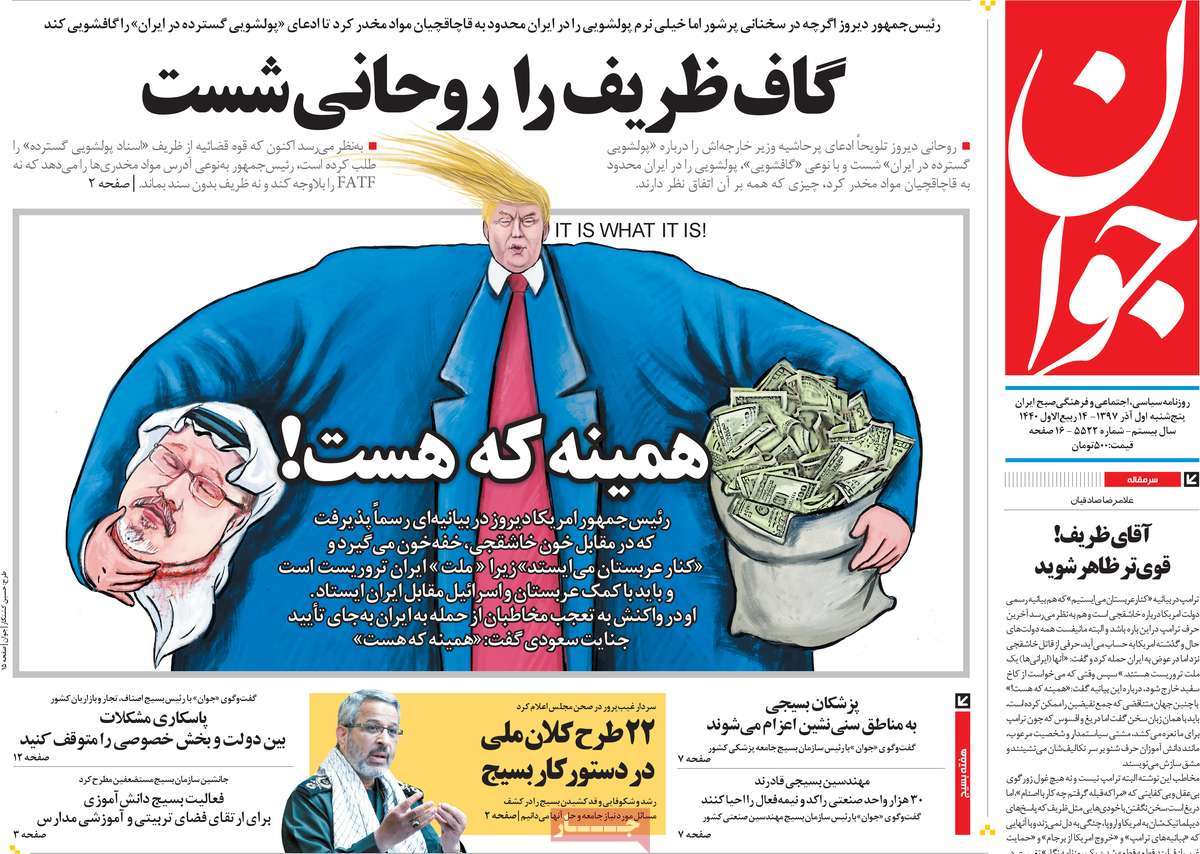 ---
Kayhan:
1- Haft-Tappeh Crisis Result of Making Economy Dependent on JCPOA, FATF
(Haft-Tappeh is a privatized factory whose workers have gone on strike, demanding their overdue wages, and calling on government to retake the factory)
2- Zarif Has Received Judiciary's Letter on Money Laundering
* 10-Day Ultimatum for Providing Evidence
3- Trump: Iran Is a Terrorist Nation! We Need Bin Salman's Petrodollars
4- 14m Poor, 1.5 Million in Absolute Misery: UN's Description of UK Today
5- Mr Hunt! Your Crimes Have Led to Current Misery of Innocent Yemeni Children
---
Resalat:
1- Retired Officials Refusing to Leave Office despite New Law
2- Ayatollah Makarem Shirazi Calls for Unity among Sunnis, Shiites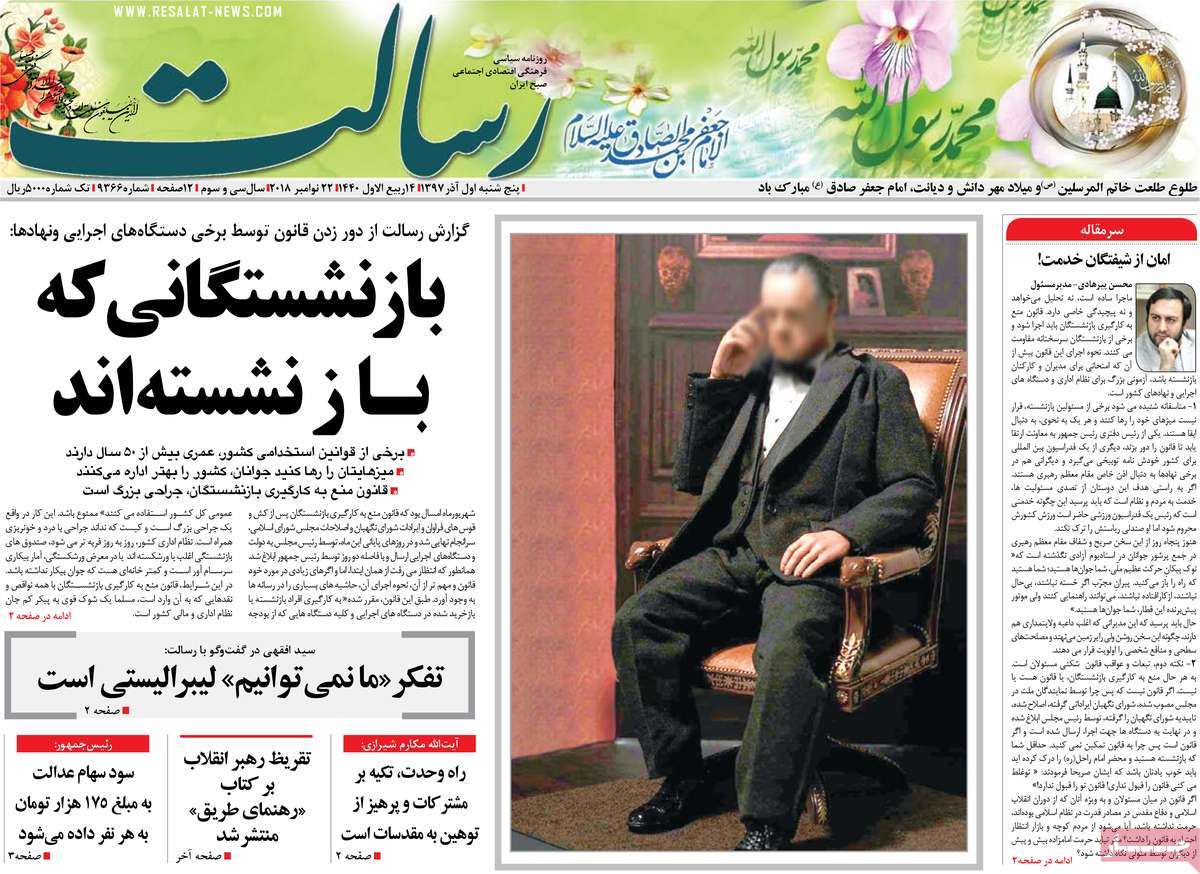 ---
Sazandegi:
1- Zarif's Comments on Money Laundering Totally Correct: Rouhani
2- New US Envoy to Saudi John Abizaid Believed to Be Second Lawrence of Arabia
---
Shargh:
1- Apple of the Cabinet's Eye: Rouhani Strongly Supports Zarif
* Why Should We Fight over Crystal-Clear Issues?
2- Interior Minister to Be Impeached If He Refuses to Approve New Mayor of Tehran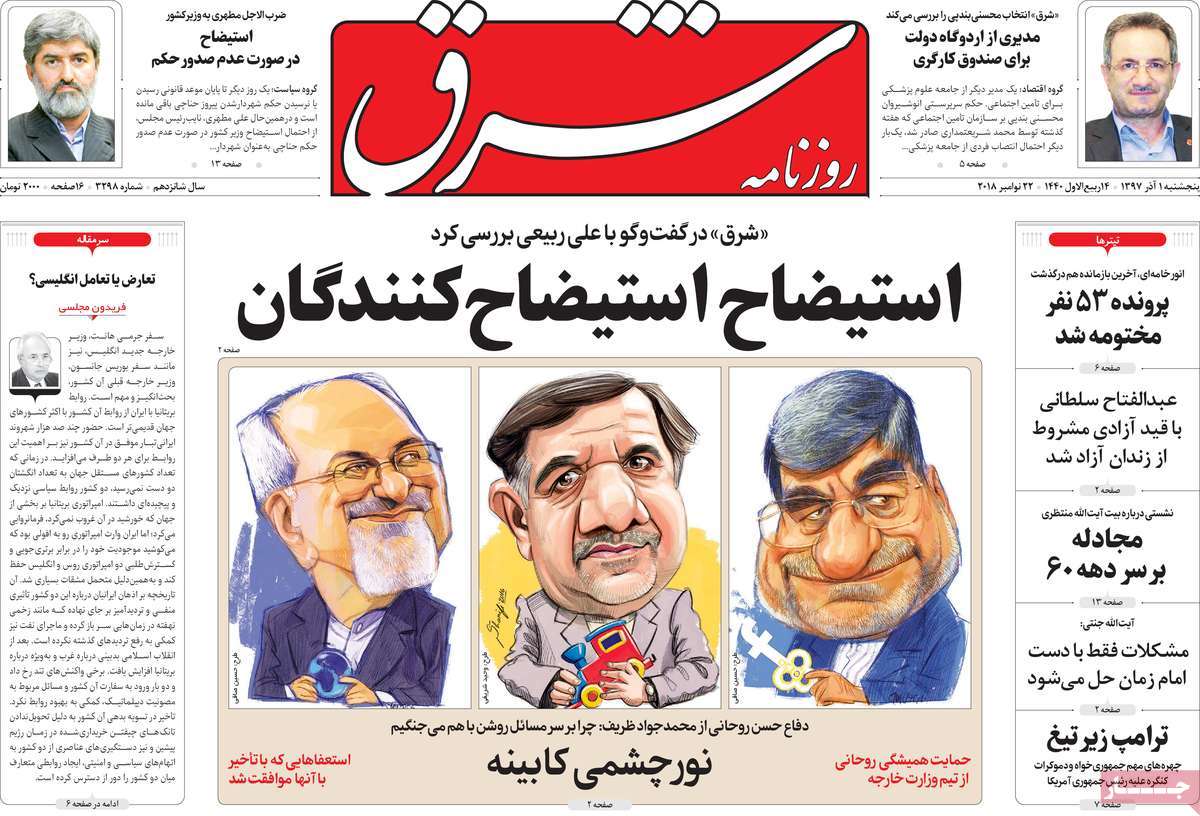 ---
Vatan-e Emrooz:
1- Animal Farm: Trump Once Again Calls Iran a Terrorist Nation
2- Silent Scandal in Norway
* Shocking Report of Organized Sexual Abuse in Norway Child Rights Body