The top story today was the death of an eight-month-old baby girl named Benita who died after being abandoned in his father's car stolen by a couple of thieves. The thieves had abandoned the car with the girl inside in a street in southern Tehran.
Newspapers also widely covered the new US sanctions bill approved unanimously by the US House of Representatives, and the response Iranian officials vowed to give in reaction to the US 'hostile' move, which violates the nuclear deal between Tehran and world powers.
The above issues, as well as many more, are highlighted in the following headlines and top stories:
Afkar:
1- The Torn-Apart JCPOA
US Congress Unanimously Ratifies Unprecedented Sanctions against Iran
2- Iranian Committee Tasked with Monitoring JCPOA Is Asleep: IRGC General
---
Aftab-e Yazd:
1- This Mother's Great Grief
8-Month-Old Benita Was Found, but She Was Dead
Benita! Forgive Us for Failing to Create a Beautiful Life for You
2- Is US Preparing for Annulment of JCPOA?
3- Rightists, Leftists Welcome Government-IRGC Sympathy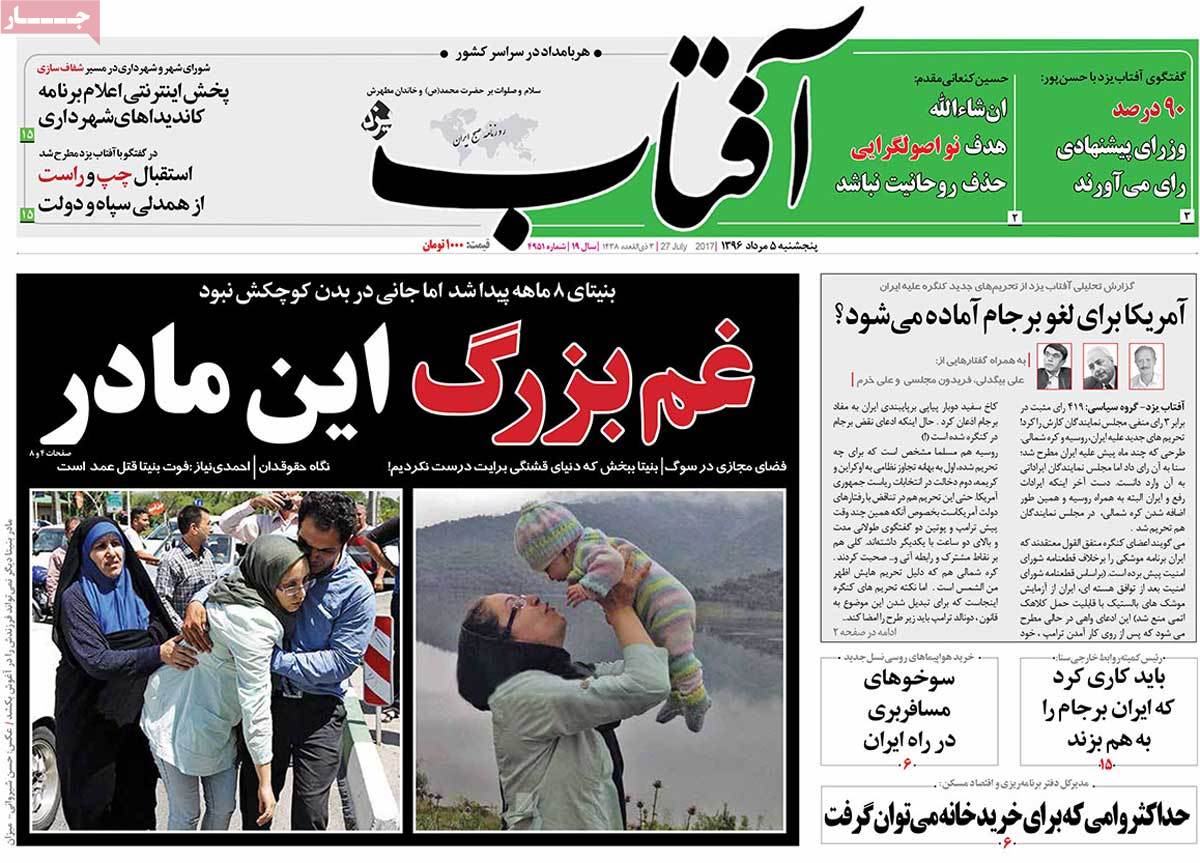 ---
Arman-e Emrooz:
1- You Can't Make People Wear Hijab by Using Morality Police: Cleric
2- Iran President Vows Reciprocal Move against Non-Nuclear Sanctions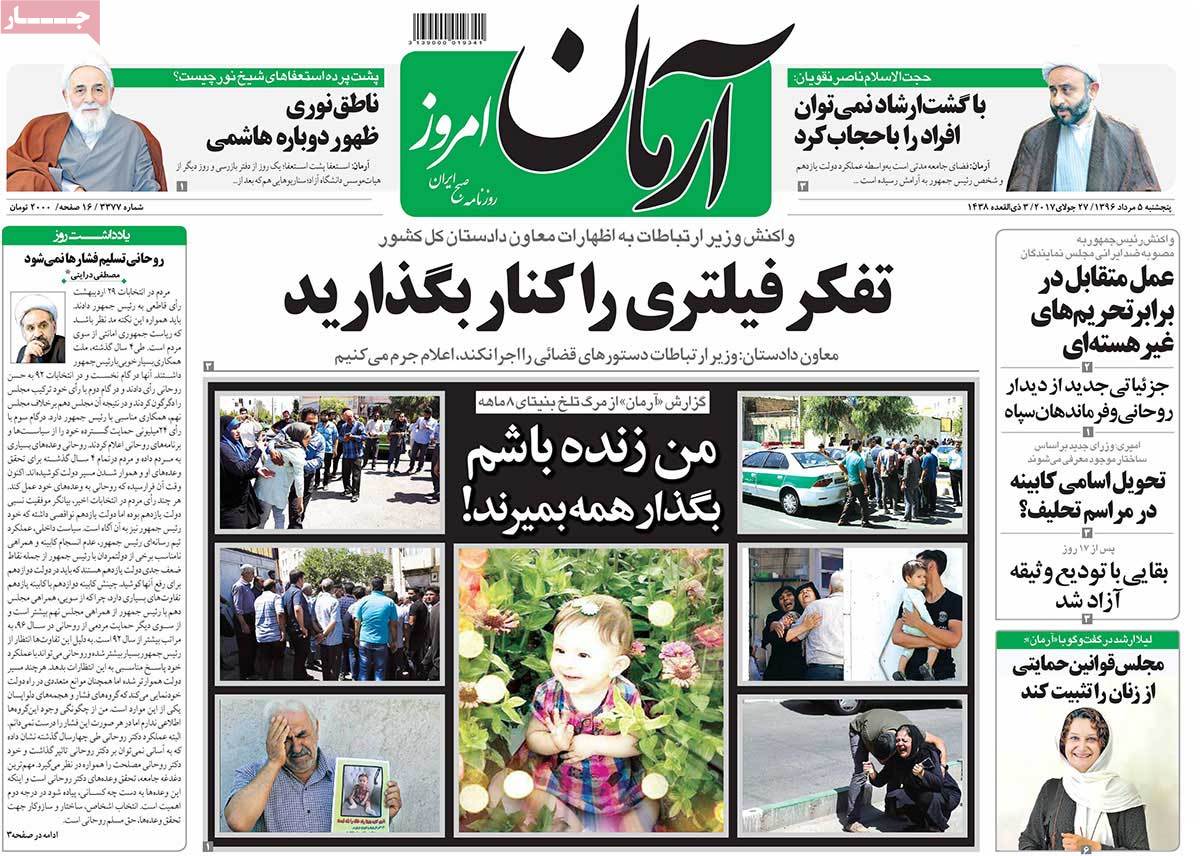 ---
Ebtekar:
1- US Trap for Iran's Withdrawal from Nuclear Deal
2- Rouhani: We'll Give Appropriate Response to US Congress' Move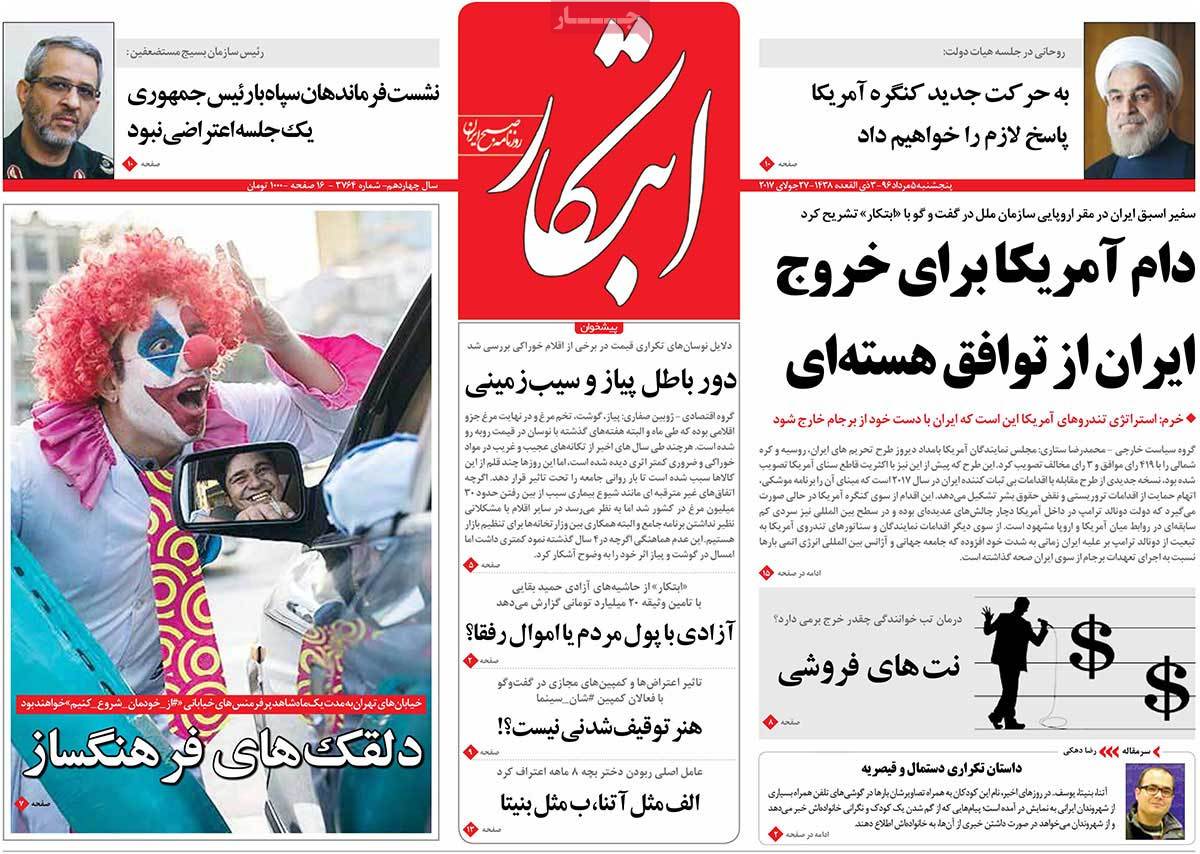 ---
Ettela'at:
1- Rouhani: Iran to Give Response to US
2- Hezbollah Fighting Terrorists on Behalf of Entire Lebanon: Nabih Berri
3- It's People's Right to Criticize the Law, Even the Constitution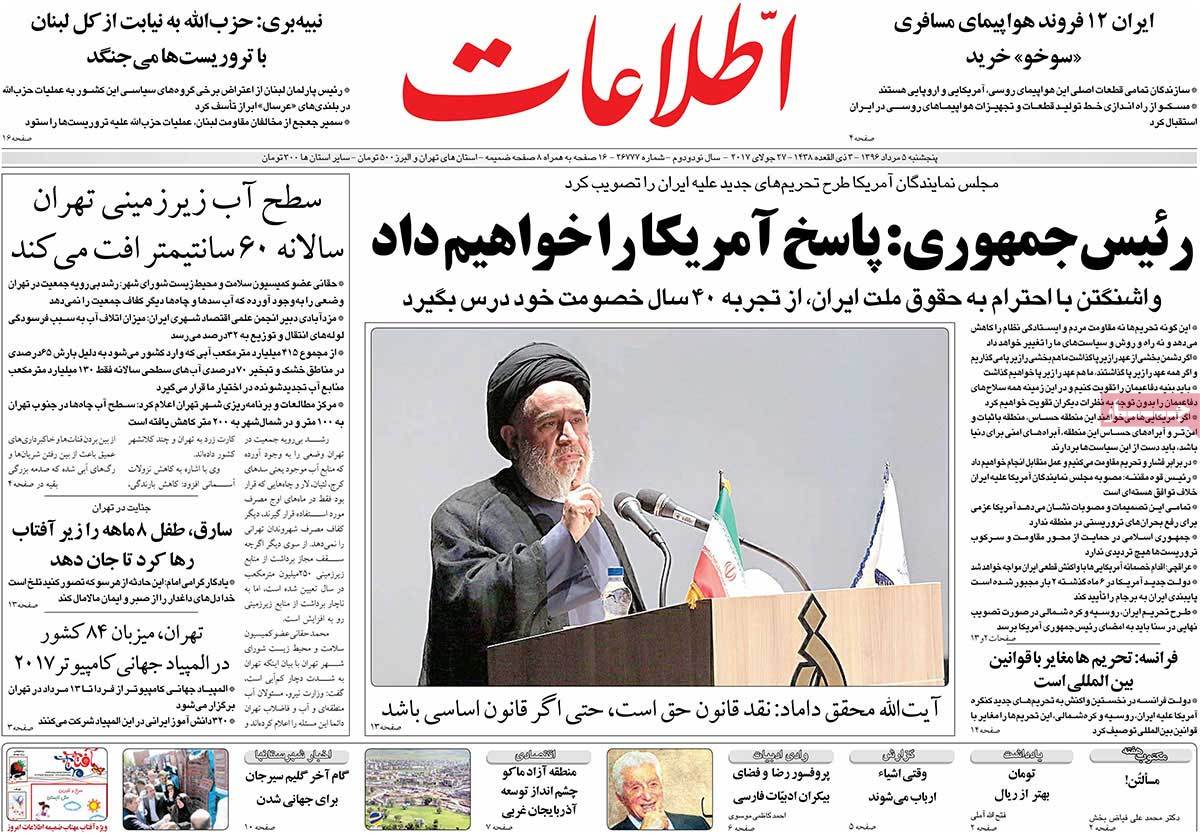 ---
Haft-e Sobh:
1- We Cannot Tolerate Anymore
8-Month-Old Benita Falls Victim to 2 Amateur Criminals
---
Hemayat:
1- Trump: I Won't Approve of JCPOA Anymore
2- National Consensus on Reciprocal Measure against US Sanctions
3- Iran Leader's Advisor: Iran to Take Required Measures against This Clear Breach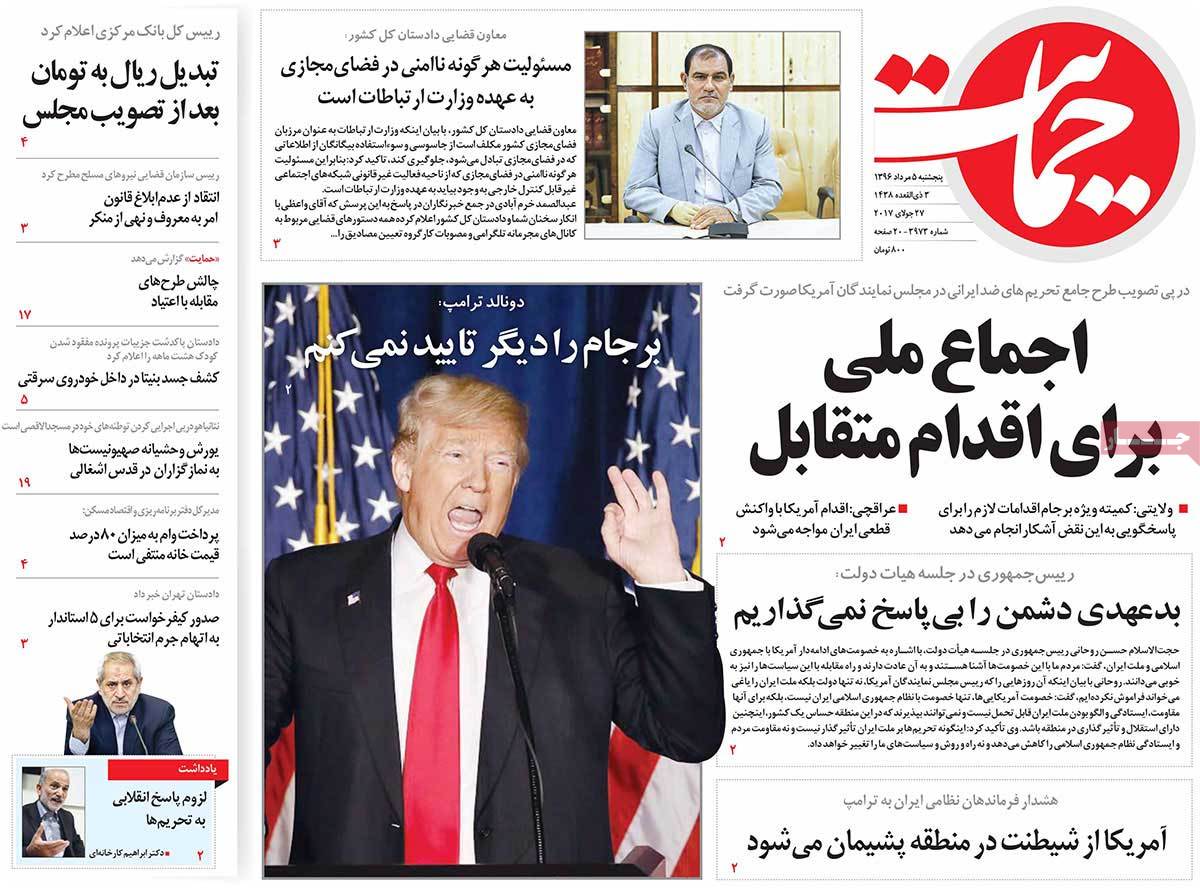 ---
Jame Jam:
1- Unanimous against Violation of Commitments
Iran Vows Decisive Response to US Congress' Hostile Move
2- Let's Value Every Single Drop of Water
---
Javan:
1- Rouhani: Iran to Reinforce Defensive Weapons Regardless of Others
2- Iranian Society Outraged by Car Stereo Thief's Horrible Crime
3- Shiites in Paris Love General Soleimani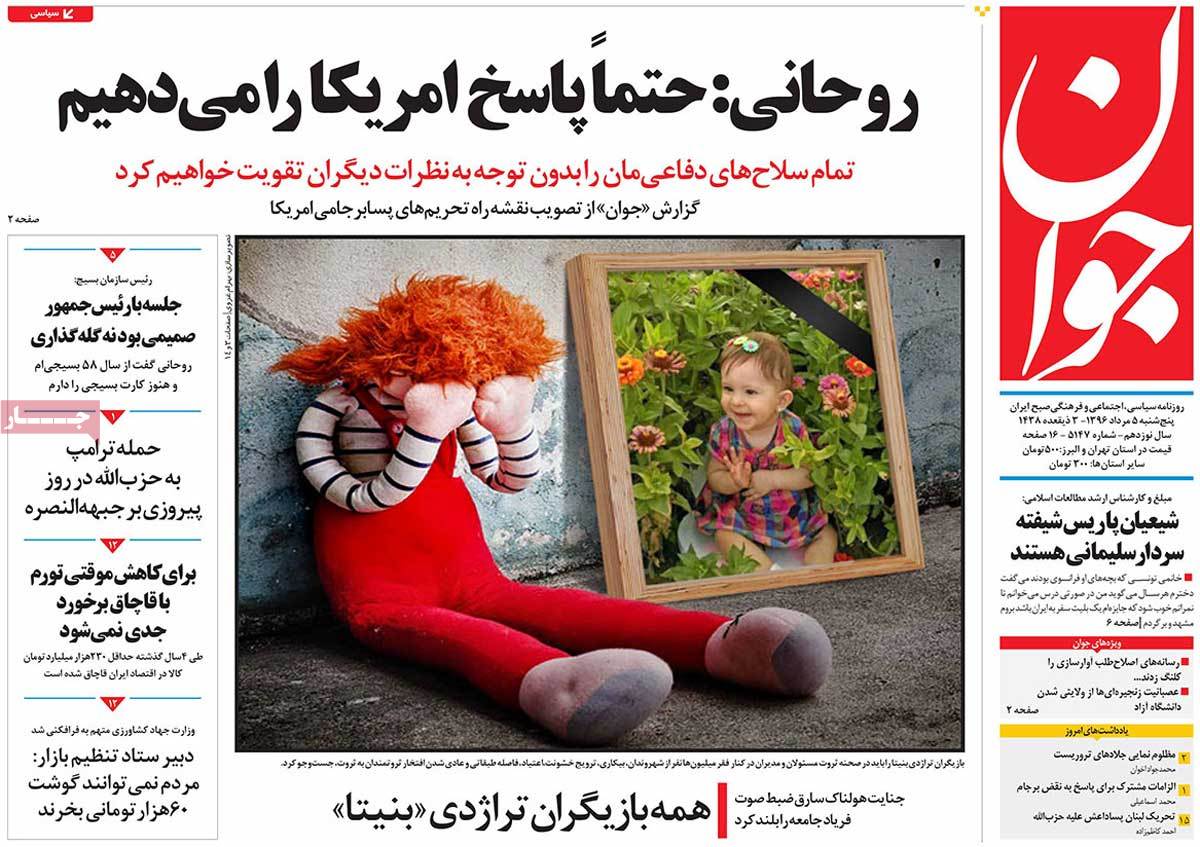 ---
Jomhouri Eslami:
1- Iranian Officials United against New US Sanctions
2- Russia: We'll Give Painful Response to New US Sanctions
3- Former CIA Chief Encourages US Government to Riot
4- Thousands of Jordanians Shouting Death to Israel
---
Kayhan:
1- 92% of Arsal Heights Liberated in Hezbollah-Syria Joint Operation
2- Handling Nuclear Case Should Be Taken Away from Government: Editor-in-Chief
3- People's Demand from Judiciary: Ruthless Thieves of 8-Month-Old Baby Should Be Executed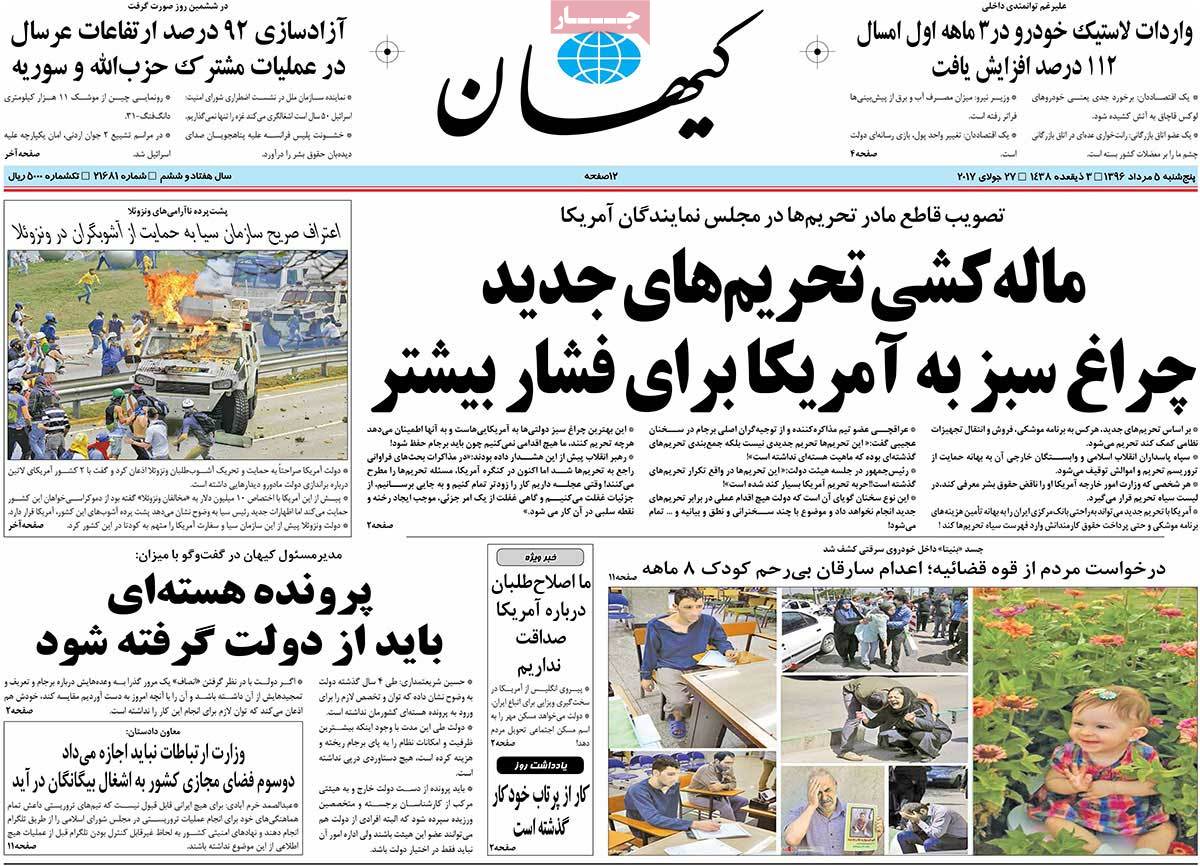 ---
Resalat:
1- Rouhani: US Should Stop Such Behaviours If It Wants Save Waterway
2- US Shoots JCPOA in Its Heart
3- Analyst: New US Sanctions Make Nuclear Deal Empty from Inside
4- Telegram, Instagram Hold Top Ranks in Cyber Crimes: Police
5- ISIS Made Arrangements for Tehran Attacks through Telegram
---
Vatan-e Emrooz:
1- Qiblah of Sanction