The top story today was the eighth meeting of the JCPOA Joint Commission held in the Austrian capital of Vienna. During the meeting, Iran complained about the US violation of its commitments under the nuclear deal, but was not convinced of the other parties' justification.
Meanwhile, the remarks by President Hassan Rouhani and Foreign Minister Mohammad Javad Zarif about the US breach of its promises and even talks of withdrawing from the nuclear deal were widely covered by conservative newspapers, which highlighted the fact that Rouhani's government is no longer over-optimistic about the other parties of the Iran nuclear deal.
Another top story today was Kuwait's move to deport several Iranian diplomats over allegations that Tehran has rejected.
The above issues, as well as many more, are highlighted in the following headlines and top stories:
Abrar:
1- Deputy FM Araqchi Criticizes US for Non-Constructive Behaviour
2- Kuwaiti Envoy Summoned to Iran Foreign Ministry
3- US Counter-Terrorism Forces Deployed in Qatar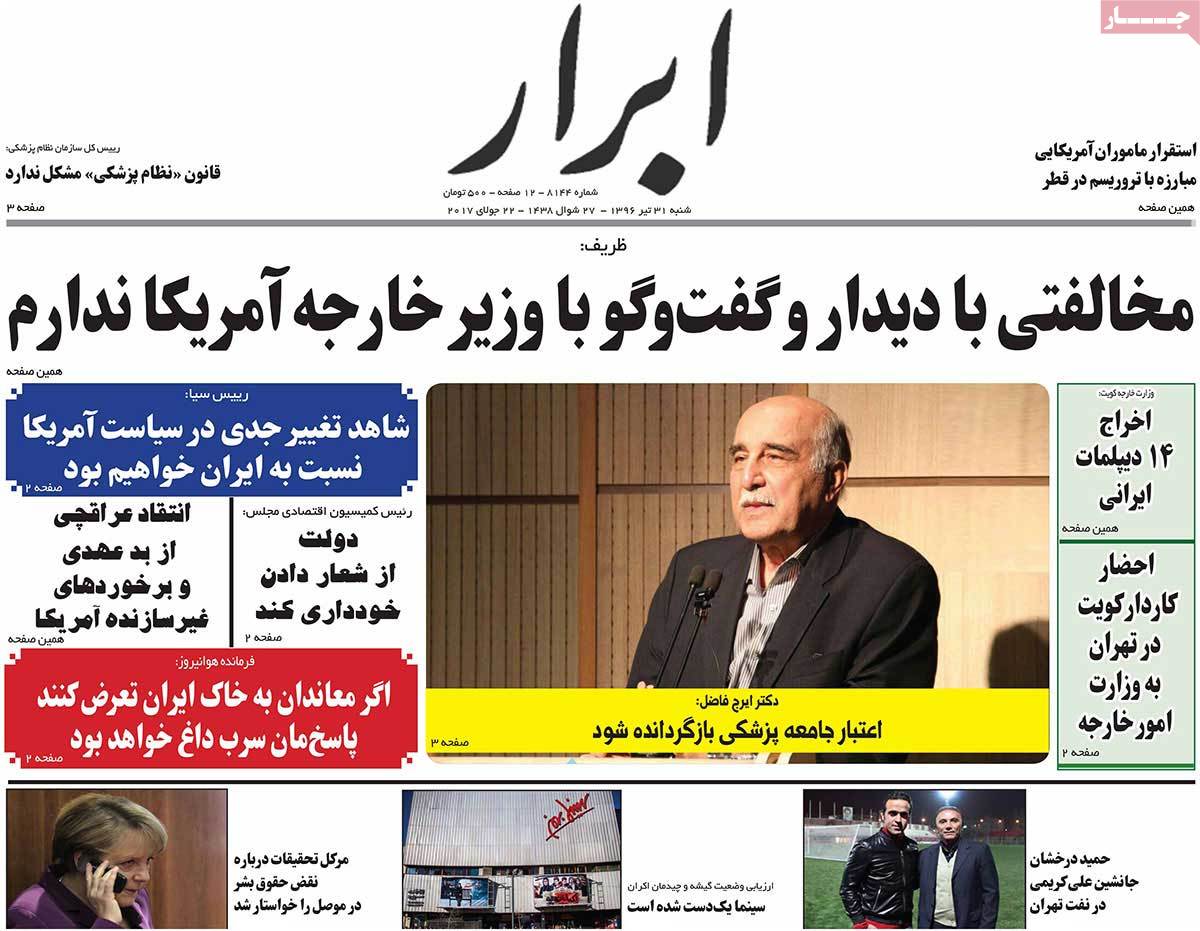 ---
Abrar-e Eqtesadi:
1- India's New Oil Threat against Iran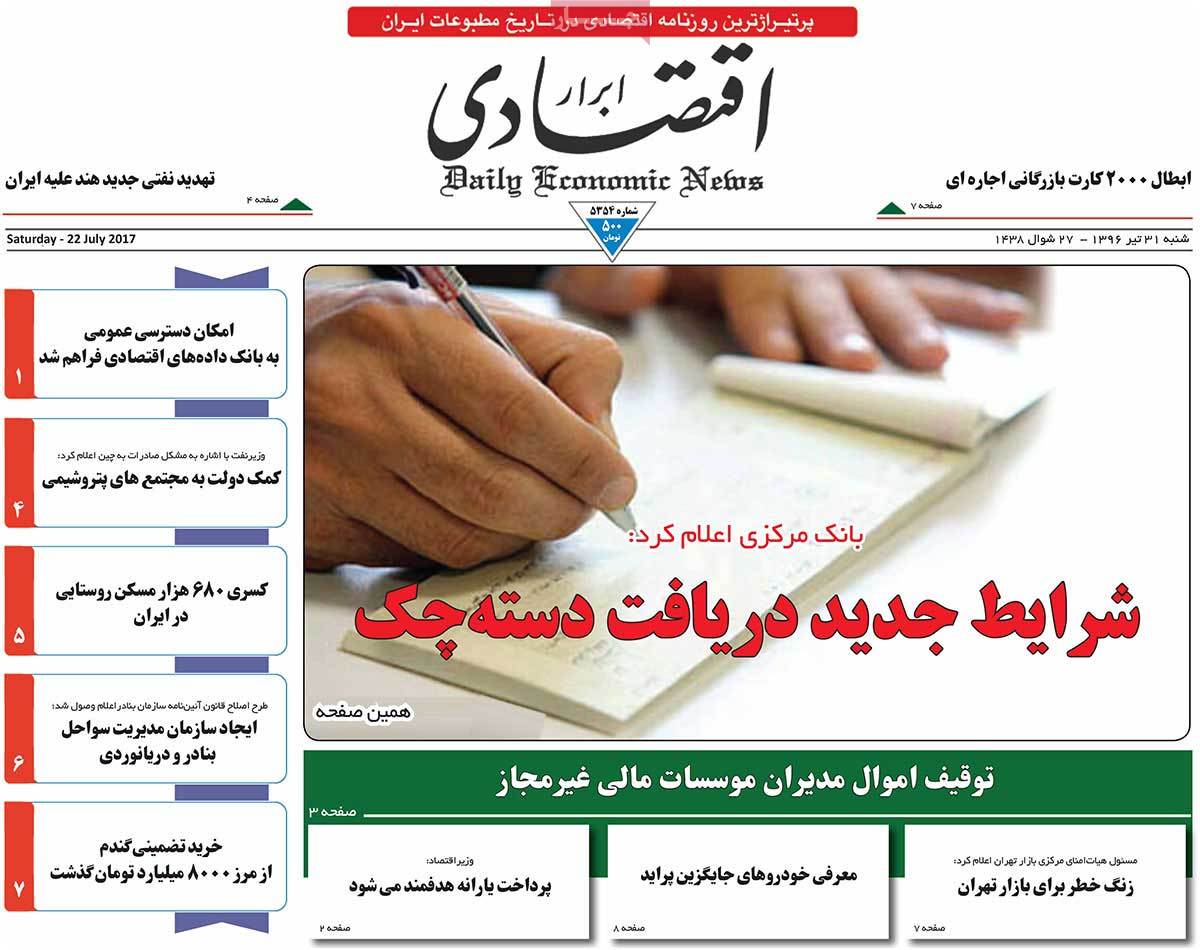 ---
Afkar:
1- US Should Stay 1km Away from Iranian Borders If IRGC Blacklisted: Commander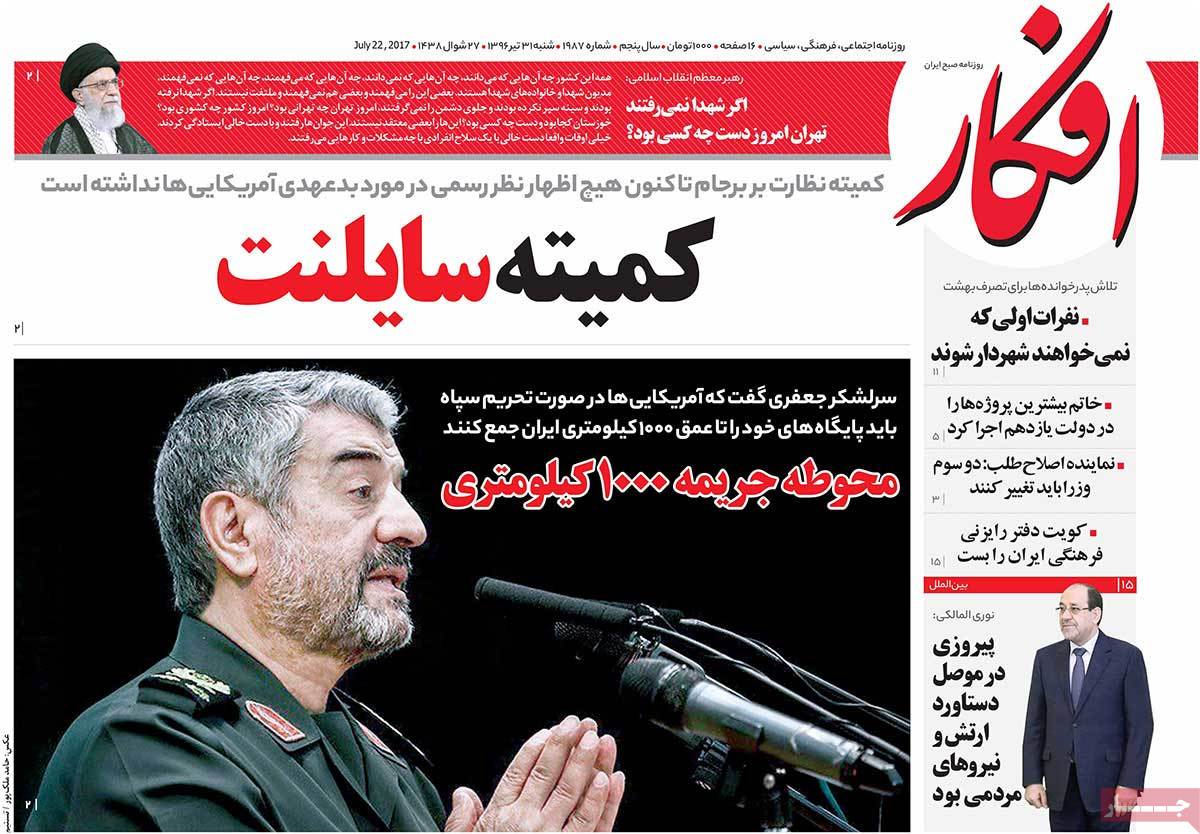 ---
Aftab-e Yazd:
1- Zarif: I'm Not Opposed to Meeting with Tillerson
2- Parliament: Gov't Needs to Distribute Diluted Narcotic Drugs
3- Cleric: Hajj Pilgrims Shouldn't Be Worried about Going to Saudi Arabia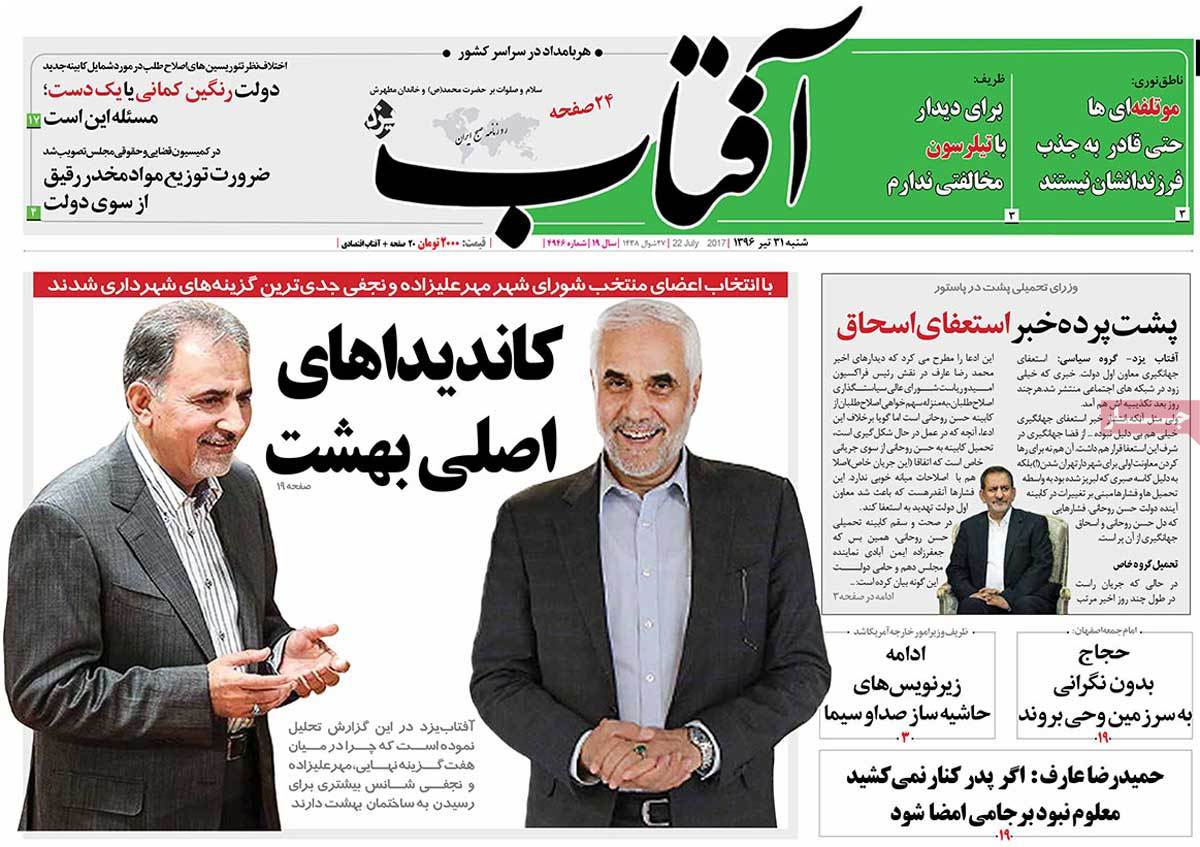 ---
Arman-e Emrooz:
1- Rouhani in Dilemma of Demands, Deals
2- ICT Minister: You See Filtering Does Not Work
3- Plan Approved for Legal Distribution of Narcotics
---
Asr-e Iranian:
1- Palestinians Third Intifada Imminent
---
Etemad:
1- President: Gov't Should Be Run by Those Favoured by 24m Voters
2- Kuwait's Cautious Diplomacy
3- Master of Diplomacy's Attack from Heart of US
Zarif Talks of Independent, Peaceful Iran in US Media
4- Victims of 'Dez River'
2 Killed, 3 Missing Due to Tourists' Carelessness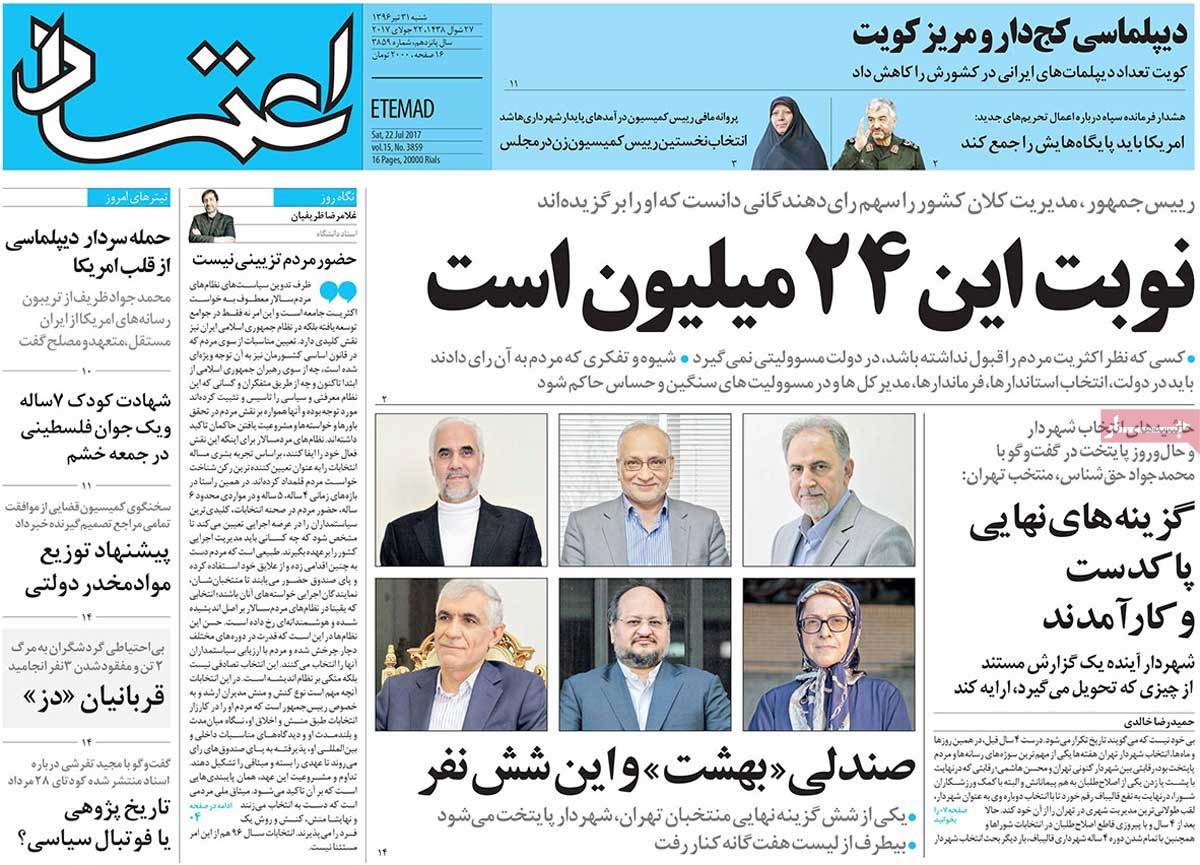 ---
Ettela'at:
1- President: It's Not Time for Arguments; We Should Think about Iran's Future
2- Assad's Army, Hezbollah Launch Major Operation to Clean Syrian-Lebanon Border
3- Zarif: JCPOA Opens New Horizon for Dialogue, Mutual Respect in World
4- Appreciation Ceremony Held for Professor Maryam Mirzakhani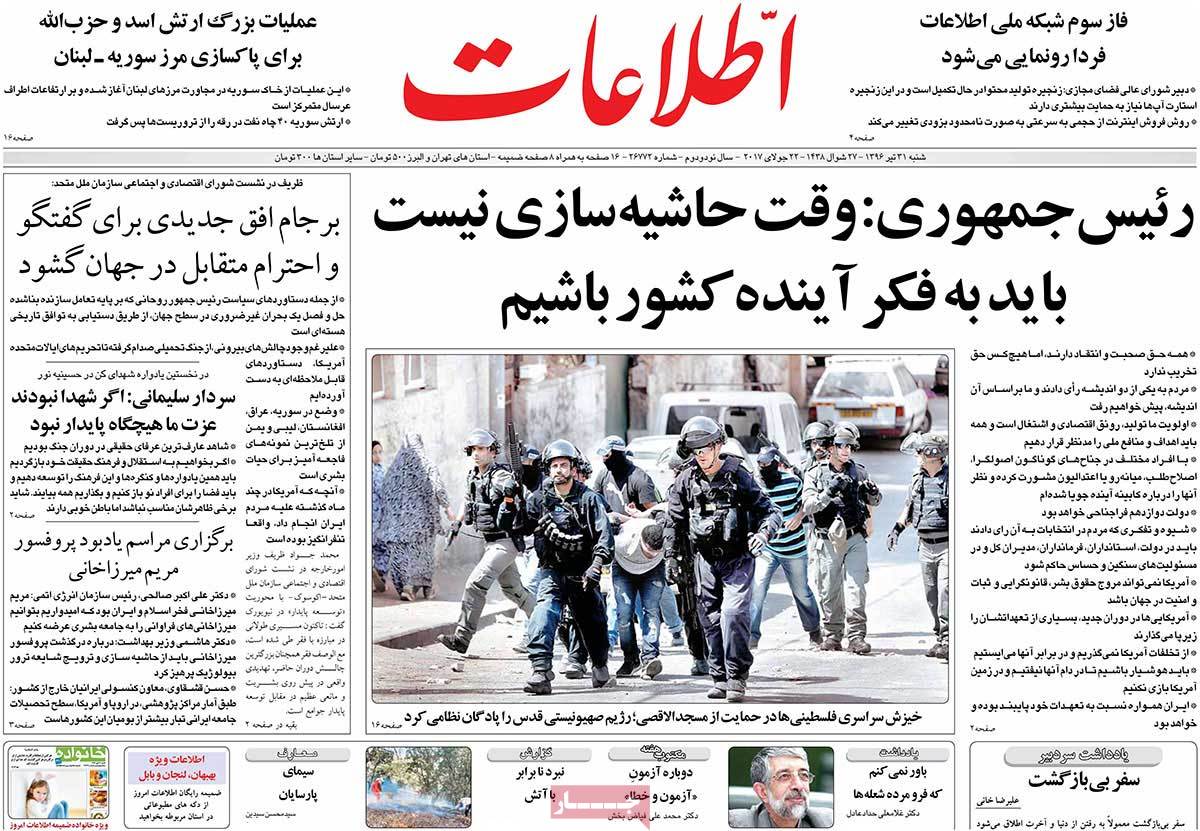 ---
Ghanoon:
1- Wandering Spirit of JCPOA
8th Meeting of JCPOA Joint Commission Held in Vienna
---
Hamdeli:
1- Cabinet Formation under Pressure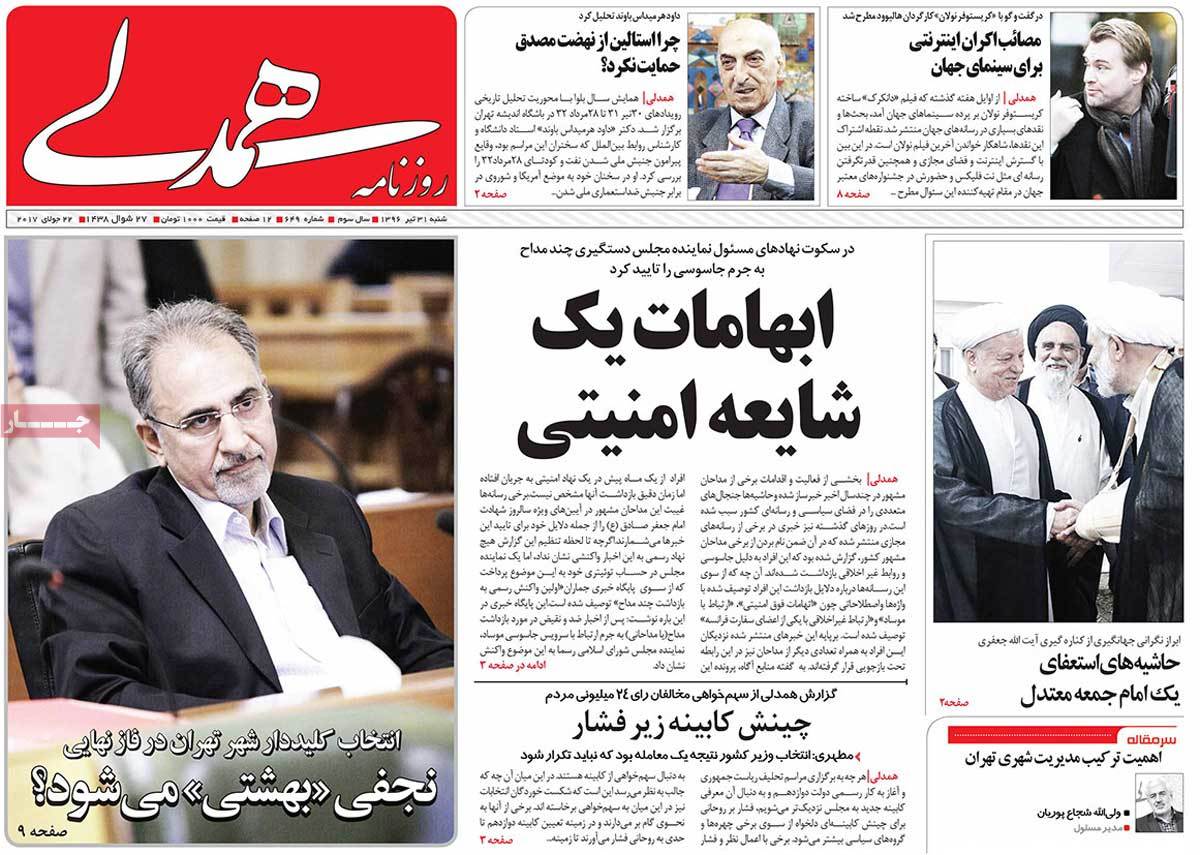 ---
Iran:
1- Rouhani: Next Gov't to Be Non-Partisan
2- Bloody Friday in Quds: 3 Martyred, 300 Wounded in Day of Rage Rallies
---
Javan:
1- Zarif: We All Know JCPOA Deficits Now
2- Rouhani: We Won't Ignore US Violations, Will Stand against Them
3- Quds Turns into Military Barracks
---
Jomhouri Eslami:
1- CIA Chief Outraged by Nuclear Deal
2- Ayatollah Sistani: ISIS Elements Kept as Prisoner Should Not Be Tortured
3- Turkey's 22 New Dams Endangering 2 Important Water Resources in Iran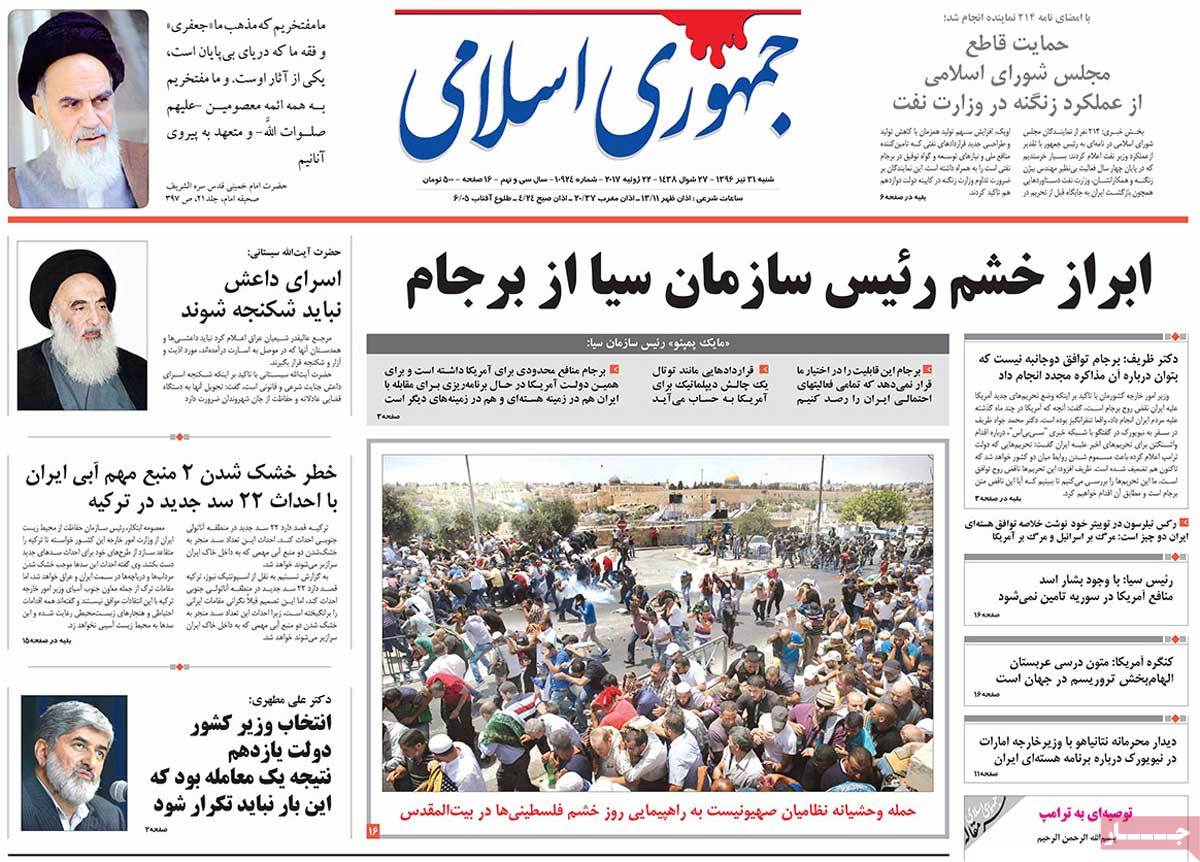 ---
Kayhan:
1- Rouhani Finally Admits JCPOA Has Been Violated
2- President Vows to Stand against US Violation of Its Commitments
3- 25,000 Foreign Cars Imported in 3 Months
4- Houthi Leader to Hezbollah Chief: We're Ready to Fight Israel
5- Kuwait Expels 15 Iranian Diplomats to Please Zionists
---
Khorasan:
1- Countries Boycotting Qatar Decrease Number of Demands from 13 to 6
2- Instagram Ready to Block Pages on Iran's Request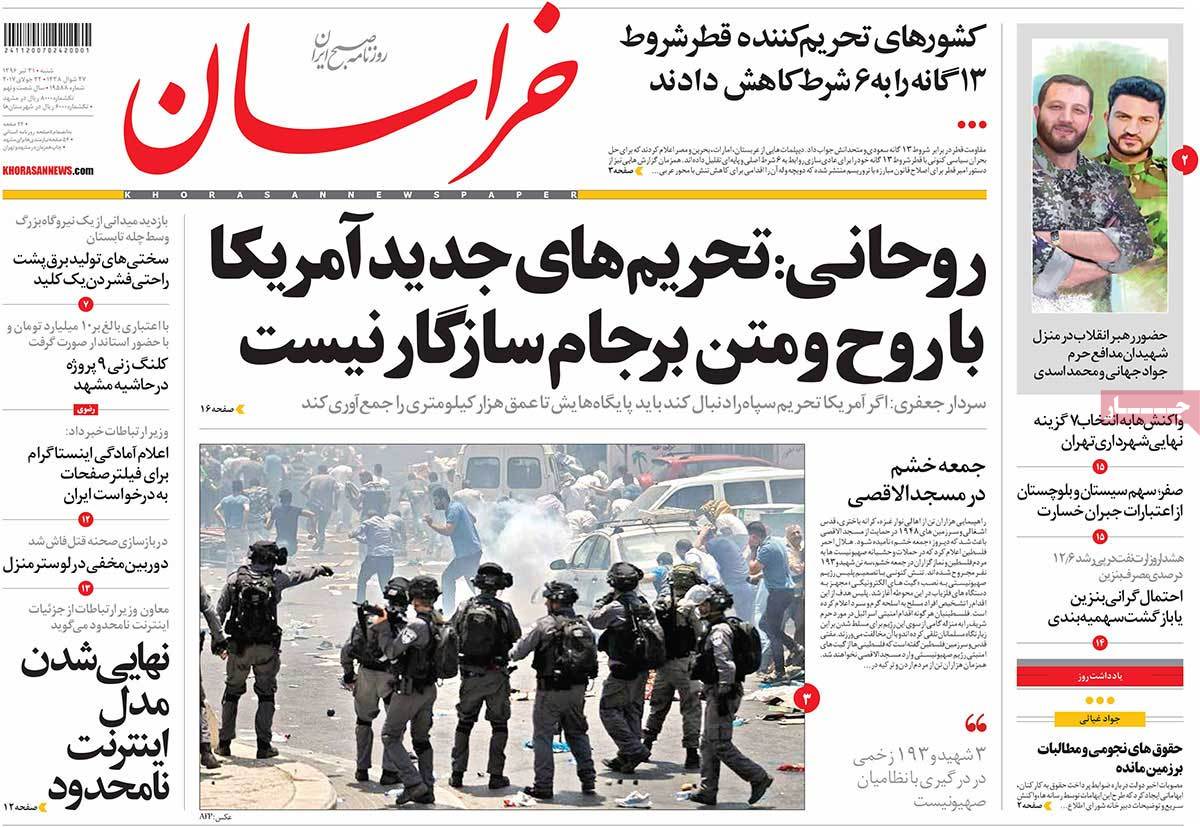 ---
Rooyesh-e Mellat:
1- Ayatollah Khatami: It's Establishment Decision to Send Pilgrims to Hajj
2- Deputy FM Araqchi: US New Sanctions Poisoning Atmosphere
---
Setareh Sobh:
1- The Cabinet of 24 Million Iranians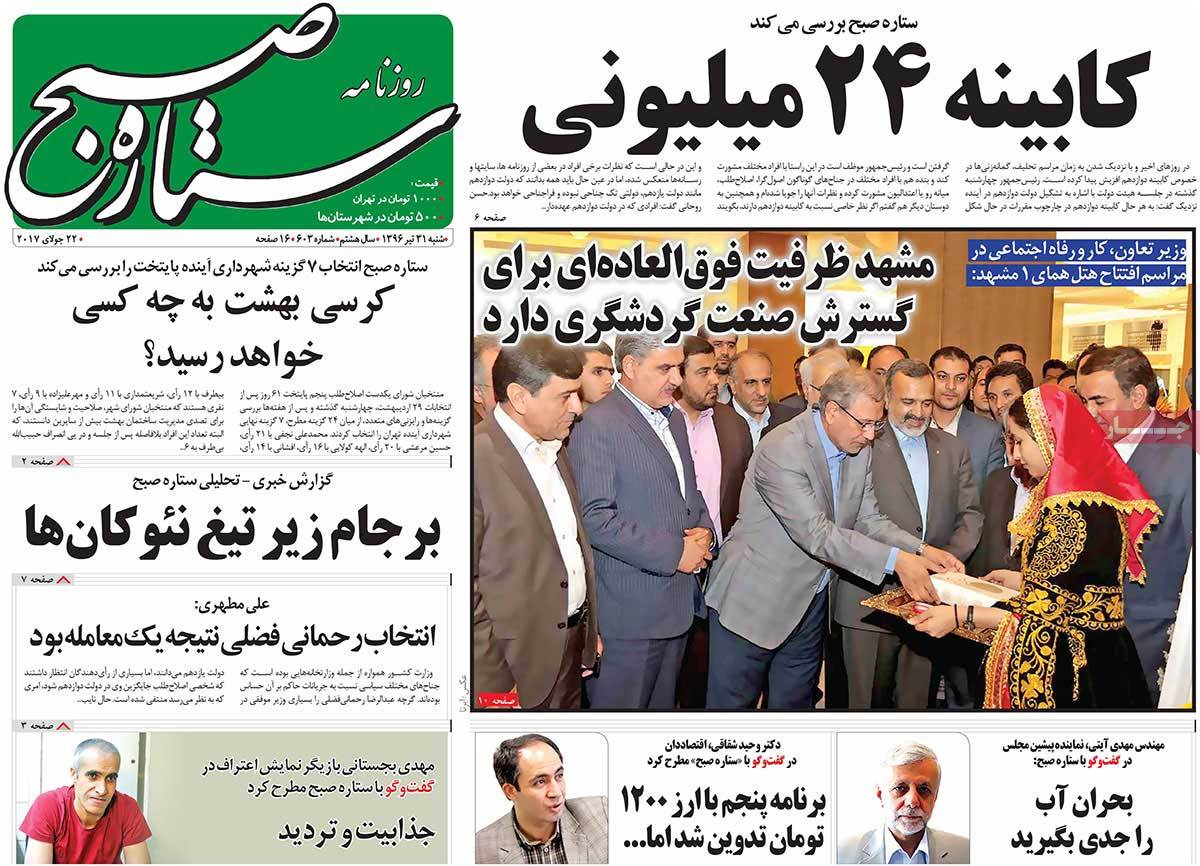 ---
Shahrvand:
1- Poverty Shouldn't Be Transferred from One Generation to Other: Deputy Minister
2- Health Minister: I'll Definitely Remain in My Post in Next Cabinet
3- Kuwait's Challenge with Iran under Saudi Arabia's Political Pressure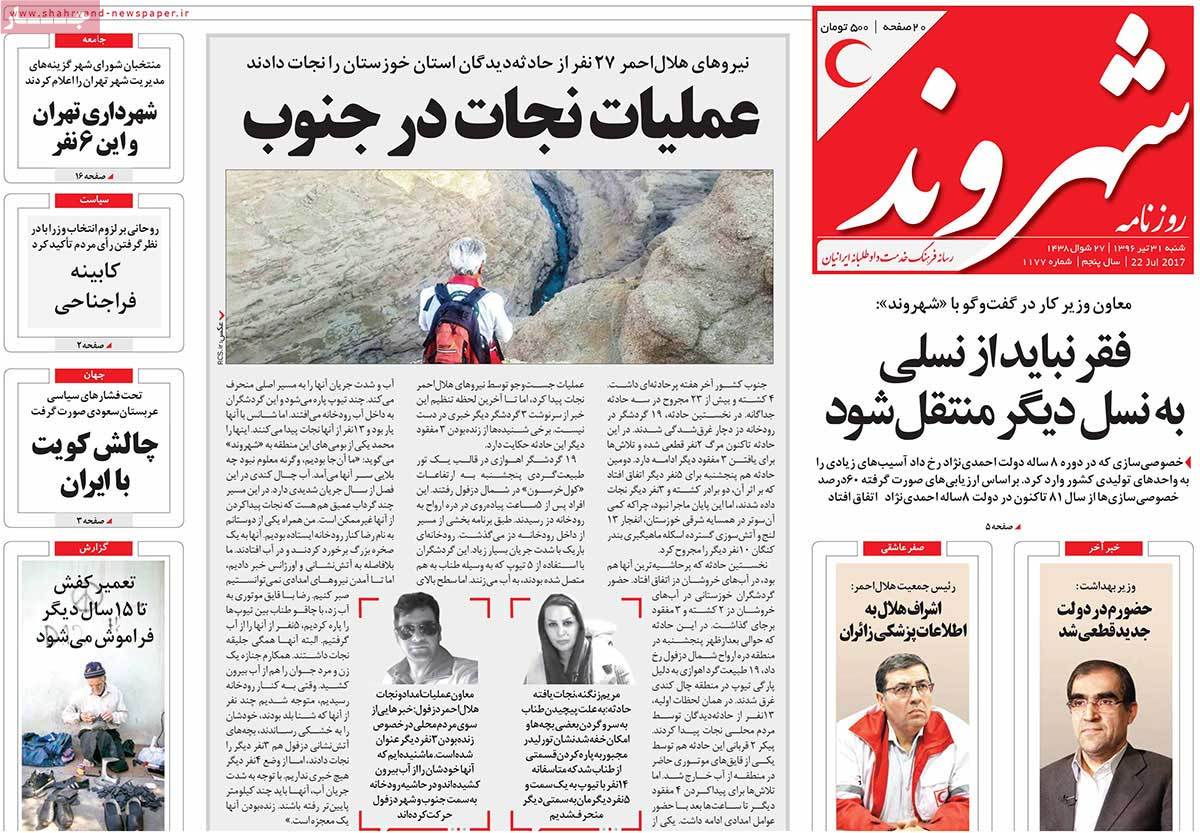 ---
Vatan-e Emrooz:
1- End of Optimism: Rouhani Says US Is Two-Faced, Violating Letter, Spirit of JCPOA
2- Outburst of Quds' Anger
3- Kuwait Playing in Saudi Style