Most newspapers on Thursday covered the threatening message of Parliament Speaker Ali Larijani, who urged the country's Atomic Energy Organization (AEOI) to prepare a plan for restoration of Iran's nuclear program. Larijani harshly criticized the remarks made by the West and the UN and their violation of the nuclear deal, saying that Iran is left with no other way but to build enrichment facilities.
The Islamic Revolution Guards Corps (IRGC) recently disbanded a huge corruption network in the country's banking system. The remarks made by the IRGC Commander Major General Mohammad Ali Jafari about the presence of politicians in the network were reported by many papers.
The formation of a third faction in the Iranian Parliament was also a top story today. The new faction is led by supporters of Larijani.
The above issues as well as many more are highlighted in the following headlines:
Abrar:
1- IRGC's Recent Economic Arrests Not Related to Astronomical Salaries: Commander
2- Ayatollah Jannati Re-Elected as Guardian Council Secretary
3- Turkey Knew about the Coup through France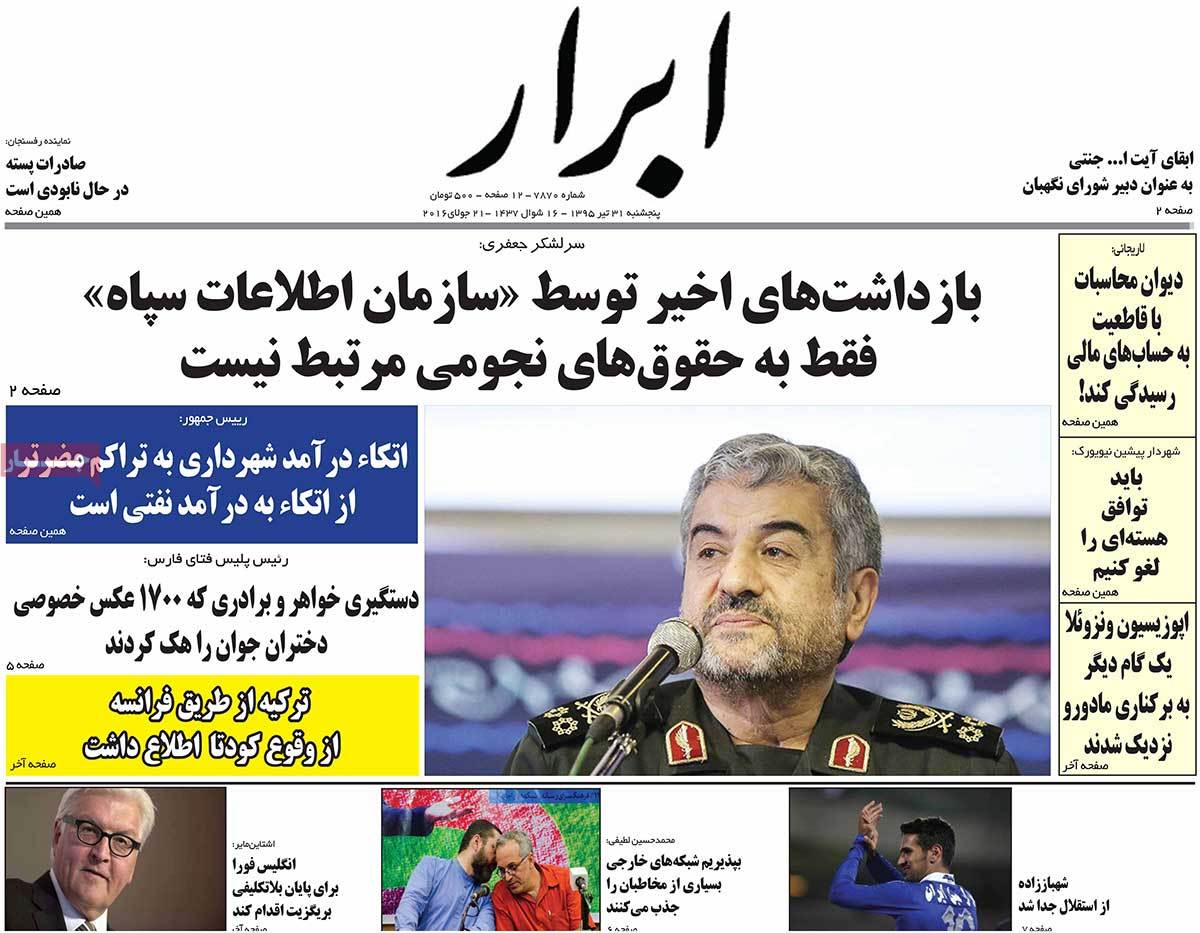 ---
Abrar-e Eqtesadi:
1- Iran to Settle Its Debts to IMF
2- US Gas Export to Middle East: World's Energy Trends Reversed
3- Dark Side of Iran's Positive Trade Balance
4- Australia and Europe Ready to Participate in Iran's Mining Projects
5- German Workgroup Formed to Cooperate with Iranian Banks
6- 30% Increase in Iran's Export of Oil Products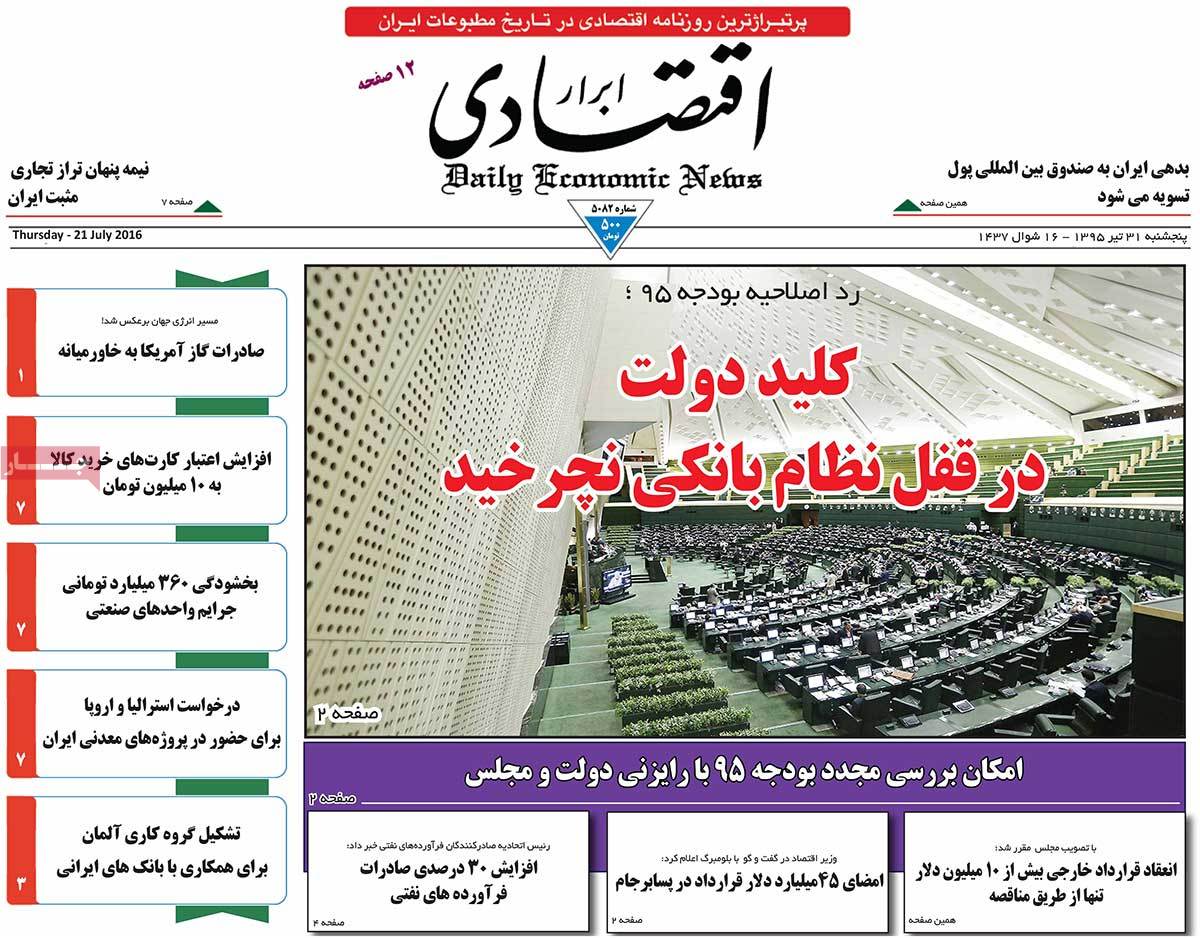 ---
Aftab-e Yazd:
1- More than 60% of Iranian People Watch Satellite Channels: IRIB Chief
2- University Student Commits Suicide by Jumping Down Tabiat Bridge in Tehran
3- Rouhani's Dangerous Turn to the Right [Wing]
4- Women Who Want to Wear Texts! Manteaux with Various Texts Printed: From 'Keep Calm I'm a Queen' to Nasta'liq Script
5- 4 Million High-Income Job Opportunities Occupied by Foreign Nationals
6- Erdogan Makes Army More Restricted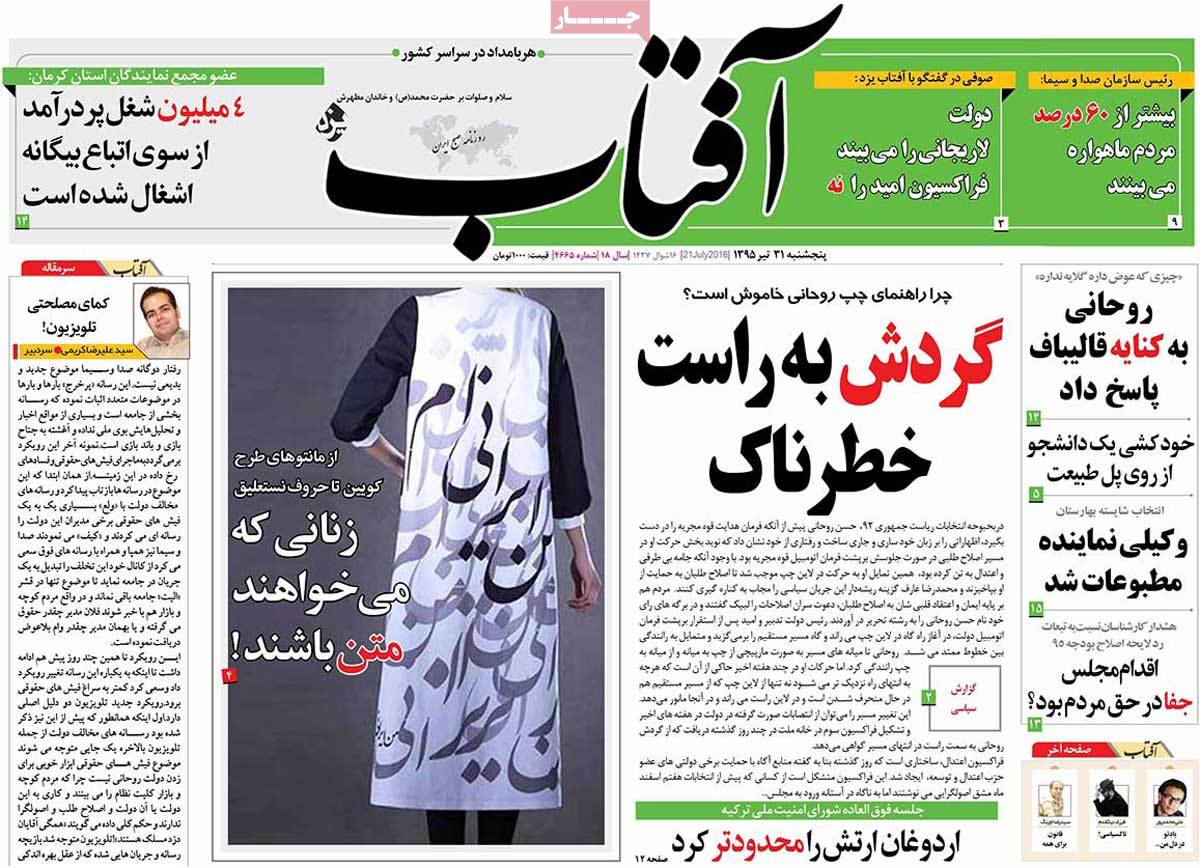 ---
Arman-e Emrooz:
1- Iran's Police Banned from Interfering in Licence and Content of Concerts
2- Rouhani Is the First and Last Choice of Reformists: Mohammad Reza Khatami
3- IRGC Commander: A Corruption Case Huger than Issue of Astronomical Salaries!
4- Fight against Corruption Not Successful with Sermons or Lashes: Rouhani
5- Parliament Speaker's Threatening JCPOA Message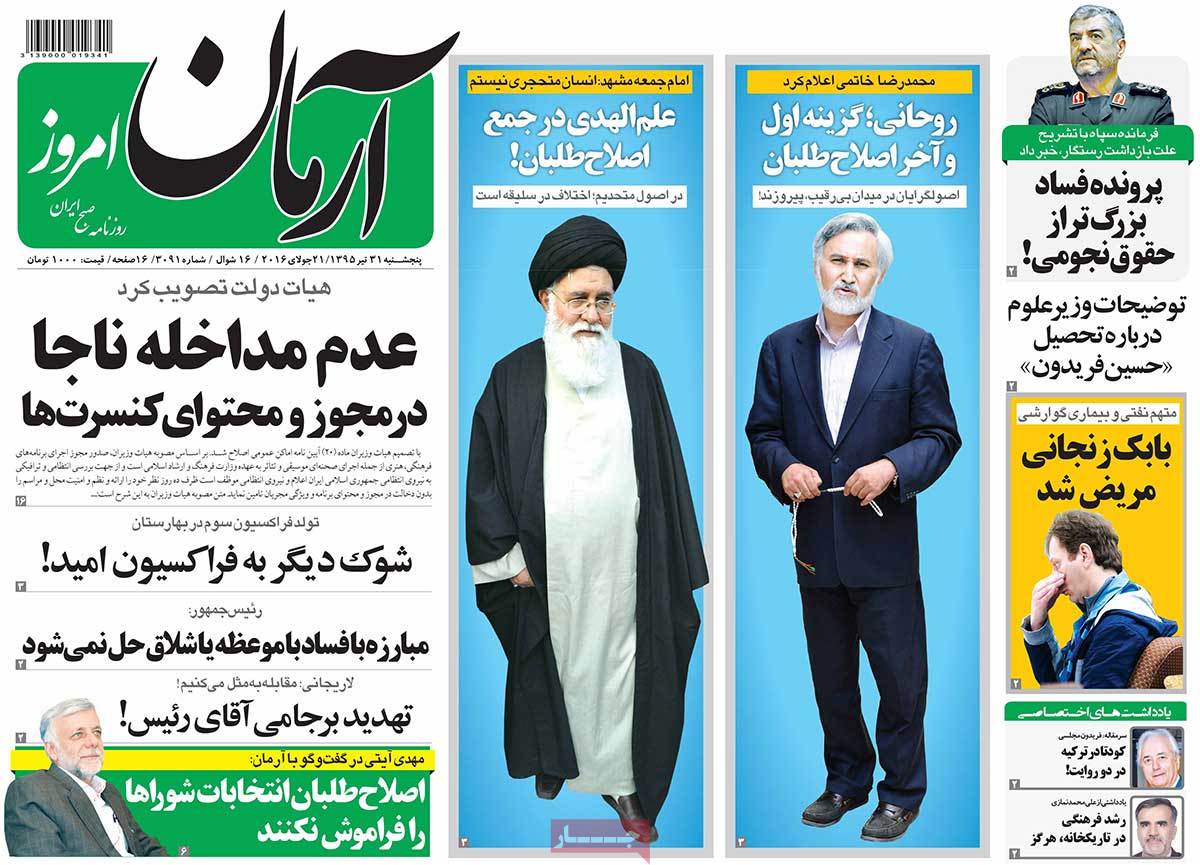 ---
Ebtekar:
1- Parliament Speaker Larijani vs. UN's Ban
2- New Faction in Parliament Established by Proponents of Larijani: Three Poles of Parliament
3- We're Interested in Disclosure of Our Long-Term Nuclear Program: Salehi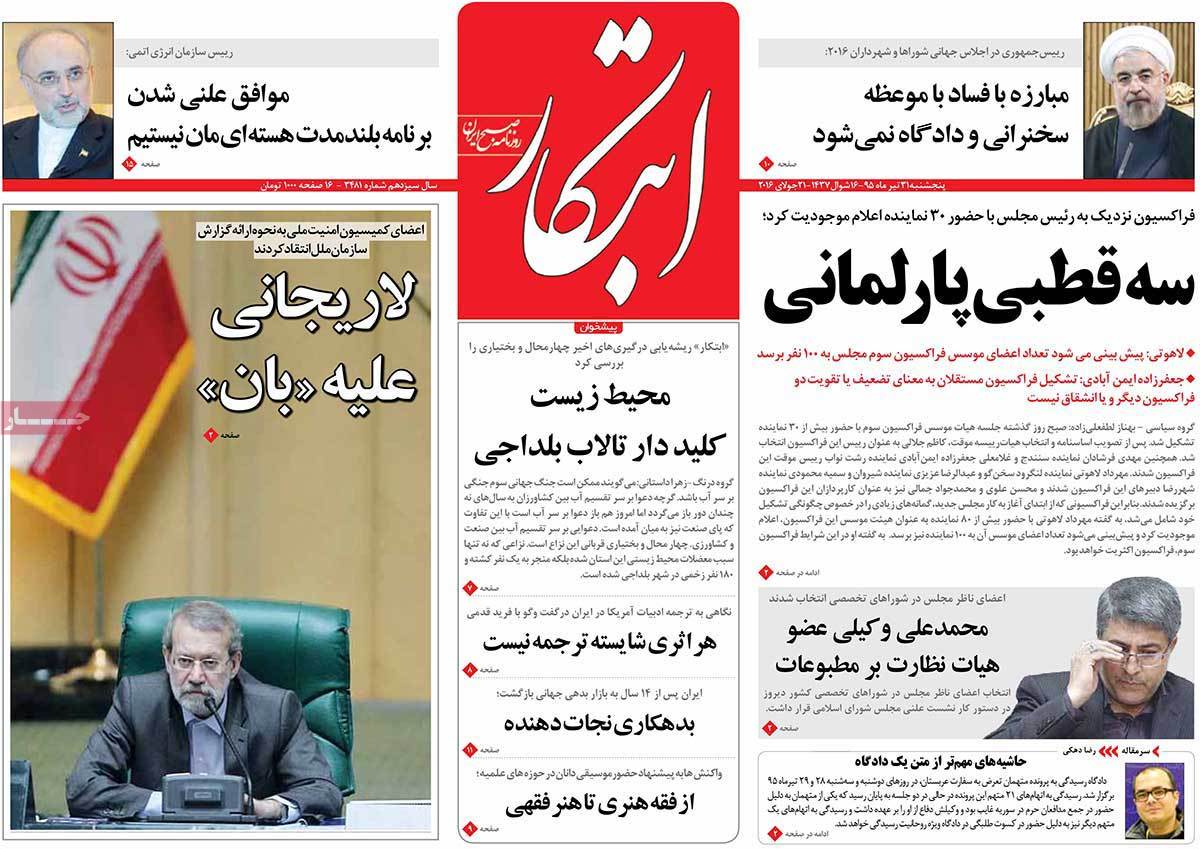 ---
Emtiaz:
1- Majidi's Film, Muhammad, the Messenger of God, in World Cinemas
2- Nafas [breath] to Be Screened in Canada and US at the Same Time with Iran's Premier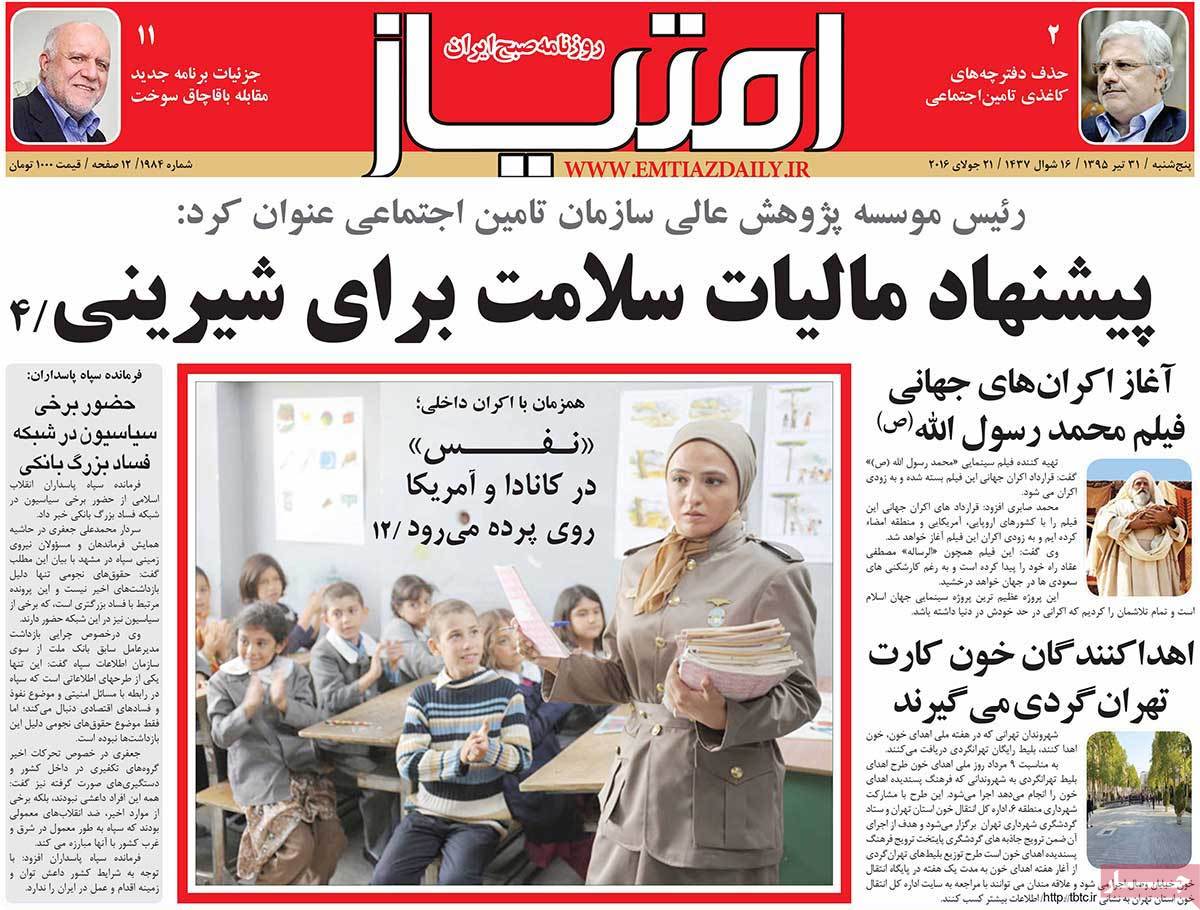 ---
Etemad:
1- Some Politicians Are among Huge Banking Corruption Network: IRGC Commander
2- $45bn Contracts Signed after Nuclear Deal
3- Economy Minister to Bloomberg: Iran to Return to Global Bond Market after 14 Years
4- Ban Ki-moon's New Efforts to Compensate for His Anti-Iran Remarks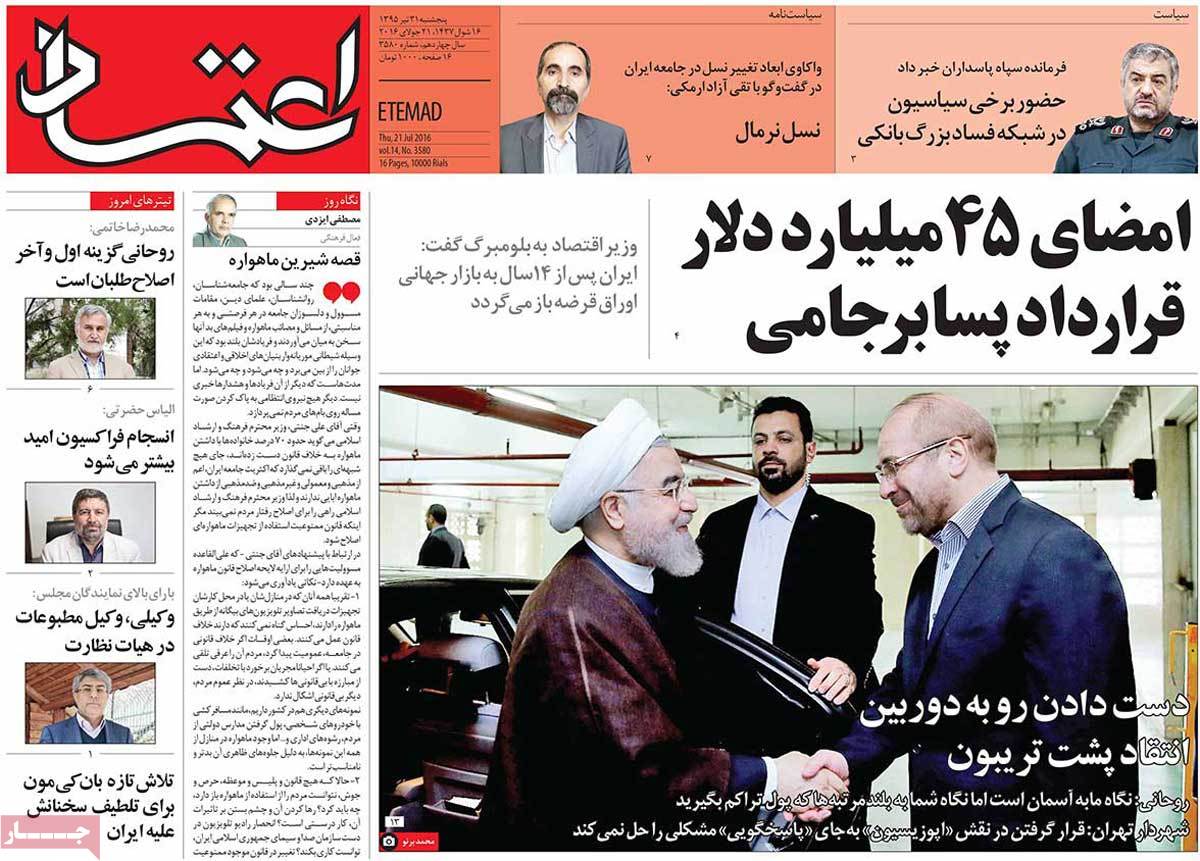 ---
Ettela'at:
1- We Shouldn't Forget about Muslim World's Needs Today: Leader
2- Larijani Urges Atomic Energy Organization of Iran to Prepare a Plan for Enrichment
3- A Terrorist Team Disbanded in Southeastern City of Khash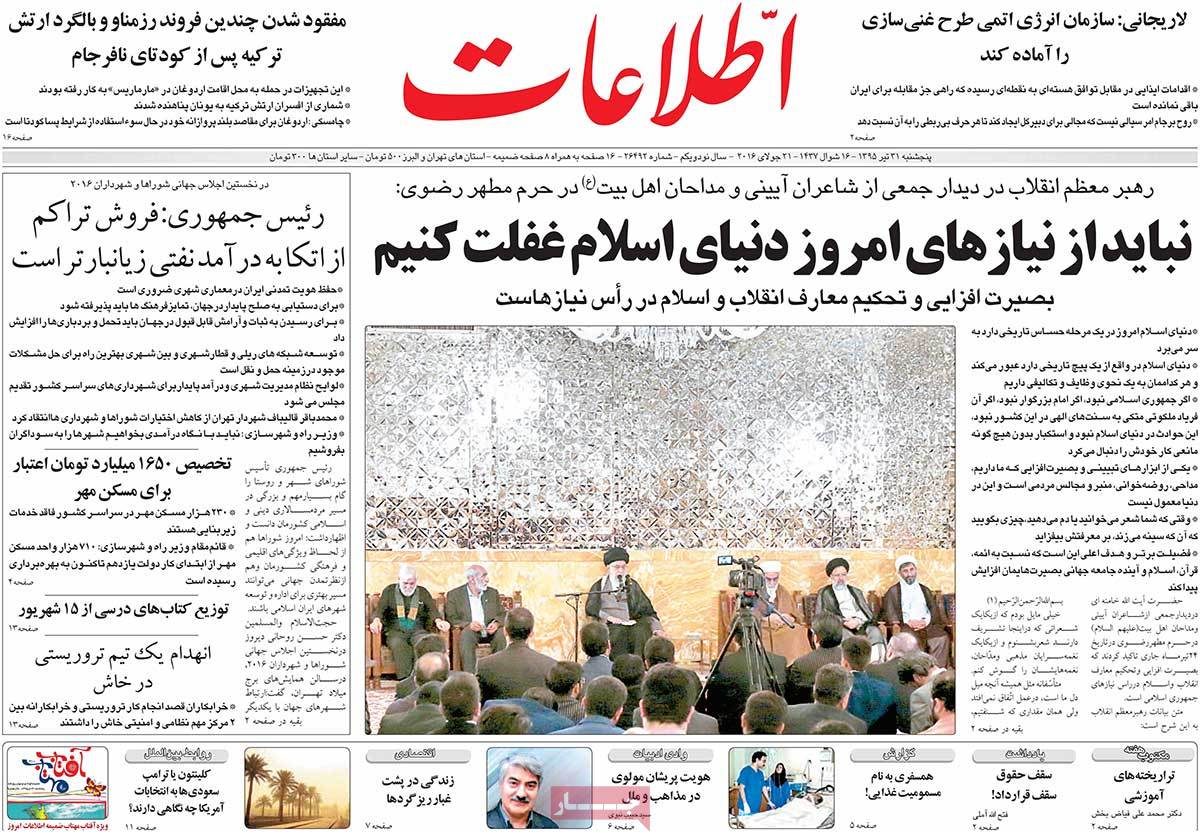 ---
Haft-e Sobh:
1- Historical Similarities of Coups in Iran (1953) and Turkey (2016)
2- Culprit behind Kiarostami's Case Not Determined as It Was Expected!
3- Iran Starts Confiscating Smuggled iPhones from Market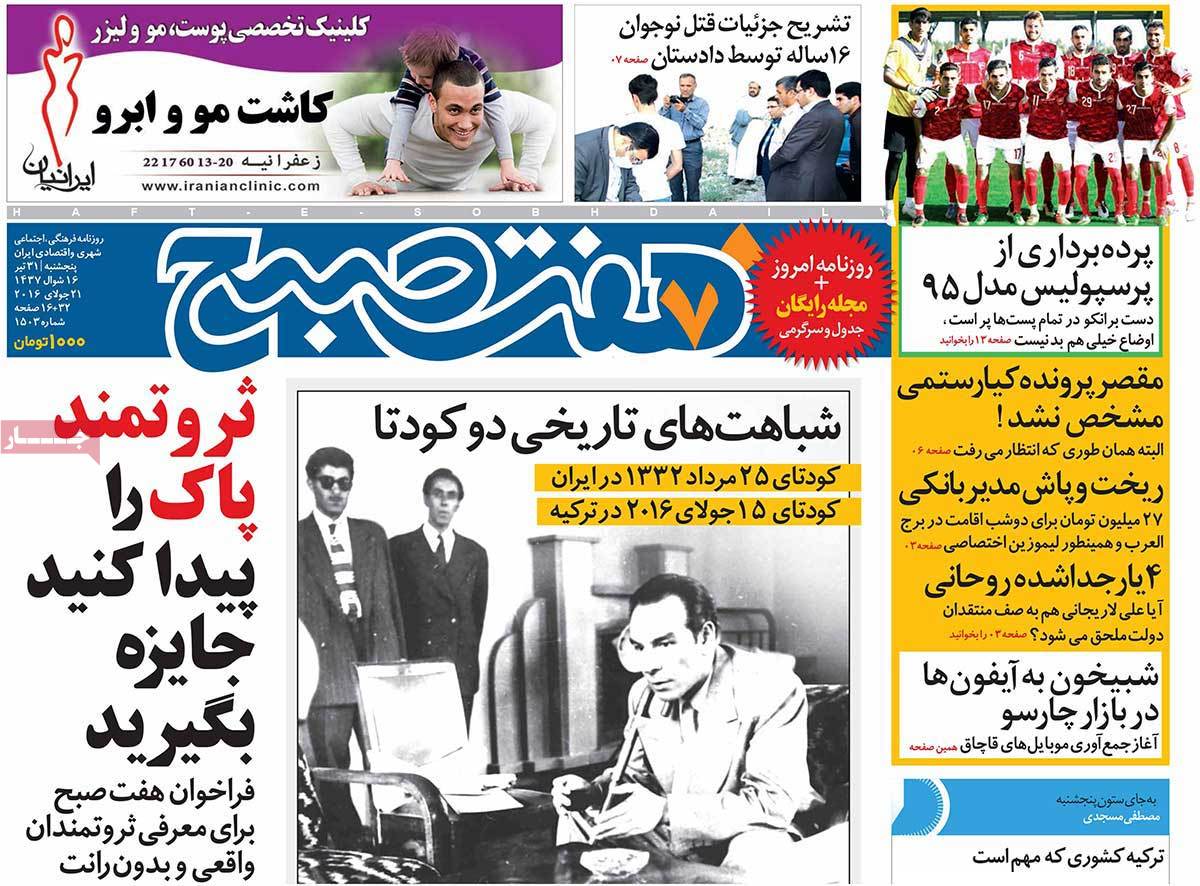 ---
Hamshahri:
1- Global Panel for Better Future of World Cities: First World Conference of Mayors and Councillors Kicks Off in Tehran
2- Trips to Turkey Still Prohibited
3- British Foreign Secretary, a Break Time for Media Outlets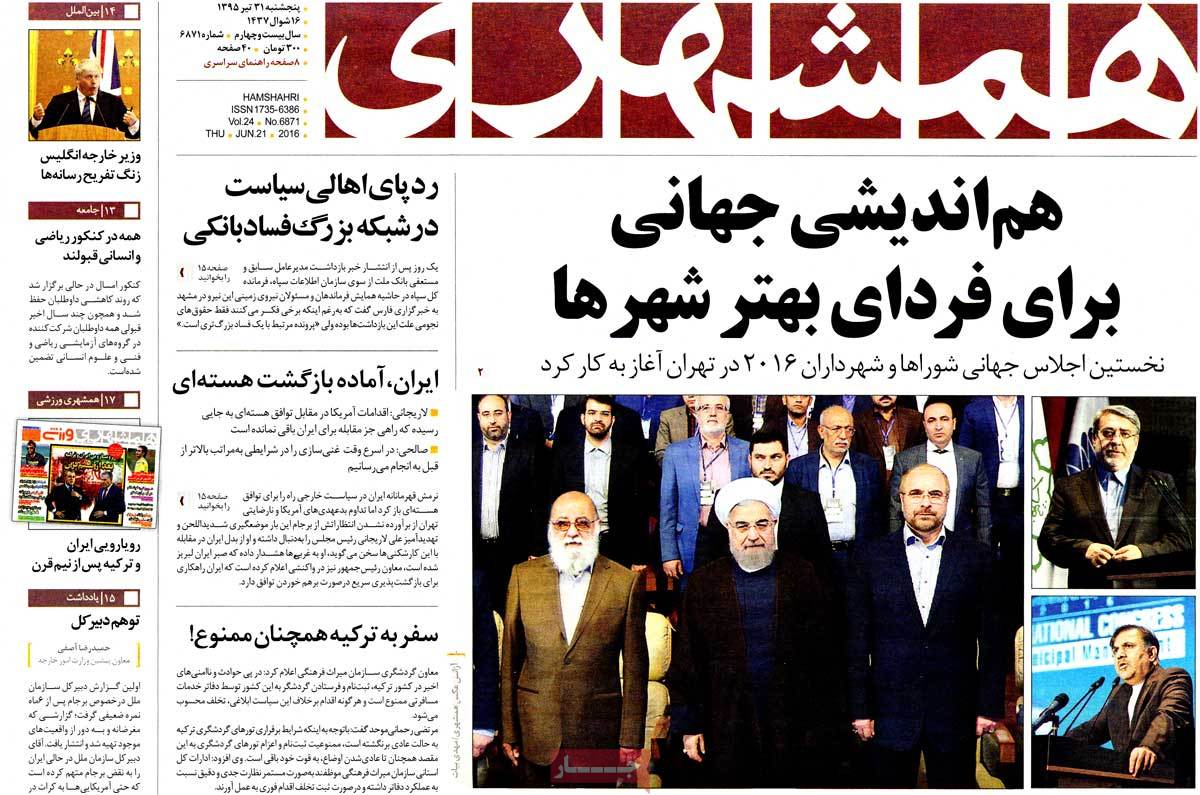 ---
Iran:
1- Government's 8 Steps to Organize Unconventional Salaries
2- Science Minister: Rouhani's Brother Has Gone through Legal Education Procedure
3- Ban Ki-moon: I Admire Resolve of All JCPOA Parties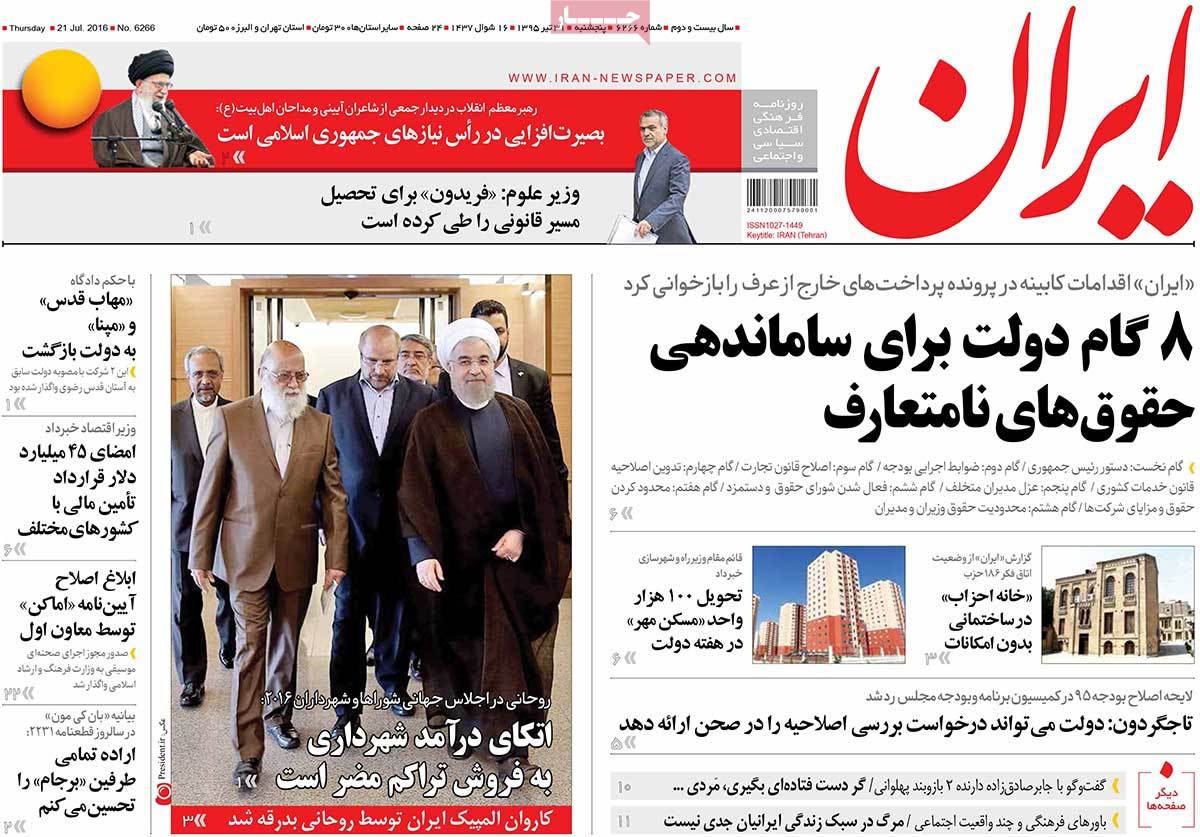 ---
Jame Jam:
1- A House on Water: A Report on How Iranian Investors Waste Their Money in Neighbouring Countries
2- Suspect Hacks Telegram Accounts of 25,000 Women to Blackmail Them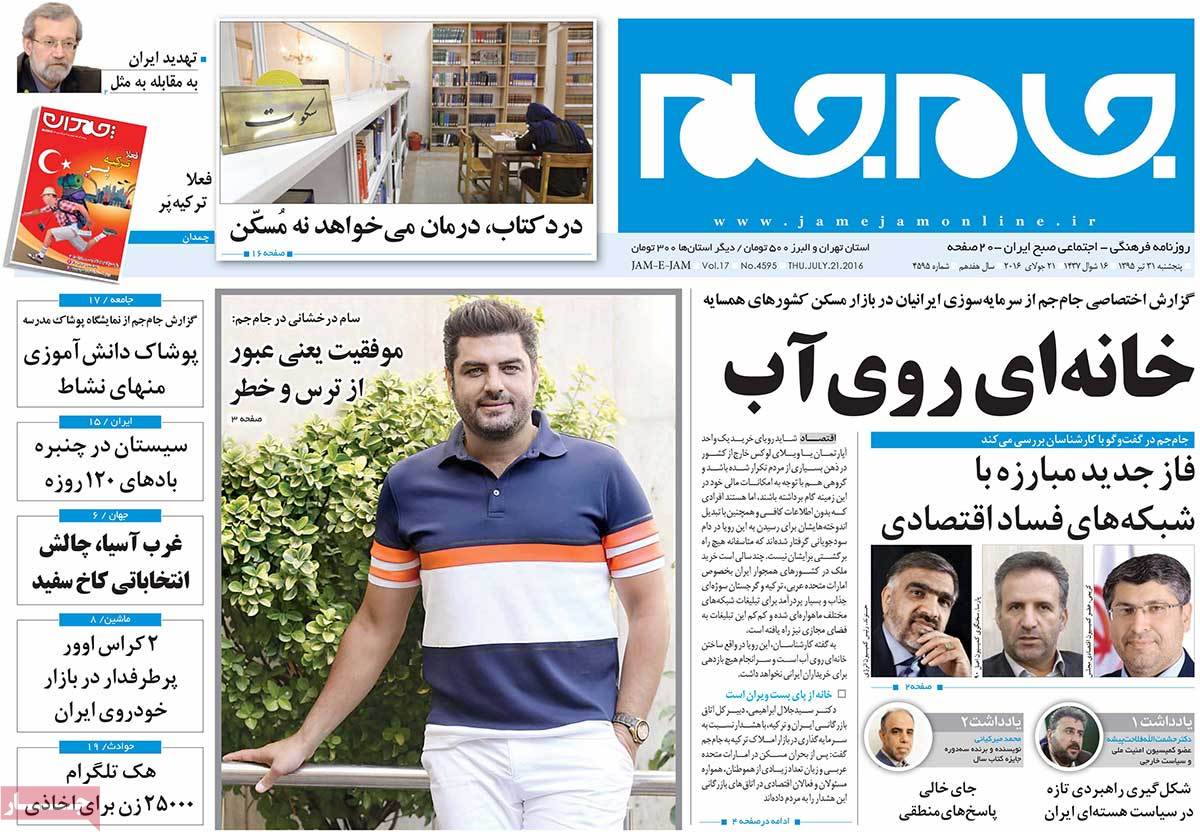 ---
Javan:
1- Be Prepared for Nuclear Return: Larijani
2- Tehran Mayor to Rouhani: Resolve Problems instead of Talking as an Opposition Figure
3- Iran's Ministry of Youth Cooperates in Training World's Young Leaders in American Style! Antalya to Host American-Saudi Camp on August 18 to 24
4- Erdogan's Coup after Military Coup: 60,000 Purged by Turkish President
5- Government and the Policy of Normalizing the Use of Satellite Equipment: Focus on Profitability of Advertisement in Satellite Channels and Insistence on High Rates of Viewers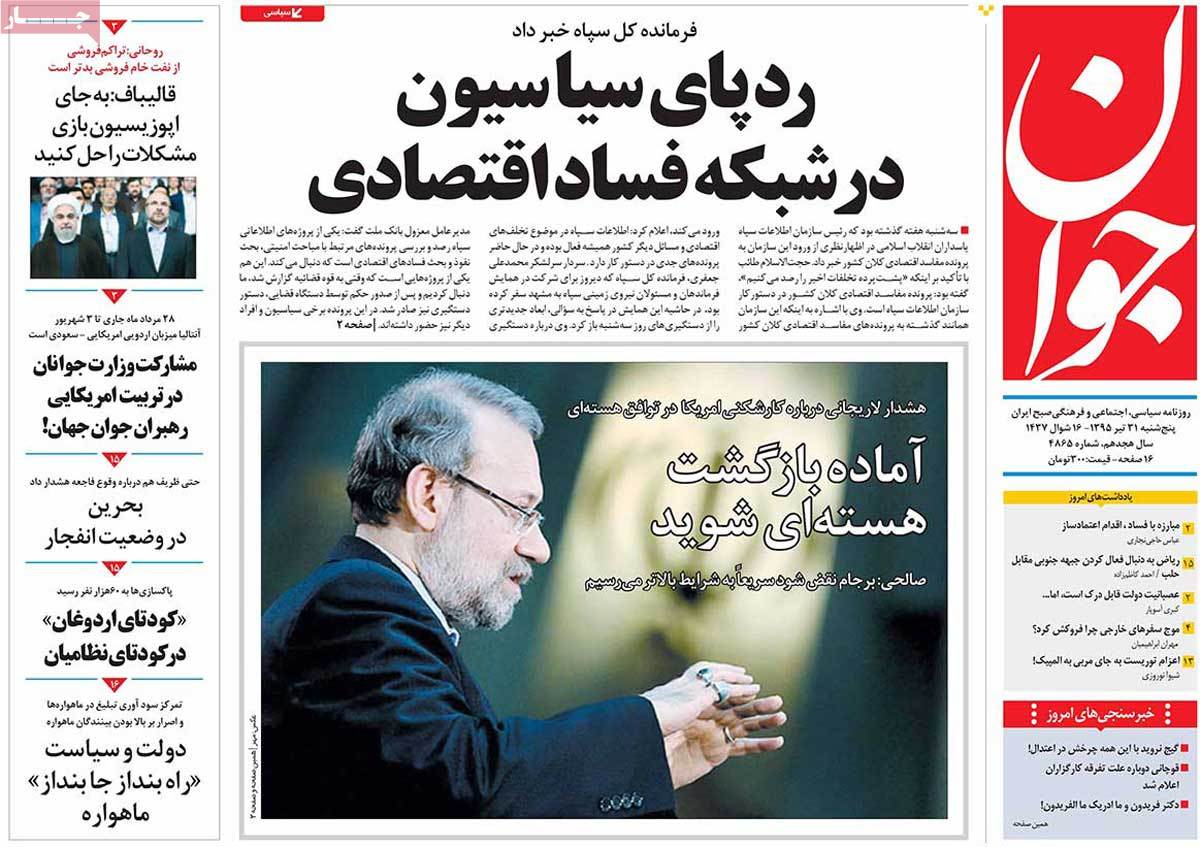 ---
Jomhouri Eslami:
1- Iran Khodro Co. Signs Contract with Peugeot
2- Trump Officially Elected as GOP Candidate
3- JCPOA Has Been Approved by the Establishment and Should Be Used: Zarif
---
Kayhan:
1- The Double Game Played by Advocates of Reformist with Rouhani's Gov't
2- Israel on Verge of a Civil War Caused by Hatred, Racism, and Ignorance: Party Leader
3- We Still Have Problems in Banking Ties with Major Banks: Economy Minister
4- France Takes Revenge of Nice Attack by Killing Syrian Civilians!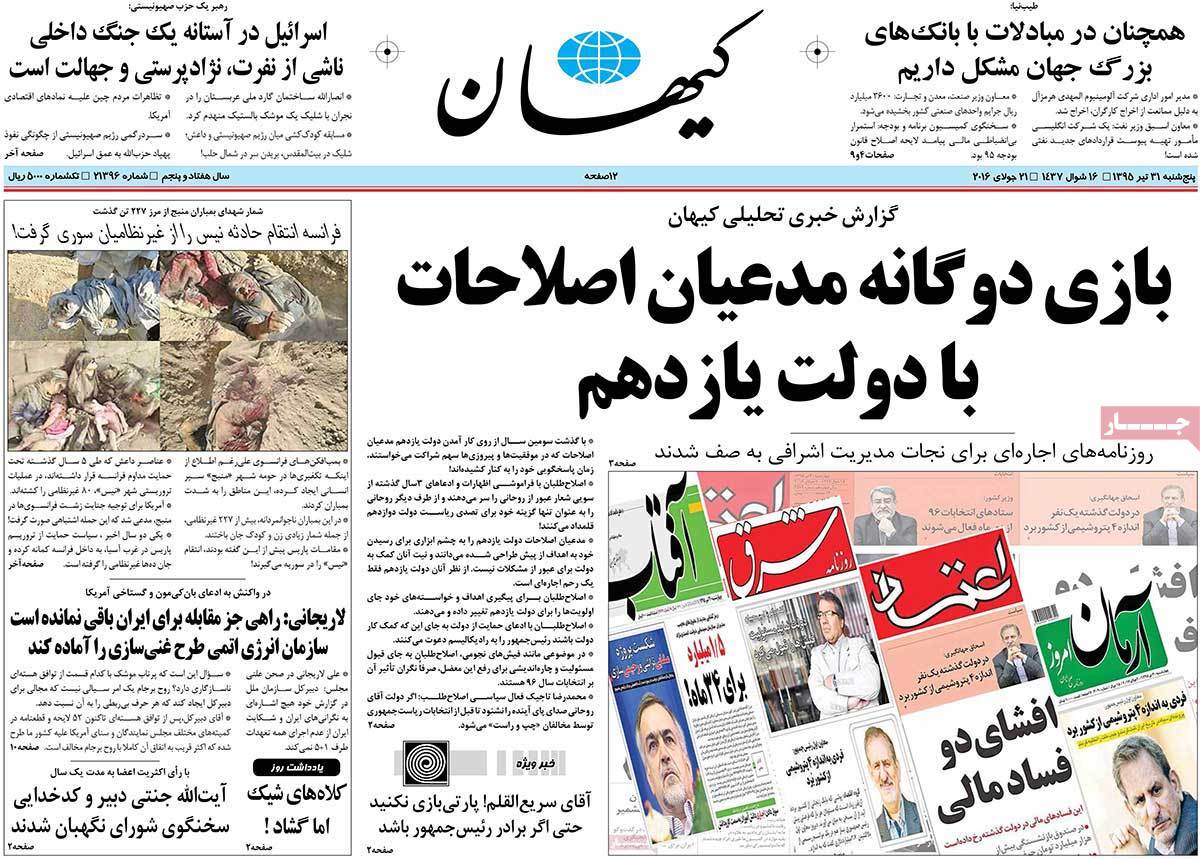 ---
Khorasan:
1- Counteraction the Only Way Left for Iran on JCPOA Case: Larijani
2- Rouhani and Tehran Mayor Qalibaf Criticize Each Other in World Mayors Conference 2016
3- Record-Breaking Purges in Turkey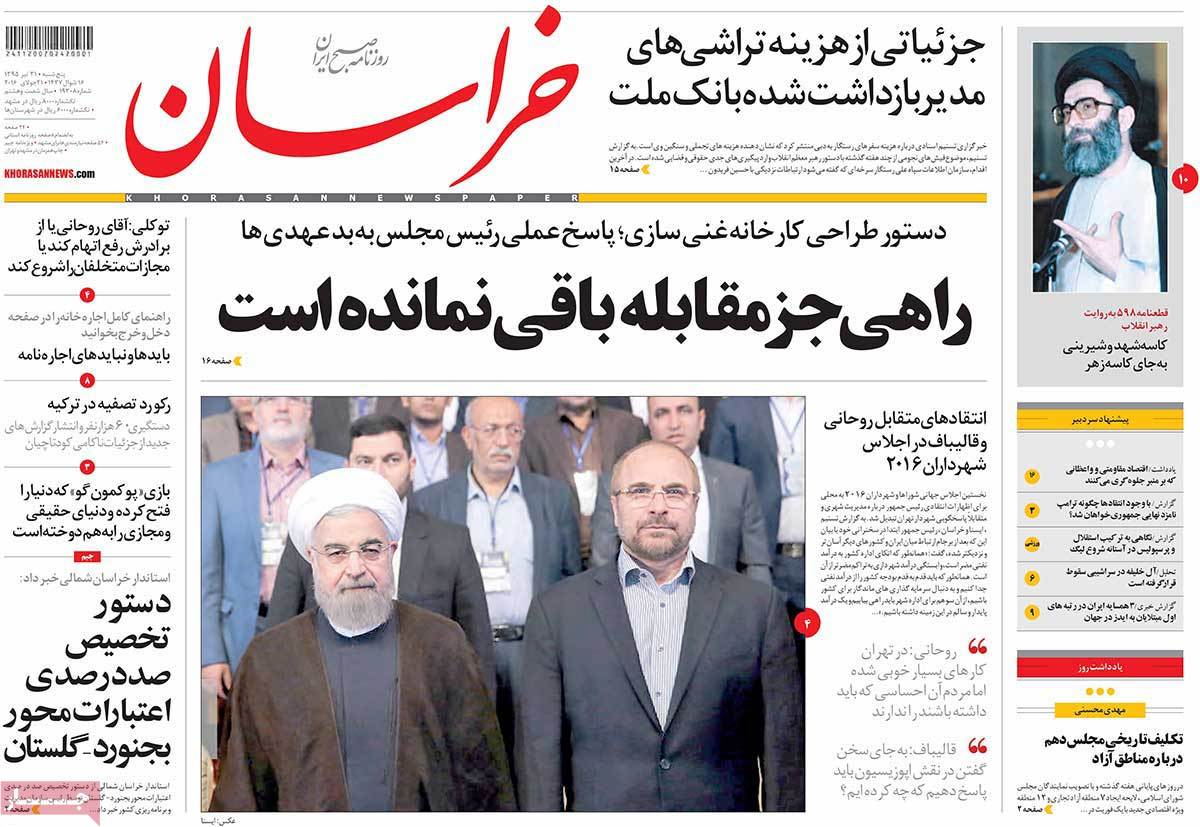 ---
Resalat:
1- Salehi: Establishment of Enrichment Plant Means the Issue of Snapback
2- Zarif Urges Global Community to Prevent a Disaster from Happening in Bahrain
3- India's State Terrorism in Kashmir: Why Organization of Islamic Cooperation (OIC) Has Kept Silent?
---
Shahrvand:
1- Increased Unemployment among Iranian Actors Forcing Them to Leave the Country
2- Helped by His Sister, Professional Hacker Hacked Telegram Accounts of 25,000 Women in 7 Provinces
3- Fire in Khuzestan's Sky: Record-Breaking Humidity of 90% and Temperature of 50 Degrees Celsius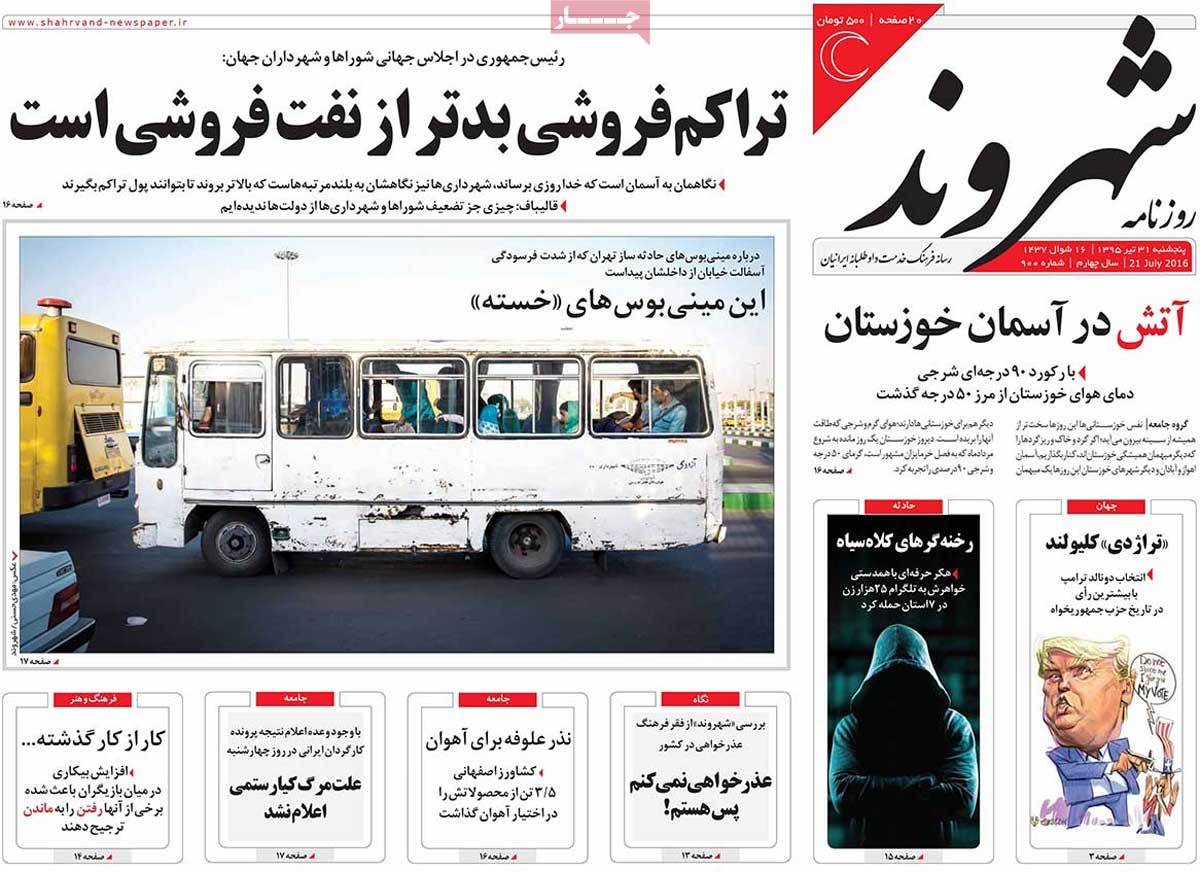 ---
Shargh:
1- End of Coalition: Supporters of Government and Larijani Part Ways from Faction of Hope and Velayat [reformist and conservative factions in Parliament]
2- Turkey Coup in Sisi Style [Editorial]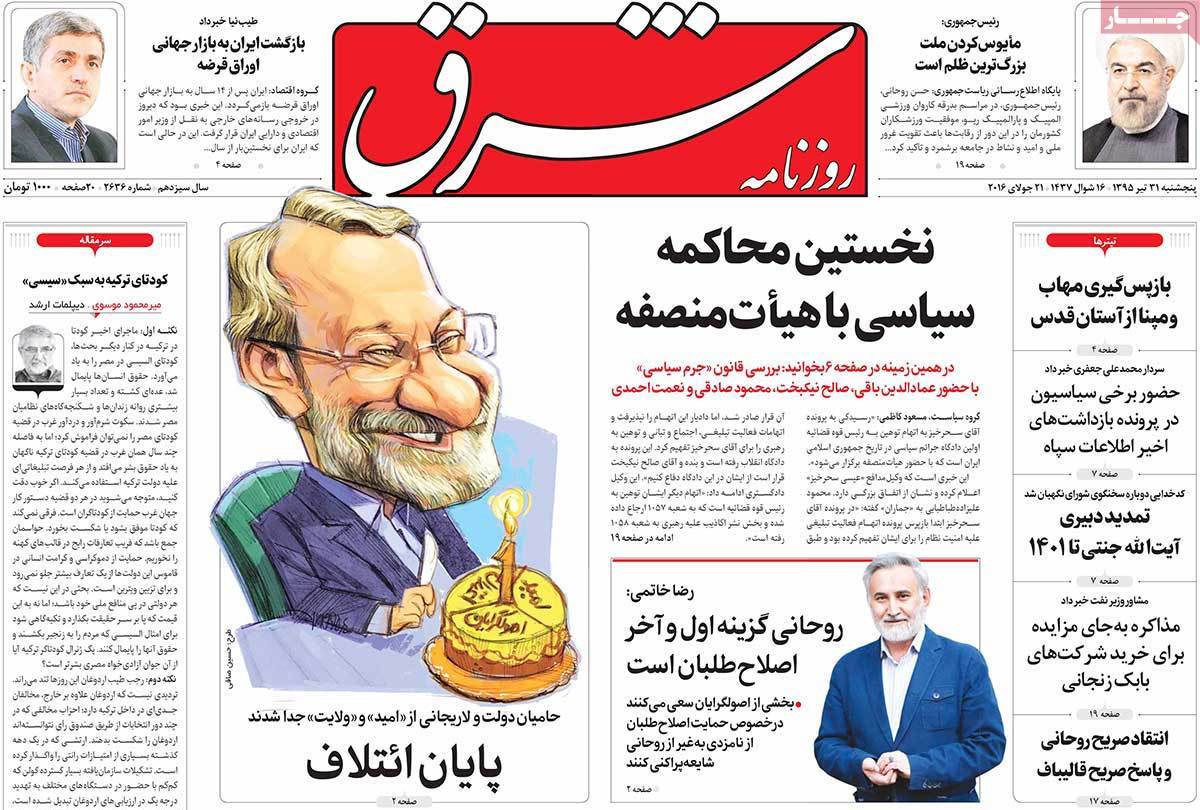 ---
Vatan-e Emrooz:
1- Jubeir vs. Rouhani: Saudi FM Accuses Iran's President of Adopting Anti-Saudi Policies
2- Moderates Behead Palestinian Kid: New Crime Committed by US-Backed Terrorists in Syria