Newspapers today covered the annual gathering of anti-Iran terrorist group MKO in Paris, which prompted Iranian officials to lodge a complaint against the French government.
The remarks made by Iran's First Vice-President Es'haq Jahangiri about the attacks on Rouhani's government also received great coverage. He stressed that the attacks are aftershocks of the conservatives' defeat in the recent elections.
The dust pollution in Iran's southeastern and southwestern provinces was also a top story today. A conference on countering dust pollution is planned to be held by Iran and the United Nations in Tehran in coming days.
The above issues, as well as many more, are highlighted in the following headlines and top stories:
19 Dey:
1- Recent Insults [to Rouhani] Should Be Condemned: Senior Cleric
2- First VP: Some Are Still Angry at Election Results
3- ICT Minister: Attacks against Rouhani Aftershocks of Elections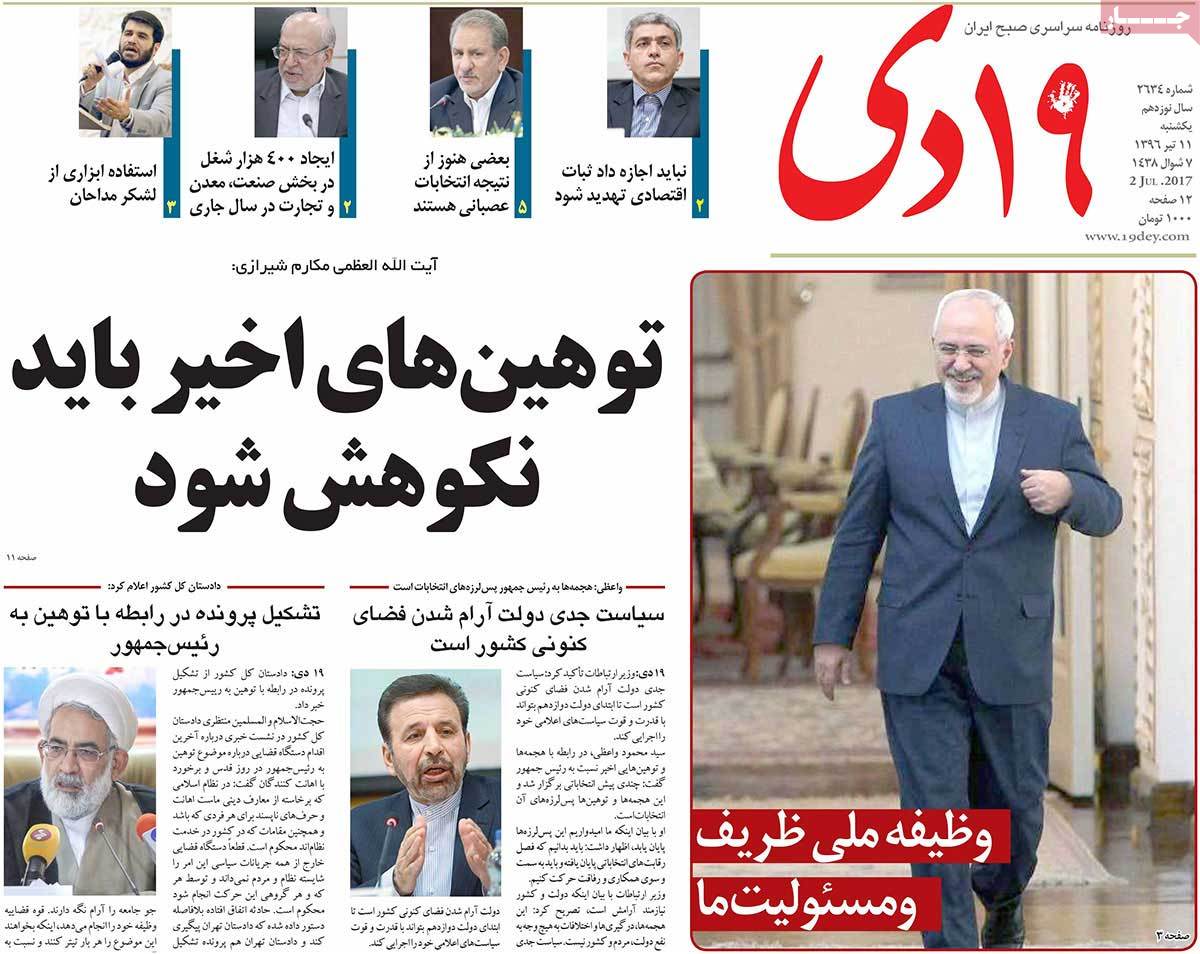 ---
Abrar:
1- First VP: Rouhani's Gov't Not to Deviate from Its Path
2- EU Updates List of Iran Sanctions
3- Qatar: Blockade Imposed by Arab States 'Declaration of Bloody War'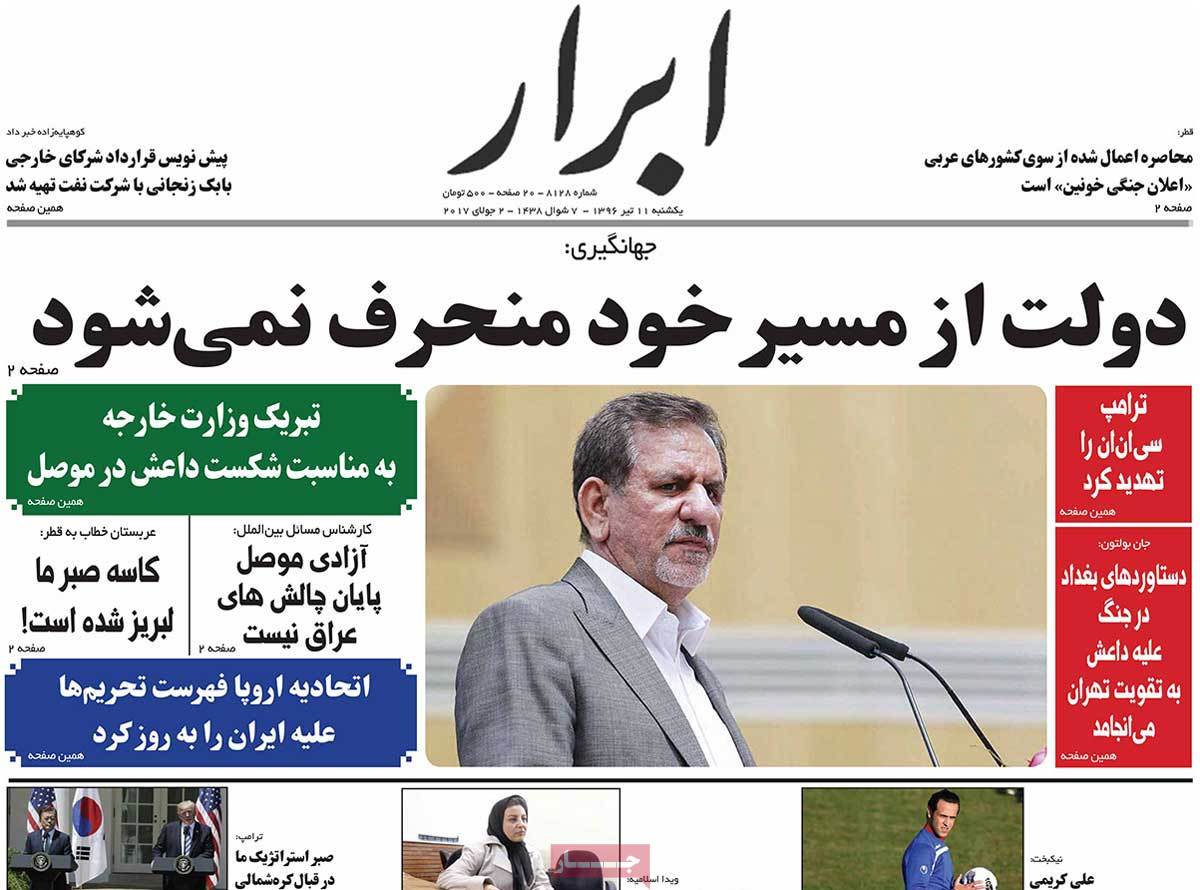 ---
Aftab-e Yazd:
1- Rouhani's Patience Bears Fruit
Conservative Figures Interested in Reformists' Idea of National Dialogue
2- Interesting, Smart Politician: A Report on Macron's Political Behaviour in Int'l Ties
3- What Role Will Moderate Cleric Nateq Noori Play in Rouhani's Gov't?
---
Arman-e Emrooz:
1- First VP to Those Angry at Election Results: Accept People's Votes
2- Prosecutor General: Legal Cases Filed for Those Who Insult Rouhani
3- Ayatollah Makarem Shirazi: Referring to People's Votes Only Way to Rule
---
Ebtekar:
1- Mosul Liberation to Pave Way for Fight against Dust Pollution: Iran Official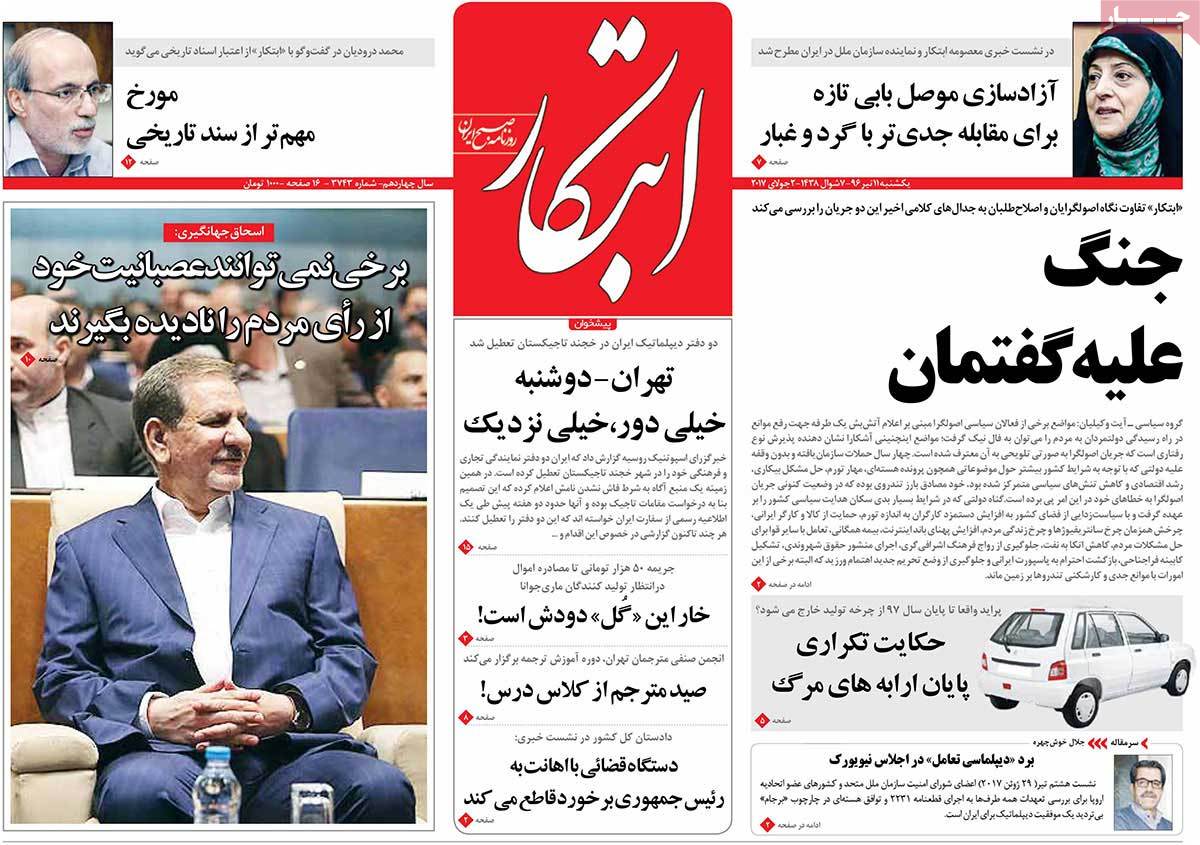 ---
Ettela'at:
1- First VP: Forming Strong Gov't Needs Peaceful Atmosphere, Dialogue
2- DM: Iran's Response to Threats Will Be Crushing
3- Zarif: World Should Rise against Production, Use of Chemical Weapons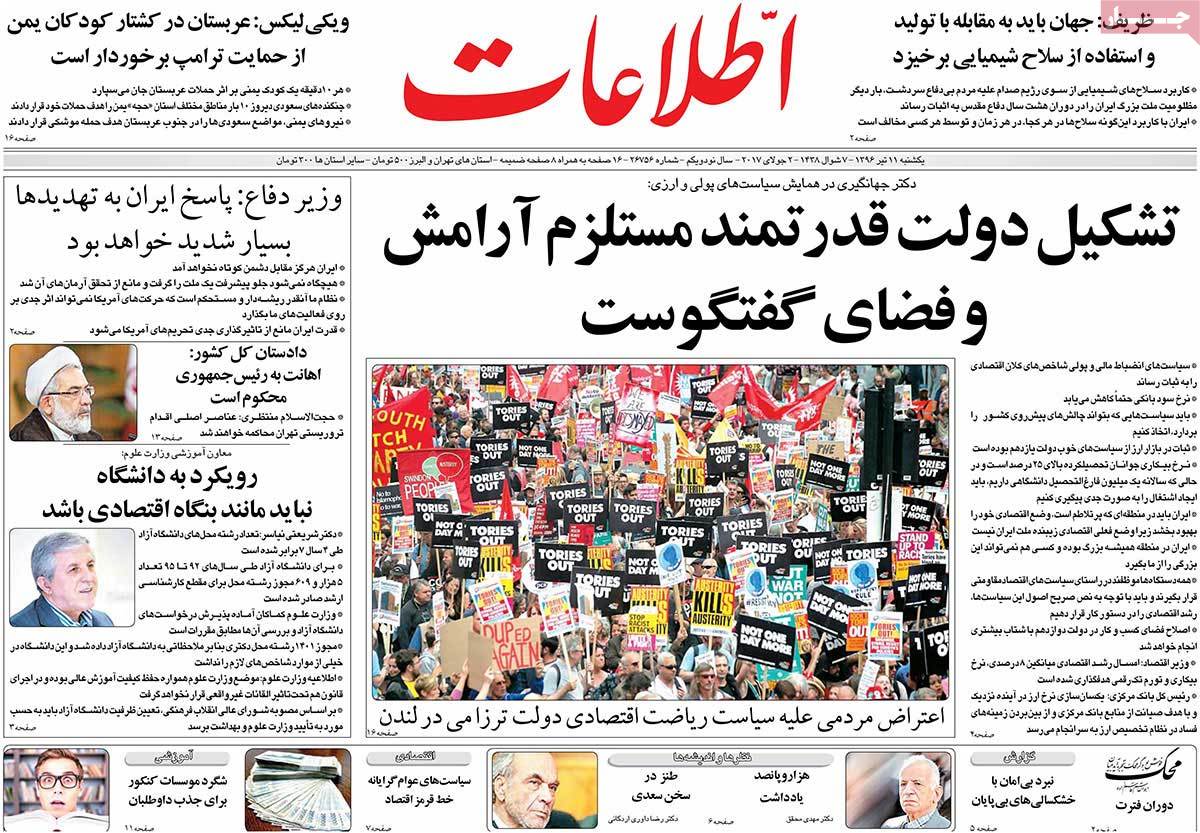 ---
Iran:
1- Living in Dust: Dust Pollution Sends 1,000 People of Sistan to Hospital
2- Rouhani's Aide: Those Who Attack Him Seek to Influence Cabinet Formation
---
Javan:
1- IRGC Sacrifices Its Life for People: Commander
2- Ahvaz Suffering from Dust Pollution, Extreme Heat
---
Jomhouri Eslami:
1- Iraqi PM: Ayatollah Sistani's Fatwa Saved Iraq
2- Zarif: Those Who Claim Syria Uses Chemical Weapons Were Saddam's Accomplice
---
Kayhan:
1- Europe, US Competing with Each Other in Countering Iran
Zarif Was En Route to Tehran When EU Sanctions Arrived!
2- End of ISIS in Iraq: Top Story in Muslim World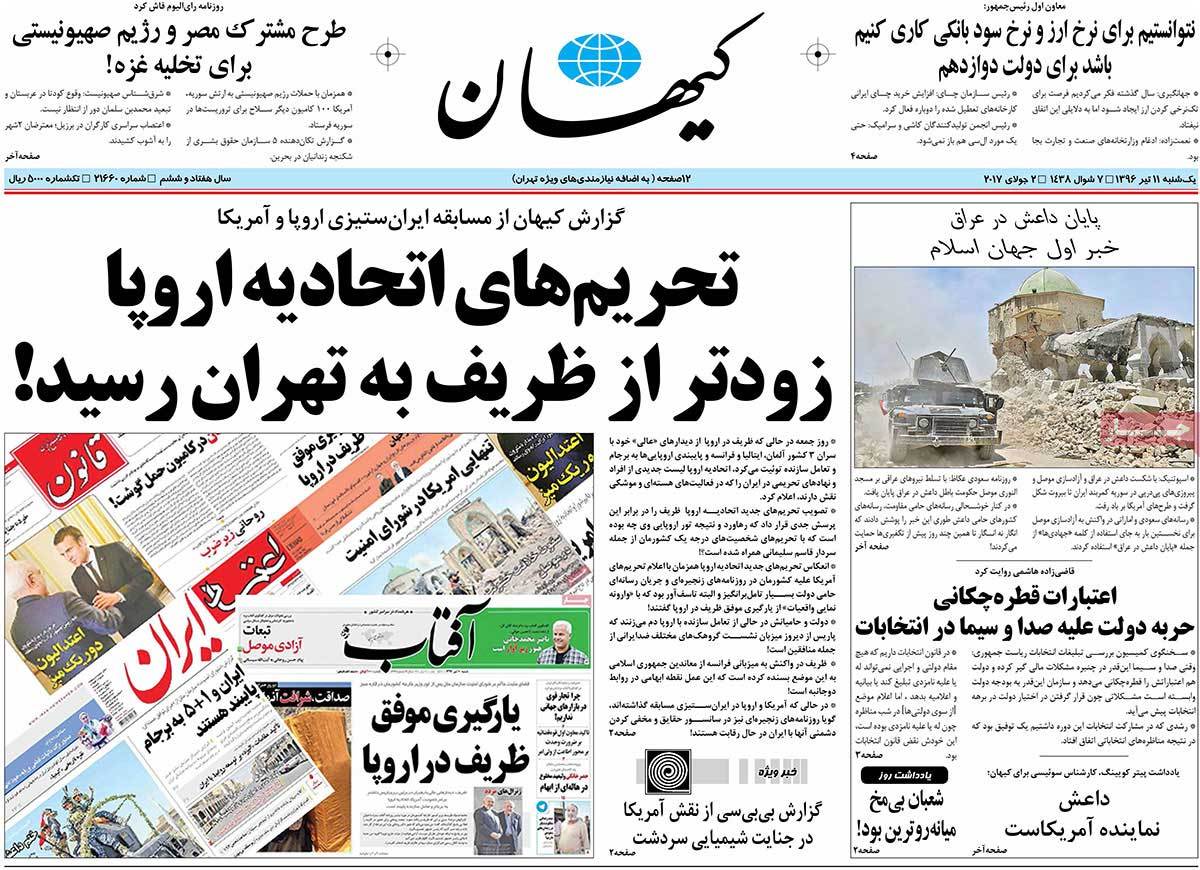 ---
Resalat:
1- First VP: Current Economic Situation Not Suitable
2- Economy Minister: High Bank Interest Rates Prevent Production, Employment
---
Rooyesh-e Mellat:
1- Zarif: MKO's Presence in Paris Moot Point in Iran-France Ties
2- DM: We'll Never Appease Enemy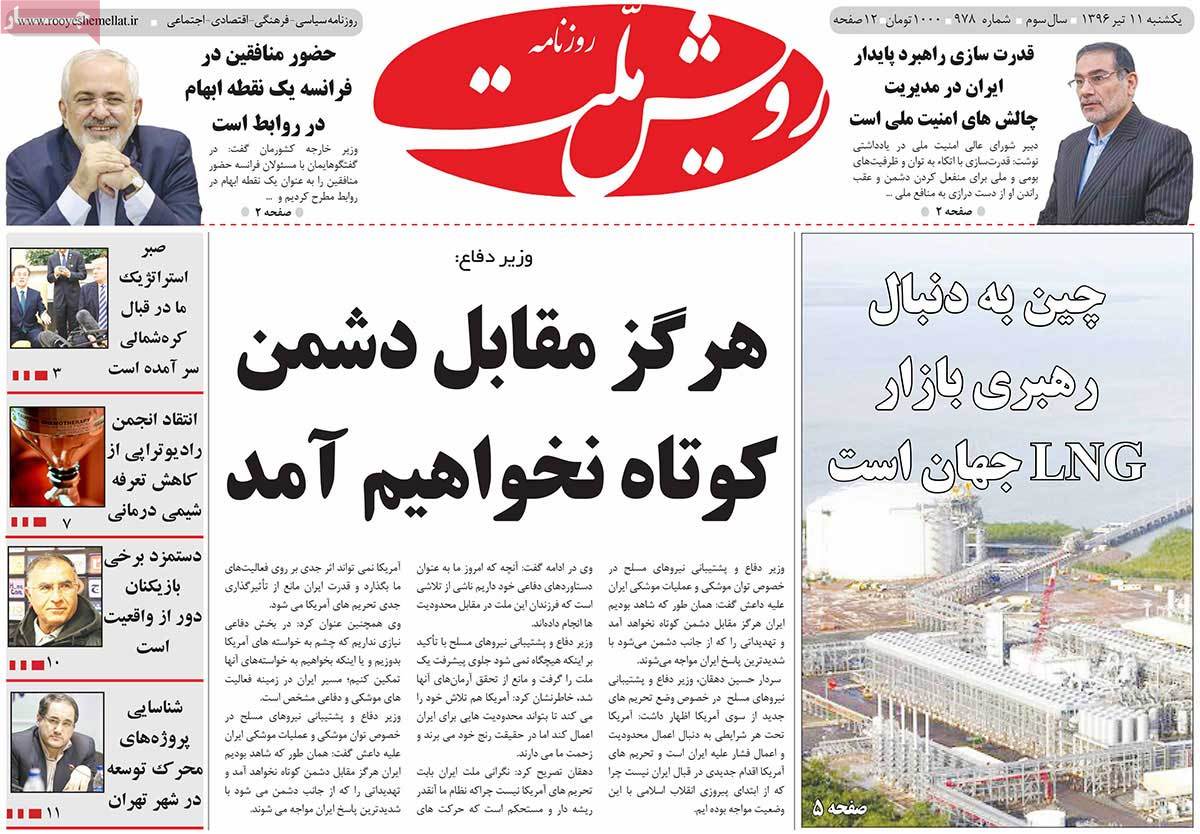 ---
Shargh:
1- Conservative MPs Call for Ceasefire in Domestic Political Conflicts
2- Racial Insults in Iranian Stadiums under FIFA's Scrutiny
---
Vaghaye Ettefaghieh:
1- ISIS Secrets: A Reporter's Account of ISIS Hideout