The top story in all Iranian newspapers today was the remarks made by the Leader of Iran's Islamic Revolution Ayatollah Seyyed Ali Khamenei in a meeting with the participants of the 13th Session of the Parliamentary Union of the OIC members (PUIC).
The Leader particularly highlighted the significance of the issue of Palestine and urged the Muslim world to remain united in defending the Palestinian cause and Jerusalem al-Quds against the US and Zionist plots.
The above issues, as well as many more, are highlighted in the following headlines and top stories:
19 Dey:
1- Iran Environment Chief: Right to Have Clean Air Prior to Nuclear Rights
2- Intelligence Minister: The Country's Energy Shouldn't Be Wasted on Domestic Conflicts
3- Western, Eastern Faults of Tehran Activated
4- Rouhani: We Consider No Islamic Country as Our Rival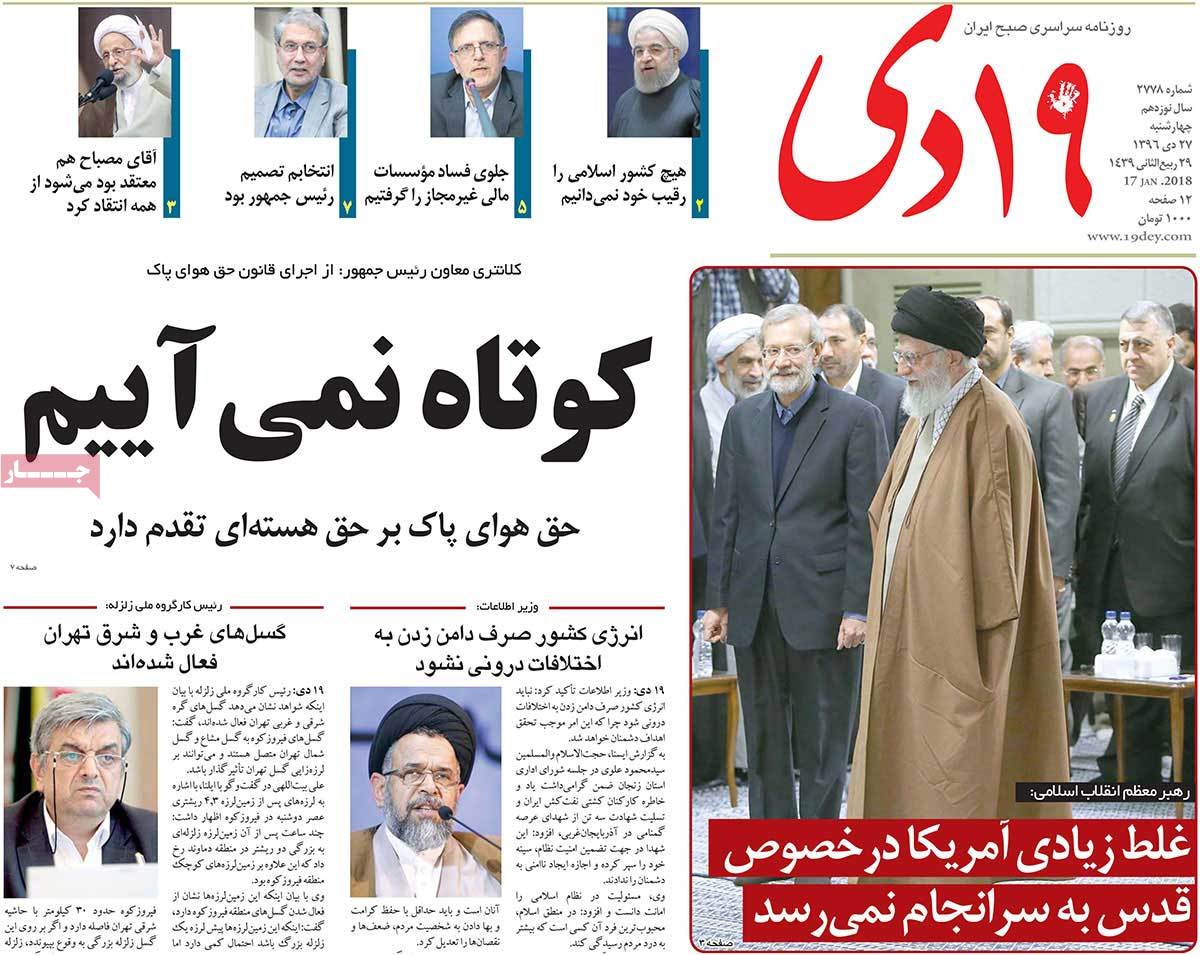 ---
Abrar:
1- MP: 100 Officials in Iran Have Dual Nationalities, Green Card
2- Rouhani: Domestic Woes Cannot Be Resolved by Foreign Invasion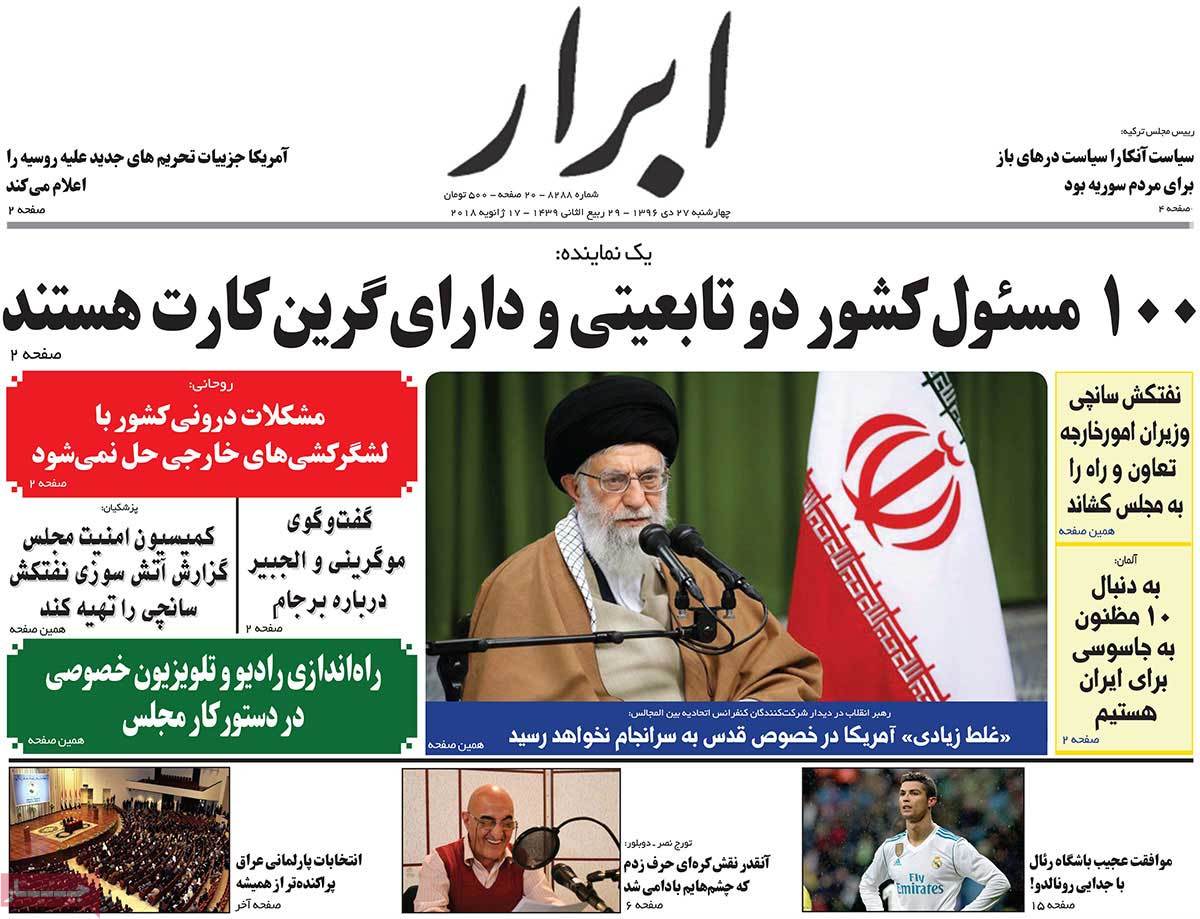 ---
Aftab-e Yazd:
1- Iran Leader: Washington's "Arrant Nonsense" about Quds Futile
2- China Changing Economic Approach to Iran: Observers
3- Culture Minister: No Ban on Presence of Female Instrumentalists on Stage
4- Girl Who Entered Stadium While Disguised as Boy: I'll Do It Again!
---
Arman-e Emrooz:
1- Iran Leader: Palestine Ignored with Plot of Silence
2- 4,810 Deaths Caused by Air Pollution in Tehran
We Must Implement Law of Clean Air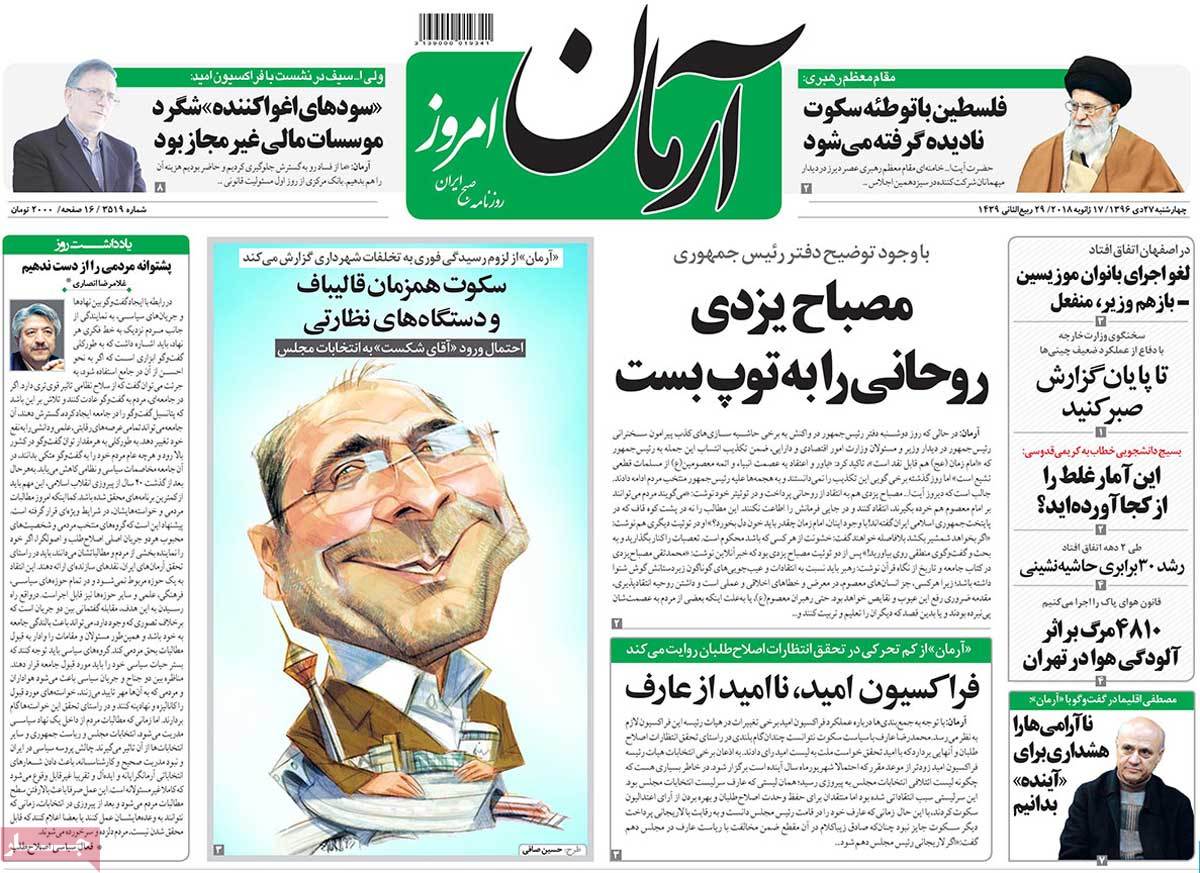 ---
Arman-e Melli:
1- Responses to Unanswered Questions about Sanchi Oil Tanker
2- Sanchi Oil Tanker, Its Cargo Were Insured: Official
3- Foreign Ministry Rejects Rumours of Attack on Sanchi, Calls for Avoiding Prejudgment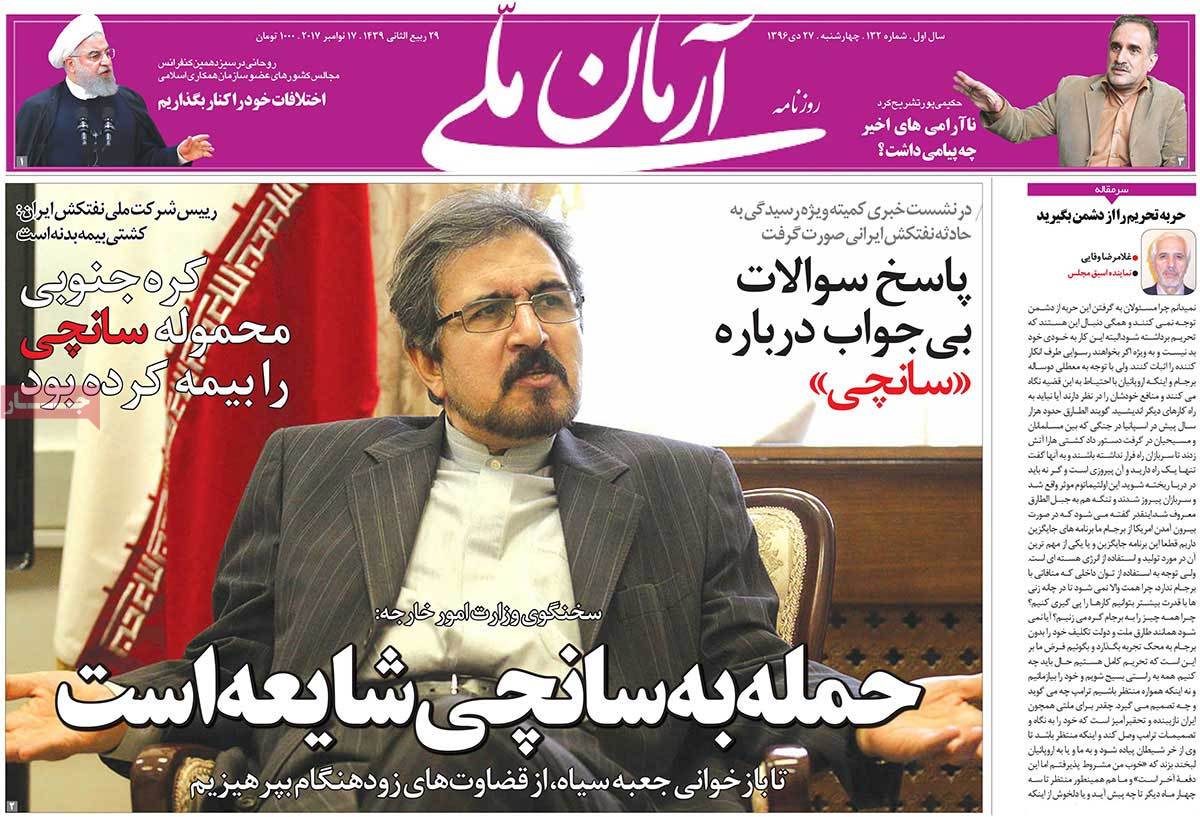 ---
Ettela'at:
1- Iran Leader: Quds Undoubtedly Capital of Palestine
Issue of Palestine, Top Priority of Muslim World
2- Yazd Receives World Sustainability Award for Optimal Use of Energy
3- Health Minister: Daily Casualties Caused by Air Pollution Not Less than Sanchi Tragedy
4- 10,000 Bodies Discovered in Mass Graves in Syria's Raqqa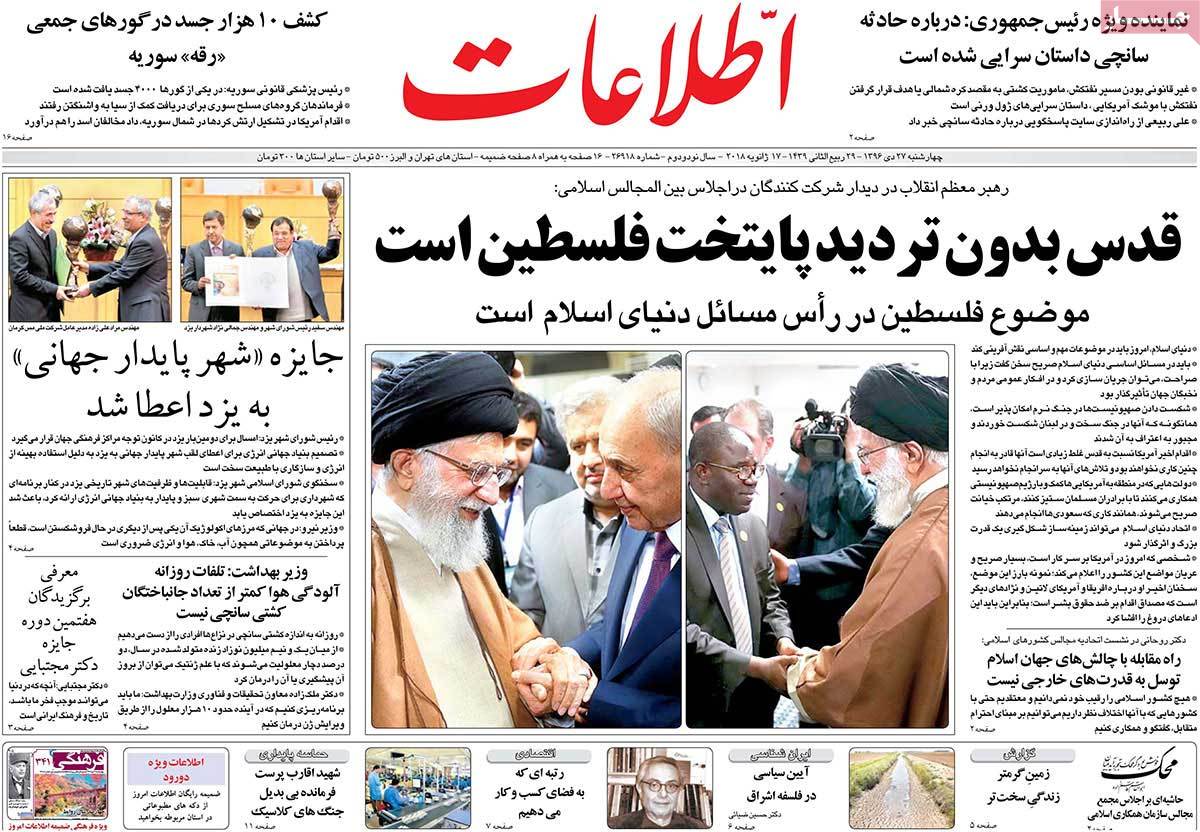 ---
Iran:
1- Rouhani: Reinforcing Democracy Most Important Strategy to Counter West
2- Culture Minister: Instructions to Be Provided for Female Instrumentalists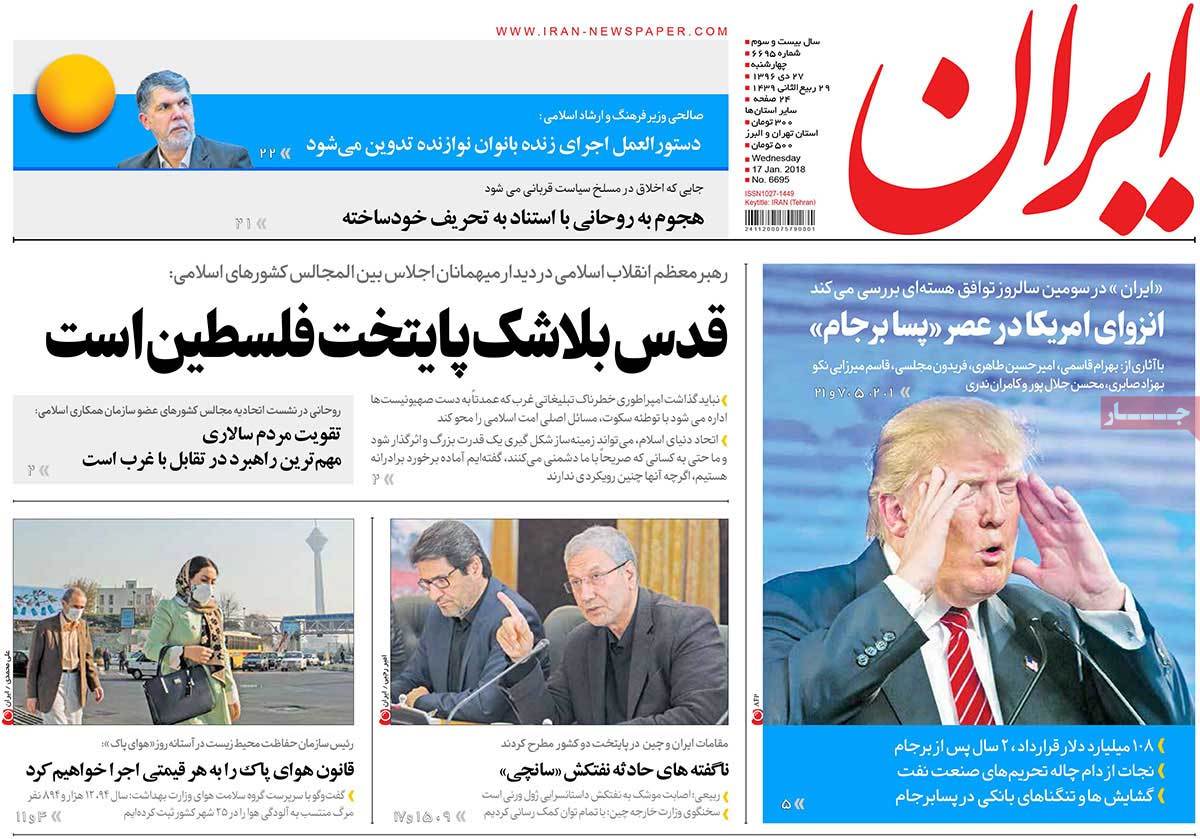 ---
Javan:
1- Rouhani: We Shouldn't Rely on Others for Resolving Our Problems
2- Money Raised for Quake-Hit People Remains in Celebrities' Accounts!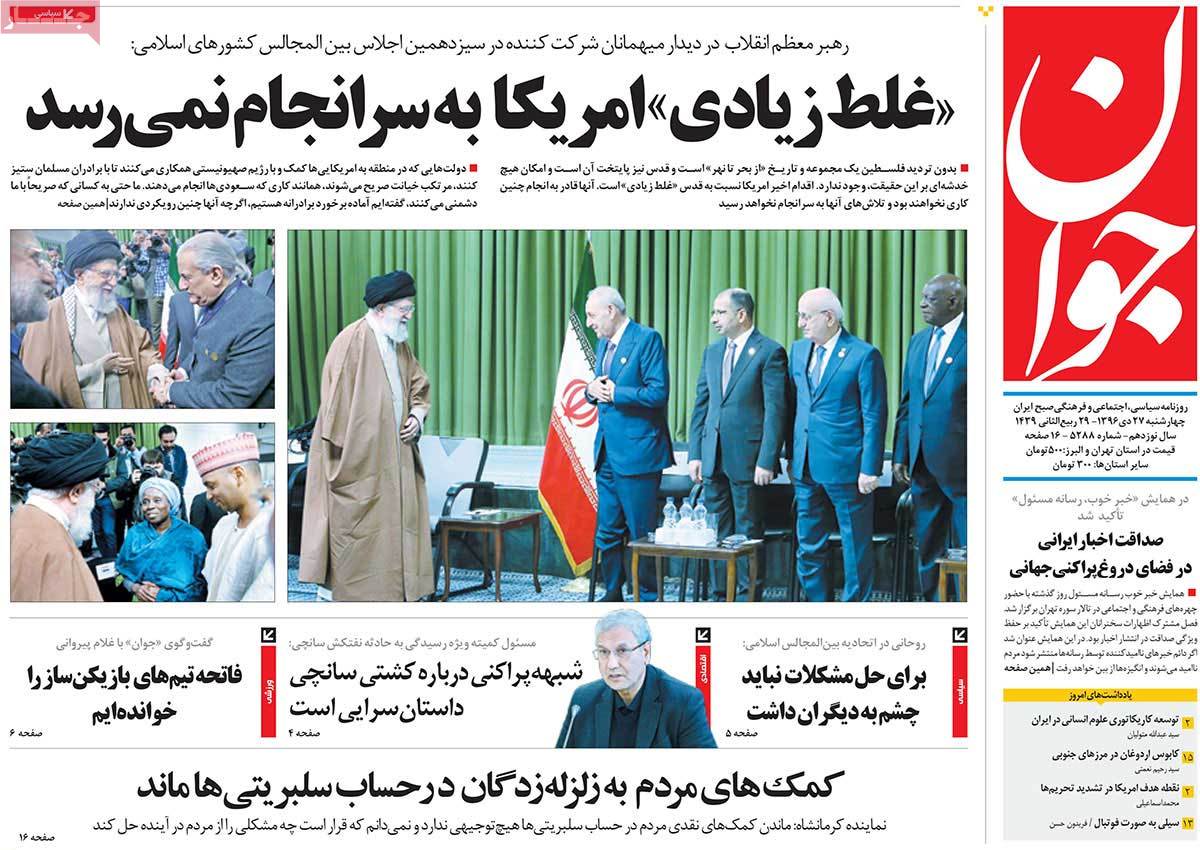 ---
Jomhouri Eslami:
1- Iran Leader: We're Ready to Behave Brotherly Even towards Our Enemies
2- Iran Rejects Rumours about Missile Attack on Iranian Oil Tanker
3- Rouhani: Islamic Parliaments Must Try to Boost Muslim Unity in Development-Oriented Way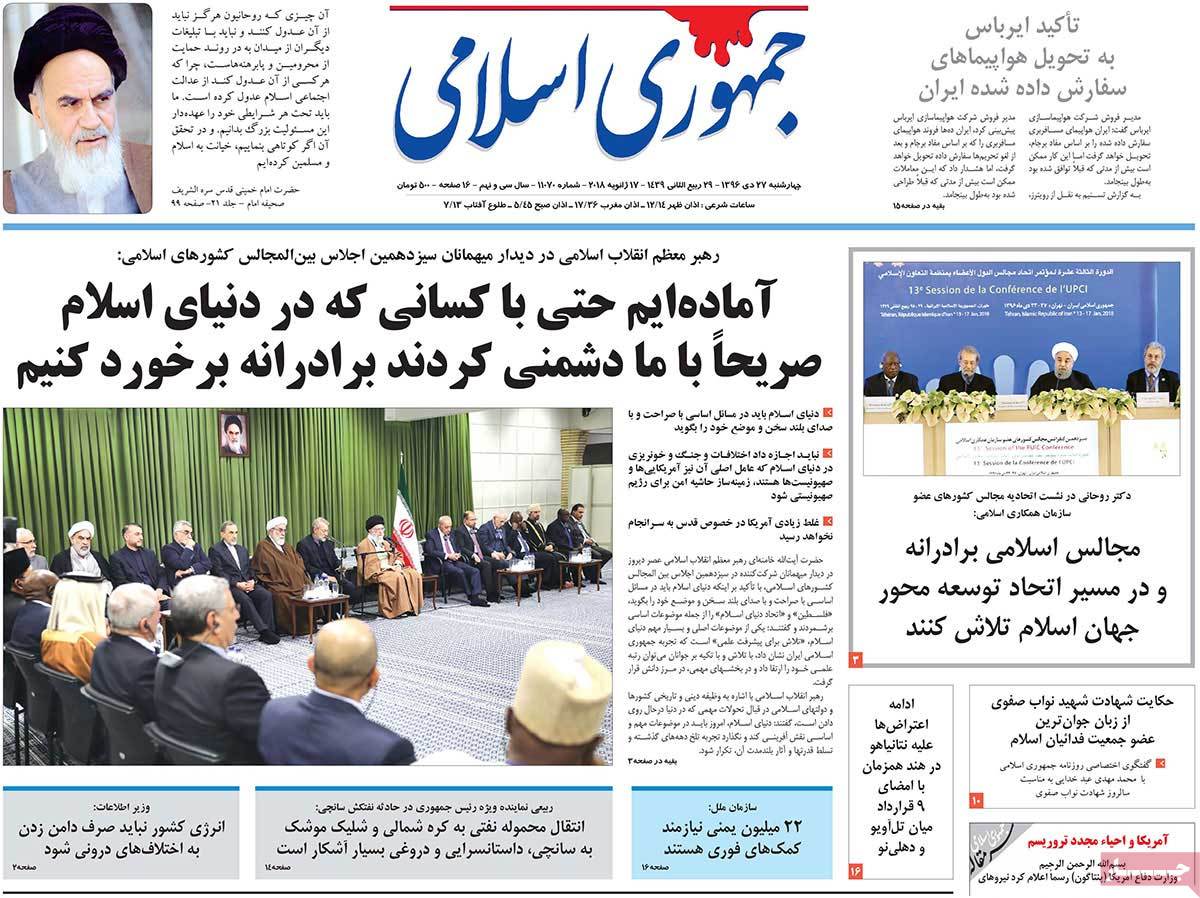 ---
Kayhan:
1- Iran Leader: Saudis Betraying Muslim Society
2- We Can Get Out of Foreign Messengers' Monopoly in One Year: Official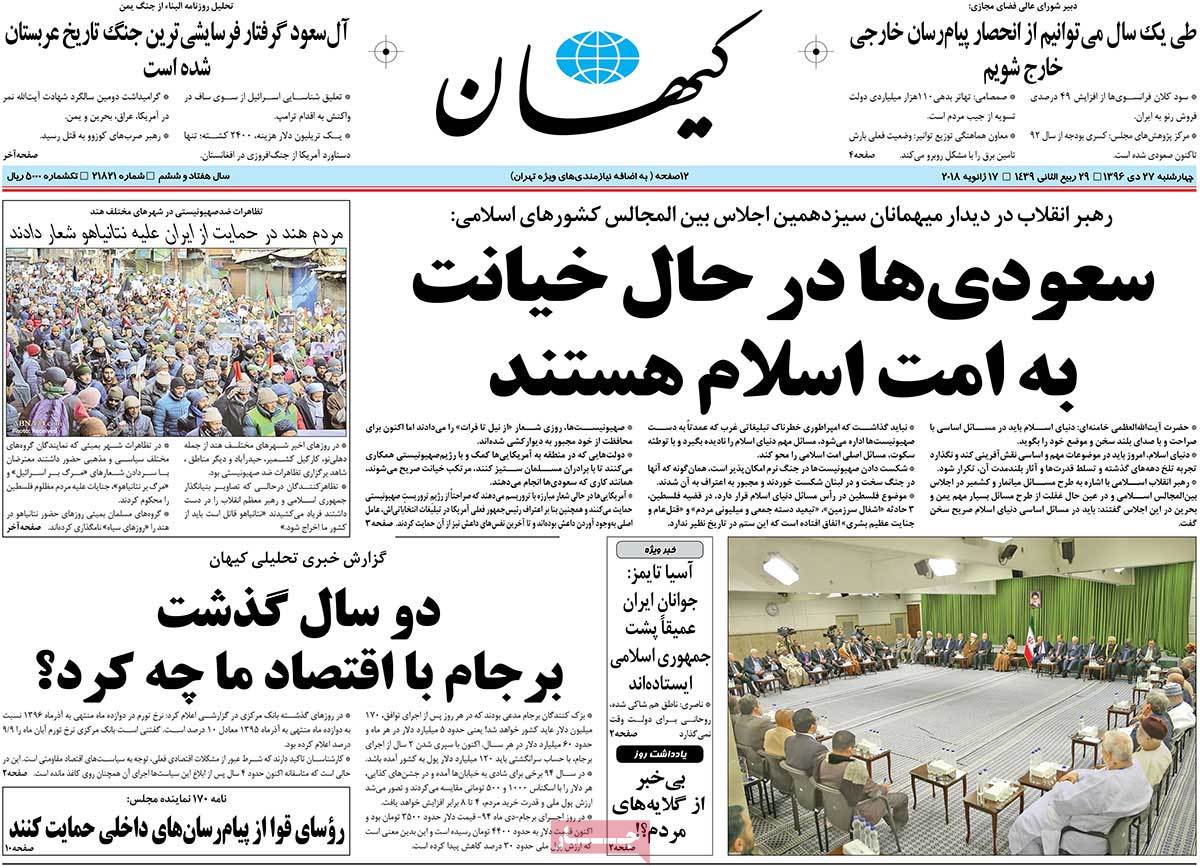 ---
Resalat:
1- Iran Leader: Resistance against Zionist Regime Will Bear Fruit
2- Top General: Iran Pioneer in Saving People from Hegemony
3- IRGC General: US Main Source of World Instability
4- Official: Those Killed in Sanchi Tragedy Are Martyrs of Service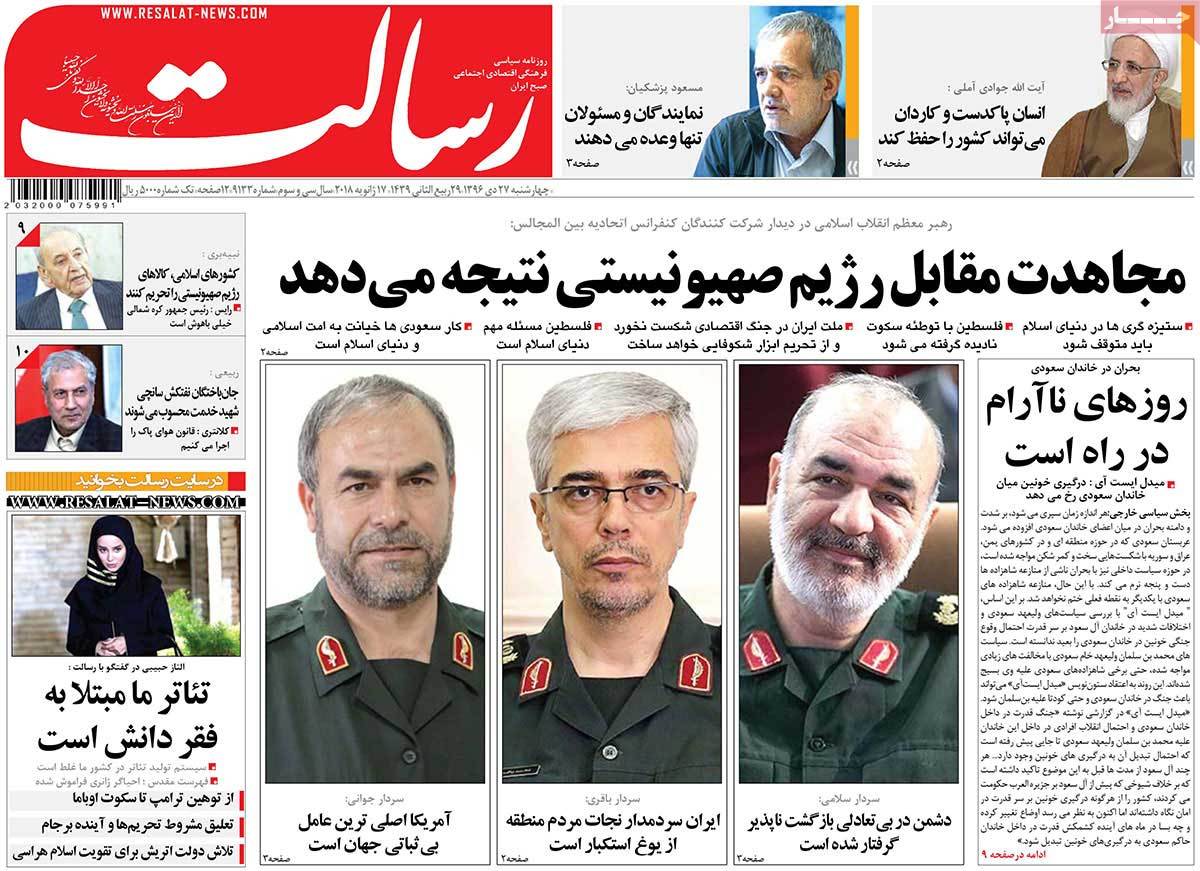 ---
Shahrvand:
1- Iran Leader: Muslim World Must Declare Its Stances in Loud Voice
---
Shargh:
1- Iran Leader: We Shouldn't Let Safe Haven Be Created for Zionist Regime