The release of Nunes' Memo in the US and the EU's continued support for the Iran nuclear deal were among top stories in today's newspapers.
Several papers also covered the remarks made by Iran's First Vice-President Es'haq Jahangiri in defence of reformist leader and ex-president Seyyed Mohammad Khatami.
The above issues, as well as many more, are highlighted in the following headlines and top stories:
19 Dey:
1- Rouhani's Opponents Defeated in Russia
2- Imam Khomeini's Grandson: Rulers Always Need People's Supervision
---
Abrar:
1- Hariri Warns about Use of Weapons for Resolving Political Conflicts
2- Iran's Strong Presence in Iraq Reconstruction Conference in Kuwait
3- Lebanese Paper: Iran Will Receive Fighter Jets from Russia in Return for Oil Sale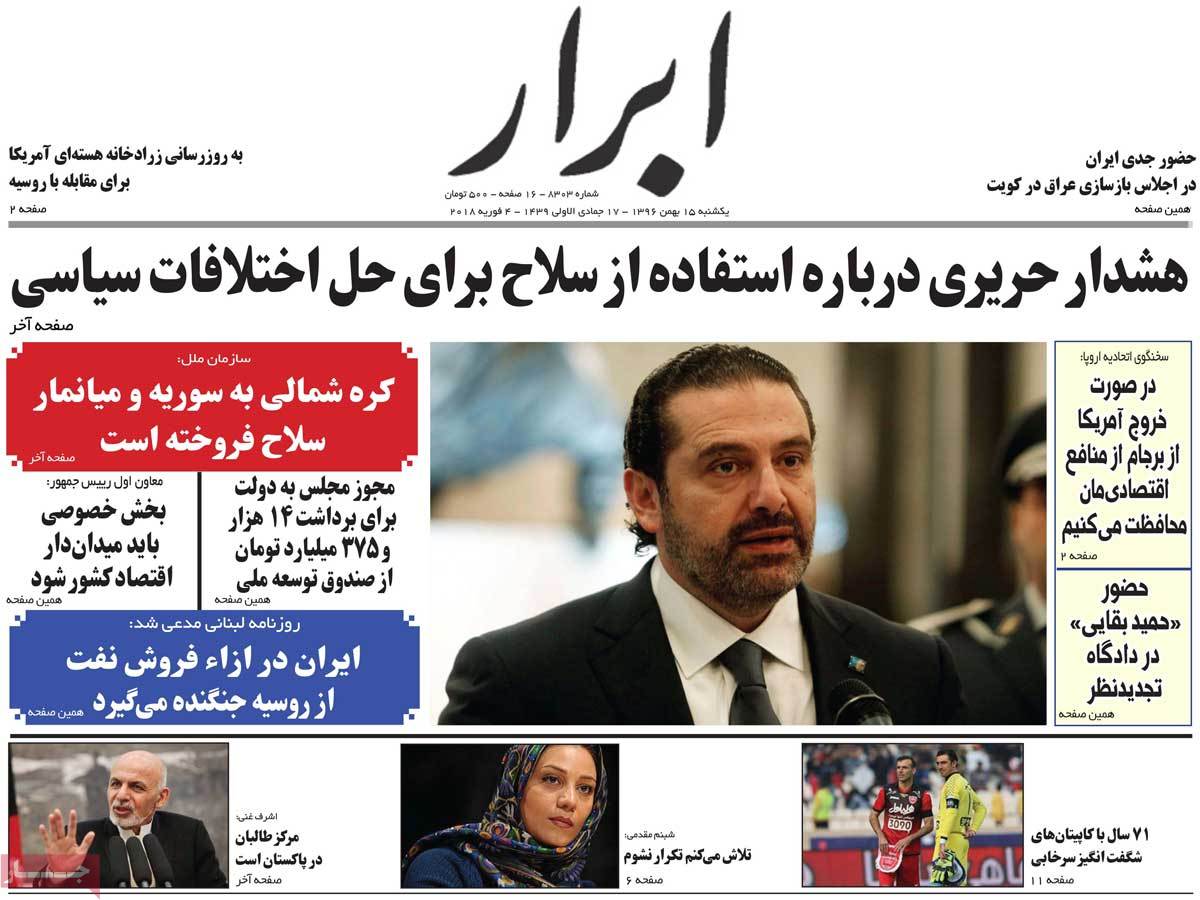 ---
Aftab-e Yazd:
1- North Korea Sell Weapons to Syria
---
Arman-e Emrooz:
1- Tehran Prosecutor: 41 Judges to Be Tried
2- Iran First VP Says He Held Talks with Leader about Ex-President Khatami
3- Iran to Become Thirstier: Crisis Management Chief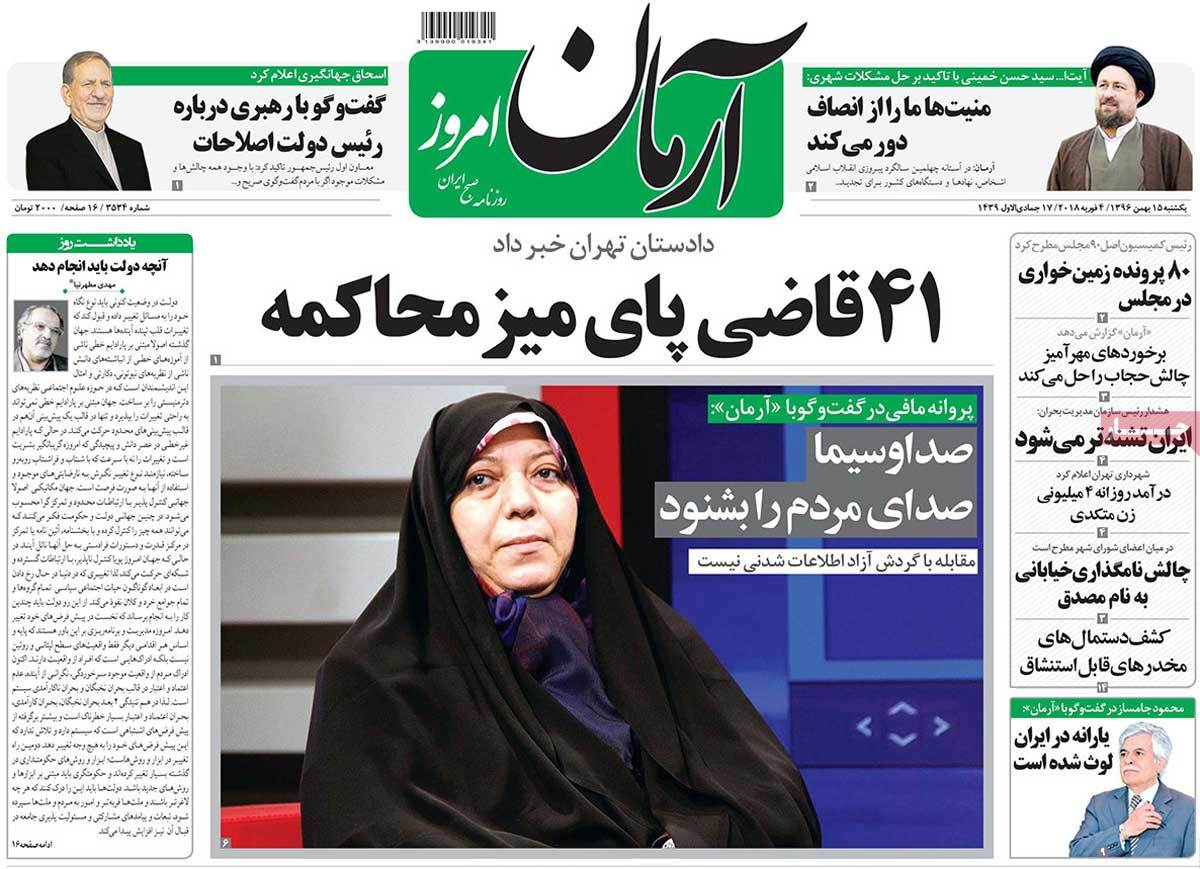 ---
Ebtekar:
1- Nunes Memo Helping White House Fight against Democrats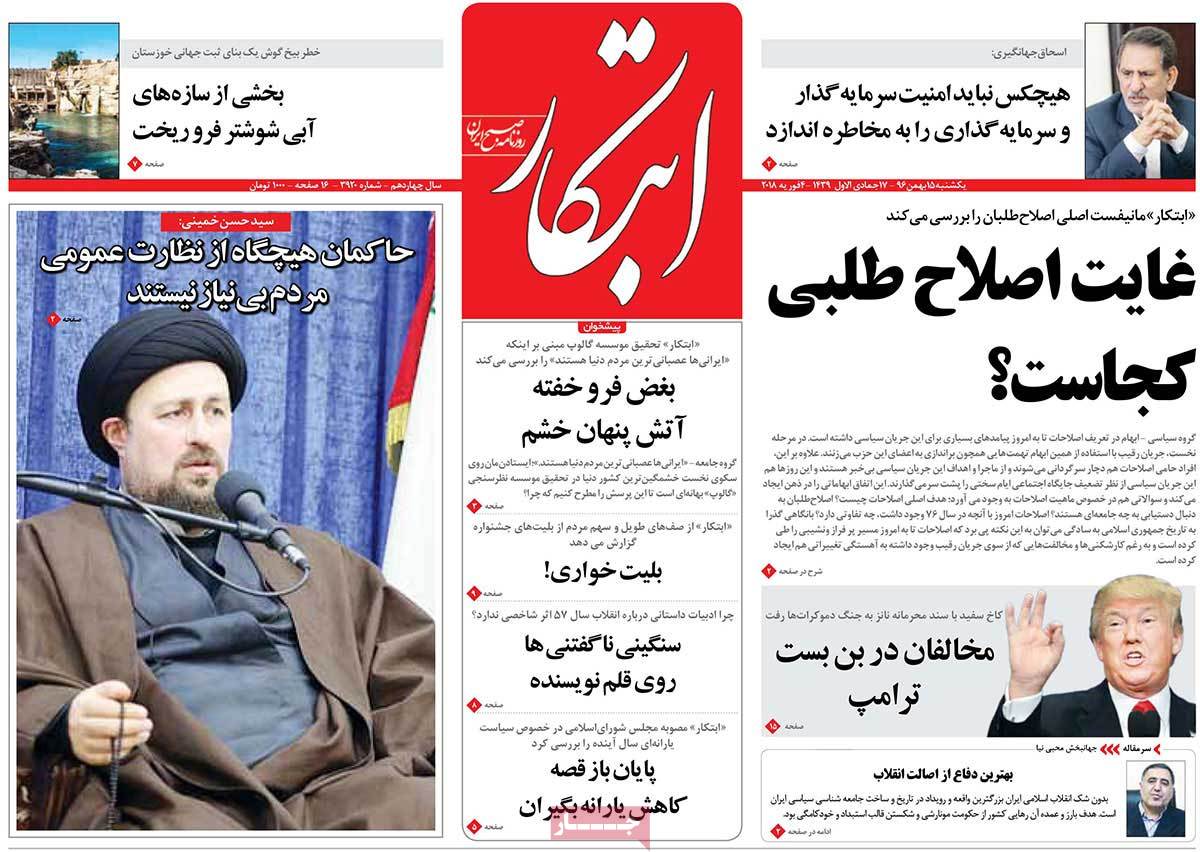 ---
Etemad:
1- Big Cities Plagued by Poverty: Tehran, Mashhad, Tabriz Poorest Cities of Iran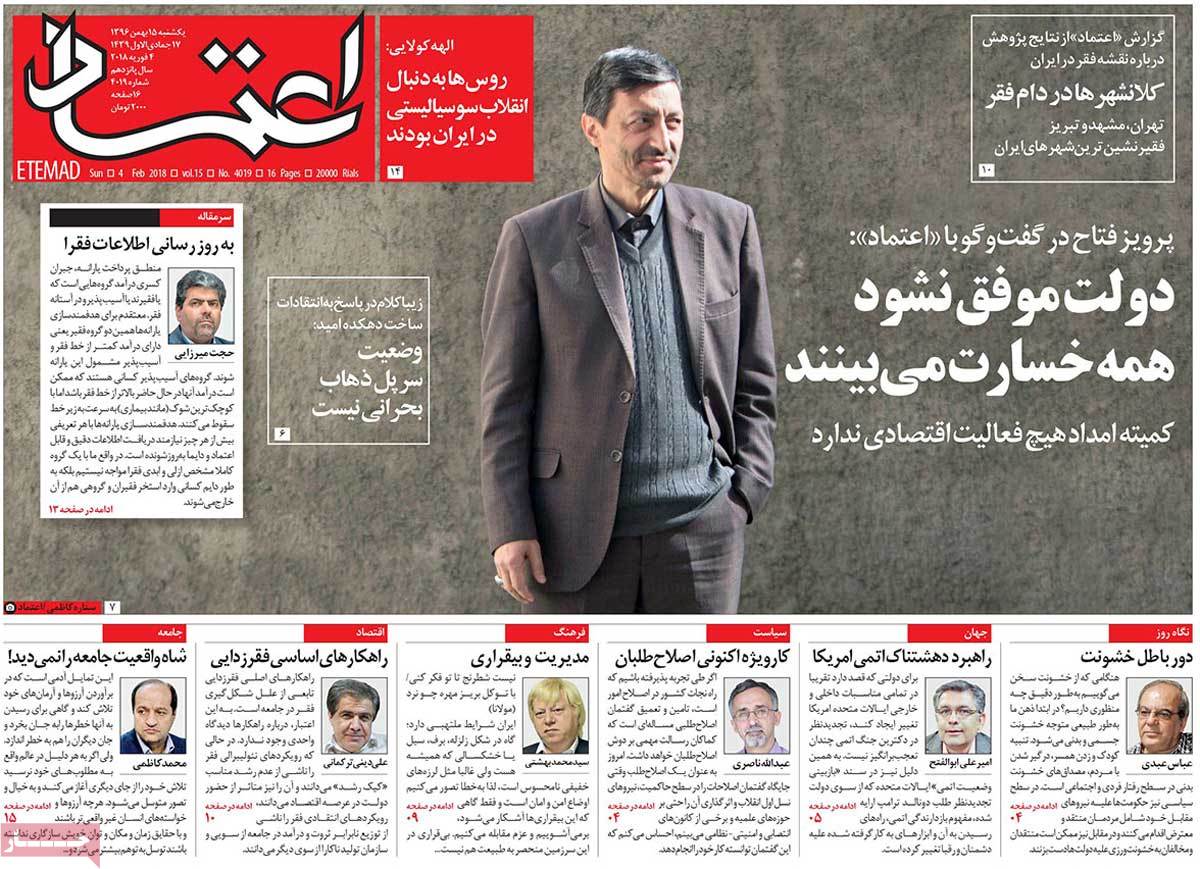 ---
Ettela'at:
1- EU: We'll Protect Iran Nuclear Deal in Case of US Withdrawal
2- Iranian Girl Claims Asian Title in Indoor Championships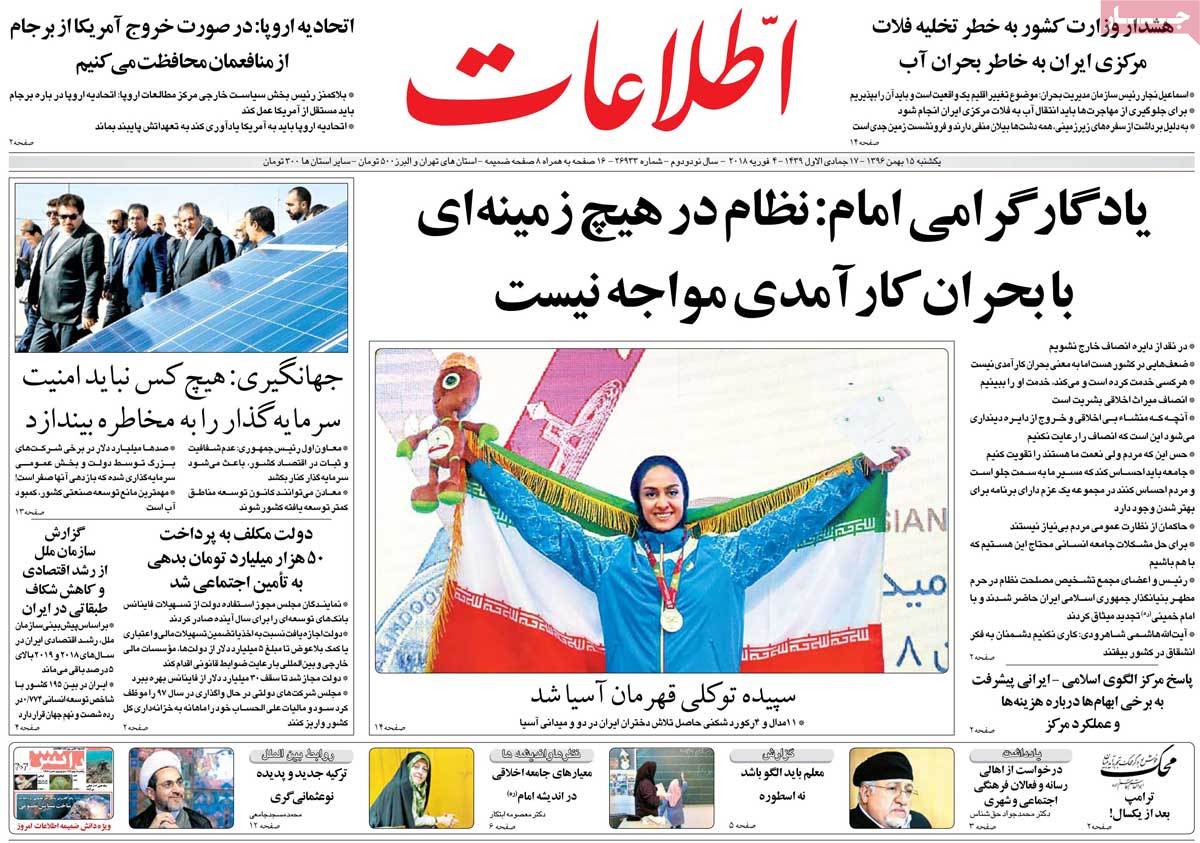 ---
Iran:
1- Iran First VP: $12 Billion Worth of Foreign Lines of Credit (LCs) Opened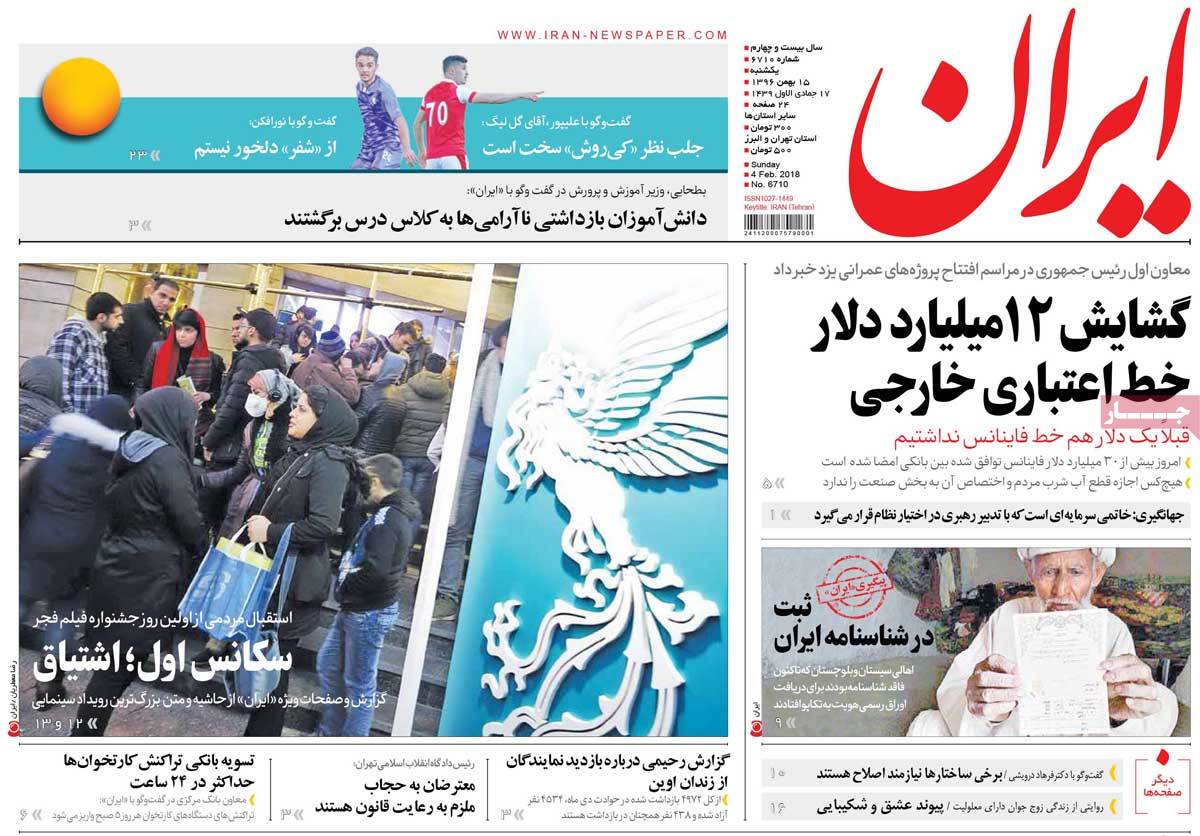 ---
Javan:
1- ICT Minister: 3 Iranian Satellites to Be Sent to Orbit
2- US' Growing Interference in Iran's Internal Affairs: This Time on Issue of Hijab!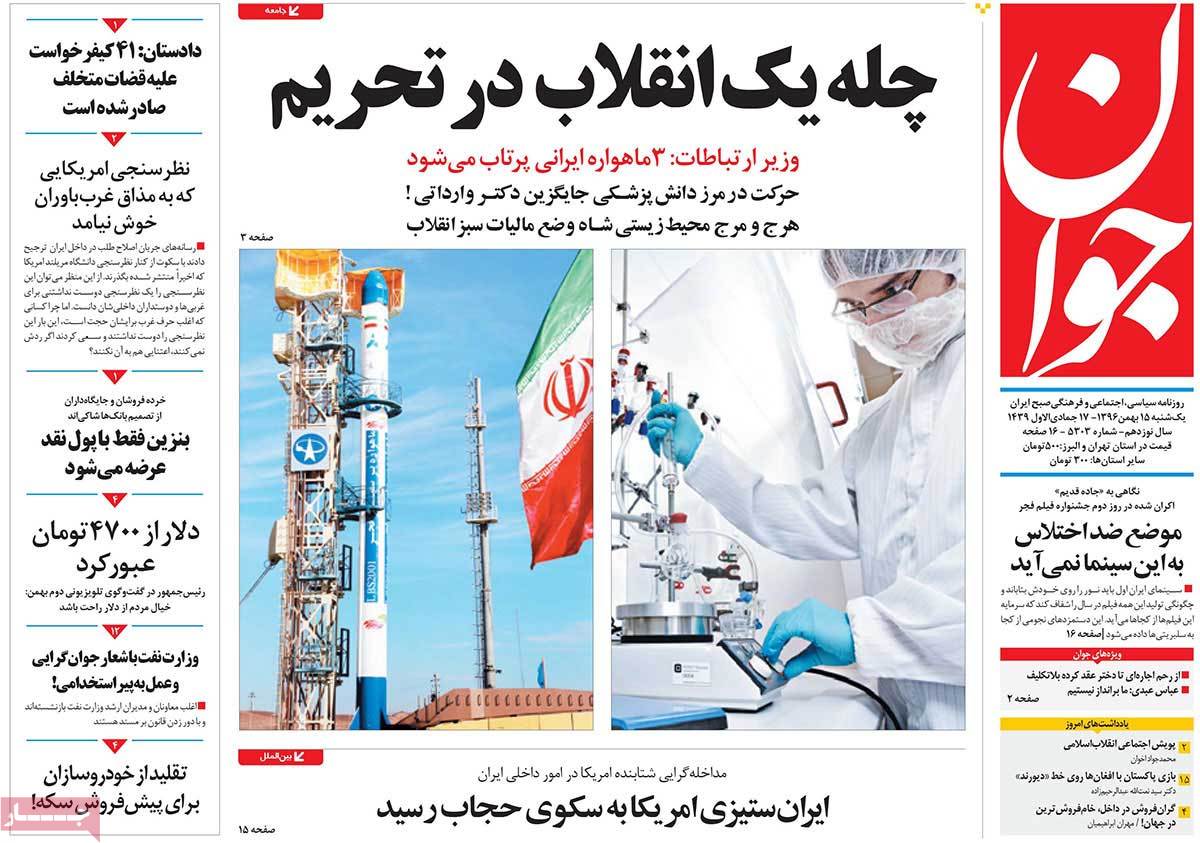 ---
Jomhouri Eslami:
1- Europe to Bypass Iran's Dollar Sanctions Using Euro-Based LCs
2- Famous American Psychologist: Trump Most Dangerous Man in World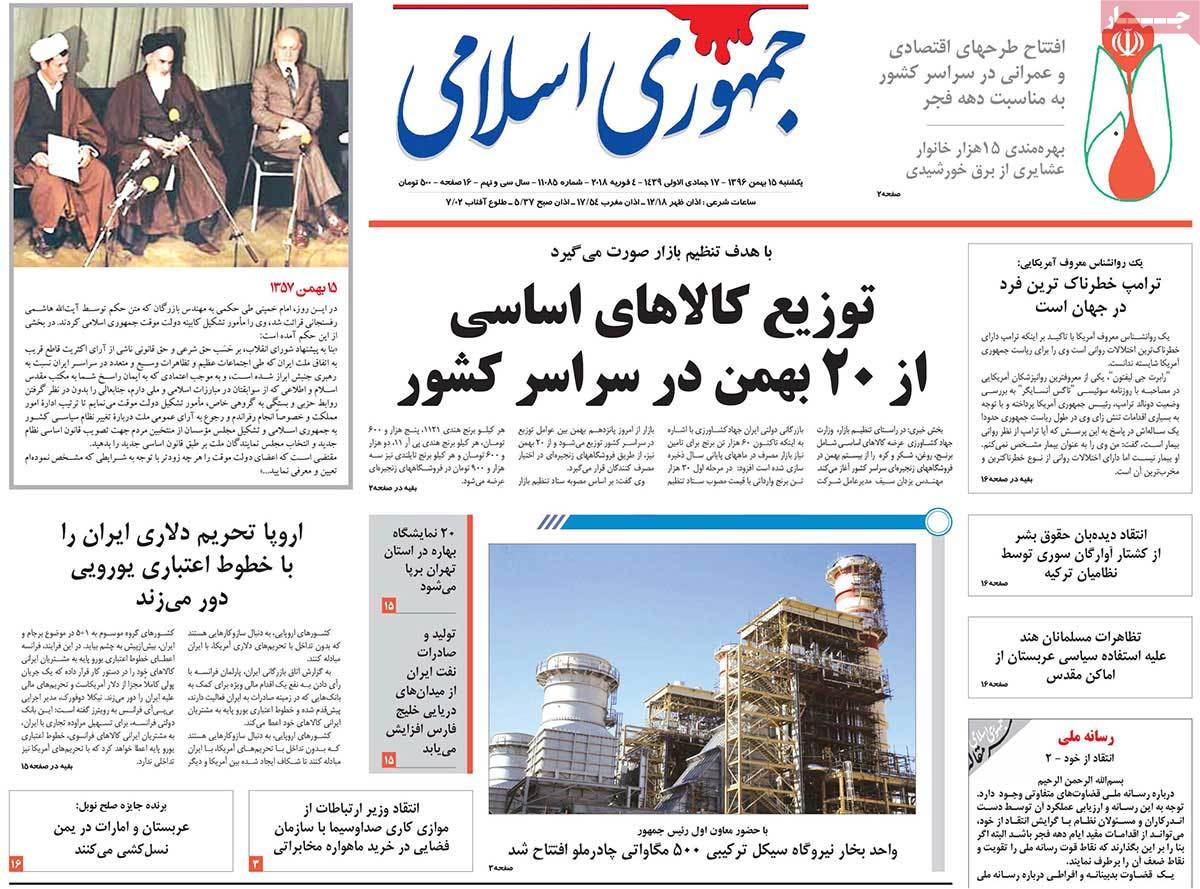 ---
Kayhan:
1- Where Were We Forty Years Ago, Where Are We Now?
A Report on Achievements of Iran's 1979 Revolution
2- Houthi Leader: Saudi Coalition's Problem Is Yemen's Resistance Forces Don't Obey US, Israel
3- New Achievement of Western Lifestyle: Britain Appoints Minister of Loneliness
---
Khorasan:
1- Tehran Prosecutor: Judges Being Inspected Secretly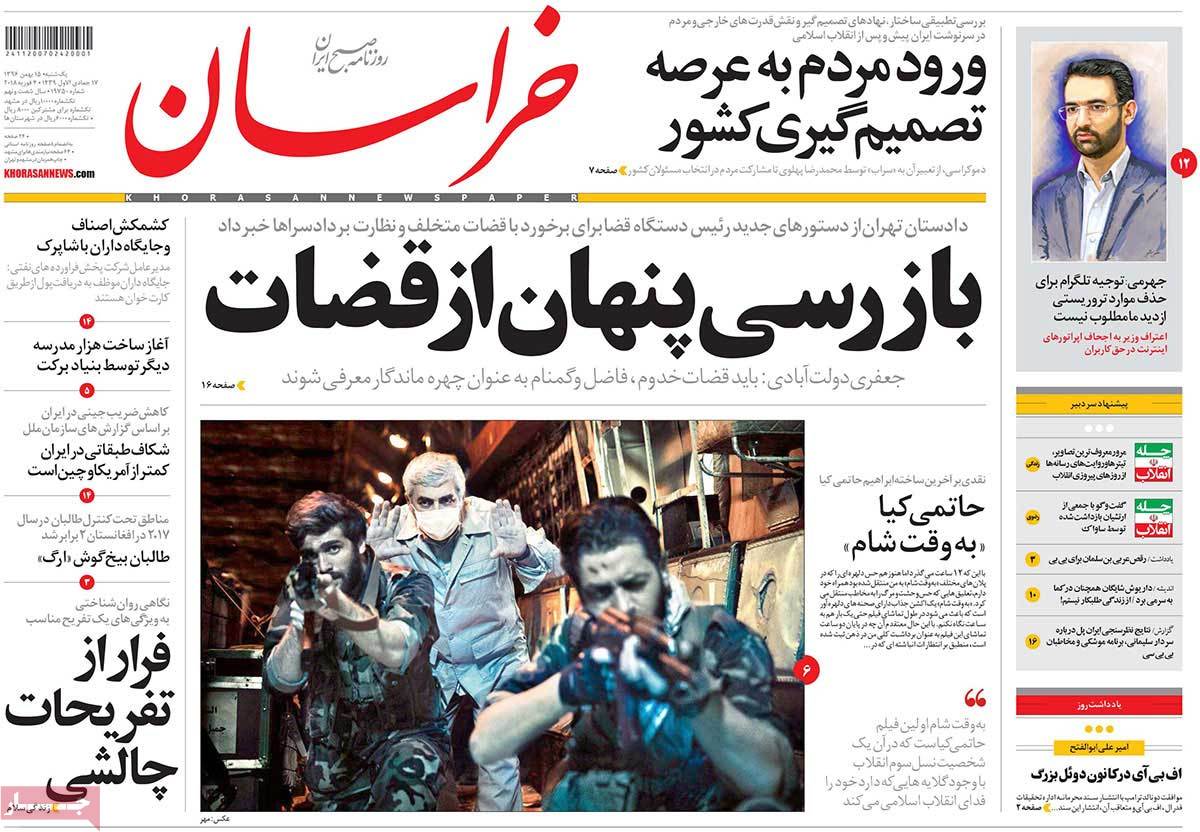 ---
Resalat:
1- US No Longer Has Soft Power: Gallup Poll
---
Shargh:
1- Iran First VP: Ex-President Khatami Strongly Defended Islamic Establishment
2- Reports Confirmed: Quake-Hit Children Freeze to Death