The top story in all papers today was the three-day visit of President Hassan Rouhani to India, and the agreements signed between the two sides.
The ongoing Munich Security Conference and the anti-Iran remarks made by its keynote speakers also received great coverage.
Also a top story was the remarks made by former IRGC chief-commander Major General Yahya Rahim-Safavi about the return of the money Iran spent for Syria through the economic gains Tehran will make in the future.
The above issues, as well as many more, are highlighted in the following headlines and top stories:
19 Dey:
1- Rouhani: Iran Can Meet India's Energy Needs
15 MoUs Signed between Iran and India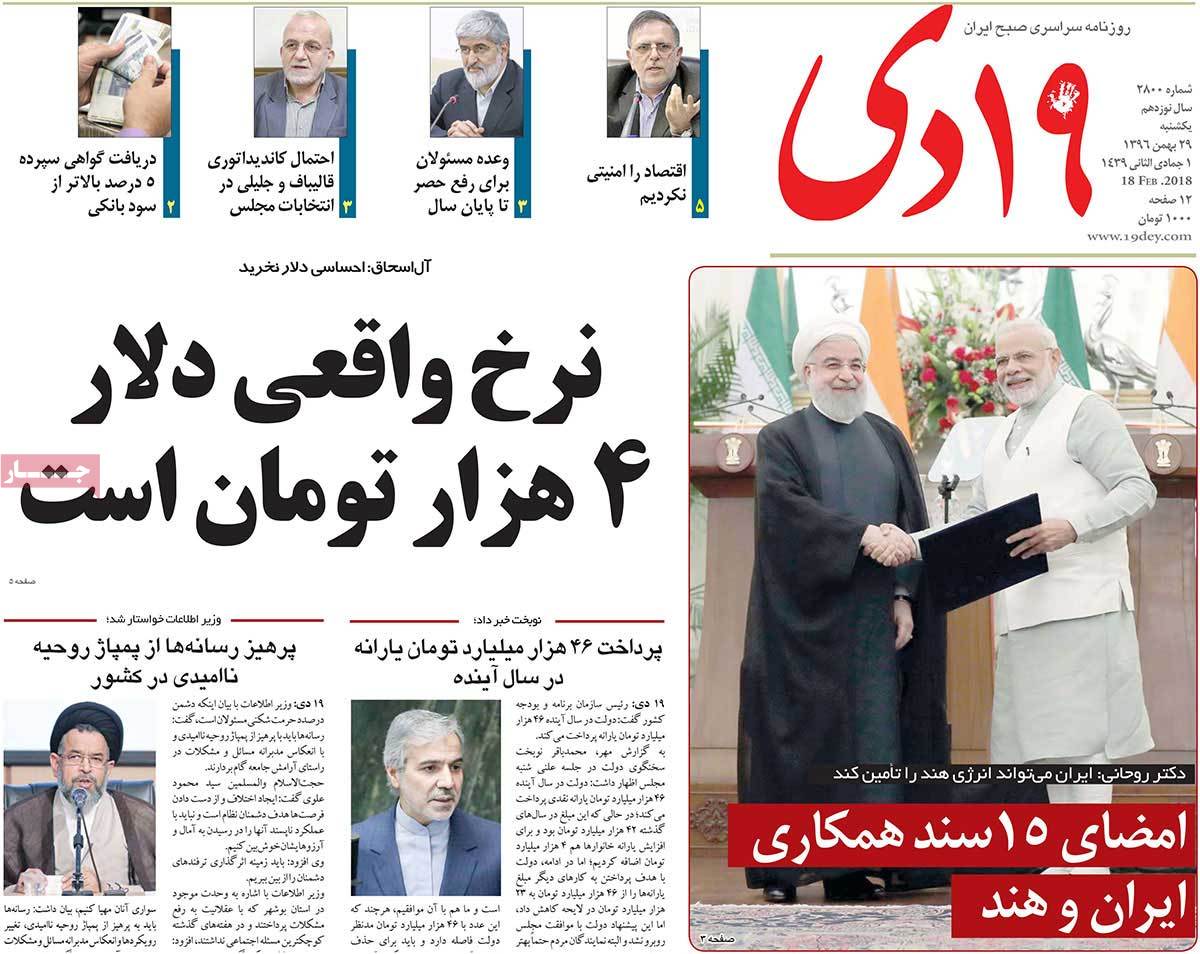 ---
Abrar:
1- Rouhani: Iran-India Ties Not Detrimental to Any Country
2- British PM Underlines London's Continued Commitment to Iran Nuclear Deal
3- Lavrov: Presence of Russia, Iran in Syria at Request of Damascus' Legitimate Gov't
---
Abrar-e Eqtesadi:
1- Iran's Economy Suffering from Central Bank's Poor Performance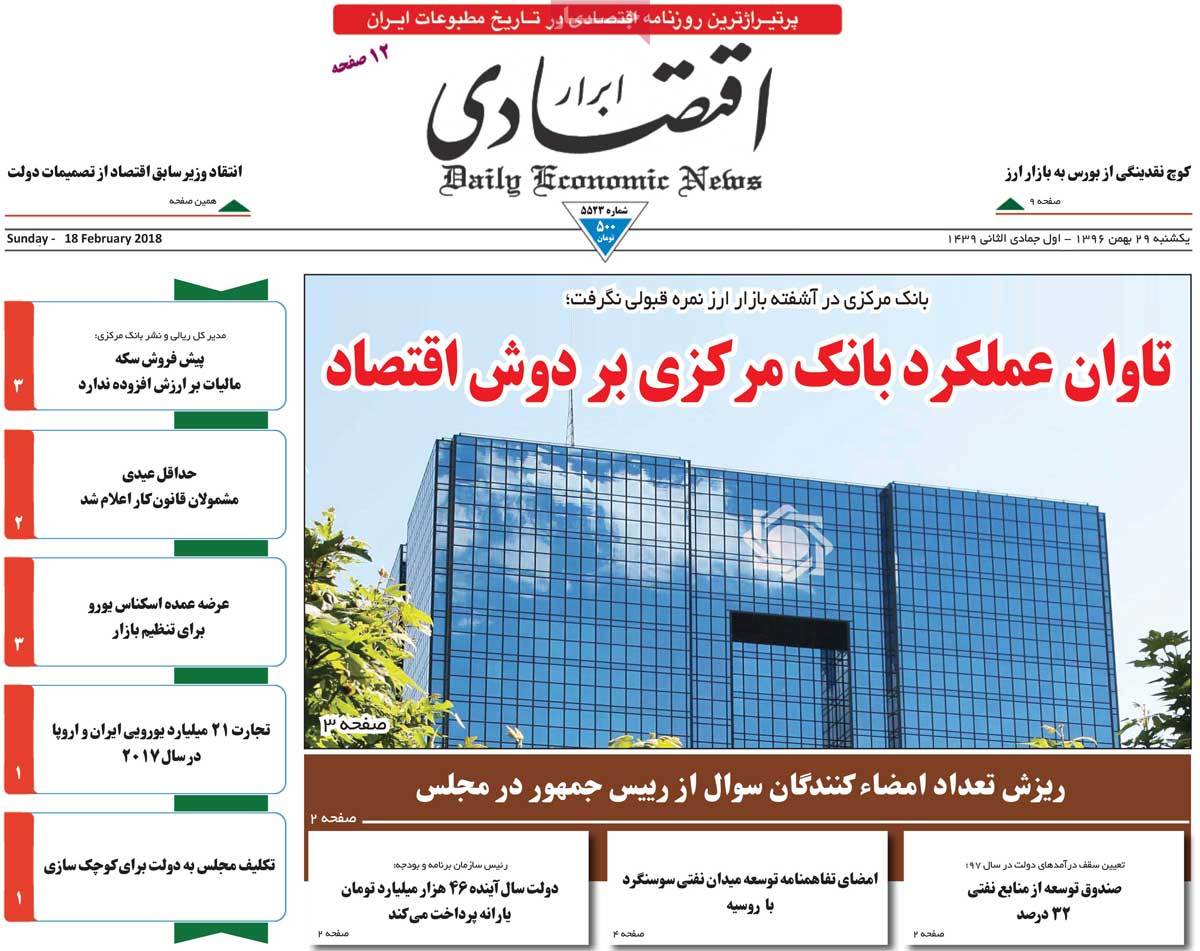 ---
Afkar:
1- Iran's Yellow Dear on Verge of Extinction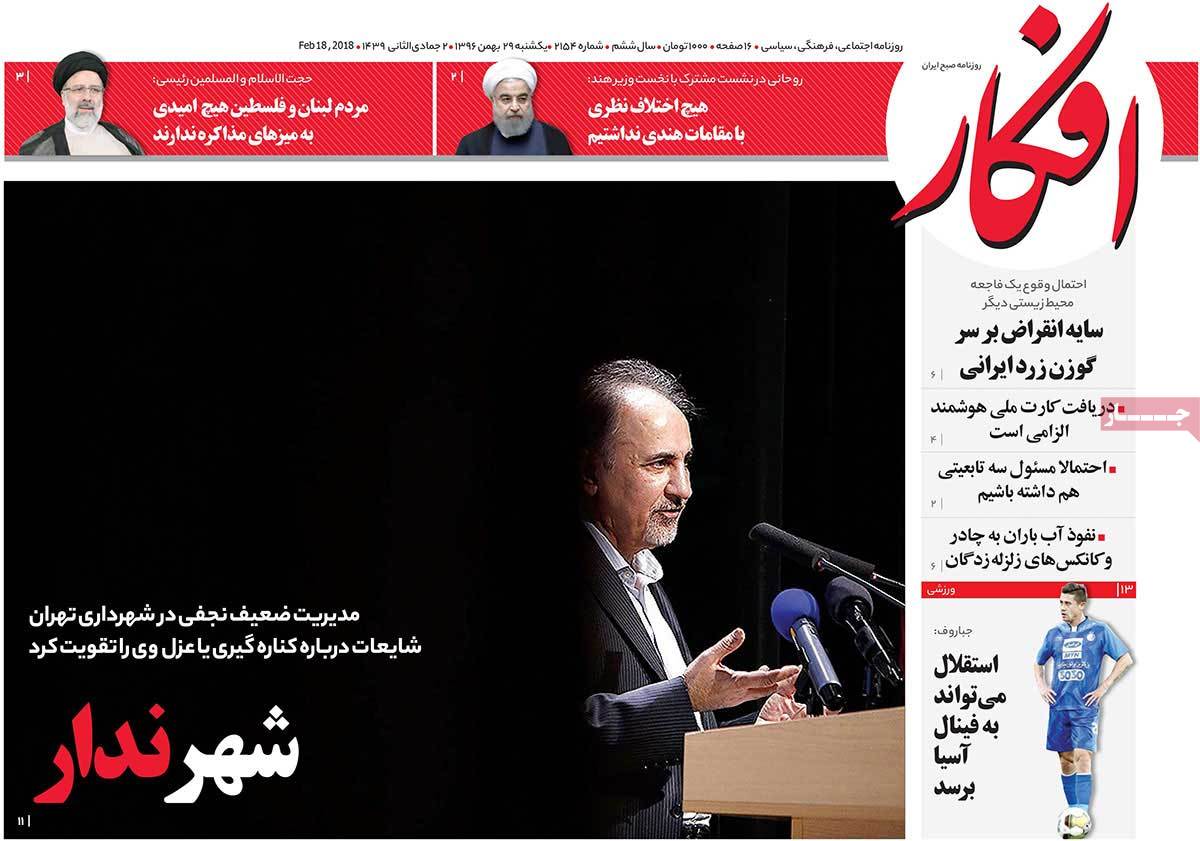 ---
Aftab-e Yazd:
1- Iran Foreign Ministry Spokesman: Negotiation Not a Taboo as We Are Logical
Qassemi Discusses Iran-EU Differences in Exclusive Interview
2- IRGC General: All the Money We Spent on Syria Must Be Returned
---
Arman-e Emrooz:
1- Top MP: Officials Have Promised to End House Arrest of Opposition Leaders by April
2- IRGC General: Money Spent in Syria to Be Returned
Iran Exporting Phosphate from Damascus
3- Plastic Surgeons Earn Highest Income in Iran!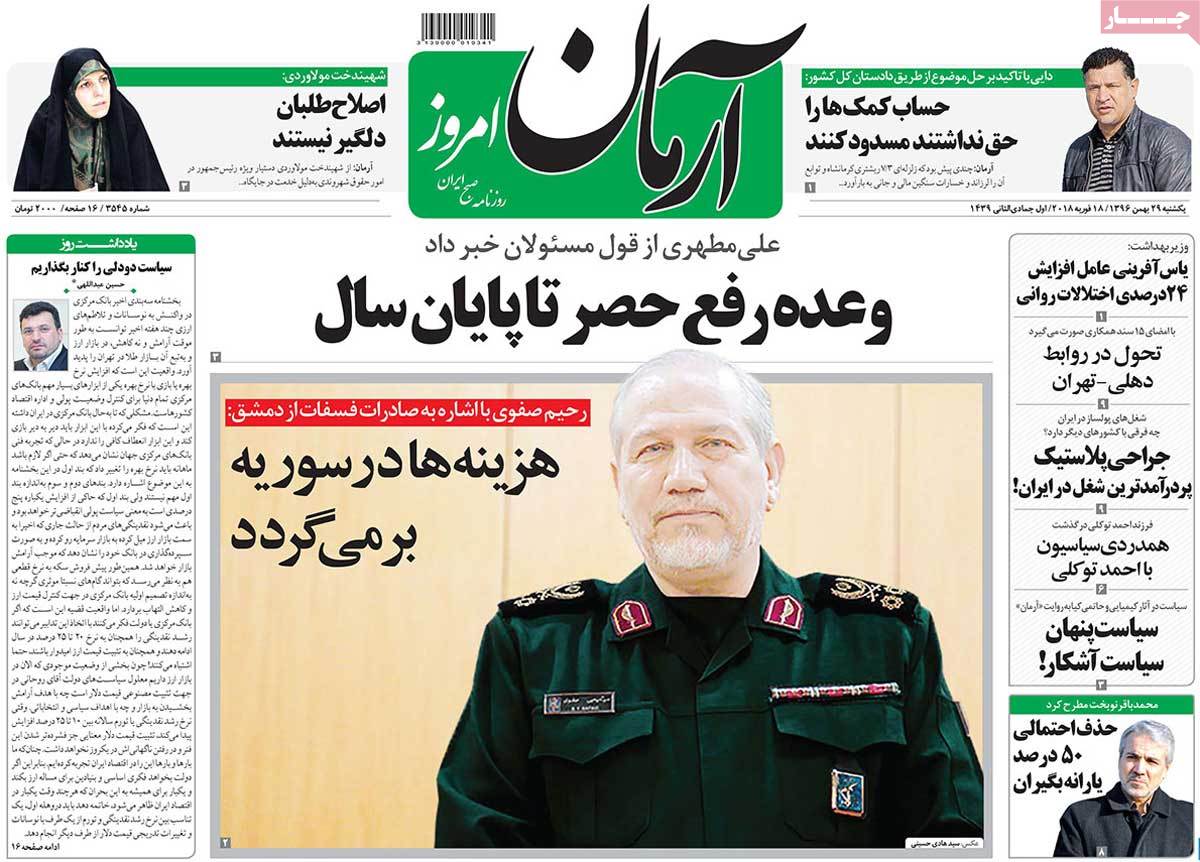 ---
Asrar:
1- Rouhani: US Nation, Gov't to Regret If Washington Breaks JCPOA Promises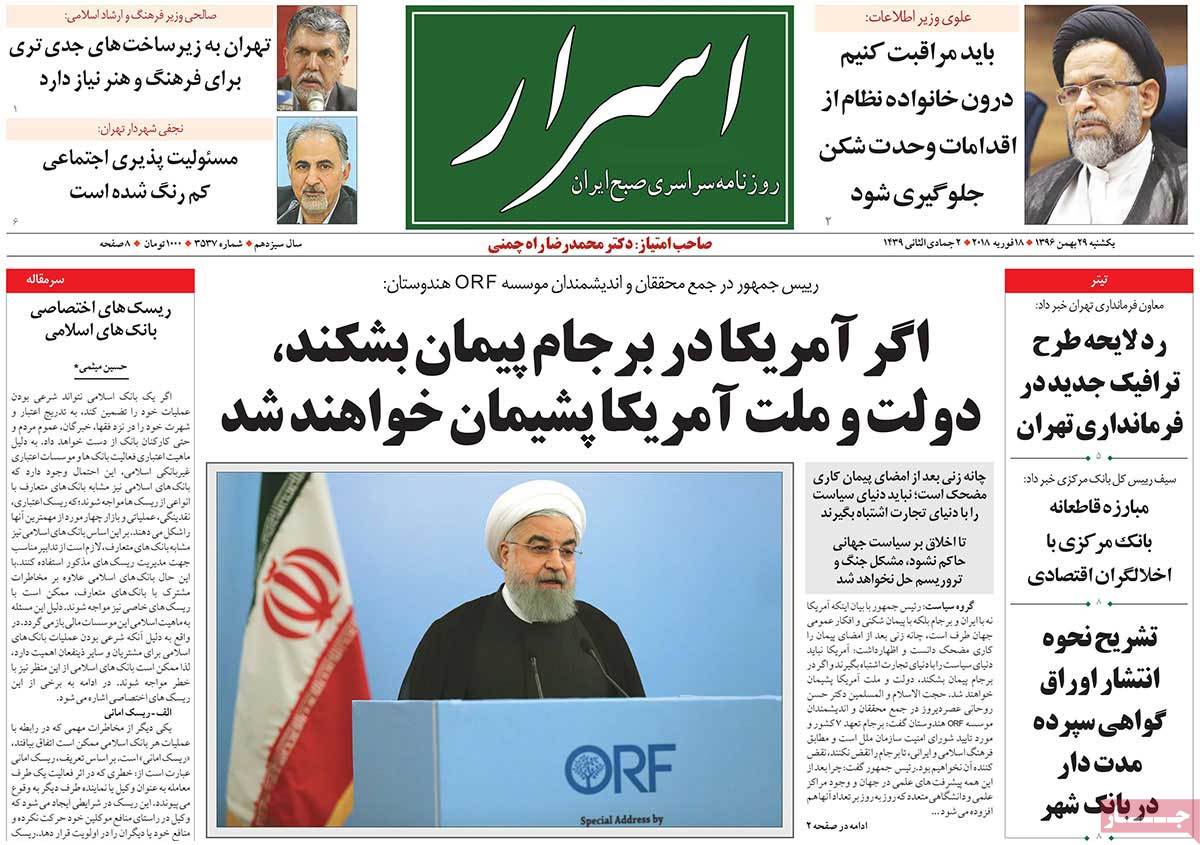 ---
Ebtekar:
1- Rouhani: Iran Not to Be First One to Violate Iran Nuclear Deal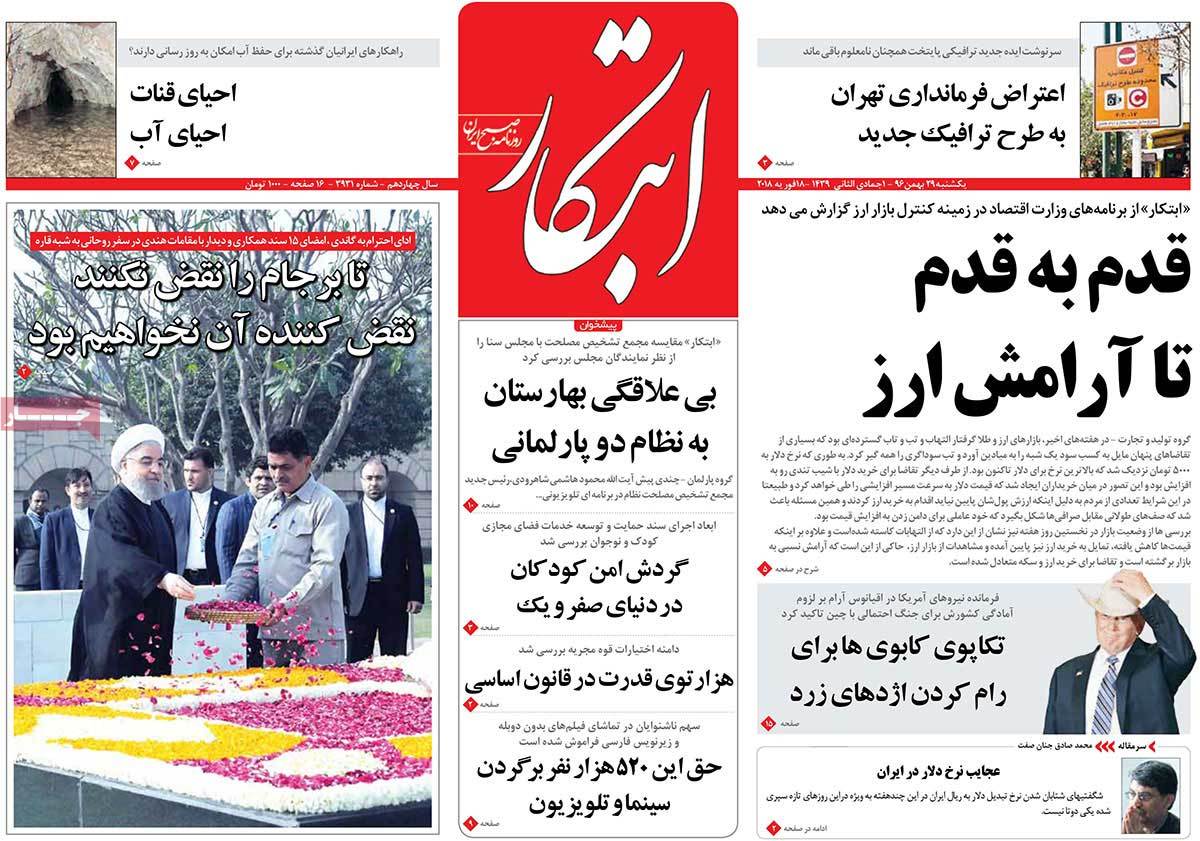 ---
Etemad:
1- Asia vs. West: Rouhani's Diplomacy in Trip to India
---
Ettela'at:
1- Big Step of Iran and India for Tapping into Joint Capacities
2- Qatar's Emir: Saudi Policies Endanger Regional Security
3- Munich Security Conference's Warning about Repercussions of Trump's Policies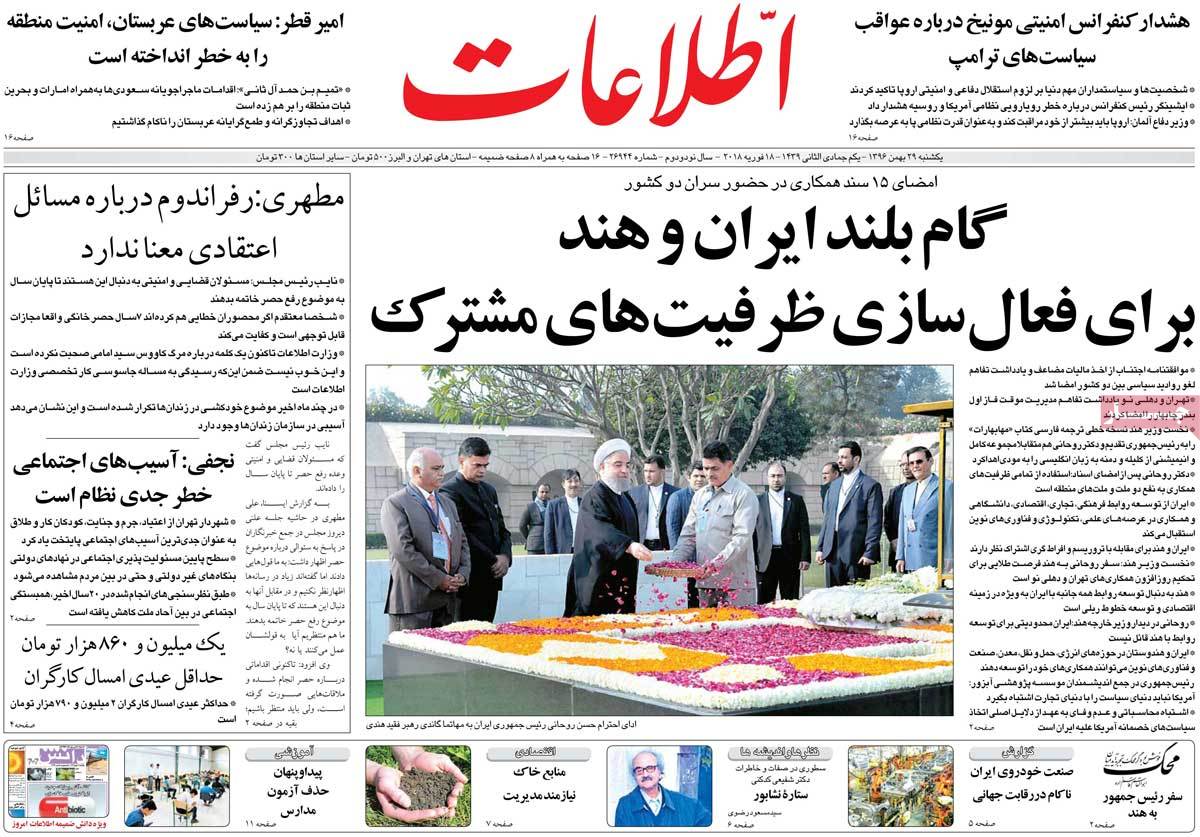 ---
Iran:
1- India's $2 Billion Investment in Iran's Port, Railway Projects
2- 85% Increase in Iran's Exports to Europe: European Commission's 2017 Report
---
Jahan-e San'at:
1- Increased Transit Cooperation between Iran, India
---
Javan:
1- US National Security Advisor's Blatant Violation of Iran Nuclear Deal
Don't Make Investment in Iran
2- Iran President's Three-Day Visit to India: Looking for Facilitation of Banking Ties
3- IRGC General: Hezbollah Turned into Powerful Army after Syria War
---
Jomhouri Eslami:
1- Continued International Support for Iran Nuclear Deal
2- Netanyahu: Golan to Be Occupied by Israel Forever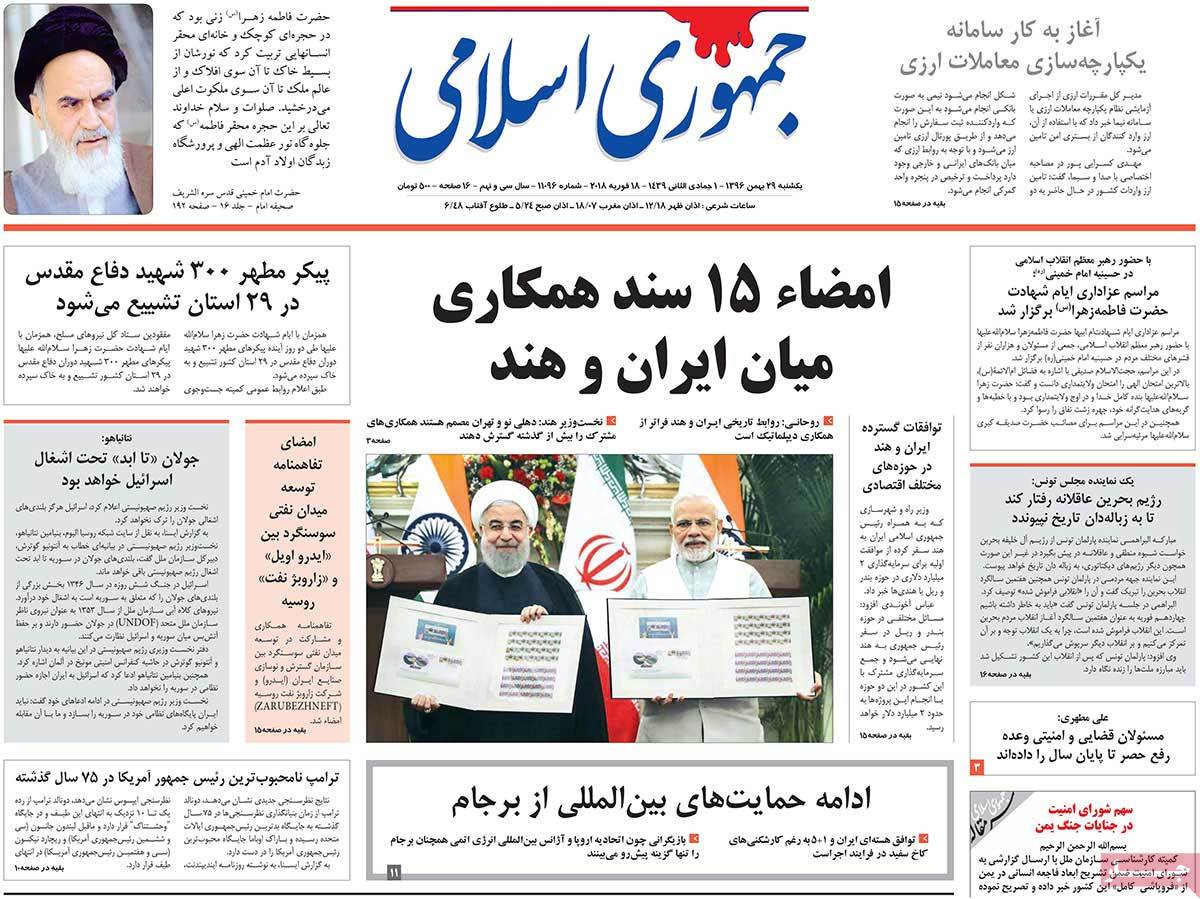 ---
Kayhan:
1- Negligence from Enemy's Economic War: Joint Project by Infiltrators, Incompetent Managers
FT: US Exacerbating Forex War on Iran
Rouhani Tasks 3 Ministers, One Deputy with Pursuing Suicide of a Spy
2- Tunisian MP: Al Khalifa to End up in History's Trash Bin Like All Other Authoritarian Regimes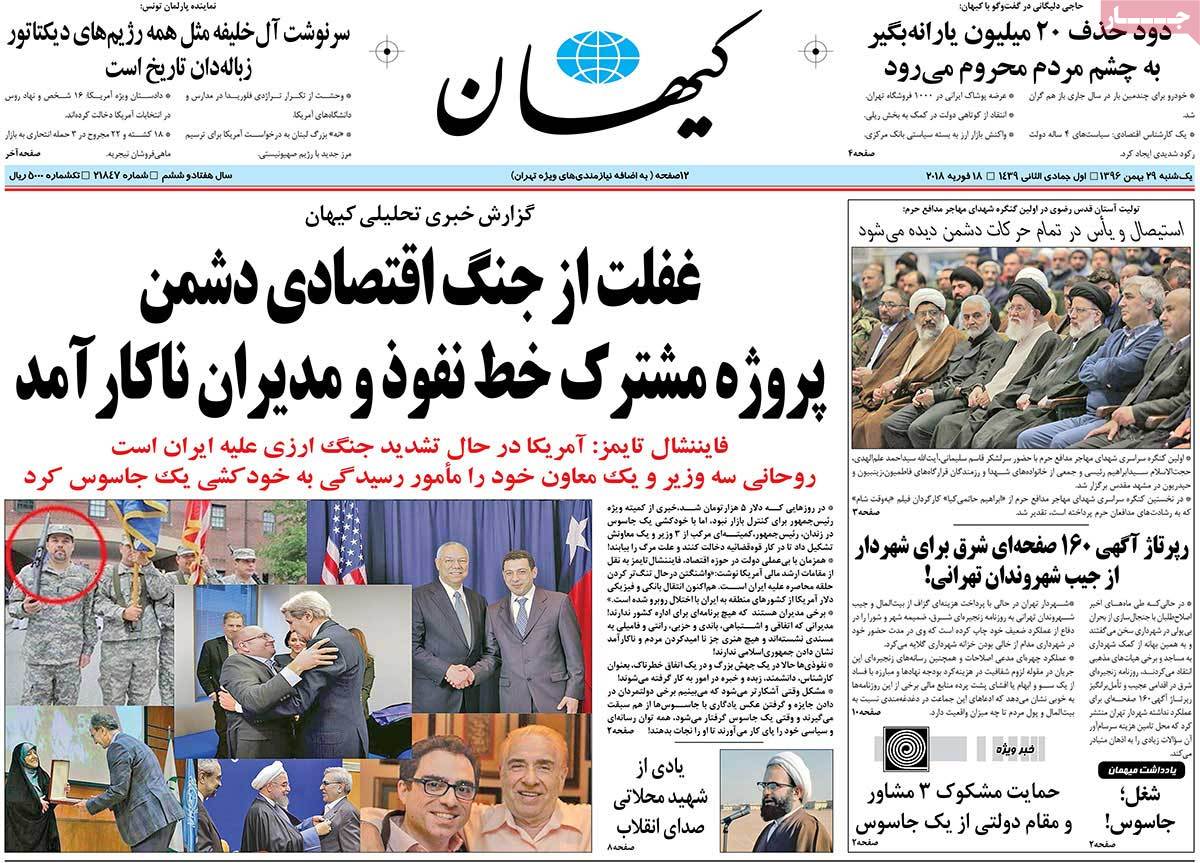 ---
Khorasan:
1- Chabahar Port, Focus of Rouhani-Modi Agreements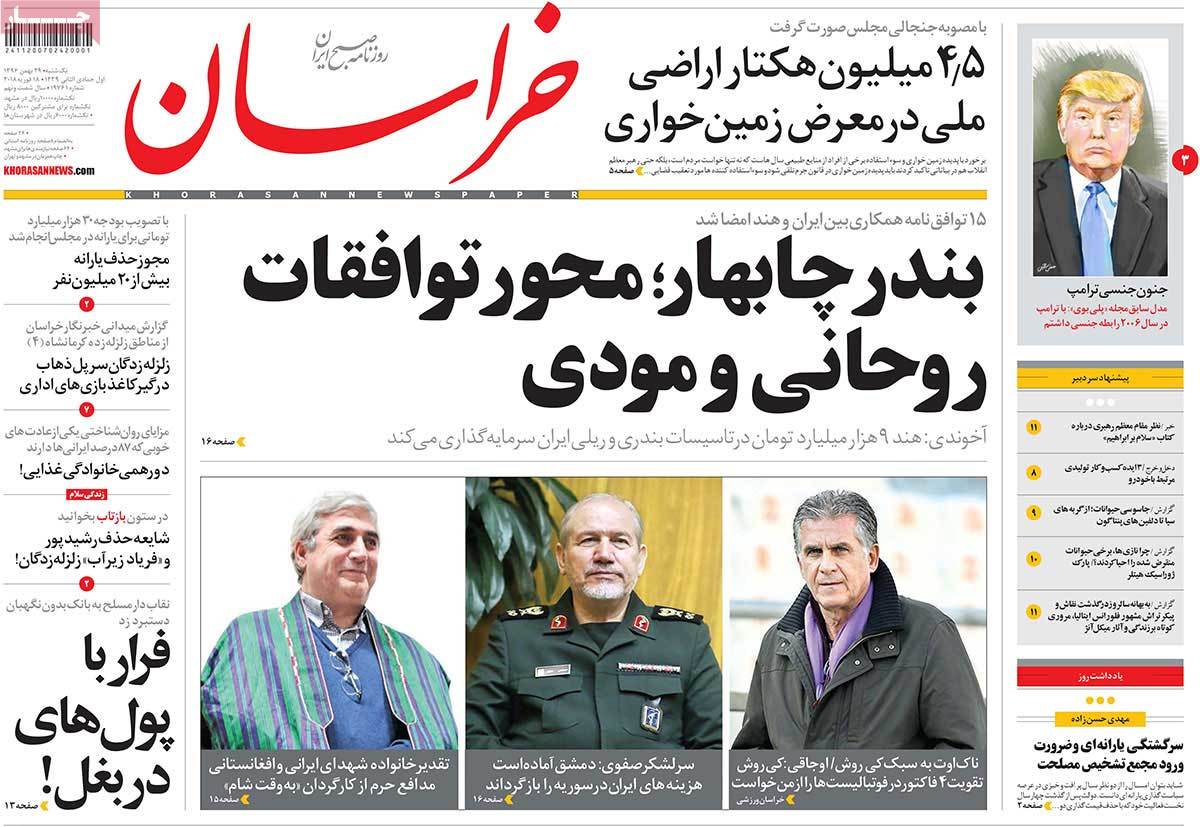 ---
Rooyesh-e Mellat:
1- German FM: We'll Counter Iran's Regional Policies If You Don't Annul Iran Nuclear Deal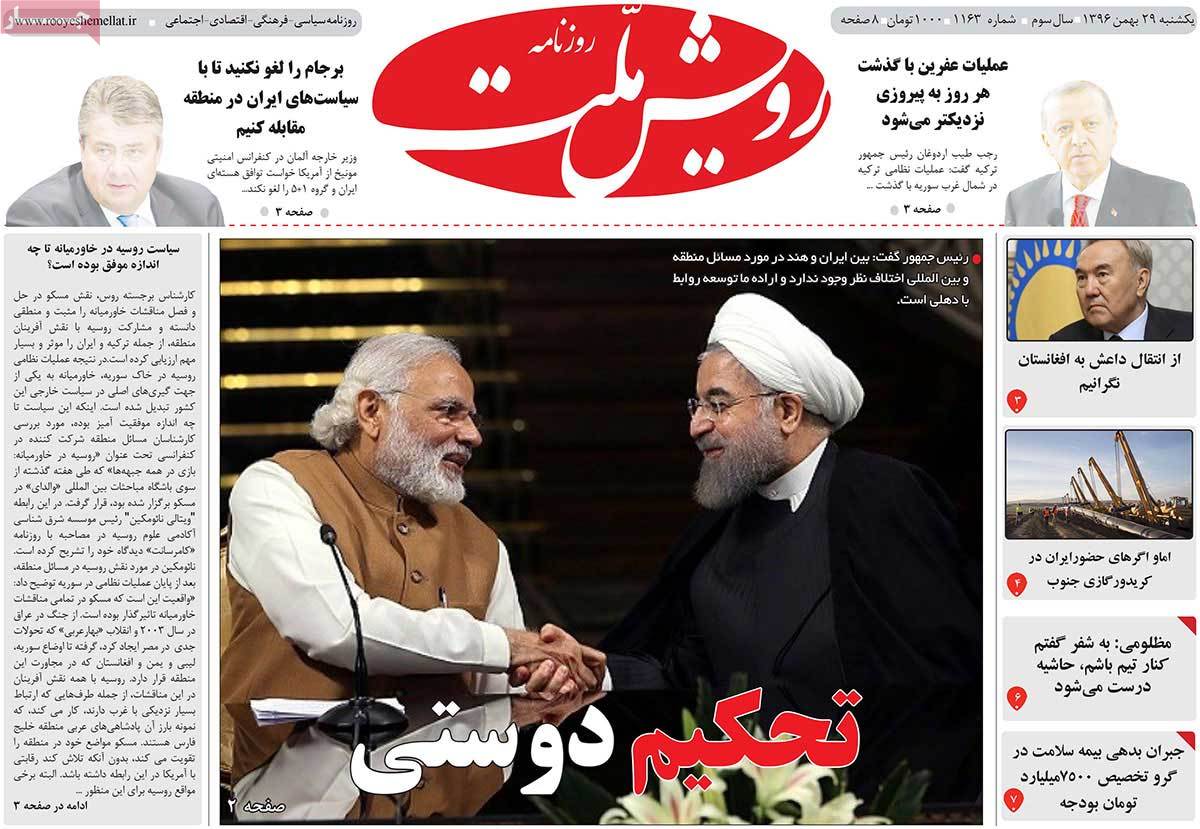 ---
Shahrvand:
1- Iranian Society Needs Fundamental Changes: Analyst
---
Shargh:
1- Russian Ambassador to Tehran: You Expect Us to Criticize Turkey, But We Don't!
2- 13 Russians Accused of Interfering in US Elections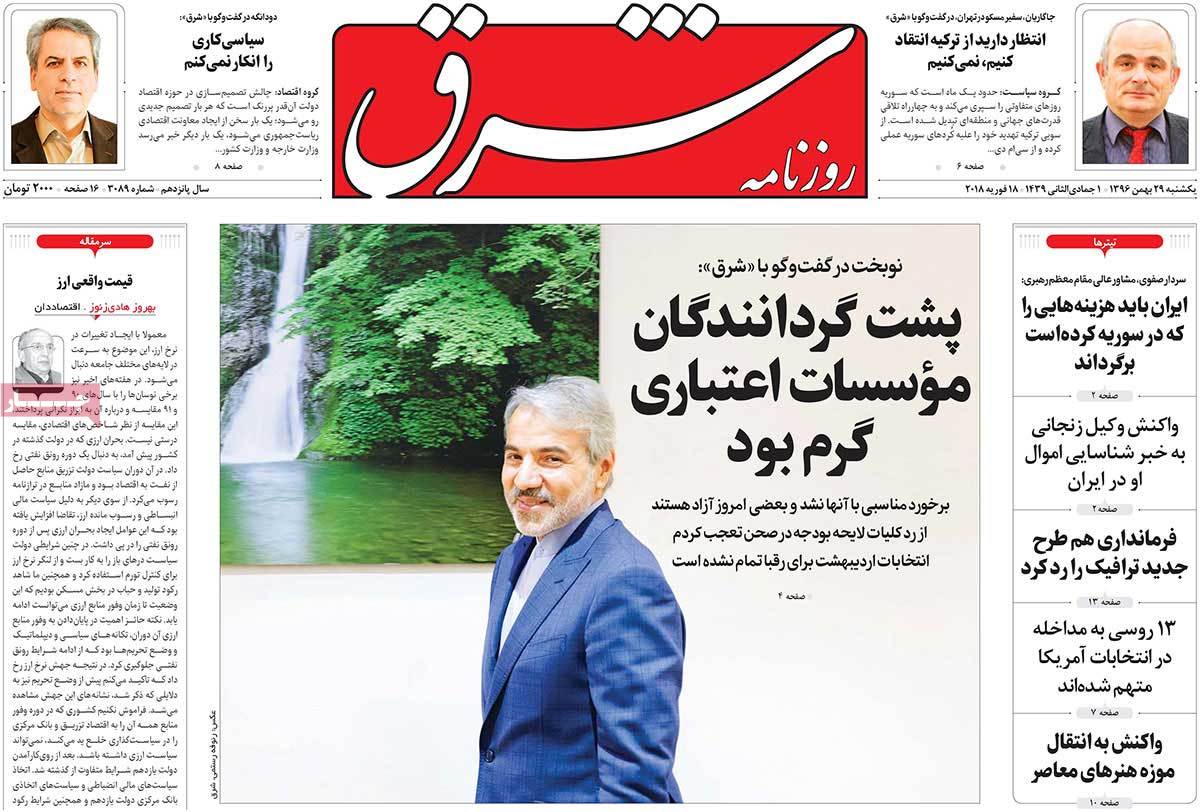 ---
Sobh-e Now:
1- Munich Theatre
May: We Share US Concerns about Iran's Measures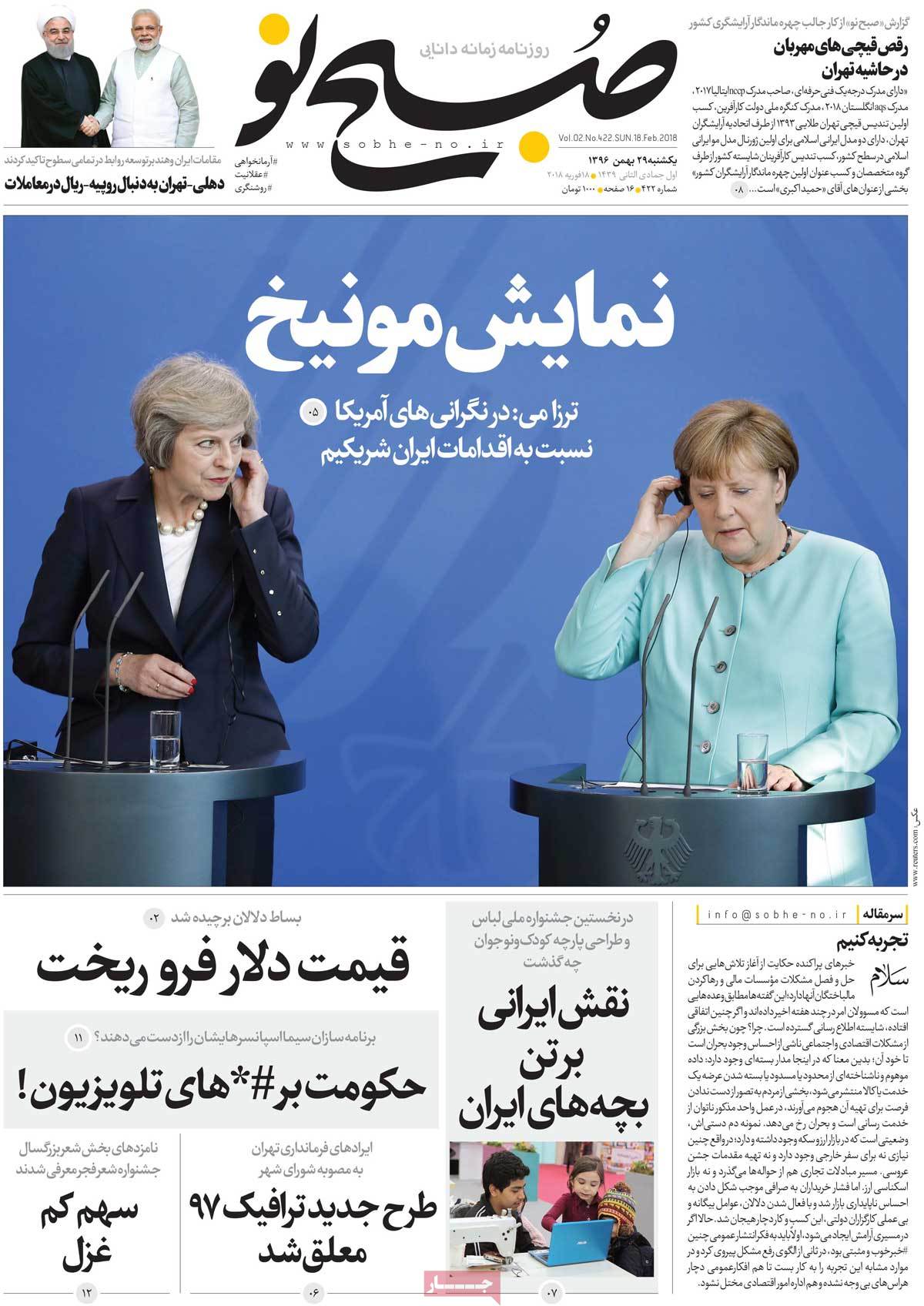 ---
Vatan-e Emrooz:
1- IRGC, Energy Ministry, Defence Ministry Start Seed Clouding in Joint Project
2- Munich against Tehran