The top story in all Iranian newspapers was the recent remarks by President Hassan Rouhani in a live televised interview. Both reformist and conservative papers seemed to be criticizing the government. The reformists criticized that Rouhani had not been transparent enough, and refused to name the trouble-makers. Conservatives, on the other hand, highlighted Rouhani's unrealized promises.
The developments in the United Nations over adding or removing Saudi Arabia to/from the black list of child killers also received great coverage.
The above issues as well as many more are highlighted in the following headlines:
Abrar:
1- Iraqi PM's Orders for Investigations into Corruption in Arms Deals
2- Afghanistan's Interpol Extradites Iranian Inmate Charged with Murder
3- Man Who Had Attacked Iranian Embassy in Beirut Arrested
---
Abrar-e Eqtesadi:
1- SNSC Gives the Green Light for Exploration of Oil in Caspian Sea
2- Oil Contracts to Be Decided upon Today
3- 2m Barrels of Oil Sold to China's Independent Refineries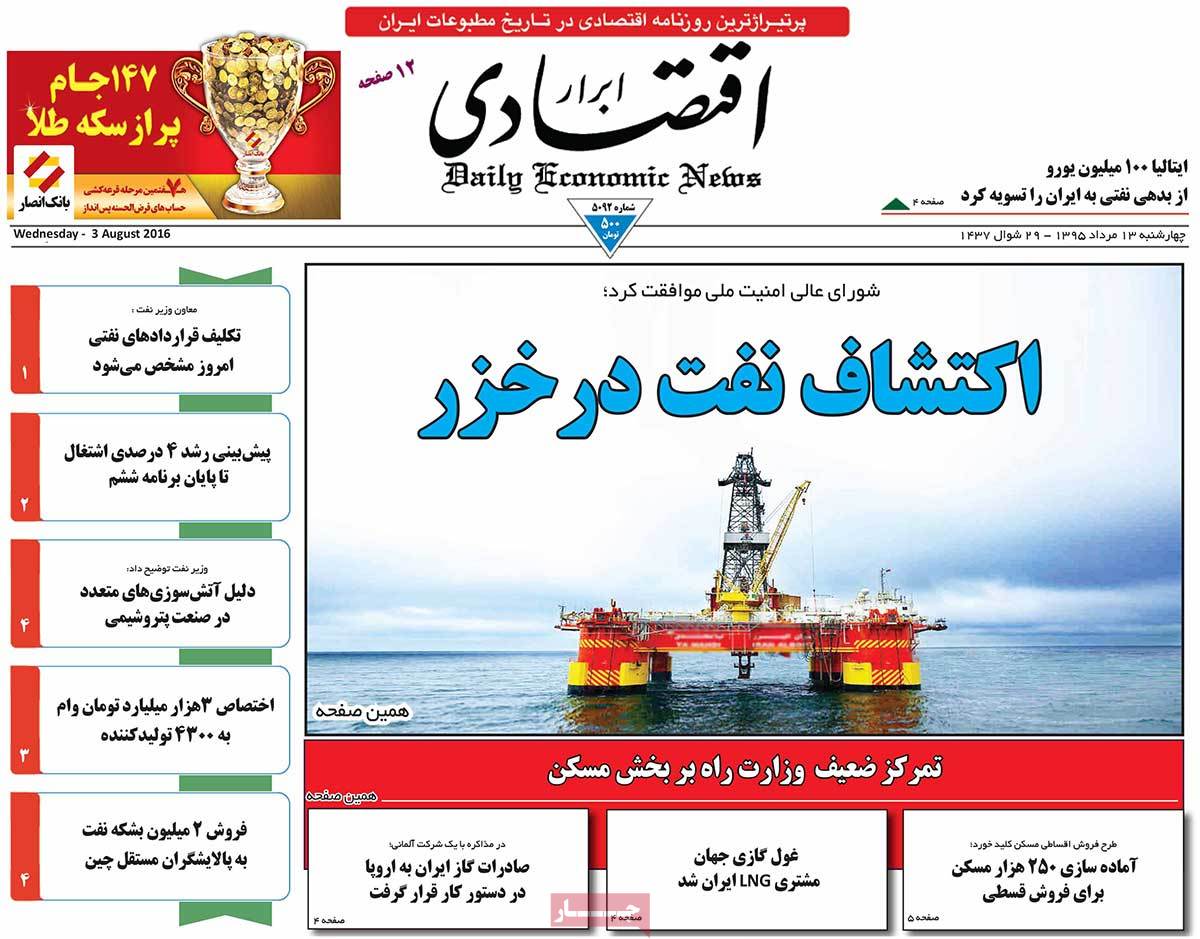 ---
Aftab-e Yazd:
1- Rouhani: We Should Isolate Those Who Insult Others
2- Victory of Venezuela's Opposition in First Step
---
Arman-e Emrooz:
1- Tehran Prosecutor-General: 4,000 Litres of Alcoholic Drinks Discovered in Diplomats' Party
2- Untold Stories Remained Untold [Rouhani's remarks in live TV interview)
We'll Use Euro for Selling Our Oil
Iran's Exports Are Now More than Its Imports
400 Foreign Banks Are in Contact with Us
---
Asrar:
1- Result of JCPOA Should Not Be Defined in Ties with US: Gov't Spokesman
2- Another Clash between UN and Saudi Arabia
3- 250,000 Apartments to Be Sold by Instalments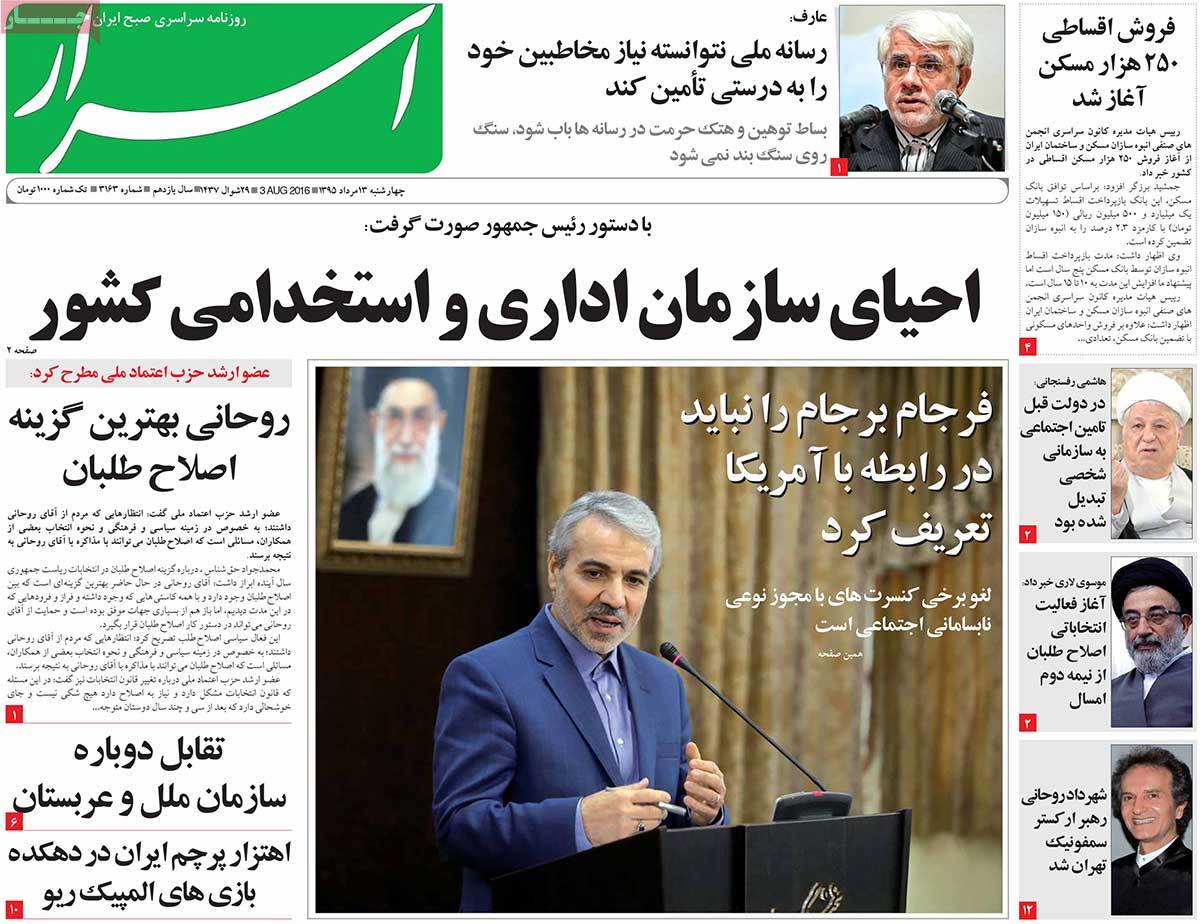 ---
Asr-e Azadi:
1- Turkey Experienced Biggest Democracy Test of Its History: Turkish Envoy in Tabriz
2- Iran's Tourism Income: $1m Each Hour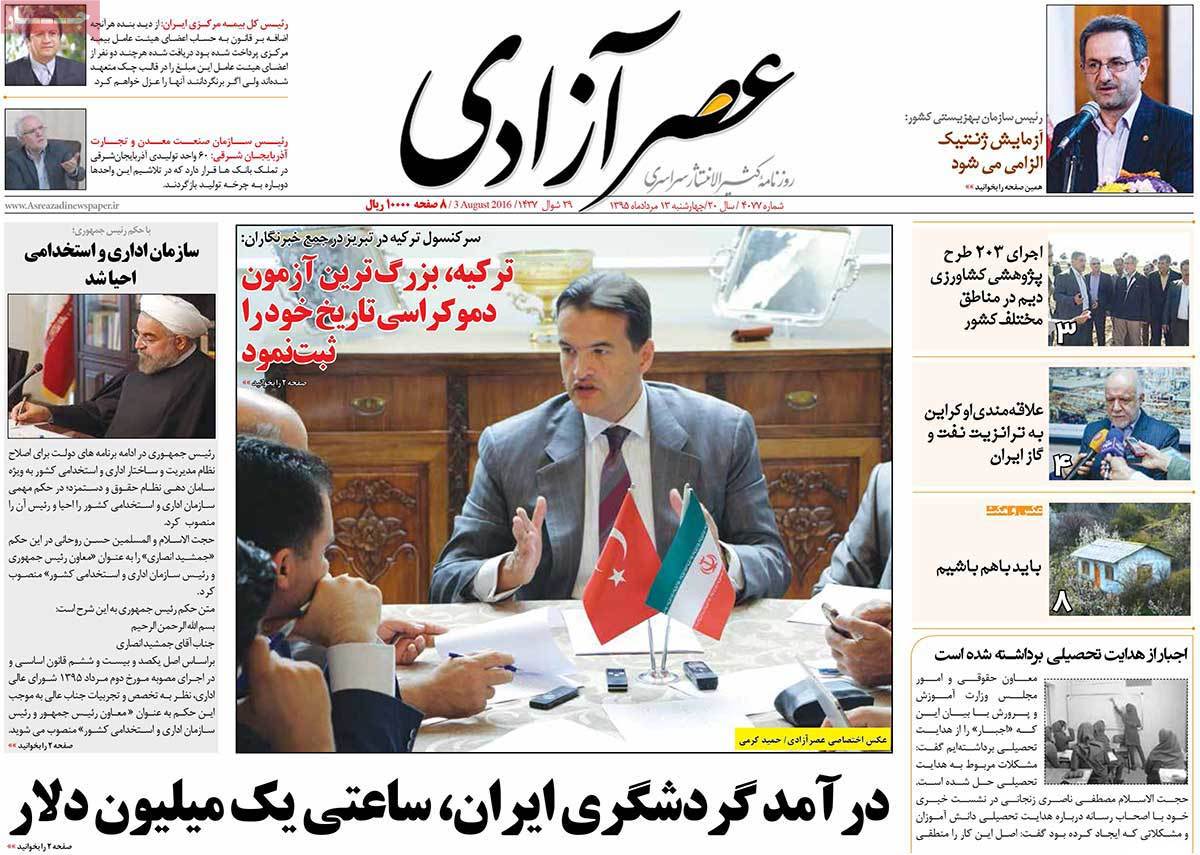 ---
Ebtekar:
1- Shahrdad Rohani Selected as Conductor of Tehran Symphonic Orchestra
2- 5% Economic Growth to Be Achieved This Year: President Rouhani Promises End of Economic Downturn
3- What Will Happen to Turkey's Accession to EU?
4- Rise in Turkey's Post-Coup Tensions with Germany and Austria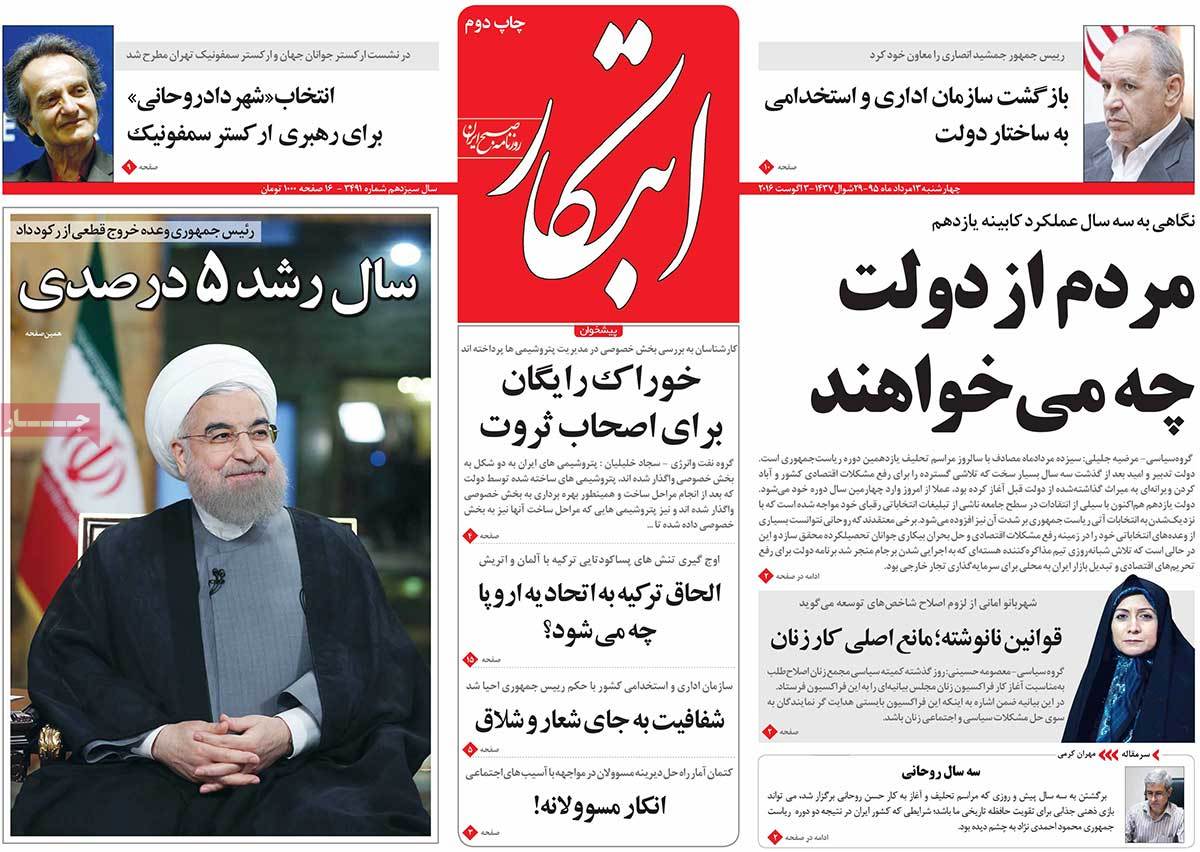 ---
Emtiaz:
1- Police Discovers Foreign Diplomats' Second House of Corruption
---
Etemad:
1- A Little More Transparency Please Mr President!
2- Rouhani's TV Speech Were Full of Promising Figures; Well Done, But: Rouhani Talked about Insults to People, But Didn't Talk about Insulters; He Talk about Decrease in Smuggled Goods, But Didn't Mention the Channels for Smuggling; He Explained Positive Economic Achievements, But Didn't Point to the Obstacles
3- City of Tehran Becomes 230 Years Old
4- A Report on One Day of a Ranger in Touran
5- Reformists to Start Campaigns for Presidential Elections by Late September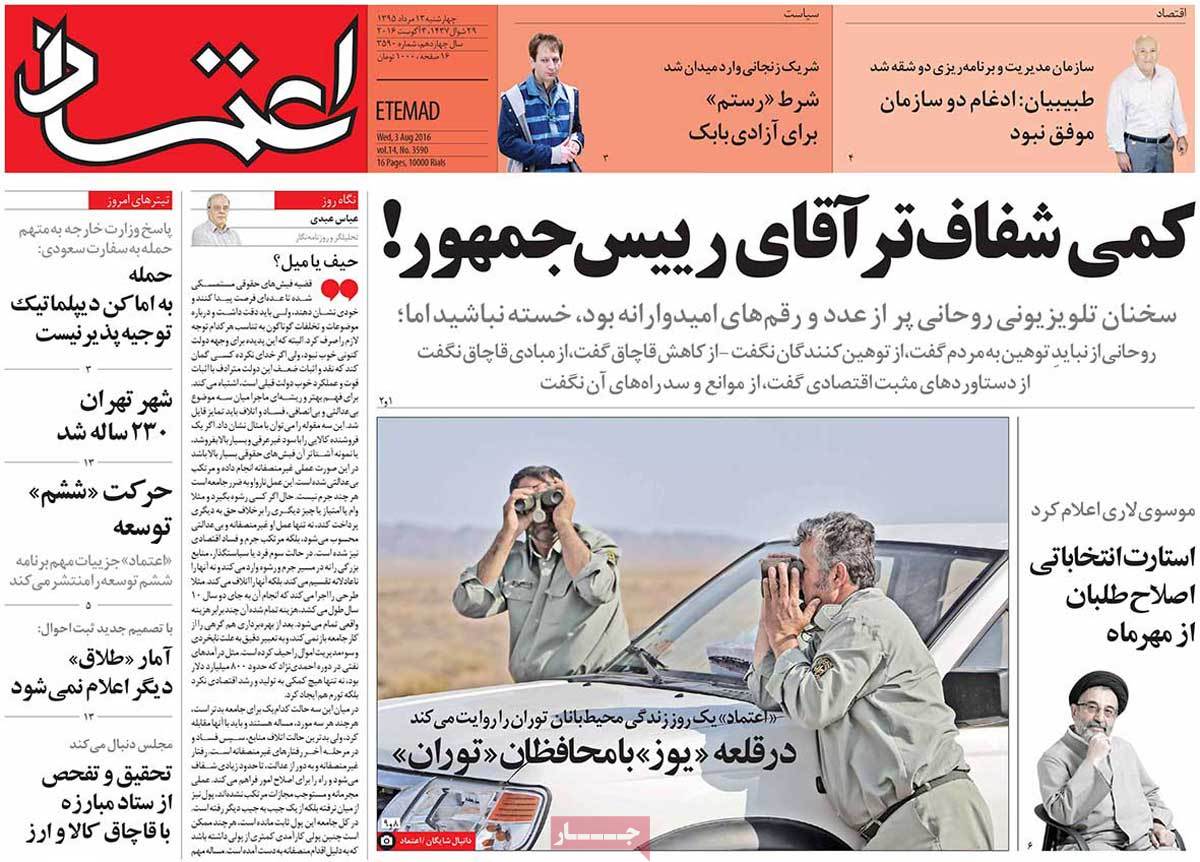 ---
Ettela'at:
1- 510 Yemeni Children Killed by Saudi Troops: UN
2- Heavy Fire Exchanged between Lebanese Army and ISIS Terrorists in Baalbek
3- General Soleimani: Victory of Resistance Forces Not Limited to Protecting Holy Shrines
4- Foreign Ministry Spokesman: Attack on Diplomatic Missions Not Justifiable at All
5- Nigerian Inquiry Committee Call for Prosecution of Army Because of Killing Shiites
---
Haft-e Sobh:
1- Forget about the Oil, Stick to Tourism: Considerable Increase in Iran's Tourism Income When Oil Sales Are Declining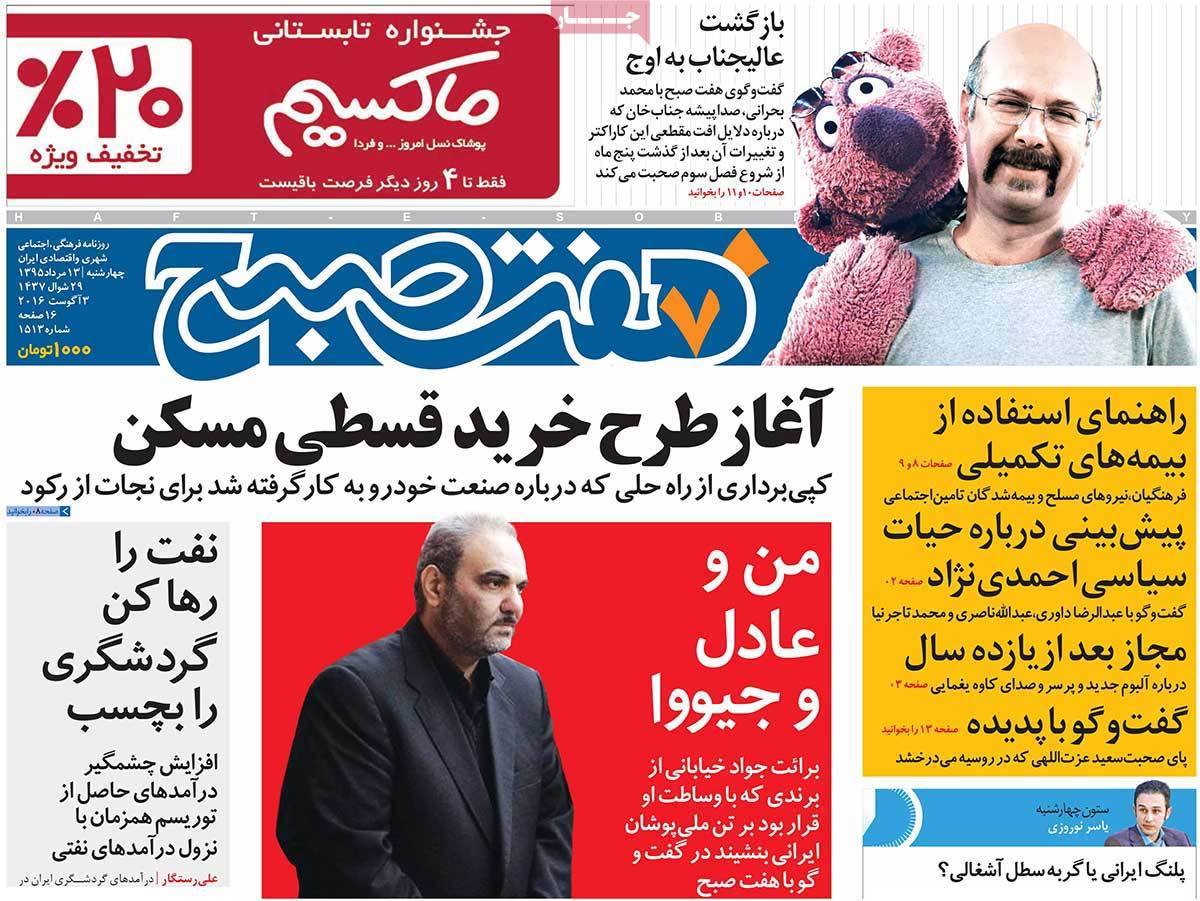 ---
Hemayat:
1- Iran's Power in Proxy Wars Has Troubled the US: Enterprise Foundation
2- Necessity for Referring to Religious Rules in Human Rights: Official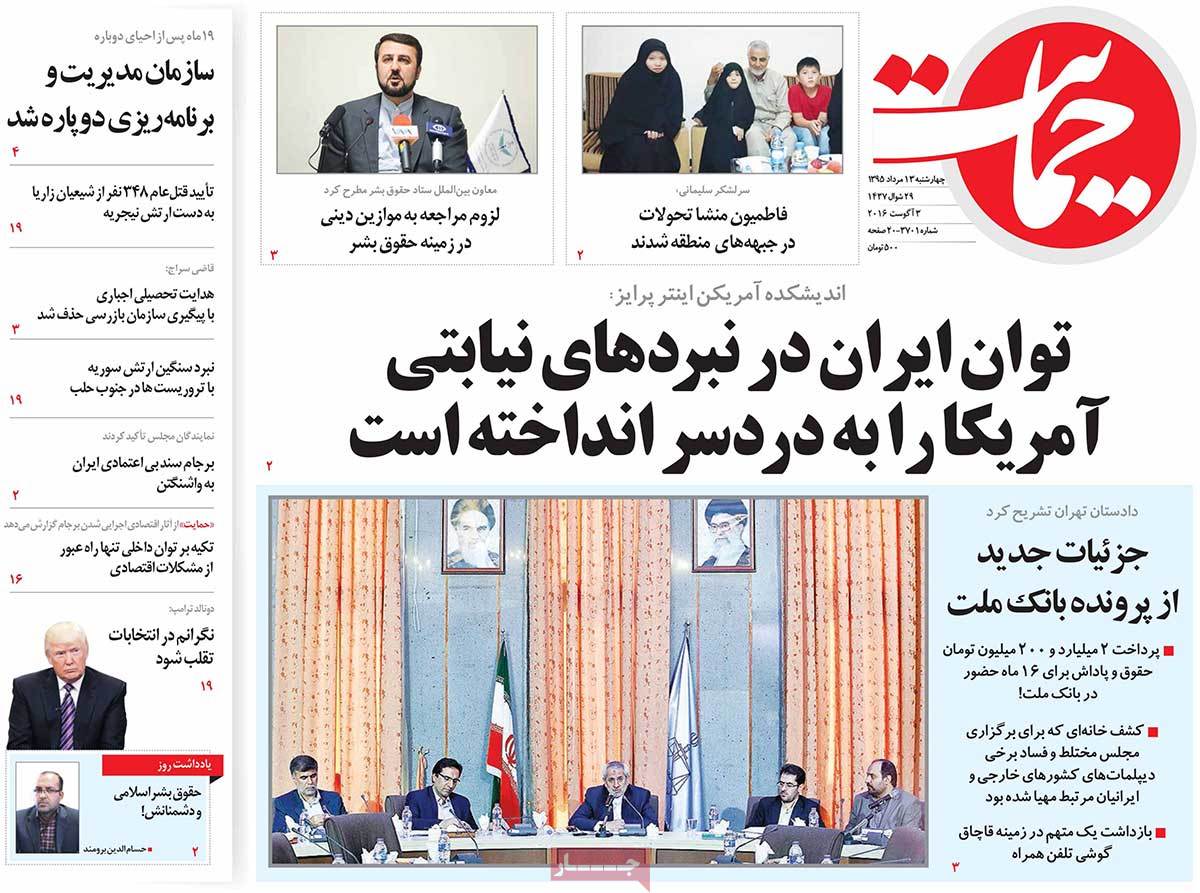 ---
Iran:
1- Rouhani: JCPOA Wasn't a Favour; We Restored Our Right
2- Wave of Hope in Urmia: A Report on Conditions of Lake Urmia
3- 20-Year-Old Downturn in Attraction of Foreign Investments Ended in Previous Months
---
Jame Jam:
1- IRIB's Preparations for Coverage of Rio 2016 Olympics
2- Battle of Aleppo, the Last Nail in the Coffin of Terrorists
---
Javan:
1- Unfortunately, US Has Failed to Remain Loyal to Its JCPOA Commitments: Rouhani
2- Trump: US Presidential Elections in November Will Be Rigged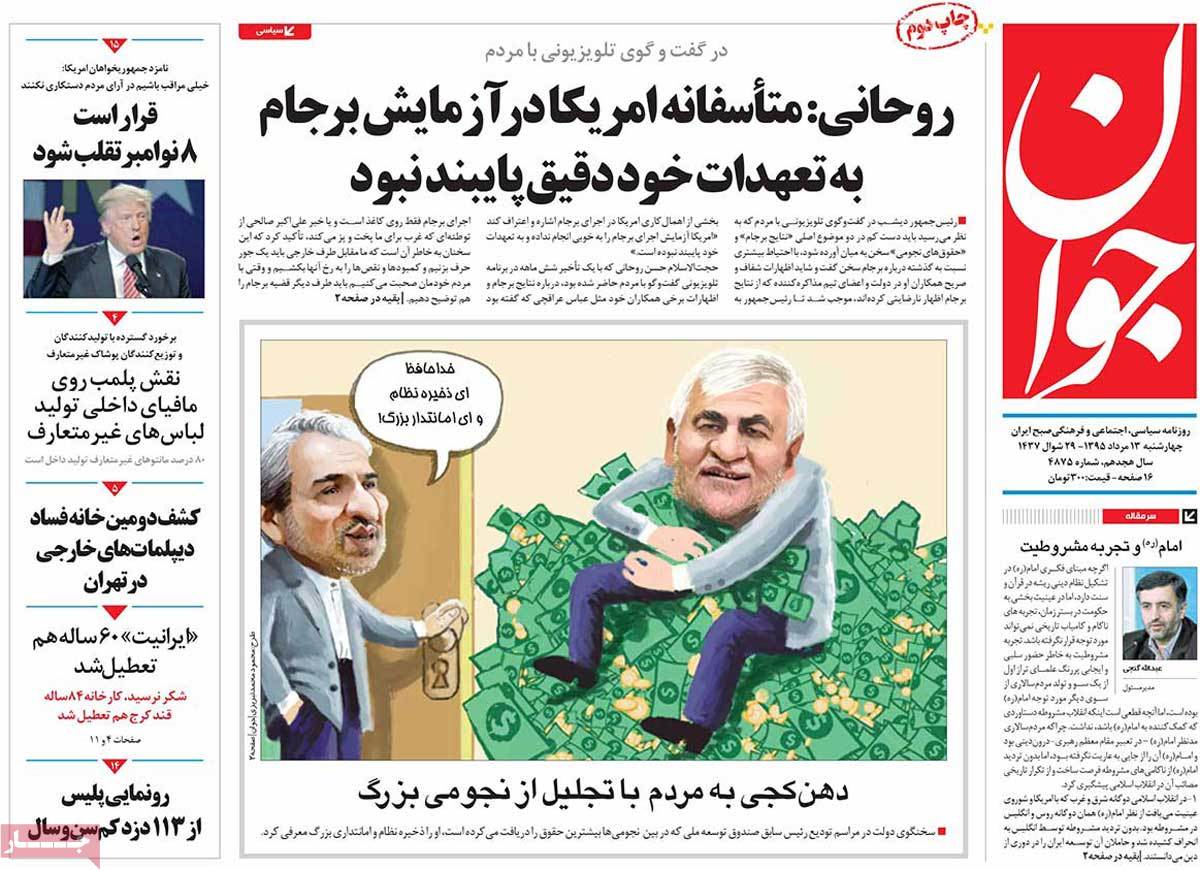 ---
Jomhouri Eslami:
1- Joint Efforts by US, Turkey, and France to Save Terrorists Surrounded in Aleppo
2- Rouhani: I'm Much More Hopeful about Future of Iran
3- UN: Riyadh Has Yet to Provide Enough Documents for Removal of Its Name from Blacklist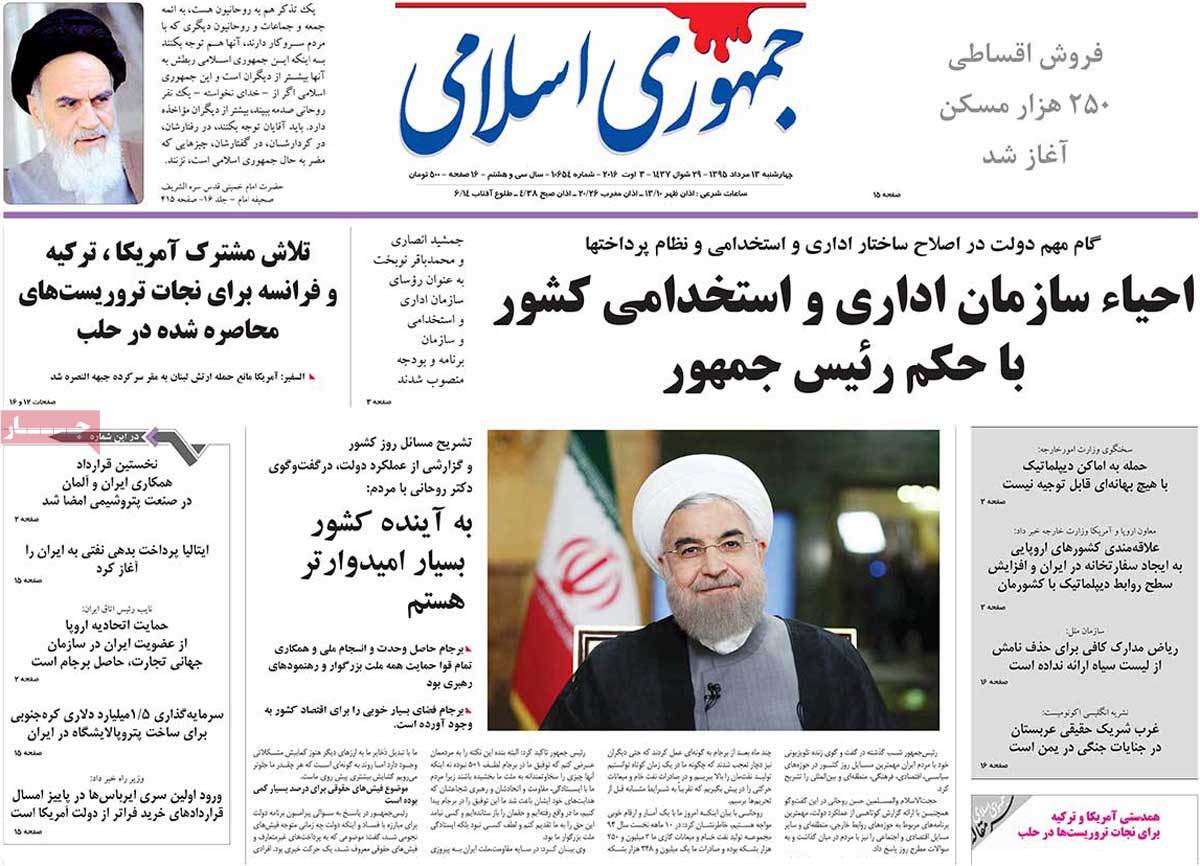 ---
Kayhan:
1- 1,100 Days Passed, Think about the Remaining 365 Days (Rouhani Starts 4th Year of His Term)
2- Effect of Fatemiyoun Brigade in Defending Islam Will Be Disclosed in Future: General Soleimani
3- French Gov't Starts Shutting Down Its Mosques
4- Caution: Astronomical Executives [those who receive huge salaries] Are Working!
5- Clinton Has Personally Issued Order for Export of Arms to ISIS and Al-Qaeda: WikiLeaks
---
Khorasan:
1- Families of 120 Victims of Mina Tragedy Write Protest Letter to Foreign Ministry
2- Signs of Economic Prosperity as Narrated by Rouhani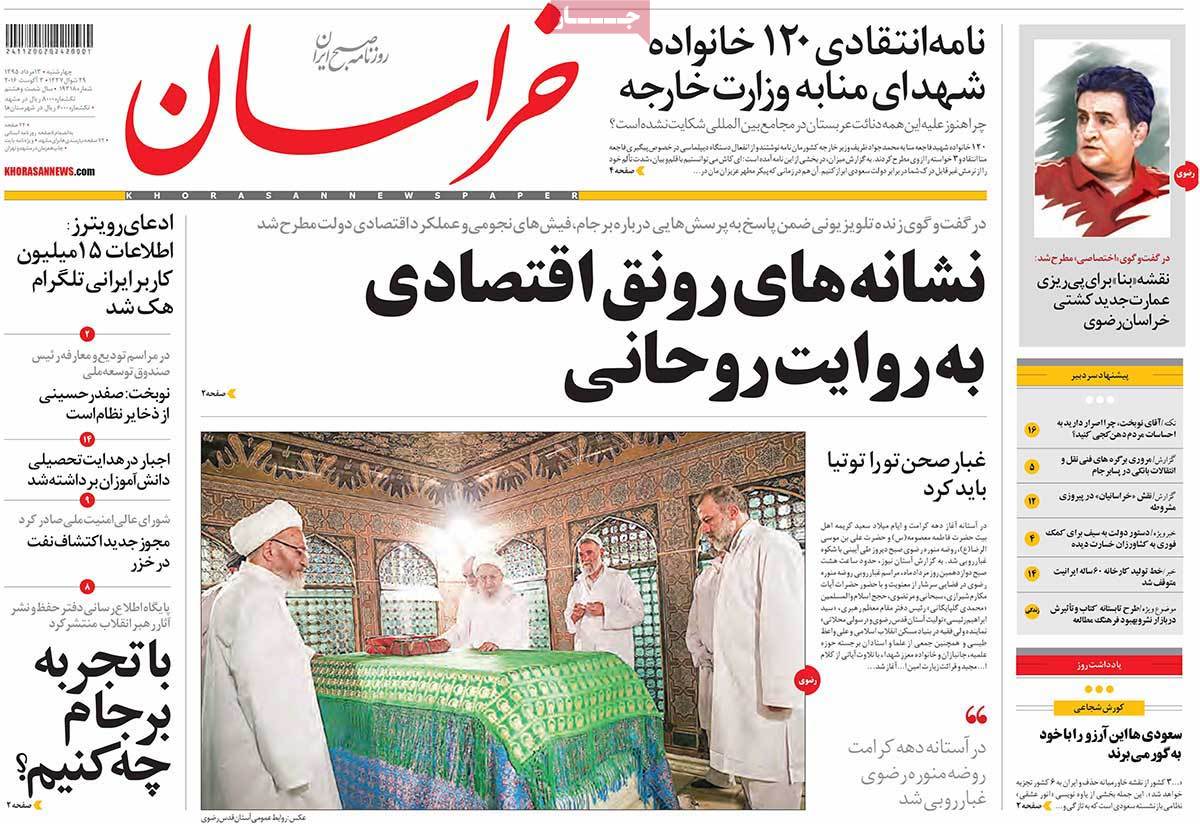 ---
Payam-e Zaman:
1- Even Erdogan Admits: West Is Supporting Terrorists
2- Nekounam's Testimonial Math to Be Held in La Liga Giants' Attendance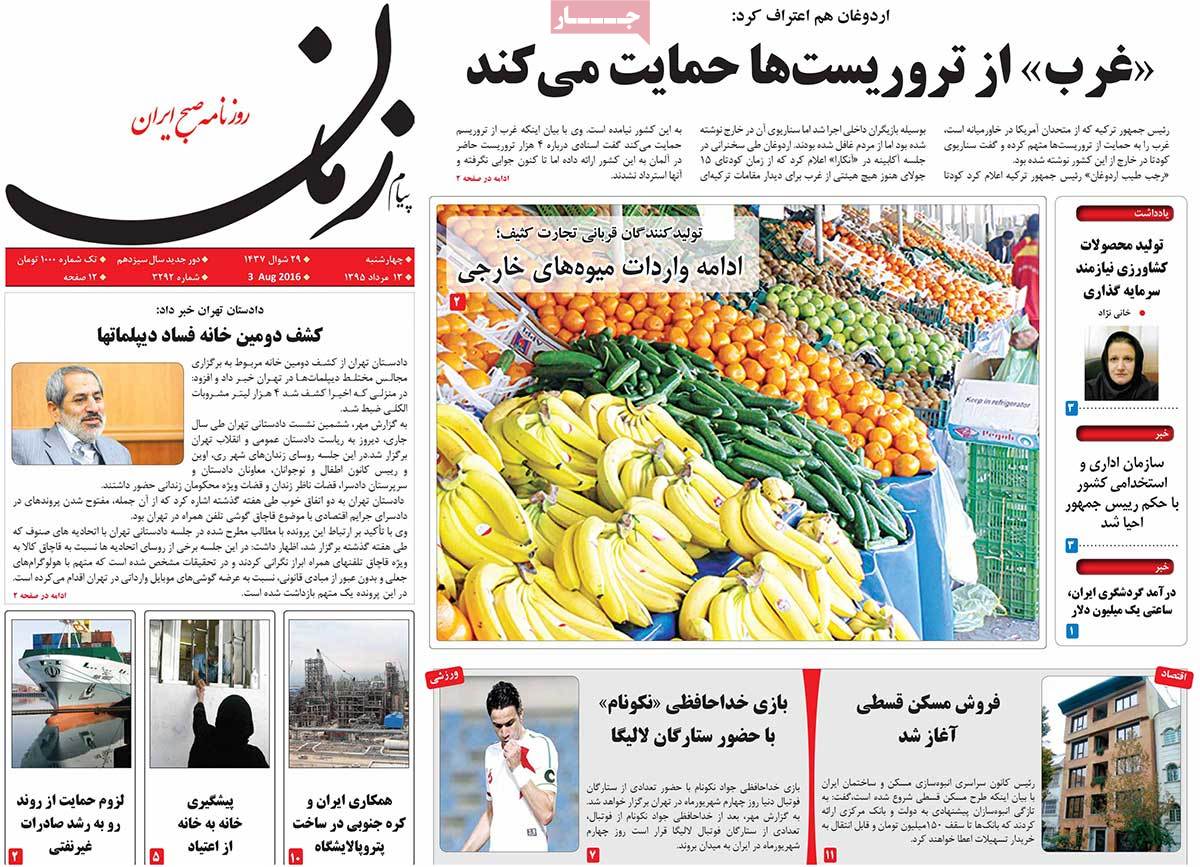 ---
Resalat:
1- Fatemiyoun Brigade Became Source of Evolution in Iranian Society: General Soleimani