All newspapers on Tuesday covered the remarks made by the Leader of the Islamic Revolution Ayatollah Seyyed Ali Khamenei in an address to a large group of people from different parts of Iran. In the address, the Leader referred to the nuclear deal between Tehran and world powers (JCPOA), and complained that it has not had any influence on people's lives after 6 months. Ayatollah Khamenei also criticized the US violation of its commitments, and reiterated the unreliability of Washington.
Another top story today is the live TV address President Hassan Rouhani is going to deliver tonight. In its Tuesday issue, Kayhan has listed a large number of questions and asked the President to answer them in his address. Most of them are focused on his promises about the outcomes of JCPOA as well as his vow to improve the country's economic situation.
Newspapers also covered a recent order by President Rouhani to postpone the government's nationwide employment test due to gender discriminations. Rouhani said that gender equality and fairness should be observed in all job vacancies, and women's rights should be ensured. Among the Tuesday newspapers, Iran published an article in favour of the order, and Javan criticized it, saying that the move is just aimed at receiving women's votes in next year's presidential elections.
The above issues as well as many more are highlighted in the following headlines:
Abrar:
1- JCPOA Hasn't Had Any Tangible Influence on People's Lives: Leader
2- Being a Revolutionary Means Having a Free Nation with Freedom of Thought, Expression, and Criticism: Rouhani
3- 2 Iranians Who Had Joined ISIS Were Killed in Past Year's Clashes: Army Ground Force Commander
4- Will General Soleimani Take Part in Operation to Liberate Mosul?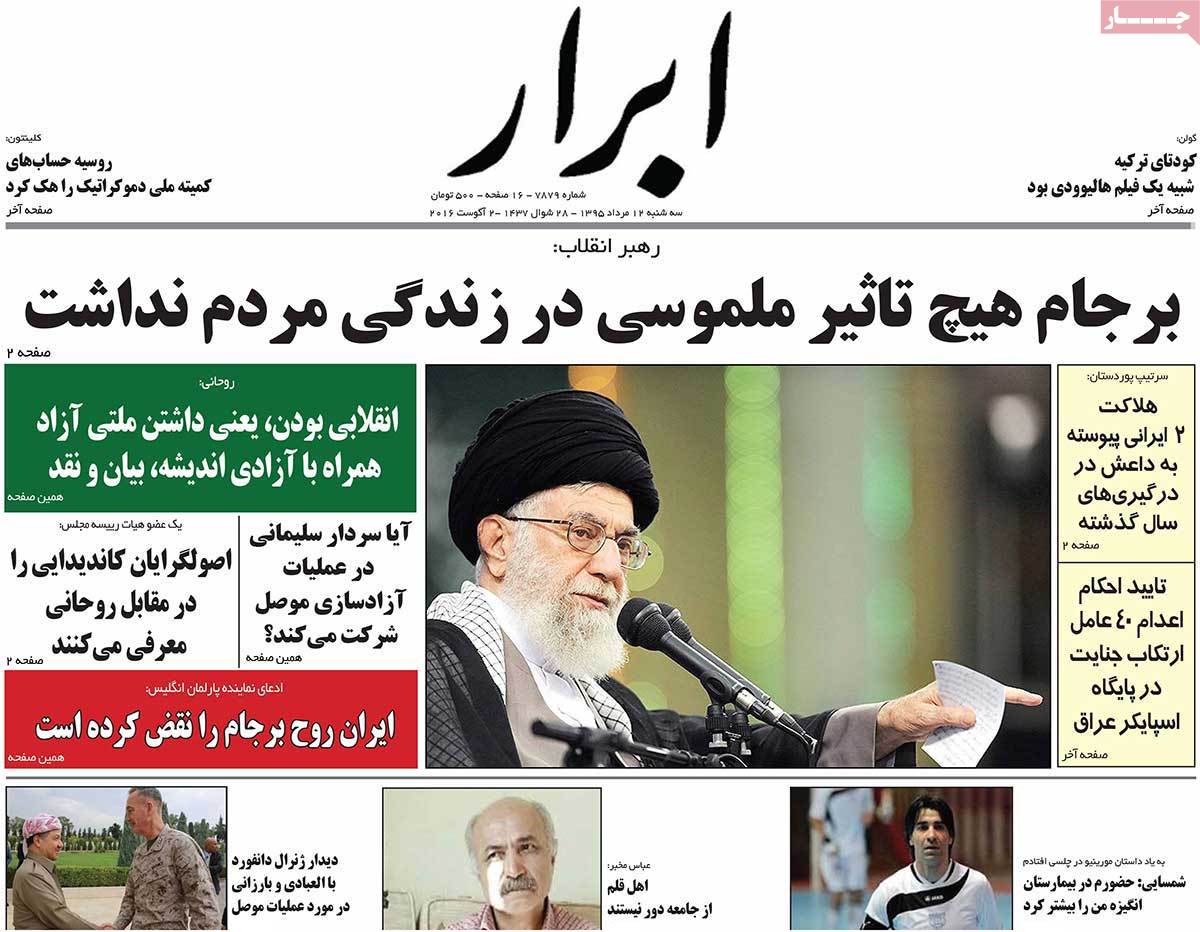 ---
Aftab-e Yazd:
1- Leader: Negotiation with the US Is Not Allowed in Any Issue
2- Tehran-Riyadh Ties Not in Critical Conditions Yet: Analyst
3- Government's Major Step towards Helping Women: Ultimatum to Women's Department for Preparing Bill on Protecting Women against Violence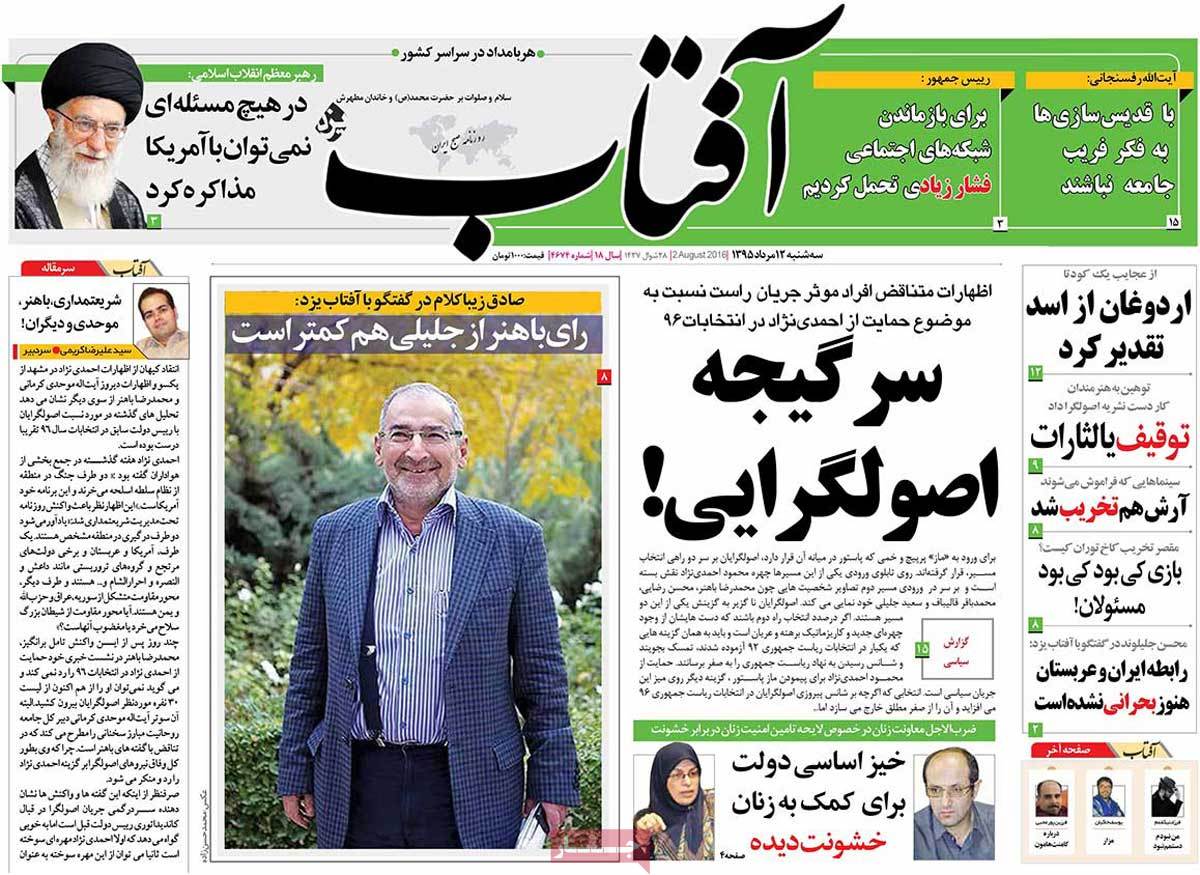 ---
Asrar:
1- JCPOA Once Again Proved US Disloyalty: Leader
2- Great Pressure on Government to Filter Social Media: Rouhani
3- Belief in Social Justice Is Main Advantage of Reformists: Aref
4- Those of Criticize Government Haven't Read Policies of Resistance Economy: First VP
5- If Reactionaries Had Remained Silent, Islamic Revolution Would Become a Model for Muslims: Rafsanjani
6- Some Use Lies and Accusations to Criticize Government: Senior Conservative Bahonar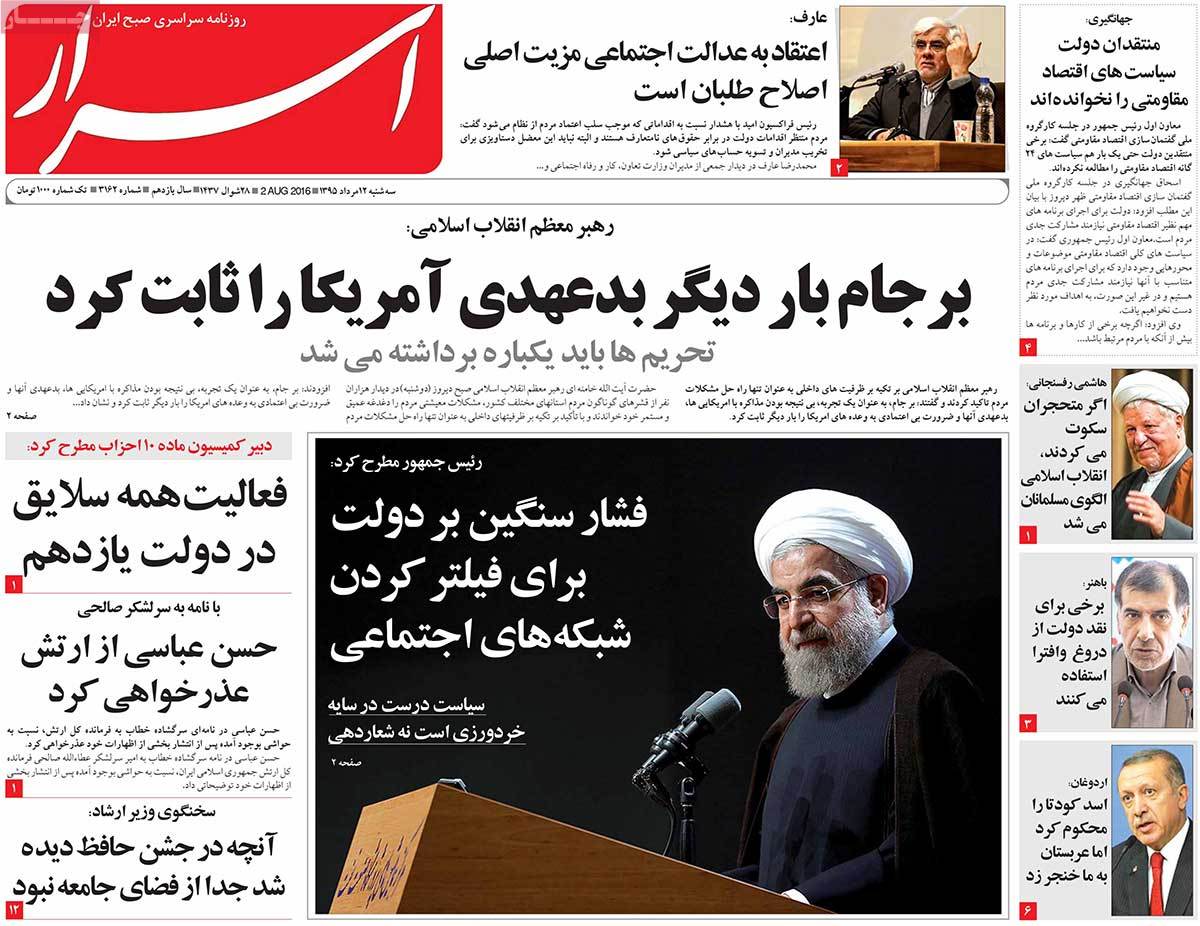 ---
Besharat-e Now:
1- President: Sanctions Didn't Have Any Honour for Iranian People
2- Bahonar: Who Would Believe Ahmadinejad's Trips Aren't Part of His Campaign for Presidential Elections?
3- Wells to Swallow Persepolis: The Historical Site on Verge of Destruction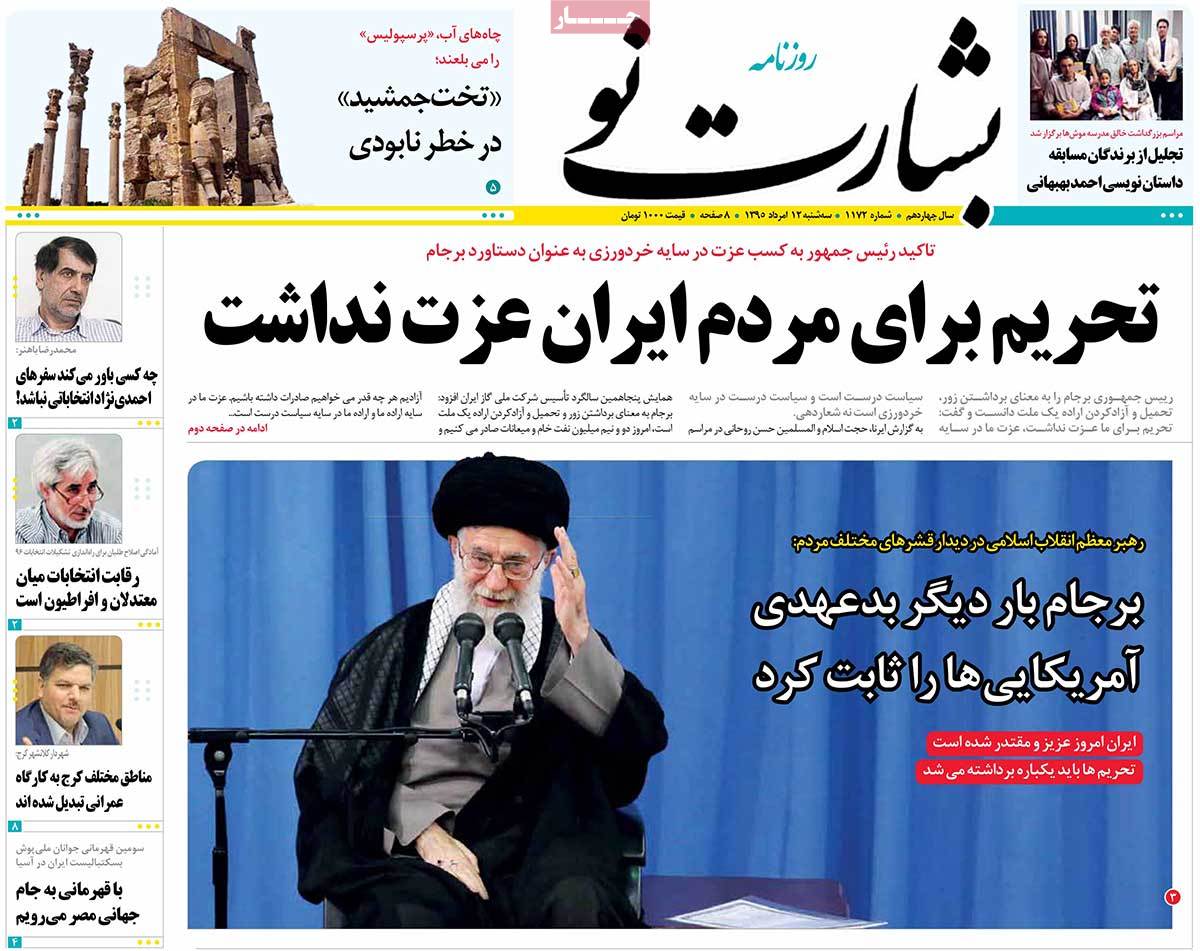 ---
Etemad:
1- Fourth Year of Rouhani's Presidential Term Begins [today is the anniversary of his inauguration]
2- An Exclusive Article by Members of Muscat Nuclear Talks on Logic and Hypertext of JCPOA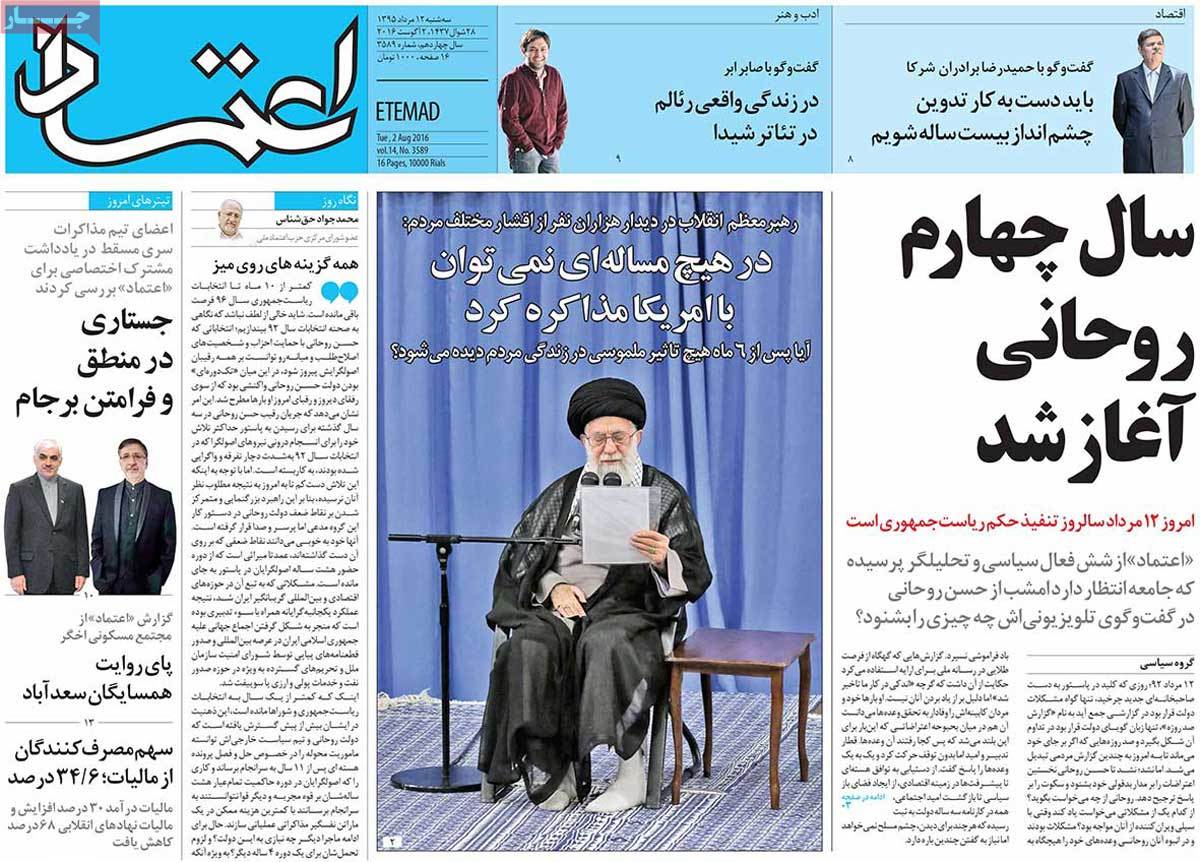 ---
Ettela'at:
1- Relying on Domestic Capacities the Only Way to Solve People's Problems: Leader
2- Brain Mapping Lab Opened in University of Tehran
3- The Right Policy Is to Think Wisely, Not to Shout Slogans: President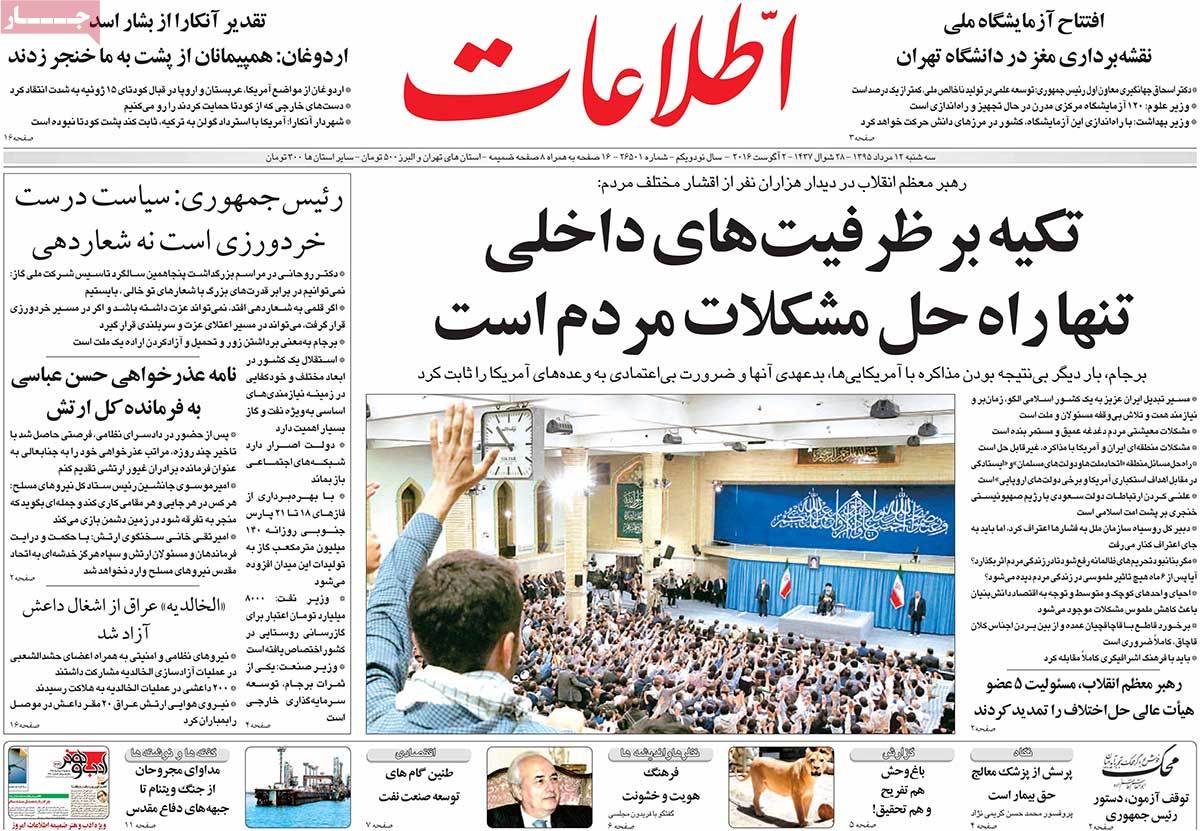 ---
Haft-e Sobh:
1- Chess of Power in the Middle East
2- Munich Shooter Was from a Peaceful Neighbourhood in East of Tehran: Haft-e Sobh's Efforts to Find Relatives of Sonboli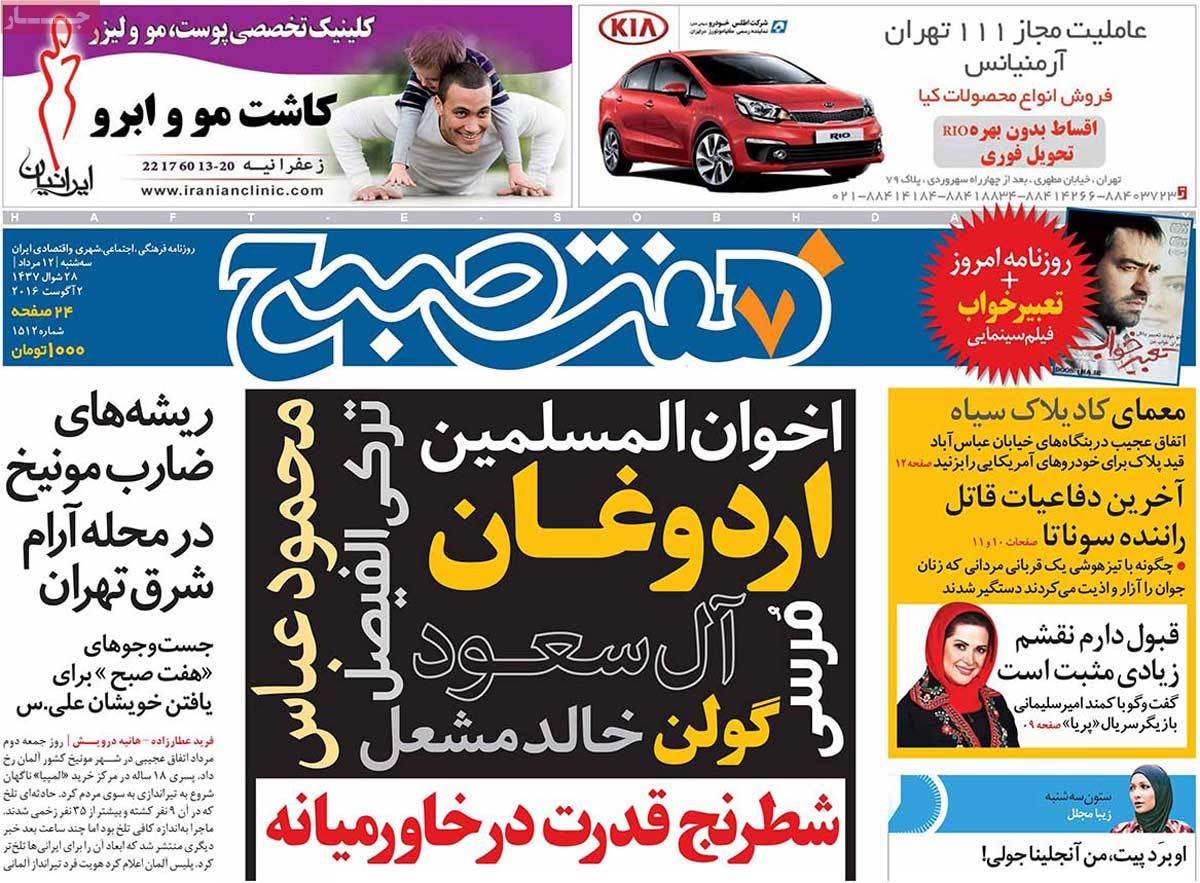 ---
Hosban:
1- $2.8m Export of Knowledge-Based Products to 4 Countries
2- Iran's Young Basketball Players Claim Asian Title
3- $2.3bn Credit to Be Allocated for Providing Villages with Natural Gas
---
Iran:
1- Sanctions Should Have Been Lifted All at Once, Not Gradually: Leader
2- Administrations in Khuzestan Province Are Half-Closed Due to Temperature of over 51 Degrees Celsius
3- Old Woman Waiting to Hear from His Martyred Son: Love Story of a Mother Who Waited for 32 Years with a Radio in Hand
4- Gender Discrimination, an Obstacle to Meritocracy [article about the recent move by President Rouhani to postpone the government's employment test because of discriminations against women]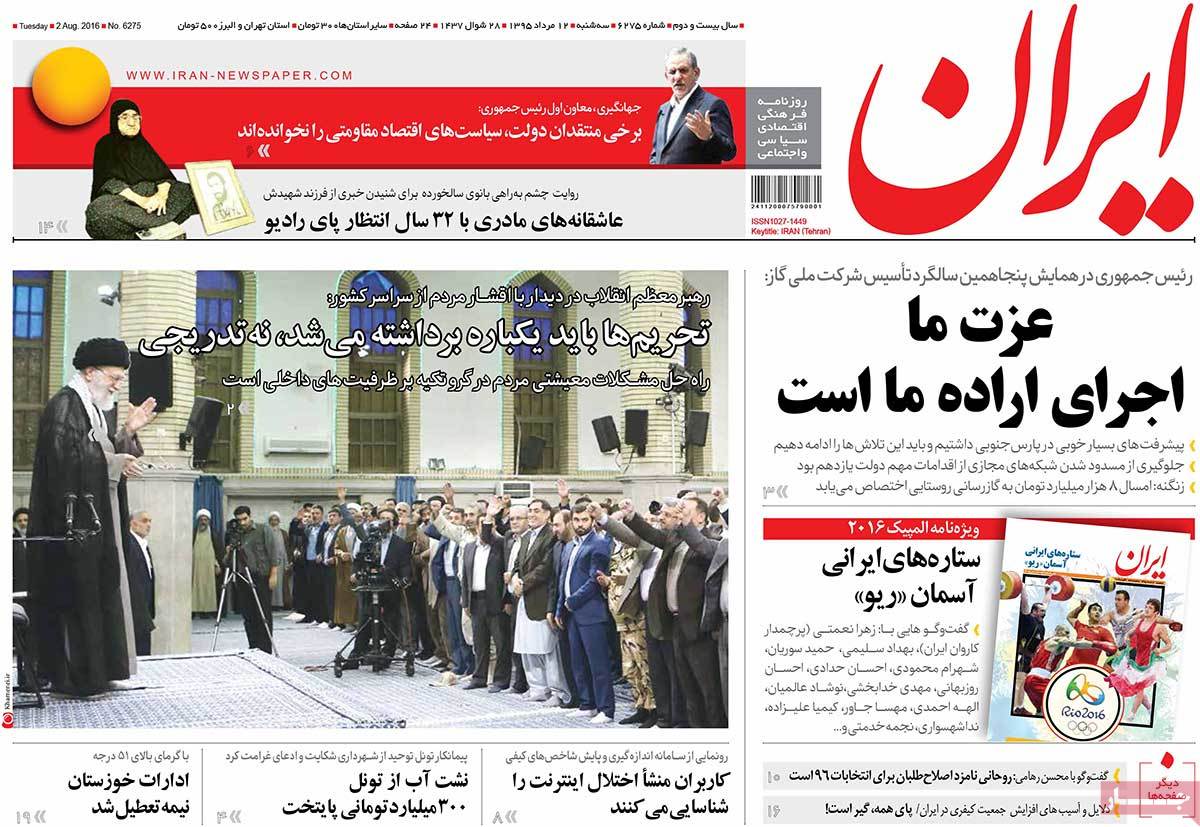 ---
Jahan-e San'at:
1- Wasteful Construction of Dams and Extraction of Underground Waters No Longer Possible: Environment Dept. Chief
2- 4 Iranian TV Documentaries Inscribed on UNESCO's Memory of the World Register: Iran's Cultural Documents in World Memory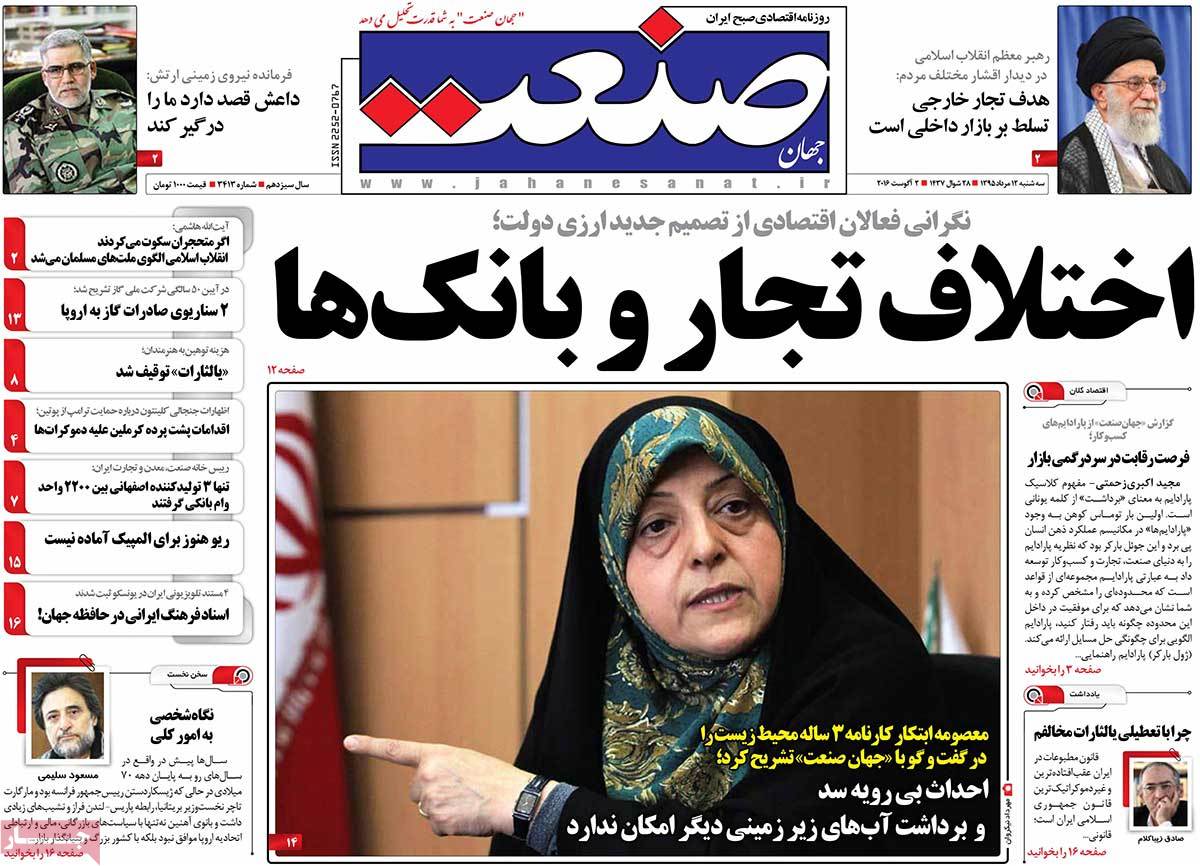 ---
Javan:
1- People's Economic Problems Are My Constant and Deep Concern: Leader
2- If It Is Proved that the US Had a Role in Turkey Coup, It'd Be a Major Scandal for Washington: Ayatollah Khamenei
3- Senior Cleric: It's Unlikely that We [Association of Combatant Clergies] Support Rouhani [in Next Year's Presidential Votes]
4- Why the Experience of JCPOA Doesn't Wake Them Up? [Editorial]
5- Postponing [Government] Employment Test in a Bid to Receive Women's Votes [in Elections]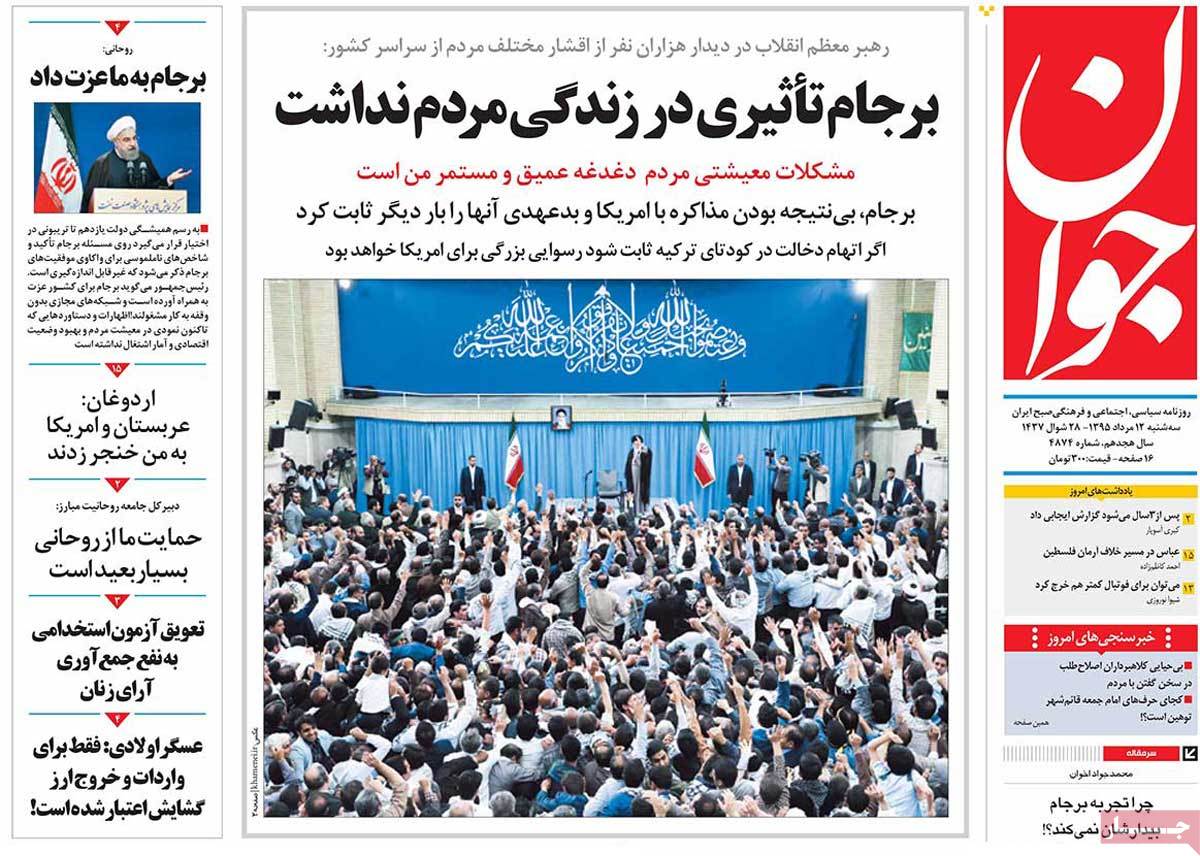 ---
Jomhouri Eslami:
1- US Has a Role in All Problems in the Middle East: Leader
2- 300mcm Increase in Gas Output under Rouhani's Gov't: Oil Minister
3- It's a Mistake to Attribute Violence to Islam: Pope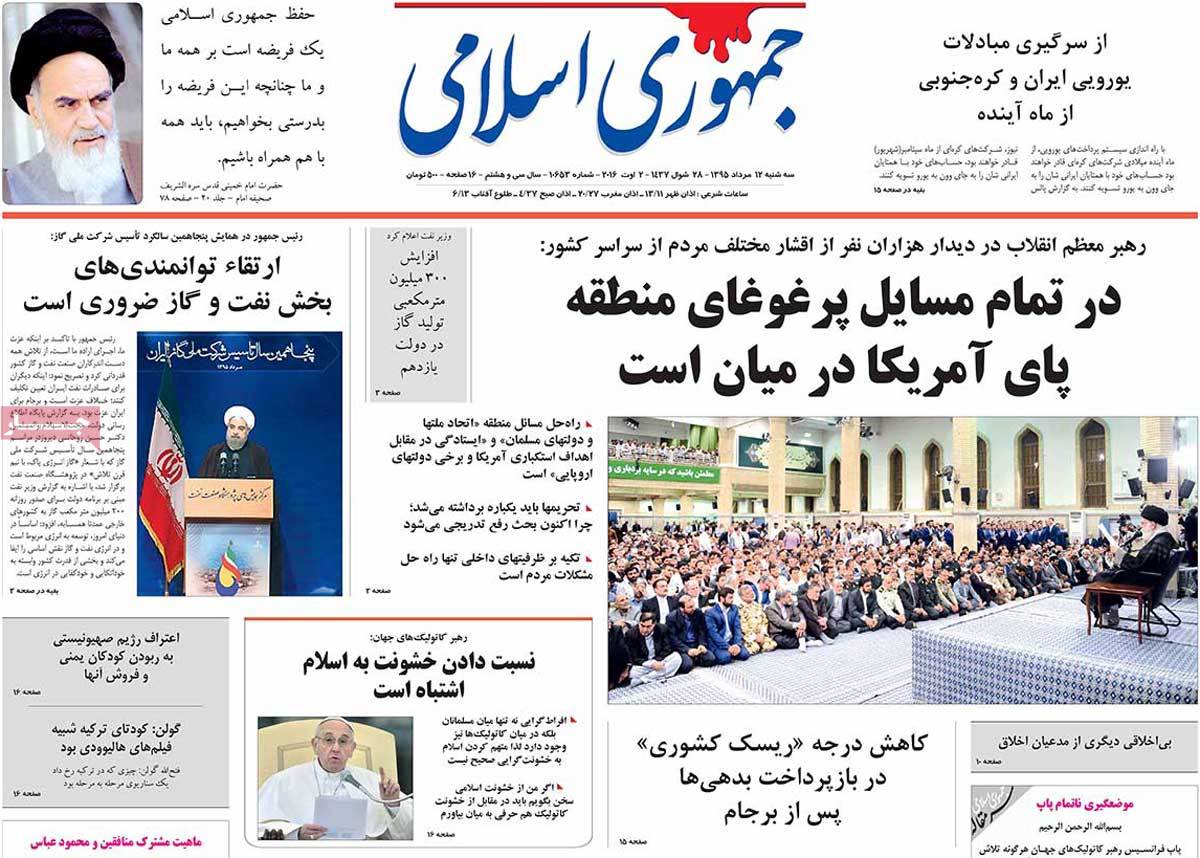 ---
Kayhan:
1- Leader: After 6 Months, JCPOA Hasn't Had Any Impact on People's Lives
2- Recent Reciprocal Visits by Foreign Businesspeople Have Been Fruitless So Far: Leader
3- Ayatollah Khamenei: Authorities Should Set Fire on Smuggled Goods before Eyes of People
4- Mr President! Answer These Questions in Your TV Address Tonight
5- Iraqi Ambassador to Tehran: If It Wasn't for Popular Mobilization Units, ISIS Would Have Taken the Wives and Girls of Those Who Criticize These Forces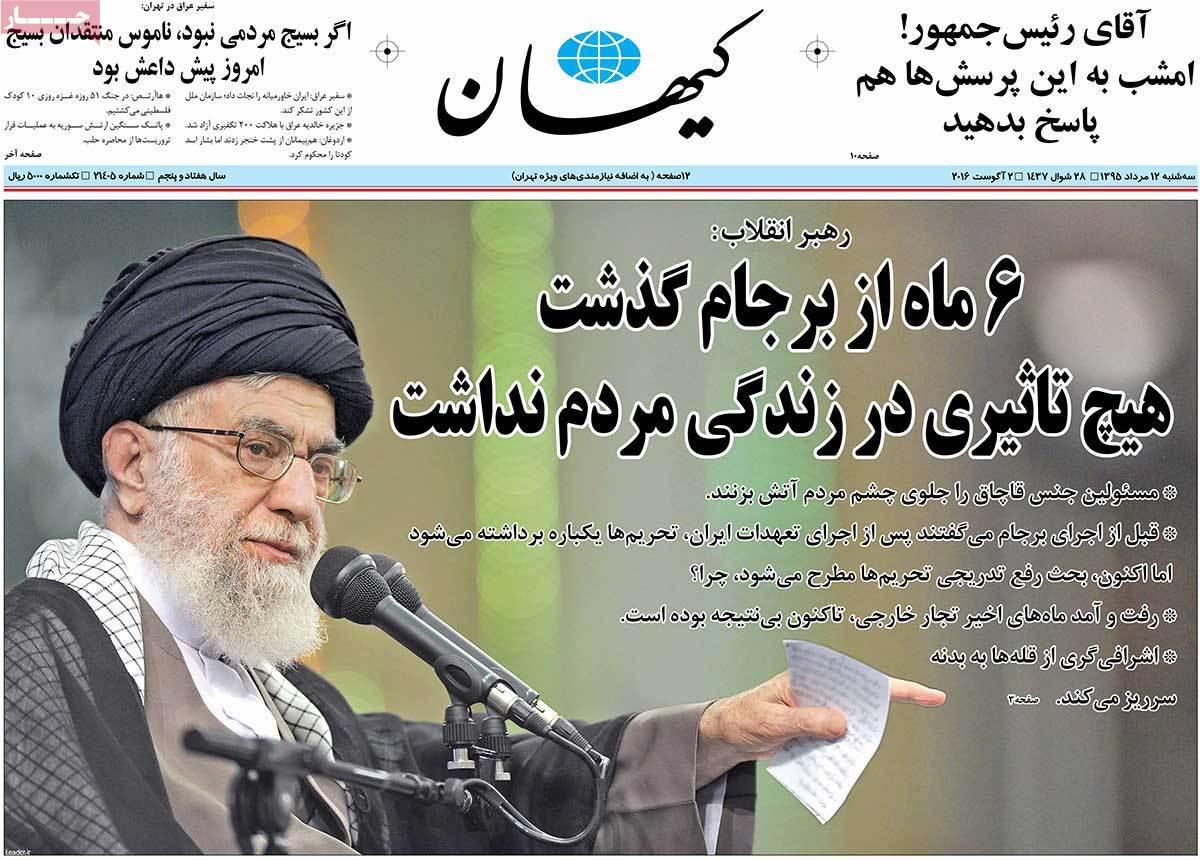 ---
Resalat:
1- Senior Cleric: What Happening in Middle East Is Consequences of Western Human Rights
2- CIA Chief's Remarks Are Meddlesome; President Should Take Stance against Brennan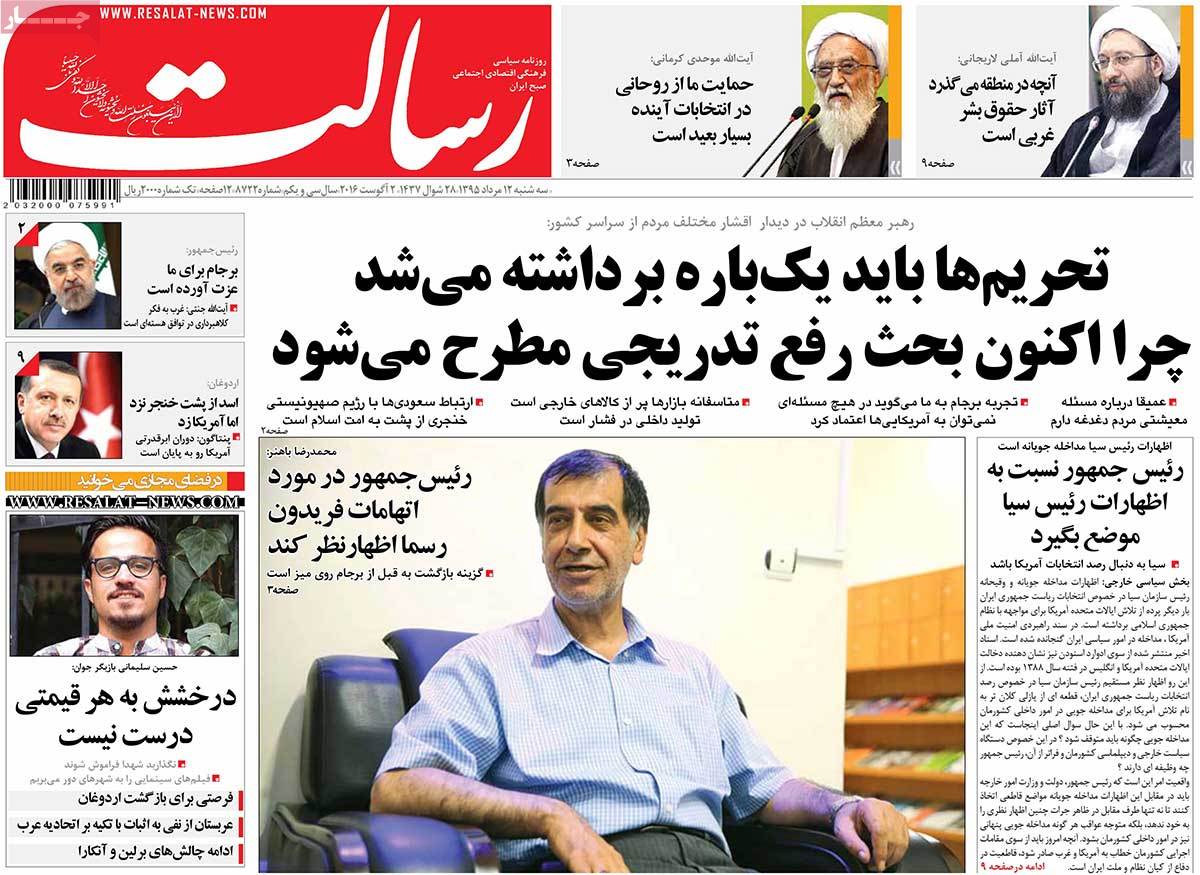 ---
Shargh:
1- Europeans Queuing Up for Iran's Oil Tenders: Oil Minister
2- 2 New Female Ambassadors to Be Appointed by Iran's Foreign Ministry
3- JCPOA Did No Harm to Iran; We Benefited from It: Conservative Figure