The top story today was the former president Mahmoud Ahmadinejad's unexpected move to register to run for Iran's presidency. Most reformist and moderate newspapers covered the surprising move, but major conservative papers decided to ignore it on their front pages.
Many newspapers also covered the other unusual candidates who are applying for Iran's presidency in the absence of rules that prevent ordinary people from running.
The meeting between the US Secretary of State and Russian Foreign Minister in Moscow and their talks on the recent US strike on Syria also received great coverage.
The above issues, as well as many more, are highlighted in the following headlines and top stories:
Aftab-e Yazd:
1- Ahmadinejad's Shock: Despite Earlier Promises, Ex-President Registers for Presidency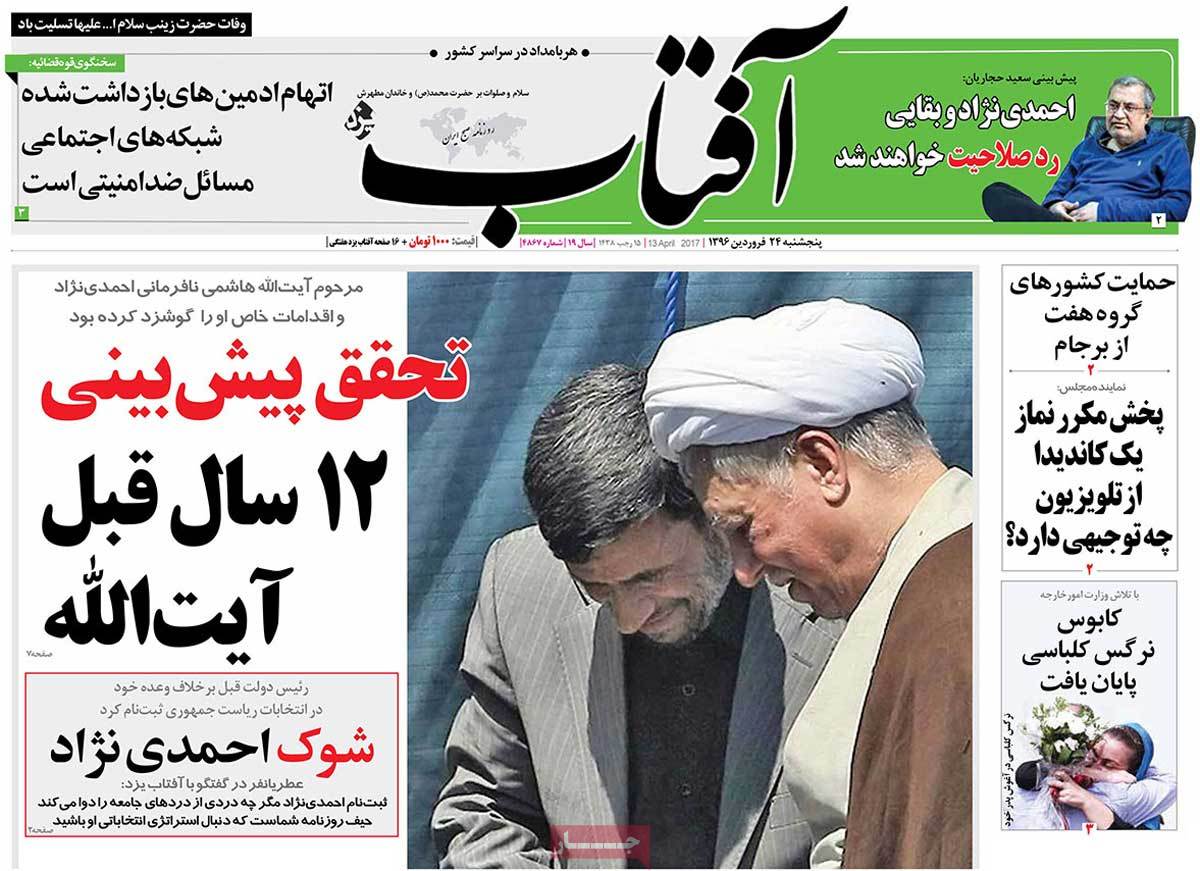 ---
Amin:
1- Unusual Volunteers Register to Run for Iran President on Second Day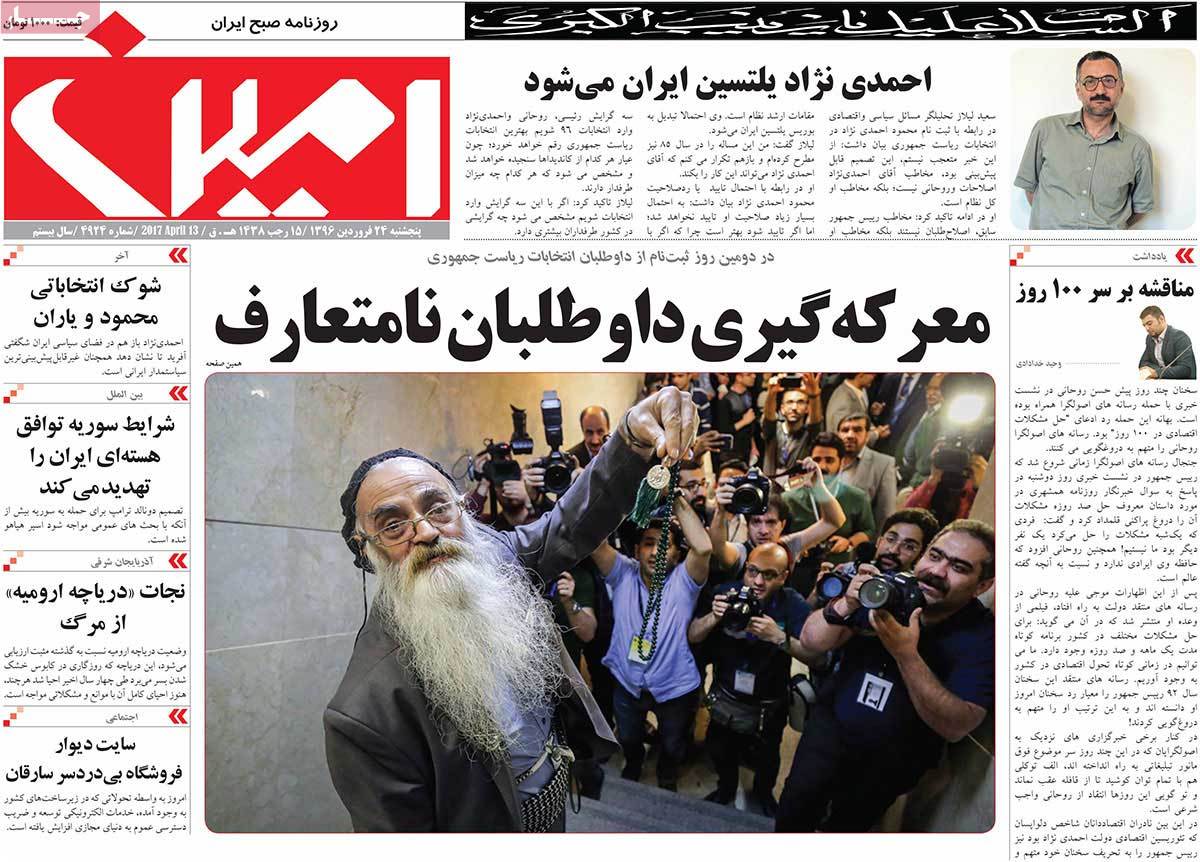 ---
Arman-e Emrooz:
1- Suspicious Sedition: Conservatives' Reaction to Ahmadinejad's Surprising Move
---
Ebtekar:
1- Ahmadinejad's Game
2- Moscow's Dilemma: Which One to Choose, Tehran or Washington?
---
Emtiaz:
1- Saving Lake Urmia's Life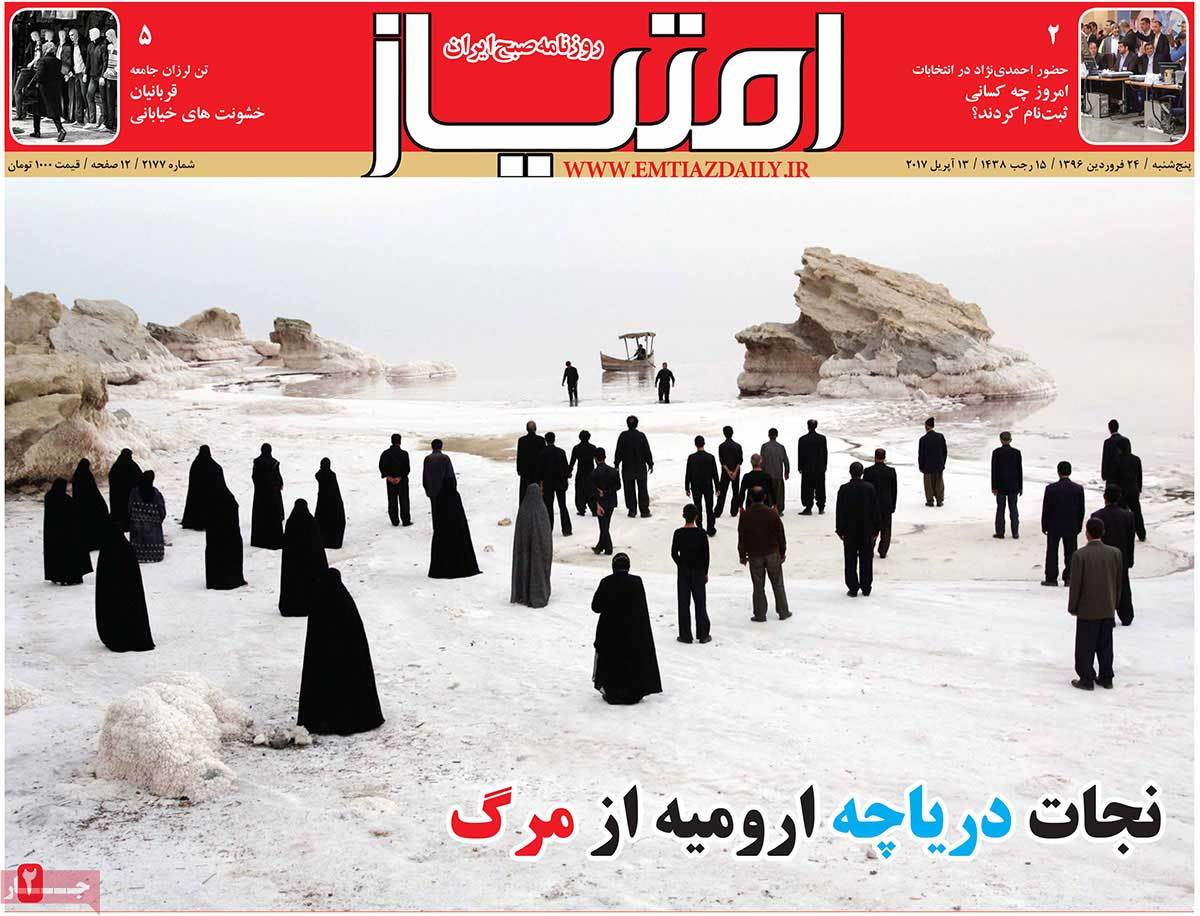 ---
Etemad:
1- Six Scenarios of Ahmadinejad's Candidacy
Shock in Second Day: Ahmadinejad Runs for President
2- Iran's Condition for Boeing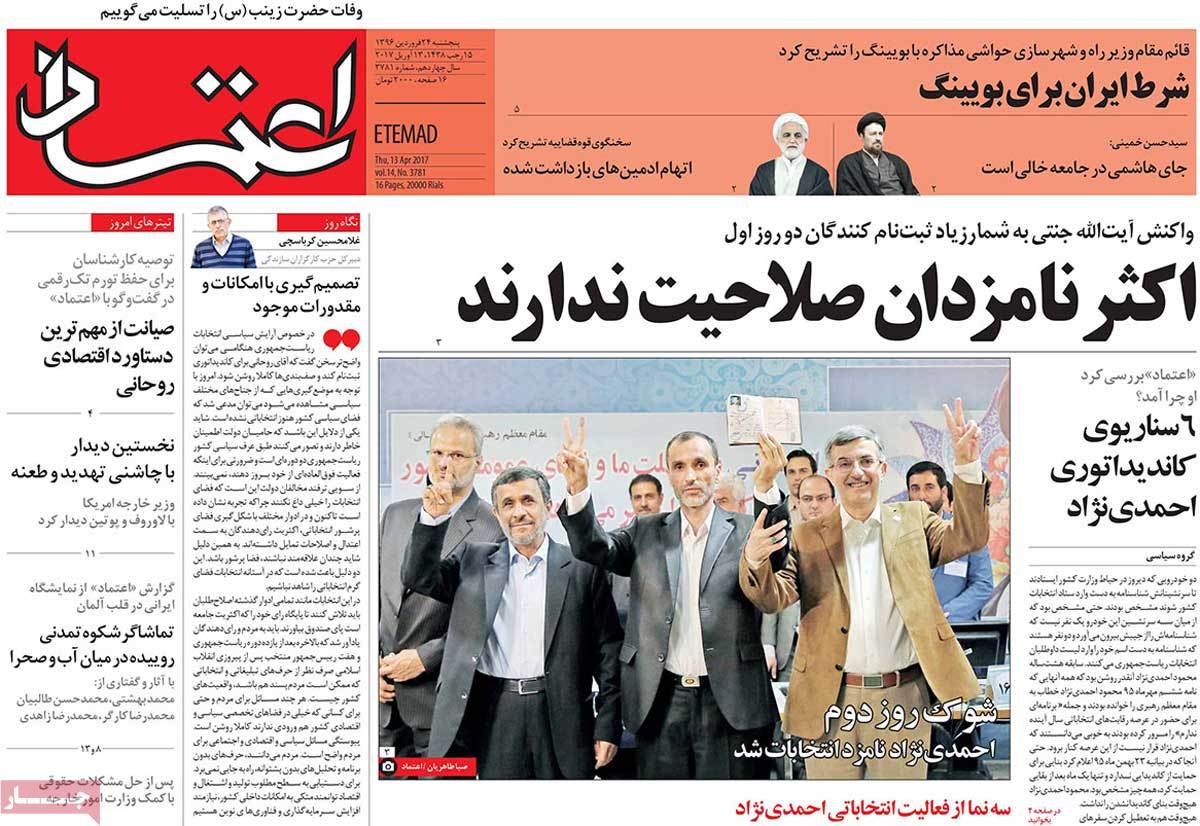 ---
Ettela'at:
1- G7 Calls for Immediate Cessation of Saudi Military Aggression on Yemen
2- Rouhani's Gov't Adds $40bn to National Development Fund Reserves
3- Biggest Projects in History of Iran's Oil Industry to Be Unveiled Next Week
4- Iran Leader's 10-Billion-Rial [$270,000] Aid to Quake-Hit People in Khorasan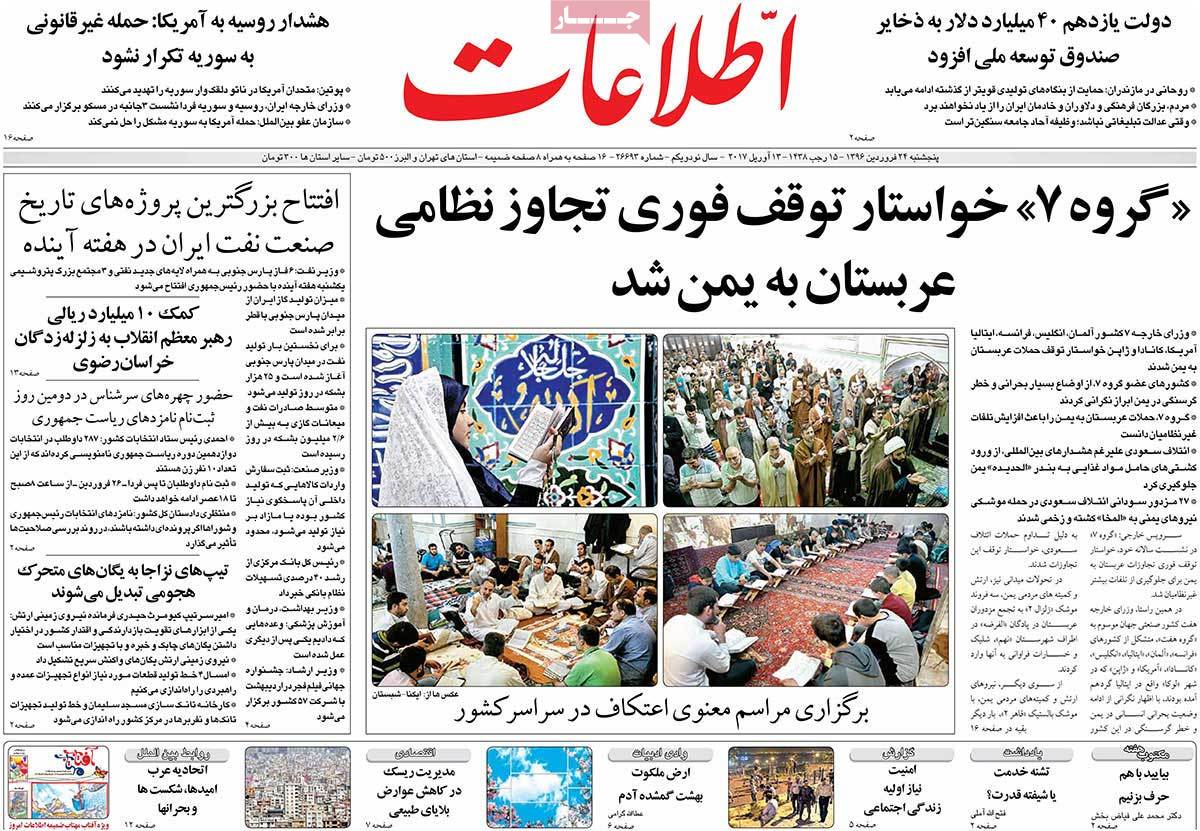 ---
Hemayat:
1- Judiciary Spokesman: Telegram Administrators Arrested on Security, Ethical Charges
2- Prosecutor General: HQs Formed to Prevent Electoral Offenses
3- Europe Making Instrumental Use of Human Rights: Iran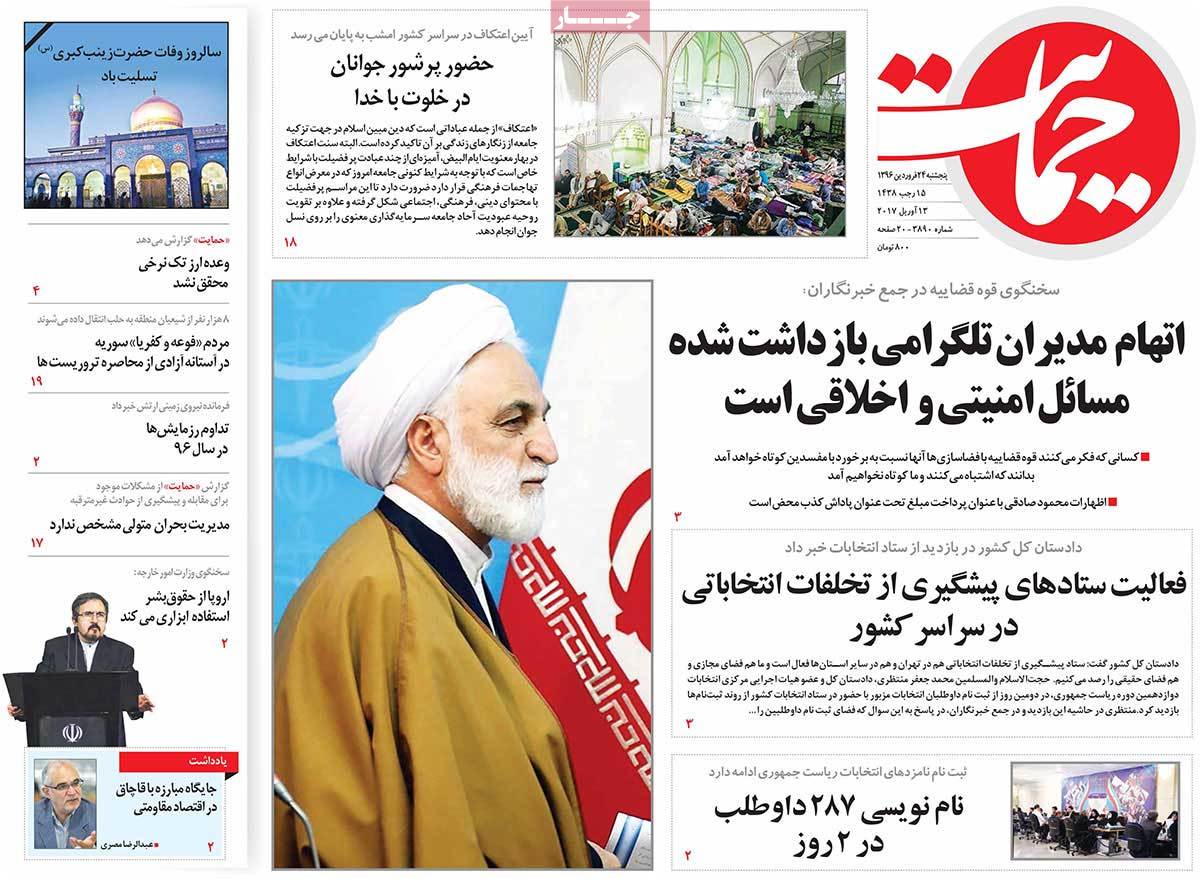 ---
Iran:
1- Sharp Decrease in Contraband Goods from $25bn to $12bn
2- Lavrov: US Missile Attack on Syria Shouldn't Be Repeated
Russia's Serious Warning to Trump's Secretary of State
3- Ahmadinejad Will Be Disqualified from Running: Conservative Analyst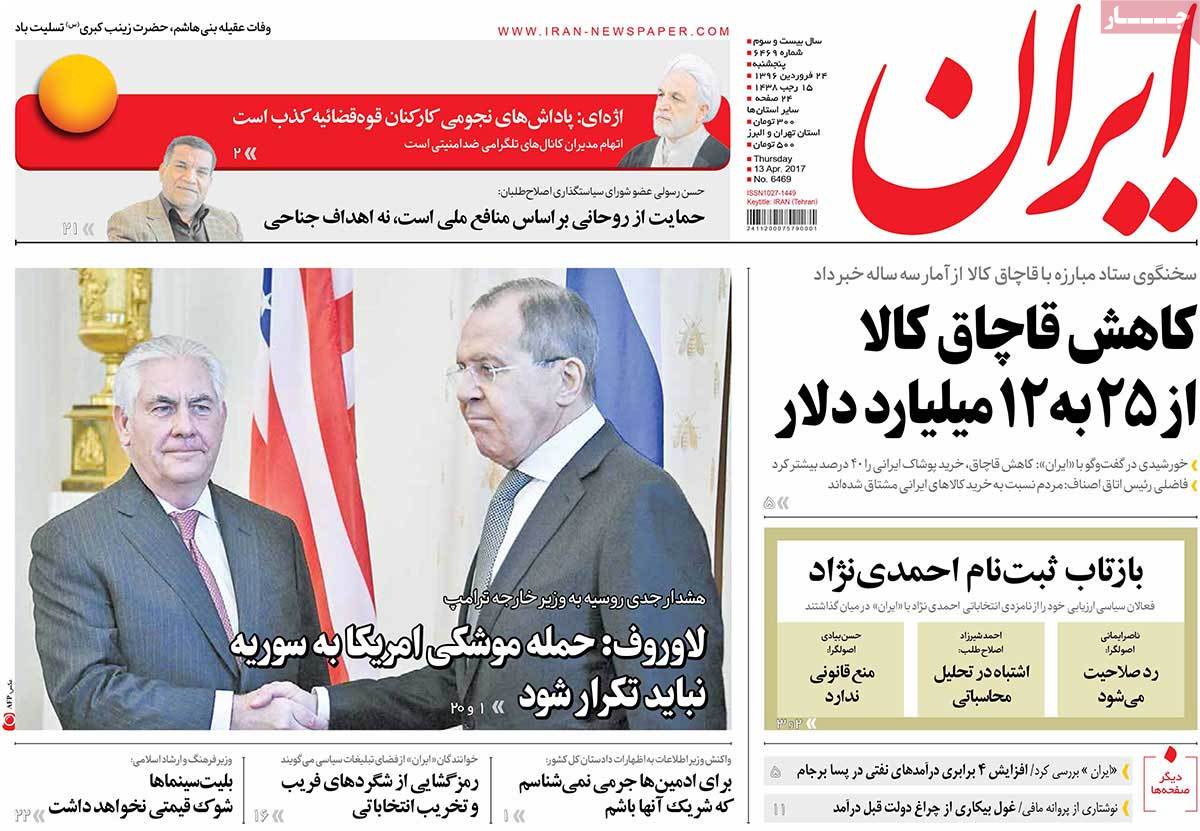 ---
Javan:
1- Trump: We Have No Plan to Enter Syria War [in reaction to Russia's threatening rhetoric]
2- Iran Army's Ground Force to Adopt Aggressive, Rapid Reaction Approach
---
Jomhouri Eslami:
1- Britain's Role in Khan Shaykhun Chemical Attack
2- 287 Candidates Have So Far Registered to Run for President
3- CEO: ATR Ready to Supply Iran with Planes It Needs
4- Thousands of Britons Call on London to Apologize to Palestine
---
Seda-ye Eslahat:
1- Ahmadinejad and His Allies Commit Political Suicide!
2- VP: I've Never Heard Candidates Are Disqualified Just for Being a Woman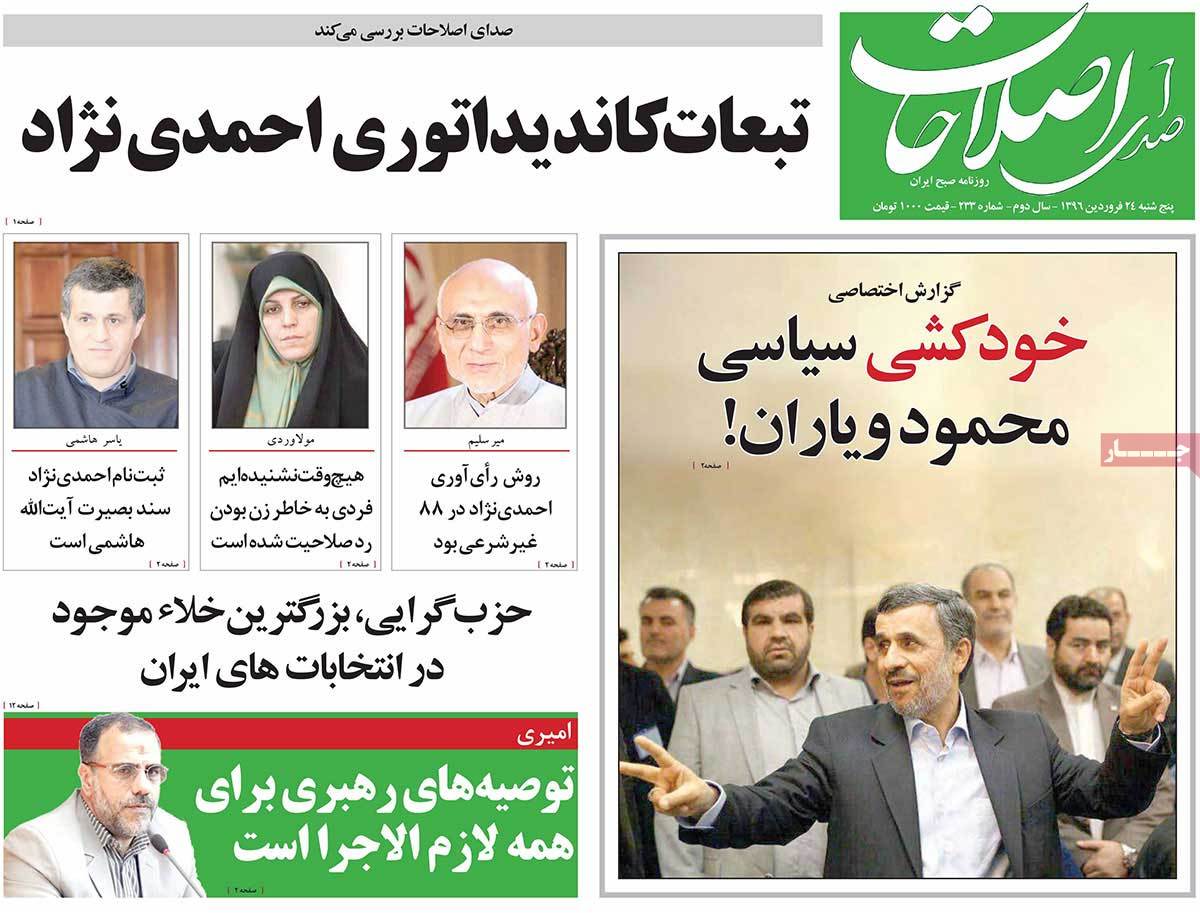 ---
Siasat-e Rooz:
1- Aspiring for Power [Ahmadinejad's registration]
2- No More Attack [Russia to US over Syria strike]