All Iranian papers on Thursday hailed a provisional injunction issued on Wednesday by the International Court of Justice (ICJ), which said the US sanctions are harming the lives of Iranian people. The ICJ ordered the US to refrain from taking measures that damage Iran's aviation, drug, food and agriculture industries.
The decrease in the US dollar rate in Iran's forex market as well as the Iranian Parliament's upcoming session to pass a bill on Combating the Financing of Terrorism (CFT) also remained top stories today.
The above issues, as well as many more, are highlighted in the following headlines and top stories:
Aftab-e Yazd:
1- What's Happening in Tehran's Forex Market?
2- Iran's Legal Victory over US
3- Viral Video Makes Many People Cry
* Father Whose Son Has Cancer Happy with Rial Regaining Its Value
---
Ebtekar:
1- Iran's Diplomatic Victory over US at The Hague
2- Sunday, Fateful Day of CFT at Iran Parliament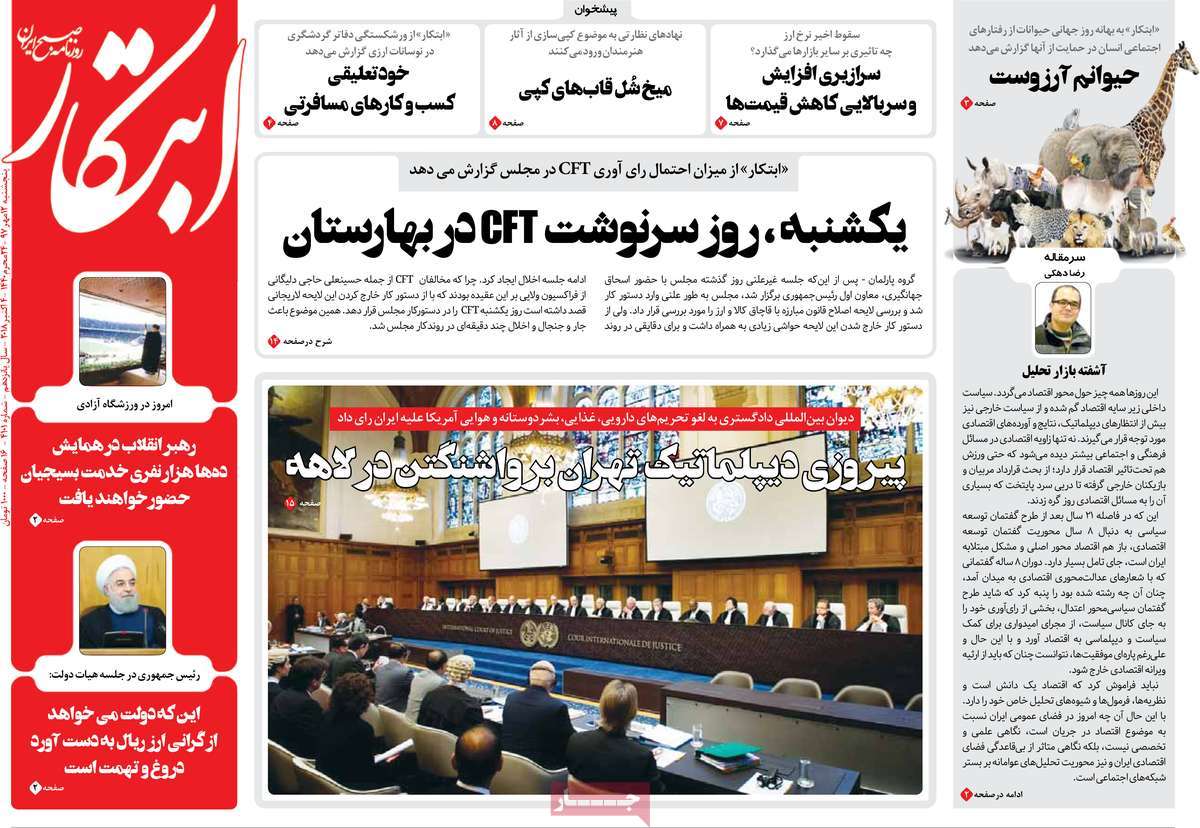 ---
Etemad:
1- ICJ Votes in Favour of Iran: Bullying Defeated by Diplomacy
2- Return of Russia to USSR Era: Moscow, Riyadh Increase Oil Output after US Call
---
Ettela'at:
1- ICJ Obliges US to Remove Anti-Iran Sanctions
2- ISIS Leader's Son Killed in Russian Airstrike on Syria
3- You Won't Last for Two Weeks without US Support: Trump to King Salman
---
Haft-e Sobh:
1- Triumph of Wisdom in Rival's Court
* Why We Should Be Happy with ICJ's Ruling Even Though It Would Help Us Much
2- Will Giant African Company MTN Leave Irancell?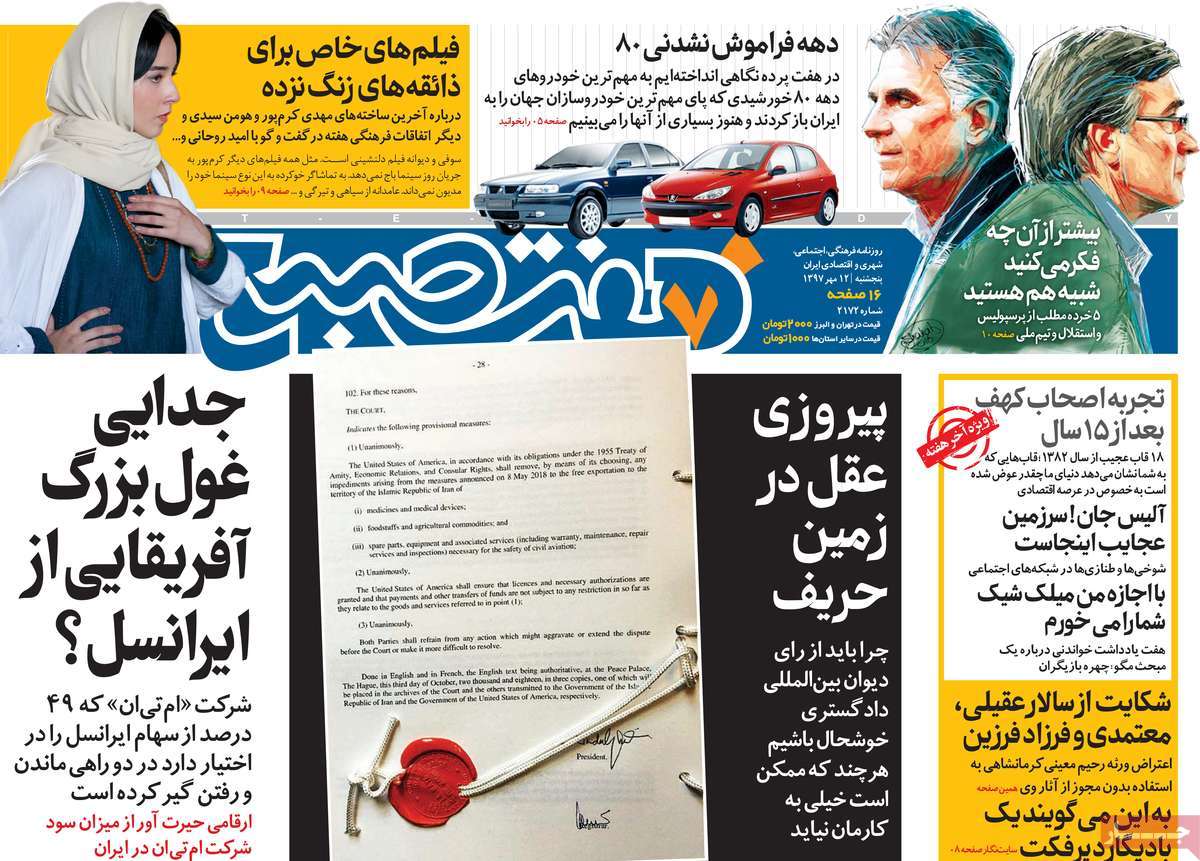 ---
Iran:
1- Excellent Vote: ICJ's Provisional Vote in Favour of Iran
2- Return of Calm to Iraq's Politics
3- Rouhani Denies Claims His Gov't Earning Revenues by Increasing Dollar Rates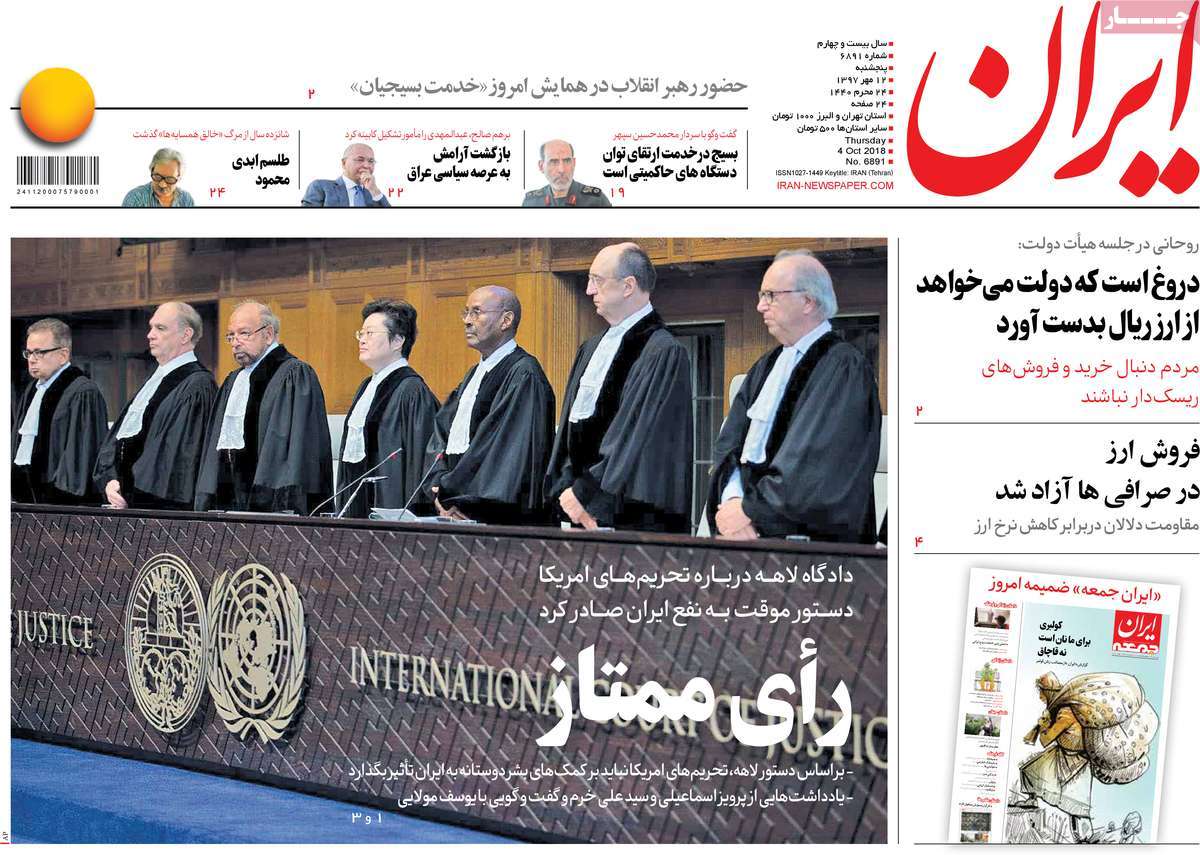 ---
Jame Jam:
1- Iran's Victory at ICJ: Binding Ruling without Any Enforcement Power
2- Iran Leader to Attend Gathering of 100,000 Basij Forces at Azadi Stadium
---
Javan:
1- Consensus on Increasing Value of National Currency
2- Anti-US Hat-trick in Iraq: Resistance Forces Win Iraq's Presidency, Premiership
3- Syria's Sky No Longer Safe for Israel
4- The Hague Gives Yellow Card to US Sanctions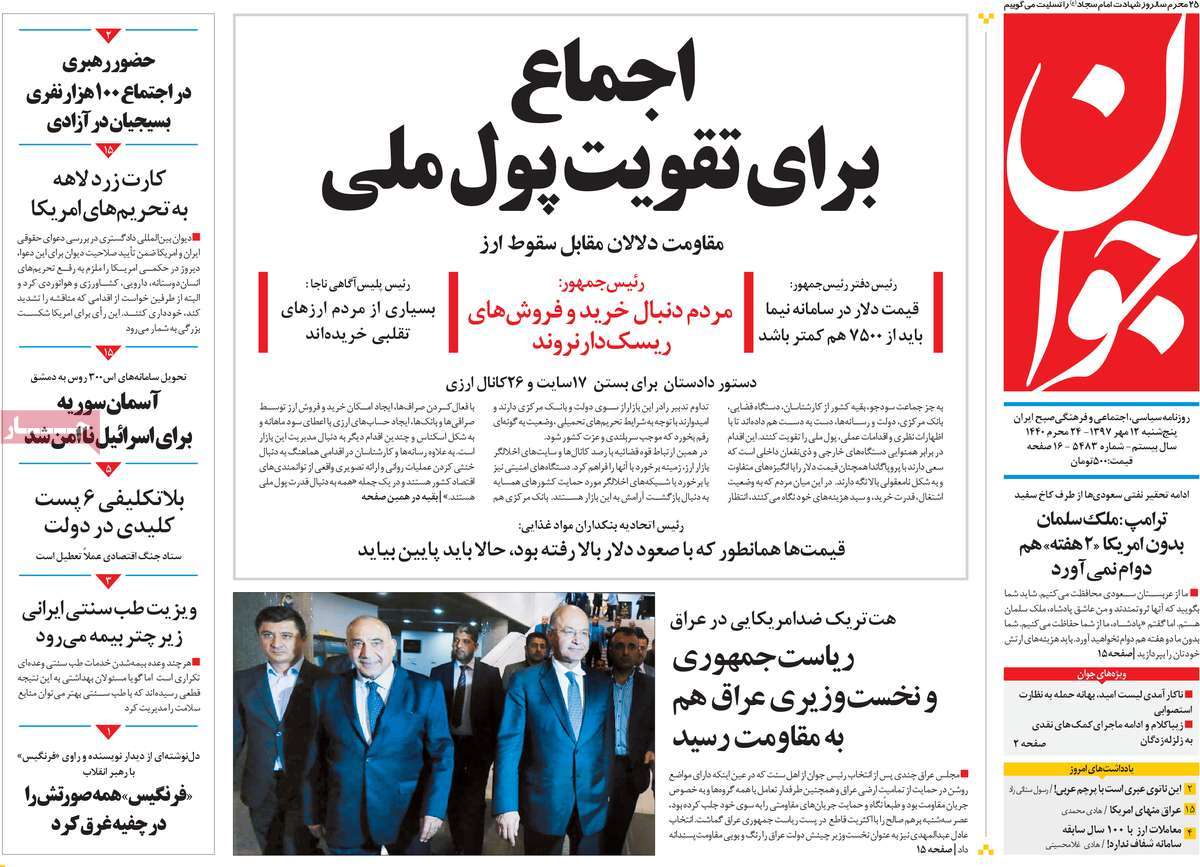 ---
Jomhouri Eslami:
1- Iran's Legal Win over US at Most Prestigious Int'l Legal Body
2- Putin Welcomes European Plan for Financial Transaction with Iran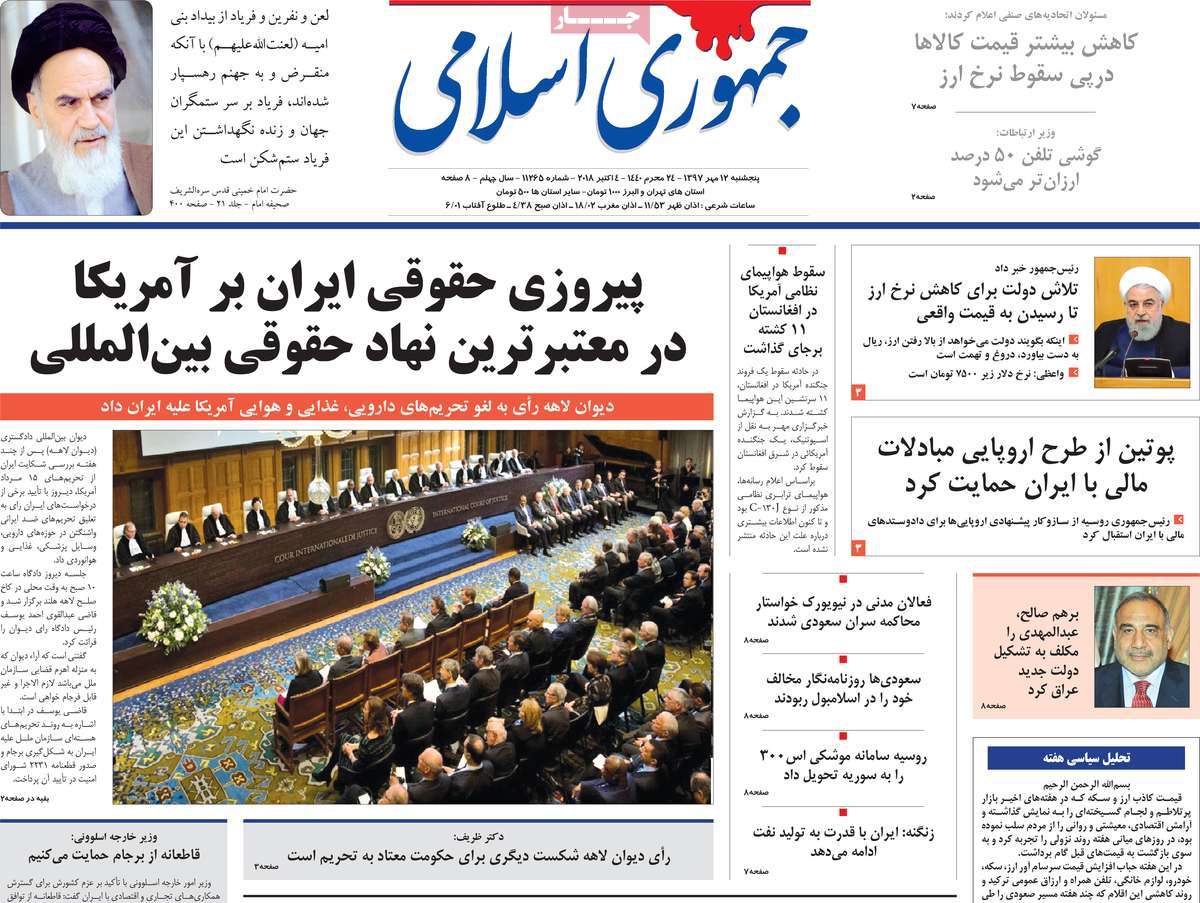 ---
Kayhan:
1- Those Disrupting Forex Market Encouraging Iran's Adoption of FATF
2- Iraqi Parliament Votes for Resistance: Abdul Mahdi Elected as PM, Salih as President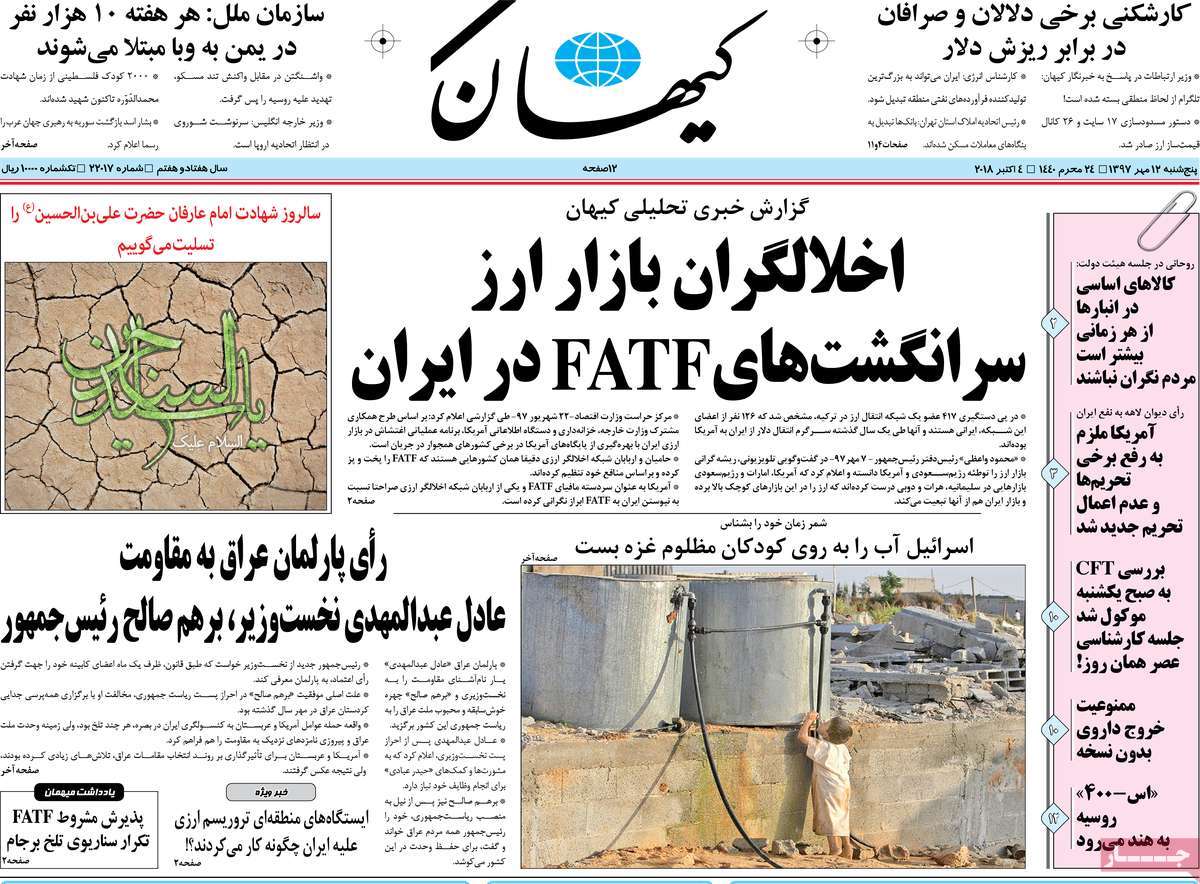 ---
Resalat:
1- Meaningful Drop in Dollar Rates after Punishment of Those Involved in Economic Corruption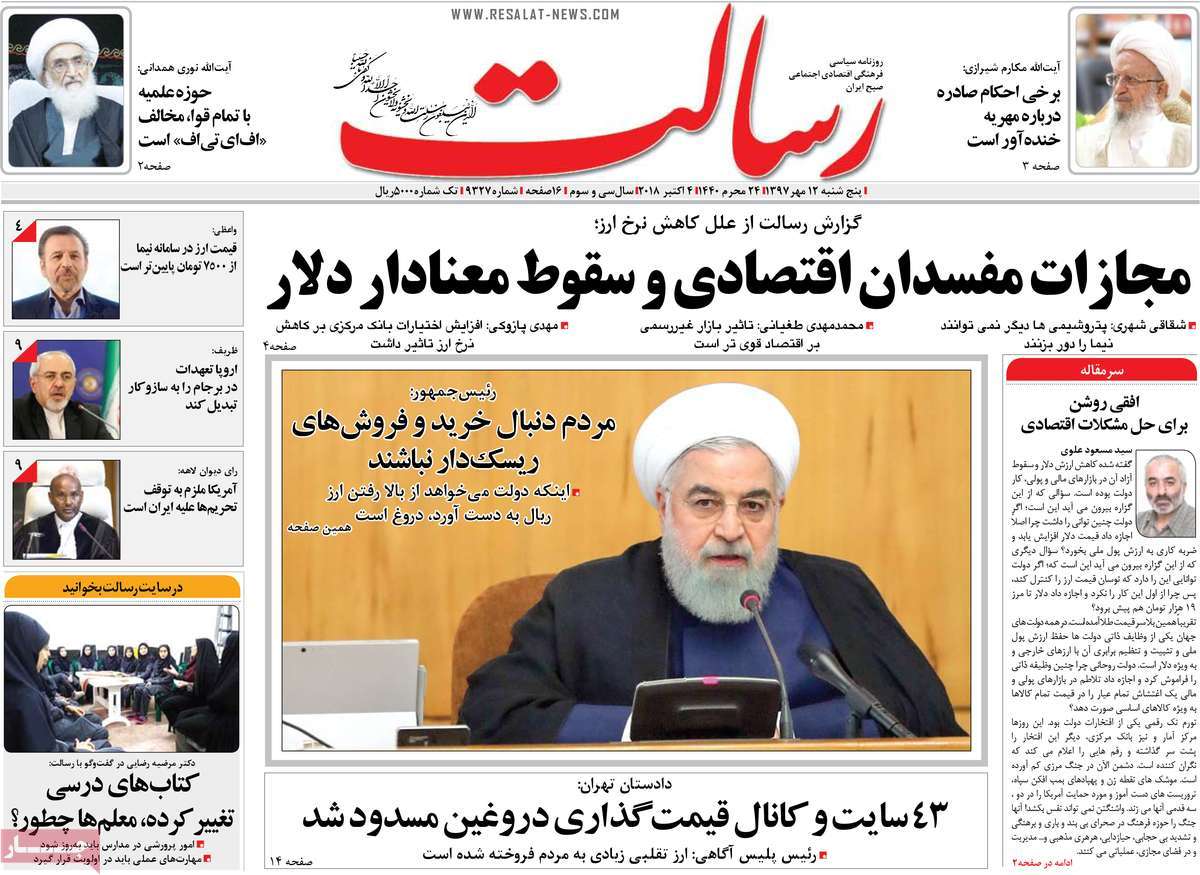 ---
Sazandegi:
1- Suspension of US Sanctions
* Interview with Iranian Member of International Court of Justice
2- Victory of Law over Force
* The Hague Issues Injunction in Favour of Iran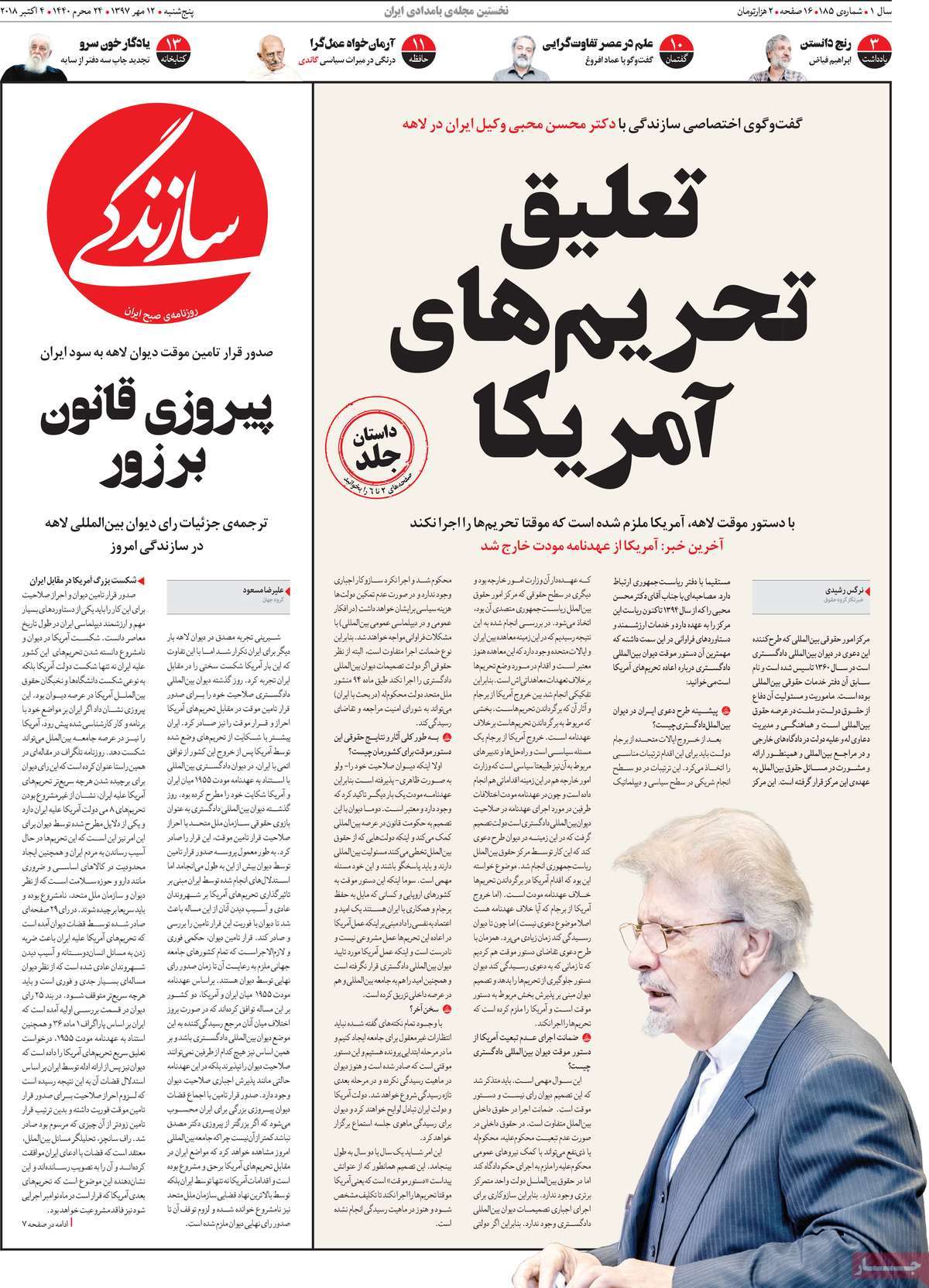 ---
Shargh:
1- Another Victory in The Hague
2- Don't Leave the Government Alone: Rouhani to Reformists
3- EU's Support for JCPOA Better than Expectations
4- New York Times Creates New Trouble for Trump