Newspapers on Monday continued to cover the recent protest rallies and riots across Iran. The protests, which started in the religious cities of Mashhad and Qom on Thursday, mainly focused on economic grievances, particularly the surge in prices and the financial corruption of certain state bodies.
However, the ensuing protest rallies in other cities on Friday, Saturday, and Sunday involved more political slogans. Iranian authorities and analysts believe foreign and anti-Iran media and officials are trying to make the demonstrations political and provoke people to chant anti-Establishment slogans.
What follows are the way Iranian papers covered the protest rallies on Monday:
19 Dey:
1- Reformists against Vandals
2- Interior Minister: Vandals Are Not Ordinary People
3- Health Minister: Frustrating People Is a Sin, Treason
---
Abrar:
1- New York Times: Trump Must Be Silent
2- Syrian Rebels Form Army
3- Street Protests Not a Good Way to Raise One's Objection: Mohsen Rafsanjani
---
Aftab-e Yazd:
1- Reformists' Advice for People
2- Rouhani's First Reaction: We Should Talk to People; They're Free to Criticize Everything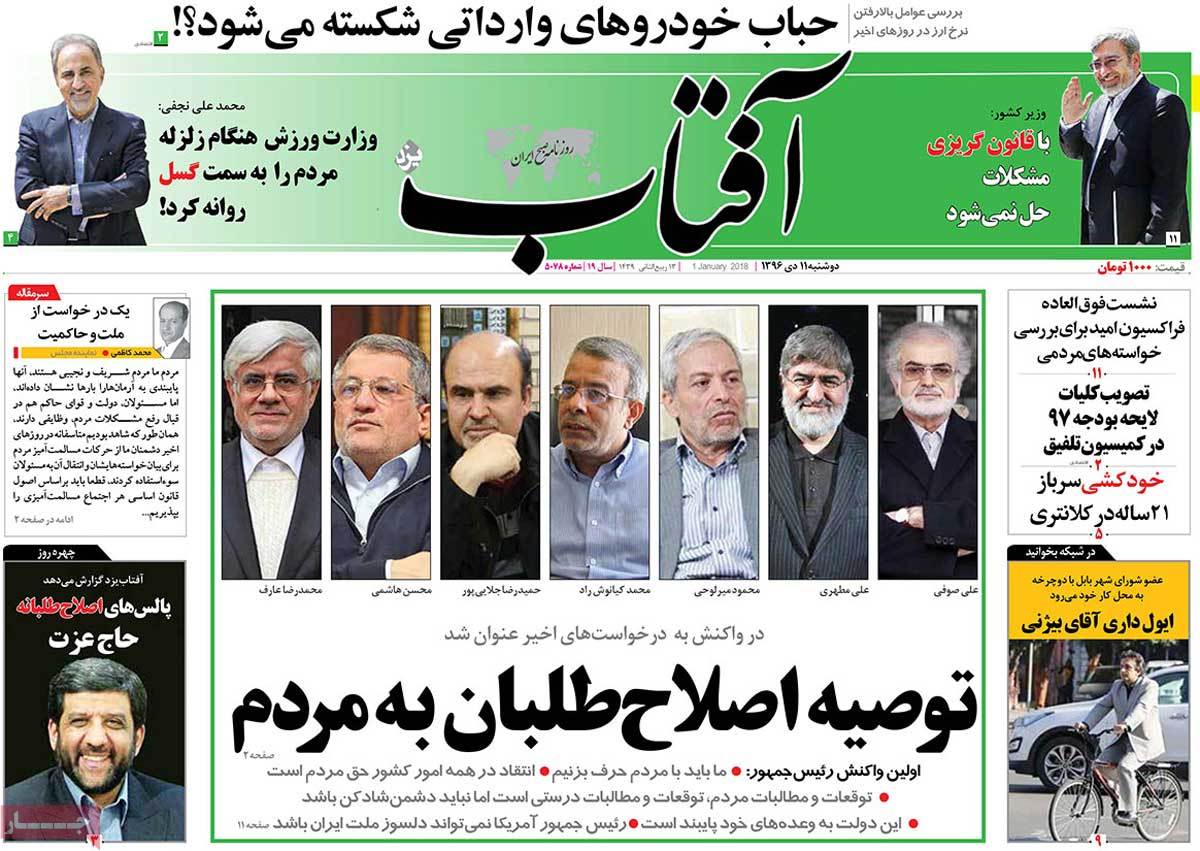 ---
Amin:
1- Gov't, Parliament, Judiciary Resolved to Pursue People's Demands: Minister
2- People Want Their Problems to Be Resolved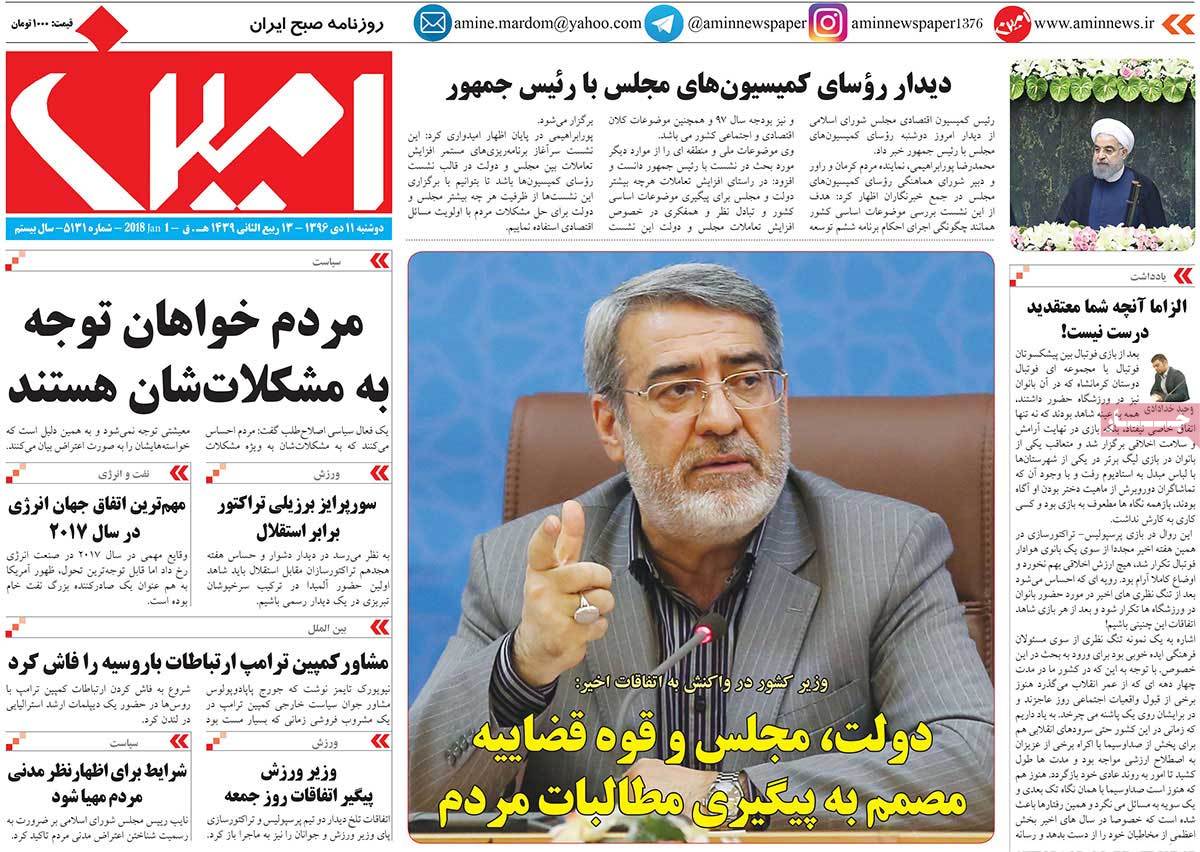 ---
Arman-e Emrooz:
1- Rouhani: It's People's Right to Criticize, Protest
All People, Groups Must Be Seen in IRIB
2- Access to Telegram, Instagram Restricted
3- Recent Protests Apparently Economic, Actually Political: Politician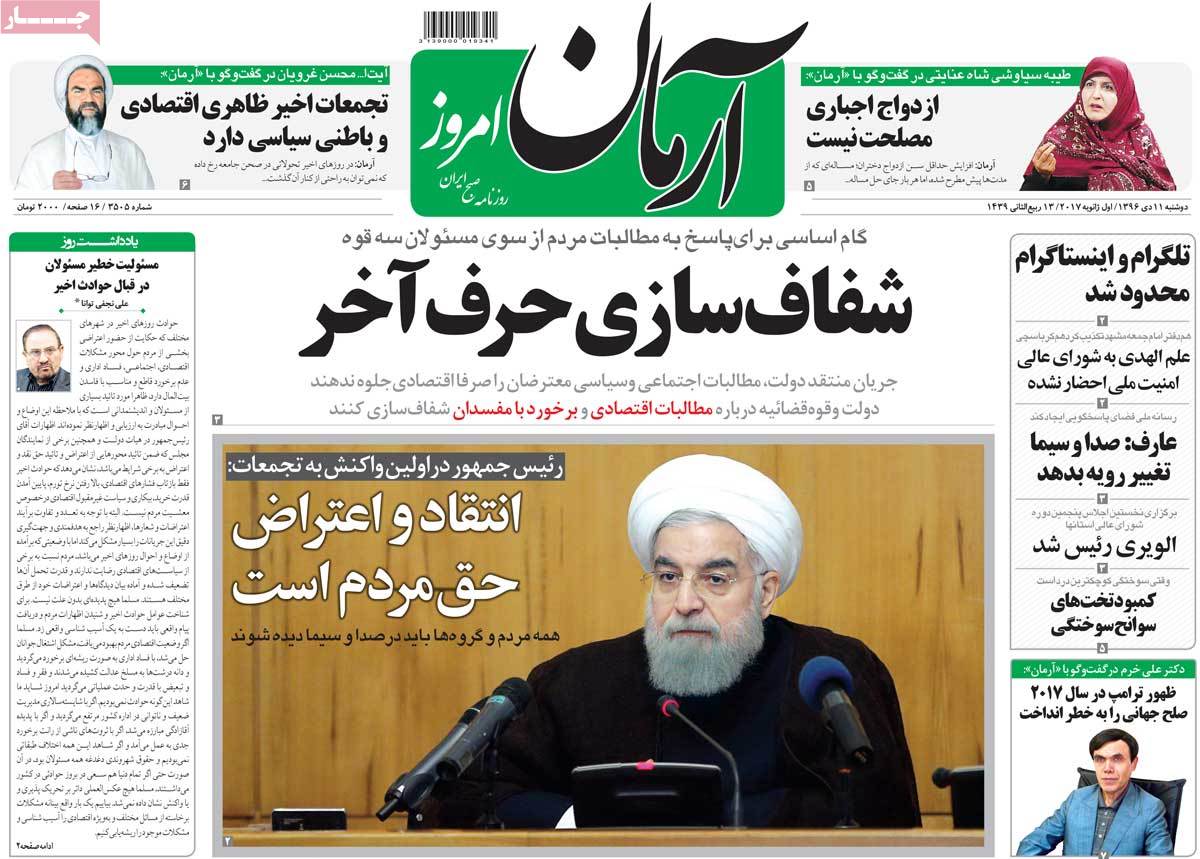 ---
Bahar:
1- Recent Protests Warning for Rouhani: Reformist Politician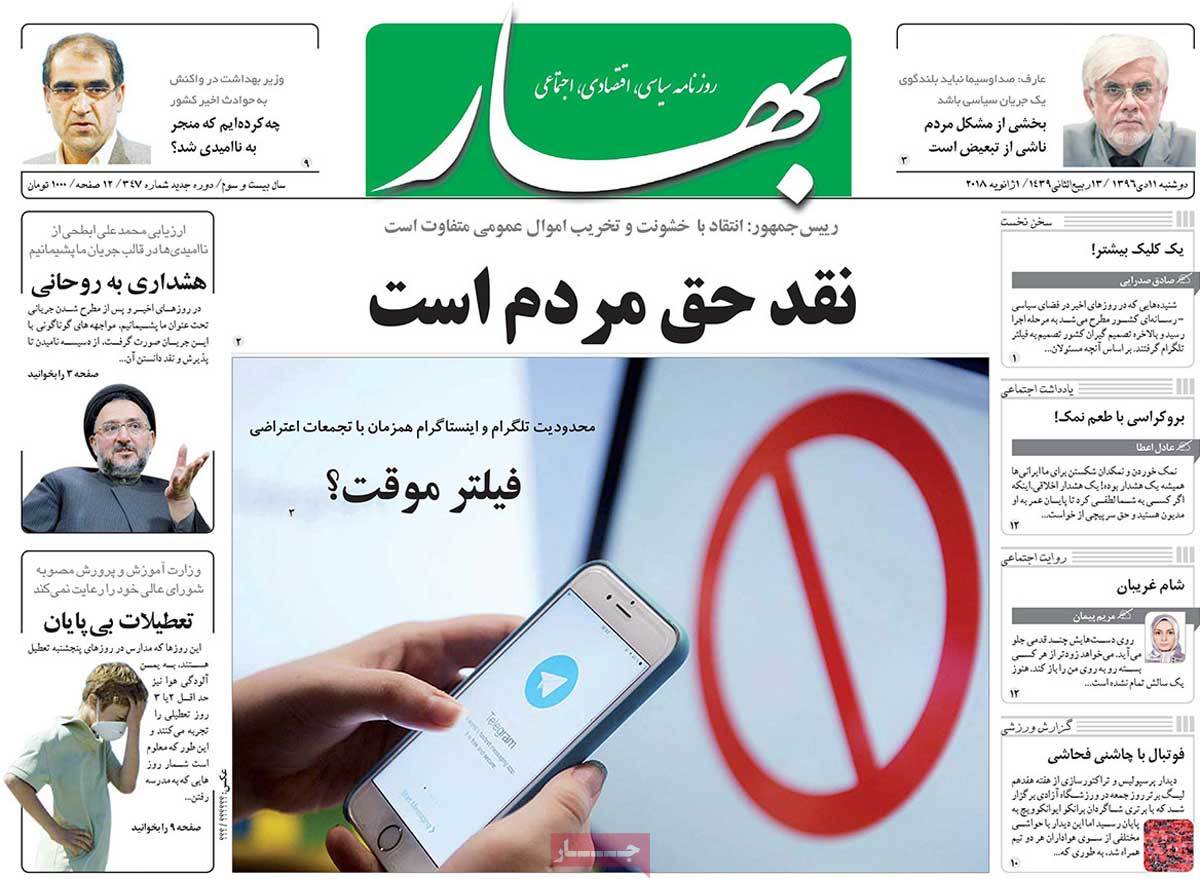 ---
Ebtekar:
1- Inauspicious Heritage of 2017 for 2018
Impacts of 2017 Incidents on New Year's Developments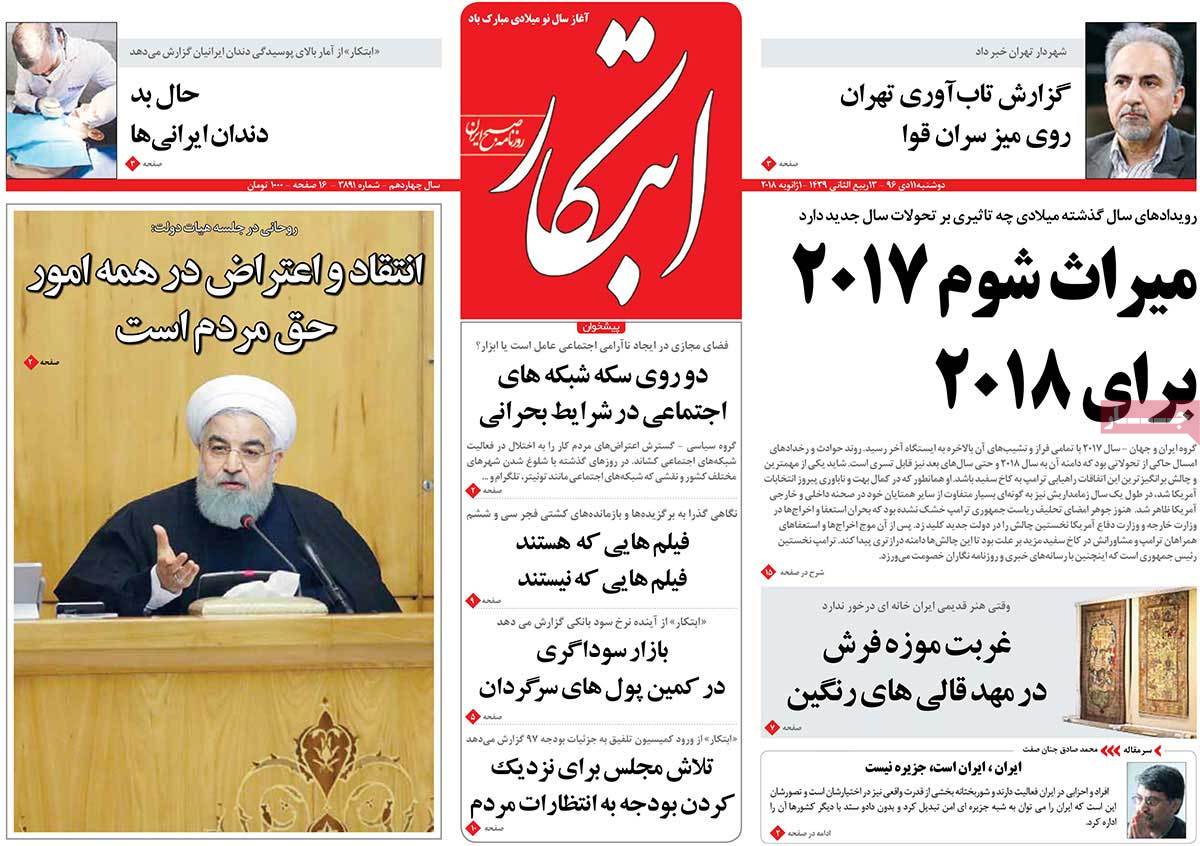 ---
Ettela'at:
1- Rouhani: People, Gov't to Resolve Problems Together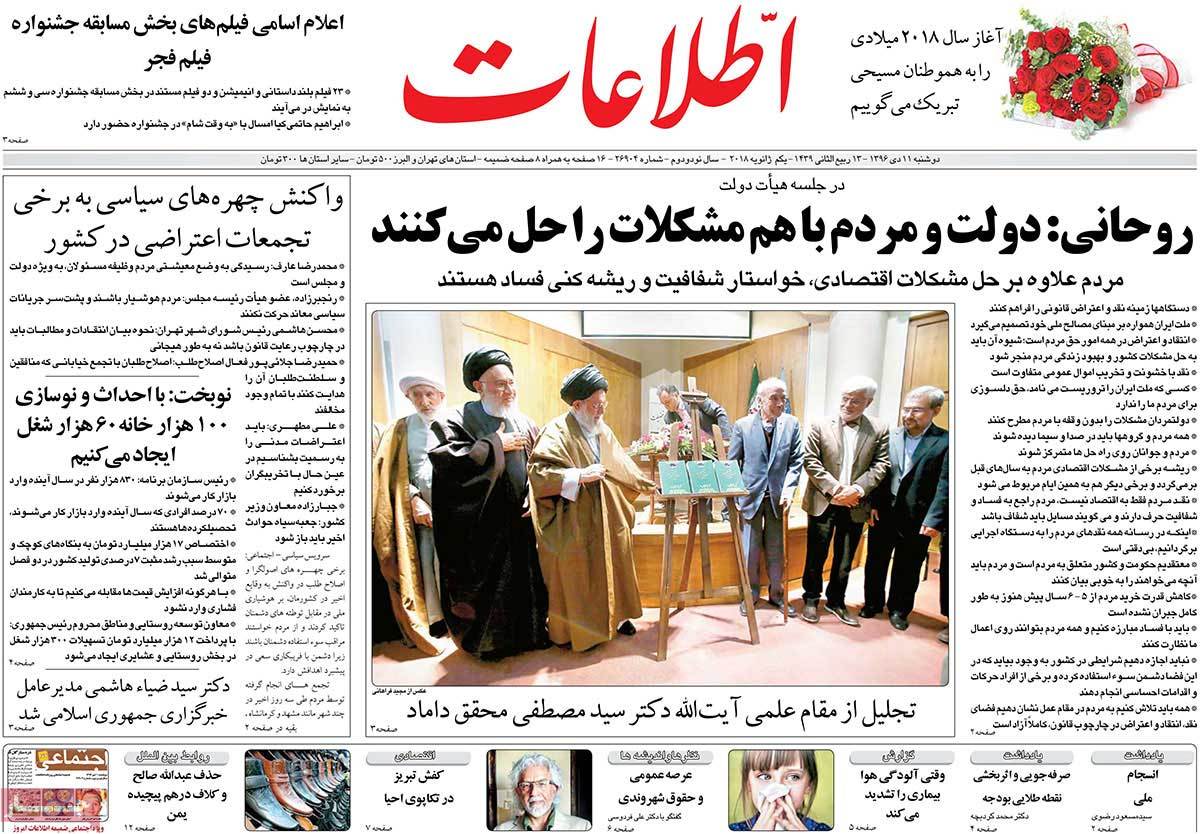 ---
Haft-e Sobh:
1- End of Iran's ICT Minister's Friendship with Telegram CEO
Access to Telegram Blocked in Iran
2- Strange Secret of Cigarette's Cheap Price
A Report on Factories in Iran that Produce Cigarettes Similar to Foreign Ones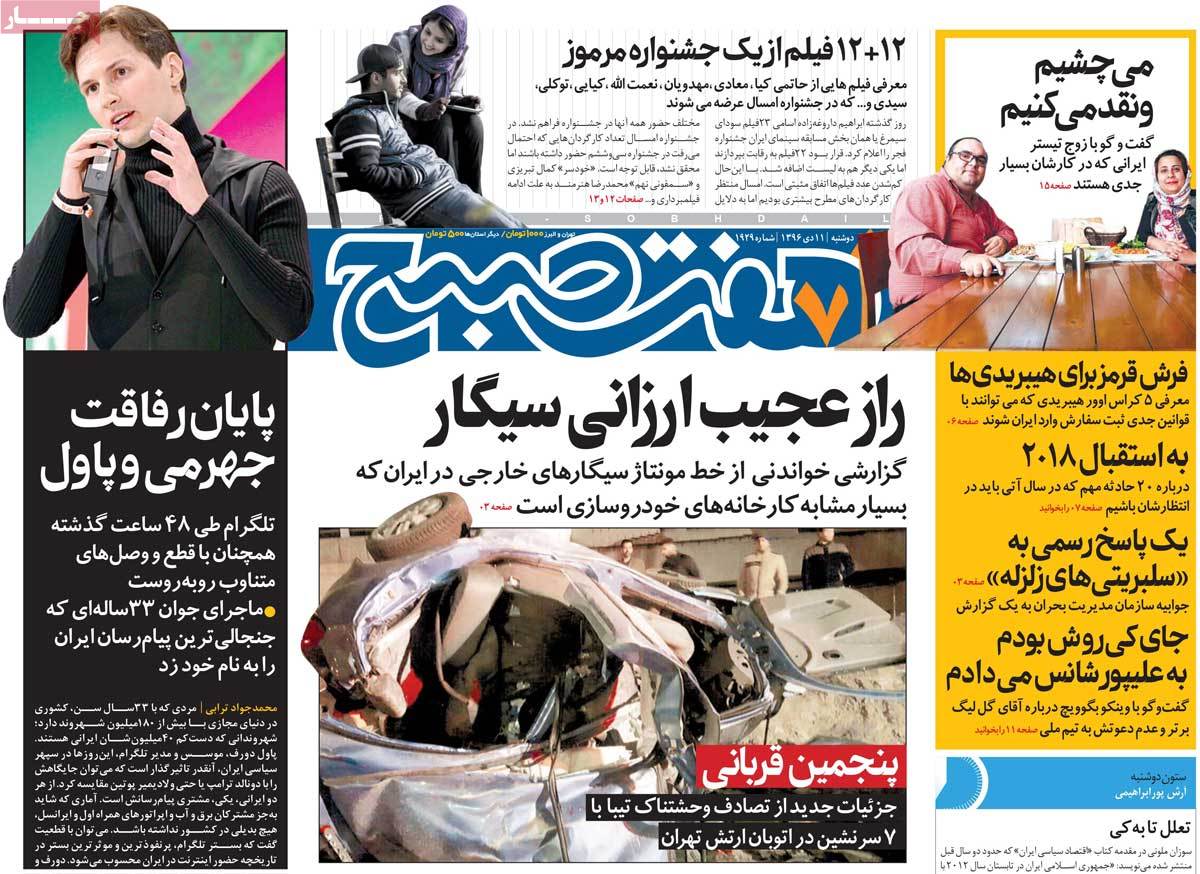 ---
Iran:
1- It's People's Right to Criticize and Protest: Rouhani
Vandalism Not Acceptable to Anyone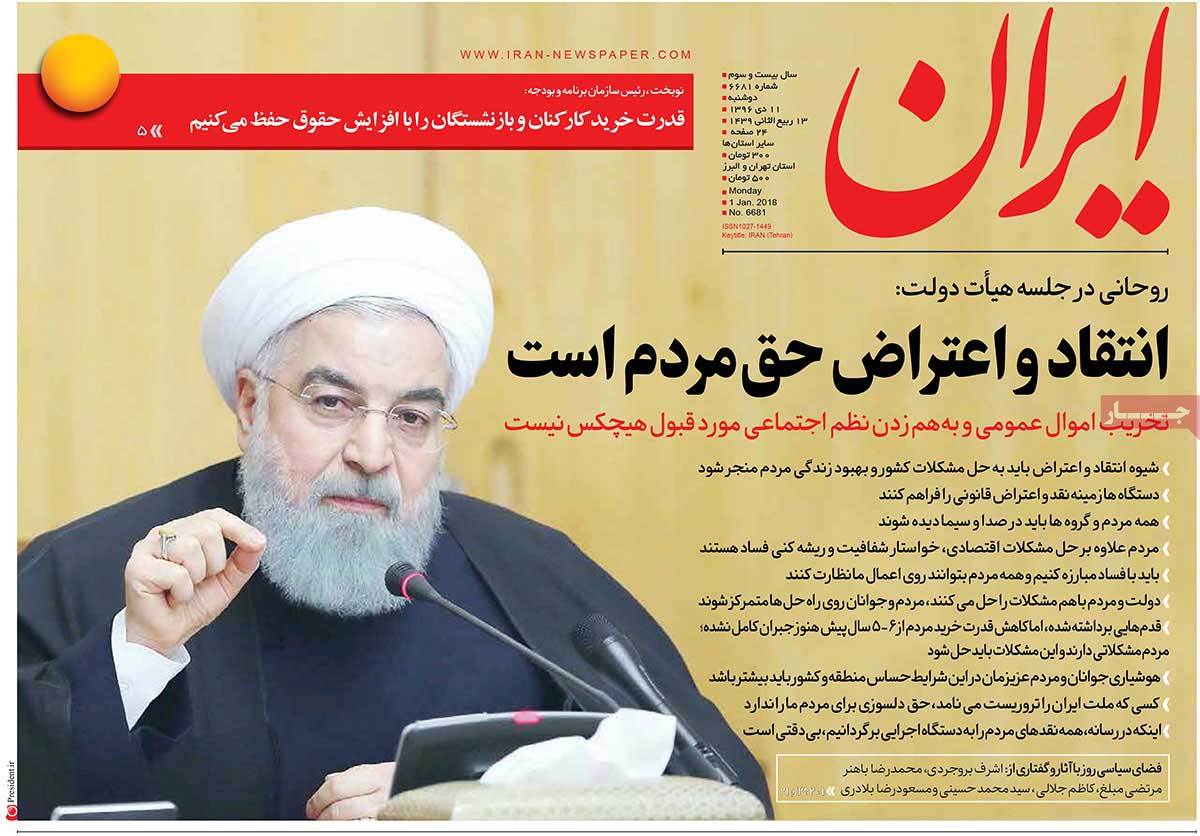 ---
Jame Jam:
1- In the Name of People, against People's Interests
A Report on Coverage of, Reactions to Opportunism of Certain Protesters
2- We Tolerate Criticism, but Not Riot: Rouhani on Recent Developments
3- Along with People, against Opportunists [Editorial]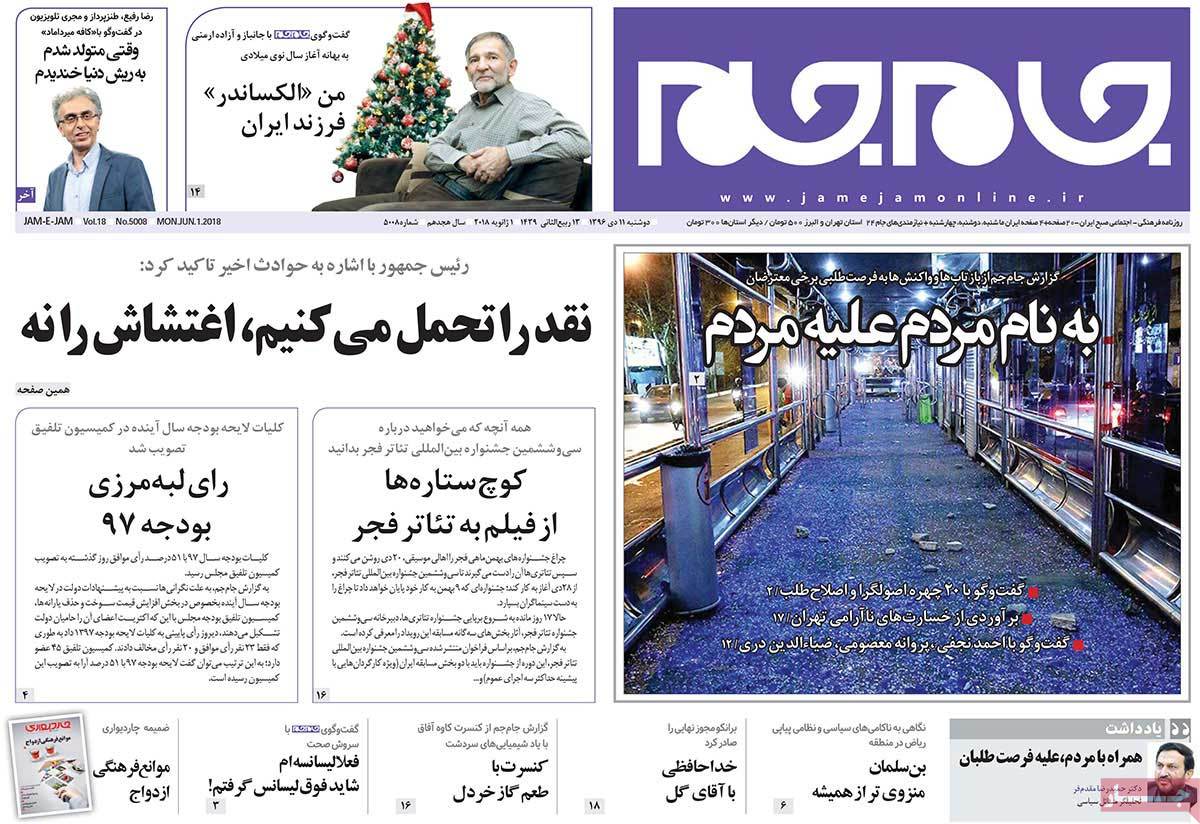 ---
Javan:
1- Saudis Break Record of Creating Hashtag to Call for Riots in Iran!
2- Rouhani: Criticisms Should Lead to Improved Lives for People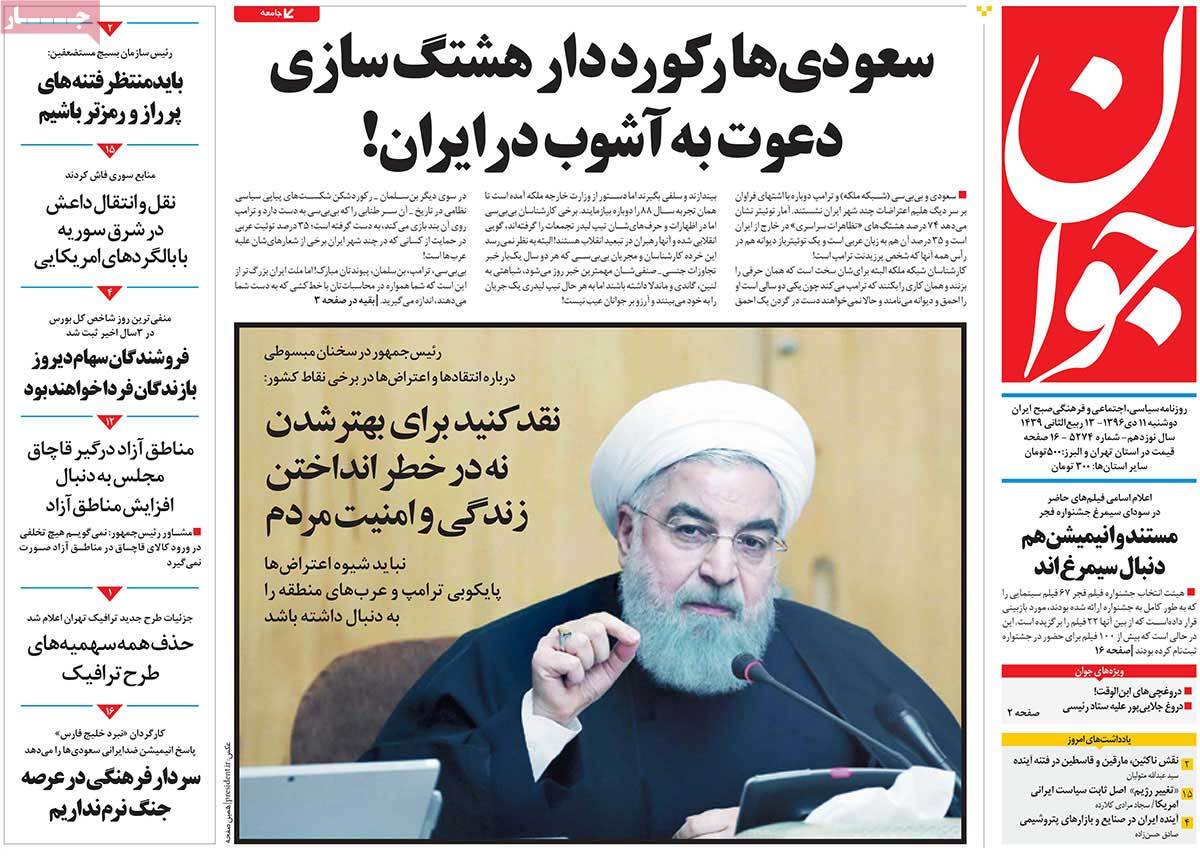 ---
Kayhan:
1- Message of Nationwide Rallies on Dey 9: Stop Rioters
2- Interest Rates in Iran 10 Times More than Those of European Banks
3- Criticism Different from Violence, Vandalism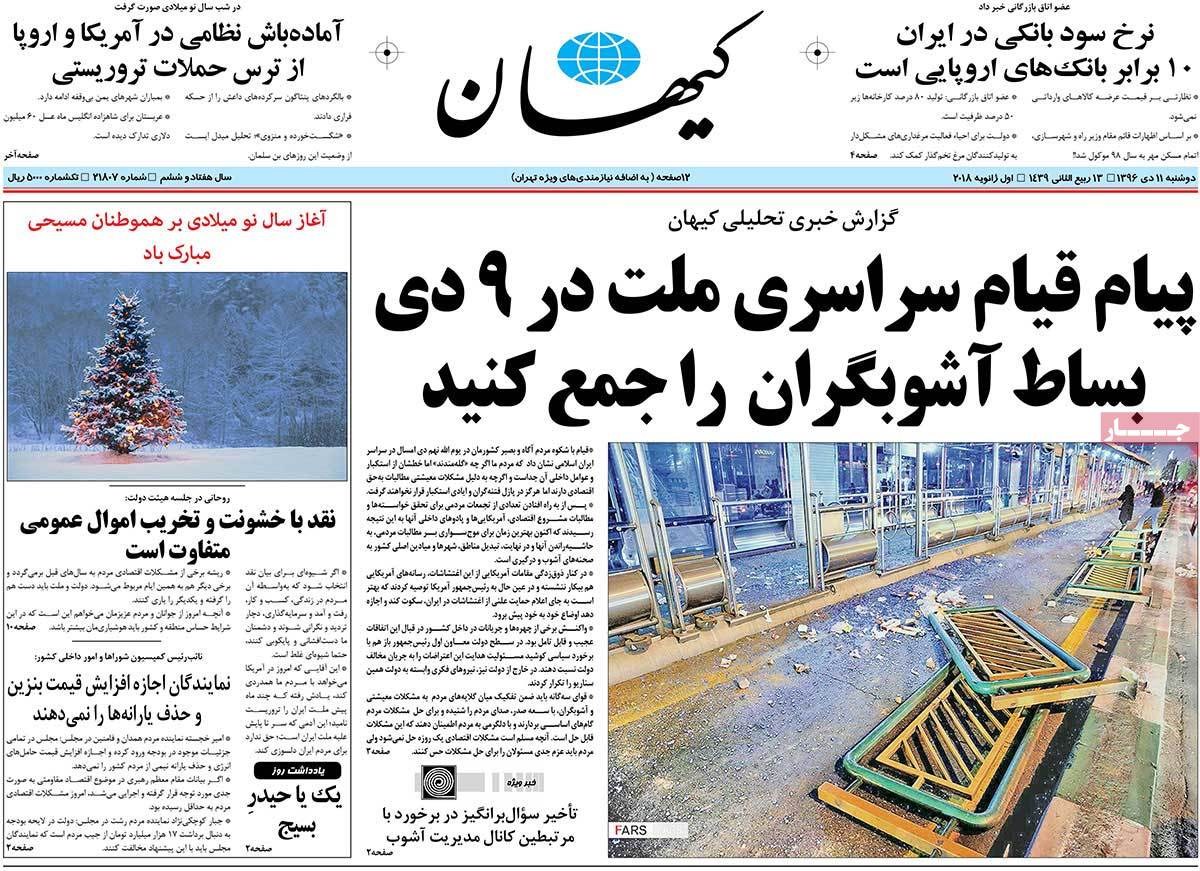 ---
Khorasan:
1- Iranian Social Media Users on Verge of Second Great Migration
Deputy Interior Minister: Access to Telegram, Instagram Temporarily Blocked
2- Recent Unrest Targets Economy
1649-Unit Decrease in Tehran Stock Exchange Market
Dollar Rate Jumps to 42900 IRR
3- Banks Ready to Increase Amount of Marriage Loans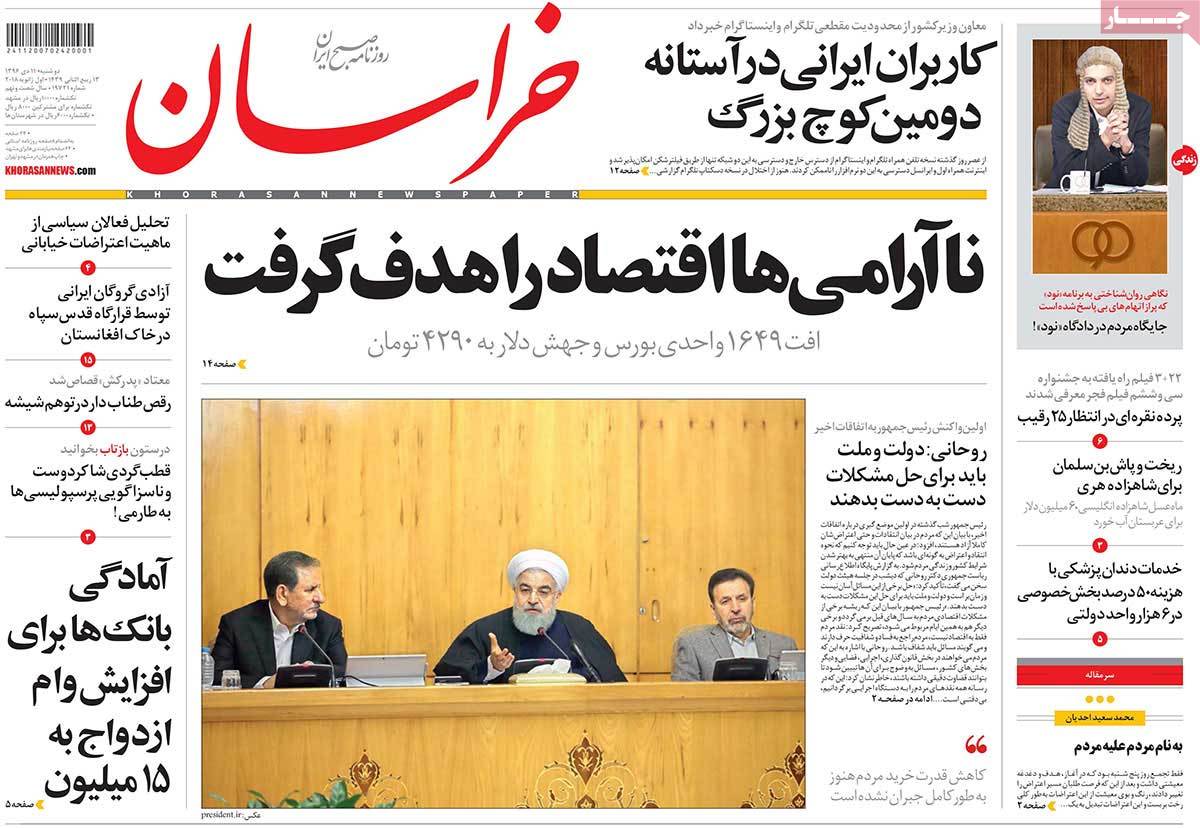 ---
Nasl-e Farda:
1- No Foreigner Allowed: Iranian People's Message to Foreign Provocateurs Clear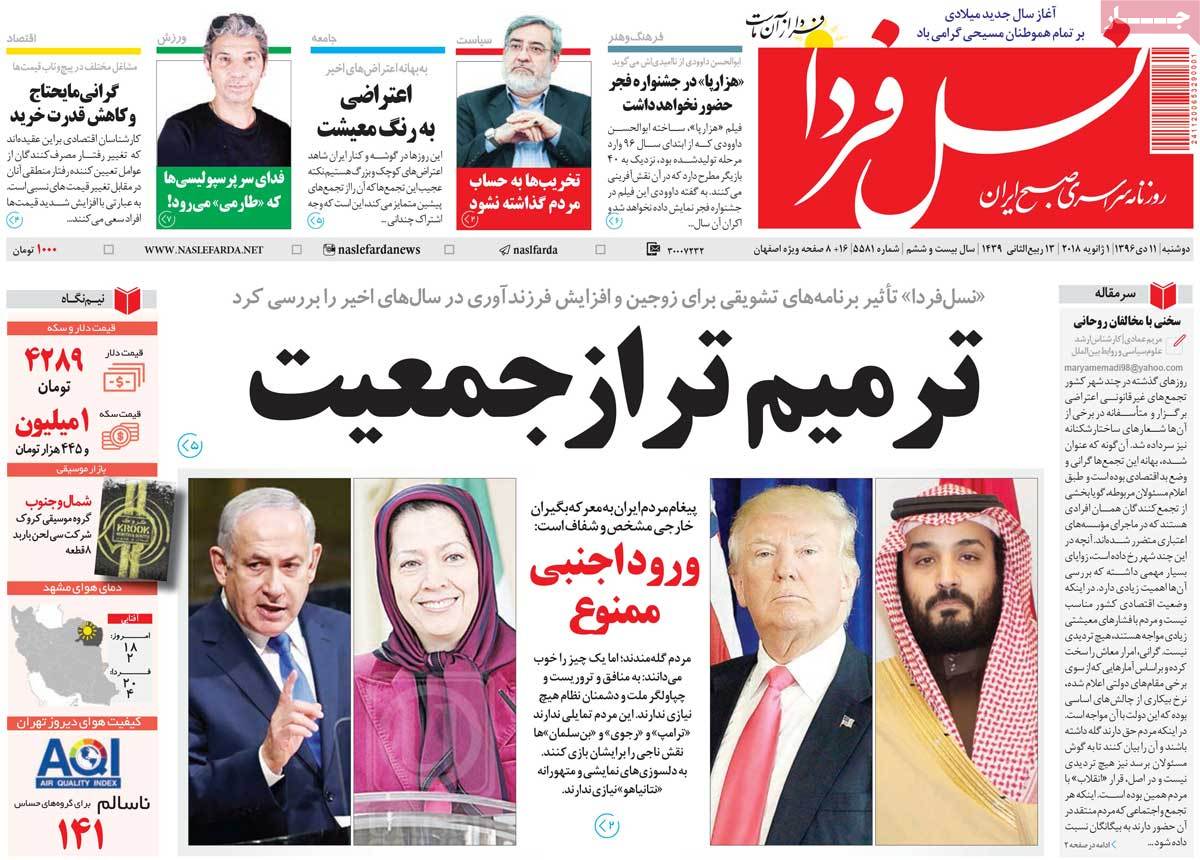 ---
Roozegar-e Ma:
1- Int'l Stock Exchange Market to Be Launched in Free Trade Zones
2- World in the Past Year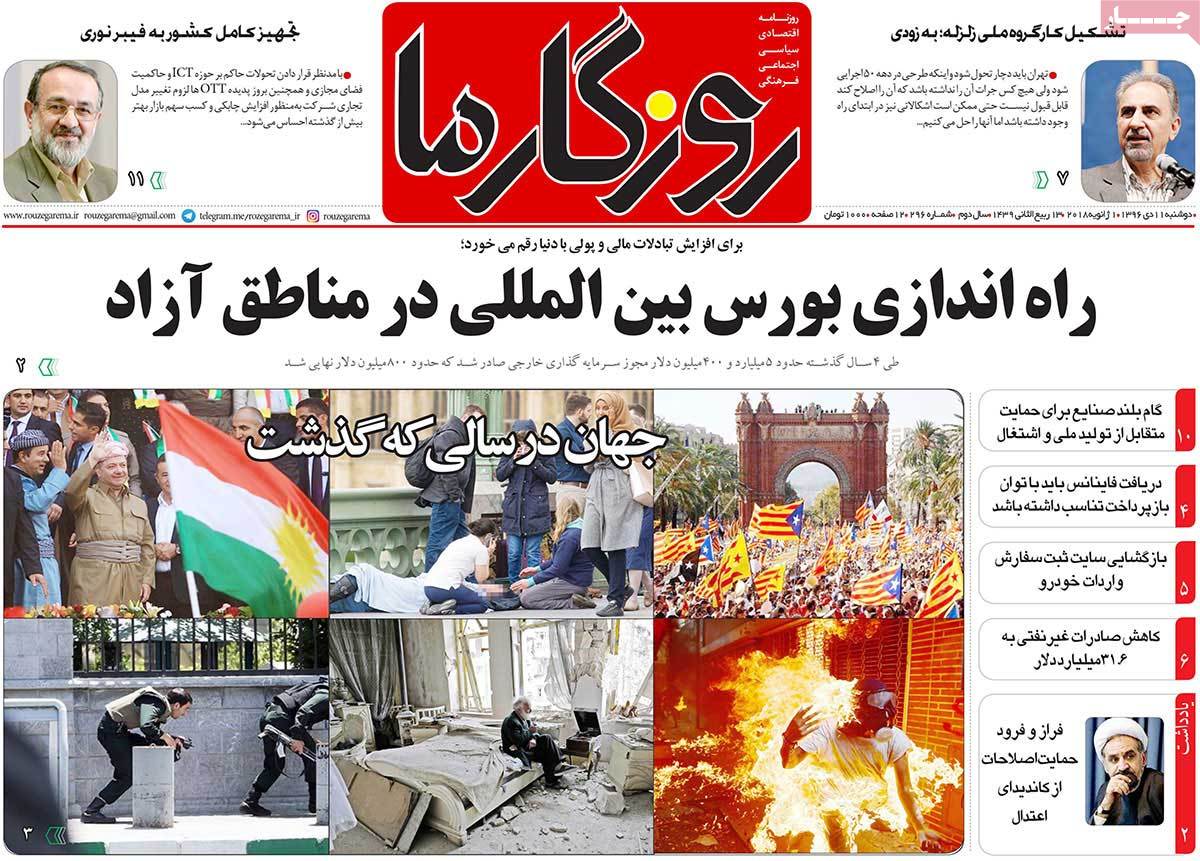 ---
Shargh:
1- Right to Protest: Experts Review an Article of Constitution
---
Siasat-e Rooz:
1- Result of Repeated Trust in Foreigners' Help
From Rafsanjani's Economic Reform Plan to Rouhani's Budget Plan
2- Al Saud Hated by Iranian Nation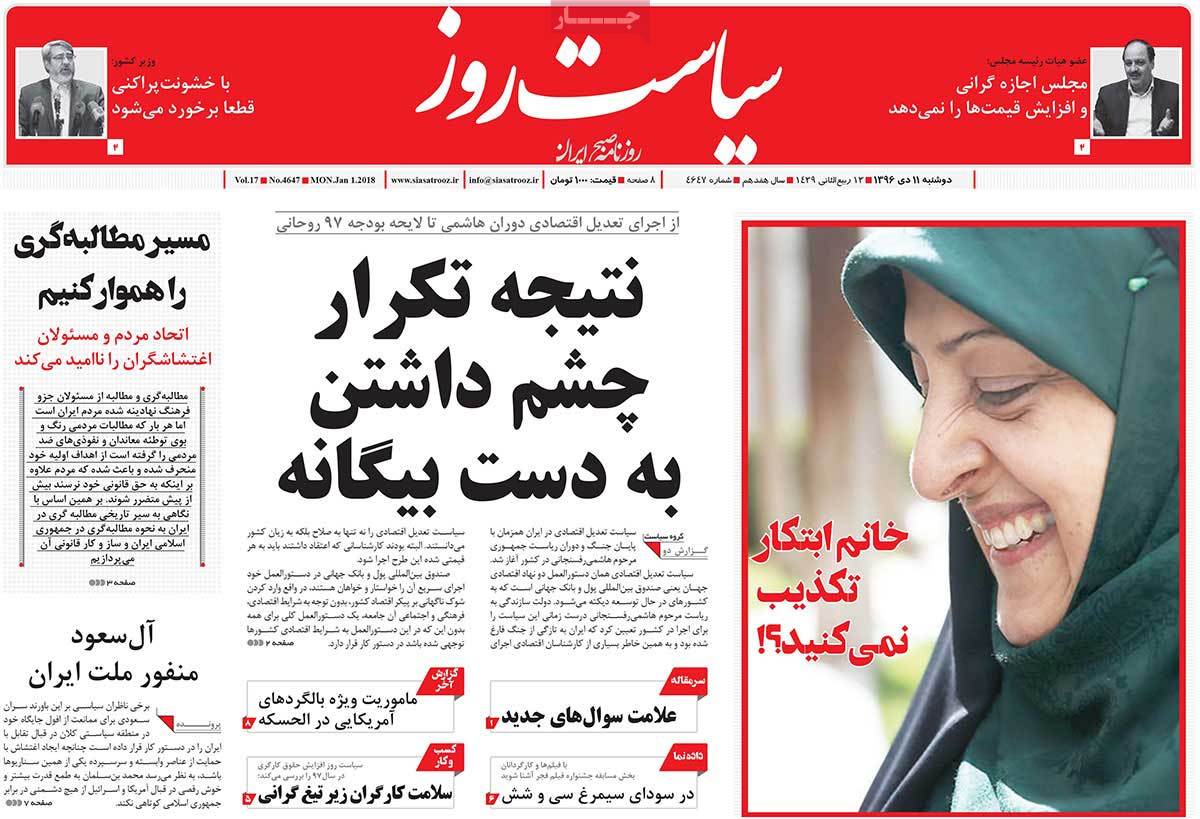 ---
Vaghaye Ettefaghieh:
1- Return of 800 Iranian Professors to Iran
2- Protest Yes, Vandalism No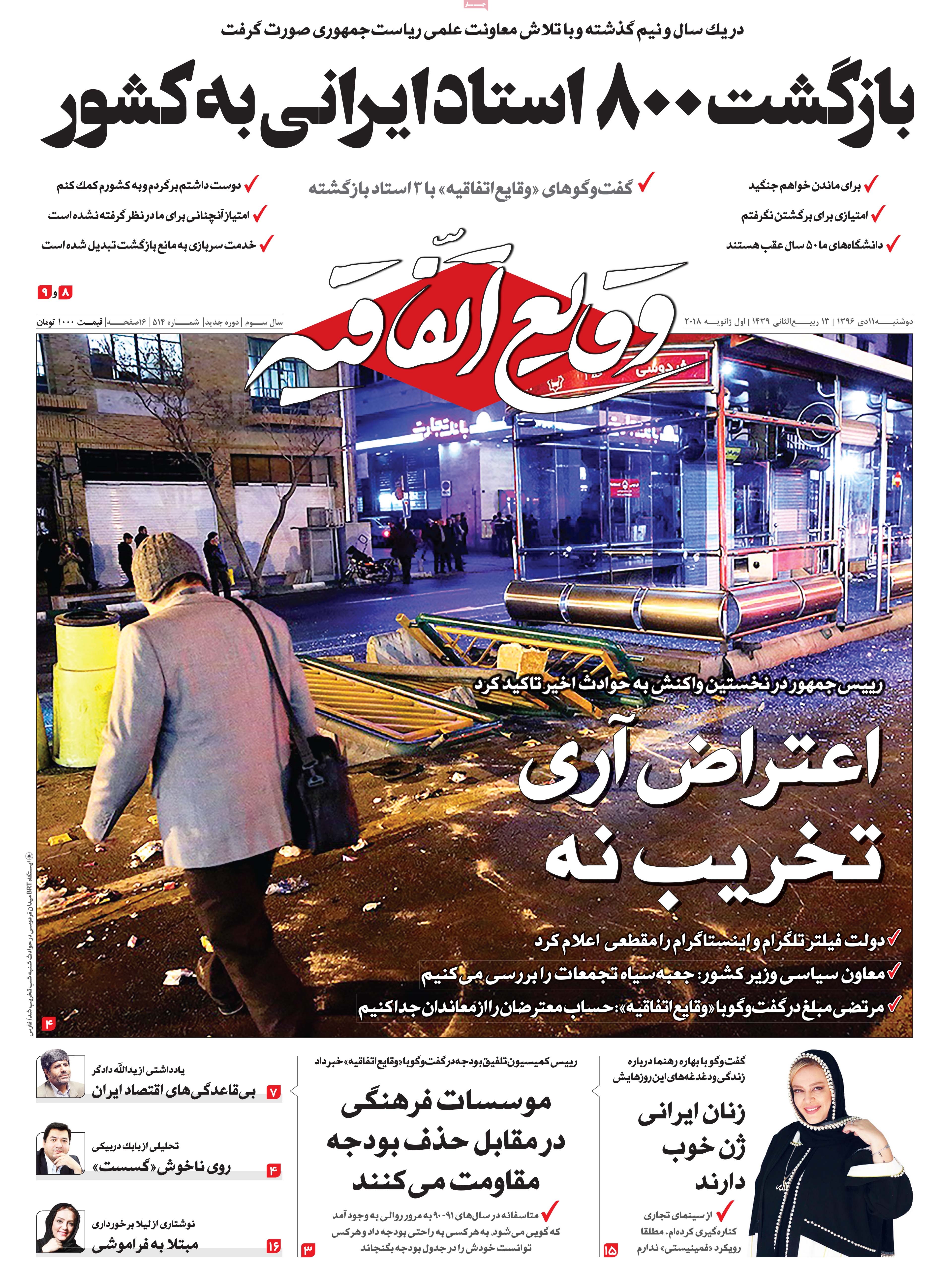 ---
Vatan-e Emrooz:
1- Be Silent for Now! New York Times Advises Trump on How to Support Iran Unrest