Most Iranian newspapers on Saturday covered the protest rallies held in Hamburg, Germany, against the G20 Summit. The first meeting between the US and Russian presidents also received great coverage. Trump and Putin met for the first time on the sidelines of the G20 Summit.
Some other papers, particularly the reformist ones, highlighted the issue of people's privacy in their cars, and discussed its legal and religious aspects after the Iranian Police declared that its forces can inspect people's cars without any legal permit as it is not part of their privacy.
The huge gas deal between Iran and the French giant Total also remained a hotly-debated issue after five days. Reformist and pro-government papers tried to respond to criticisms, and conservative ones continued attacking the government for not using the domestic capabilities.
Some newspapers covered the possible cabinet members and the future mayor of Tehran, who is to be chosen by the 21 reformist members of the City Council.
The above issues, as well as many more, are highlighted in the following headlines and top stories:
Abrar:
1- Larijani: Recent US Senate Move Pretext for Approving New Iran Sanctions
2- Military Official: US Ready to Defend Its Allies in Syria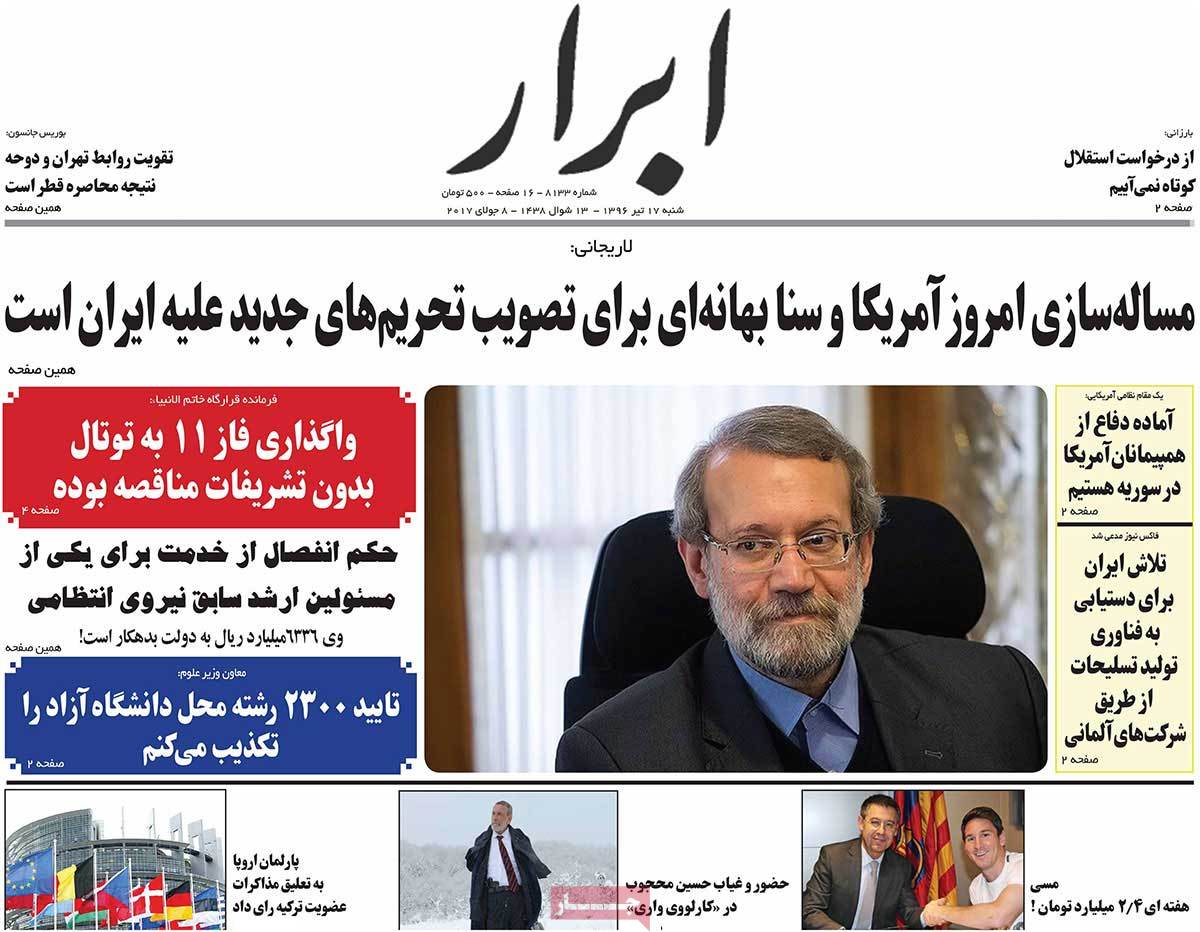 ---
Abrar-e Eqtesadi:
1- Iran, EU Start Customs Negotiations
2- World's Small Banks Thirsty for Establishing Ties with Iran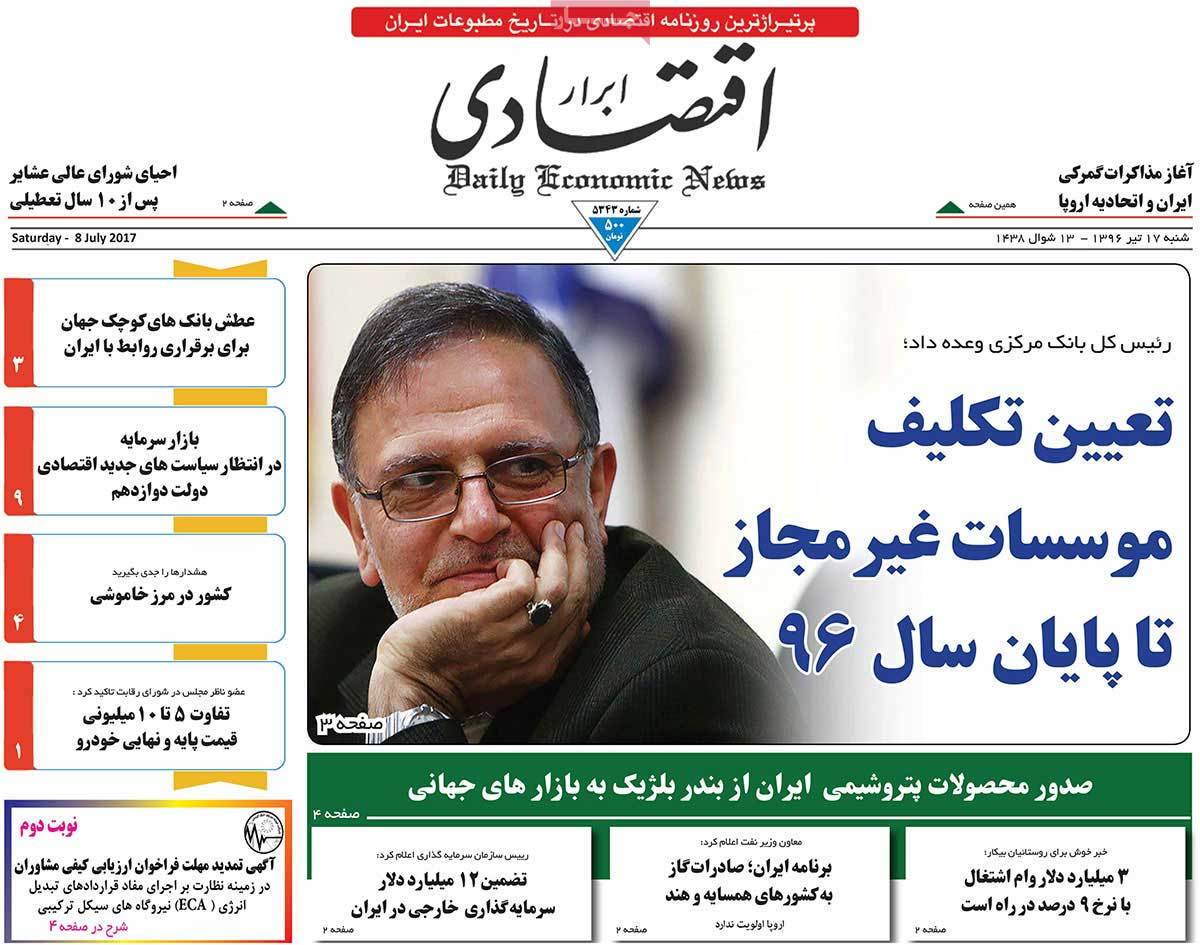 ---
Afkar:
1- General Rezaei: Al Saud Turns Saudi Arabia into Second Israel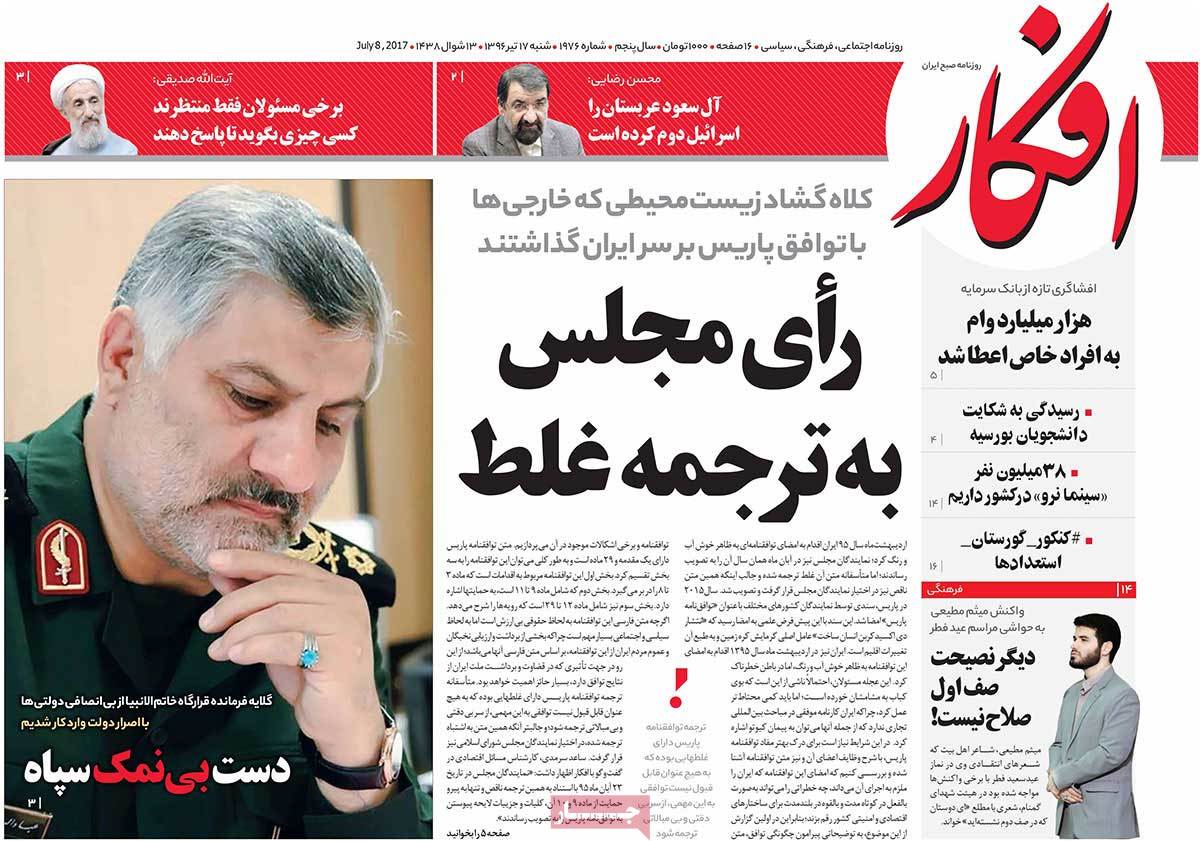 ---
Aftab-e Yazd:
1- China, US, Two Koreas: None of Them Wants a War: Analyst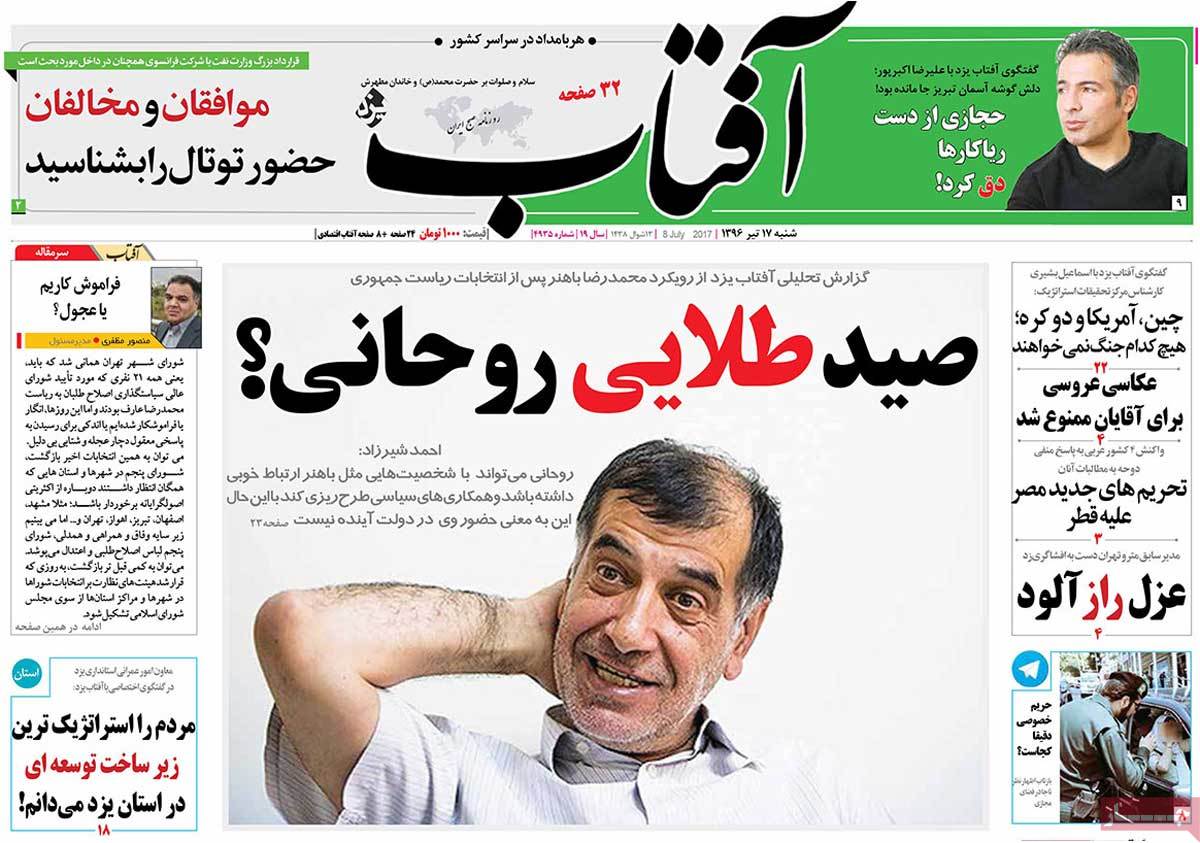 ---
Arman-e Emrooz:
1- World Powers in Germany's Deadlock
2- 5,200 Dissuaded from Committing Suicide in Iran in 2016: Official
---
Ebtekar:
1- Close Encounter between Putin, Trump
2- Why Certain Figures Show Negative Reaction to Iran-Total Deal
---
Etemad:
1- Putin Fan Meets Putin: US, Russian Leaders Meet for First Time in Hamburg
2- Ambitious, Anti-Iran, Close to Israel: Haley Can Be Future GOP Presidential Candidate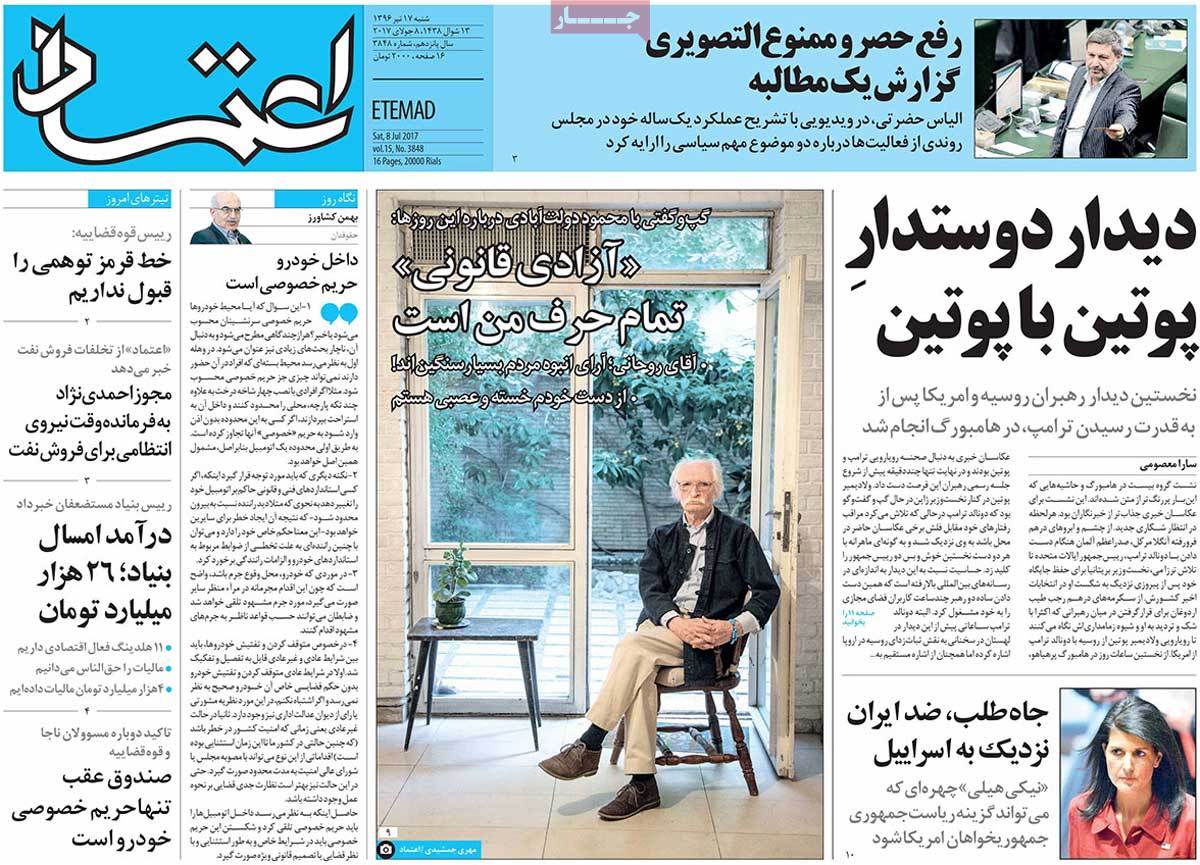 ---
Ettela'at:
1- Iran Parliament's Energy Commission Supports Deal with Total
2- Pakistan: We Appreciate Ayatollah Khamenei's Support for Muslim World
3- Larijani: Parliament to Support Any Cabinet that Thinks about People
4- 130 Wounded in Clashes between German Police, G20 Protesters
5- Libya's Benghazi Liberated from Terrorists
---
Hemayat:
1- US Stonewalling Huge Barrier to Banking Transactions with Iran
---
Iran:
1- No Iranian Firm Capable of Building, Funding South Pars Phase 11: Official
2- Some Anti-Gov't Media Act as If They're Attacking US Gov't: Cleric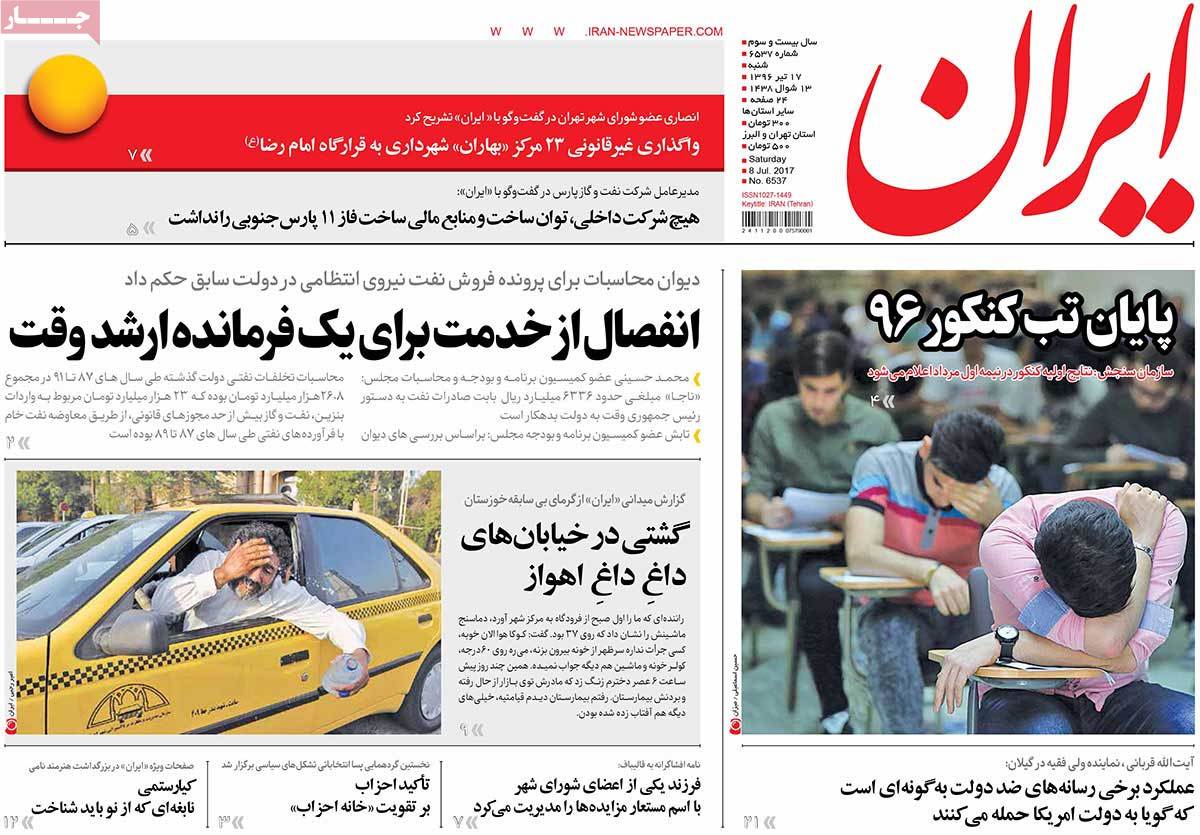 ---
Javan:
1- 'Welcome to Hell'
Protesters Voice Opposition to Global Capitalism in Hamburg
2- Clear Response to Anti-Iran Human Rights Reports
Foreign Envoys Amazed by Evin Prison's Suitable Conditions
---
Kayhan:
1- Protesters Set Fire on G20 Summit in Hamburg
2- Record of Power Consumption in Iran Broken
3- Johnson: Qatar Blockade Counterproductive; Doha Closer to Iran
4- Financial Times: US Practically Torn up JCPOA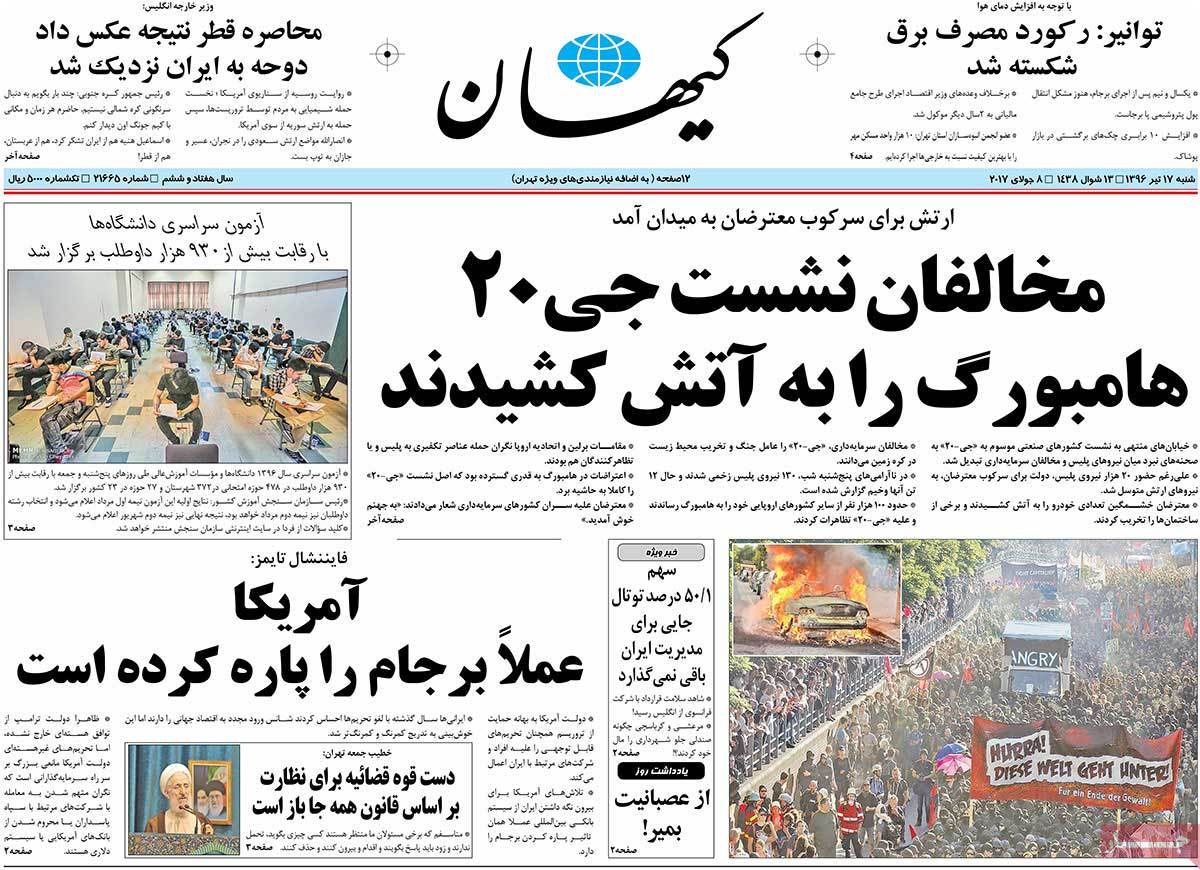 ---
Khorasan:
1- Black and White Points of Total's Return to Iran
2- Rouhani Has Started Choosing His Cabinet Members: Aide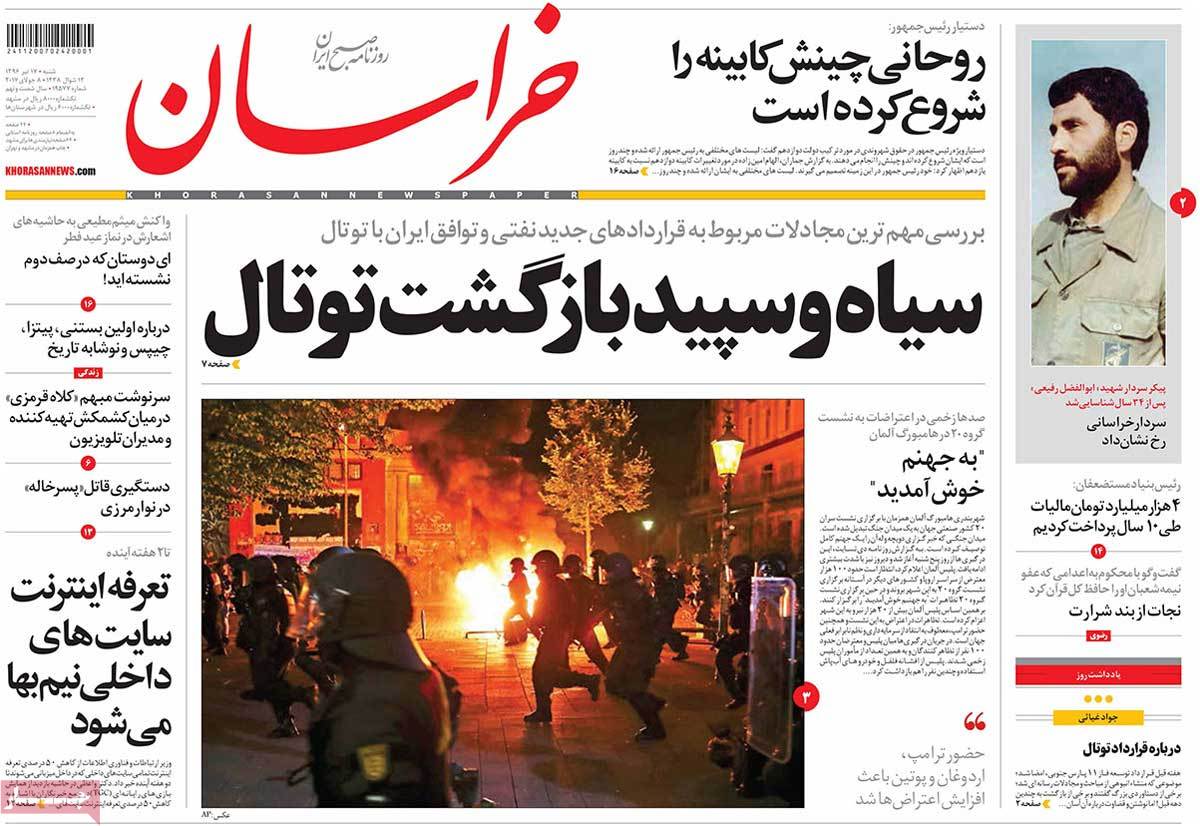 ---
Rooyesh-e Mellat:
1- Trump Sharpens Al Saud, Al Khalifa's Blades of Tyranny: Cleric
2- Amir Abdollahian: Riyadh Not a Reliable Partner for Arabs
---
Shahrvand:
1- Sad End of Rescue Operation: Two Rescue Workers Die in Last Mission
2- Tehran Mayor Should Be National Figure: Ex-Mayor
---
Sobh-e Now:
1- Hamun Lake Cannot Stop Crying
Iran's Eastern neighbour harshly reacts to Tehran's position on Afghanistan's dam construction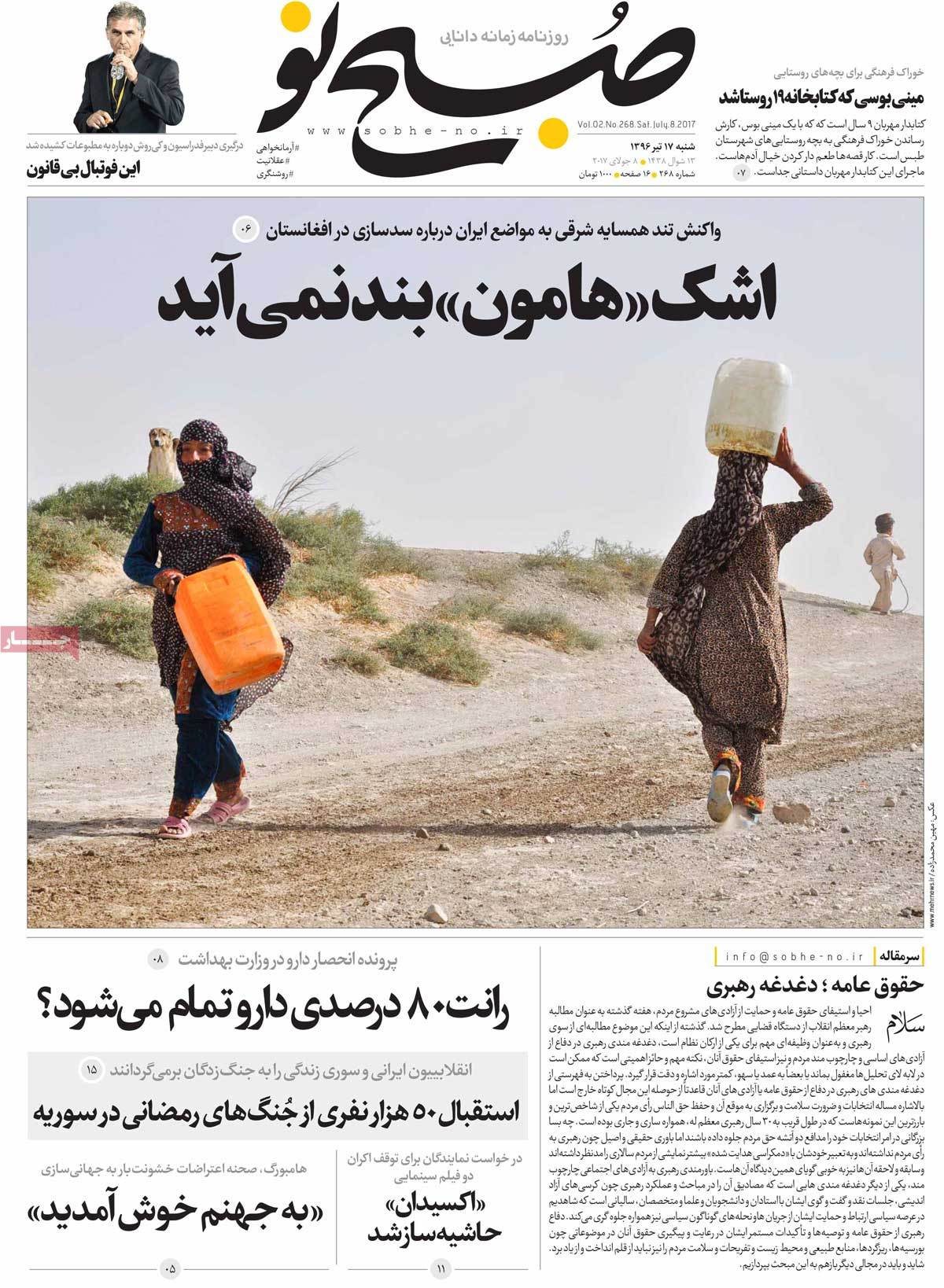 ---
Tejarat:
1- Hot Days of Iran's Steel Export
2- Hamburg, Hell of Protests against G20
3- First Trump-Putin Meeting Held in Germany: Controversial, but Simple
---
Vatan-e Emrooz:
1- Cold War in Hamburg