All newspapers today covered the remarks made by the Leader of Iran's Islamic Revolution Ayatollah Seyyed Ali Khamenei about the plight of Muslim people in Myanmar and his call on Islamic countries to put Myanmar under pressure.
Several papers also released reports on US President Donald Trump's new strategy towards Iran and the nuclear deal, which involves exerting greater pressure while maintaining the JCPOA.
Another top story was the issue of Iraqi Kurdistan region's independence referendum, which remained controversial in Iranian papers.
The above issues, as well as many more, are highlighted in the following headlines and top stories:
19 Dey:
1- Europe Should Remove Barriers to Nuclear Deal: Iran's Ex-FM
2- Death of Peace Nobel Prize Arrives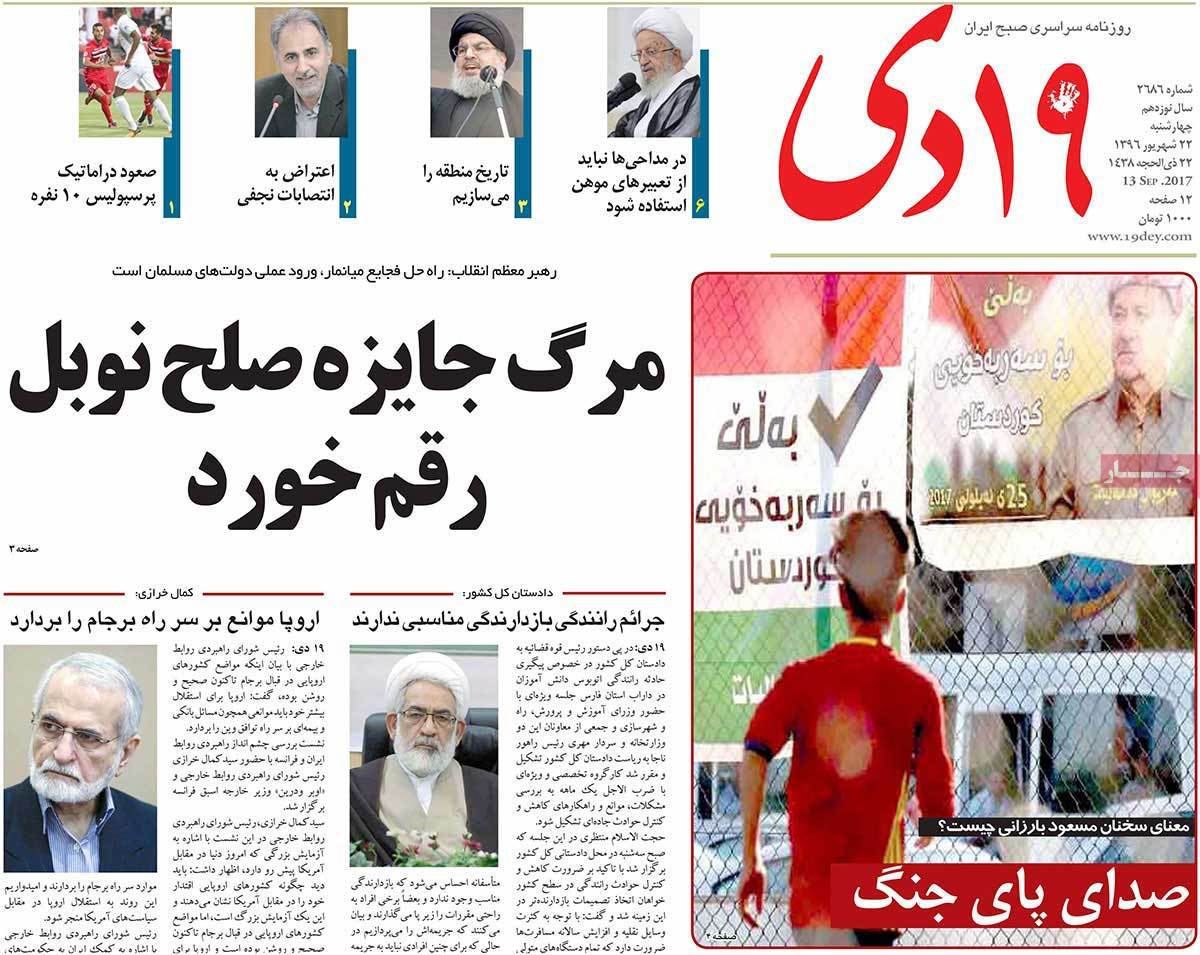 ---
Abrar:
1- 3 Million Iranian Pilgrims Expected to Visit Iraq's Karbala
2- Erdogan: We Have No Difference with Iran, Russia on Idlib
---
Aftab-e Yazd:
1- Myanmar under Shadow of Harvey
How American Media Covered Recent Hurricanes
2- JCPOA in Deadlock? Unprecedented Pressure of US, Allies on Nuclear Deal
---
Arman-e Emrooz:
1- Iran Leader Urges Muslim States to Practically Interfere in Myanmar Disaster
2- 79 Minutes with 10 Players: Glorious Victory
---
Ebtekar:
1- Spokesman: Gov't Doesn't Support Any Move that Limits People's Freedom
2- Russia, China Stop Supporting North Korean Leader
UNSC Unanimously Ratifies Resolution against Pyongyang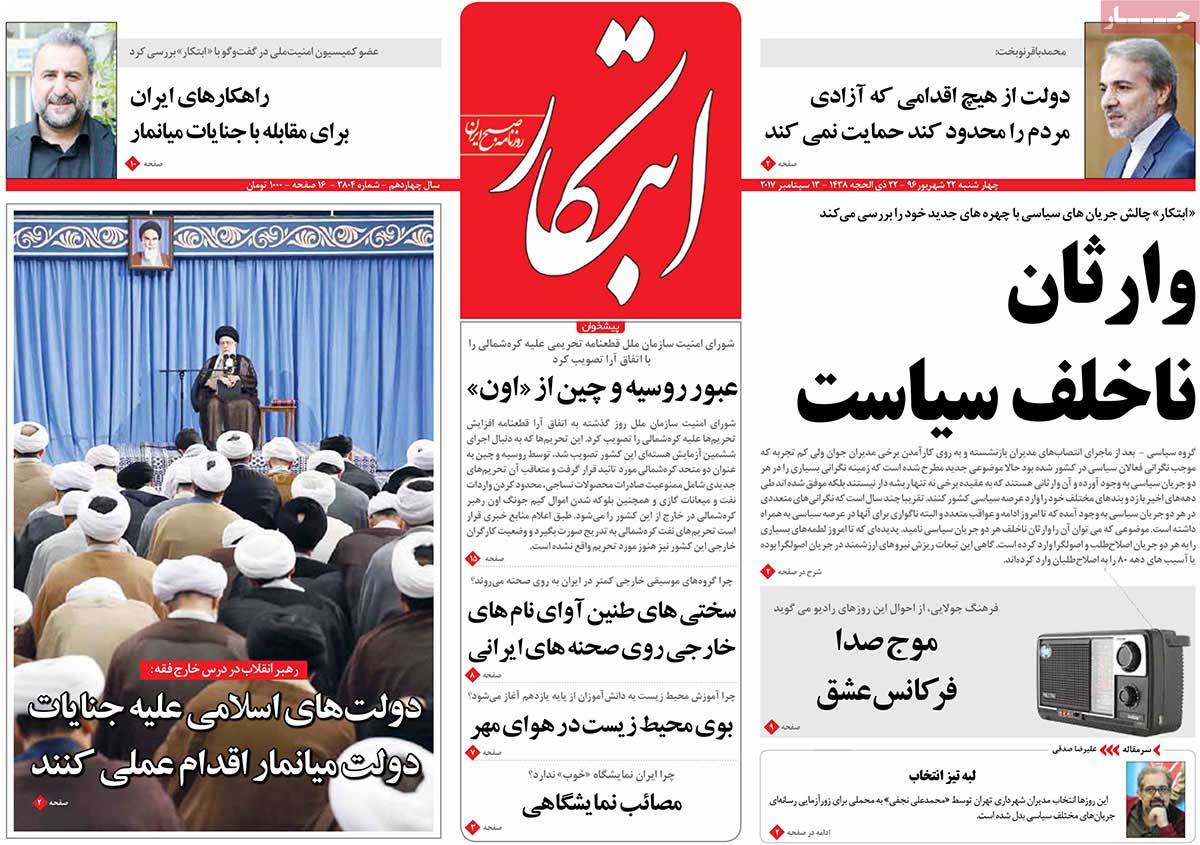 ---
Etemad:
1- Maintaining Nuclear Deal, Strengthening Anti-Iran Approaches: New US Strategy
2- Gov't Spokesman: Resolving Issue of Women's Presence in Stadiums Needs Patience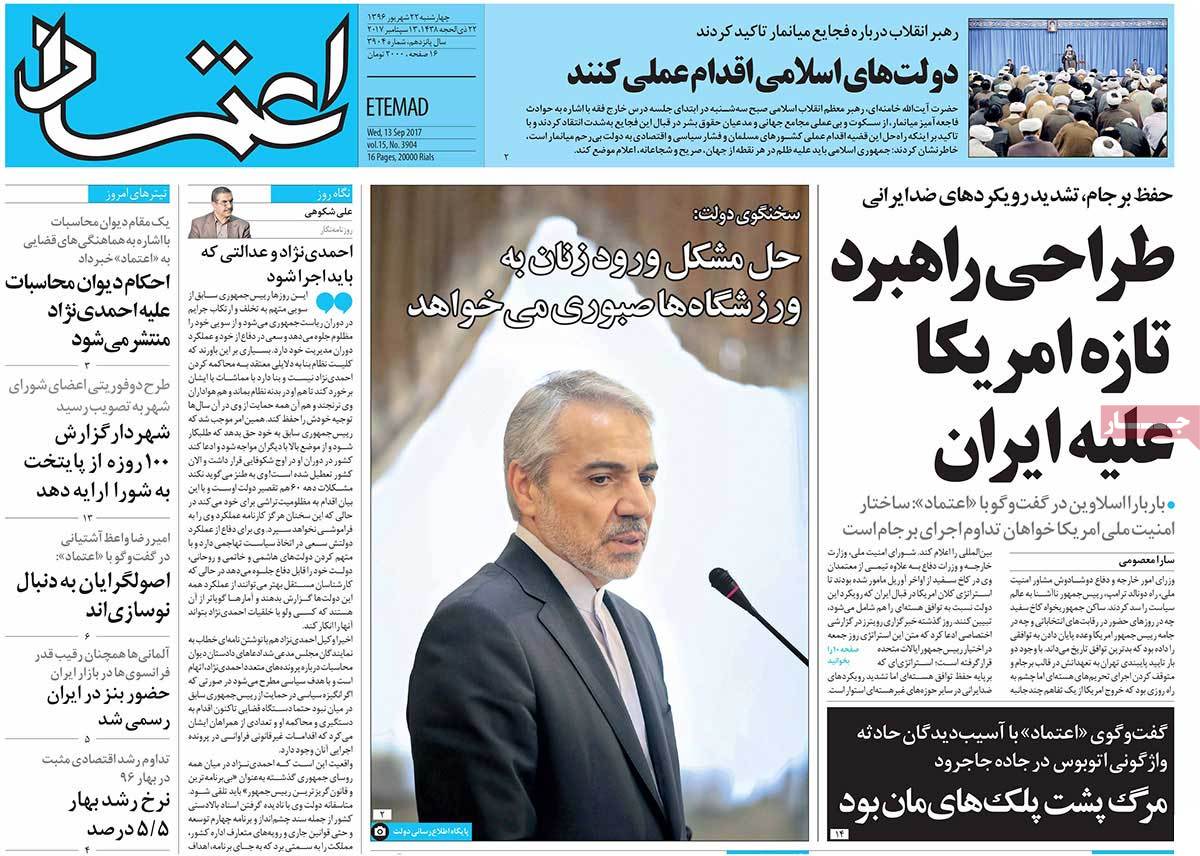 ---
Ettela'at:
1- Iraqi Parliament: Iraqi Kurdistan Independence Referendum Illegal
2- Hezbollah Chief: Iran Leader Had Predicted Assad's Victory over Terror 5 Years Ago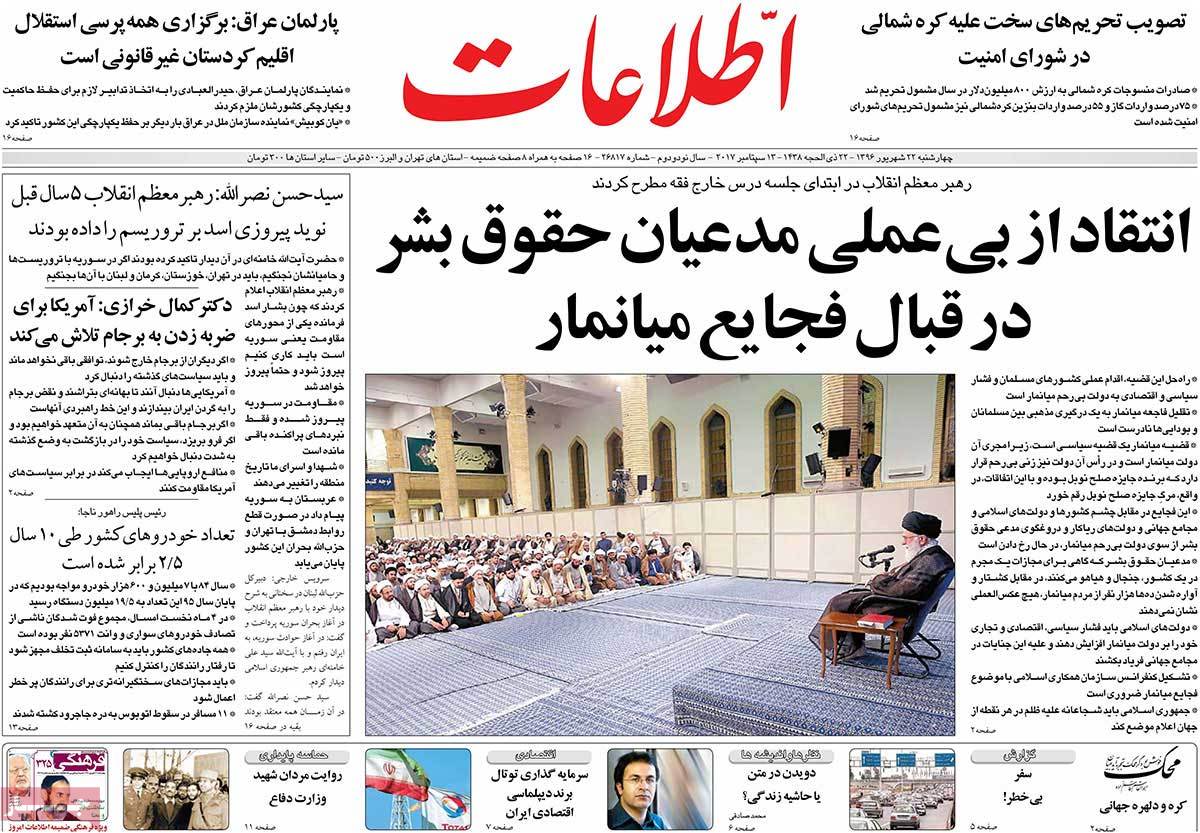 ---
Haft-e Sobh:
1- German Trucks to Change Atmosphere of Iran's Roads
2- Miracle in Abu Dhabi: Persepolis Fights Bravely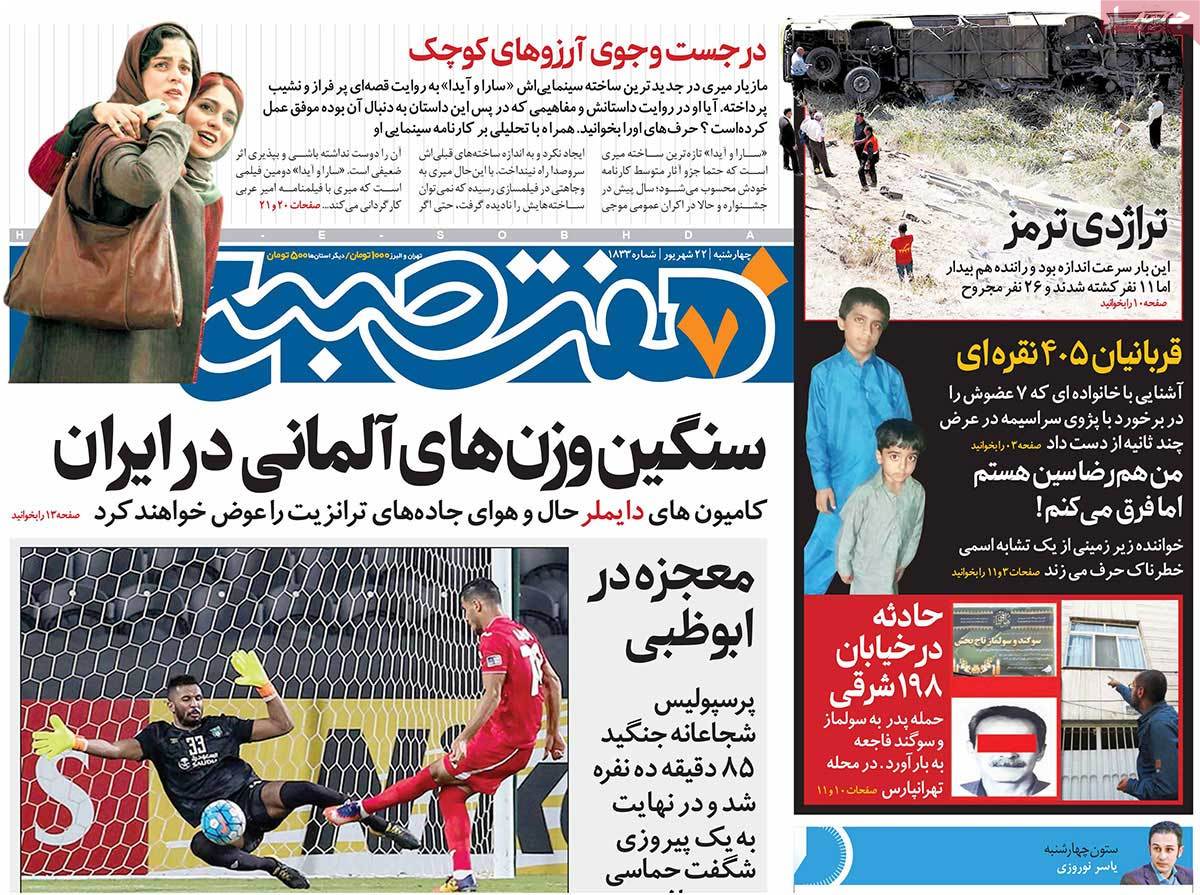 ---
Iran:
1- Benz Arrives in Iran: Iran Khodro, Mercedes Sign Deal
2- Blade of Global Sanctions on North Korea's Economic Veins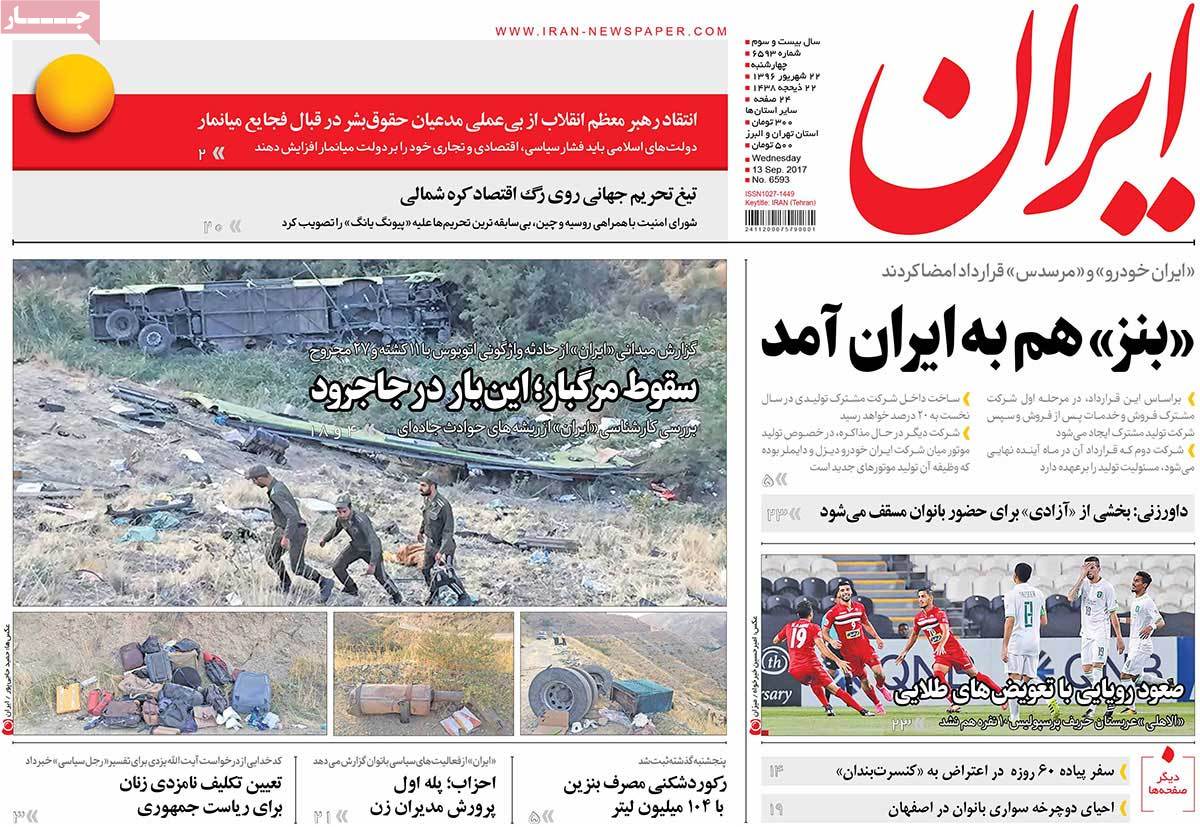 ---
Jame Jam:
1- Iran Leader: Death of Nobel Peace Prize in Myanmar
2- Masterpiece of Persepolis: Dreamy Victory with Branko Ivankovic's Golden Substitutions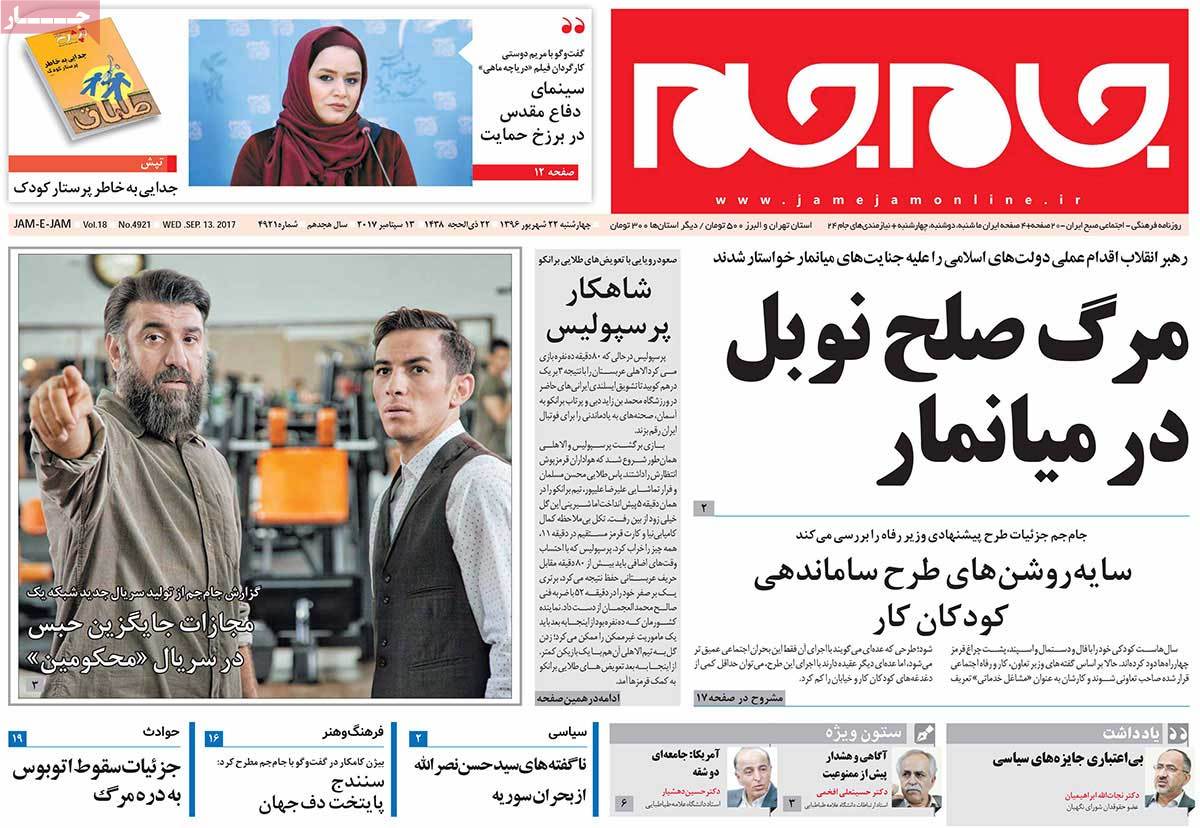 ---
Javan:
1- Gov't Closes Doors of Azadi (Freedom) [Stadium] to Critics
Sports Ministry Not Allowing Critics to Hold Gathering in Azadi Stadium
2- Hezbollah Chief's Account of His Meeting with Iran Leader at Beginning of Syria Crisis
---
Jomhouri Eslami:
1- 5.8% Growth in Iran's Industry Sector in Q1
2- Russia, Turkey Sign S-400 Deal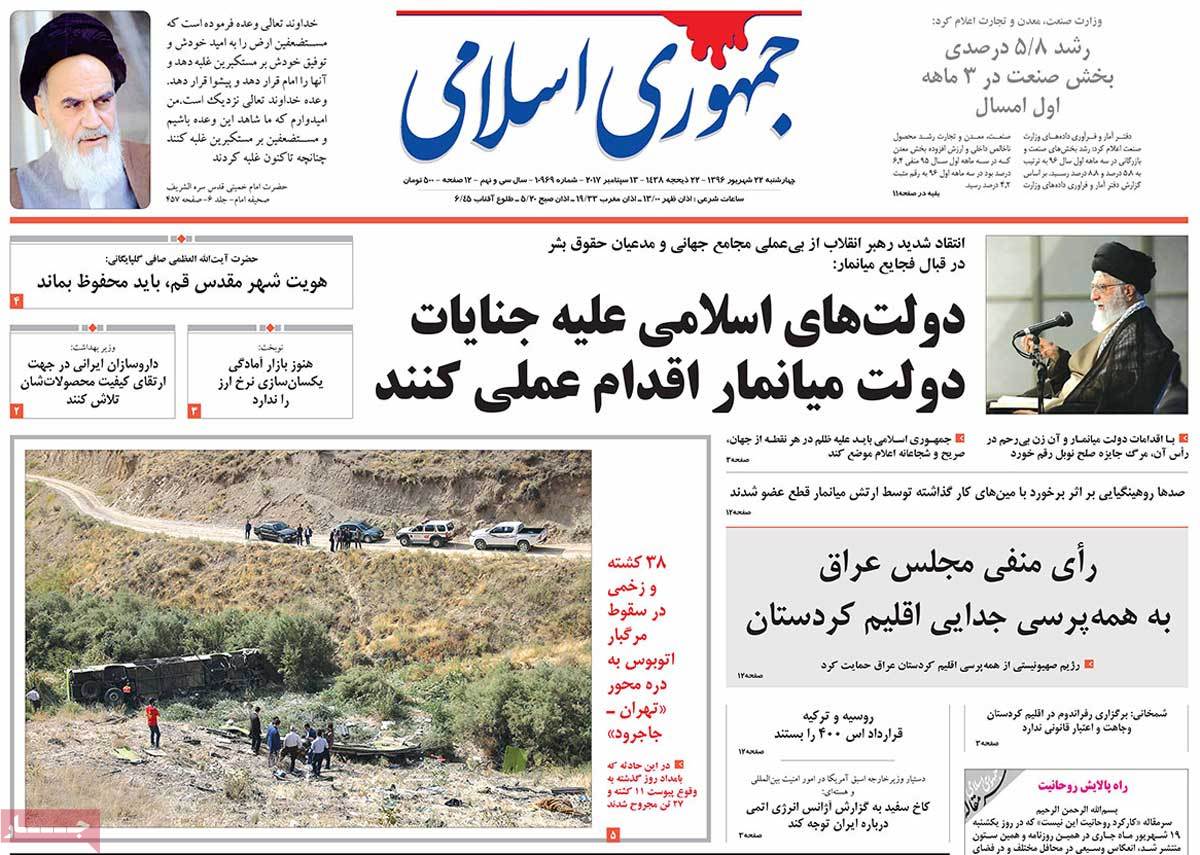 ---
Kayhan:
1- Iran Leader: Myanmar Disaster Unprecedented
2- Europe Afraid of Return of 2,500 Blue-Eyed ISIS Elements to Home!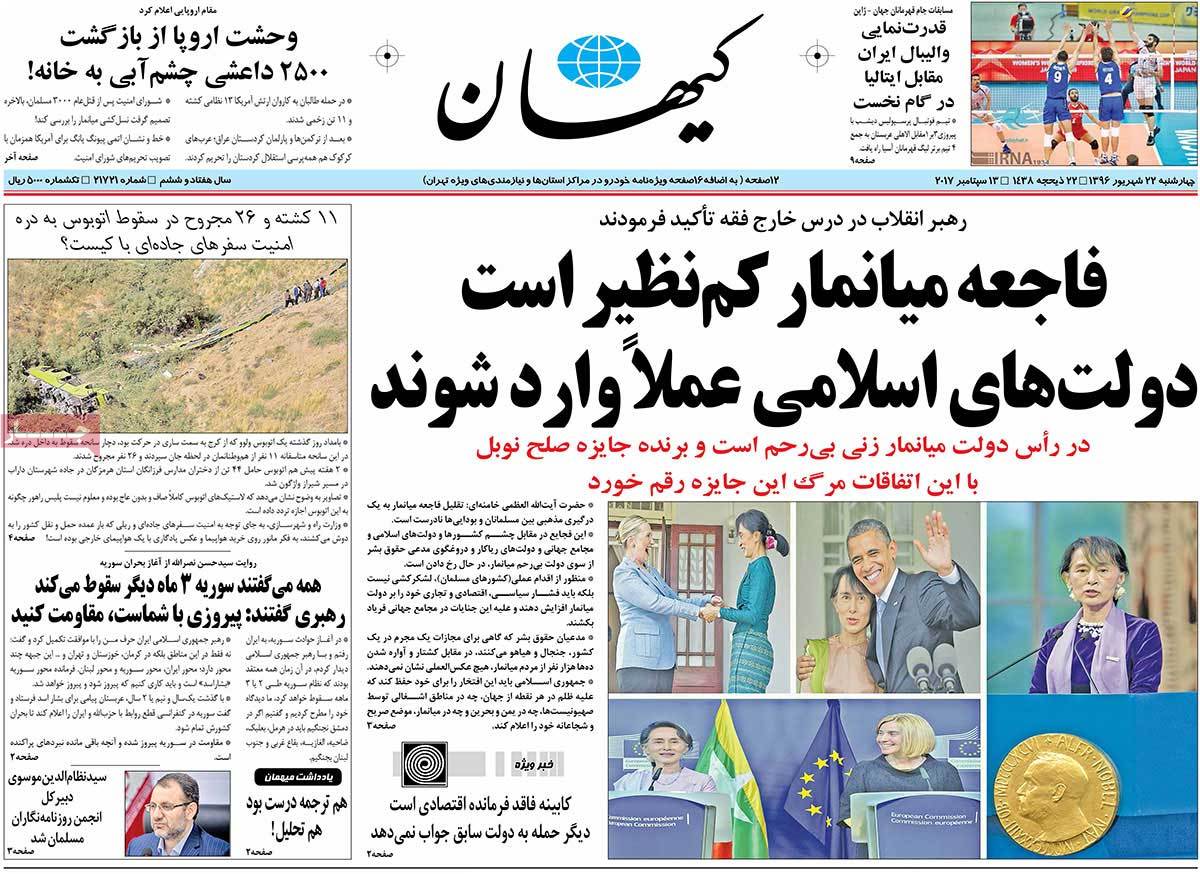 ---
Khorasan:
1- Gesture of Bullies to Maintain JCPOA: Trump's New Aggressive Strategy against Iran
2- Need for Political, Economic Pressure on Cruel Gov't of Myanmar
---
Resalat:
1- HRW: Saudi Arabia Commits War Crime in Yemen
2- 2,700 Islamic Centres Active in Germany: Head of Hamburg Islamic Centre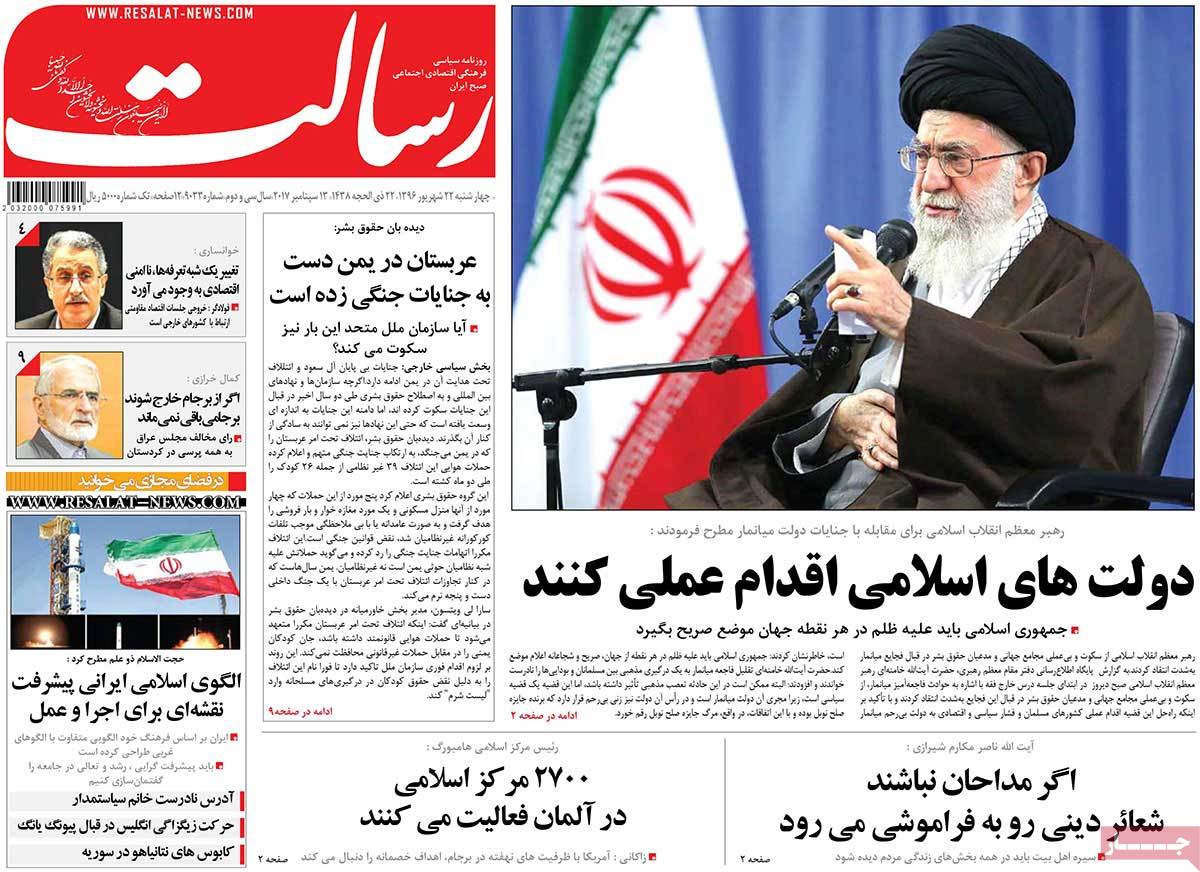 ---
Seda-ye Eslahat:
1- Iran Leader: Political, Economic, Trade Pressure on Myanmar Should Be Increased
2- Appointments to Satisfy Conservatives: No Change in Managers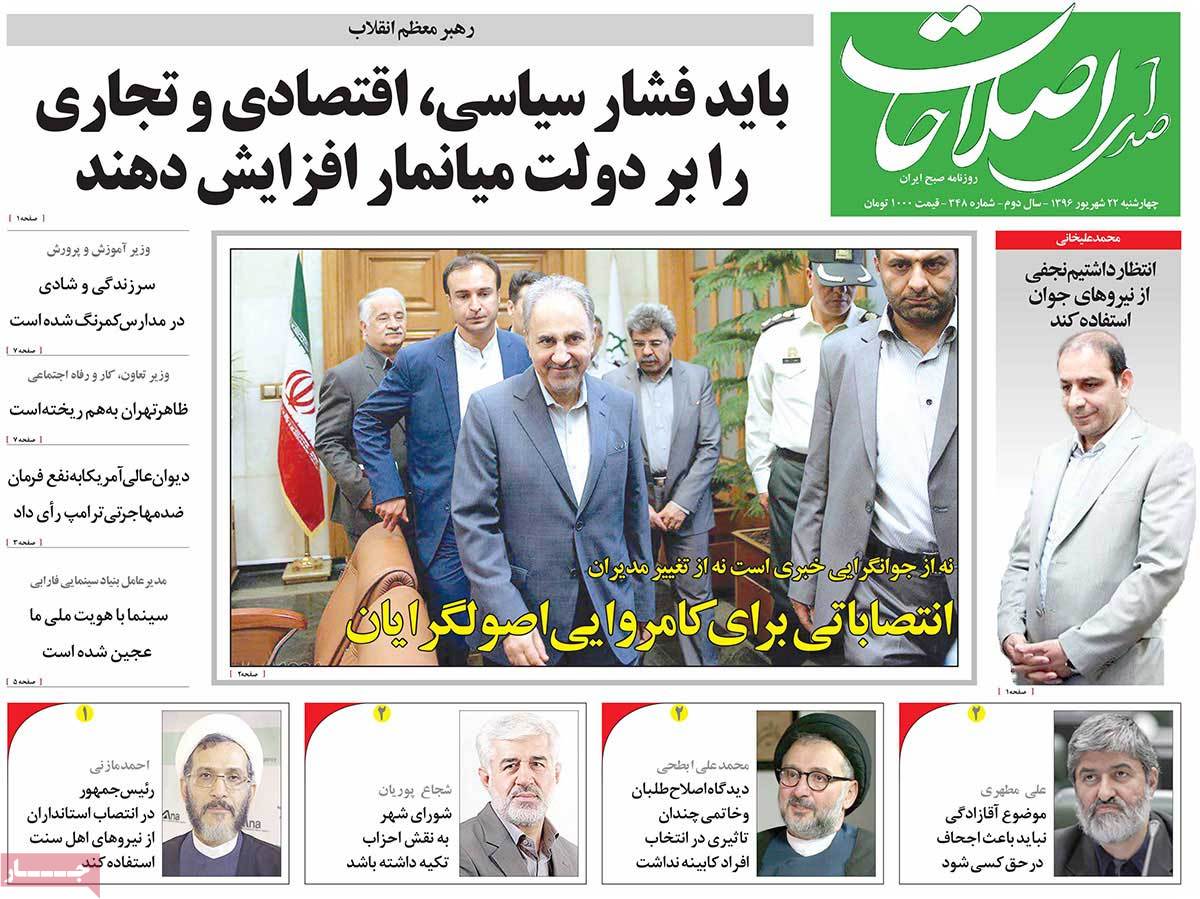 ---
Shargh:
1- Iran's Envoy to Syria: Iran Not in Qajar Era, Neither Is Russia in Time of Tsar
2- Iran's Shamkhani: Referendum in Iraqi Kurdistan Not Legally Valid
---
Shahrvand:
1- Iran's Top Sunni Cleric: Sunnis Are All against Violence
2- Iranian Red Crescent's Rapid Reaction to Help Myanmar Muslims