The top story in today's newspapers was the Wednesday funeral ceremony for Mohsen Hojaji, the Iranian soldier beheaded by the ISIS terrorist group in Syria.
The reactions to the Iraqi Kurdistan's independence referendum also remained a top story in today's newspapers.
Iranian papers also covered the support voiced by a number of European ambassadors to the US for the nuclear deal between Tehran and world powers.
The above issues, as well as many more, are highlighted in the following headlines and top stories: 
19 Dey:
1- First VP: There Should Be No Red Line in Countering Corruption
2- Parliament Speaker: We Won't Accept Secessionism in Region
3- Rouhani's UNGA Speech Was What Iranian Nation, Leader Wanted to Say: Military Aide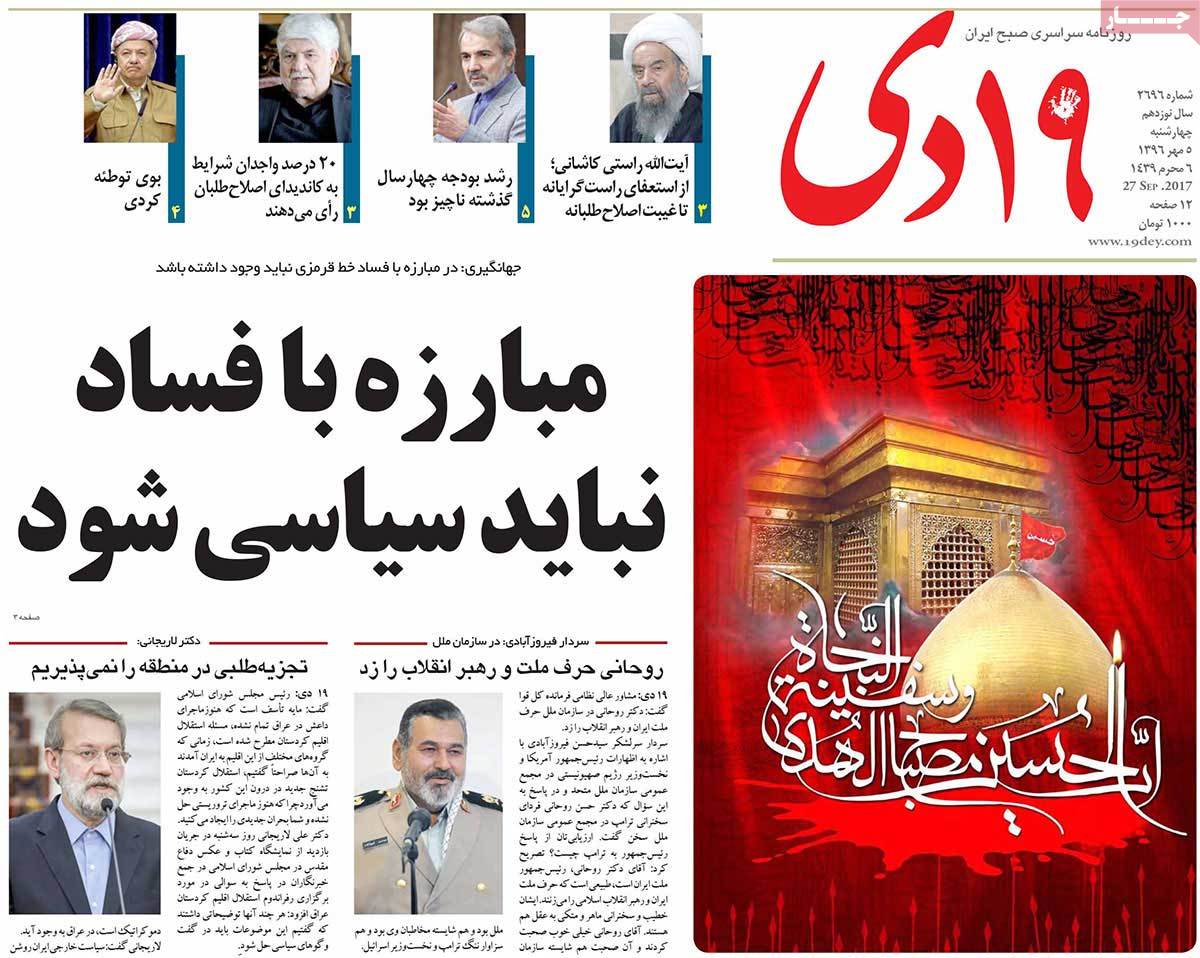 ---
Abrar:
1- Kurdistan Independence to Cause Numerous Troubles for Iraq, Neighbours: Iran Leader's Chief of Staff
2- Funeral to Be Held Today for Mohsen Hojaji in Tehran
3- Defence Minister: Iran Opposed to Any Change in Regional Countries' Borders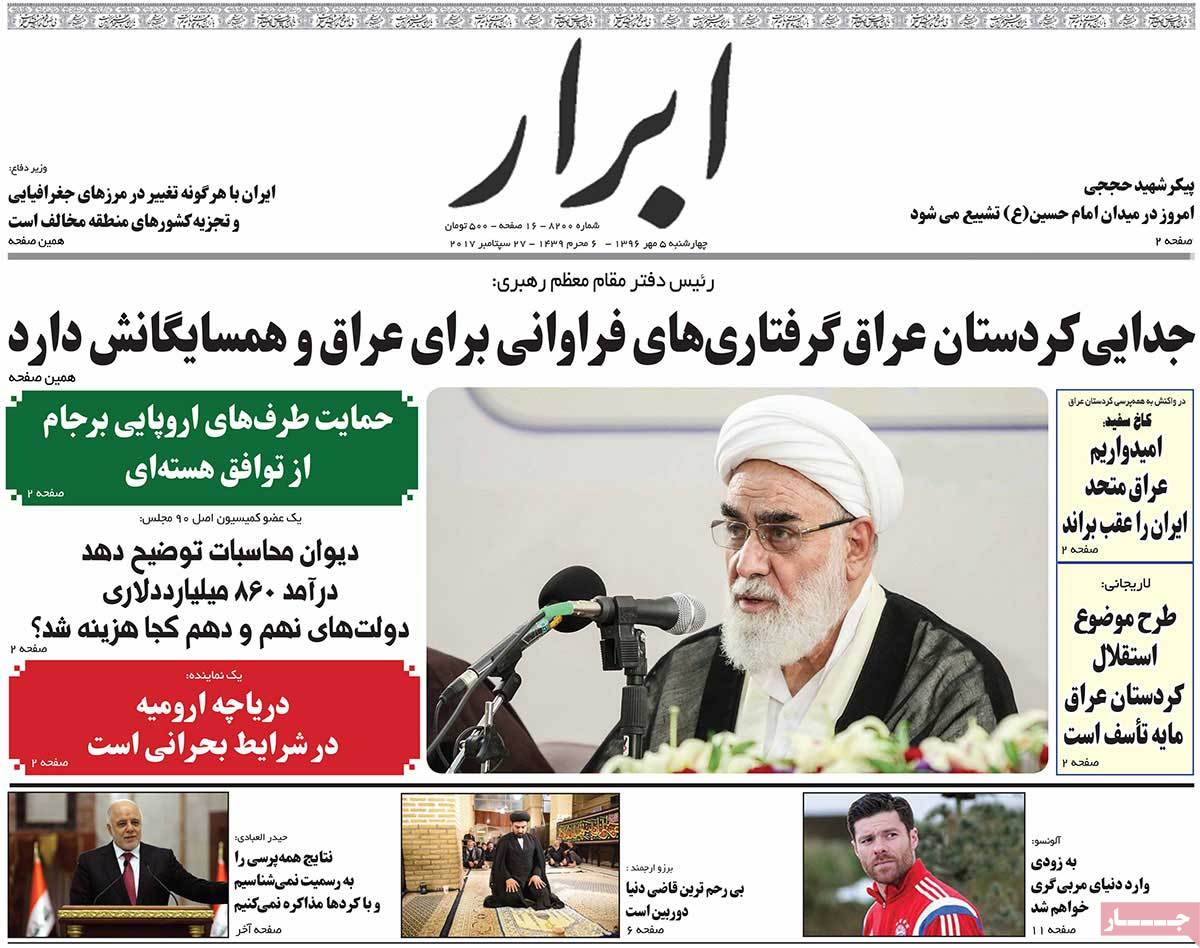 ---
Arman-e Emrooz:
1- We Shouldn't Show Sensitivity to Kurdistan Referendum: Vice-Speaker of Iran Parliament
---
Asrar:
1- Gov't Supports Women's Management in Iranian Media: Deputy Minister
2- Iranian Engineers to Build Oil Refinery in Syria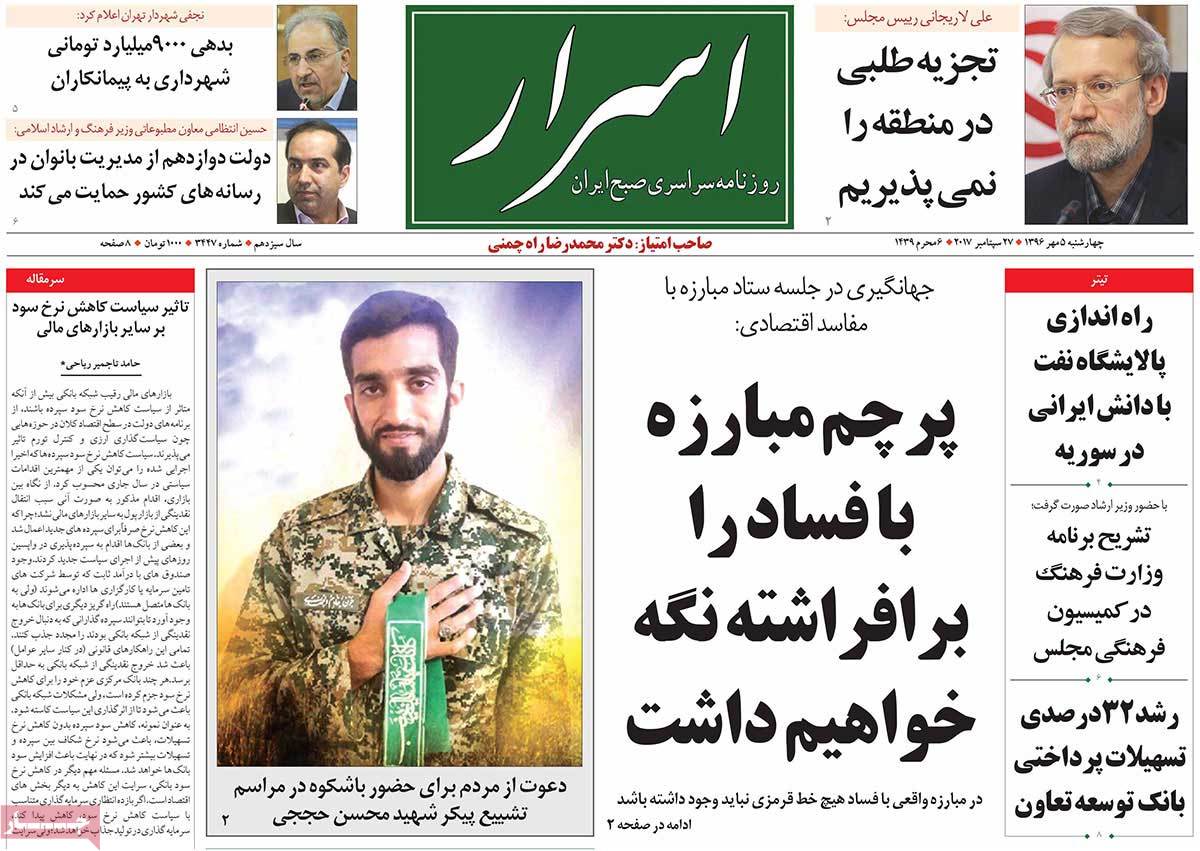 ---
Etemad:
1- Iranian Diplomat: Kurdish Referendum Held with US Design, Israel Support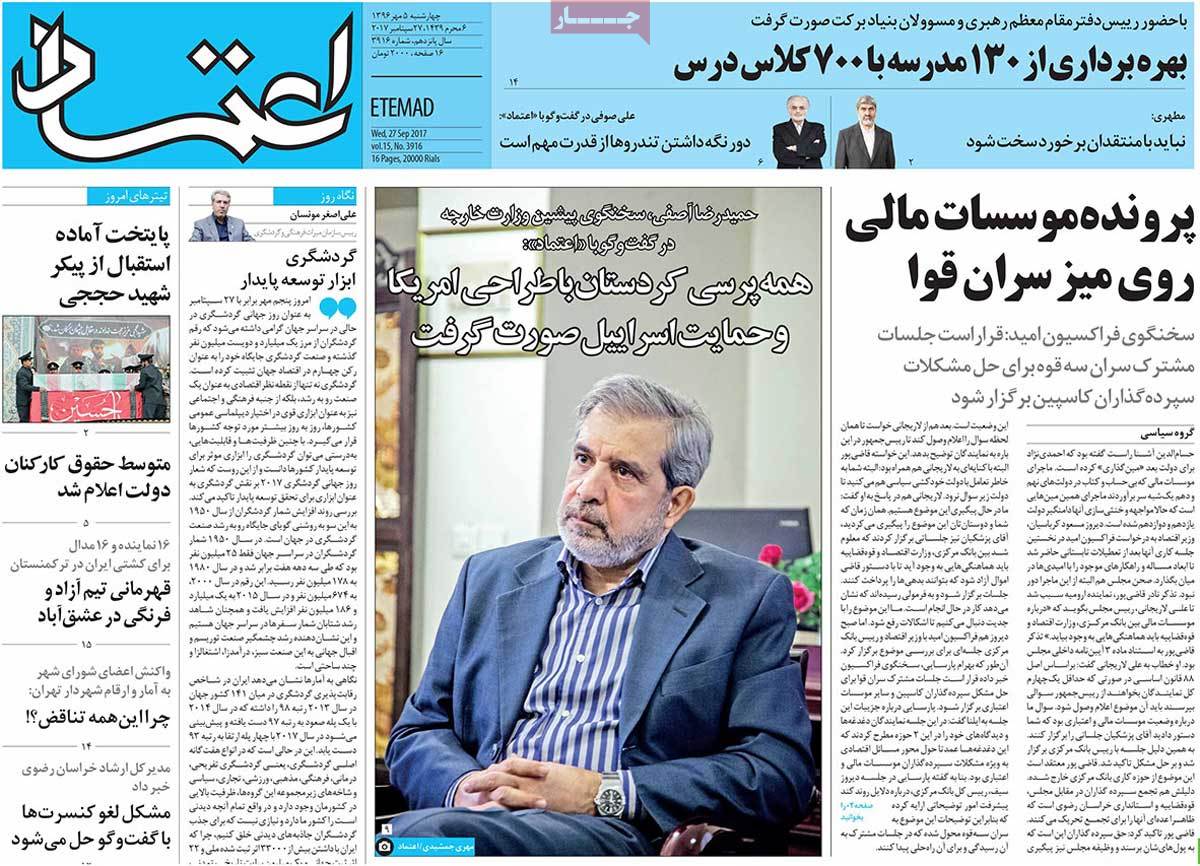 ---
Ettela'at:
1- First VP: Safety of Investment Shouldn't Be Sacrificed in Fight against Corruption
2- Iranian Oil Industry's Indigenous Technologies Enter Global Markets
3- Iraqi PM: We'll Never Recognize Kurdistan Region's Referendum Results
4- 770 School Classes Opened in Iran's Deprived Regions by Iran Leader's Office
---
Farhikhtegan:
1- Hojaji's Funeral to Be Held in Tehran 50 Days after ISIS Beheading
2- Velayati: Barzani Is Zionists' Middleman
---
Iran:
1- Only Death Is Not Starving Here: A Report on Rohingya Muslims in Myanmar-Bangladesh Border
2- Tehran Prosecutor Says Telegram CEO Indicted
---
Javan:
1- 3 Zionists Killed in Young Palestinian's Suicide Attack
2- Senior Gov't Executives Build 7,000 Villas in a Northern Village with 6 Houses!
---
Jomhouri Eslami:
1- World Rejects Barzani's Secessionism: No Country Welcomes Results of Barzani's Plebiscite
2- Siege on Sheikh Qassim's House Intensified during Muharram
3- European Ambassadors to US Support Iran Nuclear Deal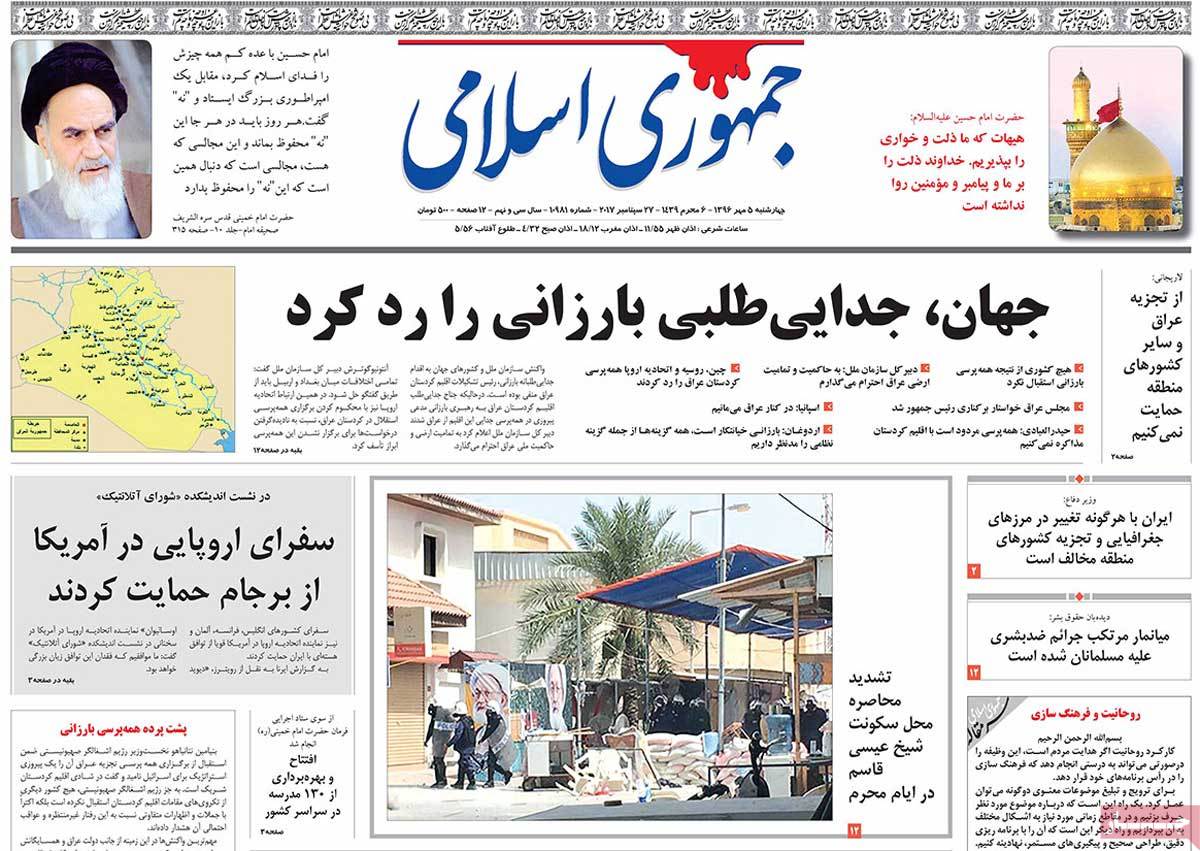 ---
Kayhan:
1- West's New Dreams for Mideast
Those behind Yesterday's Crime against Kurds Now Supporting Their Separation
Turkey Releases Documents on US, Europe's Cooperation for Kurdistan Secession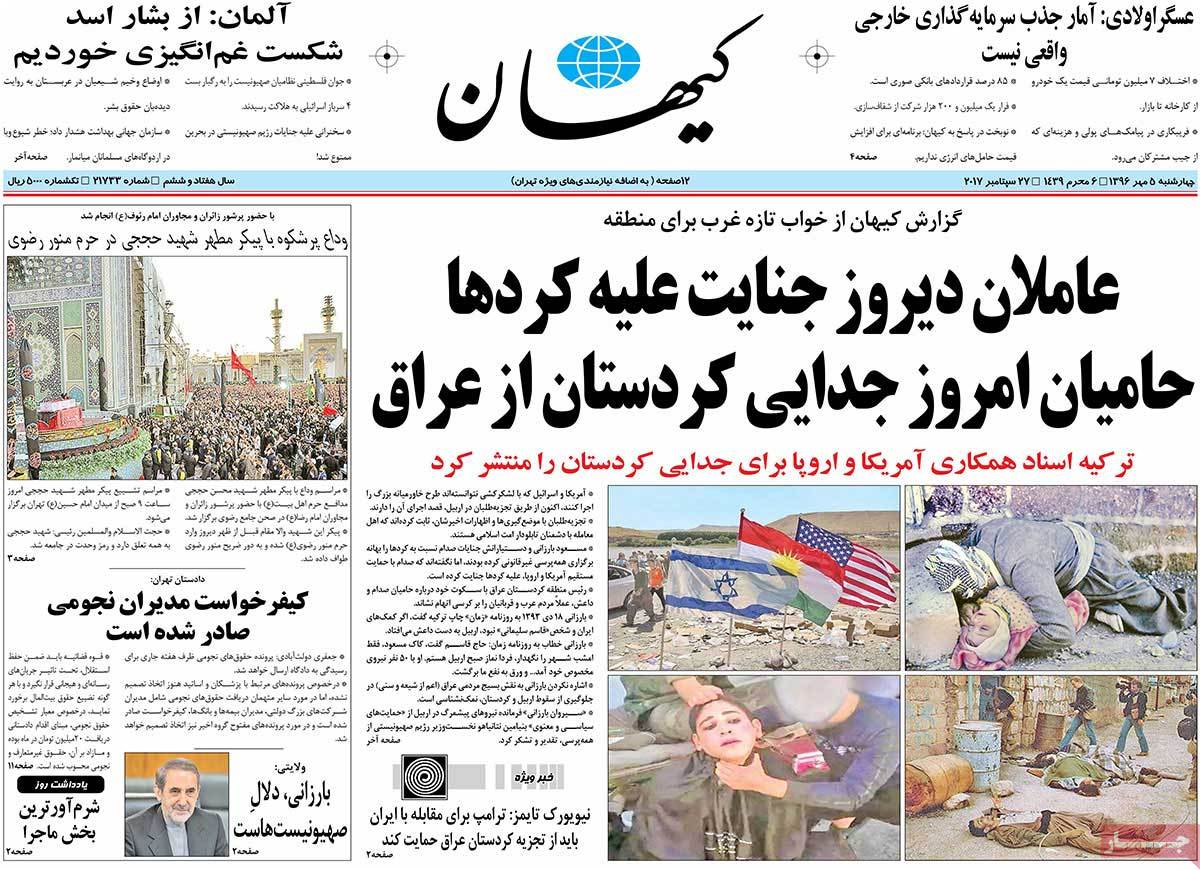 ---
Resalat:
1- Commander: Iran Studying Equipment of Army's Warships with Nuclear Fuel
2- Parliament Speaker: Separating Region Is a Zionist Plot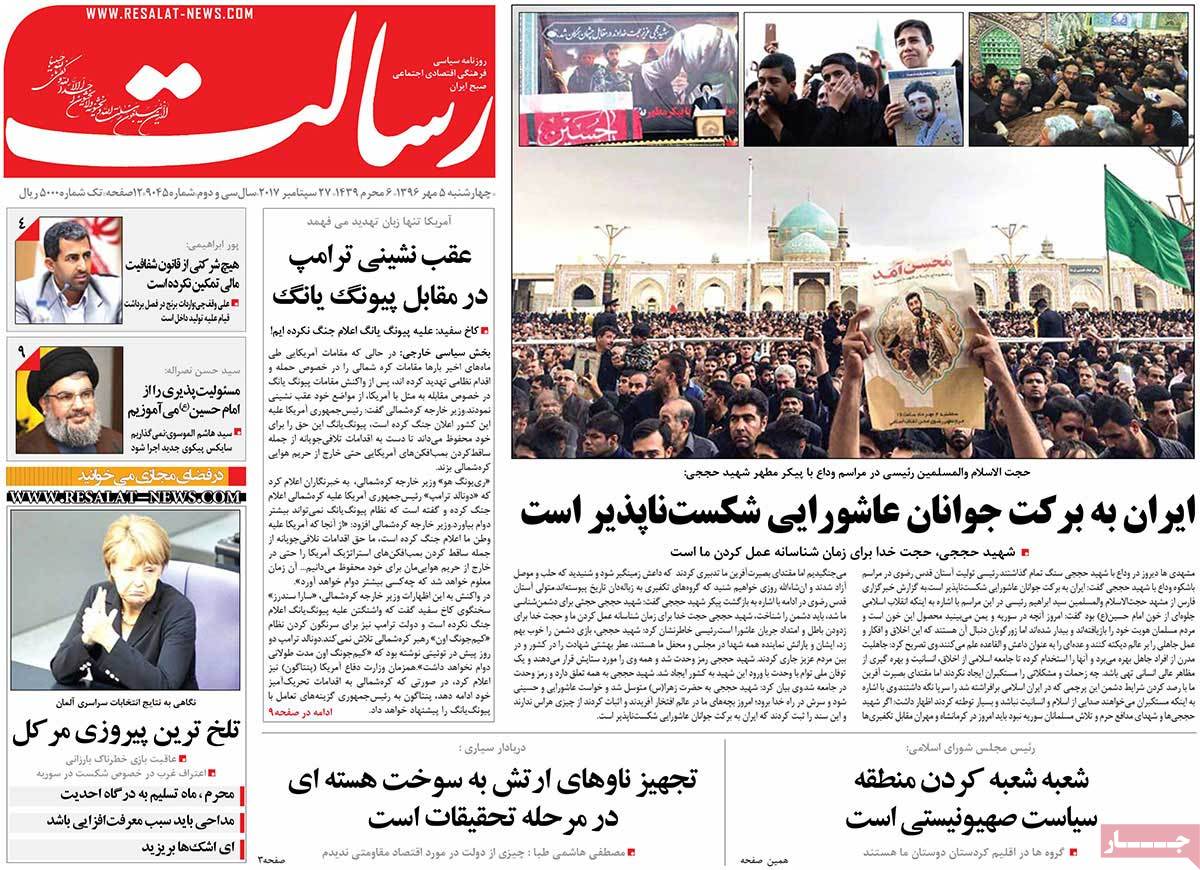 ---
Shargh:
1- MP: Iran Shouldn't Take Harsh Stance towards Iraqi Kurdistan Plebiscite
2- Kurdish Woman to Be Appointed Iran's Deputy Interior Minister
3- Parliament Speaker: We Don't See Kurdistan's Behaviour in Interest of Mideast, Erbil