Iraninan newspapers today covered the remarks made by the Leader of Iran's Islamic Revolution Ayatollah Seyyed Ali Khamenei in a Wednesday meeting with a group of people from all walks of life.
Most papers highlighted Ayatollah Khamenei's call on the Iranian officials to protect people's votes.
The last stump speeches made by the two main presidential candidates Hassan Rouhani and EbrahimRaisi in the city of Mashhad also received great coverage.
Other headlines mainly called on the Iranian nation to go to the ballot boxes on Friday and make decision about their future.
The above issues, as well as many more, are highlighted in the following headlines and top stories:
Abrar:
1- Leader: Whoever Becomes President, Main Winner is Iran's Nation, Establishment
2- Elections to Be Held in 310 Voting Stations Abroad
3- Assad Should Be Assassinated: Israeli Minister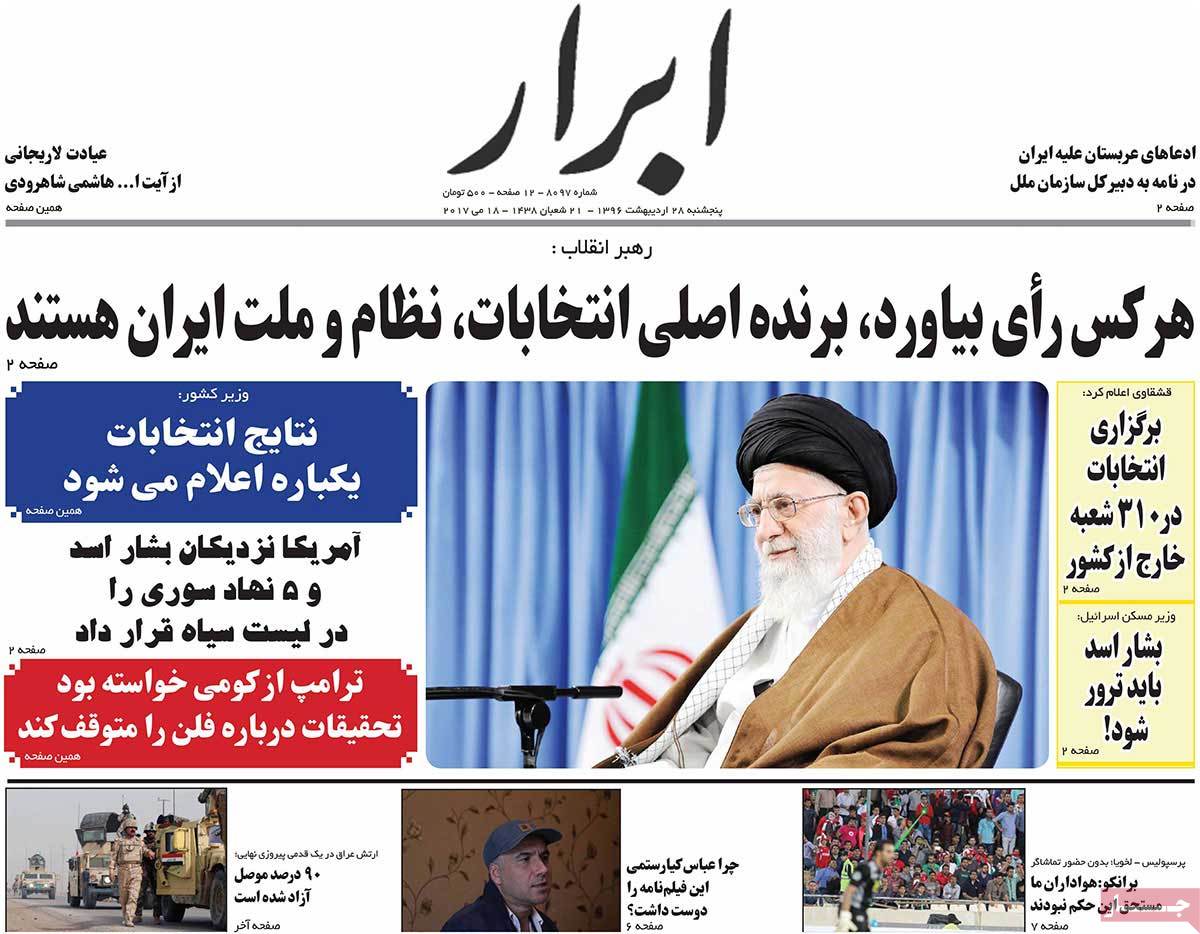 ---
Afkar:
1- This is it: People's Storm in Support of 'Seyyed of Deprived People' [Raisi]
---
Amin:
1- Iran Leader: Friday's Elections Manifestation of Islamic Democracy
---
Arman-e Emrooz:
1- Everyone Will Go to Ballot Boxes, Respond to Enemies
2- Interior Minister Predicts Turnout of over 70%
---
Arman-e Melli:
1- Iran Leader Urges Candidates' Campaign HQs, Fans to Observe Discipline
2- Ballot Boxes Call You
3- Another Rise, Repetition of Epic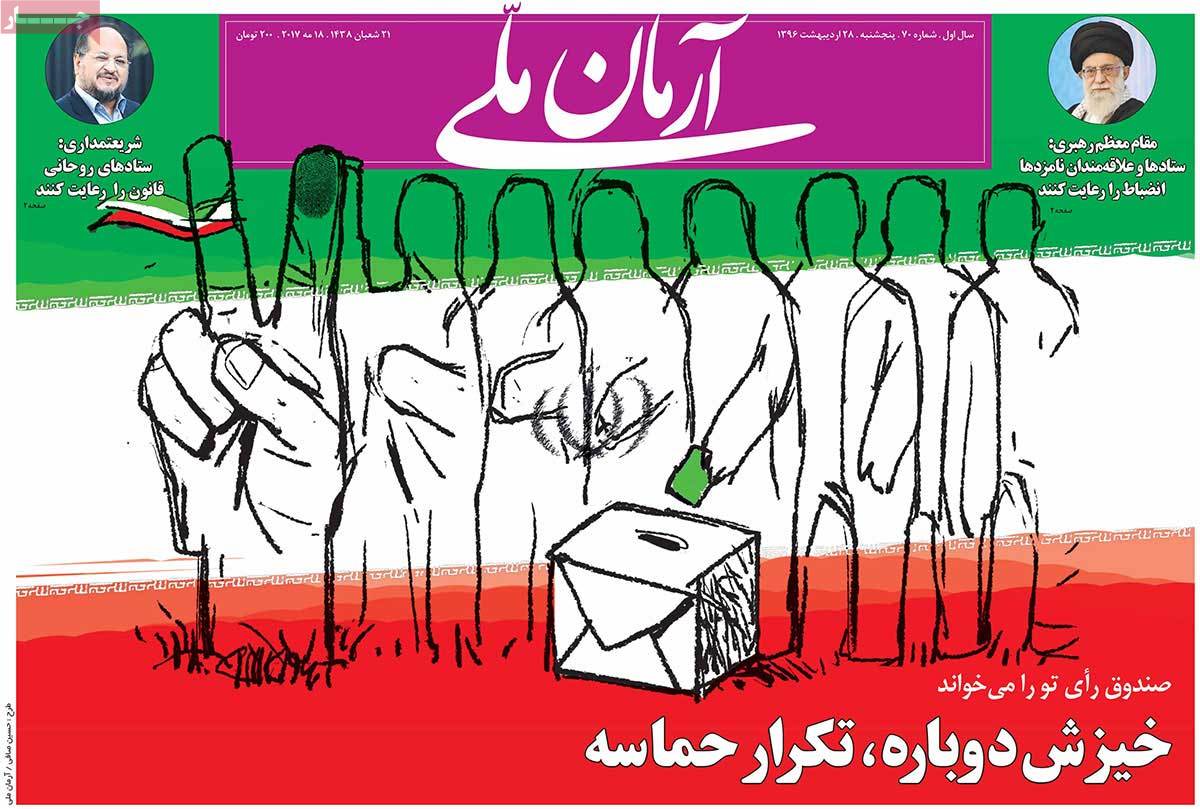 ---
Bahar:
1- Who Are We Bestowing Iran on?
2- We Should Think about Our Children Tomorrow
3- Iran's Air Fleet Modernized: 7,000 New Jobs to Be Created with New Planes
4- Iran's Debit Cards Can Be Used in Russia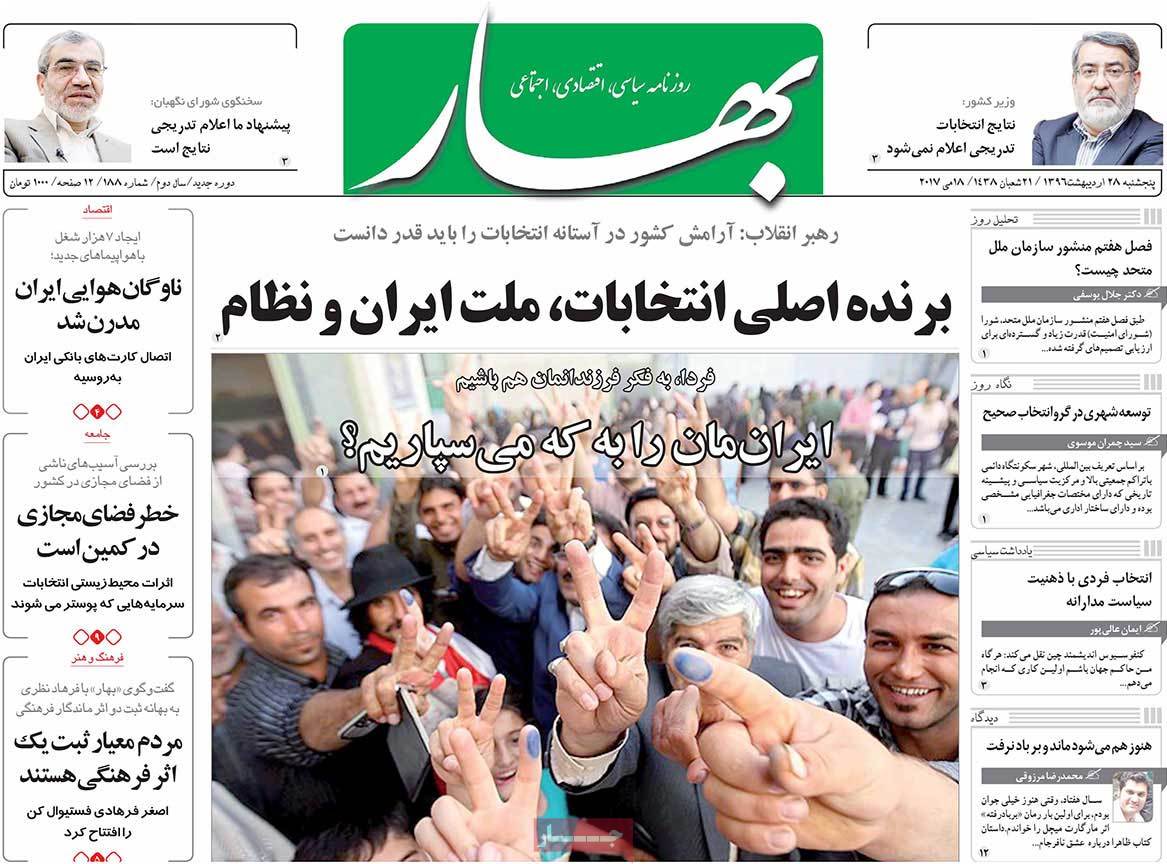 ---
Ebtekar:
1- Ayatollah Khamenei: We Should Value the Country's Calm ahead of Election
2- Even One Vote Can Change Future: Zarif
3- When Refusing to Vote is Sort of Voting!
4- Iran's Sky Renewed with New Plane Arrivals
---
Emtiaz:
1- We'll Go to Ballot Boxes Once Again, for Iran
---
Etemad:
1- Rise of Iranian Nation: We'll Build Iran's Future Tomorrow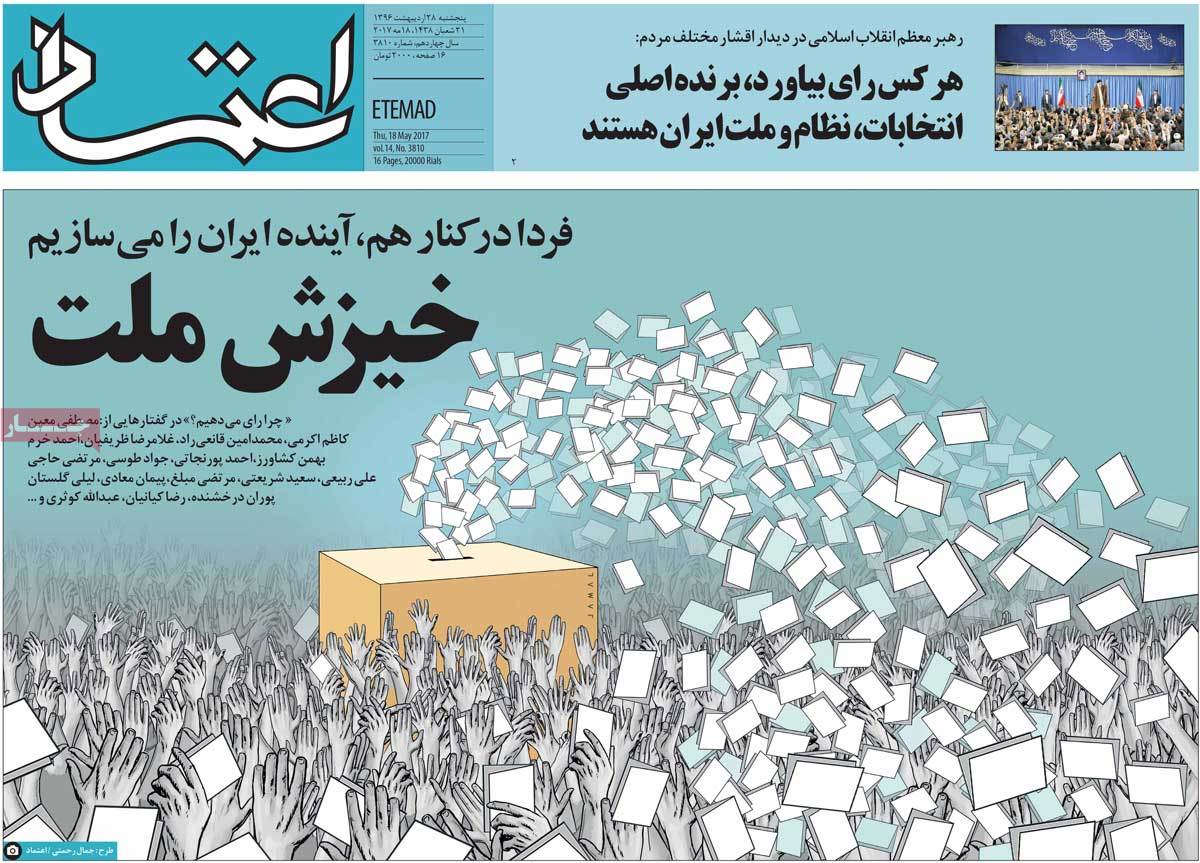 ---
Ettela'at:
1- Leader Urges Iranian Officials to Protect People's Votes
2- Times: US Seeks $300bn Arms Deal with Saudi Arabia
3- $7.5bn Allocated to Investment in Rail Transportation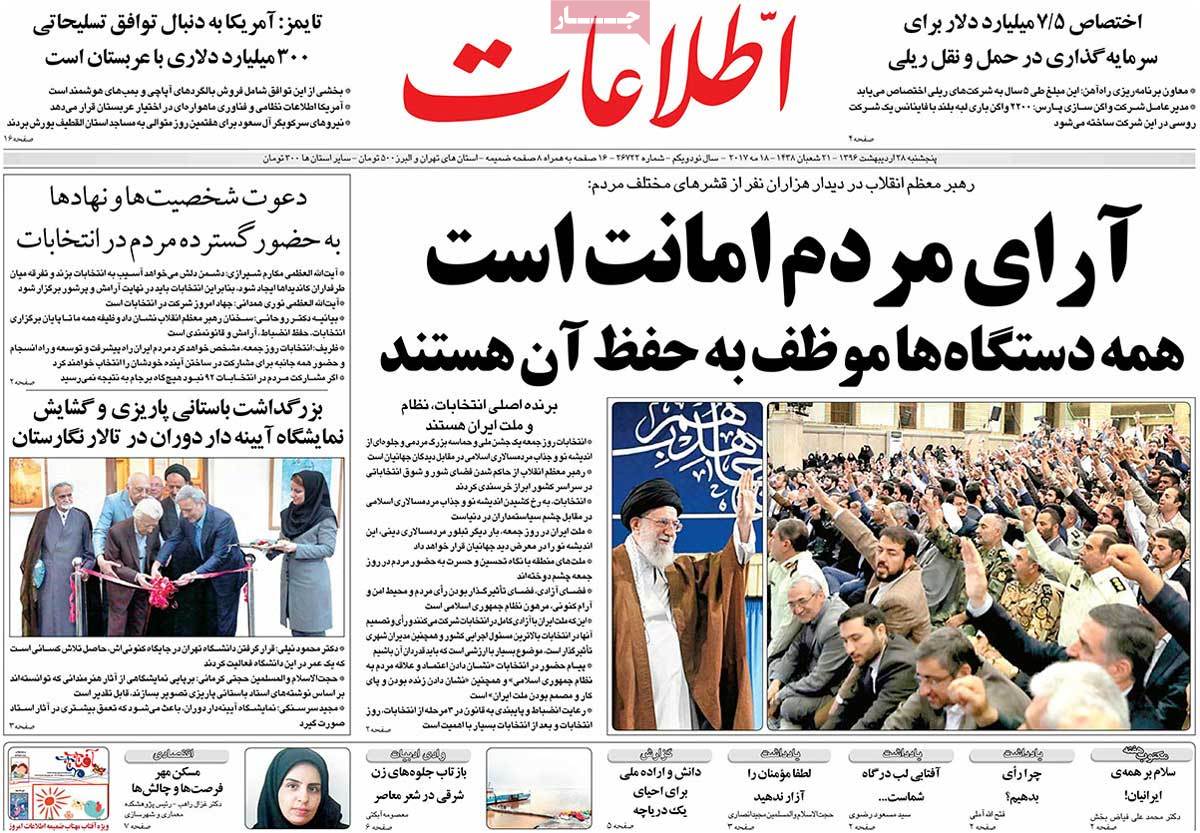 ---
Ghanoon:
1- Iran Leader: We'll Display Religious Democracy to the World on Friday
2- Trumpgate Begins: NY Times Discloses Trump's Illegal Demands from Ex-Chief of FBI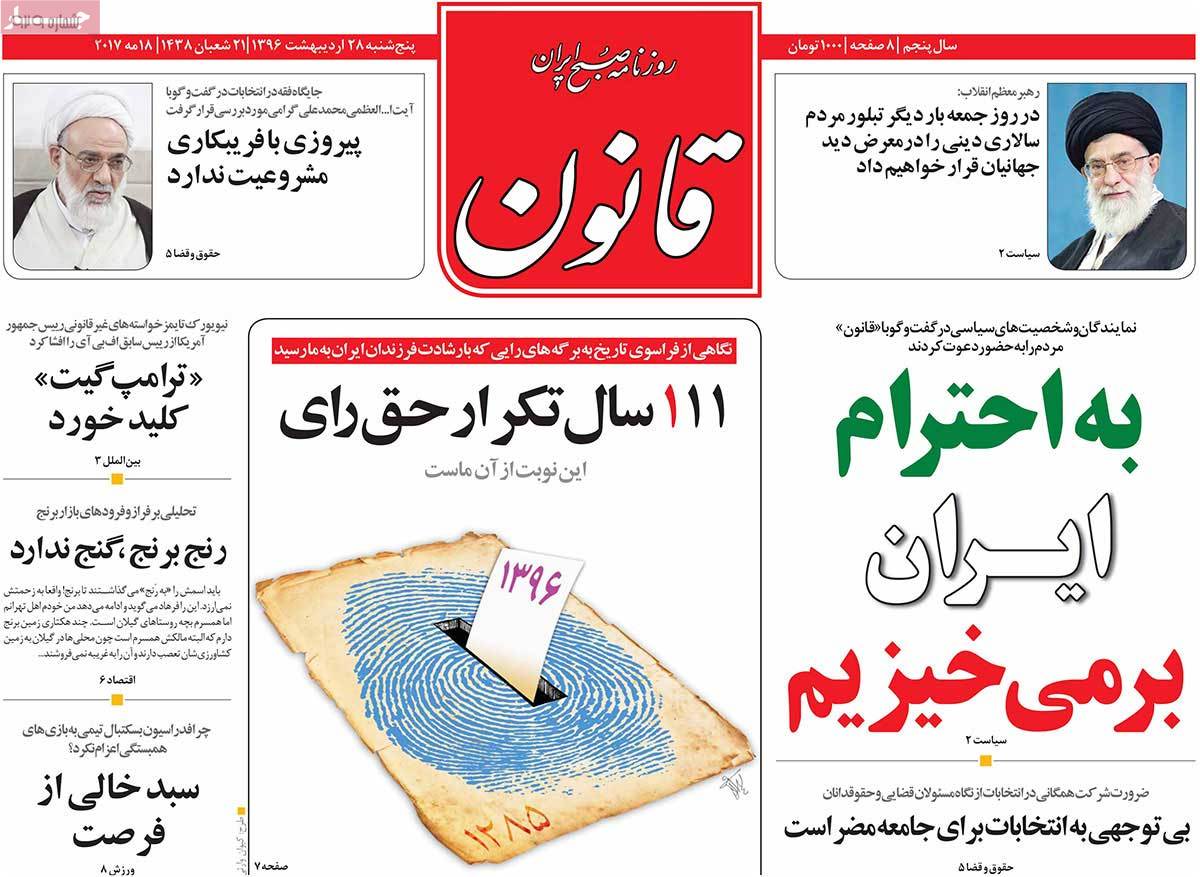 ---
Iran:
1- We'll All Come to Repeat Epic
---
Jame Jam:
1- Everyone Will Come Tomorrow: Epic Turnout on Friday
2- Capital Flight, a New Crisis for US Economy
---
Javan:
1- Iranian Nation, Establishment Real Winner of Elections: Leader
2- Current Freedom, Peace in Iran Indebted to Islamic Republic: Ayatollah Khamenei
3- Ballot Boxes Will Be Filled with People's Votes Tomorrow
4- Sherman: I Told Rouhani's Team JCPOA Won't Resolve All Problems
5- Former MP: Raisi Will Accept Presence of Justice-Seeking Reformists in Cabinet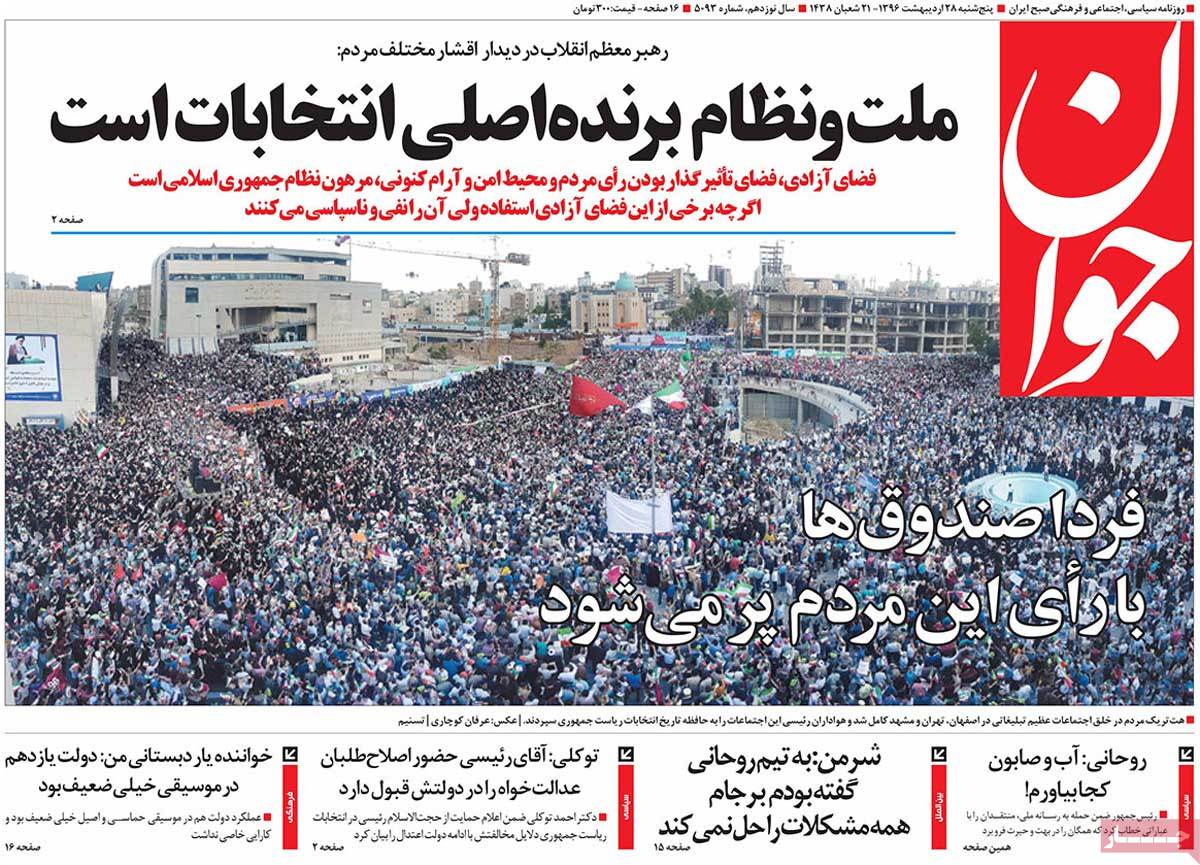 ---
JomhouriEslami:
1- Joint Plans between Tehran, Moscow worth $40bn
2- 214-Unit Increase in Tehran Stock Exchange Market's Index ahead of Elections
3- Over 70% Anticipated to Vote in Iran Elections
4- Former CIA Officer: Trump Lied, Assad Not behind Chemical Attack
---
Ka'enat:
1- VP for Women Affairs Calls on Women to Vote to Reclaim Their Legal Rights
---
Kayhan:
1- US, South Korea Call for Resumption of Talks after North Korea's Missile Test!
---
Khorasan:
1- Time to Make Decision
2- Bodies of 18 Divers with Tied Hands Discovered
3- Iranian Antivirus Stops Global Ransomware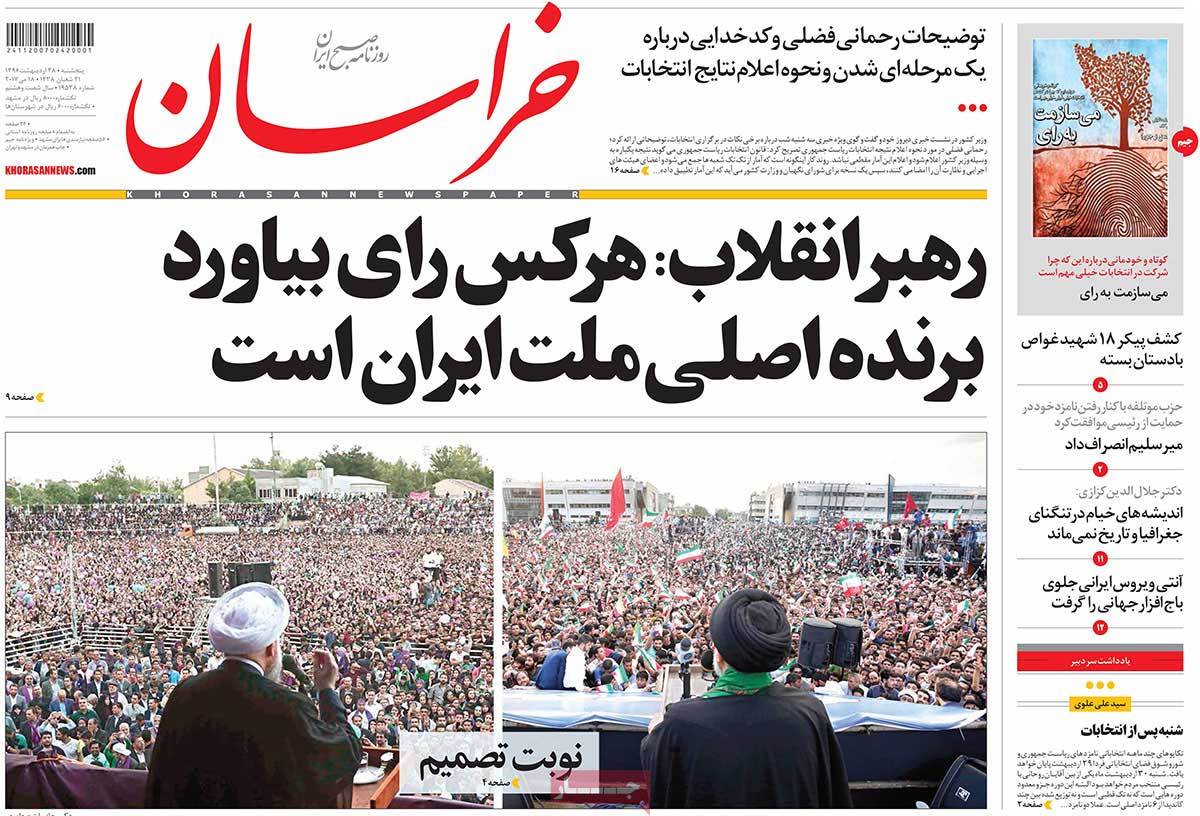 ---
Noavaran:
1- SNSC Secretary: People's Turnout Main Support for Iranian Negotiators in Int'l Disputes
2- Talks with Canada to Restore Ties to the Past
3- We'll Safeguard People's Votes: Guardian Council
---
Resalat:
1- Iran Leader Calls for Caution to Safeguard People's Votes
2- Ayatollah MakaremShirazi: Enemies Have Hatched Plots to Disrupt Iran's Security
3- Putin: Muslim World Can Trust in Russia's Support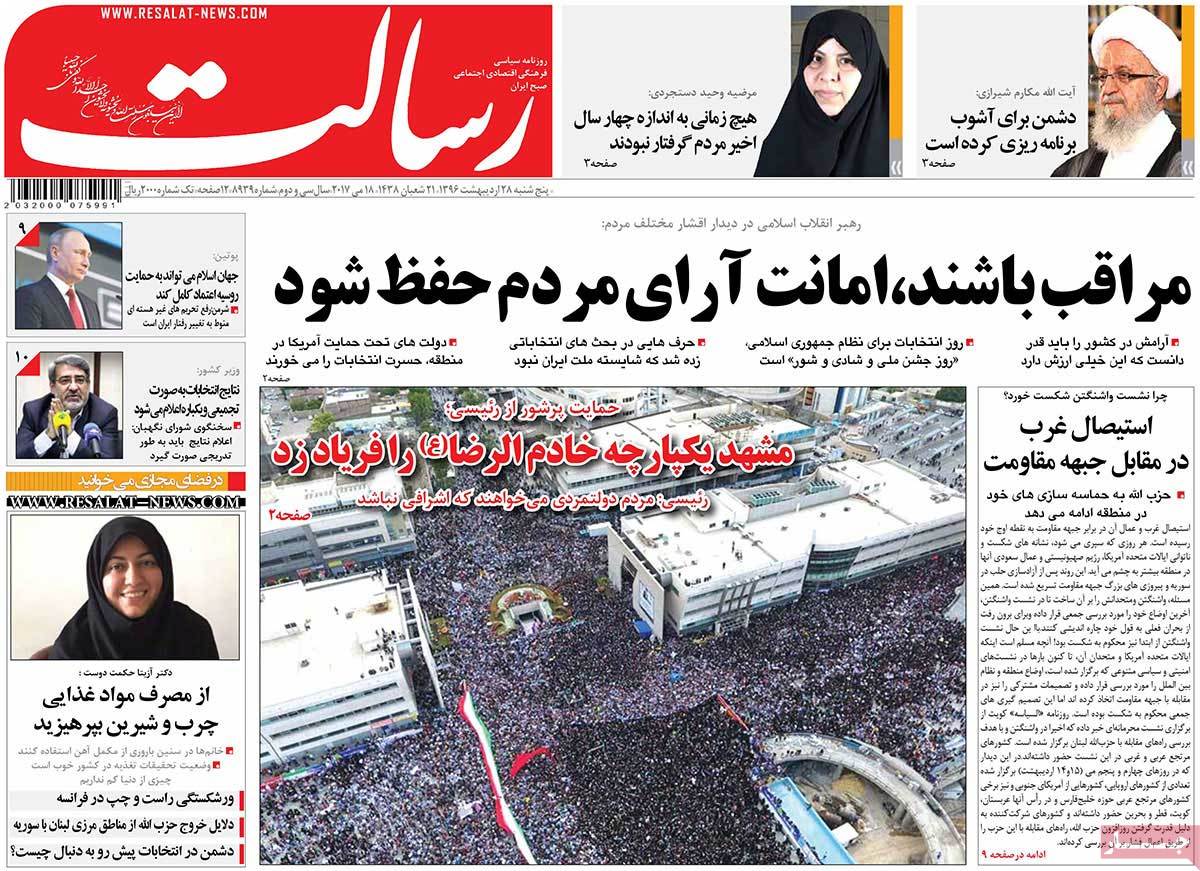 ---
Seda-ye Eslahat:
1- Iran Leader: Certain Remarks in Electoral Discussions Were beneath Nation's Dignity
2- Mashhad Derby [both Raisi and Rouhani addressed their fans in Mashhad at same time]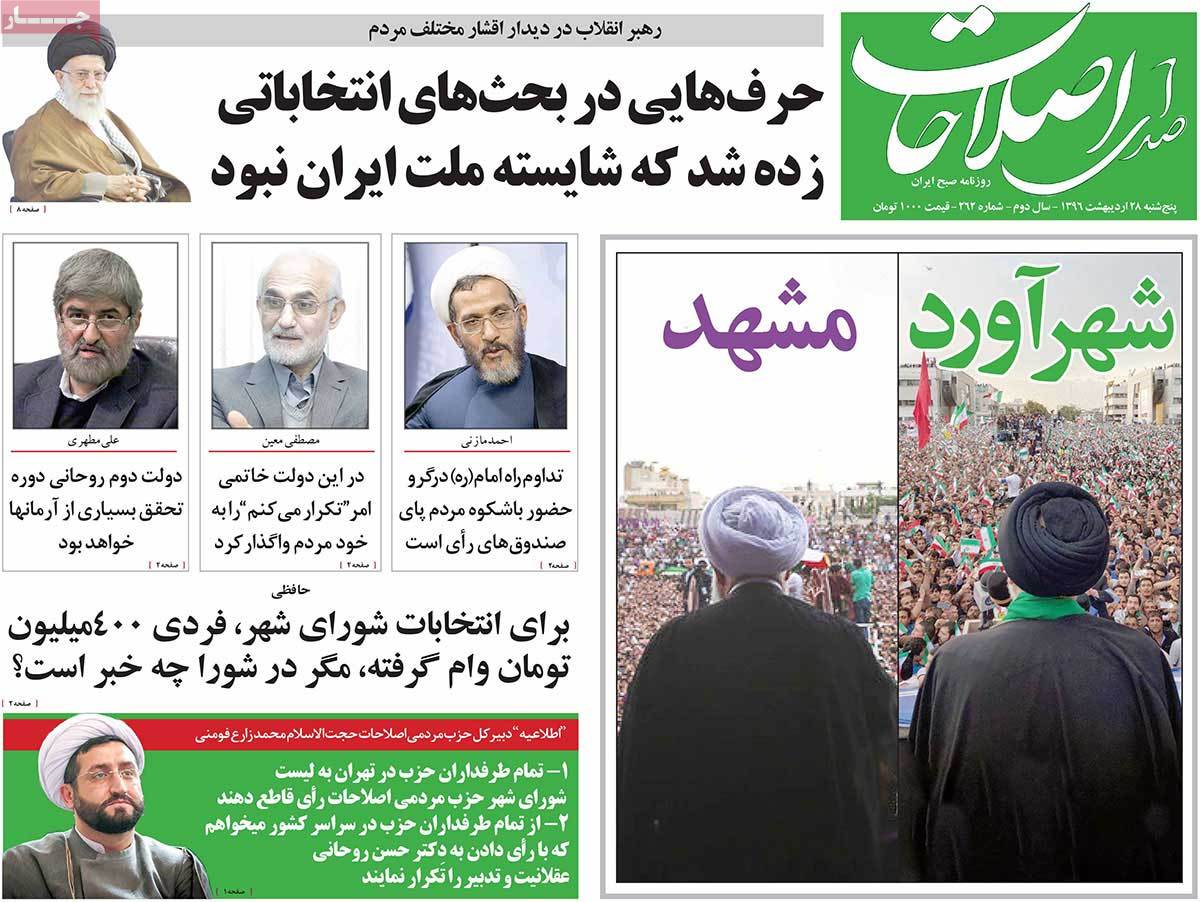 ---
SetarehSobh:
1- 4 New ATR Planes Land in Mehrabad Airport
2- Middle East to Become Drier: UN Envoy Warns
3- Trump in Decline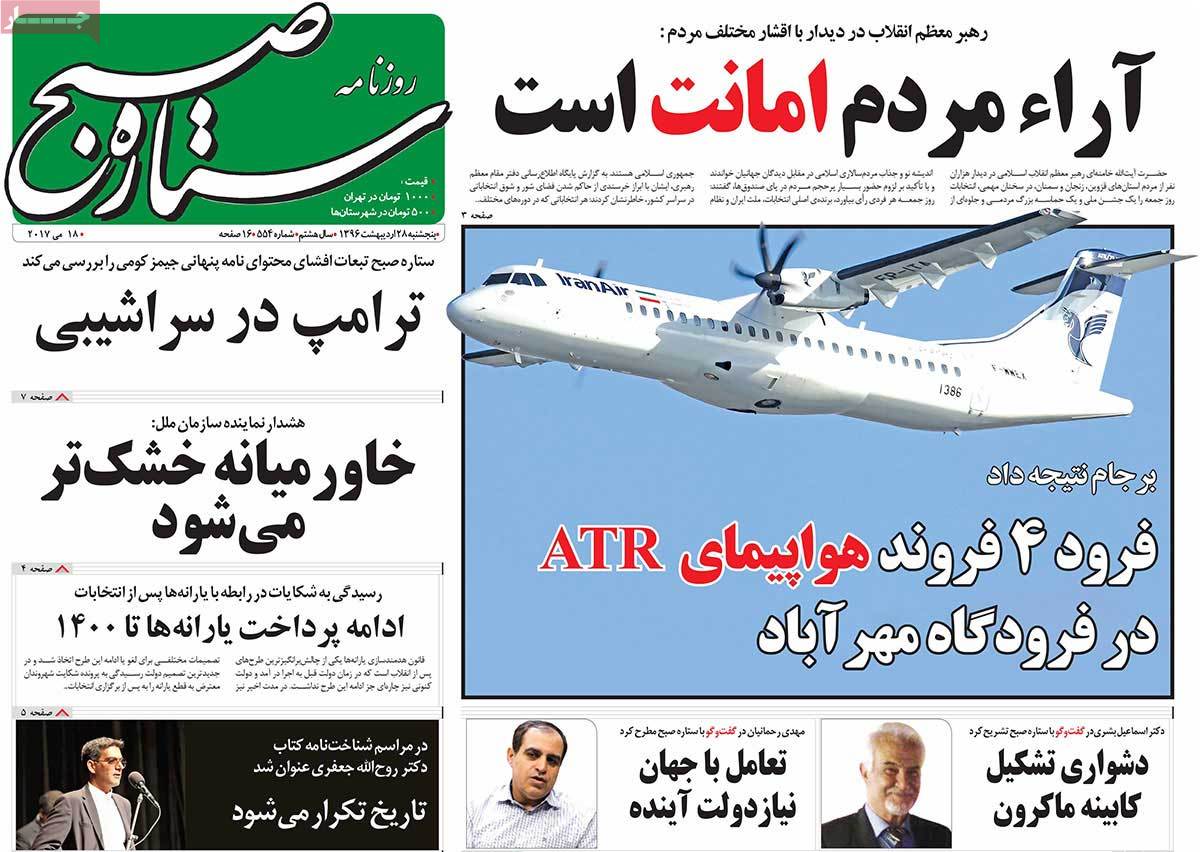 ---
Shargh:
1- Results of Iran Presidential Election to Be Declared Gradually
2- Those Absent from the Historic Change Are to Blame: Analyst
[ifRaisi wins, Rouhani has lost the game to those who boycotted the votes]