Newspapers today covered Iranian Foreign Minister Mohammad Javad Zarif's response to anti-Iran remarks made by US Ambassador to UN Nikki Haley and Trump's hawkish ally John Bolton.
Another top story was President Hassan Rouhani's comments about Iranian martyr Mohsen Hojaji, who was recently beheaded by the ISIS terrorist group.
A meeting between IRGC Commander-in-Chief Major General Mohammad Ali Jafari and new Army Commander Major General Abdolrahim Mousavi also received great coverage.
Papers also highlighted a FIFA World Cup 2018 Qualifier between Iran and South Korea, which will be held on Thursday afternoon.
The above issues, as well as many more, are highlighted in the following headlines and top stories:
Abrar:
1- Barzani: I'll Resign If People Give 'Nay' Vote to Kurdistan Independence Referendum
2- Rouhani: We Won't Use Our Power Unless to Defend Ourselves
3- French Ambassador to Washington: We Won't Support Scrapping Nuclear Deal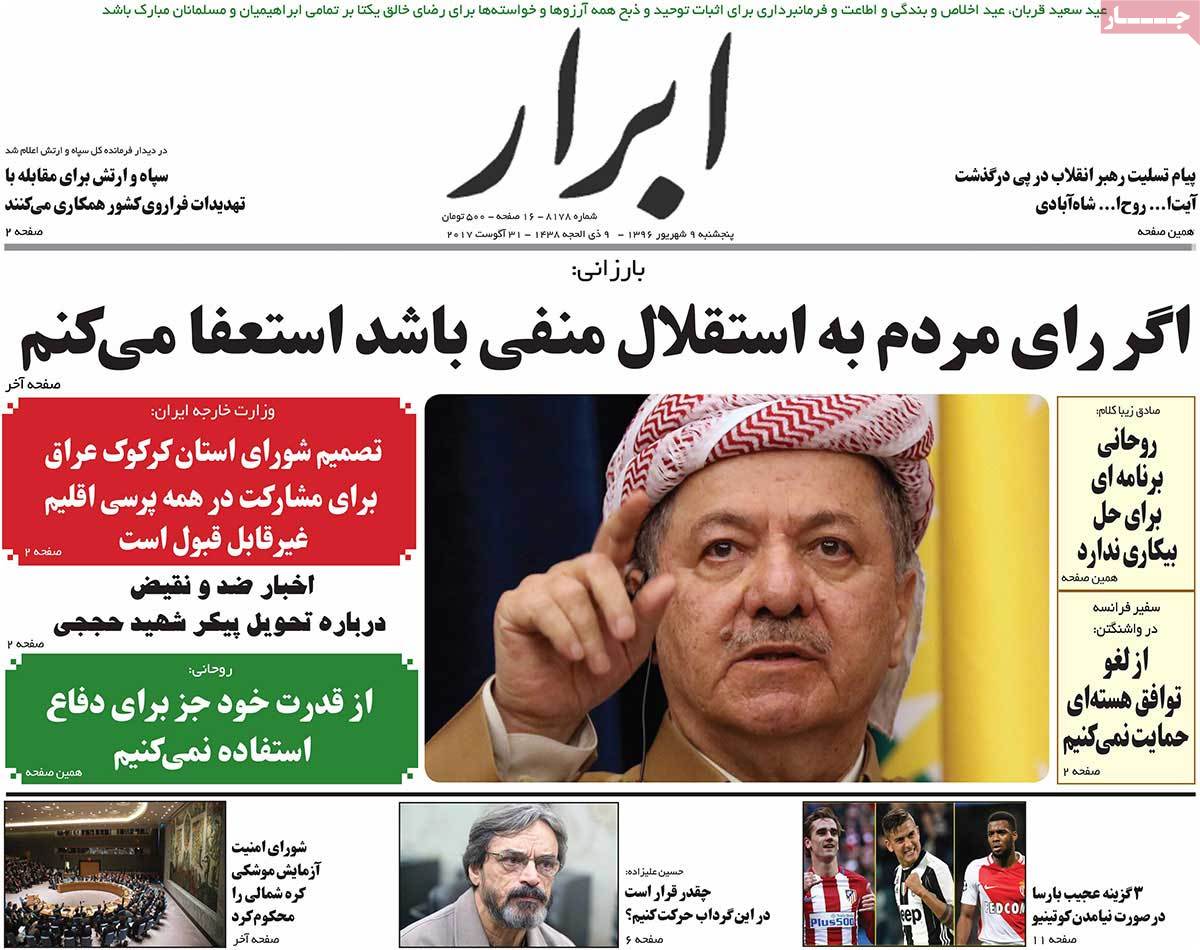 ---
Aftab-e Yazd:
1- Progressive Leader: A Report on Anniversary of Imam Musa al-Sadr's Abduction
2- 600 Female Managers Working in Iranian Industries
---
Arman-e Emrooz:
1- Science Minister Can Help Universities Feel Better: Academic
---
Asr-e Iranian:
1- Saudi-Sponsored Triangle of Conspiracy against Iran
Army General Reveals Joint Plan by US, Britain, Israel against Iran
2- Pyongyang: It's Just the Beginning!
Deal on Stronger UNSC Resolution against North Korea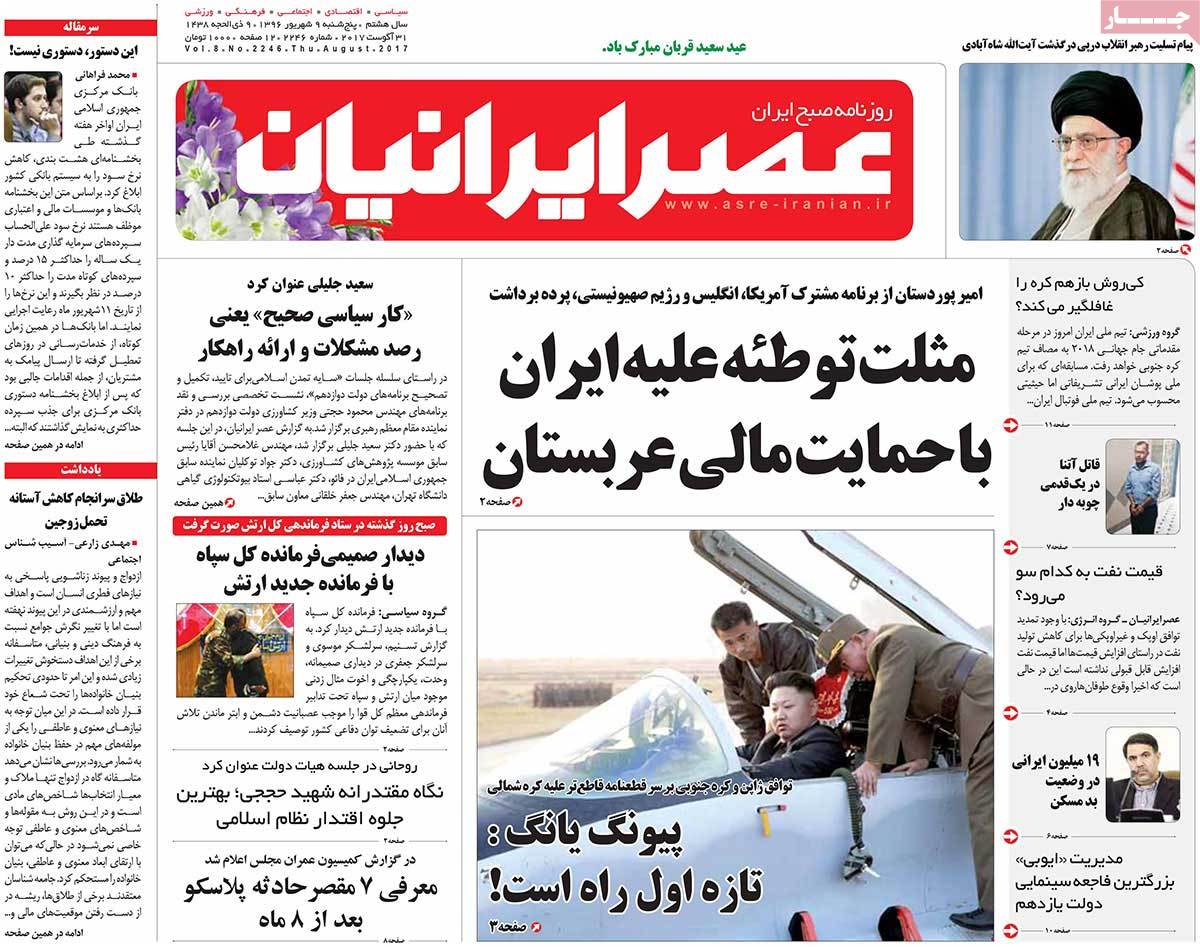 ---
Ebtekar:
1- Reformism Needs Certain Reforms
2- Ups and Downs of Female MPs in Iran Parliament
---
Etemad:
1- Meeting of Two Commanders: IRGC Chief Meets Army Commander Mousavi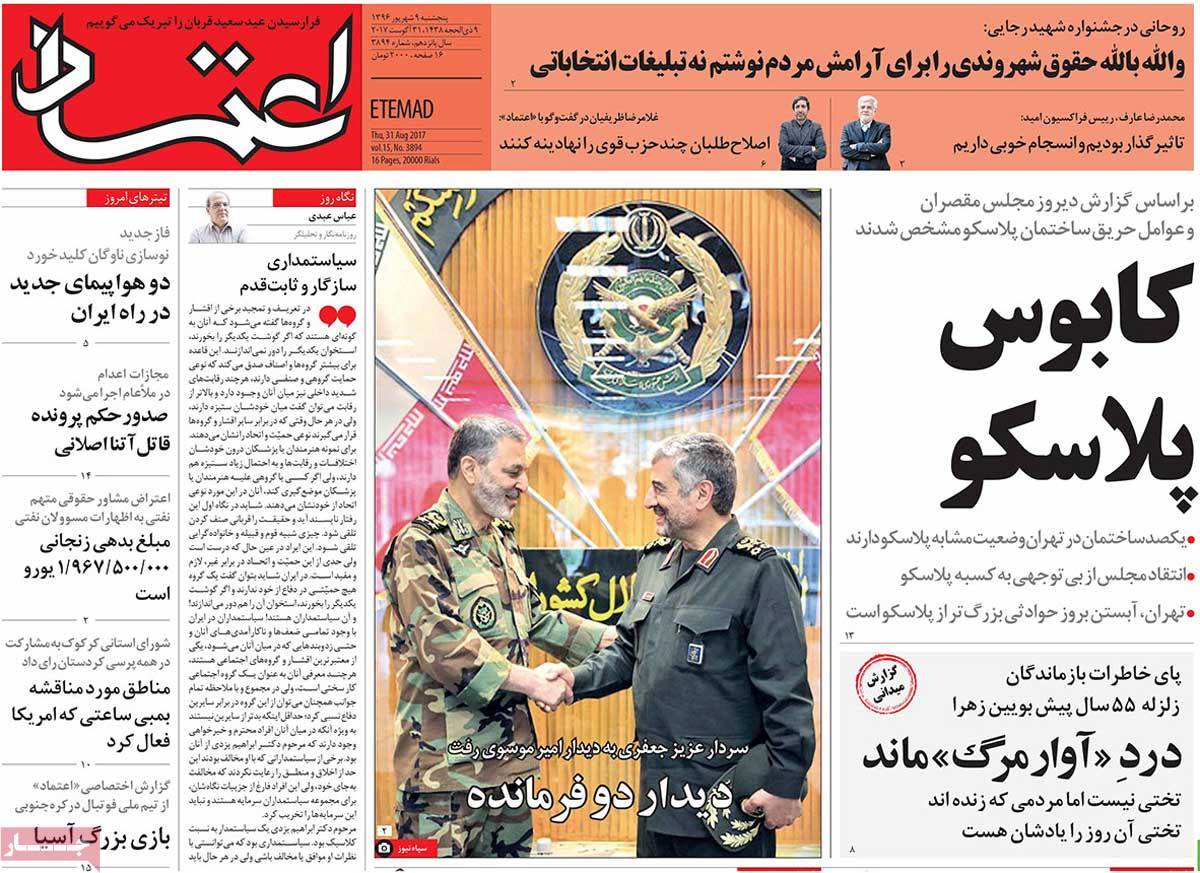 ---
Ettela'at:
1- Zarif Urges UN to Rally to Stop Genocide of Rohingya Muslims
2- Commanders of IRGC, Army Hold Friendly Meeting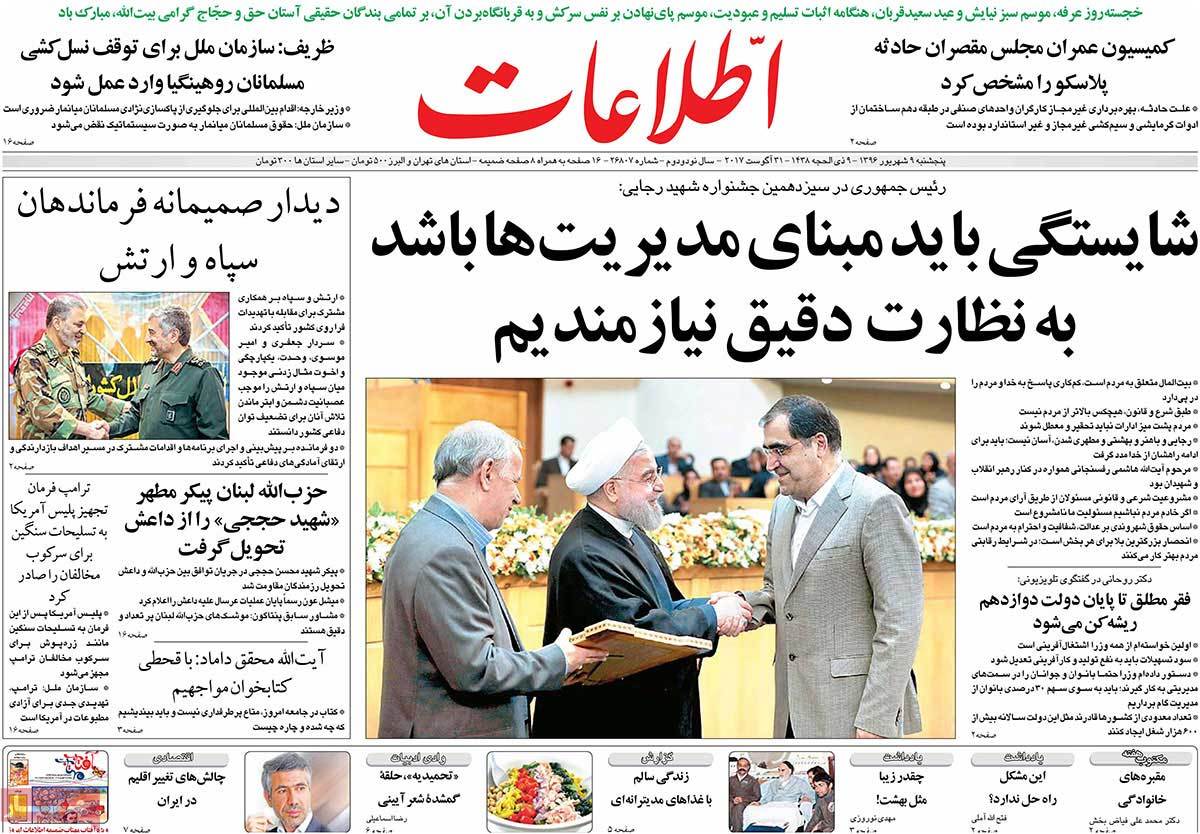 ---
Haft-e Sobh:
1- Happy Asian El-Clásico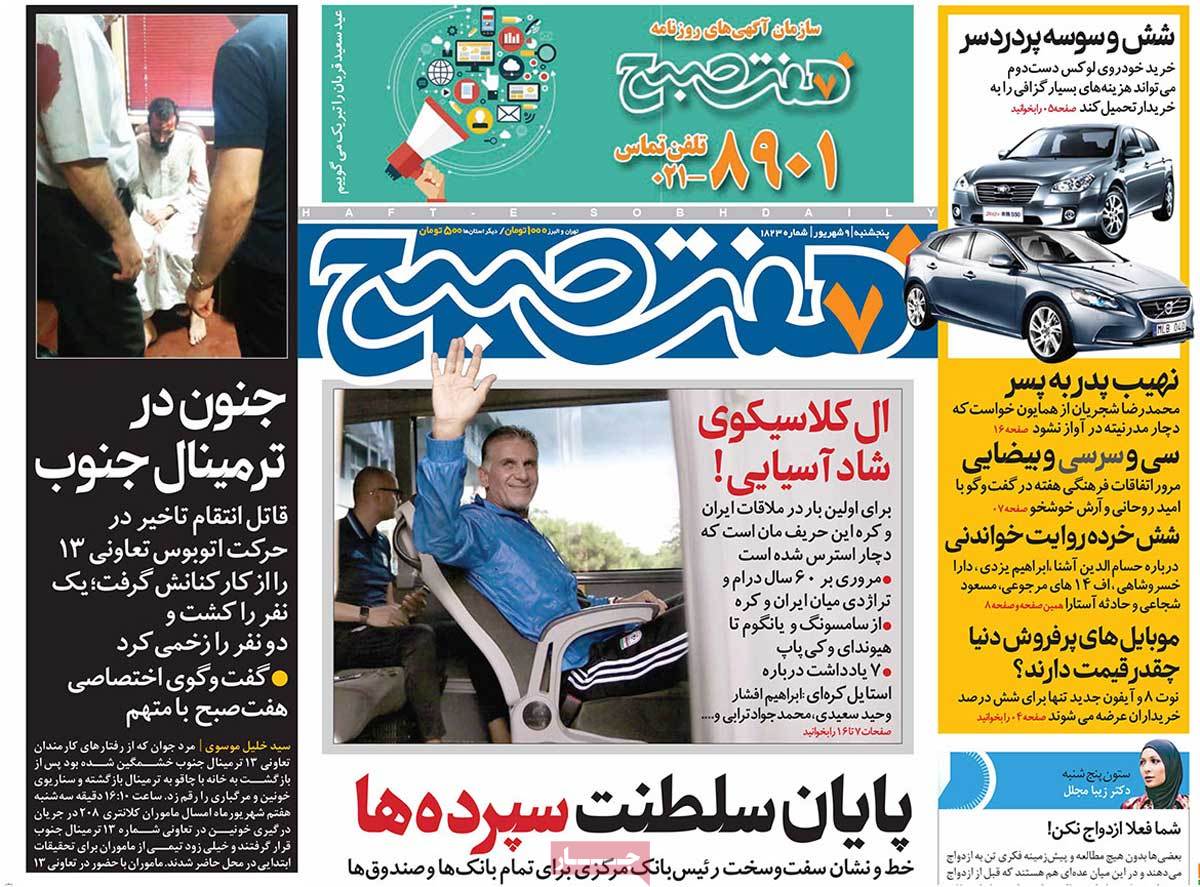 ---
Iran:
1- Behshahr Lake in Northern Iran Suffering from Drought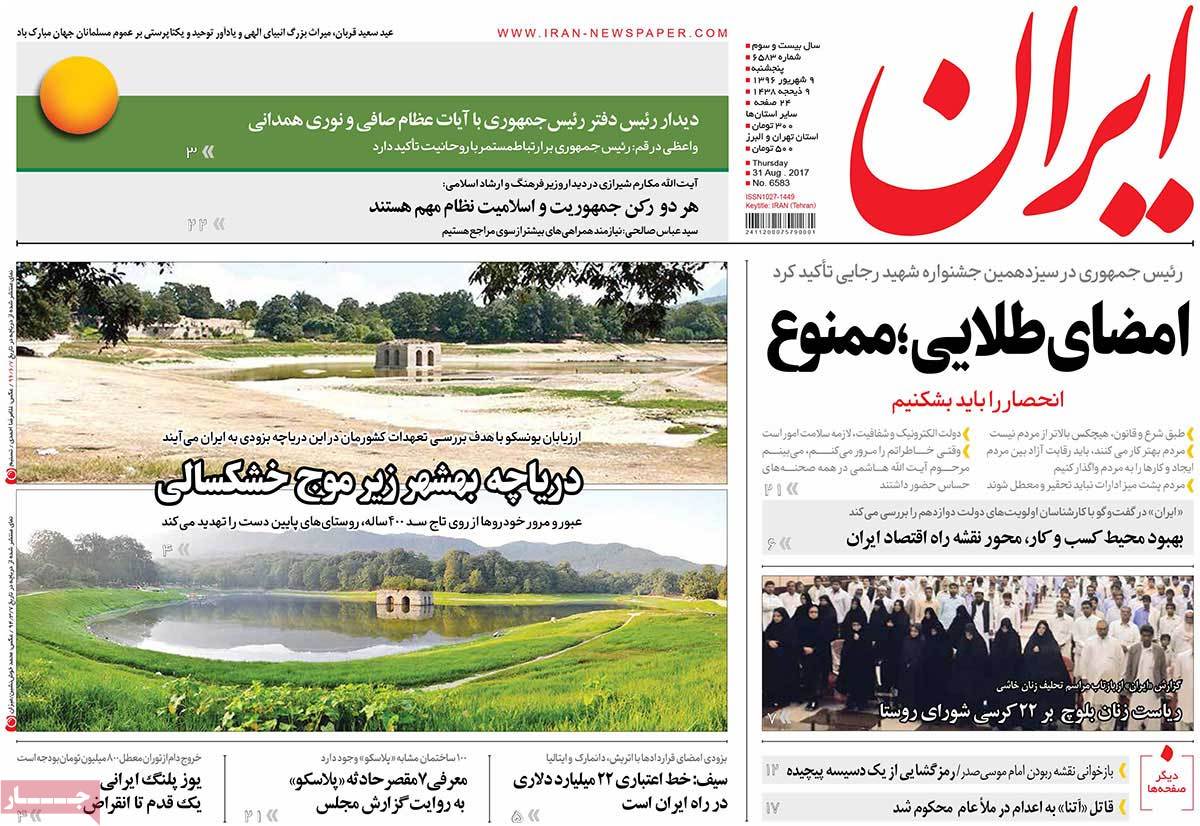 ---
Jame Jam:
1- Bureaucratic Obstacles to Prohibition of Importing Goods with Iranian Counterpart
2- Playing with People's Health in Cyberspace
---
Javan:
1- Rouhani: Martyr Hojaji's Look Source of Honour for Us
2- Fire on Houses on Rohingya Muslims amid Arabs' Silence
---
Jomhouri Eslami:
1- US Once Again Test-Fires Its Most Dangerous Nuclear Bomb
---
Kayhan:
1- European Embassies Open Business Centre in Luxury Mall Northern Tehran!
2- Merkel: Assad Was Stronger than What We Expected
---
Kelid:
1- Official: Talks Underway with Foreign Ministry to Lift Visa Regime for Tourists
---
Khorasan:
1- Plasco Building Shop Owners under Rubble of Uncertainty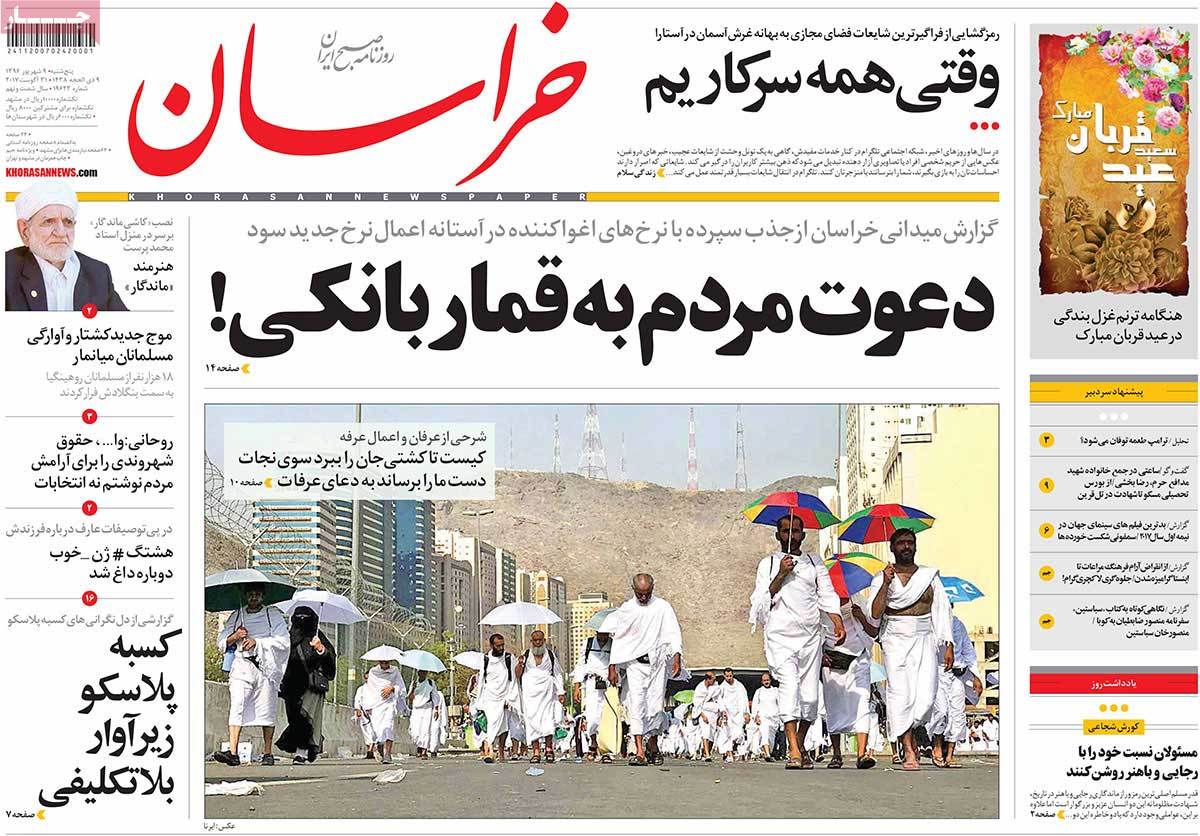 ---
Resalat:
1- Withdrawal of Conservatives from Nuclear Deal
Trump Looking for Way to Exit JCPOA
2- Ayatollah Nouri Hamadani Urges Seminary to Remain Revolutionary, Counter Enemy Plots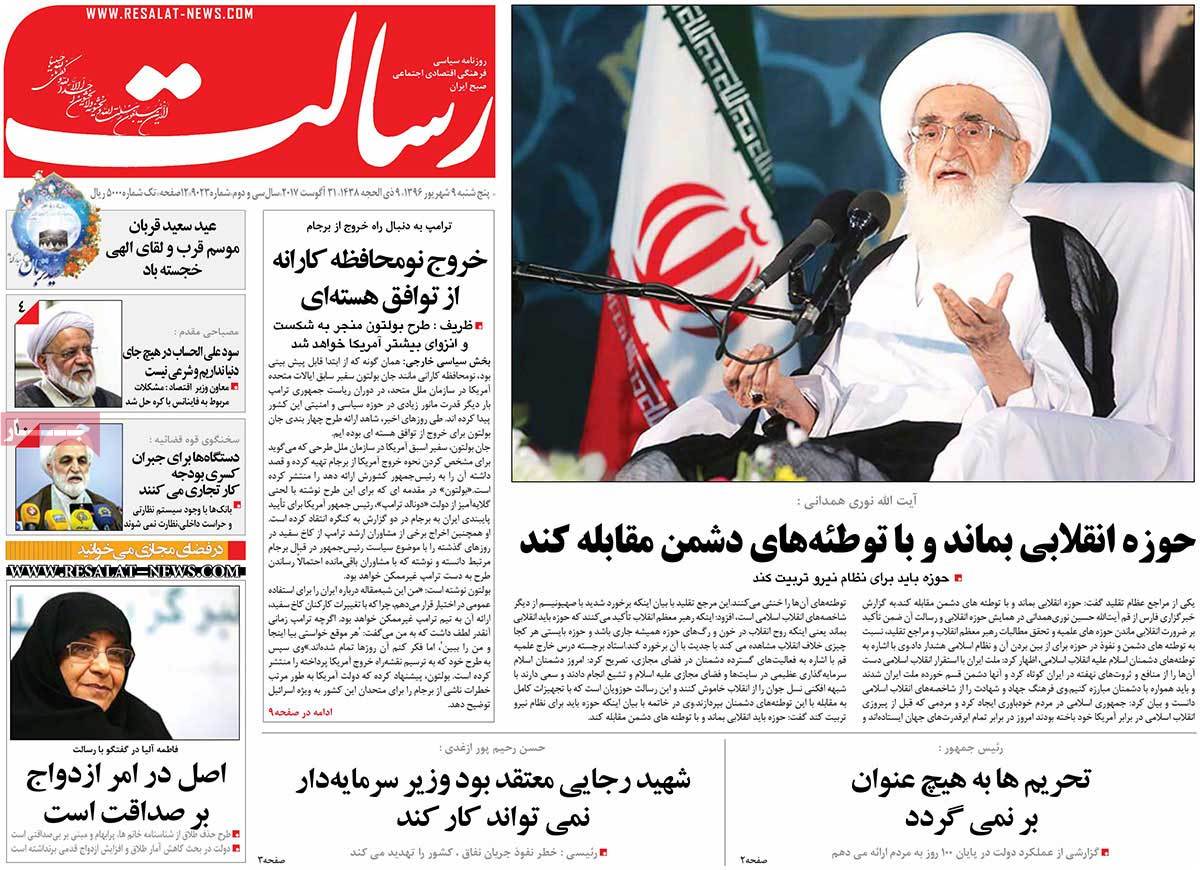 ---
Shahrvand:
1- Seven Perpetrators of a Collapse: Parliamentary Report on Plasco Building Collapse
---
Shargh:
1- Rouhani: All Auctions, Tenders Should Be Transparent to People
2- Zarif's Response to Bolton, Haley: Lack of Wisdom, Radicalism Are Interrelated