The top story today was the remarks made by Iran's nuclear chief Ali Akbar Salehi who threatened that if other parties to the nuclear deal violate it, Tehran would resume its %20 uranium enrichment in five days.
US President Donald Trump's new strategy on Afghanistan also received great coverage.
The Iraqi forces' ongoing operation to retake the city of Tal Afar from ISIS terrorists was also among the top stories in today's newspapers.
The above issues, as well as many more, are highlighted in the following headlines and top stories:
Abrar:
1- Iraqi Popular Forces Take Control of ISIS Military Training Centre in Tal Afar
2- Erdogan: We Won't Let Formation of Fake Gov't in Northern Syria
3- MP: Young Supporters of Rouhani Expect Him to Give Them Job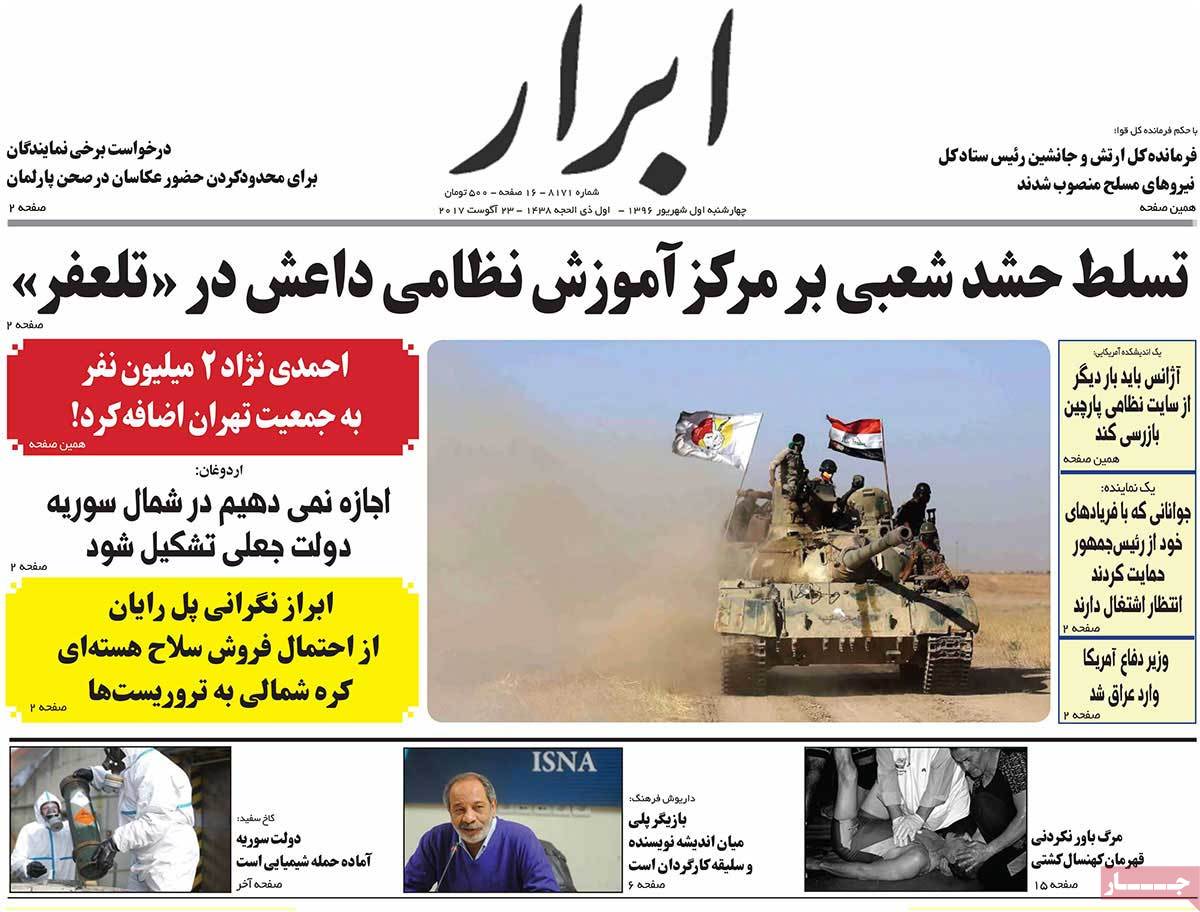 ---
Aftab-e Yazd:
1- MP Eats Pear in Open Session, Photographers Are Restricted!
Certain MPs Planning to Limit Photojournalists' Presence in Parliament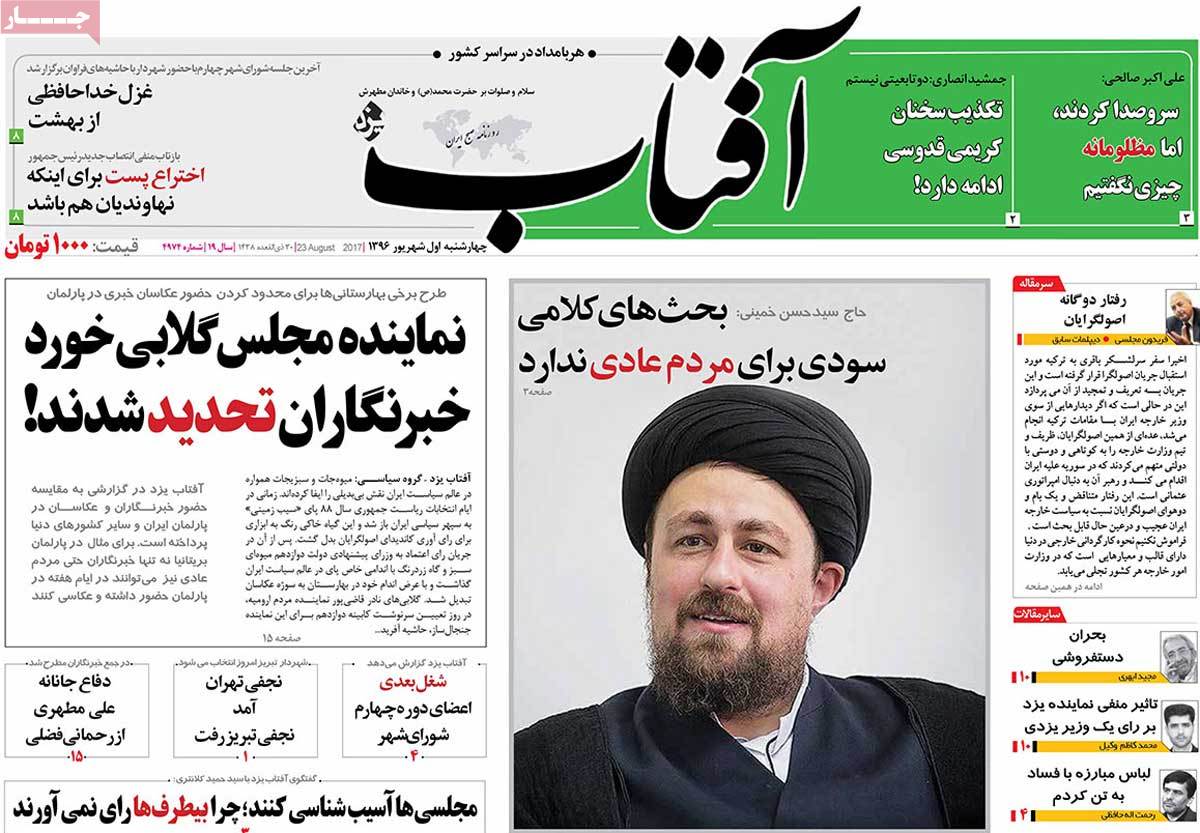 ---
Arman-e Emrooz:
1- Iran Nuclear Chief Warns US against Spoiling JCPOA
Iran to Restart 20% Enrichment in 5 Days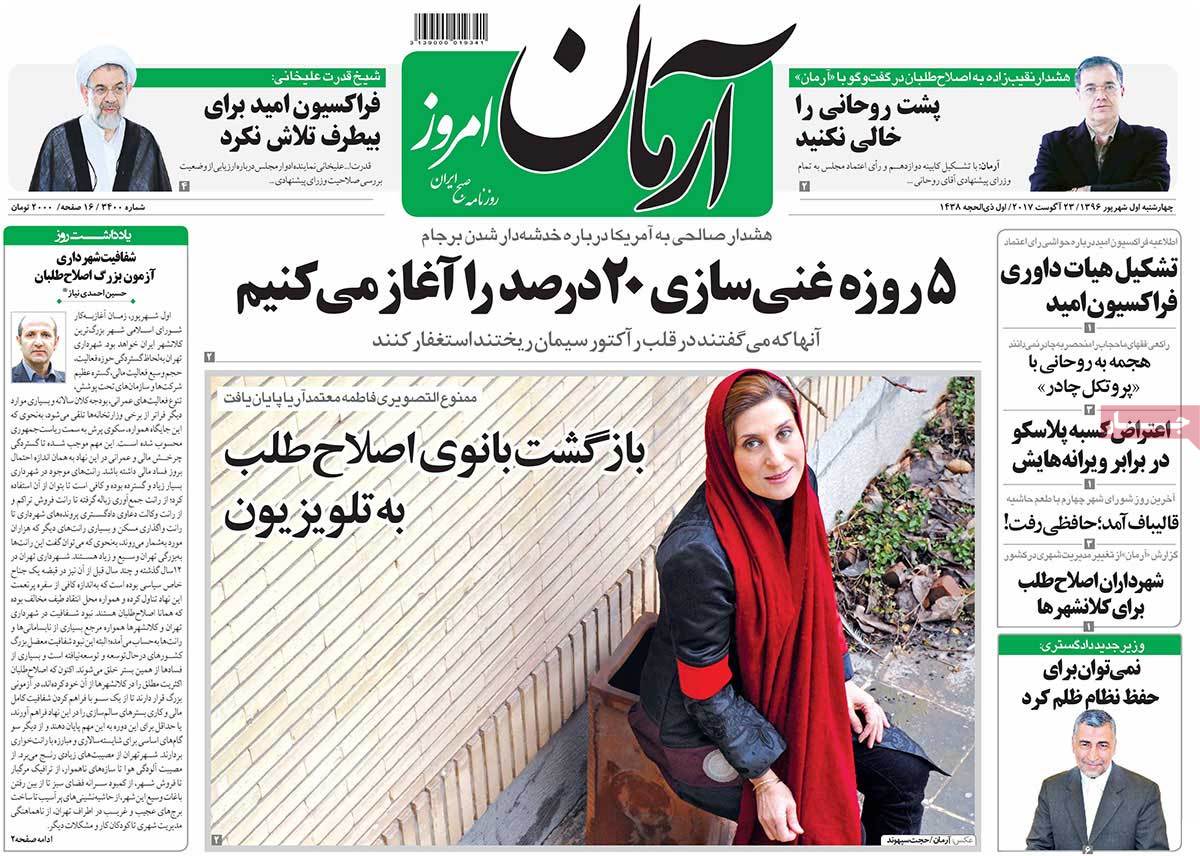 ---
Asrar:
1- Nuclear Chief: Iran to Surprise Other Party If JCPOA Spoiled
2- Official: Geographical Boundaries of Countries Shouldn't Change
3- Oil Minister: Tehran to Host Briefing on Azadean Oilfield Tender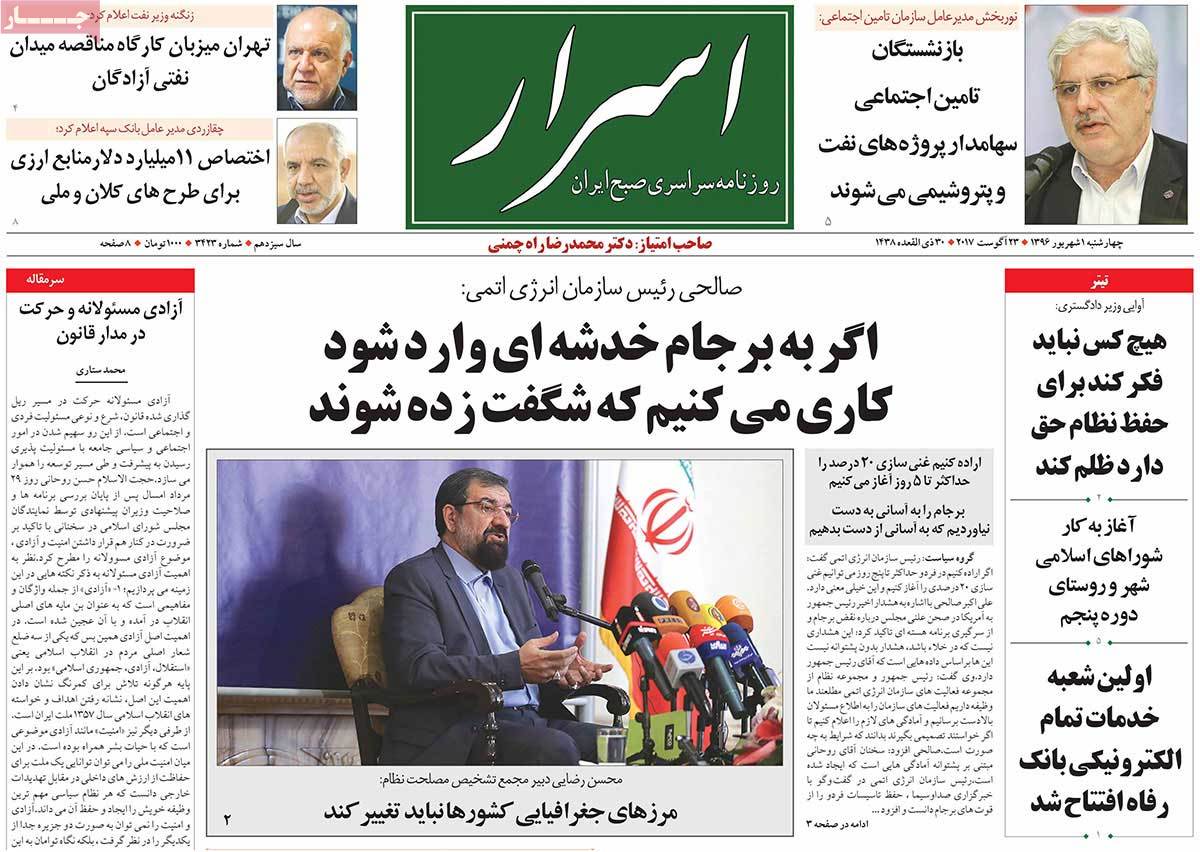 ---
Ebtekar:
1- Iranian Version of Universal Stories
Farhadi Starts Filming 'Everybody Knows' in Spain, Argentina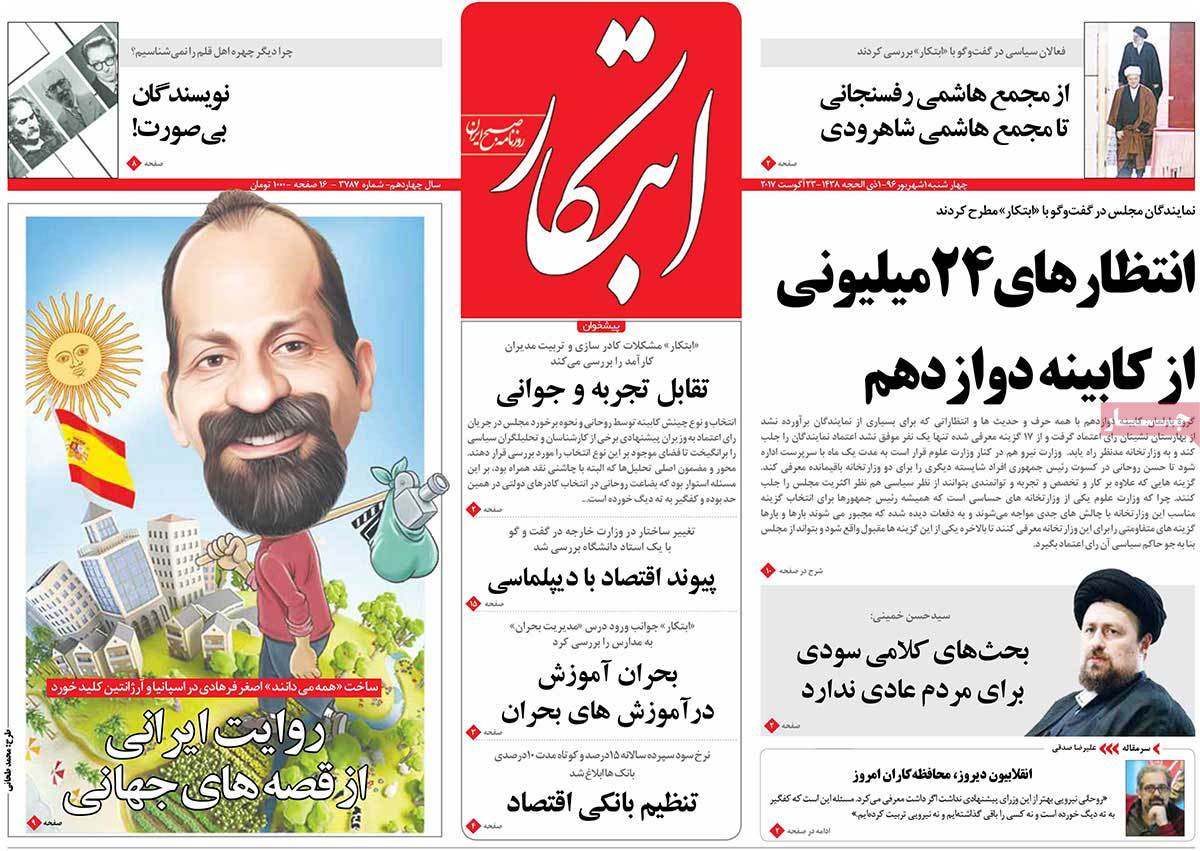 ---
Etemad:
1- End of Qalibaf's Work
Ex-Mayor of Tehran Asks for People's Forgiveness after 12 Years in Municipality
2- Nuclear Chief Warns Iran May Restart Enrichment in 5 Days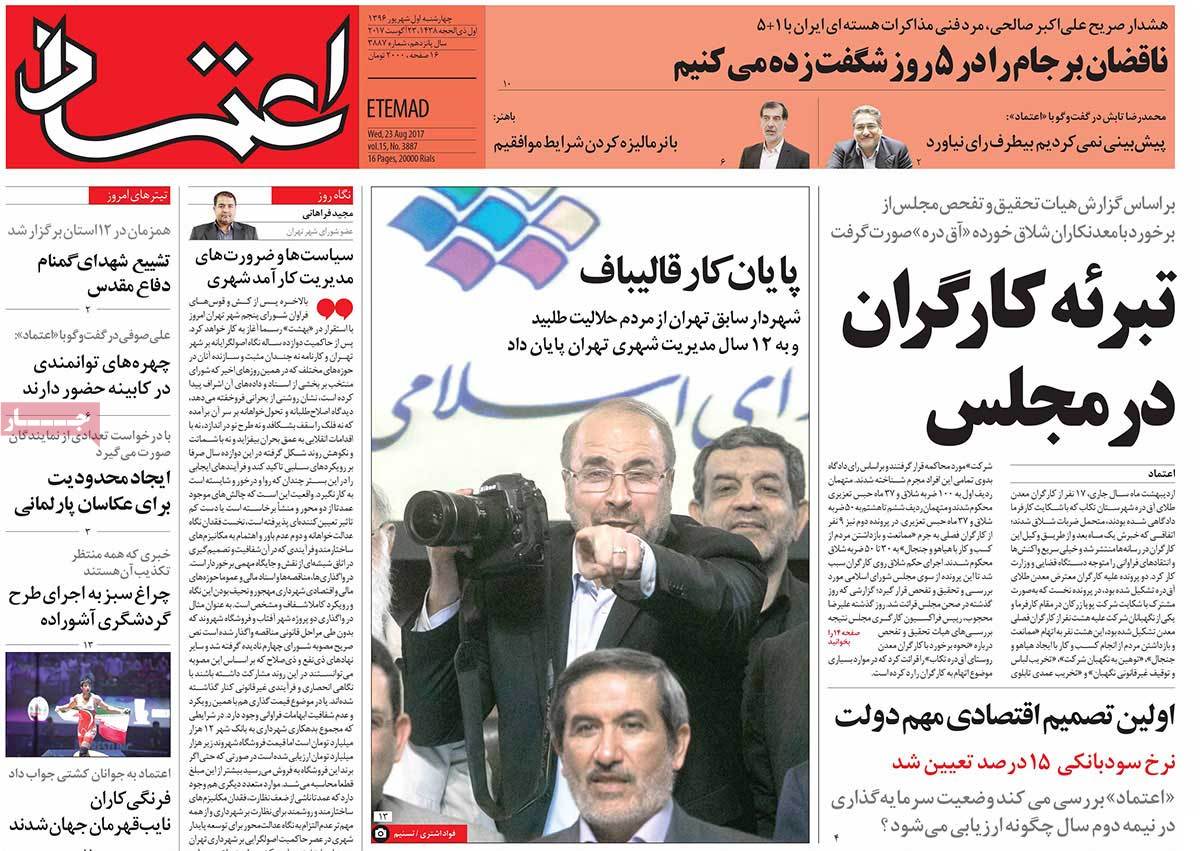 ---
Ettela'at:
1- Nuclear Chief: Iran Can Resume %20 Enrichment in 5 Days
2- Ebtekar: Charter to Be Developed on Women's Civil Rights
3- Violence-Free Spirit Reason for Iranian Shiites' Friendship with Followers of Other Faiths
4- Trump: Time Is Over for Use of Military Forces to Create Democracy
---
Iran:
1- Religious Consultation for World without Violence
Tehran Hosts Religious Dialogue between Centre of Religions, World Council of Churches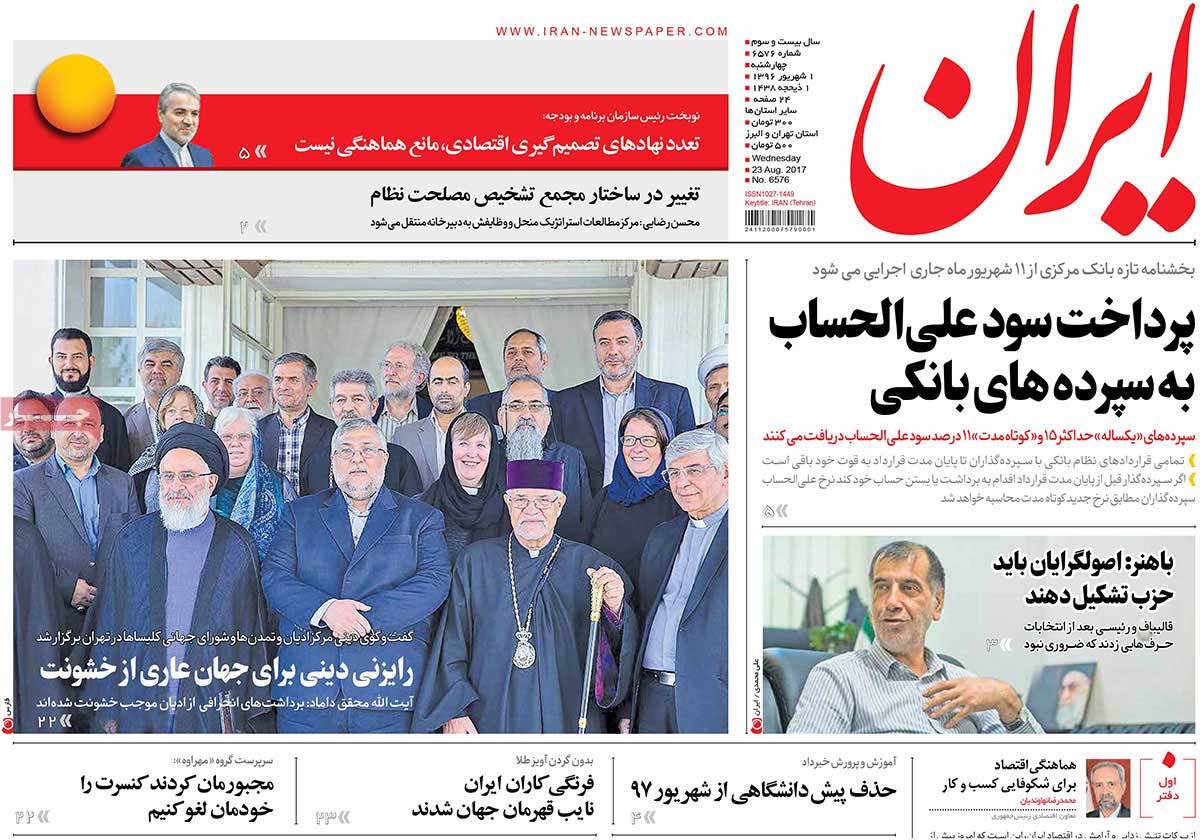 ---
Javan:
1- Iran Nuclear Chief: We'll Even Remove Arak Reactor's Cement
2- Trump: I've Decided to Keep US Troops in Afghanistan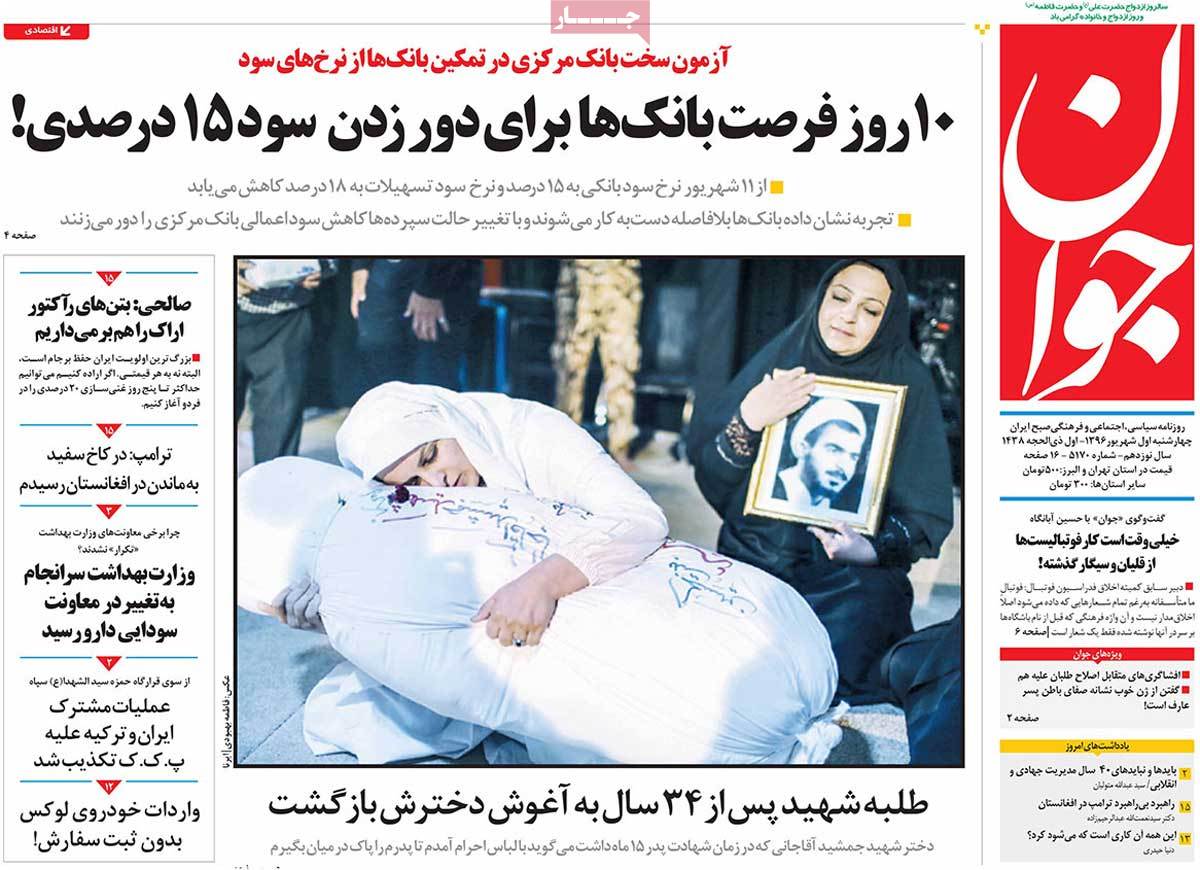 ---
Jomhouri Eslami:
1- American People Opposed to Trump's New Plan for Military Presence in Afghanistan
2- Iran Greco-Roman Wrestling Team Runner-up in World Championship
3- Iran's Gas Exports Increased to 42mcm per Day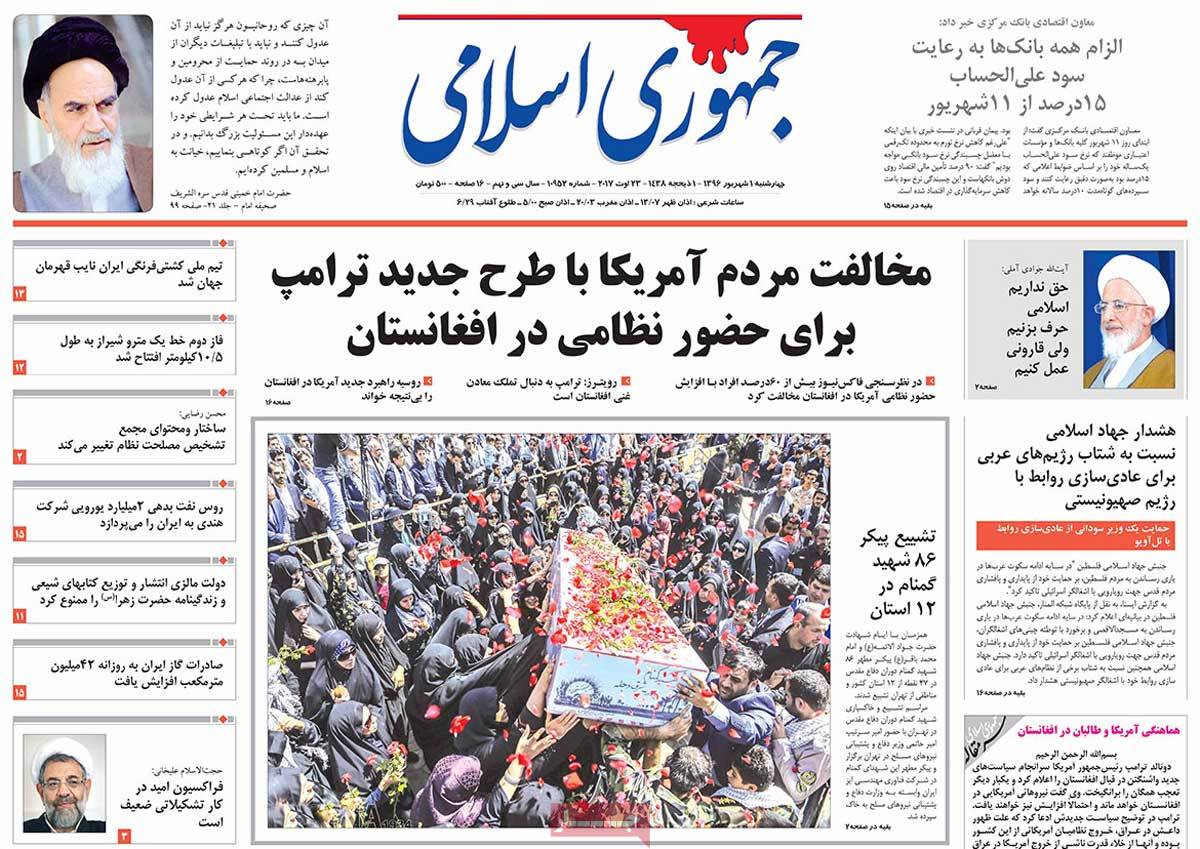 ---
Kayhan:
1- Government's Efficiency Hinges on Staying Away from Corruption, Aliens, Those Linked with 2009 Sedition
2- Iranian Wrestlers Finish Second in World Greco-Roman Championship
Wrestler Abdevali Dedicates Bronze Medal to Martyr Hojaji
3- ISIS Case to Be Closed Soon: Iraqi Popular Forces Liberate 250km of Tal Afar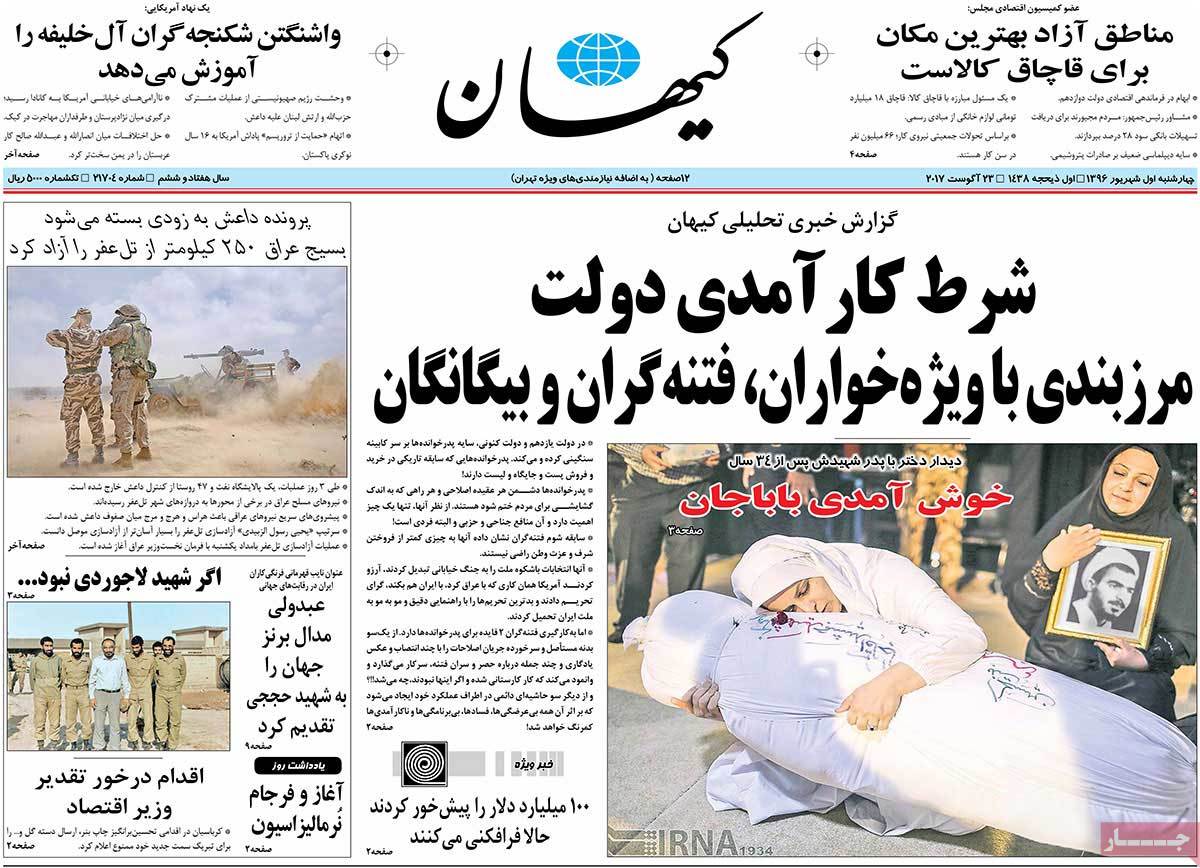 ---
Resalat:
1- Conservative Figure: Government's Hopeful Attitude to JCPOA Strategic Mistake
2- Trump: US Ready to Negotiate with Taliban; We're Tire of War without Victory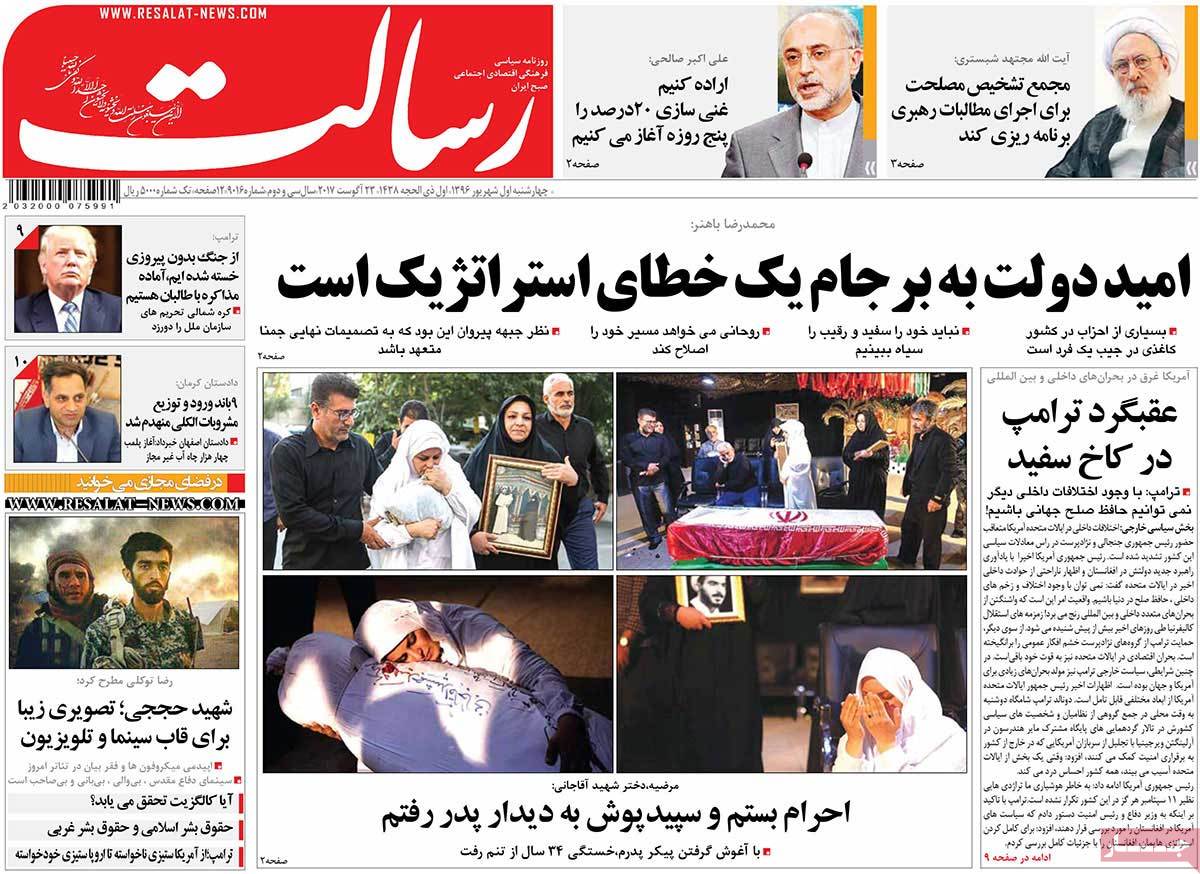 ---
Shahrvand:
1- Ebtekar: I Promise to Modify Laws that Discriminate against Women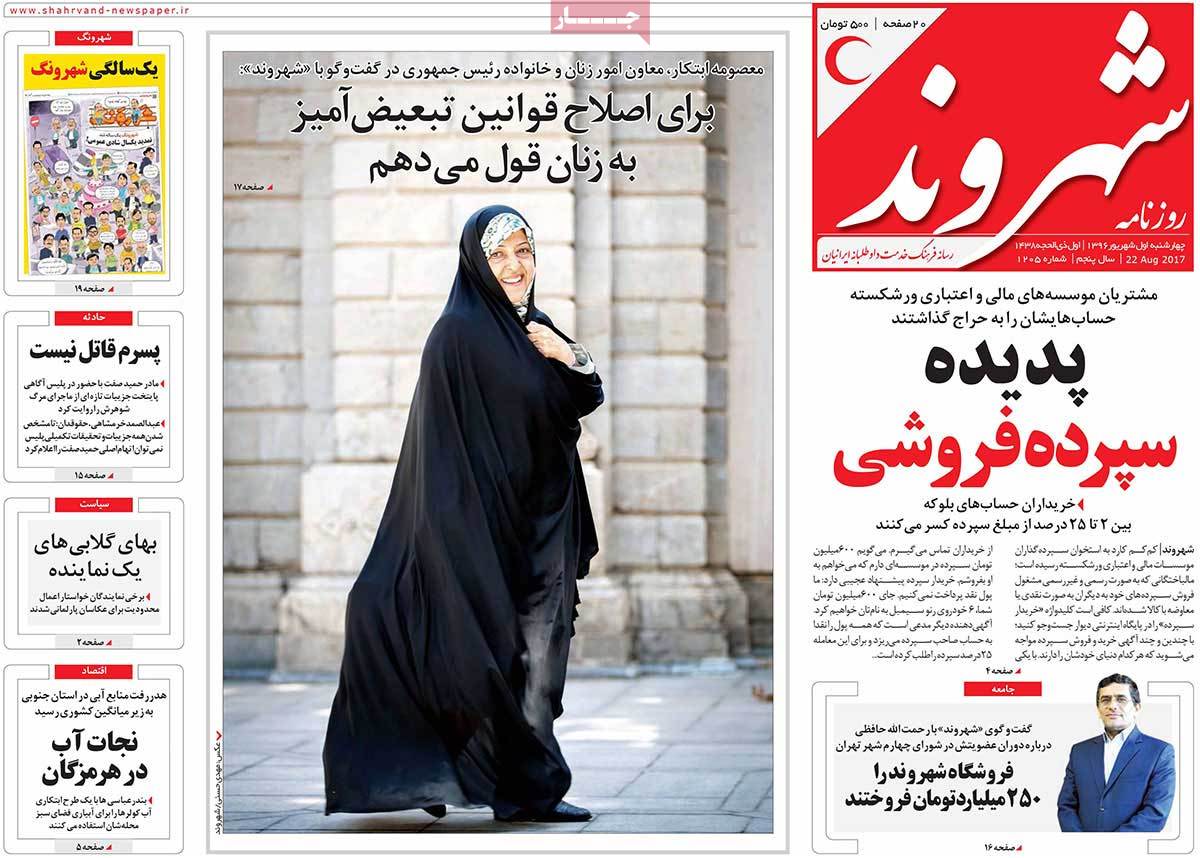 ---
Shargh:
1- Justice Minister: No One Allowed to Oppress Others to Save Establishment
2- Rouhani Dedicates Shares to Women, Youths in Ministries
3- Iran Rejects Allegations of Its Joint Operation with Turkey against PKK