All newspapers today covered the parliamentary sessions held on Wednesday to review the qualifications of ministerial nominees proposed by President Hassan Rouhani.
A meeting between Chief of Staff of the Iranian Armed Forces Major General Mohammad-Hossein Baqeri and Turkish President Recep Tayyip Erdogan in Ankara also received great coverage.
Some papers also highlighted the US State Department's claims about Iran's violation of JCPOA and Iranian Foreign Minister Mohammad Javad Zarif's comments about how the nuclear deal shows Tehran's distrust of US.
The above issues, as well as many more, are highlighted in the following headlines and top stories:
Abrar:
1- Remarks by Opponents, Proponents of Ministerial Nominees
2- Tehran Welcomes Expansion of Ties with European Countries Including Austria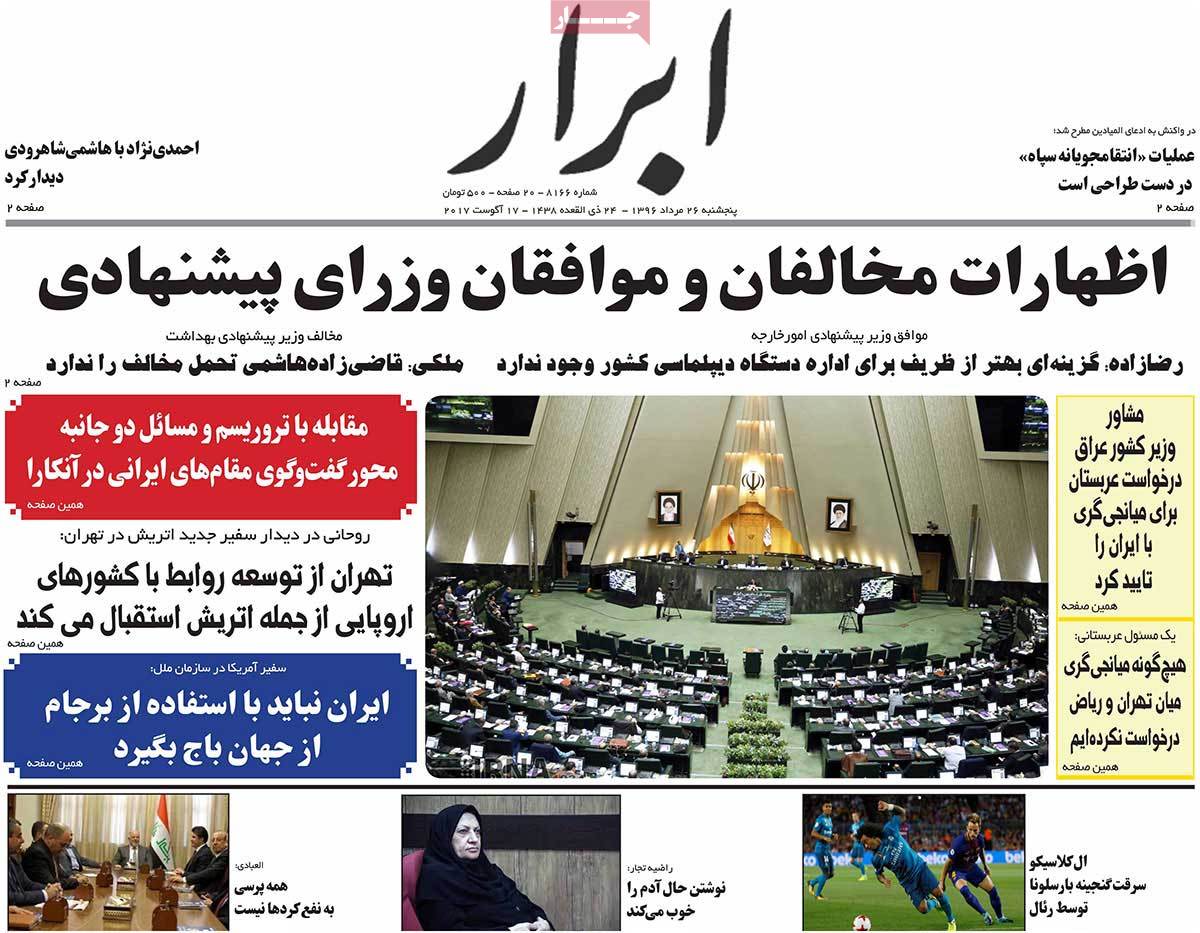 ---
Afkar:
1- Opponents of Ministerial Nominees Talk in Favour of Ministers!
2- Shamkhani: Hezbollah Mocked Israel in 33-Day War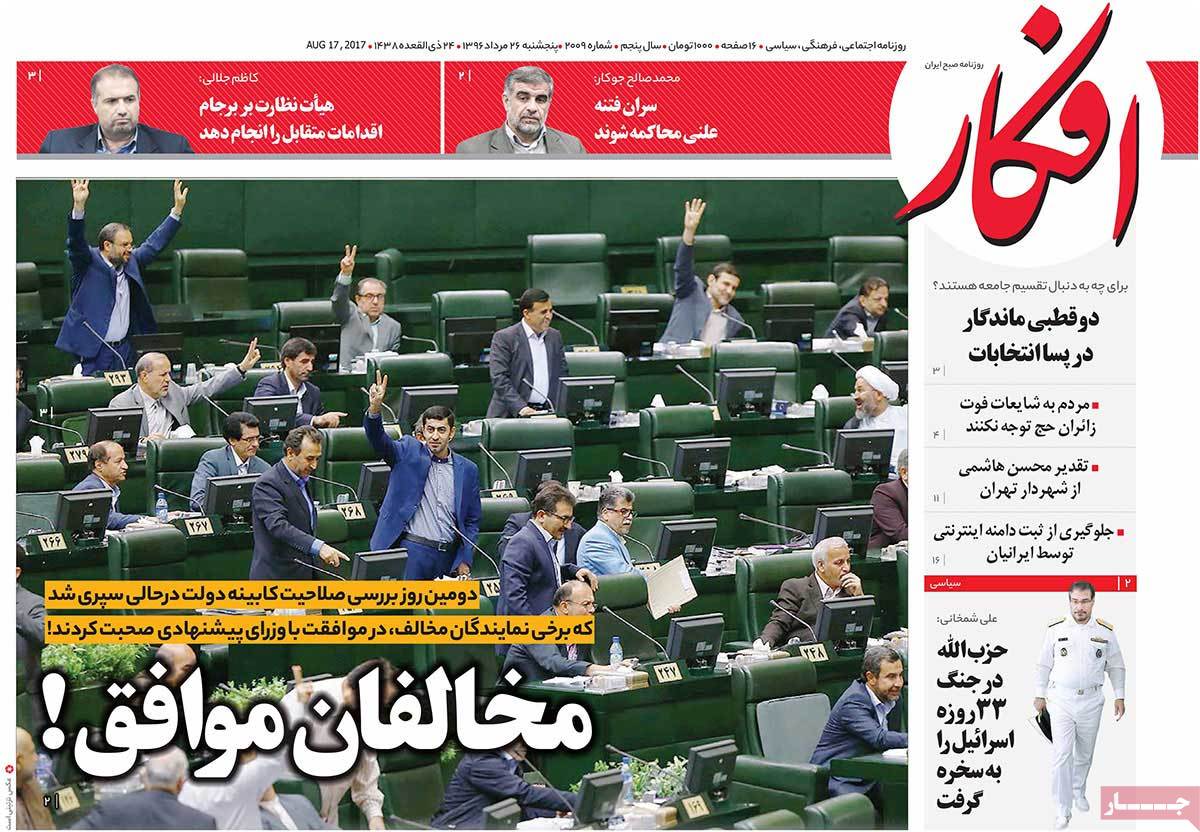 ---
Arman-e Emrooz:
1- Controversial Wednesday in Parliament
Qualifications of 6 Ministerial Nominees Reviewed in Parliament
2- New Reformist Mayor, Outgoing Conservative Mayor Hold Two-Hour Meeting
---
Bahar:
1- Proposed Economy Minister: I'm Man of Action, Not Words
---
Ebtekar:
1- Five Ministers to Appear in Parliament to Defend Themselves
2- Rouhani: All Countries Benefit from Nuclear Deal
---
Etemad:
1- Two Mayors Meet in Tehran
2- Zarif: It Is Good to Have Both Proponents, Opponents in Parliament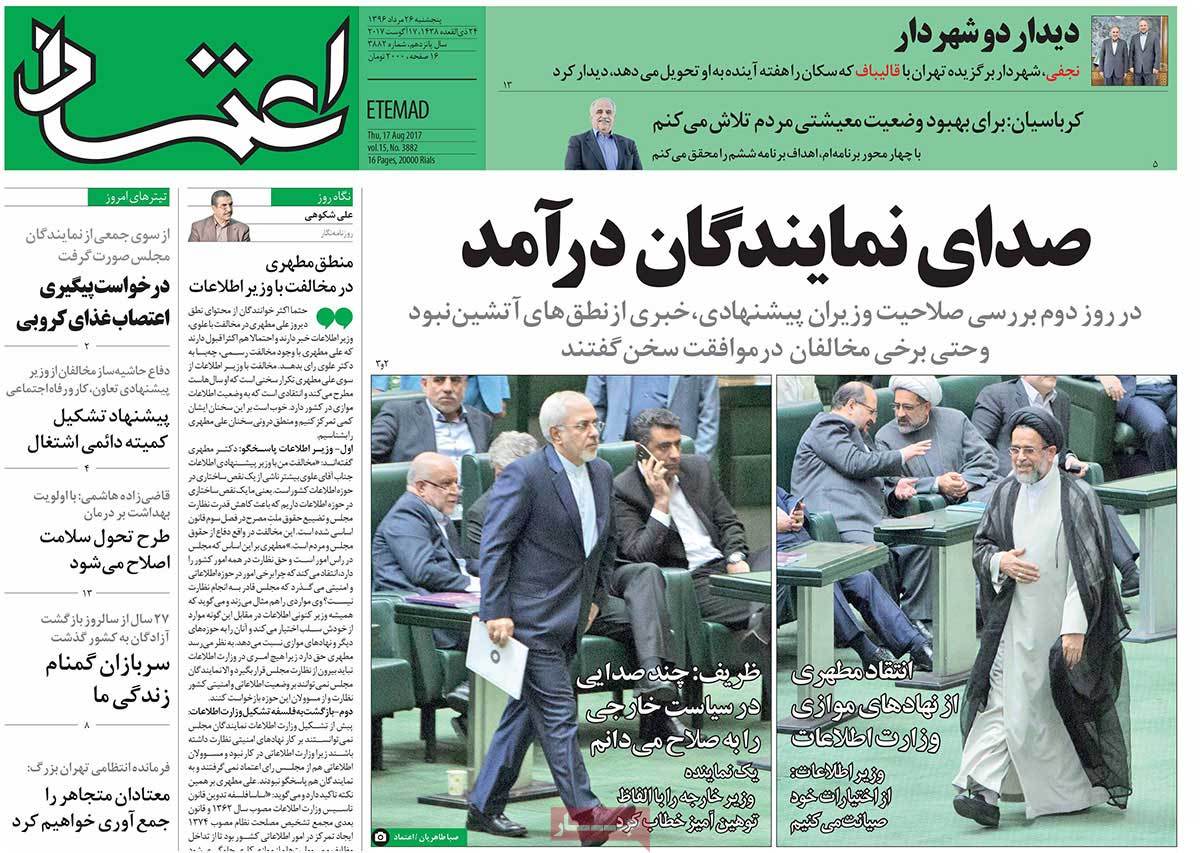 ---
Ettela'at:
1- Rouhani: Iran's Policy Is to Promote Friendly Ties with All Countries
2- US Deeply Concerned about Violation of Shiites' Rights in Saudi Arabia, Bahrain
---
Hemayat:
1- Trump's New Controversy after Defending Racists
2- Lavrov: No Limits to Iran's Missile Activities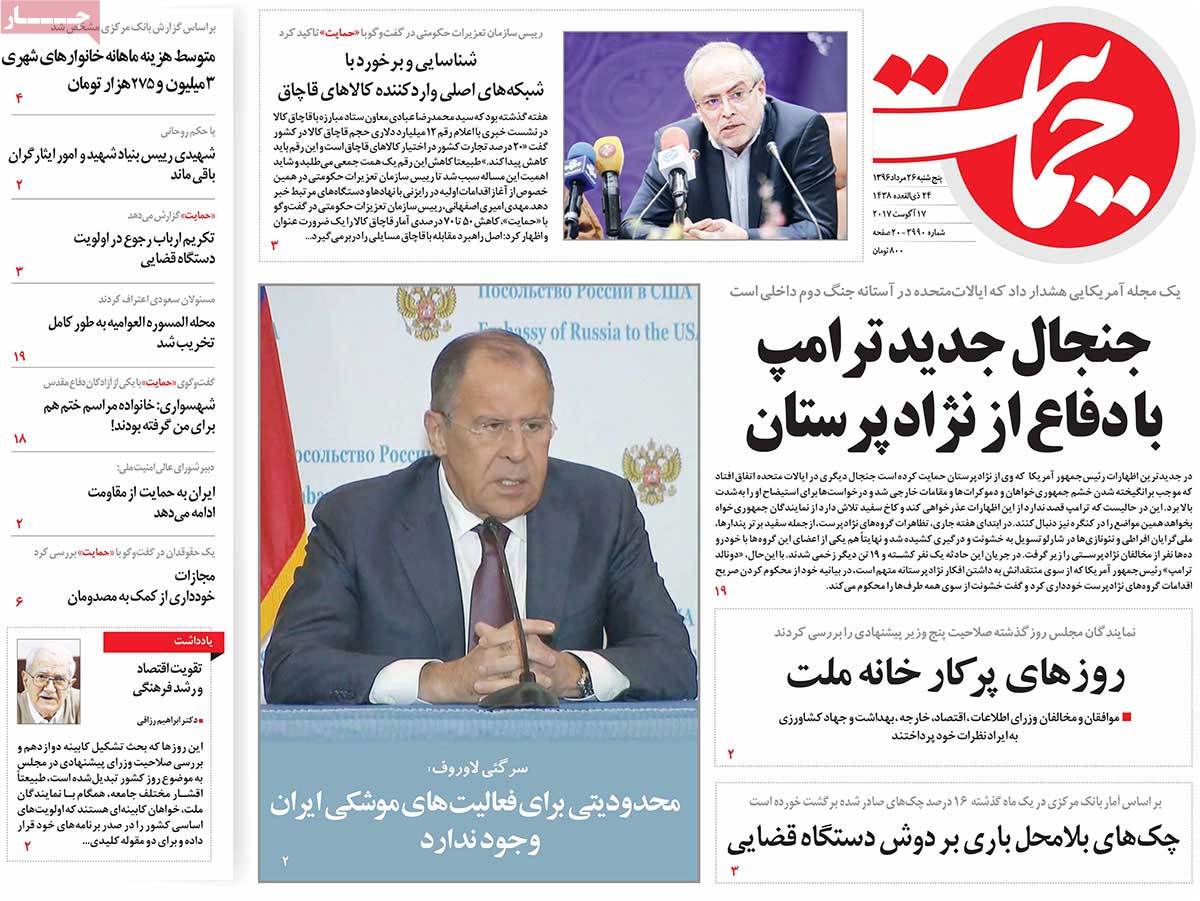 ---
Iran:
1- Plans of 5 Proposed Ministers under Scrutiny of Parliament
2- Chief of Staff of Iranian Armed Forces Meet Erdogan
3- 7 Industrial Advisors of Trump Resign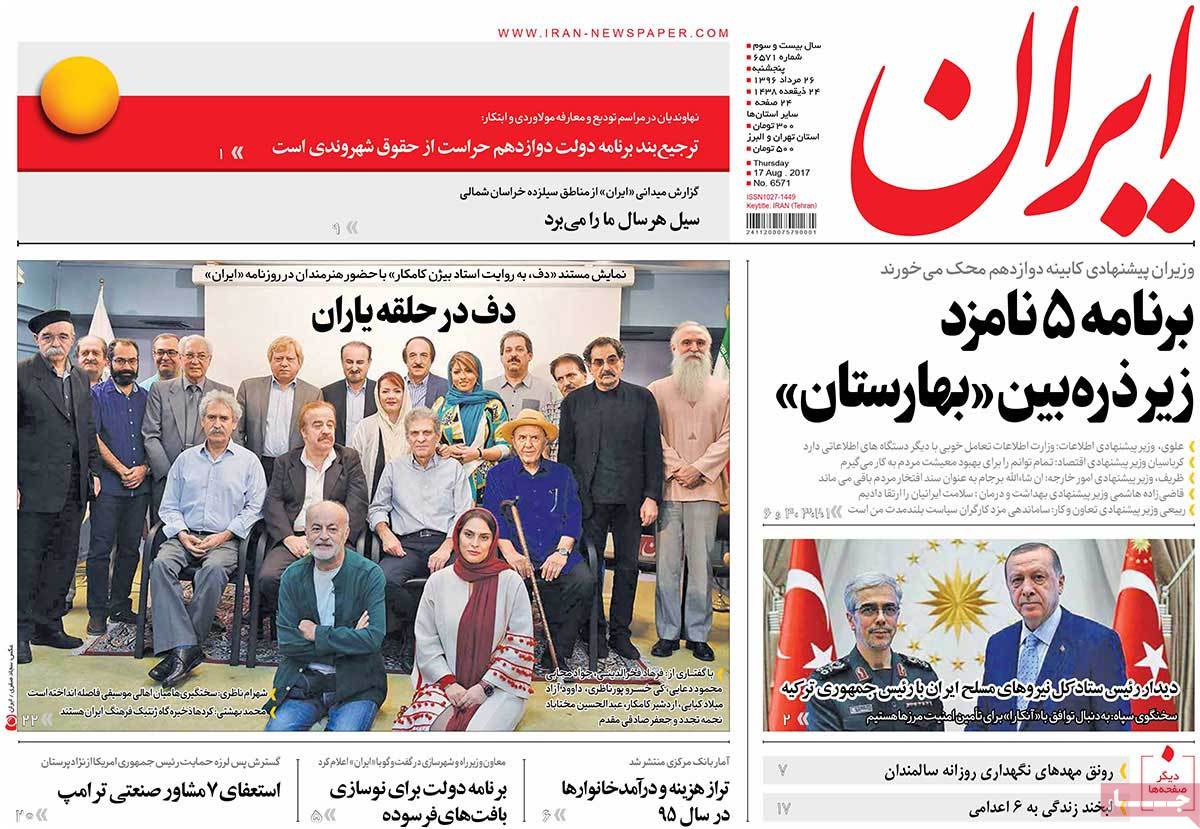 ---
Javan:
1- General Baqeri's One-Hour Meeting with Erdogan
2- Opponents Who Talk in Favour of Proposed Ministers!
3- Lavrov: Iran Rightful to Spend on Its Missile Program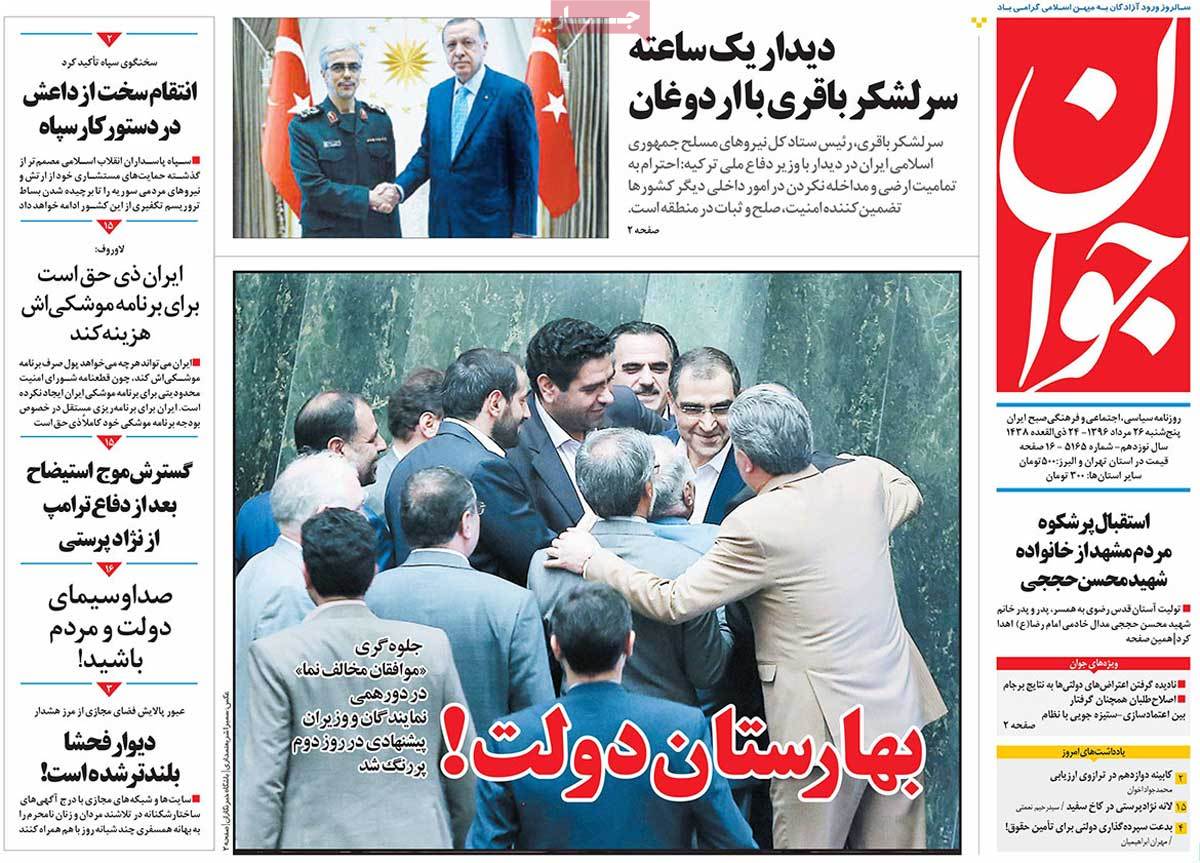 ---
Jomhouri Eslami:
1- Zarif: Every Single Word of JCPOA Shows Iran's Serious Distrust of US Policies
2- Russia: No Ban on Iran's Missile Program
3- Iran's Natural Gas Exports Increased to 42 mcm per Day
---
Kayhan:
1- Yesterday: Kerry's Signature Is a Guarantee; Today: JCPOA Shows Our Distrust of US!
2- Tim Anderson: Iran Shouldering Heavy Burden of Fight against Terrorists Single-Handedly
3- US on Verge of Civil War: 900 Racist Groups Active in This Country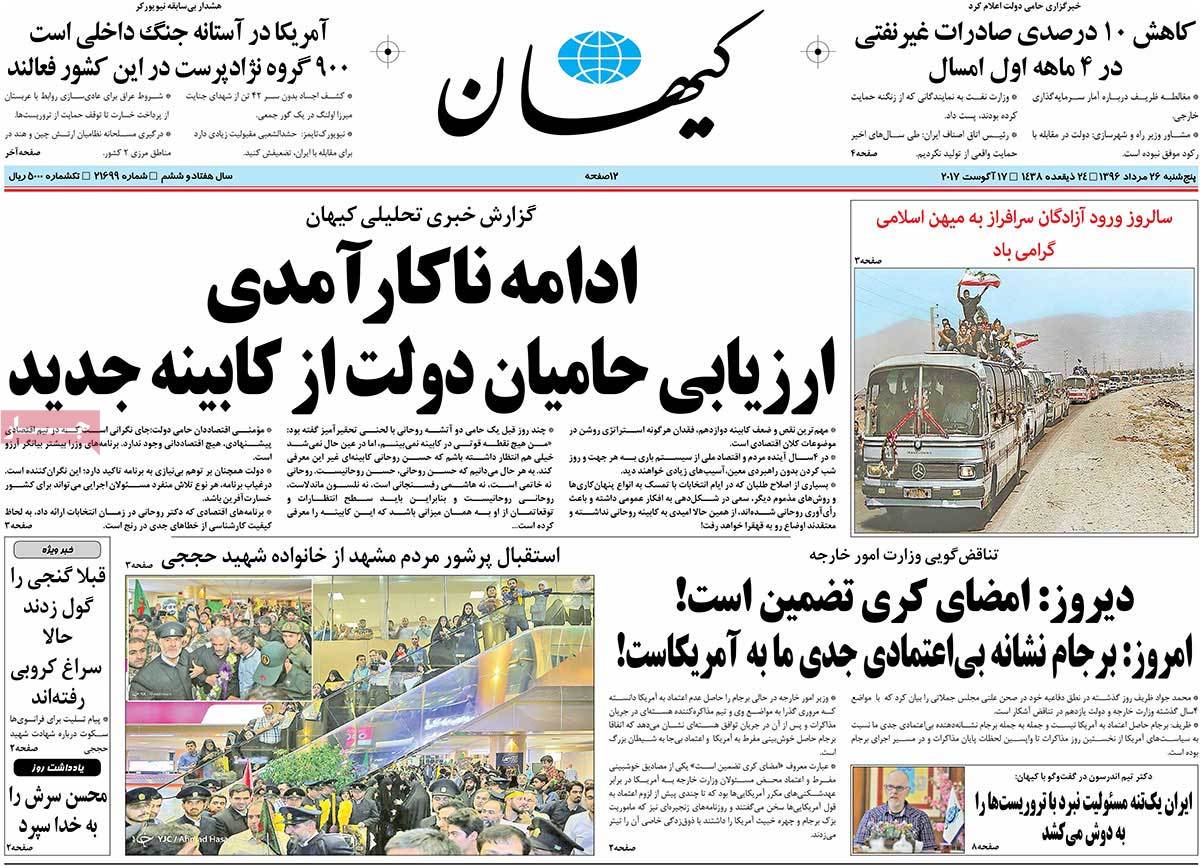 ---
Khorasan:
1- Little Growth of People's Purchasing Power after 5 Years of Decrease
---
Resalat:
1- Qassemi: US Report on Freedom of Religion in Iran Biased
2- Imam Khomeini's Grandson: Imam Used to Trust Young People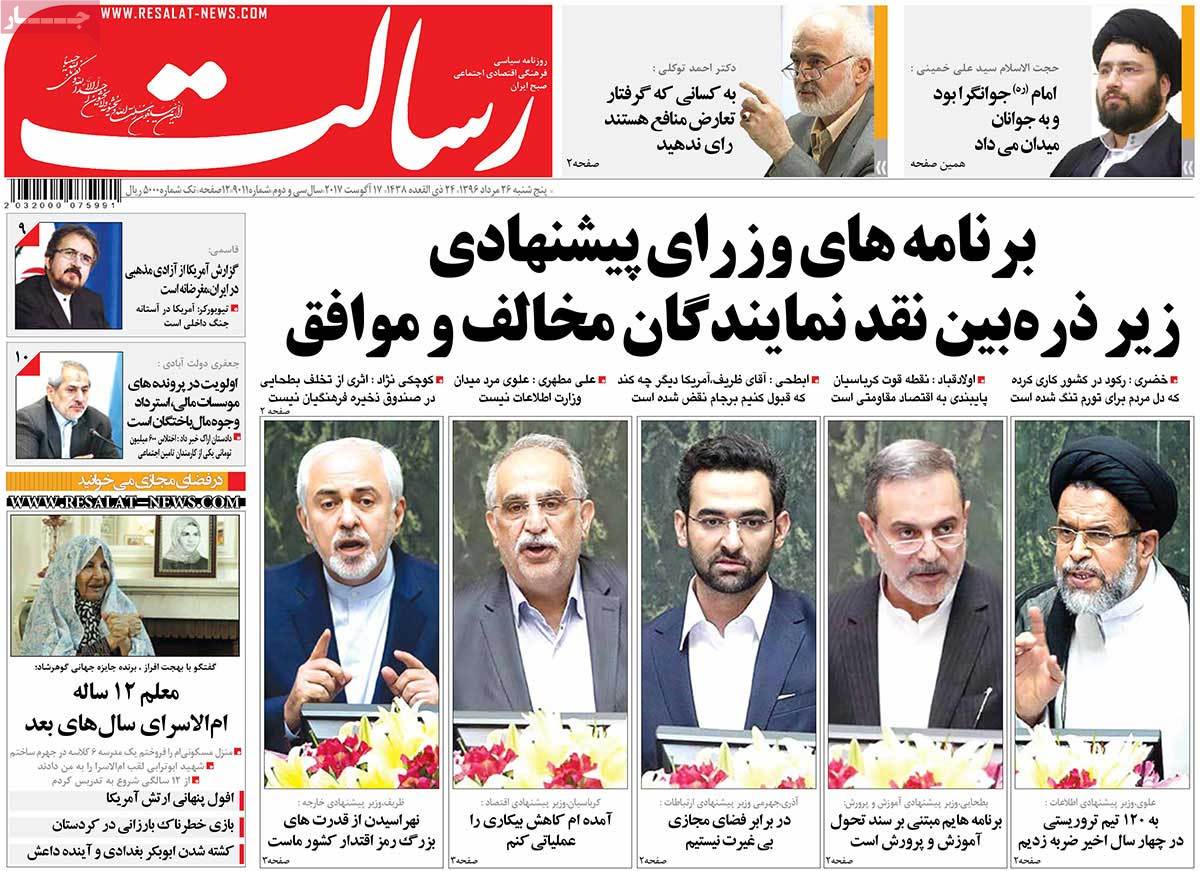 ---
Shargh:
1- Cabinet Should Respond to Votes of 24 Million People
2- Najafi, Qalibaf Meet in Tehran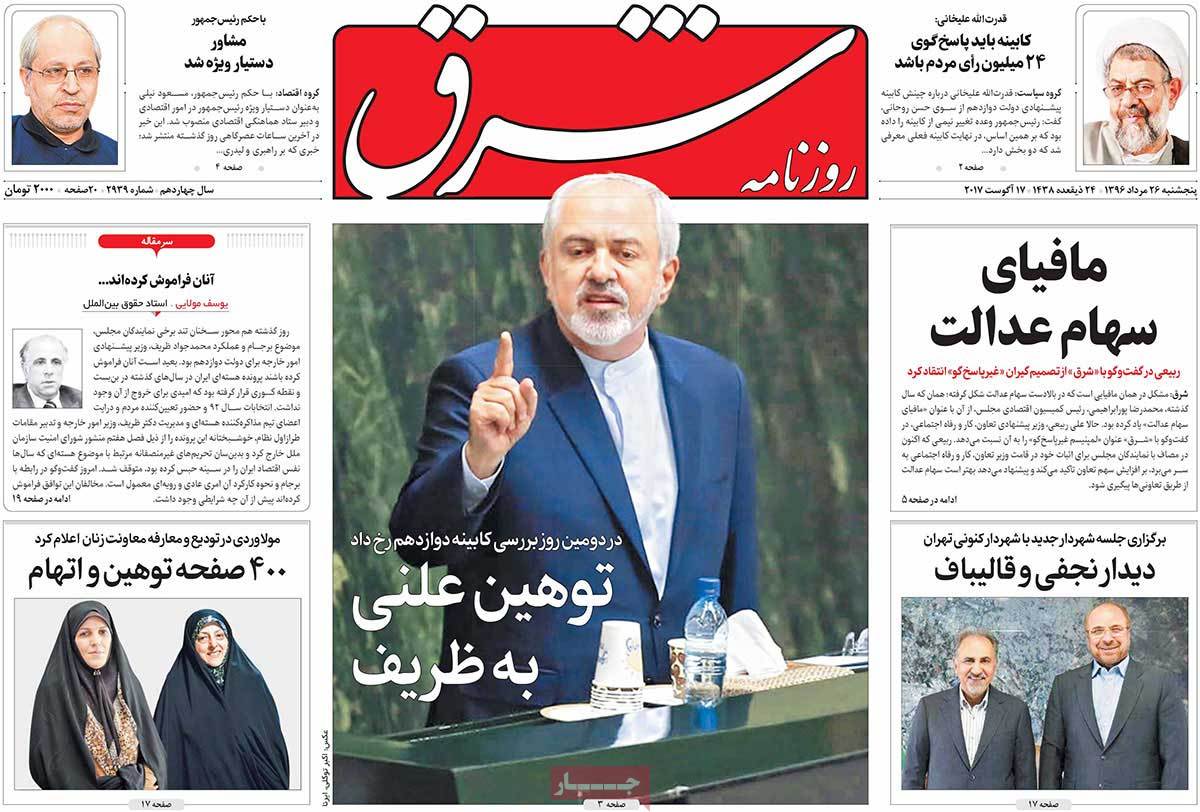 ---
Siasat-e Rooz:
1- Ministers Defend Their Plans in Parliament
2- Ankara Needs Military Diplomacy with Iran
---
Vatan-e Emrooz:
1- Saudi Arabia: We've Never Asked for Mediation in Our Ties with Iran
2- US State Dept. Spokesperson: We've Lived up to JCPOA Spirit, Text, Iran Haven't!