The top story in almost all papers today was the recent remarks by former US Secretary of State John Kerry about his meetings with Iranian Foreign Minister Mohammad Javad Zarif, which have outraged US President Donald Trump.
Several papers also published articles for and against the participation of President Hassan Rouhani in an upcoming UN Security Council meeting due to be chaired by Trump.
The above issues, as well as many more, are highlighted in the following headlines and top stories:
Abrar:
1- Kerry Asks Iranians to Wait for Trump to Leave
2- Europe to Establish Independent Financial Body to Bypass US Sanctions against Iran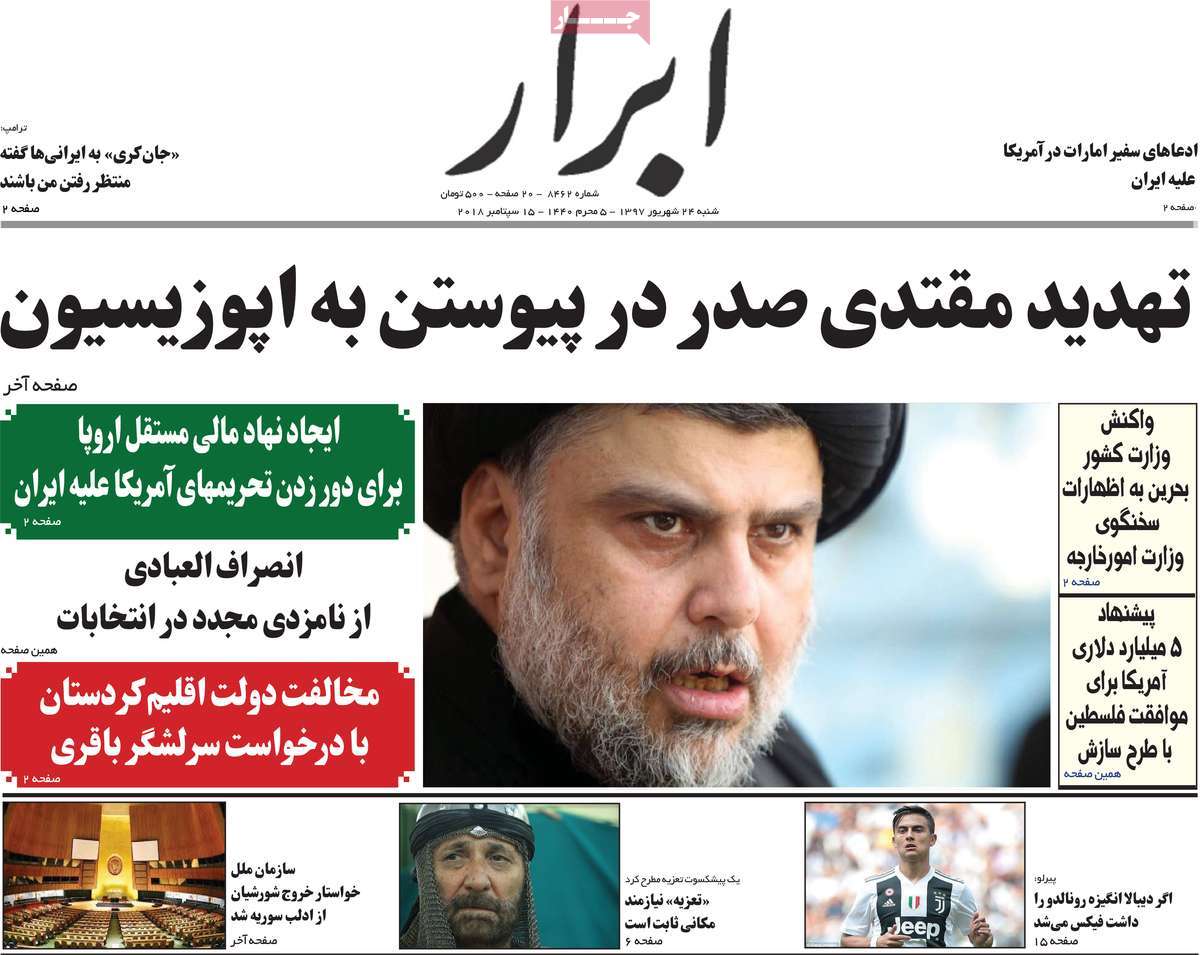 ---
Aftab-e Yazd:
1- Iran Needs to Hold Dialogue with American Elites
2- Kerry: In Past Two Years I've Held Four Meetings with Zarif
3- Details of the Way Iran Hosted Tehran Summit
Russian, Turkish Presidents Accompanied by 360 People
4- Retired Executives Cheating to Keep Their Positions
All Retired People Must Leave Their Positions, but Some Are Cheating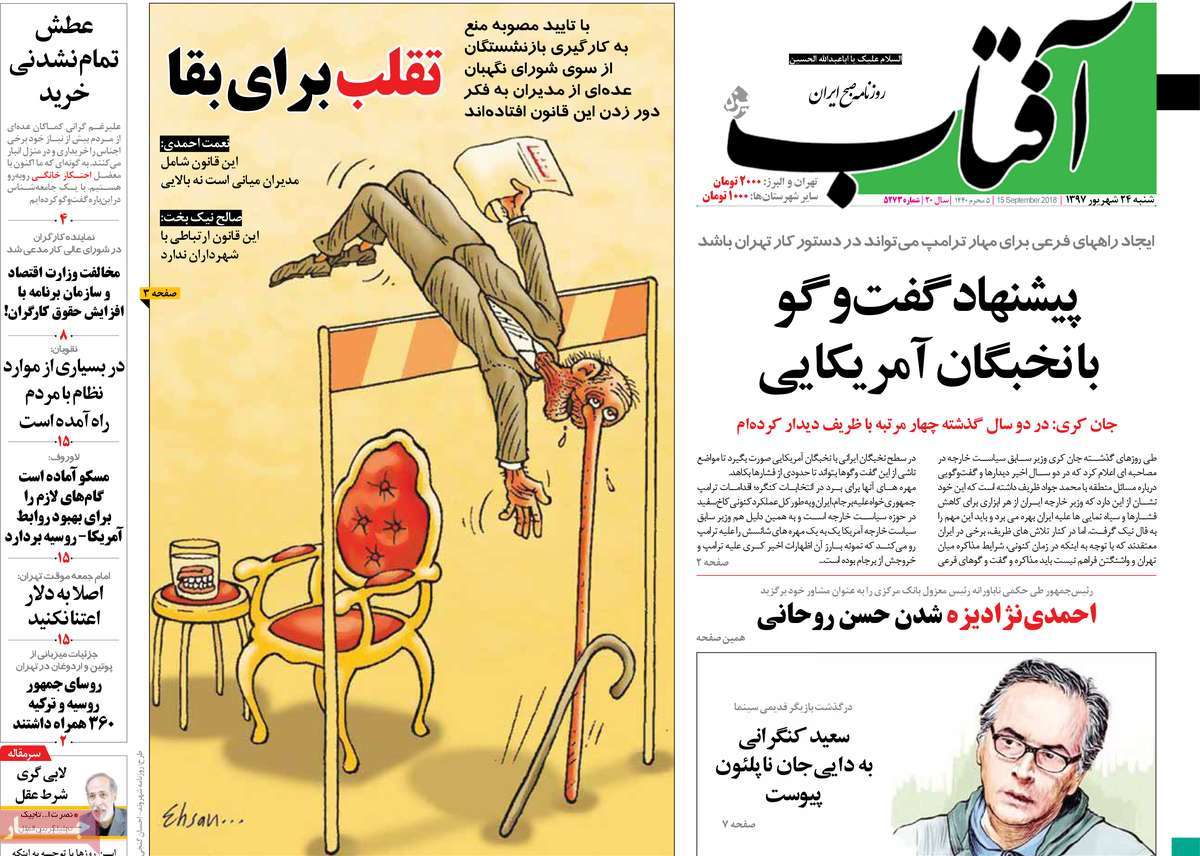 ---
Arman-e Emrooz:
1- Kerry in Meeting with Zarif: Wait until Trump's Impeachment
2- Iran to Appoint Its First Female Sunni Ambassador
Will Homeyra Rigi Be Appointed as Iran Envoy to Brunei?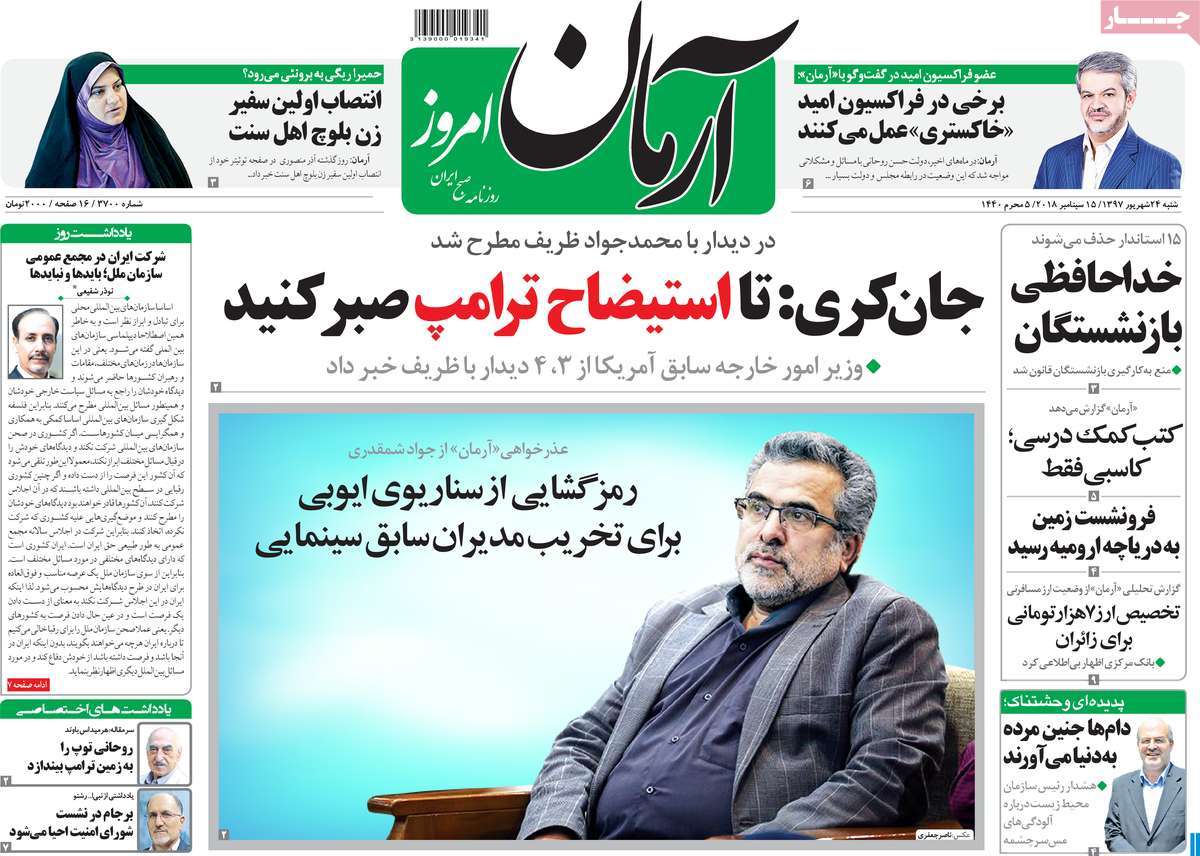 ---
Ebtekar:
1- Zarif-Kerry Issue, New Challenge for Trump
2- EU Has Practical Solution to Bypass US Sanctions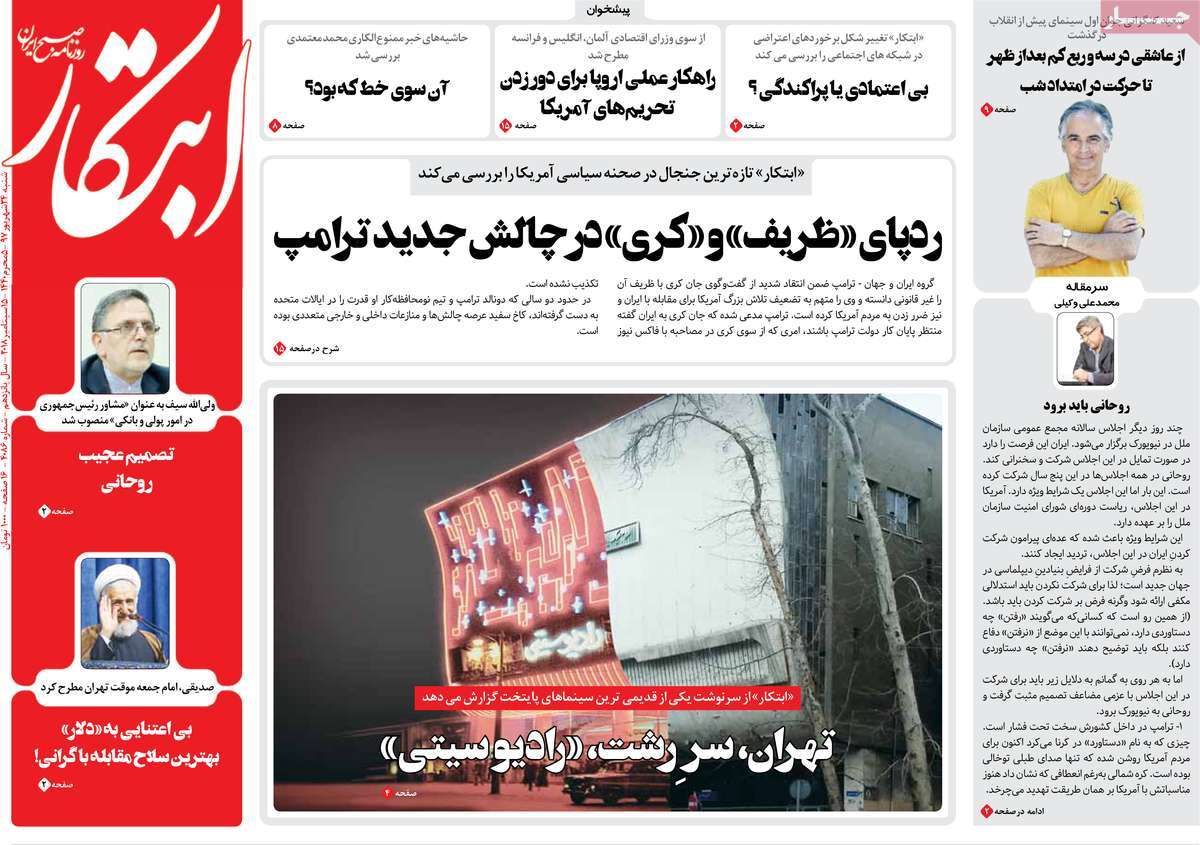 ---
Etemad:
1- Shadow Diplomacy: Kerry-Zarif Meetings Outrage Trump Administration
2- Defenceless Civilians or Centre of Terrorism?
Last Chapter of Syria's Seven-Year War in Idlib
---
Ettela'at:
1- American Bodies behind Chaos in Iran's Forex Market
2- US Holds Joint Drills with Syria Terrorists
---
Iran:
1- Kerry under Fire for Meeting Zarif
2- Al-Abadi's Double-Standard Approach to Premiership
Formation of Next Iraqi Government Accelerated
3- Former Diplomat: Iran Shouldn't Gift UN's Tribune to Its Rivals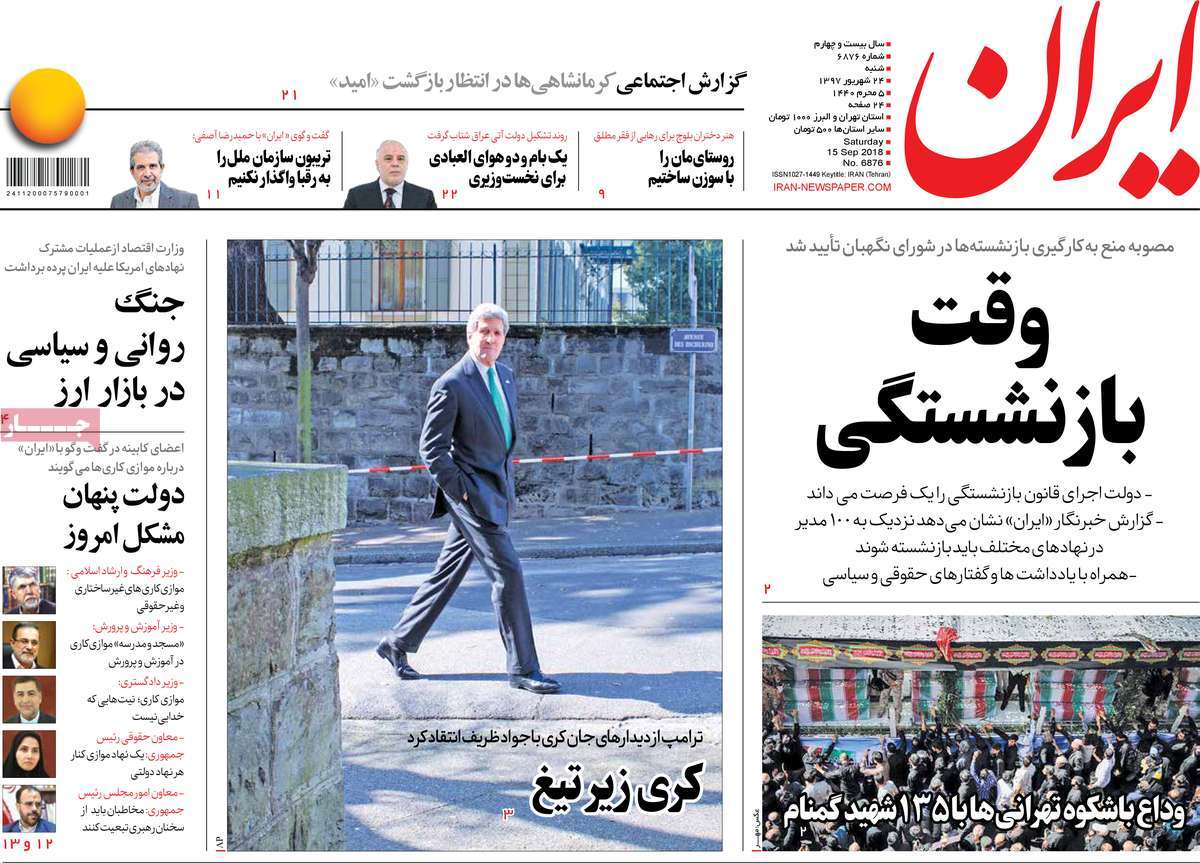 ---
Javan:
1- Kerry: We Would Have Withdrawn from JCPOA in Due Time
2- Haley: For Now Our Focus on Iranian Nation
3- Iraqi Youths Symbolically Clean Burned Building of Iran Consulate in Basra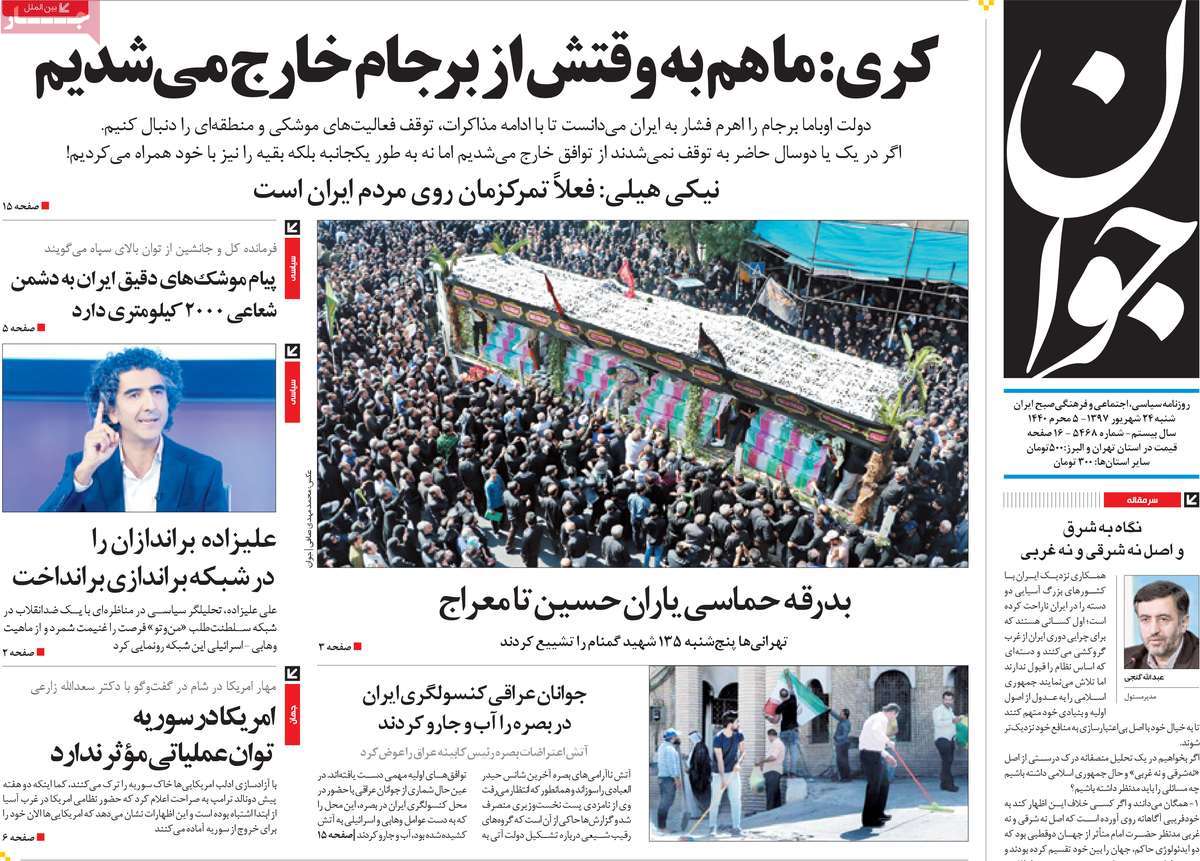 ---
Kayhan:
1- FATF Chief: We Have Close Cooperation with Israel against Iran
2- Zionist General: Israeli Army Not Ready for Any War
---
Sazandegi:
1- Trump Protests against Kerry-Zarif Meeting
US President Says Kerry Has Told Zarif Trump Will Be Sacked
2- Guardian Council Approves Bill to Stop Using Retired Officials
Will Younger People Be Appointed to Those Job Vacancies?
---
Shahrvand:
1- Iranians Rush to Pre-Purchase New iPhones
Astronomical Prices for Pre-Sale of iPhone XS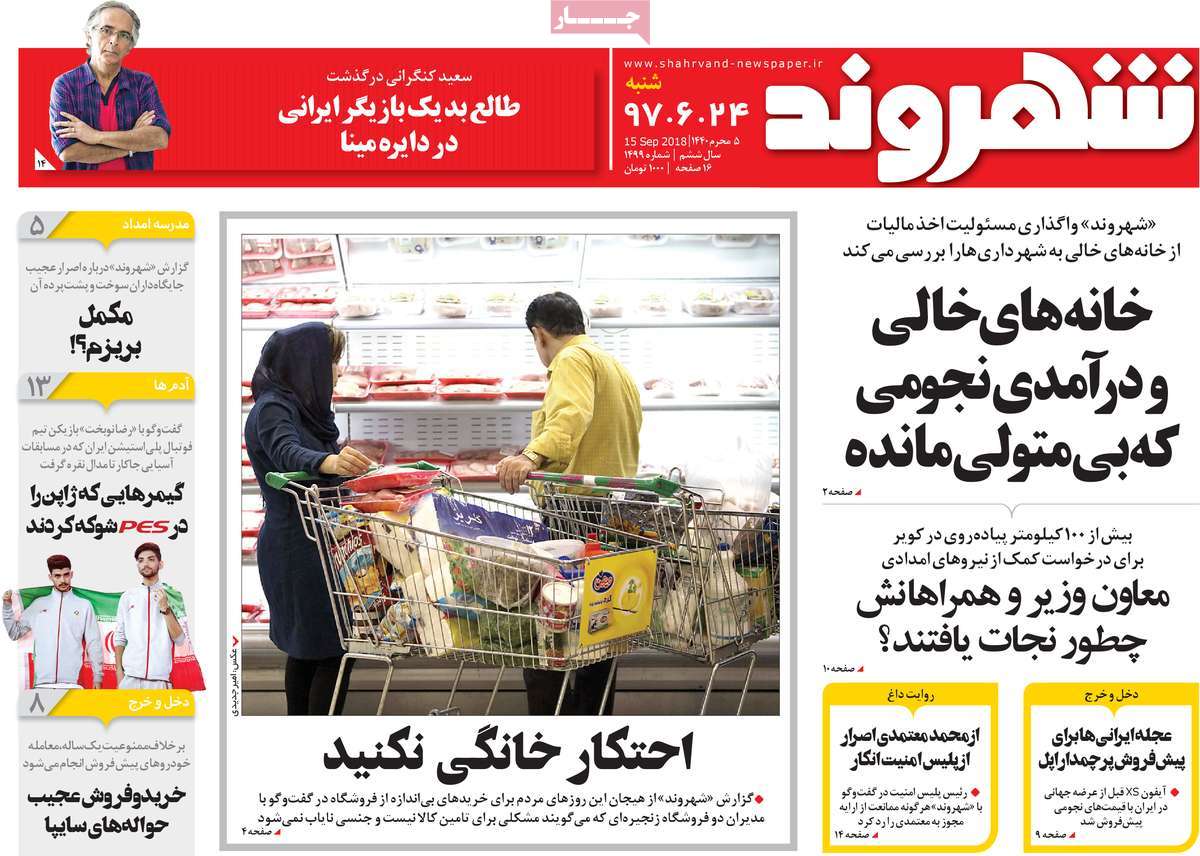 ---
Shargh:
1- Kerry's Meeting with Zarif Causes Him Trouble
2- Iranian Society's Current Situation [Editorial]
3- Opportunity to Prove Rightfulness of Iran Nuclear Deal
Opponents, Proponents of Rouhani's Participation in UNSC Meeting
---
Sobh-e Now:
1- Imran Khan's Opportunity: When Iranian Diplomats Are Negligent
Pakistani PM Changes His Decision, Will First Visit Riyadh, Then Tehran