All papers today covered the delay in Europe's implementation of its Special Purpose Vehicle (SPV), a payment mechanism to facilitate doing trade with Iran.
Many Iranian officials, particularly Deputy Foreign Minister Abbas Araqchi, warned Europe about the consequences of failing to do what they have promised.
Also a top story today was the visit of UK Foreign Secretary Jeremy Hunt to Tehran, where he held separate talks with FM Javad Zarif and Supreme National Security Council chief Ali Shamkhani.
The above issues, as well as many more, are highlighted in the following headlines and top stories:
Abrar:
1- Iraq President Salih Didn't Convey Any Message from Iran to Saudi
2- UK Foreign Secretary: We'll Remain Committed to Iran Deal as Long as Tehran Does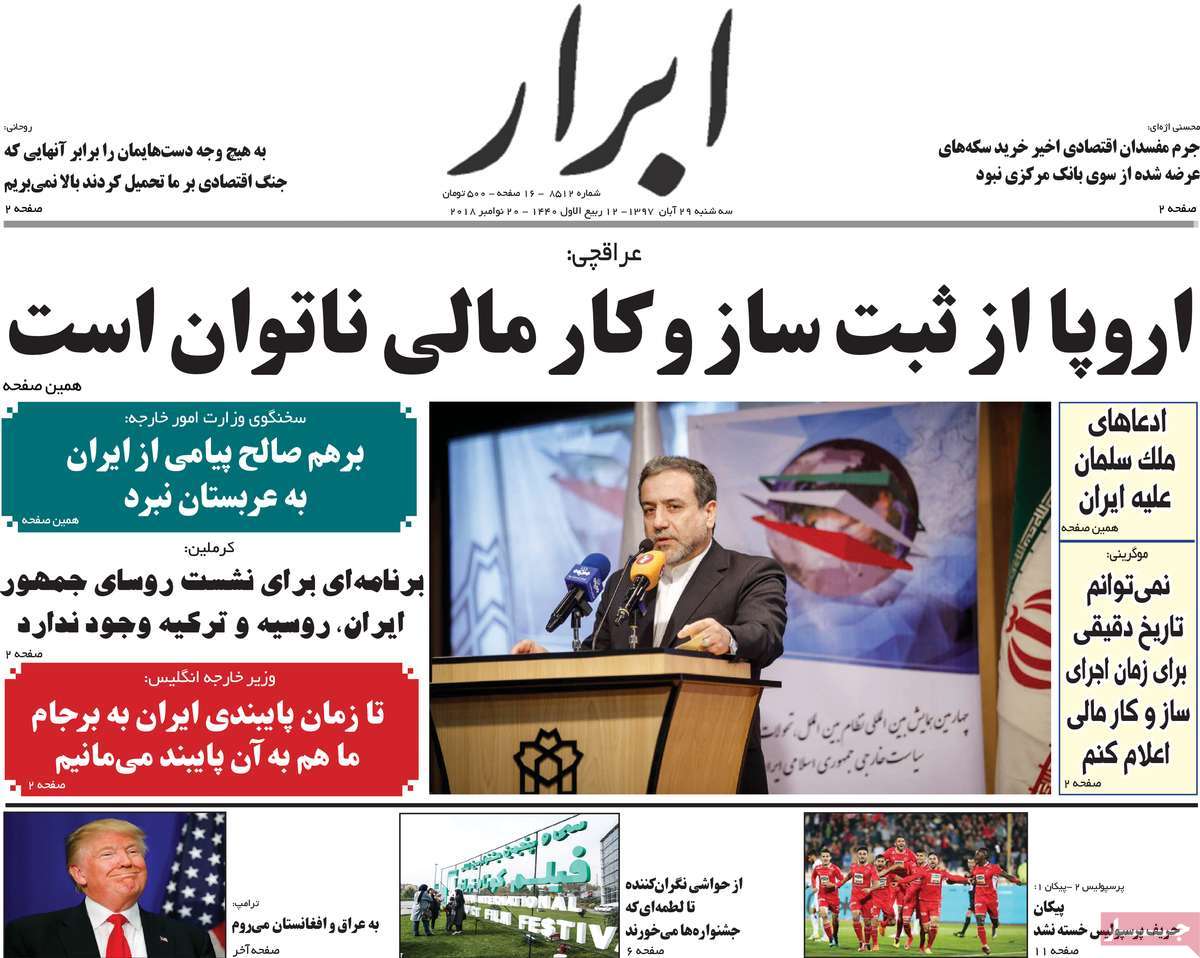 ---
Aftab-e Yazd:
1- Zarif Has Not Backed Off, but Won't Insist Either
2- Tehran Worried about Fate of SPV
3- Counterattack on Unofficial Forex Market: A Report on Central Bank's New Decision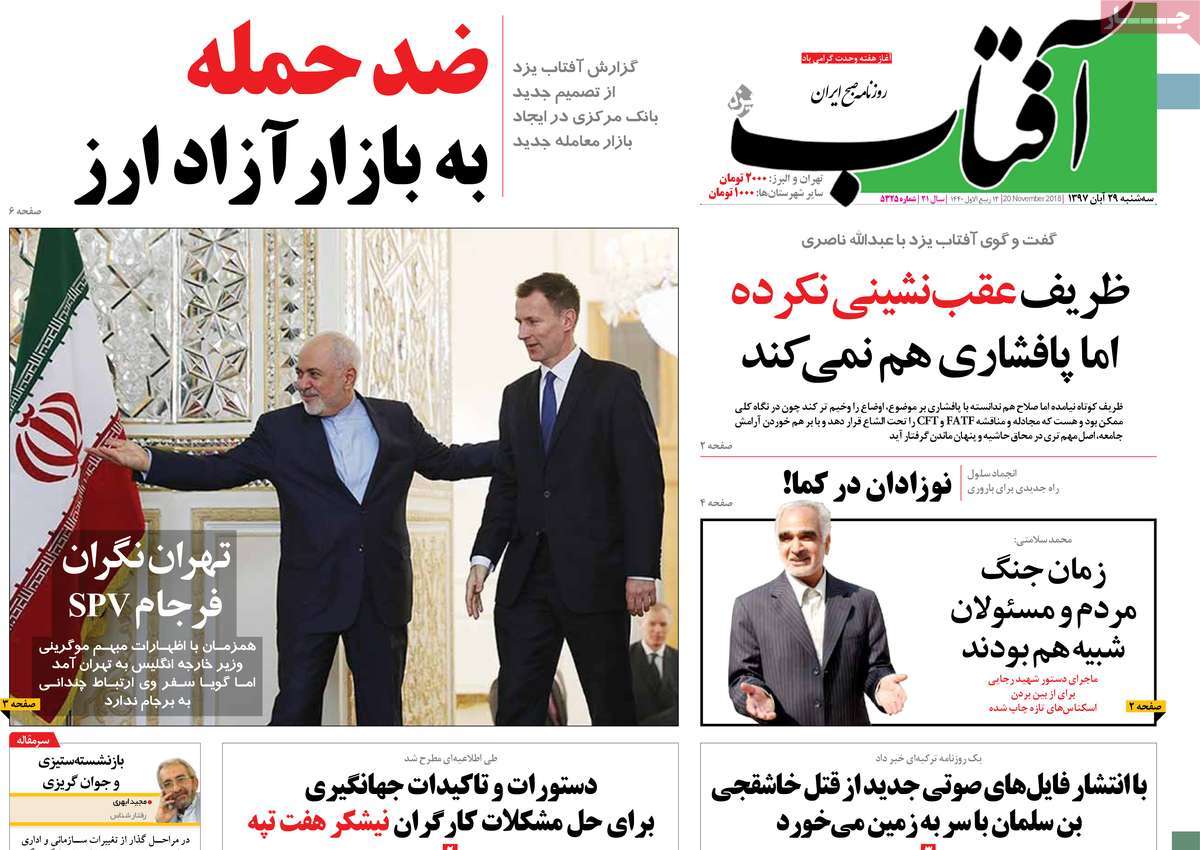 ---
Arman-e Emrooz:
1- Europe Must Compensate for Damages to Iran
2- Shamkhani to Hunt: Level of Iran-UK Ties Not Satisfactory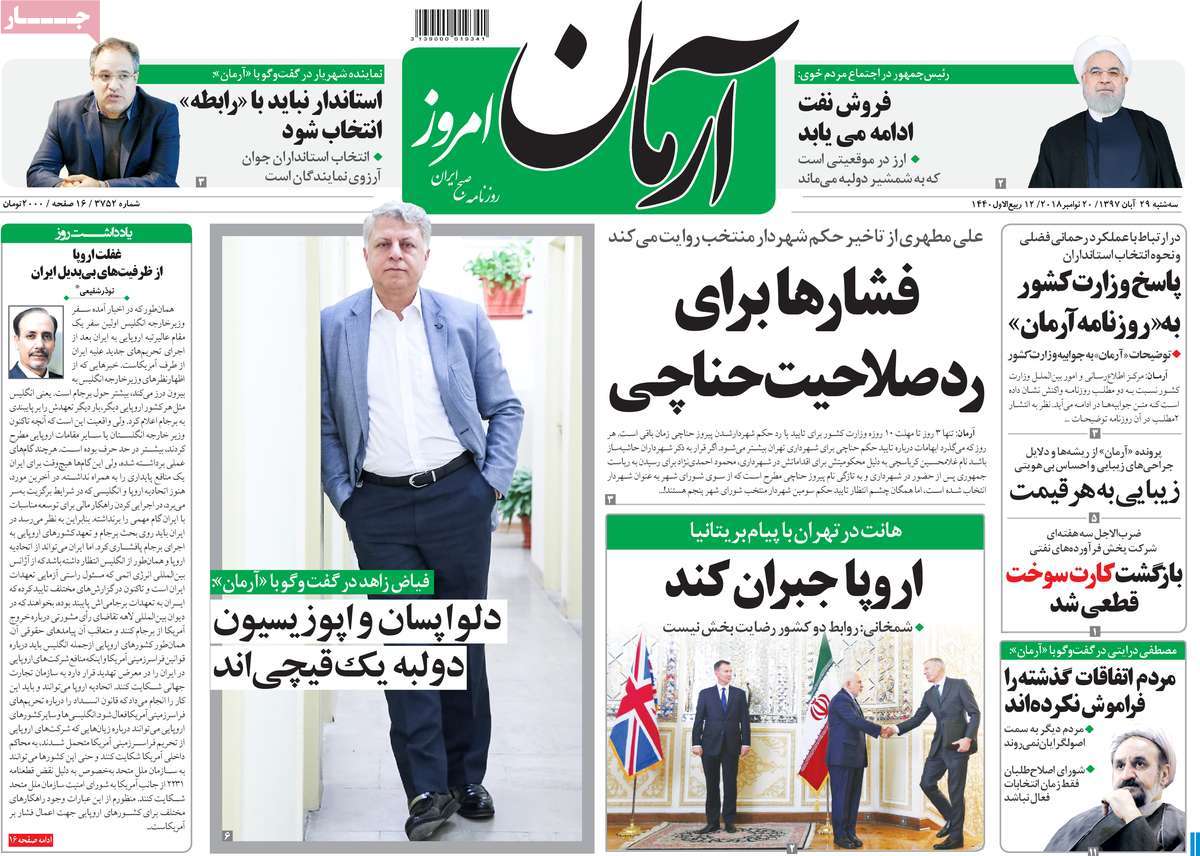 ---
Ebtekar:
1- JCPOA Message from London to Tehran
2- Change in Shape of Tehran-Baghdad Ties [Editorial]
3- As Blue as Childhood Memories
Offers for Adults to Revive Childhood Memories on World Children's Day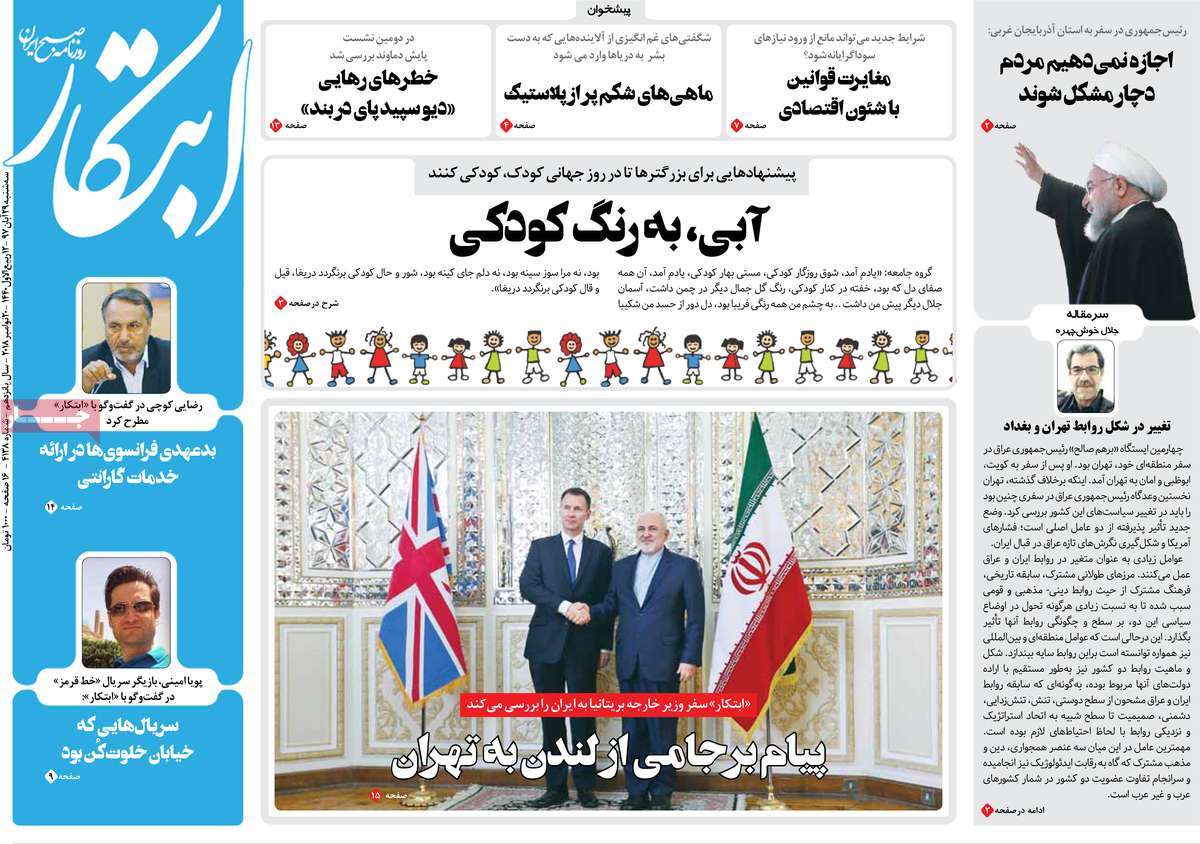 ---
Etemad:
1- Iran Not to Remain Patient Forever
Hunt Returns to London after Receiving Iran's Clear Message
2- Iran's Shamkhani Strongly Warns Hunt
US Will Interfere in UK Ties with Other Countries as Well
3- Why Europe Is Procrastinating? [Editorial]
---
Ettela'at:
1- Rouhani: Iranian Nation to Give Response to US on Anniversary of Iran Revolution
2- Shamkhani: Working with Trump Administration Makes One Accomplice in US Crimes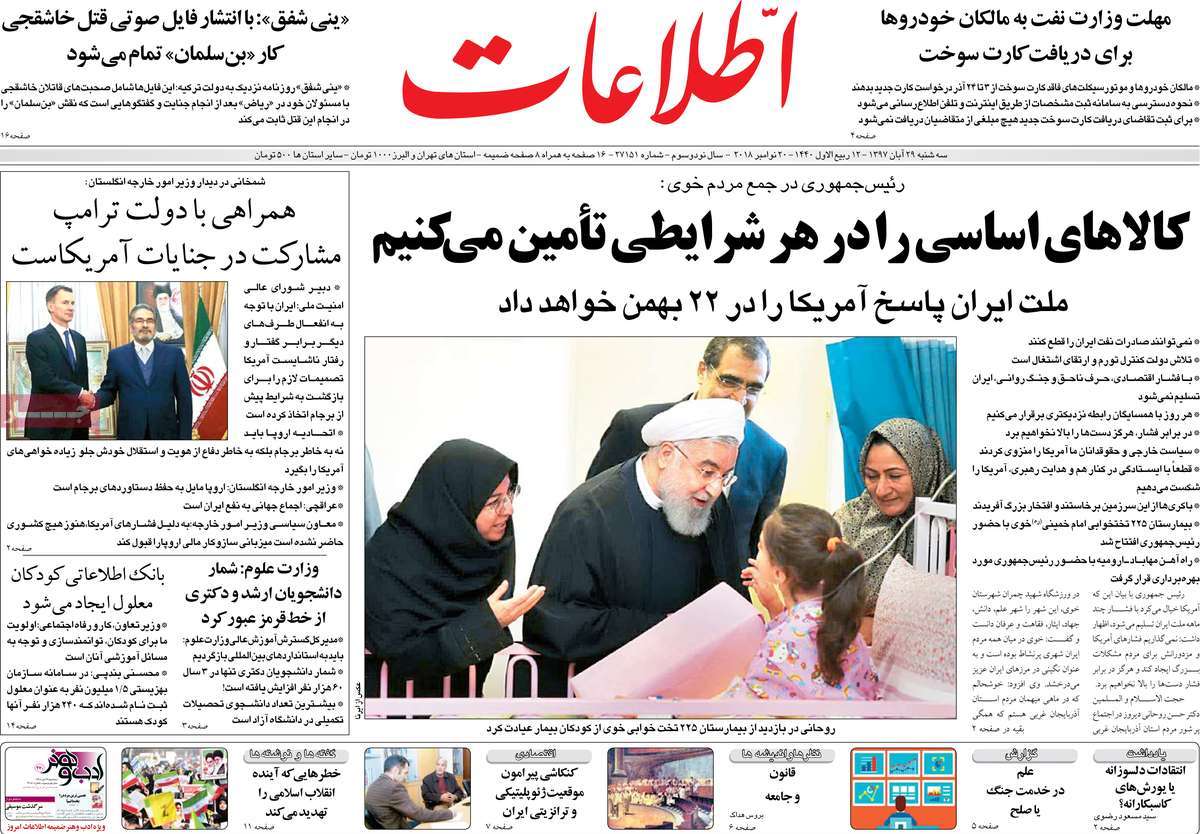 ---
Ghanoon:
1- UK Foreign Secretary in Tehran for Special Purposes
2- Hunt, Zarif Seek to Establish SPV
---
Iran:
1- We'll Sell Our Oil: Rouhani
2- Do We Have Money Laundering or Not? A Report on Dirty Money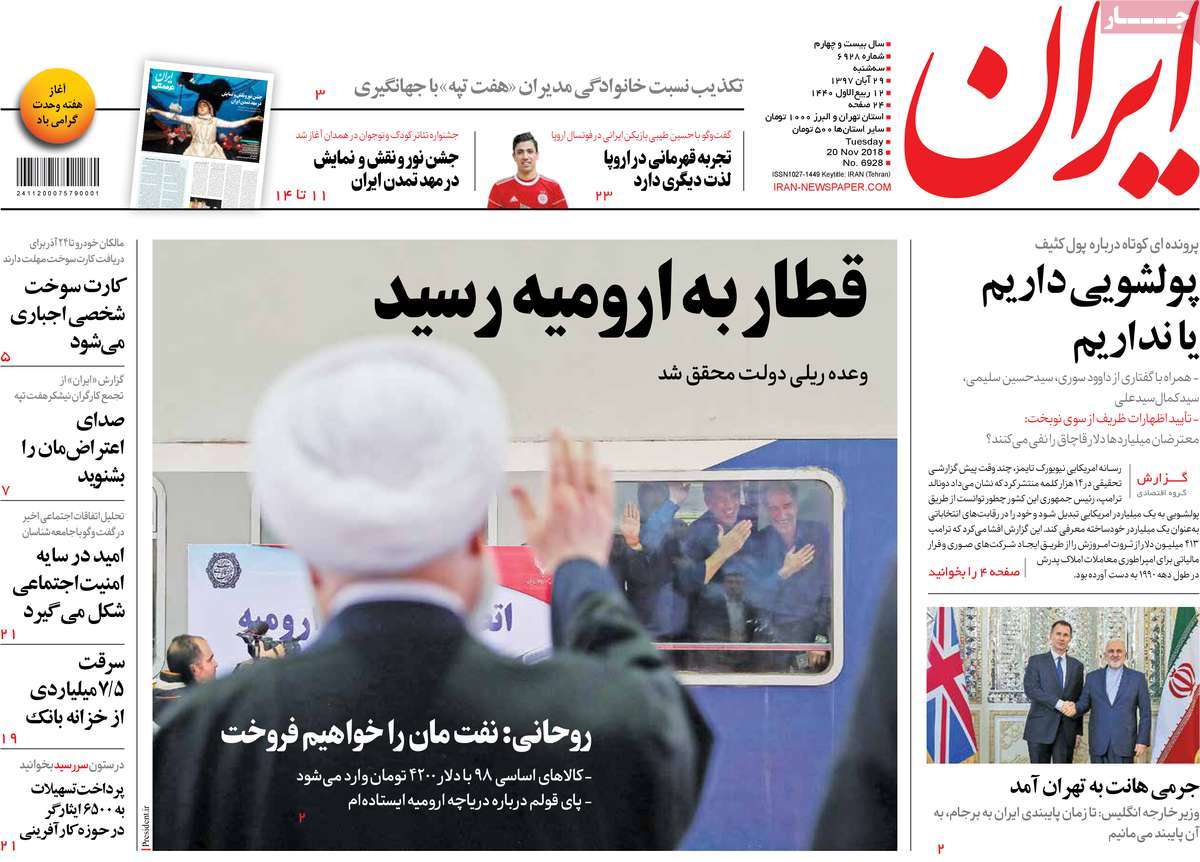 ---
Javan:
1- Europe's de Facto Withdrawal from JCPOA
Mogherini Refuses to Announce Date of SPV Implementation
2- Crown Prince's Time Is Over
3- Shamkhani: Iran Has Made Decisions on Possibility of Returning to Pre-JCPOA Era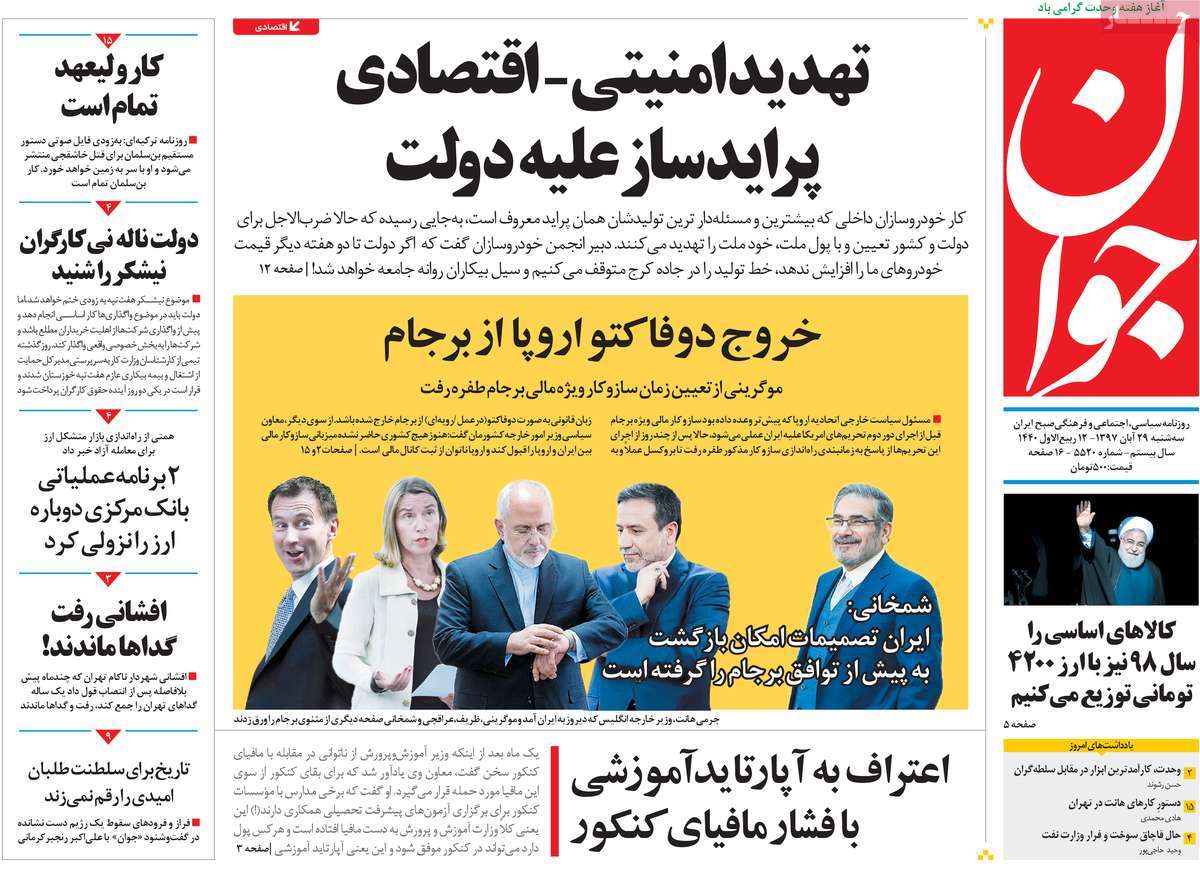 ---
Jomhouri Eslami:
1- Deputy Oil Minister: Iran, Europe in Talks over Establishment of Payment Channel
2- Mogherini Underlines Immediate Implementation of SPV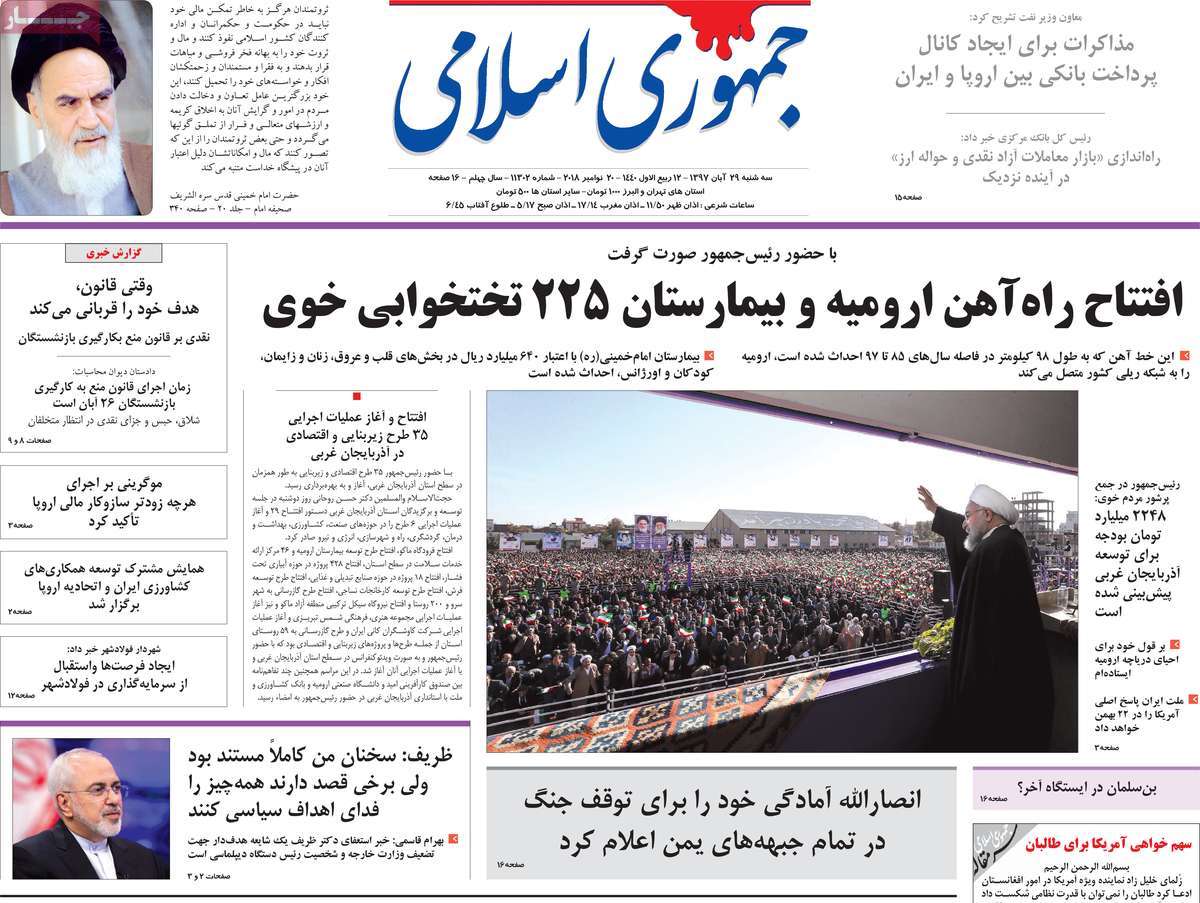 ---
Kayhan:
1- Iranian FATF Official Asks for US' Citizenship
2- Turkish Paper: Documents We'd Release on Khashoggi's Murder Would Shake Bin Salman's Palace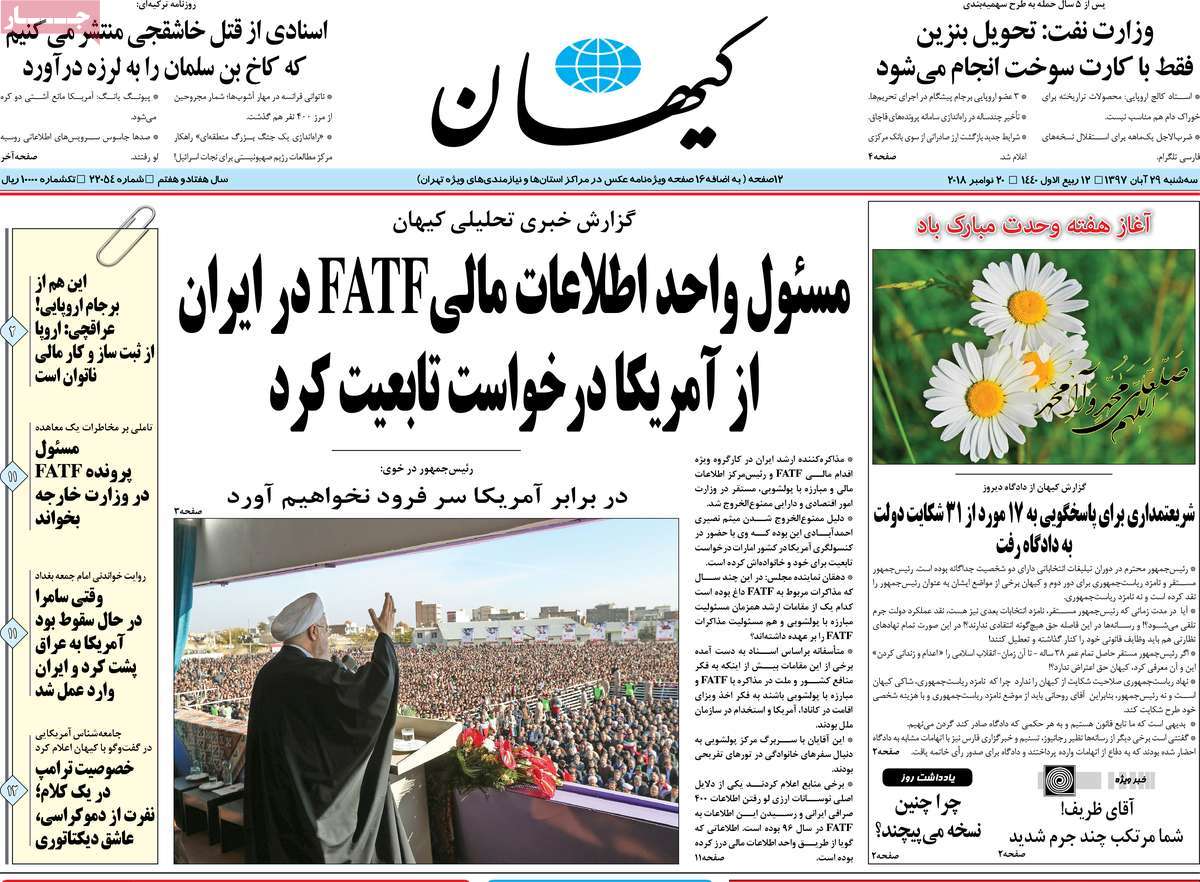 ---
Khorasan:
1- Iran Warns Europe: Situation Not to Remain the Same
2- Two Important Forex Decisions Made by Central Bank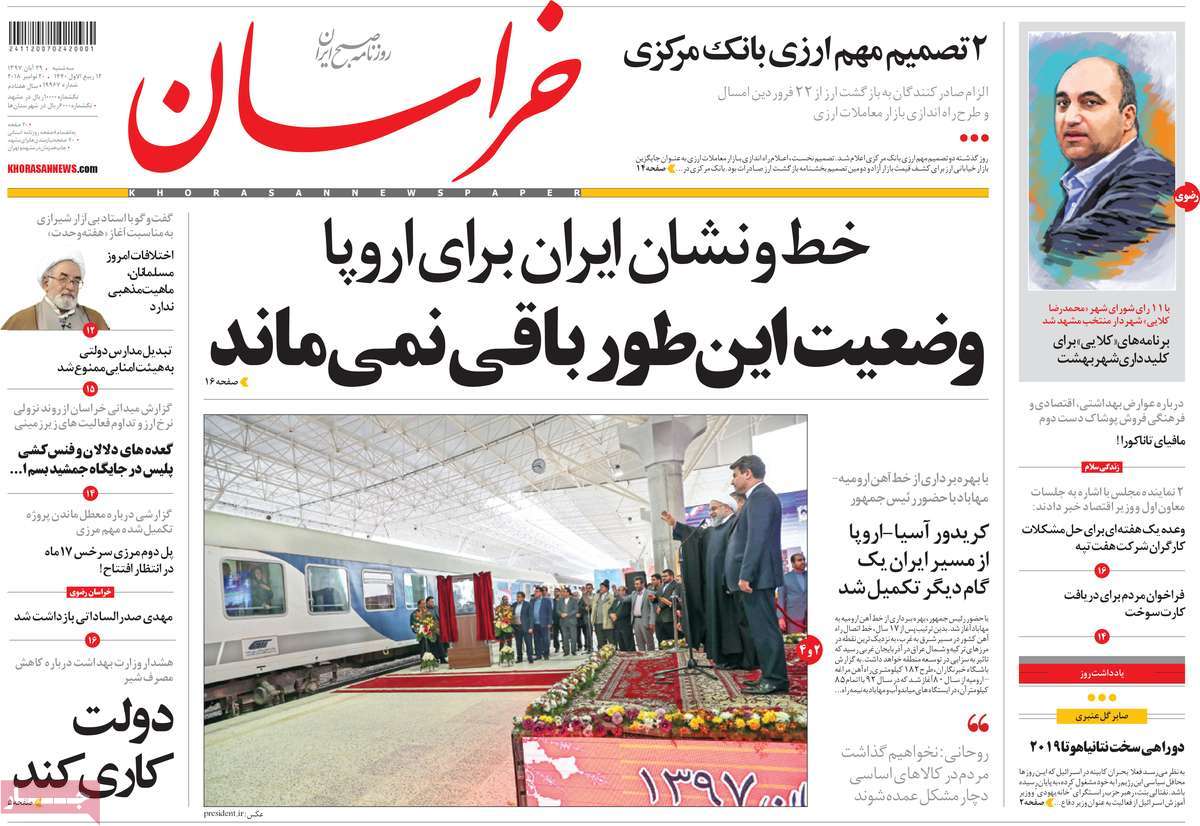 ---
Resalat:
1- Workers Are in Prison!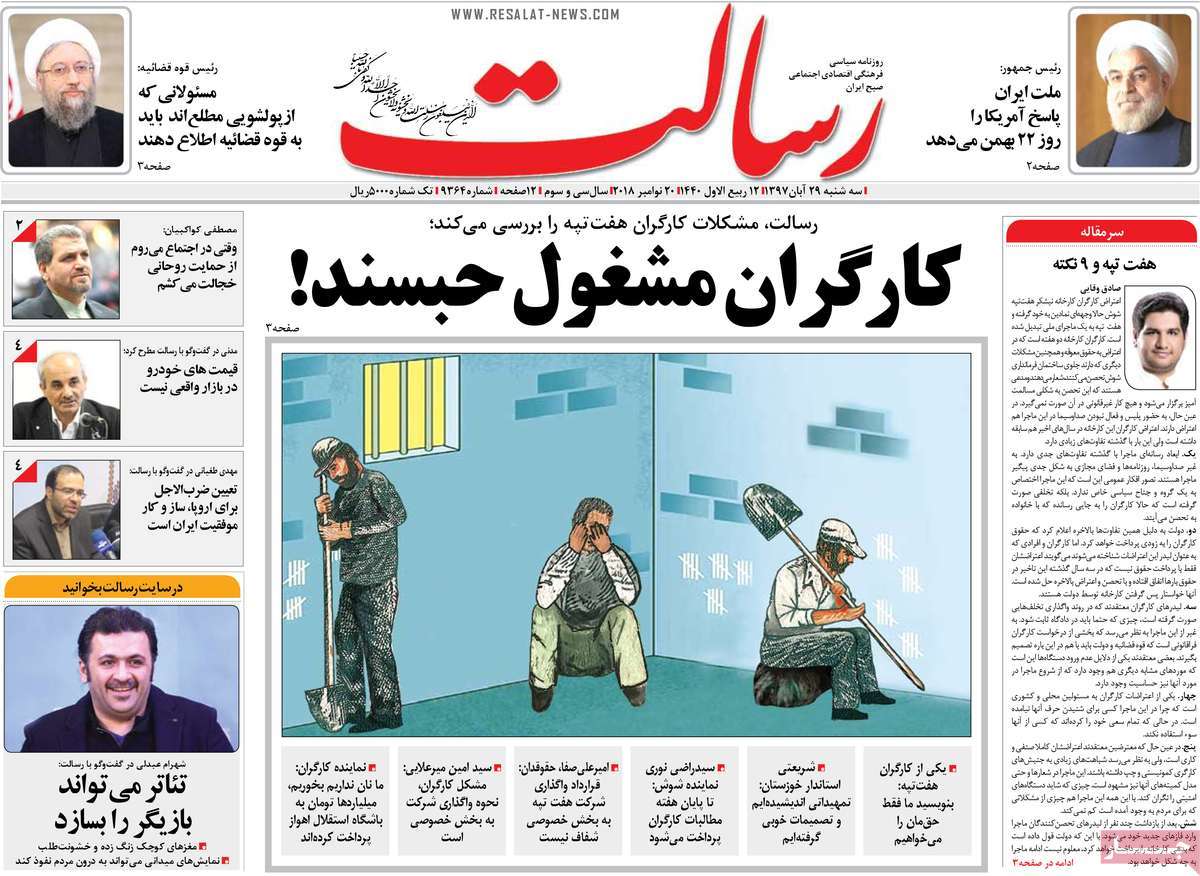 ---
Sazandegi:
1- Salih Looking for Peace
In First Foreign Visit, Iraq President Tries to Mediate between Iran, Iraq
2- Impeachment of Zarif?
Conservatives to Impeach FM over His Remarks against Money Laundering
Will Parliament's Majority Support Them?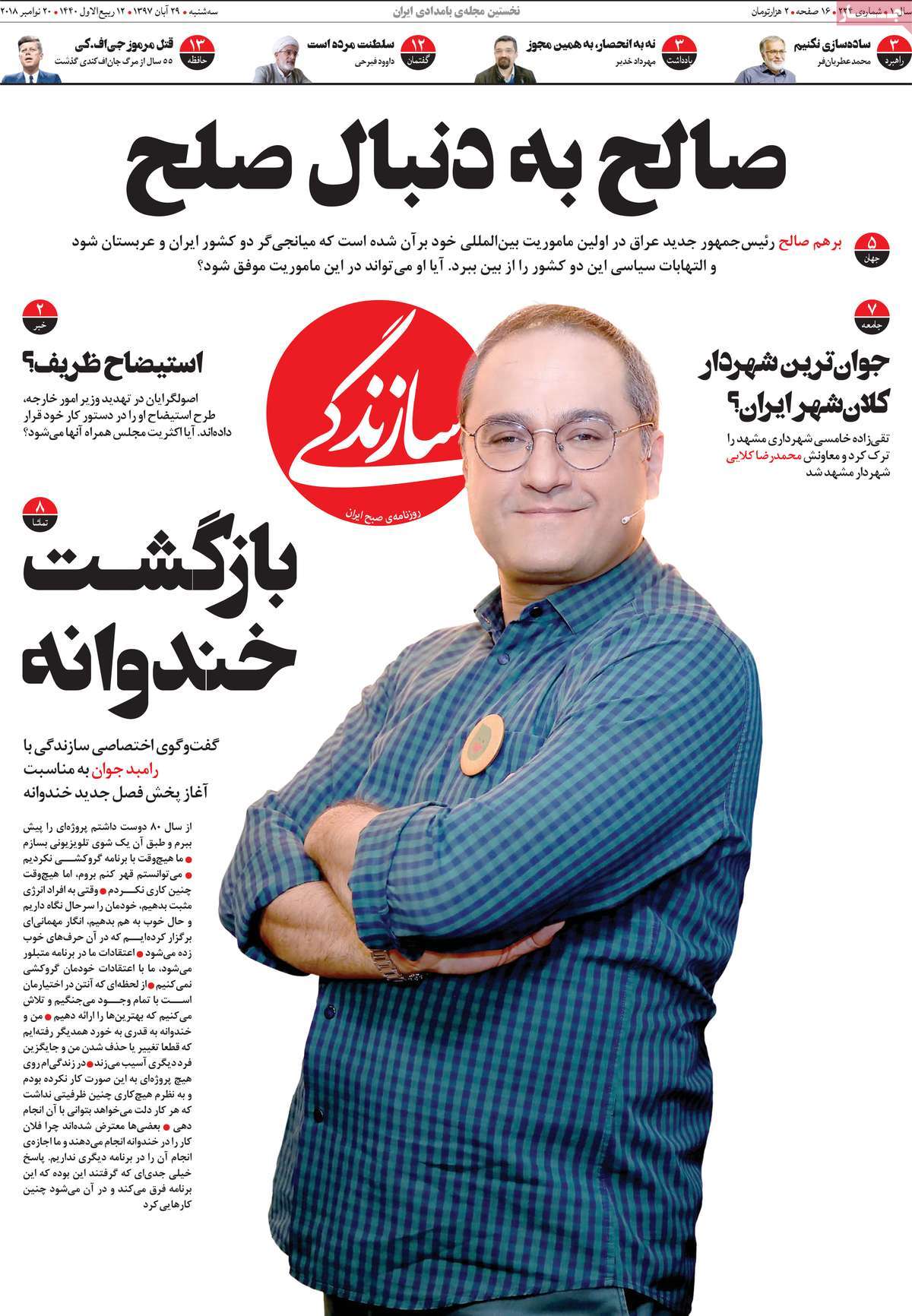 ---
Sepid:
1- Iran's Medical Organization to UN Chief: Annul Drug Sanctions on Iran
2- Tehran 12th Most Polluted City of the World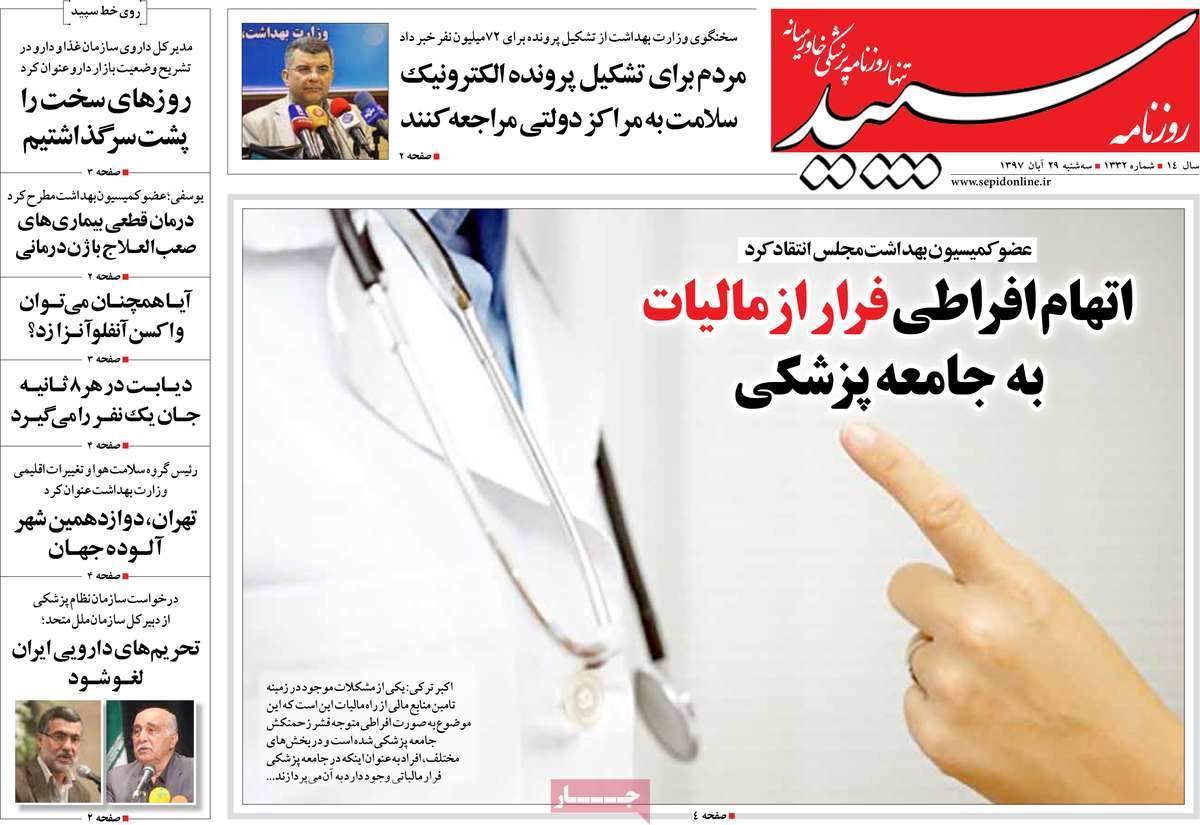 ---
Setareh Sobh:
1- Araqchi: EU Incapable of Registering SPV
2- Senior Reformist Figure: Int'l Coalition to Be Formed against Iran If We Don't Accept CFT
---
Shargh:
1- Rouhani: We Won't Let People Experience Any Problem with Basic Goods
2- UK Foreign Secretary's Visits in Tehran
3- Choosing Anyone Other than Rouhani to Make Society Radicalized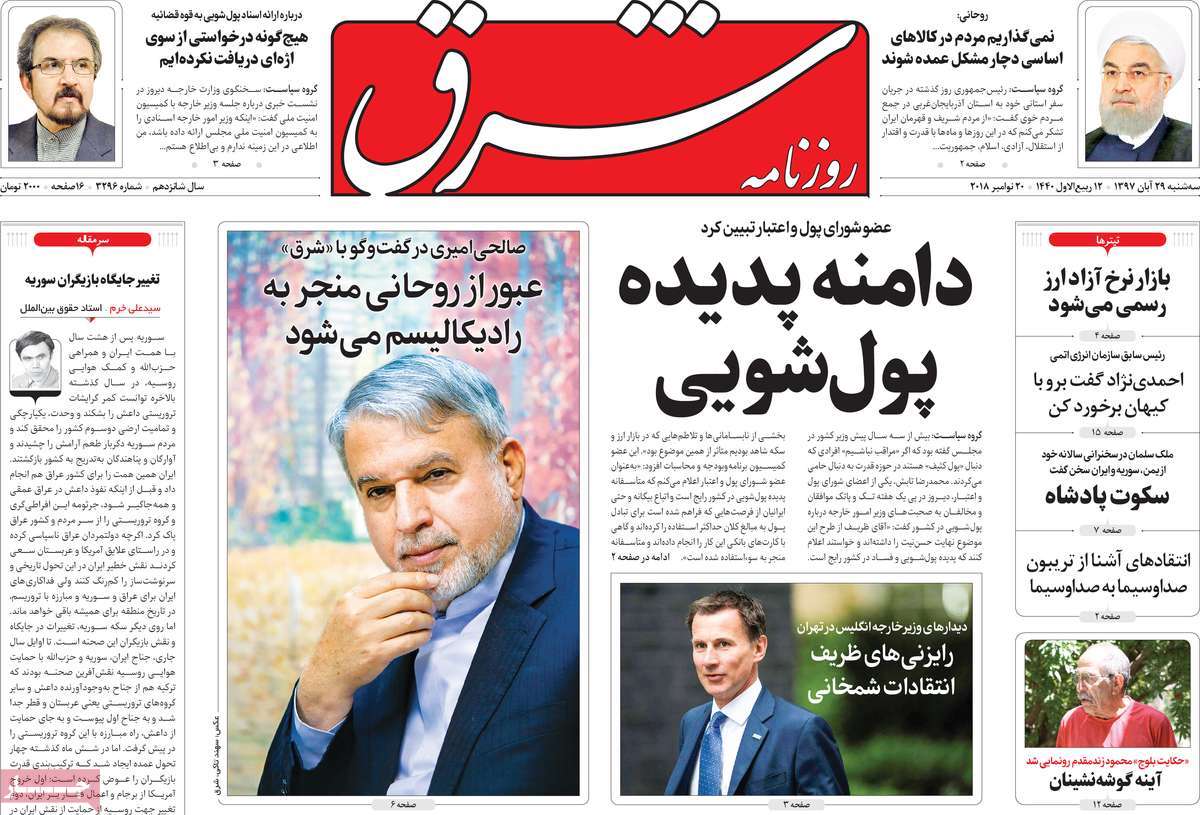 ---
Sobh-e Now:
1- Pursuing Fate of a New Spy
UK Criminal, Has No Place in Our Domestic Affairs