Newspapers today widely covered the ongoing talks between Iran and the European Union over the bloc's efforts to save the Iran nuclear deal, particularly by implementing a special payment mechanism known as Special Purpose Vehicle (SPV).
Also a top story was the controversy over Iran's adoption of the standards set by global anti-money laundering body FATF, particularly the remarks recently made by Foreign Minister Mohammad Javad Zarif against the opponents of Iran's accession.
The recent decline in US dollar and gold coin prices in the Iranian markets also received great coverage.
The above issues, as well as many more, are highlighted in the following headlines and top stories:
Abrar:
1- Araqchi: EU's Measures Have Not Led to Operational Solutions
2- Putin, Pence Hold Talks on Iran
3- US Warns Europe: You'll Be Sanctioned If You Work with Iran
---
Aftab-e Yazd:
1- Mistranslation of CFT Bill Sparks Controversy in Iran
2- Secrets behind Huge Decrease in US Dollar Rates in Iran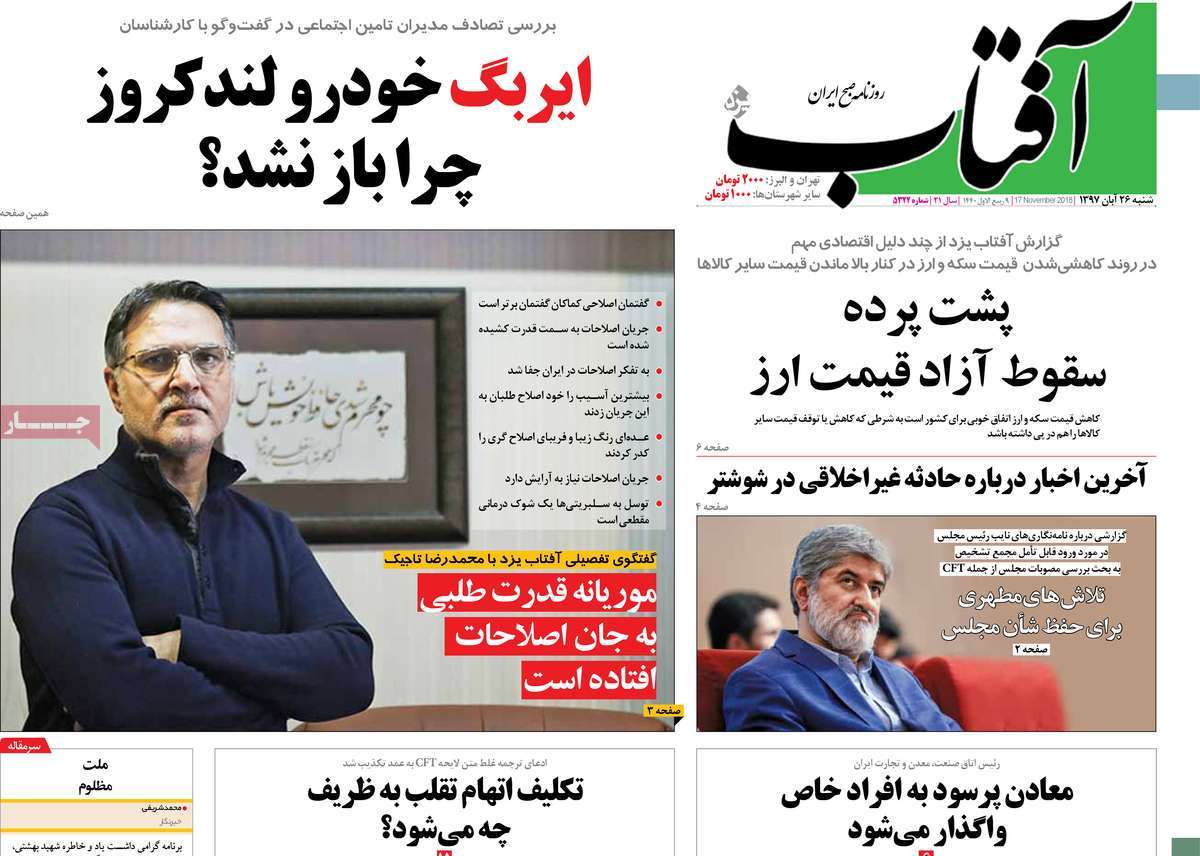 ---
Arman-e Emrooz:
1- Decrease in Forex, Gold Coin Rates: Political or Economic?
2- Some Don't Want Women to Know Their Rights: MP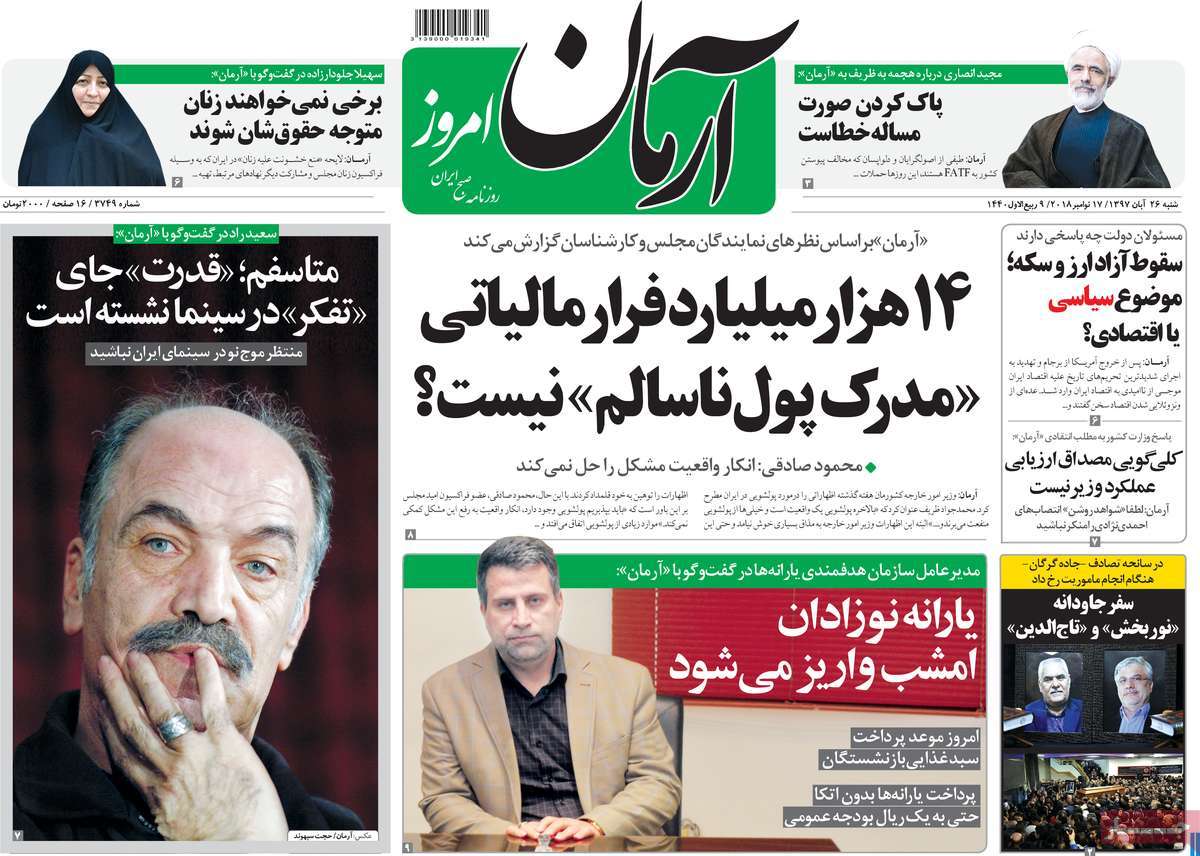 ---
Asrar:
1- Culture Minister: Iran Links West to East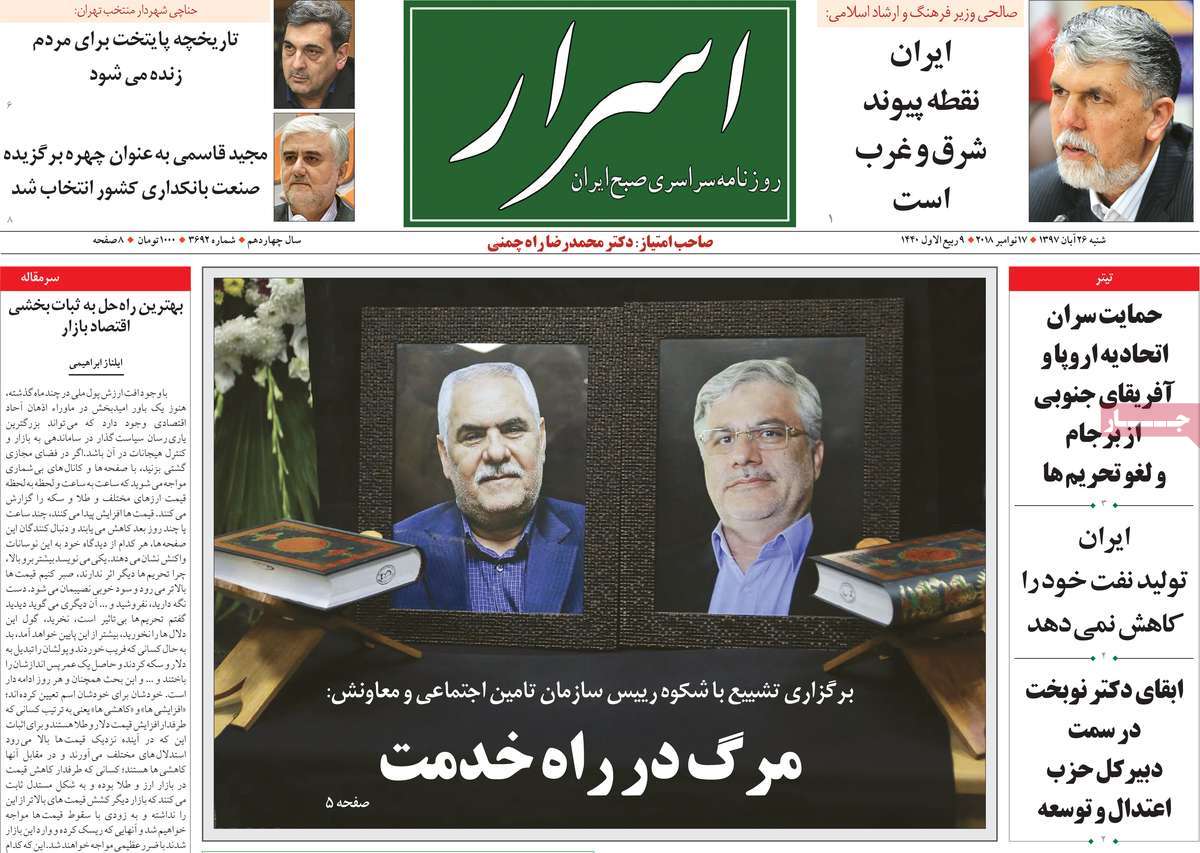 ---
Ebtekar:
1- Europe's Direct Responsibility to Save JCPOA
Iranian-European Consultations to Bypass US Bans
---
Etemad:
1- What's Zarif Targeting? Opponents of FATF Still Working against It
2- Will Khashoggi Legacy Save Yemenis from Continued Crime against Humanity?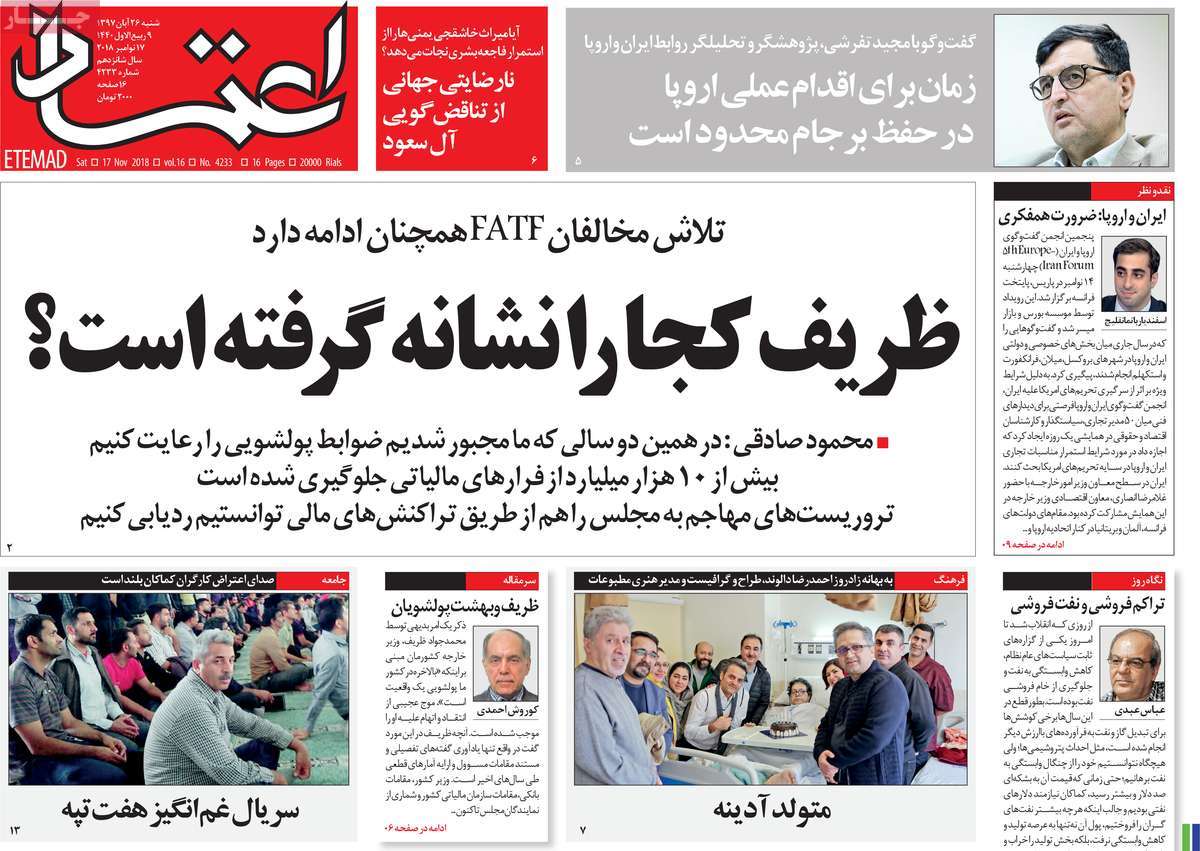 ---
Ettela'at:
1- EU, South Africa Leaders Strongly Support Iran Nuclear Deal
2- Resistance Worked: Zionist Regime Collapsed
3- A Report on Decline in Oil, Gold, Forex Rates
4- IRGC Chief-Commander: 5 Abducted Iranian Border Guards Released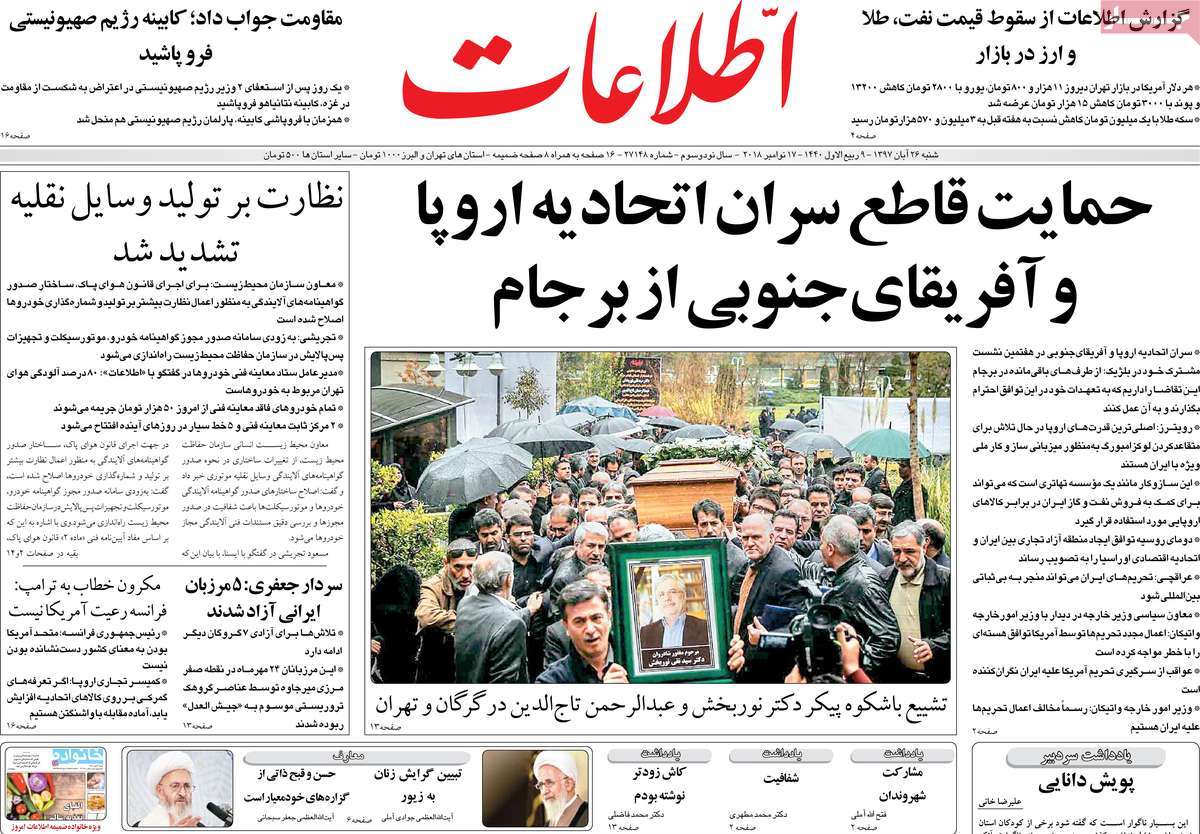 ---
Iran:
1- Ministers Leaving Theresa May to Protest Brexit
2- Russia to Join Iranian Quasi-SWIFT
---
Javan:
1- Resigned Israeli DM: Hamas to Turn into Second Hezbollah
2- IRGC Chief-Commander: Our Response to Enemy Will Be Covert, but Painful
3- Two Senior Government Officials Die While Serving Nation
Social Security Chief, His Deputy Killed in Car Crash
4- Rainfall in Sources of Karoun, Zayandeh Roud Rivers Up by 42 Times
---
Jomhouri Eslami:
1- Amnesty Int'l: Saudi Probe into Khashoggi Case Invalid
2- Netanyahu's Cabinet Collapses
3- Macron to Trump: France Not Vassal State of US
---
Kayhan:
1- Iranian Foreign Ministry Justifying Europe's Violation of Its Commitments!
2- Aftershocks of Palestinian Resistance's Great Victory: Bibi's Cabinet Collapses
3- Hezbollah: Palestine's Victory Showed 'Deal of Century' Nothing More than Mirage
4- Decrease in Gold Price after Execution of Those Involved in Economic Corruption
---
Shargh:
1- New Iraqi President Due in Tehran
2- Legacy of Rouhani's Special Aide Massoud Nili
The Economic Strategist of Rouhani Administration Leaves Office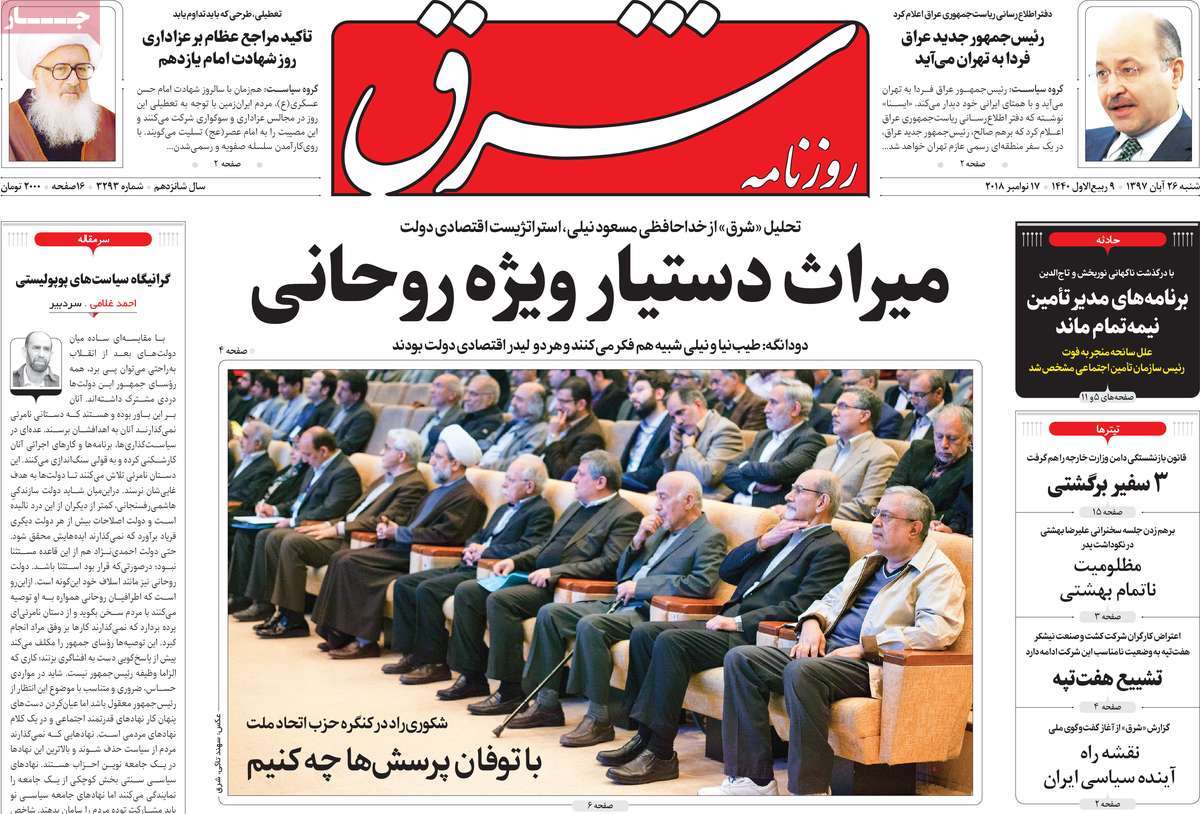 ---
Sobh-e Now:
1- European Tricks, American Deceits
Amir-Abdollahian Talks of His Negotiations with Western Sides in 2000s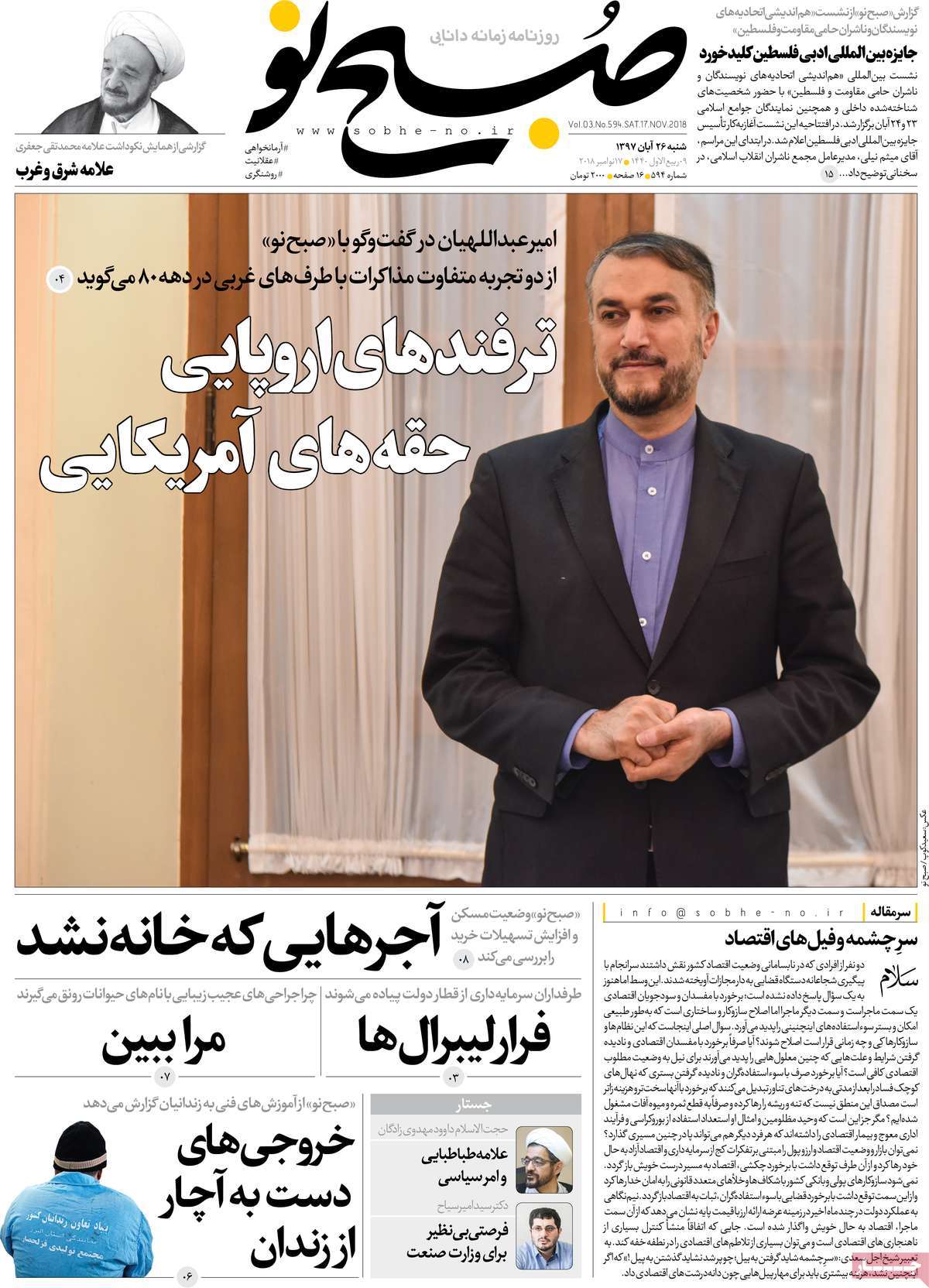 ---
Vatan-e Emrooz:
1- Saudi Prosecutor Admits Khashoggi Dismembered at Saudi Consulate
2- 600 Missing Following California Wildfires