The top story in all papers today was a tweet by The Guardian's Iranian correspondent Saeid Kamali Dehghan, in which he said Jamal Khashoggi, the slain Saudi journalist, had been killed for unveiling Saudi Crown Prince Mohammed bin Salman's direct role in financing a UK-based anti-Iran TV channel, Iran International.
Also a top story was the ongoing reactions to the new round of US sanctions imposed on the Islamic Republic, particularly a social media campaign launched by a group of Iranian celebrities, urging the people of the world to condemn Trump's anti-Iran bans.
The second leg of the final match of AFC Champions League between Iran's Persepolis and Japan's Kashima Antlers, due to be held in Tehran at 18:30, also received great coverage, as the Iranian capital has prepared itself for the big match.
The above issues, as well as many more, are highlighted in the following headlines and top stories:
Aftab-e Yazd:
1- Iranian Artists United against Sanctions
2- The Guardian's Iranian Correspondent in Danger
3- Three Iranian Women Make History in US Elections
4- Did Trump Win or Lose US Elections?
---
Ebtekar:
1- It Takes Time to Start Implementing Europe's Special Payment Channel: Iran
2- We Shouldn't Be Too Much Optimistic about Results of US Elections
---
Etemad:
1- We'll Continue Doing Business with Iran: South Korea Ambassador
2- Report on London-Based TV Channel: Iran International or Saudi Mercenary?
---
Ettela'at:
1- US to Regret Imposing Sanctions on Iran: Zarif
2- Beijing Film Academy Grants Honorary Professor Title to Majid Majidi
3- Coming Months to Be Painful for Oil Consumers: Iran
4- Trump Challenged by Democrats' Win in US Elections
5- All Iranian Athletes Winning Asian, World Medals to Be Exempted from Military Service
---
Haft-e Sobh:
1- Big Battle of London: Guardian, Kamali Dehghan, BBC Persian, Khashoggi, Iran Intl, Whistle-blowing
2- No Iranian in US Congress: Three Iranian-Americans Win State Seats
3- Hot Fever of Saturday Night: Persepolis vs Kashima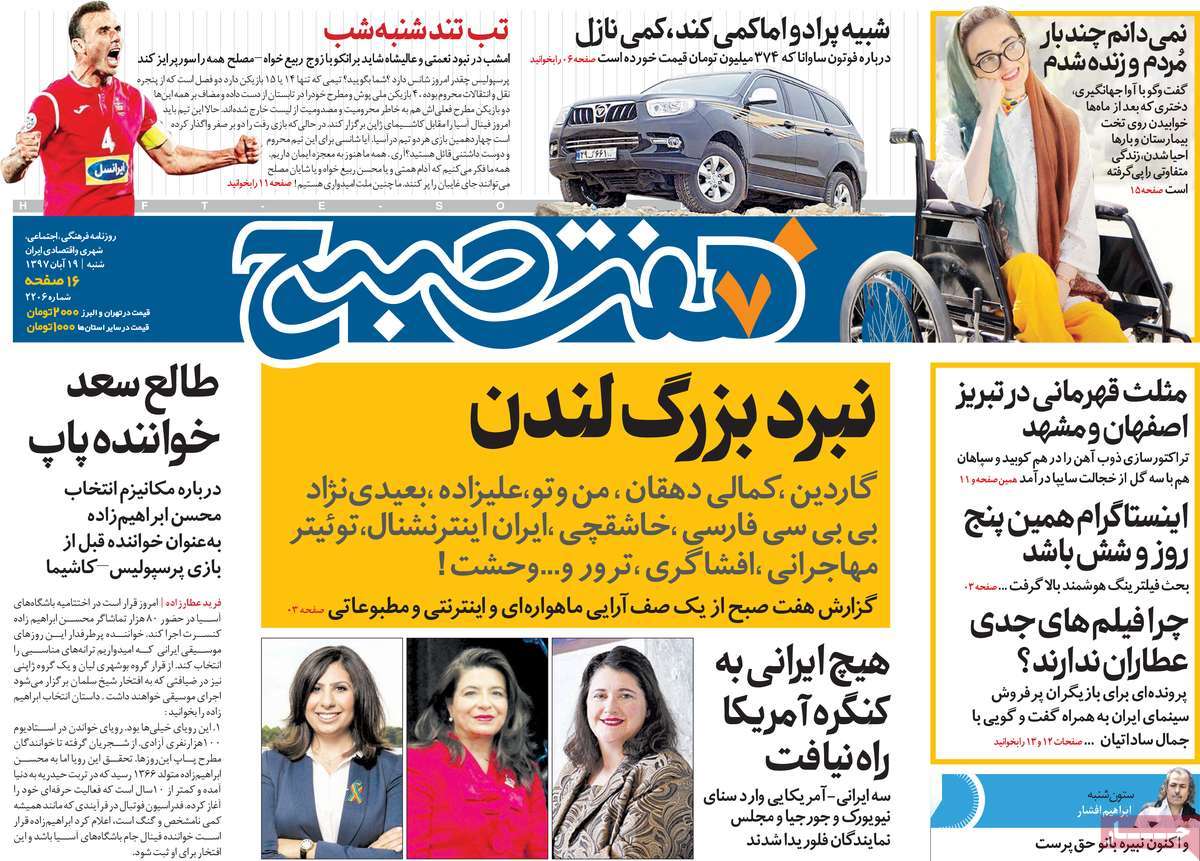 ---
Iran:
1- #Unison_against_Sanctions: Iran Civil Society Call for World's Support
2- Democrats Win Majority of Seats in US House
3- Black Box of Khashoggi Found as Guardian Correspondent Discloses His Source
---
Javan:
1- BBC Blowing Up Balloon of Sanctions
2- Reuters: Iran to Survive US Oil Sanctions
3- Iran Intl TV Channel behind Khashoggi's Murder
---
Jomhouri Eslami:
1- Energy Clients Back to Line of Buying Iran's Crude Oil
2- Khashoggi's Body Destroyed in Acid in Saudi Consul-General's House
3- 50 European Lawmakers Call for Cessation of War in Yemen
4- Thousands of Americans Hold Rally against Trump in New York, Washington
5- Europe Preparing to Bypass US Sanctions: Guardian
---
Kayhan:
1- Pompeo: Europe Remained in JCPOA, but Will Support Sanctions!
2- Houses, Hospitals Pounded in Insane Saudi, Emirati Attacks on Hudaydah
3- Democrats, Republicans Two Blades of Scissors of Sanctions against Iran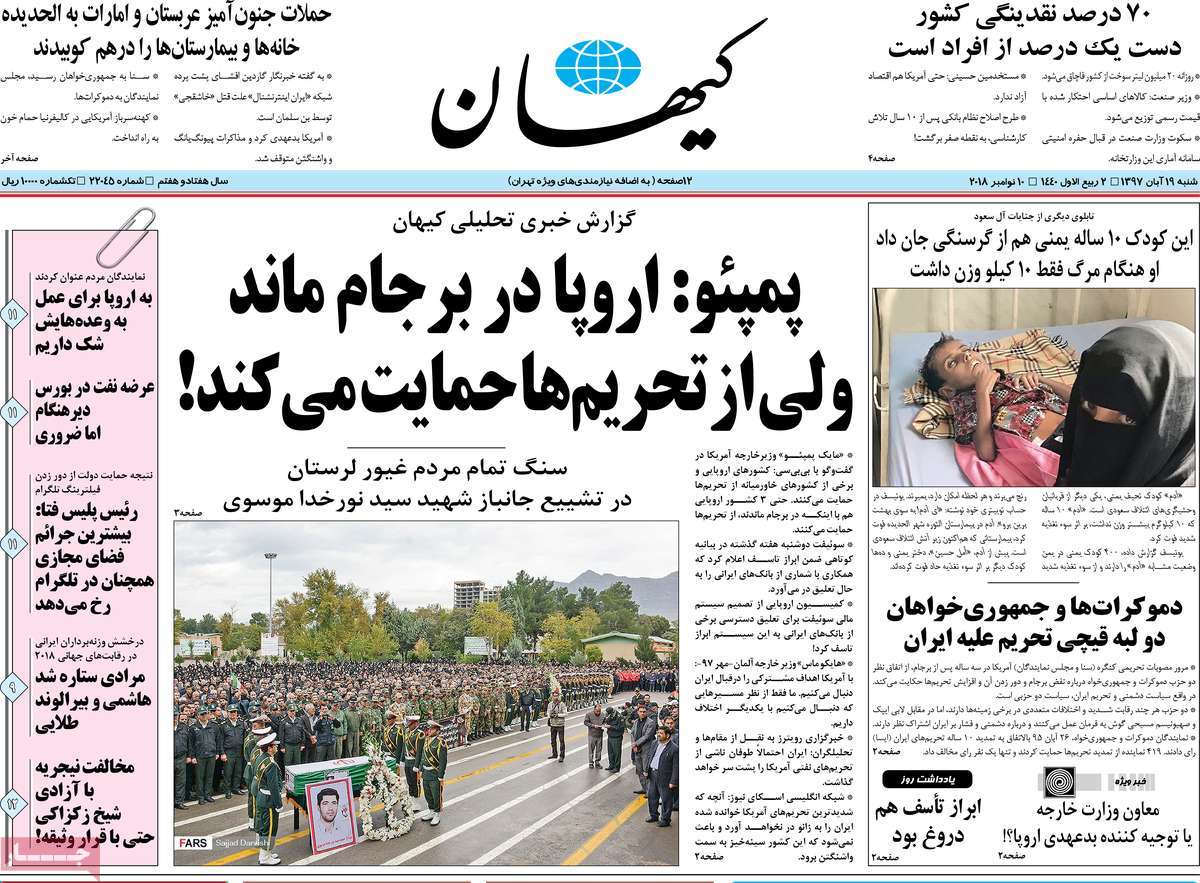 ---
Sazandegi:
1- Black Box of Iran International TV Channel
* Khashoggi Had Revealed to Guardian Saudi Funding of Channel before Death
2- Cold War in US: Were Midterm Elections a Victory for Democrats?
---
Shahrvand:
1- Right at 6:30 pm: AFC Champions League Final in Tehran
2- Iranian Celebrities Launch Campaign against Trump's Sanctions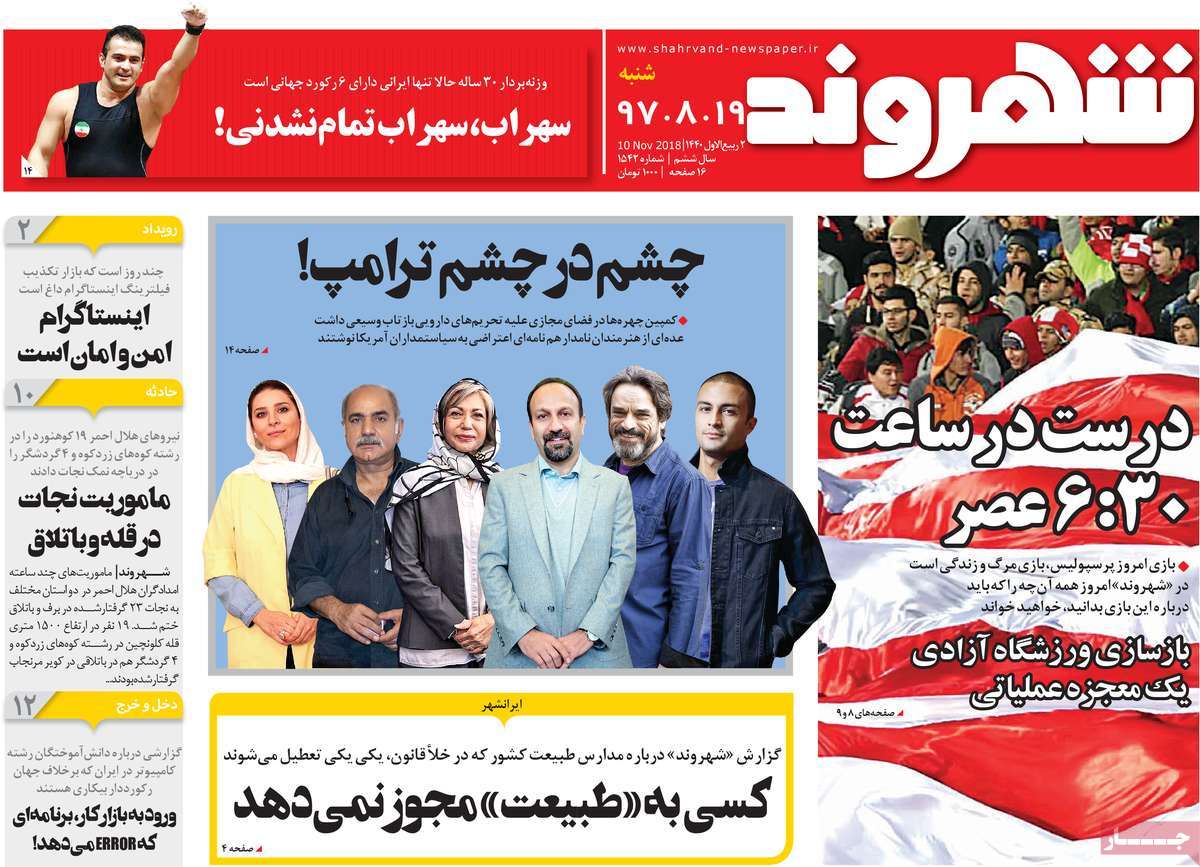 ---
Shargh:
1- CFT a Source of Controversy among Legislation Bodies in Iran
2- Have You No Shame, Iran FM Asks Pompeo on Yemen
3- Gaining Concession from Trump in Chabahar
4- UK Authorities Aware of Possible Risks Threatening Iranian Correspondent: Envoy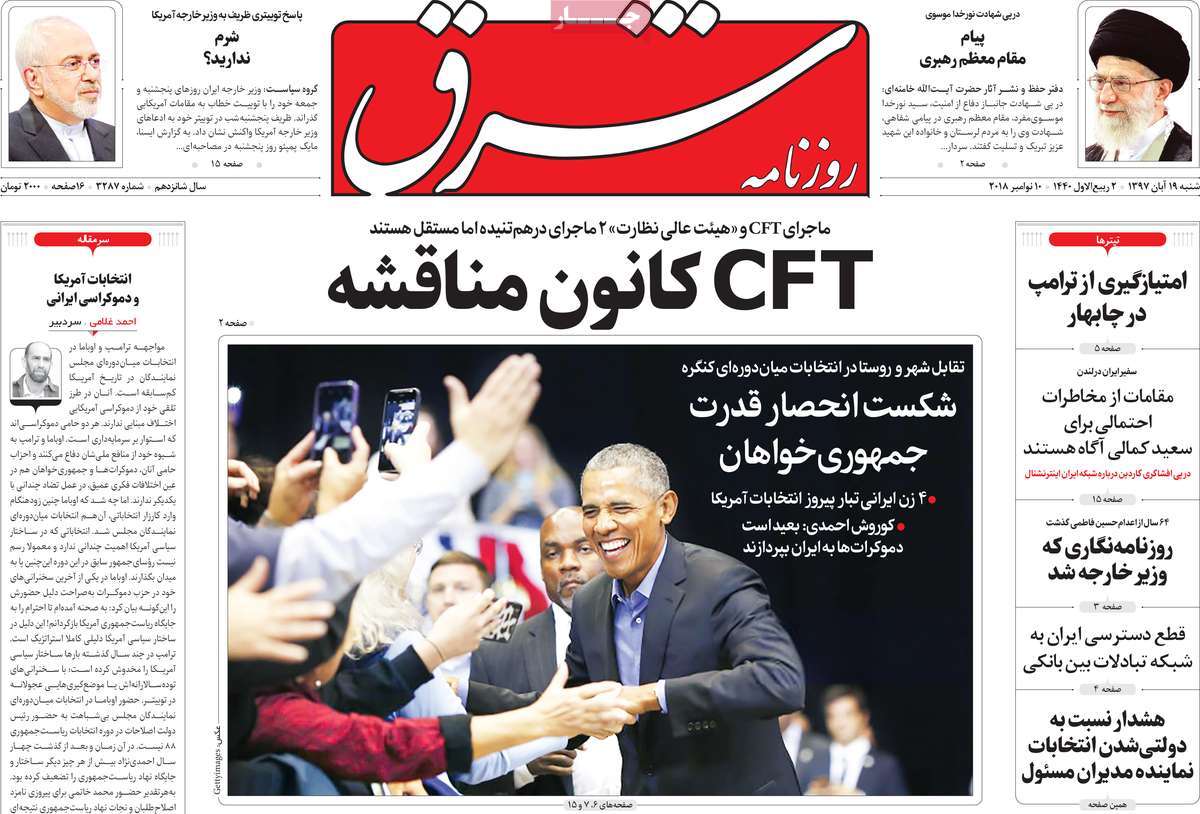 ---
Sobh-e Now:
1- Churchill, Hitler, Trump, and Negotiation!
* Reactions to Darkest Hour Movie after It's Broadcast by Iran's State TV