The end of the Iranian calendar year 1396, which had started in mid-March, was the top story of all newspapers today in the last working day of the year.
Several papers pointed to the disastrous and tragic moments of the year, and expressed hope that the New Year would be a better one for all the Iranian people. Many of them also reported all the important events in Iran and other parts of the world during the past year.
Apart from that, other top stories today included the Turkish army's occupation of Syria's Afrin, and the remarks made by President Hassan Rouhani and First Vice-President Es'haq Jahangiri about the New Year.
The above issues, as well as many more, are highlighted in the following headlines and top stories:
Abrar:
Protest Rallies across Europe against Racism, Discrimination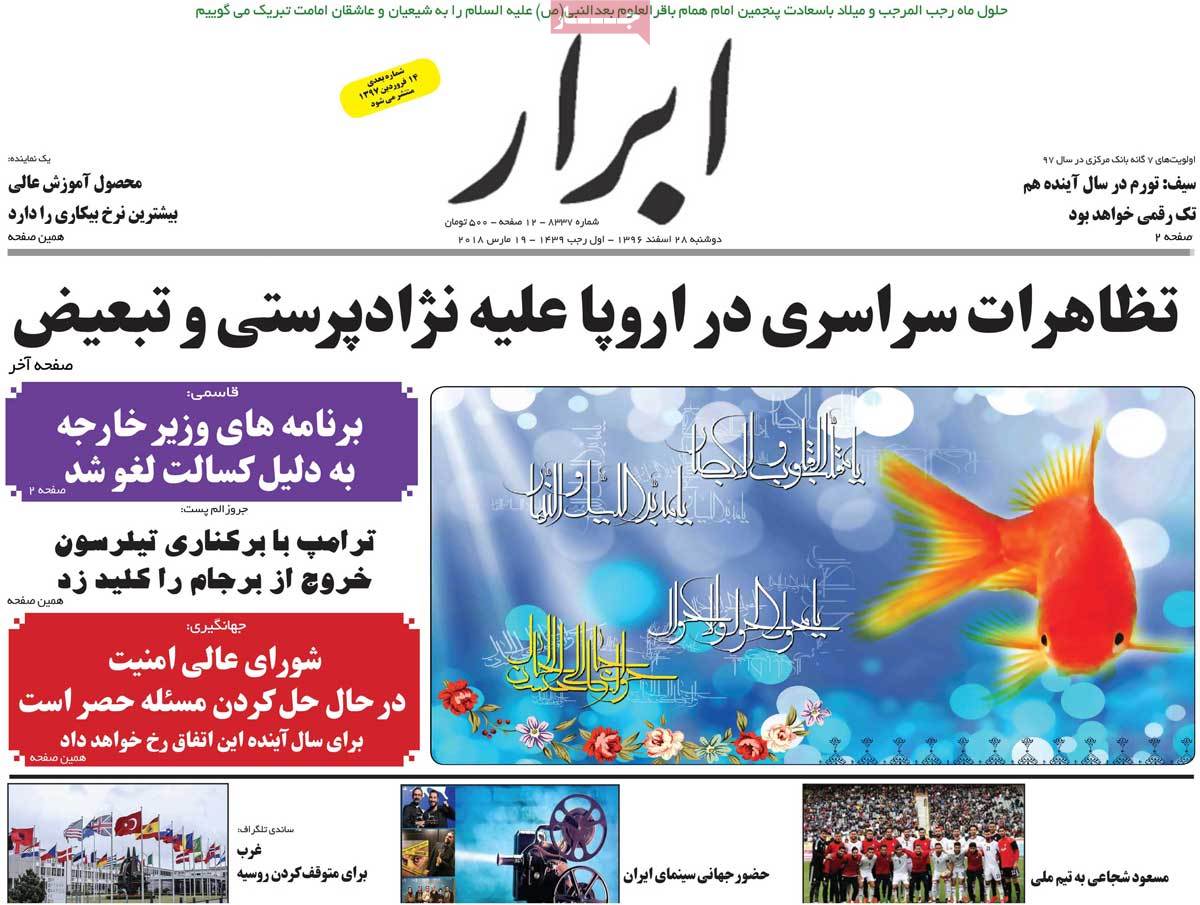 ---
Aftab-e Yazd:
Iran's Football Federation Mocked for Match against Sierra Leone
We Defeated Sierra Leone, We'll Crush Spain in FIFA World Cup!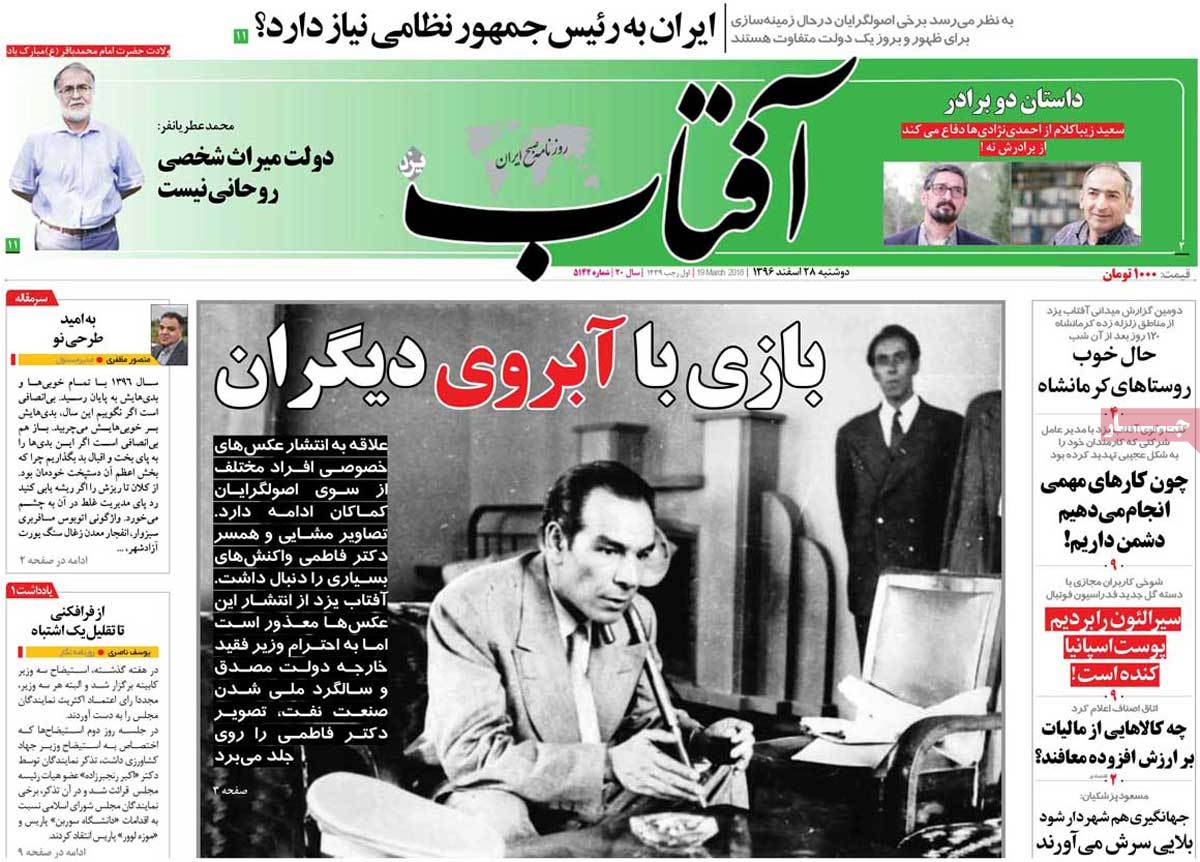 ---
Arman-e Emrooz:
A Report on People's Expectations from President in New Year
Don't Disappoint Us
Iran First VP: House Arrest of Opposition Leaders Will Definitely Be Lifted in Coming Months
Rouhani: We Must Acknowledge People's Happiness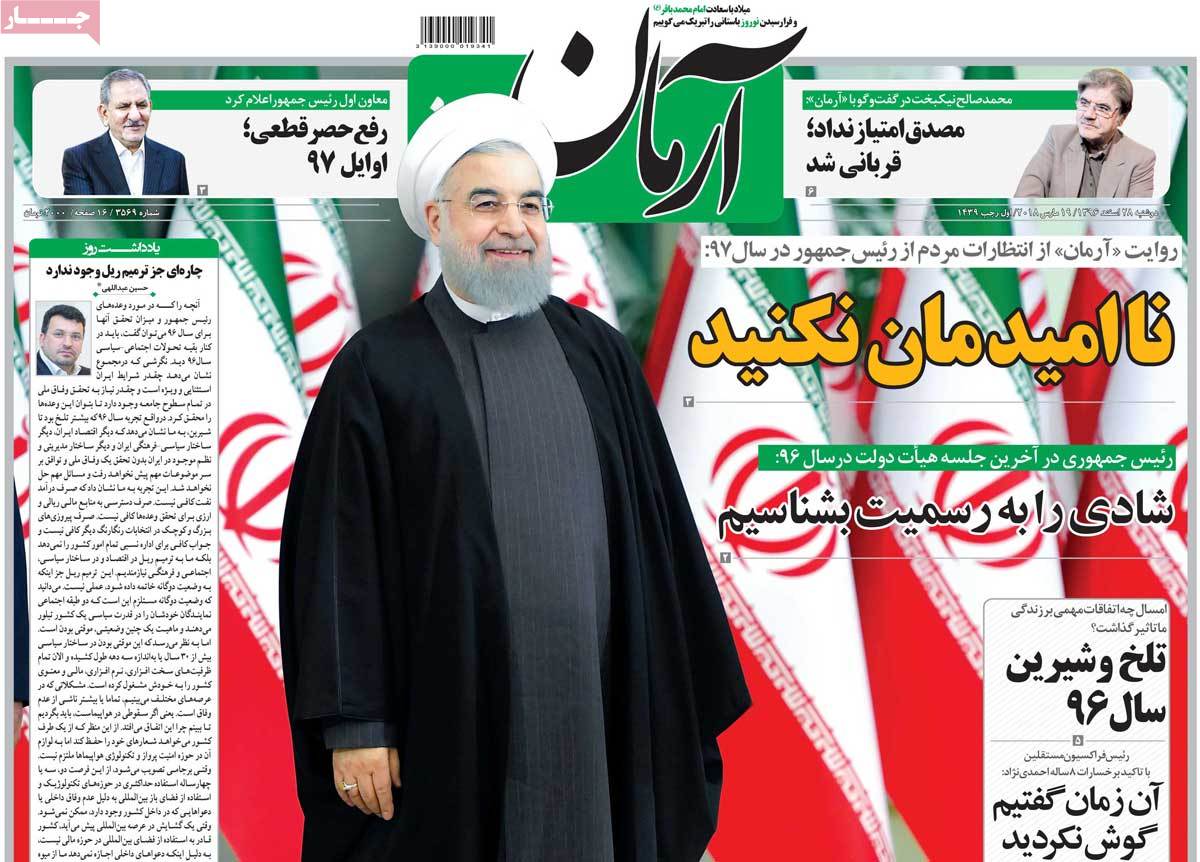 ---
Ebtekar
Current Iranian Calendar Year Over with All Its Ups and Downs of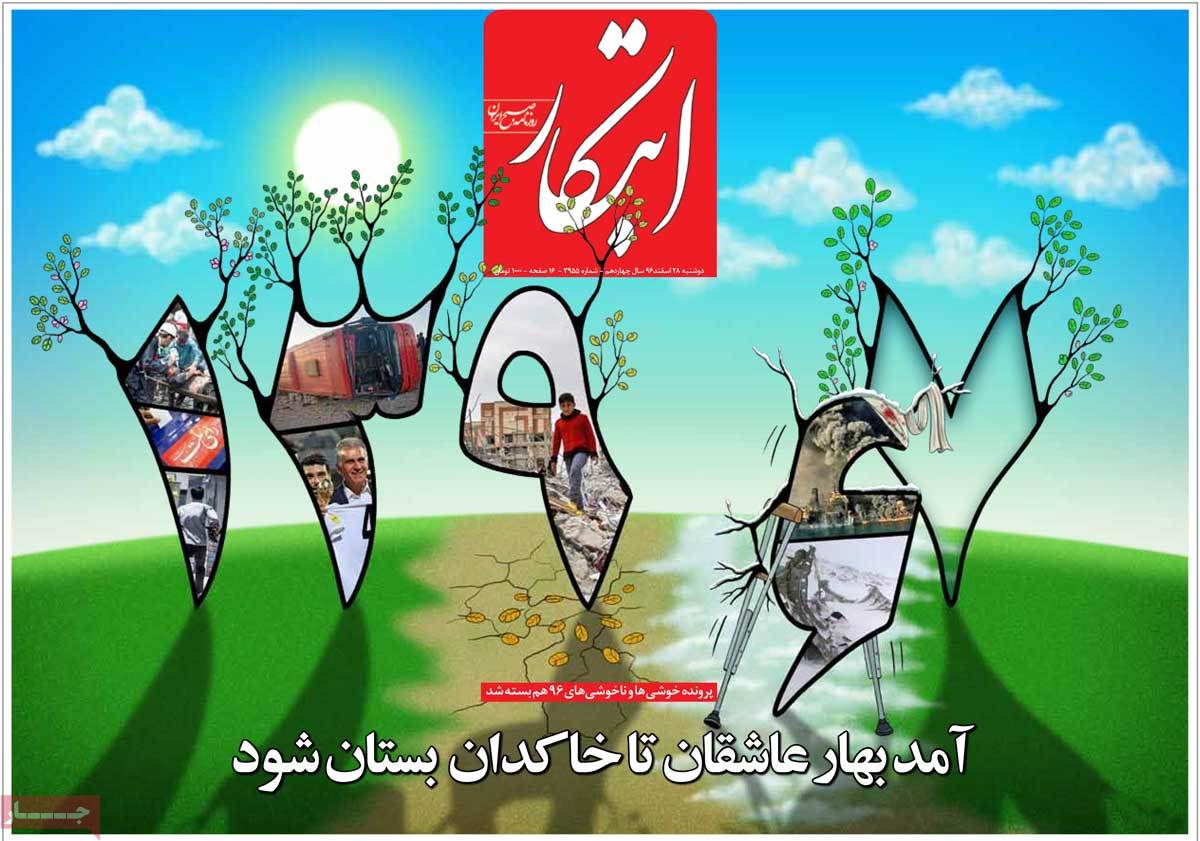 ---
Etemad:
Now It's Time for Spring: Fears and Hopes for New Year
---
Ettela'at:
Rouhani: Next Year to Be Year of Economic Development, Social Justice
Syria's Afrin Taken by Turkish Army
Fareed Zakaria: Withdrawal from Iran Nuclear Deal to Cost US Dearly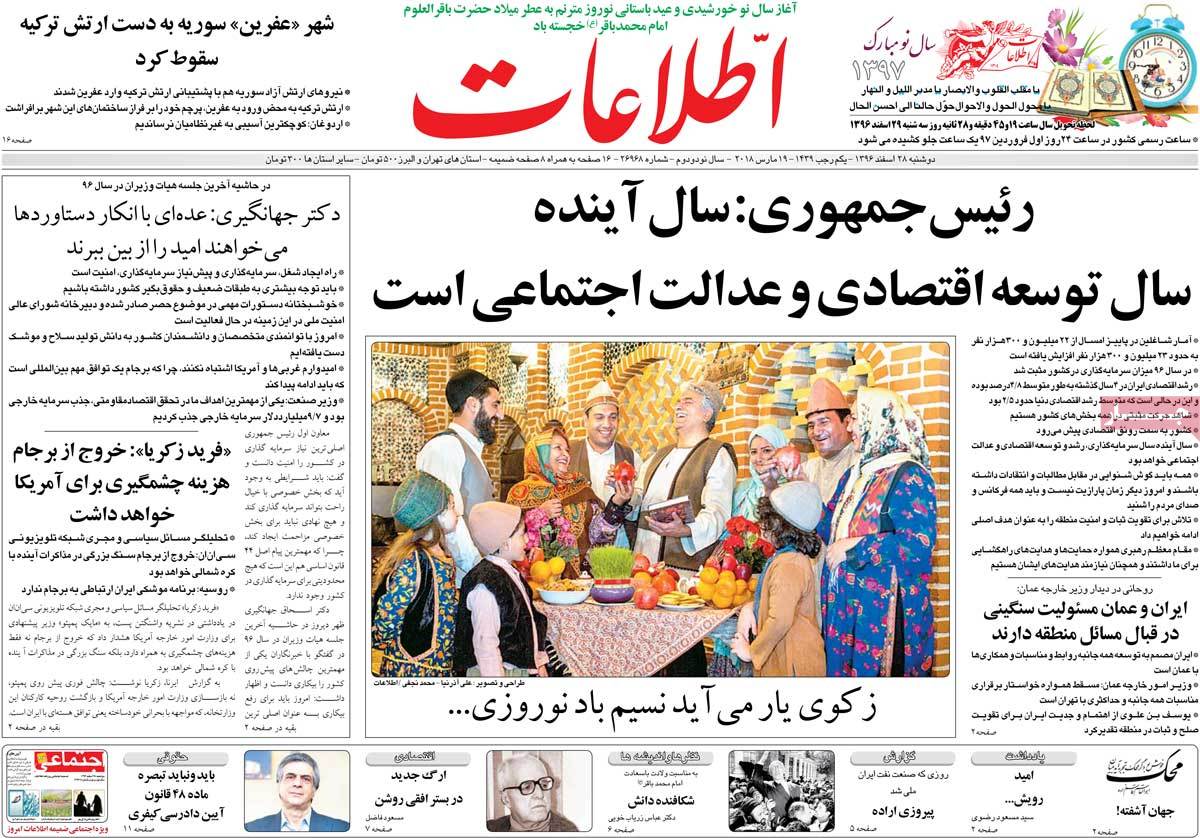 ---
Forsat-e Emrooz:
Persian Language's Increased Role in Worldwide Web
ICT Minister Says Persian Language's Share Has Risen to 1.8%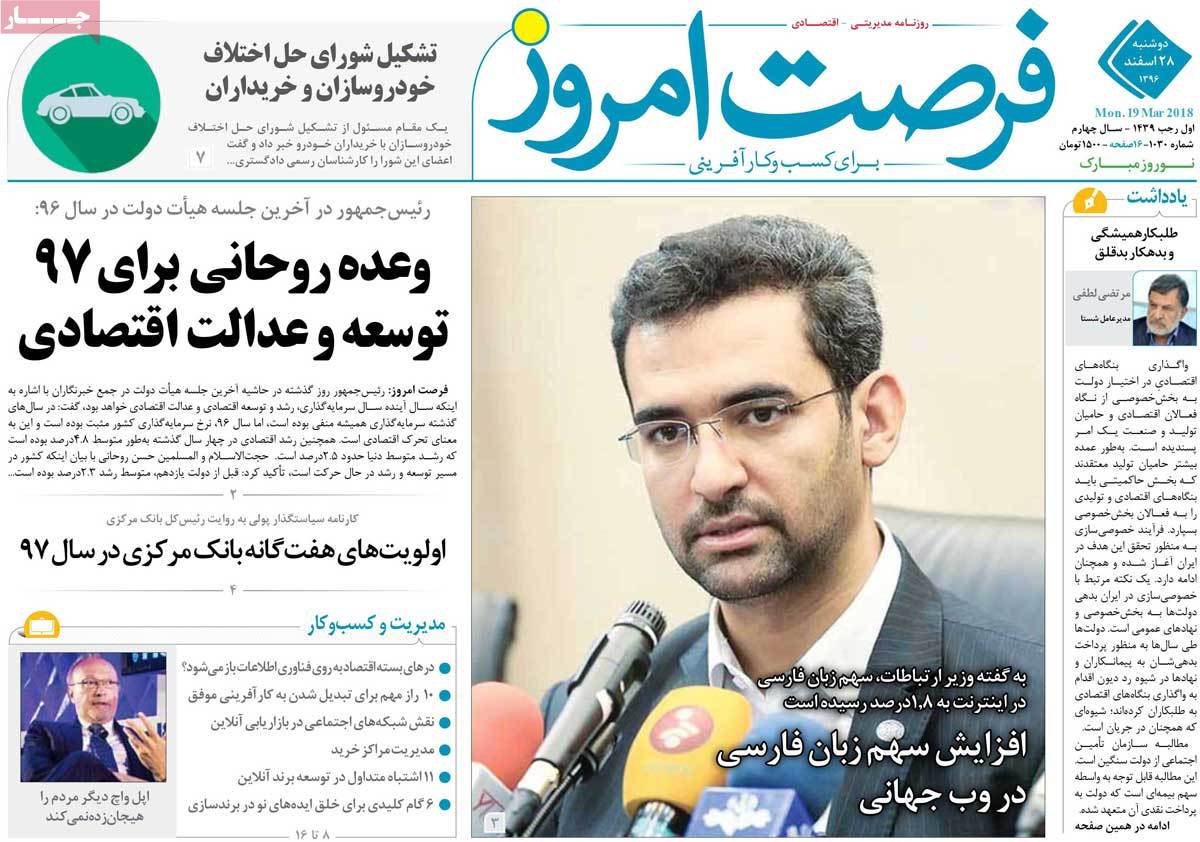 ---
Ghanoon:
Waiting for End of a Tragedy (Year 1396)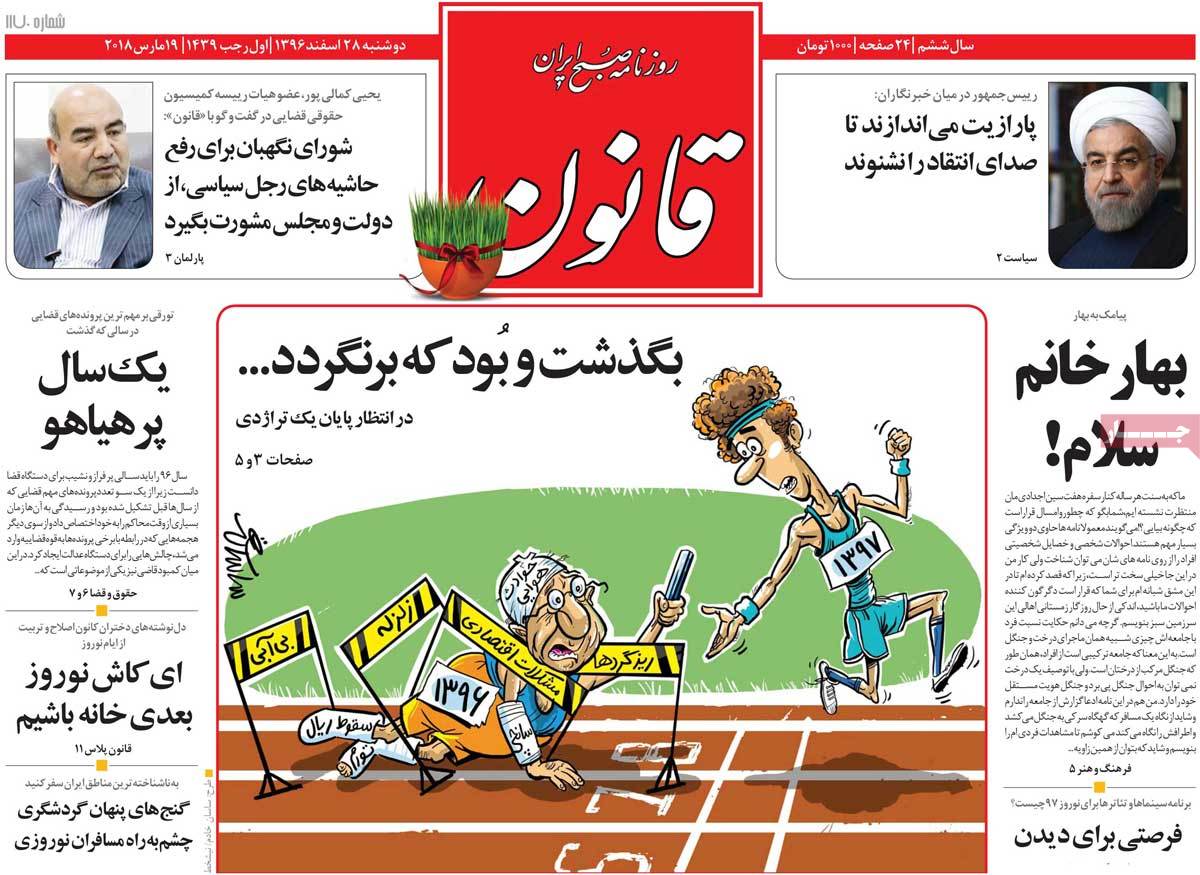 ---
Hamshahri:
Breaking Records on Railway
Unprecedented Railway Development in Iran's History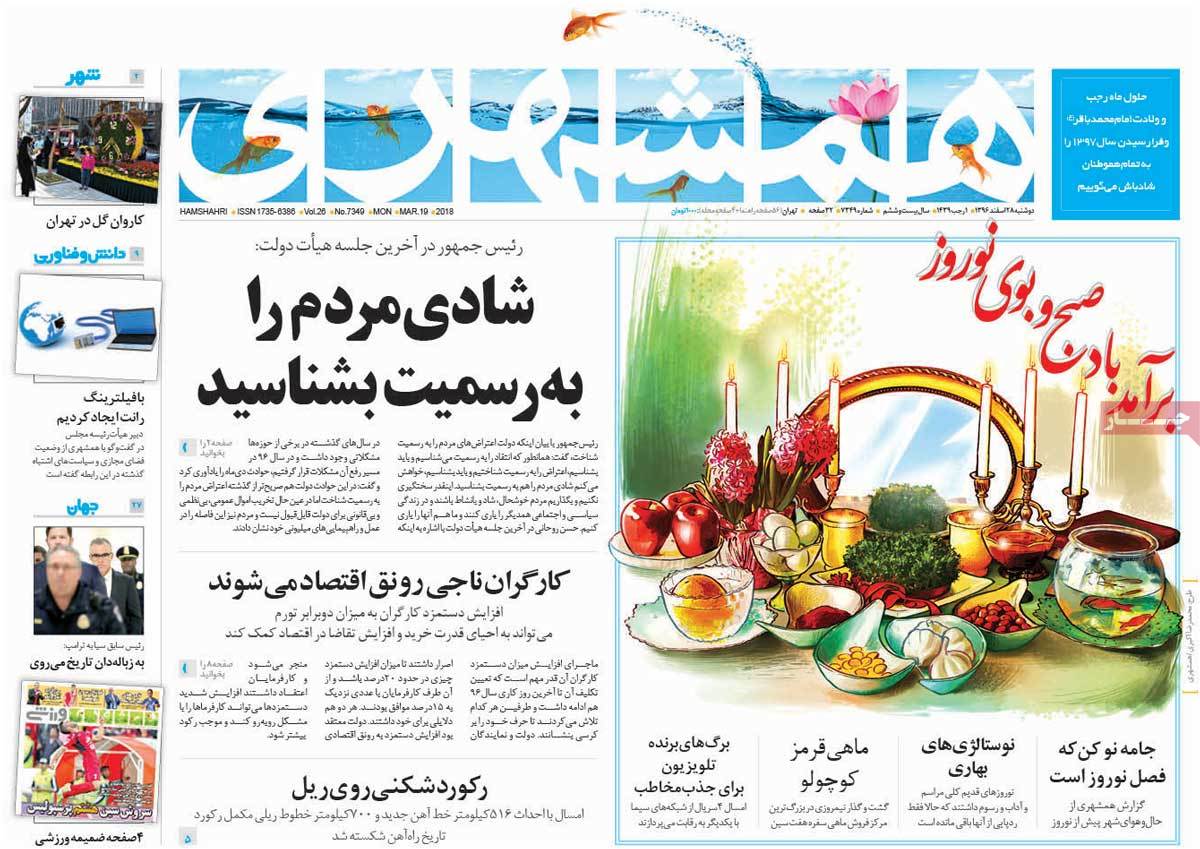 ---
Iran:
Rouhani: You Cannot Ignore People's Voice by Jamming
Everyone Must Listen to People's Demands, Criticisms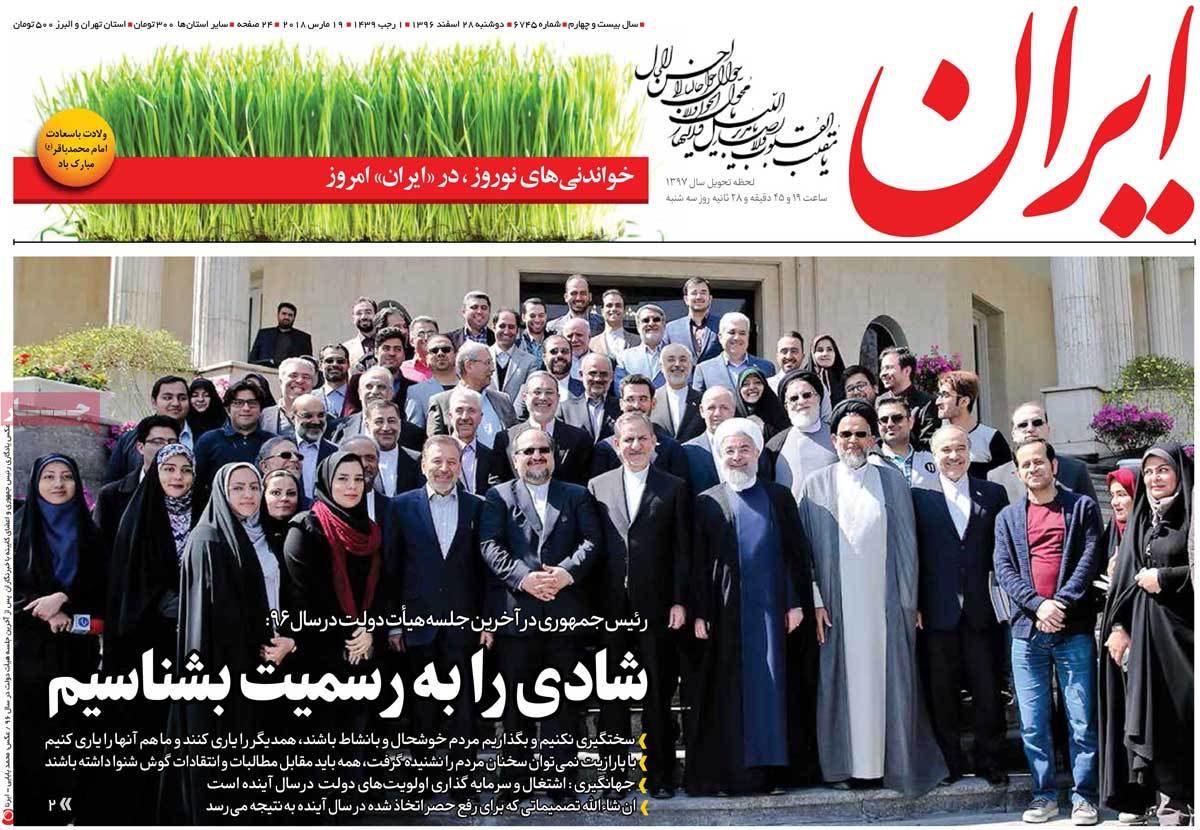 ---
Javan:
Production Not Supported This Year
Rouhani Vows to Support It Next Year
US Betrays Kurds to Turkey
Google Earning over $200,000 per Day Thanks to Iranian Ads
Iranians Use Internet, Foreigners Earn Money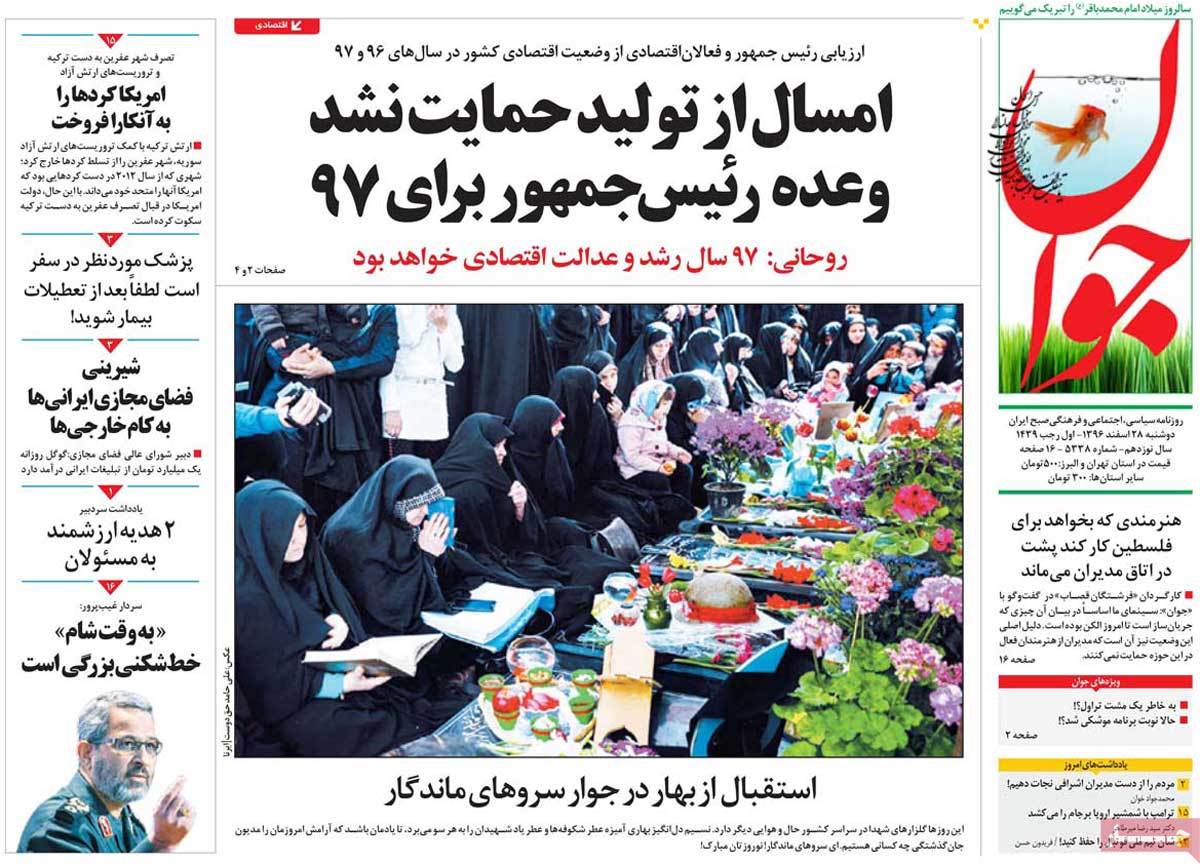 ---
Jomhouri Eslami:
Iran VP: People's Livelihood among Major Priorities of Gov't in New Year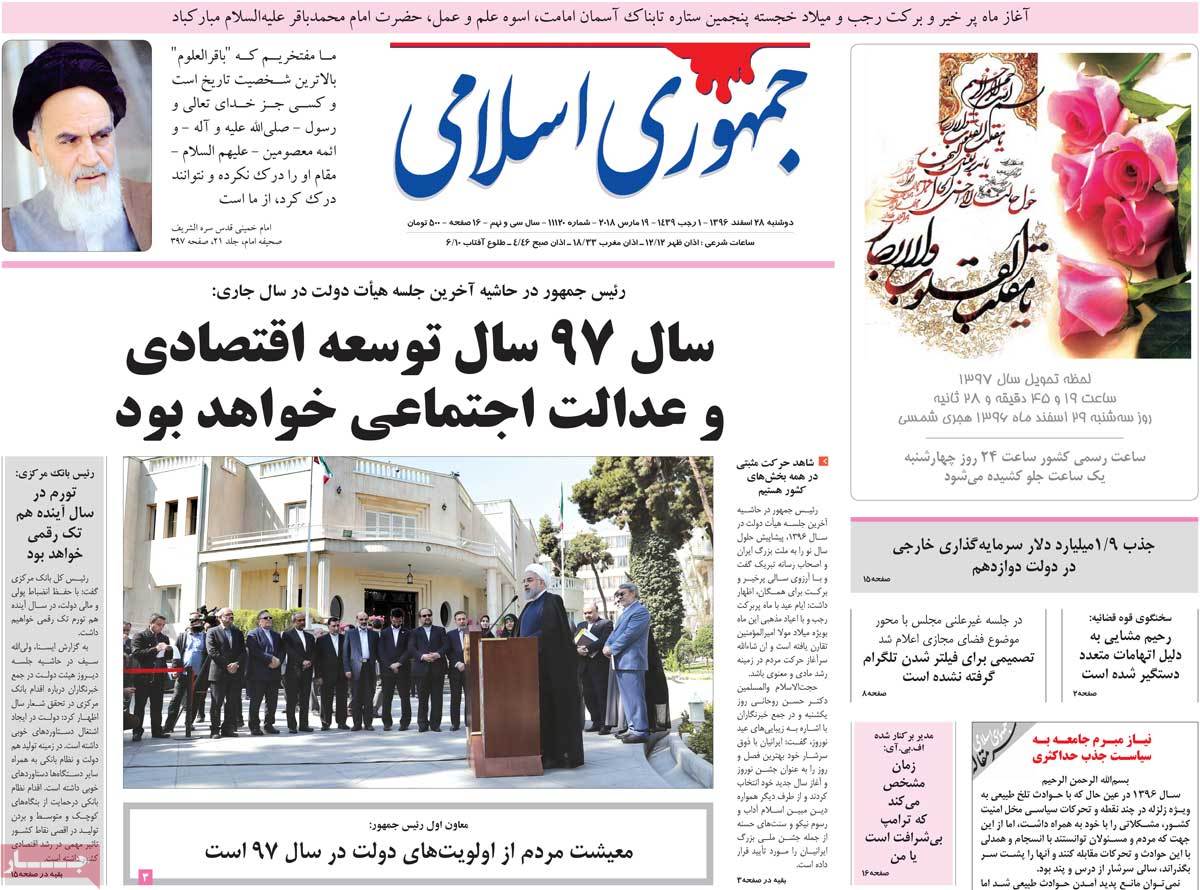 ---
Kayhan:
People Expect Gov't to Offer Real Report on Production, Employment
15 Saudi Shiites to Be Executed by Al Saud Regime
First VP: 1396 among Best Years in History in Terms of Creation of Job Opportunities!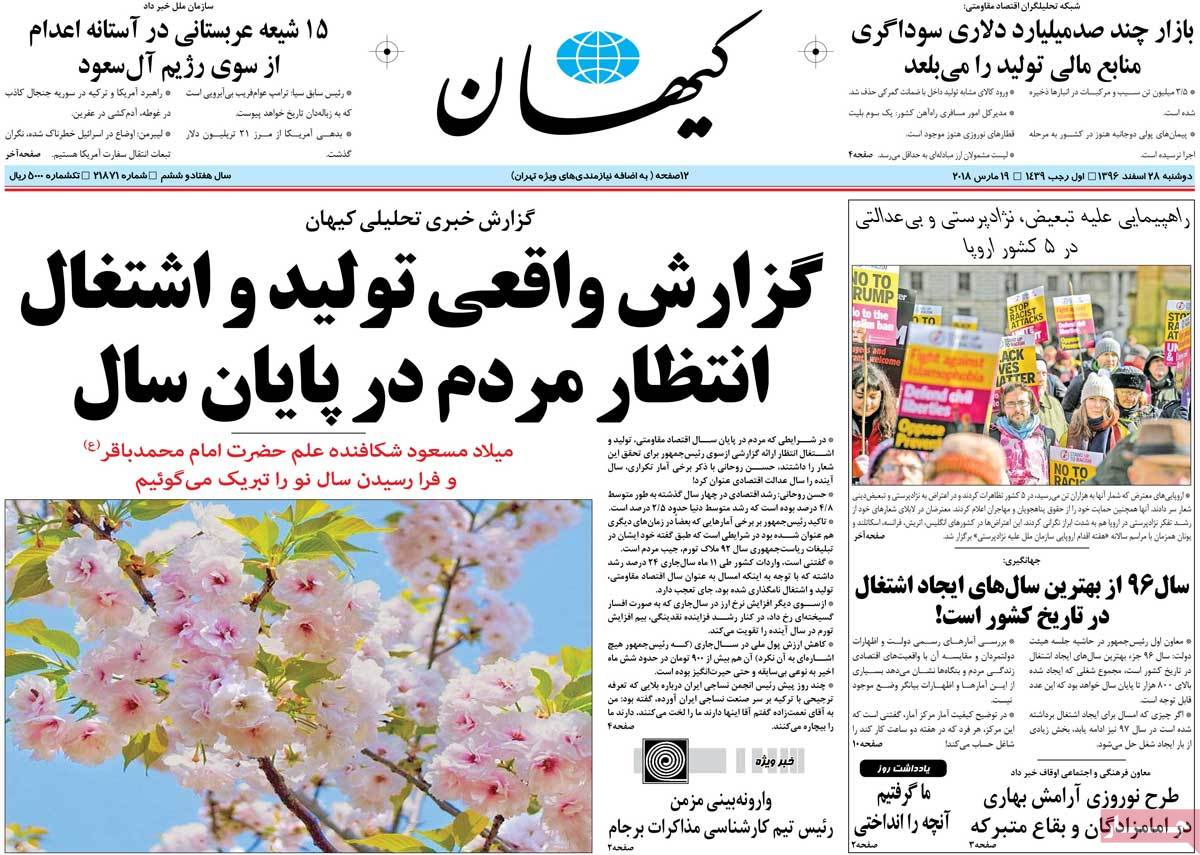 ---
Resalat:
Rouhani: Iran on Path of Growth, Development
West Concerned about Putin's Re-Election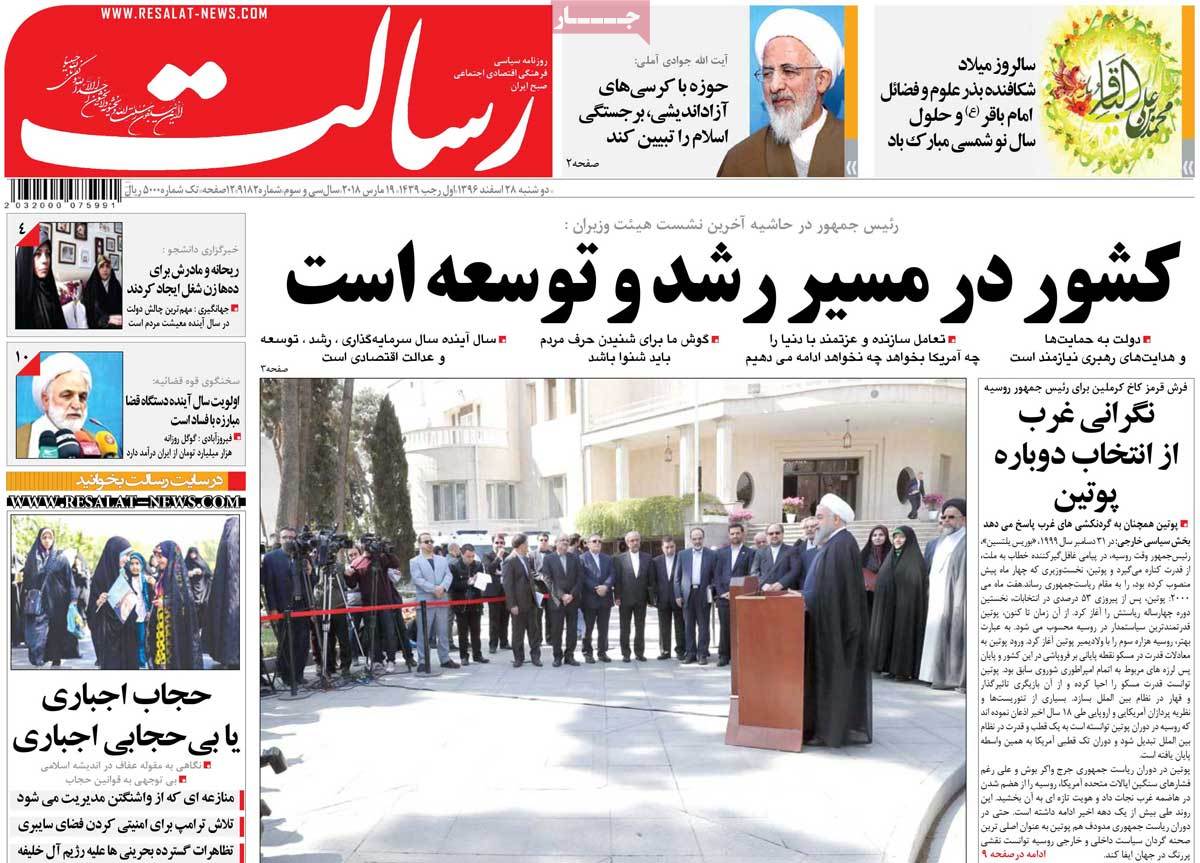 ---
Setareh Sobh:
What Experts Say about Recent Year's Political, Economic Events
---
Shakhe-ye Sabz:
Larijani: Iran's Missile Program Not Negotiable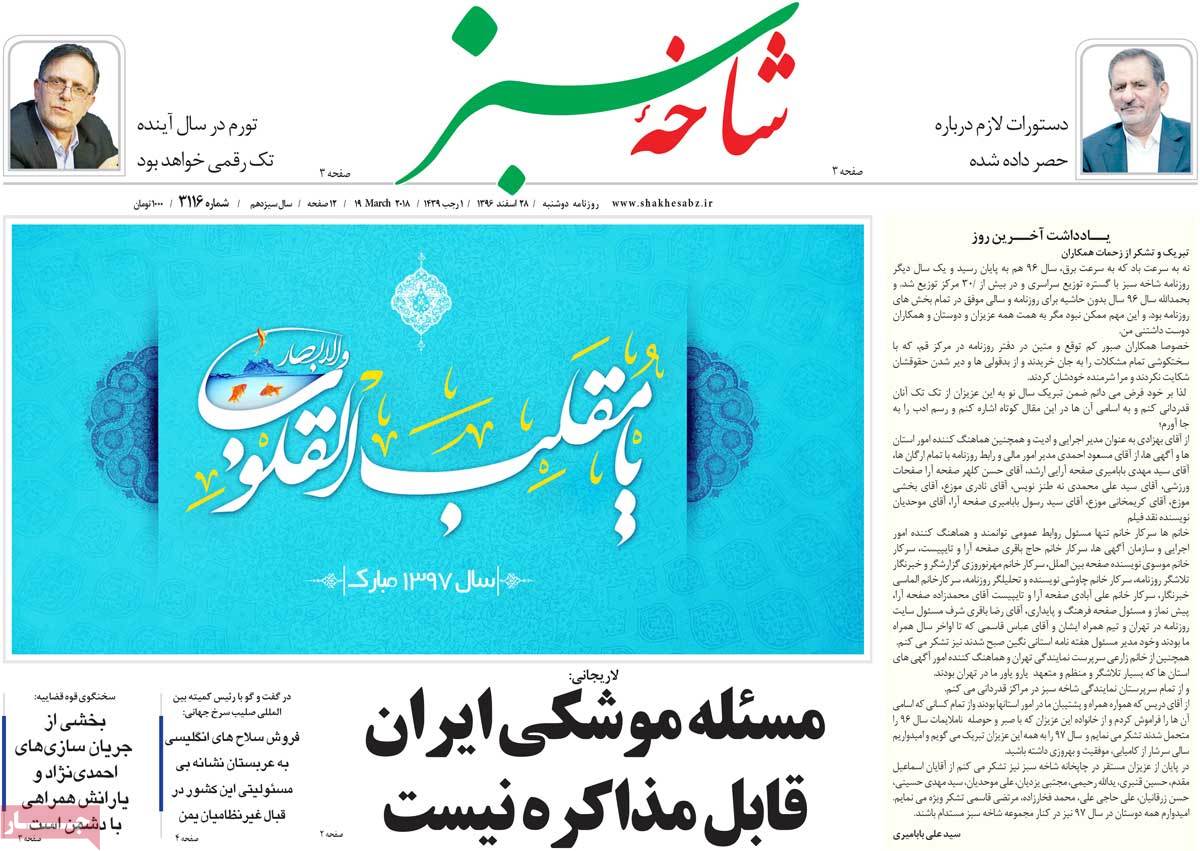 ---
Shargh:
Russians Once Again Elect Putin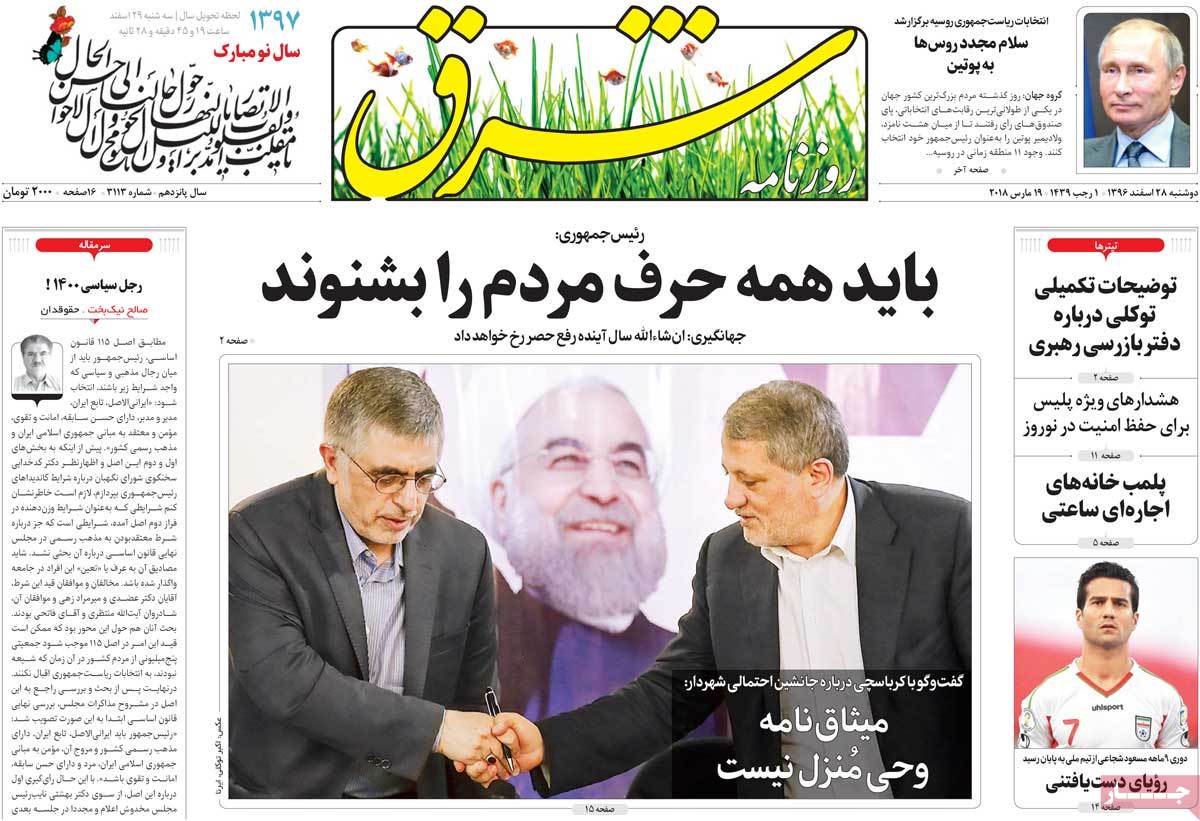 ---
Sobh-e Now:
A Report on Parliament's Closed Session on Cyberspace
Protecting National Interests in Cyber World
Putin, The Icy Man Who Never Melts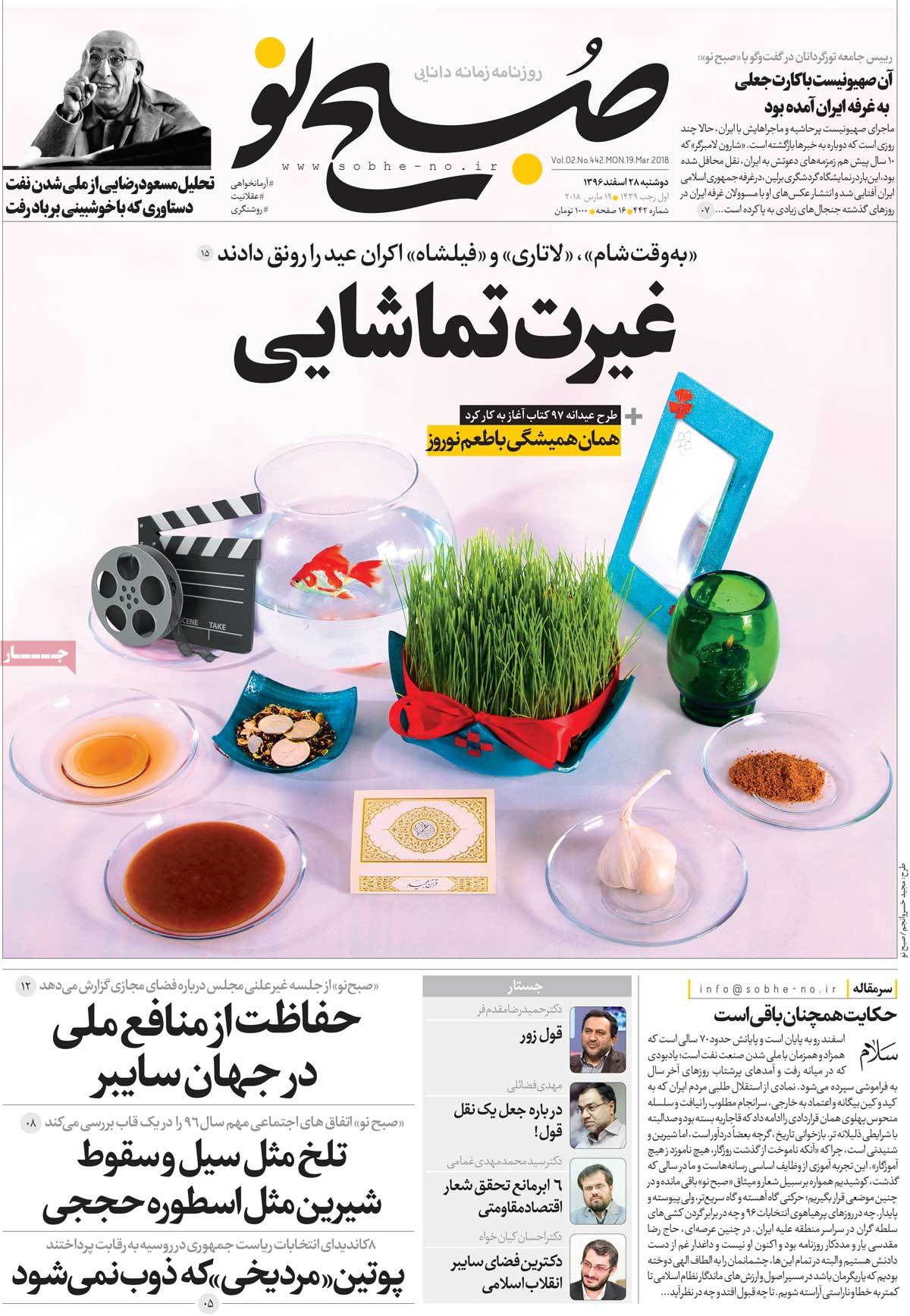 ---
Ta'adol:
Year of Pains, Difficulties Over
5% Growth in Iran's Non-Oil Exports in Past Few Months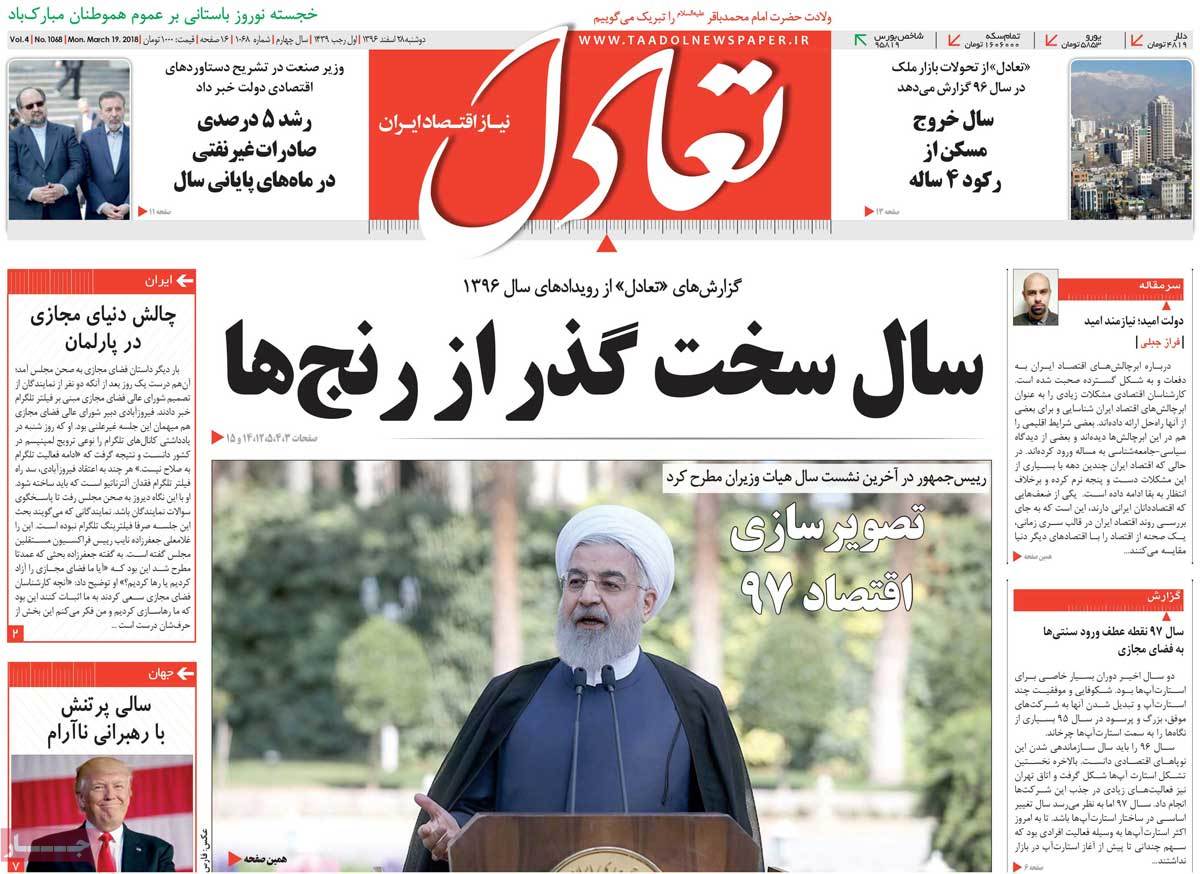 ---
Vatan-e Emrooz:
World in Previous Year: End of ISIS Rule
Did Government Hear Sound of People's Economic Protests?