Newspapers today widely covered the results of the Friday talks in Vienna between foreign ministers of the P4+1 and Iran on the Joint Comprehensive Plan of Action. A key focus of headlines today was the positive signals received from the talks, and the positive impact of the EU's package on the markets.
The US' bid to stop Iran's oil imports and Tehran's reaction to the move also received great coverage.
Also a top story was the execution of eight ISIS elements who were behind the 2017 terrorist attacks on the Iranian Parliament and the mausoleum of Imam Khomeini, the late founder of the Islamic Republic, in Tehran.
The above issues, as well as many more, are highlighted in the following headlines and top stories:
19 Dey:
1- Zarif: We're Sure World Standing against US
---
Abrar:
1- Rouhani: Europe Must Make Practical Decisions on JCPOA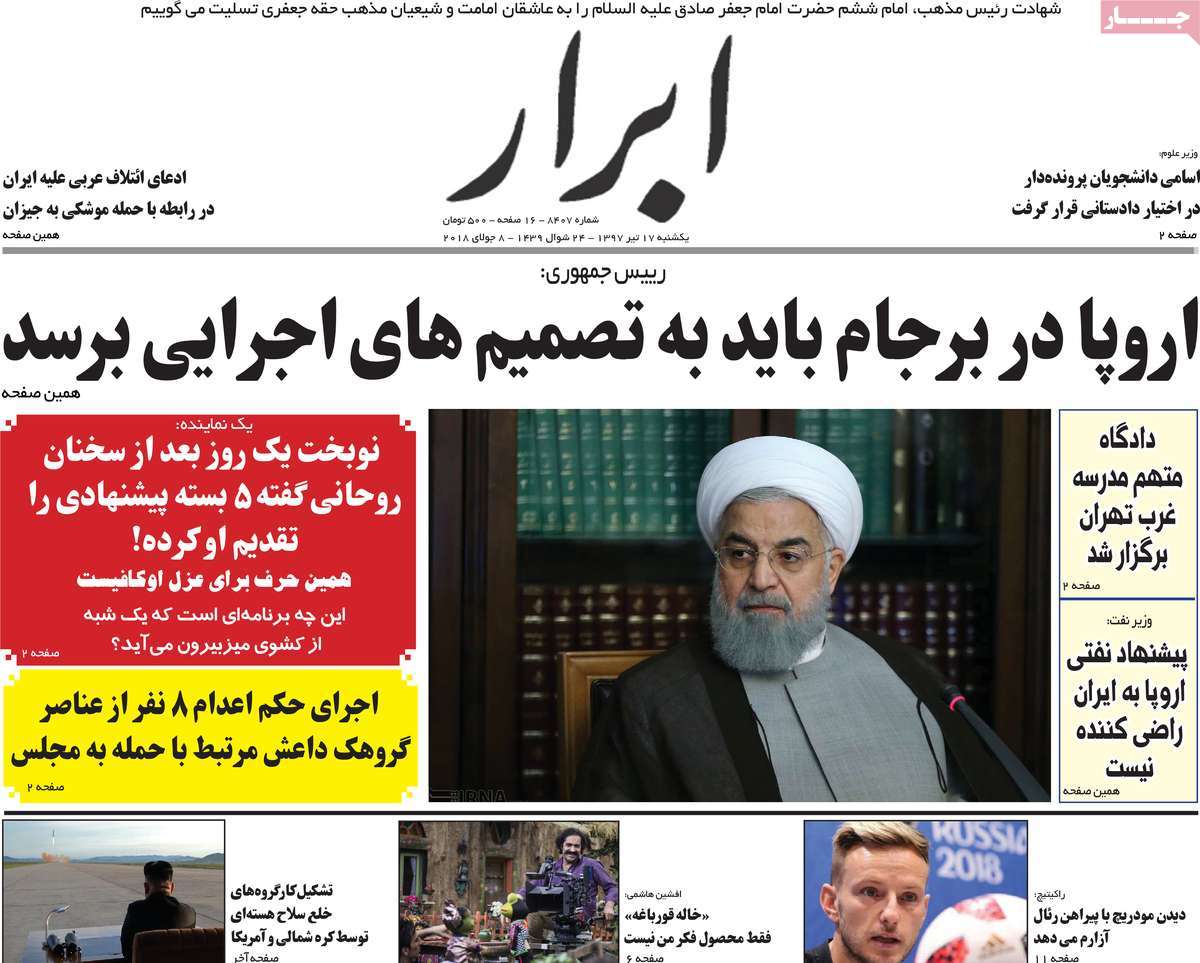 ---
Afarinesh:
1- Health Ministry: Child Obesity, Future Challenge of Society's Health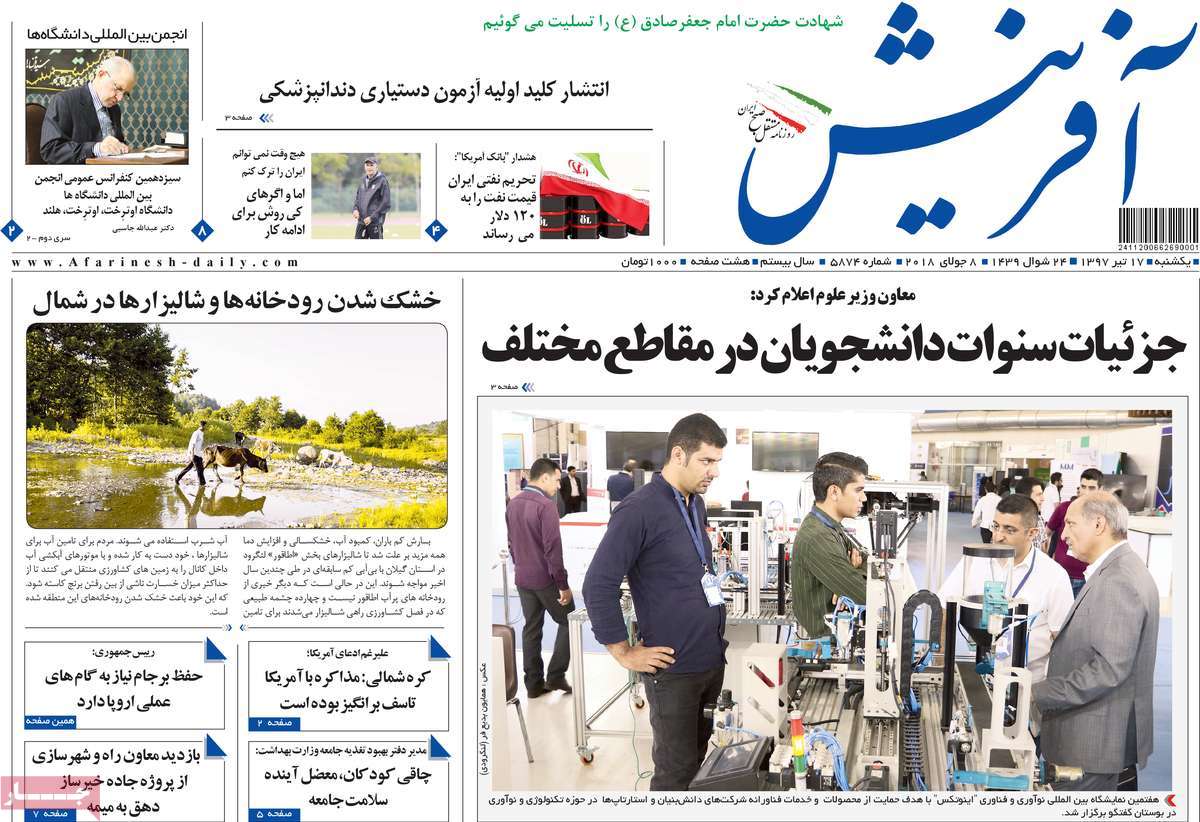 ---
Aftab-e Yazd:
1- What Information Iran Received from Israeli Minister
2- Iran Cuts Electricity Supply to Iraq for Baghdad's Debts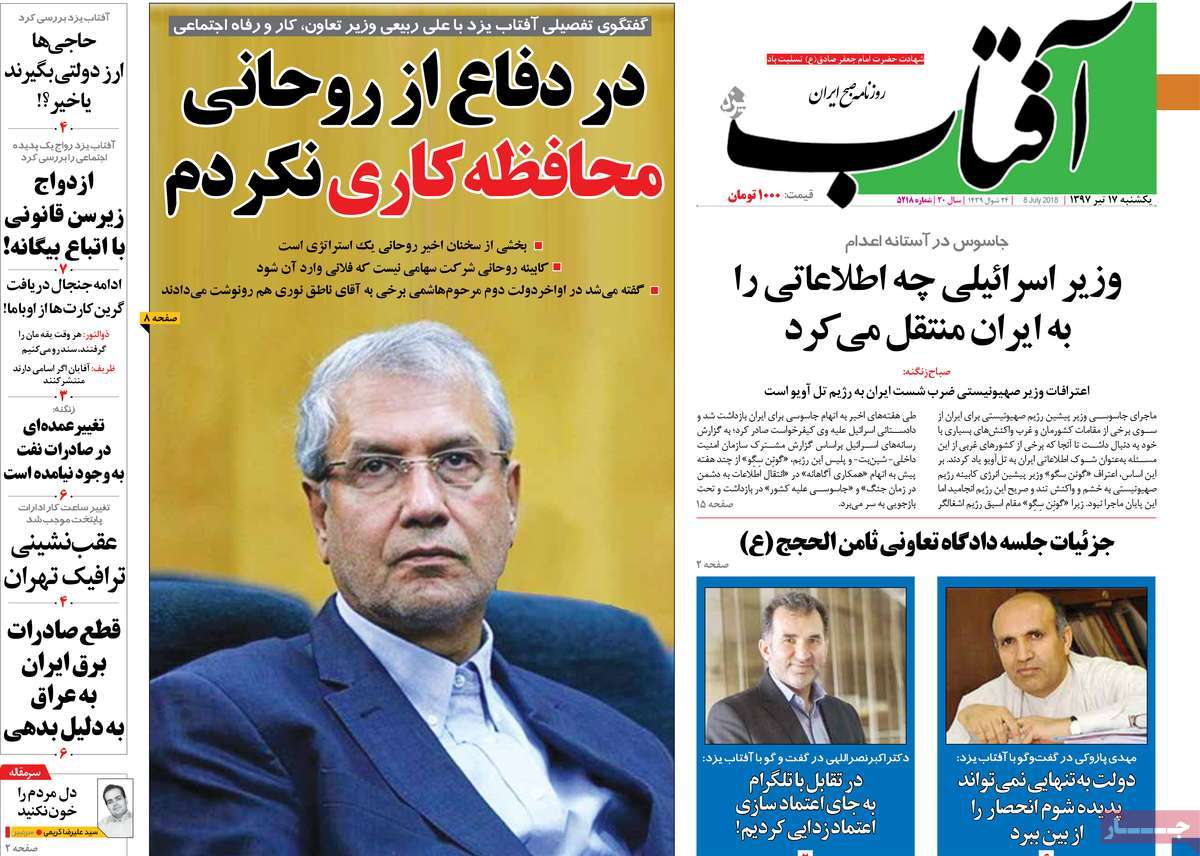 ---
Arman-e Emrooz:
1- Prosecutor General: Details of 16 Female ISIS Members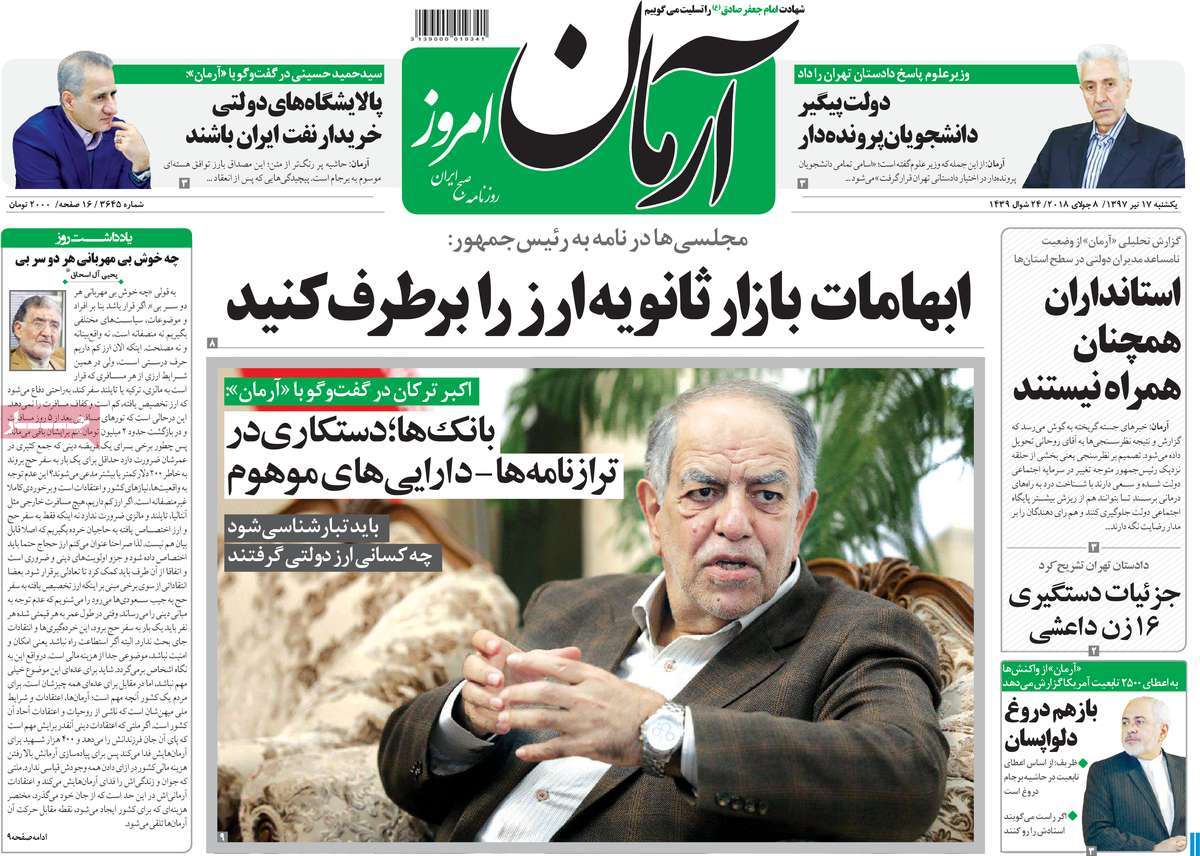 ---
Asrar:
1- Oil Minister: Iran to Oppose US' Oil Policies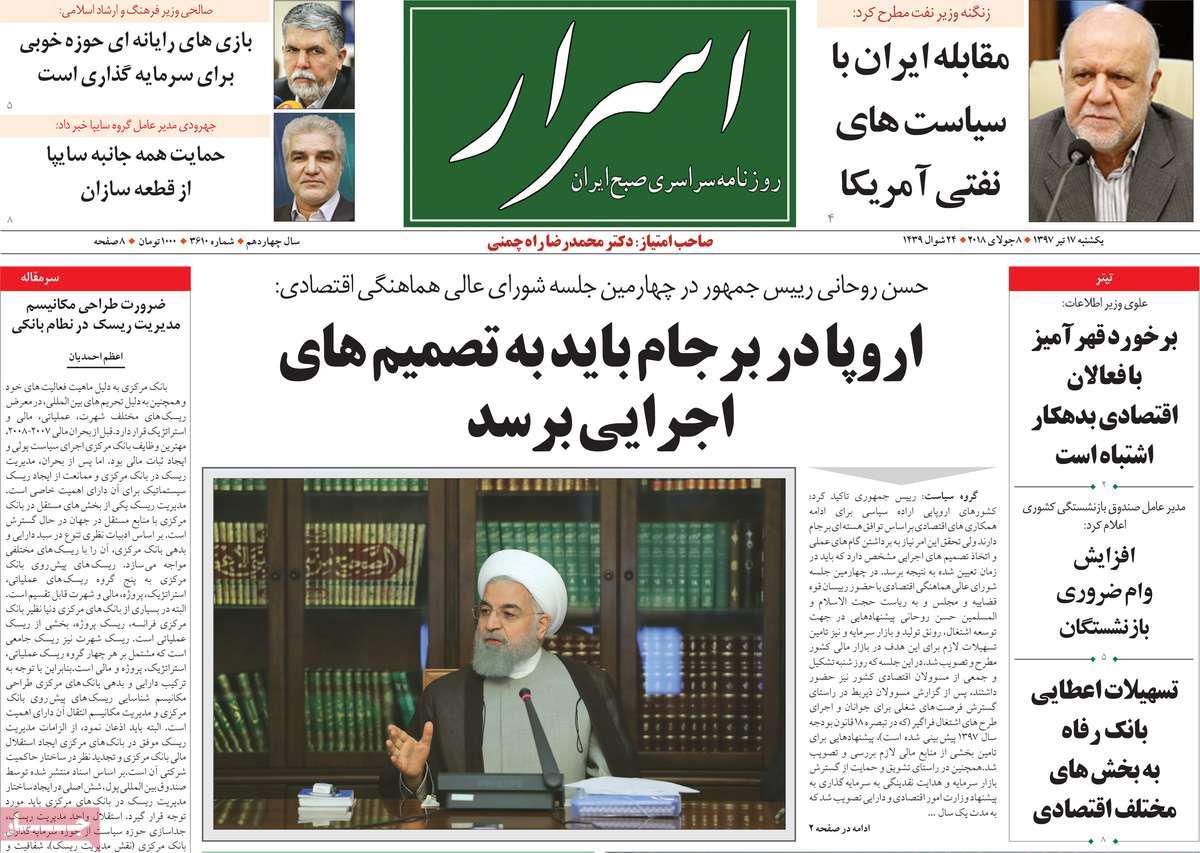 ---
Ebtekar:
1- Return of Life to Water Pipes
Residents Talk about Current Situation of Abadan, Khorramshahr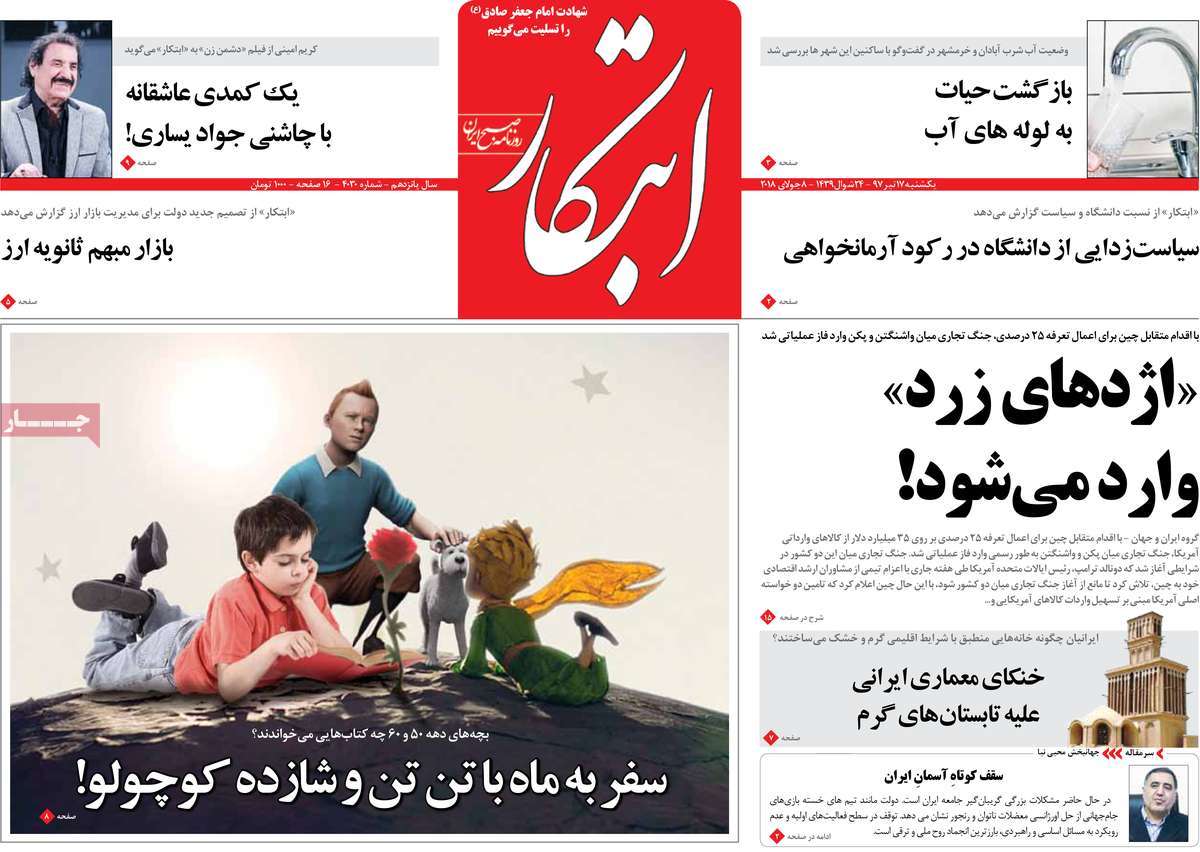 ---
Etemad:
1- Oil Minister Calls US' Bid to Stop Iran's Oil Exports a Trade War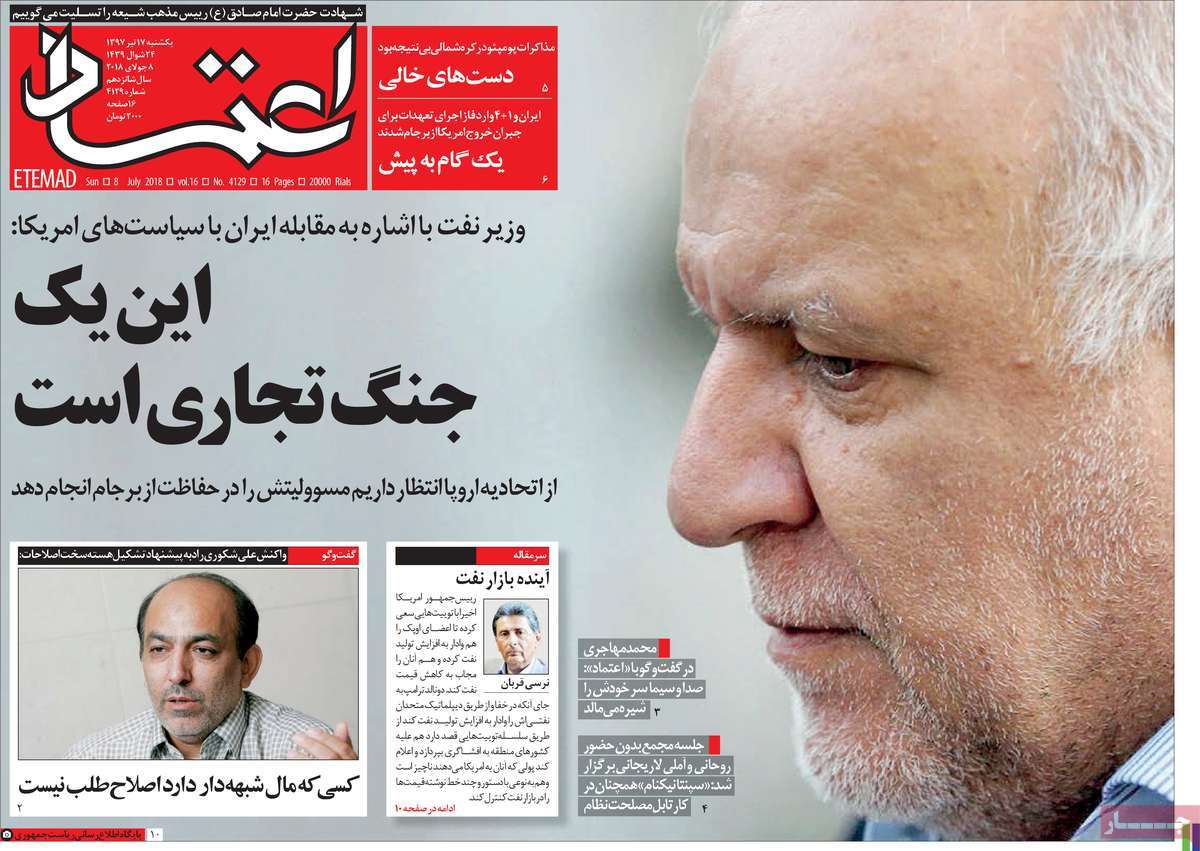 ---
Ettela'at:
1- Transfer of Water from Persian Gulf to Central Plain of Iran to Be Expedited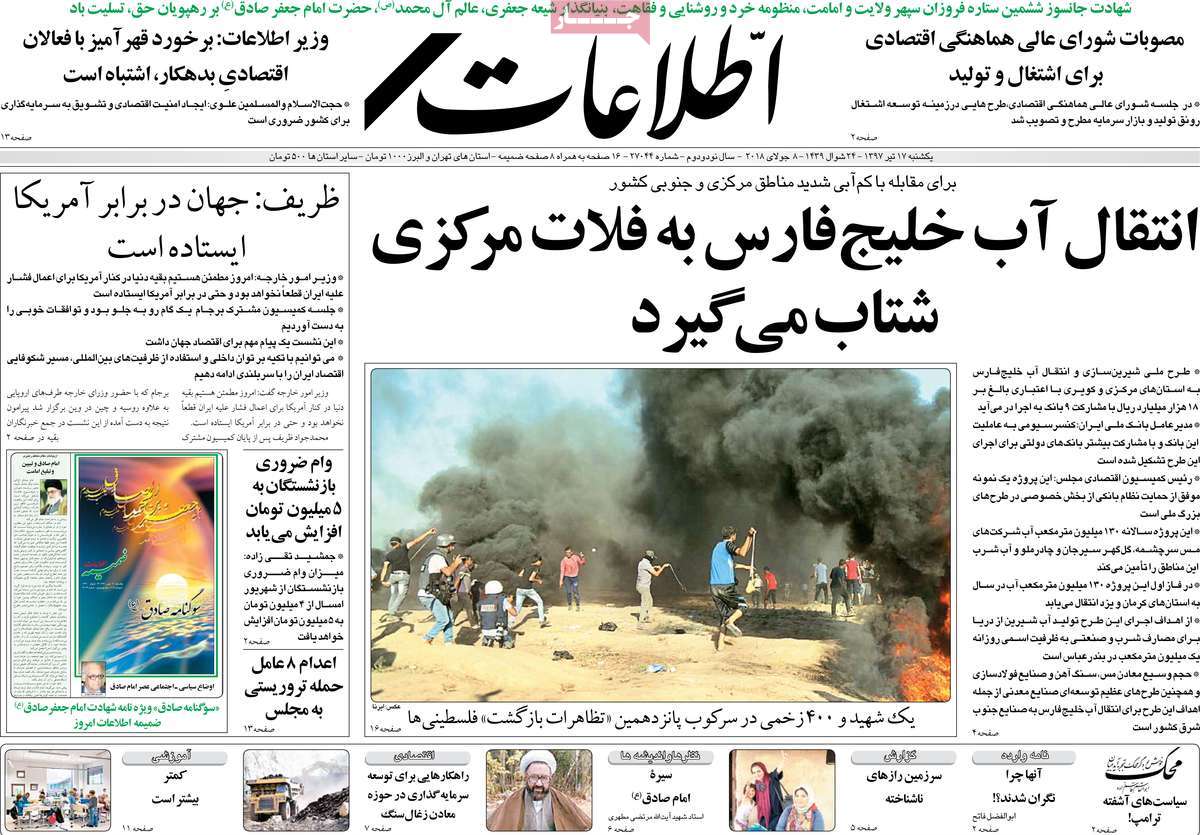 ---
Ghanoon:
1- Analyst: EU Worried about Its Prestige on JCPOA Case
---
Hamshahri:
1- Markets Show Cautious, but Positive Reaction to EU's Package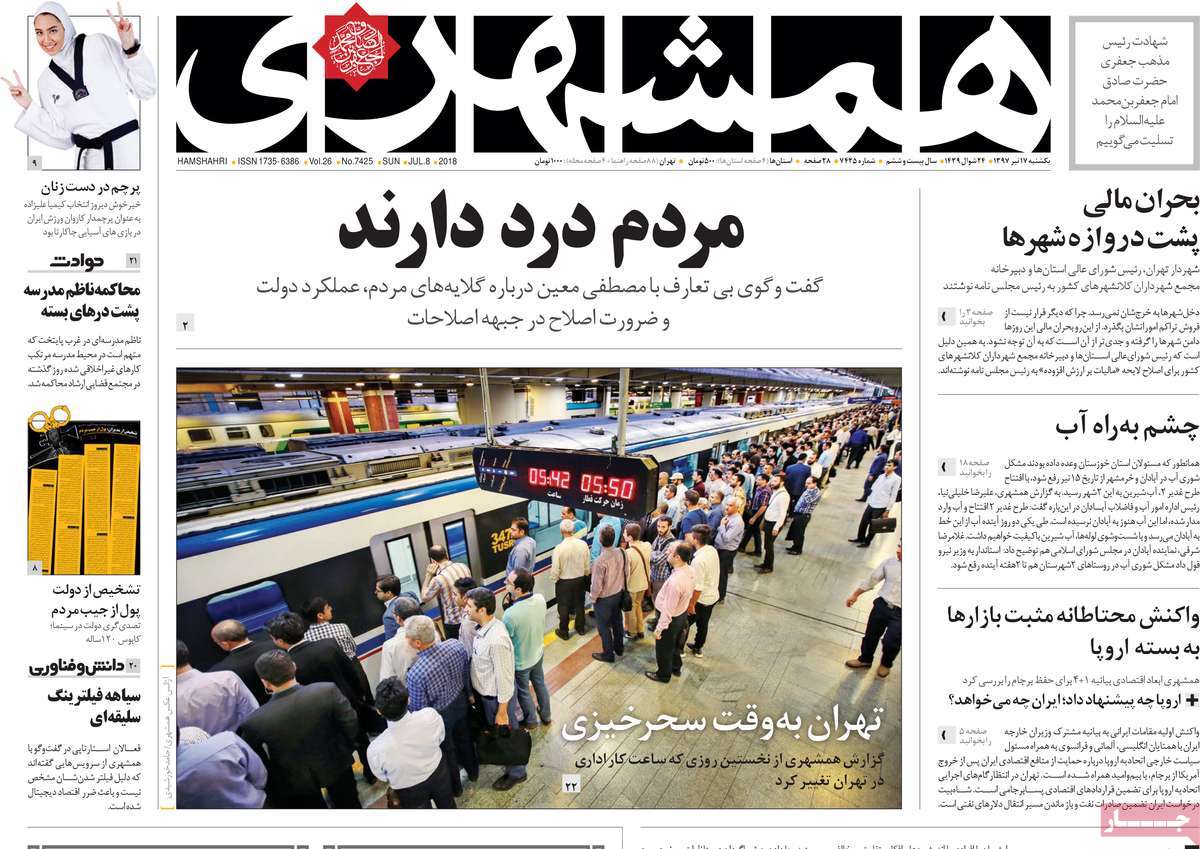 ---
Jame Jam:
1- Female Taekwondo Player Kimia Alizadeh to Be Iran's Flag-Bearer in Jakarta Asian Games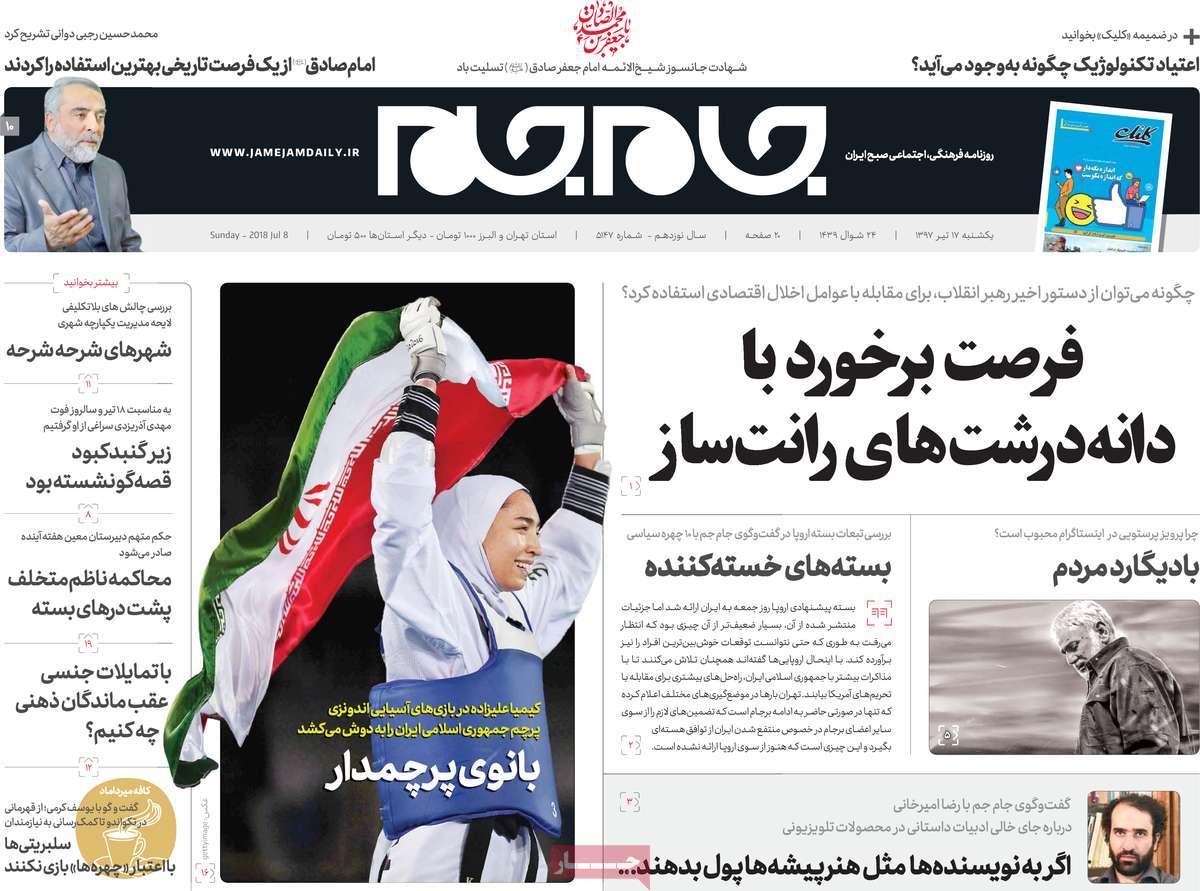 ---
Javan:
1- North Korea: US' Demands Aimed at Looting Our Country
2- Now It's War Time!
Bodies of Two Martyrs Returned to Iran after 36 Years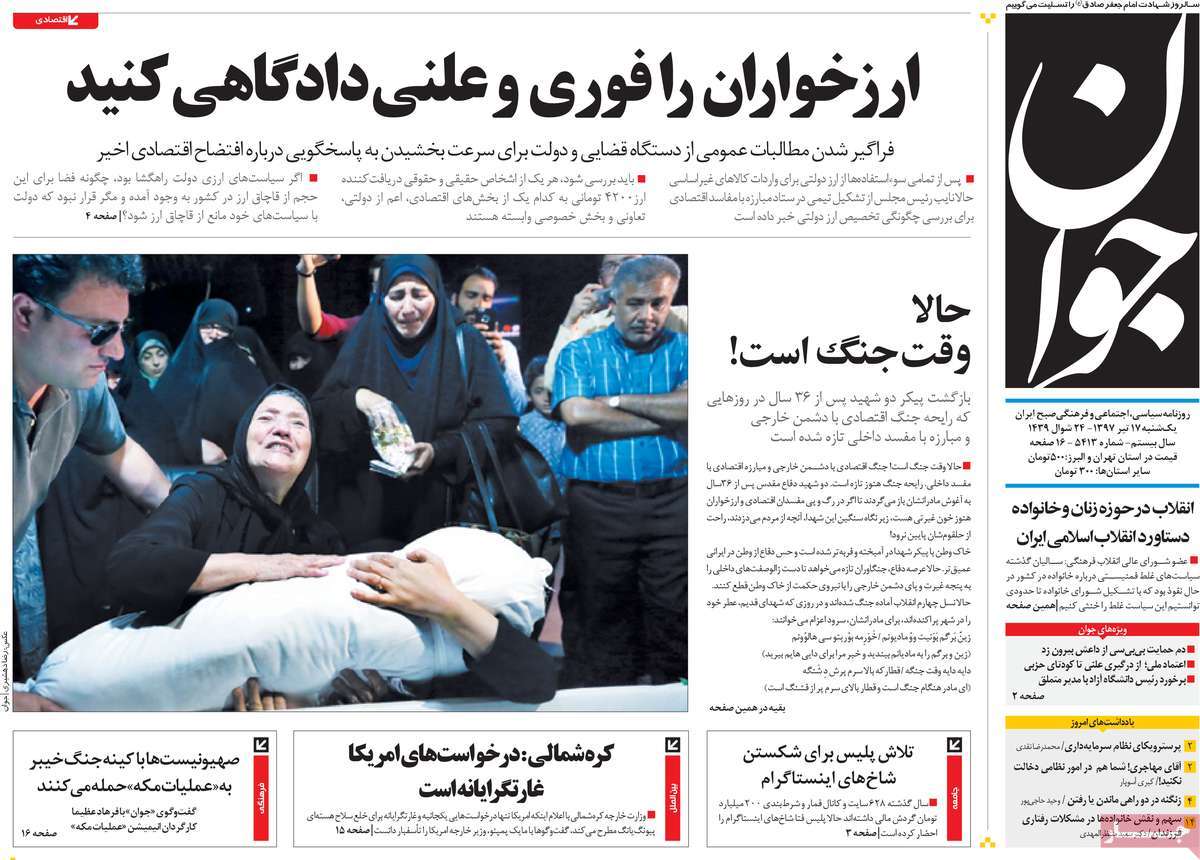 ---
Jomhouri Eslami:
1- Zarif: Parties to Iran Nuclear Deal Committed to Purchase Oil from Iran
2- Academic: Trump Is a Bully and Others Should Stand against Him
3- Israeli MP Invites Saudi Crown Prince to Address Knesset Session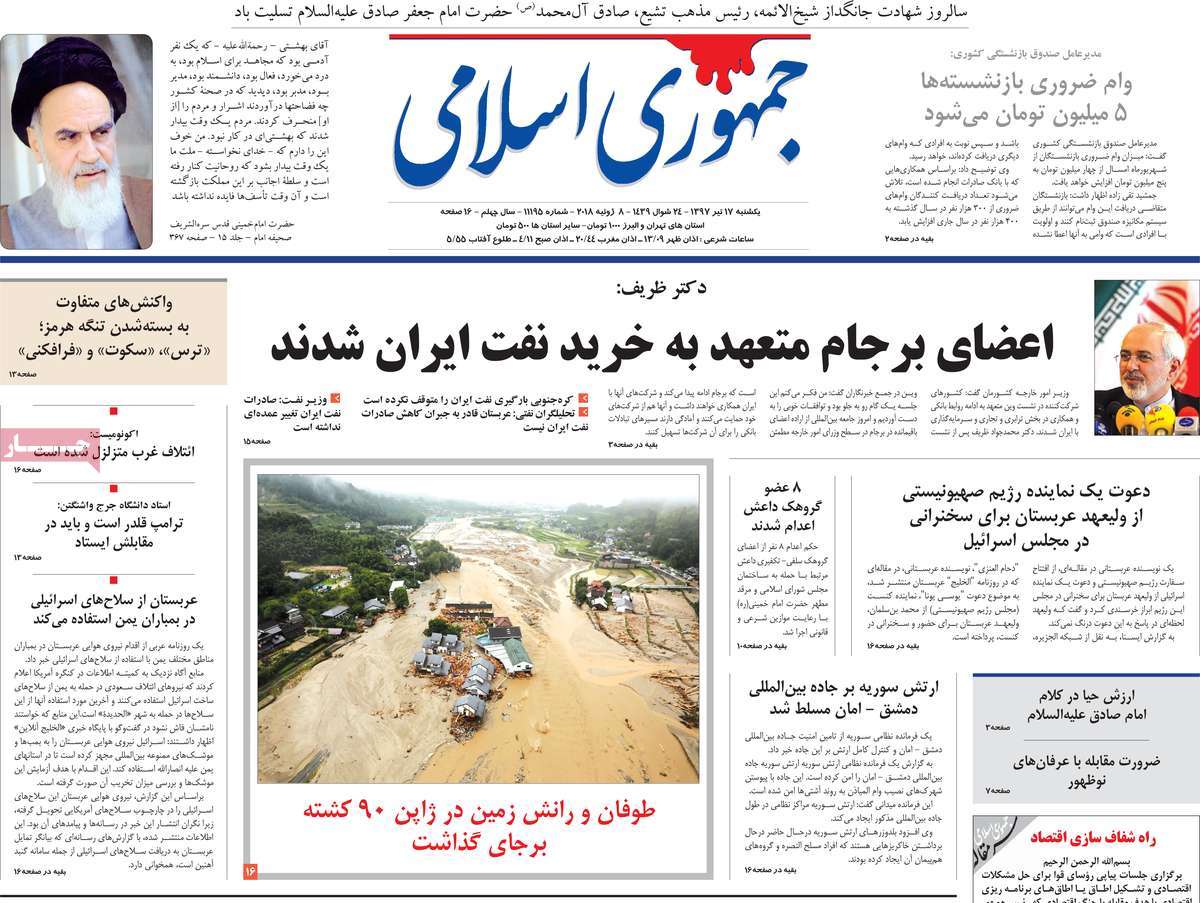 ---
Kayhan:
1- Europe Failed to Do Anything for Iran; Don't Keep the Country Idle Anymore
2- Terrorists Surrender: Southern Front in Hands of Syrian Army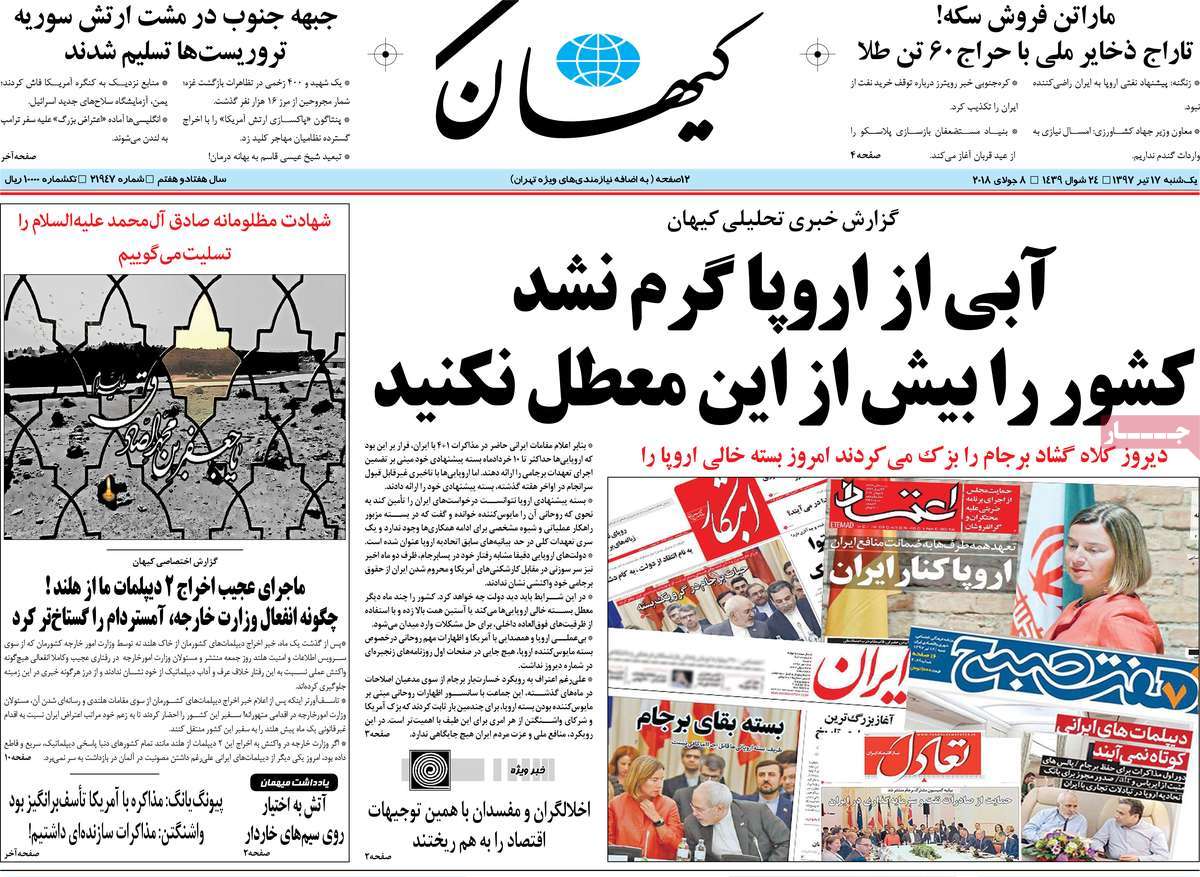 ---
Sazandegi:
1- Lady of Iranian Diplomacy
VP Laya Joneydi First Iranian Woman to Attend Highest-Level Diplomatic Talks
2- Does Iran Know about Russia's Stance towards Sanctions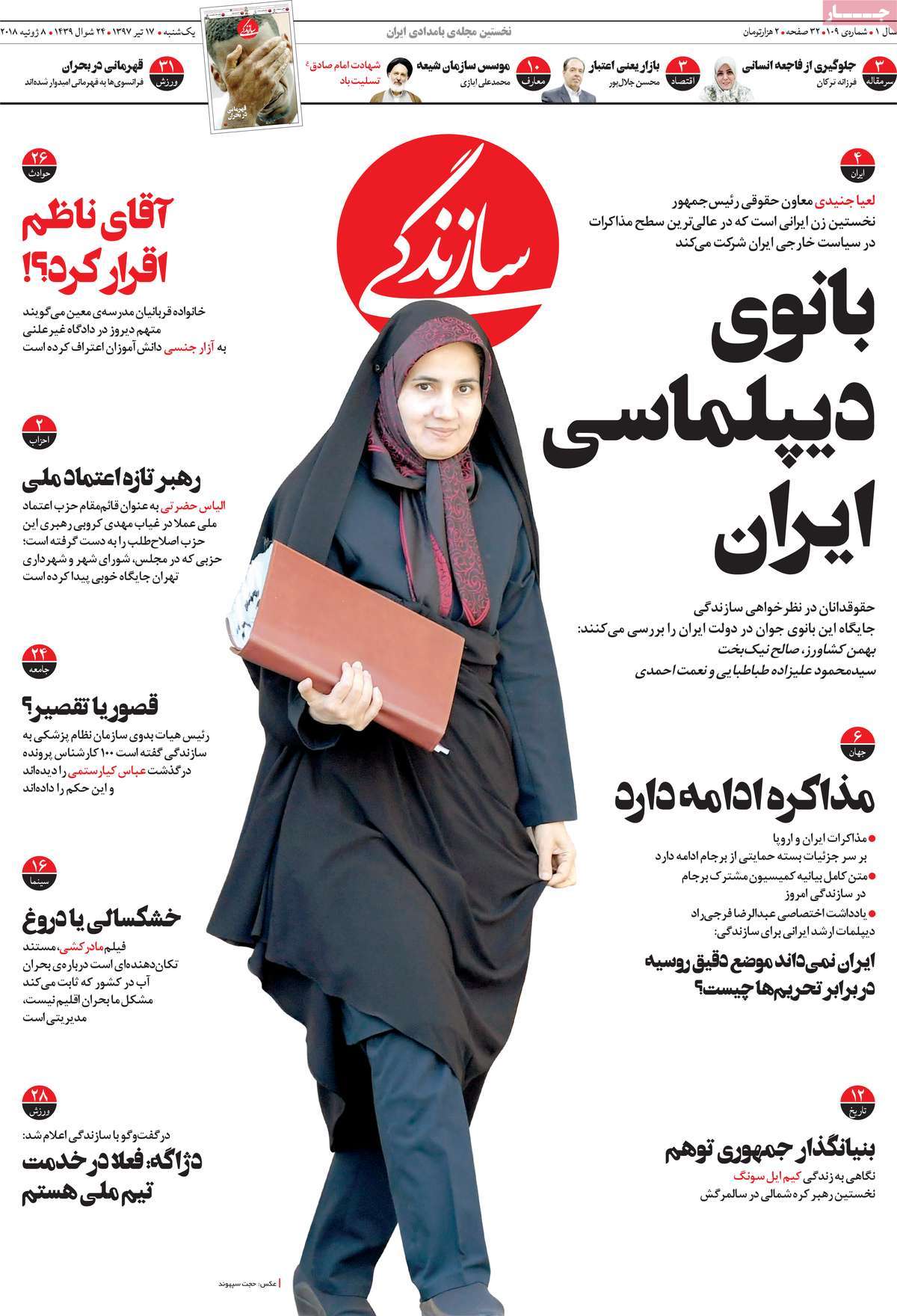 ---
Sepid:
1- Deputy Health Minister: 10,000 New Cases of Gastric Cancer in Iran
It's Deadliest Type of Cancer and Very Hard to Treat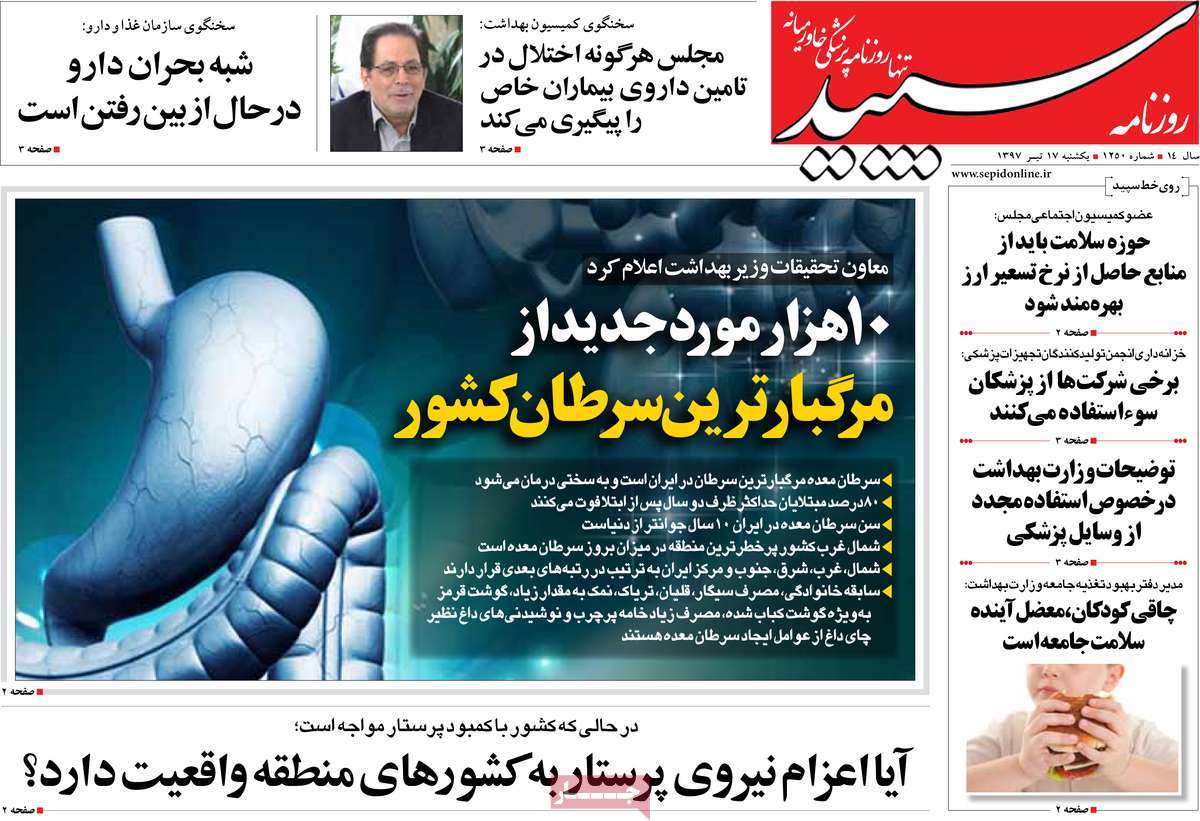 ---
Shargh:
1- Trump Backs Off from Boycotting Iran's Oil
2- Positive Signals from Vienna
---
Ta'adol:
1- Meeting Chaired by Rouhani Discusses Promotion of Employment, Production
---
Vatan-e Emrooz:
1- Eight ISIS Elements Executed One Year after Attacking Iran Parliament, Imam Khomeini Mausoleum